Items from The News, Navy News and Warship World are reproduced by kind permission of David Brown, Sarah Fletcher and Steve Bush respectively. Click on the thumbnails to enlarge them.
---
31 Mar 09 - SDU1 called in to help thwart plot against G20 Summit meeting
The BBC News website contains this article describing how members of Southern Diving Unit 1 (SDU1) were called in to deal with explosive devices found at the residence of would-be G20 protesters in Plymouth. The incident also featured in this report on the Reuters website.
---
30 Mar 09 - RN Diving Heritage - 'Sleeping Beauty' Motor Submersible Canoe
In the second entry for 7 Mar 09, which features the Welman one-man midget submarine, I mentioned that I was also helping ex-Royal Marine Mike Jones research the Motor Submersible Canoe (MSC), nicknamed the 'Sleeping Beauty' (SB). Like the Welman, this canoe was developed by the British Special Operations Executive (SOE) during the Second World War as a vehicle for a single diver to perform clandestine reconnaissance or attacks against enemy vessels. Mike Jones has sent me some interesting images showing the canoe's general arrangement:
Left: Cutaway image of sleeping Beauty (US Popular Science - March 1947)
Right: General arrangement of Sleeping Beauty
This battery-powered canoe was 12 feet 8 inches long, had a top speed of 4.4 knots and could travel up to 40 miles at a cruising speed of 3.5 knots. Its maximum operating depth was 50 feet and it was designed to carry limpet mines for the diver to place on the hull of a target vessel. A surviving Sleeping Beauty, on display at the Marinemuseet in Oslo, Norway, is believed to be one of a pair captured by German forces after an unsuccessful attack on enemy shipping in Måløy by members of the Norwegian Kompani Linge. The divers were landed with their SBs on the nearby island of Gangsøy. However, a local shepherd girl saw them and, thinking that they were thieving Germans, she reported them to the authorities. The divers were then chased across Norway by the Germans until they were picked up safely and taken back to their base on the Shetland Islands.
Sleeping Beauty in the Marinemuséet, Oslo
SBs were also used for Operation Rimau, a raid on Japanese shipping in Singapore in September 1944 by commandos from the joint Australian, British and New Zealand 'Z Special Unit', sometimes known as 'Z Force'. Ten of the attacking force were taken prisoner by the Japanese and subsequently beheaded. This Sleeping Beauty is on display in the Army Museum of Western Australia.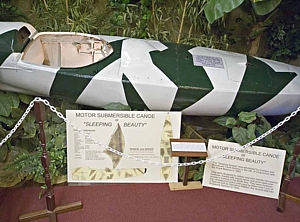 Sleeping Beauty in the Army Museum of Western Australia
In the summer of 1944, 'Sleeping Beauty Number 72' was delivered to the US Office of Strategic Services (OSS), the fore-runner of the CIA, and became the early prototype for today's Swimmer Delivery Vehicle. It was used from December 1944 to August 1945 to evaluate US harbour defences, stage mock attacks on capital ships and and develop underwater communications equipment. Mike Jones has sent these photos of SB-72, believed to be on display in a Florida museum:
Above and below: Sleeping Beauty No 72 in a US museum
Both Mike Jones and Peter Dick, the editor of the Historical Diving Times, have sent me DVDs containing a 12-minute long B&W film produced by the OSS's Maritime Unit & Field Photographic Unit. This has an American commentary describing the configuration and operation of "the new British Sleeping Beauty". Shot above and below water, it is surprisingly good quality and can be accessed here:
OSS Sleeping Beauty video.avi (84.51 MB)
In November 1954, the Clearance Diving Trials Team attached to the Admiralty's Underwater Countermeasures and Weapons Establishment (UCWE) at West Leigh House near Havant in Hampshire issued a report on the Sleeping Beauty, signed off by the Officer-in-Charge of the team, Lt Cdr Gordon Gutteridge RN: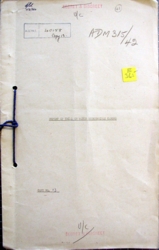 UCWE Trials Report on Sleeping Beauty
(Click to download pdf file 5.43 MB)
Among other things, the UCWE Trials report recommended the addition of forward planes and contained illustrations of a modified canoe:
Sleeping Beauty modified for UCWE Trials
The Royal Marines Museum at Eastney near Portsmouth has another modified Sleeping Beauty which has had the stern planes removed and bow planes fitted: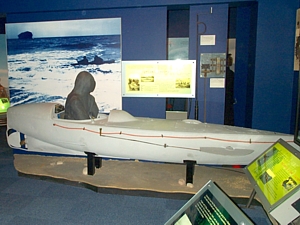 Sleeping Beauty in the Royal Marines Museum, Eastney
I have appealed to the 'usual suspects' for memories and received this from MCDOA member Mike Gillam. Those who have read the entry for 17 Jan 08 in 'News Archive 21' will know that he is referring to Lt Cdr Joe Brooks DSC RN who was the First Lieutenant of the midget submarine, X-24, which sank sank the German 7,500 ton merchant ship Barenfels in Puddefjord, Norway in April 1944:
"Hi Rob,
Very many thanks for your message and the photos of the Welman that I had never seen before. Obviously, this recovery was made long after I left Reclaim, indeed, sometime after I left the service.
MSCs are another matter. The people to ask are those who worked with Joe Brooks, my course officer in 1954. The following are extracts from my memories of Joe that I wrote some years ago - my apologies if you already have them:
'Joe was obsessed with diving technology in general and submersibles in particular. He seemed to be eternally trying things out, often at Horsea Island. When he had finished for the day, he often used to put on his cap, shoes and Burberry over his diver's blue undersuit and cycle home to Southsea oblivious to everything but his latest project. He spent much time trying to use two underwater canoes left over from the war as a means of speeding up underwater searches and at one time employed the services of CPO Pat Christmas who was later my team Chief in the Far East. On one occasion, the two of them were trying to balance a canoe correctly on the bottom of Horsea lake with Pat sitting in the canoe and Joe placing lead weights on top of him. Finding that he needed more weights, he indicated that Pat should stay where while he surfaced to get more. Pat waited until his main bottle started to run out then extracted himself from under the pile of weights and surfaced to find out what was happening.
'Where is Lieutenant Commander Brooks?' he asked. 'Gone home,' they replied. 'What else?'
Joe was a wartime submariner and introduced us to his great chum Matty Todd, who later became the first officer-in-charge of the Dolphin 100' submarine escape tower. Matty was driving the two X-craft Stickleback and Minnow at Portland and we (the long CD course) had great fun hanging off the side of one of these vessels as it wandered round Weymouth Bay. It was even more exciting to sit on the heads inside the submarine in full gear, open the valve and watch the water rise about you. Exiting the boat through the hatch above the toilet compartment was the only way of leaving it underwater and provided an invigorating experience when the pressure suddenly equalised prior to the hatch opening.'
The incident at Horsea must have taken place during the mid to late 1950s because Pat Christmas told me the story in Singapore when I joined the FECDT in 1960. The exciting experience of locking out of an X-craft is still one of my abiding memories. Matty Todd's number two at the time was another submariner, one Hugh Thompson, same house and a term below me at Dartmouth. Strange to say, Hugh is still a chum and fellow member of the Chipping Campden Probus club where we join forces to exert a proper naval influence over proceedings when we are not debating the merits of different forms of service underwater.
I remember seeing DSEA and think I used it - just once. All my early dives as a Shallow Water Diver at sea in general service were in Salvus. That was when it was essential to breathe deeply!
Mike"
MCDOA member Bob Lusty also provided these memories:
"Hi all,
Your note brought memories flooding back from my time as as a young CD3 in the mid-1950s. My boss at the time was Lt Cdr Joe Brooks who ran the Experimental Diving Unit. He managed to get a Chariot and several Motorised Submersible Canoes for us to play with. The canoes were difficult to maintain as we had to break the seal in the battery compartment to recharge the tractor-type lead acid batteries. The seals would break down with constant use as they were designed for a one shot operation. The battery platform could be moved fore and aft by means of a crank with a bycycle chain attached to catch the trim. It also had a small Kingston valve for fooding the bouyancy tanks. They were not everyone's cup of tea but I enjoyed riding them.
While running the Diving Unit, Joe was the course officer for the Clearance Diving Officers' course. We were helping out as 2nd Dickies and I can remember some of them I had the pleasure of working with and for: Mike Gillam, Harry Parker, Lt Cdr Peter Roberts VC and PO Christmas (Huff Puff) who was qualifying as CD1. We had a security exercise at Portsmouth Point in which the basic task was to attack the shipping in the harbour. The canoes were used to carry two divers; one lying prostrate on the bow and the other driving. It was the bowman's task to slap the limpet mines on the hulls of the targets. This mode of operation had its problems. As the mines went on, the canoe lost trim and Boyle's Law took charge. The Kingston valve to the tanks were not up to it and the canoe shot to the surface. Roberts VC was heard to shout, "You're dead, Brooks!" There was a lot of mirth as the tanks flooded and we left surface again.
Those were the days to savour. Mike Gillam correctly identified Les Maynard looking at the Welman. He had just relieved me as the Diving Officer of HMS Reclaim. If my memory is correct, we named the Chariot 'Nessie' and had a bit of fun in Horsea Lake. By the way, I understood the canoes were designed by Southampton Uni as their war effort but I do not think they were used in wartime operations.
Bob"
In his book, A Corkhead's Chronicle, former FCPO(D) Dave 'Mona' Lott describes how the Mediterranean Fleet Clearance Diving Team had two Sleeping Beauties at Malta in the late 1950s:
"In addition to being the proud owners of two sledges, another form of transport owned by the team were two underwater canoes, driven by car batteries. Similar in shape to a one-man kayak these, Second World War constructed, 15 feet propeller driven canoes were fitted with two small hydroplanes and a rudder at the rear. In the main bulk of the body at the rear they carried an electric motor and in the main front section were several twelve-volt batteries. Their underwater endurance wasn't very long but they were fun to drive. Their weapon carrying content wouldn't have amounted to very much either. The concept on which they were based was however very innovative and was believed to have come from Cambridge University." [By Webmaster: In fact, Footnote 84 in the absorbing History of Imperial College London 1907-2007 leads me to believe that development work for the Welman and the Sleeping Beauty was performed by scientists from this learned institution.]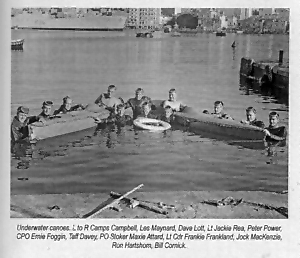 Sleeping Beauties of the Med Fleet CD Team
in Malta during the late 1950s
Dave Lott has now provided me with a short video clip of one of the Sleeping Beauties in operation off Malta during the production of an RN instructional film about Operation Awkward. It can be accessed here:
Sleeping Beauty Op Awkward Malta.mp4 (2.83MB)
Mike Jones has also passed me a DVD containing much Imperial War Museum archive material showing RN divers in action during the 1950s and a video . He is still seeking information about the Welman midget submarine and Sleeping Beauty Motor Submersible Canoe for his book, especially eye-witness accounts and photos. So, if you have anything to contribute, please contact me via my webmaster e-mail address.
---
28 Mar 09 - More about Jenny's Side Party
Today's Portsmouth News contains an obituary for Jenny of Jenny's Side Party (see entry for 23 Mar 09) featuring MCDOA member David Carey. My thanks to Matt Jackson, the paper's Defence Correspondent, for agreeing to publish this tribute.

MCDOA member Doug Barlow has also provided this photo showing Jenny with members of her side party on board the cruiser HMS Newfoundland during a visit to Hong Kong in 1957.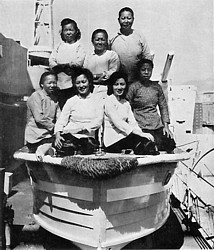 Jenny with members of her side party
on board HMS Newfoundland in 1957
---
27 Mar 09 - Defence Debate MP argues for more Reservists in Minewarfare
The following extract from Hansard (link) contains an interesting contribution by Julian Brazier, Conservative MP for Canterbury, to yesterday's House of Commons debate on 'Defence in the UK', one of the two main debates on Defence each year. Out of a total of 646 existing MPs, just over a dozen were present in the chamber for the debate.
"...Compared with the other major models for all-volunteer forces - the US, Australia and Canada, but not France, where that model is new - we have a much smaller proportion of reserve forces. Broadly speaking, half the land forces in those countries are reservist - the figure is just over in the US, and just under for the other two - and their air and naval reserves are very large, whereas ours are very small as a proportion of the total. I have four examples to give...
...My third example is mine clearing. Traditionally, that was performed mainly by the Royal Naval Reserve, although of course some capability is needed in the regular Navy. It is an odd function, because most of the time, even on operations, it is not needed, but when it is needed we need a lot of it in a hurry. The two most obvious areas for our focus would be if the situation in the Gulf took an unexpected turn such as in a confrontation with Iran. I know from having worked in that region that there is an enormous area of very shallow water, where mine warfare could easily be conducted.
The second is the waters around the UK, which is the subject of today's debate. Many of our ports have long, shallow approaches. How is our mine warfare capability currently organised? Almost all of it is within the regular Royal Navy. Therefore, I would argue, we have the worst of all worlds. We have expensive mine-clearing vessels, which carry people with very important skills, many of which are widely available in the civilian world, including deep-sea diving, survey work and so on. Each vessel has one, very expensive regular crew. If some vessels instead had two or three reservist crews, they would be much cheaper - a reservist crew is roughly a fifth of the cost of a regular crew - and, crucially, we would have a surge capability. God knows, mines are easy to lay these days, and if there was a mining threat and we had to try to clear all our major ports at once - if a couple of mines had gone off, we would not know where the others were - we would be able to work the vessels round the clock, which cannot be done with a single crew, especially as some of the skills involved, such as diving, are very tiring. An individual can dive for only a few hours a day..."
Any comments?
---
26 Mar 09 - Patients evacuated in hospital bomb alert
Today's Portsmouth News contains this article about the disposal of a suspect IED (Improvised Explosive Device) at the Royal Hospital Haslar, presumably by members of Southern Diving Unit 2 (SDU2).
---
24 Mar 09 - Parish Notices
23 April 2009 - "Growing Remembrance" Talk
On Thursday 23 April, enjoy an illustrated evening talk, "Growing Remembrance", in the beautiful spring setting of Hinton Ampner; the elegant country house and gardens near Alresford, Hampshire, now owned by the National Trust. The speaker David Childs, is the founder of The National Memorial Arboretum, Millennium Chapel and Armed Forces Memorial near Lichfield, Staffordshire, which was opened by Her Majesty the Queen in October 2007.
David Childs retired from the Royal Navy and set about obtaining a group of disused gravel pits near Lichfield, Staffs, before turning them into 150 acres of trees and memorials devoted to the concept of Remembrance. It is home to The Armed Forces Memorial, dedicated to all those who lost their lives serving their country since World War II. David was awarded the CBE (civil) for this magnificent project, and the arboretum is fast running out of space.
Hinton Ampner House and Gardens will be open for a glass of wine and evening with David Childs from 6pm. The illustrated talk will begin at 7pm ending at approximately 8.30 pm. Booking now. Tickets £15 (please donate more if you would like). All Saints Church will be open too and entrance to it is free; but donations are gratefully accepted.
Proceeds from "Growing Remembrance" and the raffle will go towards the essential maintenance of the ancient parish church of All Saints, Hinton Ampner. Raffle Prizes and Donations from: Charles Stanley; David Childs; Hinton Ampner House; Jane Austen's House Museum; Marwell Zoo; Naked Grape Wines; National Trust; Real Flower Company; Sir Harold Hillier Gardens; Titsey Estate; The Vyne; Weald & Downland Museum; West Dean Gardens; Westwood Manor.
For more information and tickets contact. David Templeman (01962 793009) templeman@turnpike-cottage.freeserve.co.uk.
---
25 April 2009 - Royal Engineers Bomb Disposal Officers' Club Spring Lunch
MCDOA members are welcome to attend this REBDOC event in the Officers Mess at RHQ, 101 (City of London) Engr Regt (EOD) (V) in Catford on Saturday 25 April as paying guests (£20 per head). E-mail me via my webmaster address for further details.
---
23 Mar 09 - Death of Mrs Ng Muk Kah BEM (Jenny of Jenny's Side Party)
I don't usually publish death notices for those outside the MCD community but Jenny deserves a special mention, largely because she will be remembered so fondly by those who have served in Hong Kong or visited the former crown colony in ships or diving teams. She even earned a mention in Rick Jolly's book, Jackspeak, when it was first published in 1988:
"Jenny's side party RN warships visiting *Honkers get spruced up there by a formidably efficient team of Chinese women who are still led, after many years, by a charming lady called Jenny."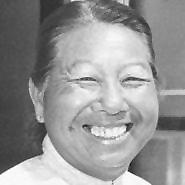 Jenny BEM
(1917 - 2009)
Mrs Ng Muk Kah BEM, as she was more formally known, died peacefully in Hong Kong on Wednesday 18th February 2009. She was 92 years old. Naval historian Charles Addis has kindly given me his permission to publish this tribute:
"Generations of sailors who visited Hong Kong will mourn the death of Jenny. She was a much loved living legend who, for all the colony's constant change, remained the same incomparable institution for over half a century. Much of her life was an enigma. However, the authors of her twenty-seven Certificates of Service generally agreed that she was born in a sampan in Causeway Bay in 1917. Her mother, Jenny One, according to her one surviving Certificate of Service, which was copied in 1946 from an older, much battered and largely illegible document, 'provided serviceable sampans for the general use of the Royal Navy, obtained sand, and, was useful for changing money'. She brought up her two daughters to help her.
Behind her perpetual great gold-toothed grin Jenny complained; "I veIIy chocker. All time work in sampan. No learn to lead or lite." But what she lacked in education she made up more than a hundredfold with her immense and impressive experience in ship husbandry, her unfailing thoroughness and apparently inexhaustible energy, her unquestionable loyalty and integrity, her infectious enthusiasm and her innate cheerfulness.
Officially Jenny's Date of Volunteering was recorded as 1928. From then until 1997, when the colony became a Special Administrative Region of China and the Royal Navy moved out, she and her team of tireless girls, who at one time numbered nearly three dozen, unofficially served the Royal and Commonwealth Navies in Hong Kong by cleaning and painting their ships, attending their buoy jumpers and, dressed in their best, waiting with grace and charm upon their guests at cocktail parties. Captains and Executive Officers would find fresh flowers in their cabins and newspapers delivered daily. And many a departing officer received a generous gift as a memento from Jenny. For all of this she steadfastly refused ever to take any payment. Instead she and her Side Party earned their keep selling soft drinks to the ships' companies and accepting any item of scrap which could be found on board.
Jenny's huge collection of photographs - too big, she said, to be put into books - she stored in a large envelope. They dated back to the mid-20th century and showed her in the ships she so faithfully served, with Buffers and Side Parties and with grateful officers, many of whom became distinguished admirals. In two thick albums she proudly kept her letters of reference, all without exception filled with praise and affection for her. One was a commendation by the Duke of Edinburgh for her work in the Royal Yacht during her visit to Hong Kong in 1959. She has a Long Service and Good Conduct Medal presented to her in 1938 by the captain of HMS DEVONSHIRE, and a bar engraved 'HMS LEANDER 1975'. Most treasured of all Jenny's distinctions was the British Empire Medal awarded her in the Hong Kong Civilian List of the Queen's Birthday Honours in 1980 and with which she, formally named Mrs. Ng Muk Kah, was invested by the Governor of Hong Kong, Sir Murray MacLehose.
In later years Hong Kong was no longer visited by the great fleets of battleships and cruisers which gave Jenny and her Side Party their livelihood and she found it increasingly difficult to make ends meet. Yet she stayed fit and always willing to undertake any work available. To the end of the Royal Navy's presence in Hong Kong there could be seen in the shadow of the towering Prince of Wales building within the naval base, a small round figure in traditional baggy black trousers and high-collared smock, with a long pigtail and eternal smile who, regardless of time. remained it seemed for ever – just Jenny."
Postscript: The Daily Telegraph published this obituary for Jenny on 26 March 2009, The Times published this obituary on 30 March and the Sydney Morning Herald published this obituary on 20 April 2009.
---
From ex-CD1 Gabby Haines:
"Dear Rob,
I am unsure how to put this picture on the web site. Perhaps you could oblige - Jenny and side party in their hey-day 1955 on board HMS Newfoundland, Hong Kong harbour obviously. I once tried to get my head down on the f'oc'sle mess deck, Sunday afternoon, and they were busy with chipping hammers de-rusting the foc'sle, not a pretty sound!
Thanks Rob,
Gabby"
of her side party
---
20 Mar 09 - News from Walney
The RN website contains this article describing the recent activities of HMS Walney.
Commanding Officer and Walney sailors present
a cheque to the I.O.M. Children's Hospice
(RN website photo)
---
19 Mar 08 - Atherstone off Pakistan coast
Today's Portsmouth News contains this article describing the recent activities of Portsmouth-based HMS Atherstone off Pakistan (see entry for 17 Mar 09).
---
18 Mar 09 - NDG completes extended training period
The RN website contains this article describing how the Northern Diving Group (NDG), commanded by MCDOA member Jason White, has completed an extended period of training to ensure its members' diving and bomb disposal skills remain at the highest level.
Some NDG divers with Jason White second from left
(RN website photo)
---
17 Mar 09 - Atherstone and Grimsby exercise off Pakistan
The RN website contains this article describing how HMS Atherstone and HMS Grimsby accompanied HMS Portland and RFA Diligence for Exercise AMAN 09 off Pakistan with ships from 11 other countries after visiting Karachi.
---
16 Mar 09 - MCDOA Ladies Night
This year's MCDOA Ladies Night will be held at Hornet Sailing Club on the site shared with the Joint Services Adventurous Sail Training Centre (JSASTC), Gosport on Saturday 16 May. Subsidised by the Association, members and their ladies will enjoy a fine three-course meal, wine, coffee, mints and entertainment, with Buck's Fizz on arrival, all for just £25 per head for members and their partners. Commencing at 1930 for 2000, the dinner will be held in an exclusive area, allowing us to enjoy a traditional meal in pleasant and relaxed atmosphere. Despite the title, unaccompanied Association members are very welcome as, indeed, are private guests for whom a minimal surcharge of £5 per head will be levied. Parking will be available, with prior notification, and taxis will also be allowed access to the club.
The Calling Notice and Application Form are available for download via the 'Upcoming Events' page of the website's Members Only area. Please ensure that your application and payment reaches Tony Griffiths, our Hon Sec, by Monday 11 May.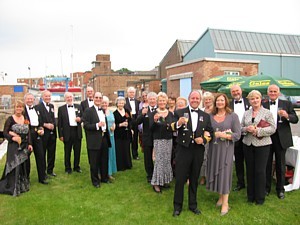 Some of the attendees at last year's
MCDOA Ladies Night
---
13 Mar 09 - Brocklesby finds bomb and parachute
Today's Portsmouth News contains this article describing the discovery by HMS Brocklesby of a live bomb with parachute on the seabed off Sardinia in the Mediterranean (see entry for 7 Mar 09). It features AB(MW) Lee Roberts.
AB(MW) Lee Roberts
(Portsmouth News website photo)
---
12 Mar 09 - Ramsey and Blyth home after two and a half years
The MoD website contains this article describing the return of HMS Ramsey and HMS Blyth to their base at Faslane on 10 March after their two-and-a-half year deployment in the Gulf.
HM ships Blyth and Ramsey return to HM Naval Base Clyde
(MoD website photo by POA(Phot) Tam McDonald)
If anyone can identify the spooky-looking object in the sky behind the ships, I would be grateful.
---
11 Mar 09 - FDU2 in exercise off Cyprus
The RN website contains this article about Exercise CYPRUS WADER in which Fleet Diving Unit 2 (FDU2) is a participating unit. The multi-national amphibious force is led by Commodore Peter Hudson CBE ADC, Commander Amphibious Task Group (COMATG), embarked in HMS Bulwark.
Royal Navy TAURUS 09 Task Group flexes
its muscles in the Mediterranean
(RN website photo)
Although Cdre Hudson is a Navigator by specialisation, he is no stranger to the MCDOA. Between 1994 and 1996, he commanded the Hunt Class minehunter HMS Cottesmore, currently being prepared for transfer to the Lithuanian Navy in 2011. The photo below left shows him flanked by other former COs of Cottesmore, including MCDOA members David Hilton (far left) and Chris Thompson (far right), the evening before her joint-decommissioning ceremony with Brecon and Dulverton (also bound for the Lithuanian Navy) at Faslane on 14 July 2005. The photo on the right shows him as CTF 152 in Bahrain last October when he re-encountered MCDOA member David 'Topsy' Turner who transferred to the RNZN in early 2004.
Left: Cdre Hudson with MCDOA members David Hilton (far left) and Chris Thompson (far right) at Faslane in Jul 2005
Right: Cdre Hudson with MCDOA member Topsy Turner in Bahrain in Oct 2008
---
9 Mar 09 - Warship World article by Doug Barlow
The latest issue of Warship World contains a two-page illustrated article written by MCDOA associate member Doug Barlow. It chronicles his eventful post-war service in three successive battleships and is entitled 'The Lighter Side of Heavy Battleships'. I had a hand in its production and commend it to you.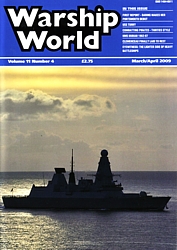 Front cover of Mar/Apr 09 issue
of Warship World
---
8 Mar 09 - News from HMS Ramsey
Lt Marc Taylor RN, the Navigating Officer of HMS Ramsey, has kindly sent this update:
HMS RAMSEY - FEBRUARY WEBSITE UPDATE
The month of February saw HMS Ramsey leave the Middle East, transit through the Suez Canal and cross the Mediterranean Sea; conducting important Maritime Security Operations throughout and remaining on schedule for her return to Faslane in March. With short stops in Oman, Djibouti, Malta and Gibraltar along the way, the past four weeks have been hectic but enjoyable for the ship's company, with each port visit taking them another step closer to home.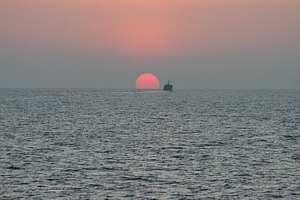 HMS Blyth leads the way as we depart Salalah
and sail into the Gulf of Aden
The month began in Salalah, Oman; the first port of call for fuel and supplies after leaving Bahrain. Most of those on board took the opportunity to stretch their legs ashore before the ship sailed early the following morning. Back at sea, the Senior Rates' mess held a barbeque on the crane deck, allowing the chefs a break from the galley and providing the rare chance for the whole ship's company to socialise on the upper deck.
Despite being notorious for pirate activity, Ramsey's passage through the Gulf of Aden proved uneventful, although several merchant ships were grateful for the presence of RN warships in the region, following in the mine-hunter's wake for most of the passage. From the Gulf of Aden, and after a mercifully brief fuel stop in Djibouti, Ramsey and her sister ship Blyth headed north and into the Red Sea, towards Suez and the more familiar waters of the Mediterranean.
The calm seas and sunny weather meant that fitness could once again become a priority, with daily circuit training taking place under the guidance of AB 'Clubz' Kaney, and with both ships making swift progress, there was time for two 'Hands to Bathe' stops, 70 miles off Saudi Arabia's western coastline. Despite the threat of sharks, jellyfish and being left behind, many took the plunge as Ramsey drifted in the 25ºC water.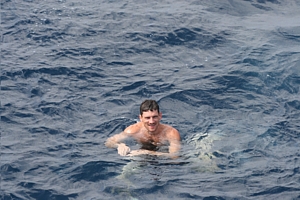 HMS Ramsey's CO, Lt Cdr Nick Borbone,
enjoys 'Hands to Bathe' in the Red Sea
Transit of the Suez Canal marked the end of over two years in the Gulf area of operations and after a 14 hour transit in fine conditions, Ramsey entered the Mediterranean and back under the operational control of the Commander-in-Chief Fleet. The ships emerged into the Mediterranean to be greeted by strong winds and high seas, but despite the tempestuous welcome to European waters, progress remained speedy and the minehunters even managed to arrive in Malta a day ahead of schedule.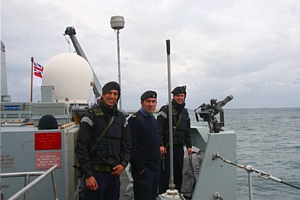 ABs Poole, Bruce and Kaney looking forward to some
rest and relaxation as Ramsey approaches Valletta
The culture and heritage of Valletta, combined with the bars and nightlife of St Julian's, made Malta a popular stop for many of Ramsey's ship's company, and the five days spent alongside provided a much-needed break after nearly three full weeks at sea. It was then a trip from one well-known outpost of Naval power to another, as Ramsey made the four-day voyage to Gibraltar. With another naval landmark checked off the list, and yet more fuel and stores embarked, Ramsey sailed into the Atlantic towards Porto, and the penultimate leg of her 6,500 mile journey home.
---
7 Mar 09
HMS Brocklesby locates bomb
The RN website contains this article describing the discovery by HMS Brocklesby of a bomb and parachute off Sardinia in the Mediterranean.
Bomb and parachute on seabed
(RN website photo)
---
RN Diving Heritage - The missing Welman
The Welman was a one-man midget submarine designed by the aptly named Colonel John Dolphin of the Royal Engineers in mid-1942. Research, development and the construction of three prototypes were carried out by Station IX of the Special Operations Executive (SOE) at the comandeered Frythe Hotel (erroneously spelled Fryth Hotel in some sources) near Welwyn Garden City; thus the name Welman (Welwyn One-Man Submarine). In early 1943, trials were conducted at St Albans, the Admiralty experimental tank at Haslar, and in Laleham Reservoir near Windsor. This is when the omission of a periscope should have been identified as a critical design flaw. Further information can be found in Wikipedia here but a more detailed account is available in Paul Kemp's authoritative book, Underwater Warriors.
Left: Welman midget submarine at the Frythe Hotel, Welwyn Garden City
Right: Welman with detachable warhead being trialled at Queen Mary Reservoir, Staines
Some weeks ago ex-Royal Marine Mike Jones, who is researching a book on the subject, asked me for further information about the Welman recovered by HMS Reclaim from Rothesay Bay in January 1973 after reading about it in 'HMS Reclaim - A World Record Breaker' in the website's Dit Box. I subsequently found these photos in a scrapbook provided by MCDOA member 'Uncle Bill' Filer and passed them on:
Welman midget submarine 'W10' recovered by HMS Reclaim
in Rothesay Bay in January 1973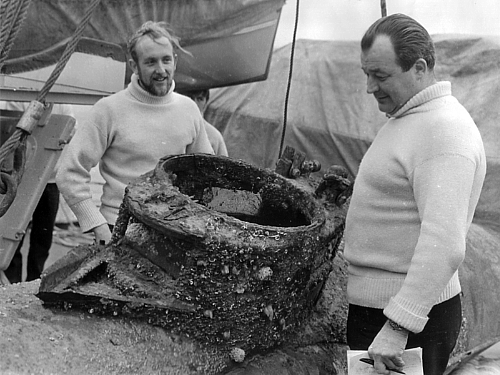 HMS Reclaim's Chief Diver Derek 'Nobby' Clark and
Diving Officer Les Maynard inspect Welman
Bill Filer's scrapbook also contained these rather inaccurate cuttings from the Portsmouth News and the Scottish Record respectively.:
Newspaper cuttings describing recovery of Welman
CDO Cyril Lafferty, HMS Reclaim's Commanding Officer at the time, followed up with this background to the recovery operation:
"Rob,
I was Captain of Reclaim at that time and we were working in the area when we were contacted by a team of divers from Faslane - they were either the base ships' divers or the Sub-Aqua club. They were working from an old torpedo recovery boat and told us they had found a small sub which they believed had sunk whilst alongside the submarine support ship during training towards the end of the war. The legend was that the sub had shipped water through its hatch and sunk with the skipper on board and the hatch slammed shut. He was reputed to be a Norwegian Officer who, because of his enormous strength was able to force open the hatch and escape. We were asked by them to lift the sub, which we did and landed it ashore, I think at the fuelling depot. The second photo you sent shows our Diving Officer, Les Maynard and our Chief Diver Derek (Nobby) Clark, with whom I spent three years in the USN on the Sealab III Project.
My memory of the details is not reliable and I have no idea of what happened to the Welman after we handed it over.
All the best,
Cyril"
Lt Jimmy Holmes RN in Welman showing low
freeboard of 'conning tower' hatch
Mike Jones then corroborated Cyril's recollections about the Welman's original loss:
"Hi Rob,
You are right about the Welman being accredited as 'W10'. I believe that this is true. One of the chaps who was there when it was sank was WO(2) S. Weatherall RM (later joined the SBS). He said of that day, the 9th Sep 1943:
"I remember one cold evening when a young Norwegian was trying to trim his Welman alongside TITANIA or BONAVENTURE. We could see him through the windows around his little conning tower, struggling with something inside the craft. We made signs to him to come out but before he could do so the Welman sank in 180ft of water and only a small line of bubbles came up, followed a moment later by the Norwegian. He was unconscious and bleeding from the ears, nose and mouth. But he had done a 'free escape' from 180ft - that is come up without any form of breathing apparatus. A feat which was soon to be excelled however when, in March 1945, S.Lt. W. Morrison and E.R.A Les Swatton escaped from XE11 in Loch Striven. Thanks to his magnificent physique and the prompt and skilled attention that he received on surfacing, in a few hours he had recovered sufficiently to leave the sick bay and come on deck to ask if could take another craft away! This was typical of those cool-customer Norwegians."
The Norwegian concerned was Lt. B. Pederson. He should have been called lucky because he was the officer I told you about earlier who was captured with his Welman during his attack on the Tirpitz (Operation Barbara). Funnily, the two subs he drove may still exist. His fate is not known and accounts vary. He was sent to a prisoner of war camp and it is not known what happened to him after that. It is not thought that he suffered the same fate of other clandestine operators such as the Cockleshell Heroes and it appears that, if he did survive after the war, he just disappeared into anonymity. He was asked why he didn't drop the keel (which was a safety feature of the Welman and can still be seen in the photos) and replied that he thought he was going to make it to the surface but only realised too late when he was losing consciousness.
Thank you once again, your help has been fantastic and has at least gone some way to understand what happened to the W10. As an old wreck diver, we always get excited about photos of old wrecks and they are great photos of W10's recovery, especially when you know the story behind it.
Take care,
Mike"
So what eventually happened to Reclaim's Welman? Over a hundred of these midget submarines were built at the Morris car factory at Cowley but they were only used once in anger; an abortive raid by four of them on a dry dock and German shipping at Bergen in Norway in November 1943. According to most sources, only three examples survive: 'W48' (salvaged by the Germans after the raid on Bergen) in the marine museum at Horten in Norway; one in Norfolk Naval Shipyard in the USA; and one at the RN Submarine Museum in Gosport in the UK. I have since ascertained that the RN Submarine Museum does not have a Welman but disposed of the badly corroded wreckage of one it received from Pound's scrapyard in Portsmouth several years ago. Presumably, this was the Welman recovered by HMS Reclaim which had foundered on 9 September 1943 as described above.
Welman 'W48' at the Marinemuséet, Horten near Oslo in Norway

Unidentified Welman at the Norfolk Ship Yard, VA, USA
Mike also asked for my help with his research into the 'Sleeping Beauty' Motor Submersible Canoe (MSC) but I will save the fascinating results of this for another time.
Postscript: In 2010, former AB(D) Peter Rich informed me that he was among the team of divers from HMS Maxton which had initially found the Welman eventually recovered by HMS Reclaim (see Cyril Lafferty's recollections above). The team comprised an MCDO, CPO(D) Dave Shewin, LS(D) Scouse Lewis, LS(D) Maurice 'Sharky' Ward and a baby diver.
---
6 Mar 09 - MCDO Neil Marriott awarded QCVS
I am delighted to be able to relay this message from MCDOA member David Hunkin (Commander Second MCM Squadron):
"Rob,
Pse announce that Lt Cdr Neil Marriott, Chief of Staff to MCM2, has been awarded a QCVS [Queen's Commendation for Valuable Service] for his efforts on Op TECATE last year. It is a great result which he throroughly deserves and recognises his particularly hard work under quite testing conditions last year during our most recent coalition MCM operation which the UK led - hurrah!
We are currently in Ostende undergoing MWBS [Mine Warfare Battle Staff] training in preparation for our next deployment to the Gulf in May. Lots to tell about this and will send an article about developments in the Gulf idc.
Regards,
David"
MCM2 and his staff during Operation TECATE
(RN website photo)
Thanks to David and warm congratulations to Neil. The full list of Operational Awards is available on the MoD website here.
---
5 Mar 09 - Project Vernon takes to the road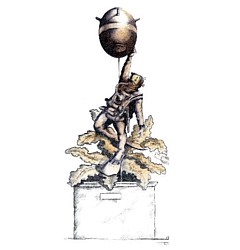 MCDOA member David Carey provided a roadshow presentation for the Liss branch of the Royal Naval Association (RNA) last night in his role as the Project Manager of Project Vernon, the campaign to erect a monument at Gunwharf Quays commemorating the Mine Warfare & Diving heritage of HMS Vernon. He was supported by members of the Project Vernon management committee including Brian Dutton, Tony Griffiths, Mike Handford, Yours Truly (Rob Hoole) and Frank Ward. Frank is not only a long-time MCDOA committee member, Project Vernon Secretary and Secretary of the RN Birdwatching Society (RNBWS) but he also happens to be the Deputy General Secretary of the RNA so his presence was particularly fortuitous.
After an ice-breaking beer for everyone to meet each other, the Branch Chaplain said a prayer highlighting those engaged in minewarfare and diving and a minute's silence was held in memory of RN personnel who have crossed the bar. David was then introduced to the 40-strong audience by Liss RNA Branch Chairman, Bob Dean, who is also a leading light of the Ton Class Association (TCA) Historical Group. David proceeded to give a highly polished presentation encapsulating Project Vernon's purpose, history, current position and future plans.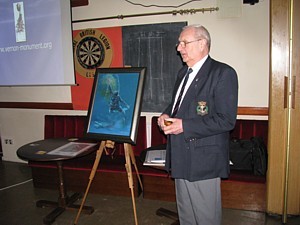 Liss RNA Chairman Bob Dean introduces David Carey
David's presentation was well received although some ex-TAS Branch members asked why they did not appear to be represented in the monument's design. In response, it was pointed out that the monument is not intended as a tribute to any particular branch or branches but is meant to commemorate the mine warfare and diving activities associated with HMS Vernon throughout its history including the work of its wartime mining and mine countermeasures departments, its bomb & mine disposal achievements (many actually performed by reservists), the attached MCM squadrons representing all branches and trades, the deep divers, clearance divers and ships' divers who passed though its gates, and so on. In fact, members of the HMS Vernon-based Torpedo Branch, which merged with the HMS Osprey-based ASW Branch to form the TAS Branch in October 1946, were responsible for all aspects of minewarfare right up to 1975 when many of them transferred to the newly formed MW sub-Branch of the embryonic Operations Branch, now replaced by the Warfare Branch. In the second phase of Project Vernon, it is intended to install a plaque near the monument, or even an interactive console, to ensure that all these elements are properly explained.
Left: David Carey describing Project Vernon
Right: Audience for Project Vernon Roadshow at Liss RNA
After the presentaton and questions, Branch President Captain Mike Barrow RN, the Commander at BRNC Dartmouth when I was a Cadet and later Commanding Officer of HMS Glamorgan during the Falklands conflict, stated that David's presentation was the best he had ever heard at Liss RNA. The Branch Standard Bearer, Simon Sillence, then proposed that a donation be made to Project Vernon in appreciation of David's efforts and this was carried unanimously. Two RNA members also placed orders for limited edition prints of John Terry's painting, 'Danger at Depth'.
Among the audience last night, I was extremely pleased to see Captain E.M.S. 'Mike' O'Kelly RN, the Captain of HMS Vernon from July 1976 until August 1978. It further transpired that Rev Alan Geddes, the Liss RNA Branch Chaplain, had been trained and served as a TAS rate at HMS Vernon and Simon Sillence, the Branch's Standard Bearer, was a Ships' Diver.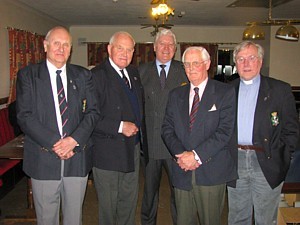 Left to right: Bob Dean, Capt Mike Barrow RN, David Carey,
Capt Mike O'Kelly RN and Rev Alan Geddes
If anyone else has a suitable audience for the Project Vernon Roadshow following last night's successful roll-out, please contact David Carey via his Project Manager's e-mail address here.
Late News: The Petersfield Post of 18 March 2009 subsequently published this article describing the presentation.
---
4 Mar 09 - HMS Shoreham visits home town
The Portsmouth News contains this article describing a visit this week by HMS Shoreham to Shoreham, West Sussex. Yesterday, I joined fellow members of the Ton Class Association (TCA) for a tour of the ship to learn about her newly installed Seafox mine disposal system, Warship Electronic Chart Display & Information System (WECDIS) which replaces the old-style paper charts, ships' Automatic Identification System (AIS) and Mk44 minigun close-in weapons system (see video of a minigun in recent action here).
HMS Shoreham in Shoreham Docks
We were shown around by Sub Lt Fergus 'Gus' McGlone, the Gunnery Officer, who patiently answered our questions most knowledgably. Like the rest of the ship's company, he had spent most of last year in HMS Ramsey in the Gulf. Our tour took in the bridge, operations room, Seafox hangar and TMCC compression chamber with CDBA and SABA diving sets arranged on display. In the ops room, it was fascinating to watch the replay of a recent Seafox mine disposal vehicle run against a moored mine conducted in text book fashion with the vehicle's automated transit to the minelike contact, sonar picture and CCTV video used to maximum effect.
Left: Fergus describes WECDIS and AIS
Right: Fergus describes the QM's control panel
Left: Fergus explains TMCC procedures
Right: A Seafox inspection vehicle (warshot mine disposal variants are carried too)
During our tour, I met the Boatswain, PO(MW) David 'Foggy' Foggin, who told me that the Coxswain was PO(D) Garth Spence and the Ops Room Supervisor was PO(MW) 'Rammy' Ramsdale. We were then taken to the wardroom where we were joined by Lt Richard Skelton, the ship's Navigating Officer, for a debrief with coffee and biscuits. Stronger stuff was on offer but, sadly, most of us had to drive afterwards.
Debrief (with coffee and biscuits) in the wardroom
I would like to express my appreciation to the CO of HMS Shoreham, Lt Cdr Andy Lamb who was absent on courses for the day, and to Fergus and Richard for being such informative and convivial hosts. Your ship does you proud.
---
3 Mar 09 - MCDOA Northern Dinner
I am grateful to MCDOA member Phil Ireland for providing this description of the MCDOA Northern Dinner held at Faslane last Thursday:
"Dear Rob,
The annual northern gathering of a select band of MCDOA members and their guests was held at HMS NEPTUNE on Thursday 26 Feb. Our Guest of Honour was Monty Halls, a marine biologist, professional diver and globetrotting documentary maker, whose excellent speech included some hilarious dits about his exploits. An ex-RM officer who spent time up in Faslane with Commachio Group, Monty very generously waived his normal after-dinner speaking fee of £4k and even paid his own travel expenses from London where he had been on national TV in the morning plugging his latest documentary series! The first of five episodes of "Monty Halls' Great Escape" was shown on Sun 1 Mar on BBC2 at 9pm (still available here on BBC iplayer). Well done to Jason White (CO NDG) for an inspired invitation.
In response to my letter of thanks, Monty emailed:
"Cheers Phil,
By far and away the most enjoyable speaking engagement I've done for years! Great to chat to some real divers - I've nicked loads of your stories as well of course!
Thanks again, and delighted you enjoyed the show.
All the best,
Monty"
I'm afraid the evening was well advanced before we realised that no photos had been taken, so the attached mobile phone shot from the Resolution Bar in NEPTUNE Wardroom is the only one we have to record the event! The diners were Cdr Peter Greenwood, Cdr Phil Ireland, Cdr Tom Russell, Lt Cdr John Law, Mr Simon Evans (John Law's guest), Lt Cdr Richard Osbaldestin, Alan Osbaldestin (my guest), Lt Cdr Jason White, Lt Cdr Matt Offord, Lt Cdr Tony Hampshire, Lt Cdr Tony Griffiths, Lt(N) Troy Beechinor CN, Lt Stewart Thomson, Lt Cdr John Burden (Retired), Lt Cdr John Belchamber (Retired), Lt Cdr Hamish Loudon (Retired), Monty Halls (Guest Speaker) and the Rev Andrew Duff (Padre)."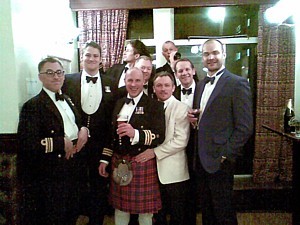 Some survivors of the 2009 MCDOA Northern Dinner
Members can express their appreciation to Monty Halls in a more tangible fashion by sponsoring him in the London Marathon which he is running in aid of the campaign for a special area of conservation in the Moray Firth (see www.justgiving.com/montyhalls).
---
2 Mar 09 - CD Course gets a taste of Standard Diving Dress
I am grateful to Peter Wingett, Honorary Treasurer of the Historical Diving Society (HDS), for sending me these photos of a visit by members of the HDS to the Defence Diving School (DDS) at Horsea Island in October last year. They gave WO(D) Steve Strange and one of the CD courses a taste of diving in Standard Dress.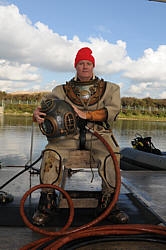 WO(D) Steve Strange in Standard Dress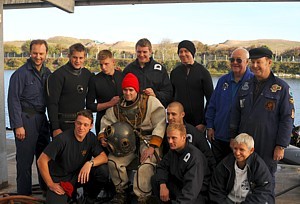 HDS members with CD Course at Horsea Island
See entry for 29 April 07 in News Archive 18 for pictures of a diving weekend spent at Horsea Island by the HDS Working Equipment Group (South) and its Italian counterparts.
---
1 Mar 09 - Navy News Items
The March e-edition of Navy News contains the following items of MCD interest: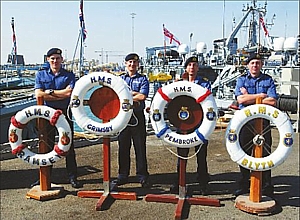 Four COs of Gulf Sandowns
(Navy News photo)
---
28 Feb 09 - Explosion! to close
The Portsmouth News contains this article announcing that the Explosion! Museum of Naval Firepower will close its doors for the last time on 1 April 2009. The museum opened in 2001 on the site of the old Royal Naval Armament Depot at Priddy's Hard, Gosport. Despite the efforts of a loyal band of volunteers, including former RNAD staff who have meticulously restored many of the exhibits from what were little more than piles of scrap, attendance has suffered, largely because the museum is buried within a rapidly expanding housing development and isolated from public view. Also, shoreside road and waterbus links, promised for the millennium, never materialised.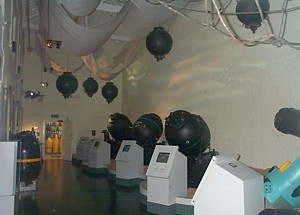 Mining Hall at the Explosion! Museum
of Naval Firepower
I have been connected with this project since its inception and find the latest news extrememly saddening. One of the award-winning museum's main features is the mining hall, pictured in the newspaper article. You might even spot a familiar bearded and bespectacled face if you operate the touch-sensitive interactive displays.
Left: UK Mk XIX Moored Contact Mine
Right: UK M Mk1 Moored Magnetic Mine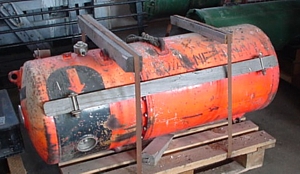 Dutch Exercise Ground Mine
The museum also contains a wide variety of naval guns on their mountings, small arms, missiles, torpedoes (including a German 'Marder' one-man submersible 'human torpedo'), ASW mortars, depth charges, bombs and ammunition. Certain Gosport councillors, including Peter Langdon who was once the Establishment Engineer Officer in HMS Vernon, are still fighting to keep the museum open but they are in the minority. Goodness knows what will happen to all the irreplaceable artefacts.
Left: First World War Burney Paravane
Right: UK Exercise Limpet Mine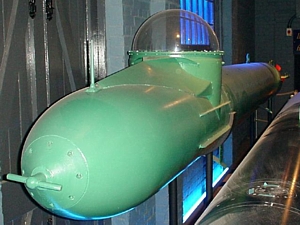 German 'Marder' human torpedo
If you haven't yet visited the museum, this may be your last chance. Take a look at its website for opening times and other useful information.
---
27 Feb 09
MCDO Promotions
My thanks to MCDOA member Andy 'Sharkey' Ward for informing me that the following MCDOs have been selected for promotion to Lt Cdr with effect from 1 October 2009:
Lt Nick Gwatkin (OIC FDU3)
Lt Mark Mason (HMS Somerset)
Lt Tim O'Neil (Defence Diving School)
Lt Richard Talbot (XO HMS Grimsby)
Warm congratulations to those listed, especially MCDOA member Richard Talbot. With all that extra pay and a rosy future coming your way, the rest of you no longer have any excuse for avoiding MCDOA membership (still only a tenner per year
).
---
Diver Relays in Aid of Red Nose Day
The RN website contains this article describing the activities of DDS staff for this year's BBC Comic Relief appeal (see entry for 25 Feb 09).
---
26 Feb 09
Message from Vice Admiral Russ Crane AM, CSM, RAN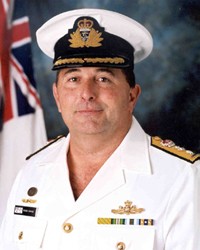 Vice Admiral Russ Crane AM, CSM, RAN
(RAN website photo)
Paul de Gelder lost a hand and a leg during an attack by a bull shark while night diving in Sydney harbour on 11 February (see article immediately below this). I have subsequently received this message from Russ Crane, the RAN's Chief of Navy:
"Rob,
I managed to get to Sydney today to see Paul de Gelder in St Vincent's hospital. While now feeling a little more pain due to his reduced painkiller treatment he remains in high spirits and is certainly a very focused and determined young man. I passed to him the best wishes of all in the branch and he informed me he has been completely overwhelmed by the support being shown to him both nationally and internationally.
Thanks for the support from the RN for Paul – it's always good to know you have good mates around the globe when things get difficult for one of our own.
Russ Crane"
We can demonstrate our support even more tangibly by contributing to the fund described below. Every little bit will help to cover the modifications Paul will find necessary to lead a normal lifestyle despite his abruptly changed circumstances.
---
Support Fund for AB(CD) Paul de Gelder RAN
RAN Clearance Diving Team 1 (AUSCDT1) has set up a support fund to help AB Paul de Gelder and his family through their ordeal following the loss of his right hand and leg as the result of a shark attack while diving in Sydney harbour on 11 Feb (see entries for 10 Feb 09, 12 Feb 09 and 18 Feb 09). To illustrate what a small world our Branch is, Paul had been due to join SDU1 at Plymouth as a participant in the Exercise Long Look exchange programme and AUSCDT1's Commanding Officer, Lt Cdr Chris White RAN, was on exchange as XO of HMS Atherstone from 2005 until late 2007.
Lt Cdr Brett Dawe RAN, currently on exchange as XO of HMS Quorn, has kindly agreed to set up a UK bank account to facilitate the transfer of any donations without the prohibitive charges normally involved. He has also offered to absorb the fee incurred in transferring the consolidated sum abroad. Brett has written the following to Troy Tempest, Secretary of the Association of RN First Class Divers (AORNFCD) and webmaster of the RN CD website:
"Even the offer of support from your association will mean a lot to Paul and to the Dive Team. Please pass our thanks to your members for thinking of Paul during this time. I will continue to pass updates on how he is getting on via this means. Please don't hesitate to get in touch if you have any further questions.
Brett Dawe"
If you wish to contribute, please pay your money into the following account and it will be passed on accordingly:
HSBC Account Name: Pauls Welfare Account
Branch Sort Code: 40-37-15
Account Number: 81858963
---
25 Feb 09 - DDS splashes out for Red Nose Day
MCDOA Hon Treasurer Soapy Watson tells me that the Defence Diving School raised £100 this morning for this year's BBC Comic Relief appeal. Three-man teams of divers searched for red rocks in Horsea Lake and each rock recovered gained £1 for Comic Relief. Although Red Nose Day isn't officially until 13 March, this event was organised today because classes will be deploying away next week. It all provided a bit of fun during what is a very busy training schedule at the moment.
These photos were taken by Stephen Legg of VT Flagship's Diving Training Support:
Left: CO of DDS - Lt Col Laurence Williams RE
Right: MCDO Tim O'Neil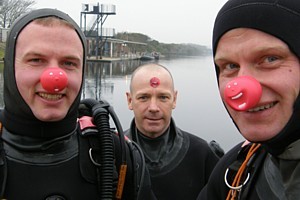 MCDOs Tim O'Neil and Soapy Watson flank
WO(D) Yorky Harran

Red Nose splash balloons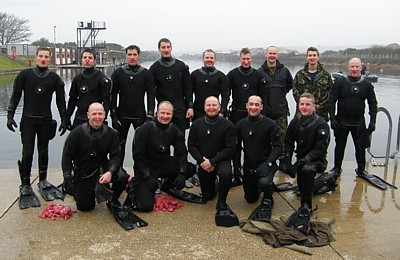 DDS Red Nose team
Well done to all concerned.
---
21 Feb 09 - New Personal Update
The Members Only area contains an update with photos from MCDOA member Dave 'Spidey' Ince who transferred to the RAN a little over two years ago. He is completing a deployment in Afghanistan where he recently encountered fellow MCDOA member Mark Durkin.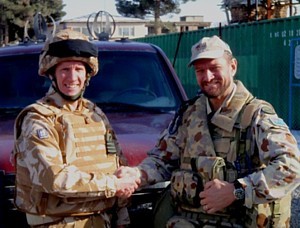 MCDOA members Mark Durkin and Dave Ince
in Afghanistan
How about updates from a few more of you? It will only take a few minutes of your time but provide much pleasure to many of your fellow members. Simply e-mail your dits and photos to me here.
---
19 Feb 09 - Hellos and Goodbyes
The RN website contains this article about HMS Pembroke in Bahrain featuring AB(D) 'Scottie' Telford who is leaving the ship to join the Northern Diving Group.
AB(D) 'Scottie' Telford
(RN website photo)
---
18 Feb 09 - AB(CD) Paul de Gelder loses his leg
The Australian Defence Department has released this sad but encouraging statement from AB(CD) Paul de Gelder (see entries for 11 Feb 09 and 12 Feb 09):
"MSPA 051/09 Wednesday, 18 February 2009
STATEMENT FROM ABLE SEAMAN CLEARANCE DIVER PAUL DE GELDER
'I will today have my right leg amputated. The past week has been quite an overwhelming experience and without certain people I definitely wouldn't be alive today.
I'd like to thank a couple of heroes: Leading Seaman Clearance Diver Jeremy Thomas, Able Seaman Clearance Diver Ryan Dart and Seaman Clearance Diver Arthur McLachlin, my colleagues and good mates who pulled me out of the water and saved me from what I understand was a three metre Bull Shark.
I'd also like to thank the paramedics who got me to the hospital within an inch of my life, and finally I must express my deepest gratitude to the fantastic doctors and staff at St Vincent's Emergency, ICU, and Navy Ward.
My family, friends, and workmates have shown me limitless support over the past week and during this stressful time, they are keeping a smile on my face and love in my heart.
I'm looking forward to rebuilding my life and taking on the new challenges I have to face. Ultimately I would like to return to what I love - Navy diving.
Throughout this trauma the Royal Australian Navy has provided myself and my family with the necessities required for travel, support and a foundation on which I can plan for the future.
There are so many people who have sent their best wishes and support that I couldn't possibly name them all, but each of them have helped me to rise above this potentially life shattering situation and I thank them all.'
The Times Online website also contains this update.
---
17 Feb 09 - Lifeboat named after Don McLauchlin
Those members who remember the late CDO, Lt Cdr Arthur Donald 'Don' McLauchlin RN, will be interested to know that an Atlantic 85 lifeboat has been named after him as described here on the RNLI website. MCDOA member John Grattan discovered this fact while we were researching information about Don following a query from one of his old ship's company members.
Among his other appointments, Don was the 1st Lt of HMS Shoulton c.1965 and the CO of HMS Glasserton 1968-70 when both ships belonged to the 3rd MCM Squadron based at Portland. He retired from the RN in the late 1970s but remained in post for some years as the founding Officer-in-Charge of the Joint Service Sub Aqua Diving Centre (JSSADC) at Fort Bovisand.
---
16 Feb 09 - HMS Hurworth and SDU1 visit BRNC Dartmouth
The RN website contains this article describing a visit to Britannia Royal Naval College, Dartmouth by HMS Hurworth and Southern Diving Unit 1 (SDU1) featuring MCDO Lt Mike Samways RN.
SDU1 sets up shop on the Parade Ground
(RN website photo)
---
13 Feb 09 - Brocklesby prepared for the wurst
The Navy News website contains this article describing how HMS Brocklesby has undergone training courtesy of the German Navy's equivalent of FOST.
Sailors remove a (mock) casualty from HMS Brocklesby
during a firefighting exercise in Germany
(Navy News photo)
---
12 Feb 09
Shark attack on RAN CD in Sydney Harbour - Update
AB(CD) Paul de Gelder from AUSCDT1 prepares
his dive board prior to Exercise Kondari
(RAN photo)
From MCDOA member Andy 'Shakey' Stevens:
"Rob,
Here is a copy of the Australian Department of Defence Press Release about AB Paul de Gelder. I will continue to keep you appraised on his progress. The CO of CDT One, LCDR Chris White, who only recently returned from the UK after completing an exchange appointment as XO of HMS Atherstone, has asked me to thank you for your kind thoughts at this time, see below.
Shakey
Andrew Stevens
LCDR RAN
Deputy / COMMCDTG"
This is Chris White's message in response to our best wishes for AB de Gelder's full and speedy recovery (see entry for 11 Feb 09):
"Shakey,
Please pass back my regards and thanks, I will pass on their best wishes.
Regards,
Chris White
Lieutenant Commander, RAN
Commanding Officer Australian Clearance Diving Team One"
Here is the RAN official press release forwarded by Shakey:
"MSPA 040/09 Wednesday, 11 February 2009
FLEET COMMANDER DOORSTOP
DIVER ATTACKED BY SHARK
What: Doorstop and pre-record interview opportunity.
When: 4:30pm (doorstop) 5:00pm (pre-record interviews) Wednesday, 11 February 2009.
Where: Area adjacent to Harry's Cafe De Wheels, Cowper Wharf Road, Woolloomooloo.
Who: Rear Admiral Nigel Coates, RAN, Commander Australian Fleet; and Commander Michael Maley, RAN, Deputy Commander Australian Mine Warfare and Clearance Diver Group, and Chairman of the Dive Safe Organisation.
Background:
The Navy clearance diver injured in a shark attack at Garden Island this morning has been named as 31 year old Able Seaman, Paul de Gelder.
Able Seaman de Gelder is a member of Australian Clearance Dive Team One, based at HMAS Penguin in Sydney's northern suburbs.
The incident occurred just before 7am, in waters alongside the Navy's Fleet Base East Wharf at Woolloomooloo. Able Seaman de Gelder was taking part in Exercise Kondari, a trial run of new technologies designed to protect Australia's ports, naval bases and ships against terrorist attack.
Able Seaman de Gelder has undergone surgery and is in a serious but stable condition in hospital. His family and fellow divers from Team One are by his side.
Navy personnel who witnessed the attack and pulled Able Seaman de Gelder to safety are being offered counselling.
An investigation into the incident is now underway.
Media note:
An image of AB Paul de Gelder will be available on the Defence web site: http://www.defence.gov.au/media/download
Media contact:
Danielle Kuhn (Regional Manager Public Affairs – NSW): 0405 310 176
Defence Media Liaison: 02 6265 3343 or 0408 498 664"
This report on The Times website states that AB de Gelder was due to join SDU1 at Plymouth on an exchange posting. I have heard from other sources that he has been a member of the RAN for eight years since transferring from the Army. He survived unscathed as a soldier in Iraq but, sadly, he is now reported as having lost a hand and is in danger of losing a leg. I hope this is not true but, whatever transpires, our thoughts remain with him and his family, friends and comrades.
---
Final sponsored swim update from Phil Ireland
See entry for 27 Jan 09. MCDOA member Phil writes:
"Dear All,
For those of you hearing from me for the third time, I reached my 50 mile target this morning [11 Feb]. A very big thank you to all those who have already so generously donated to Help for Heroes; a fantastic £2,392 thus far raised. And, for those of you who pledged support at the outset and have been waiting for me to complete the full 50 miles, over to you! Please do pass this message on to any friends, relatives and colleagues who might consider donating.
I have completed a 50 mile swim over the course of 15 sessions in public pools near my home in order to raise funds for a wonderful charity, Help for Heroes, which is working tirelessly to help support our wounded servicemen and women injured in the current conflicts. I swam in memory of Jamie Hutton and David Ireland.
MARINE JAMIE HUTTON: On 15th July 2008 Jamie tragically lost his life in an accident at Lulworth Ranges in Dorset as he was preparing to return to Afghanistan for his second tour. We got to know this great guy when he lived a few doors away from us in Naples shortly before joining The Corps. We will always remember his love of life and the permanent smile on his face.
PRIVATE DAVID IRELAND: My Great Uncle enlisted in 1916 days after his 18th birthday, joining the 3rd Royal Highlanders, The Black Watch. He was sent to France as a dispatch cyclist, relaying messages from trench to trench under heavy fire, and was shot through the shoulder from a German biplane. He rejoined the war in April 1917 at the Battle of Arras and was shot in the knee. Although his physical wounds healed with time, he never recovered mentally from his experiences in the trenches and spent 77 years in a psychiatric hospital until his death in 2001 at the age of 103.
I fully appreciate that many of you will be regular contributors to charity already and this is unlikely to be the only event you will have been asked to sponsor, but if you would like to make a donation you can still do so at:
http://www.justgiving.com/phil_ireland
Donating through Justgiving is quick, easy and totally secure. It's also the most efficient way to sponsor me: Help for Heroes gets your money faster and, if you're a UK taxpayer, Justgiving makes sure 25% in Gift Aid, plus a 3% supplement, are added to your donation.
Kind regards & thanks again,
Phil"
---
11 Feb 09 - Never underestimate the value of small ships
The Navy News website has published this article marking the take-over by HMS Pembroke and HMS Grimsby from HMS Ramsey and HMS Blyth in the Gulf while praising their contribution to maritime safety in the region.
Sailors from all four Sandown-class ships in Bahrain
before HMS Blyth and Ramsey head for home
(Navy News website photo)
---
10 Feb 09 - RAN Diver attacked by shark in Sydney Harbour
To add to the tragedy of the raging bush fires in Australia at the moment, former FCPO(D) Dave 'Mona' Lott in Eden, NSW has alerted me to this report on the ABC News website of a serious shark attack on a naval clearance diver in Sydney harbour. The attack occurred just before 0700 (AEDT) on 11 Feb within sight of Sydney Opera House and the victim has been identified as Able Seaman Clearance Diver Paul de Gelder, aged 31, of CDT1.
I have expressed our best wishes for AB(CD) de Gelder's full and speedy recovery and received this response from MCDOA member Andy 'Shakey' Stevens who transferred to the RAN three years ago:
"Rob,
Thanks very much for your message. You will obviously see a number of press releases over the next 24hrs, so I cannot disclose any details at present other than to say the ABCD is in a stable condition in hospital. I will pass the RN contingent's well wishes to the CO and XO of the CDT.
Shakey
Andrew Stevens
LCDR RAN
Deputy / COMMCDTG"
---
9 Feb 09 - News from HMS Bangor
I am grateful to Lt Sam Goose RN, the Navigating Officer of HMS Bangor, for sending this update:
"HMS BANGOR has had a very busy year with a high operational tempo in UK waters. The ship's company joined the ship in February, arriving back from the Gulf and readying her for getting back to sea after a long period of dormancy. March was mainly spent alongside fitting new equipment to the ship including the Automated Information System (AIS), a powerful tool to build the picture of traffic at sea. April saw an Operation Rococo conducted, surveying the sea bed on the approaches to Belfast. Following this the new CO, Lt Cdr Marcus Jacques, joined the Ship. May and June were mainly taken up with minehunting operations off the west coast of Scotland and the Northern Ireland coast. An official visit to Holyhead was enjoyed in July when the ship's company provided a marching platoon for the veterans' parade at Caernarfon – naturally the Senior Service was acknowledged by all to be the smartest turned out on parade.
Much deserved summer leave was taken by the ship's company in July and August running in to a Ship Support Period running into September. The ship then took part in MCMG week where the present ship's company trains the future minehunting fraternity, ensuring that there are reliefs in place when they are ready to move on. Across September and October, Bangor provided support to the nuclear deterrent fleet and took part in Joint Warrior 082 gaining valuable warfare experience and working with larger ships including HMS Manchester and HMS Somerset. The minehunting fraternity proved adept at hide and seek when at night HMS Somerset passed within two cables of both Bangor and Quorn without realising that the cunningly disguised ships were not in fact fishing vessels!
November saw the long looming arrival of the FOST staff on board as the ship spent five weeks in a gruelling Operational Sea Training (OST) period. Bangor survived everything the FOST staff could throw at her and passed the final inspection, released back to the Fleet as an operational unit. The ship's company enjoyed a visit to Liverpool as reward in December before departing for Christmas leave. After leave, Bangor was taken to Rosyth to enter a long refit period before the ship's company fly out to the Arabian Gulf to take part in Op Telic MCMV. The next update from this ship's company will be coming from HMS Grimsby in distinctly warmer climes!"
---
8 Feb 09 - 2009 MCDOA Annual Dinner
It may seem early to be discussing this year's dinner, planned for Friday 20 November in HMS Excellent's wardroom, but many prospective attendees are scattered around the world and will need to start planning. If any member is leaving the Service and wishes to be dined out, please make this known to Tony Griffiths, our Hon Sec, and provide him with your choice of glass diver/mine 'gizzit'.
As is our custom, we will celebrate the 25th anniversaries of the appropriate LMCDO courses although they will still pay for their dinner. These comprise LMCDO '84A (Course Officer: Dave Ellis. Course Instructor: Pete Still. Graduates: John Burden, Andy Elvin, Chris Lade and Mike McCann) and LMCDO '84B (Course Officer: Dave Ellis. Course Instructor: Pete Still. Graduates: Chris Ameye, Jon Chapple, Pete Greenwood, Steve Marshall (after sustaining injury during '84A's diving phase) and Clive Rogerson).
Julian Malec is also planning a reunion to celebrate the 40th anniversary of LMCDO '69 (Course Officer: Bruce Mackay. Course Instructor: Dusty Miller. Graduates: John Belchamber, Brian Dutton, Terry Jones, Bill Lampard, Richard Lowther, Julian Malec, Dan Nicholson and John Wiseman. Coincidentally, Pete Still was one of the second dickies). The course has planned a private reunion in Portsmouth on Sunday 14 June before re-grouping to attend the dinner in November.
Remember that you must be a bona fide member to attend this subsidised function except as a guest who is not entitled to membership. The Guest of Honour is not yet known but an announcement will be made as soon as anything is heard. Watch this space.
---
7 Feb 09 - News from HMS Ramsey
Once again I am indebted to Lt Marc Taylor RN, the Navigating Officer of HMS Ramsey, for sending us this update:
A FOND FAREWELL FOR HMS RAMSEY
This week the Royal Navy Mine Hunter HMS RAMSEY, in company with her sister ship HMS BLYTH, departed her Forward Operating Base (FOB) at Mina Salman, Bahrain, to embark upon the 6,500 mile journey back to the UK.
Since arriving in the Gulf over two years ago, HMS RAMSEY has provided a constant MCM capability in the region, as well as conducting numerous other tasks in support of British and Coalition maritime interests as part of OP TELIC MCMV deployment. The 50m Sandown Class warship left Bahrain for the last time on 27 Jan, making best speed with the intention of arriving in her home port of Faslane, Scotland, six weeks later. Her journey will take her through the Gulf of Aden, Suez Canal and Mediterranean Sea, with short stops to take on fuel and important supplies in Oman, Djibouti, Malta, and Portugal.
Having spent the past six months in an operational theatre, the members of RAMSEY's current ship's company are looking forward to the passage back and are fully prepared for any challenges that lie ahead. Their time in the Gulf has seen them achieve a great deal, and a constant regime of tasking and training has ensured that the whole team is ready and motivated to succeed in sailing their unit home on time.
In addition to providing constant MCM capability for the region, RAMSEY has recently conducted exercises with a number of Coalition navies, marked the November Remembrance Ceremony in Umm Qasr, Iraq and carried out important port visits to Abu Dhabi, Dubai and Al Jubail.
Working in company with HMS BLYTH, ATHERSTONE and CHIDINGFOLD, RAMSEY has continued to undertake route survey of key shipping lanes and provided a constant RN presence in the Central Gulf. This is, however, just a snapshot of the far greater accomplishments of HMS RAMSEY and BLYTH's two-and-a-half-year tasking in Bahrain.
Reflecting on the two ships' contribution to the Royal Navy's undertaking in the Gulf, HMS RAMSEY's Commanding Officer, Lt Cdr Nick Borbone RN said:
"In over two years deployed to Bahrain with eight different ships' companies between them, RAMSEY and BLYTH have made a huge contribution to maritime operations in the Gulf. It has been an extremely fulfilling deployment for the current RAMSEY team and it is great to be handing the baton to GRIMSBY and PEMBROKE who will now combine with the Hunt Class MCMVs to continue to deliver a vital capability in the region."
On the 25 Jan, after an arduous voyage from Faslane, HMS GRIMSBY and PEMBROKE arrived in Bahrain to carry on where RAMSEY and BLYTH will leave off. Having handed over the TELIC duties, RAMSEY and BLYTH left Bahrain for the final time on 27 Jan and shifted their focus to the voyage home.
All are mindful of the challenges ahead, but spurred on in the knowledge that families and friends will be waiting to greet them after seven months apart. As for the ship herself, the length of RAMSEY's deployment, combined with the almost constant tasking in an operational theatre, is beginning to take its toll. The reward for this hard-working hull will be a refit and maintenance period back in Scotland, before she returns to her vital mine hunting work again.
---
6 Feb 09 - More MCMV News
The RN website contains this article about the recent activities of HMS Walney, now recuperating in her base port at Faslane.
---
5 Feb 09 - MCMV News
The RN website contains this article describing the lastest activities of HMS Shoreham following her 'take-over' at Faslane by Crew 7. It also contains this article describing the passage to the Gulf of HMS Pembroke and HMS Grimsby including stop-overs in Malta, Crete and Djibouti.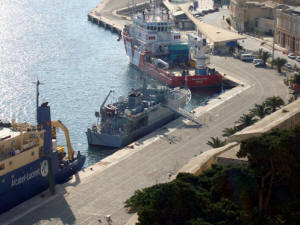 HMS Pembroke alongside at Valletta, Malta
(RN website photo)
Last but not least, the RN website contains this article describing how HMS Pembroke teamed up with HMS Atherstone in the Gulf to play rugby against Bahrain RFC's Second XV. Several MW and CD Branch personalities are mentioned.
HMS Pembroke & HMS Atherstone combined rugby team
(RN website photo)
---
4 Feb 08
Gentlemen Who Lunch - Not quite a free lunch but not far off!
Continuing the MCDOA website's occasional Good Pub Guide, the movements of our 'Not Quite the Last of the Summer Wine' trio this week were influenced by a commercial on Angel Radio, the community radio station broadcasting from Havant town centre. This station describes itself as 'Radio for older people, by older people' and MCDOA member Doug Barlow is one of its most ardent supporters. Regular visitors to these pages will be aware that Barlow is a bit thrifty, much in the same way that Attila the Hun was 'a bit unkind'. So, when he heard on Angel Radio that a local pub was offering two-course meals for only £2.50, he was not slow in imparting this information to Holloway and Hoole, the other members of our trio.
Thus, dear readers, we found ourselves bound for The Centurion in Crookhorn Lane, Waterlooville yesterday for our regular weekly outing. Hoole normally provides the wheels on such occasions but this time we had the privilege of braving the thawing snow in Holloway's newly acquired Volvo estate, fitted with more bells and whistles than a Eurofighter. The owner's manual is so thick that Holloway is waiting for a convenient rainy week just to read the first chapter. Perhaps this explains why he still has trouble performing all the pre-flight checks, let alone starting the darned thing, and needs a co-pilot just to operate the different combinations of headlamps, foglights and parking lights. I was the last to be picked up from home and thus suffered the ignominy of being relegated to the back seat. To my disgust, I discovered that this wasn't heated like those of my companions in the front. If parts of my anatomy contract any cold-induced maladies over the next couple of days, Holloway will be hearing from my solicitors pretty sharpish!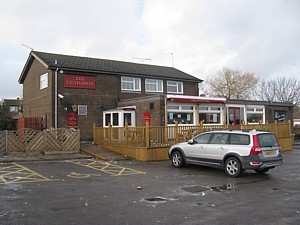 The Centurion, Crookhorn Lane
Waterlooville
On arriving at the Centurion around 1230, we found plenty of room to park. The pub is a spacious and relatively modern establishment so it lacks the cosy charm and atmosphere of more traditional hostelries. However, it obviously serves as a useful social centre for the local community. Around the main bar it features a stage, dance floor, fruit machines and pool tables. It is run by Alick, a genial host whom we soon discovered had been a Royal Navy 'Sparker'. He told us that the pub hadn't enjoyed a reputation for food in the past so he was offering cut-price meals as an incentive to boost his eating clientele. He is also instigating a full programme of social events involving live acts which will include a St Valentine's Night dance with a sixteen-piece 'big band' on 14 Feb. Ever eager for a booking (any booking), Holloway handed him a business card for his own rock band, the Zodions.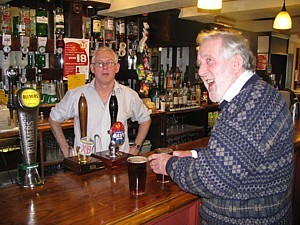 Alick with Barlow at the bar
The Centurion has a reasonable selection of ales on draught including Theakston's XB and Courage Best plus Guinness and the new Theakston's Dark as well as premium lagers and ciders. We ordered Theakston's XB at £2.50 per pint before looking at the menu which can also be found on the pub's website here. Two-course meals for £2.50 comprised either a starter and main course or a main course and pudding. Holloway and Hoole chose to begin with home made soup which turned out to be a rich, creamy and well-seasoned vegetable broth flavoured with butternut squash. Barlow eschewed a starter but, like Holloway, plumped for cottage pie and peas for his main course while Hoole went for the fish cakes, chips and peas.
Lunch is served
All our meals were prepared by Alick in the galley behind the main bar and were served piping hot on warm plates. Portions were more than ample and our starters and main courses were wholesome and tasty. As his second course, Barlow opted for the treacle pudding and custard and found it 'satisfactory'. However, as our total bill for three two-course meals came to just £7.50, one would hardly expect haute cuisine. Overall, we enjoyed our lunchtime session and the Centurion is awarded a creditable three Mines (or Diving Helmets) out of five on the MCDOA's Good Pub Guide scale of excellence.
---
Sponsored swim update from Phil Ireland
See entry for 27 Jan 09. MCDOA member Phil writes:
"I reached the 30 mile mark this morning after nine sessions in the pool. I am aiming to complete the 50-mile swim over the next 7/8 days to raise funds for a wonderful charity, Help for Heroes, which is working tirelessly to help support our wounded servicemen and women injured in the current conflicts. I am completing this sponsored event in memory of Jamie Hutton and David Ireland.
Very many thanks to all those who have made donations to date; £1,395 has thus far gone to Help For Heroes and I have found people's generosity a great boost when ploughing up and down the pool. I would also like to thank Renfrewshire Leisure for kindly providing me with free use of public swimming pools in the area, and to the staff at Elderslie, Erskine and Johnstone baths for their continuing encouragement. I fully appreciate that many of you will be regular contributors to charity already and this is unlikely to be the only event you will have been asked to sponsor.
If you would like to sponsor me for the event, you can make a donation at:
http://www.justgiving.com/phil_ireland
Kind regards,
Phil Ireland"
---
3 Feb 09 - Service of Thanksgiving for Eileen Filer
I felt extremely honoured this morning to have been invited to attend a Service of Thanksgiving at Portchester Crematorium for Eileen, wife of the MCDOA's oldest and most venerated member, Lt Cdr 'Uncle Bill' Filer MBE, GM, RN. She died on 24 January after being struck down with jaundice and pancreatic cancer at the age of 90.
Bill and Eileen were married for 69 years and met during the war at a ship's company dance in HMS Vernon while Bill was serving there as a Petty Officer. The service, conducted by the Rev'd Brian Williams RN, was a quiet affair restricted to a few family members and friends including ex-CD1 Willy Wilkes and Ralph Booker with whom I joined BRNC Dartmouth in 1971. Bill had asked me not to publicise Eileen's death or thanksgiving service beforehand because, quite typically, he wanted to avoid any 'undue fuss'.
The Rev'd Williams' eulogy to Eileen can be read here. She was a lovely lady who brought joy to all who met her. I know that all those who know and revere Bill will join me in offering him and his family our deepest sympathy on their loss.
---
2 Feb 08 - HMS Quorn comes of age
The RN website contains this article describing the 21st birthday of HMS Quorn which features AB(D) Steve Roberts, the youngest member of her ship's company. Many happy returns!
AB(D) Roberts cuts HMS Quorn's birthday cake
(RN website photo)
---
1 Feb 09 - Navy News items
The February e-edition of Navy News contains the following MCD-related items:
---
30 Jan 09 - MW Association Dit Session in Fareham
Last night I attended the gathering of a few local members of the newly-formed Minewarfare Association at a hostelry in Fareham; a highly convivial affair that involved much dit-spinning. The MWA is open to all ranks of RN Minewarfare specialists for the princely sum of £12 per annum so do consider joining it. The photo below shows, from left to right: Yours Truly (Rob Hoole), Dixie Dean, Paul Campbell, Taff Reader, John Gunter, Bob Mitchell, Tony 'Fred' Bassett and Pete Whitehead.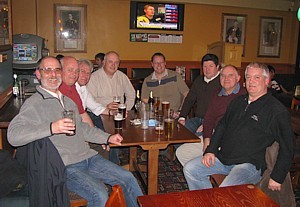 MWA Dit Spinning Session in Fareham 29 Jan 08
Coincidentally, we bumped into some Defence Diving School (DDS) staff including MCDOA Membership Secretary/Treasurer Soapy Watson, MCDO Tim O'Neill and CD1 Donkey Bray. They were going on to dine out Grant Sharpe, the submariner Lt Cdr who has been 2i/c of DDS for the past few years. He is bound for an exchange post with the US Navy in Norfolk, Virginia and we wish him the best of luck in his new appointment. He is being relieved at DDS by Jackie McWilliams, an MWO who has served in a couple of Sandown Class minehunters, the Mine Warfare Operational Training Centre (MWOTC) at the Maritime Warfare School, HMS Collingwood and as the First Lieutenant of HMS Ark Royal.
---
29 Jan 09 - Service of Thanksgiving for the life of Lt Cdr Ian Fraser VC DSC RD* RNR
I have received the following e-mail (see entry for 2 Sep 08 in News Archive 23):
"Ladies and Gentlemen,
Further to my message of 29 Oct 08, the announcement attached will be published in The Times, Independent and Guardian tomorrow, Fri 30 Jan 09. Please note the amended start time of 1430. It is requested that action addressees acting as Focal Points for their appropriate organisations apply for tickets, either by e-mail or post, to Jennifer Taylor as indicated in the announcement. Thank you.
With kind regards,
Malcolm Rogers
Cdr RN SO1 Accom
T: Mil 93832 8819/Com 02392 628 819
Mob: 07732 569 612/07899 060 671
Mil E-mail: FLEET-DNPERS WS ACCOM SO
LT CDR IAN FRASER VC DSC RD* RNR
A Service of Thanksgiving for the life and work of Lt Cdr Ian Fraser VC DSC RD* RNR will be held at St Martin-in-the-Fields Church, Trafalgar Square, London at 1430 on Wednesday 22 April 2009, followed by a reception on site. Dress for the occasion will be Ceremonial Day Dress without sword or a Lounge Suit with medals.
Admission to the Service will be by ticket only. Those wishing to attend are invited to apply for tickets no later than 27 February 2009 to:
MINISTRY OF DEFENCE
SO3C – MEMORIAL SERVICE
Naval Casualty & Employability (NCE)
Secretariat
Navy Command Headquarters,
MP 1-4,
Leach Building,
Whale Island,
PORTSMOUTH
Hampshire
PO2 8BY
Email: Jennifer.Taylor864 @ mod.uk
All applications should include the full names of those who wish to attend, any special requirements and should mention the applicant/s connection to Lt Cdr Fraser for the benefit of his family. Tickets will be despatched during the week of 16 March 2009."
---
28 Jan 09 - HMS Daring enters Portsmouth for the first time
I suppose it takes a certain kind of idiot to stand in the rain just to watch a ship arrive in harbour. Mind you, this was HMS Daring, the first of the new class of Type 45 destroyers, exchanging gun salutes with Fort Blockhouse today as she entered Portsmouth for the first time as a complete ship. Her bow module, funnel and mast were constructed by BVT in Portsmouth before being towed to the Clyde for assembly.
We are unlikely to see another Royal Navy first of class warship until the appearance of HMS Queen Elizabeth, the first CVF, circa 2016 or even the Future Surface Combatant (FSC) if it ever gets off the drawing board. However, my vigil was made particularly worthwhile on this occasion by the knowledge that MCDOA member Paddy McAlpine is destined to be HMS Daring's next Commanding Officer.
Here's what I managed to see through the drizzle from my perch on the Round Tower. I also caught a smudgy glimpse of two Typhoon Eurofighters from RAF Conningsby as they performed a fly-past but, sadly, their presence was more evident from their noise than from their appearance.
Above and below: HMS Daring entering Portsmouth for the first time
This banner provided a nice touch: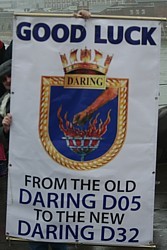 HMS Daring Association banner
---
27 Jan 09 - Sponsor Phil Ireland
MCDOA member Phil Ireland has sent the following appeal:
"Dear Rob,
I wonder if you might be happy to publicise my fundraising event on the news section of the association's website? I am aiming to swim a total of 50 miles in the pool over the next month to raise funds for Help for Heroes. I'll be completing this sponsored event in memory of Jamie Hutton and David Ireland.
MARINE JAMIE HUTTON: On 15th July 2008 Jamie tragically lost his life in an accident at Lulworth Ranges in Dorset as he was preparing to return to Afghanistan for his second tour. We got to know this great guy when he lived a few doors away from us in Naples shortly before joining The Corps. We will always remember his love of life and the permanent smile on his face.
PRIVATE DAVID IRELAND: My Great Uncle enlisted in 1916 days after his 18th birthday, joining the 3rd Royal Highlanders, The Black Watch. He was sent to France as a dispatch cyclist, relaying messages from trench to trench under heavy fire, and was shot through the shoulder from a German biplane. He rejoined the war in April 1917 at the Battle of Arras and was shot in the knee. Although his physical wounds healed with time, he never recovered mentally from his experiences in the trenches and spent 77 years in a psychiatric hospital until his death in 2001 at the age of 103.
In the weeks since the Christmas holiday I have worked up from being pretty much out of breath after 10 measly lengths to managing to plod along steadily for 3 miles (192 lengths of a 25 metre pool) on a couple of consecutive days. So, I started the 50 mile challenge yesterday (26 January) and hope to achieve 2-3 miles at each session in the pool.
Donating through Justgiving is quick, easy and totally secure. It's also the most efficient way to sponsor me: Help for Heroes gets your money faster and, if you're a UK taxpayer, Justgiving makes sure 25% in Gift Aid, plus a 3% supplement, are added to your donation. If any fellow MCDOA members would like to sponsor me for the event, you can make a donation at:
www.justgiving.com/phil_ireland
Aye,
Phil"
---
26 Jan 08 - Advance Australia Fair
Happy Australia Day to all our mates down under.
---
24 Jan 09 - Monty Halls to speak at MCDOA Northern Dinner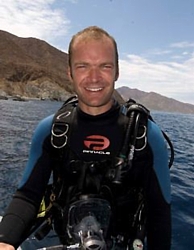 Monty Halls
Ex-Royal Marine, ocean explorer, TV presenter and author Monty Halls has kindly agreed to speak at this year's MCDOA Northern Dinner which will be held in the Wardroom, HMS Neptune on Thursday 26 February. Bookings for the dinner should be made through Richard Osbaldestin or Jason White at Faslane. The application form will be made available for download via the 'Upcoming Events' page of the Members Only area as soon as I receive it but most of the 'usual suspects' have already been informed by e-mail.
In lieu of his normal fee (up to £4,000), Monty has asked us to publicise his participation in this year's London marathon which he is running in aid of the campaign for a special area of conservation in the Moray Firth (see www.justgiving.com/montyhalls). I urge all members, especially those attending the dinner, to consider making a donation as a token of our appreciation for his gracious collaboration.
Monty has also helped set up the Three Lakes Challenge which involves diving the three highest lakes in the UK in 24 hours. So far, this has raised nearly £8,000 for the Forces charity Help for Heroes including £200 by Monty himself. See this video of him undertaking this daunting event with his diving companion Andy Torbet. Jason White tells me he has plans for NDG to set a new record and says, "If we idiots in FDS start our usual rivalry, every team will have a go although I think FDU1 with SOBA may have an advantage!" Watch this space.
---
23 Jan 09 - News of HMS Walney and HMS Ledbury
The RN website contains this article featuring the charity fundraising efforts of PO(MW) Lee Dumbleton, LS(D) Marcus O'Toole, LS(D) Rod MacKenzie and AB(MW) Andy Pither from HMS Walney.
The RN website also contains this article describing the recent activities of HMS Ledbury.
---
22 Jan 09 - MCDOA website statistics for 2008
During 2008, the MCDOA website received more than 150,000 visits from users in at least 93 countries. Over 5.5 million hits were registered on individual web pages, images and files and approximately 145 terabytes of data were downloaded.
I am always looking out for new material, especially members' personal updates and photos for the Members Only area and news items of more general interest. Please take a moment to contribute something via my webmaster e-mail address.
---
19 Jan 09 - Divers with altitude
The Navy News website contains this article, featuring MCDO Lt Shaun McKeever and PO(D) Richard Walker, which describes a training exercise involving a LS(D) career course diving at altitude in Scotland.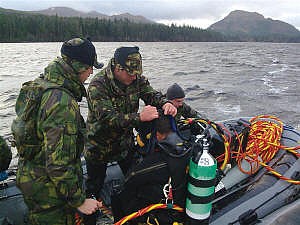 The divers prepare to plunge into a chilly Loch Laggan near
Fort William as they carry out their altitude diving exercise
(Navy News website photo)
---
18 Jan 09 - Job opportunity for MCD Officer
MCDOA member Richard Lowther has asked me to publish the following:
"Rob,
I am working for Maritime and Underwater Security Consultants (MUSC) as Offshore Superintendent on a project in Iraq which will involve using sonar, magnetometry, sub-bottom profiling and then UXO and salvage clearance of an area in Iraqi Territorial waters (not setting foot on land at all) and need an MCDO to work opposite me month on/month off. Commercial experience will be an advantage and analysis of sonar and magnetometry data essential. Hands-on EOD may also be necessary. Project may last two years or more (inital contract will be six months) and as we each expect to do 180 days+ out of the country - it is tax efficient. Salary tbc but £10 -£12k per working month plus expenses.
Anyone interested please contact me (e-mail address) asap with cv.
Yours aye,
Richard Lowther"
---
13 Jan 09 - Project Vernon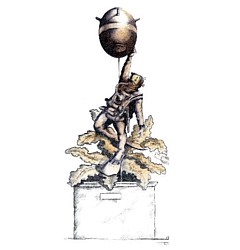 Today's Portsmouth News contains this article featuring Les Johnson, the Australian sculptor chosen to create the statue at Gunwharf Quays in Portsmouth commemorating the minewarfare and diving heritage of HMS Vernon. Although the article focuses almost entirely on RN divers, the monument is equally intended to reflect Vernon's historic role as the home of minewarfare including the MW Branch, the MW School, the MCM squadrons and even the MX Wrens who assembled 'special' mine assemblies to thwart German minesweepers during the Second World War. This role is represented by the Mk 17L moored mine with fouled sweep wire and explosive cutter. See the Project Vernon website for further details.
Les Johnson's maquette
(Portsmouth News photo)
---
10 Jan 09 - Kristian joins the Navy's elite divers
The Bury Times website contains this article describing how local lad Kristian Treloar, a keen sub-aqua diver, has successfully completed his basic CD course at the Defence Diving School (DDS).
Kristian Treloar in his sub-aqua kit
(Bury Times website photo)
---
9 Jan 09 - RN Divers honoured at Sun 'Millie' awards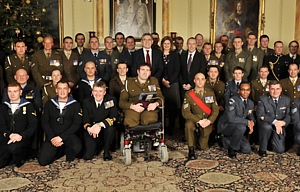 Sun 'Millie' award nominees with the Prime Minister
and Mrs Brown at 10 Downing Street
I have to confess that the Sun newspaper's Military Awards (Millies) escaped my notice during the run-up to Christmas but they have now been brought to my attention by MCDOA member Jason White, CO of the Northern Diving Group. Out of a total of twelve awards across all three services, two were made to RN Clearance Divers:
AB(D) Jamie Campbell was presented with the award for Best Recruit by TV presenter Kirsty Gallacher and England rugby legend Lawrence Dallaglio.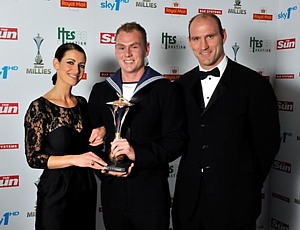 AB(D) Jamie Campbell with Kirsty Gallacher
and Lawrence Dallaglio
AB(D) Campbell's citation read:
"Campbell made an excellent start to his Navy career, demonstrating great determination to succeed and outstanding commitment throughout training. A mature and respectful young man, he quickly grasped the concept of personal organisation and worked hard in the transition to military life.
As Class Leader, setting a fine example to his peers, he impressed his own high standards on others and ensured remarkably high levels of kit maintenance and military bearing across his fellow recruits. Excelling in the physical arena, he made an active contribution towards all team challenges, always assisting weaker members of the team to achieve their best.
Coupled with his mature and considered approach to the overall ability of his team, his calm leadership was instrumental in inspiring his team to succeed and leading them to win the Ganges Trophy for best class. Because of his good academic results, marksman status, and consistently impressing the Divisional Staff, he was awarded the Owen Cup for best recruit in his entry. Always upholding the Royal Navy's core values, Diver Campbell has demonstrated outstanding potential during his initial training and is a most worthy recipient of Best Recruit 2008."
LS(D) Lee Duffy of NDG was presented with the award for Most Outstanding Sailor or Marine by singer and 'Strictly' dancer Rachel Stevens and England football captain John Terry (see supporting video including testimonials by Jason White and PO(D) Darren Powell here). MCDO Lt Cdr John Craig was one of the two runners-up.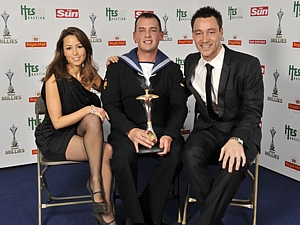 LS(D) Lee Duffy with Rachel Stevens and John Terry
LS(D) Duffy's citation read:
"During his time at Northern Diving Group (NDG), 'Duffs' Duffy has without a doubt been pivotal to the success of this extremely busy operational unit.
Although not in the front line, LS(D) Duffy's selfless devotion to duty has been above and beyond the call of duty. Engaged in peacetime UK operations, NDG have responded to over 100 requests for Explosive Ordnance Disposal assistance in Scotland and Northern England and 'Duffs' is more often than not involved as a part of the NDG duty watch, constantly at ten minutes' notice to move.
A father of four young children he nevertheless puts himself forward for all and any deployed jobs in the UK or abroad and, with his huge experience, is one of the most capable Number 2 Bomb Disposal operators in the RN. Whether involved in diving or supervising diving operations in Faslane to keep the UK's Strategic Nuclear Deterrent Submarines at sea or working farther afield on bomb disposal duties in places such as Orkney or Northern Ireland his tireless enthusiasm and professional knowledge have been invaluable in maintaining the military capability that NDG provide in the UK.
Leading Rates with such a strong work ethic as Lee Duffy are rare and although his efforts will, in due course, be rewarded with promotion he is put forward for a Millie in order that his efforts are recognised here and now."
Warm congratulations to both individuals. Further coverage of the 'Millies' is available on the MoD website here, on the Sun website here and on the Sky website here.
---
6 Jan 08 - HMS Brocklesby sails for Mediterranean and Baltic
The RN website contains this article announcing tomorrow's departure from Portsmouth of HMS Brocklesby for a six-month deployment to the Mediterranean and Baltic as a member of Standing NATO MCM Group 1 (SNMCMG1). The Portsmouth News website carries a similar article. Brocklesby's ETD from No.2 Basin is 1000.
HMS Brocklesby
(RN website photo)
N.B. The RN website article was updated on 7 Jan with this rather nice picture of Brocklesby's departure:
HMS Brocklesby leaving Portsmouth
(RN website photo)
---
5 Jan 09 - Northern Diving Group in action
The Peterlee Mail website contains this article describing yesterday's disposal of a potentially hazardous object on the beach at Seaton Carew near Hartlepool by members of the Northern Diving Group (NDG) led by CPO(D) Paddy Donahue.
LS(D) Ray MacPhee of NDG examines object
discovered on Seaton Carew beach
(Peterlee Mail website photo)
---
4 Jan 09 - News from HMS Ramsey
Once again I am grateful to Lt Marc Taylor RN, the Navigating Officer of HMS Ramsey, for sending us this update:
HMS RAMSEY – DECEMBER WEB SITE UPDATE
Despite being a long way from home and in a climate significantly different to the UK in December, the Christmas spirit has been seen in abundance onboard HMS Ramsey throughout the month.
December began with the ship sailing back to her Forward Operating Base (FOB) in Bahrain after a brief port visit to Abu Dhabi. The visit provided a valuable opportunity for the ship's company to relax after several busy weeks, and served as yet another chance to further links between the Royal Navy and the United Arab Emirates, enhancing the RN's reputation as a force for good in the region.
However, there was little chance to relax en route back to Bahrain as Ramsey and her sister ship HMS Blyth conducted several training serials on the passage north. The highlight was a Replenishment At Sea (RAS) with the US auxiliary ship Lewis and Clark, a 40,000 ton tanker laden with 4,000 tons of fuel, which alone equates to ten times the displacement of Ramsey. Both Ramsey and Blyth took a turn to berth alongside the giant floating filling station, with Ramsey's Commanding Officer, Lt Cdr Nick Borbone making the first approach. Both ships conducted a successful evolution and once fuel had been passed and the traditional exchange of ships' crests had been conducted, Ramsey and Blyth continued their passage north, arriving in Bahrain in time to start a second week of Advent Calendar chocolates.
Left: HMS Ramsey approaches USNS Lewis and Clark for RAS
Right: HMS Ramsey alongside USNS Lewis and Clark
After a weekend in Bahrain, Ramsey returned to sea to conduct a period of general training serials including gunnery firings, diving exercises, machinery drills and pilotage training for Junior Warfare Officers. Once back alongside, the ship's company settled into harbour working routines conducting upkeep and maintenance work required to keep the ship at 12 hours operational notice while enjoying opportunities for sport and taking in the Bahraini nightlife in the evenings. Meanwhile the ship was taking on a flavour of Christmas with each mess decorated and cards and gifts starting to arrive via the BFPO. Christmas was celebrated in traditional style in Ramsey, with relaxed working routines and the seasonal gift roulette of 'Secret Santa' further lightening the mood while Officers served a traditional Christmas lunch under the watchful eyes of the chefs. A Christmas raffle organised by LS (MW) 'Baz' Anderson was also a huge success with over £3,000 pounds worth of prizes up for grabs. The top prize of a 32 inch LCD TV was won by AB(MW) Alves who was 'graciously' applauded by all his shipmates.
Although Christmas away from home is often an unfortunate fact of life for the Armed Forces, with letters and presents from the UK filling the messes, and food and drink flowing, everyone onboard certainly made the most of the situation and enjoyed the alternative festivities in the Gulf sunshine. Ramsey is now back on operations and the team fully focused on the programme leading up to the arrival of HMS Pembroke and HMS Grimsby towards the end of the month.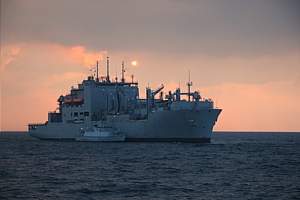 HMS Blyth fuels alongside USNS Lewis and Clark
as the sun sets on another day in the Gulf
---
1 Jan 09 - Navy News Items
The January 09 e-edition of Navy News contains the following items of MCD interest:
---