(First published in the November 2006 (Vol 94 No 4) issue of the Naval Review and subsequently updated for the Winter 2007 issue of the Historical Diving Times)
(This article, written in October 2006, was prompted by the 50th anniversary of a record-breaking dive of international significance. It focuses on the deep diving achievements of the Royal Navy, particularly the role played by the venerable deep diving and submarine rescue vessel HMS Reclaim, her people and her predecessors.)
2006 marks the 50th anniversary of a world deep diving record established by the Royal Navy. On 12 October 1956, Senior Commissioned Boatswain (later Lt) George Wookey descended to a depth of 600 feet (183 metres) from HMS Reclaim in Sørfjorden just outside Bergen in Norway. Wookey wore standard diving dress with Siebe Gorman's Davis 6-bolt Admiralty pattern 'hard hat' diving helmet modified with a Davis gas injector system. He also wore a newly developed electrically heated undersuit.
This world record remains intact for a diver wearing standard flexible diving dress but it was only one of several deep diving records achieved by the Royal Navy at sea and in hyperbaric facilities ashore between 1948 and 1980. George Wookey now lives in Western Australia but the Norwegian government invited him, together with Lt Cdr Morty Drummond, the Commanding Officer of HMS Reclaim at the time, to speak at a diving seminar in Bergen. Exactly 50 years after the event, the Norwegian Coast Guard vessel KV Tromso took delegates to Arna, near the site of his headline-grabbing achievement, where Lieutenant Colonel Andy Canning OBE RM, British Defence Attaché in Oslo unveiled a commemorative plaque in the presence of George Wookey and his wife Patrice, Morty Drummond and Ron Maitland-Flanagan, another Royal Navy diver involved in the original dive.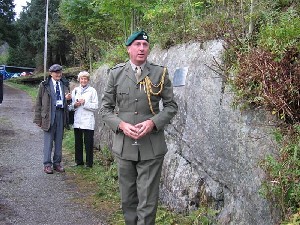 Lt Col Canning dedicates commemorative plaque
while George & Patrice Wookey look on.
Left: George Wookey with commemorative plaque.
Right: (l to r) Morty Drummond, Ron Maitland-Flanagan, George & Patrice Wookey.
After WW II, the Royal Navy urgently required a purpose built deep diving tender because it had its eyes set on achieving a diving depth of at least 500 feet for submarine rescue work. In March 1946, the former German torpedo trials ship and seaplane carrier Walter Holtzapfel, a war-prize, was commissioned into the Royal Navy as the deep diving tender HMS Deepwater. However, she was hopelessly inadequate for the demanding role expected of her because she was fitted with elderly diving equipment from her wartime predecessor HMS Tedworth, a converted WW I coal-burning Hunt class minesweeper known as a 'Smokey Joe'.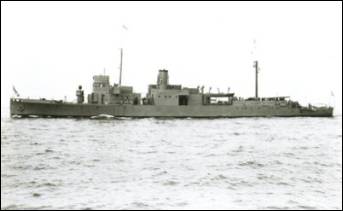 HMS Tedworth
Deepwater achieved early success surveying and buoying the wreck of the French merchantman Alaska, laden with copper ingots and sunk in 200 feet of water 20 miles south of Worthing in November 1939 after colliding with the British merchantman Dotterel. After Reclaim had entered service in 1948, Deepwater spent the remainder of her life as a floating diving school alongside HMS Vernon until she was paid off in 1960. Nevertheless, she provided valuable lessons in the use of Oxy-Helium mixtures instead of air so as to prevent the onset of nitrogen narcosis and also in the development of surface decompression procedures. These procedures involved the use of a Submersible Compression Chamber (SCC), then still known as a Submersible Decompression Chamber (SDC), that was sealed to transfer divers from depth to a static Deck Compression Chamber (DCC) on board without any change of pressure so they could slowly decompress in relative comfort and thereby avoid decompression sickness, otherwise known as 'the bends'.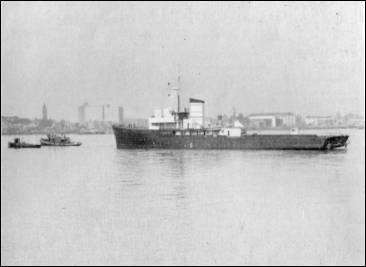 Deepwater leaves Portsmouth for the last time
HMS Reclaim was laid down at William Simons & Company, Renfrew on 9 November 1946 and launched by Lady Lillicrap on 12 March 1948. Coincidentally, Tedworth had been built 30 years previously by Simons, too. Originally conceived as a King Salvor class ocean salvage vessel to be called Salverdent, Reclaim was completed as the much needed deep diving and submarine rescue vessel and commissioned into the Royal Navy on 1 June 1948. She displaced 1,360 tons and had a length of 66 m (217 ft), a beam of 12 m (39 ft) and a draught of 5 m (16 ft). Steam reciprocating engines gave her a maximum speed of 12 knots although her propulsion was later augmented occasionally with jury-rigged sails. Her complement of around 92 varied with the number of divers and support staff embarked.
Reclaim was based at Portsmouth conveniently close to HMS Vernon. It was here that the Admiralty Experimental Diving Unit (AEDU) had moved in 1946 from Siebe Gorman & Co's works in Tolworth, Surrey. This had been set up the previous year under the direction of Cdr (later Capt) W O 'Bill' Shelford, the Royal Navy's first Superintendent of Diving (SofD), who had been Tedworth's Commanding Officer and was now appointed as Reclaim's first Commanding Officer. HMS Vernon was the home of the Royal Navy's Standard or hard-hat divers (known as 'Steamers') in contrast to the Clearance Divers (known as 'Corkheads') who were then based at HMS Lochinvar at Port Edgar on the Firth of Forth.
Immediately after commissioning, Reclaim began three months of intensive trials. Her diving system was impressive for its day. Electrically driven compressors supplied compressed air at 4,000 psi to a ring main and huge bank of gas bottles while a 200 psi low pressure system supplied other reservoirs that fed the diving panels. A large, totally enclosed diving flat contained a three-compartment DCC and had doors opening out from the ship's side to provide access to the sea. The well deck was filled with leading blocks and tackles for operating the two forward derricks as well as all the air hoses and breast ropes leading to three SCCs housed in special holds. She was also fitted with underwater closed-circuit TV, sonar and echo-sounding equipment to assist in the detection and identification of seabed objects.
Equipment acceptance trials were completed by 26 June 1948 and Reclaim commenced a deep diving work-up cum diving acceptance trial with the initial aim of achieving a depth of 500 ft. By 5 July, all her divers had reached 200 feet in the English Channel. On 10 July, she sailed for Tarbert in Scotland where she recommenced diving in the deeper waters of Loch Fyne. On 26 August, Petty Officer (D2) Bill Soper reached a depth of 451 feet (137 metres), thus beating the 440 feet world record for standard flexible suit diving established in 1938 by two US Navy divers. His title was short-lived, however, as Petty Officer (D2) Wilfred Bollard promptly followed him with a dive to 455 feet (139 metres). On Saturday 28 August 1948, within three months of Reclaim commissioning, PO Bollard surpassed his previous effort with a dive to 535 feet (163 metres), reported in some sources as 540 feet, thus exceeding the Royal Navy's then target depth of 500 feet by a significant margin. His record remained unbroken until George Wookey made his own world record-breaking dive from Reclaim eight years later.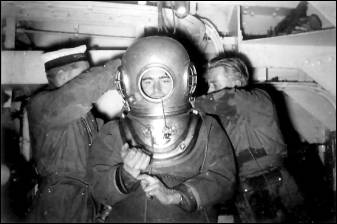 George Wookey being dressed for his 600 ft dive
Reclaim spent the following years engaged in a variety of diving trials and salvage and recovery tasks. In 1949, she first hoisted a mizzen sail to help control her yaw while anchored in deep water off Malta. This sail was also found to help her speed and fuel economy when on passage. During this period, she embarked Lt Cdr Lionel 'Buster' Crabb to take underwater photographs of propeller cavitation produced by the cruiser HMS Amphion. He achieved this while clinging to a danbuoy mooring as Amphion steamed past him unnervingly close at various speeds.
In January 1950, Reclaim was in refit but her divers assisted in the recovery of wreckage and bodies from the submarine Truculent which had failed to surface after a collision with a merchantman off Sheerness in the Thames Estuary. In April 1951, Reclaim was confirmed as a proper 'Daily Mirror Ship' when she located the sunken submarine Affray in 287 feet on the edge of the Hurd Deep and recovered her damaged snort mast for investigation, thereby helping solve the mystery of her loss. Further diving operations were abandoned after the loss of a radioactive source used for radiography rendered the site too hazardous.
In 1951, clearance diving training moved from Lochinvar to Vernon and a new Clearance Diving School was established combining the training of clearance divers with that of the deep divers. This school also took on the new task of training Ships' Divers (previously called Shallow Water Divers) so that every ship had a properly equipped air diving capability under its own Diving Officer to conduct ship's bottom searches and undertake simple underwater engineering tasks. The Clearance Diving (CD) Branch was officially formed under Admiralty Fleet Order (AFO) 857/52 on 7 March 1952.
On 15 June 1953, Reclaim was present at the Coronation Fleet Review at Spithead and went on to be the only ship present at both this and the 1977 Silver Jubilee Fleet Review which she joined with sails set fore and aft. During a trial off Campbelltown in November 1953, she anchored over the bottomed submarine Seraph and her divers used a submarine rescue bell to deliver a package to the submarine; the first underwater mail delivery. As Reclaim was not equipped to carry the mooring gear required to keep her steady in bad weather or strong tides for depths down to 850 feet, the bell was installed in HMS Kingfisher, originally the ocean salvage vessel King Salvor and thereby a sister ship to Reclaim, which was converted for the purpose at Portsmouth in 1953-54. Early trials demonstrated that the bell could be locked onto a bottomed submarine in tidal streams up to 4.5 knots, list of up to 37.5 degrees and depths as far down as 240 feet. Further deep diving and submarine rescue trials were conducted in areas ranging from the Arctic circle to the Mediterranean. These included George Wookey's record-breaking deep dive to 600 ft in Sørfjorden, Norway on 12 October 1956.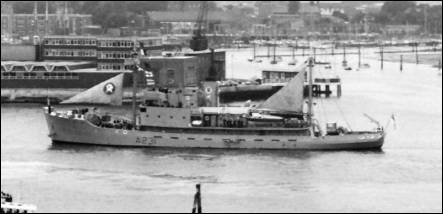 Reclaim leaves Portsmouth for the 1977 Fleet Review
In July 1957, Reclaim featured at the annual BMA Conference in Newcastle before deploying to the Baltic. Around this time, the decision was made to discontinue RN deep diving as an economy measure and the last course for deep divers took place in 1960. Clearance diving training continued at Vernon using the tender Miner III until she was eventually paid off on 13 March 1967 after providing 27 years of valuable service as a minelaying lighter, harbour defence cable layer, mining tender and deep diving tender. Some of Reclaim's diving equipment was sold to Argentina and she was sent to Lochinvar in 1960 for use as a Mine Countermeasures (MCM) Support & Diving Trials Ship. Almost immediately, two valuable research torpedoes were lost in Scottish lochs at depths of over 450 feet. Vernon was asked to recover them but the then Superintendent of Diving, Cdr John Carr, had to reply that the Royal Navy could no longer reach such depths.
In June 1961, the Swiss mathematician Hannes Keller achieved a new deep diving record of 725 feet (222 metres) in Lake Maggiore, beating George Wookey's 1956 record of 600 feet (183 metres) although Keller used more modern diving equipment. This event prompted the Superintendent of the RN Physiological Laboratory (RNPL) at Alverstoke to request a meeting with the new SofD (Cdr Eric Hannen) and his deputy (Lt Cdr Bill Filer) at AEDU. As the result of Cdr Hannen's subsequent well-argued submission to the Admiralty, the Deep Diving Trials Unit (DTU) was established at RNPL in 1963. Lt Cdr Filer was put in charge of DTU and Lt Cdr Morty Drummond (CO of Reclaim during Wookey's dive) relieved him as Deputy SofD.
Reclaim began to concentrate on deep diving once more and, in 1965 off Toulon, equipped with new lightweight diving equipment, she demonstrated her capability to send divers down to 600 feet for a whole hour. Thus began a new era of RN saturation diving. The work of Reclaim was inextricably linked with that of AEDU and RNPL. In March 1970, John Bevan and Peter Sharphouse of the RN Scientific Service at RNPL established a new deep diving record at DTU by spending 10 hours at a simulated depth of 1,500 feet of seawater (457 metres of seawater). This dive was 300 feet beyond the predicted maximum of around 1,200 fsw (366 msw) and was described by American colleagues as "a hyperbaric moon landing". Reclaim's divers participated in the trials and applied the lessons learned, and decompression tables developed, when diving from their ship.
In the mid 1970's, RNPL was given the task of exploring the deepest depth that man could achieve with existing facilities. This resulted in another long series of experimental dives involving AEDU and Reclaim's divers which culminated in Oct-Dec 1980 when two other young volunteer scientists, Martin Garrard and Mark English, achieved another world first by men living and returning from a simulated depth of 2,165 fsw (660 msw) using tri-mix (Oxygen/Nitrogen/Helium). The results of this experimental dive produced at least two more successes with the same two volunteers successfully completing nearly a week in Oct 1981 at a simulated depth of 1,772 fsw (540 msw) using tri-mix. On a shallower note, two other volunteers completed the deepest Oxy-Nitrogen saturation exposure for seven days at a simulated depth of 200 fsw (61 msw).
In the meantime, Reclaim continued pushing the boundaries for man and machines working at depth and many of her innovations were adopted for later use by commercial diving companies in the oil and gas fields of the North Sea. In June 1966 she helped recover the bulk of a Buccaneer Mk II that had crashed soon after take-off from the aircraft carrier HMS Victorious in 270 feet of water 10 miles south of the Lizard. This was the deepest salvage operation performed by the Royal Navy to date. In 1968, she helped locate and recover wreckage from an Aer Lingus Viscount that had crashed into the Irish Sea off Tuskar Rock with the loss of all onboard.
In February 1970, Reclaim's divers searched as deep as 450 ft to find and recover the unique experimental Mk 44 torpedo lost on the seabed of Loch Fyne. Also in 1970, Reclaim located and recovered an RAF Lightning from 210 feet off Flamborough Head. As the star attraction of the Oceanology International Conference at Brighton in March 1972, she was visited by the Education Secretary, the then Mrs Margaret Thatcher, who spent a considerable time inspecting her decompression chambers. The following month, she was involved in the recovery of a Sea King helicopter that had crashed in 270 feet of water off the Lizard. August of the same year found her divers helping to salvage the holed Dutch dredger Geopotes VI which had sunk in Portsmouth harbour.
In January 1973, Reclaim recovered a wartime Welman one-man submarine from Rothesay Bay. In May 1974, her attempt to lift a Wessex V helicopter from Vags Fjord off Harstad ended in failure when the rotor head sheared as the wreckage was being lifted clear of the water. However, she atoned for this in November the following year when she located and recovered a Sea King helicopter from under the noses of several Russian spy ships trawling for wreckage 20 miles off Portland Bill.
Reclaim was kept busy on trials, exercises and operations right up to the end of her long life. In June 1979, she helped locate and recover wreckage, including the flight recorder, of an RAF prototype Tornado that had crashed into 200 feet of water in the Irish Sea during a test flight. By the time she entered Portsmouth to pay off on 25 October of that year, she was over 31 years old and the oldest operational ship in the Royal Navy by a considerable margin. She left Portsmouth for the last time on 11 May 1982 to be scrapped in Belgium.
For a brief period after Reclaim's departure, the chartered MV Seaforth Clansman and the short-lived Seabed Operations Vessel HMS Challenger were used as successive diving platforms for Naval Party 1007 (NP 1007), the Royal Navy's Saturation and Deep Diving team but in the early 1990s, the MoD decided to abandon deep diving altogether because it was seen as more cost-effective to use commercial resources when required. For submarine rescue, faith was placed in the cooperation of the US Navy and its Deep Submergence Rescue Vehicle (DSRV) systems pending the introduction into service of the NATO Submarine Rescue System (NSRS).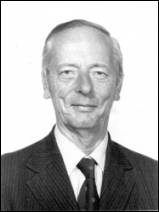 Dr Val Hempleman
25 March 1922 - 14 July 2006
Much of the credit for Reclaim's diving achievements must go to Dr Val Hempleman who was called up to work at RNPL Alverstoke in 1942 while studying Physiology and Chemistry at St Catherine's College, Cambridge. He returned to Cambridge after the war to complete his honours degree but rejoined RNPL in the early 1950s. As a young scientist, he helped develop the decompression tables and gas mixtures used by PO Bollard for his record-breaking dive in 1948. Together with his co-workers, he developed the post-war diving tables for the Royal Navy including those for George Wookey's world record dive in 1956 and was embarked in Reclaim to oversee their application at the time. He conceived a revolutionary change to decompression theory, the first since the earlier work of Haldane in the early 1900s. As the eventual Superintendent of RNPL, he oversaw the other record-breaking achievements by his staff and served until 2000 as the Chairman of the ethics committee that reviewed all diving related research. Thus he had an input into the testing of most of the equipment and decompression schedules currently in service plus the submarine escape work that RNPL carried out in the late 1990s and early 2000s. Sadly, he died in July this year (2006).
Postscript: Regrettably, George Wookey died of cancer in a hospice in Western Australia on 21 March 2007, only six months after being feted in Norway for his remarkable achievement 50 years previously.