---
21 May 15 - Forthcoming HDS museum event
Please spread the word about this Historical Diving Society event starting at its Diving Museum in No.2 Battery, Stokes Bay: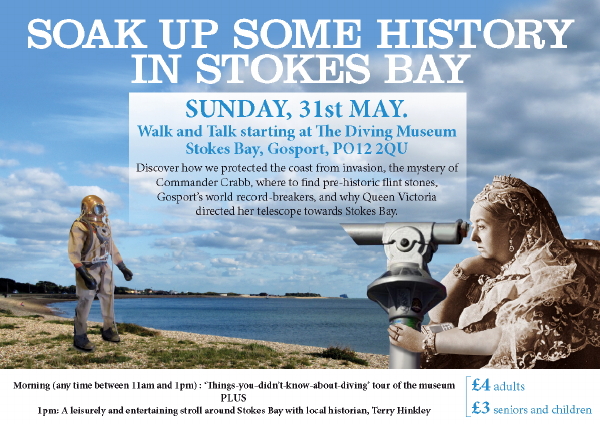 ---
20 May 15 - HMS Middleton visiting Shetland
The Royal Navy website contains this article announcing that HMS Middleton (MCM 2 Crew 2) will arrive at Lerwick in the Shetland Islands tomorrow morning to start a five-day visit. The ship will be open to the public from 1000 to 1600 on Friday.
---
17 May 15 - DEMS Visit
Yesterday, I enjoyed a visit with members of other military associations to the new Defence Explosive Ordnance Disposal, Munitions and Search (DEMS) Training Regiment facility at Bicester near Oxford which has replaced DEODS (Defence Explosive Ordnance Disposal School) at Chattenden in Kent. I saw many old RN and Army friends during a day that included a tour of the site and practical demonstrations in glorious weather, all culminating in a reunion dinner plus presentations and a charity auction in the bar. It was particularly good to see fellow MCDOA member Maj Les Rutherford RE, a diver and EOD operator who served on the staff of the Royal Engineer Diving Establishment (REDE) after it moved from Marchwood to HMS Vernon in 1985 and eventually combined its diver training with that of the RN to form the Defence Diving School (DDS) at Horsea Island in September 1995.
Fellow RN attendees comprised Mick Fellows MBE DSC BEM* and Colin 'Scouse' Kidman QGM although I had hoped that more of our Minewarfare & Diving community would take advantage of this rare opportunity (see entry for 6 Mar 15 in News Archive 49):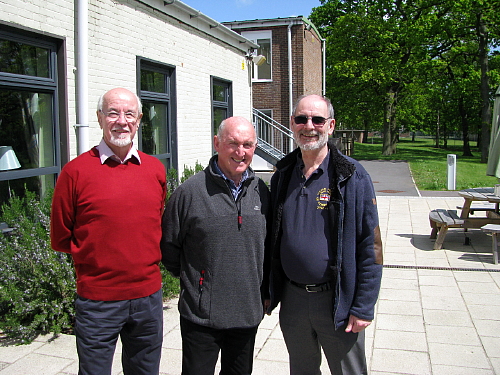 Mick Fellows, Colin 'Scouse' Kidman and Yours Truly (Rob Hoole)
I also renewed acquaintance with John 'JJ' Forbes, his son Michael and his son-in-law Steve Woodhead. All three are members of the Royal Engineers Bomb Disposal Officers' Club (REBDOC), with which the MCDOA is affiliated, and have attended several of our annual dinners.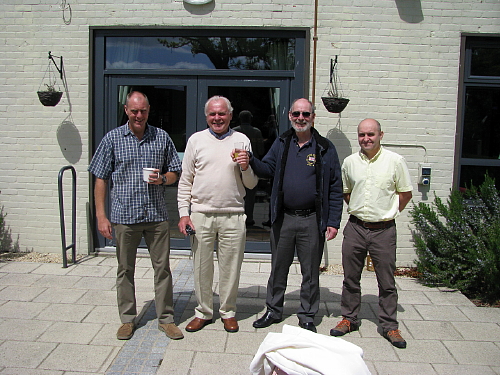 Michael Forbes, John 'JJ' Forbes, Yours Truly and Steve Woodhead
After a brunch of bacon and sausage baps with refreshments of our choice, we were given the customary brief by the RSM. We were then welcomed by the CO and split into syndicates for our tour of different stands and demonstrations.
Left: A brief by the RSM
Right: My syndicate (one of five on the day)
Here are some other pictures of the Open Day including practical demonstrations, exhibits and displays, each the work of the instructional staff. There were certain things I was asked not to photograph and you won't find any of them here: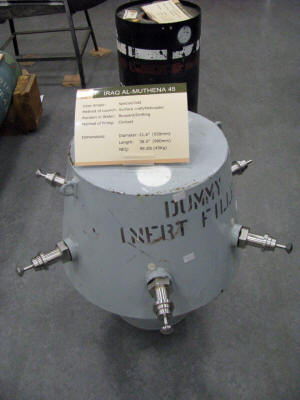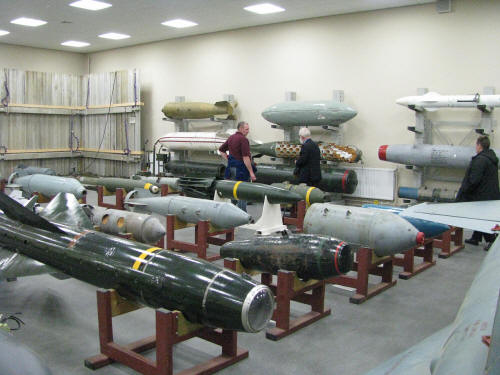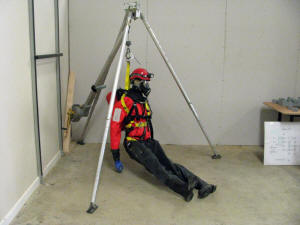 Mannequin dressed for search in hazardous environment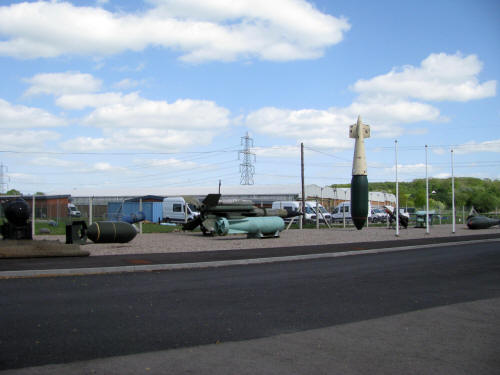 Left: Wheelbarrow Mks 1 to 5
Right: Wheelbarrow Mks 6 to 7A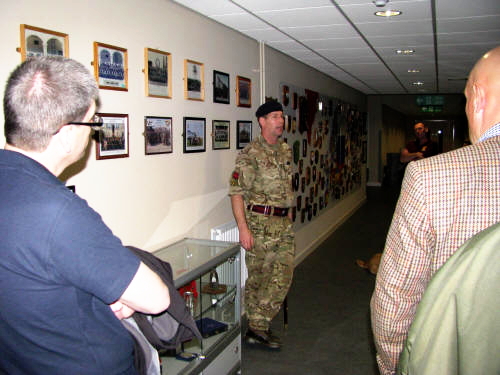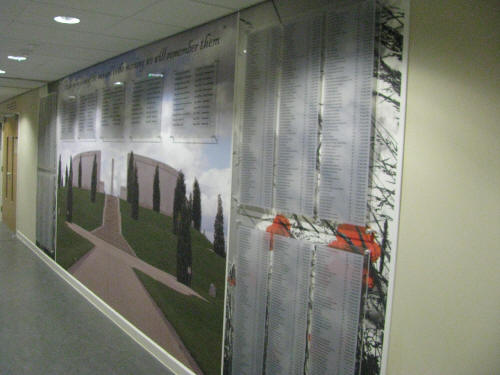 The Memorial Wall listing tri-service EOD fatalities since
the beginning of the Second World War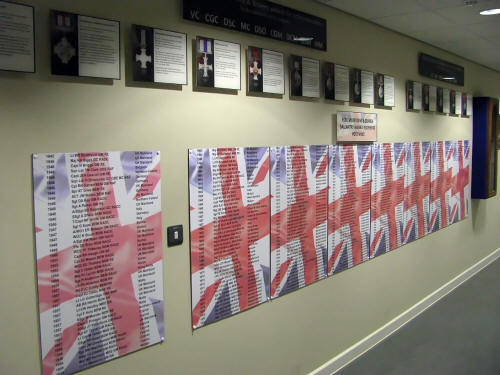 Tri-service EOD personnel honoured and/or decorated since
the end of the Second World War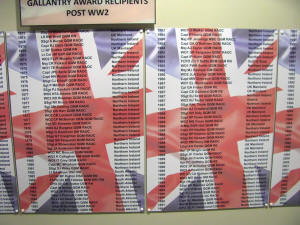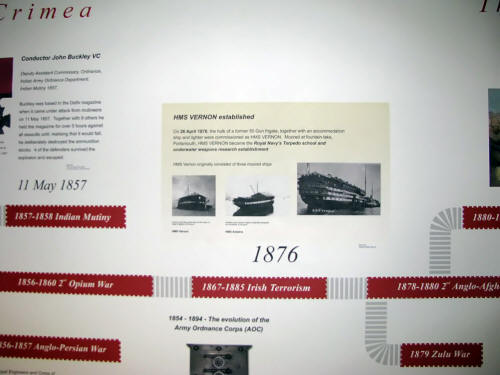 Above and below: Part of the EOD Timeline featuring the significant role played by HMS Vernon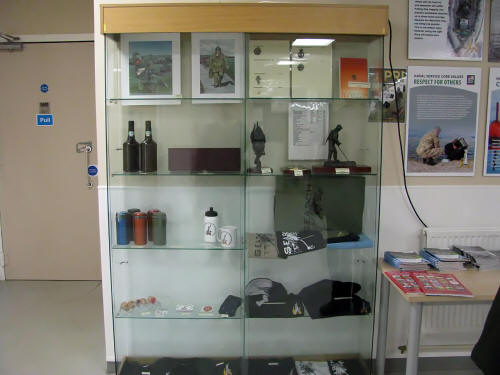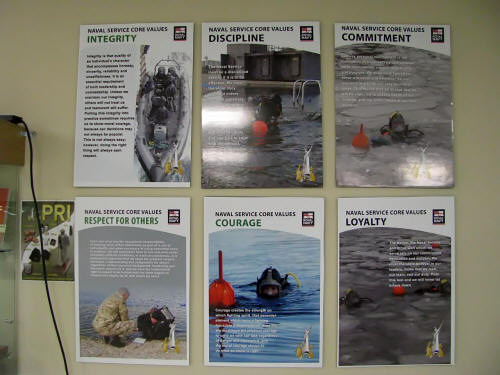 Display of Naval Service core values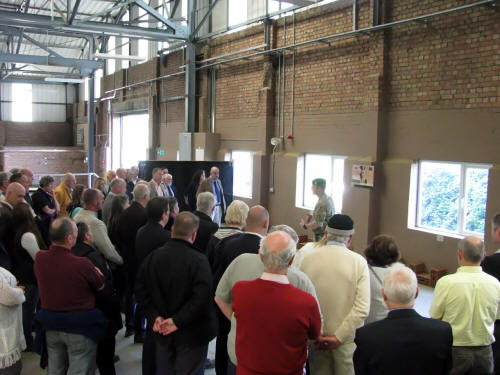 Above and below: Search dog demonstrations
I'm not sure what this was doing here but I couldn't resist taking a shot: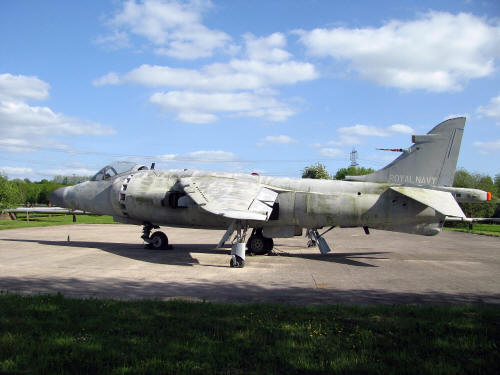 A forlorn-looking Sea Harrier
This is where we were accommodated overnight: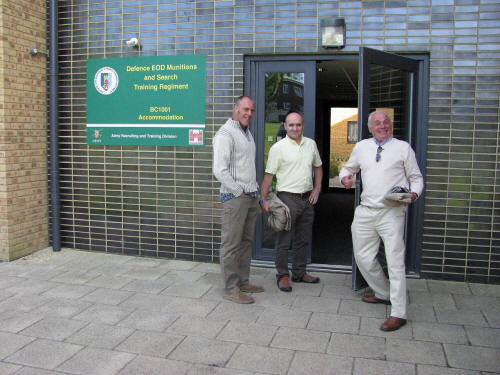 The evening's festivities included dinner, presentations, a charity auction and many lively conversations over much beer.
Here is 'JJ' with the ten pound note I gave him to enable his winning bid of £125 to the Felix Fund for one of the two 'BD 75' cakes commemorating the 75th anniversary of Royal Engineers bomb disposal. We ate the other one!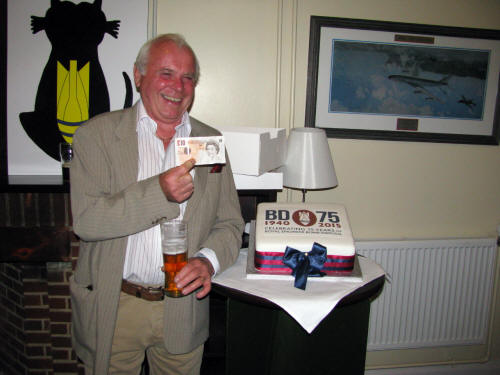 'JJ' Forbes with my tenner
I would like to express my appreciation to Robin Bennett, Honorary Secretary of REBDOC, for ensuring our RN contingent was invited and to the CO, RSM, PMC of the WOs & Sgts Mess and the instructors of DEMS for their warm hospitality and for making our visit so memorable.
---
14 May 15 - MCDO Promotions
I am grateful to MCDOA member John Craig for notifying me that fellow members Si Pressdee (CO MCM1 Crew 6 which returned in January from manning HMS Atherstone in the Gulf and is now manning HMS Cattistock) and Ben Vickery (Deputy Commander Sea Training) were among those on today's signal selected for promotion to Commander with effect from 30 June 2015. Katharine Armstrong, wife of MCDOA member Rory Armstrong, was on the same list.
Warm congratulations to all those selected.
---
12 May 15 - Lord Mayor of Portsmouth spends day at sea in HMS Middleton
The Royal Navy website contains this item describing how HMS Middleton (MCM 2 Crew 2) has hosted Cllr Steven Wylie, the Lord Mayor of Portsmouth, during a sea day in the Solent. The article features Ops Room Supervisor PO(MW) David Carbery.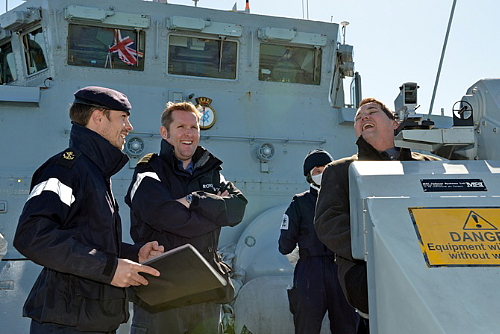 Lord Mayor of Portsmouth manning HMS MIddleton's 30mm
(RN website photo)
---
9 May 15 - MCDOA presents prints to new mess on Horsea Island
Yesterday's MCDOA Committee meeting at Fleet Diving Headquarters on Horsea Island had a full quorum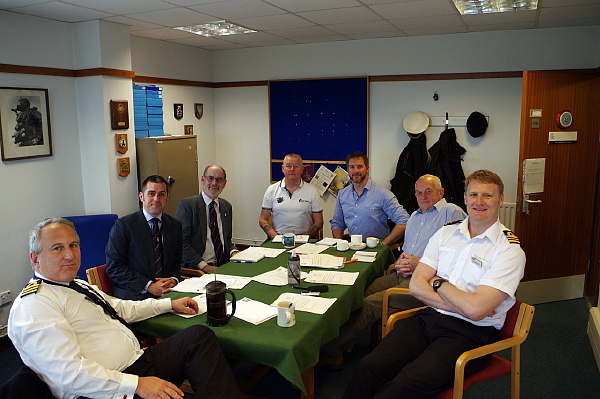 MCDOA Committee left to right: Cdr Mark Atkinson (Chairman), Lt Cdr Peter Davis (Hon Treas),
Lt Cdr Rob Hoole (Vice Chairman), Lt Cdr Graham 'Tug' Wilson MBE, Lt Cdr Dave Stanbury
(Membership Sec), Lt Cdr Martyn Holloway, Lt Cdr Mark Shaw (Hon Sec)
After the meeting, the MCDOA's Chairman presented framed prints of Danger at Depth and Vernon Creek by the late artist John Terry FCSD to be hung in the new Horsea Island Senior Rates and Officers Mess. The originals of the prints were commissioned by Project Vernon, the campaign to erect a monument at Gunwharf Quays to celebrate the Minewarfare & Diving heritage of HMS Vernon which previously occupied the site.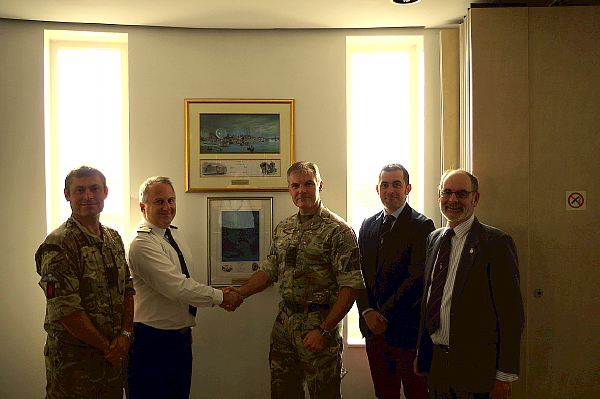 Cdr Mark Atkinson (SofD & MCDOA Chairman) presenting prints on behalf of the MCDOA to Cdr
Chris O'Flaherty (CO FDS) in the presence of Lt Cdr Sean 'Central' Heaton (OIC FDU2),
Lt Cdr Peter Davis (MCDOA Hon Treas) and Lt Cdr Rob Hoole (MCDOA Vice Chairman)
The MCDOA has presented identical prints to the Wardroom, HMS Excellent which, thanks to the kindness of a succession of mess presidents, has been the splendid venue for our annual dinners in recent years.
For information about becoming a member of the mess at Horsea Island (open to serving personnel and veterans), see this page on the RNCDA website.
MCDOA Honorary Secretary Mark Shaw has also asked me to point out the following MCDOA merchandise he has for sale: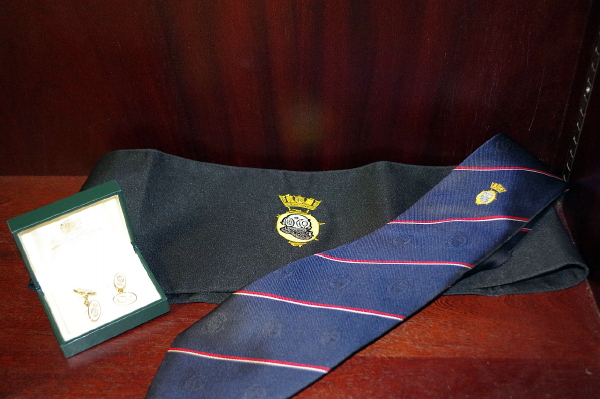 Email him via this address for further details.
---
8 May 15
Daily Telegraph obituary for Lt Anthony William Charles 'Lofty' Eldridge DSC RNVR
The Daily Telegraph has published this obituary for Lofty Eldridge, the longest surviving Second World War Chariot diver (see entry for 16 Apr 15).
Early in 1942, submariner Commanders Geoffrey Mainwaring Sladen (of Sladen 'Clammy Death' diving suit fame) and William Richard Fell commenced training with Chariot two-man human torpedoes in Horsea Lake. Initially, a wooden mock-up of a Chariot, nicknamed 'Cassidy', was towed up and down the lake by a small motor boat. On 6 May 1942, Lt P C A Brownrigg RNVR was the first Chariot casualty when he failed to surface after a routine dive. Chariot training was moved to Scotland a couple of months later.
I am grateful to former CPO(CD1) Michael 'Shiner' Brassington for providing this photo of Horsea Lake showing the noses of two Chariots poking out of the shed on the moored pontoon.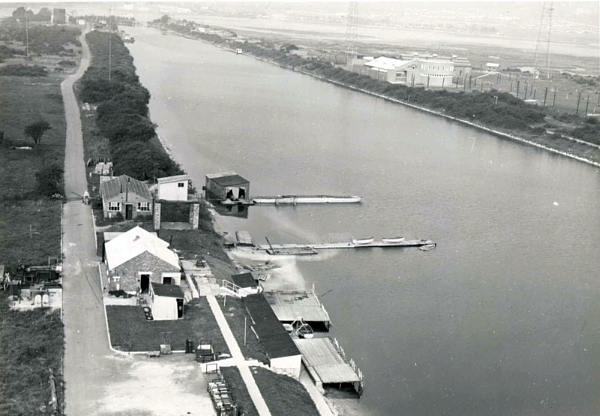 Horsea Lake showing Chariot Shed and floating pontoon jetty centre of picture
---
Historic RN Diving Magazines now available on website
I have scanned my collection of RN Diving Magazines, published in HMS Vernon between 1951 and 1970, converted them into pdf files and uploaded them to the website. They can be accessed via the 'RN Diving Magazine Archive' in the website's Branch History section. The pdf files are 'searchable' but this makes them relatively large and downloading may take some time. Please be patient.
The magazines should provide older members of our community with a trip down Memory Lane including some familiar names, ships, organisations, equipment and even advertisements. I hope they will provide younger members with an insight into the heritage of Royal Navy diving during a period when it reigned supreme throughout the world. There is also much to interest our US and Commonwealth colleagues.
---
7 May 15 - 11th MCM Squadron reunion in Hull 13-14 June 2015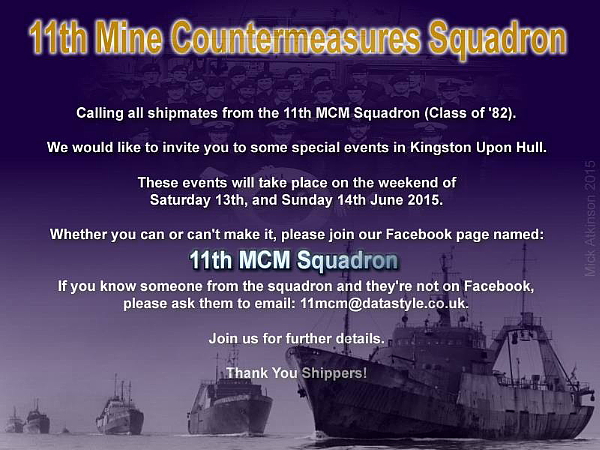 ---
6 May 15 - Award of LS & GC medals
Congratulations to WO1(D) Karl Roberts and CPO(D) Ian 'Scouse' Fleming on being gazetted for the award of the Clasp to the Long Service & Good Conduct (LS & GC) medal.
---
5 May 15 - SDU2 detonates shell on beach at West Wittering
The Portsmouth News website contains this article describing yesterday's disposal, presumably by members of Portsmouth-based Southern Diving Unit 2 (SDU2), of a wartime shell found on the beach at West Wittering in West Sussex.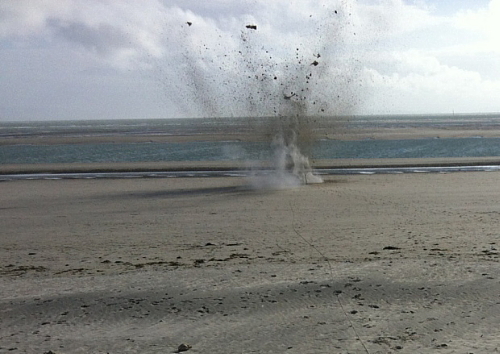 ---
1 May 15
Brighton bomb scare teenager cautioned
The Brighton Argus website contains this article describing how a 17-year-old youth has been handed a caution after entering a Brighton station with a rucksack full of chemicals. Members of Portsmouth-based Southern Diving Unit 2 (SDU2) were called to the incident when it occurred on Friday 13 March.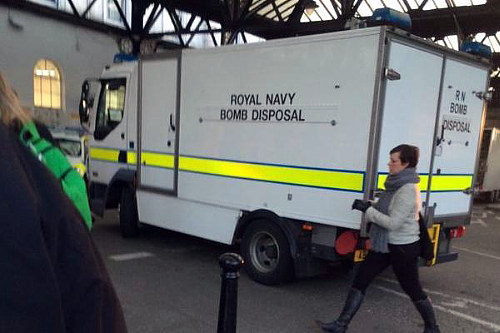 ---
Story of the 'Blackfriars Bomb' added to website's Dit Box
MCDOA member Colin Churcher MBE has kindly sent me a short personal account of his disposal of the German Second World War bomb discovered under London's Blackfriars Bridge on the River Thames in February 1968.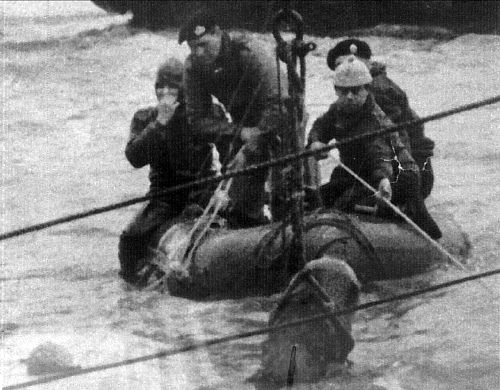 Colin's story, titled 'The Blackfriars Bomb', has now been added to the website's Dit Box.
---
30 Apr 15
NDG advises on beached exercise mine
The BBC News website contains this article following yesterday's discovery of an exercise moored mine on the beach at Ardrossan in the Firth of Clyde. It was due to be collected by members of Faslane-based Northern Diving Group (NDG).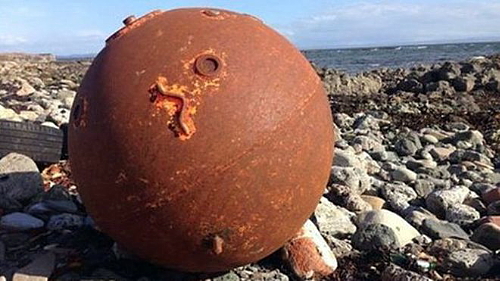 ---
SDU1 attends hoax device incident in Exeter
As this article on the BBC News website indicates, the incident reported yesterday and attended by members of Plymouth-based Southern Diving Unit 1 (SDU1) involved a hoax device discovered in a garden in Bramley Avenue, Exeter. The device transpired to be "not viable and not dangerous".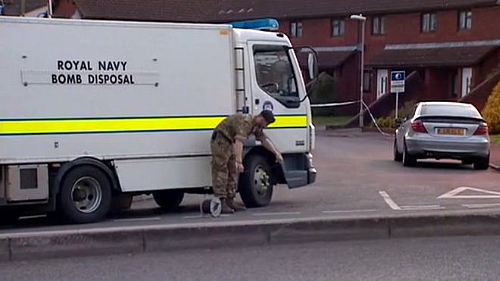 ---
29 Apr 15 - SDU1 called to incident in Exeter
The Torquay Herald Express website contains this article describing an incident yesterday evening when members of Plymouth-based Southern Diving Unit 1 (SDU1) were called to investigate a "suspicious item" at the rear of a property in an Exeter street.
---
28 Apr 15
HMS Pembroke returns to Faslane
The Royal Navy website contains this article announcing the return of HMS Pembroke (MCM1 Crew 4) to Faslane last Thursday after her four-month deployment with Standing NATO Mine Countermeasures Group 1 (SNMCMG1).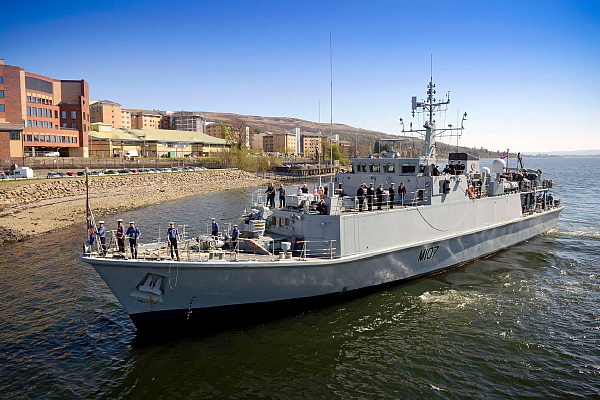 HMS Pembroke returning to Faslane last Thursday
(RN website photo)
---
RN Diving Heritage: The Diving Magazine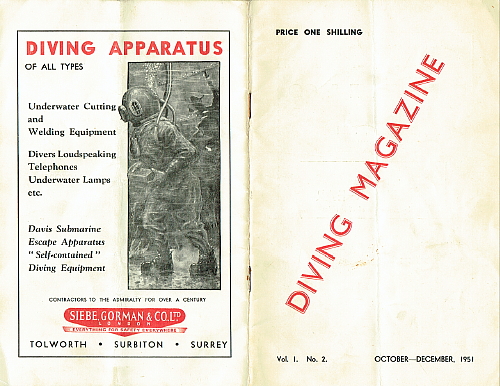 I am experimenting with scanning issues of the RN Diving Magazine, published in HMS Vernon between 1951 and 1970, and converting them into pdf files. Here is Vol.1 No.2, the second issue ever published:
RN Diving Magazine: Vol I No 2 (October - December 1951)
Also see the first and final issues of the magazine:
RN Diving Magazine: Vol I No 1 (July - September 1951)
RN Diving Magazine: Vol 16 No 3 (September - December 1970)
The files are large so download may take some time.
---
27 Apr 15 - Tasks undertaken by UK EOD/IED teams during the past three years
The Daily Mirror website contains this article revealing that, since 2012, UK EOD teams have undertaken 1,864 tasks involving reported improvised explosive devices (IEDs), of which 50% were false alarms, and 5,402 tasks involving Second World War explosives.
...A spokesman for the Ministry of Defence said: "Bomb disposal teams in the Armed Forces regularly put themselves in dangerous environments to protect the public.
"We have around 250 personnel, including three Royal Navy bomb disposal teams, on short notice standby to respond immediately to callouts across the UK 24/7."...
Do not ask me why the Daily Mirror has chosen to illustrate its article with a photo of US forces training Ukrainian National Guardsmen. My thanks to ex-CD Perry Mason for this link.
---
26 Apr 15 - ANZAC 100 commemorations in the Far East
Two MCDOA members helped mark ANZAC Day in the Far East yesterday.
Lt Cdr Bob Hawkins MBE RN represented the Royal Navy at the ANZAC 100 Dawn Service at Hellfire Pass followed by a Remembrance Service at Kanchanaburi Cemetery. Both locations in Thailand are associated with the infamous Japanese 'Death Railway' linking Thailand with Burma.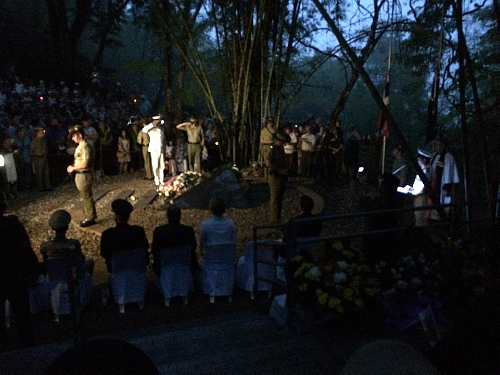 Cdr Clive Coombes RNZN laying a wreath on behalf of the New Zealand
Defence Force at the Dawn Service at Hellfire Pass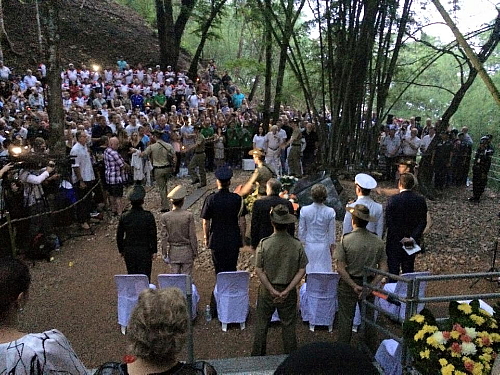 The catafalque party departing at the end of the Dawn Service
at Hellfire Pass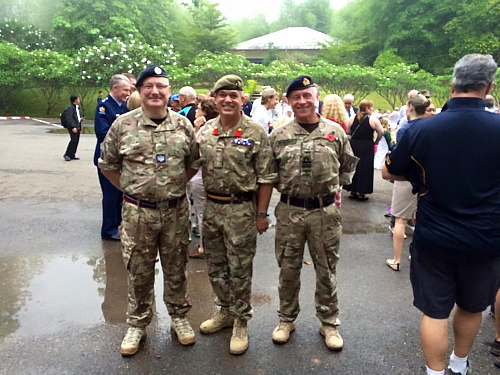 Above and below: The British High Commission Defence representatives
Flt Sgt Tam McDonald RAF and Col Chris Luckham OBE PWRR with
Bob Hawkins before and after they changed for the
remembrance service at Kanchanaburi Cemetery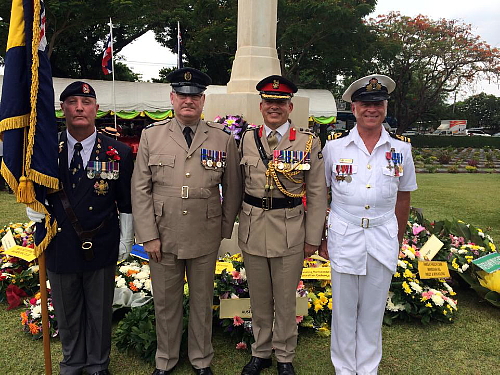 At Kanchanaburi Cemetery, Bob laid a wreath at the request of the UK's Defence Attaché in Thailand, Col Chris Luckham OBE PWRR, whose pre-amalgamation regiment was the Royal Hampshires. The 2nd Bn Royal Hampshire Regiment landed 800 men at Gallipoli from SS River Clyde and only three of them returned. Chris Luckham's wreath commemorates the poignant fact that out of 7,580 Royal Hampshires who perished in the Great War, 2,000 were lost at Gallipoli.
The wreath Bob Hawkins laid to commemorate the 7,580 officers and men of
the Royal Hampshire Regiment who fell in the Great War
At about the same time, Lt Cdr Dave Ince RAN (formerly RN) acted as Master of Ceremonies at a remembrance service in Tonga.
Dave Ince acting as Master of Ceremonies for the ANZAC 100 ceremony in Tonga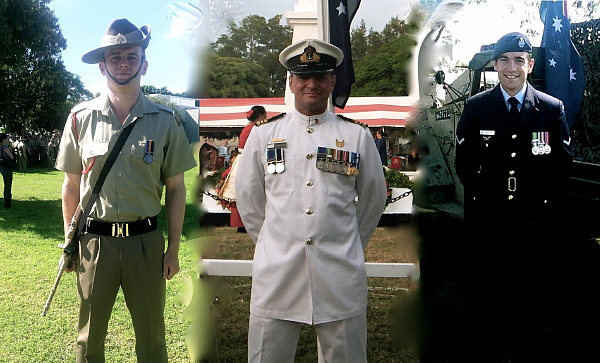 A photo montage of Dave Ince flanked by his sons Brent (left) and Luke (right),
both serving in the Australian Defence Force
In the photo montage above, Dave's elder son Brent is wearing his Afghanistan service medals and Australian Defence Medal (after four years' service) while his younger son Luke is wearing his Operational Service Medal for Operation Resolute (border protection). Dave is wearing a mix of all the above plus his RN GSM (Op Harling and Gulf) and QE Jubilee medals on his left breast. On his right breast, he is wearing the NI GSM and LS&GC medal his father earned during 33 years of service.
---
25 Apr 15 - SDU2 recovers "potentially explosive devices"
The Portsmouth News website contains this article describing a call-out last Tuesday for members of Portsmouth-based Southern Diving Unit 2 (SDU2) to deal with a rucksack containing hundreds of bullets and three wired devices wrapped in plastic. The rucksack was in the garden shed of a house belonging to a Royal Marines veteran in Leigh Park near Portsmouth.
---
24 Apr 15 - Vernon Monument Fundraising Dinner on Friday 5 June
I am delighted to publish this announcement (see entry for 11 Apr 15):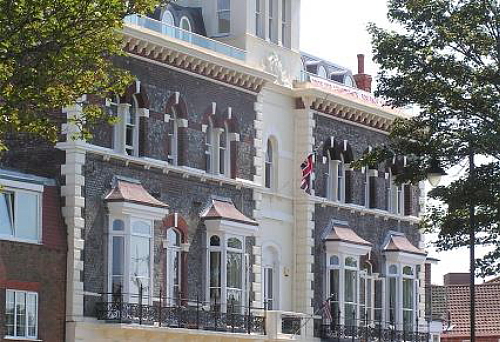 The Trustees of The Vernon Monument Fund are pleased to announce their next major fundraising event. All proceeds will go to Project Vernon towards the installation of the Vernon Monument in Gunwharf Quays: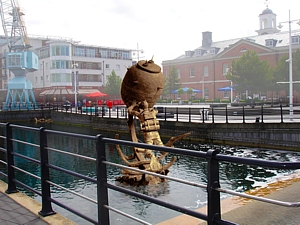 Event: Vernon Monument Fundraising Dinner
Venue: The Royal Naval Club & Royal Albert Yacht Club (RNC-RAYC), 17 Pembroke Road, Portsmouth, Hampshire PO1 2NT (Opposite "The Pembroke" pub).
Date: Friday 5 June 2015
Time: 1900 to 2330
Dress: Black tie
Cost: £60 per head
Tickets are on sale on the Vernon Monument website via:
http://www.vernon-monument.org/shop/portsmouth-dinner-2015/
More details (e.g. menu and programme of events) are available on the Vernon Monument website via the link above. Come along and make it a night to remember.

See you there. Admittedly, you could eat cheaper at a Harvester but that wouldn't be nearly as salubrious, much less help the Vernon Monument reach fruition (or be as much fun

).
---
23 Apr 15
Death of French wartime agent and combat diver Bob Maloubier
The Daily Telegraph contains this obituary for Bob Maloubier MBE DSO, an extremely brave SOE agent during the Second World War and co-founder of the French SDECE (now DGSE) counter-intelligence service's combat diver unit in 1952 (see second entry for 5 Jun 14 in News Archive 46). He died in Paris on 20 April aged 92.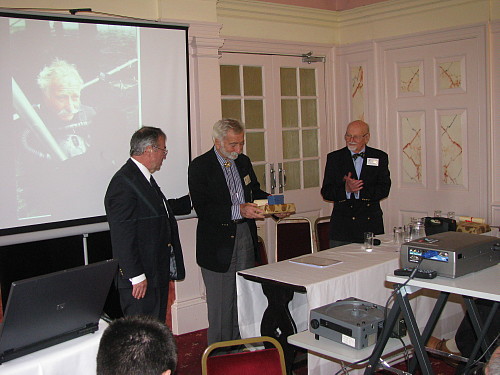 Bob Maloubier flanked by MCDOA member & Historical Diving Society Chairman
Dr John Bevan and HDS Secretary Reg Vallintine at the annual HDS gathering
in the Queen's Hotel, Southsea in November 2010
Already a holder of the UK's DSO (Distinguished Service Order), Bob was invested as an Honorary MBE (Ordinary Member of the Honourable Order of the British Empire) by the Queen during her state visit to France last year for the 70th anniversary commemorations of the D-Day landings:
The Queen investing Bob Maloubier DSO as an Honorary MBE
at the British Embassy in Paris on 5 June 2014
---
May issue of Navy News
Next month's Navy News should prove interesting to our community if the front page is any indication: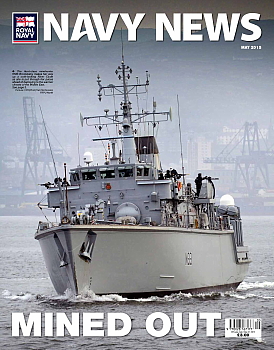 HMS Brocklesby on front page of Navy News
---
NDG called to incident in Dunoon
The Dunoon Observer & Argyllshire Standard website contains this article describing how members of Faslane-based Northern Diving Group (NDG) were called to an incident in the Castle Street area of Dunoon yesterday.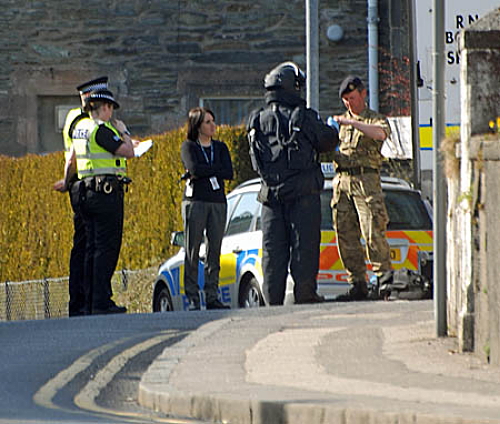 ---
22 Apr 15 - New book featuring the history of HMS Vernon
Mrs Webmaster and I attended a reception last night to launch an impressive new book titled 'Gunwharf Quays, Portsmouth' subtitled 'The history, architecture, conservation and development of a remarkable miltary site'. The reception was held in the Aspex Gallery in Vulcan Building at Gunwharf Quays and I was grateful to be acknowledged by Michael Underwood, its author, as one of those involved in its research, particularly with regard to the site's existence as HMS Vernon. Also present were MCDOA co-founding Chairman David Sandiford and Minewarfare Association (MWA) Chairman Dixie Dean MBE as well as the Mayor of Portsmouth and many other dignitaries plus representatives of Land Securities and Berkeley Homes who were responsible for the current site's development. The book was available to purchase at the launch with, exceptionally, £2 per copy being donated to the Royal Navy & Royal Marines Charity (RNRMC).
I believe this richly illustrated 192-page paperback does justice to the minewarfare & diving heritage of HMS Vernon during its 70-year occupation of what has been an important military and naval site in Portsmouth for over three centuries. Priced £12.99, it will soon be available for purchase online from Waterstones here or via Amazon here. Alternatively, it is available over the counter now from the Guest Relations Suite located in Central Square, Gunwharf Quays; see details here.
---
21 Apr 15
11th MCM Squadron reunion in Hull 13 & 14 June 2015
MCDOA committee member Martyn Holloway was the Senior Officer of the 11th MCM Squadron comprising five Hull trawlers (HM Ships Cordella, Farnella, Junella, Northella and Pict) taken up from trade, converted into minesweepers and sent south for the Falklands conflict. Read their extraordinary story in 'The Forgotten Few of the Falklands' in the website's Dit Box.
I am grateful to Martyn for the following photos and announcement regarding a special reunion of 11th MCM Squadron personnel and their supporters in June:
"Without these ships the reinforcement of 3 Commando Brigade in East Falkland in 1982 would have been delayed unacceptably. These two ships and their three sisters cross-decked the 5,000 men of 5 Brigade and 1,200 tons of stores at South Georgia in 36 hours. In the Falklands, they inserted and re-supplied Special Foces patrols, carried out a potentially dangerous 'guinea pig' influence task and, finally, cleared the sea minefields off Port Stanley using EDATS rigged as double oropesa.
The ships may be gone but the men who manned them are getting together to talk about it. Join them if you will in Kingston-upon-Hull 13/14 June 2015 (14 June is 'Falkland Islands Liberation Day'). Details may be found on the Mine Warfare Association's website or the 11th MCM Squadron's Facebook group page."
---
Bomb disposal team called to deactivate 'bomb' in garden of Bideford home
The North Devon Gazette website contains this article describing yesterday's removal of a bomb from the front garden of a Bideford home by "bomb disposal experts", possibly members of Plymouth-based Southern Diving Unit 1 (SDU1).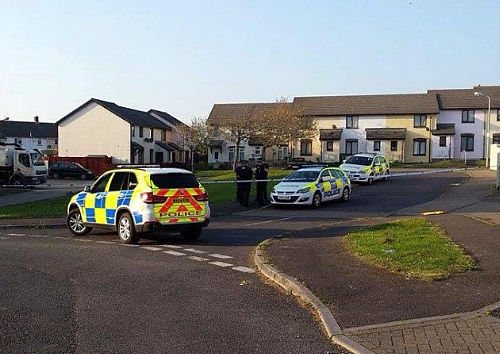 ---
20 Apr 15
David and Dorothy Bartlett celebrate their Diamond Wedding Anniversay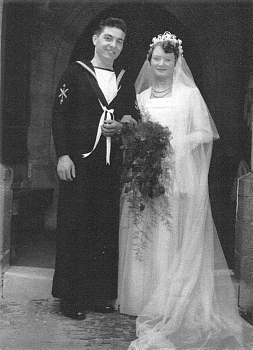 Warm congratulations to MCDOA member David Bartlett MBE and his wife Dorothy on the occasion of their 60th wedding anniversay. Your humble webmaster and his wife were privileged to be invited to their surprise celebration party organised by their married children (Dawn, Andy and Dennis) in the clubhouse at Southwick Park Golf Course on Friday night and it was a hugely uplifting affair. We had also attended their Golden wedding anniversary which was covered by the Portsmouth News in this article owing to David's auspicious naval career (see entry for 21 Apr 05 in News Archive 10). This time, David and Dorothy received a congratulatory card from HM the Queen.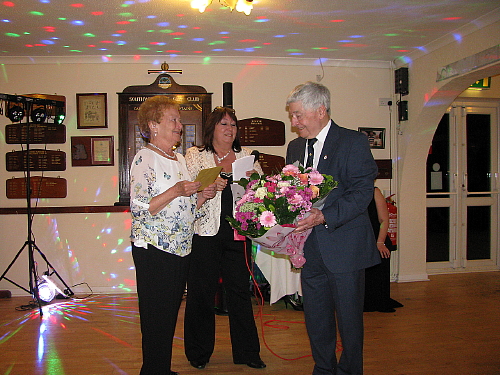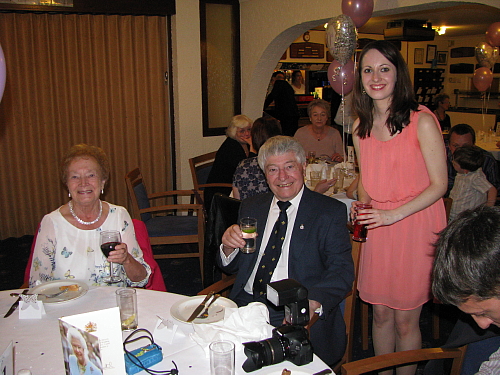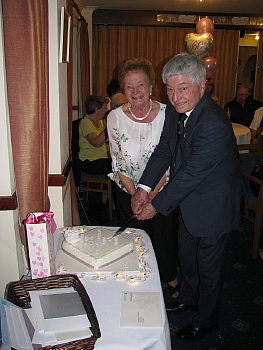 ---
HMS Quorn departs Portsmouth to join SNMCMG1
The Royal Navy website contains this article announcing today's departure of HMS Quorn (MCM2 Crew 3) from Portsmouth to replace HMS Pembroke (MCM1 Crew 4) in Standing NATO Mine Countermeasures Group 1 (SNMCMG1) at Glasgow. She will then deploy with the force to the Baltic region for three months of exercises and Historic Ordnance Disposal off Northern Europe.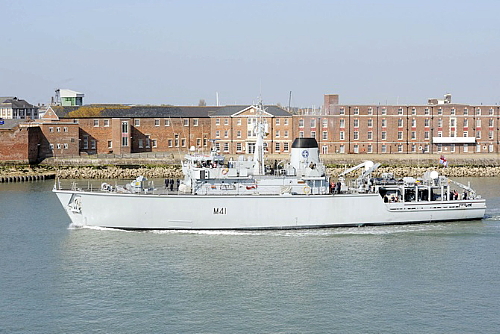 HMS Quorn departing Portsmouth today
(RN website photo)
Post script: On 21 April, the Navy News published this article covering the same event.
---
Mine Countermeasures, Survey and Explosive Ordnance Disposal (EOD) in Port Clearance and Amphibious Operations
The thought-provoking Think Defence website has published an interesting analysis of MCM and EOD in Port Clearance and Amphibious Operations with some eye-catching illustrations and I commend it to you. In a former life at the Maritime Warfare Centre (MWC) before it moved from high atop Portsdown Hill, I was proud to champion this capability and liaise with CINCFLEET, COMAMPHIBFOR / COMATG, DSTL, QinetiQ, etc., acquire funding, sponsor the trials, perform the OA (Operational Analysis) and write the report that supported the procurement of equipment for RN MCM units and diving teams conducting amphibious operations including VSW (Very Shallow Water) and Surf Zone (SZ) clearance; I therefore have my own views. I am also grateful to the desk-drivers who have kept us informed of progress during the operational updates at our annual MCDOA gatherings on Horsea Island although Chatham House rules prevent them from being repeated elsewhere.
The relevant Think Defence posts are at:
Mine Countermeasures, Survey and Explosive Ordnance Disposal (EOD) in Port Clearance and Amphibious Operations – Part 1
Mine Countermeasures, Survey and Explosive Ordnance Disposal (EOD) in Port Clearance and Amphibious Operations – Part 2
Mine Countermeasures, Survey and Explosive Ordnance Disposal (EOD) in Port Clearance and Amphibious Operations – Part 3
Mine Countermeasures, Survey and Explosive Ordnance Disposal (EOD) in Port Clearance and Amphibious Operations – Part 4
Port Clearance and Operations in Iraq 2003
Although the Think Defence blogger tends to disparage the Royal Navy's role, personnel, capabilities and achievements as a rule and attracts those similarly minded, the introduction to his post (as a year ago in a similarly informative Unmanned Mine Countermeasures Update) contains these uncharacteristically complimentary words:
"...Minesweepers are an enduring image of the battle against mines but the last combined influence sweep system deployment was in 2005. The MCDOA provides a great look at this, click here to view. The Minewarfare and Clearance Diving Officers' Association has a wealth of great information about the subject in general and you can lose many hours on their great website..."
---
19 Apr 15 - HMS Middleton in RNR Live Event at HMS President next Saturday
HMS Middleton (MCM2 Crew 2) will participate in the Royal Naval Reserve Live Event alongside HMS President (commanded by MCDOA member John Herriman) on the Thames in London next Saturday (25 April) and will be open to visitors from 1000 to 1600. Tickets are free but going fast. See here on the Eventbrite website for booking details:
HMS MIDDLETON Ship Tour & HMS PRESIDENT Royal Naval Reserve Live Event Saturday 25 April 2015
Post script: On 20 April, the Royal Navy website published this article announcing the same event while adding that the Type 45 destroyer HMS Defender will participate too.
---
18 Apr 15 - New book about Second World War pioneer of EOD techniques
I was delighted to hear today from Kerin Freeman in New Zealand (although she started off in Southampton) that her book about the Earl of Suffolk and his 'Holy Trinity' of civilian bomb disposal operatives during the Second World War has been published at last. I have been assisting her research for the past five years and it is wonderful to see her project reach fruition. Apart from the Earl's many other achievements, he pioneered the techniques of trepanning bombs and mines and steaming out and burning their explosive content.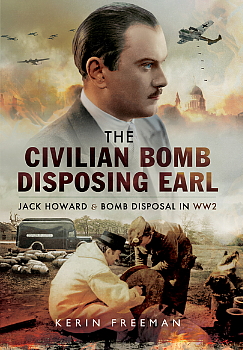 Charles Henry George Howard (otherwise known as Jack), 20th Earl of Suffolk, 13th Earl of Berkshire, GC FRS led a relatively short but eventful life. Born on 2 March 1906, he attended the Royal Naval College at Osborne until the age of 15 then quit Radley College in 1923 to join the windjammer Mount Stewart as an apprentice officer. After his return from a round the world voyage, he was commissioned into the Scots Guards but was later asked to resign by his superiors because of his "wild ways". In 1926 he returned to Australia where he first worked as a Jackaroo and later owned a large farm jointly with Captain McColm, who had been Master of the Mount Stewart. In 1934, he married Chicago-born ballet dancer Mimi Forde-Pigott with whom he later had three children. He enrolled at Edinburgh University, graduating three years later with a first-class honours degree in Chemistry and Pharmacology. In his early twenties, the Earl was made a Fellow of The Royal Society of Edinburgh. The Nuffield Institute of Medical Research at Oxford University then offered him a research post in the area of "explosives and poisons". As Liaison Officer for the British Department of Scientific and Industrial Research during World War II, the Earl of Suffolk and his colleague Major A V Golding were subsequently posted to Paris.
Following his return to the UK from some adventures in France involving the evacuation of 35 eminent nuclear scientists, the world's entire stockpile of heavy water, £4 million's worth of industrial diamonds and 600 tons of precious machine tools as the German invaders advanced, the Earl worked for the Ministry of Supply as a Research Officer learning how to defuze bombs of new and unknown types. The Earl then led an unexploded bomb detachment in London during the Blitz. The detachment comprised himself, his private secretary Beryl Morden who recorded his actions while he rendered bombs safe, and his chauffeur Fred Hards. They called themselves "the Holy Trinity" and they became famed for their prowess in detecting and successfully tackling thirty-four unexploded bombs with "urbane and smiling efficiency." Tragically, they were all killed on 12 May 1941 when a 250 kg bomb, supposedly rendered safe by others some time before, exploded at a 'bomb cemetery' on Erith Marshes in Kent. Jack Howard was subsesquently awarded a posthumous George Cross while Beryl Morden and Fred Hards were awarded commendations "for brave conduct in Civil Defence".
This image of the dust jacket provides more information about the book and its author: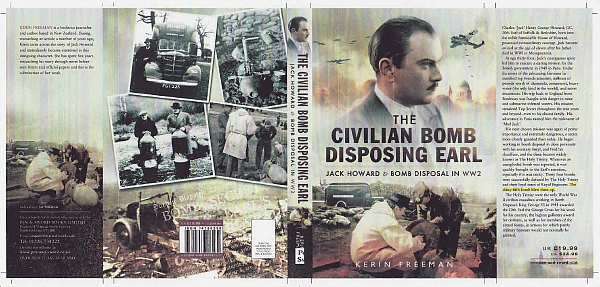 Kerin's well-illustrated 224-page hardback can be ordered online from Pen & Sword here at an introductory price of £15.99 plus p&p:
The Civilian Bomb Disposing Earl - Jack Howard & Bomb Disposal in WW2
---
17 Apr 15 - FTRS vacancies of possible interest
Several FTRS (Full Time Reserve Service) vacancies of possible interest have become available including these:
A VACANCY FOR AN OF3 OF ANY SPECIALISATION SERVING AS STAFF OFFICER OPERATIONS ON THE MINE WARFARE BATTLE STAFF IN UKMCC BAHRAIN – REF No 1822265
A vacancy has arisen for an OF3 (Lt Cdr or equivalent) of any Specialisation to serve as Staff Officer Operations (SOO) on the Mine Warfare Battle Staff on a rotational cycle in Bahrain and the UK on FTRS(FC) Terms and Conditions of Service (TCOS).
SOO is the senior N3 - 5 Staff Officer who is responsible for coordinating all current and future plans for MCM Operations for 24 hours and beyond for all aspects of the employment of the MW Force, including branches and sequels and all other contingency planning. This role will normally be filled by COS prior to deployment and thereafter or the SO3 HM when not on MCM Operations. SOO is also responsible for the cohesion of staff effort within the division particularly between the current Operations Cell and the Plans Cell within the N3 Division and between the N3 and N5 Divisions...
---
A VACANCY FOR AN OF3 OR OF4 OF THE WARFARE SPECIALISATION SERVING AS THE OIC UK MARITIME TRADE OPERATIONS DUBAI – REF No 1669260
A vacancy has arisen for an OF3 or OF4 of the Warfare specialisation to serve as the OIC UK Maritime Trade Operations Dubai on FTRS(FC) Local Foreign Service Terms and Conditions of Service (TCOS). UK contribution to regional freedom of navigation, primary point of contact for all merchant shipping transiting the MEJOA, conducts liaison and reassurance role on behalf of UKMCC Bahrain/ NCHQ...
---
A VACANCY FOR AN OF3 OF ANY SPECIALISATION SERVING AS THE SO2 FORCE DEVELOPMENT IN NCHQ PORTSMOUTH – REF No 1732731
A vacancy has arisen for an OF3 of any specialisation to serve as the SO2 Force Development in NCHQ Portsmouth on FTRS(HC) Terms and Conditions of Service (TCOS).
Following the Levene report on Defence Reform, the MOD has undergone Defence Transformation which includes the transfer of responsibilities from MOD Head Office to Front Line Commands, and Navy Command in particular. As part of reorganising itself to meet this increased responsibility, Navy Command has strengthened its conceptual and force development process by setting up a Force Development team. This team will be primarily responsible for producing a single coherent Navy Command view of the future maritime force beyond 2020.
This post will be looking at alternative options for future ships, air platforms and capabilities, and will influence the decision making that will shape the future maritime force.
The team will work with the Defence Strategic Force Development processes (through DCDC / JFC and Head Office) providing a coherent Navy input, ensuring an appropriate understanding of current and future maritime capabilities. Furthermore it will take the outputs of the strategic/operation level Head Office force development, and develop the operation/tactical understanding for the maritime environment. This should provide the context for the Capability Planning process and a mechanism to assess the effectiveness of the Capability Management Plan. It will be a vehicle for engagement with other Commands and promote a common understanding of capability requirement where capabilities delivered by different Commands must all come together coherently to deliver the optimal output. Concepts developed by DCDC and endorsed through the Head Office should lead to the development of solutions within the Maritime environment (through the Genesis options process)...
The closing date for applications is 30 April 2015. Further information about these and other FTRS vacancies of possible interest can be found at:
Vacancies for Full Time Reserve Service positions updated 07 April 2015
---
16 Apr 15 - Funeral of Anthony William Charles 'Lofty' Eldridge DSC
I am grateful to MCDOA member John Herriman for this announcement:
"Hi Rob,
I've just been made aware of the funeral of Lt 'Lofty' Eldridge, who was the last surviving wartime charioteer, and who led a successful operation to attack Japanese merchant ships in Phuket harbour during WW2. He was awarded the DSC I believe.
The only reason I know is because my Padre, Fr Tom Pyke, in HMS PRESIDENT is taking the funeral service tomorrow at Watford Crematorium – he regards it as a singular honour to be asked to lead the service.
I couldn't see anything on the website announcing the sad passing of one our wartime heroes and thought I'd bring it to your attention – deserves our recognition and admiration.
Trust all well.
With best regards,
John
Commander John Herriman RNR
Commanding Officer
HMS President"
Anthony 'Lofty' Eldridge died on Monday 13 April. I have ascertained that his memorial service will take place tomorrow at 0920 in the North Chapel of West Herts Crematorium in Watford. This article published in The Independent on 14 April is also relevant:
Veteran Anthony Eldridge dies hours before he could say final farewell to grandson due to visa delays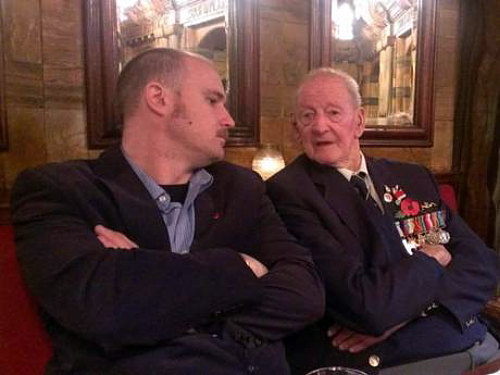 Anthony Eldridge (right) with his grandson Brendan Currie
Sub Lt (later Lt) Anthony 'Lofty' Eldridge RNVR was gazetted for the award of the DSC on 6 March 1945. He and Petty Officer Sydney 'Butch' Woollcott, later awarded the DSM, had manned the human torpedo HM Chariot Tiny in company with HM Chariot Slasher in an attack on the Italian liners Sumatra (4.859 tons) and Volpi (5,292 tons) at Phuket, north of Penang, on 28 October 1944. Both chariots returned to the submarine HMS Trenchant where their crews were able to watch as their respective targets exploded and sank.
---
15 Apr 15 - Remembrance Service for Ian Gray-Taylor
Ex-CD Terry Gosling has asked me to publish this announcement:
"There will be a remembrance service for Ian at the Treetops Hotel, Aberdeen on the 23rd April at 1400. All welcome."
The Aberdeen Press & Journal contains this article which includes the following photo and passages:
Memorial service arranged for former Aberdeen diving boss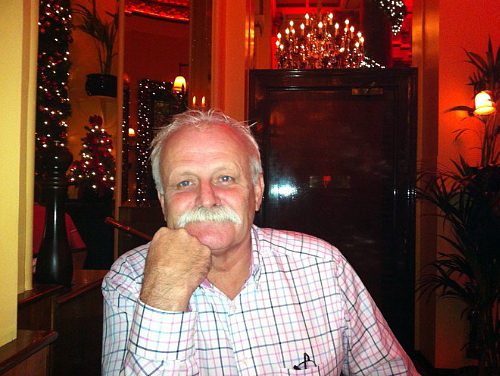 "A memorial service will be held this month for a top north-east diver who died just weeks after being diagnosed with cancer. Ian Gray-Taylor, the former boss of the Aberdeen-based National Hyperbaric Centre, emigrated to Gran Canaria with his wife Colleen last year. But their new life in the sun was cut tragically short, after Mr Gray-Taylor went to the doctor complaining of a sore stomach, and was told he had oesophageal cancer. He died just a month later, on February 25...
Mr Gray-Taylor's 40-year career in the offshore industry began after he left the Royal Navy – where he worked on bomb and mine disposals – and moved to Aberdeen to take on a job as a commercial diver with Comex. He later became operations manager at the National Hyperbaric Centre. Mr Gray-Taylor eventually set up his own company, IG-T Drilling, carrying out work for oil and drilling companies across the globe – including Las Palmas...
Anyone wishing to attend the memorial service should e-mail iansmemorial@gmail.com."
I will publish any tributes sent to me via my webmaster email address.
---
From former MCDOA Honorary Secretary Richard 'Soapy' Watson:
"Hi Rob,
On behalf of the NHC [National Hyperbaric Centre], I would like to pass on our condolences. Our thoughts are with the family.
Kindest Regards,
Richard Soapy Watson
Global Training Manager
NHC"
---
From ex-CD Terry Gosling
"Greetings Rob,
The diving industry offshore and inshore are full of 'illustrious' ex-CDs. The training we obtained in the RN and the 'drive' that that training gives you, ensures success. G/T was one of many success stories. I have personally helped a number of ex-CDs into employment, most of whom are now at the top of their profession. Let's hope that future generations of RN divers will do as well!
Hope you are well?
Best regards,
Terry Gosling
Ex-ABCD2"
---
14 Apr 15 - SDU1 removes ordnance from Swansea Bay
The South Wales Evening Post website contains this article describing the removal by members of Plymouth-based Southern Diving Unit 1 (SDU1) of an artillery shell discovered by a walker on the sands at Brynmill in Swansea Bay in South Wales.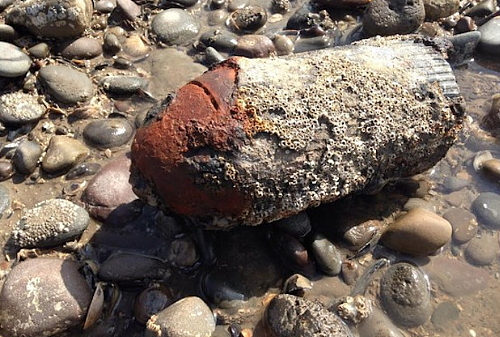 ---
13 Apr 15 - Forthcoming book describing the history of Royal Australian Navy diving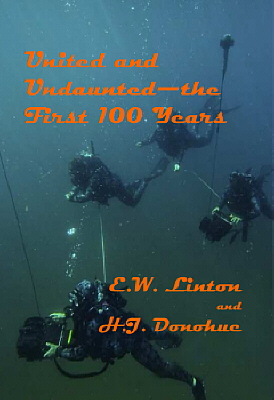 MCDOA member Cdr Edward 'Jake' Linton BEM RAN, Patron of the Royal Australian Navy Clearance Divers Association (RANCDA), has collaborated with fellow ex-MCDO Cdre Hector 'Hec' Donohue AM RAN to write a 430-page book titled 'United and Undaunted - The First 100 years'. It is due to be launched by Grinkle Press in September this year to coincide with the 60th Anniversary of the completion of the first RAN CD Course. This is the accompanying announcement:
United and Undaunted - The First 100 Years
This unique and comprehensive story of diving in the Royal Australian Navy (RAN) spans its entire history.
From its beginnings in 1911, the gallant service of its members in two World Wars, the evolution to a specialist Clearance Diving Branch in 1951 and the exemplary service of clearance divers in many parts of the world since, this tale is a must read tome for those who have served in the Australian Defence Force (ADF) and for naval and military historians.
The book will be particular interest to past and present members of the RAN Clearance Diving Branch because its chapters examine the evolution of the RAN Diving School, the exploits of many in aircraft and ship salvage and their operational service during the Vietnam War, the Gulf War, the Iraq War, East Timor and significant Defence Cooperation Explosive Ordnance Disposal activities in many countries.
Of particular importance, this extensively illustrated history recounts for the first time the personal recollections of many in the RAN Clearance Diving Branch who have taken part in more recent ADF operations. These personal accounts arise from the service by RAN Clearance Divers in Middle East deployments focusing on boarding parties; counter- improvised explosive device operations in Iraq and Afghanistan, and the clearance diving involvement with counter terrorist activities.
Jake, an Able Seaman on the RAN's first Clearance Diver course in 1955, has described his own illustrious MCD career in 'A Clearance Diving Experience' in the MCDOA website's Dit Box. His service included several associations with the Royal Navy and US Navy including courses and exchange posts in both countries.
Hec Donohue also had an illustrious MCD career and will be known to older MCDOA members through his own associations with the Royal Navy and US Navy. When working as the General Manager (Mine Countermeasures) of Australian Defence Industries (ADI), he wrote a very informative book titled 'Mines, Mining and Mine Countermeasures', published by ADI in association with the Royal Australian Navy in 1994. These are the tatty front and back covers of my own well-thumbed copy:
---
12 Apr 15 - RN MInewarfare & Diving Heritage: HMS Shoulton 50 years ago
This anonymous update from the divers conducting trials with the 'new' Sonar 193 on board HMS Shoulton was published in the Spring 1965 issue of the RN Diving Magazine:
SHOULTON CONTINUES
Greetings - and a few lines to prove that we in the mine-hunter still survive and are still able to write despite certain rude remarks from the Editor. Considerable changes have taken place in recent months during which time the ship has migrated from the flesh pots of South Queensferry to the arms of our 'alma mater' [HMS Vernon] and the purlieus of Portsmouth, had her ship's company reduced by about one third and suffered three changes of managing director.
In spite of these factors, the last year has presented a busy and varied life during which we claim that we have managed to leave our mark and hope that we may have performed a useful service now and again. In addition our technical boys have proved their worth and have continued to keep our equipment working. For the benefit of those who have not yet encountered a mine-hunter, the days of 30 foot circular searches are receding when we are told that the marking error is 2 yards, that means 6 feet, (see the advantages of higher education), and if the error is more than three yards that is a bad run and it is time for the 'Ops' room to start again. The only disadvantage being that a 5 minute dive is poor recompense for having been in a rubber bag for 5 hours.
Over the time our excursions have taken us to Lerwick, Invergordon, Port Edgar, Esjberg, Den Helder, Flushing, Brest, Caen, Brixham and Portland, and at times we have tried to educate divers from Plover, Dingley, Miner III, Reclaim and the Plymouth Deep Team. In addition we have sought swimming aircraft off Lossiemouth, Great Yarmouth and in Torbay. We even managed to find and destroy a G.C. in Sandown Bay (and get sour looks from the B. and M.D. team in Pompey on our return to harbour after a very creditable bang). We have also tried to initiate our successors in the gentle (or should I say - patient) art of mine-hunting, after all they will man the conversions and we do appreciate that they must be good imitations even if there is only one Shoulton.
As far as the future is concerned the buzz is that we shall be invited to pay off soon so that our hull may be returned to some dockyard for conversion to who knows what. When that time comes all we ask is that the radiators' crew move one tiny pace to the left and allow their seagoing confreres to get at the coffee boat (black, two sugar, please!).
As we now know, HMS Shoulton was subsequently fitted with pump jet propulsion resembling an outboard motor and recommissioned on 5 April 1967 as Senior Officer 3rd MCM Squadron based at Portland for trials of new equipment.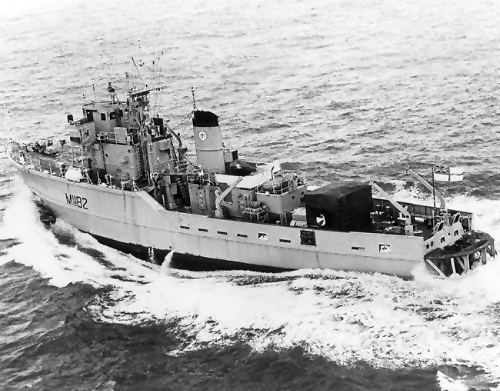 HMS Shoulton fitted with her 'outboard motor' and wearing the Portland
3rd MCM Squadron's trident badge (tines pointing down) on her funnel
---
11 Apr 15 - Forthcoming Vernon Monument Dinner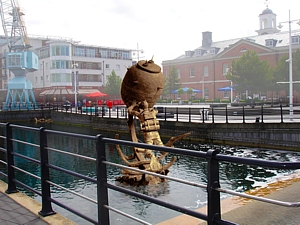 Artist's impression of the Vernon Monument
in situ at Gunwharf Quays
The next major fundraising event for Project Vernon is a dinner to be held at the Royal Naval Club & Royal Albert Yacht Club (RNC-RAYC) in Pembroke Road, Old Portsmouth on Friday 5 June. Further details will follow soon but the gala evening will include well-known entertainer Shep Woolley and his band, auctions, raffles, sea shanties and tots of rum.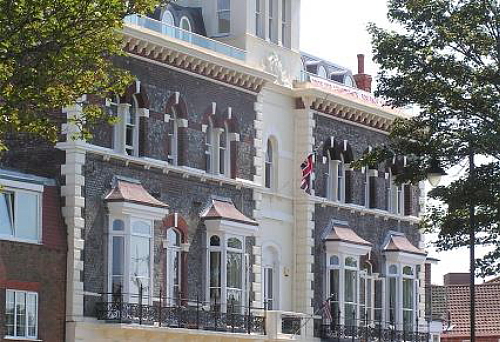 Tickets will be available online soon via the campaign's website at www.vernon-monument.org. Early bird bids for tables from Vernon-trained personnel or Vernon-based Ton crews are especially welcome by name of the ship or team in which you served. Keep your diary clear and watch this space.
---
10 Apr 15 - Jones and Mulrain reunited
I am grateful to MCDOA past-Chairman Paul Jones for allowing me to publish this photo showing him reunited with former WO(MW) Tony Mulrain BEM when he and his wife hosted Tony and his family at their villa in Cyprus earlier this week. Paul reports that they "had a great night (and morning) of dit-spinning with wives looking on aghast!"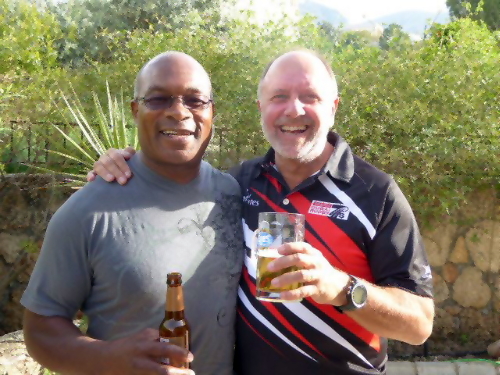 Tony Mulrain and Paul Jones in Cyprus
Paul and Tony served as SOO and Squadron Chief respectively on the staff of Commander First MCM Squadron (MCM1) between 1995 and 1997 and then as Ops and WO respectively at the HQ in Bahrain for Operation ARABIAN GAUNTLET in 2001.
I worked with Tony on the Saudi Minehunter Project training team in Vernon from 1989 to 1990 and remember waving at him on board HMS Atherstone from HMS London's Lynx while flying overhead with SNOME (Senior Naval Officer Middle East) during the first Gulf War in 1991. Tony was subsequently awarded his BEM. On 12 October 2005, Tony was on board HMS Ledbury off the Isle of Wight where we witnessed the last conventional minesweeping operation in the Royal Navy (see entry for 12 Dec 05 in News Archive 12):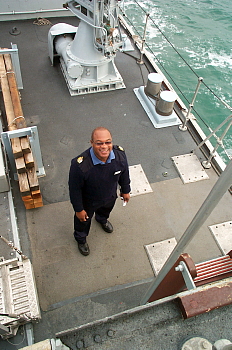 Tony Mulrain on board HMS Ledbury
in October 2005
More recently, Tony was spotted with MCDOA members David Carey (one of my students on LMCDO '83B when I was LTO) and my old LMCDO '76 course-mate Grenville Johnson MBE at a British Legion Remembrance Day function in Dubai in November 2012 (see second entry for 29 Nov 12 in News Archive 40):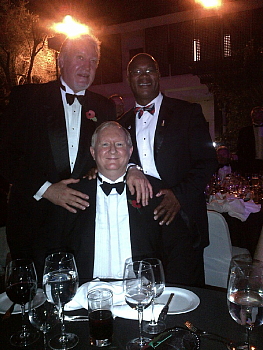 David Carey and Tony Mulrain standing behind
Grenville Johnson in Dubai in November 2012
---
9 Apr 15 - Big bang for Stan's Navy
I could not resist these photos from Standing NATO MCM Group 1's (SNMCMG1's) Facebook page showing the detonation of a wartime German LMB (GC) ground mine by divers from BNS Lobelia during the recent clearance of historic ordnance off Cherbourg.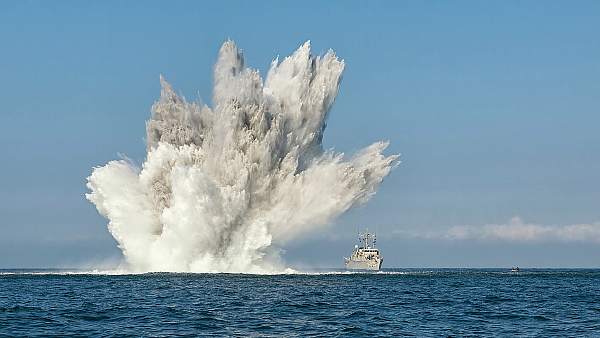 Above and below: Detonation of wartime German GC ground mine off Cherbourg
(Photos by BNS Lobelia)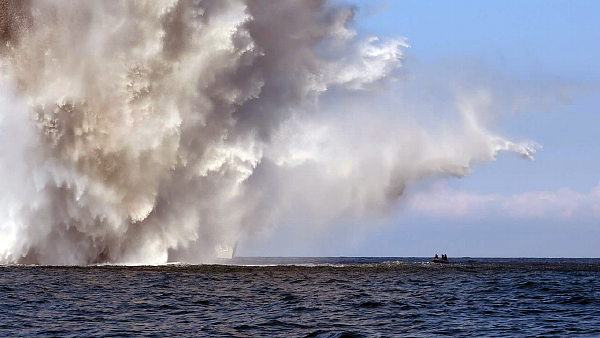 SNMCMG1, which currently includes our own HMS Pembroke (MCM1 Crew 4), has been working for the past few weeks with SNMCMG2 which normally operates in the Mediterranean.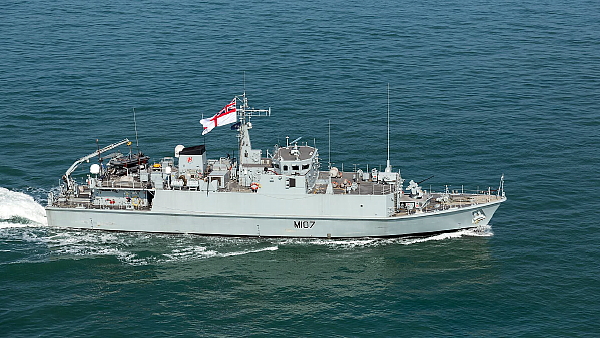 HMS Pembroke off Cherbourg while attached to SNMCMG1
(Photo by Cdr Peter Bergen Henegouwen RNethN, Cdr SNMCMG1)
---
8 Apr 15 - "There will be a short intermission."
For a variety of reasons, I have not touched the website for a fortnight. Even so, it was accessed by 43,687 different IP addresses in March, only just down from its peak of 44,112 in February last year.
I will endeavour to update the 'Latest News' page retrospectively over the next few days. Thank you for your patience.
---
7 Apr 15 - New book from David Bruhn
The latest book from prolific author Cdr David Bruhn USN is titled We Are Sinking, Send Help!. Although it focuses mainly on the work of the US Navy's tugs and salvage ships in the African, Mediterranean, and European theatres during the Second World War, it also lists and describes the activities of RN minesweeping and clearance diving forces tasked with clearing the waters off the coast of Normandy for the D-Day landings as well as the port of Cherbourg and its approaches.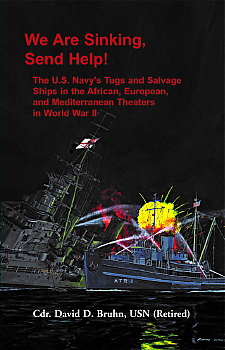 The book's jacket shows a painting by distinguished marine artist Richard DeRosset depicting the rescue tug USS ATR-1 alongside the British light cruiser HMS Spartan after she had been hit by a glider-bomb that blew a hole in her hull and set her aflame off Anzio. She sank shortly afterwards.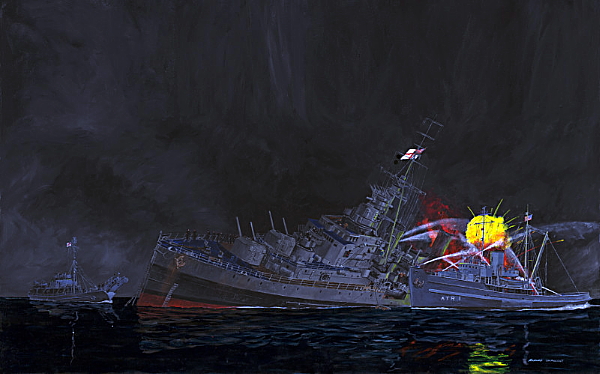 Spartan Death Throes off Anzio by Richard DeRosset
Your humble Webmaster had a hand in researching the book and was honoured to be invited by David to write one of its two forewords: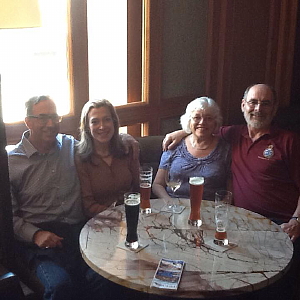 David & Nancy Bruhn with Linda & Rob Hoole
in San Francisco last October
This substantial 388-page paperback costs $33 (£22 approx) plus p&p and can be ordered via the Heritage Books website here. As chronicled on this website, David has also published these books which include US-built BYMS (British Yard Mine Sweepers) transferred to the RN:
Wooden Ships and Iron Men, Volume I: The U.S. Navy's Ocean Minesweepers, 1953-1994
Wooden Ships and Iron Men, Volume II: The U.S. Navy's Coastal and Motor Minesweepers, 1941-1953
Wooden Ships and Iron Men, Volume III: The U.S. Navy's Coastal and Inshore Minesweepers, and the Minecraft that Served in Vietnam, 1953–1976
This section of David's website lists US Navy units and personnel (including minesweeping helicopter crewmen, explosive ordnance disposal divers, underwater demolition team divers, minesweep sailors, minelayer sailors and minemen) awarded a Navy Cross, Silver Star or Bronze Star medal and other bestowments for heroism; it includes several of the citations:
---
6 Apr 15 - UK selects Atlas Elektronik UK for MHC sweep
The Janes Defence website contains this article announcing that the Ministry of Defence has awarded a £12.6m three-year contract to Atlas Elektronik UK to deliver a prototype unmanned surface vessel (USV)-based minesweeping system under the first phase of the Mine Countermeasures and Hydrographic Capability (MHC) Sweep Capability project. The MHC Sweep Capability is intended to reinstate an influence minesweeping capability in Hunt class MCMVs. The previous Combined Influence Sweep system, comprising acoustic and magnetic influence sweeps, was retired in 2005.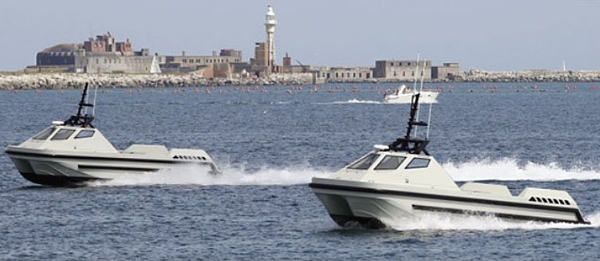 Atlas Elektronik UK's MHC Sweep Capability solution based on its proprietary
USV-based ARCIMS system
(Atlas Elektronik UK)
---
2 Apr 15 - HMS Pembroke remembers the loss of HMS Isis
The Royal Navy website contains this article describing a wreath-laying service held by HMS Pembroke (MCM1 Crew 4) on 26 March over the wreck of the destroyer HMS Isis, believed mined off Normandy on 20 July 1944.
The article features PO(D) Les Cockerton whose great-grandfather, Ordinary Seaman Henry Mannerings, was serving on board when she sank. Contrary to what's stated in the article, no enemy bombers or manned torpedoes were involved and not all hands were lost. There were 45 survivors according to the Admiralty but the names of the casualties are engraved on plaques in Portsmouth Cathedral. See this article on the Portsmouth Memorials website for more information including names and survivors' accounts.
From the normally respected Naval History.net:
17th July 1944
Sailed from Portsmouth for interception patrol off French coast.
20th July 1944
Sunk whilst on patrol off Normandy. 15 of ship's company were killed [most other caualties were listed as missing presumed killed] and survivors spent several hours in the water.
(Note: Contrary to WARSHIP LOSSES IN WW2 by D Brown. Admiralty correspondence in July 1944 records ship was not at anchor. Loss was likely to have been due to a mine or torpedo. Another source records that it was a German NEGER midget submarine but U-Boat Archivist Klaus Mattes indicates that NEGER craft had ceased operations on 17th July.)
21st July 1944
21 survivors rescued by HM Fleet Minesweeper HOUND but one later died. The Admiralty List of survivors contains 45 names. Some were rescued by US Navy Rescue Cutter and taken to the US Headquarters Ship PRESIDENT WARFIELD before going to a US Field Hospital. For details see MEMORIES OF HMS ISIS – 50 YEARS ON prepared by Tony D Jupe for The ISIS Survivors Association and held at Enfield Public Library Local History Unit).
The same website provides the official list of casualties on this page.
---
1 Apr 15 - Amateur divers find long-lost nuclear warhead
The World News Daily Report website contains this article describing the discovery of a thermonuclear bomb by Canadian scuba divers off the coast of Georgia in the USA. It puts finding the odd hand grenade into perspective.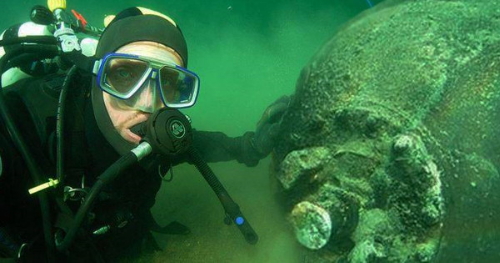 "...When I saw the inscription saying that it was a Mk-15 nuclear bomb, I totally freaked out. I caught Chritina by the arm and made signs to tell her we had to leave. We made an emergency ascent, went back to shore and then we called 911."
Rapidly understanding the gravity of the situation, the 911 operator contacted every possible emergency service, including the coast guard and the military, leading to the deployment of more than 20 ships and 1500 men in the area. Using the GPS coordinates given by the couple, they rapidly located the powerful 3.8 megaton bomb.
An unmanned submarine was sent to determine the condition of the bomb, before explosive experts were sent to disarm it. Fortunately, the thermonuclear weapon produced in 1955 seemed in sufficiently good shape for a team of Navy seals to try to defuse it. They successfully deactivated the warhead after hours of strenuous work, allowing the rest of the bomb to be moved. The delicate recovery operation took more than 48 hours, but the bomb was finally recovered and transported to Mayport Naval Station in Florida. A full set of tests and analysis will now be performed on the warhead to evaluate its actual state and the possible ecological and health hazard that its presence in the bay for 50 years could represent...
---