---
| | | |
| --- | --- | --- |
| | Have you ordered your miniature of the Vernon Monument yet? It is being sold in a variety of sizes, finishes and prices to raise funds for the planned sculpture at Gunwharf Quays in Portsmouth to celebrate the Minewarfare & Diving heritage of HMS Vernon which previously stood on the site. 'Project Vernon' is officially supported by Portsmouth City Council, Gunwharf Quays, the MCDOA, AORNFCD, MWA, RNCDA and the TCA. Click here for details. | |
---
25 Mar 15 - Gentlemen Who Lunch
The MCDOA's 'Not Quite the Last of the Summer Wine' trio of Barlow, Holloway and Hoole is still very much active. Yesterday found us back at The Blue Bell in Emsworth, one of our favourite haunts, where we happened to bump into Dick Twitchen, my old boss at the Maritime Warfare Centre and a former Commodore Portsmouth Flotilla. He was accompanied by ex-submariner Michael Parkins and we had a fine old time catching up with each other.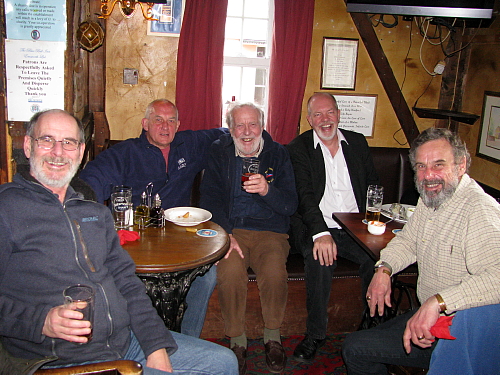 Left to right: Yours Truly (Rob Hoole), Martyn Holloway, Doug Barlow,
Michael Parkins and Dick Twitchen
---
24 Mar 15 - HMS Penzance visits Qatar
The Navy News website contains this article describing the activities of Gulf-based HMS Penzance (MCM1 Crew 7) and her ship's company during a three-day visit to Doha in Qatar. Personnel from HMS Penzance exchanged places with personnel from the Qatari Coast Guard vessel Mazham. The article features AB(D) Matthew Kilminster.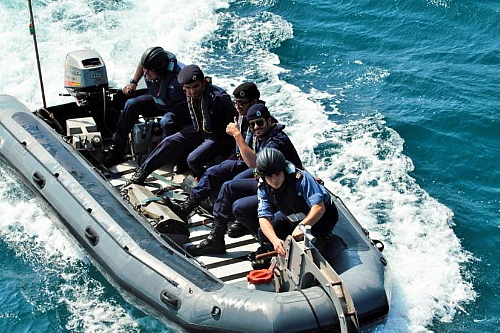 ---
22 Mar 15 - HDS Diving Museum update
MCDOA associate member Dr John Bevan, Chairman of the Historical Diving Society (HDS), has provided this update about the Diving Museum in No.2 Battery at Stokes Bay and the WWII bunker in Gosport that houses the Society's library and museum reserve collection:
"We've made a significant step forward in developing the Bunker recently when Nigel Phillips organised a party of sailors from HMS Sultan to dig for Britain. They dug up about 10 tons of top soil to level the front of the site! So if you'd like some free top soil, now's your chance!
Kevin Casey and Nigel bust their guts to continue the good work yesterday and more bramble has also been removed from the wild northern territory.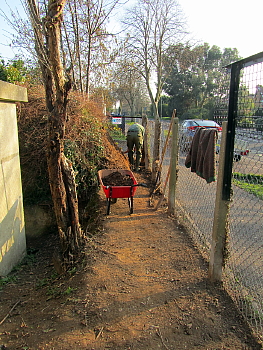 Meanwhile Mike Fardell attacked the library and where there was chaos, there is now order.
Former WO(D) John Dadd has tidied up the external exhibits at the Museum which needed cleaning and touching up. Our lock-out diver suffered flooded boots and his feet fell off. John has de-watered the boots and given the diver his feet back.
As a point of interest, on 31 March, the Historical Diving Society will be fully-functional as an "incorporated" charity.
JohnB"
Members of the HDS have featured in two recent TV programmes. On 15 March, Museum Officer Kevin Casey was a guest on Channel 4's Sunday Brunch show.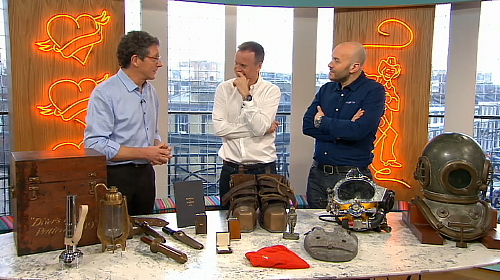 Kevin described the museum's role and the significance of its location near Gosport. The show can be watched again for the next 15 days via the link below. The relevant section is between 01:22:10 and 01:30:45 although you will have to tolerate a commercial break after scrolling to the required time:
Sunday Brunch Series 4 Episode 2:
On 16 March, Gary Wallace-Potter and other members of the HDS Working Group featured in an episode of the BBC's Heir Hunters and demonstrated the use of standard diving dress.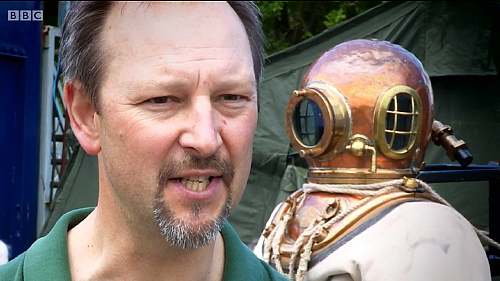 The starring diver was the MCDOA's very own Membership Secretary, Dave Stanbury, currently working at the Defence Diving School (DDS) on Horsea Island.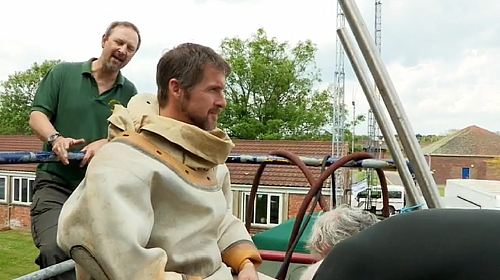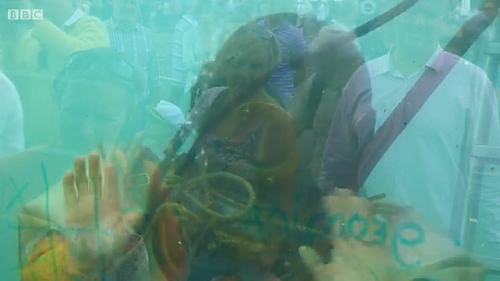 The programme can be watched again for the next 24 days via the link below and the relevant section is between minutes 19:20 and 24:10.
Heir Hunters - Series 9: 16. Bulling/Barron
The HDS Museum opens to the general public at weekends from Easter until the end of the summer season when it closes (except for special groups) for maintenance over the winter. It relies on a handful of volunteer guides, at least two but ideally three of whom need to be on site when it is open for business at weekends during the summer. If you live locally and can spare the odd few hours, please contact John Bevan via this email address or call him on 078 0278 5050. You will then be given access to the online roster to fill in your own dates as and when you are available. You don't have to be an HDS member to get involved in this or any other way.
Post script: The museum will be open from 23 to 26 March 2015 (normal hours 1100 to 1600) whilst the USS Theodore Roosevelt is anchored in Stokes Bay. Make the most of this opportunity to visit the museum and see the visiting warship!

---
21 Mar 15 - Sealbeaver: Cammell Laird's Sea Bed Vehicle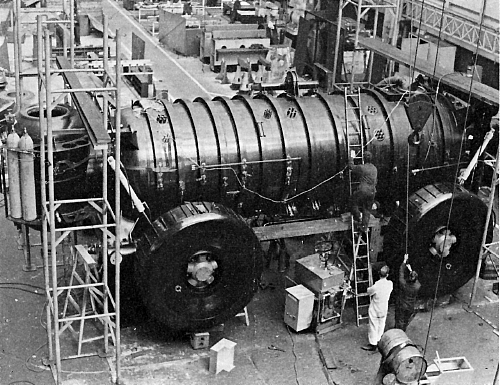 Sealbeaver: Cammell Laird's Sea Bed Vehicle (SBV) circa 1970
In researching the answer to a query from MCDOA member Dave 'Spidey' Ince about the fate of Cammell Laird's Sea Bed Vehicle (SBV) described on pages 16 - 18 of HMS Vernon's final issue of the Royal Naval Diving Magazine (see entry for 20 Mar 15), I discovered this New Scientist article published in July 1972 which may be of interest to some: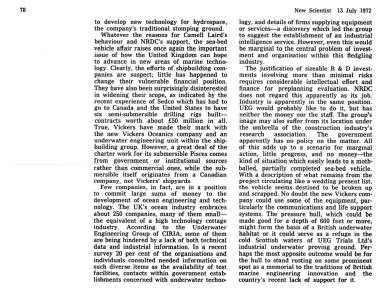 This letter defending the actions of the National Research Development Corporation (NRDC) was published in New Scientist later the same year: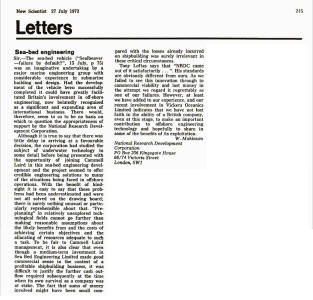 Was this a missed opportunity in the early days of offshore mineral exploitation?
---
20 Mar 15 - RN Diving Heritage: The Diving Magazine
Having re-published the pages of the first issue of the Diving Magazine, published in HMS Vernon in 1951 (see entry for 13 Mar 15), here are the pages of the final issue published in late 1970. I will fill in the gaps in due course.
The bearded PO(D) on the front cover is Joe Maher who was to become my Chief Instructor for LMCDO '76. Enjoy the stories, pictures and advertisements in this trip down memory lane including MCDOA member Dr John Bevan's account of his 1,500 ft dive with Peter Sharphouse at the Deep Trials Unit (DTU), part of the Royal Naval Physiological Laboratory (RNPL) at Alverstoke: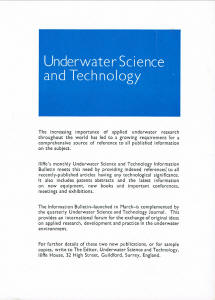 ---
19 Mar 15
Peter Laughton is face of Royal Navy's new uniform
MCDOA member Peter Laughton MBE, Commanding Officer of HMS Lancaster, has been much in evidence in the media today as the senior 'face' of the Royal Navy's new working dress as featured in the video in this article on the BBC website and this article on the Royal Navy website.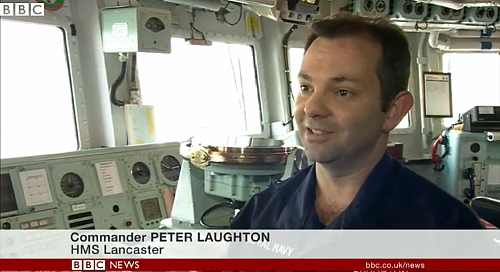 Peter and his ship leave Portsmouth on Saturday for a nine month deployment and we wish him and his ship's company fruitful operations and a safe return.
---
HMS Pembroke detonates wartime bomb in North Sea
The Royal Navy website contains this article, including this video, describing the detection and subsequent disposal of a Second World War 500 lb bomb by HMS Pembroke (MCM1 Crew ?). HMS Pembroke has been conducting HOD (Historic Ordnance Disposal) operations in the Baltic and North Sea with Standing NATO MCM Group 1 (SNMCMG1) and has dealt with a number of unexploded mines, bombs and torpedoes (see entry for 12 Mar 15).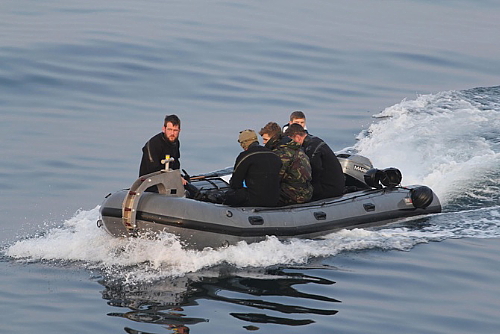 HMS Pembroke disposing of bomb in the North Sea
(RN website photos)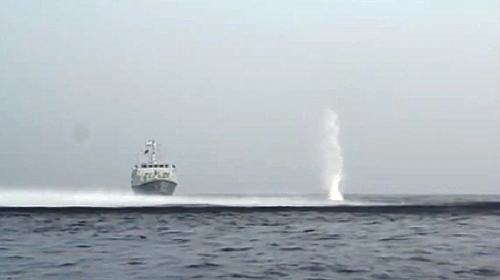 ---
SDU1 set to detonate mine off Brixham
The Plymouth Herald website contains this article describing how a fishing vessel trawled up a mine off the South Devon coast last night. Members of Plymouth-based Southern Diving Unit 1 (SDU1) were due to detonate it late this morning.
---
SDU1 called to Woolacombe
The North Devon Gazette website contains this article describing how a suspected mortar bomb was found in sand dunes at Woolacombe yesterday. Members of Plymouth-based Southern Diving Unit 1 (SDU1) had been called to the scene and were expected to arrive late afternoon.
Post script: It was later revealed that the metal object was not an explosive device.
---
18 Mar 15 - The Royal Navy's first MCD Admiral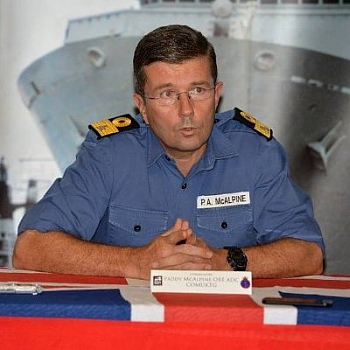 Cdre Paddy McAlpine CBE ADC
Warm congratulations to MCDOA President Paddy McAlpine, currently Commodore Portsmouth Flotilla (COMPORFLOT), on being selected for promotion to Rear Admiral. He goes to Lisbon in July as Deputy Commander Naval Striking & Support Forces NATO (STRIKFORNATO) and will run the deployable HQ. Earlier today, he was feted with this cake at the Defence Diving School (DDS) on Horsea Island: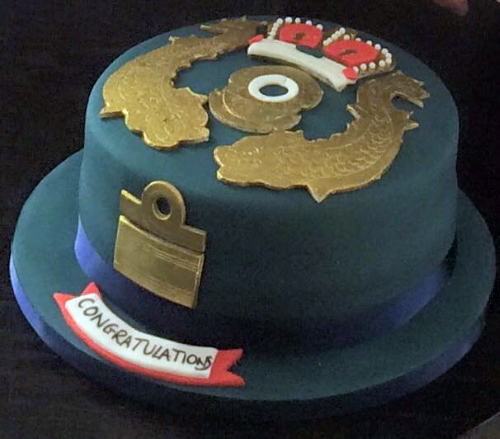 Paddy will join MCDOA Honorary Member Vice Admiral Russ Crane AO CSM RAN, former Chief of the Royal Australian Navy, as the only MCD officers in history to reach flag rank. I know that all members of our community will join me in wishing him the best of good fortune in his elevated career.
---
16 Mar 15 - Minehunters conduct training in the Gulf
The Royal Navy website contains this article describing the recent activities of HMS Penzance (MCM1 Crew 7) and HMS Chiddingfold (MCM2 Crew 1) in the Gulf.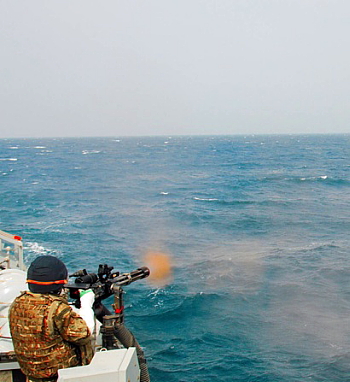 AB(D) Connell firing minigun from HMS Penzance
(RN website photo)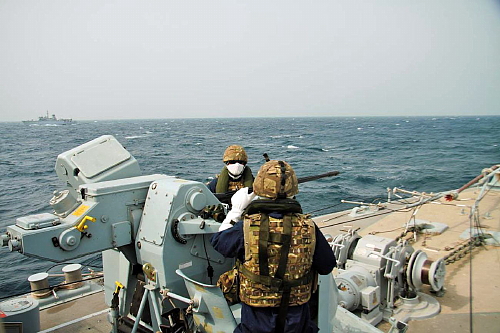 AB(MW) Battiste and AB(MW) Walsh preparing to fire 30mm from HMS Penzance
(RN website photo)
---
13 Mar 15 - RN Diving Heritage: The Diving Magazine
Here is Vol.1 No.1 (July - September 1951), the very first issue of the 'Diving Magazine' published in HMS Vernon. The introduction was written by Captain (later Rear Admiral CB) Clarence Dinsmore "Johnny" Howard-Johnston DSO DSC RN, the Captain of HMS Vernon between 14 Aug 1950 and 7 Oct 1952.
---
12 Mar 15 - HMS Pembroke bags nine wartime bombs and mines in Baltic
The Royal Navy website contains this article and the Navy News website this article describing how HMS Pembroke (MCM1 Crew ?) has disposed of nine Second World War bombs and mines off Kiel during recent HOD (Historic Ordnance Disposal) operations with Standing NATO MCM Group 1 (SNMCMG1) after a visit to Gdynia in Poland (see entry for 9 Mar 15). The articles feature Lt Pete Needle RN, Pembroke's operations officer.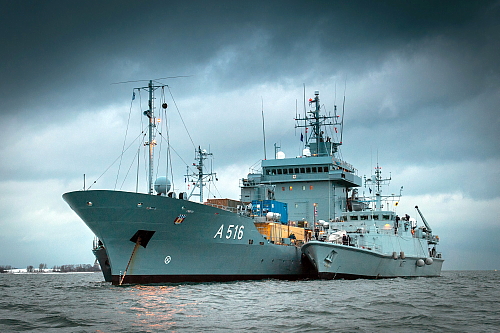 HMS Pembroke rafted up on SNMCMG1 flagship FGS Donau in Kiel Bay
(Navy News website photo by WO C Artiges, NATO Marcom)
---
11 Mar 15 - MWA boosts Vernon Monument funds (again)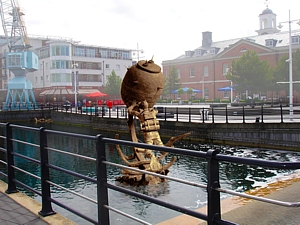 Artist's impression of the Vernon Monument
in situ at Gunwharf Quays
Congratulations to members of the Minewarfare Association (MWA) for raising £245 towards the Vernon Monument with a raffle and auction at their highly enjoyable reunion in Birmingham last weekend. As the project's Honorary Treasurer, former CPO(D) Tony Devitt, said in his letter of appreciation, "The MWA's continued support of Project Vernon is most appreciated and shows most admirably the cameraderie of all those who served in HMS VERNON and spent their 'sea time' on MCMVs."
---
10 Mar 15 - Change of date for next MCDOA gathering in London
MCDOA member Andy 'Sharkey' Ward has asked me to announce that the date for the next gathering in London has been changed from Thursday 7 May to Thursday 21 May (see entry for 5 Mar 15 and Forthcoming Events page). All other arrangements remain the same.
---
9 Mar 15 - HMS Pembroke attends a rare gathering in Amsterdam
In a rare event, MCMVs of Standing NATO MCM Group 1 (SNMCMG1) and Standing NATO MCM Group 2 (SNMCMG2) have gathered together this weekend in Amsterdam, capital of the Netherlands, as described in this article on the NATO Maritime Command (MARCOM) website. The two forces have united in advance of HOD (Historic Ordnance Disposal) Operation BENEFICIAL COOPERATION off the Dutch and Belgian coasts.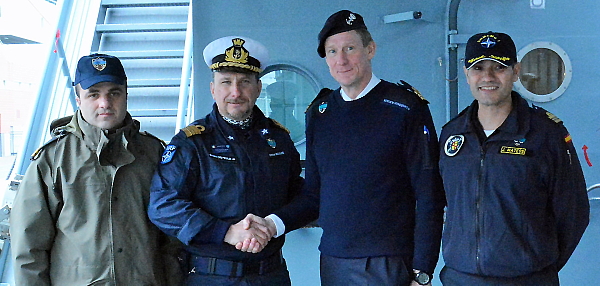 The Commander of SNMCMG2 (left) shaking hands with the Commander of SNMCMG1
(NATO photo courtesy of SNMCMG2 Ensign Alessandro Boggio Tomasaz)
HMS Pembroke is currently attached to SNMCMG1, led by Cdr Peter Bergen Henegouwen RNethN. The rest of the Group comprises the flagship FGS Donau (Germany) and the minehunters ORP Mewa (Poland), BNS Lobelia (Belgium), FGS Auerbach (Germany) and HNLMS Willemstad (Netherlands). SNMCMG2, led by Captain Giovanni Piegaja IN, comprises the flagship ITS Euro (Italy) and the minehunters TCG Anamur (Turkey) and FGS Bad Bevenson (Germany).
---
8 Mar 15 - An interesting conversion
I have just stumbled across this picture of "An Admiralty bronze and teak molgogger from a minesweeper decommissioned circa 1970, adapted as a table". It fetched £7,500 when auctioned at Christie's in London last September.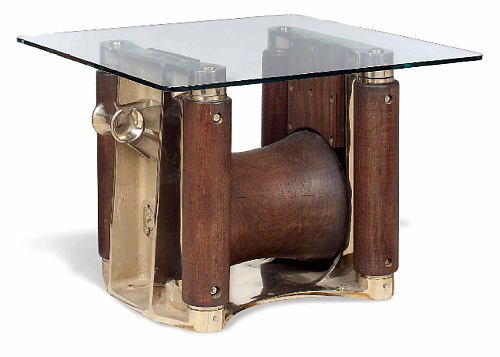 The Lot Notes provided this definition and I am offering free access to the MCDOA website for a year to anyone able to come up with a more accurate version:
"A molgogger is a mechanism fixed to a minesweeper ship to tow a paravane or underwater glider to detect and destroy naval mines. Usually constructed of wood and non-ferrous metal to reduce the magnetic signature, the molgogger would have supported a towing cable which when it snagged the cable anchoring a mine then the anchoring cable would be cut, allowing the mine to float to the surface where it could be destroyed by gunfire. If the anchor cable would not part, the mine and the paravane would be brought together and the mine would explode harmlessly against the paravane."
This object would complement some of the work of Estonian 'mine furniture and stoves' designer Mati Karmin nicely: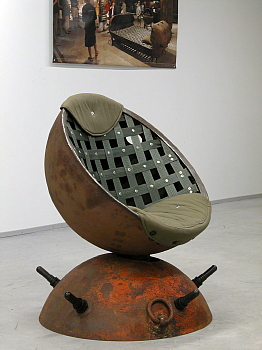 ---
7 Mar 15 - News from Les Maynard and a query about HMS Reclaim
Les Maynard left the Royal Navy as a CDO in 1973 after an eventful career. I shared a table with him at one of the last divers' dinners in HMS Nelson (Gunwharf), formerly HMS Vernon, before the establishment finally closed its gates in 1995. After dabbling for a while in maritime safety, Les moved to Gooseberry Hill near Perth in Western Australia and I received this update from him today:
"G'day Rob,
At long last we have been forced into the world of electronic comms and Dave Lott told me I had better get in touch OR ELSE!
So here we are in Australia and I am OIC Western Australian retired CDs feasting set-up consisting of Mike Horlock and Ron Neville. We meet every three or four weeks, have a feast and a few bevvies and, of course, reminisce about the old days.
Dave has been keeping me informed of branch news. He is a good buddy but suffering old age like most of us. This is just to say hello and, if you like, we can keep in touch.
Best regards,
Les Maynard"
If anyone would like to contact Les, please let me know and I will forward your email to him.
Coincidentally, Les served in HMS Reclaim in the early 1970s and may be able to answer this request which I also received today:
"Good afternoon,
Please could you shed some light on these pictures of a lady's compact. I think it was given to my mother by my father who may have served in HMS Reclaim. His name was Ian William Mcluckie.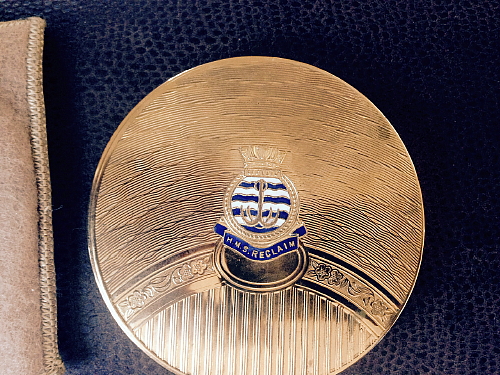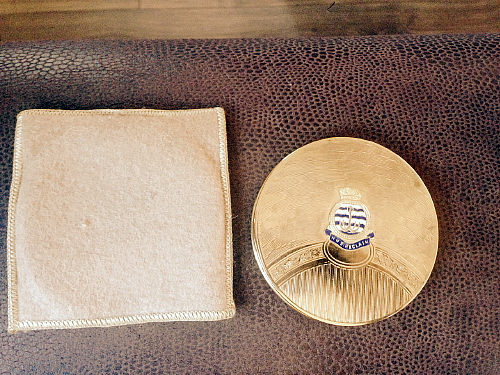 Many thanks,
Stuart Mcluckie"
See 'HMS Reclaim - A World Record-Breaker' in the website's Dit Box for further information about her. I have advised Stuart how to obtain a copy of his father's service record so he can ascertain if and when he served on board. Can anyone else help him with his enquiry?
---
From Les Maynard:
"Rob.
Sorry but I have no knowledge of the compact case. It must be a one-off. I am sure that had it been a general item, it would have been a very popular gizzit.
Regards,
Les"
---
6 Mar 15 - Final call for DEMS Trng Regt visit
Please notify me by Tuesday 10 March if you wish to take advantage of the opportunity to visit DEMS Trng Regt at Bicester for a tour and evening social on Saturday 16 May as the organisers would like some idea of numbers. For further details, see the entry for 2 Jan 15 in News Archive 49.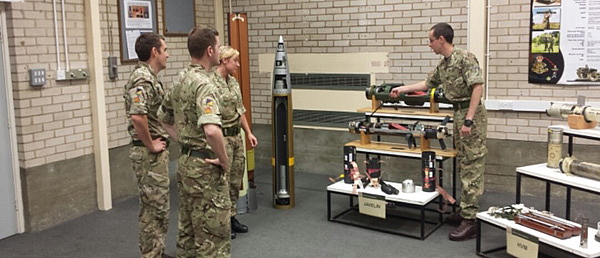 ---
5 Mar 15 - Next MCDOA gathering in London
MCDOA member Andy 'Sharkey' Ward has declared that the first London gathering of 2015 is planned for Thursday 21 May and will take the standard format of a few beers in a pub followed by a meal in one of London's finest Indian restaurants. Initial R/V will be 1800 with dinner booked for 2000. Rig is 'Come as you are'.
If interested, please email Andy at this address.
---
4 Mar 15 - David Lermitte follow-up featuring John Futcher MBE
Regular readers will be aware that I announced the death of MCDO David Lermitte last July and subsequently attended his funeral in Godalming. Two weeks ago I received this rather poignant request:
"Dear Webmaster,
My father, Lt Cdr John Futcher, is trying to find out if there is any contact information about one of your members, Lt Cdr David Lermitte, with whom he served as a clearance diver in the 1960s. Please let me know if there is anyone we can speak to about this as my father knew David very well and is keen to get in touch.
Yours sincerely,
Michael Futcher"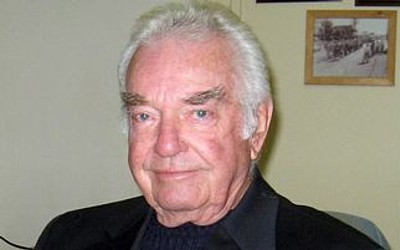 Lt Cdr John Futcher MBE RN, currently residing in Plainland,
South East Queensland, Australia
This exchange of emails then followed:
From MCDOA Webmaster:
"Hello Michael,
I regret that David Lermitte died in Surrey on 19 July 2014 (see entry for 27 Jul 14 in News Archive 47). He was not a member of the MCDOA but I attended his funeral near Godalming the following month (see entry for 18 Aug 14 in News Archive 47). You might also wish to draw your father's attention to 'HMS Repulse and HMS Prince of Wales - The First Wreck Surveys' by David 'Ginger' Lermitte, 'The Far East Clearance Diving Team' by Brian Braidwood and 'The Far East Fleet Clearance Diving Team' by Mike Gillam, all in the MCDOA website's Dit Box. David Lermitte features quite prominently. I do not have any contact details for his family but I am blind-copying this to others who might.
You may also find the entries for 24 Jun 09 in News Archive 26 and for 19 Jun 12 in News Archive 38 of interest. They feature your father.
Best wishes,
Rob Hoole"
---
From Michael Futcher:
"Dear Lt Cdr Hoole,
Many thanks for responding to my email so quickly and for passing on the sad news about David. My dad guessed there was something wrong when he stopped hearing from him a couple of years ago. I will pass all this on to my dad via email but will also call him tonight when he gets home (after having had Sunday lunch with us). Thanks also for the information about mentions of Dad in the News Archives. I will look them up shortly.
Dad is currently 86 and is an amazing man. He served in the Royal Navy from around 1945-1968, served in Korea at the Chosin Reservoir, then worked as a Clearance Diver for many years. He was diagnosed with terminal lung cancer in July 2012 and was told by the doctor he would be around for only a matter of months. They said chemotherapy wasn't really on and that he should get his affairs in order.
Fortunately, we sought a second opinion and he went on chemo for 18 months. Now, two and a half years later, he's still going strong. He also has a number of other ailments but he doesn't let it get him down and he is very lucid. In fact, over the last 18 months he has been writing his memoirs which are fascinating. He's written around 50,000 words so far and much of it, of course, revolves around his time in the Royal Navy. He wouldn't ask this of me but I know he'd love to hear from anyone who may know him – he always lights up when he hears news of his colleagues, and would certainly appreciate a bit of contact. I have some great pictures that he's putting into his memoirs of his time as a clearance diver which might interest you.
Dad's not very good with technology so I am taking it upon myself to broach this with you! Anyway, thanks again for your prompt reply.
Best wishes,
Michael Futcher"
---
From MCDOA member David Burstall:
"Hello Rob and Michael,
David L relieved me in the Far East in 1962 and I kept in touch with David and Susan for a while after that, but then lost touch altogether until I attended David's funeral last year. Unfortunately Susan was already in hospital and unable to go to his funeral so the only contact I have is with his daughter, Julia, now married and living in Bromley... [address and telephone number available from Webmaster on request].
I hope this is of assistance.
Regards,
David Burstall"
---
From MCDOA member John Grattan OBE:
"Dear Michael,
You have received Rob's sad reply to your query about David Lermitte but I am so pleased to read that your father is still with us and has not gone on his last dip. Am I correct in writing that your father was on the same CDO Course, 1957, as David, Bill Thorniley and who else? Bill is the only recorded CDO who was dismissed his ship (HMS Brearley) and awarded his MBE on the same day. He won his well-deserved decoration for dealing with the WW2 controlled minefield in Belfast Loch.
It was pretty common practice in the diving tender inshore minesweepers to issue neat rum [not diluted 'grog'] at tot time. Sadly, Bill was caught and court-martialled by the much feared Captain Norman Henry Pond, who was the CO of HMS Lochinvar; where HMS Brenchley and HMS Brearley were based with the 51st Minesweeper Squadron. Your father was driving HMS Dingley at that time (David Lermitte was driving HMS Brenchley) and somehow the rum problem was also discovered by the Captain of HMS Vernon (later Admiral and M.P.) Morgan Giles) when Dingley was south in Vernon creek. I was at Glen Fruin doing the first underwater ejector trials as Boss of the Experimental CD Unit. Bill Filer, as deputy Superintendant of Diving and my direct Boss, telephoned one afternoon ordering me to get down to Vernon ASAP and report to him immediately on arrival - which I did the following morning. He would not tell me what I was summoned for but I had report to Captain Morgan Giles immediately, which I did of course.
The Captain made it quite clear from the moment I was shown into his office that he did not like divers at all. I asked him why and he told me that amongst other things, when he was the Captain of the Dartmouth Training Squadron, a diving minesweeper had failed to pipe or follow the normal procedure of asking permission of the senior officer to "proceed in accordance with previous orders". This all sounds very trivial now but Captain Morgan Giles was a stickler for old fashioned Naval etiquette. He then grilled me about what I though of x, y and z and I still not know what the hell I was there for!!
Eventually he asked me about the issue of neat rum and was I aware that Bill Thorniley had been "dismissed his ship?" "No", says I. He then ordered me to go down immediately to relieve your father, Johnny Futcher, in Dingley who he had relieved of his command with instant effect!!
Wow - that was not a happy turnover for either of us. I think Johnny was the only ex-Royal Marine to get an Upper Yardsman's Commission in the RN but he was already famous from the Korean War when his three-tonner truck got a direct hit from a Chinese RPG that killed the driver and another in the front seat. Johnny was with 23 other RMs in the back and they all jumped clear. He went one way whilst all the others went another. He was the only one ever seen again; typically independent and as tough as nails.
He retired early from the RN and pioneered lobster farming in a loch near the north west corner of Scotland. He also won the vital annual inspection contract at the nuclear power station near Dounreay. This gave him access to continuous warm water so that he was able to get minute lobsters through the first five stages of their development in seven days instead of many months with a minimal loss of eggs, etc., because there were no predators. Thus, when he took the baby lobsters back to the fenced-off loch they could be marketed in only three years as opposed to seven years in nature.
There were several other benefits: the suits of his divers were considered to be contaminated so Nuclear Fuels replaced them every year!! And he became so well known and respected by local fishermen that he would buy their lobster catches when the market was down and sell them when the market was more propitious. I was sorry to read that he had to give up just when things were turning very good for him and he then went to Australia where all contact was lost until you, Michael, e-mailed Rob. If I have mixed up a few small facts please forgive me - put it down to anno domini: but I am sure this is all close to fact.
Thank you for that and please give Johnny my best salaams.
Yours aye,
John"
---
3 Mar 15 - Daily Telegraph obituary for Major Stephen Hambrook MBE GM RE
The Daily Telegraph website contains this obituary for a very brave man and member of our affiliated organisation, the Royal Engineers Bomb Disposal Officers Club (REBDOC).
Although Stephen Hambrook disposed of many explosive devices during his career, he received his George Medal for dealing with a GC parachute mine in Camden, London in 1969; an incident that led to the making of a BBC programme called 'Seven Seconds to Run'. He went on to serve in the Falklands immediately after the conflict in 1982 and stepped on a mine in a previously declared 'safe area'. Despite losing his left leg below the knee, he continued to serve for a further ten years and was recognised as 'Army Man of the Year'. He was appointed an MBE in 1991.
Stephen Hambrook was a true gentleman with a wicked sense of humour. I am sure that all members of our community will join me in extending our sincere condolences to his family, friends and former colleagues.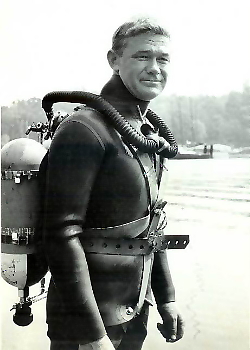 Maj Stephen Hambrook MBE GM RE
(12 May 1933 - 6 Feb 2015)
---
2 Mar 15 - Website facts and figures
The MCDOA website's home page contains a new search engine provided by 'Freefind'. This replaces the previous 'Pico' search engine which is no longer supported.
During February 2015, the MCDOA website was accessed by 39,770 distinct host servers, down from its peak of 44,112 in February last year. The number of individuals accessing the site is likely to be higher as many servers (e.g. MoD, US military, etc.) are shared by several users. Internet surfers in 115 countries made 785,468 successful requests for individual pages, files and images during which they downloaded 47.61 gigabytes of data. This equates to well over half a terabyte per year.
---
1 Mar 15 - MCDOA members abroad
As regular followers will know, MCDOA former Hon Treasurer Dave 'Spidey' Ince (aka Bradley Vincent) has undertaken many challenges during his eventful naval career as chronicled on this website. In early 2007 he transferred from the Royal Navy to the Royal Australian Navy and I am grateful to him for this illustrated account of his experiences with RN ex-CD Eamon 'Ginge' Fullen QGM in Tonga last week:
Adventures in Tonga - A long story if you can be bothered to read it to the end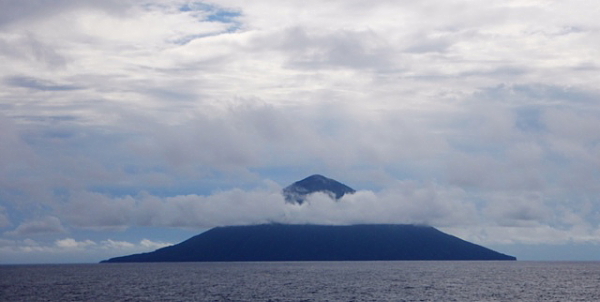 The Tongan Island of Kao
When my mate Ginge Fullen comes to stay you can bet that adventure will soon follow. To that end we have just completed an epic climb of Tonga's highest mountain, the inactive volcano of Kao which tops out at 1,030 metres. That may not seem much but, for starters, this place isn't easy to get to, being a long way by plane and boat from where we live in Tonga. Secondly it is covered in dense rain forest and all manner of impenetrable flora. It is completely wild and overgrown with slopes 35-45 degrees all the way to the summit. We had to hack and bludgeon our way all the way to the top and all the way back down again via a different route.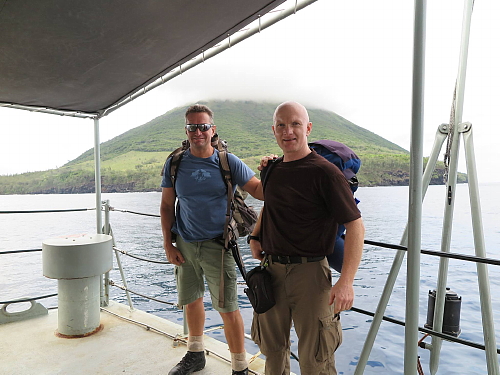 Dave Ince and Ginge Fullen on board a Tongan patrol boat before their climb
Ginge is a man who holds several world records in the field of mountaineering. As he said it was brutal and one of the hardest of the 164 of the 194 mountains in the world he has climbed to date, then I know I wasn't being a wimp. It is probably the hardest thing I have done that I didn't have to do!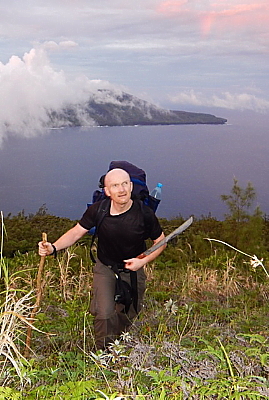 Ginge Fullen taking things in his stride
The trip started with a landing on sharp rocks in heavy surf from a Tongan Navy RHIB; I immediately got drenched boots. We then hacked our way into the lower rain forest, where upon within five minutes Ginge machetes a wasp nest. We are swarmed and stung more times than I can count. An ignominious start. It takes us 1.5 hours to hack ourselves through the first 200m. Our path was blocked by thick chest-high fern; the stuff was to be the bane of our mission. In fact as soon as I get back to Sydney I am cutting down the 'Jurassic fern trees' at our house! I never want to see the plant again! The timeline was not looking good for a three-hour climb up and back. We'd previously been told there was a path to the top and had based our climb on that.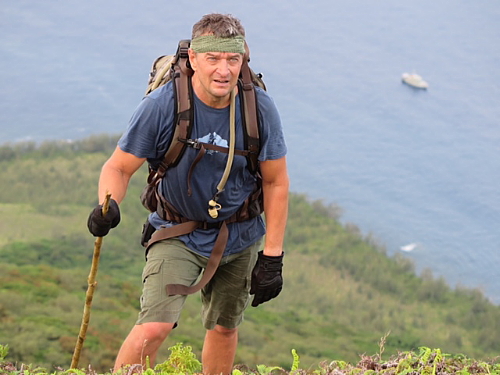 Dave 'Spidey' Ince with the anchored Tongan patrol boat far below
Hitting the rain forest proper we started the 35 and 45 degree ascent, each carrying 40lb packs. I quickly realised that 13 months of rowing machining and occasional running on Tonga's flat roads was not the ideal training for this caper. Fortunately we were evenly matched despite Ginge's impressive pedigree. He lives in Fort William, Scotland you see; the tropics is not his thing. What I considered a cool temperature on the island was quite the opposite to him.
Anyway, nearly three hours later we are still doggedly cutting our way up hill in the jungle. It was nearly dark by now so we camped for the night. The following morning, after a bowl of porridge we hit the slopes at 0530, climbing using head torches. We still had this ambitious notion that we could crack Kao and be back down by 1000.
Getting to the upper tree line our path was blocked by ferns again. It looked as though the stuff would thwart our efforts. We had already sapped our strength on a 200 metre section of the relatively flat lower slopes. The prospect of pushing through the stuff for another 2km and 800m of vertical climb was a non-starter given that we had to be back for our flight home by 2:15pm. However, hacking and barging through we hit shorter fern growth, knee high as opposed to the chest / shoulder high mat of the lower slopes. We decided to go for it. I had earlier told the Tongan Navy, our safety cover in one of the patrol boats, that we would be back at the drop off point no later than 1000. Ha ha. It was a good thing that they spotted us as we came out of the trees and did their own calculation.
So, making a base camp we decide to leave the majority of our gear behind, including the machetes, and just take our water. Ginge took a GPS marker of the position and we girded our loins for the distant cloud-enshrouded peak. The going was certainly easier now and within 30 minutes we had already made double the height of the previous day, now at 700m. The summit gradually crept closer. We were going to make it in the time. As we stomped up the last 10m our folly was revealed. The mountain was playing with us; it was a false summit. The real one was half a km away fading in and out of the cloud and taunting us. Bollocks! We still had to find 230m. At this stage we decided that we'd forget about the flight and conquer this beast regardless. We forged onwards and upwards. The cloud closed in below as well as above us and the patrol boat was no longer visible.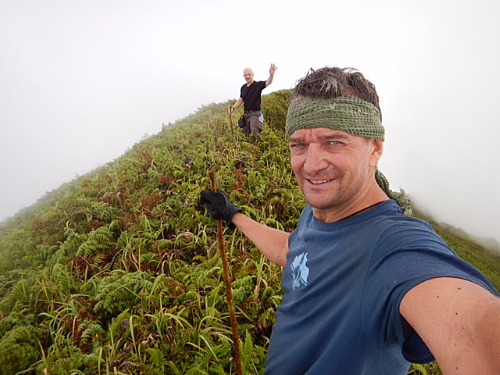 Dave Ince, with Ginge Fullen in the background, nearing the summit
However, we still made good progress and by 0930 we were 75m from the top. This is when our fern nemesis returned. Kao was trying desperately to stop us standing on her crown. With no machetes, body weight was the go to flatten and forge through. We prevailed and reached the elusive highest point of Tonga at 1015 28 Feb 2015. It has been climbed before, of course, but we believe the most recent climb was the now King of Tonga himself in 1994. Funnily enough his soldiers preceded him to Kao and cut a path to the top! It transpired that this was the path we were told about. Twenty years of rain forest growth had put paid to it!!!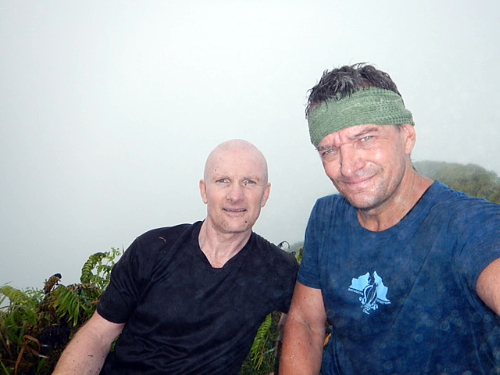 Ginge Fullen and Dave Ince savouring their triumph
Briefly celebrating our victory, we steeled ourselves for the long descent to the beach. Believe me, the novelty of going down hill quickly wears off. This was briefly assuaged when we couldn't relocate one of the rucks sacks we'd left further down. Thinking we had passed it, the prospect of climbing back up for the thing filled me with dread. Luckily we were well short of the spurious GPS marker and found the pack further down the slope.
Did I mention the ground was soaking wet? Well it was, so there was plenty of slipping and falling as we had gained and now lost our altitude. Then at a crucial point Ginge and I disagreed which spur of the mountain to head down. He said right, I said left. This was important as the correct spur would lead us back to base camp. We chose left. It was a bad choice. This spur eventually took us 250m away from the camp. When we realised 'my' error it was too late. Now a deep gully lay between us and the camp. Pfffft. We had no choice but to go down and up. It was one of our lowest ebbs, especially when dropping In to the deep murky green chasm I looked up to see an almost sheer cliff of ffffffffferns! There was nothing for it; my mistake and I had to lead us on the path out. It was horrendous and barely achieved. By the time we emerged we were both absolutely exhausted.
By this stage water was running low too and Ginge began to suffer excruciating cramps due to dehydration. This was part of the not being acclimatised to the tropics issue. I managed to massage them out of his quads a few times, but after a while my hands began cramping too, so he had to suffer it. But we were back on track and reunited with our gear. To be honest I was almost ready to leave it at this point, the thought of putting the hefty thing back on aching shoulders was not a happy one. By now we were back below the cloud line and the ship was visible. We elected to head on a compass bearing straight to her, stuff finding our previous route. We knew of course that the f'ing ferns would be the first obstacle before hitting the rain forest, but going down hill through them was relatively easier, but still ball-bagging.
It was short stretch though and we were soon back in the trees. The next time we would see the ship we'd be seeing it from the beach. A happy prospect. The home run then, with frequent stops so Ginge could ease his cramps. We lost altitude slowly but surely and then.....you guessed it. We met a wall of ferns. It was almost too much to bear. We were both in rag order by now and it was starting to seem doubtful we would get off Kao anytime that day. Every step was now a major effort, I was staggering like a drunk man from exhaustion, Ginge in a really bad way from dehydration. I was out of water by this stage,but Ginge needed his more so I didn't mention it. This was getting Bear Grylls-esque! Kao was dead set in not letting us leave, the ferns got thicker and I could see no end to them.
Then through a gap in the trees we saw the patrol boat. We both agreed that letting off our emergency flare would be a good move at this point. Neither of us knew that they had seen us previously, but as it happened the flare was very timely. The ship was just weighing anchor to move away and search for us. They spotted the flare and launched the RHIB towards us. We continued down to meet them. The down had now become very steep and, to save a lot of effort (I was at point again), I lay sideways and rolled downhill through the wretched fern wall. It was very effective and the battering I got for my troubles was worth it. We cleared the last batch of the horrendous plants but I nearly rolled over the 10-foot drop that marked their ending. Ginge soon joined me and we peered down the drop to the very steep sloping ground below. There was nothing for it; we had to go this way, we were too weak to go back and find a safer route to the beach.
By this stage, so tantalisingly close, we could hear the roar of the breakers on the rocks. We also could hear the Tongan Navy lads shouting out to us from the RHIB and we let them know we were on our way. There was no way we were going to attempt the climb down with our rucksacks so, after re-packing some of the more delicate equipment (sat phone, camera and EPIRB), we simply tossed them off the mini cliff and watched as our packs tumbled on their way out of sight down through the trees. Hopefully their fall would be checked at some point. I gingerly lowered myself down to the ground and saw the sea! It was only 50m or so away, but an alarming 60 degree slope was between us and the beach.
Arse-sliding was now the go; the wet ground made for a good slide but for the occasional root and rock. Luckily there were handy sapling grab holds to slow the slide to a vaguely controllable speed as opposed to a suicidal rush. I stopped 25m or so down to wait for Ginge. He announced his arrival with the large rock he had dislodged striking me on my left shoulder blade. Ouch! Sorry mate. All good! I then continued the wild helter-skelter plummet. It was nearly my last slip and slide too. My feet shot out over a sheer drop of 40 feet on to the rocks below just as I grabbed at a conveniently placed tree branch. It held! Kao was not that disgruntled with me then! I warned Ginge and he stopped at a safe distance.
Taking a bit of time to recover from a near fall that would have broken a few bones at the minimum, we looked over the edge and could see there was no way down. Over to Ginge to use his mountain climbing prowess to find us a route. Fortune favoured us and Ginge soon located another death slide that took us to the rocky beach. With no further mishap we recovered our battered rucksacks, (Ginge's was hung up on the cliff face), and limped across the rocks to our rescuers.
At this stage we saw the heavy breakers we had previously heard surging on to the rocks. This was not going to be an easy extraction. But first things first, we needed water, rest and some wit-gathering. The RHIB went back to the patrol boat and picked up some water. On its return, one of the Tongan sailors leapt into the surf without hesitation and brought it to us. When I say it was the best tasting water I have ever had in my life you know it was appreciated. We eyed the waves warily as we drank and knew that getting to the boat would be easier said than done. A plan was soon hatched.
Once more repacking our rucksacks, we moved the electronic gear into Ginge's waterproof bag and our brave Tongan mate waded out in to the surf and deposited the bags in the boat. The boat's coxswain had the devil's job to keep the stern of the RHIB facing the waves so he could pull himself back out of trouble. He did a brilliant job in conditions that few Australian navy boat coxswains would attempt. 'We'll send a helicopter' would have been the conclusion to the inevitable long-winded risk assessment. Then it was our turn. It happened fast; the boat came in the closest yet to the shore, huge waves crashing around it. We thought it would broach and flounder on to the rocks, but the Tongan boat driver kept his cool. Ginge was in, I was in.
Then disaster struck; it was to be Koa's final smite. Not surprisingly in the conditions, the propeller hit a rock with the result that the engine stalled. My wits fully restored, I immediately saw that the coxswain was trying to restart the engine with the gear engaged; it wasn't going to happen. We were in the shit....again. I dived across to him and flicked the gear lever to neutral. Behind us, a huge wave was about to break over the boat. He pulled the chord once, nothing; then again and the engine roared into life. Astern gear engaged. The boat was soon backing out of the maelstrom into safe waters. We had finally escaped Kao!
Ginge, don't ever ask me to climb a mountain with you again mate. Tuvalu's high point at 5m is more my style ha ha ha.
It was now 1:00pm and there was not a chance in hell we would make our flight. No matter, we were too tired to care. The Captain then told us that their patrol was over anyway and they were heading back to main island, a mere six-hour transit. That will do nicely.
As a final note, once we got back within mobile range I received a message from the airline. The flight we were booked on had been cancelled and rescheduled for Monday, two days hence. I can see a refund coming. Unfortunately the photos don't do it justice. When we eventually and literally crawled, rolled, slid and fell off the island after ten hours of blood sweat and tears, we were fairly demoralised and dead on our feet. Neither of us photographed the really shit parts. I wish I'd taken my Go Pro.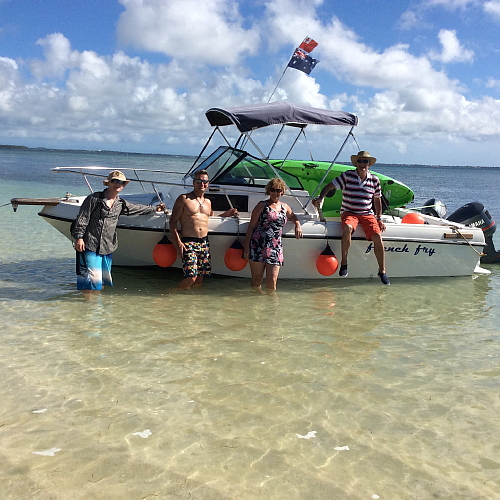 Recovery Day
---
MCDOA member Ian Morton is also in the Far East where he encountered fellow ex-MCDO Colin Dodd in Thailand last Thursday:
"Rob,
A couple of photos taken last week when we were taken up to the Big Buddha on the highest point of Phuket before going for an Indian meal together, he did say he should join the association!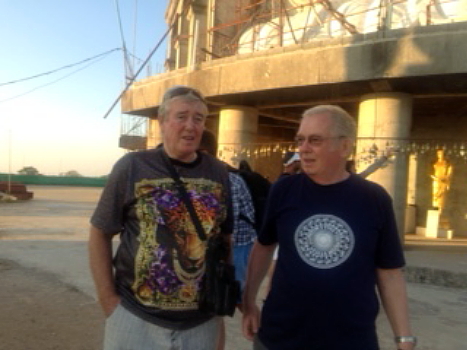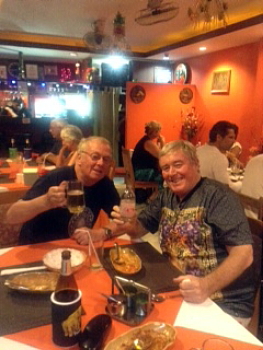 Ian Morton (wearing glasses) with Colin Dodd in Phuket, Thailand
Hope you are well.
Ian"
---
28 Feb 15 - SDU2 detonates anti-aircraft shell on Isle of Wight
The BBC News website contains this article describing yesterday's disposal, presumably by members of Portsmouth-based Southern Diving Unit 2 (SDU2), of a Second World War anti-aircraft shell at Cowes breakwater on the Isle of Wight. The six-inch (15cm) long device was found by construction workers in shingle brought from Southampton and was destroyed in a contolled explosion.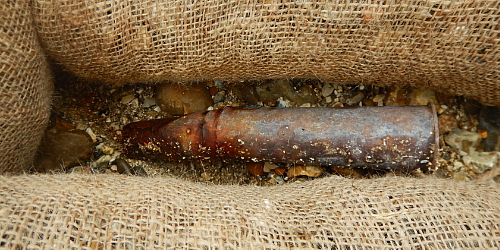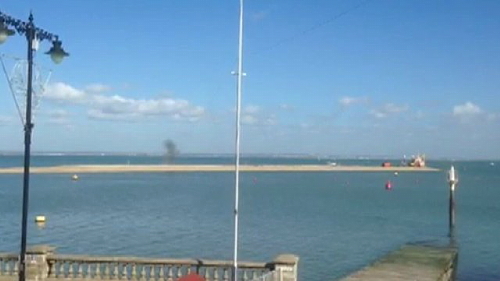 ---
27 Feb 15
Second World War bomb detonated off Whitley Bay
The BBC News website contains this article, the Daily Express website this article and the Forces TV website this article, including a video, describing the disposal, presumably by members of Portsmouth-based Southern Diving Unit 2 (SDU2), of a Second World War bomb off Whitley Bay, Tyneside today. The bomb, thought to have been jettisoned at sea by an RAF bomber, had been caught on Wednesday in the nets of the North Shields-based fishing vessel 'Ticino' about three miles off Souter Point in South Shields.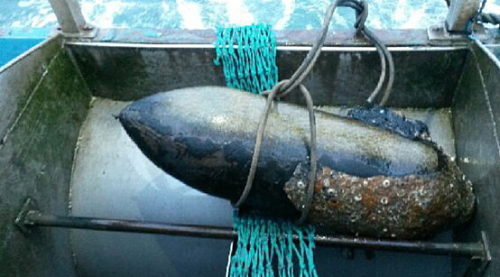 Photos courtesy of Tynemouth RNLI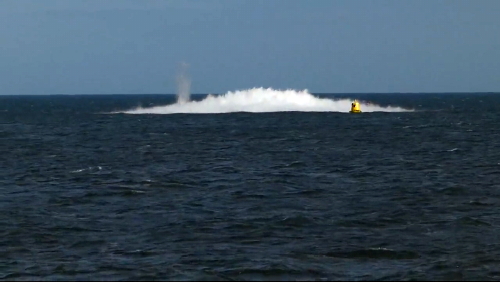 ---
News from HMS Cattistock
I am grateful to MCDOA member Simon Pressdee, the Commanding Officer of HMS Cattistock (MCM2 Crew 6), for this update received via the Ton Class Association (TCA):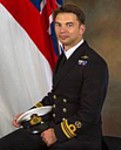 "I would like to introduce myself as the Commanding Officer of HMS Cattistock. Crew 6 and I have recently taken over the ship in Portsmouth as she comes to the end of a major capability upgrade. The ship will remain in Portsmouth until later this summer before returning to sea for trials and training in UK waters. I am pleased to say that this upcoming period allows me an opportunity to get to know the ship's affiliated organisations which I understand already have a very strong connection with the ship.
Before joining HMS Cattistock, the crew spent seven months in HMS Atherstone conducting maritime security operations in the Arabian Gulf. During our time in HMS Atherstone, the crew visited several ports in the Arabian Gulf including Abu Dhabi and Dubai in the United Arab Emirates and Bahrain, where the ship is based. Throughout this time, we worked closely with other British warships as well as a huge variety of other nations including Pakistan, UAE, Saudi Arabia, Japan, USA and Iraq.
My Affiliations Officer is Lieutenant Matt Irwin who will act as your point of contact onboard. If you wish to contact the ship or have any suggestions for activities that you would like the ship to participate in then please do not hesitate to contact him on 251-navsa.dii.mod,uk. I plan to visit the area in the next couple of weeks to discuss future events including: the Dorset Knob Throwing Festival; the Poole Mayor Making Ceremony; Armed Forces Day; Remembrance Day and the European Maritime Day in 2017.
Thank you for your continued support of HMS Cattistock and I look forward to meeting you in the near future.
Yours sincerely,
Simon Pressdee"
---
26 Feb 15 - Latest Honours and Awards
Congratulations to MCDO Lt David Starkey RN on being gazetted for the award of the Queen's Commendation for Valuable Service (QCVS).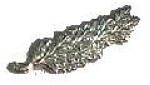 The Portsmouth News website contains this article in which the reasons for his award are explained:
Lieutenant David Starkey has been awarded the Queen's Commendation for Valuable Service for treating a diver after an accident in the water.
A diver suffered difficulties during a joint US-UK exercise in February last year and had to make an emergency ascent. Lt Starkey, the second in command of Portsmouth-based minehunter HMS Atherstone, immediately took charge of the incident in a cool and professional manner. He tended to the casualty, established he suffered excessive carbon dioxide levels as a result of the sudden ascent, and ensured his recovery.
He has also been recognised for furthering relations between the Royal Navy and the Bahrain Defence Force during his six months in the region. His citation said:
'He spent a considerable amount of his own time devoted to promoting interaction with the Bahrainis in the fields of diving and explosive ordnance disposal. Because of his efforts the Bahrain Defence Force have confirmed a real interest in improving interaction between themselves and the Royal Navy and to conducting combined training in the future.'
Further congratulations to A/CPO(D) Richard Anthony 'Buster' Brown on being gazetted for the award of the Queen's Commendation for Bravery (QCB).

The citation reads:
For continuously placing himself in danger in order to remove and transport to an area for safe disposal, 71 World War Two Self Igniting Phosphorus grenades over a two day period in a courageous and selfless act in Thurso, Scotland during 28th - 29th June 2013.
The full list of Operational Honours and Awards is available here.
Last but not least, congratulations to MCDOA member Bill Chambers on being gazetted for the conferral of the NATO Meritorious Service Medal. This is the personal award of the Secretary General of NATO who signs each citation and fewer than 50 medals are awarded to service personnel and civilians each year. Bill was recognised chiefly for his services at the NATO Joint Warfare Centre, Stavanger but also for his previous NATO work in Baghdad and Naples.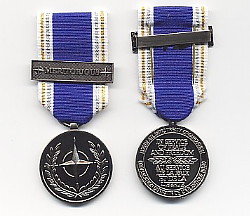 Bill's post-RN employment is described in these two articles as previously chronicled on the MCDOA website:
BBC News 2 Jul 2008: Handling the harbour
BBC News 3 Oct 2008: Harbour master snapped up by Nato
---
25 Feb 15 - Award of LS & GC medals
Congratulations to PO(MW) A. L. Fielding and PO(MW) M. S. Morton on being gazetted for the award of the Long Service & Good Conduct (LS & GC) medal.
---
24 Feb 15 - NDG called to remove 'suspicious package' from flat in Kilmarnock
The BBC News website contains this article, the STV website this article and the West FM website this article describing a call-out today for members of Faslane-based Northern Diving Group (NDG) to remove a suspicious package put through the door of a flat in Kilmarnock's Shortlees.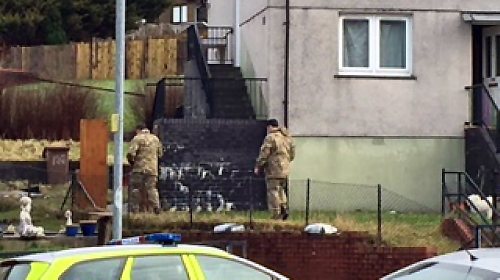 ---
23 Feb 15 - Selections for promotion to Warrant Officer
Congratulations to CPO(MW) Warren, CPO(D) Spencer and CPO(D) Powell on their selection for promotion to Warrant Officer on today's signal.
---
22 Feb 15 - Two hyperbaric facilities with different purposes
The Forces TV website contains this video and this video describing different aspects of a recent training exercise involving UK, French and Norwegian naval personnel and the NATO Submarine Rescue System (NSRS). The videos feature MCDOA members Steve Brown and Olly Shepherd (CO NDG and OIC NDU2 respectively) of the Faslane-based Northern Diving Group (NDG).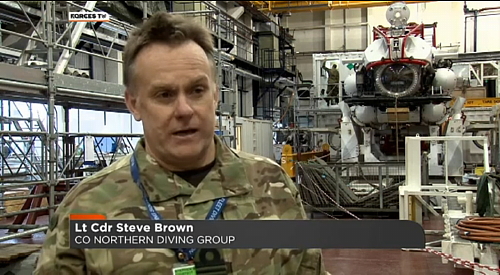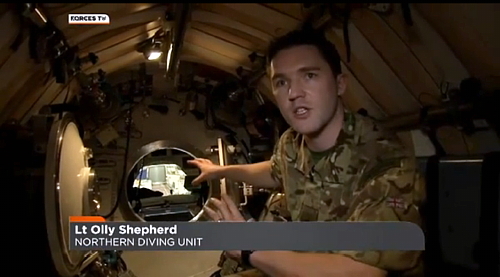 The Forces TV website also contains this video describing the excellent results being achieved for injured service personnel undergoing hyperbaric oxygen therapy in the facility at Castle Craig hospital in the Scottish borders. Although the work is described as 'pioneering', several of us have memories of using this treatment in HMS Vernon to aid the recovery of wounds or alleviate the symptoms of medical disorders such as multiple sclerosis as far back as the 1970s. Members of our community are still involved in such projects and the likes of the late Lt Cdr Bill Filer MBE GM and Lt Cdr Frank Spragg (both of whom helped establish the hyperbaric oxygen facility at the Solent MS Therapy Centre in North End, Portsmouth) and former WO(D) Anthony 'Lawry' Lawrence MBE (Chamber Superintendent at the Hyperbaric Medical Centre of the Diving Diseases Research Centre (DDRC) in Plymouth) spring readily to mind. Lawry has told me about the particular benefits of hyperbaric O2 treatment for sufferers of diabetes where it enhances the oxygenated blood flow to extremities.
The Royal Navy's Hyperbaric Medicine Unit was transferred from the now-defunct Royal Hospital Haslar in Gosport to St Richard's Hospital in Chichester where it was re-opened in early 2010 by Vice Admiral Sir Richard Ibbotson KBE CB DSC (see entry for 4 Mar 10 in News Archive 29), the guest of honour at our annual dinner in November 2009.
Vice Admiral Richard Ibbotson (before he was knighted) with Hyperbaric
Medicine Unit staff inside the hyperbaric chamber at St Richard's
(RN website photo by LA(Phot) Keith Morgan)
---
From MCDOA member Bill 'Chippy' Norton:
"Hi Rob,
Re the articles on HBO treatment, I recall that we successfully treated at least two particular cases of gas gangrene in Singapore. I seem to recall that Graham Shaw responded to an approach from a young RAF doctor from Changi hospital who had read an article in a medical journal about this new type of treatment. He had a patient, a young RAF wife, who had developed gas gangrene after giving birth by caesarean section and who was too ill to be airlifted back to UK. We therefore 'sanitised' one of our one-man DDCs and I recall mobilising it to Changi and treating this very brave young lady to two sessions of one hour duration twice a day. The results were quite dramatic and we were able to see her condition visibly improved, even after the first day. She recovered sufficiently to be flown out shortly thereafter, and I understand made a complete recovery. We had a second case during my time. This was a Flight Sergeant who had undergone some surgery and also contracted gas gangrene. We treated him with similarly astonishing results and he was able to be airlifted back to UK within a week.
While we were all very impressed with the results, one of the most remarkable things I observed was the way in which the 'Rough and Toughie' divers responded to the handling and care of the patients. It was not a very pleasant business but they were so gentle, and in particular were so concerned about the young lady. They felt she was so brave in what must have been a difficult experience in that pot with only that inadequate comms system for comfort and contact. The RAF medics and the patients were very grateful for the team's assistance. Perhaps it then became known in medical circles that we had probably the only recompression facilities on the island at that time. During one period thereafter, we were almost inundated by requests for assistance from the main civilian hospital to treat cases of decompression problems occurring in the fishing fleet. I did some investigation into this and turned up the following.
The technique employed by the mostly Indonesian fishermen, was to go out in a group consisting of a largish 'tonkang' mother boat which also housed a group of divers, together with three or four smaller craft. On reaching the fishing ground, usually a rocky outcrop, the small boats would encircle an area and drop explosive charges. After the concerted bang the divers jumped in and picked up the dead fish at depth while boats crews picked up any on the surface. The explosives were supplied courtesy of HMG from ammunition dumped in the Johore Straits; another story.
The divers and the on-site 'Fishing Fleet' supervisors were aware of decompression issues and procedures but paid scant attention to them. Any incidents which did occur were treated by re-immersion until either symptoms were relieved, usually the case with pain only. If not so relieved however, the poor guy was brought back on board and made as comfortable as possible while work continued until the tongkang was full enough to return to harbour, when the patient was transferred to the local hospital. During the period I was there we were then asked to assist in such serious cases. The worst one I recall was a paraplegic who the re-immersion routine had not helped. When he reached us, he had had a ten day interval on the tonkang during which time they had catheterised him with the plastic covering of a piece of electrical wiring to drain his bladder, but otherwise had just left him in his bunk.
It should be appreciated that our main recompression facility in HMS Terror was a free standing, ex-Japanese DDC fitted with a two man air lock and two viewing ports. It was located under a tin roofed lean-to outside the diving store. Other than two canvas bunks and a bucket, it had no internal facilities and had to be kept cool by washing down externally with a hose pipe. There was no means of monitoring inside temperature or gas content and the comms system was very temperamental. Ventilation was only possible by flushing through at regular intervals and the temperature and humidity of the incoming gas was very tropical! Food and medication went in through the main air lock as did the sanitation. It is fair to say that was not much competition for the privilege of being the inside attendant! The only medical advice available was from a very young but enthusiastic Surg Lt from the base medical facility and we ran all our therapy treatments from the RN Diving manual.
Despite these limitations we seemed to effectively resolve the decompression aspect of most cases as when some years later, when visiting Singapore as part of a lecture group at the invitation of the government, Prof David Elliot and myself were introduced to the team of doctors who are now responsible for the HBO facility in Singapore. They had followed up the cases treated by the FECDT in the period I have just described. They reported that, following extensive rehabilitation, in the majority of cases the patients had returned to work, and even our catheterised paraplegic had regained partial mobility. The efforts of everyone involved had been greatly appreciated, and I would like to personally single out those of the team who were unfortunate enough to be incarcerated for those long periods in the Japanese pot!
Yours aye,
Bill"
---
From former WO(D) Mick Fellows MBE DSC BEM:
"Hi Rob,
Having been with Ray Ramsay in the Far East Team in the late 1960s, I was privileged to supervise some successful hyperbaric O2 therapies, in a Pusser's specially "de-greased" one man Mk7 chamber, on injured men and pregnant women with gas gangrene and could see the future of such therapy.
As a WO(D) on SofD's staff in the 1980s I was responsible to him for the QA/QC of operational static chambers in RN and RAF shore based locations around the UK, Gibraltar, Cyprus, Hong Kong and the Falkland Islands. I also gained a lot of experience installing a TUP Chamber onboard RFA Diligence, for Gulf Deployment, and by designing, procuring the funding and supervising the build of four mobile containerised TUP Chamber and ancillary power / gas supply systems to support international MCMV clearance diving operations.
Commercially in 1996, realising the future of hyperbaric oxygen treatments, and utilising past experience, Scouse (Colin Kidman) and I converted a four-man, two-compartment chamber into a self-contained, mobile hyperbaric treatment unit with integral LP air compressor, reservoir, electric generator and oxygen bank. It was equipped with the standard O2 BIBS [built-in breathing system] and "spaceman helmets" without oral nasal / mouthpiece attachment for use by young children.
With the funds made from supplying therapeutic treatment to some very well known professional players from Manchester United and Portsmouth Football clubs, we supplied hyperbaric therapies to very young infants, suffering with cerebral palsy, under the direction of a local pioneering Medical Consultant at Eastbourne, who, up until our involvement, had been using an old coal mine one-man emergency chamber.
The results of the protocols were amazing and our success rate came under the scrutiny of the BMA who, although we were operating under their "code of working practice for the operation and staffing of hyperbaric chambers for therapeutic purposes" did not approve of our conducting international accepted therapies without their approval and supervision. My on-call medical consultant at the time was the late Surgeon Captain Ramsay Pearson. As most of us know – a renowned expert in the underwater medicine discipline.
With my main core business increasing yearly it became difficult to maintain, run the system and fight the medical and other authorities getting involved in chamber operations so we closed down and sold the outfit to the diving branch of the Chilean Navy.
There is a great future in hyperbaric oxygen treatments and although the initial procurement costs are relatively high the running costs do not have to be so if you employ the right level of expertise to operate the system. I know – we've done it!
Mick"
---
From former WO(D) Ray Ramsay:
"Hi Rob,
O2 Hyperbaric Treatment was started in the USA in the mid-1940s.
Whilst in the Far East Fleet CD Team in Singapore from 1968 to 1970, I can recall using this treatment on at least four people in the British Military Hospital in Singapore. I believe they were suffering from some form of gas gangrene. Three of the treatments were successful; unfortunately one was not.
Prof Philip James was heavily involved in the treatment of MS back in the 1970s and 80s. He is also now involved in the use of O2 for other medical problems.
More recently, I have received treatment at St Richard's Hospital in Chichester.
In my opinion, O2 is a magic bullet. Unfortunately, it is an expensive treatment to set up and will probably never be used to its full potential because of the lack of funding.
Regards,
Ray"
---
21 Feb 15 - News from HMS Grimsby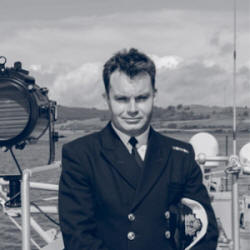 I am grateful to Lt Cdr Will King, the Commanding Officer of HMS Grimsby (MCM1 Crew 6), for this update received via the Ton Class Association (TCA):
"A belated Happy New Year from myself and the crew of HMS GRIMSBY. I felt with the onset of 2015 a quick update from your ship appropriate, having returned from our successful deployment to the Mediterranean just prior to Christmas. You may remember we left the UK in August last year, battling through a rough Irish Sea and the Bay of Biscay to join the Standing NATO Mine Countermeasures Group Two (SNMCMG2). This group consisted of a flotilla of six mine-countermeasure vessels from fellow NATO navies, and over the space of four months we were privileged to travel 9,180 nautical miles visiting seven different Mediterranean countries and taking part in three mine-countermeasures exercises.
Having worked-up with the Group in Spain, we embarked on the largest exercise of the deployment, Exercise Noble Justification. This was a broad maritime exercise which involved all aspects of naval warfare. Frigates, destroyers and aircraft carriers from nations such as the United States, Portugal and Canada took part, and we were tasked with clearing a beach area for an amphibious landing. Subsequently, the deployment took us as far East as Turkey, and whilst taking part in another exercise we found something out of the ordinary, discovering an aircraft fuel tank which would have been dropped by a Turkish Fighter sometime in the previous decade.
Of the 13 ports visited, Algiers proved the most diverse. Organised events allowed rnerribers of the ship's company the chance to experience Algeria's culture, and gave them an insight into the security challenges facing the Algerian Navy. Cagliari, Sardinia was a favourite of the crew due to the dramatic scenery of South Sardinia, and tasty cuisine. Likewise we received a very warm welcome into Patras, Greece for a prolonged stay, which permitted us to carry out work on our generators and sonar systems.
On departing the Group at the beginning of December, the next challenge was getting home with the 'Weather Bomb' in the North Atlantic threatening to delay our return in time for Christmas. Halfway home, we made a short visit to Gibraltar, taking on stores and conducting the traditional running race to the top of the 'Rock'. Once again the value of having such a strategic UK outpost in such a location is not to be under-estimated.
After pushing the ship and the crew hard through heavy weather, we finally arrived back in UK waters in mid December. We took the opportunity to have a Homecoming celebration, something that does not happen regularly for mine-countermeasure crews. Family members were embarked for the final two hours of passage back up the Clyde estuary, allowing them the chance to witness HMS GRIMSBY come alongside in her home port of Faslane - a great day.
Looking forward, the crew must now regenerate themselves and HMS Grimsby, in order to tackle the challenges of a full pre-deployment work-up. This will prove our readiness for the forthcoming tasking to the Persian Gulf as part of the Standing UK Mine Counter Measures commitment based in Bahrain. The crew will sadly leave HMS GRIMSBY in July and fly to the Gulf, at which time the new Captain, Lt Cdr Neil Griffins and his crew, will take the reins. In the meantime, we have a visit to Liverpool to look forward to [since postponed] but regrettably no visit to Grimsby due to the tightness of our programme. That said, if there are any opportunities in which myself or the crew can support you, please get in touch and we will do our utmost.
Thank you again for your continued support, and I wish you all the best for 2015.
Will King
W R C King
Lt Cdr RN
Commanding Officer"
---
20 Feb 15 - Horsea Island Senior Rates' and Officers' Mess - Inaugural Mess Dinner
I am grateful to MCDOA member Chris O'Flaherty for this announcement:
"Rob,
On Wednesday 18 February, the new Horsea Island Senior Ratings and Officers Mess held its inaugural mess dinner. Forty-two WOs, senior rates and officers from both the Army and Royal Navy (plus RNZN) dined in the mess, with a great deal of the former HMS VERNON's mess silver adorning our tables.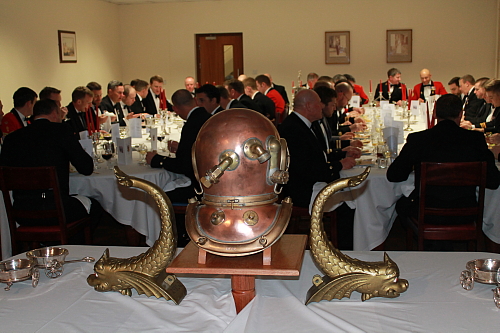 Photo courtesy of Georgie Savage
All the required permissions, authorisations and licences have now been obtained to make the Horsea Island facilities a fully compliant Royal Navy mess, with many Royal Engineer members (and their traditions) an integral part of our team.
The constitution of the new mess is designed to allow all RN CD1s (officers, WOs and senior rates) not presently serving at Horsea to join as "Full-Fleet Members" on a reduced subscription, as well as allowing retired CD1s to join as associate members. The same applies to our Army diver brethren not serving at Horsea who can join in the "Full-Field Army Members" category, or as associate members if retired. Full details can be obtained from Mess Membership Secretary WO(D) John 'Yoyo' Ravenhall.
Particular thanks must go to the Royal Navy and Royal Marines Charity, who very generously awarded the mess a grant of £4,000 to give us a sound financial baseline from which to develop our infrastructure.
The dinner was attended by MCDOA members Chris O'Flaherty, Sean 'Central' Heaton, Kev Stockton, Mark Shaw, Trev Orton, Al Nekrews and Jon Campbell.
Kind Regards,
Chris O'Flaherty
C P J O'Flaherty
Cdr RN
CO Fleet Diving Squadron"
---
19 Feb 15 - DIVER Magazine article 'Frogmen: First ashore on D-Day' now available online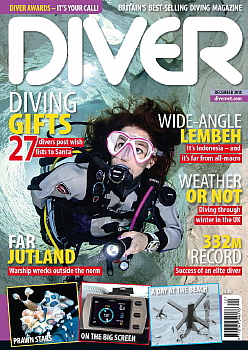 Last September, the editor of DIVER magazine asked me to produce an illustrated article about the RN & RM divers of the Landing Craft Obstacle Clearance Units (LCOCUs), the first men ashore on D-Day (see entry for 20 Nov 14 in News Archive 48). The article was subsequently published in the December 2014 issue and has since become available online here:
Divernet: Frogmen: First ashore on D-Day
Yesterday, I received my £150 fee and donated it, together with £75 given me by three Army officers (a Para, a Sapper and an RLC ATO) at last November's MCDOA Dinner, to Project Vernon, the campaign to erect a monument in Gunwharf Quays to commemorate the minewarfare & diving heritage of HMS Vernon which previously occupied the site.
Also see entry for 6 Jun 14 in News Archive 46 and Operation Neptune: Frogmen - The First Men Ashore on D-Day in the website's Dit Box.
---
18 Feb 15 - Unexploded aircraft rocket found near Dartmouth
The Herald Express website contains this article announcing that a MoD bomb disposal unit has been called to deal with an unexploded Second World War aircraft rocket found today on the coastal path at Strete near Dartmouth in Devon.
"...This is the third such explosive device to be found in the area in the past two weeks. A 21-inch long and six-inch diameter shell was detonated in a controlled explosion on February 5, while last Sunday a bomb disposal squad from the Royal Navy attended Blackpool Sands to carry out a controlled explosion of a anti-vehicle mine..."
Presumably, it will fall on members of Plymouth-based Southern Diving Unit 1 (SDU1) to perform this task too.
Post script: The Royal Navy website later published this article confirming that the rocket had been detonated in a controlled explosion by members of Plymouth-based SDU1. The article features PO(D) Darren Carvel.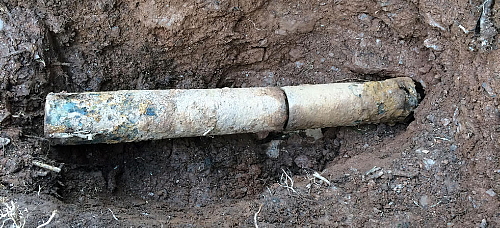 ---
17 Feb 15 - SDU2 detonates bomb on beach at Worthing
The Worthing Herald contains this article, including a comprehensive video, describing the disposal, presumably by members of Portsmouth-based Southern Diving Unit 2 (SDU2), of a wartime bomb found yesterday in an unoccupied house in Tarring, Worthing in West Sussex. The description suggests it was a German 1 kg incendiary.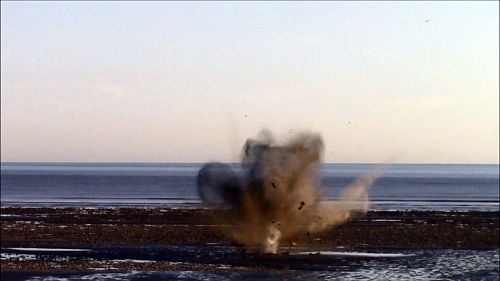 The article features MCDOA member Chris O'Flaherty, CO Fleet Diving Squadron (FDS).
Post script: On 20 February, the ITV News website published this article and the Daily Express website this article about the same incident.
---
16 Feb 15
SDU1 hosts Royal Norwegian Navy divers
The Royal Navy website contains this article describing recent serials involving members of Plymouth-based Southern Diving Unit 1 (SDU1) and divers from the Norwegian frigate HnoMS Fridtjof Nansen, currently undergoing FOST training, in Plymouth Sound. The article features MCDOA Honorary Treasurer Peter Davis, OIC SDU1.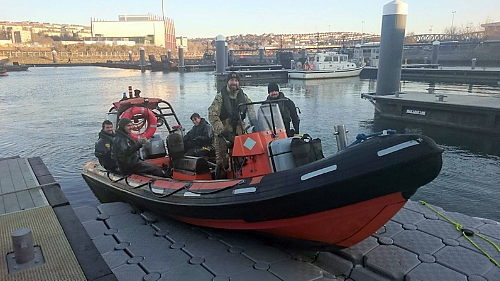 Above and below: SDU1 divers with Norwegian Navy divers
(RN website photos)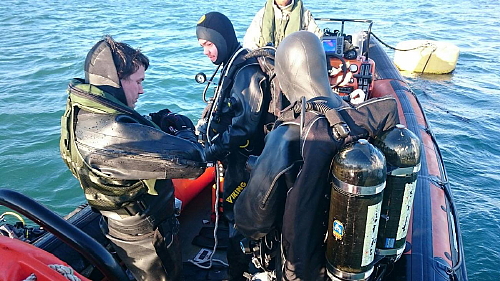 It should not be forgotten that several Royal Norwegian Navy officers qualified on RN LMCDO and OLMCDO (overseas) courses stretching back to the 1960s, including Lt I Petterson RNoN and Lt K Holmesfjord RNoN in 1975. I remain in touch with LMCDO '76 coursemate Kjell Rein as well as Sven Olav Kalvoe (LMCDO '79), Morten Meibom (LMCDO '80) and Geir Gade (LMCDO '81).
---
From MCDO Capt Hartmut 'Fiete' Walz German Navy:
"Hello Rob,
Not to forget Lt Cdr Sverre Lund RNoN of OLMCDO '72.
Yours aye,
Fiete Walz"
Post script: I should probably also mention Lt L. Magnusson RNoN on LCDO '64, Lt T. Lund-Eriksen on LMCDO '69 and Lt Rosengrew RNoN on OLMCDO '70. There may well be others.
---
SDU2 called to suspect IED on Dartmoor
The Plymouth Herald website contains this article describing a callout for members of Plymouth-based Southern Diving Unit 1 (SDU1) to deal with a suspect IED (Improvised Explosive Device) in a remote car park at Cadover Bridge on Dartmoor today. It subsequently transpired that the 'device', comprising a cylinder with wires attached, was "...likely to have been used by kids to shoot something into the sky."
---
9 Feb 15
HMS Chiddingfold finds live depth charge in Gulf
The Royal Navy website contains this article describing the disposal by HMS Chiddingfold (MCM2 Crew 1) of a live depth charge found during a recent UK/US mine countermeasures exercise in the Gulf. The article features MCDOA member Tim Davey (Commander UK MCM Force) and AB(MW) Damon Morris of HMS Shoreham (most recently reported to be manned by MCM1 Crew 5 commanded by MCDOA member Si Kelly).
Left and right: HMS Chiddingfold with 'mother ship' RFA Cardigan Bay
(RN website photo)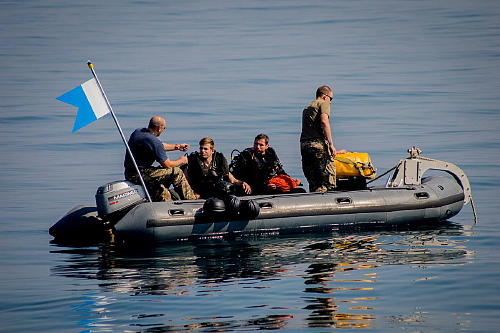 HMS Chiddingfold's diving team in action with PO(D) Bryant at the helm
(RN website photo)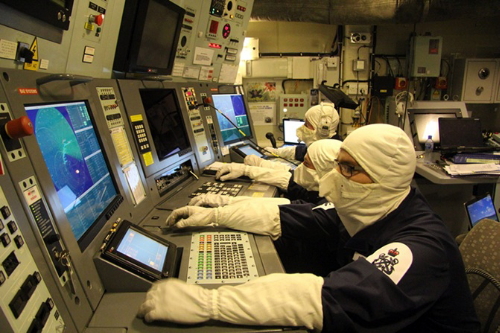 HMS Shoreham's Ops Room Team in action
(RN website photo)
Post script: On 17 February, the Portsmouth News website published this article covering the same event.
---
Princess Royal visits Fleet Diving Squadron
The Royal Navy website contains this article describing today's visit by the Princess Royal to Fleet Diving Headquarters on Horsea Island. Earlier in the day, she had visited HMS Westminster in Portsmouth Naval Base. The article features MCDOA member Chris O'Flaherty (CO Fleet Diving Squadron (FDS)) and A/LS(D) Ash Mansell of Fleet Diving Unit 2 (FDU2).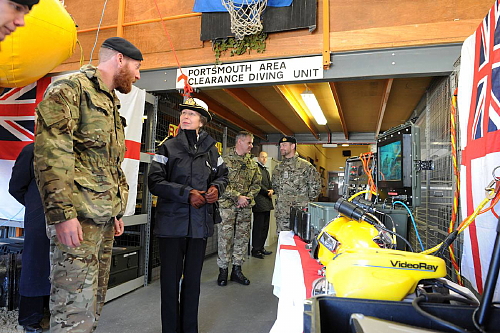 Princess Royal visiting Fleet Diving HQ with MCDOA members Chris O'Flaherty
and Al Nekrews QGM (CO Southern Diving Group (SDG)) in the background
(RN website photo by LA(PHOT) Jay Allen)
---
6 Feb 15 - SDU1 deals with unexploded shell at Strete near Dartmouth
The Royal Navy website contains this article and the Mid Devon Star website this article describing yesterday's disposal by members of Plymouth-based Southern Diving Unit 1 (SDU1) of a wartime shell, possibly a relic of the infamous Exercise TIGER, on the coastal path at Strete near Dartmouth in Devon. The article features MCDOA Honorary Treasurer Peter Davis, OIC of SDU1.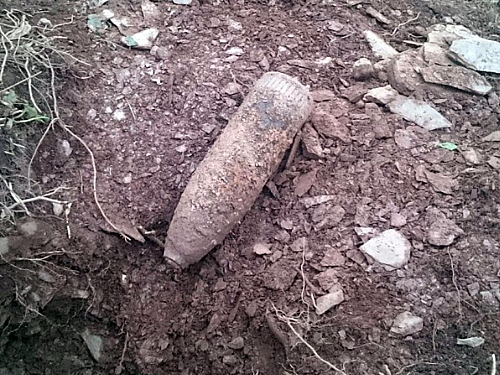 Shell found on the coastal path at Strete
(RN website photo)
---
5 Feb 15 - 3D printing used to produce models of remote minehunting system
The 3D Print.com website contains this article describing the 3D printing by Ogle Models and Prototypes of precise models used to demonstrate the Atlas Remote Capability Integrated Mission Suite (ARCIMS) by Atlas Elektronik, confusingly similar to the Atlas Remote Combined Influence Minesweeping System (ARCIMS).
Ogle 3D printed model of ARCIMS craft
Also see entry for 16 Apr 14 in News Archive 46 about trials in the Solent of the ARCIMS craft 'Hazard' by the Portsmouth-based Maritime Autonomous System Trials Team (MASTT).
---
4 Feb 15 - PO(MW) and LS(MW) are top of 'pinch point trade' table for exceeding harmony guidelines
Naval Service (RN & RM) harmony guidelines are the least generous among the services, thus the hardest to breach. They state that individual personnel should not exceed 660 days of separated service in any 36 month period. For seagoers, separated service applies when a ship or submarine is operating away from its base port, irrespective of where one's loved ones live or the routine requirement to remain on board for duty overnight or for the weekend when in one's base port. Army harmony guidelines state that individual personnel should not exceed 415 days of separated service in any 30 month period. RAF harmony guidelines state that no more than 2.5% of individual personnel should exceed 140 days of separated service in any 12 month period.
Pinch point trades are specialist jobs where there are insufficient personnel to meet operational requirements. For the Royal Navy, this results in front line gapping and one can appreciate a minehunter's difficulty in trying to run a typical two-watch routine when one of its two complemented PO(MW) billets is gapped. See here for further background.
Hansard contains this interesting information in Navy: Deployment: Written question 221525:
Written Question by Sir Nicholas Soames (Con - Mid Sussex) on 21 Jan 2015:
To ask the Secretary of State for Defence, how many and what proportion of Royal Navy personnel in each pinch point trade are exceeding their harmony guidelines.
Answered by Anna Soubry (Con - Broxtowe) on 28 Jan 2015: