---
25 Sep 17 - News of David Sandiford and Martyn Holloway
I am grateful to MCDOA co-founder and past-Chairman David Sandiford for this contribution:
"Hi Rob,
I attach the photo of the 50th anniversary reunion of our 1967 entry at BRNC Dartmouth from last weekend.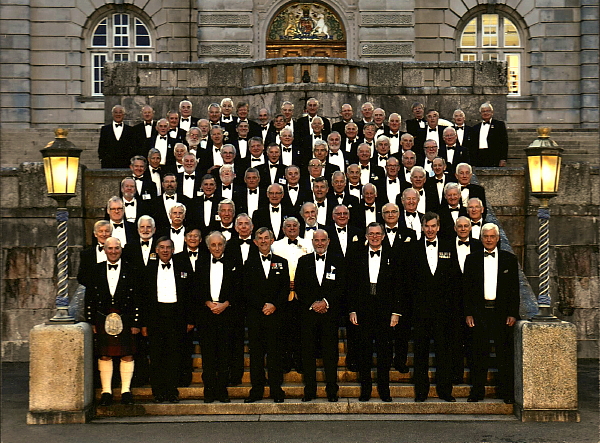 Other MCDOs present were MCDOA past-President Chris Massie-Taylor OBE, Geoff Goodwin, Martyn Holloway, Chris Tarmey, Julian Thomson, Keith Edmunds and Paul Baines.
The 'seniors' in attendance were Admiral Sir Jonathon Band GCB DL and Rear Admiral John Lippiett CB CBE DL.
Kind regards,
David Sandiford"
Having attended the gathering at Dartmouth the previous weekend, Martyn Holloway was in London this weekend for a reunion of personnel manning the five minesweeping trawlers of the 11th MCM Squadron which deployed to the Falklands in 1982 (see 'The Forgotten Few of the Falklands' in the website's Dit Box). He was the squadron's Senior Officer and had the task of replacing the ceremonial rope on HMS Northella's bell which hangs in The Admiralty pub in Trafalgar Square together with other 11th MCM Squadron memorabilia.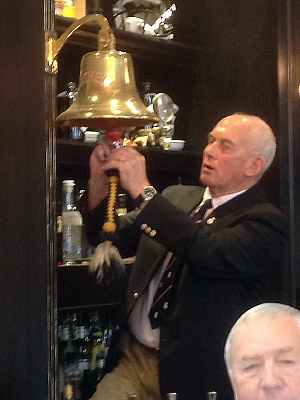 The bell rope was plaited by Jan Pearcey, a life-sized cardboard cutout of whom can be seen 'photo-bombing' the image.
---
24 Sep 17 - SDU2 called to incident on M3
The BBC website contains this article and the Guardian website this article reporting yesterday's closure of the M3 motorway after a 'potential hazardous material' was discovered between junctions 9 and 11 at Winchester. The motorway was closed for almost 12 hours and members of Portsmouth-based Southern Diving Unit 2 (SDU2) were involved in the incident.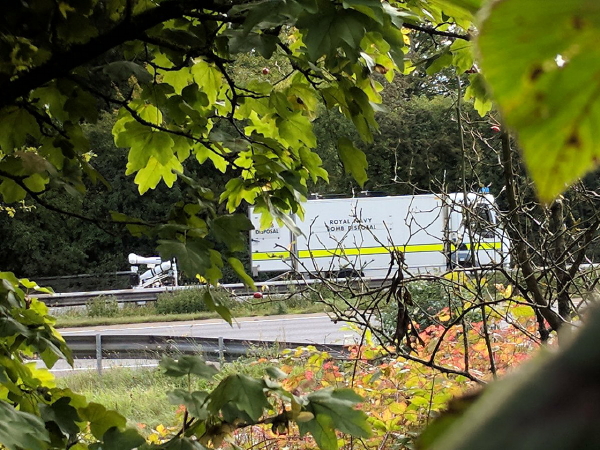 ---
23 Sep 17 - Exciting drama at the Diving Museum
A play titled 'That Infernal Diver!' will be performed at the Historical Diving Society (HDS) Diving Museum in Stokes Bay on Saturday 7 October. Time: 1900 for 1930. Cost: £6 including refreshments.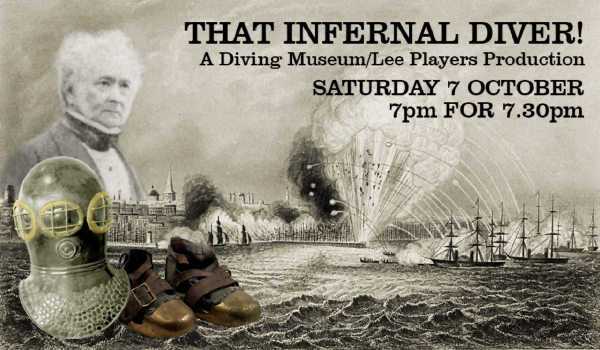 The play, scripted by Peter Appleton from the 'The Infernal Diver' by MCDOA associate member Dr John Bevan (Chairman of the HDS and founder of the Diving Museum), is a dramatised interview with John Deane as he recalls his life, his co-invention of the diving helmet and his underwater exploits. Deane, a former Gosport resident, acquired the moniker 'Infernal Diver' for his explosive escapades in the Crimean War.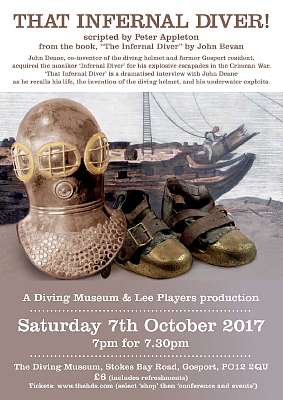 Tickets are available here via 'the shop' on the HDS website:
Tickets for 'That Infernal Diver'
---
22 Sep 17 - Calling Aberdonian members of our community
MCDOA member Colin Churcher MBE, former WWII Arctic convoys gunnery rate, CDO and author of 'To Render Safe' (see entry for 22 Nov 14 in News Archive 48) is being treated in hospital in Aberdeen prior to being released into a care home. If anyone is in a position to visit him and provide some moral support, please contact me and I will pass his wife's phone number.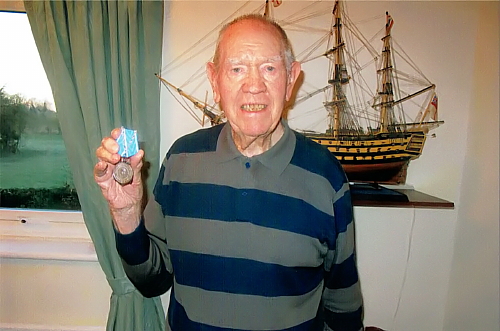 Colin with his newly presented Ushakov 'Arctic Convoy' medal in November 2014
Colin's autobiographical 'To Render Safe'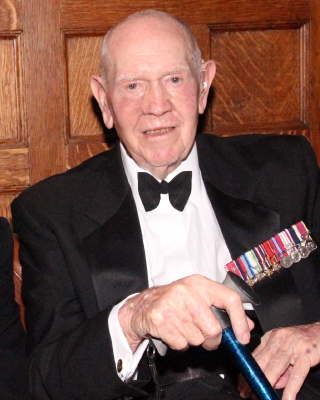 Colin at the MCDOA Dinner in HMS Excellent's
wardroom in November 2015
---
21 Sep 17 - Australian MCDO enjoying his exchange with the RN
The Australian 'Navy Daily' website contains this article describing the RN exchange of Lt Cdr Marc Rennie RAN. Marc has been serving as the XO of HMS Chiddingfold (MCM2 Crew 1 commanded by MCDOA member David Louis) which recently returned to Portsmouth after a three year deployment on Operation KIPION in the Gulf (see entry for 1 Sep 17).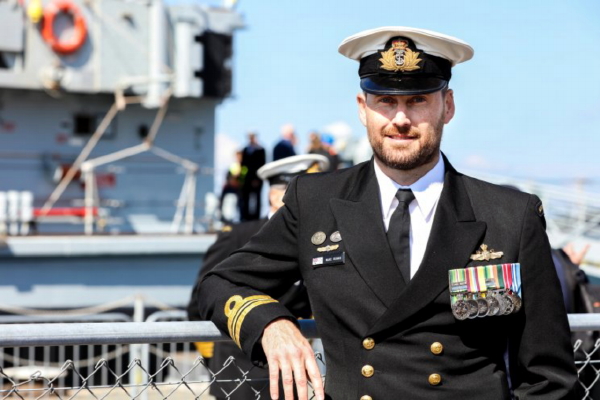 Lt Cdr Marc Rennie RAN on arrival at Portsmouth on 1 September
Marc is due to return to Australia with his wife and new daughter, born in late August, later this year after which he will assume Command of an Australian minehunter.
---
20 Sep 17 - 'Gentlemen Who Lunch' are back in business
As regular readers will have surmised, your humble webmaster has been away for a few weeks and has only just brought this page up to date after cruising the Mediterranean with Mrs Webmaster.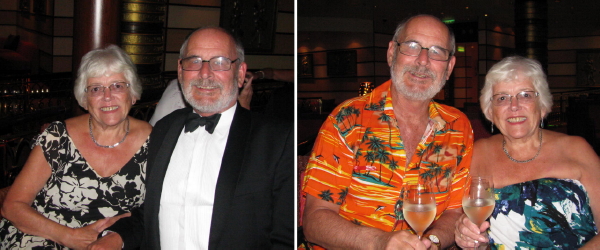 Fortuitously, I was able to take these shots of HMS Ocean loading stores at Gibraltar on Tuesday 12 September prior to her evening deployment to the Caribbean on Operation RUMAN to render HADR (Humanitarian Assistance & Disaster Relief) in the wake of Hurricane Irma. She is due to arrive on station tomorrow.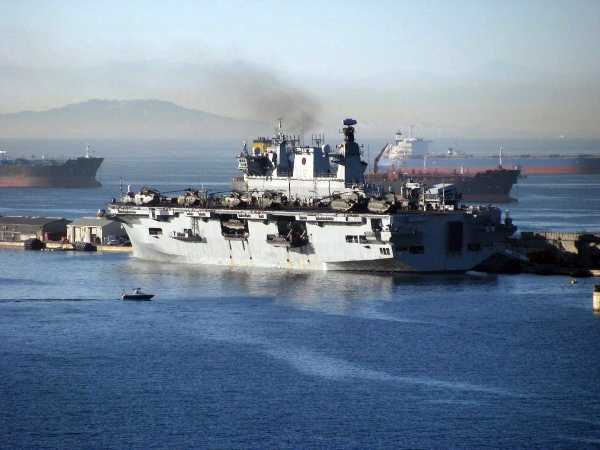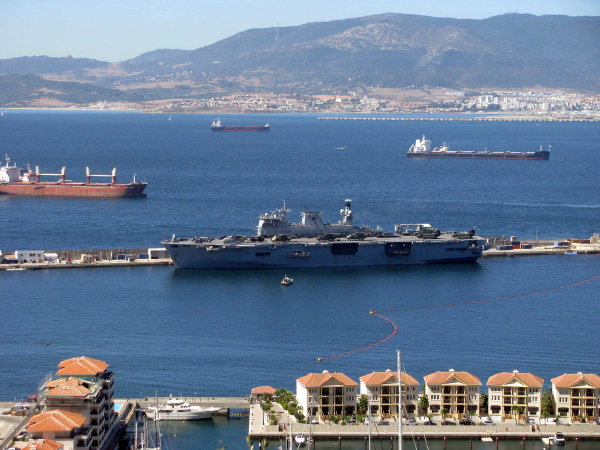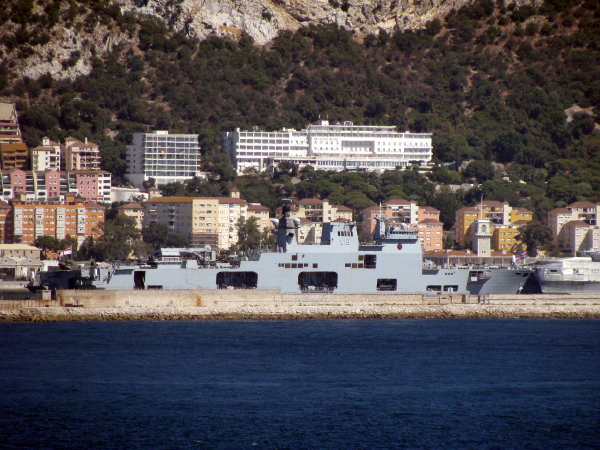 Yesterday, the MCDOA's 'Not Quite the last of the Summer Wine' trio had to dispense with Holloway's company at its regular gathering because he is still catching up after attending his son's wedding in Ontario earlier in the month and a 50th anniversary reunion of his entry at Dartmouth last weekend. Consequently, it was just Barlow and me in Emsworth for a gentle stroll to the Lord Raglan for lunch followed by a beer in the Sussex Brewery where we were tended by the gracious Nathalie.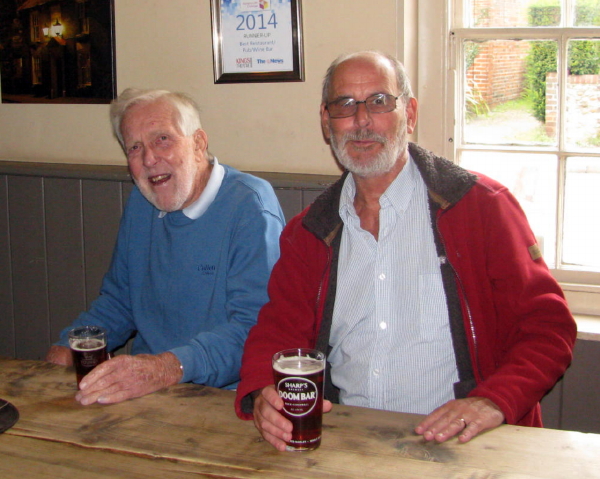 Doug Barlow & Rob Hoole enjoying a beer at the Sussex Brewery in Emsworth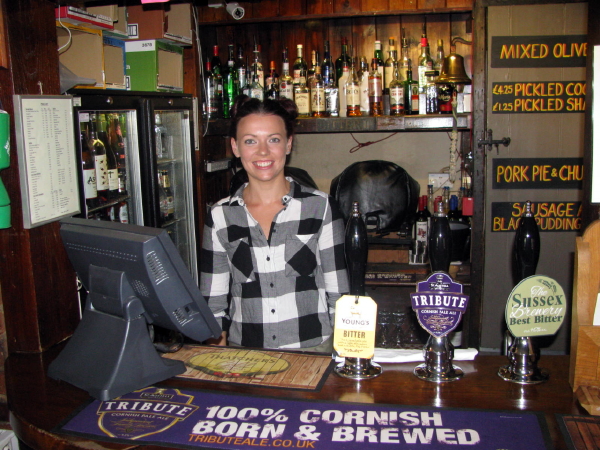 Nathalie, our hospitable hostess
---
19 Sep 17 - John Herriman relinquishes Command of HMS President
Fair winds and a following sea to MCDOA member John Herriman who has handed over Command of HMS President to Cdr Richmal Hardinge at their RNR headquarters at St Katharine Docks on the River Thames in London.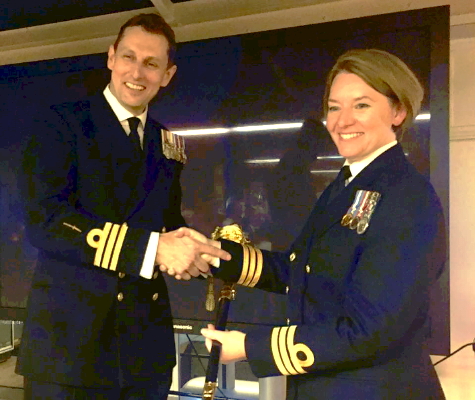 John Herriman relinquishing Command of HMS President
to Cdr Richmal Hardinge
(Royal Navy photo)
---
18 Sep 17 - Calling anyone involved in 'JIM' atmospheric diving suit trials
I have received this request:
"Hi,
I hope this is the right website to use to get in contact....
I am presently writing a book on work undertaken at the Royal Naval Physiological Laboratory (RNPL) and the Admiralty Experimental Diving Unit (AEDU) at Horsea Island. This includes work by naval divers and others with respect to subsmash and clearance of ordnance/salvage work. This was a six-year trial in the late 1970s and early 1980s where we took both civillians and naval persons and trained them in using the one-man submersible called JIM, mainly carried out at Falmouth, Portland and Rosyth. Lt Mike Kooner was one of our contacts but the Chiefs were i/c when away diving.
At this point, I am looking for names as after 30+ years most have been forgotten by me and it is my intent to give a list of those involved at the back of the book, as there were no more than 30 people throughout the six years. I estimate that about ten divers were trained by us to use the suit including Colin 'Scouse' Kidman and David 'Spike' Spears [now deceased - see first entry for 2 Nov 13 in News Archive 44]. As I am contacting you "today", it is necessary for anyone providing information to agree to have their names published. Data Protection Act now applies unfortunately.
The book is factual and deals with the problems we encountered when setting up and running this project from scratch. Naval Divers were a small part of the overall work we undertook but were the most numerous and deserve a mention...
I have about ten pages free so there is the room for their thoughts, although I will have to ensure that it is not likely to upset too many living people. Nothing published will come under the Official Secrets Act. If it did, I could lose my pension!
It is hoped to publish sometime in the new year and there will be quite a few photographs included which shows the lads during training and diving. I will be happy to send digital copies once we get the book to the libraries (a legal requirement when books are published).
These two pictures show Seaforth Clansman and equipment plus one of the trainee operators on the Clyde and a general paper of what I would like to know.
Left: 'JIM' on board MV Seaforth Clansman
Right: End of 'JIM' operators' course circa 1983
[Is that Whisky Walker second right?]
Any assistance would be greatfully received.
Many thanks,
Richard Castle"
Richard can be contacted via this email address.
The 'JIM' atmospheric diving suit was invented by the late Mike Borrow OBE who founded Underwater Marine Equipment (UMEL) and conducted the first commercial oxy-helium dive in Greece in 1963 (see second entry for 27 Aug 13 in News Archive 43).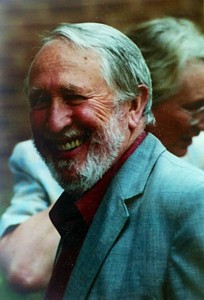 Mike Borrow OBE
(31 Aug 1928 - 16 Jun 2013)
It was capable of exceeding a depth of 600 meters and was first trialled from HMS Reclaim in 1972.
The suit featured in the James Bond film 'For Your Eyes Only' in 1981 and was used to help salvage a Wellington bomber from the bottom of Loch Ness in 1985.
This is an excerpt from an AEDU brochure dating from the 1970s:
"JIM", the atmospheric diving suit is presently undergoing a series of evaluation trials by AEDU and RNPL, the object of which is to determine the usefulness of deep diving equipment of this nature for observations and inspection, salvage and recovery and to assist in the event of a submarine accident.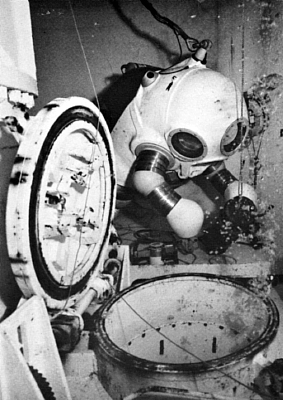 "JIM" demonstrating his ability to assist in
submarine rescue
The body of "JIM" is manufactured from magnesium, and the limbs in aluminium alloy, the latter constructed in such a way, that in water they are approximately neutrally buoyant, and allow considerable freedom of movement. JIM's eyes of which there are four, offer the operator a fairly wide field of view. The controls for life support are housed inside the shell and there are two separate but identical systems which can be cross-connected, therefore allowing various permutations should any particular component fail. Oxygen is metered in to maintain an air atmosphere to provide an endurance of approximately 24 hours.
In the water, and weighed correctly at about 30 kilos, JIM can walk forwards, sideways and backwards; he can fall forwards or backwards to pick up tools, and do a task at seabed level. He can roll along the seabed, walk into a one knot current, walk in fairly thick mud, and climb a gradient of about 45°.
Trials at AUWE Portland have proved that JIM at a depth of 457 metres can perform various tasks such as undoing and doing up nuts and bolts, shackles and quick-release connections.
At sea JIM can be deployed from a parent vessel, and then controlled from a gemini, it can be lifted or lowered as the operator requires.
Work continues on manipulator improvement, designing and buoyancy control system, and in the various methods of examining improved manuoevrability.
---
17 Sep 17 - A new book from John Bevan
MCDOA associate member Dr John Bevan has just launched his latest book titled 'Operation Tadpole: The Royal Navy's underwater diving operations, Gibraltar 1940 - 1945'.
I have long been familiar with the exploits of the late Lt 'Bill' Bailey CBE DSC GM* RNVR in Gibraltar and elsewhere during the Second World War and count his son Andrew, the author of 'A Wartime Tribute' in the website's Dit Box, among my friends. However, it took John Bevan's revelations in this informative book to make me appreciate just how comprehensively Bailey's achievements have been wrongly credited to the much better known Cdr Lionel 'Buster' Crabb OBE GM RNVR who would later be lost in mysterious circumstances while diving underneath a Russian cruiser visiting Portsmouth at the height of the Cold War.
As with many others of my generation, my misconceptions stemmed mainly from watching 'The Silent Enemy' starring Laurence Harvey in the glamorised role of Crabb as OIC of the Royal Navy's UWWP (Under Water Working Party) in Gibraltar. Bailey, played by Terence Longden, only makes a fleeting appearance. Several events in the film are fictitious but close enough to the truth to be convincing. Moreover, most of the central characters portrayed in the film actually existed.
John Bevan's 'Operation Tadpole' is a credible and much-needed attempt to set the record straight. It describes the critical role of Gibraltar as a staging post for Allied shipping transiting the Mediterranean, particularly convoys bound for the besieged island fortress of Malta. Gibraltar was also the base of the formidable Force 'H' tasked with protecting the vital convoys. The Italians were determined to diminish this thorn in their side, mainly by employing Decima MAS frogmen riding human torpedoes to fix explosive devices to the hulls of ships assembled in the Bay of Gibraltar and inside the harbour. Initially, their principal targets were warships but they were soon forced to resort to attacking more easily accessible and vulnerable merchant ships. Despite some successes, most of their victims were soon repaired and their cargoes salved. The attackers also suffered several equipment malfunctions and human casualties while conducting their hazardous operations. This book provides an easily readable and entertaining account of each of the nine attacks made by Italian divers, sometimes delivered with their 'Maiale' (pig) human torpedoes by submarine but more often launched from a secret compartment in the oil tanker Olterra, interned by the Spanish in Algeciras across the bay from Gibraltar. The level of detail is impressive, particularly for such a relatively slim volume.
The book identifies each participant in the Italian attacks and describes their British counterparts and the often desperate defensive measures they had to adopt. It is richly illustrated with contemporary photos, sketches and diagrams as well as recent photos taken by the author to put significant locations in perspective. The events recounted constituted the genesis of practicable self-contained diving and it is telling that this occurred, like so many other technological advances, in a military context.
As the author points out towards the end of his well-researched and historically objective work, wholly contrary to popular belief: (a) Crabb didn't lead the diving team at Gibraltar during any of the nine attempted Italian attacks; (b) Italy had already capitulated by the time Crabb took over the UWWP; (c) Crabb was an assistant to Bailey during the last three attacks only; and (d) Crabb, unlike Bailey, was never involved in an underwater altercation with an Italian frogman. Please read this delightful volume to learn the truth in greater detail. I promise you won't be disappointed.
John's book should soon be available from Amazon via this link:
Operation Tadpole: The Royal Navy's underwater diving operations, Gibraltar 1940 - 1945
---
16 Sep 17 - SDU2 deals with unexploded bomb at Warsash
The Portsmouth News website contains this article and the Southern Daily Echo website this article reporting today's detonation, presumably by members of Portsmouth-based Southern Diving Unit 2 (SDU2), of an unexploded bomb found on the shore at Warsash in Hampshire.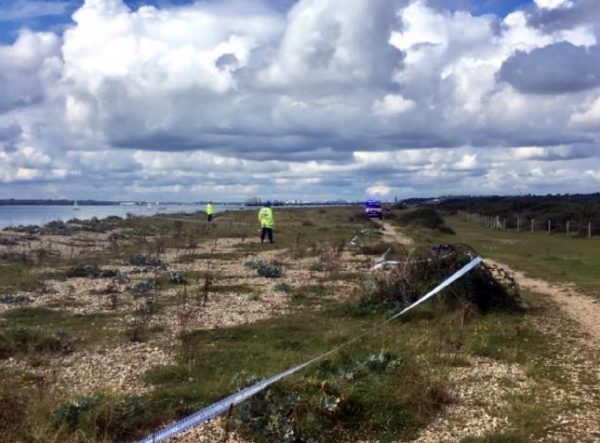 ---
15 Sep 17 - RN slated to receive four Atlas Remote Combined Influence Minesweeping Systems
The Defence News website contains this article announcing that the Royal Navy is slated for the delivery of four ATLAS Remote Combined Influence Minesweeping Systems (ARCIMS) from December according to Atlas representatives at the Defence and Security Equipment International (DSEI) conference in London (see first entry for 12 Oct 16 in News Archive 56).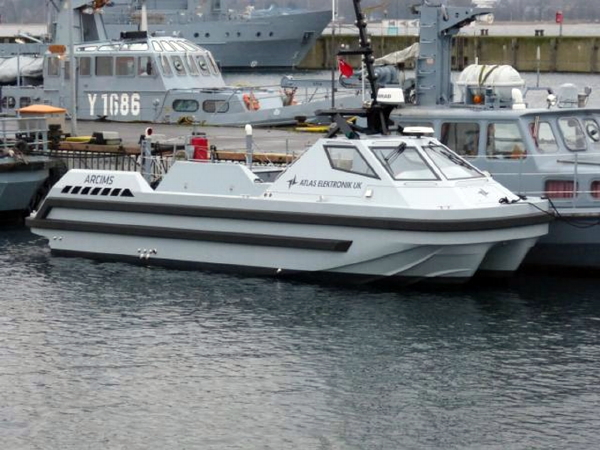 ARCIMS vessel at DSEI
(Defence News photo)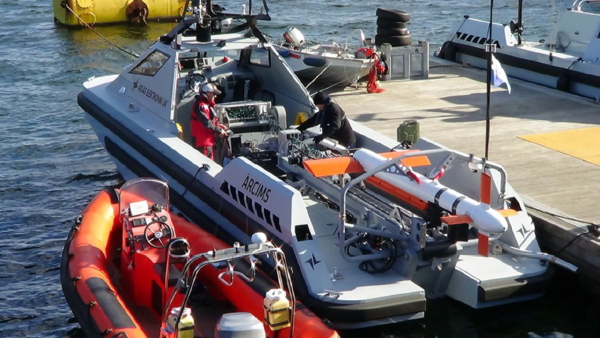 ARCIMS at BUTEC, Kyle of Lochalsh for UNMANNED WARRIOR in October 2016
(RN website photo)
---
14 Sep 17 - Death and funeral of ex-CD Dean Rushforth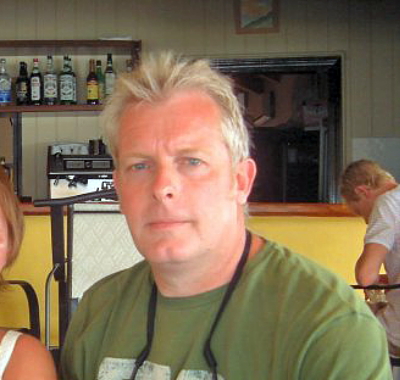 Dean 'Deano' Rushforth passed away peacefully at home on Monday 11 September after battling cancer for ten years.
His funeral will be held at Portchester Crematorium at 1000 on Thursday 21 September with a gathering afterwards at Gosport & Stokes Bay Golf Club starting at 1200. All are welcome in uniform or plain clothes.
No flowers but donations to the Rowans Hospice, who made it possible for Deano to fulfil his last wish to come home for his final day with his family, would be appreciated. Donations can be made via:
---
13 Sep 17 - Unveiling of Royal Engineers bomb disposal plaque in Malta
Malta was the most bombed place on earth during the Second World War and was awarded the George Cross for the bravery of its people. Today, Dr Joseph Muscat, the Prime Minister of Malta, unveiled a plaque in the Upper Barrakka Gardens at Valletta to commemorate the Royal Engineers personnel who were responsible for bomb disposal. In the two years between 1940 and 1942, at most two officers and 30 men dealt with 7,300 unexploded bombs. This was about ten times the average for their counterparts across all theatres of war. The Bomb Disposal Plaque will also recognise the continued work by RE Bomb Disposal and Armed Forces of Malta since 1945 to clear unexploded Second World War bombs from the island.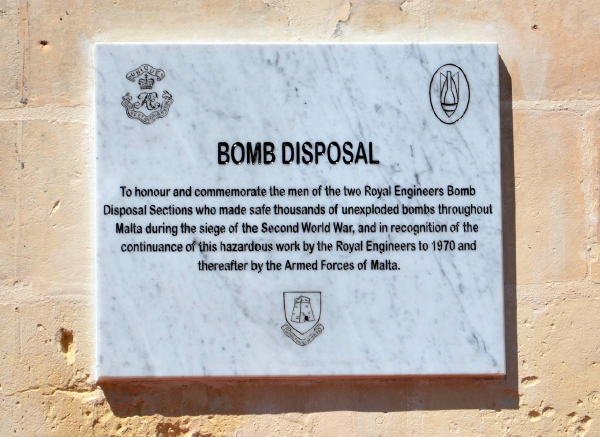 The Project Co-ordinator, S.A.M. (Susan) Hudson with whom I have collaborated in the past, is the daughter of Lt George D Carroll RE who disposed of dozens of bombs during his wartime service in Malta but received no honours, awards or other public recongnition for his deeds. She tells his story in 'UXB Malta - Royal Engineers Bomb Disposal 1940-44' (see third entry for 13 May 10 in News Archive 30).
As many of you will be aware, the MCDOA is affiliated with the Royal Engineers Bomb Disposal Officers' Club (REBDOC) and several of its members attend our annual dinners.
More pictures and information about the plaque and its unveiling are available here:
Unveiling of the Bomb Disposal Plaque – 13 September 2017
It should also be remembered that two RN bomb & mine disposal officers, Electrical Lt Antony Gusterson Rogers GM RN and Commissoned Boatswain Lord J H Sheldon GM RN, were killed in Malta on 23 May 1941 when a mine they were working on exploded (link). Rogers is buried in the Malta Naval Cemetery at Capuccini and Sheldon is buried in the Malta Naval Cemetery at Kalkara.
Another RN bomb & mine disposal officer who worked in Malta, Lt Cdr William Ewart Hiscock GC DSC RN, was awarded the GC posthumously for great gallantry and undaunted devotion to duty. He was also awarded the DSC posthumously for courage, enterprise and devotion to duty in contact with the enemy. In September 1941, a Torpedo Machine (a device in which the Italians specialised) was dropped in 15 feet of water in St. George's Bay, Malta and he was given the task of disarming it. The operation of salvage was one of considerable danger as, quite apart from the possibility of booby traps, no information was available as to the firing mechanism of the explosive head and its behaviour when parted from the body was a matter of complete uncertainty. While Lt Cdr Hiscock and his assistant (Petty Officer C. Le Bargy DSM) were working on the bomb, the clock mechanism started and it was only their cool determination and skill which brought the operation to a successful conclusion. Lt Cdr Hiscock was killed with his wife when their house received a direct bomb hit on 15 February 1942. He is buried in the Malta Naval Cemetery at Kalkara.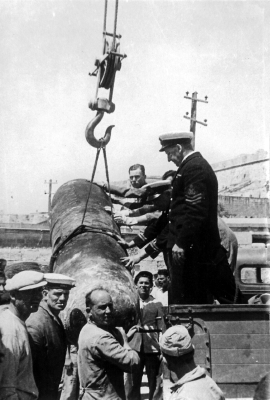 RN mine disposal in Malta
Cdr Edward D Woolley GM* RNVR also served as an RN bomb disposal officer in Malta during the Second World War and his story is told in 'Mines over Malta' by Frederick R Galea (see entry for 5 Jun 08 in News Archive 22).
---
12 Sep 17
A busy summer for MCM2 Crew 6
The Royal Navy website contains this article reporting how MCM2 Crew 6 has docked down the Fishery Protection Squadron OPV (offshore patrol vessel) HMS Tyne in Falmouth Docks.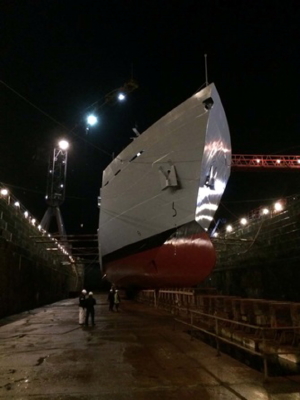 As noted in the entry for 2 Apr 17 in News Archive 58, Operation JICARA has seen MCM2 Crew 6, which returned early this year from manning HMS Middleton on Operation KIPION in the Gulf, rise to many challenges. During July and August, HMS Tyne completed an intensive docking and maintenance package, the first for five years. Crew 6 worked successfully with A&P Dockyard and BAE to deliver repairs, preservation and inspections across the entire ship, from her anchors to antennas. This included a complete re-spraying of the ship's hull and superstructure and an overhaul of her shafts and propellers.
As reported in this article on the Royal Navy website, HMS Tyne visited Cardiff for attended Armed Forces Day in July when MCM2 Crew 6 hosted over 90 local dignitaries on board with a capability demonstration spanning both Fishery Protection and Mine Countermeasures Squadrons. The First Sea Lord took the salute for a parade of over 500 led by HMS Tyne and the ship was open to over 1,000 visitors the following day.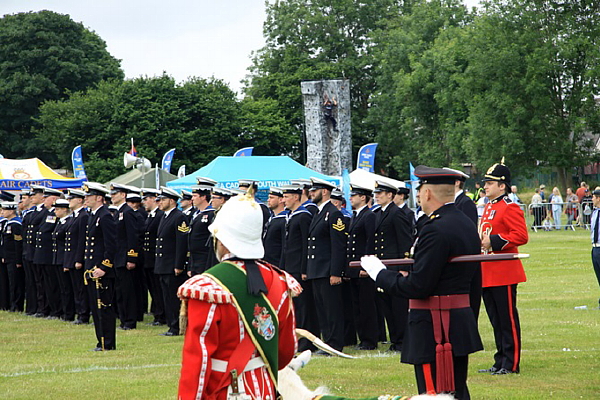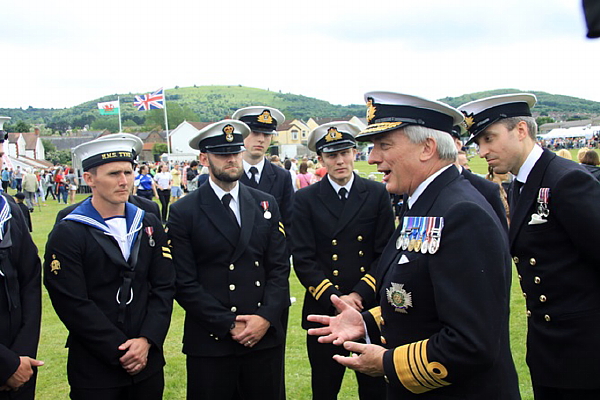 The Royal Navy website also contains this article describing HMS Tyne's visit to Tynemouth later in the month to act as Guardship for the Mouth of the River Tyne Festival. Among her other duties, she hosted an evening Capability Demonstration to 70 guests.
---
11 Sep 17 - Families attend divers' graduation ceremony at Horsea Island
The Royal Navy website contains this article reporting the attendance of family and friends at a recent ceremony marking the completion of 1603 Clearance Divers' Course at the Defence Diving School (DDS) on Horsea Island. The seven successful graduates had undergone 22 challenging weeks of training which saw them running the distance from Portsmouth to Plymouth twice, spending the equivalent of three days underwater and surface swimming the circumference of the Isle of Wight. They received their certificates and divers' badges from Flag Officer Sea Training, Rear Admiral John Clink CBE, while AB(D) Turner (Topsy?) also won the overall course trophy for best student.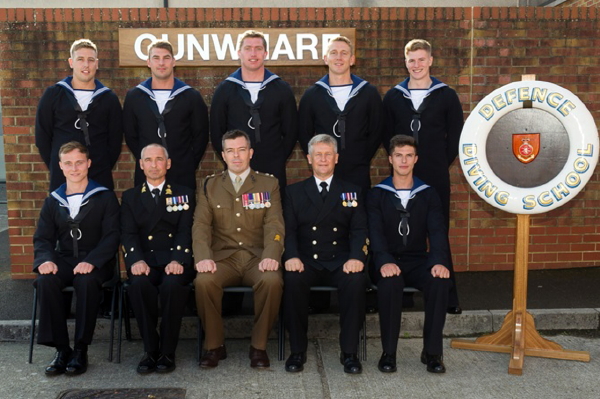 CD Course 1603
(RN website photo)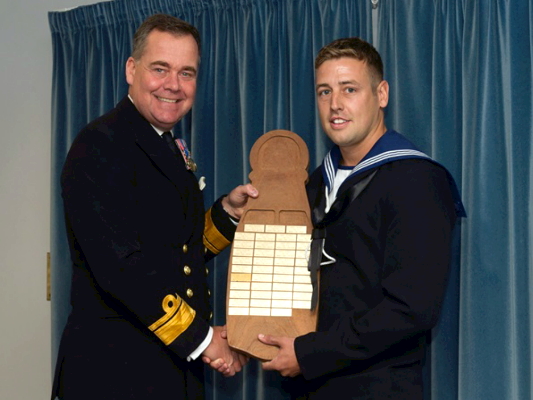 AB(D) Turner receiving best student award from FOST
(RN website photo)
---
SDU1 called to suspicious device in Bideford
The Plymouth Herald website contains this article, including video, reporting a call-out for members of Plymouth-based Southern Diving Unit 1 (SDU1) to deal with a suspicious device found in a bag outside Bideford Children's Hospice's charity shop.
---
10 Sep 17 - Funeral of former CPO(D) Bob Fraser
I am grateful for these contributions following the funeral of Bob Fraser at Portchester Crematorium on 1 September (see entry for 13 Aug 17).
---
From former WO(D) Vic Humphrey BEM:
"Rob,
Eileen Fraser has asked me to express her heartfelt thanks to all members of the Clearance Diving Branch who supported her and her family at Bob's funeral
Best regards,
Vic Humphrey"
---
From MCDOA member Jon Riches:
"Rob,
Not sure how many reports of the funeral you have had but here is my offering.
From memory some of those attending were; Bob Lusty, Bill Norton, John O'Driscoll, Ralph Mavin, Pincher Martin, me!, Vic Humphrey, Mick Fellows, Ray Ramsay, Mike Handford, Troy Tempest, Pete Still, Dudley 'Wooly' Woolnough, Tony Pritchard, Joe Maher, John Dadd, Colin Kidman, Cris Ballinger and Jim 'Tommo' Thomson. I think Ray Ramsay took a full list of names.
The service at Portchester Crematorium started with the entry music 'Softly as I leave you' by Matt Munro. Then the Officiator welcomed everyone and gave a brief synopsis of Bob's life. This was followed by three verses of 'Eternal Father strong to save' the last verse being the Divers verse composed by Bill Filer.
There then followed a brief family tribute read by the officiator which was very moving and encapsulated Bob in a few sentences. The Eulogy was read by Dudley Woolnough who also rang 'Five Bells' on the Horsea Island memorial bell.
After the committal a poem was read, 'Do not weep for me' written by Constance Jenkins. Exit music was 'Walk Away' by Matt Munro. There was no religious content.
Afterwards we repaired to the Cams Hall Golf Club for drinks and an excellent finger buffet. There was much reminiscing and swinging the lamp!
I am sorry be so brief but got back from hols just before the service. Hope this helps and that you had a good holiday.
Best wishes,
Jon"
---
From former WO(D) Ray Ramsay:
"Hi Rob,
I hope you and Lin had a great cruise.
Attached some snaps, not up to your standard!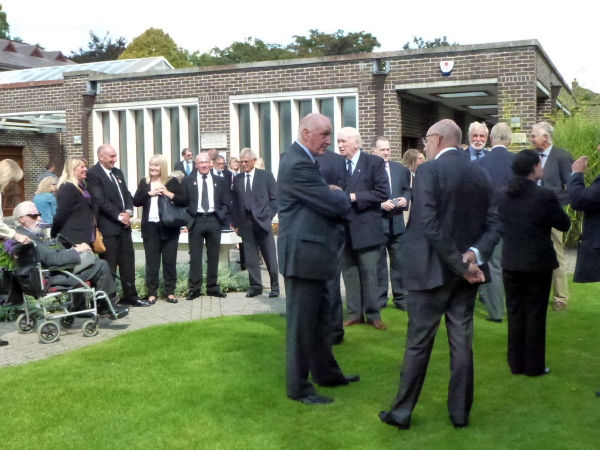 Probably 60 to 70 people attended, about 50% ex-RN, including MCDOs Bill 'Chippy' Norton, Gerry 'Pincher' Martin, Jon Riches, Ralph Mavin, Graham 'Tug' Wilson MBE, John O'Driscoll MBE, Bob Lusty and probably some more that I didn't recognise. Others present included former CD1s Cris Ballinger BEM, Dudley Woolnough, Mike Handford, Vic Humphrey, Colin 'Scouse' Kidman, Joe Maher (I.O.W), Mick Fellows MBE DSC BEM, John Dadd BEM, Chris Jones BEM, Nelly Nilsson (in uniform), Dougie 'Taff' Thomas, Pete Still, Tim Sizer and Troy Tempest. Also Nigel Fairman and Nutty Carr, both ex-CDs whom you may know.
Some travellers: Tony Pritchard ex-CD (France) was with Bob in the WFCDT. Phillip Akeroyd (Bermuda) was Bob's partner in Fraser Diving. Bob's brother-in-law (USA). I don't know if family travelled with him.
Bob's wife, son and brother also attended with many more friends and family.
It was well attended and I am sure that the family appreciated the RN attendance. Troy said that he would send you the order of service.
Best Regards,
Ray"
---
Photos courtesy of AORNFCD Secretary Brian 'Troy' Tempest: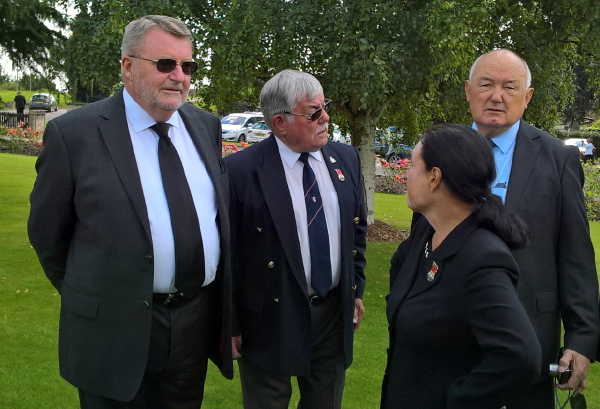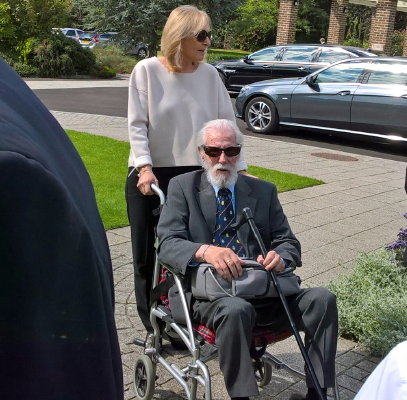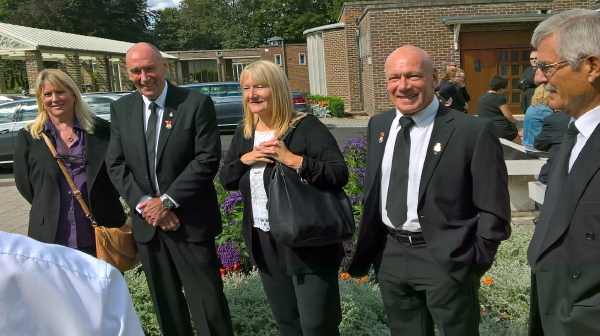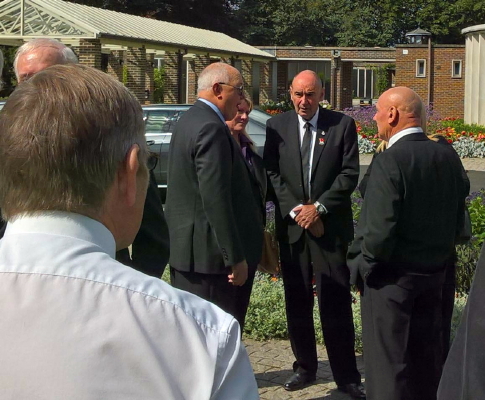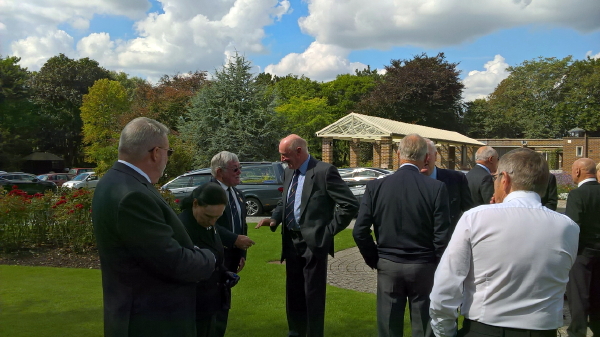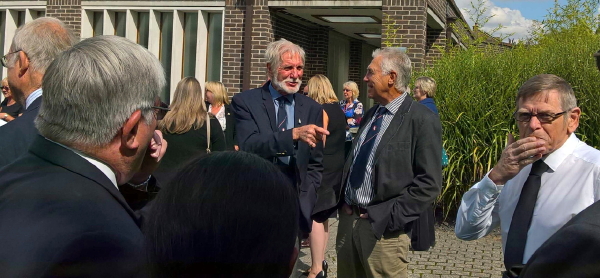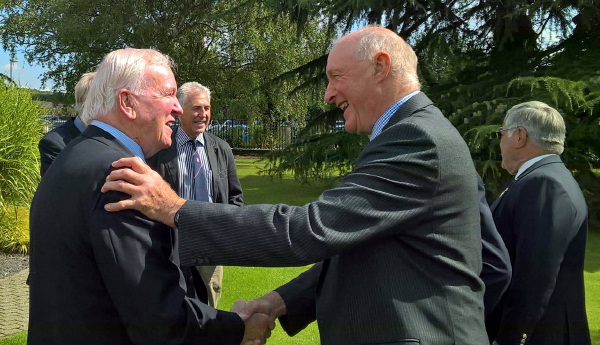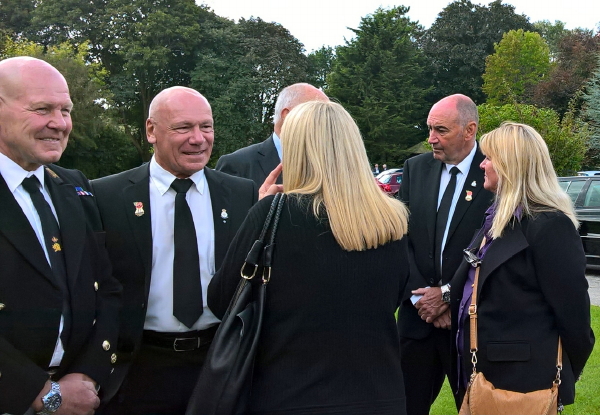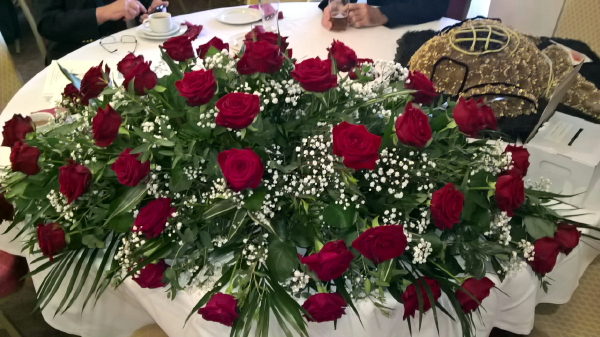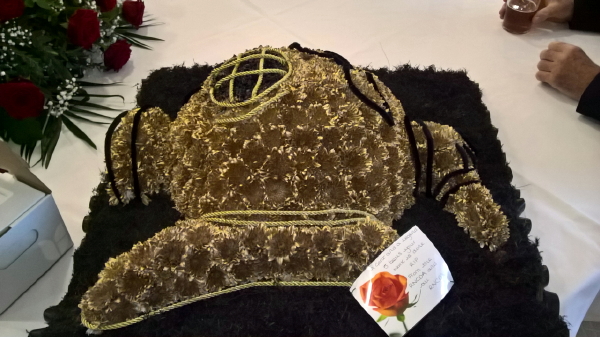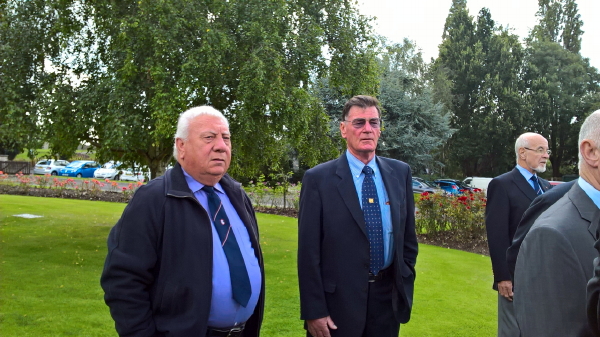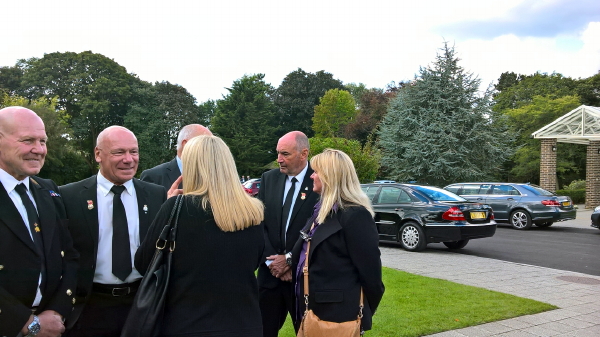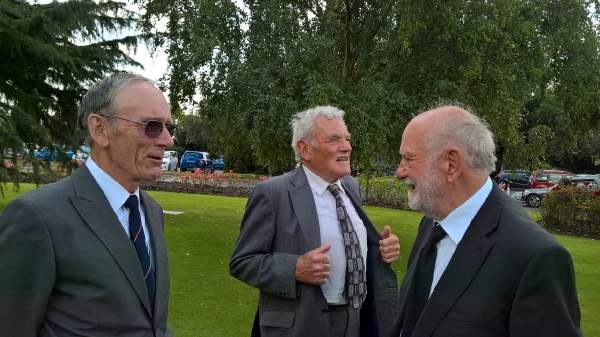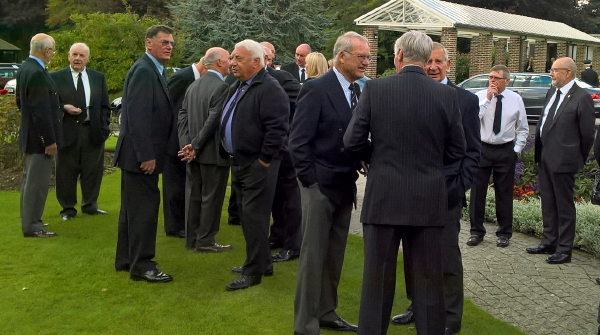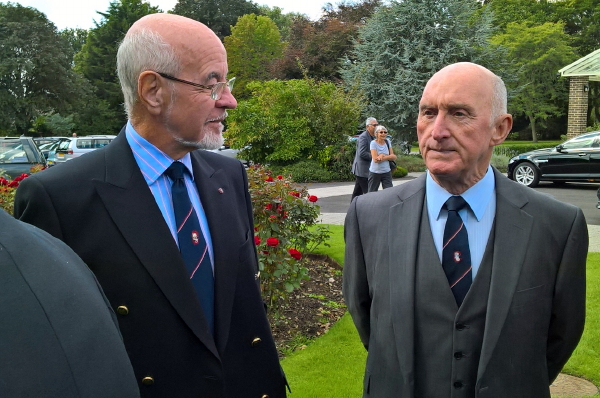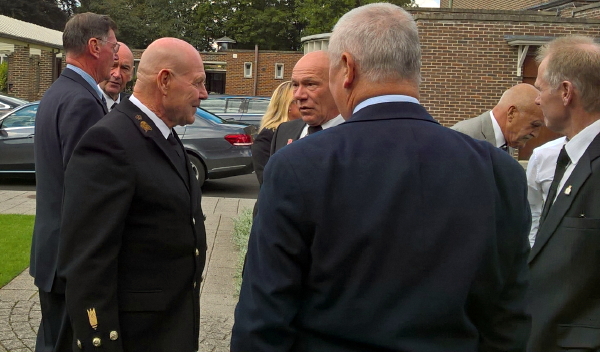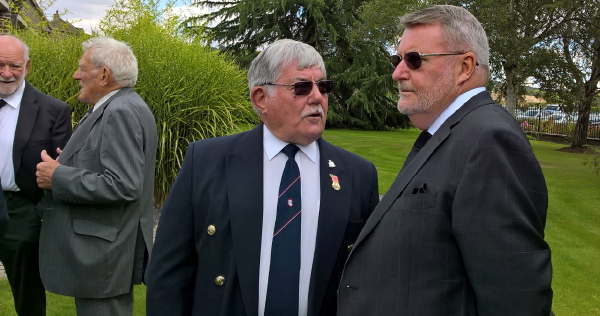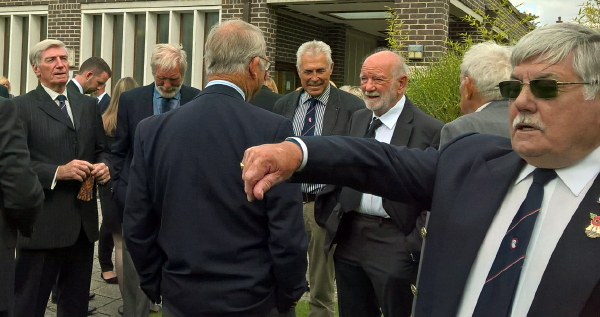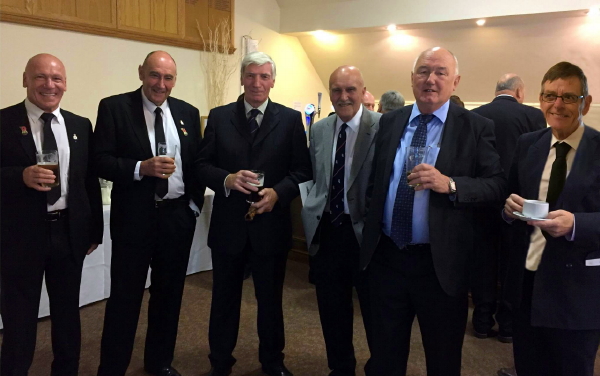 ---
5 Sep 17 - SDU1 detonates second bomb in week near Hinkley Point Power Station
The Somerset Live website contains this article reporting the detonation, presumably by members of Plymouth-based Southern Diving Unit 1 (SDU1), of the second bomb found in a week in the Bristol Channel near Hinkley Point Power Station.
---
4 Sep 17 - Award of LS&GC
Congratulations to PO(MW) Dave Earner on being gazetted for the award of the Long Service & Good Conduct medal.
---
1 Sep 17 - Homecoming of HMS Chiddingfold and HMS Penzance
The Royal Navy website contains this article describing today's return of HMS Chiddingfold (MCM2 Crew 1 commanded by MCDOA member David Louis) to Portsmouth after her three-year deployment to the Gulf on Operation KIPION.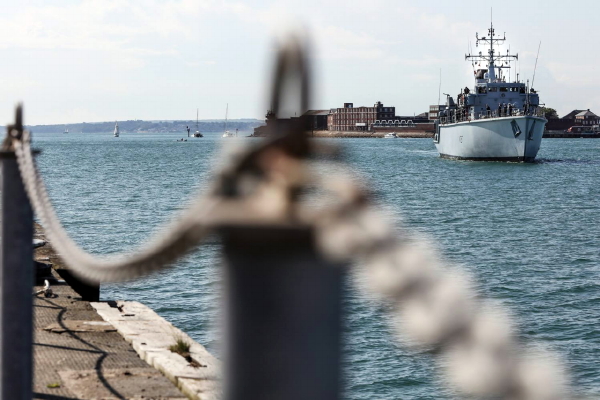 HMS Chiddingfold arriving Portsmouth
(RN website photo)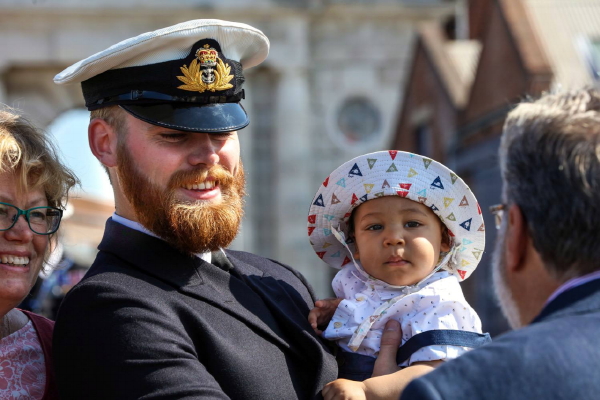 MCDOA member David Louis, CO of HMS Chiddingfold
(RN website photo)
The Royal Navy website also contains this article describing the return of HMS Penzance (MCM1 Crew 1) to Faslane after her three-year deployment to the Gulf on Operation KIPION. PO(MW) Mark Titman of HMS Penzance took the opportunity to propose to his partner and she duly accepted.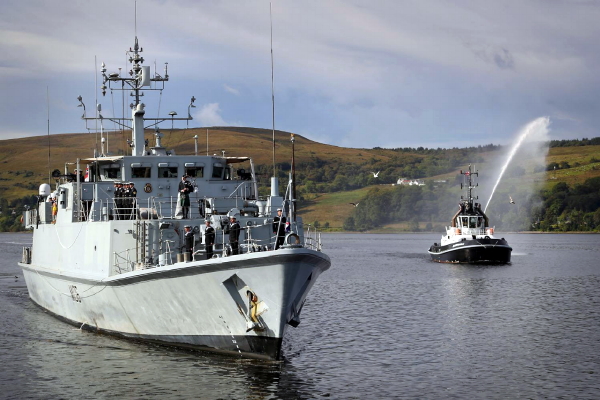 HMS Penzance arriving Faslane
(RN website photo)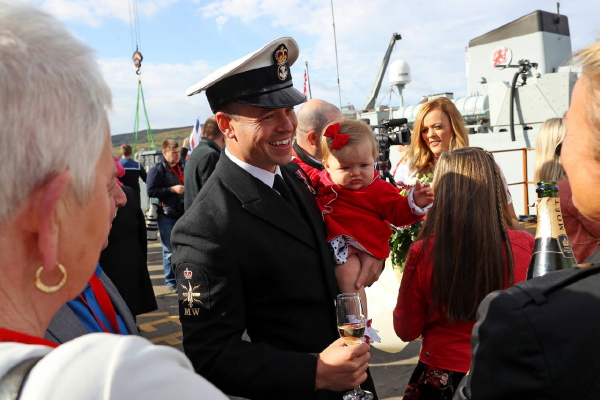 PO(MW) Mark Titman of HMS Penzance after popping the question
(RN website photo)
---
31 Aug 17 - HMS Chiddingfold and HMS Penzance returning from the Gulf
HMS Chiddingfold (MCM2 Crew 1 commanded by MCDOA member David Louis) is due to return to Portsmouth tomorrow after being deployed on Operation KIPION in the Gulf for over three years (see entry for 10 Aug 17). According to QHM's Movements, her ETA at Outer Spit Buoy is 1030 and she will berth initially on South Railway Jetty (bows north). Any photos of her arrival would be appreciated.
HMS Chiddingfold's progress can be tracked on AIS (Automatic Identification System) here.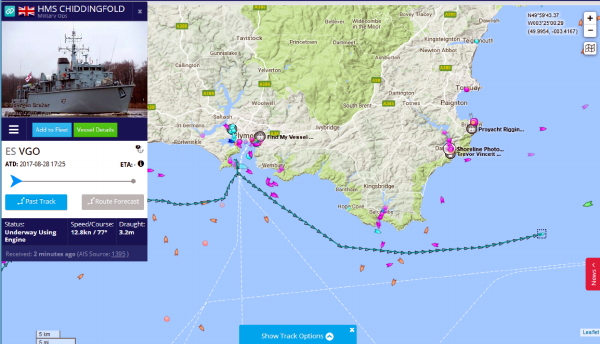 Screen capture of HMS Chiddingfold's AIS track this morning
She has been accompanied on her passage home by Faslane-based HMS Penzance (MCM1 Crew 1) which arrived in Ardrossan for a short stopover this morning.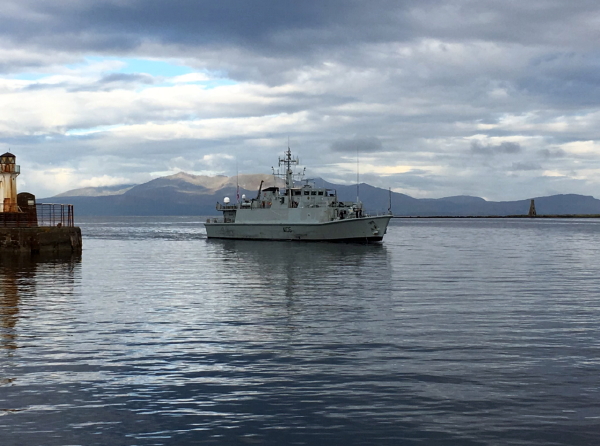 HMS Penzance arriving in Ardrossan for a short stopover this morning
before proceeding home to Faslane
(Royal Navy in Scotland photo)
Flashback to 2014: HMS Penzance (MCM1 Crew 3) berthing on HMS Chiddingfold (MCM2 Crew 5) in Gibraltar on 13 June during their passage to the Gulf to relieve HMS Ramsey (MCM1 Crew 2 commanded by MCDOA member Ash Spencer) and HMS Quorn (MCM2 Crew 3) respectively (see entry for 22 Jun 14 in News Archive 46):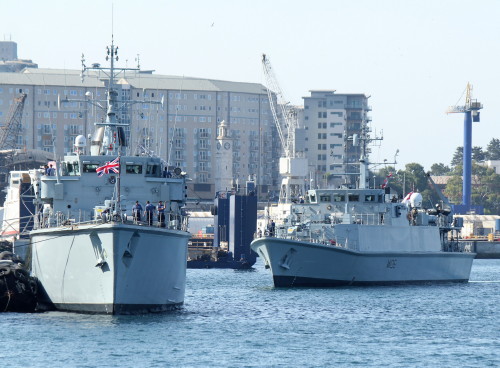 HMS Chiddingfold and HMS Penzance in Gibraltar on 13 June 2014
while bound for the Gulf
(Photo courtesy of local photographer Daniel Ferro)
Above and below: HMS Penzanze at Gibraltar on 22 July 2017
while returning from the Gulf
(Photos courtesy of local photographer Daniel Ferro)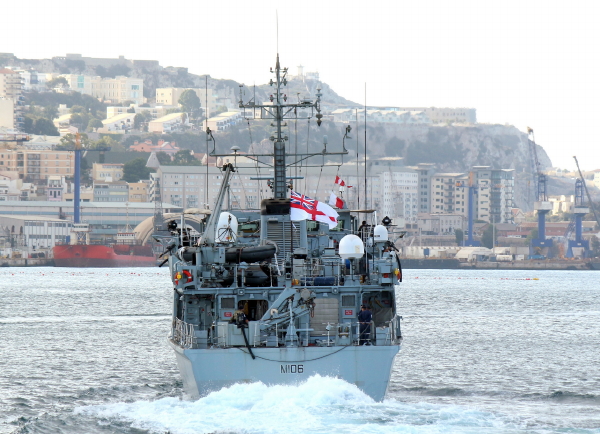 Postscript: The Portsmouth News has published this article announcing the homecoming of HMS Chiddingfold and the Carlisle News & Star this article announcing the homecoming of HMS Penzance.
---
30 Aug 17 - New books
Oscar King is the pseudonym of an author who started his eventful career in the Royal Navy as a Clearance Diver before being commissioned and qualifying as a Fleet Air Arm helicopter pilot. He was appointed an MBE for his involvement in hazardous operations and had further escapades after leaving the Service.
'Mexican Standoff' is the third volume of Oscar's trlilogy about the fictional adventures of ex-Special Forces hero Harry Linley. It is due for release tomorrow and should be available to order soon afterwards via Amazon here:
Mexican Standoff by Oscar King
The previous books in Oscar's trilogy can be ordered here:
Persian Roulette by Oscar King
Moscow Payback by Oscar King
MCDOA member Paul Henke's most recent book about the fictional adventures of ex-MCDO Nick Hunter is called 'Turmoil'. It is available to order via Amazon here:
Turmoil by Paul Henke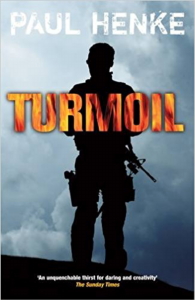 Paul will be signing copies of his books at the Perth Show 1000-1600 on Friday and Saturday. If you are planning to attend please do drop in to see him. He is always happy to have a chat.
---
29 Aug 17 - New Treasurer needed for MCDOA
After four years in the role, Peter Davis requires someone to take over as MCDOA Honorary Treasurer as he is prevented from continuing owing to his return to sea among other commitments. He is therefore looking for someone to relieve him, effective from the AGM in November. This is a serving officer's post as it involves close liaison with the Secretary and the two signature arrangement for the expenditure of Association funds. Although the work is relatively undemanding, it is critical to the continued running of the Association.
Please contact Peter via this email address if you are able to fulfil this vital position.
As far as this year's dinner is concerned, Peter has requested that
a. Cheques should be submitted with completed booking forms (or else list the guests on the back of the cheque). Those paying online need to annotate their payment reference on their ticket proformas. Cheques and Bank Transfers are the preferred methods of payment.
b. Hosts should pay for all their guests in a single payment to prevent a large number of random cheques/bank transfers.
---
28 Aug 17 - NDG disposes of pyrotechnic in Hebrides
The Hebrides News website contains this article describing the disposal, presumably by members of Faslane-based Northern Diving Group (NDG), of a phosphorous flare discovered on the shore at the North Ford causeway between Grimsay and Benbecula.
---
27 Aug 17 - Reunion for 1982 ships' company members of HMS Brecon, HMS Ledbury and RMS St Helena
Ian McVitie is organising a reunion for ships' company members of HMS Brecon, HMS Ledbury and RMS St Helena who deployed to the Falklands in early July 1982. It will take place at the 4* Strathallen Hotel, Birmingham from Friday 30 March to Sunday 1 April 2018.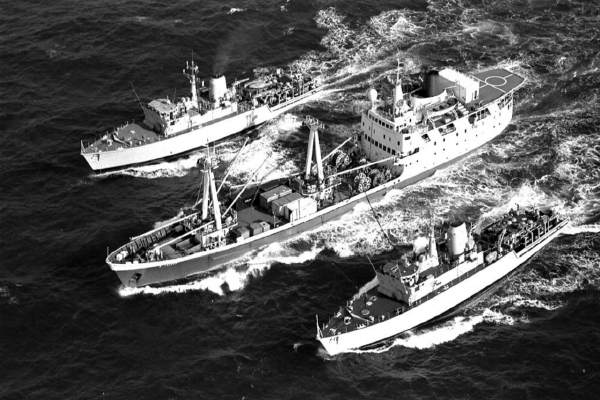 Email Ian McVitie for further details. The booking form is available for download here.
---
26 Aug 17 - Life in the TONs
To mark its 30th anniversary, the Ton Class Association (TCA) has just published a new book called 'Life in the Tons'.
This 156-page A4 format paperback is "...a compilation of dits and photographs of time spent serving in TON class vessels that were Britain's front line of defence against the sea mine during most of the 1950s through to the 1990s". It costs £11.50 (including post & packing) and can be obtained from the TCA's Stores Officer. See this page of the TCA website for further details.
'Life in the TONs' is a companion volume to 'Last of the Wooden Walls - An Illustrated History of the TON Class Minesweepers & MInehunters' and 'Jacks of All Trades - Operational Records of TON Class Minesweepers and Minehunters published in 2012 to mark the TCA's 25th anniversary.
---
25 Aug 17 - A very kind gesture including a piece of Vernon heritage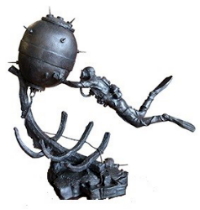 Yesterday I received this letter and photographs together with a cheque for £50 towards the Vernon Minewarfare & Diving Monument:
"Dear Cdr Hoole,
I read with considerable interest about your project to build a monument at Gunwharf Quays to those who undertook minesweeping duties. My late father, Able Seaman Appleford, served on board a series of minesweepers during the Second World War. I have various papers relating to his service. Although they do not perhaps convey all of his work, I know from discussions with him that he was minesweeping off Arromanches on D-Day, aiming to clear a path for USS Texas to get towards the shore.
My father was serving in BYMS 2161, believed to be called 'Miranda' according to his papers, when the war ended, with him being one of the first crews to enter Copenhagen harbour at the end of hostilities. I have enclosed two photographs of his ship which he left among his papers. I suspect they were taken by a local press photographer at the time.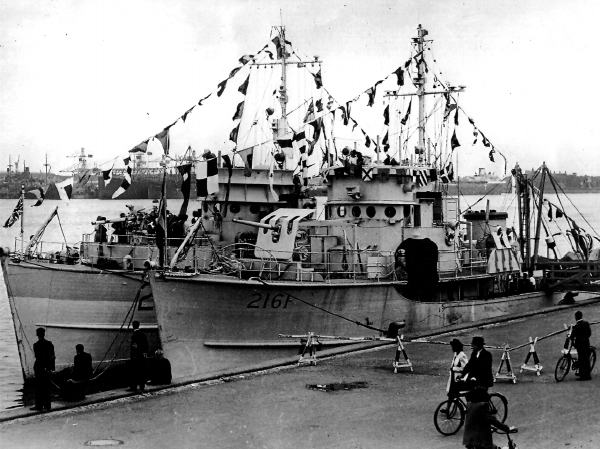 Above and below: BYMS 2161 and other RN minesweepers alongside at Copenhagen in 1945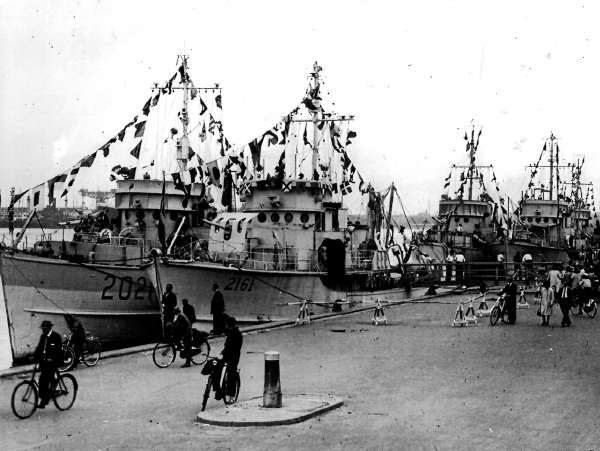 I understand that you are raising funds for the monument at a fund-raising event later this week. Although this is not something I would be able to attend, I would very much like to support the creation and installation of the monument. I have therefore included a cheque which I'd like to go towards the costs. My father was a member of the VAC (Vernon Auxiliary Company) based at HMS Vernon.
If any of my father's papers are of interest to you or your colleagues carrying out research into the work of the Yard Mine Sweeper class, I'd be happy to providee scans or copies if they care to get in touch with me.
The Rev'd Ken Appleford
P.S. As mentioned, these vessels are tied up alongside the quay in Copenhagen harbour - the first Allied vessels to enter the port at the close of the Second World War. In the 'nearer' photo can be seen a a Resistance member complete with armband. An impression of a BYMS can be seen in the background on the Wooden Minesweepers Memorial at the National Memorial Arboreteum at Alrewas in Staffordshire."
HMS Miranda was, in fact, the minesweeper base at Great Yarmouth. It was commissioned on 16 October 1940 and paid off on 21 July 1945.
BYMS (British Yard Mine Sweeper) 2161 was built at the Burger Boat Co at Manitowoc in Wisconsin and launched on 3 April 1943. She was completed on 9 August 1943 and assigned to the 163rd MSF (Mine Sweeper Flotilla) based at Lowestoft & Great Yarmouth (1943), Grimsby (1944), NW Europe (1945) and Lowestoft in 1946. This is a list of her movements:
1943

6 Oct - Charleston

1 Nov - Halifax, Nova Scotia

3 Nov to 9 Dec - St Johns, Newfoundland

22 Dec - Falmouth

26 Dec - Portland

27 Dec - Portsmouth

29 Dec - Southend

29 to 30 Dec - Harwich



BYMS 2161 Sweepdeck
(photos by Charlie Price)



1944

25 Jan to 28 Apr - Harwich

28 Apr to 9 Jun - Lowestoft

9 Jun to 10 Jul - Harwich

18 Jul - Harwich

24 to 31 Jul - Lowestoft

31 Jul to 1 Aug - Harwich

1 to 23 Aug - Southend

23 Aug - Portsmouth

18 Sep - Le Havre

18 to 30 Sep - Portsmouth

1 Oct - Dover

28 Oct - Ramsgate

28 Oct to 3 Dec - Lowestoft

4 Dec - Aberdeen

1945

20 Apr - Aberdeen

22 Apr to 9 May - Grimsby

25 Jun - Copenhagen

25 to 29 Jun - Kiel

30 Jun - Hamburg

7 Jul to 4 Sep - Plymouth

9 to 15 Sep - Gibraltar (then to SE Asia for minesweeping duties with 181st then 182nd MSF in Malaya until Sep 1946. Sold in USA in 1947.)
Ken mentions that his father was a member of the Vernon Auxiliary Company. This excerpt from 'HMS VERNON - A Short History from 1930 to 1955', written by Cdr Edgar Dudley Webb RN and published by HMS Vernon's Wardroom Mess Committee in 1955, provides the background for the formation of this organisation:
"...In the autumn of 1938 came also the Munich crisis, and everyone dug trenches for nearly a week. The Captain had anticipated this move by sending the Commander into the Dockyard to get shovels and spades. He found there were only about 130 in store, so he drew the lot and brought them back to Vernon. Two or three days later the order came to dig, and Vernon was much commended for the brilliant organisation of the operation; which was not entirely true - they were the only ones with spades.
Trench digging was made a sort of 'coal ship'. A platform was rigged for the band and they played throughout the day and well into the night. Meanwhile draft chits were being relayed on the loudspeaker, and many a sailor with pick poised in mid-stroke would hear that he was off to sea. The Captain was determined to preserve the football field, and this was achieved by confining the digging to the grass tennis courts and beyond the football touch and goal lines. As this was all the site of a reclaimed tidal creek, the trenches remained a muddy abortion for many weeks, and it took a long time to get the lining and woodwork complete and the sheeting and covering provided.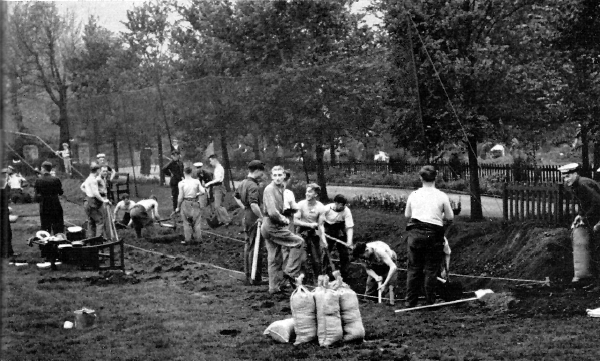 Above and below: Digging trenches outside the football ground touchlines and on
the Petty Officers' tennis courts at HMS Vernon during the Munich crisis in 1938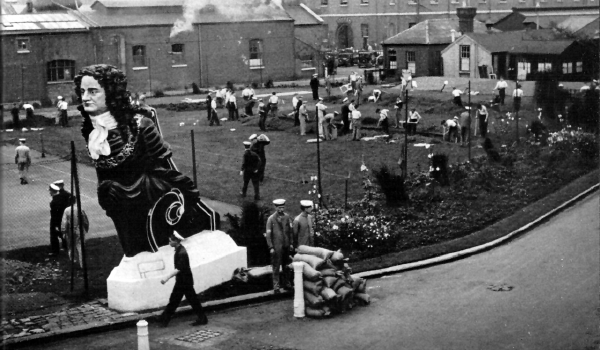 Meanwhile one of Vernon's tenders, the small minelayer Plover, was carrying out trials in the Mediterranean, and at the height of the crisis was on passage from Malta to Gibraltar. They took considerable interest in such news bulletins as they could pick up, as they were never quite certain they were not going to run up against part of the Italian Fleet, with their speed of something like 12 knots and armament of six pistols, for which they had no ammunition.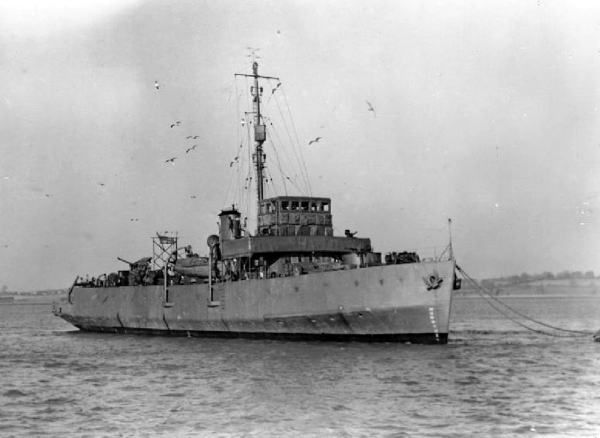 Above and below: HMS Vernon's coastal minelayer HMS Plover. Launched at
William Denny & Brothers on the Clyde on 8 Jun 1937, sold on 26 Feb 1969
and subsequently broken up at Inverkeithing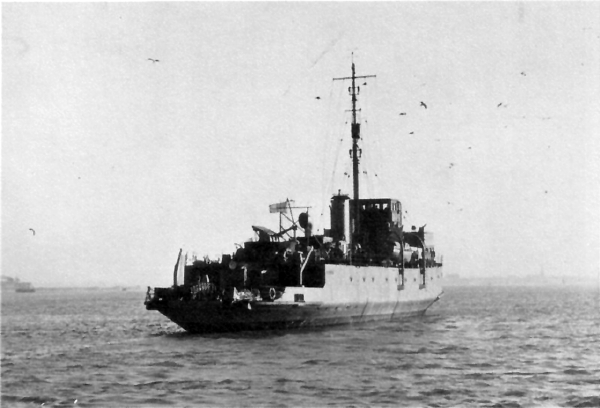 On 9th December 1938 there was a change in the Vernon name-ship. The trawler which had borne the name since 1923 had her boilers condemned and was paid off into reserve under her first name of Strathcoe.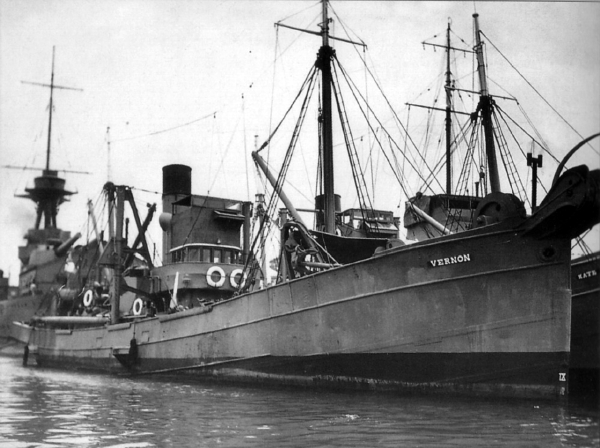 HMS Strathcoe as HMS Vernon. Launched at Hall Russell at Aberdeen in 1916, requisitioned by
the Admiralty in Jan 1917 and converted into a minesweeper. Purchased 1918 and converted
into a minelayer. Renamed Vernon in 1924 and attached to HMS Vernon for minelaying trials.
Based at Malta from 1933 and reverted to Strathcoe in 1939. Laid up but re-employed on
harbour service 1942 and converted into an ESSO (fuel tanker) in 1943.
Sold in 1946 and became mercantile loss on 4 Feb 1959.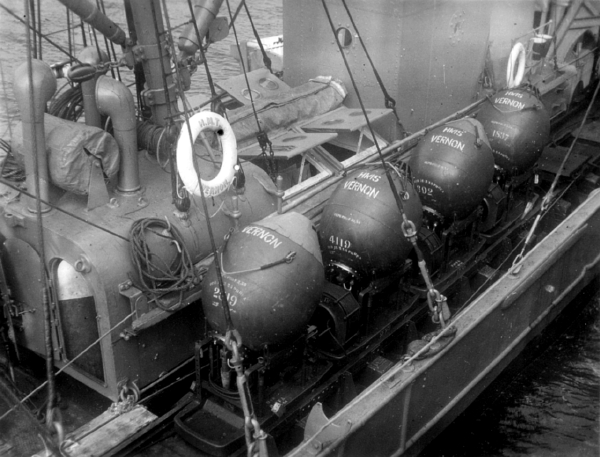 Controlled mines on board Vernon (ex-Strathcoe), tender to HMS Vernon
for minelaying trials between 1924 and 1938
[By Webmaster: Prior to 1 Jan 1959 the Naval Discipline Act only applied to those officers and men who were borne on the books of one of His/Her Majesty's Ships of war. Thus all personnel were appointed or drafted to a 'nominal ship' when not actually serving in a proper seagoing warship. At the turn of the century these shore establishments were mainly old hulks and the original ship names were taken into use. Later, when proper shore accommodation was provided, a ship was nominated to carry the establishment name, and later, even small craft were used for this purpose. Thus a 27 feet long Montagu whaler was notionally crewed by hundreds of officers and men. The provision of a nominal depot ship also created other anomalies. The DOLPHIN was lost while under tow; the ST ANGELO was mined; the MANTIS became a constructive total loss, and the FOLIOT was lost by collision. Other losses were the CABOT and HORNET. Even the enemy were confused as they claimed to have sunk the ST ANGELO, and in a way, they were right. Vessels normally had their names changed to comply with those of their associated shore bases because they tended to wear out faster. Establishments formed after 1959 (PALATINE, SHERWOOD, etc) did not run this risk, having no need for a nominal depot ship, and the Navy List ceased to record nominal depot ships from 1962.]
As a replacement for Strathcoe, the mining tender Skylark was re-christened Vernon and became the name-ship of the establishment.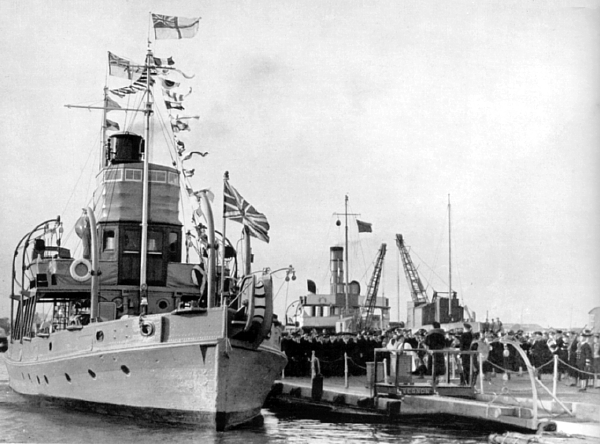 HMS Vernon's mining tender 'Skylark' being re-christened 'Vernon' on 9 Dec 1938. Her name
was changed to 'Vesuvius' in Apr 1941 owing to difficulties with the postal arrangements.
Launched at Portsmouth Dockyard on 15 Nov 1932, sold on 5 Jul 1957 and broken up
in Feb 1958 at Pollock Brown in Southampton
An important outcome of the Munich crisis was the 'Vernon Auxiliary Company', also known as 'Cork's Light Horse'. The Commander-in-Chief, Portsmouth, appreciated that if the enemy laid mines in the approaches to his port immediately on the outbreak of war, there would be a period of two or three weeks before the minesweeping force allocated would be in full stride. During that period the port might have to be closed. He therefore directed the Captain of Vernon to produce an organisation to meet this deficiency, and the matter was put in the hands of the First Lieutenant - Lieutenant Commander J. Hext Lewes.
The direction given was to collect and train a body of men, preferably drawn from the yachtsmen and yacht hands of the port, who would engage themselves to answer a personal call from the Commander-in-Chief, independently of any order to mobilise. They would undertake the sweeping of the approaches to the port for a period of two or three weeks, until they could be relieved by the forces formally allocated by the War Plan. How they were to be collected and trained was left to the First Lieutenant, with somewhat of a suggestion that he would be well advised to go round the Gosport pubs one Sunday forenoon canvassing.
Actually the means adopted was to ask to dinner certain yachtsmen who it was thought might be interested, and to discuss the question of whom to invite to join this somewhat exclusive and unusual yacht club. In his opening address the Captain is said to have informed the neophytes that everything was quite unofficial as yet and that they might find themselves lodged in the Tower for piracy or high treason. But if so, they would be in good company, for the Commander-in-Chief and he would be there also. The Captain says he merely told them they had no legal authority to be at sea and must be very careful to avoid collisions.
No difficulty was experienced in selecting enough officers, and a firm foundation of ratings was provided by a number of yacht hands recommended and brought along by Camper and Nicholsons of Gosport. The remainder were collected in many unorthodox ways, largely with the help of the rugger reporter of the Portsmouth Evening News, and some beer. The officers of the Company assisted in the recruiting of their own crews. Bus conductors, clerks, dustmen, anyone willing and not debarred by a reserved occupation, all were welcome and entered enthusiastically into the training. In one trawler the Captain had a Sea Scout as signalman, a greyhound race-track engineer as a leading seaman, a milk roundsman as a wireman, a timber merchant as a winchman, a yacht hand as coxswain, and Portsmouth Gas Company men as stokers. One of the chief stumbling blocks at this time was the Labour Exchange and its list of reserved occupations, and the peacetime occupation of an applicant had often to be tactfully reworded to escape this net.
Training started towards the end of 1938, long before any formal approval had been given to the formation. Nothing could be promised; the men just came in on Thursday evenings for lectures and on Sundays for minesweeping because they thought it might make them more useful in the trouble that was to come.
Seagoing training started with the picket boat sweep in Spithead and worked up to trawlers. In February 1939 the Admiralty formally approved the formation of the. Company, and draft regulations were drawn up by Vernon on the lines of the R.N.V.R. Regulations. Although these regulations do not seem to have ever obtained Admiralty approval, it is satisfactory to note that they were honoured in full. It was on these regulations that the officers were given R.N.V.R. commissions immediately on the outbreak of war and in consequence became the most senior temporary R.N.V.R. officers of their respective ranks. Ratings were taken into the Navy in the substantive rating held in the V.A.C. and all training bonuses earned were paid. By the spring some of the officers were already members of the R.N.V.S.R. and the remainder were accepted by the Admiralty for enrolment.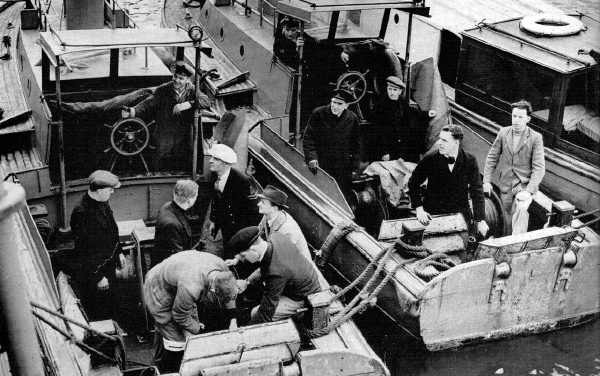 Members of the Vernon Auxiliary Company manning picket boats
Two trawlers were at once provided from the Reserve Fleet and moored alongside Vernon Pier, and a few pensioner shipkeepers were engaged. Although high and dry at low water, the trawlers became seagoing ships for Customs purposes. They went to sea every Sunday, and later on for a week's cruise once a month to Plymouth, Falmouth and other Channel ports. On their cruise the trawlers joined up with the Minesweeping Training Flotilla from Portland, and very fully took their part in exercises. Apart from the First Lieutenant of Vernon and the shipkeepers, they were manned entirely by the volunteers. Keenness produced some amusing incidents, as when the Senior Officer hoisted the stationing flag. The Auxiliary Vessels Signal Book was feverishly consulted, and it was decided that this must mean 'keep station close astern'. And they followed him round all the morning like a dog, only to find they were supposed to disregard his movements.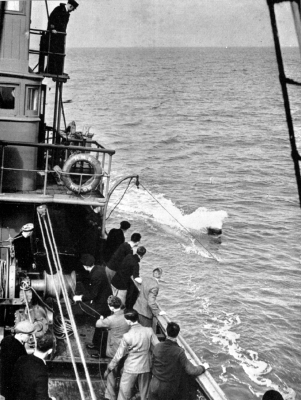 Members of the Vernon Auxiliary Company
manning a minesweeping trawler
By April 1939 fourteen officers and about fifty ratings had been enrolled, and by the end of June, when the First Lieutenant was promoted, the unit had risen to four trawlers. His farewell trip was a week-end to Alderney, when two trawlers were manned and commanded by the V.A.C. and two by R.N.R. crews and fishermen skippers. A few days before this the unit had the honour of lining a special part of the route in the Dockyard along which the King and Queen drove on their way to embark for the visit to Canada. They were pointed out by the Commander-in-Chief to His Majesty as the latest addition to his fighting forces. To reach their position, the unit had to march along the Hard, which was already lined by the battalions from Whale Island.
In keeping with their general unofficial character, a special uniform was designed for the Company, largely with the help of the Captain's daughter and Mr Alderman of Gieves. For the officers, this consisted of a yachting type reefer, which could without much difficulty move forward to a monkey jacket or backward to a reefer, black uniform buttons, and shoulder-straps with blue rank stripes and a gold wire monogram, 'V.A.C.'. With this was worn an ordinary officers' cap and badge. The men were supplied with a seaman's jersey with white letters 'V.A.C.' on the chest, trousers, boots, cap with Vernon ribbon, and an oilskin.
The trawlers attended the Reserve Fleet Review at Weymouth in August and the Commanding Officers were presented to His Majesty. In the wardroom of the flagship, H.M.S. Effingham, one of the Commanding Officers was mistaken in his V.A.C. uniform for the attaché of a foreign naval power. This story has been considerably embellished over the years.
A few days before mobilisation, the Vernon Auxiliary Company was called up as intended. They manned their four trawlers and, being at sea before the outbreak of war, fully met all requirements of the directive on which they were raised. Far more than this, their standard was such that some of their officers were at once taken to assist in the training of other trawlers. This perhaps repaid the many hours of peacetime leisure sacrificed to training that was strange, arduous and often uncomfortable, especially for the ratings who were for the most part quite unused to the sea and her ways. The officers and men of the Vernon Auxiliary Company subsequently served in all parts of the world, many of the ratings gained commissions, several lost their lives, including two of the original fourteen officers, and a number of decorations were won. Indeed, all those who had anything to do with the Vernon Auxiliary Company had good cause to be proud of their work.
Between the Munich crisis and the start of the war, the Mining Department had the job of planning the Dover mine barrage, and were later to help with the operation orders and the actual laying.
As the days of 1939 lengthened and it became clear to the most confirmed optimists that war was not to be avoided, preparations of all kinds were pressed forward, black-out, fire-fighting, even some plans for the possible dispersal of Trials Departments. The Long Course at Greenwich were disbanded to become First Lieutenants of destroyers and minesweepers commissioning from Reserve, all except one Australian, whose government said that they had paid for him to do a 'T' course, and do a 'T' course he should.
A single-storied building, Marlborough Block, was built on the east side of the parade ground, to provide additional accommodation at a time when a number of M.T.B. ratings were still living in Vernon. On the north-west side a chief petty officers' recreation room was begun, later to become the church and cinema. Apart from these two additions, and the altered appearance of No.17 Building after the fire of 1935, Vernon looked much the same as in 1930, when depicted in Lieutenant Sayer's History. And the Second World War started, which was to bring so many physical changes to the shore establishment and such a profound transformation to the whole Torpedo Branch..."
This is the 'wooden minesweepers' memorial at the National Memorial Arboreteum which Ken mentions as incorporating an impression of a BYMS.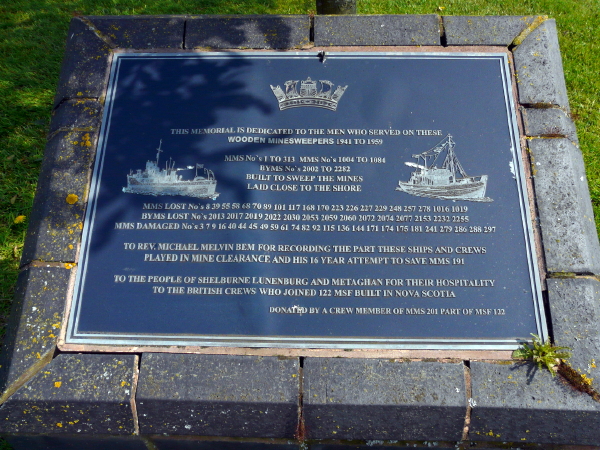 ---
24 Aug 17 - FDU2 pays respects to Second World War casualty HMS Hermes
The Royal Navy website contains this article reporting that members of Fleet Diving Unit 2 (FDU2) have laid a white ensign on the wreck of the Second World War aircraft carrier HMS Hermes. All photos from the RN website.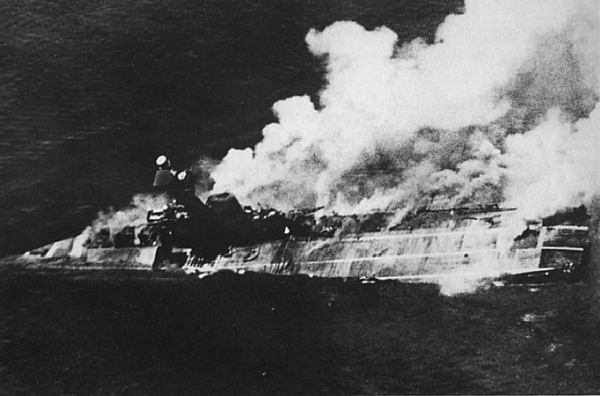 Bereft of any aircfraft, she was bombed and sunk by Japanese aircraft off Ceylon (now Sri Lanka) on 9 April 1942 and lies in 60 metres of water.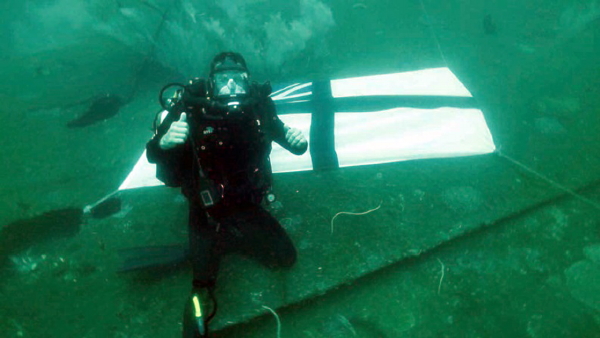 The article features Jim Preston (OIC FDU2) and CPO(D) Ward Peers (2I/C FDU2). The ten-strong team of RN divers has been conducting joint-training with divers of the Sri Lankan Navy based at Trincomalee and hopes to offer training courses for their Commonwealth colleagues in due course at the Defence Diving School (DDS) on Horsea Island in Portsmouth.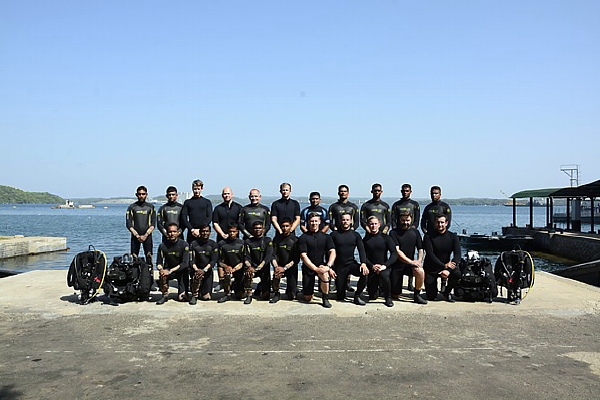 ---
23 Aug 17
Change of venue for reception following Bob Fraser's funeral
The venue for the reception following Bob's funeral service (see entry for 13 Aug 17) has changed from the Marriott Hotel to:
The Cams Hall Estate Golf Club
Portchester Road
Farham
PO16 8UP
---