---
| | | |
| --- | --- | --- |
| | Have you ordered your miniature of the Vernon Monument yet? It is being sold in a variety of sizes, finishes and prices to raise funds for the planned sculpture at Gunwharf Quays in Portsmouth to celebrate the Minewarfare & Diving heritage of HMS Vernon which previously stood on the site. 'Project Vernon' is officially supported by Portsmouth City Council, Gunwharf Quays, the MCDOA, AORNFCD, MWA, RNCDA and the TCA. Click here for details. | |
---
29 Jan 15 - Former HMS Walney for sale
The Daily Telegraph website contains this article describing the sale of British military surplus stock including the Sandown class minehunter formerly HMS Walney, commissioned in February 1993 and decommissioned in October 2010 after 17 years of service (see entry for 18 Oct 10 in News Archive 32). For comparison, the first of class, formerly HMS Sandown, was commissioned in June 1989 and is still going strong as ENS Admiral Cowan in the Estonian Navy after 25 years of service while the Hunt class minehunter HMS Ledbury was commissioned in June 1981 and is still doing the Royal Navy proud after 34 years.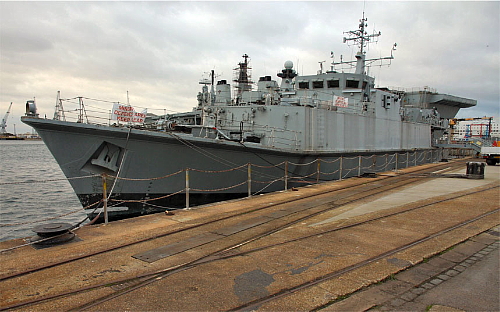 The former HMS Walney awaiting sale in Portsmouth Naval Base
(Photo by Sgt Pete Mobbs RAF/MOD)
---
28 Jan 15 - MCDOA Northern Dinner
Olly Shepherd, 2i/c of Northern Diving Group (NDG), would like to remind fellow members that the Northern MCDOA dinner is due to take place in the wardroom of HMS Neptune at Faslane on Friday 27 February. This is the night before the Scotland vs Italy match at Murrayfield so may well offer an opportunity for some joined-up socialising. Lt Cdr Steve Brown will preside and Brig Gareth Collett CBE RLC will be the guest of honour and speaker. Col Matt Pierson RM (CO 43 CDO) will also be there but just for the food, drink and dits!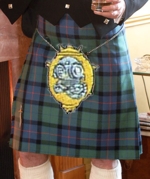 This function will be subsidised by the MCDOA proportional to the number of members attending so make sure your membership is squared away here if you are eligible. To register your interest, contact Olly via this email address with your name and accommodation requirements ASAP. WO(MW)s and WO(D)s will be warrmly welcomed too. The event which will cost no more than £35 per head to include food and drinks for the evening.
Incidentally, the Royal Navy website contains this article describing NDG's role in manning the NATO Submarine Rescue System (NSRS) in the event of an emergency. The article features MCDOA member Steve Brown (CO NDG) and LS(D) Bruce McQuillan (Rescue Chamber Operator (RCO))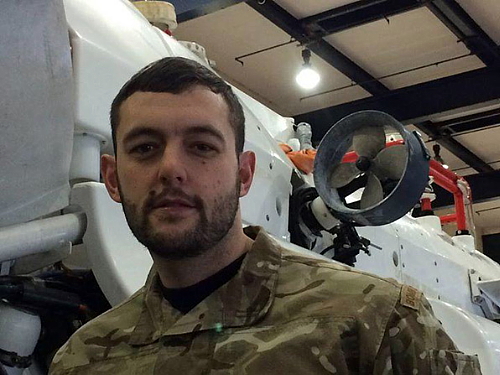 Bruce McQuillan in front of the Submarine Rescue Vehicle (SRV)
(RN website photo)
NATO Submarine Rescue System Submarine Rescue Vehicle
(RN website photos)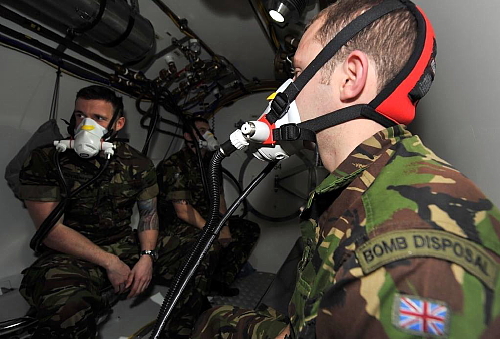 Inside one of the two Transfer Under Pressure (TUP) compression chambers
(RN website photo)
---
27 Jan 15
HMS Chiddingfold's ship's company goes back to school
The Royal Navy website contains this article describing a visit by ship's company members from HMS Chiddingfold (MCM2 Crew 5) to Bahrain Elementary School to tell youngsters about life in the Royal Navy. The article features PO(MW) Dave Brain and LS(MW) Matt Fay.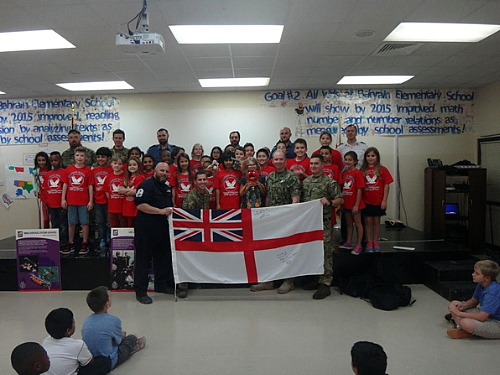 Members of HMS Chiddingfold ship's company at Bahrain Elementary School
(RN website photo)
---
News from HMS Middleton
I am grateful to Lt Cdr Mark Headley, the recent Commanding Officer of HMS Middleton (MCM2 Crew 4), for this update received via the Ton Class Association (TCA):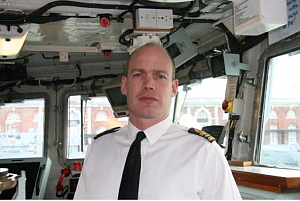 "I hope that this letter finds you well and that you have had a good Christmas and New Year.
My Crew and I would like to thank you for your support during our brief time in MIDDLETON but unfortunately our time has had to be cut short. Due to a potential delay with our sister ship coming out of refit and the impact this may have on the 2nd Mine Countermeasures Squadron, Crew 4 will be taking over HMS BROCKLESBY next week. MIDDLETON will be handed over into the capable hands of Crew 2 and their Commanding Officer Lt Cdr Andy Smith. MIDDLETON will still deploy to the Gulf but at a later date than planned, the earliest we can expect her to deploy will be in the winter.
Although we are leaving MIDDLETON, Crew 4 have an exciting and challenging time ahead. We will be taking BROCKLESBY North to Scotland for a period of Operational Sea Training, after which we will be joining Exercise Joint Warrior, a large scale training exercise involving 20 other nations and encompassing forces on the Land, Sea, and in the Air.
On completion of this training package, Crew 4 will be leaving BROCKLESBY in the UK and flying to the Gulf to join HMS ATHERSTONE in July, well prepared for the challenges we will face East of Suez. We expect to sail ATHERSTONE back to the UK just before Christmas. Although we have been attached to MIDDLETON for a much shorter time than expected, I would again like to thank you for your support and would like to invite you to keep in touch with Crew 4 as we join the BROCKLESBY and beyond. My Navigating Officer, Lieutenant Glyn Duffell, is the point of contact for any correspondence with affiliates.
I look forward to seeing you soon.
Mark Headley
CO
HMS Middleton MCM2 Crew 4"
Mark and his team were kind enough to host us for a most enjoyable visit in Portsmouth Naval Base last month (see entry for 11 Dec 14) and we wish them every success for the future.
---
26 Jan 15 - Latest Defence related Parliamentary Questions
Defence related Parliamentary Questions during the week preceeding 23 January 2014 included:
20 Jan 2015
Lord Luce: To ask Her Majesty's Government how the new defence co-operation arrangements with Bahrain differ from the previous arrangements.
Lord Astor of Hever: The arrangement signed in December 2014 supports our existing agreements with Bahrain, comprising three extant Memoranda of Understanding (MOUs) covering issues such as Status of Forces, Defence Equipment Cooperation, Exercises and Training. The key MOU was signed in the run up to the first Gulf War. This was principally about facilitating the movement of UK forces through Bahrain including making facilities available for UK forces; this continues to the present day with the hosting of the UK Maritime Component Commander and basing of UK minehunters on operations in the Gulf. The UK/Bahrain high level Treaty of Friendship and Cooperation which was signed in 1971 remains in force.
HL4146 – Military Decorations (Answered)
22 Jan 2015
Lord Moonie: To ask Her Majesty's Government what plans they have to issue an operational medal for service in Operation Kipion.
Lord Astor of Hever: There are no plans to issue an operational medal for Operation Kipion. All operational activity undertaken by UK personnel is subject to regular review by Commander Joint Operations in the Permanent Joint Headquarters. Amongst other things, this routine review considers whether deployments might warrant medallic recognition. Operation Kipion has been kept under review, but it has been consistently assessed that, whilst conditions are challenging, personnel are not exposed to levels of risk and rigour that are in excess of what Service personnel might reasonably be expected to face on operational service.
---
25 Jan 15 - A proud father
Richard 'Soapy' Watson, our recently superseded Honorary Secretary, watched his son Ben pass out at HMS Raleigh yesterday on completion of initial naval training.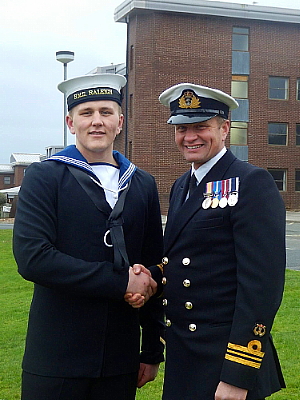 Soapy Jr and Soapy Sr at HMS Raleigh today
Soapy Sr leaves the Royal Navy next month but it is reassuring to know that Soapy Jr will be carrying on the family tradition, albeit with the Fleet Air Arm. I am sure that all members of our community will join me in wishing both of them every success for the future. I would also like to take this opportunity to thank Soapy for all he has contributed to the RN in general and to the MCDOA in particular although I know he will remain associated with naval diving for some time to come. As chronicled on this website, he has also dedicated much of his time and effort to raising money for Project Vernon among other worthy causes.
Why are Watsons nicknamed 'Soapy' in the Royal Navy? This is from Wikipedia:
Joseph Watson, 1st Baron Manton (10 February 1873 – 13 March 1922) was an English industrialist from Leeds, Yorkshire. He was chairman of Joseph Watson & Sons Ltd, soap manufacturers, of Leeds and a director of the London and North-Western Railway, in the late 19th century the largest joint stock company in the world. He became in later life a pioneer of industrialised agriculture in England and a successful racehorse owner. He was step-great-grandfather to David Cameron, Prime Minister of the United Kingdom...
---
24 Jan 15 - SDU1 deals with suspect IED in Plymouth
The Plymouth Herald website contains this article describing how members of Plymouth-based Southern Diving Unit 1 (SDU1) were called out to the Barbican yesterday to deal with a suspect Improvised Explosive Device (IED) which turned out to be a 'beer-can pinhole camera' secured to the railings with cable ties.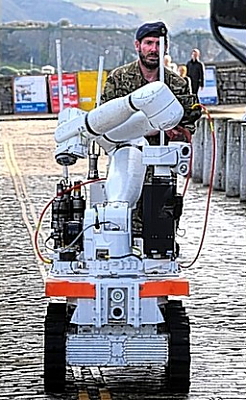 Above and below: SDU1 CUTLASS remote-controlled IED vehicle being used
to examine and destroy the suspect object in the Barbican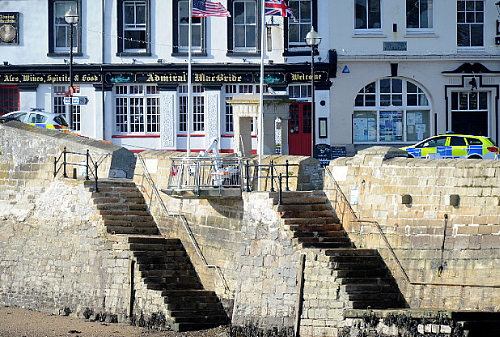 ---
23 Jan 15 - Fleet Commander's Commendation for Kev Stockton
The Sunderland Herald website contains this article describing the award of a Fleet Commander's Commendation to MCDOA member Kev Stockton in recognition of his exceptional leadership as Commanding Officer of the Fleet Diving Group (FDG).
Vice Admiral Sir Philip Jones, the Fleet Commander, presenting
Kev Stockton with his certificate of commendation
I know that all members of our community will join me in offering Kev our hearty congratulations on his well-deserved award.
---
22 Jan 15 - No.2 Basin and the arrival of the MCMVs
I was intrigued to see this image of No.2 Basin and the old sail loft in Portsmouth Naval Base in the early 20th century, published today by Portsmouth Historic Dockyard, because it is the 25th anniversary of Portsmouth-based Hunt class Mine Countermeasures Vessels (MCMVs) moving here. MCMVs had formerly been based at HMS Vernon, the alma mater of Royal Navy minewarfare and diving, until shortly before it was renamed HMS Nelson (Gunwharf) on losing its status as an independent command on 31 March 1986: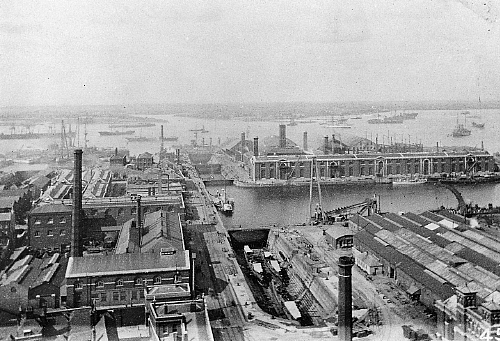 No.2 Basin in Portsmouth Naval Base during the early 20th century
HMS Vernon stood on the site of what is now the Gunwharf Quays development where, with the continued support of our community, it is planned to erect the Vernon Monument to commemorate its rich minewarfare and diving heritage and celebrate all those who passed through its gates.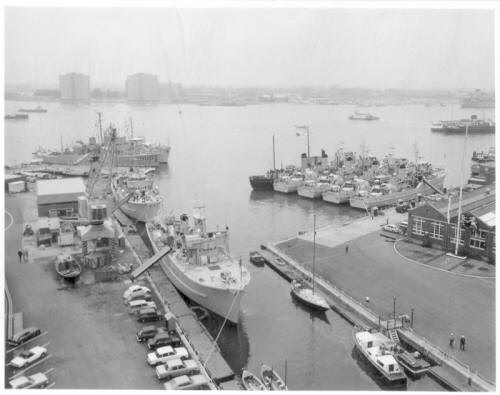 HMS Vernon's busy waterfront filled with RN, RNR and other NATO MCMVS in
1974 with HMS Laleston, Vernon's diving training tender, in the foreground
This article, published in Vol 1 No. 3 of the Minewarfare & Diving Magazine in September 1990, describes the move:
A BED OF ROSES IN PORTSMOUTH NAVAL BASE
by MCM2 Squadron Staff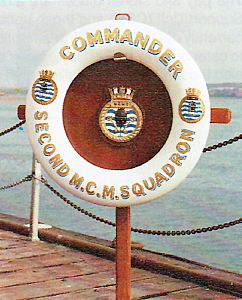 With the rundown of alongside facilities at HMS VERNON in the early 1980s and to improve support for TON and HUNT Class MCMVs in Portsmouth, Number 2 Basin at the South East end of the Naval Base was earmarked as a site for extensive development.
Phase 1, which provided facilities principally for TON Class vessels, was substantially completed during 1984 and the Second Mine Countermeasures Squadron, with its distinctive Hampshire Rose funnel badge was the major beneficiary.
Phase 2, which is currently underway with a planned completion date of December 1990, represents a major additional development which will permit a squadron of HUNT Class MCMVs to operate with full shore support from Portsmouth Naval Base.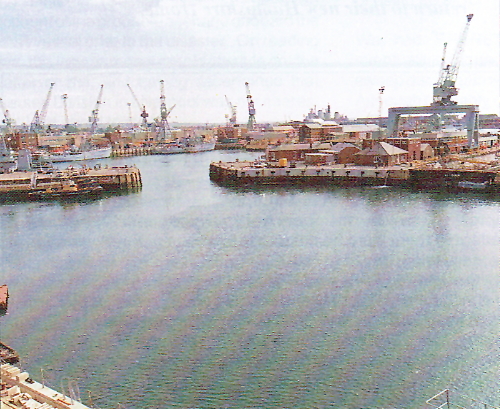 The view looking northwards across 2 Basin. At left is HMS HUMBER, a River
Class MSF of MCM10. In the background are three Ton Class MHCs of MCM3
and an Oberon Class submarine is docked down in Number 11 Dock at right.
When complete, the project will provide shore-based facilities for the servicing of MCM vessels alongside, utilising refurbished, existent buildings adjacent to 2 Basin, which has itself undergone a major transformation involving wall-strengthening works to permit berthing operations throughout all tidal stages. The updating of domestic facilities for vessels alongside, such as firemain, shore power and telephones is also being addressed.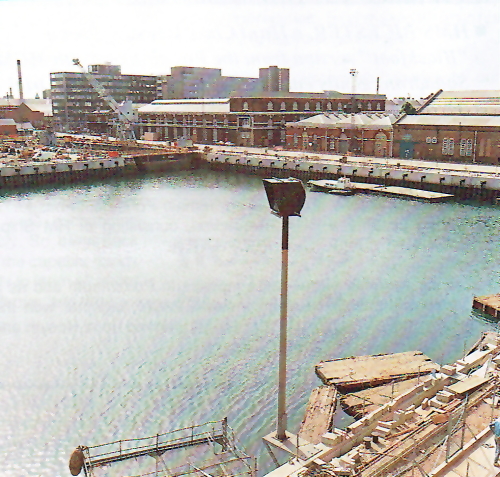 View of the south-east corner of Number 2 Basin, with a Ton Class Minehunter
refitting in in Number 8 Dock and contractors working on the jetty improvements.
In the foreground, atop the lamp post, is one of the new transit beacons to aid
safe entry through the narrow entrance to the Basin.
To support the ships administratively and materially, offices and store rooms will be co-located with new workshops and maintenance areas in the old sail loft to the west of 2 Basin, with two dry docks to the east. The pay and stores offices are already in being, assisting the Craft Support Unit (CSU) and those units of 3 MCM (The TON Squadron) currently operating from Portsmouth. The whole package is designed to cater not only for the Royal Navy's modern fleet of minehunters but also those of our NATO allies, well into the 21st century.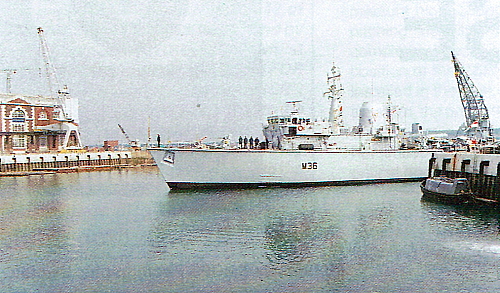 HMS BICESTER, a Hunt Class MHSC (albeit a 'Blackfoot' version from the
Rosyth-based 4th MCM Squadron) gently enters Number 2 Basin to trial
the new leading lights.
To prepare for the change of emphasis from TON to HUNT Class within Portsmouth Naval Base, the remaining TONs of 2 MCM transferred squadrons to [the Rosyth-based] 3 MCM but remain Portsmouth-based. 2 MCM then became a HUNT squadron, consisting of HM Ships BRECON, CATTISTOCK and HURWORTH.
Due to the absence of adequate facilities in Portsmouth and as a temporary expedient, the rejuvenated 2 MCM, together with the Squadron staff of the Commander MCM2, formed up at Rosyth and have since been crewed by largely Scottish-preference ratings.
Returning from a busy Mediterranean deployment in June 1989, the 2nd MCM Squadron was enlarged by the addition of HM Ships ATHERSTONE and COTTESMORE and together, the five ships of the completed Squadron will be based at Portsmouth from January 1991, crewed (fingers crossed) by Portsmouth preferees. To pave the way, for the 'return' of the Squadron to Portsmouth and to help consolidate facilities in the new complex, the Staff of MCM2 moved into their new offices at 2 Basin on the 1st March 1990. Led by Commander J.C. Scoles Royal Navy, the Squadron has a busy period ahead prior to January 1991. Exercises, weapon training, work-ups a then an on-call period for Gulf deployment are all programmed for the latter half of 1990, to be followed by leave in Rosyth and finally the transfer south.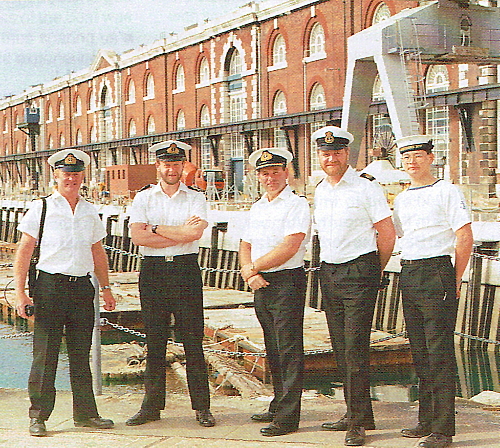 Commander Scoles and his Squadron Staff on their return to their new
Hampshire Home
[MCDOA member Nigel Butterworth (second left) was SOO]
The Hampshire Rose's return to Portsmouth as the emblem of the 2MCM is long overdue and hopefully will remain there for many years to come.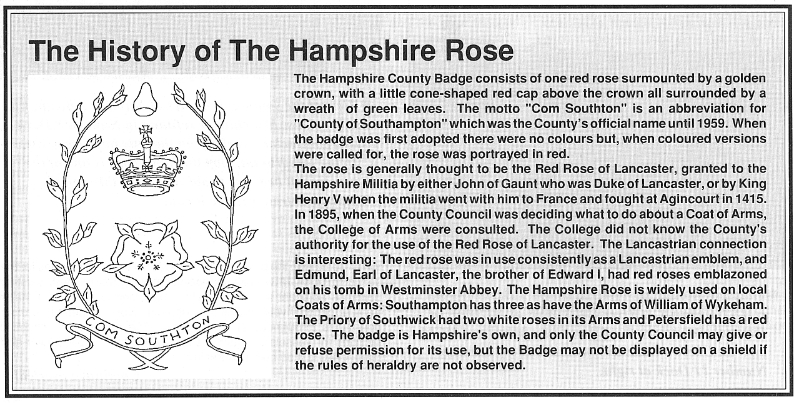 As from 13 February 1989, the MCM squadron dispositions were:
First MCM Squadron at Rosyth: HM Ships BERKELEY (now HNS KALISTO), CHIDDINGFOLD, MIDDLETON, QUORN
Second MCM Squadron at Portsmouth: HM Ships ATHERSTONE, BRECON (now decommissioned at HMS RALEIGH), CATTISTOCK, COTTESMORE (now LNS SKALVIS), HURWORTH
Third MCM Squadron at Rosyth: HM Ships BRERETON, BRINTON, HUBBERSTON, IVESTON, KEDDLESTON, KELLINGTON, NURTON, SHERATON, WILTON (all now decommissioned)
Fourth MCM Squadron at Rosyth: HM Ships BICESTER (now HNS EUROPA), BROCKLESBY, DULVERTON (now LNS KURSIS), LEDBURY
Tenth MCM Squadron at Rosyth although ships distributed among RNR divisions: HM Ships ARUN, BLACKWATER, CARRON, DOVEY, HELFORD, HELMSDALE, HUMBER, ITCHEN, ORWELL, RIBBLE, SPEY, WAVENEY (all now sold or scrapped)
---
21 Jan 15
Funeral of ex-PO(D) Anthony Peter Phipps
I joined fellow retired MCD officers Gerry 'Pincher' Martin, Bill 'Chippy' Norton and John O'Driscoll MBE plus former CD Branch members Brian 'Bill' Cornick, Chris Jones, Troy Tempest and Spike Wheeler at the Oaks Crematorium in Havant on Monday for the funeral of ex-PO(D) Tony Phipps (see entry for 11 Jan 15).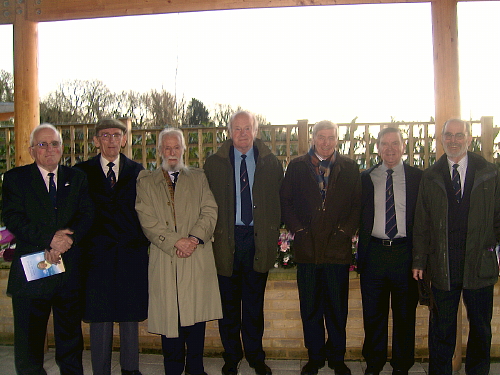 Spike Wheeler, Chris Jones, Bill Norton, Pincher Martin, John O'Driscoll
Bill Cornick and Rob Hoole after the funeral
(Photo courtesy of Bill Cornick)
The chapel was filled with family, friends and former colleagues and the casket was draped in the union flag. Mouners entered to the sound of Frank Sinatra singing 'My Way' before being welcomed by the Reverend Dawn Banting who said some opening prayers. She then provided an account of Tony's life and we discovered he had been born in Finchley in 1934 and that his father was an RSM in the Army. Tony married Doris in 1959 and she gave birth to their daughter Susan in 1969. They were subsequently blessed with two grandsons: Jake and Lewis.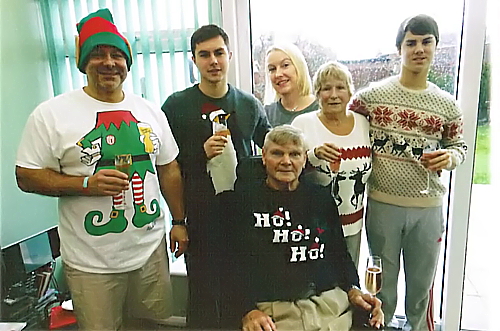 Tony Phipps with his family in happier days
Ex-CD Spike Wheeler then paid his own tribute and described Tony's naval career. Tony had joined the Royal Navy at the age of 15 at HMS Ganges and his first draft was to HMS Woodbridge Haven. In January 1953, he was involved in recovering bodies from the storm-stricken ferry MV Princess Victoria which sank in the Irish Sea with the loss of 133 lives. Tony subsequently became a clearance diver but sustained a spinal bend that affected him for the rest of his life. For all that, he rarely complained and remained active and cheerful throughout.
The congregation then sang 'Jerusalem' before two of the nursing staff who tended Tony during his final weeks read a poem written by his daughter Susan Dawn Banting then read this poem by David Harkins:
We can shed a tear that you are gone
Or we can smile because you have lived.
We can close our eyes and pray that you will come back
Or we can open our eyes and see all that you have left.
Our hearts can be empty because we can't see you
Or we can be full of the love we've shared.
We can turn our back on tomorrow and live for yesterday
Or we can be happy for tomorrow because of yesterday.
We can remember you and only that you have gone
Or we can cherish your memory and let it live on.
We can cry and close our minds, be empty and turn our back
Or we can do what you'd want:
Smile, open our eyes, love and go on.
After the saying of the Lord's Prayer, Tony's body was committed while an ex-submariner bugler sounded 'The Last Post':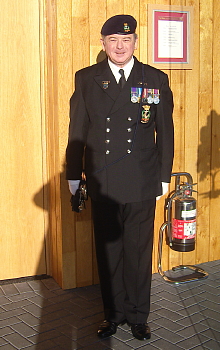 (Photo courtesy of Bill Cornick)
Mourners then exited the chapel to the sound of 'The Last Farewell' by Roger Whittaker and many went on to raise a glass in Tony's memory at The Hampshire Rose in Widley.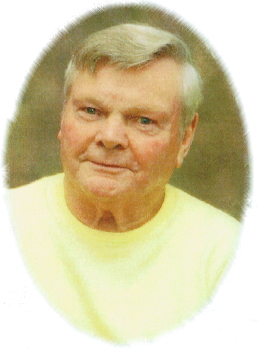 Anthony Peter Phipps
(5 Sep 1934 - 5 Jan 2015)
---
HMS Penzance helps test defences of Gulf oil platforms
The Royal Navy website contains this article describing the recent activities of HMS Penzance (MCM1 Crew 7) in the Gulf.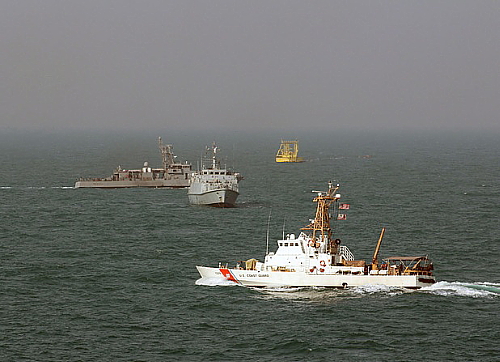 HMS Penzance with US surface units in the Gulf
(RN website photo)
The article features MCDOA member Tim Davey (Commander UK MCM Force (UKMCMFOR) based in Bahrain), and Matt Byers (HMS Penzance's Ops Officer).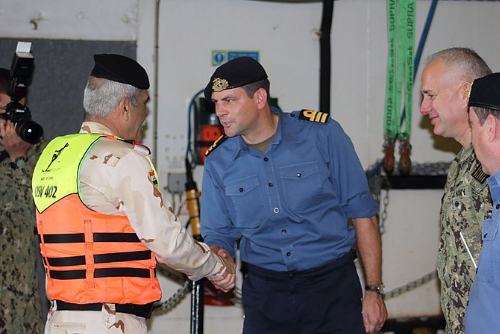 Vice Admiral Ali Hussein Ali Al-Rubaye, Head of the Iraqi Navy,
being greeted by Cdr Tim Davey RN, COMUKMCMFOR
(RN website photo)
---
20 Jan 15
HMS Atherstone handed over in Gulf
The Royal Navy website contains this article and the Tamworth Herald this article describing the handover of HMS Atherstone by MCM2 Crew 6, commanded by MCDOA member Simon Pressdee, to MCM2 Crew 1 in the Gulf. MCM2 Crew 6 has returned to Portsmouth after manning the ship for the past seven months and has now taken over HMS Cattistock.
---
SDU2 detonates shells in Kent
The Kent Online website contains this article describing the disposal, presumably by members of Portsmouth-based Southern Diving Unit 2 (SDU2), of ordnance found at Oare Marshes near Faversham in Kent.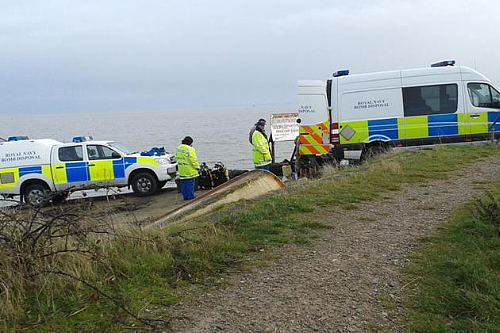 ---
19 Jan 15 - HMS Shoreham's most recent crew returns from Gulf
The Royal Navy website contains this article describing the return to Faslane of MCM1 Crew 5, commanded by MCDOA member Si Kelly, after manning HMS Shoreham in the Gulf for the past seven months. The article also features Ops Officer Peter Thompson, PO(MW) Stuart Campbell and LS(D) Scott Dooley. After post-deployment leave, Crew 5 will take over HMS Grimsby for a deployment to the Baltic as part of Standing NATO MCM Group 1 (SNMCMG1).
---
17 Jan 15 - Spotlight on the Irish Navy's diving team
The Irish Mirror website contains this article describing the latest 11-week course undergoing training for the Irish Naval Service Diving Section (NSDS) at Haulbowline Naval Base in Cork harbour.
Ten diving recruits on the 29th Naval Diving Course at Haulbowline Navy Base
The article also provides an insight into the history and work of the NSDS.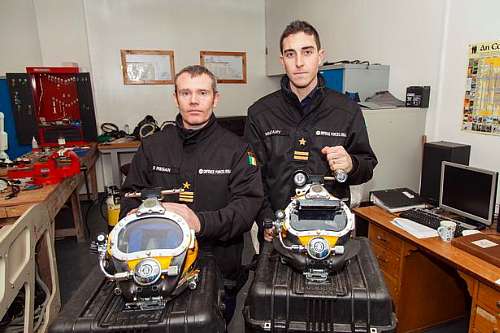 Lt Cdr Tony O'Regan & Lt(NS) Shane Mulcahy
of the Irish Naval Service Diving Section
The NSDS was formed in the late 1960s by Lt Cdr Joe Deasy who had attended a Torpedo course in the UK as a Lt in 1963. When he arrived at HMS Vernon in Portsmouth, "...he was handed scuba equipment and told to jump in the sea". This was when the Torpedo & Anti-Submarine (TAS) Branch was still responsible for RN minewarfare and diving, i.e. three years before the formation of the MCD Branch. Joe Deasy went on to commission the Ton class minesweeper LÉ Banba (ex-HMS Alverton) into the Irish Naval Service at Gibraltar as a Lt Cdr in February 1971 and rose to become head of the Irish Naval Service as a Cdre from 1990 until his retirement in 1993.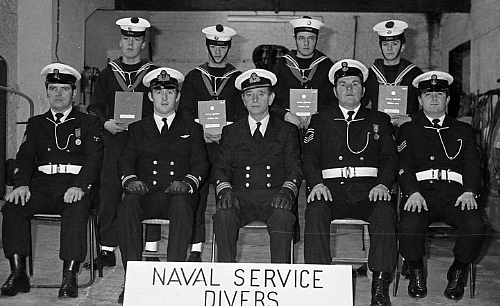 First Irish Naval Service divers' course run at Haulbowline in December 1982
with Cdr Joe Deasy sitting centre
In June 2013, Joe Deasy attended an NSDS reunion at Haulbowline Naval Base.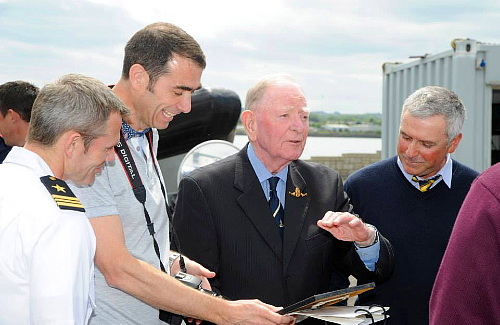 Cdre Joe Deasy at Haulbowline Naval Base in June 2013 with
his original diving certificate issued in 1964
---
15 Jan 15 - HMS Chiddingfold personnel participate in Volvo Ocean Race events
The Royal Navy website contains this article describing the participation of personnel from HMS Chiddingfold (MCM2 Crew 5) in Volvo Ocean Race events in Abu Dhabi last month.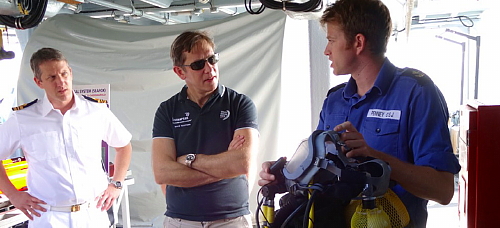 (RN website images)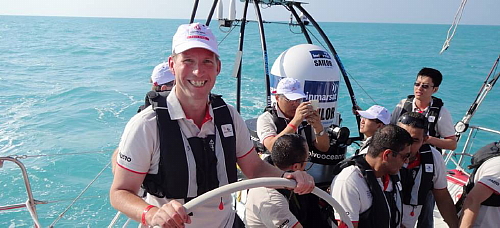 ---
14 Jan 15
SDU1 searches for suspicious object on Sidmouth Beach
The Demotix website contains this article, including images, describing yesterday's search for suspect ordnance on the beach at Sidmouth in Devon, presumably conducted by members of Plymouth-based Southern Diving Unit 1 (SDU1).
---
SDU2 deals with anti-tank mine at Skegness
The Grimbsby Telegraph contains this article, including video, and the Skegness Standard website this article describing yesterday's disposal of an anti-tank mine on the beach at Gibraltar Point in the Skegness Nature Reserve in Lincolnshire, presumably conducted by members of Portsmouth-based Southern Diving Unit 2 (SDU2).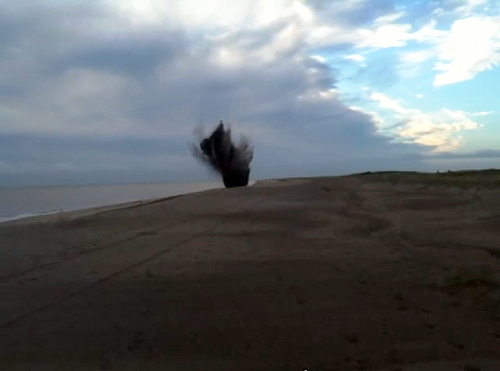 ---
13 Jan 15
Arrangements for the funeral of John Millerchip
John's funeral will be held at 1200 on Friday 23 January at Portchester Crematorium and later at Gosport Masonic Hall, Clarence Road, Gosport (see entry for 10 Jan 15). The family has asked for no flowers but any donations to the charity Holding Little Hands at Southampton Hospital (a charity for premature babies) would be appreciated.
Post script: I attended John's funeral and found it particularly poignant that his father was a Royal Marines Sergeant who died when HMS Barham was torpedoed by a U-boat off Alexandria in November 1941. Ex-CPO(D) Arthur "Ginger" Quantrill Bryant BEM, who died in January 2008, was among the survivors of this event and his ashes were scattered over the site of the wreck by HMS Chiddingfold's diving team the following month while en route to the Gulf (see various entries in News Archive 21).
---
Praise for RN MCM forces in the Gulf
I am grateful to MCDOA member Jim Nisbet for drawing my attention to this exchange during Defence Questions in the House of Commons yesterday:
UK Military Base (Bahrain) - 12 Jan 2015
Andy McDonald (Middlesbrough) (Lab): What the strategic rationale is for the opening of a UK military base in Bahrain.
The Secretary of State for Defence (Michael Fallon): The Ministry of Defence has had a naval base in Bahrain since the 1950s, providing naval and logistics facilities in support of our operations in the Gulf. The agreement that was signed last month reaffirms the joint determination of the United Kingdom and Bahrain to maintain security and stability in the region.
Andy McDonald: How long does the Secretary of State expect the military personnel who have been sent to train the Kurds in Iraq to remain there? Can he give us a time frame?
Michael Fallon: Our training effort, our troops and our air contribution to the fight against ISIL will remain in Iraq for as long as is necessary, which may well be a very long time. As for our presence in the Gulf, I hope that the House will welcome the recommitment that we have made to security and stability through the new naval base agreement, which will enable us to deploy larger ships and to provide better facilities for those who are deployed in or are passing through the Gulf.
Sir Gerald Howarth (Aldershot) (Con): I congratulate my right hon. Friend and salute the work carried out by Lieutenant General Sir Simon Mayall in re-establishing an east of Suez policy with our very close and reliable ally the Kingdom of Bahrain. Is this not a good example of the role defence diplomacy can play, and, in that context, may I invite the Secretary of State to reaffirm our commitment to the five power defence agreement in the far east, which reassures our allies and gives Britain an influence in the region?
Michael Fallon: My hon. Friend, one of my predecessors as a Minister in the Department, is right to pay proper tribute to Lieutenant General Sir Simon Mayall, who was responsible for negotiating this agreement, which will put our naval presence in the Gulf on a more permanent footing. My hon. Friend is also right to say that we should continue to examine our defence engagement policy in the far east as well as in the middle east.
Mrs Madeleine Moon (Bridgend) (Lab): It has been estimated that a three-day closure of the strait of Hormuz, perhaps by a terrorist attack, could lead to a four-year negative impact on the world economy. Has that influenced our decision to increase our capability in the Gulf?
Michael Fallon: Yes, the hon. Lady is absolutely right to draw attention to the economic and strategic importance of the strait of Hormuz. Our mine counter-measure vessels are playing a major part in ensuring that the strait always remains open, and I was privileged to visit two of those vessels and meet their crews. I put on record our appreciation of them for the very difficult and challenging work they do, particularly their divers, in making sure the strait remains open.
---
11 Jan 15 - Death of ex-PO(D) Tony Phipps
'Tis a sickly season indeed. I am grateful to MCDOA past-Chairman David Sandiford for drawing my attention to this obituary on the Portsmouth News website:
PHIPPS
Tony
Ex-Royal Navy Clearance Diver, Tony passed away peacefully at home on 5th January 2015 after a long and courageous fight.
Funeral Service to be held at The Oaks Crematorium, Havant on Monday, 19th January at 3.15 p.m. All Family and Friends welcome.
Thank you to the Respiratory Team at the QA Hospital and the Hospice At Home Team for their exceptional care and compassion shown to Tony and his family.
HUSBAND
My remarkable Husband, Tony who fought so long to stay with us. Thank you for 56 wonderful years of love and marriage. Your memory will stay in my heart forever. No more pain. Rest in Peace My Darling. Your loving wife, Doris XXX.
DAD
To our wonderful, selfless and courageous Father and Grandad. We were blessed with many extra years with you and hold many happy memories of our holidays and family times spent together. You taught your Grandson's the true value of life and they are so proud of you and your achievements in life. We will miss you so much but our memories will stay in our hearts forever. Sleep tight from your daughter, Susan, Wesley, Lewis, Jake, Erin and Sharna XXXXXX.
Family flowers only please. Donations if desired to The Rowans Hospice c/o Moore's Traditional Funeral Directors. 5 Hambledon Parade, Hambledon Road, Waterlooville, PO7 6XE. 023 9264 1366
Tony attended divers' reunions and occasionally sent me snippets of news for the website. I know he served in the Far East Fleet Clearance Diving Team during the 1950s/60s. I am sure all members of our community will join me in extending our sincere condolences to his wife Doris and their family.
---
From MCDOA member John O'Driscoll MBE:
"Hi Rob,
I served with Tony in 1965 together with Les Maynard and Alf Slingsby. We ran the MID section and Horsea Lake. Tony was a tower of strength and in the usual CD fashion was known as "wobbly" as a result of his diving accident. Ever cheerful and highly professional, he was disappointed at not being "allowed" to sign on for his pension.
I will attend on Monday if I possibly can. His fortitude and courage were an example for me over the past 50 years.
John O'D"
---
From MCDOA member Bill 'Chippy' Norton:
"Hi Rob,
I was very sad to hear that Tony had finally handed in his mess number. I was aware that he was in bad shape but not that his illness was terminal. I hope to make it to the funeral but if not, please give my sincere condolences to his family.
I did not know Tony too well but first met him when we were both "steamers" in the diving school at Bull's Nose in Chatham. I believe it was when I, as a L/Sea D2, was looking forward to D1 course until we were all made redundant. I then lost close contact when we were "converted" via starting again on CD3 courses' We did not meet again until after the accident at Portland.
Tony was Len Smith's buddy when Len had to make an emergency ascent after running out of gas while struggling to get a recovery wire onto a ditched helicopter. They both incurred sever spinal insults and were airlifted back to base for recompression and subsequent hospitalisation. After extensive therapy in RNH Haslar, Len was eventually able to return to an active diving career but Tony's recovery was less successful. Sadly, he was not able to make that same return.
In civilian life he still maintained contact with the Branch however. Len kept in touch with him and inducted him into that venerable West Country retired CD group which includes Tom Norman, Tom King and Spike Wheeler. Despite his injury, Tony never lost his sense of humour and remarkable determined spirit in the face of severe difficulty. He was a great example of courage in adversity.
Rob ,I am still trying to find out what happened to Curly Burroughs ex-CPO (CD1) who, I understand, was reported in the Ganges Magazine as having crossed the bar. We were boys together at Shotley and he was my and Les Maynard's Chief in the FOST job. When I was last in contact with him, he was living in Cyprus. I will keep you advised.
Regards,
Bill"
---
From former FCPO(D) Dave 'Mona' Lott BEM in Australia:
"G'day Rob and welcome back.
Without your able assistance and the notification from Dave Sandiford I doubt if I would have heard of the sad passing of another old mate from yester yore, Tony Phipps.
I spoke by phone with Les Maynard last night shortly after receiving your email and we discussed good old times that we had with Tony in company.
Tony was a quiet but great bloke with a well built in sense of humour which he managed to retain in spite of the fact that he had suffered a severe bend while serving in the Portland Team during a chopper recovery that had left him badly crippled. I am personally sorry to say that he and I lost contact some time prior to my move to Oz, and it is at times like this when one really regrets not putting more effort into staying in touch.
The Western Australian group of ex-RN CDs (Les Maynard, Ron Neville and Mick Horlock who also knew Tony) would like me to add their sincere expressions of sympathy to Tony's wife Doris and all of the family members in their time of great sadness.
We will remember him.
Dave (Mona) Lott"
---
From former FCPO(D) Mick Fellows MBE DSC BEM* MSM:
"Rob,
Once again very sad news.
I knew Tony whilst serving together for a short period in the 51st Minesweeper Squadron [51st MSS] at Port Edgar in 1959. He left Scotland and joined the AEDU CD Team at Bincleaves in Weymouth in 1960. The CD1 of that team was either Jack Semple or Dave Lardner. Dave unfortunately died shortly after leaving the service, in a freak diving bell accident in the Med in the 1970s.
As my memory recalls, in my ageing years from those distant days, both Tony and his dive buddy Len Smith suffered very bad spinal bends whilst recovering a downed helicopter off Portland Bill. Those were the days when having a chamber on the dive site, or within travelling distance, when diving to 180ft from a Gemini were not "enforced" or maybe not even a requirement. Tony never fully recovered from the incident and spent time at HMS Vernon, recuperating whilst editing the original RN Divers Magazine and then finishing his time at RNPL with Uncle Bill Filer, before leaving as a PO/CD2.
Tony was great company and one of our branch stalwarts who attended a number of our earlier AORNFCD dinners.
I'm holding the fort at the moment in an extremely busy period whilst Scouse [Colin Kidman] is running up and down muddy ploughed fields teaching newcomers to the commercial side of the discipline why mud runs were an intricate, essential part of the training in days gone by.
Unfortunately we will not be able to attend on the 19th but send our sincere condolences to his wife and family for their great loss.
Regards,
Mick"
---
10 Jan 15 - Death of John Millerchip
MCDOA associate member Dr John Bevan, Chairman of the Historical Diving Society (HDS), made this sad announcement yesterday:
"I'm very sorry to have to report that John Millerchip passed away today whilst in Queen Alexandra Hospital in Portsmouth. John has been a stalwart supporter and Guide of the Diving Museum as well as having been a very active member of Southsea BSAC.
JohnB"
This news will come as a blow to many HDS members, particularly John's fellow volunteer museum guides such as ex-CDs John Dadd, Clive Egginton, Mike O'Meara and Jim 'Tommo' Thomson who all valued his friendship and held him in such high esteem. I will publish funeral details when available.
John Millerchip in 2011 during the creation of the HDS Diving Museum
in No.2 Battery at Stokes Bay on the shore of the Solent
---
9 Jan 15 - Webmaster's absence
As regular followers have probably deduced, your humble Vice Chairman & Webmaster has been away from his desk over the Christmas and New Year period. However, the website's 'Latest News' page will be updated retrospectively over the next few days. There is much to relate.
---
2 Jan 15 - Invitation for tour and social at DEMS Training Regiment, Bicester on 16 May 2015
I am grateful to Robin Bennett, Honorary Secretary of the Royal Engineers Bomb Disposal Officers' Club (REBDOC) with which the MCDOA is affiliated, for this invitation:
"Rob,
The three RE associations are holding another visit to DEMS Trg Regt in Bicester (similar to July last year). It would be great if you and some of your fellow divers (MCDOA and CDs) could join us.
Happy New Year,
Robin"
The Defence Explosive Ordnance Disposal, Munitions and Search Training Regiment (DEMS Trng Regt) was officially opened at St George's Barracks in Bicester on 15 March last year (link). It is a tri-service organisation that trains Army, Navy and RAF personnel in all aspects of EOD and Search, much as its predecessor, the Defence Explosive Ordnance Disposal School (DEODS) at Chattenden. Readers may recall that I collaborated in the creation of a memorial wall listing EOD personnel killed while on active service (see second entry for 6 May 14 in News Archive 46).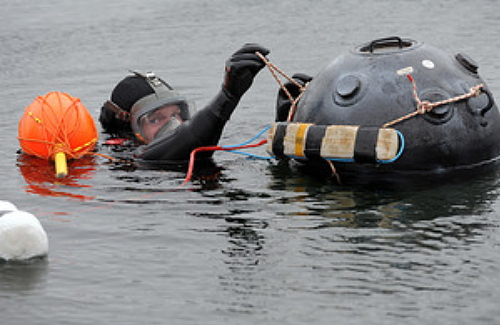 AB(D) Philip Rowland securing a demolition charge to a floating mine
during a demonstration at the DEMS Trng Regt
The draft timetable for the visit is as follows:
Saturday 16 May
1100 – 1300 Arrival, Tea / Coffee & Brunch - WOs' & SNCOs' Mess
1300 – 1600 Tour of DEMS Trg Regt
1600 – 1900 Free time (Bicester Shopping Outlet is nearby)
1900 – Late Social evening and Curry - WOs' & SNCOs' Mess
The provisional cost is about £30 - £40 per person including food and overnight accommodation. Drinks will be extra. Full details will be confirmed nearer the time. Dress will be relaxed. Part of the tour is outside and on unpaved surfaces. The social will also have a relaxed dress code. Exact dress code will follow. Note that partners are encouraged to attend, too.
If any MCDOs or CDs, past or present, would like to avail themselves of this rare opportunity, email me via my Webmaster address and I will send you the necessary proforma.
---
26 Dec 14 - News from HMS Penzance
The Royal Navy website contains this article describing the take-over of HMS Penzance in the Gulf by MCM1 Crew 7 earlier this month. The ship arrived in Abu Dhabi on Christmas Eve for some R&R and the opportunity to hold some festive fun on board.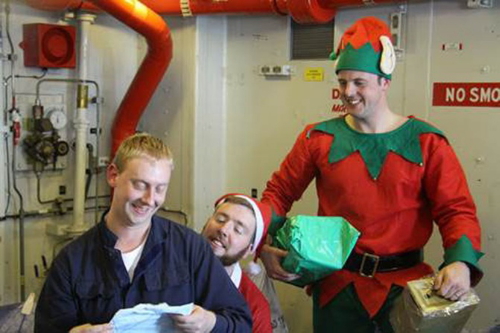 ---
23 Dec 14 - Funeral of Lt Cdr Brian Harold Lithgow Braidwood RN
I joined fellow MCDOA members Stu Harper, Peter Hicks, John O'Driscoll MBE and Howard Trotter at St Martins Church in Martinstown near Dorchester yesterday for the Thanksgiving Service for Brian Braidwood (see entry for 14 Dec 14). The congregation totalled more than 150 relatives, friends and former colleagues.
After a welcome and prayers by the Reverend Jean Saddington, Brian's cousin David Dorman read this prayer used at his boarding school, Portora Royal in Enniskillen:
O Lord our God, Who art in every place; from whom no distance or space can ever separate us; we know that those who are absent from each other are still present with Thee. We therefore pray Thee to have in Thy Holy keeping those dear ones from whom we are now separated. Grant that both they and we, by drawing nearer to Thee, may be drawn nearer to each other, bound together by the unseen chain of Thy love in the communion of Thy Spirit and the holy fellowship of Thy Saints: that whether or not, according as seemeth best to Thy Divine Majesty, we meet together again here on earth, we may surely meet again at the resurrection of the just and go in together to that house of many mansions which Thou hast prepared for them that unfeignedly love Thee,
Through Jesus Christ our Lord.
Amen.
Brian's nephew Tim then read Psalms 107: verses 23 to 32 (They that go down to the sea in ships) before we gave a stirring rendition of the hymn, Guide Me O Though Great Redeemer. Brian's daughter Tessa Ferguson then read 1 Corinthians Chapter 13 (Faith, Hope and Love).
Brian's daughter Fiona Staddon and son David then provided their memories of their father:
Memories of Brian Braidwood – Thanksgiving Service 22nd December 2014 written by his children Fiona, Tessa and David
In the words of Jacques Yves Cousteau, "When one man, for whatever reason, has the opportunity to lead an extraordinary life, he has no right to keep it to himself."
To us, Brian was Daddy. From a young age he taught us essential life skills: how to build a bonfire, sail, dive and drive. He got stopped more than once by the MOD police whilst teaching us to drive at the Naval air station. The offences were "No L plates" and "Distracting learner helicopter pilots". Underage driving did not come in to it! But he also taught us values: to respect and care for others, to treat all as equals and to live life to the full.
In later years everyone was welcomed to our family home in Buxton Road. When our friends visited, be it individually or an entire student diving club, they were always made to feel welcome and one of Brian's ice-breaking tricks was to throw a tea towel at someone at the end of their first meal and say, "Do you know what this is?" The invariable answer was "Yes" and they would then be told to make use of it!
Brian, like his father, could have excelled in any field. After an excellent school report in 1945, Brian's mother received the following from his grandfather: "It is a really brilliant report for a boy of six and a half. The whole report shows that he has excellent abilities." He then suggests: "...a good preparatory school in England, followed by a scholarship to Winchester and an Oxbridge degree course". Oxbridge's loss was the Royal Navy's gain. A term mate of his at The Royal Naval College, recently recalled Brian as being "...one of the cleverest men of those I grew up with, who could focus an immense brain on any project or problem that interested him – and he did that with virtually undetectable effort – which was admired, if envied, by the rest of us." His final school report from Portora Royal School stated, "His only fault is a certain truculent restlessness which makes him draw attention to himself when he is out of step. He would be wise to curb this drastically in the Navy, in which he deserves to succeed."
We're not sure he ever did succeed in not drawing attention to himself. Brian used to tell us a story from when he was at school of clearing out the chemistry lab of suitable stock in order to create explosions in the school grounds – luckily he didn't get caught and was able to create even bigger bangs in the Navy. Whilst Daddy to us, to others he was an amazingly brave, clever and, at times, foolhardy man. The work he did was often extraordinary. In the hallway at home is his commendation for Brave Conduct for the work he did on the sunken oil tanker, RFA Ennerdale. In June 1970, Brian oversaw an operation to control oil pollution from the stricken ship by blowing holes in its tanks. With heavy swell making diving dangerous, Brian ignited two-minute fuzes while suspended on a helicopter's winch wire. One time, after lighting the fuze, Brian had to spend precious seconds untangling the winch wire, leading to him being raised from sea level to 2,000 feet, with the helicopter at full power all the way! For this he received personal congratulations from the Government Minister for the Royal Navy, the Governor of the Seychelles and his Admiral in Singapore. In January 1971, Brian was presented with the Queen's Commendation for Brave Conduct by Admiral Sir Horace Law on board HMS Victory. And from the Seychelles he was presented with the shirt David is wearing.
The physical training for such work was provided by the Navy. He was psychologically prepared a lot earlier. In 1941, when Brian was three, his mother wrote in her diary, "Brian asked me for his revolver to keep under his pillow, so if Hitler came along, he could shoot him". As a bomb disposal expert, Brian wanted us to be prepared for anything. Never knowing quite what might arrive at the door, Sonia had been warned to be vigilant for suspicious packages especially those that ticked. When a suspicious package arrived one day, she rang Brian asking for advice. He contacted the local bomb disposal experts who came round to make the package safe . Sonia was delighted to discover it was her new kitchen clock – batteries included!
Being away from home meant that Brian sent us postcards from all around the world, always asking after others and making sure that Sonia was being looked after. In 1973, David received a postcard from Canada asking him to "...look after all the girls". He was 11-months-old at the time. In 1976, Brian wrote from the USA asking, "Do you still love Mummy? I do". In 1986, he wrote from Australia, "I am glad to know you are there to look after Mummy". He trusted David then to look after Sonia and we want him to know that he can trust us now to continue looking after her.
Brian and Sonia always enjoyed their travels and holidays, 'SKI' holidays being their favourite. Not the snowy type; the Spend the Kids Inheritance ones. For their Ruby Wedding Anniversary in 2004, we decided to treat them to a "family holiday" in Italy. This duly took place at Easter in 2005 – we never were as organised as Brian at booking holidays. The family was slightly depleted due to two more grandchildren being imminent, preventing flying. At Easter in 2013, we finally all went for that family holiday in Sedburgh, Yorkshire Dales. By then, they had nine grandchildren in tow. In April this year, Brian and Sonia celebrated their Golden Wedding Anniversary, with a party held for 70 people. This was followed by the ir Golden Honeymoon, two weeks in Venice. August saw a trip to France, and November a cruise in Portugal.
Over the last week we have received a wealth of tributes for which we are truly grateful. Two of these really summed him up.
The first is from the 1960s:
"After an exercise off Harwich we found a German GC mine in perfect condition. It was decided we would blow it next day. For some reason, it did not go off. Neither did the next three attempts. It was now getting dark and Brian Braidwood said he had run out of igniters and would have to return to Bronington to get more. The problem was the three lines of cordtex going down to the GC. Brian decided that the only thing to do was leave me behind holding onto the cordtex. The only light available was a small lifejacket salt water activated indicating light. I seriously thought he was taking the **** but no, I got in the water with just fins and drybag, three lines of explosive cord and my indicating light in the middle of the main shipping lanes in and out of Harwich Harbour. The Gemini disappeared back to Bronington and I bobbed up and down for about an hour before they got back to me."
The second is from the 1980s:
"During this time Brian had two bosses. One Naval and one a civil servant. Each assumed the other knew what Brian was up to if there was ever a blank in information, so we were both rather surprised one morning when we saw him interviewed on TV in New Zealand, when neither of us knew he had gone there! We both did a panic audit of our travel budgets."
Brian was investigating the sinking of the Rainbow Warrior.
Brian's staunch support for his parents, brothers and their families during their tough times have been mentioned more than once. For the last twenty years, Brian was the only surviving sibling of his father, Walter Braidwood's family. He not only took a great interest in his own three children and in-laws, but also that of his nephews, nieces, grandchildren, great-nephews and great-nieces, many of whom were guests at Sonia and Brian's Golden Wedding anniversary party earlier this year. At this he was seen to be "on good form and clearly enjoying himself ".
In 1949, after Brian's grandfather Harold died, his step-grandmother wrote a letter to his mother Dormouse saying "I hope you will talk to the boys about him because he was very fine in every way". This is why Brian started writing his family history, 'The Braidwood Story', so that it would be available for his own grandchildren. It is a fascinating read and we will certainly be talking to our boys (and girls) about Brian as he too was very fine in every way. With the first two volumes (1872-1939) and (1939-1964) already printed, Brian was determined to bring the story up to date before he died. Just three days before this happened, he asked his son-in-law Mike to bring his laptop, complete with 'The Braidwood Story', into the hospital. Brian then requested a few final edits and told Mike which printer and binder he had already made arrangements with. The third volume will be duly completed to Brian's specifications. Meanwhile a draft is available for you to read in the pub after this service. Points will be awarded for correctly identifying and marking the deliberate errors.
We should remember, Brian is keeping watch over all of us from his little cloud, glass firmly in hand.
The Reverend Jo Lacy-Smith then delivered an address before the congregation sang the hymn Abide With Me, written by Henry Francis Lyte, another old boy of Portora Royal boarding school.
The service concluded with The Lord's Prayer, the Naval Prayer and the Blessing. Most mourners then repaired to the nearby Brewer's Arms where a glass or two were raised in Brian's memory.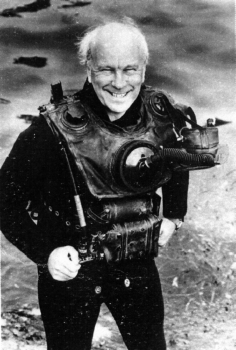 Lt Cdr Brian Harold Lithgow Braidwood RN
(2 May 1937 - 13 Dec 2014)
---
From Brian's son David on 6 Jan 2015:
"Dear Rob,
Thank you for posting the passing of my father, Brian Braidwood, on the MCDOA website. It has been comforting for Sonia, Fiona, Tessa and myself to know that there are so many people out there who have such fond memories of him, even if they had not seen him for a number of years. We all feel the same as those who contributed maessages, that he was 'cheerful with a fund of stories to tell'. I'm sure some of them involved those who have contributed comments about him on the website, so you can let Wooly know that, despite Brian not being here to defend himself, he's welcome to pass on stories about him!
I'm sorry I was not able to talk to those from the MCDOA after the funeral, small children were demanding attention, but thank you to all who were able to attend. Perhaps when the Vernon Monument is unveiled if there is a gathering we may be able to make it across and meet some of you then.
Wishing you all the best for the New Year,
David"
---
18 Dec 14 - HMS Grimsby returns to Faslane
The Royal Navy website contains this article and the UK Government website this article describing today's return to Faslane of HMS Grimsby (MCM1 Crew 6) after four months in the Mediterranean with Standing NATO MCM Group 2 (SNMCMG2). Since leaving HM Naval Base Clyde on 27 August, she has covered almost 8,000 nautical miles and visited 11 foreign ports.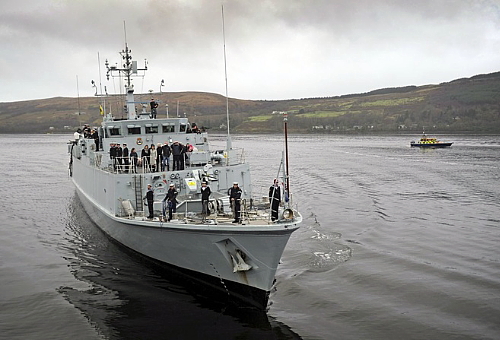 The ship was met by Defence Secretary Michael Fallon.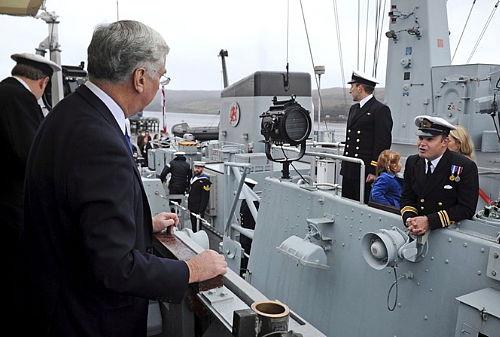 Defence Secretary Michael Fallon welcoming Lt Cdr Will King,
Commanding Officer of HMS Grimsby, at Faslane today
(RN photo by Chief Petty Officer Airman (Photographer) Thomas McDonald)
---
16 Dec 14 - Death of Lt Cdr William Thorniley MBE RN
I am grateful to former FCPO(D) Chris Jones for having spotted the death notice for MCDOA member Bill Thorniley in Navy News. Bill was borne on the books of the minesweeping trawler HMT Annet, the inshore minesweeper HMS Brearley, the South African naval base HMS Flamingo, the Landing Ship (Tank) HMS Messina, the Type 15 frigate HMS Undaunted, the Ton class minesweeper HMS Maryton, the minelayer HMS Plover and the shore establishments HMS Vernon, HMS Warrior and HMS Osprey. Owing to his advancing years, Bill did not attend MCDOA functions but I know that he was held in high regard by his contemporaries.
Bill was appointed an MBE in 1959 for clearance diving work on a controlled minefield (torpedo warheads) in Belfast Lough. The job was completed a couple of years later by the Home Station CDT in HMS Dingley (MCDOA member Harry Parker) to allow the channel to be dredged in time for the new ocean liner SS Canberra to put to sea from the Harland & Wolff shipyard. Chris Jones added this comment:
"I actually served with Bill in Belfast Lough. Fifteen feet of silt before one reached the bottom and we achieved it by washing ourselves down using a high-powered hose. Interesting times."
---
15 Dec 14 - Arrangements for the funeral of Lt Cdr Brian Harold Lithgow Braidwood RN
I have been advised by Brian Braidwood's younger daughter Tessa that there will be a private family cremation at 1130 on Monday 22 December followed by a memorial service at St Martins Church, Martinstown, Dorchester, Dorset DT2 9JZ at 1430 the same day to which all are very welcome.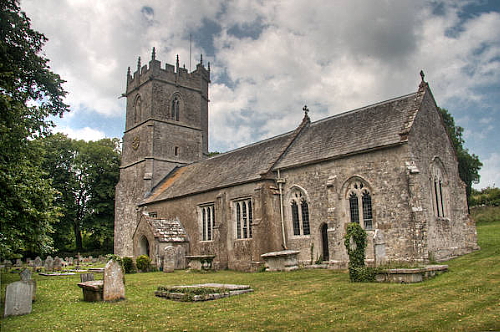 This will be followed by tea, coffee, nibbles and a toast to Brian at the Brewer's Arms (about three minutes' walk from the Church), to which everyone is also welcome. Donations if desired can be sent to Weldmar Trust Hospice or RNLI c/o Woods Funeral Services, 11A Icen Way, Dorchester, Dorset. DT1 1EW Tel:01305 250425.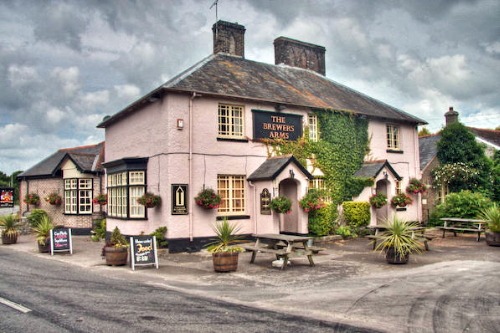 I will be attending in a personal capacity and will be happy to represent the MCDOA.
---
14 Dec 14 - Death of Lt Cdr Brian Harold Lithgow Braidwood RN
MCDOA member Peter Waddington has informed me of the death of Brian Braidwood, his fellow MCDOA and LCDO '64 course member who succumbed to cancer yesterday.
Brian was born on 2 May 1937. He was a 20-year-old Sub Lt when he qualified as a Shallow Water Diver (the forerunner of the Ship's Diver but using an oxygen rebreather) at the RN Diving School on Manoel Island in Malta in October 1957 (see entry for 4 Dec 05 in News Archive 12). He joined the Submarine Service in March 1959 and, on completion of Submarine Training, he was appointed to HMS Adamant for HMS/M Excalibur in July 1959. In January 1960, he joined HMS Chaser as Spare Submarine Officer, then in June 1960 he joined HMS Dolphin for HMS/M Orpheus. In June 1961 he joined HMS Forth as Spare Submarine Officer, eventually joining HMS/M Alliance in July 1961 and finally re-joining HMS Forth in November 1961 as Spare Submarine Officer.
On returning to General Service he joined the frigate HMS Malcolm for Fishery Protection Squadron duties off Iceland. He subsequently qualified as a Clearance Diving Officer at HMS Vernon in 1964.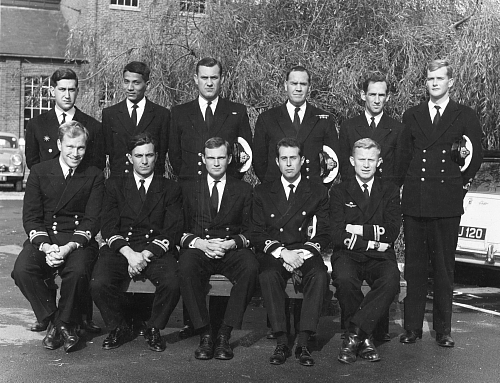 LCDO '64 with Brian Braidwood sitting far left and fellow MCDOA members
Peter Hicks sitting centre, Tony Lumbard standing third from left,
Colin Churcher MBE standing fourth from left and Peter Waddington
standing fifth from left
Brian was then appointed to HMS Bronington in the Vernon Squadron and featured in the archived minehunting footage of this c.1975 video (see from minute 01:21) first used in 'The Undersea War', a Royal Navy training film made in 1965:
Brian was the coxswain of Bronington's Gemini and the rest of the diving team comprised PO Dave Audoire and ABs Jan Gardner, Tanzy Lee, Dudley 'Wooly' Woolnough and Shorty Lougher. The callsigns of Bronington's Geminis were 'Pinky' and 'Perky' because the Command Security Officer had allegedly vetoed the use of 'Burgess' and 'MacLean'.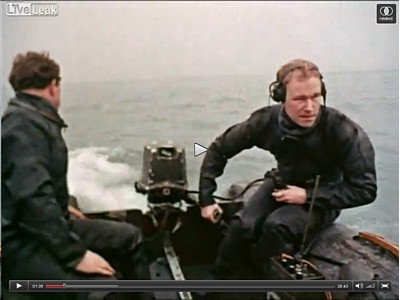 Brian Braidwood as coxswain of HMS Bronington's Gemini
This photo, provided by Brian, shows 'Perky' with the divers and film crew embarked: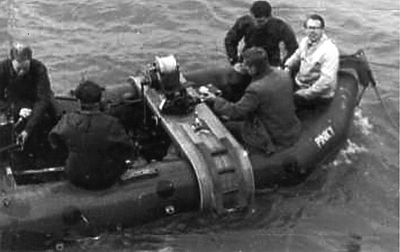 Brian then returned to serve in the Minewarfare Training Section at HMS Vernon until 1968 when he was appointed Fleet Clearance Diving Officer of the Far East Fleet Clearance Diving Team based at HMS Terror in Singapore. In January 1971, he was awarded a Queen's Commendation for Brave Conduct for an extraordinary operation as can be seen from this citation in the London Gazette:
On 1st June 1970, R.F.A. ENNERDALE, carrying 42,000 tons of fuel oils, sank in 100 feet of water in the Seychelles and it was decided that immediate action should be taken to release the oil while the South East Monsoon would carry the oil clear of the main islands. Conventional methods of placing explosives alongside the hull, using boats and divers were impractical in the heavy swell. Lieutenant Commander Braidwood, the Far East Clearance Diving Officer, working with Lieutenant Kenworthy, the senior pilot detached from 847 Naval Air Squadron, devised a method whereby 3 mortar bombs placed on a pallet could be lowered into position on the wreck from a helicopter, the cordtex fuse then being ignited by the crew inside the helicopter. With ENNERDALE lying on her starboard side, and using a Wessex HU Mk. 5 helicopter, this method successfully breached the port tanks, releasing about 12,000 tons of oil.
To reach the starboard side tanks another demolition charge was constructed. To place the charge in the correct position divers secured a 45 foot wire pennant to the top of the wreck and, using a gemini dinghy, joined it to a similar wire lowered from the helicopter. The dinghy raced clear, the helicopter crew fit the cordtex fuse and released the bomb tray which, on its ninety foot pennant, sank down alongside the vents on the lower tanks.
Later in the operation when H.M.S. CACHALOT was unable to fire torpedoes into the wreckage to free oil trapped in the hull, the warheads were taken off the torpedoes, and towed and detonated in the same way. When some of the warheads failed to explode, Lieutenant Commander Braidwood dived to investigate the reason. At this stage short pre-cut delay fuses were added and Lieutenant Commander Braidwood ignited the fuses on the surface of the sea, while suspended on the helicopter's winch wire. There was always a swell, often heavy, and diving was dangerous. Faced with a difficult and unusual situation, Lieutenant Commander Braidwood showed remarkable ingenuity and courage.
Brian was presented with his QCB by Admiral Sir Horace Law, Commander-in-Chief Naval Home Command, in the great cabin of HMS Victory in June 1971 with the legendary MCD officer Stuart 'Jazz' Honour MBE representing the Captain of HMS Vernon.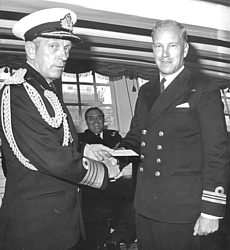 Brian wrote this illustrated account of his time in command of the Far East Fleet Clearance Diving Team which is also available via the website's Dit Box.
Brian subsequently served in the Leander class frigate HMS Scylla from 1971 to 1973, as OIC of the Plymouth Clearance Diving Team from 1973 to 1974 and as OIC of the Defence Explosive Ordnance Disposal School (DEODS) at Chattenden from 1974 to 1976. He then spent many years at Southwell on Portland under the various guises of Captain Underwater Weapons Acceptance, DRA Southwell, DGUW(N), etc. Here, he pioneered and trialled new diving and EOD equipment for the Royal Navy. In 1985, he was sent to New Zealand to survey the wreck of Greenpeace's Rainbow Warrior and was called as an expert witness during the investigation into her sinking by the French intelligence services.
Although Brian left the Royal Navy in 1989, he was frequently consulted by government and commercial organisations about diving and underwater EOD matters including the inquiry into the sinking of MS Estonia in the Baltic in 1994. In August 2007, he belatedly celebrated his 70th birthday with a 24 metre dive off Portland ending up with 18 scallops. In October the same year, he celebrated the 50th anniversary of his original SWD qualification with a "civilised" dive in the Dunker at Yeovilton (see entry for 14 Nov 07 in News Archive 20).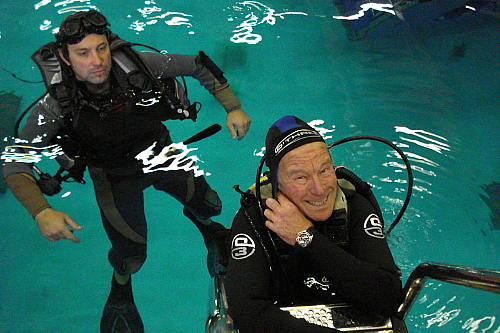 He was a staunch member of the MCDOA and a frequent contributor to the website. I will miss his friendship immensely.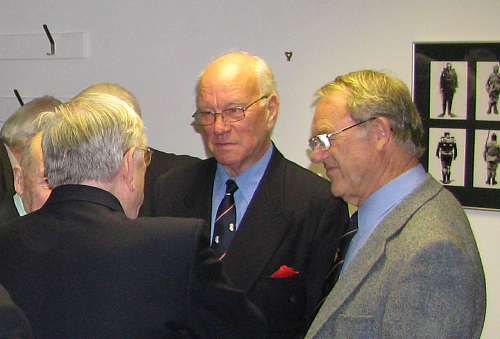 Brian Braidwood at the MCDOA AGM in 2010
I am sure all members of our community will join me in extending our sympathy to Brian's bereaved wife Sonia, son David, daughters Fiona and Tessa and his other family members. He lived near Dorchester and I will publish funeral arrangements if and when they become available.
---
From former CPO(D) Clive Egginton:
"Hello Rob,
Very sorry to hear about Brian Braidwood. He gave me much encouragement and help whilst I was in Portland and later on when I was working offshore.
Very sad. He was a gentleman.
Clive Egginton"
---
From MCDOA member Mike Gillam:
"Hi Rob
Sorry to hear about Brian, a stalwart member of the branch with a great record, particularly in the Far East.
Sorry also to learn about Bill Thorniley, another old friend.
Mike"
---
From MCDOA member David Burstall:
"Hello Rob,
I was very saddened to hear that Brian had died. Though it is many years since I last saw him, our paths in the Navy crossed a number of times, though we never served together. He was invariably cheerful and always good company. I am delighted he got recognition for his diving expertise in the Maldives.
I regret I will not be able to attend his funeral and so would be grateful if you would represent me.
Regards,
David"
---
From MCDOA member Colin Churcher MBE:
"Hello Rob,
It was a shock to hear of the death of Brian. We qualified together on the '64 CDO course. I was the " Old Man" of the team and I always felt that Brian was 'keeping an eye on me'. I certainly felt happier with him on the other end of my buddy line.
Unfortunately I am unable to attend the funeral as I have difficulty in walking.
Colin"
---
From MCDOA member Jon Riches:
"Rob,
How very sad to hear of Brian's death. I relieved him as First Lieutenant of HMS Bronington in early 1967. He gave me an excellent turnover and introduced me to life in Edinburgh where he and Sonia had a flat. Subsequently in various MCD appointments I had many dealings with Brian. He was a good man to deal with and always cheerful and helpful with a fund of stories.
Sadly I am unable to make his Memorial Service but send my condolences to Sonia and his family.
Jon"
---
From MCDOA member Dougie MacDonald:
"Hello Rob,
Very sorry to hear about Brian. My thoughts are with his family.
As pond life, my ship was supported by Steve G's [Gobey's] team and I recall a similar meeting where we never knew quite what Brian was going to produce from his Pusser's grip! Later in BRECON, having played Brecon (Wales) First XV and lost heavily, I woke up in RNH Haslar to find Brian in the bed beside me. I attracted the ire of Matron and was saved by Brian leaping out of bed to defend me. I shall always be grateful.
Dougie"
---
From MCDOA member Steve Gobey:
"Dear Rob,
So sorry to hear the sad news of Brian's passing. When he handed over to the RAF as OIC of DEODS in 1976, he also handed over to me as RN Training Officer. Sally and I had just returned from the Australia exchange and Brian and Sonia were most helpful in sorting out a married quarter, getting all our stuff delivered and making sure we were settled in and fully prepared for life with the Army!
After DEODS I was the Boss of the FOST Diving Team at Bincleaves where we often provided assistance to Brian for his trials on new and experimental underwater EOD equipment. We never knew quite what Brian was going to produce from his Pusser's grip - or his garage!
Sally and I regret we cannot be there on Monday but please pass our sincere condolences to Sonia and the family.
Yours Aye,
Steve"
---
From MCDOA member Alan Padwick OBE:
"Hi Rob,
It was shock to hear that Brian is gone. Our career paths often crossed, starting in 1962 when as a very green Sub Lt I relieved him in HMS MALCOLM in the Iceland FPS. I also took over from him in the Minewarfare section at VERNON in 1968. When I was S of D in 1983 to 86, I found I was theoretically partly his boss, his other boss being a civil servant. We each assumed the other knew what he was up to when there seemed to be a blank in information, so we were both rather surprised one morning when we saw him interviewed on TV in New Zealand, when neither of us knew he had gone there! We both did a panic audit of our travel budgets.
I wish we could get to his funeral but my cousin has also died and his funeral is at the same time as Brian's. Please pass on my regards to all who get there and my sympathy to Sonia (assuming you can make it). Sarah has sent you a message which she would like to be passed to Sonia.
Yours,
Alan"
---
From MCDOA member John Grattan OBE:
"Dear Rob,
I much regret that I am unable to make the Memorial Service for Brian Braidwood next Monday because I have broken my right shoulder blade and cannot drive. One is supposed to get wiser with age - rubbish - silly accidents still occur!
Please 'rep' me amongst all your other friends.
Yours aye,
John"
---
From MCDOA member Bryan Barrett in the USA:
"Hi Rob,
I am so sorry to hear of the death of my old friend Brian Braidwood. He was on the CD course before me ('64 – I was '65) and we worked together in various capacities for many years. He was a good friend. Requiescat in pace.
Wishing you the best for Christmas and 2015,
Yours aye,
Bryan"
---
From ex-CPO(D) Perry Mason:
"It saddens me to hear of the passing of yet another member of the branch especially at this time of the year or for that matter at any time of the year. My thoughts, prayers and condolences go out to his wife Sonia and the remainder of his family.
Rest in peace Brian."
---
From ex-PO(D) Dudley 'Wooly' Woolnough:
"Dear Rob,
So sorry to hear about the death of Brian. As mentioned in your post, I was one of Bronington's crew. One incident sticks in my mind, one that I have told many times in various bars.
After an exercise off Harwich we were minehunting to recover the dummy ground mines. It was my dive and I was a brand new CD3 having only qualified about six months previously in 1964. When I hit bottom with my torch the viz was extremely good and I had landed about five feet from a German GC in perfect condition. On surfacing I told Dave Audoire and we returned to the ship to advise the Captain. I was showering when called to the wardroom (in my towel) to confirm my sighting and point it out in AMP5.
After various signals it was decided we would blow it next day. An exclusion zone was set up and I think Jan Gardener did the first dive to set the PE. For some reason, it did not go off. Neither did the next three attempts. It was now getting dark and Brian Braidwood said he had run out of igniters and would have to return to Bronington to get more. The problem was the three lines of cordtex going down to the GC.
Brian decided that the only thing to do was leave me behind holding onto the cordtex. The only light available was a small lifejacket salt water activated indicating light. I seriously thought he was taking the **** but no, I got in the water with just fins and drybag, three lines of explosive cord and my indicating light in the middle of the main shipping lanes in and out of Harwich Harbour. The Gemini disappeared back to Bronington and I bobbed up and down for about an hour before they got back to me.
This is a story that would be very much highlighted in my book if I ever get round to writing it. There are many more stories I could tell about Brian, but as he cannot now defend himself best left in the memory bank. Unfortunately I will not be able to make service on the 22nd and am sailing out of Tilbury on a Christmas and New Year cruise with Terry Settle and wives. If you manage to attend please pass on my condolences to Sonia and family.
Regards,
Wooly
Ex-PO CD1 Dudley M. Woolnough MIIRSM Tech. IOSH
Deep Marine Works"
---
11 Dec 14 - The hospitality of HMS Middleton and HMS Ledbury
I spent yesterday with fellow members of the Ton Class Association (TCA), the Mayor and townspeople from Ledbury and representatives of the Ledbury Hunt being hosted by MCM 2 Crew 4 on board HMS Middleton and HMS Ledbury in Portsmouth Naval Base. I was particularly pleased to see my old buddy ex-CPO(D) Spike Wheeler again.
We were met at Trafalgar Gate by Navigating Officer Glyn Duffell and his assistant Alex Saunders before being taken in a ubiquitous BAE Systems bus to the ships' berth in 2 Basin.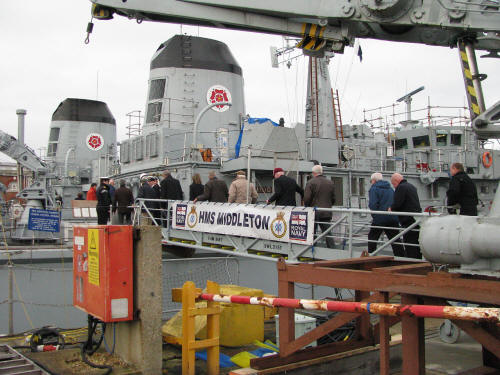 After a safety brief by LS Rich and a warming cup of coffee, we were welcomed by Commanding Officers Mark Headley and Steve White.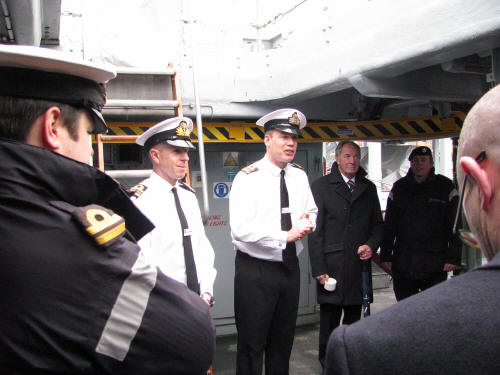 We were then split into groups and shown various parts of the ship. PO(MW) David Pearce and AB(MW) Flintham explained the systems in the Ops Room while Ops Officer Tom Hazel looked on.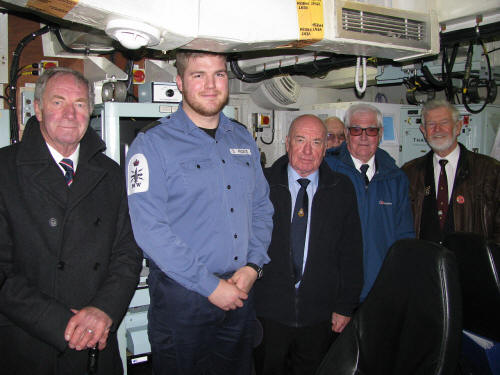 We then went to the bridge where ship's navigating officer Glyn Duffell described the operation of the systems.