---
| | | |
| --- | --- | --- |
| | Have you ordered your miniature of the Vernon Monument yet? It is being sold in a variety of sizes, finishes and prices to raise funds for the planned sculpture at Gunwharf Quays in Portsmouth to celebrate the Minewarfare & Diving heritage of HMS Vernon which previously stood on the site. 'Project Vernon' is officially supported by Portsmouth City Council, Gunwharf Quays, the MCDOA, AORNFCD, MWA, RNCDA and the TCA. Click here for details. | |
---
28 Aug 16 - It's today!
Today is the day I risk my neck to raise funds for the MCDOA's adopted charity (The Vernon Monument) and the Royal Navy and Royal Marines Charity (RNRMC). My overall total currently stands at a gratifying £4,212.50 but with your help I would like to get a bit closer to my outrageously ambitious target of £10k.

I am extremely moved by the kind donation from Cheryl Brassington Edwards in memory of her late father, ex-CPO(D) Michael 'Shiner' Brassington.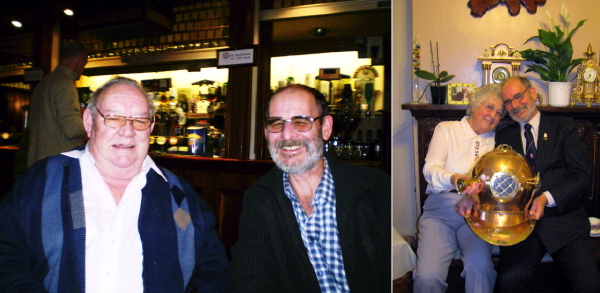 Yours Truly with Michael 'Shiner' Brassington (left) in 2009 and with his widow Coralie (right)
after his funeral last October
I am also touched to have received a donation from a sibling of Lt Thomas 'Ned' Kelly in his memory. As killick divers, Ned (who died aged 42 in September 2001) and Charles 'Charlie' Anthony Smithard (who died aged 27 in January 1983) were second dickies for LMCDO courses in the early 1980s with Ray Ramsay as Chief Instructor and me as Course Officer. There are memorials on Horsea Island to both of them but the Vernon Monument will act as a publicly visible tribute to all who have paid the ultimate price while serving in minewarfare, diving and bomb & mine disposal roles.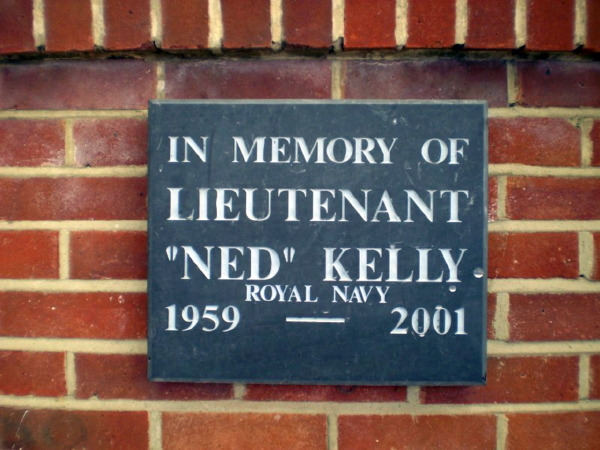 Memorial to Ned Kelly on a building at the top end of Horsea Lake
Memorial to Charlie Smithard outside the Defence Diving School on Horsea Island
Left: Upper plaque on the memorial to Charlie Smithard
Right: Lower plaque on the memorial to Charlie Smithard
The engraving on the upper plaque mounted on the memorial to Charlie Smithard states:
ERECTED BY THE CLEARANCE DIVING
BRANCH R.N. TO THE MEMORY OF
LEADING SEAMAN DIVER CHARLES SMITHARD
ROYAL NAVY
_________________________
LS(D) SMITHARD SERVED WITH DISTINCTION
IN THE FALKLANDS CAMPAIGN, ONLY TO DIE
TRAGICALLY IN A ROAD TRAFFIC ACCIDENT
ON JANUARY 18th 1983
The engraving on the lower plaque mounted on the memorial to Charlie Smithard states:
15 in SHELL FROM THE WRECK OF
HMS VANGUARD WHICH SANK IN
SCAPA FLOW 7th JUNE 1917. RECOVERED
BY CLEARANCE DIVERS 7th JUNE 1975.
"THE EMBLEM OF EXPLOSIVE ORDNANCE DISPOSAL"
_________________________
A KILLICK ANCHOR
"THE EMBLEM OF THE LEADING SEAMAN"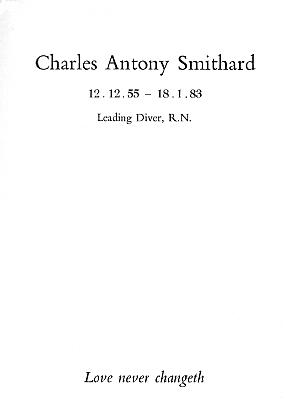 Front cover of a personal notelet from
Charlie's mother Marie
RIP Shiner, Ned and Charlie.
The statistics show that around 47,000 internet users access this website each month. So far, only 55 people have contributed to my fundraising campaign. Where are the rest of you? If you have not done so already, please sponsor me in my endeavour today or as soon afterwards as you can manage:
Rob Hoole's Abseil fundraising page
---
26 Aug 16 - Webmaster's fundraising abseil for the Vernon Monument this Sunday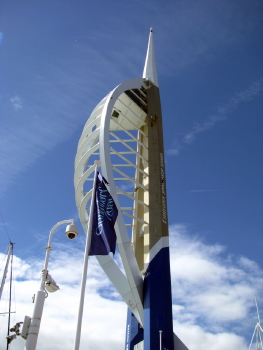 Only two days until my abseil down the Emirates Spinnaker Tower at Gunwharf Quays to help raise funds for the Vernon Monument (see entry for 8 Aug 16). I would like to thank my fellow divers and members of our close-knit MCM community plus family and friends who have helped me raise almost £4k to date. I still need £6k to reach my outrageously ambitious target so please keep donating. As my chemistry teacher used to say, if you're not part of the solution, you're part of the problem.
Fittingly, Gunwharf Quays (where there is already an Army monument) was previously HMS Vernon, the Royal Navy's alma mater of minewarfare, diving and bomb & mine disposal. Not only will this monument celebrate our community and its achievements; past, present and future, but it will also act as a permanent eye-catching reminder to the 8 million people who visit Gunwharf Quays each year that this work carries on to this day.

Artist's impression of world-renowned Australian sculptor Les Johnson FRBS's
near twice life-size 14-ton Vernon Monument in situ at Gunwharf Quays
The Vernon Monument is the MCDOA's single adopted cause but please be generous whether you are an Association member or not. Every donation brings us closer to our target. If you haven't sponsored me already, please do so via my fundraising webpage. If eligible, don't forget to add the Gift Aid which boosts your contribution by 25%.
Rob Hoole's Abseil fundraising page
10% of my proceeds will go to the Royal Navy and Royal Marines Charity (RNRMC) which has been so supportive in the past. Thank you in anticipation.
---
22 Aug 16 - John & Ann Bevan's barbecue and related forthcoming events
MCDOA associate member Dr John Bevan, Chairman of the Historical Diving Society (HDS), and his charming wife Ann hosted their annual barbecue in glorious weather yesterday.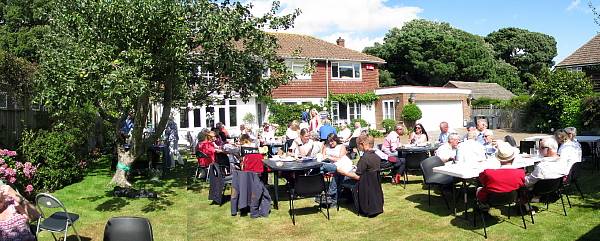 Here is John in uncharacteristically subdued clothing. Beyond the fence is INM (Institute of Naval Medicine), centre of excellence for much pioneering work in naval diving medicine and environmental physiology.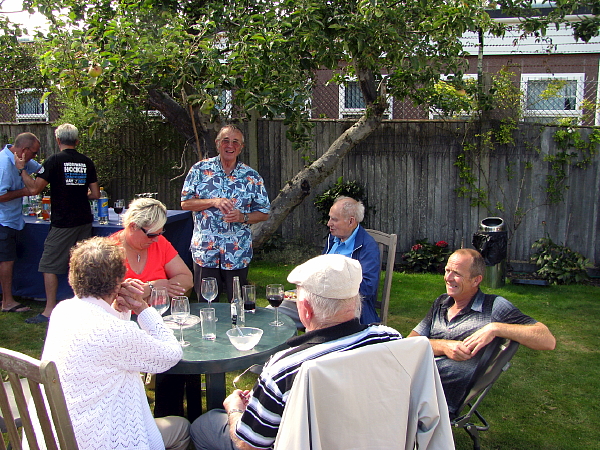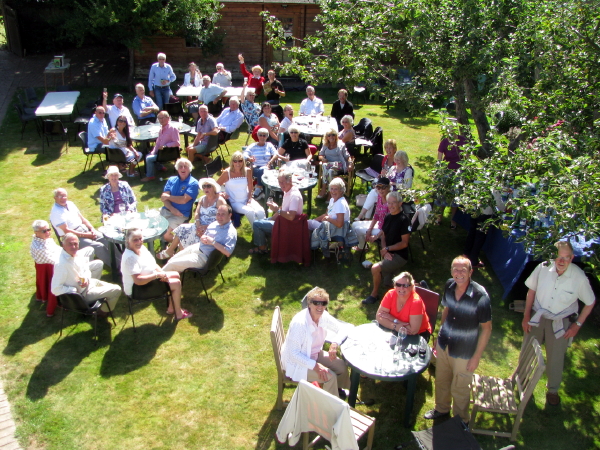 Unfortunately, ex-CDs John Dadd and Jim 'Tommo' Thomson and MCDOA member and former Sapper diving officer Les Rutherford were busy looking after 'the shop' (the nearby Diving Museum) and arrived too late to be included in the photos.
In March 1970, John Bevan and his RN Scientific Service colleague Peter Sharphouse established a new deep diving record at Alverstoke's RNPL (RN Physiological Laboratory) DTU (Deep Trial Unit) at Haslar when they spent 10 hours at a simulated depth of 1,500 feet of seawater (457 metres of seawater). This dive was 300 feet beyond the predicted maximum of around 1,200 fsw (366 msw) and was described by American colleagues at the time as "a hyperbaric moon landing". HMS Reclaim's divers participated in the trials and later applied the lessons learned, and decompression tables developed, during their open water saturatation diving operations (see HMS Reclaim - A World Record-Breaker in the website's Dit Box).
More recently, John has been the prime mover behind the establishment of the HDS Diving Museum in No.2 Battery at Stokes Bay and its associated Library in a disused civil defence bunker in Gosport. He is a prolific author and will be among the speakers at the Vernon Heritage Conference in Gunwharf Quays on Friday 23 September when he will talk about the subject of one of his books, the enigmatic Cdr Lionel 'Buster' Crabb OBE GNM RNVR. This Conference, which features authoritative talks about three significant figures in the Royal Navy's rich history of minewarfare, diving and bomb & mine disposal, has been planned to help raise funds for the Vernon Monument and I urge members of our community not to miss it (see entry for 8 Jul 16).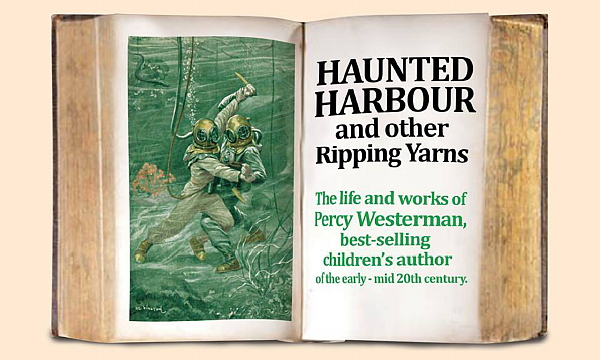 The next event at the Diving Museum is an evening talk with something for everyone interested in local history. It's about Portsmouth-born author Percy Westerman who wrote naval/military themed stories based in Portsmouth, Southsea and Gosport. There will also be a rarely seen silent movie of one of his books made by Walsall Sea Scouts.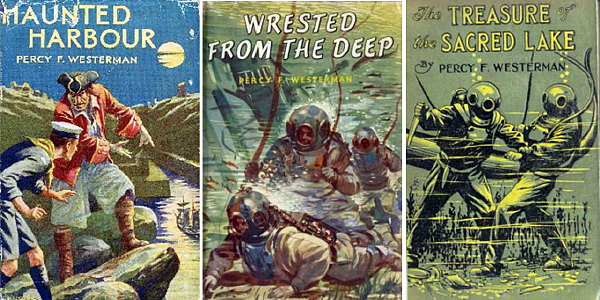 'Haunted Harbour and Other Ripping Yarns' is an illustrated talk by Nigel Gossop about Percy Westerman's life and works. It will be held on Saturday 27th August starting at 1800 and should finish at about 2030. All this AND a party atmosphere with drinks and nibbles at The Diving Museum. And all for only £6!
Get your tickets at The Tourist Office or here via the HDS website:
Booking for Haunted Harbour and Other Ripping Yarns
---
20 Aug 16
Turkish MCMV in search for missing Georgian military divers
I am grateful to MCDOA member Dave Stanbury, Principal Staff Officer (old-type SOO) for Standing NATO Mine Countermeasures Group 2 (SNMCMG2), for this email:
"Rob,
Good morning.
This article may be of interest to some of your readers!
Turkey assists in search, recovery of missing Georgian soldiers
Marine experts from Turkey are the latest international players to get involved in a search and recovery operation of two Georgian soldiers who went missing two days ago during a deep sea training dive in the Black Sea off Georgia's west coast. A vessel from Turkey's Coast Guard Service with nine crew on board entered Georgian marine space yesterday afternoon, and is already participating in today's search and recovery for the two missing soldiers.
Meanwhile a larger ship from the Turkish Navy is expected to arrive in Georgian territory tomorrow morning to assist in the search, announced Georgia's Ministry of Defence today. The larger ship is equipped with special sonar and camera equipment used to record the contour of the sea floor and detect items in deep water, and on board are personnel who are trained for such operations.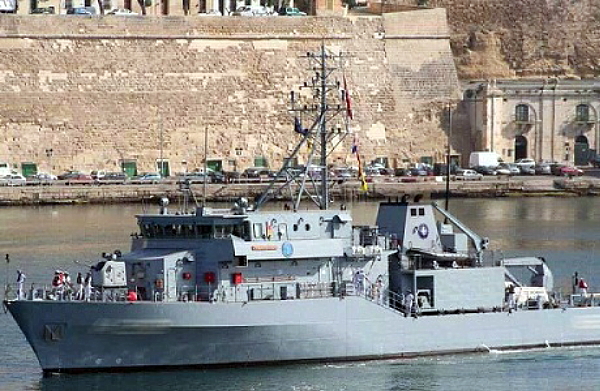 The missing Georgian soldiers have been named as Corporal Iago Sharadze and First Class Private Giorgi Nanetashvili. The pair were undergoing mandatory diving training within the scheduled maritime special course in the Gonio region but failed to surface after the planned dive. The training exercise took place on Monday morning...
Dave Stanbury"
Let's pray they turn up safe and well.
---
RAN personnel in the Battle of the Atlantic
I am grateful to MCDOA member Brian Dutton DSO QGM for this email:
"I thought this article from a friend of mine in Australia is of interest as a couple of Aussies (maybe more) were in X-Craft and one certainly had a dive without diving suit as it had been lost in the X-Craft.
Australian Sailors in the Battle of the Atlantic
...Not all Rushcutter graduates remained in the escort forces. Lieutenant (later Lieutenant Commander) Max Shean, RANVR, for example, saw action in submarines. After spending 15 months on convoy duty in the North Atlantic, Shean volunteered for 'special and hazardous service' manning the Royal Navy's 'X-Craft' midget submarines. In September 1943 he participated in Operation SOURCE, which aimed to destroy Tirpitz while anchored in a Norwegian fjord. Six X-Craft were towed by ocean-going submarines to the operation area, but Shean's X-9 being towed by HMS Syrtis, parted its tow and disappeared with her three-man passage crew. Shean, who was aboard Syrtis at the time, was sent into the water to clear the fouled line from Syrtis' propeller. With his diving suit lost in X-9, Shean had to dive into the frigid Arctic waters wearing overalls weighted with steel bars, but completed the task successfully.
Shean went on to command X-24 during Operation GUIDANCE in April 1944; a solo raid on an important floating dock in Bergen Harbour, Norway. X-24 was towed to the drop-off point by HMS Sceptre, commanded by another Australian-born officer, Lieutenant (later Vice Admiral Sir) Ian McIntosh, RN. The final approach required X-24 to negotiate a passage of some 40nm through patrolled waterways protected by two minefields and torpedo nets. After successfully entering the busy basin Shean and his crew set 24-hour time-delayed charges on their target and made their way back out to the rendezvous with Sceptre. Upon their return to Scotland they discovered that poor intelligence and incorrect charts had led them to set their charges on an enemy ammunition ship instead of the dock. This did not, however, diminish X-24's remarkable feat. The attack was deemed a success and Shean was awarded the DSO for his leadership...
Best regards,
Brian"
---
19 Aug 16 - New crew for HMS Chiddingfold in the Gulf
The Navy News website contains this article announcing that MCM2 Crew 3 has taken over HMS Chiddingfold from MCM2 Crew 5 in the Gulf. The article features AB(D) Brad Hayes, AB(MW) Andy Holmes and AB(MW) McNamee.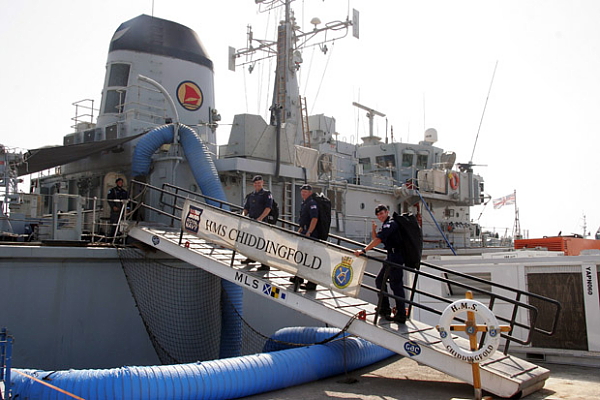 Above and below: MCM2 Crew 3 taking over HMS Chiddingfold at Mina Salman in Bahrain
(Navy News photos)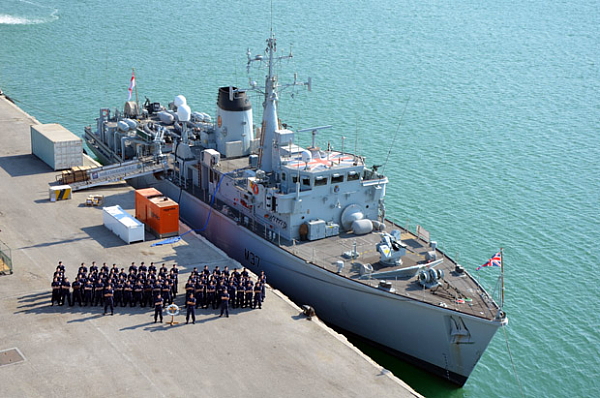 ---
18 Aug 16 - FDS divers to perform Horsea Lake circuits for charity
The Royal Navy website contains this article announcing that 40 members of the Fleet Diving Squadron (FDS) will perform a six-hour marathon stint of 1,000 standard trainiung circuits at Horsea Island to raise funds for Prostate Cancer UK. The event will take place on Wednesday 31 August and involve each diver performing 25 circuits totalling 2½ kilometres in the water and the equivalent of 10km on land making a grand total of 100km swum and 400km run for the entire team.
Online donations may be made via:
https://www.justgiving.com/fundraising/RN-Fleet-Diving-Squadron
---
17 Aug 16 - Spanish reunion for ex-CDs Pete Gallant and Robin 'Harry' Neave
I am grateful to Pete Gallant for drawing my attention to this article on the Costa Blanca's Round Town News website describing his June reunion in Spain with fellow ex-CD Robin 'Harry' Neave.
Pete and Harry served together on the Portland Clearance Diving Team in 1962-63. This was their first meeting since then as they served in different locations during the rest of their time in the Branch. Pete lives in the Jalon Valley in Spain while Harry and his wife Maureen live in Melbourne, Australia.
Here is the text of the article:
Heads above water
SPECIALIST ROYAL Navy mine clearance divers Peter Gallant and Robin 'Harry' Neave enjoyed meeting on dry land for a rare catch up. Both served in a naval diving team based at Portland Harbour in Dorset in 1963 – Peter now lives in Jalon and Harry in Melbourne. However, with Harry visiting family in Spain, there was an opportunity for the former comrades to meet.
Both were trained in bomb and mine disposal – dealing with suspect devices washed up on the coast or caught in fishing nets, as well as other underwater duties. When ships visited Portland, their team would attach dummy limpet mines to hulls to help train the crew's own divers in the art of searching for explosive devices after dark.
After the Dorset posting, Peter went to the Far East to help clear Japanese munitions dumped in the sea between Singapore and Malaya at the end of WW2, Harry was stationed in Malta dealing with unexploded bombs in the waters around the Mediterranean island during the war. And following their Navy service, Harry worked for a diving company recovering gold bullion from the wreck of HMS Edinburgh sunk on its voyage to Russia; Peter dived for oil companies operating around the world.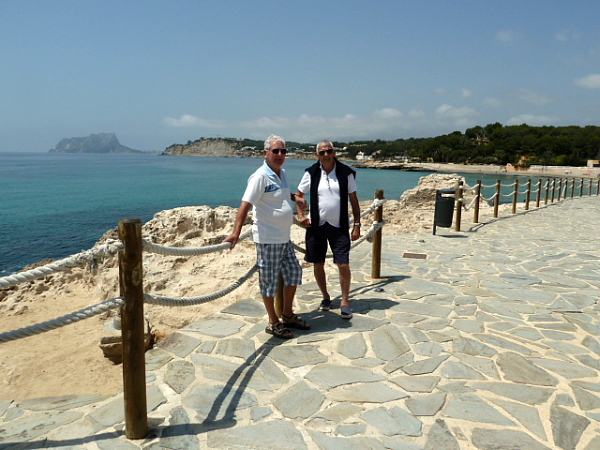 Pete Gallant and Robin 'Harry' Neave on the Costa Blanca in Spain
This photo shows members of the Far East Fleet Clearance Diving Team, including Pete Gallant wearing old-style SABA, on board MFV 164 in 1965 while conducting the first diving inspection of the wreck of HMS Repulse (see The Far East Fleet Clearance Diving Team by Mike Gillam in the website's Dit Box).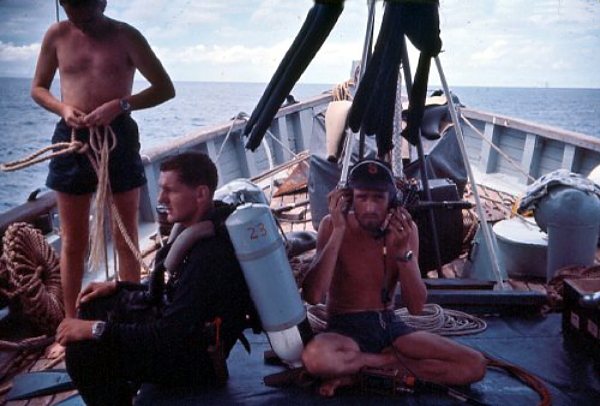 Lt Cdr David Lermitte, Pete Gallant (wearing old-style SABA) and Leo Whelan
of the Far East Fleet CD Team on board MFV 164 in 1965
This photo shows the Mediterranean Fleet Clearance Diving Team, including Harry Neave sitting second right, on Manoel Island in Malta circa 1968-69 (see entry for 7 Jan 16 in News Archive 53).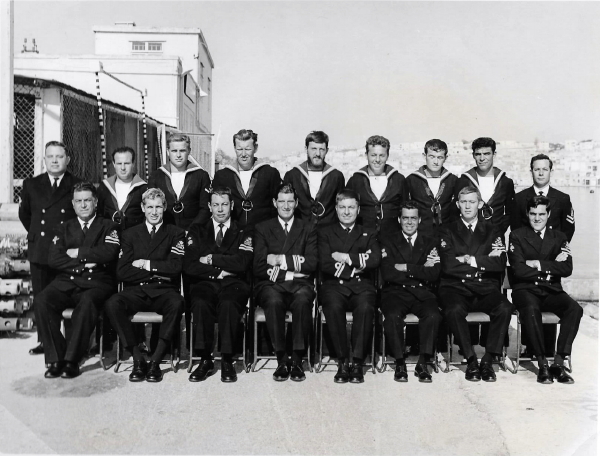 Back row: LEP (Locally Employed Personnel), LEP, Dave Shea, Errol Flynn, Robbie Roberts,
Ken Bryant (ships diver), Mick Curtin, LEP, LEP.
Front row: LEP, John Dadd, Alf Slingsby, John Parry, Dave Bartlett, Darky Newman,
Harry Neve, Dudley North
---
From Pete Gallant on 21 August:
"Hola Rob,
It was great meeting old friends after all this time. We are both well into our seventies and have done quite a lot with our lives since leaving the Royal Navy.
We had plenty of yarns to catch up with. Our time in the Navy was a very good background for the jobs I had before final retirement. I had originally joined up as a Royal Marine Musician. After I transferred to the Navy and got into the Diving branch, I never looked back and still keep in touch with some of my old diving mates.
Your article was well put together with both our photos from our Navy time, Since you published it on the MCDOA website's Latest News page, I have been contacted by Mike Lambert who was in the Portland team at that time,
With best wishes for your abseil,
Pete G"
---
15 Aug 16 - SDU2 deals with mortar bomb at Droxford
The ITV website contains this article describing Saturday's recovery, presumably by members of Portsmouth-based Southern Diving Unit 2 (SDU2), of a mortar bomb dug up in a back garden at Droxford in Hampshire.
---
14 Aug 16 - RN Minewarfare & EOD Heritage: Lt-Cdr Charles Graham Tanner GM RNVR
I am grateful to Ed McFarlane for the following email and photo:
"Hello,
I saw this tablet in Farnham churchyard mentioning the above and his father and found your entry for him on your site.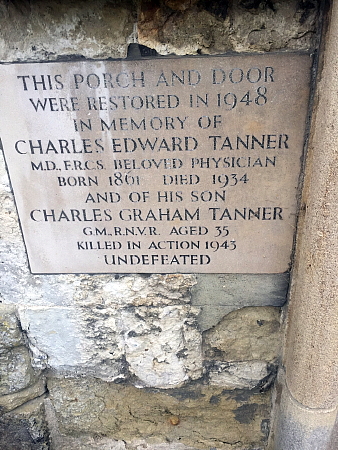 Thank you for maintaining your online memorial to so many.
Regards,
Ed McFarlane"
From the MCDOA website's list of WW II Awards for RN Diving and Bomb & Mine Disposal in the Branch History section:
NAME

RANK/RATE

UNIT

DATE
GAZETTED

AWARD

REMARKS

TANNER
Charles Graham

Lt RNVR

HMS President (London)

20 Apr 43

GM

RMS/BD - GM awarded for gallantry and devotion to duty. Mine disposal Thames Oct to Nov 42.
From the MCDOA website's list of Royal Navy Bomb & MIne Disposal Casualties in the Branch History section:
NAME

RANK

SERVICE

UNIT

DATE OF DEATH

ADDITIONAL INFORMATION

TANNER GM


Charles Graham

Lt Cdr

RNVR

HMS President
(London)

22 Sep 1943

GM awarded for gallantry and devotion to duty. Mine disposal Thames Oct to Nov 1942. Killed with FOURACRE while attempting to render safe two unexploded G type mines from wreckage of a crashed Dornier Do-217 at Out Newton, Yorkshire. Aged 35. Buried Tilford (All Saints) Churchyard near Farnham, Surrey.
I have thanked Ed for his kind words and photo. The Vernon Monument will constitute a more tangible memorial to our forebears (and much else) and Ed has graciously made a donation to our Association's adopted cause via my Spinnaker Tower Abseil fundraisng page.
---
13 Aug 16 - HMS Middleton defeats RAN frigate at football in the Gulf
The Royal Navy website contains this article describing how HMS Middleton (MCM2 Crew 6) has beaten HMAS Perth 8-1 at football in Bahrain. The article features LS(MW) Eddie Edmondson who scored one of Middleton's two hat-tricks and LS(MW) Ashley Stone who helped organise the match.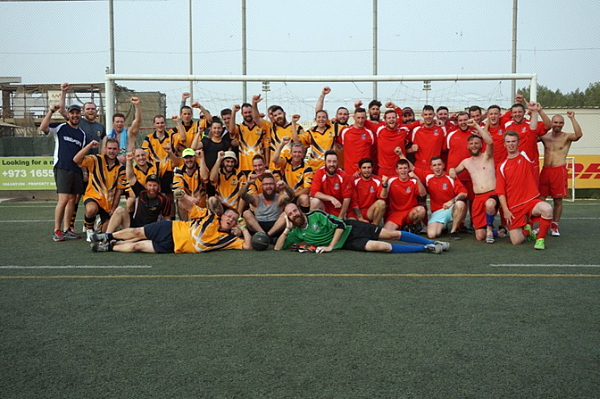 HMAS Perth and HMS Middleton football teams
(RN website photo)
---
12 Aug 16 - SDU1 detonates mortar bomb at Saundersfoot
The Wales Online website contains this article, including video, describing Wednesday's disposal by members of Plymouth-based Southern Diving Unit 1 (SDU1) of a mortar bomb on the beach at Saundersfoot in Pembrokeshire.
---
11 Aug 16 - False alarm for SDU2 at Lepe
The Southern Daily Echo website contains this article describing yesterday's call-out for members of Portsmouth-based Southern Diving Unit 2 (SDU2) to deal with an item of suspected ordnance on the beach at Lepe in the New Forest. The object turned out to be part of a car engine
---
10 Aug 16 - Ride & Dive in Gosport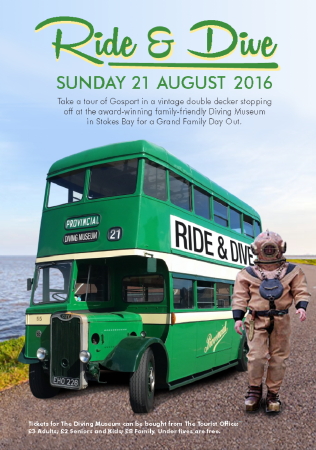 ---
9 Aug 16 - Funeral of Edward John Towse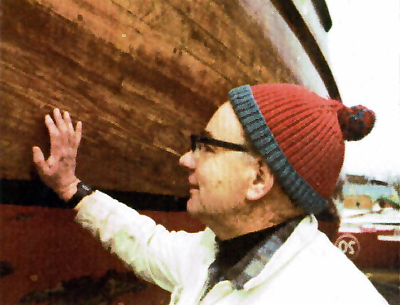 St Mary's Church in the grounds of Porchester Castle was packed yesterday for John's funeral (see entry for 23 Jul 16). Apart from members of his family, mourners included many of John's friends associated with Southsea BSAC, the HDS (Historical Diving Society), the Mary Rose Trust and Portchester Sailing Club. MCDOA members included HDS Chairman Dr John Bevan and Yours Truly (Rob Hoole) as well as former CD1s John Dadd BEM, Clive Egginton, Mike O'Meara and ex-CD Jim 'Tommo' Thomson.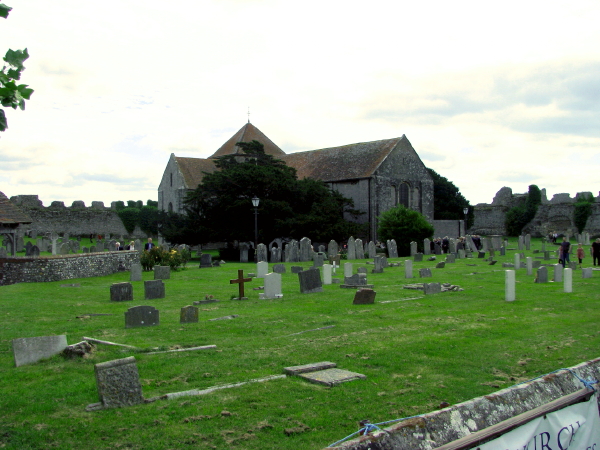 We entered the church to the sound of Elgar's Nimrod played by the Band of HM Royal Marines, Portsmouth. The casket, draped in a red ensign and covered with floral tributes, was then borne in and place in froint of the altar. Revd Mark Williams, the church's curate, then welcomed attendees before saying an opening prayer. This was followed with a lusty rendition of the Naval Hymn (Eternal Father).
This tribute was then paid by David Wells, one of John's nephews:
JOHN TOWSE 1934 - 2016
John was a wonderful uncle and friend to all who knew him but to us his nieces and nephews, and all our children he was just John.
He drove our mothers, his sisters, to distraction as he always turned up to all family gatherings late for his meal just as everyone finished, but his arrival always heralded tales of chaos & laughter and was awaited with excited anticipation as he would always bring the most interesting presents.
But as the family spread further afield, for our children a visit to Portchester was always exciting - they loved coming down with the hope of spending time with John. You never knew what adventures you might have:
A trip out on the boat - which always meant being late for tea!
Windsurfing lessons - sometimes in the back garden!
Homemade stilts!
Nothing was too much trouble for John when it came to family, and all of us loved and appreciated that
He took both of his sisters under his wing once they were living alone, helping them move into adjoining houses to his, where they competed for his attention to the extent that he had to eat Sunday dinners on alternate weeks with each to keep them happy! He was at their beck and call, and was always there for them, though not necessarily straight away - especially if the tide was right!
Spending time in his company was happily anticipated and guaranteed to leave you with a smile on your face.
He was hugely instrumental in bringing us face to face with part of our history.
An intelligent, funny man, with a love for life. A natural raconteur to whom weird & crazy things regularly seemed to happen. He has left an amazing legacy with the Mary Rose, but he has also left a huge gap in our hearts.
He spent many hours over a long period researching family history, and was also instrumental in co-producing a photographic history of Portchester - the place he lived his whole life. He was also involved in rebuilding the Lych Gate we have all just walked through.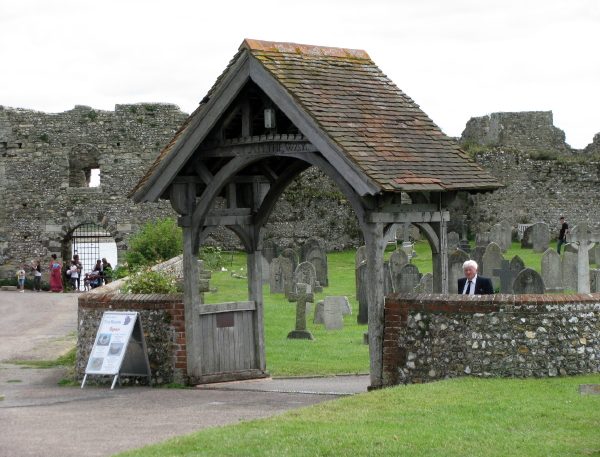 John always had a love of the sea and he joined Portchester Sailing Club as a Junior where he learnt to sail under the leadership of Cdr Bill Hammond. In 1954, John was one of the first members of Southsea BSAC and he quickly became its secretary. He had a passion for diving which dominated his life.
Sadly, he suffered from Alzheimers in his last few years but was very well looked after by carers from Access Care, in particular Vusa and Salim who was with him at the end.
The last of the Towse family in Portchester after around a century of the family living in the same small terrace - and the end of an era. So many happy memories.
As he would have said, "John Towse OUT"...but never forgotten
Neil Wycherley, Reader at St Mary's Church, then led the congregation in prayers before the Commendation and Blessing. We then followed the casket out of the church to the sound of the Naval Hymn played by Captain J R Perkins and the Band of HM Royal Marines.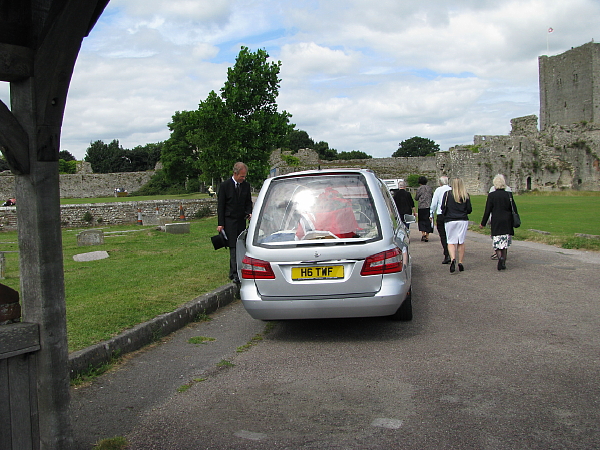 The family and close friends attended the Committal and Cremation at Portchester Crematorium while others waited for them to join us at Portchester Sailing Club adjacent to Portchester Castle.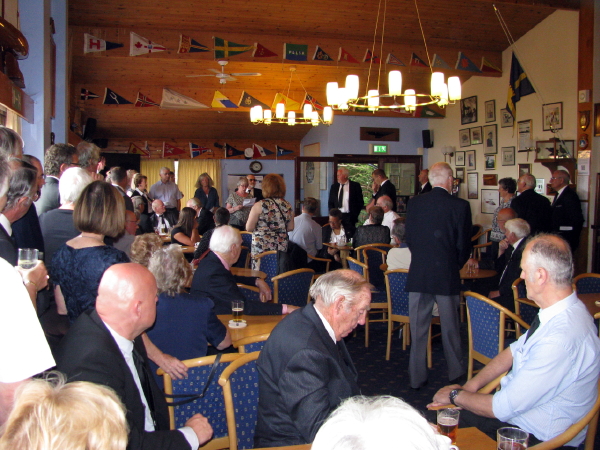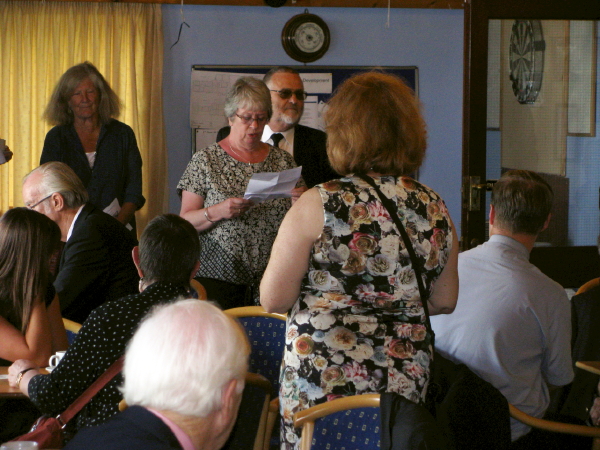 If you wish to make a donation in memory of John, please make cheques payable to the 'Mary Rose Trust' and send c/o Taylor & Wallis Funeral Directors, 125/127 West Street, Portchester, Fareham, Hampshire PO16 9UF.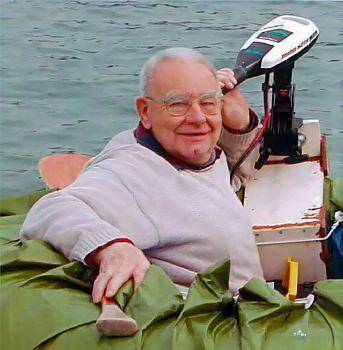 Edward John Towse
(14 Apr 1934 - 21 Jul 2016)
---
8 Aug 16 - Webmaster's abseil for the Vernon Monument and RNRMC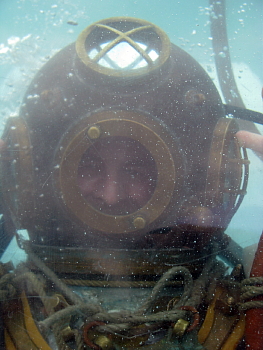 I am immensely grateful to the two serving and eleven ex-serving MCDOA members plus two ex-serving CDs and two ex-serving MWs who have appreciated my labours on this website sufficiently to sponsor me over the past month for my abseil in support of our Association's adopted cause (the Vernon Monument) and the RNRMC (see entry for 31 Jul 16). I hope other members of our extensive minewarfare & diving community feel similarly and will act accordingly. Every bit helps and Gift Aid will boost any donation by 25%.
Rob Hoole's Abseil fundraising page
My abseil down the Spinnaker Tower in Gunwharf Quays, formerly HMS Vernon, takes place three weeks from today. In the meantime, here is some more minewarfare & diving heritage the Vernon Monument will help celebrate, besides reminding people that such work continues to this day: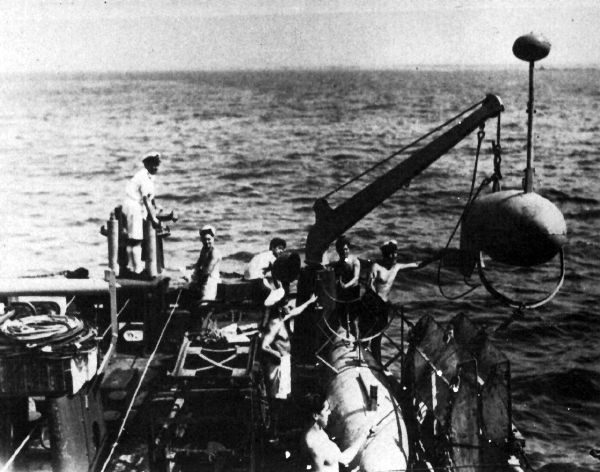 The Algerine class minesweeper HMS Fly streaming her Oropesa sweep
(developed at HMS Vernon) off Italy in 1943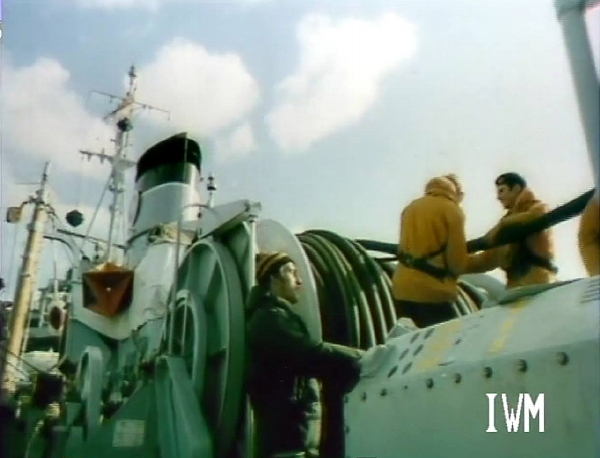 A beardless Yours Truly (wearing beret) helping to stow the MM (Magnetic Minesweep) Mk 11(L)
loop on board the HMS Vernon-based Ton class minesweeper HMS Lewiston in 1976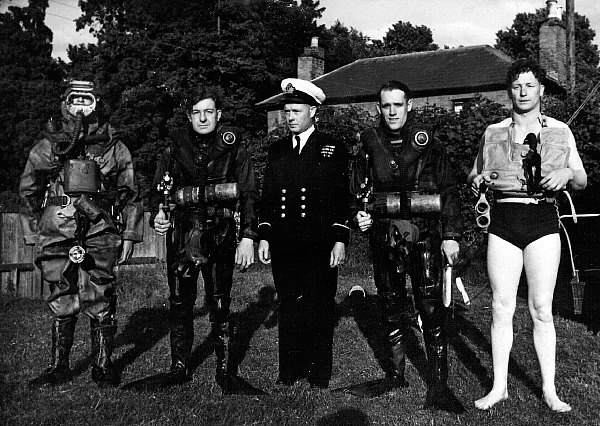 HMS Vernon divers in miscellaneous rebreathers in front of the now
demolished farmhouse on Horsea Island during the early 1950s
---
6 Aug 16 - Qualification of two new Clearance Divers
The Salford Online website contains this home town story describing the qualification of AB Martin Bosson and the Halesowen News website contains this home town story describing the qualification of AB Mitchell Bowen as Clearance Divers. The articles feature MCDOA members Andy Woollven (CO Defence Diving School (DDS)) and Simon Pressdee (Diving & EOD Capability).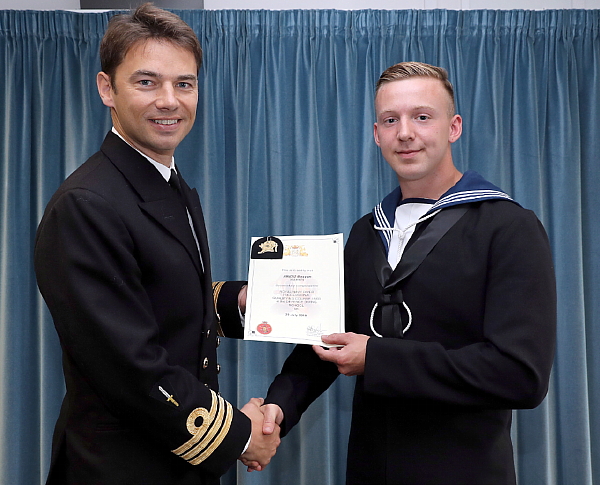 Si Pressdee presenting certificate of CD qualification to AB Martin Bosson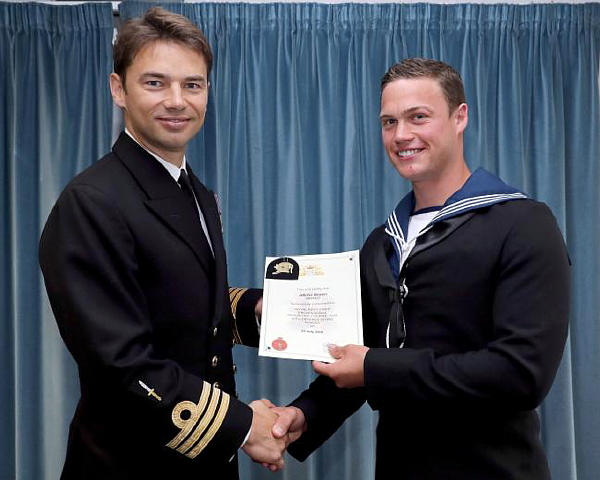 Si Pressdee presenting certificate of CD qualification to AB Mitchell Bowen
---
5 Aug 16 - FDU2 helps clear Baltic of Second World War ordnance
The Royal Navy website contains this article describing the participation of Portsmouth-based Fleet Diving Unit 2 (FDU2) in the month-long Exercise OPEN SPIRIT in and around the port of Klaipeda in the Baltic. They found 20 contacts, two of which proved to be wartime mines. The exercise also involved the Lithuanian minehunters LNS Skalvis (ex-HMS Cottesmore) and LNS Kuršis (ex-HMS Dulverton). The article features MCDOA member Rob Tristram, OIC of FDU2.
Members of FDU2 operating in the Lithuanian port of Klaipeda
(RN website photo)
---
4 Aug 16 - Former RFA Diligence for sale
The UK Government website contains this Ministry of Defence Notice of Sale of the former RFA Diligence. The ship, built as MV Stena Inspector, was classed as a forward repair ship and often supported MCMVs, most notably in the Gulf. This photo shows, from left to right, MCDOA past-Chairman Brian Mansbridge MBE (CO HMS Cottesmore), Capt Richard Guy RFA (Master of RFA Diligence), Paul Baker (CO HMS Chiddingfold) and Yours Truly (Rob Hoole - CO HMS Berkeley) on the jetty in Mina Raysut, Oman in 1989 with RFA Diligence as a backdrop.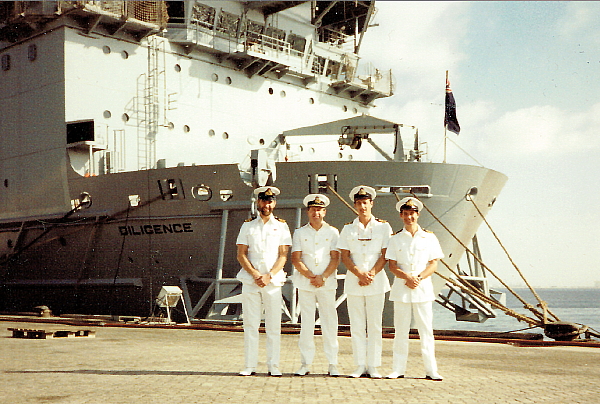 For those interested:
Notice of the Potential Sale of the former RFA Diligence for future use
Disposal Ship: Former RFA DILIGENCE Sales Summary
---
2 Aug 16 - SDU2 detonates shell in Kent
The Kent Online website contains this article describing yesterday's disposal, presumably by members of Portsmouth-based Southern Diving Unit 2 (SDU2), of an unexploded shell at Sandgate near Folkestone in Kent. The shell had been buoyed overnight owing to the incoming tide.
---
1 Aug 16 - MCDOA AGM, Operational Updates and Annual Dinner (Redux)

This year's association dinner will be held in HMS Excellent's Wardroom on Friday 18 November 2016. We are adopting an international theme this year and the committee is attempting to confirm Cdre Nils 'Eric' Wirstrom USN, the current CTF 52/COMCMRON FIVE in Bahrain, as our guest speaker. We have also extended invitations to ABCANZ (AUS, GBR, CAN, US, NZ) EOD and Diving delegates who are being hosted in the UK during the preceding week.
The evening will follow the traditional format commencing with pre-dinner drinks in the bar at 1900 followed by food and refreshments and a hearty sing-song to the musical accompaniment of HMS Nelson's Volunteer Band before retiring to the bar. The dinner is open to members of the association and their guests only. If a non-member wishes to attend the dinner who is eligible to join the association (serving or retired), then they will be asked to complete the membership process prior to being offered a place at the dinner. WO1 (D/MW) are also welcome to attend as a guest of a member.
Last year's dinner featuring your humble Vice Chairman & Webmaster's prominent bald spot
(More in the entry for 25 Nov 15 in News Archive 52)
The cost of the dinner will be £45 for members and £50 for guests. This will include a four course meal, wine, and as usual the association will put a health kitty behind the bar. JFD UK has again kindly offered to provide the port for the evening. MCDOA members of at least four years' standing who are leaving the Service will be dined out for free. Please make yourselves known to Mark Shaw, our Hon Sec.
Accommodation has been reserved in HMS Excellent's transit block so please indicate on your application form if you require a bunk.
On 25 February 1966, the combined Minewarfare & Clearance Diving Officer sub-specialisation was formed and we will be celebrating its 50th anniversary. We will also be feting LMCDO '66, the first full MCD course, which comprised Course Officer Pat Dowland (d.16 Feb 13) and students Mike Bull, John Coggins, Bill Grady, Bob Harrison, John Lang, John Ludgate, Alan Padwick, Jon Riches, Ed Thompson and Ivan Whatley.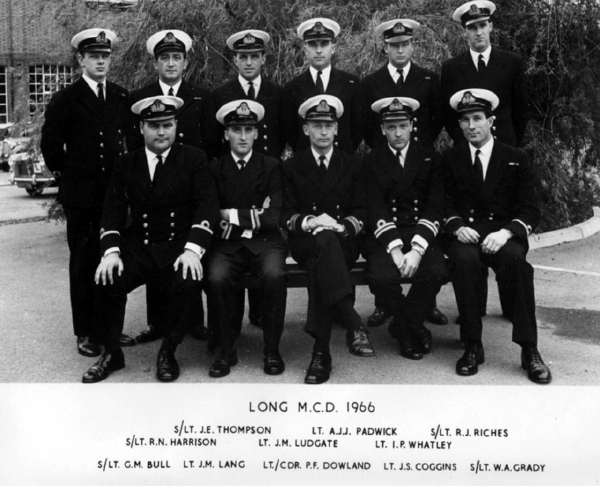 LMCDO '66
We will also celebrate the 25th anniversary of LMCDO '91A which comprised Course Officer Al Trevarthen, Course Instructor CPO(D) John 'Tiny' Timms and students Tim Ash (MWO), Alex Bush, Richard Cowley, Steve England, Neil Holden, Henry Mark CAF (MWO - already CDO), Ambrose McDonough, Richard McMillan RAN (MWO), Chris O'Flaherty (who, for medical reasons, actually qualified on LMCDO '91B), Paul Papalia RAN (MWO - already CDO), Jim? Perron CAF (MWO) and Mark 'Doc' Savage. The MW module Course Officer was Paul Davey and the MW Instructor was the late CPO(MW) David 'Taff' Davies (d.21 Nov 12).
LMCDO '91A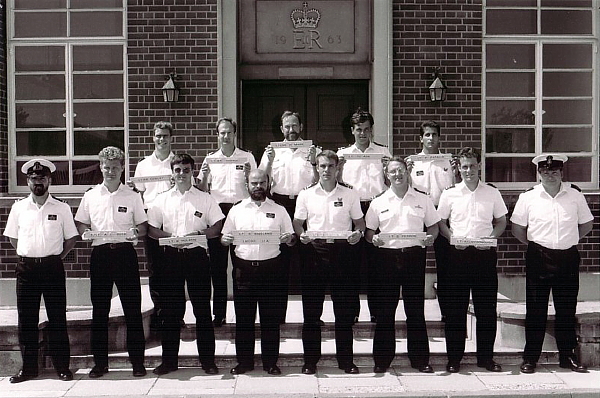 LMCDO '91A MW module
We will also celebrate the 25th Anniversay of LMCDO '91B which comprised Course Officer Al Trevarthen, Course Instructor CPO(D) Dave 'Mo' Morris and students Angus Benton, Chris Baldwin, David Foster, Tony Griffiths (MWO), John Herriman, Chris O'Flaherty, Steve Powell (MWO) and Darroch Woodward. Regrettably, I do not have a course photo for the MW module. Can anyone provide one?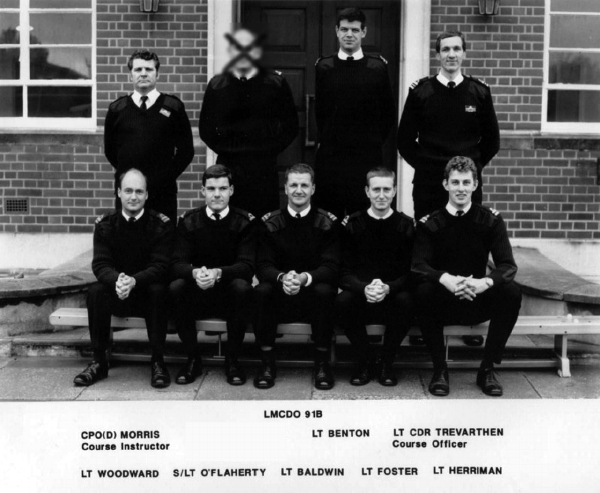 LMCDO '91B
Last but not least, we will celebrate the 25th anniversary of MWO 1/91 which I believe was the first standalone MWO course not part of a particular LMCDO course. According to MCDOA member Martin Mackey who went on to qualify as an MCDO on LMCO '93B, MWO 1/91 comprised himself and his fellow MCDOA member Jonathan Lee plus four officers who had already qualified as CDOs in Australia: Lt Jay Bannister RAN, S/Lt Mick Edwards RAN, Lt 'Spudy' Hamilton RAN and S/Lt Bryan Parker RAN. The Course Officer was RAN/RN transferee Paul Davey and the Course Instructor was the late CPO(MW) David 'Taff' Davies (d.21 Nov 12).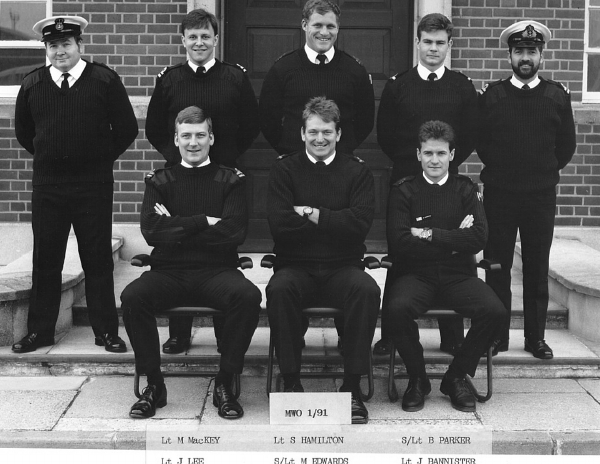 MWO 1/91
The AGM and operational update brief will be held earlier in the day at Bridge Building, Horsea Island. Lunch will be provided in the Horsea Island Officers and Senior Rates Mess from 1200 with the update brief and AGM starting from 1315. Members are encouraged to attend this important serial and make your voices heard to the committee. Note that there will be no morning proceedings this year.
Payment for the dinner can be made by cash, cheque or online bank transfer. Please ensure our Hon Sec receives hard or soft copy application forms.
The closing date for applications is Friday 4 November 2016 or earlier if all spaces are taken.
The calling notice and booking form are available for download here or via the Forthcoming Events page:
Calling Notice & Booking Form for 2016 MCDOA AGM, Operational Update and Dinner
---
From MCDOA member Mike Gillam:
"Many thanks Rob for the advance notice of the Annual Dinner that I am particularly sorry to miss as I well remember the 1966 Long Course that took place during my tenure as IDiving. I remember them well.
We have made arrangements to be in Malta on that day without having remembered that it was just 50 years ago that the course took place in the same year that M was added to CD. We will raise a glass to them and all who dine with them on 18th November.
Mike"
---
From MCDOA ex-Treasurer Dave 'Spidy' Ince who transferred to the RAN in early 2007:
"Hi Rob,
The usual MRU from me. I am still living large on a South Pacific island practicing blowing bubbles.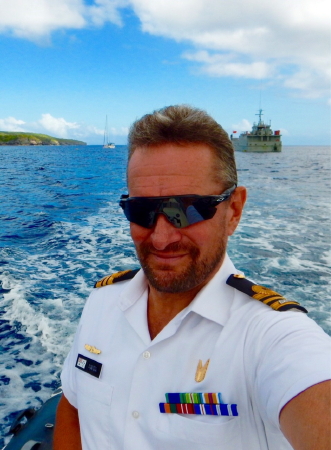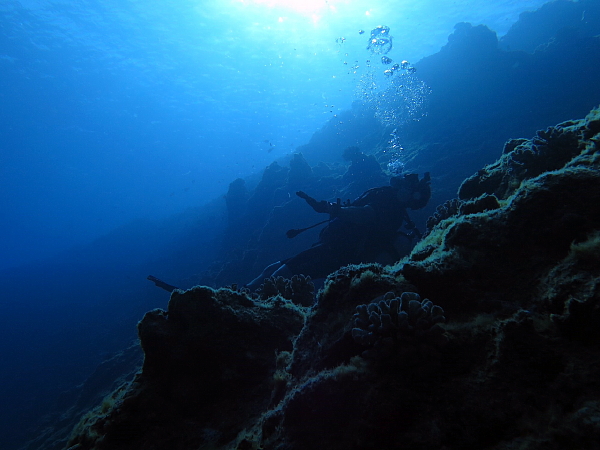 We return to Australia in January next year and I commence XO desigs (big ships) in February. Then it's off to do a two year stint on our ocean droggy boats based out of Cairns. At least we are used to the topical climate now. Many years ago I did some extra Fleet time in HMS Herald and ended up on Operation CIMNEL in the Gulf. I think the appointer's initial plan was to get me away from MW and CD business for a while. Fail. Anyway, I am not sure what the peace loving droggies will think of a MCD XO, it hasn't occurred in the RAN before! I just hope there isn't a young subby on board who behaves like I did back then ;) Now that would be karma!
Please pass my very best to the merry gathering.
Aye,
Dave Spidy Ince"
---
31 Jul 16
An appeal from your Webmaster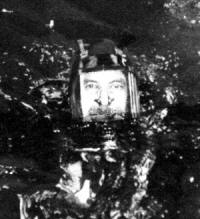 At 1600 on Sunday 28 August, I plan to abseil down the 170 metre (560 ft) Emirates Spinnaker Tower at Gunwharf Quays in Portsmouth, to raise money for the Vernon Monument and the Royal Navy & Royal Marines Charity (RNRMC). I entreat all readers of this website to support me in this endeavour by contributing via my Virgin Money Giving webpage. Don't forget to claim the Gift Aid which boosts your donation by 25%.
Rob Hoole's Abseil fundraising page
Owing to the small size of our minewarfare & diving population and the coincidental downturn in the economy, Project Vernon was always going to be more of a marathon than a sprint but I am in it for the duration. It needs people to give, and then keep giving. Members of our community who are not actively fundraising, donating or encouraging others to donate have no valid excuse for criticising the time it is taking for our monument to reach fruition. That said, we are now in the home stretch as shown by the graphic below. To reach our target, we only require about 25 more donors as generous as some of us 'pensioners' but every single payment helps reduce the outstanding amount.

Gunwharf Quays, where the monument will be erected, was previously HMS Vernon, the Royal Navy's alma mater of minewarfare, diving and bomb & mine disposal. The Vernon Monument is intended to celebrate this heritage and act as a reminder to the annual footfall of 8 million visitors that this work carries on to this day. In a sense, 2016 is HMS Vernon's centenary year as a shore establishment because it is 100 years since the first unit, the Mining School, came ashore into Vulcan (as it was then named) from the floating establishment of hulks moored in Portchester Lake.
The George Cross is the equivalent of the Victoria Cross but is awarded to civilians and military personnel who have displayed conspicuous bravery "not in the face of the enemy." During the Second World War, HMS Vernon was the core training establishment and base of naval personnel awarded 23 George Crosses (as many as the Army and RAF put together) and at least 134 George Medals (including 16 bars) for bomb & mine disposal (including minesweeping) on land and at sea. Countless other medals, Mentions in Despatches and King's Commendations for Bravery were awarded to personnel associated with HMS Vernon for naval minelaying, minesweeping, diving and bomb & mine disposal while hundreds of other personnel were appointed OBEs and MBEs in the military lists.
Since the Second World War, personnel associated with HMS Vernon, its ships and diving teams have been awarded at least one Distinguished Service Order, 10 Distinguished Service Crosses, 69 British Empire Medals (including one bar), 14 Queen's Gallantry Medals and 35 Queen's Commendations for Bravery among other honours and awards for gallantry, in naval minewarfare, diving and EOD operations from the waters of the North Sea, Mediterranean, South Atlantic, Arabian Gulf, South China Sea and the Gilbert & Ellis Islands to the badlands of Iraq and Afghanistan. This legacy continues today, every day of the week.
No single monument or memorial exists to celebrate these individuals or commemorate the minewarfare, diving and EOD heritage of HMS Vernon. The Vernon Monument, designed by world renowned Australian sculptor Les Johnson FRBS and chosen by an all-ranks committee of serving and retired minewarfare & diving personnel after an exhaustive and transparent competitive process, will be the first and a fitting tribute. Please give it all the support it deserves, and then some.
Many an offshore industry 'baron' was given his start thanks to HMS Vernon's Diving School so how about the odd day's pay as a small token of appreciation?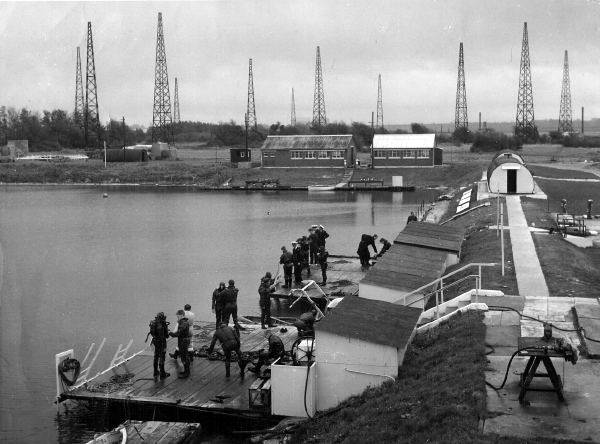 Above and below: HMS Vernon's diving training facility at Horsea Lake in the early 1950s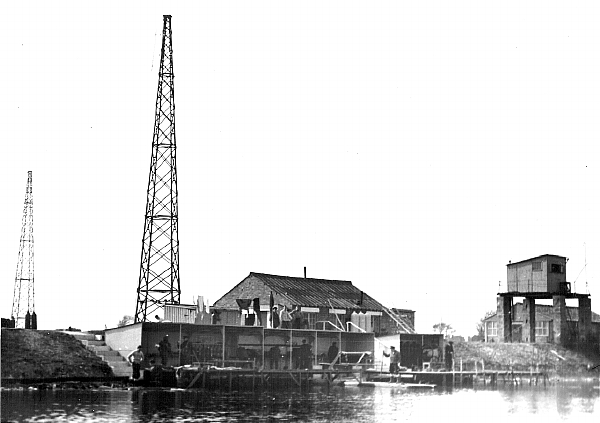 HMS Vernon's diving training facility at Horsea Lake in the early 1950s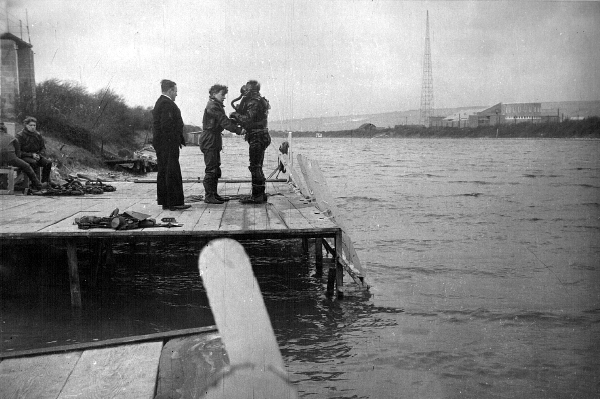 Diver in old CDBA (O2) at Horsea Island in the early 1950s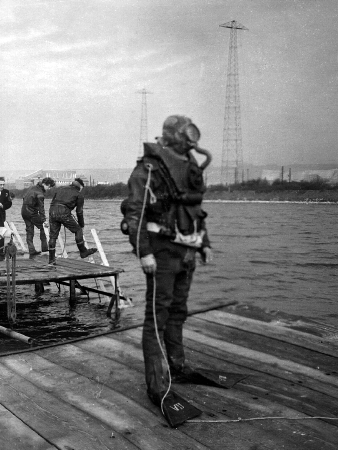 Diver in old CDBA (Mixture) at Horsea Island
in the early 1950s
Here is something special for the MCM community. How about demonstrating your gratitude for the training that enabled you to survive to tell the tale on such occasions?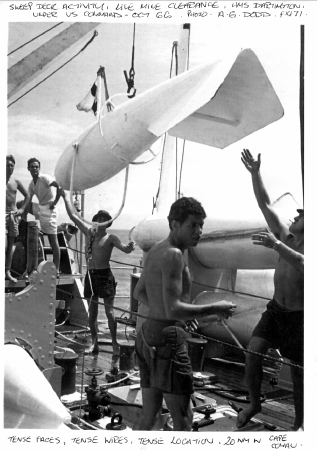 Sweepdeck activity - HMS Dartington October 1966
Left: HMS Yarnton in the North Sea circa 1960
Right: HMS Sheraton in the Taiwan Strait circa 1970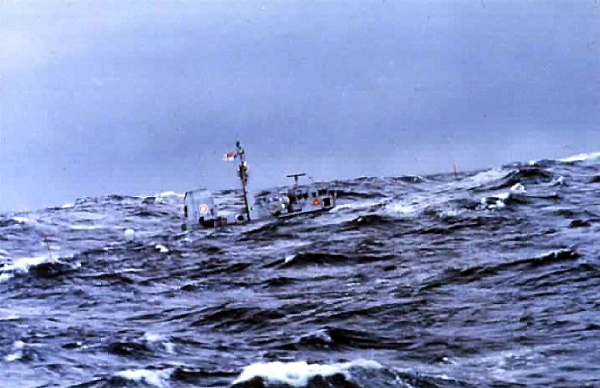 HMS Cattistock in rough weather
It is 14 years since I founded this website, principally for MCDOA members but also for the benefit of the wider naval minewarfare, diving and EOD community and anyone else interested. The website is now accessed each month by about 50,000 unique servers worldwide. This means that even more people are looking at sections of it, if not necessarily the 'Latest News' page. Entire sections have even been plagiarised by unscrupulous authors and other webmasters.
Q. Will I regard your response to my appeal as a measure of your appreciation for this website and assisting people 'behind the scenes'?
A. You bet.
Q. Will your response to my appeal encourage me to continue expending my enthusiasm, time and effort on these activities?
A. I sincerely hope so. We shall just have to wait and see.

Thank you if you have read this far. Over to you.
Best wishes,
Rob
---
28 Jul 16 - SDU2 deals with unexploded shell in Shoreham harbour
The Shoreham Herald website contains this article describing yesterday's disposal by members of Portsmouth-based Southern Diving Unit 2 (SDU2) of an unexploded wartime shell picked up by the dredger 'Arco Dee' off Selsey.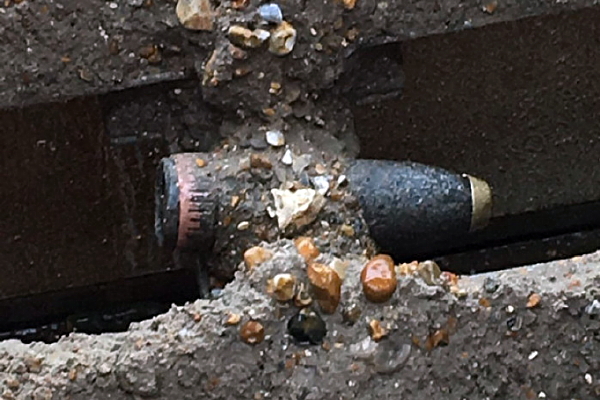 ---
26 Jul 16 - Award of LS&GC medal
Congratulations to PO(D) A Bryant on being gazetted for the award of the Long Service & Good Conduct medal.
---
23 Jul 16 - Death of Edward 'John' Towse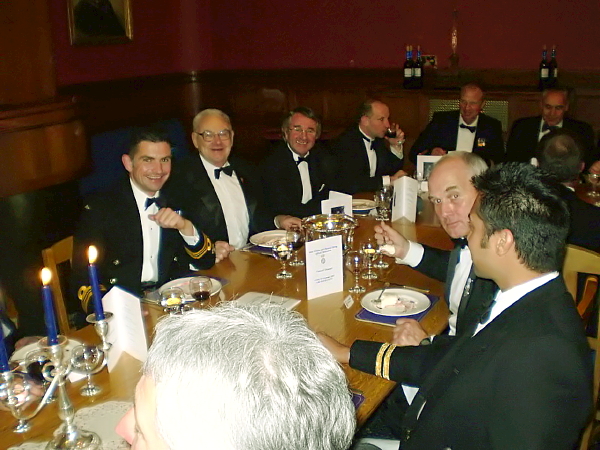 John Towse (second left) at the MCDOA's Annual Dinner in the Wardroom, HMS Excellent
on 16 November 2007
The Portsmouth News website contains this article announcing yesterday's death of John Towse. He was suffering from pneumonia and passed away in Queen Alexandra Hospital in Cosham at the age of 82.
Apart from re-discovering the wreck of the Mary Rose, Henry VIII's flagship which sank off Southsea Castle in 1545, with Alexander McKee in May 1965, John was a founder member of the pioneering Southsea branch of the BSAC (British Sub-Aqua Club) and became its Secretary in April 1954, only two years after the BSAC was established. This article, published in the December issue of Navy News the same year, describes the club's significance during John's early tenure:
Underwater Swimming (Published in Navy News in December 1954)

MAN IS a curious animal. He is inquisitive and forever delving into the mysteries of the unknown: exploring the Amazon rain forests; conquering Everest; and investigating speeds above that of sound. All evidence of man's enquiring nature.

It is with this same feeling at the back of their minds that a few underwater swimming clubs have been formed in Great Britain in the last couple of years. For a considerable time, underwater investigation has been limited by the equipment required for a suited diver—lines to the surface. a constant air supply, and the limited mobility of the diver himself. The invention of the Aqualung by Commandant Cousteau, of the French Navy, has opened up a vast field for free underwater exploration. The diver is as free as a fish and can penetrate to depths of 150 ft. with ease. Depths of over 400 feet have been achieved in serious scientific investigation.

In the Portsmouth area three clubs are at present functioning. The first of these is a branch of the British Sub-Aqua Club with headquarters in Southsea. The B.S.A.C. was formed in 1952 and now has branches all over the country and connections with several similar organisations overseas. In the Isle of Wight the Three Fathoms Club operates and this also has a branch in Gosport.

In April of this year the first naval club was formed in H.M.S. Coilingwood. The club has some 40 members and has built up a variety of equipment in the short time it has been running. Funds have limited the club to one Aqualung, but ex-Service Salvus equipment and German submarine escape Dräger units have been obtained. The use of the latter equipment is strictly limited, since pure oxygen can be dangerous at depths of more than 30 ft. The secretary of the Collingwood Underwater Swimming Club (Instructor Lieut. Berry) would be pleased to provide any information for those interested. T. P. B.
Left: Siebe Gorman Salvus
Right Dräger (Draeger) submarine escape apparatus
John worked with MCDOA honorary life member Lt Cdr 'Uncle Bill' Filer MBE GM and world deep diving record-breaker and MCDOA associate member Dr John Bevan (who achieved a simulated depth of 1,500 fsw (457 msw) in 1970) at RNPL's DTU (the Royal Navy Physiological Laboratory's Deep Trials Unit) at Alverstoke from September 1966 to April 1989. As the head of the hyperbaric facilities, he was a familiar figure for many of HMS Vernon's divers and was one of the overseers when I was a guinea pig during the 90 metre Trimix trials at DTU in 1979.
John was also prominent in the Historical Diving Society (HDS) and one of the leading lights behind the establishment of its diving museum at Stokes Bay on the Solent. Here are some photos showing his general association with diving history and the development of the HDS Diving Museum at Stokes Bay and its library in Gosport.
John Bevan with John Towse at a presentation about the Deane brothers
in Lee-on-the-Solent on 22 June 2010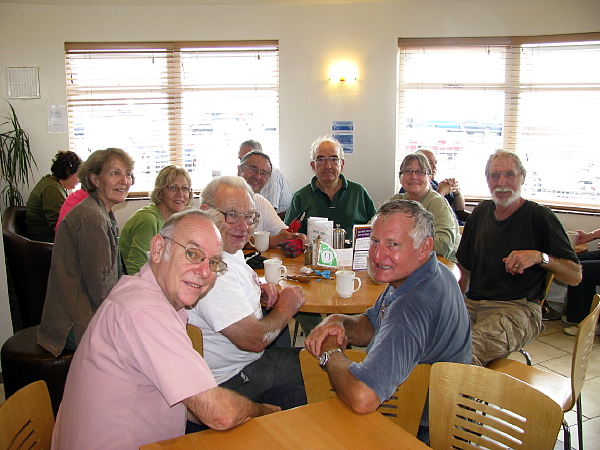 John Towse with HDS Museum volunteers including ex-CDs John Dadd BEM,
Mike O'Meara and Clive Egginton on 22 August 2010
Above and below: John Towse at the arrival of chambers outside the HDS Museum on 2 November 2011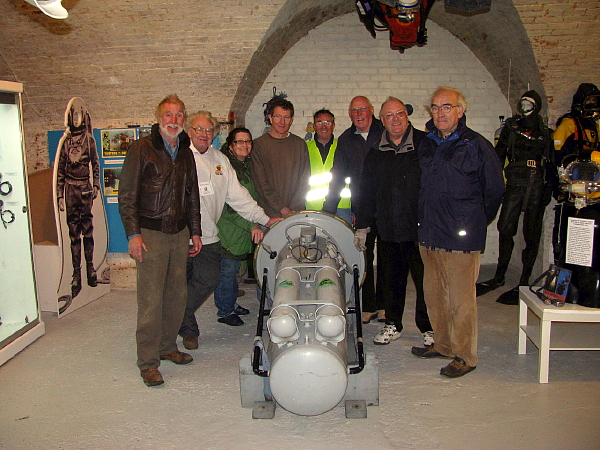 John Towse in the HDS Museum with volunteers including ex-CDs John Dadd BEM
and Jim 'Tommo' Thomson on 2 November 2011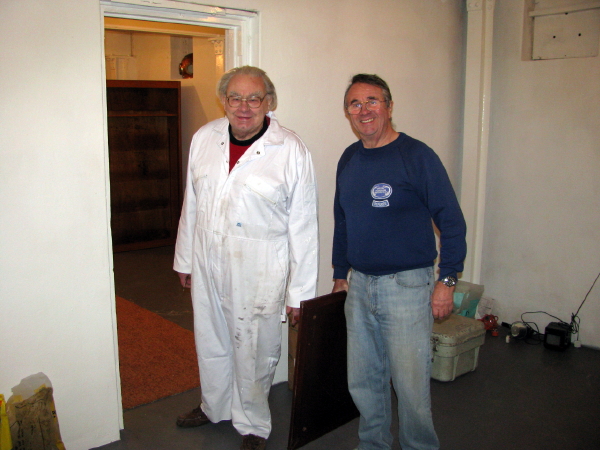 John Towse with John Bevan at the new HDS library in Gosport on 12 December 2012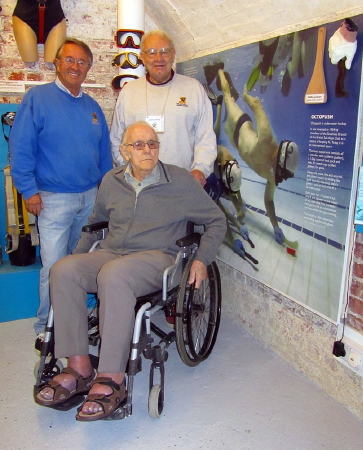 John Towse with his Octopush co-founders
John Bevan and Frank Lilleker in September 2012
For further background, see the second entry for 14 Nov 07 in News Archive 20 although there are more photos of John and his activities dotted all over this website.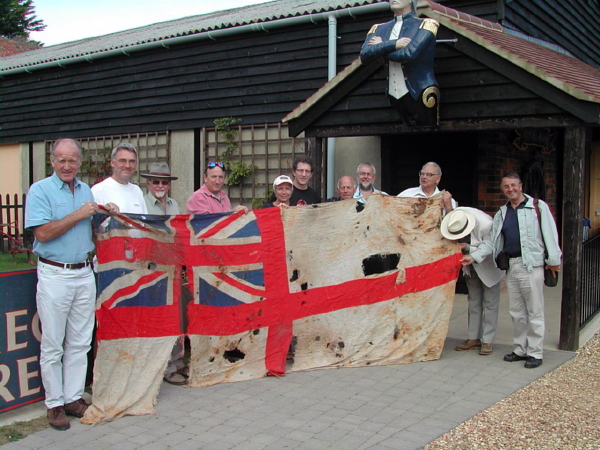 John Towse (third right) at the presentation of HMS Boxer's ensign to
the Isle of Wight's Shipwreck Museum at Arreton on 15 September 2007
John Towse in one of the chambers at the HDS Diving Museum on 2 November 2011
John's funeral will be held at St Mary's Church in Portchester at 1130 on Monday 8 August.
---
19 Jul 16 - The solution to a riddle
This letter appeared in last month's Navy News: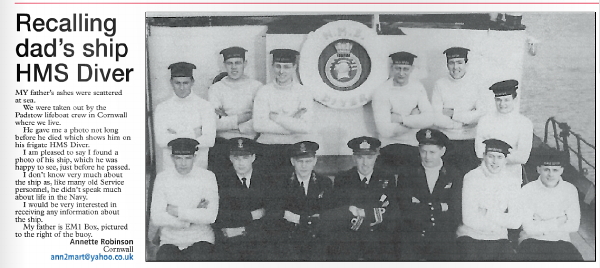 I responded with this email:
"Hello Annette,
I saw your letter enquiring about HMS Diver on page 29 of the June issue of Navy News. I am attaching the same photo published in NN but captioned with the names of the crew members depicted, including your late father. The photo appeared in a Christmas card sent by HMS Diver sometime between 1954 and 1956 and I am attaching an image of the front cover too.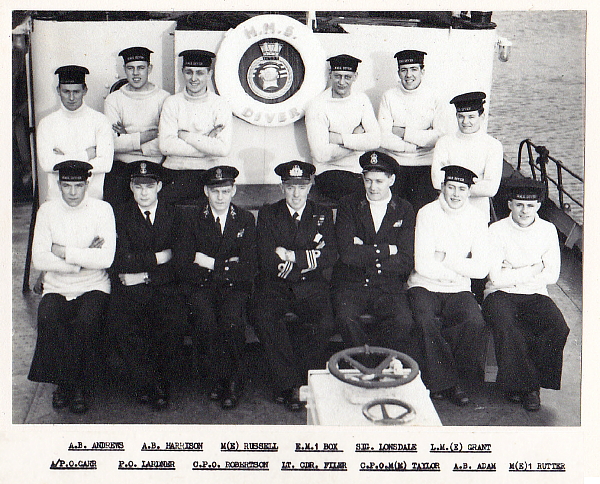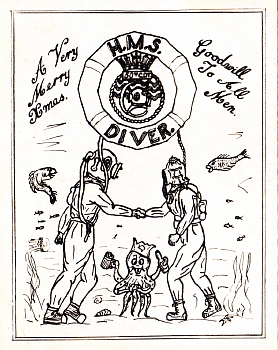 HMS Diver was launched on 7 April 1943 as C.28, a German boom defence and mining tender. She was acquired by the RN as a war prize in 1945 and commissioned as HMS Diver in 1948. She had a team of clearance divers embarked and served as a Mine Location Vessel, attached to the 1st Minesweeping Experimental Flotilla (and later the 50th Minesweeping Flotilla) based at HMS Lochinvar, Port Edgar on the south side of the Forth. Sometime around 1960, she was sent to Singapore where she was employed as a diving tender by the Far East Fleet Clearance Diving Team until her sale in 1971. There is more about her Far East service here. As you can see from one of the attached photos, she certainly was not a frigate.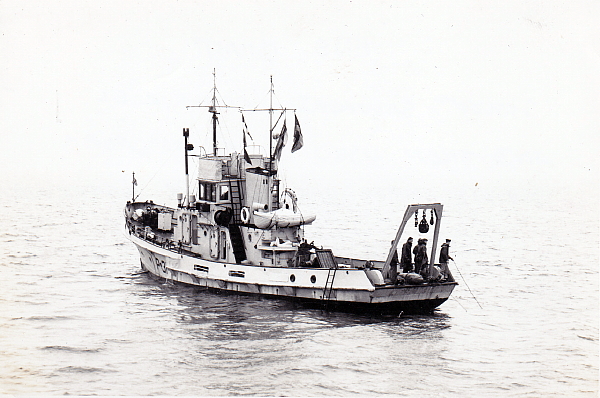 Sadly, another of the crew members in the photo, Acting Petty Officer Diver (later Lieutenant) Alan J 'Nutty' Carr, died in April this year. Ironically, his death notice appears in the same issue of Navy News. Please see the entries for 21 Apr 16 in News Archive 54 and 29 Nov 15 in News Archive 52 of the MCDOA website for greater detail.
You can also find many mentions and photos of the late Lt Cdr 'Uncle Bill' Filer MBE GM RN (the Commanding Officer of HMS Diver in the middle of the front row in your dad's photo) if you type "Filer" into the search box on the website's Home page (or anything else you wish to find for that matter). I had the privilege of knowing him right up to his death in January 2011 and I am enclosing a photo showing us during a lunchtime gathering at Lee-on-the-Solent Sailing Club in April 2010. Bill is sitting far right and I am sitting next to him.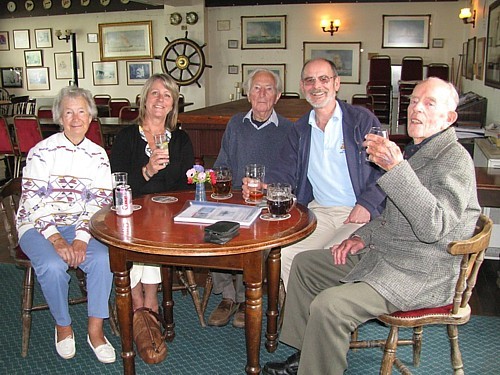 Please don't hesitate to call me if you would like to talk.
Best wishes,
Rob Hoole"
A few days later, I was delighted to receive this reply:
"Dear Rob,
Thank you so much for your email and wonderful photographs. I am sorry I've taken my time emailing you back but I don't check my emails as often as I should.
I had a few tears reading your email as I didn't know that my dad was part of a mine clearing team. He always told me he was an engineer so if he actually had anything to do with the mines I will never know. He did let slip once that he used to deep sea dive in the helmet and boots as seen in the Christmas card picture but that's the only information I ever managed to squeeze out of him. We know he went to Singapore only because he had some photographs also India.
I have had quite a response to my letter so far. I've had emails from as far as Canada with information about HMS Diver and it seems she played a vital role in mine clearance and was well thought of.
I was born in 1957 and I know Dad left the Navy soon after so he would have been on the ship 1954-56. He joined the Navy on leaving school and didn't want to leave but Mom made him as she didn't want to live in naval quarters.
You will be pleased to hear we had his ashes scattered at sea a few weeks ago. As we are lucky enough to live in Cornwall, the Padstow lifeboat skipper offered to take us all out to the mouth of Padstow Estuary. It was a very emotional day but Dad would have loved it.
I was sorry to hear that Lt Cdr Filer had passed away. It was his grandson's letter to the Navy News that prompted me to write in the first place.
'Nutty Carr' must have been a real character. I loved his nick name.
I will pass all this information on to my family so thank you once again.
Very best wishes,
Annette Robinson"
---
18 Jul 16 - Award of Meritorious Service Medal
Congratulations to WO1(MW) Pete Mills, WO1(MW) Joe Munro and WO1(D) Darren Powell on being gazetted for the award of the Meritorious Service Medal (MSM).
---
17 Jul 16 - Veteran 'P' Party diver Ray 'Brum' Maries seriously ill
I am sad to report that Ray 'Brum' Maries is seriously ill. According to his grandson, Mike, he is in Birmingham Heartlands Hospital after having fallen at home five times during the past three weeks. Each time, he has required paramedic attention. Ray has severe osteo-arthritis in his right hip as well as other medical issues.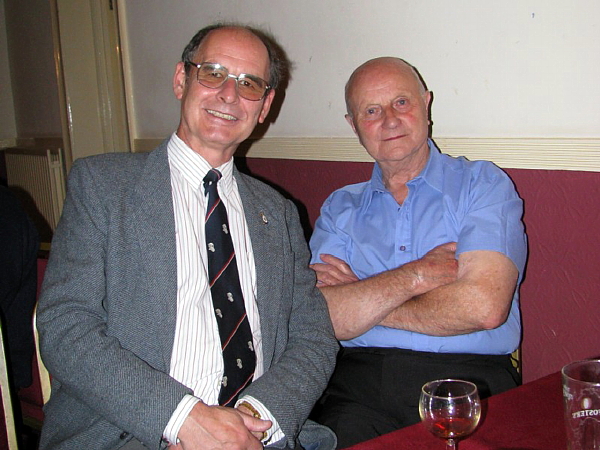 Your humble Webmaster (Rob Hoole) with Ray 'Brum' Maries
in September 2008
Ray was awarded a Mention in Despatches "for good services in mine clearance and mine disposal operations in NW Europe" while serving in 'P' Party 1572 immediately before the close of the war with Germany and in the months that followed. To the best of my knowledge, he is the only surviving 'P' Party member following the demise of David Shane of 'P' Party 1571 (see first entry for 20 Aug 14 in News Archive 47), Mike Connolly of 'P' Party 1572 (see entry for 7 Jun 12 in News Archive 38), John Home-Douglas of 'P' Party 1571 (see entry for 24 Apr 12 in News Archive 38) and Arthur Russell MBE of 'P' Party 1572 (see entry for 22 Dec 09 in News Archive 28).
I am sure all members of our community will join me in extending Ray our best wishes for a speedy recovery.
---
12 Jul 16 - RN Minewarfare Heritage: BYMS 2211
I have received this query:
"Your mine sweeping web site shows a picture of BYMS 2211 in dry dock during World War II. There are two sailors in the picture and I believe one of them was my father.
Is it possible to forward this e-mail to Commander Davies' family to see if they have any more pictures or information?
Many thanks,
David Lee"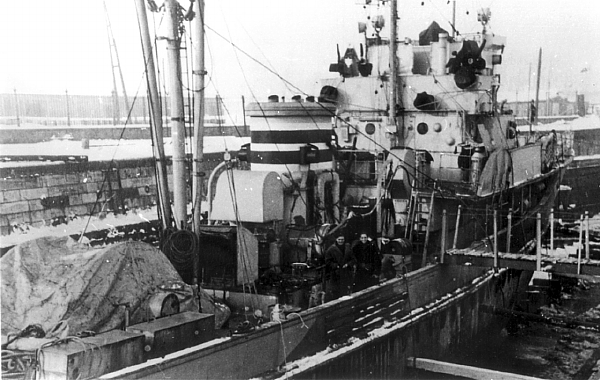 BYMS (British Yard Mine Sweeper) 2211 in dry dock in Holland in 1945
See the second entry for 20 Jun 06 in News Archive 14. I have forwarded David's request to the late Cdr Davies' grandson Martin.
---
11 Jul 16 - Looking for Brian 'Bill' Bailey
I have received the following enquiry:
"Dear MCDOA,
I have for many years been trying to trace Brian `Bill` Bailey and recently received a photograph from 1955 which pinpoints him to a Clearance Bomb Disposal Course in June of that year. Is it possible that HMS Vernon still has additional details about `Bill` which may help me with my search? I appreciate that it is a long time ago but any information would be very gratefully received.
Thank you and kind regards,
Helen Armstrong"
Helen's photograph shows a class of CD Basics, wearing HMS Vernon cap tallies, at the Joint Services Bomb Disposal School at Broadbridge Heath near Horsham in West Sussex in June 1955 with some of the individuals identified.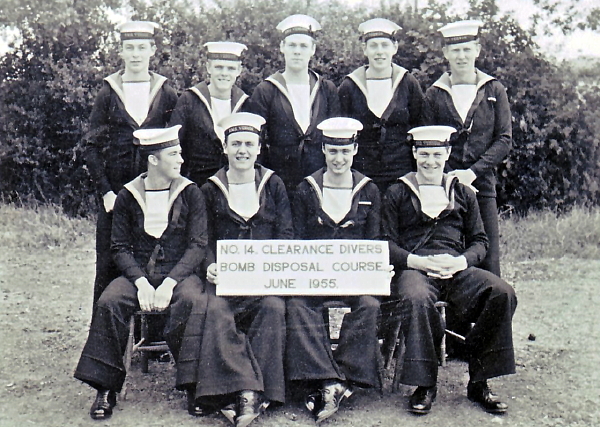 Back row: Les Maynard, Derek 'Del' Rowe, Yorky Wilkinson, Bob 'Jock' Adam, Dinah Shore
Front Row: Bernard Edward 'Donkey' Bray, Bill Bailey, Philip Le Cornu, Dutchy Vanderson
(Edited in light of information received.)
Can anyone help fill in the gaps? The photo shows the late CPO(CD1) Bernard Edward 'Donkey' Bray BEM*, father of more recently retired CD Alan 'Donkey' Bray, who died in March 2008 (see entry for 12 Apr 08 in News Archive 22) rather than Donald 'Donkey' Bray who is still around. Robert Muir Keir 'Jock' Adam passed away in June 2013 (see entry for 28 Jun 13 in News Archive 42).
---
From former CDO Les Maynard:
"G'day Rob,
Ref the CD3s' Course at the Joint Services Bomb Disposal School at Broadbridge Heath: Derek Rowe is second from the left in the top row. Philip Le Cornu is second from the right in the bottom row.
Ref Brian 'Bill' Bailey: Bill left the Service and went to work with a diving firm in Southampton - Strongwork I think! Then he moved up to Scotland to another diving and civil engineering company; I believe it was called Reed & Malec [Diving Division founded by MCDOA member Harry Wardle who died in 2007 - see entry for 17 Sep 07 in News Archive 19]. When I last saw Bill in 1972, he was a senior manager with the company.
Yorky Wilkinson is still above the grass living in Deal in Kent. I had a crimbo card from him last year.
The Donkey Bray in the picture passed away about three years ago as I understand it. He was known as 'Little Donks'.
I hope this helps,
Yours Aye,
Les Maynard
Ashby
Wanneroo
Western Australia"
---
From former FCPO(D) David 'Mona' Lott BEM:
"G'day Rob and hello Helen,
A blast from the long distant past, where do the years go?
This was the class before mine that finished in December 1955 so I knew these CDs quite well. I am sure that Les Maynard will also be able to fill you in as he is the only remaining member that I know from that class who still survives and now resides in Western Australia.
Most of the names you have are correct but the second from left in the back row is Derek (Del) Rowe and the third from the left in the front row is Le Cornu, first name forgotten.
The first bloke on the left in the front row is Donkey Bray (the younger) BEM and bar who worked with me as a CPO CD1 in the Fleet Team and retired to work with Bill Filer in the Deep Trials unit. He died some 8 to 10 years ago.
I have a vague recollection of Bill Bailey starting a small aviation business in Scotland after he left the RN, but I have not heard of him since. Dutchy Vanderson served on Dingley when I was the buffer and was a good friend of ex-CD1 Derek 'Maggie' Lockwood who I believe is still around and may have some more details.
As I said at the start this is all from a considerable time ago. Sorry that I can't be of much more help.
Regards and many thanks for the memory jog.
Dave (Mona) Lott
Eden
NSW
Australia"
Postscript: I have received this message from ex-CD Jim 'Tommo' Thomson:
"G'day Rob,
Hope all good for you.
Thank you for posting the picture for Helen Armstrong during her search for her father Brian 'Bill' Bailey. Other initial contacts were: Len Smith (Chief CD1); Tom Norman(Chief CD1 also my qualifying instructor 1964 - ECD 29) who worked for Strongwork, he put the search on the way to South Queensferry; then Stu Grainger (CD1) who was contacted at Dalmenny. He and I worked offshore together. On answerphone, being asked if he knew Bill (which he did not), his wife Ann then said (you couldn't make this up), "He used to live next to Dalmenny Station." Also for info. Dave (Mona) Lott who replied to your request, was my instructor on ECD 28, which I came off with an injury.
Here is a copy of the letter Helen sent after contacting Bill.
Best regards,
Tommo"
"Dear Tommo,
Thanks to you, I know I have now found Bill. Googling around this week led me to a Bill Bailey in Dalgety Bay (over the Forth Road Bridge). Information showed that he was married to someone called Alison and was born in 1936 - this all sounded about right. One bit of information seemed strange - that he had been in airfield management?
Meanwhile, I also contacted the MCDOA about HMS Vernon and sent the photograph you provided me with. I had wondered if they had any other records which might help me. Rob emailed back some days ago and said, "Sorry, HMS Vernon was wrapped up several years ago and no records remained." Today he emailed me because he had put the picture you provided on their Latest News page and there had been responses. Dave Lott in Australia confirmed that Bill had moved to Scotland and `started an aviation business`. This obviously matches with Bill in Dalgety Bay.
I did write to him on Tuesday - 80% sure it was him. Without the power of the internet and kindness of strangers like you I wouldn`t have got this far. Now I will have to see if he responds to my letter.......
I have just had a long conversation with Brian so we are in touch and I am rather shaken!!
Thank you Tommo and very best wishes,
Helen"
---
10 Jul 16 - News from HMS Chiddingfold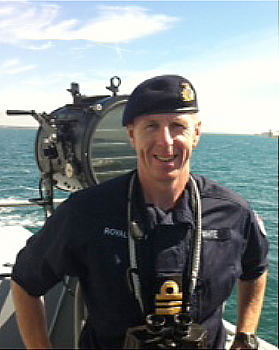 I am grateful to MCDOA member Steve White, Commanding Officer of HMS Chiddingfold (MCM2 Crew 5) currently on Operation KIPION in the Gulf, for this email and his ship's June newsletter, comprising an overview of 2015, which can be downloaded here:
"Sirs, Ma'ms, Ladies and Gentlemen,
This is our final newsletter of the deployment and the last from me in Command as I move onto West Battery in Whale Island when I return.
A huge thank you to you all for making the past 18 months such an adventure and incredibly professionally satisfying. To everyone we met in Ledbury during our triathlon challenge, thank you for your hospitality and I'm glad your recent WW I Centenary commemorations, which we discussed last year, was such a success.
To the members of the RNA Chichester, I look forward to seeing you again in the autumn, and to all the Sunday School children at St Mary's Church, Chiddingfold, thank you very much for your 'good luck' card and I will hopefully meet many of you at your Patronal Festival and BBQ in September.
Kindest Regards,
Steve
Lieutenant Commander S J White Royal Navy
Commanding Officer
HMS CHIDDINGFOLD
MCM2 Crew 5 - Leading the Hunt"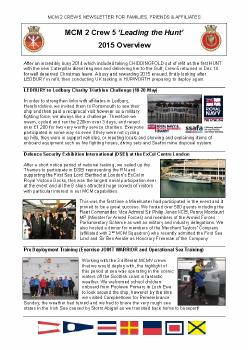 I am sure that all members of our community will join me in thanking Steve for his informative updates and wishing him and his ship's company the best of good fortune in whatever challenges lie ahead.
---
9 Jul 10 - MCDOA members exercise NSRS
I am grateful to MCDOA member Del McKnight for allowing me to publish these photos of the NATO Submarine Rescue System (NSRS), including the Submarine Rescue Vehicle (SRV), during an exercise.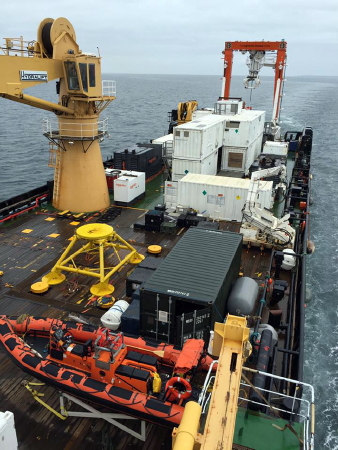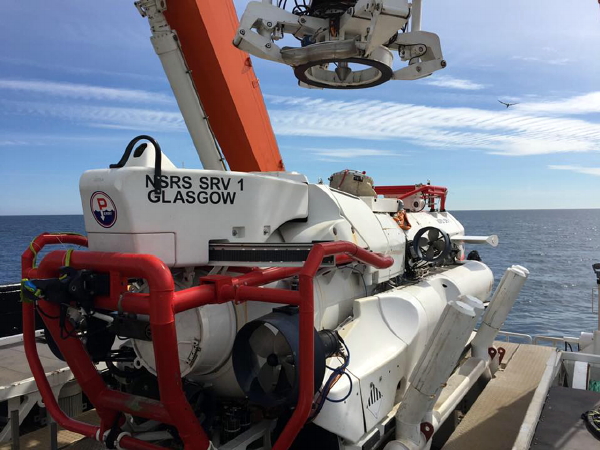 Del has informed me that this was the culmination of several weeks at sea for the NSRS team including a dive in excess of 600 metres to prove the system. The exercise also involved MCDOA members Tony Hampshire, Damian Slattery and Simon Pressdee.
MCDOA member Kev Stockton has also contributed this photo of himself in the SRV during a deep dive exercise in 2011 when he reached a depth of 613 metres by gauge.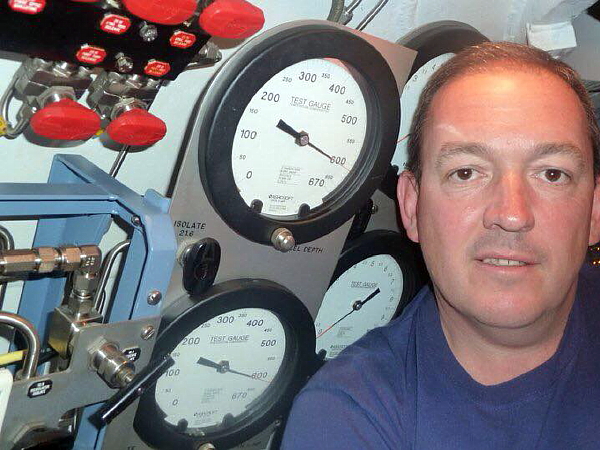 ---
8 Jul 16 - Sign up for the Vernon Heritage Conference at Gunwharf Quays

On the final stretch
A Vernon Heritage Conference is to be held on Friday 23 September in the Aspex Gallery occupying part of Vulcan Building in Gunwharf Quays, the former site of HMS Vernon. Apart from promising to be a thoroughly entertaining event for all interested in our minewarfare & diving heritage, it will also raise funds for the Vernon Monument and the RN & RM Charity (RNRMC). It will be sponsored by Land Securities (who own Gunwharf Quays), the Society of Underwater Technology (SUT) and the RNRMC among other organisations.
Programme:
1500

Delegates arrive at the ASPEX Gallery, Gunwharf Quays; VIP delegates meet our keynote presenters and receive preferential seating.

1520

Commander John G.D. Ouvry DSO RN, by his son David Ouvry

"COMETH THE HOUR, COMETH THE MAN" Sometimes in history, just occasionally, in life and death struggles between nations, the acts of individuals tip the balance, make a critical difference to the outcome. Examples in more recent naval history are Sub Lt Barnes seizing an Enigma machine from a sinking U-boat, or Lt Moffatt crippling the Bismarck with a torpedo from his Swordfish. And then there was the bravery of Lt Cdr John Ouvry in November 1939, when he disarmed a German magnetic mine in the mudflats of the Thames estuary to reveal its secret and enabling us to neutralise this deadly weapon that was threatening to throttle our sea lanes and haemorrhage the very life blood of our nation. From 1939, Ouvry was Head of the Enemy Mining Section at HMS Vernon. By experience, training and temperament, he was perfectly placed to play this key role. For the rest of the war, he was up against it, either at the business end or passing on his expertise to the next generation of sailors. This talk brings to you the character and actions of John Ouvry - quiet, calm, diffident, quite a Foyle character - a man to whom, with his brave colleagues, the nation owes a great debt and whose legacy is with us today.

1600

Dr Albert Beaumont Wood OBE DSc, by Mike Underwood, author of "Gunwharf Quays" and conservation architect during the redevelopment of HMS VERNON site into Gunwharf Quays.

Known as "A B Wood", he was a brilliant British physicist who became Chief Scientist at HMS Vernon. He made significant contributions in underwater acoustics - ASDICS/sonar - through two world wars. He gained his OBE at Vernon for investigating enemy mines.

1640

Interval

1710
Commander Lionel "Buster" Crabb OBE GM RNVR, by MCDOA associate member Dr. John Bevan, author of "What Really Happened" and Chairman of the Historical Diving Society (HDS). As a member of the RN Scientific Service, John also set a new world record in 1970 by diving to a simulated depth of 1,500 ft in the Deep Trials Unit (DTU) at RNPL Alverstoke. Much more recently he was responsible for establishing the HDS Diving Museum at Stokes Bay.

Cdr Crabb was a retired Royal Navy frogman and MI6 diver who vanished during a reconnaissance mission around a Soviet cruiser berthed at Portsmouth Dockyard in 1956. What really happened?

1750

Cheese & Wine reception followed by a raffle & auction of exclusive Project Vernon-related merchandise and collectibles with all proceeds going to the two charities.

1900

Delegates depart.
Long-term followers of this website will be familiar with the significance of each of the subjects in Royal Navy minewarfare & diving history, as well as the speakers who will provide further insight into their character and achievements.
There should also be an opportunity to meet Andrew Bailey, son of the late Elect Lt William 'Bill' Bailey CBE DSC GM* RNVR. Bill Bailey, who was trained at HMS Vernon like Ouvry and Crabb, was awarded the GM (George Medal) for his underwater work in the Mediterranean where he preceded and overlapped Crabb in countering the Italian Chariot raids on shipping anchored at Gibraltar. He was awarded the DSC (Distinguished Service Cross) for port clearance operations from June to September 1944 and a bar to his GM for "exceptional gallantry, skill and great devotion to duty, often in close proximity to the enemy, during mine-searching and clearance operations in the ports of Normandy and the Low Countries" as OIC of 'P' (Port) Parties 1502 and 1574.
Lt 'Bill' Bailey CBE DSC GM* RNVR and in 'P' Party diving dress
In a sense, 2016 is HMS Vernon's centenary year as a shore establishment because it is 100 years since the first unit, the Mining School, came ashore, into Vulcan as it was then named, from the floating establishment in Portchester Lake.
This conference is an event not be missed and is for two causes dear to our hearts. For further information including ticket sales, visit the Project Vernon website here:
Vernon Heritage Conference: 23 Sep 2016
---
7 Jul 16
HDS Diving Museum Newsletter
This month's Historical Diving Society (HDS) museum newsletter can be downloaded here:
---
Gentlemen Who Lunch
The MCDOA's 'Not Quite the Last of the Summer Wine Trio' of Barlow, Holloway and Hoole was out and about this week on Wednesday owing to Barlow having been fitted with his latest hearing device on our more usual Tuesday. Barlow's new hearing aid, costing the equivalent of a small country's GDP, includes a remote microphone cum transmitter like those worn by TV presenters. The microphone is either worn by an interlocutor or placed strategically (e.g. the middle of the table) from where it wirelessly broadcasts sound direct to Barlow's earpiece.
This week, our trio visited The Victoria Inn in the picturesque South Downs village of West Marden in West Sussex.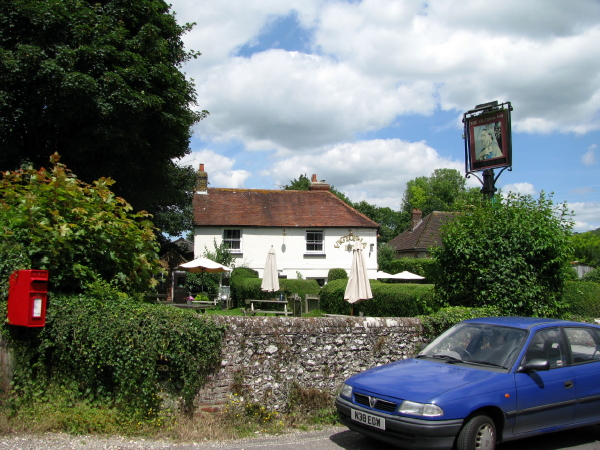 This pretty country pub, set back from the narrow road, has a large beer garden at the front. There was considerable overspill parking on the road outside but we managed to find space in the relatively small car park.
There is also a pleasantly sheltered hardstanding adjacent to the building's main entrance which is where we chose to sit.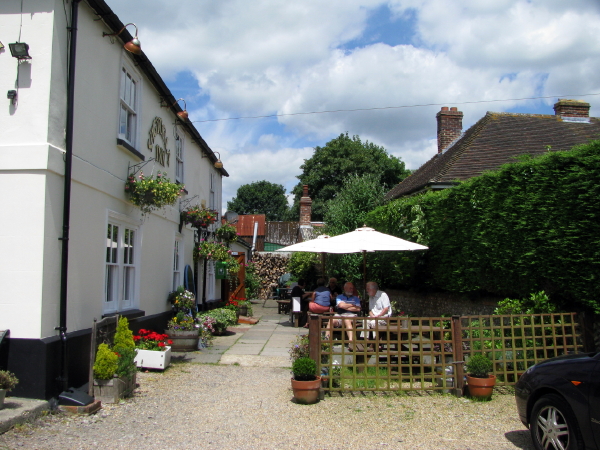 Inside, the bar was the focal point from which several unfussy rooms radiated. All areas seemed fresh, airy and well-appointed.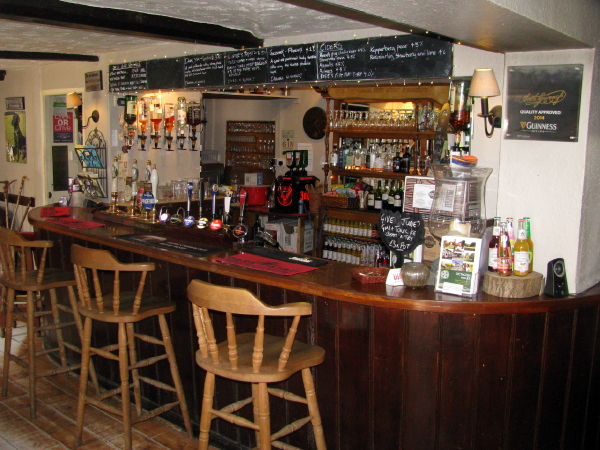 The pub keeps three real ales, all brewed locally. We decided on the Goldmark Phoenix (ABV 4.1%) described as "A fiery amber brown ale with hints of caramel and toffee, finished with a smooth bitter ending." It is brewed at the Goldmark Brewery in Arundel, West Sussex but we could also have chosen Dark Star Hophead (ABV 3.8%) described as "An extremely clean-drinking pale golden ale with a strong floral aroma and elderflower notes from the Cascade hops." which is brewed at the Dark Star Brewery in West Sussex or Listers Best Bitter (ABV 3.9%) described as "Traditional ale but triple hopped. Full flavoured, balanced and moreish with a caramel finish." which is brewed at the Listers Brewery, Ford in West Sussex. We did not regret our decision as our beer tasted delicious. Coincidentally, the drayman arrived to remove the empties and restock the cellar while we were there.
The pub also has an extensive menu of reasonably priced meals and the 'light bites' on the bar menu surprisingly include calamari & chips. Holloway plumped for a hand cut ham & English mustard baguette while I chose a prawn & Marie Rose sauce baguette. To celebrate Barlow buying the first round, Holloway and I clubbed together to buy him a portion of chips.
While we waited for our food, Barlow and Holloway launched into a round of colourful jokes, some of which involved the risqué antics of Australians and kangaroos. I dissolved into a fit of the giggles when it suddenly occurred to me that these might be overheard by any little old lady within range who was wearing a hearing device similar to Barlow's. When they arrived, our baguettes, baked on the premises, were generously filled and accompanied by a salad garnish with French dressing. Barlow's chips, contained in a wire basket, were perfectly cooked; crisp on the outside, soft and fluffy on the inside and tasting wonderful. Our food was served by Rory and Donna who were polite, efficient and friendly.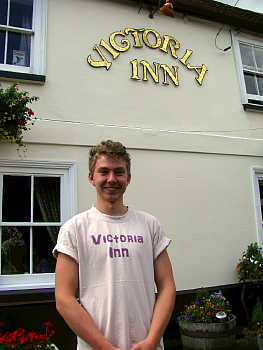 Somehow, this delightful country pub had escaped our attention during the 14 years we have been conducting our relentless research on behalf of the MCDOA. Now that we are aware of its existence, I am sure we will be back. It is awarded a creditable 4.5 diving helmets (or mines) out of 5 and is highly recommended for a visit by anyone in the Portsmouth/Chichester area.
---
6 Jul 16 - HMS Hurworth exercises with Merlin
The Royal Navy website contains this article describing exercises in the English Channel involving HMS Hurworth (MCM2 Crew 1) and a Merlin Mk 2 helicopter from 824 Naval Air Squadron based at RNAS Culdrose.
---
RN MInewarfare & Diving Heritage: Transatlantic deployments
Twenty years ago, the Hunt class MHSCs HMS Berkeley (now HS Kallisto in the Greek Navy) and HMS Chiddingfold plus the Sandown class MHCs HMS Bridport (now EML Ugandi in the Estonian Navy) and HMS Cromer (now the harbour training ship Hindostan at BRNC Dartmouth), supported by Forward Support Unit 01 embarked in MV Italica, crossed the Atlantic to participate in Exercise PURPLE STAR 96 (29 April to 19 May 1996) as described in these articles from the May 1996 and July 1996 issues of Navy News.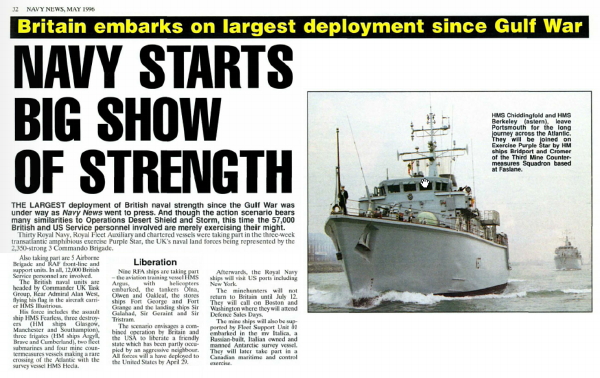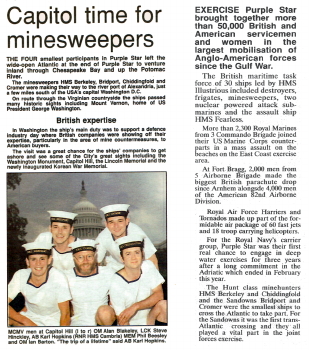 Two articles from the July 1996 issue of Navy News
As one of the articles describes, the ships passed many historic sites including Mount Vernon which had a connection with 'Old Grog' after whom HMS Vernon was named as Wikipedia explains here:
"...when Washington's older half-brother, Lawrence Washington, inherited it, he changed its name to Mount Vernon in honor of Vice Admiral Edward Vernon, famed for the War of Jenkin's Ear and capture of the Portobelo, Colón. Vernon had been Lawrence's commanding officer in the British Royal Navy. When George Washington inherited the property, he retained the name."
Hunts had already crossed the Atlantic in 1985 when HMS Brecon (now a static training ship at HMS Raleigh), HMS Chiddingfold, HMS Cottesmore (now LNS Skalvis in the Lithuanian Navy) and HMS Dulverton (now LNS Kuršis in the Lithuanian Navy) visited the US eastern seaboard as described in this article from the August 1985 issue of Navy News: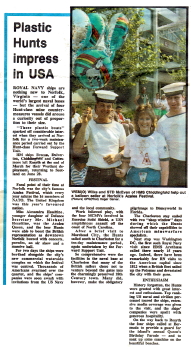 These photos were taken at the time: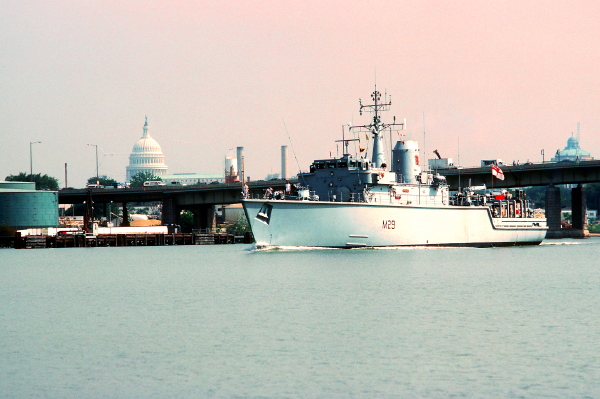 HMS Brecon on the Anacostia River after visiting the Washington Navy Yard in 1985.
The US Capitol building is visible in the background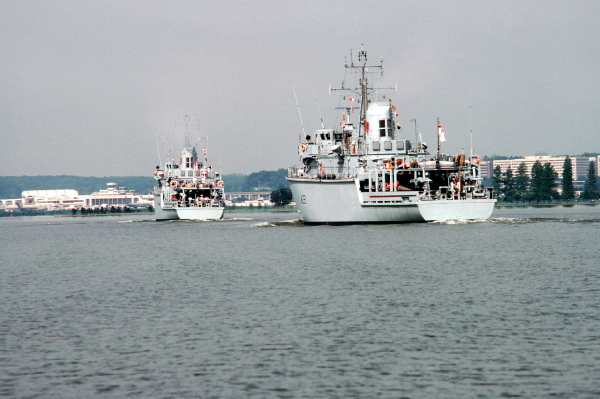 HMS Brecon and HMS Cottesmore (foreground) approaching the confluence of the Potomac
and Anacostia rivers at Hains Point after visiting the Washington Navy Yard in 1985.
The National Airport is visible in the background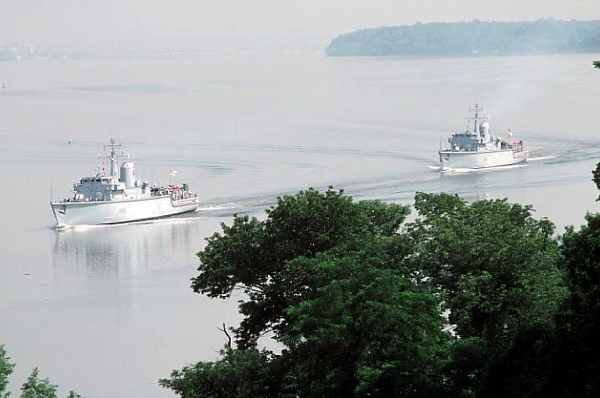 HMS Brecon and HMS Cottesmore approaching Fort Washington on the Potomac River
in 1985 after visiting the Washington Navy Yard
The most recent transatlantic deployment of RN MCMVs was Exercise AURORA in 2004 when the Hunt class MHSC HMS Middleton and the Sandown class MHCs HMS Pembroke, HMS Sandown (now EML Admiral Cowan in the Estonian Navy) and HMS Walney (now decommissioned), supported by RFA Sir Bedivere (now NDCC Almirante Saboia in the Brazilian Navy), participated in Exercise RAPID ALLIANCE. They paid visits to the Azores, Bermuda, Norfolk Virginia, Boston, Halifax Nova Scotia and St John's Newfoundland.
From the Jul/Aug issue of Warship World (see entry for 27 Jun 2004 in News Archive 6).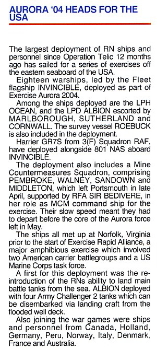 RNR MCMVs have also crossed the Atlantic for MAPLEHAUL deployments to the eastern seaboard of Canada. In 1973, the long gone Ton class MSCs HMS Venturer (HMS Hodgeston) of Severn Division, HMS Curzon (HMS Fittleton) of Sussex Division, HMS Solent (HMS Crofton) of Solent Division and HMS Mersey (HMS Pollington) of Mersey Division, accompanied by the tanker RFA Brown Ranger, visited St John's in Newfoundland, Halifax in Nova Scotia and Charlottetown on Prince Edward Island for the 50th anniversary of the Canadian Reserve Forces.
In 1985, the River class MSFs HMS Carron, HMS Dovey and HMS Waveney visited St John's in Newfoundland, Sydney and Halifax in Nova Scotia, Charlottetown on Prince Edward Island and Shediac in New Brunswick to coincide with 75th anniversary of the Royal Canadian Navy.
From the August 1985 issue of Navy News: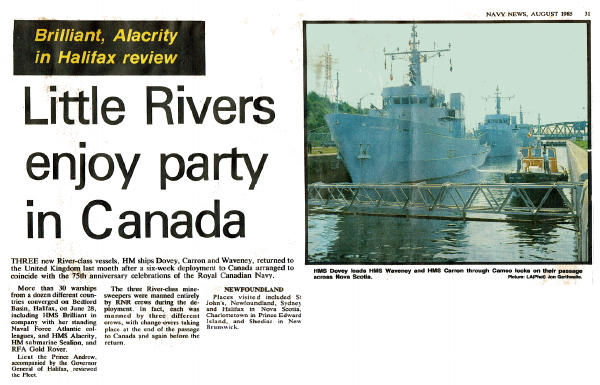 ---
5 Jul 16
SDU2 detonates cannon shell
The BBC News website contains this article and the Dorset Echo website this article (both including video) describing today's disposal, presumably by members of Portsmouth-based Southern Diving Unit 2 (SDU2), of a cannon shell discovered in sand dunes at Knoll Beach in Studland Bay.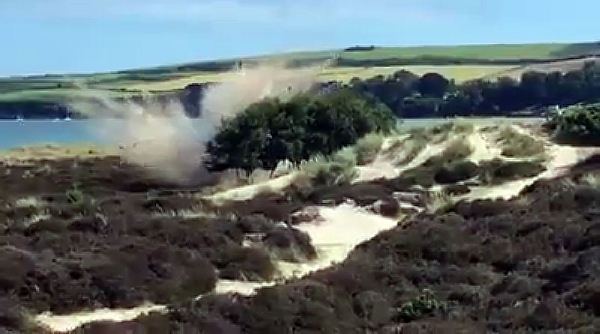 ---
Team Wizard in the Round the Island Race
I am grateful to MCDOA member Geoff Goodwin for this message:
"Dear Friends,
Wizard took part in the Round the Island Race 2016 as planned.
Some 1,500 boats registered to start, of which over 300 retired because of the weather conditions, being on the very edge of what might be considered safe for some smaller craft. We experienced winds up to 30 knots (some others reported gusts of 45!) which resulted in a hard bash down the Western Solent against a choppy sea, with the tide driving us at speeds over the ground of 9 knots, adding to the forecast wind. Our low freeboard ensured that we were kept cool by frequent sea water drenchings. Wind over tide conditions south of the Island became increasingly uncomfortable towards St Catherine's Point, with a heavy stern sea , a few breakers and still plenty of breeze. Despite the usual long leg with wind astern, very few boats hoisted spinnakers because of the difficulty with steering in the 2-3 metre swell (somebody reported 4-5 metres) and high wind. This was followed by the beat against tide along the northern shores of the Island, which at least provided respite from the earlier sea states, and with everyone trying to get the right balance between keeping clear of shallow water (eg Ryde Sands), maintaining a decent boat speed and staying out of the flooding tide.
Wizard finished in 833rd position with a time of 9:34:33. In our Contessa 32 class of 27 boats we came 16th and 9 sister Contessa 32s didn't complete the course.
Before the start of the race my aim was to improve on last year's time but after an hour's sailing I revised that aim to a) complete the course and do it safely and b) have a happy crew at the finish. Both were achieved. At the end of a day during which many MAYDAY and PAN PAN PAN messages were overheard (including: a number of "man overboards", dismastings, a smashed/lost rudder, blown out sails, groundings, various injuries and other damage and one sinking) we were pleased to finish just feeling a tad weary!
We raised £625 for Project Vernon. Many, many thanks for your generous sponsorship!
Best wishes,
Geoff Goodwin"
This makes a total of about £1,800 raised for the Vernon Monument by Geoff and Team Wizard within the past two months. Congratulations and many thanks on behalf of the minewarfare and diving community which will be immortalised in public when the Vernon Monument is erected.
---
Possible work for the brethren
I am grateful to MCDOA member Kim Godfrey for this message:
"Dear Rob,
I appreciate the website is not a job board but the project I am involved in will be an iconic UK one with a specific requirement for the types of people that the MCD cadre produce. We have just been offered full funding and are now starting the design and planning phase before we build the biggest indoor pool (50m long, 40m wide and with a 50m deep section) in the world. Supporting it will be hyperbaric and hypobaric chambers and an R&D section looking at space flight physiology. The plan is to open within the next 18 to 24 months.
As the Diving Director I've started to look at building the diving team and initially looking for ex-CD's (preferably) who also have recreational/AT instructors and supervisors (e.g. SADS) diving qualifications. This would be ideal for someone just leaving, just left or has left but with the rights ongoing qualifications.
More info on the project at: www.blueabyss.uk
3D vision can be seen at: http://www.blueabyss.uk/index.php/dive-into-the-blue-abyss
My contact details are below for those interested.
Best regards,
Kim Godfrey
Director Diving and ROVs
+44 (0) 7721 036 730
Blue Abyss Diving Limited
Constable Building
Wivenhoe Park
Colchester
CO4 3SQ

"
---
4 Jul 16 - Chris 'Paddy' Doonan's abseil down the Spinnaker Tower
It was such a fine day yesterday that Mrs Webmaster and I drove to Gunwharf Quays in Portsmouth, previously the site of the Royal Navy's minewarfare & diving alma mater HMS Vernon, to witness ex-clearance diver Chris Doonan abseil down the 170 metre (560 ft) Spinnaker Tower for The Rowans Hospice (see entry for 3 Jul 16).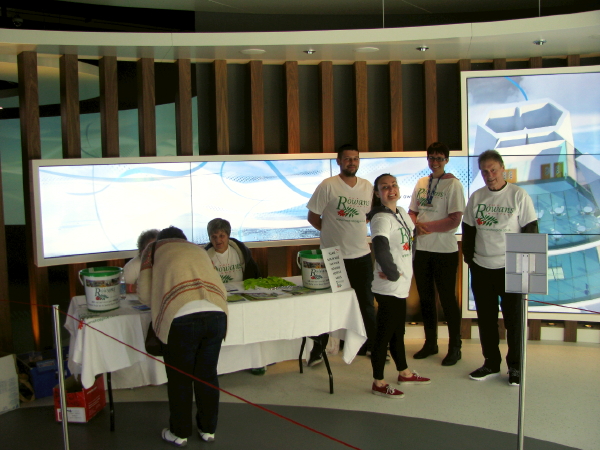 The Rowans fundraising team checking in
Above and below: Chris Doonan abseiling down the Spinnaker Tower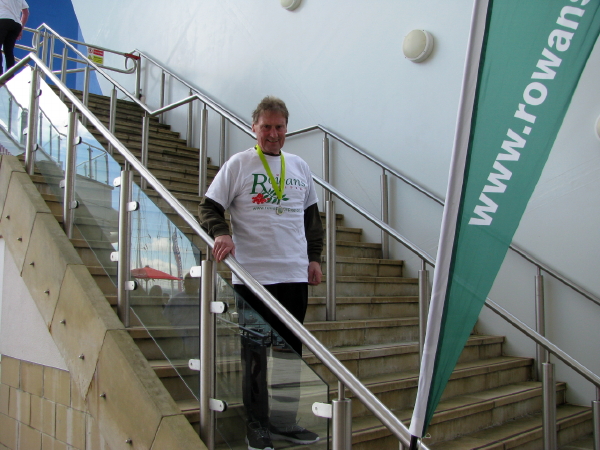 Also present to witness Chris's achievement was MCDOA former Honorary Secretary Mick Beale, no stranger to raising money for good causes himself.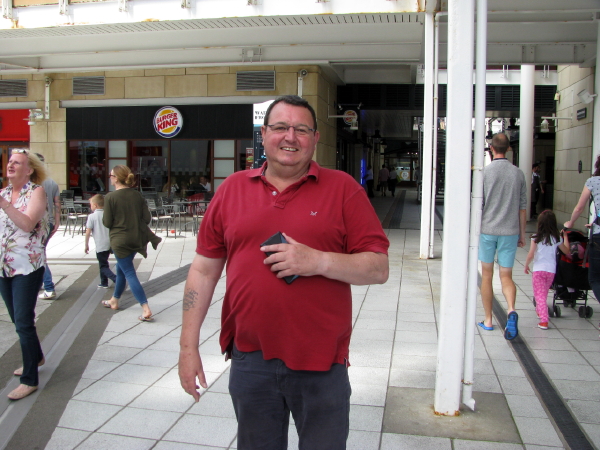 Mick Beale at Gunwharf Quays
It was also good to see MCDOA committee member Graham 'Tug' Wilson MBE and his fellow Pompey FC supporter Tim Sizer at an adjacent table outside the Slug & Lettuce.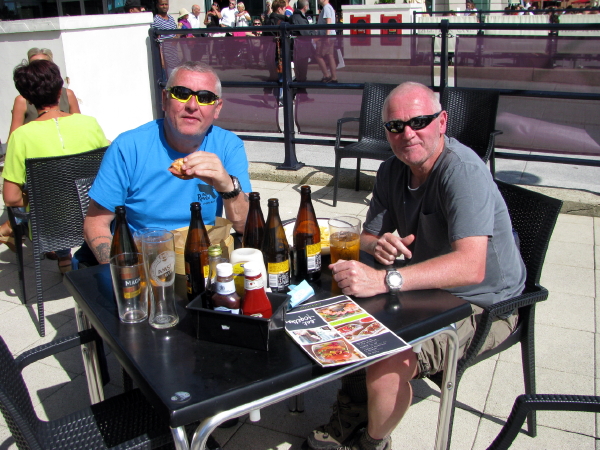 Tug Wilson and Tim Sizer lunching al fresco at Gunwharf Quays
Well done Chris for smashing his £1,000 charity fundraising target by almost £200.
---
3 Jul 16 - It's today! Sponsor Chris 'Paddy' Doonan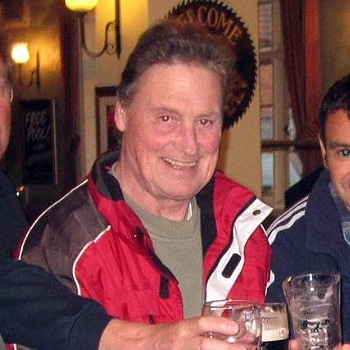 Ex-CD Chris 'Paddy' Doonan
Well-known ex-clearance diver Chris 'Paddy' Doonan is due to abseil down the Spinnaker Tower at Gunwharf Quays, formerly HMS Vernon, at 1500 this afternoon. He is performing this feat to raise money for The Rowans Hospice. Please lend him your support by attending or, more importantly, sponsoring him here:
Chris Doonan's Just Giving page
---
2 Jul 16 - It's today! Sponsor Geoff Goodwin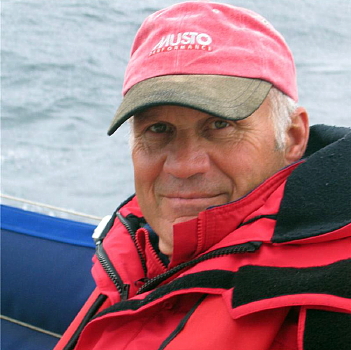 MCDOA member Geoff Goodwin
In May this year, MCDOA member Geoff Goodwin raised £1,260 for the Vernon Monument when he won the Gosport Peninsula Charity Pursuit trophy in his Contessa 32 yacht 'Wizard'. Now he is at it again in today's Round the Island Race:
"Dear Friends,
Following our success in the Gosport Peninsula Charity Pursuit in WIZARD we are planning to take part in the 2016 Round the Island Race. We are seeking sponsorship to raise funds for the same charity, Project Vernon.
PROJECT VERNON
In the hours leading up to the D-Day landings, Royal Navy divers cleared 2,000 bombs, mines and other obstructions from the approaches to the beaches. Without this work there would have been many more casualties and the landings might not have been successful. Following on from this, these diving teams cleared the explosive ordnance from the ports of Europe making them safe for shipping which enabled the resupply of allied invasion forces across the continent.
The Royal Navy has continued this work, clearing the seabed and beaches in every theatre of war since 1945, including: Suez, following the Arab/Israeli wars of the 1960s and 70s; the Falklands in 1982; during and after two Gulf Wars and in Afghanistan. They have carried out many other operations in the UK and worldwide at the same time and since. The discovery of World War II weapons and other explosives off our coasts is still a frequent occurrence.
There is no statue to commemorate this work, nor any memorial to those who lost their lives. The Vernon Project aims to put this right by erecting a statue on the site of the old HMS VERNON (now Gunwharf Quays) where these personnel were trained and based.
Please give generously at:
http://uk.virginmoneygiving.com/GeoffGoodwin
To find out more about Project Vernon visit:
http://www.vernon-monument.org
Many thanks,
Geoff Goodwin"
During the 1970s, Geoff was the First Lieutenant of HMS Laleston (where we briefly served together in 1973) and HMS Bossington, both based at HMS Vernon. In 1982, I relieved him as LMCDO Training Officer in HMS Vernon whereupon he assumed Command of HMS Wolverton in Hong Kong. MCDOA members of a certain age may remember him allowing us to use the wardroom at HMS Dolphin for our annual dinners when he was the establishment's Commander in the mid-1990s, despite the risks to the chandeliers!
Please dig deep and don't forget to add the Gift Aid which boosts your contribution by 25%.
Watch the race live and track the GPS position of Geoff's Contessa 32 'Wizard' via this website. This was his position at 1057: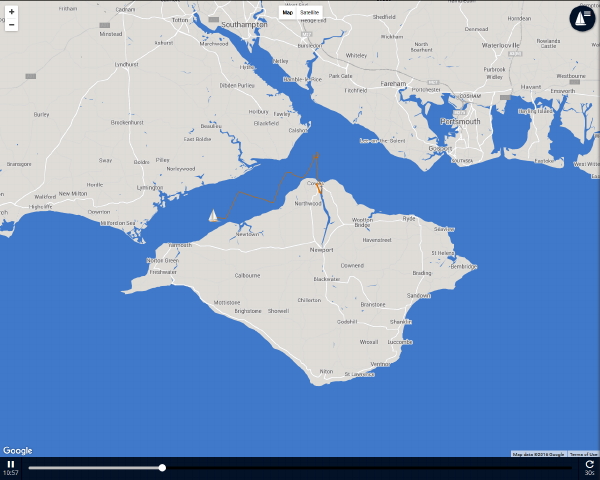 .
---
1 Jul 16 - HMS Pembroke to escort MS Queen Elizabeth into Liverpool
The Royal Navy website contains this article announcing that HMS Pembroke (MCM1 Crew 1) will escort the 90,000 ton Cunard cruise liner MS Queen Elizabeth (not QE2 as the article states) from the Bar Light into Liverpool's Cruise Liner Terminal tomorrow, arriving at 0715. The ships previously encountered each other in the Baltic early last month (see entry for 14 Jun 16 in News Archive 54).
HMS Pembroke will berth at Canning Half-Tide Dock until Tuesday and will be open to the public from 1100 until 1600 on Sunday. She will host local schools and colleges on Monday as well as Merseyside Fire & Rescue Service.
HMS Pembroke open to visitors while in Liverpool for the 70th anniversary of the
Battle of the Atlantic in May 2013 (See entry for 24 May 13 in News Archive 42)
---