---
| | | |
| --- | --- | --- |
| | Have you ordered your miniature of the Vernon Monument yet? It is being sold in a variety of sizes, finishes and prices to raise funds for the planned sculpture at Gunwharf Quays in Portsmouth to celebrate the Minewarfare & Diving heritage of HMS Vernon which previously stood on the site. Be part of the solution, not part of the problem. 'Project Vernon' is officially supported by Portsmouth City Council, Gunwharf Quays, the MCDOA, AORNFCD, MWA, RNCDA and the TCA. Click here for details. | |
---
24 Oct 16 - HMS Shoreham at Rosyth
From HMS Queen Elizabeth's Twitter feed:
"M112, HMS Shoreham getting lowered into the basin. We are 100 times heavier & 5 times longer. @RoyalNavy :credit CPO Dunlop"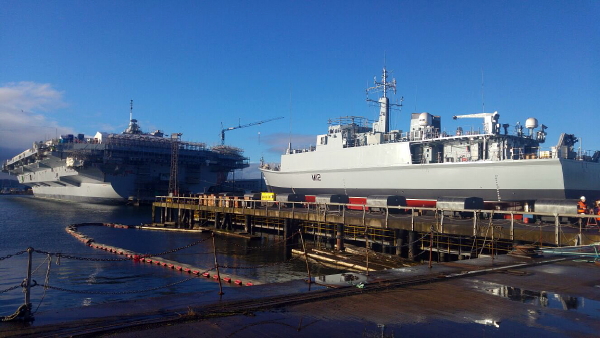 ---
23 Oct 16 - News from HMS Chiddingfold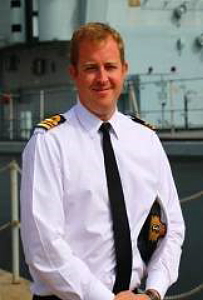 I am grateful to Lt Cdr James Baker, Commanding Officer of HMS Chiddingfold (MCM2 Crew 3) currently on Operation KIPION in the Gulf, for his ship's Autumn newsletter which can be downloaded here: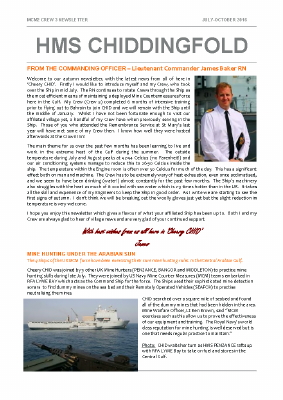 ---
20 Oct 16 - Website restoration
For reasons unknown, the host server 'lost' the website last night (Wednesday). I have asked for its restoration from the back-up but this has yet to be implemented, In the meantime, I am uploading my own back-up but this will take considerable time as it involves processing more than 32,000 files (4.4 GB) in relatively small batches. Rest assured that normal service will be resumed as soon as possible.
---
19 Oct 16 - HMS Brocklesby honours wartime forebears
The Navy News website contains this article describing a visit by ship's company members of HMS Brocklesby (MCM2 Crew 2) to the annual service remembering the 70,000 men who served in the RN Patrol Service (RNPS aka 'Harry Tate's Navy) during the Second World War at 'The Sparrow's Nest', its spiritual home in Lowestoft.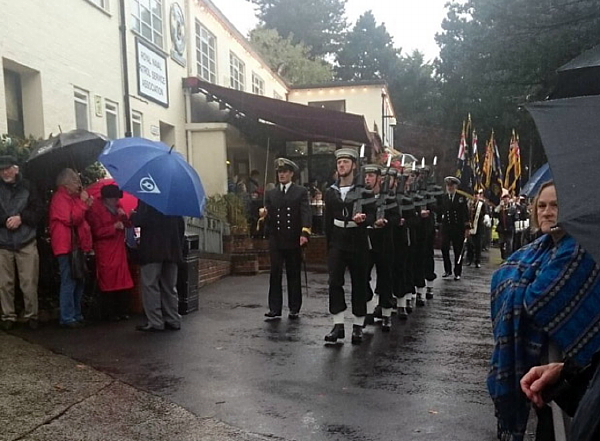 Lt Dan Buttar, HMS Brocklesby's gunnery officer, leads a Guard of Honour comprising
a petty officer and six able seamen from the ship
(Navy News image)
---
17 Oct 16 - Ton Class Association reunion in Torquay
The weekend's annual reunion of the Ton Class Association (TCA), held this year at the Toorak Hotel in Torquay, was as enjoyable as ever. It comprised an informal dinner on the Friday, an AGM, formal dinner and disco on the Saturday and a church service on the Sunday morning.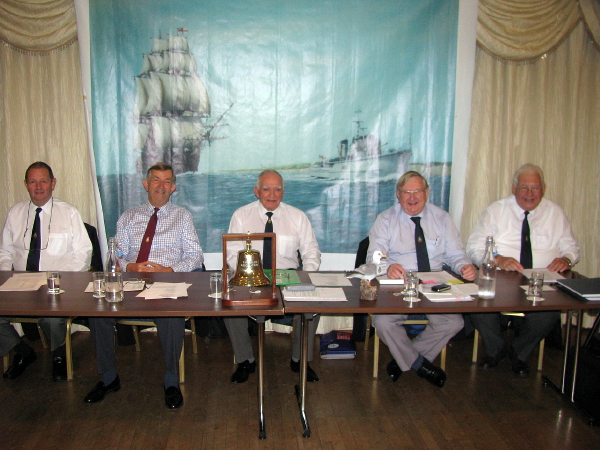 TCA Committee members at the AGM comprising Stuart Johnson (Hon Treasurer), Rear Admiral
John Lippiett CB CBE (President), John Soanes (Chairman), Peter Down (Hon Sec & Editor of
'Ton Talk') and Peter Harrison (Reunion Secretary)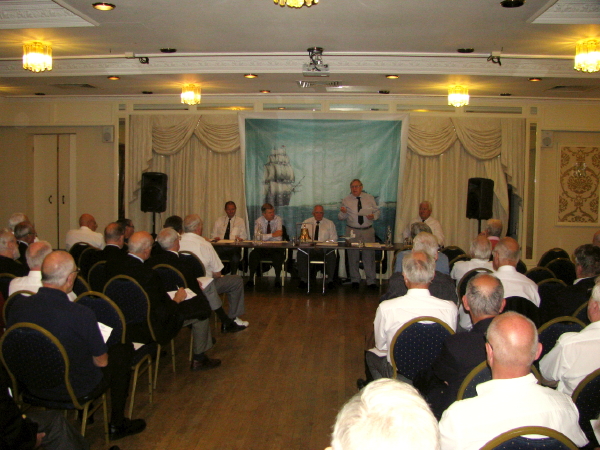 Above and below: The TCA's AGM
Above and below: The TCA's AGM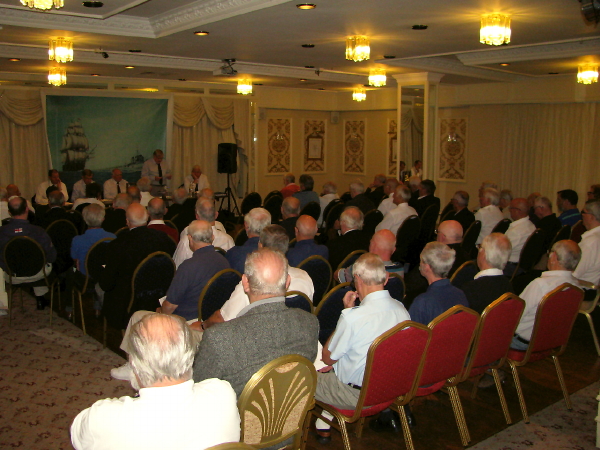 Left: John Soanes delivering his Chairman's report
Right: Stuart Johnson delivering his Treasurer's report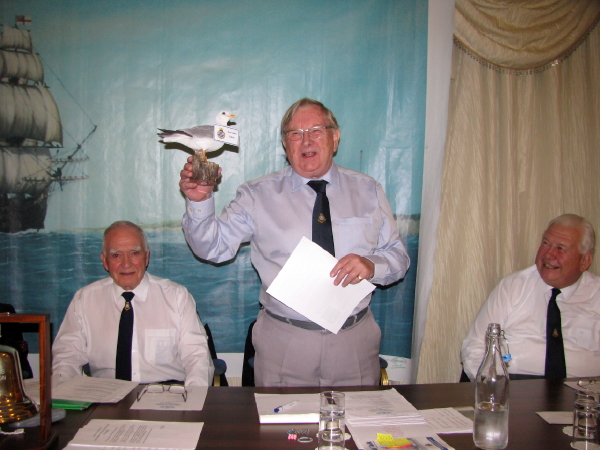 Peter Down delivering his report as Hon Secretary & Editor of 'Ton Talk' with his
deputy editor 'Shite'
Left: Bob Dean delivering his report as Head of the Historical Group & Webmaster
Right: Charlie Farnes delivering his typically hilarious report as Welfare Officer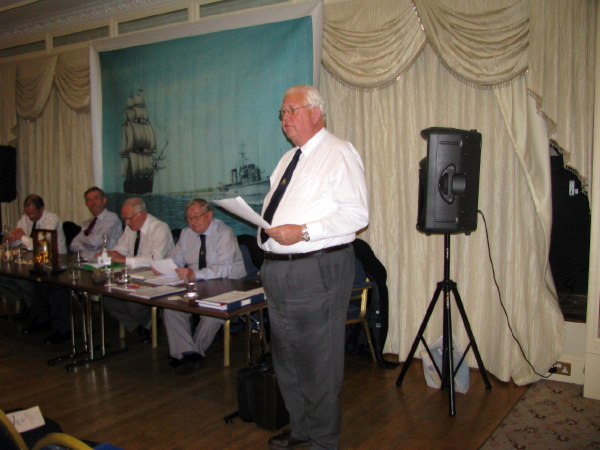 Peter Harrison delivering his Reunion Officer's report and a fine job he makes of it, too.
Next year's reunion will be held in Derby
Left: Pancho Brett delivering his report on Sea Cadet Affiliations
Right: Laurie Johnson delivering his Stores Officer's report
For me, the highlight of the banter-filled AGM was the Yorkshire 'White Rose' element (complete with ferret (stuffed), whippet (stuffed), pigeon (stuffed) and flat caps) summoning TCA Historian & Webmaster Bob Dean to induct him as an honorary.... Lancastrian.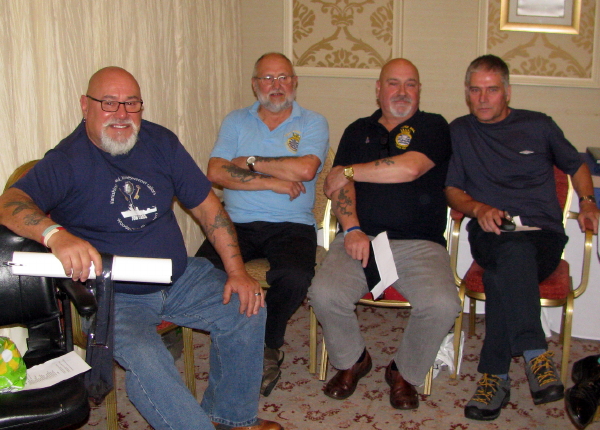 Members of the Yorkshire 'White Rose' contingent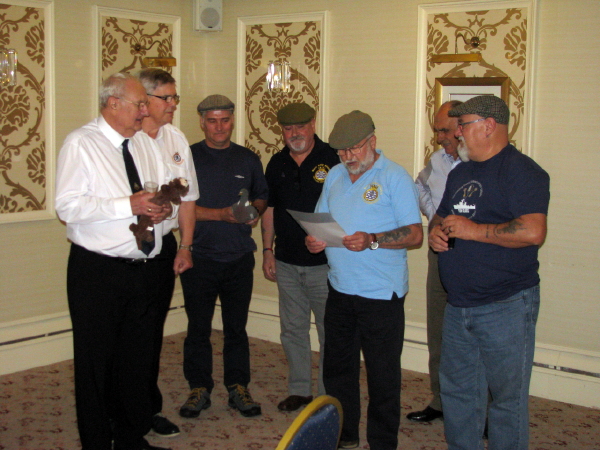 TCA Historian & Webmaster Bob Dean (left) being inducted as an 'Honorary Lancastrian' by members
of the TCA's Yorkshire 'White Rose' contingent comprising Pancho Brett, Clive Dennison,
Terry Foreman, Allan Brown (aka Whippet Master), Dave Brown and Dave Parrish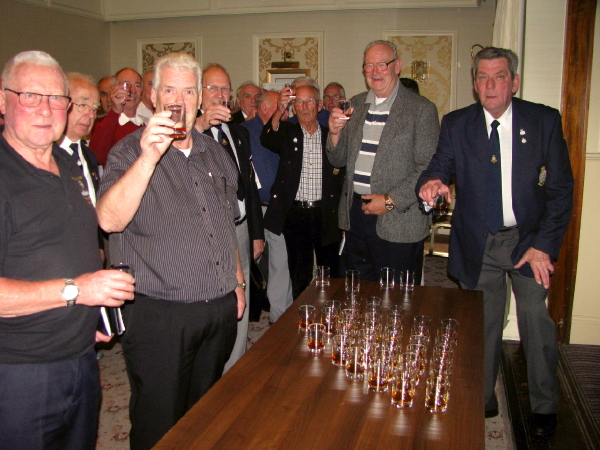 Up Spirits! Tot time after the AGM
We were graced at our formal dinner with the presence of MCD officer Lt Lucy O'Callaghan (Ops Officer) and Sean Esson (AB(D)) from HMS ATHERSTONE. They brought a refreshing breath of 'sea air' to our proceedings and were a credit to their ship and themselves. It was a useful opportunity to reciprocate their hospitality during our sea day in HMS Atherstone earlier this year (see entry for 27 May 16 in News Archive 54).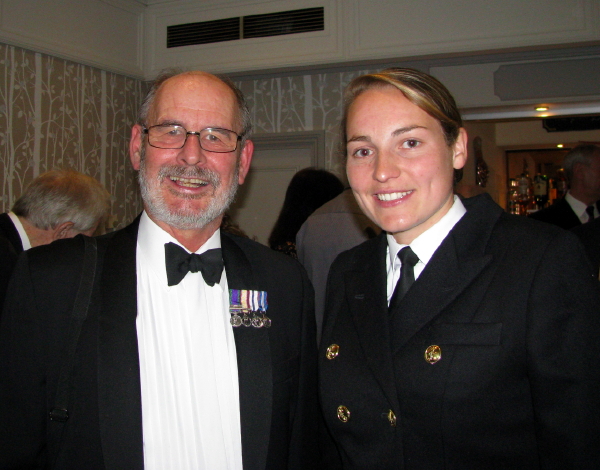 Yours Truly (Rob Hoole) with MCDOA member Lucy O'Callaghan, Ops Officer of HMS Atherstone
Pre-dinner drinks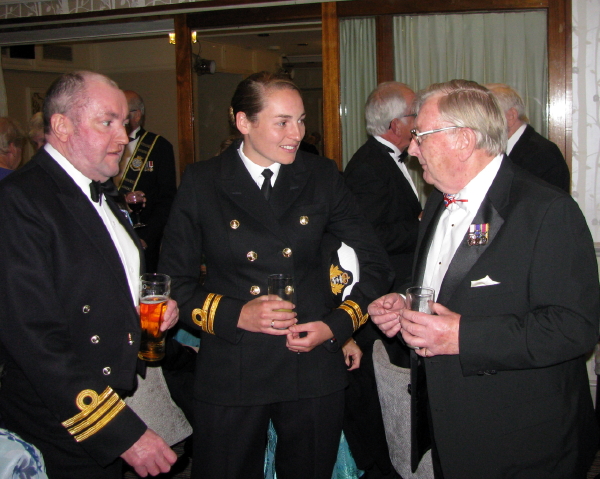 Lucy O'Callaghan flanked by Neil 'Nobby' Hall and TCA Hon Secretary Peter Down
Pre-dinner drinks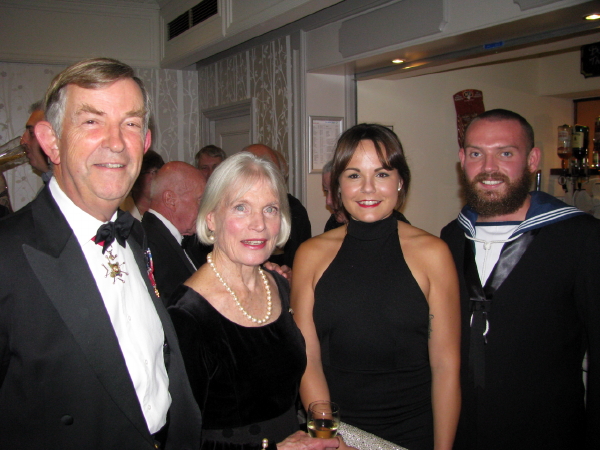 TCA President Rear Admiral John Lippiett CB CBE and his wife Jenny with AB(D) Sean Esson
of HMS Atherstone and his partner Rachel
Pre-dinner drinks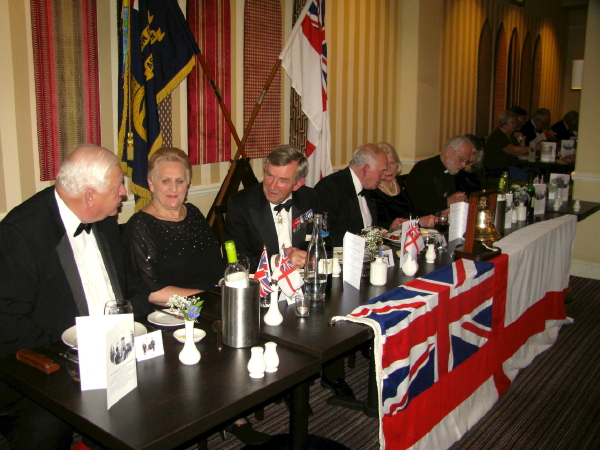 Top table at the formal dinner
Above and below: TCA formal dinner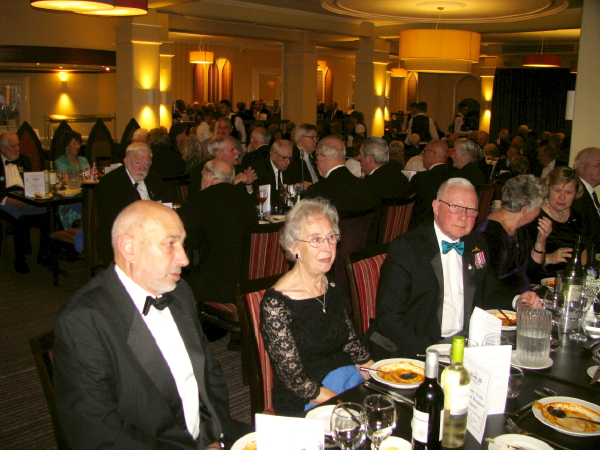 Above and below: TCA formal dinner
Above and below: TCA formal dinner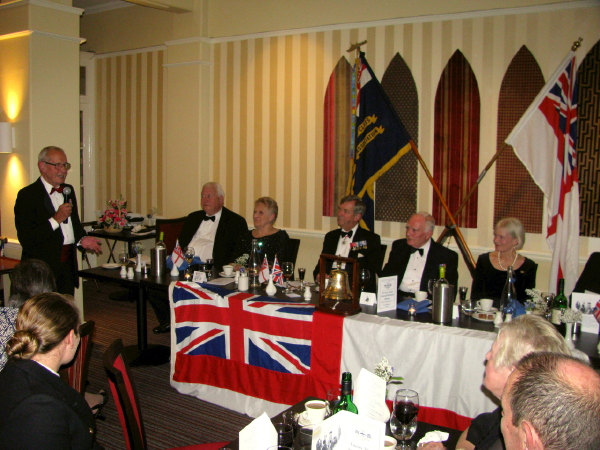 TCA resident artist Tony Standish preparing to make a presentation to Chairman John Soanes
to mark his 22 years in office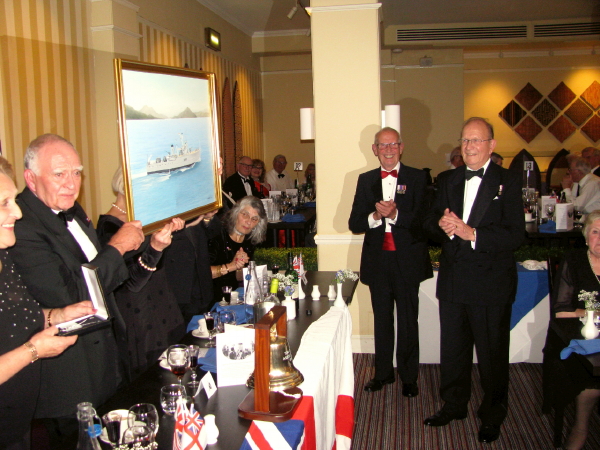 TCA Chairman John Soanes receiving a framed painting of his TON class minesweeper,
HMS Penston, to mark his 22 years in office while Tony Standish and Chris Green look on
Ann Soanes, wife of the Chairman, expressing her gratitude for a pendant presented in
recognition of the stalwart support she has given her husband and the Association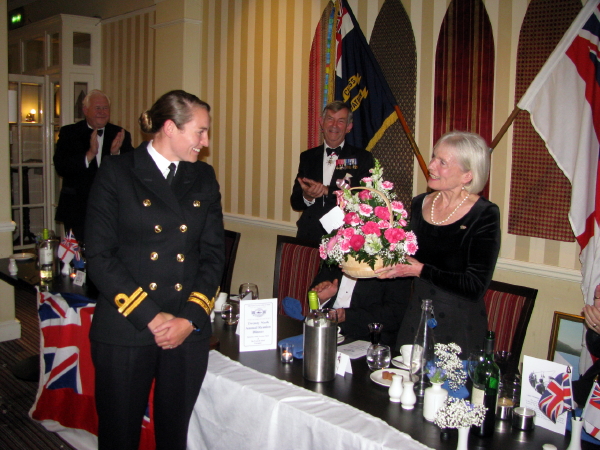 Lucy O'Callaghan of HMS Atherstone after presenting a basket of flowers to Jenny Lippiett,
wife of TCA President, Rear Admiral John Lippiett seen in background
Diners listening to the speeches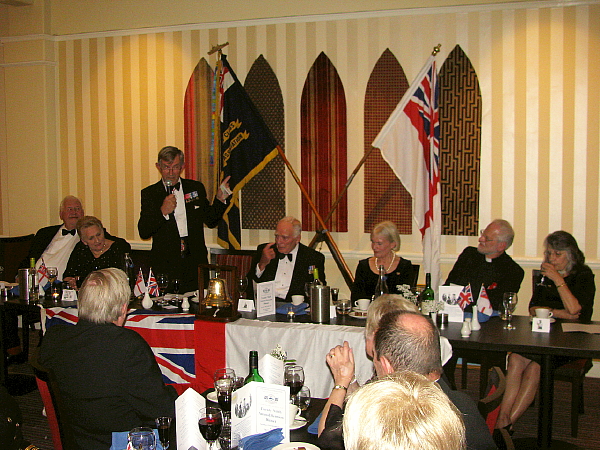 Rear Admiral John Lippiett, TCA President, delivering his after-dinner speech
on the subject of 'cock-ups I have made'
Diners listening to the speeches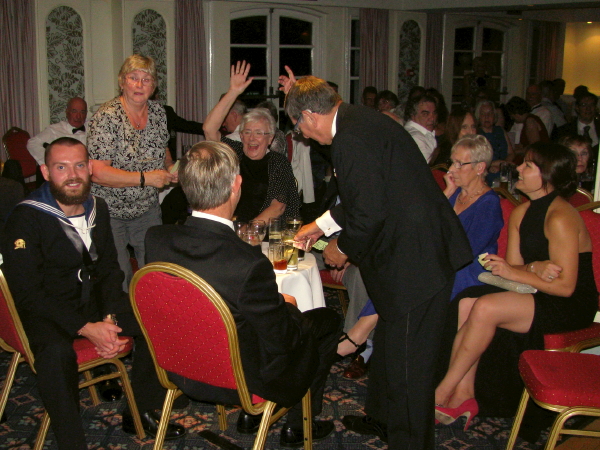 AB(D) Sean Esson of HMS Atherstone and his partner Rachel enjoying the post-dinner disco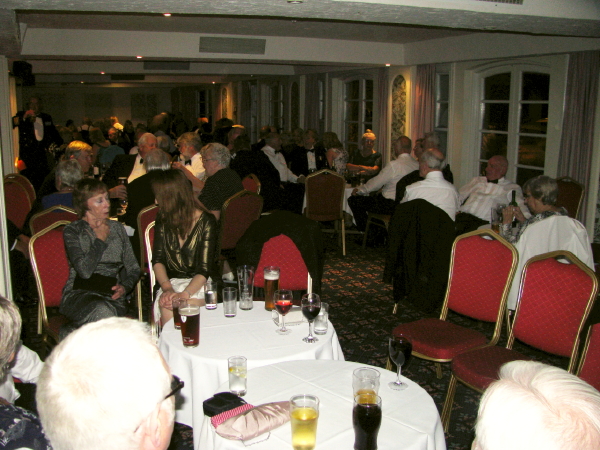 Above and below: Post-dinner disco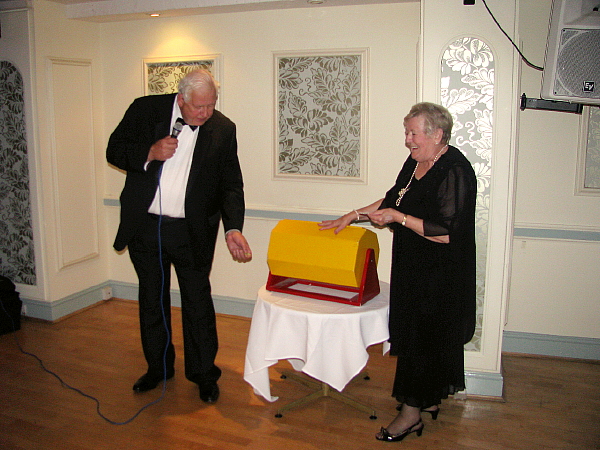 Reunion Secretary Peter Harrison running the well-supported raffle
which took place at break-neck speed with great efficiency
Above and below: Post-dinner disco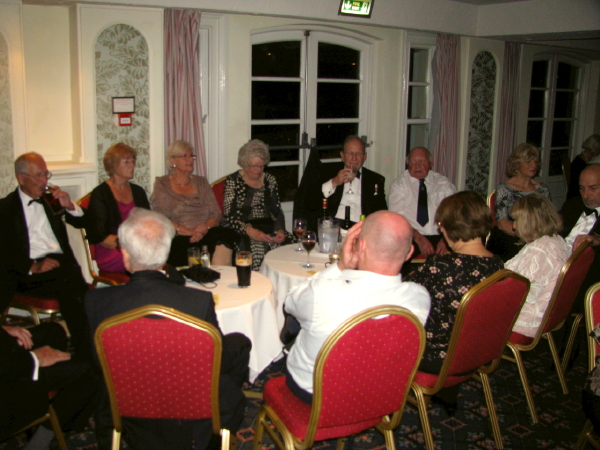 Above and below: Post-dinner disco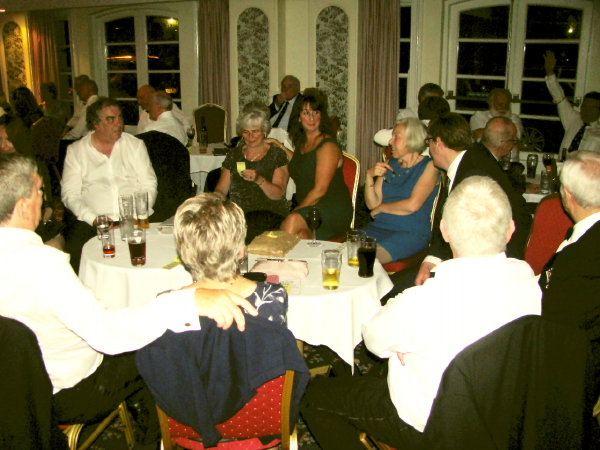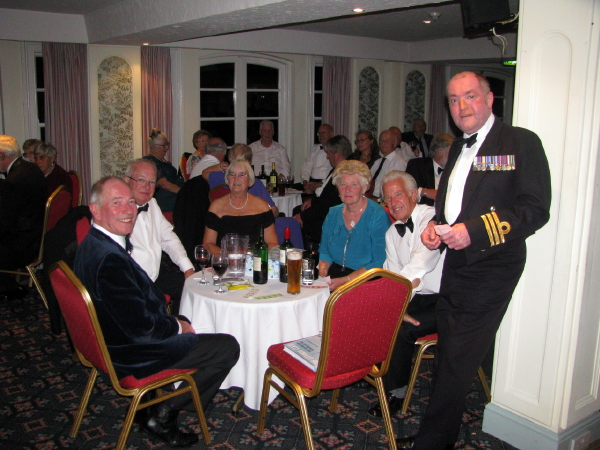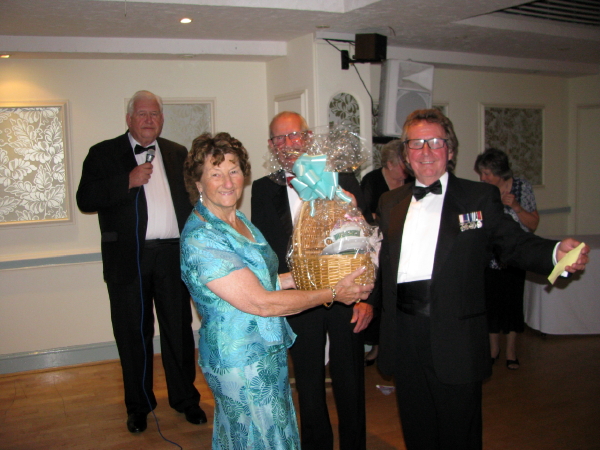 MCDOA member Doug Barlow's wife Jill being presented with the final raffle prize
by Charlie Farnes with Peter Harrison and Tony Standish looking on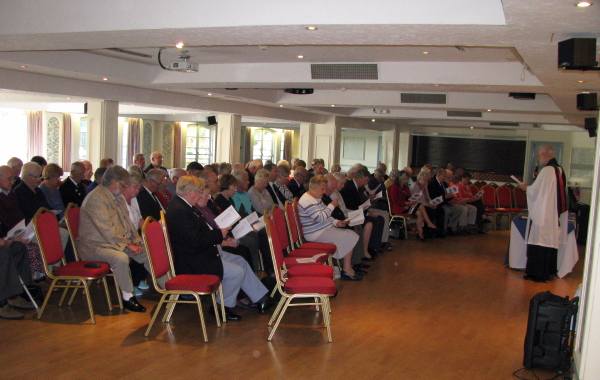 Above and below: Sunday morning church service conducted by the Rev Colin Noyce OCM,
the TCA's chaplain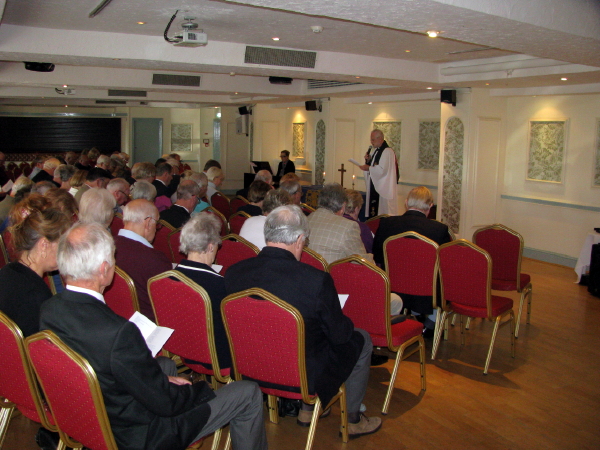 Above and below: Sunday morning church service conducted by the Rev Colin Noyce OCM,
the TCA's chaplain
---
16 Oct 16 - MCDOA members' updates
Congratulations to MCDOA member Nick Stanley who informs me that he was due to retire last week but has instead been promoted to Commodore and will likely serve a further six months or so in SHAPE as our National Military Representaive to cover an emergent gap. Commiserations to MCDOA member Bob Hawkins whose ambition to become the oldest serving MCD officer has been put on hold yet again.
MCDOA member Graham Landrock informs me that he is still working as the Head of the Joint Synchronisation Branch [No, I don't know either] within the 3* NATO Single Service Maritime Command (MARCOM) but spends two out of every four weeks deployed as MARCOM's Liaison Officer to SHAPE. He is due to retire when he hits 55 next July but has just been offered another extension so nothing is certain yet.......as always!
---
14 Oct 16
HMS Cattistock stars in BBC1's 'The One Show'
Yesterday's episode of 'The One Show' on BBC TV featured HMS Cattistock (MCM2 Crew 8 commanded by MCDOA member Charlie Wheen) and her diving team at Kyle of Lochalsh during Exercise UNMANNED WARRIOR (aka JOINT WARRIOR 16-2 and NOBLE MARINER 16).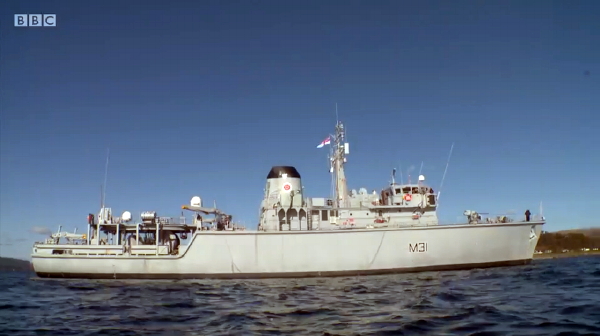 Among those interviewed were MCDOA members Charlie Wheen (CO of HMS Cattistock) and Mark Savage plus PO(D) Jim Cracker (Cox'n of HMS Cattistock).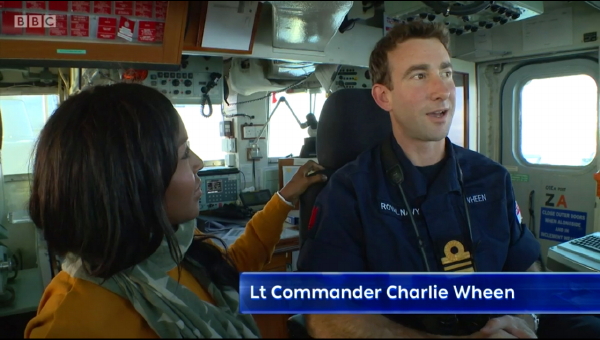 Lt Cdr Charlie Wheen, CO of HMS Cattistock
Left: PO(D) Jim Cracker
Right: Cdr Mark 'Doc' Savage
The episode also showed several remote systems being used in autonomous MCM, several of them the responsibility of MCDOA member Jack McWilliams, OIC of the RN Maritime Autonomous System Trials Team (MASTT).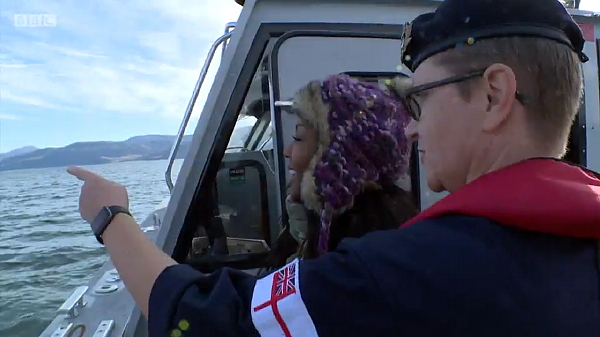 Lt Cdr Jack McWilliams, OIC of the RN MASTT
Left: Remus Autonomous Underwater Vehicle with Antony 'Pinta' Beer in the bow
Right: Radio-controlled boat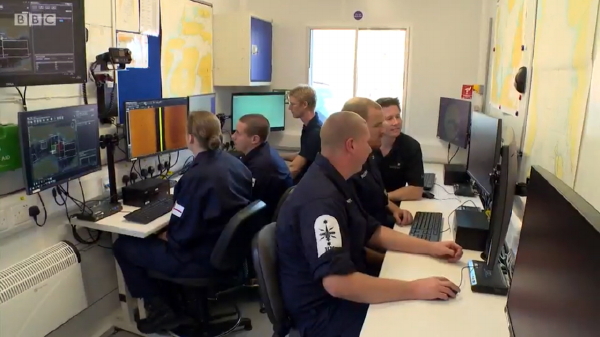 Post-mission analysis of survey data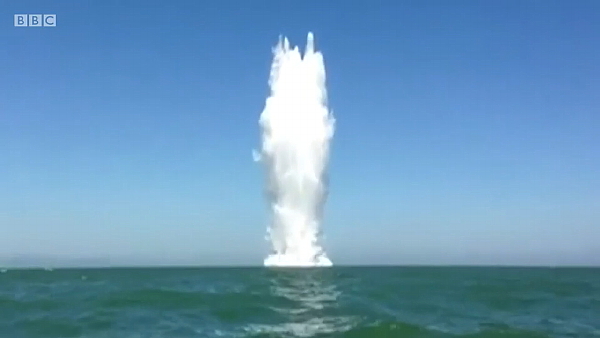 The end result - Scratch one mine!
This episode of the programme can be watched again on iPlayer for the next few days. The relevant segment is between minutes 03:15 and 07:50:
---
HMS Grimsby battles her way to JOINT WARRIOR
The Royal Navy website contains this article describing the rough weather encountered by HMS Grimsby (MCM1 Crew 6) while on passage to Faslane from the Baltic where she has been deployed with Standing NATO Mine Countermeasures Group 1 (SNMCMG1).
HMS GRIMSBY crossing the North Sea
RN website photo)
---
13 Oct 16
Replacement of ensign on wreck of HMS Royal Oak
I am grateful to MCDOA member Del McKnight, CO of the Fleet Diving Squadron (FDS), for allowing me to publish these photos of the recent replacement of the ensign on the wreck of HMS Royal Oak in Scapa Flow by members of Faslane-based Northern Diving Group (NDG). Del was among the divers.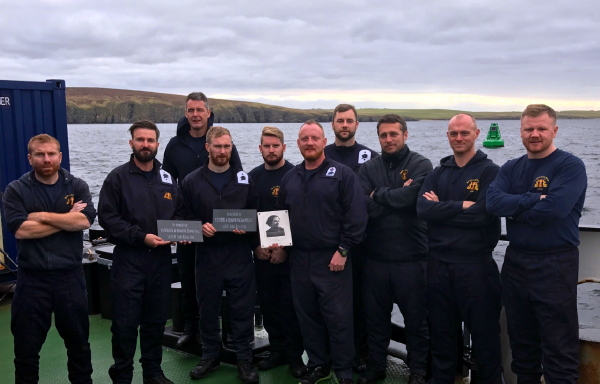 The team from NDG with the remembrance and memorial plaques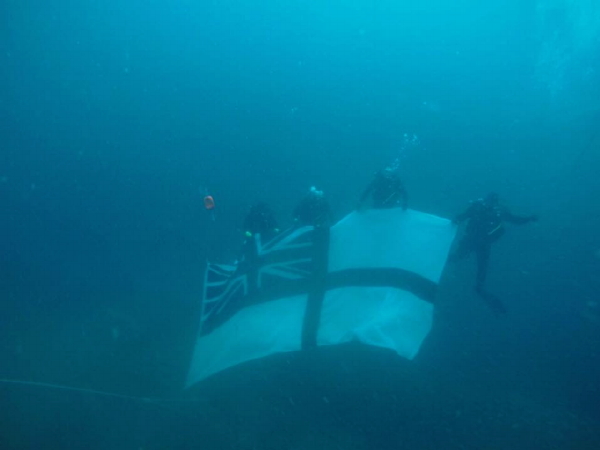 Left to right: NDG Chief of Staff (Lt Cdr Tim Castrinoyannakis), CO Fleet Diving Squadron
(Cdr Del McKnight), CO NDG (Lt Cdr Tony Hampshire) and LS(D) Craig MacMillan
I am also grateful to MCDOA member Tim 'Castro' Castrinoyannakis, OIC of Northern Diving Unit 2 (NDU2), for this message:
"Rob,
A quick email whilst I'm away up at Orkney but I thought you might appreciate a few more photos from our time up at Scapa Flow. Please see below some more info and quotes from the lads. Apologies for the typos etc,, all done on the road.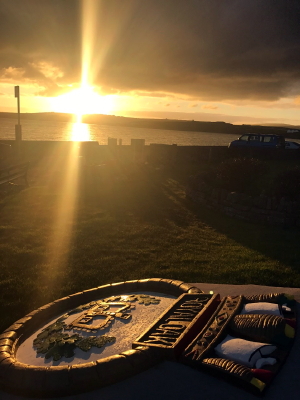 HMS Royal Oak's ship's badge in the
memorial garden at Scapa Flow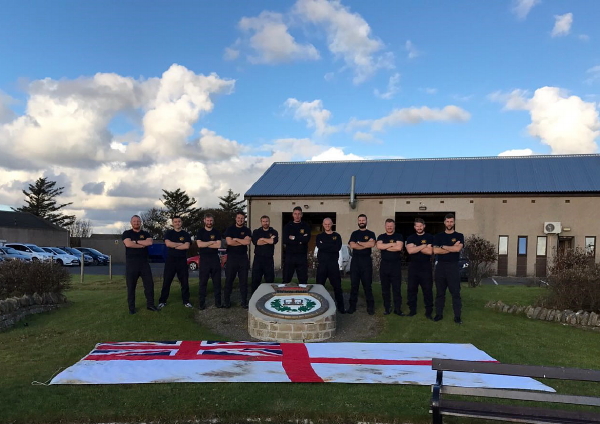 The team with the recovered ensign in the memorial garden at Scapa flow
We (a team of 9 diver from NDG) removed the Ensign on Monday, conducted a survey of the vessel on Tuesday, placing memorial stones and plaques within the wreck. AB Kenrick (Keno) and L(D) Macmillan (Mac) attached and flew a new ensign on Wednesday. Finally we secured the ensign to the port shaft today and placed the final remembrance plaque and a few poppies on the second deck below the quarterdeck (video to follow).
Left: The wreck of HMS Royal Oak lies just 100 meters to the north-east of this buoy.
The keel is at a depth of 5m and reaches a depth of 30m,
Right: PO(D) Andy Starkey recovering the ensign worn by HMS Royal Oak for the past year.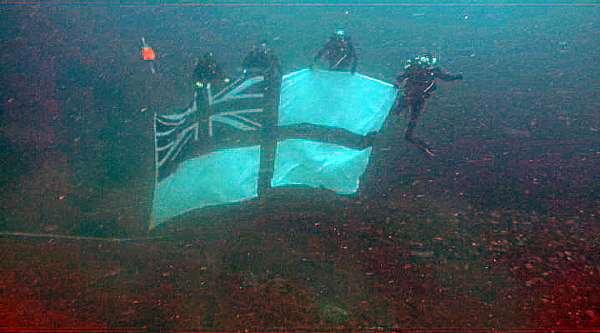 Left to right: NDG Chief of Staff (Lt Cdr Tim Castrinoyannakis), CO Fleet Diving Squadron
(Cdr Del McKnight), CO NDG (Lt Cdr Tony Hampshire) and LS(D) Craig MacMillan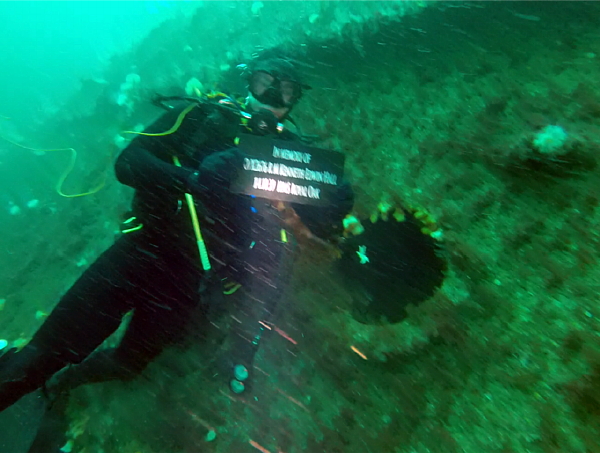 LS(D) McMillan placing a memorial plaque
AB(D) Stephen William Kenrick said:
"I've been privileged and honoured to raise the Battle Ensign on HMS ROYAL OAK for the anniversary of the sinking, and to remember the 834 men and boys who tragically lost their lives on board.
It was a bright and sunny day. From the surface, you could see the upturned hull reflecting below. On descending, the hull is instantly focused. I then made the descent to the propeller shaft with my leading diver and unfurled the 2016 ensign fastening it in position. Once the buoy was released it held the ensign high, the waters of Scapa Flow drawing the ensign outwards as if flying in the wind. I drew further back looking upwards and I took a moment to reflect, then proudly raised a salute to my fallen shipmates, a moment and sight that is engraved in my mind forever."
LS(D) Craig Alexander McMillan said:
"It was an honour and a privilege to place the new ensign on the war grave of HMS Royal Oak In remembrance of the 834 boys and men who made the ultimate sacrifice in 1939. Throughout the diving there were very deep emotions running through my mind, from honour to sorrow. I will always remember this moment. May they rest in peace and never be forgotten."
Some videos:
NDG HMS Royal Oak ensign replacement Scapa Flow Oct 2016 (1)
NDG HMS Royal Oak ensign replacement Scapa Flow Oct 2016 (2)
Castro"
Postscript: On 14 October 2016, the Royal Navy website published this article and the Navy News website this article covering the same story. It features MCDOA member Tony Hampshire, Commanding Officer of Northern Diving Group (NDG).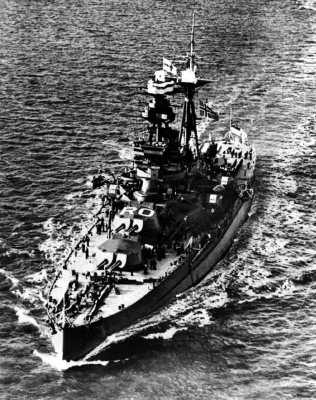 Aerial view of the battleship HMS Royal Oak
in her prime
(Navy News photo)
---
RN Diving & EOD Heritage: Vic Humphrey BEM and Rear Admiral Morgan-Giles OBE DSO GM
It was particularly good to catch up with Vic Humphrey at the dedication of the Memorial Garden at Horsea on Friday (see entry for 7 Oct 16).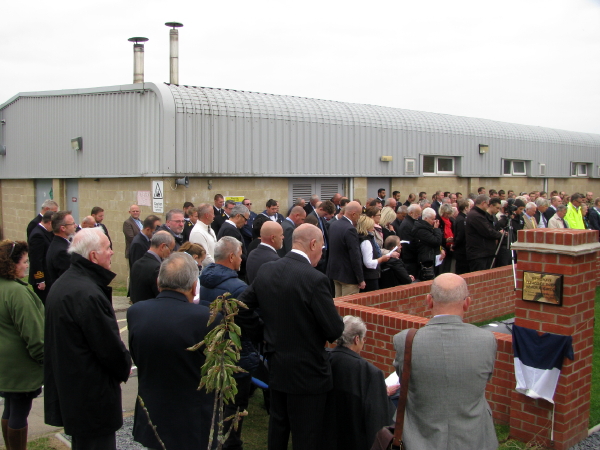 Vic Humphrey (second left in the black overcoat) at the dedication of the Royal Navy
Clearance Divers' Memorial Garden on Horsea Island on 7 October 2016
We usually seem to meet on such sombre occasions these days. Here we were after the funeral of ex-CPO(D) Arthur Quantrill 'Ginger' Bryant BEM (see entry for 29 Jan 08 in News Archive 21).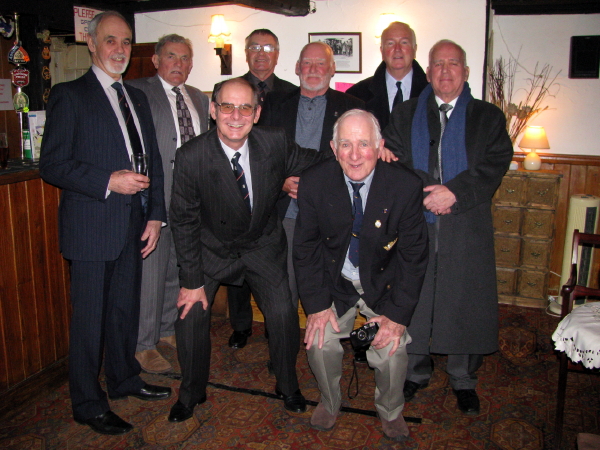 Standing left to right: Maggie Lockwood, Joe Maher, Ted Setchell, Peter Priestley,
Vic Humphrey and Donkey Bray
Crouching à la Vicar of Dibley left to right: Rob Hoole and Spike Wheeler
I'm sure Vic won't mind me sharing this article about the 1959 Divers' Dinner at Kimbells in Soutsea from the January 1960 issue of Navy News which contains a photo of him as an AB.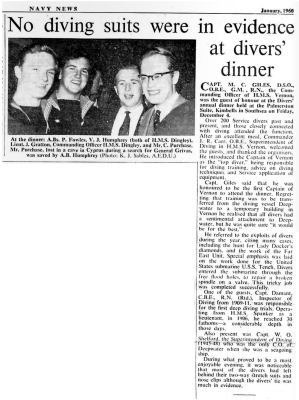 Vic was awarded the BEM in 1973 as a PO(D) together with CPO(D) Bernard 'Old Donkey' Bray. The citation read:
"Chief Petty Officer Bray and Petty Officer Humphrey were the Seconds-in-Command of the two shifts who were working under Lieutenant [John] O'Driscoll during the period 16th October to 11th December 1972. Their coolness both whilst diving themselves and directing the operations of others was instrumental in the success of the highly dangerous operation of removing the bombs from the wreck of the SS Talabot. The leadership and courage shown by Chief Petty Officer Bray and Petty Officer Humphrey were of the highest order and in the best traditions of the Service."
Captain (later Rear Admiral) Morgan Morgan-Giles OBE, DSO, GM (the then Captain of HMS Vernon) was awarded his GM:
"...for gallantry and undaunted devotion to duty" during bomb & mine disposal work while serving at HMS Nile, the naval base at Ras el-Tin Point, Alexandria."
To quote Wikipedia, Rear Admiral Morgan-Giles:
"...had been sent to help clear the ships from the harbour as quickly as possible, because they were loaded with explosive and ammunition, and (although unknown at the time) mustard gas. Whilst on board HMS Zetland, helping to move the ship out of the harbour to minimise losses, a bomb struck a nearby ammunition ship, and he was hurled the length of the deck, but was uninjured amongst the wreckage and fire. He was nevertheless able to climb onto an American liberty ship, the SS Lyman Abbott that was blocking the harbour exit.
Once aboard, he found not a single man alive, and no power, therefore no method of weighing her anchor. He, and two other men that had joined him, were therefore forced to tamp explosive into the anchor chain, light the fuse and take cover. The explosion severed the cable, and they eventually managed to get the ship towed out of the way. It emerged after the war that the Lyman Abbott had also had mustard gas on board. Had Lyman Abbott been hit whilst still inside Bari's harbour, the casualties from the mustard gas would likely have been extensive."
Here are some more images of that divers' dinner at Kimbells in Southsea in 1959.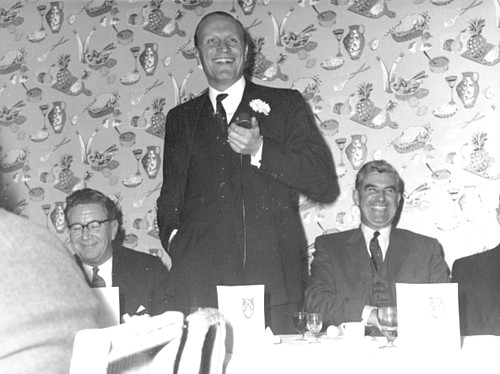 The Captain of HMS Vernon (later Rear Admiral) Morgan-Giles flanked by Cdr
Bill Shelford (the RN's first Superintendent of Diving) and Cdr John Carr OBE
(SofD at the time) at the Vernon Divers' Dinner at Kimbells in Southsea in 1959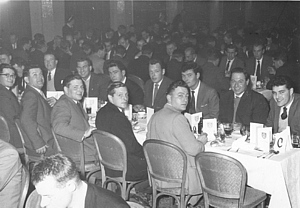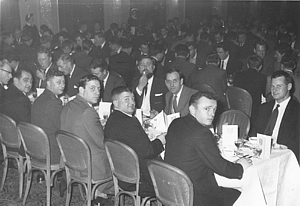 More attendees at the 1959 Divers' Dinner at Kimbells in Southsea
(See second entry for 6 Nov 08 in News Archive 24 for further details)
---
12 Oct 16 - MCDOA President leads forces in Exercise UNMANNED WARRIOR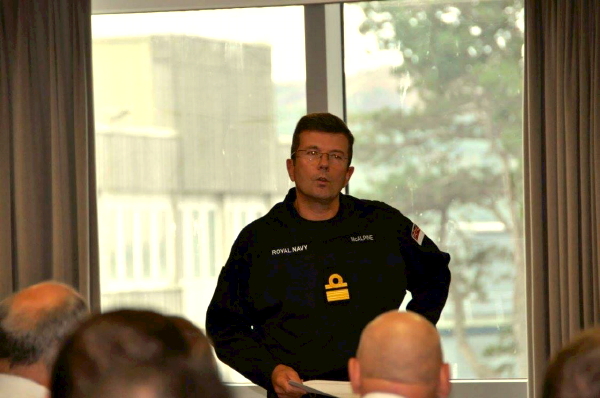 MCDOA President Rear Admiral Paddy McAlpine CBE is Deputy COMSTRIKFORNATO (SFN) normally based in Portugal but he is currently leading the forces involved in Exercise UNMANNED WARRIOR (aka JOINT WARRIOR 16-2 and NOBLE MARINER 16) off the coast of Scotland (see entry for 26 Sep 16).
Unmanned Warrior 2016 gets under way as team heads north
Major military exercise comes to Scotland
Unmanned Warrior - Looking round Davy Jones' locker
Employers visit Reservists on Exercise in Scotland
Unmanned Warrior - The captains and the kings depart
Royal Navy tests unmanned fleet of the future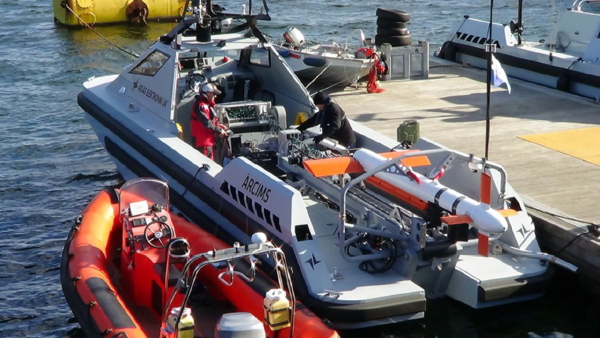 ARCIMS at BUTEC, Kyle of Lochalsh for UNMANNED WARRIOR
(RN website photo)
The exercise runs from 9 to 21 October. Paddy has already visited UK units and local authorities and given a press conference at Faslane. He has asked me to "make much mention of the team with Nick Unwin [Cdr First MCM Squadron] all working up" and promised to gather and send "loads of good MCD/MW pictures and stories". He also says the exercise involves 21 nations, 22 warships, 3 submarines, 6 maritime patrol aircraft, 5 helicopters and 4,000 sailors, marines and airmen/women.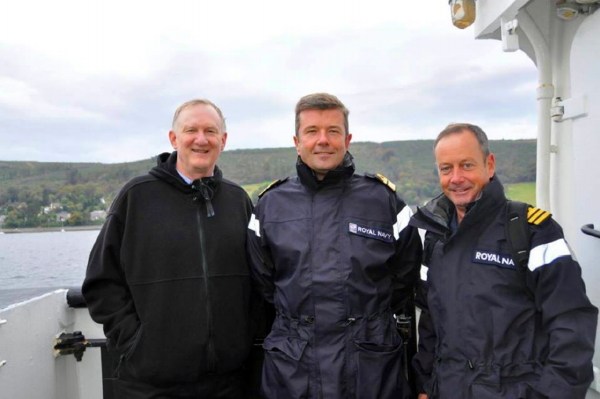 Boat transfer through the Rhu Narrows between Mr James (Red) Smith (SFN POLAD)
and Cdr Chris Moorey of SFN
Press Conference at Faslane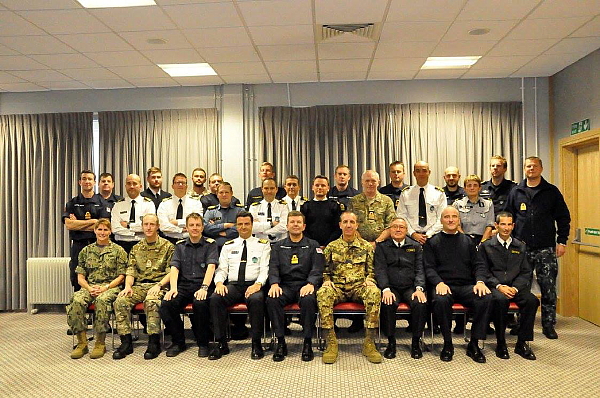 Paddy McAlpine with Commanding Officers from 21 NATO and Partner Nations
The JOINT WARRIOR Command Teams assembled at Faslane Naval Base
Paddy and his STRIKFORNATO team are embarked for the exercise in the French Navy's amphibious assault helicopter carrier FS TONNERRE.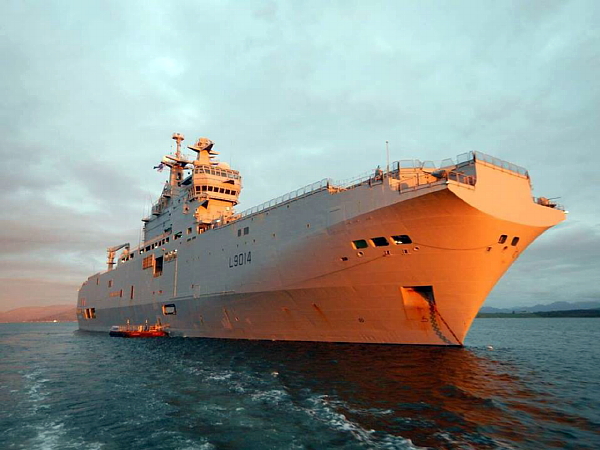 FS Tonnerre at anchor in the Clyde
Left: Paddy meeting the CO of FS Tonnerre
Right: The STRIKFORNATO HQ afloat inside FS TONNERRE
---
11 Oct 16 - RN CDs' Memorial Garden update
The Portsmouth News has published this article, the Royal Navy website this article and the Navy News website this article about last Friday's dedication of the Royal Navy Clearance Divers' memorial garden on Horsea Island (see entry for 7 Oct 16).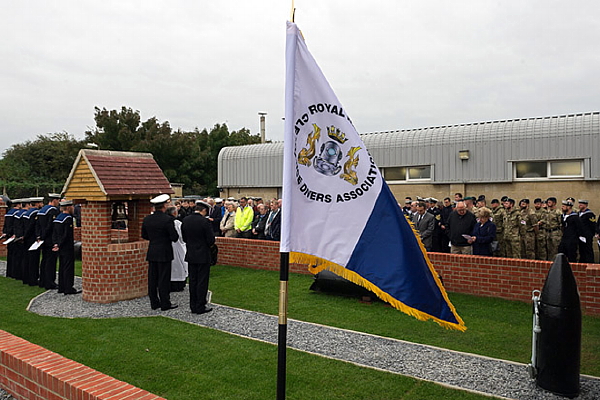 (Photo by Keith Woodland, HMS Collingwood)
---
10 Oct 16 - News from HMS Middleton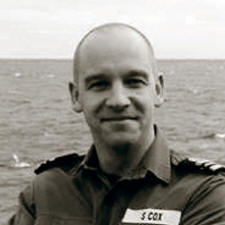 I am grateful to Lt Cdr Simon Cox, Commanding Officer of HMS MIddleton (MCM2 Crew 6) currently on Operation KIPION in the Gulf, for these newsletters for August and September 2016 respectively which I have received via the Ton Class Association ((TCA). I write a column titled 'MCMV News' for the Associaton's bi-monthly newsletter 'Ton Talk'.
The newsletters feature the presentation of awards to ship's company members by visiting senior MCDOA members Roger Readwin and Chris O'Flaherty.
MCM2 Crew 6, led by Simon Cox, previously manned HMS Cattistock (see entry for 14 Dec 14 in News Archive 52).
---
9 Oct 16 - Deaths of Ken Beard and Roy Fredrickson
I am grateful to ex-CD Terry Gosling for this announcement:
"I have had information passed to me that two of our fraternity have passed, Roy Fredrickson and Ken Beard.
Roy Fredrickson's funeral will be at Moray Crematorium at Broadley by Buckie in Aberdeenshire on Friiday 14th at 1430. Please promulgate this message to your network. Let's have a good turn out.
Terry"
According to Terry, both these men were divers in the offshore industry and will be known to several members of our community. Roy Fredrickson was initially trained by the Royal Engineers.
---
8 Oct 16 - Memories of HMS Jufair at Mina Salman in Bahrain?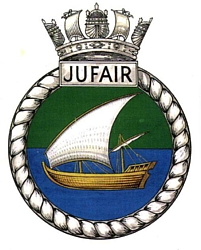 I am grateful to MCDOA member Simon Kelly, the newly instated CO of HMS Westminster (see entry for 23 Sep 16), for this email containing a request from Navy News:
"Rob,
I have been asked to pass the following article to you for the site. The team building HMS JUFAIR are looking for anyone who can spin a dit about the original base and I thought that the MCDO Association would be able to help!
Can you bring the pre and post-WW2 Royal Navy operations in the Gulf to life?
We want to show the long, proud history of the Royal Navy's presence in Bahrain when the Mina Salman Support Facility commissions as HMS JUFAIR in July 2017. The hub of operations in the central Gulf region from 1935, the previous HMS JUFAIR closed when Bahrain gained independence from the UK in 1971.
In the last 15 years Bahrain has once again assumed a key role as the centre of operations in the region - the RN (the UK Maritime Component Command), the US Navy (Bahrain is home to the Fifth Fleet), as well as the international Combined Maritime Forces (supported by more than two dozen of the world's navies) all operate from there.
To support UK personnel working in Bahrain, the Mina Salman Support Facility is currently under construction, and will provide accommodation, recreation and welfare facilities, as well as warehouses and logistics/engineering facilities for ships deployed to the region.
We are seeking any old photos and insights into what life was like at the old HMS JUFAIR. Do you have any good dits or photos that you would like to share? We aim to create a timeline in the new Welfare Building, celebrating the 200 hundred years of links between the UK and Bahrain, and hope to feature a good selection of your dits and photos.
If you are able to help, please send your dits and scans of photographs - digital only please - to edit@navynews.co.uk and they'll pass them on to the HMS JUFAIR team.
Thank You.
If you have good two-way with the Ton Class Association that would be useful as well and kill two birds with one stone!
Looking forward to catching up in November at the dinner.
Simon"
The original HMS Jufair was commissioned at Mina Salman in Bahrain on 7 November 1955 and was the base of the 9th 'Dhow' MSS (Minesweeper Squadron) of TON class MCMVs (renamed the 9th MCM Squadron in 1966 when it acquired minehunters) until shortly before it paid off on 15 December 1971. On 13 August 1971, BEACHAMPTON and YARNTON sailed from Bahrain for Hong Kong. On 5 September 1971, PUNCHESTON sailed for the UK and WISTON sailed for Gibraltar. Finally, BRERETON, BRINTON and GAVINTON sailed for Gibraltar on 2 October 1971. Last of the Wooden Walls - An Illustrated History of the TON Class Minesweepers & Minehunters contains a chapter dedicated to this period.
MCDOA member Martin Mackey was heavily involved in the early days of the re-establishment of HMS Jufair in Bahrain and the restoration of the 'dhow' funnel badges on minehunters currently based in the Gulf. See the entry for 31 Oct 15 in News Archive 52 and the linked articles therein for further background.
---
7 Oct 16 - Dedication of RN Clearance Divers' Memorial Garden on Horsea Island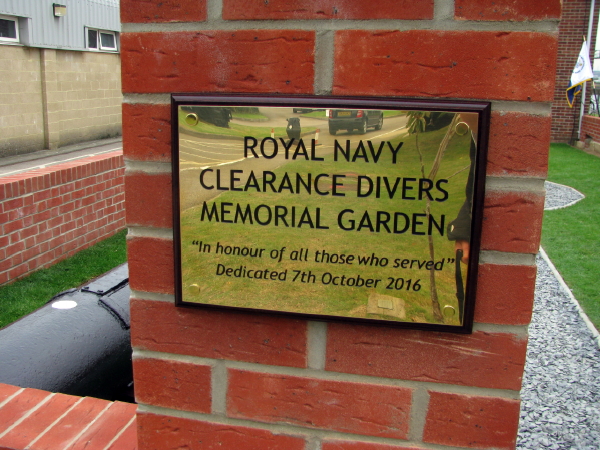 Divers ancient and modern congregated at Horsea Island today for the opening and dedication of the new Royal Navy Clearance Divers Memorial Garden. This was the brainchild of WO(D) Steve Vernon, Chairman of the RN Cleance Divers' Association (RNCDA), and he enlisted the help of students on landscaping and builders' courses at Fareham College.
MCDOA member Jim Nisbet said a few words about his memories of Horsea Island before removng a Flag Alpha covering the plaque at the entrance. The Revd James Tabor RN and the Revd Martin Evans RN then conducted a short service that included the ringing of Five Bells on a Memorial Bell and the reading of the names of deceased divers. Fortunately, all but a very small number had died from natural causes.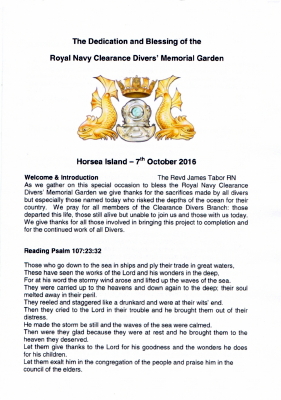 Click for full Order of Service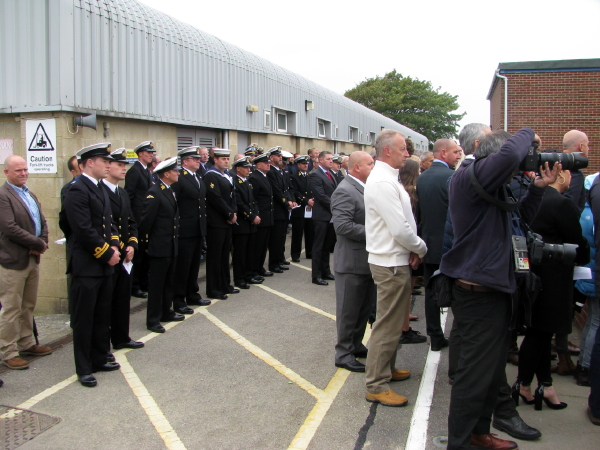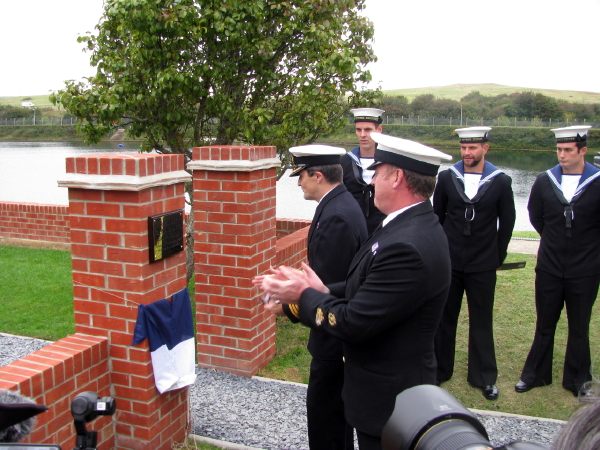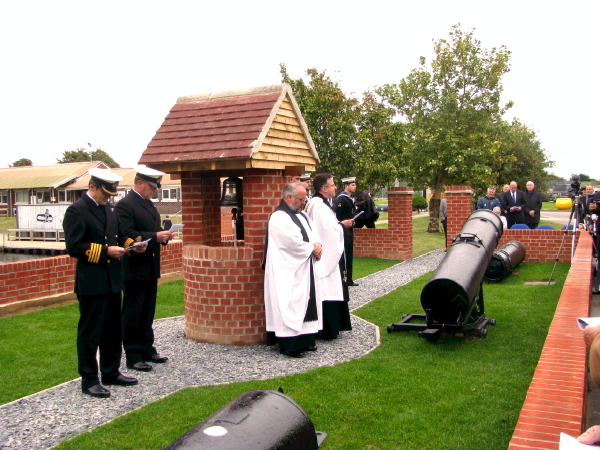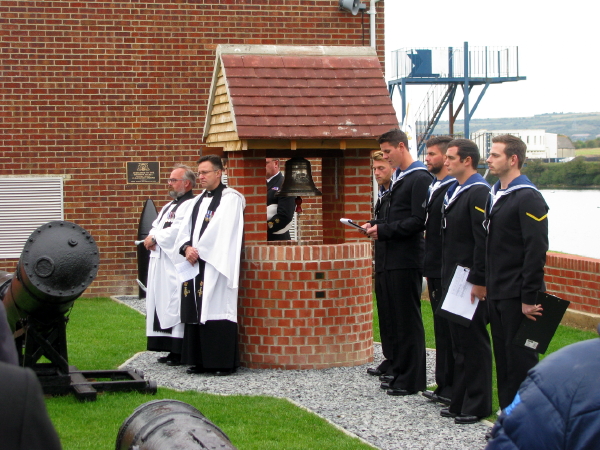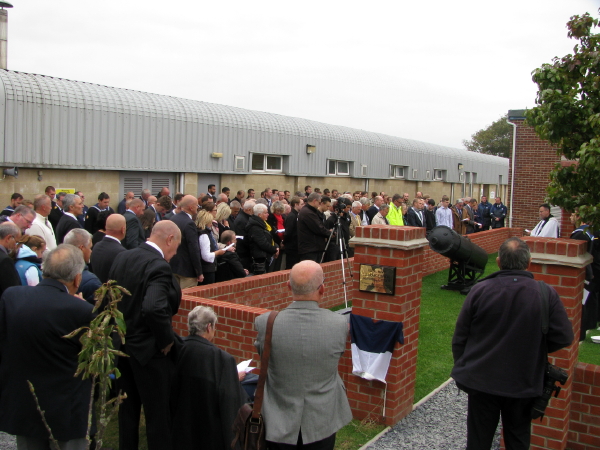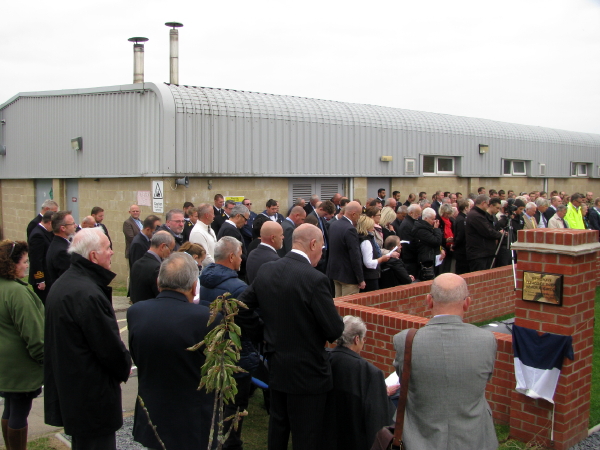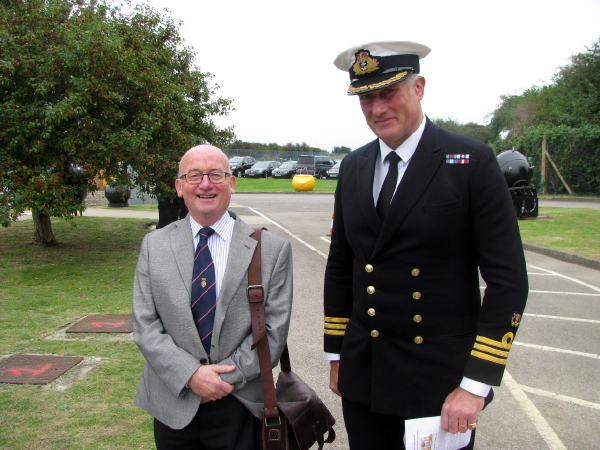 MCDOA past-President Colin Welborn with MCDOA member Andy Woollven, Commanding
Officer of the Defence Diving School (DDS)
Former CPO(D) Don Hodge and his son Mortimer who was named after
the late illustrious MCDOA member Morty Drummond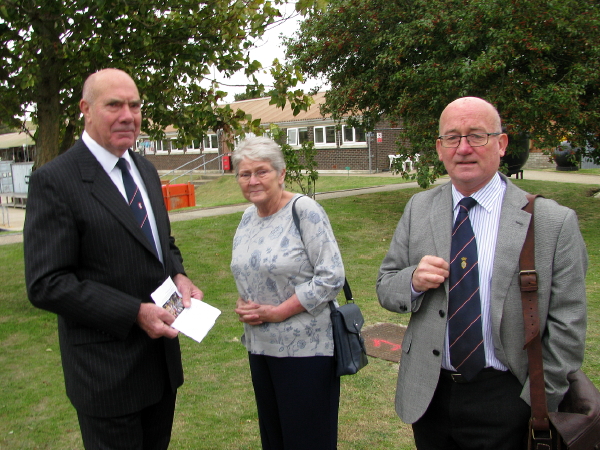 AORNFCD Chairman Don 'Jim' Green and his wife with MCDOA past-President Colin Welborn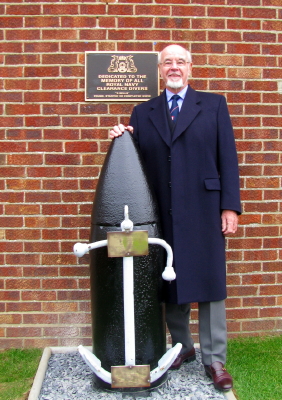 Mick Fellows with the memorial he commissioned
for the late Charlie Smithard
(See entry for 28 Aug 16)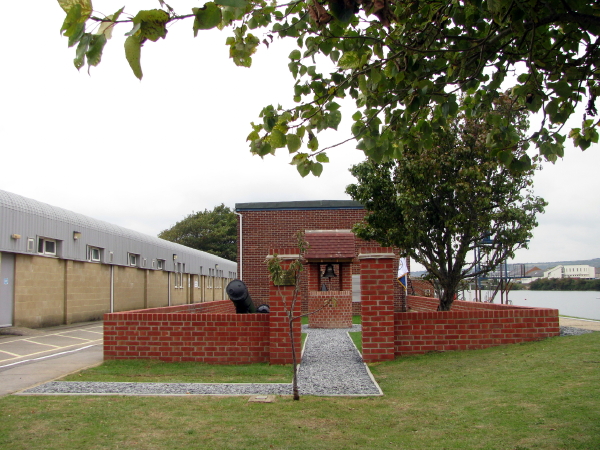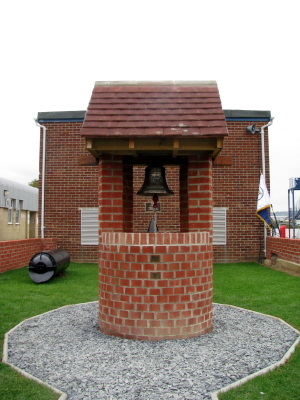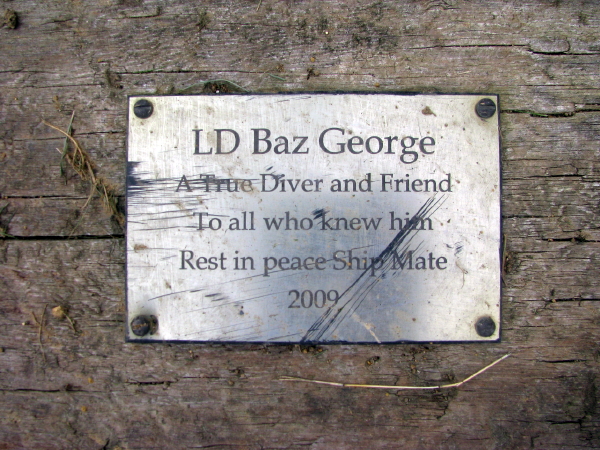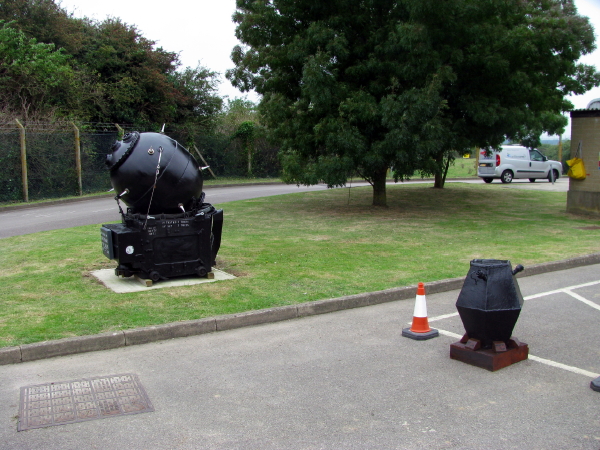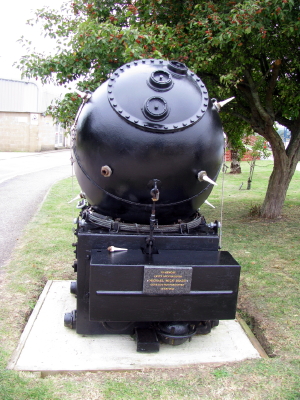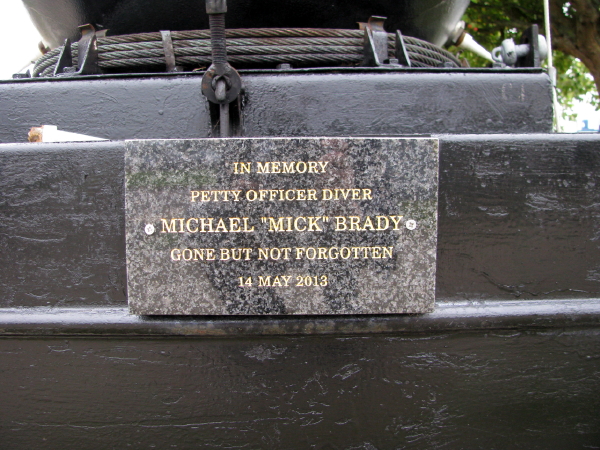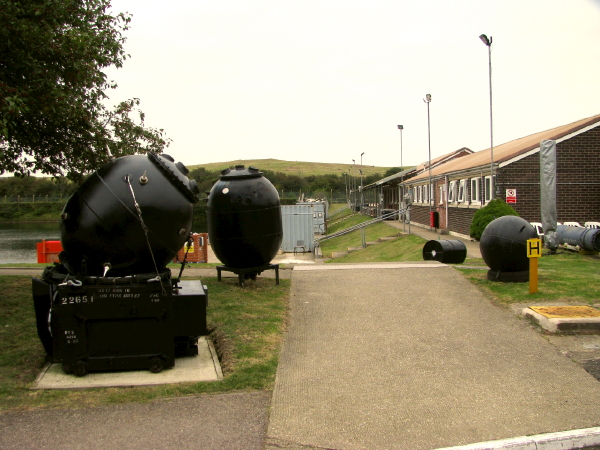 Afterwards, attendees gathered in the combined officers' & senior rates' mess (the old W/T station) for refreshments and dit-swapping.
N.B. The MCDOA website's 'Branch History' section contains a list of RN Bomb & Mine Disposal Casualties I have compiled of personnel killed while serving in Minewarfare, Diving and EOD roles. Sadly, the beautiful Memorial Garden on Horsea Island will not be easily accessible to the General Public but the Vernon Monument in Gunwharf Quays, the previous site of HMS Vernon, will help act as a tribute to all those involved in naval minewarfare, diving and bomb & mine disposal, past present and future, and be visible to an annual footfall of 8 million people. Following my abseil down the Spinnaker Tower, my fundraising page will remain open for donations until 28 November. If you haven't already contributed, please act now.
Rob Hoole's Abseil fundraising page
---
7 Oct 16 - FDU2 participates in IED disposal exercise in Iceland
I am grateful to MCDOA member Ben Stait, CO of the Fleet Diving Group (FDG), for this update:
"Rob,
A video from the NATO website featuring Lt Cdr Sean 'Central' Heaton, who recently deployed as EOD Cdr, along with IEDD teams from FDU2, to Exercise NORTHERN CHALLENGE in Iceland.
YouTube: The bomb disposal experts
NORTHERN CHALLENGE is a two-week NATO sponsored multinational exercise, where maritime and land EOD teams from across NATO come to the former naval air station at Keflavik to take part in a range of IED scenarios. FDU2, under Lt Cdr Nathan Isaacs and his team are at the cutting edge of Maritime IEDD and performed exceptionally in what was a challenging exercise with increasingly complex, and realistic devices being laid.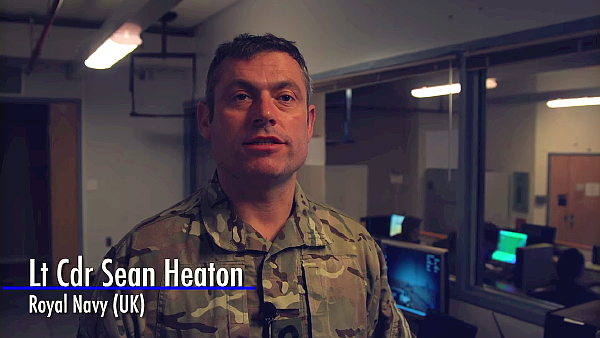 I have now passed the baton of CO Fleet Diving Group over to Lt Cdr Jason White, after a fabulous and rewarding time in Command. The Fleet Diving Group remains as busy as ever, but with an exceptional team of officers, divers and mine warfare rates all across FDU1, 2 and 3, they keep the good work going and are a credit to the branch. I wish Jason luck and a successful Command tour.
Regards,
Ben Stait"
I am sure that all members of our community will join me in wishing Ben the best of good fortune in whatever the future holds for him and congratulate Jason on his new appointment.
Postscript: On 13 October 2016, the Navy News website published this article covering the same story:
Post postscript: On 18 October 2016, the Royal Navy website published this article covering the same story.
---
4 Oct 16 - Awards of LS&GC medal and clasps
Congratulations to PO(MW) Andrew 'Gilly' Gilmore on being gazetted for the award of a clasp to his Long Service & Good Conduct medal
Gilly was a plankholding S(MW) when I commissioned HMS Berkeley (now HS Kallisto in the Greek Navy) at Portsmouth in January 1988 before work-up and an eight month deployment to the Gulf. I wish him well. It is refreshing to learn that there are people I know from that period who are still serving.

---
30 Sep 16 - Dave Stanbury completes appointment as SNMCMG2 Principal Staff Officer
MCDOA member Dave Stanbury reports that Exercise OLIVES NOIRES 2016 has ended off Toulon and he has now completed his year-long tour as the Principal Staff Officer (Chief of Staff - old-style SOO) for Standing NATO Mine Countermeasures Group 2 (SNMCMG2). He will soon be returning to the UK and a fresh challenge.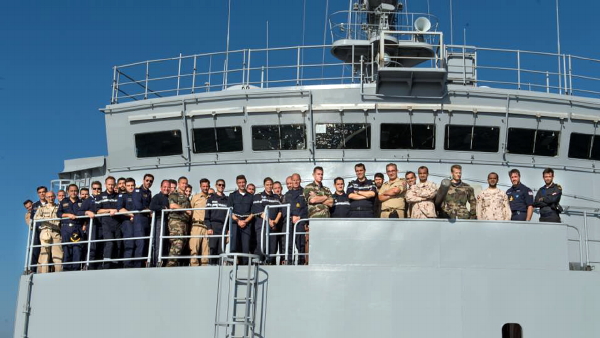 Staff and ships' officers of SNMCMG2 with Dave Stanbury second right
It's "Goodbye" to all this: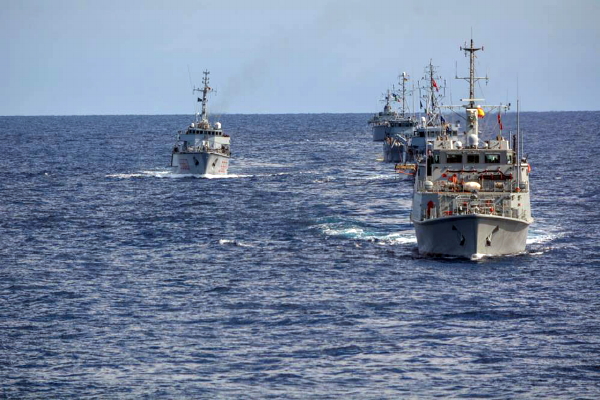 Standing NATO MCM Group 2 at sea
---
29 Sep 16 - Wartime bomb closes Gunwharf Quays
The BBC News website contains this article, the Guardian website this article and the Portsmouth News website this article (including video) describing how the discovery of a wartime German 500 kg bomb during dredging operations in Portsmouth harbour has forced the closure of Gunwharf Quays, previously the site of HMS Vernon, from 2300 tonight.
Members of Portsmouth-based Southern Diving Unit 2 (SDU2) are expected to tow the bomb into open waters 1.5 miles east of the Isle of Wight around midnight to perform a controlled explosion in the early daylight hours of tomorrow.
Postscript: Apparently, the bomb was detonated at 0700 the following morning (Friday 30 Sep) but there was no plume because the bomb deflagrated instead of high-ordering.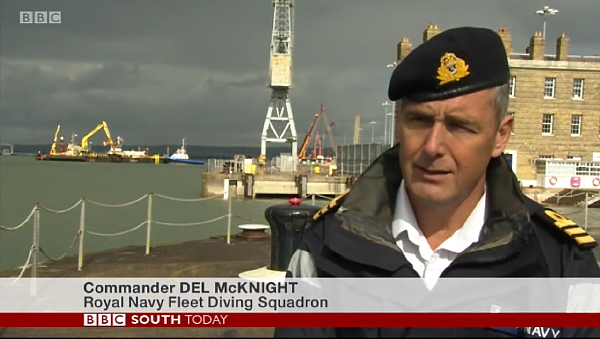 MCDOA member Del McKnight (CO FDS) being interviewed on BBC TV
Portsmouth News: UPDATE: Royal Navy carry out detonation of giant Second World War bomb in Portsmouth Harbour
Portsmouth News: Elite Royal Navy divers destroy deadly 500kg bomb found in Portsmouth
---
28 Sep 16 - Silver Sunday at the Diving Museum
SILVER SUNDAY - 2nd OCTOBER

We have consulted the oracle and the oracle says that we are going to see sunshine on Silver Sunday! What better way to enjoy it than a stroll along Stokes Bay and a free cuppa and cake at The Diving Museum for all our senior visitors. We are open from 11am to 4pm (best of the sunshine hours according to the oracle) and we would love to see you there. Do drop in.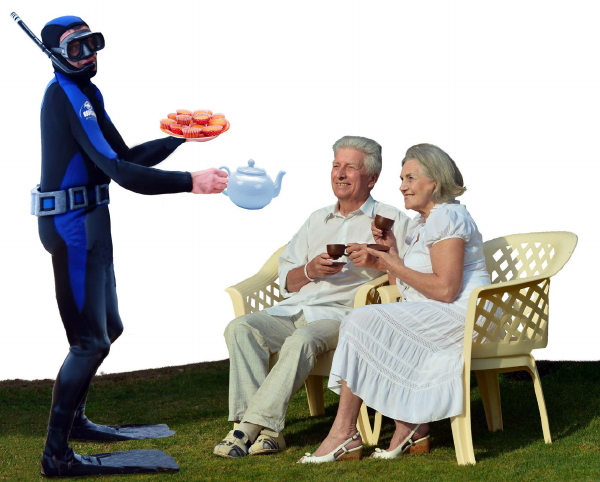 This is the perfect opportunity to see ancient exhibits like John Dadd, Jim 'Tommo' Thomson, Mike O'Meara and Les Rutherford and compare notes with them about diving gear they used during the last century.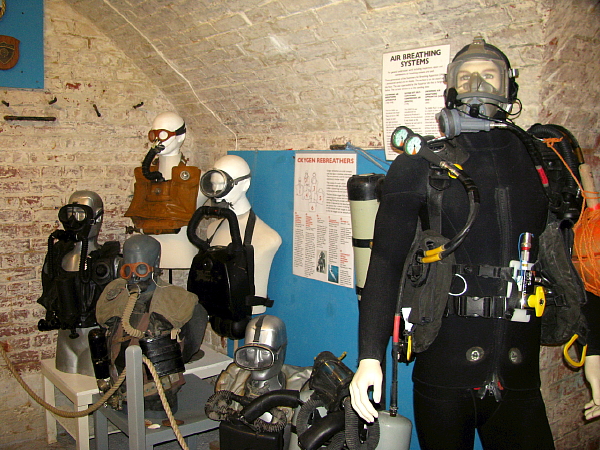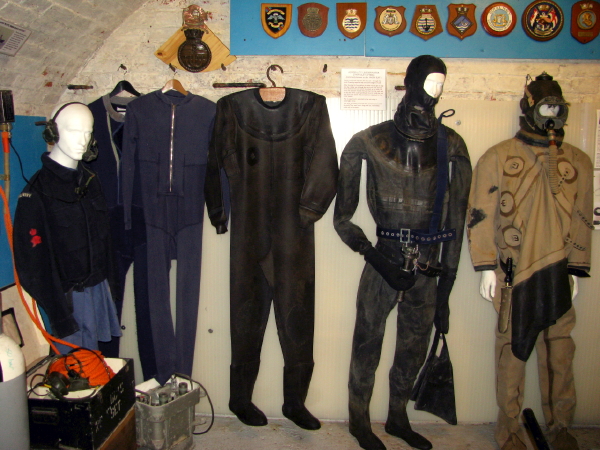 ---
27 Sep 16 - Dedication of Divers' Memorial Garden on Horsea Island
I am grateful to WO1(D) Steve Vernon, Chairman of the Royal Navy Clearance Divers' Association (RNCDA), for this announcement and invitation:
"Hi Rob,
Please accept my apologies for leaving this until the last minute but we were unsure if the project would be finished in time.
Over the last few months we have been building a divers' memorial garden at Horsea. We have been working to try and get it dedicated the same day as our AGM to avoid travel issues for people.
The dedication will commence at 1130 on Friday 7th Oct and will last approximately 30-40 mins then nibbles in our bar.
Can you be so kind as to advertise all are welcome. I will need the names of all those attending to gain access to Horsea so can I ask that anyone wishing to attend give their names to you and you pass to me no later than Wednesday 5th Oct.
Hope you can make it.
Kind Regards,
Steve Vernon"
Anyone wishing to attend is requested to advise me via my Webmaster email address by Tuesday 4 October so I can pass Steve your name.
A list of personnel killed while serving in Minewarfare, Diving and EOD roles, generically titled Royal Navy Bomb & Mine Disposal Casualties, can be found in the website's Branch History section.
---
26 Sep 16 - ARCIMS to be trialled in UNMANNED WARRIOR
The Northrop Grumman Corporation website contains this article announcing that its unmanned mine hunting capability will be demonstrated during the Royal Navy`s forthcoming Exercise UNMANNED WARRIOR 2016:
"Northrop Grumman Corporation (NYSE:NOC) will be participating in the Royal Navy's Unmanned Warrior exercise where it will demonstrate its unmanned mine hunting capability. The unmanned mine hunting element of Unmanned Warrior will feature Northrop Grumman's AQS-24B towed mine hunting sensor operated from an Atlas Elektronik UK ARCIMS Unmanned Surface Vessel (USV). The AQS-24B, which is a towed mine hunting sensor used by the US Navy, features the world's only high speed synthetic aperture sonar for mine detection, localisation and classification, and an optical laser line scan sensor for mine identification. The ARCIMS USV is a surface craft 11 metres long that will be operated via remote control while towing the AQS-24B through a simulated mine field..."
ARCIMS is the ATLAS Remote Combined Influence Minesweeping System that can also incorporate remote minehunting systems. It utilises the UK's Maritime Autonomy Surface Testbed (MAST), an unmanned surface vessel (USV) based on the innovative Bladerunner hull shape. This is operated by the RN's Portsmouth-based Maritime Autonomous System Trials Team (MASTT) (see entry for 16 Apr 14 in News Archive 46).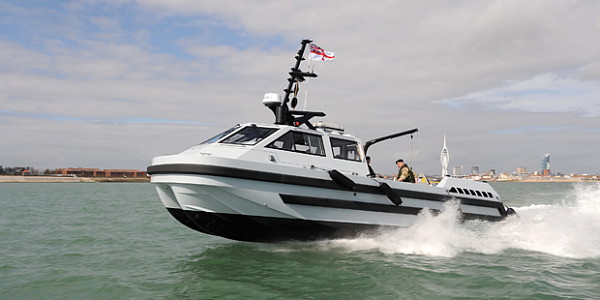 RN ARCIMS Trials Vessel 'Hazard' at speed in the Solent
(Royal Navy photo)
Thales' Halcyon Unmanned Surface Vehicle, equipped with the company's Towed Synthetic Aperture Sonar, will take part in a number of mine hunting operations, designed to demonstrate the benefits of using autonomous systems in hostile environments, not least in keeping human crews out of harm's way.
Thales Halcyon Unmanned Surface Vehicle equipped with the Towed Synthetic Aperture Sonar
(Thales)
The Engineer: Battle stations: Autonomous systems readied for Unmanned Warrior exercise
Although UNMANNED WARRIOR 2016 is not planned to take place until next month (9 to 21 October), a two-week mission involving ten marine robots has already begun off the coast of northwest Scotland. Seven submarine gliders, including the ACSA SeaExplorer underwater glider, and three surface Wave Gliders will collect environmental data, feeding it back to the Royal Navy in real time. When UNMANNED WARRIOR has finished, the data will be made available to the wider scientific community: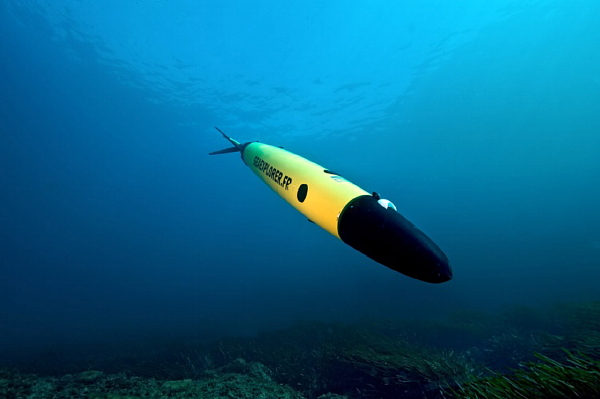 ACSA SeaExplorer Underwater Glider
(Project Leader Yann Lepage)
The Engineer: UK's largest ever marine robot fleet takes to the seas
---
25 Sep 16 - News from HMS Grimsby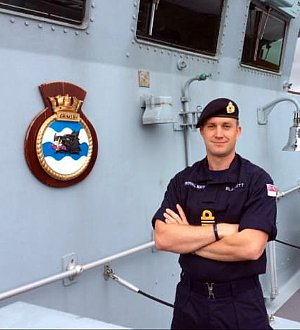 Lt Cdr Will Blackett on board HMS Grimsby
(RN website photo)
I am grateful to Lt Cdr Will Blackett, Commanding Officer of HMS Grimsby (MCM1 Crew 6), for this update received via the Ton Class Association ((TCA). I write a column titled 'MCMV News' for the Associaton's bi-monthly newsletter 'Ton Talk'.
"I am delighted to introduce myself as the new Commanding Officer of your affiliated Ship, HMS GRIMSBY. You will be used to the fact by now that the RN operating model for Mine Countermeasures Vessels (MCMVs) involves regularly swapping crews across the Squadron; this means that we can maximise the time our Arabian Gulf units spend on task because we can move people to / from the Ship rather than needing to bring the whole Ship home every six months. I am in Command of Crew 6; Crew 5 under Lt Cdr Neil Griffiths have now departed and have now taken over HMS PENZANCE in the Gulf.
I am pleased to say that we will remain on board GRIMSBY for about a year - our rotation to the Middle East is not until June next year. In the meantime we have a busy programme ahead of us; for the last few weeks we have been operating locally to Faslane in order to conduct post maintenance trials and training (including a package of Operational Sea Training). Recently we took part in the Bournemouth Air Festival as part of a small taskgroup anchored off the beach and our most recent commitment was as Guard Ship to the Blyth Tall Ships Regatta. We are now heading out to the Baltic Sea to join the First Standing NATO Mine Countermeasures Group (SNMCMG1). We will remain part of the NATO task group for four months, operating mostly within the Baltic, before returning to the UK for Christmas. During our time in the Baltic we can expect to be tasked to clear historic ordnance as well as routine NATO reassurance visits to some of the Eastern Baltic nations. Next year we will operate mainly in UK coastal waters as we prepare for Gulf operations. We will hand the Ship over to Crew 3 in June when GRIMSBY will commence an in depth refit period in Rosyth.
All being well I aim to host an affiliates' day onboard the Ship in the early part of next year; it currently looks as though February works best in terms of programming. I will write again during the latter part of the Baltic Deployment and aim to declare a date for you to save.
In the meantime you can keep an eye on us via our page on the Royal Navy website, and if you wish to get in touch I would be delighted to hear from you - my postal address and email address are both at the top of the page.
Yours aye,
W P Blackett"
Will Blacket underwent sea training in several MCMVs and was the Navigating Officer of HMS Hurworth 2007/8. As the PWO(A) of HMS Daring where he had previously served as OOW1 and Navigating Officer, he played a leading role in the provision of disaster relief and humanitarian aid to Philippine islands devastated by Typhoon Haiyan in November 2013.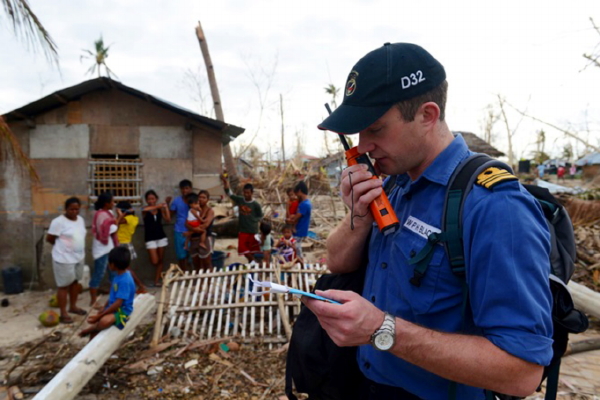 Will Blackett as the PWO(A) of HMS Daring in the Philippines in November 2013
(RN website photo)
---
24 Sep 16 - Roger Readwin appointed RNRU's new Director of Rugby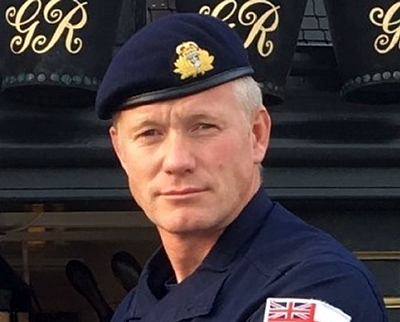 Capt Roger Readwin RN
Congratulations to MCDOA member Roger Readwin on being selected as the Royal Navy Rugby Union's new Director of Rugby as announced in this article on the RNRU website. Roger, the previous CO of the Fleet Diving Squadron (FDS), was promoted Captain on 21 June this year and appointed Captain Mine Warfare and Patrol Vessels, Diving and Fishery Protection (Capt MFP).
"...In my opinion, Navy Rugby underpins the heartbeat of the fighting spirit of our Naval Service – it develops team work like no other sport, and has a tangible impact straight back into the fighting ethos of our Royal Navy Warships and Royal Marine Commandos. We must also create memories for our players, which they will all look back on in the years to come, with pride and honour..."
Roger Readwin

---
23 Sep 16 - Simon Kelly assumes Command of HMS Westminster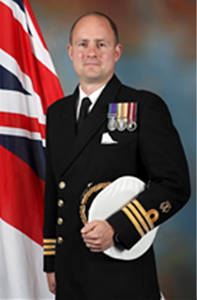 I am delighted to publish this press release, dated 16 September, announcing the assumption of Command of HMS Westminster by MCDOA member Simon Kelly:
NEW CO TAKES COMMAND
COMMANDER Simon Kelly today took command of HMS Westminster, the Portsmouth-based Type 23 frigate.
In a short ceremony, Cdr Kelly assumed Command from Lieutenant Commander Chris L'Amie, the Senior Naval Officer, who has led HMS Westminster through her maintenance period. Lt Cdr L'Amie remains with the Ship as the Executive Officer and Cdr Kelly's Second in Command.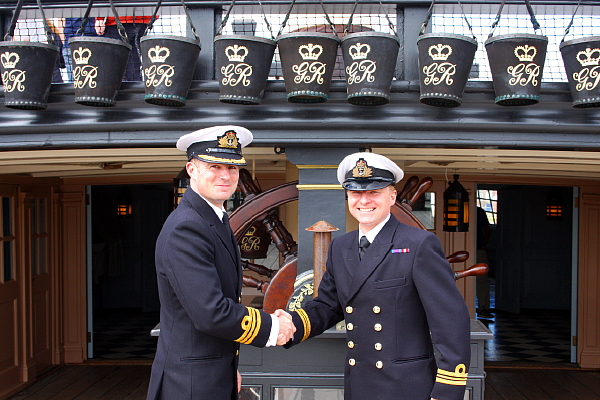 Simon Kelly assuming Command of HMS Westminster from Lt Cdr Chris L'Amie
(Royal Navy photo)
The ceremony took place on the decks of HMS VICTORY, in her day at the cutting edge of warship design. Two and a half centuries later, HMS Westminster follows in similar footsteps, now recovering from an extensive maintenance period, that has seen the installation of a brand new missile system, an upgraded combat computer and the updated search radar. The ship is now the Royal Navy's most advanced submarine hunter.
On assuming Command, Cdr Kelly recognised the progress the Ship had made during the course of the maintenance period, "The impressive progress made so far in preparing HMS Westminster to return to sea is testament to the combined efforts of the Ship's Company and BAE, our industrial partner. More work lays ahead, but Westminster is in an excellent position to return to the Fleet next year as the Royal Navy's most capable frigate".
Having already commanded both Sandown and Hunt class ships, Cdr Kelly is familiar with the opportunities that lay ahead for the Ship, "As a submarine hunting specialist, Westminster will undertake a period of sea trials and training to bring the Ship, the combat system and the crew together as an effective fighting unit. Once trained, we look forward to deploying to UK territorial waters and into the North Sea to deter any submarine threat. This is the area that Ship was designed to operate in and in which our previous namesake has won battle honours".
I am sure that all members of our community will join me in congratulating Simon and wishing him the best of good fortune in his new appointment.
Postscript: On 13 October 2016, the Royal Navy website published this article describing HMS Westmister's preparation for operations :
---
22 Sep 16 - A meeting with the son of Lt Cdr William 'Bill' Bailey CBE DSC GM* RN
Since the George Medal (GM) was instituted by King George VI on 24 September 1940 in recognition of "acts of great bravery", approximatelty 2,200 have been awarded. However, only 20 or so bars to the GM have been awarded. Naval recipients have included:
AB William Henry Bevan GM* for gallantry and undaunted devotion to duty. Assisted Sub Lt Wright deal with mine suspended over stage of London Palladium Theatre 11 May 1941.
Sub Lt (later Lt) John Bridge GC GM* RNVR for great gallantry and devotion to duty. Conducted bomb disposal work at Graving Docks, Falmouth, Cornwall on 17 May 41. Presented at same time as GC while he was a Temporary Lt RNVR assigned as Bomb Safety Officer at Plymouth.
Lt William 'Bill' Bailey DSC GM* RNVR for exceptional gallantry, skill and great devotion to duty, often in close proximity to the enemy, during mine-searching and clearance operations in the ports of Normandy and the Low Countries.
Lt (later Lt Cdr) Geoffrey John Cliff OBE GM* RANVR for mine disposal Belfast July 1942.
Lt George Douglas Cook GM* RCNVR for gallantry and undaunted devotion to duty. Mine disposal Haifa 26 July 1941.
Lt Bertram Henry Walter Fenwick GM* RNVR for gallantry and undaunted devotion to duty. Assisted Lt Cdr Wadsley conduct first rendering safe and recovery of a photo-electric cell booby-trapped G Type mine in Clyde area. Also rendered safe mine in third floor office of building adjacent to main telephone exchange in Liverpool 13 March 1941. Had to climb ladder and enter via window.
Sub Lt Frederick Ronald Bertram Fortt GM* RNVR for gallantry and undaunted devotion to duty. Mine disposal Nuneaton May 1941.
Cdr James Leslie Harries GM* RCNVR for exceptional gallantry, skill and great devotion to duty, often in close proximity to the enemy, during mine-searching and clearance operations in the ports of Normandy and the Low Countries.
Lt Denis James Patrick O'Hagan GM* RCNVR for gallantry and undaunted devotion to duty. Mine disposal Nuneaton May 1941.
Lt Howard Dudley Reid GM* RANVR for gallantry and undaunted devotion to duty. Mine disposal Glasgow August 1941.
Lt Cyril Rowlands GM* RNVR for great gallantry and undaunted devotion to duty. Bomb disposal Malta April 1942.
Lt George Henry Olaf Rundle GM* RCNR for mine disposal July 1942.
Lt Hugh Randall Syme GC GM* RANVR for the disposal of ten mines, including one that exploded when turned, at Primrose Hill, St John's Wood, London on 20 April 1941.
Lt Herbert Edgar Wadsley GC GM* RNVR for gallantry and undaunted devotion to duty. Participated in bomb & mine disposal London February to May 1941.
Lt James Kerr Woodrow GM* RNVR for gallantry, skill and inspiring devotion to duty in disposing of damaged ammunition in the magazines of HMS Thane Jan/Feb 1945 after she had been torpedoed. Lt Cdr Woodrow handled the first batch of damaged ammunition by himself in order to give confidence to his party.
Lt Edward Dutton Woolley GM* RNVR for gallantry and undaunted devotion to duty. Dealt with mine on third storey of flour mill in London's docklands October 1940 with AB Pearson. Fuze clock re-started twice but mine was rendered safe. Later conducted bomb & mine disposal in Malta.
Commissioned Boatswain Lord Joseph Henry Herbert Sheldon GM RN was a near miss. He assisted Lt Cyril Rowlands with bomb & mine disposal in Malta and was recommended for a bar to his GM but was killed and awarded a MID (Mention in Despatches) instead as the GM could not be awarded posthumously until 1977.
One of the most illustrious recipients of the GM and Bar was the late Lt William 'Bill' Bailey DSC GM* RNVR.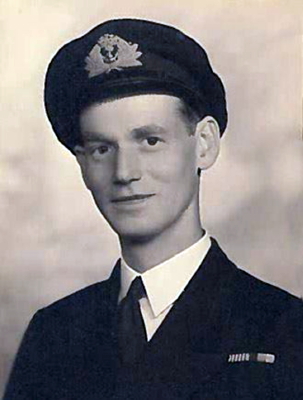 Lt William 'Bill' Bailey DSC GM* RNVR
I accompanied MCDOA associate member Dr John Bevan, Chairman of the Historical Diving Society (HDS) and founder of its diving museum, at a meeting with Bill Bailey's son Andrew in Southampton today. Andrew was visiting from his home in Portugal and had arrived on the train from London. We convened in the coffee bar across the road from the station. This was the first time I had seen Andrew since a 70th anniversary commemorative event I helped organise with Cdr John Ouvry DSO RN's son David and the late Noel Cashford MBE on board HMS Belfast in 2009 (see entry for 27 Nov 09 in News Archive 28).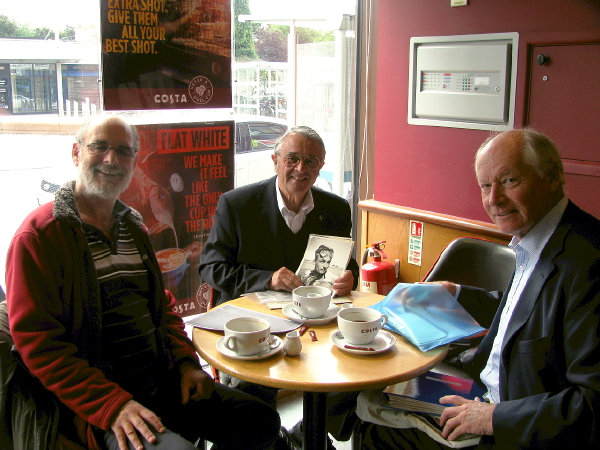 Yours Truly (Rob Hoole) with John Bevan and Bill Bailey's son Andrew
Andrew wrote A Wartime Tribute to his father which can be found in the website's Dit Box. Before I dropped him off at the Boat Show, he passed over documents and photos featuring his father, some of which I hope to publish in due course. He also passed John Bevan his father's medals which will be exhibited in the Diving Museum at Stokes Bay along with those of his wartime comrades in Gibraltar, Cdr Buster 'Lionel' Crabb OBE GM RNVR and Stoker First Class Sydney Knowles BEM. Andrew also inscribed bound copies of his tribute to his father which he presented to John and me.
Left: Andrew Bailey with his father's medals
Right: Andrew Bailey inscribing a copy of his biography of his father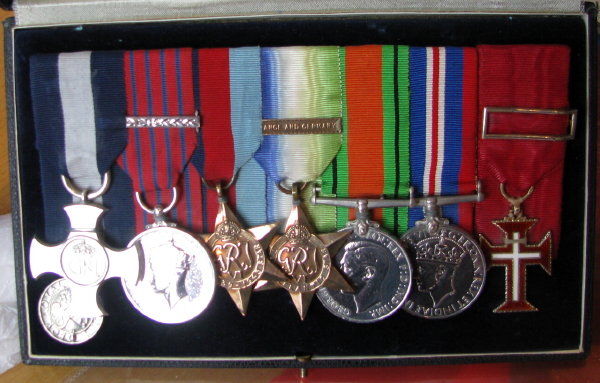 Medals of the late Lt William 'Bill' Bailey DSC GM* RNVR
Andrew also passed over the Commando dagger his father wore on mine clearance operations against the Italian frogmen at Gibraltar. The Fairbairn-Sykes (Second Pattern) Commando fighting knife issued between Aug 1941 and Oct 1943 will be displayed in the diving museum together with his medals.
Left: The Commando dagger worn by Bill Bailey on underwater operations
Right: Andrew Bailey's 'Wartime Tribute' to his father
Like most of the individuals listed above, Bill Bailey was trained at HMS Vernon and will be among the personnel celebrated by the Vernon Monument at Gunwharf Quays which now occupies the site in Portsmouth.
Postscript: The Bill Bailey memorabilia loaned by his son Andrew has been incorporated in the display at the Diving Museum featuring Lionel 'Buster' Crabb and Sydney Knowles, his wartime colleagues in Gibraltar. I photographed it in situ on Saturday 24 September.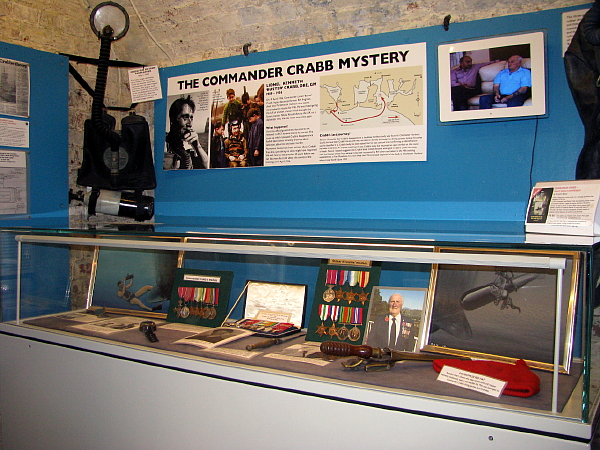 Crabb, Bailey & Knowles display at the HDS Diving Museum at Stokes Bay
---
20 Sep 16 - Gentlemen Who Lunch
The MCDOA's 'Not Quite the Last of the Summer Wine' trio of Barlow, Holloway and Hoole is still active although it has met at regular haunts in Emsworth of late. However, today's weekly gathering was spent further afield at the Horse & Groom in East Ashling, West Sussex. The trio was joined by Hoole's friendly next door neighbour Lez.
---
18 Sep 16 - Funeral of Lt Cdr Arthur John Futcher MBE RN
I am grateful to John's son Michael for this update following his father's funeral at St. Saviour's Anglican Church in Laidley, Queensland, Australia on Friday 16 September:
"Apologies for the delay. Dad had his send-off on Friday which went very well indeed. It was a good turnout at the church, and the local Returned Services League (RSL) gave him a graveside guard of honour. A piper piped the pallbearers as they carried the white ensign-covered coffin to the grave. A very moving tribute indeed.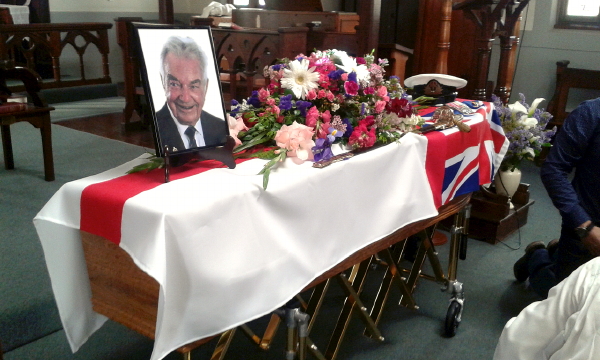 John's casket in the church
Left: John's wife Kath and his two sons Tom (left) and Mike (right)
Right: Guard of Honour
I attach some notes taken partially from my eulogy for your information. Hopefully they will be of help.
Lieutenant Commander A J Futcher MBE MiD RN
John was born in 1928, the eighth of ten children. He had a poor but happy childhood growing up in the idyllic Hampshire countryside with his brothers, and stories of his boyhood adventures; stealing apples from the manor house, falling into ice ponds and burning hay ricks have passed into family legend.
In 1945, at the age of 17, John joined the Royal Navy. He was too young to see any action in World War II, and over the next few years he served out the first part of his apprenticeship in a variety of vessels including the last battleship ever built - HMS Vanguard - in which he served for the famous Royal Tour of South Africa in 1947. He also served in HMS Whitesand Bay, HMS Boxer and HMS Creole. As a young Leading Seaman, John was seeing the world and living the life, with it all in front of him. His quickness of mind and hard work allowed him to achieve steady promotion but his lack of a high-quality education was to stand against him getting to the front of the queue for training as an officer.
Then in 1950, North Korea invaded South Korea and the course of John's life was to change irrevocably. At the outbreak of the Korean War John was serving in HMS Belfast in the Far East, and when General MacArthur called for volunteers to conduct raids behind enemy lines to destroy bridges, tunnels and so on, John volunteered immediately. He said he did this because he felt he could do a good job, and because he wanted to help his beleaguered comrades who were already struggling behind enemy lines. Little did he realise it at the time, but he was going to get a lot more than he bargained for before his part in the war was over.
On the 29th November 1950, John's unit, 41 Commando, along with a substantial assault group was ordered north to reinforce a besieged US division pinned down in the tiny village of Hagaru-ri. No one had told his force, but the night before, the Chinese had allowed them to pass through. He awoke next morning to the news that they were surrounded by tens of thousands of Chinese soldiers and that the Chinese commander had vowed to annihilate every single one of them. It's hard to fathom, but John recounts in his book this news was met with indifference more than fear by him and his friends as they were so confident in their abilities to handle any situation. What followed, however, was a nightmare.
The next morning John's division was ordered to proceed as planned along a narrow road bounded by high mountains on both sides, filled with thousands of enemy soldiers. For about twelve hours John and his friends fought for their lives as the convoy proceeded at snail's pace through what became known as "Hell Fire Valley". At one point one of John's unit, a gentleman called "Sweeney" Todd, cried out "Futch! Futch! I've been hit." John had repeatedly to carry him to safety amidst intense enemy fire. It seems inconceivable how any of the unit could have survived, but a good few got through. John and "Sweeney" Todd were among them.
The days that followed stamped themselves indelibly into John's psyche. The battles were intense and bloody, and the weather so cold you could neither dig a foxhole, nor eat your food without unfreezing it.
When he returned home, John was awarded a mention in dispatches for his bravery in the heat of battle, and as a result of a report from one of his commanding officers about his coolness and courage in the face of the enemy, he was recommended for a commission.
For the next few years John served in several naval ships and continued his officer training at a variety of on-shore training establishments, including HMS Hawke and the Royal Naval College, Greenwich, as he steadily moved up the ranks. They were fun times, and the serious side of the job was always balanced with a healthy dose of practical jokes and social activities of the liquid variety. Ships served in at this time included HMS Crispin.
By 1955 John had reached the rank of Sub Lieutenant and was serving in HMS Battleaxe stationed in Malta. One evening he was asked to go out on a blind date and found himself with a young WREN called Kathleen Geary. They hit it off immediately and marriage followed the next year. They didn't waste any time, and almost nine months to the day after the wedding, his first son Tom was born.
After briefly flirting with the idea of joining the Fleet Air Arm, John decided to become a Clearance Diver, training at HMS Vernon, and serving in several ships including: HMS Tiree, HMS Dingley, HMS Shoulton and HMS Striker.
In 1964 John's second son Mike was born and John, newly promoted to Lieutenant Commander, accepted the position of Bomb & Mine Disposal Officer for Scotland, Northern England and Northern Ireland. A more settled life ensued and the family was able to stay put in Scotland for several years as John travelled up and down the coast defuzing scores of unexploded World War II bombs and mines, many of which had washed up on beaches or were caught in fishing nets. For his services he was appointed an MBE – a fitting recognition of his bravery and professionalism.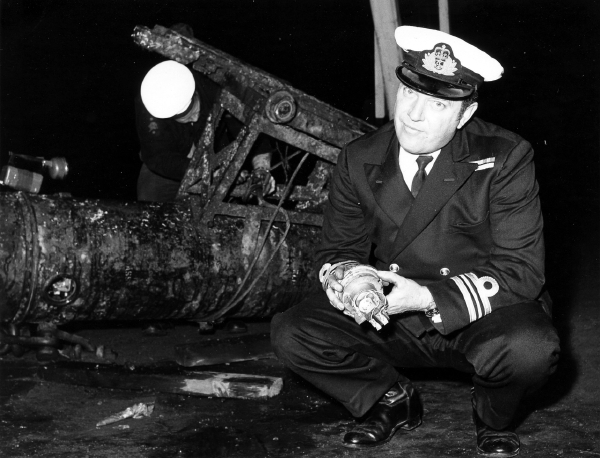 In 1967 John led the Royal Navy diving team to search for the body of Donald Campbell, who had been killed trying to break the world water speed record on Lake Coniston. Cambell's boat the Bluebird was found, but unfortunately owing to the murky conditions and the rudimentary equipment available, John's team were unable to recover the body, but the team received high praise for their professionalism in conducting the search.
In 1968, at the age of 40, John retired from the Royal Navy to set up a lobster farm in the tiny fishing village of Kinlochbervie in the Highlands of Scotland. This was a risky venture and John received a huge amount of publicity initially as this type of thing hadn't been attempted in the north of Scotland on this scale before.
In 1973 the family emigrated to Australia where John's usual adventurous spirit allowed him to turn his hand to a variety of jobs which included managing a fish processing factory and the North Queensland Fish Board and even opening a fish and chip shop. By 1975 John had settled in Townsville, and soon landed his final and in many ways, his favourite job – as skipper of the Australian Institute of Marine Science's research vessel, the Lady Basten, in which he served until retirement in 1992. It was a wonderful job to finish his career, taking scientists out to the Great Barrier Reef, and he was able to dive for pleasure which he hadn't been able to do very often while in the Navy.
In retirement, John was practical about the problem of how to fill his day – he threw himself into planting and building projects around his house and land. He became a stage manager for his son Mike's Theatre Company for a while, and he even did a small amount of extra work on film and television - until his agent ran off with his money!
In 2012 John was diagnosed with terminal lung cancer and Parkinsons Disease and given only a few months to live. In typical John style however, he hung on stoically for four years so that he could complete his memoirs.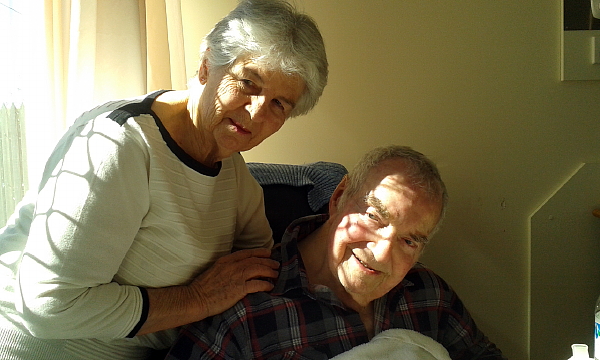 John and his wife Kathleen in hospital in July this year
Bill Smith the diver who had recovered Donald Campbell's body in 2001, had inspired him to write his memoirs, and John decided to tackle it. So for the next three years, through sheer willpower, with his wife Kath's unstinting support, and 18 months worth of chemo coursing through the bloodstream, John embarked on his final major task – to write the story of his life. The book is called "Futch" and has been published. It is a testament to not only the remarkable breadth of his life but to John's sheer strength of will, optimism, tenacity and love for life.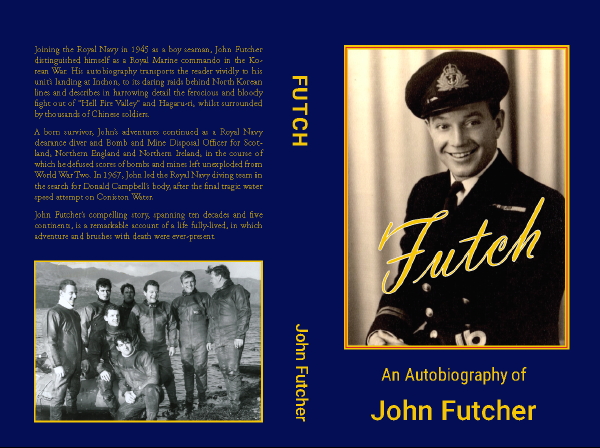 Dust jacket of 'Futch' by John Futcher
Cheers,
Michael"
Burstow's Funeral Care website contains this announcement:
FUTCHER, Arthur John Lieutenant Commander, MBE, Royal Navy
Late of Plainland and formerly of Townsville, passed away peacefully at Wesley Hospital on 28th August 2016 aged 88 years.
Beloved Husband of Kathleen. Dearly loved Father and Father-in-law of Tom and Anne; Michael and Helen. Loving Grandfather and Great-grandfather of William, Claire, Frankie and Jimmy; Ellian, Charlie, Oliver, Max and Josephine. Loved Brother of Allen and Victor.
Relatives and friends are respectfully invited to attend John's funeral, to be held at St Savior's Anglican Church, Ambrose Street, Laidley, service commencing at 10.30am Friday 16th September followed by interment at Laidley Cemetery. In lieu of flowers, donations may be made to the RSL, Laidley, gift envelopes available at the church. "At Peace"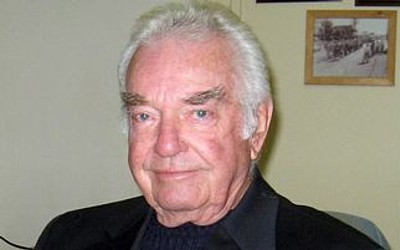 Lt Cdr Arthur John Futcher MBE RN
(28 Jul 1928 - 28 Aug 2016)
My announcement of John's death has sparked several tributes and other email exchanges about the early days of the MCD sub-branch which I have appended to the entry for 8 Sep 16. I have contacted Capt Peter Hore RN and am hopeful of an obituary being published in the Daily Telegraph.
---
17 Sep 16 - Topsy Turner superseded as CO of HMNZS Philomel
Former MCDOA Honorary Secretary David 'Topsy' Turner transferred to the RNZN in 2004 after almost 30 years in the RN. I was his LMCDO course officer in 1983. Since moving to New Zealand, he has been the RNZN's MCM Project Officer, SO MCM & OIC of the Operational Diving Team (ODT), Senior National Officer (SNO) and OIC of the Deployed Support Element (DSE) for HMNZS Te Mana during her Gulf deployment on Operation ENDURING FREEDOM, SO1 Operational Plans (J53) in the Joint Force HQ, CO of HMNZS Canterbury and most recently XO (from 20 Nov 2014) and then CO (from 26 Feb 2016) of HMNZS Philomel (see entry for 16 Mar 16 in News Archive 53).
I am grateful to Topsy for this update:
"Hi Rob,
Just six months after taking command of HMNZS PHILOMEL and Naval Base Commander Devonport (we only have one base), I find myself in Hawaii in a brand new appointment for the New Zealand Defence Force. I am now thrilled to be the NZDF's Liaison Officer to the US Pacific Command (PACOM) in Honolulu which is where Yvonne and I will be for the next three years. I have office space in the NZ Consulute here in downtown Honolulu and split my time between PACOM and the various component commands spread across the island including of course the Pacific Fleet HQ at Pearl Harbour.
The UK Liaison Officer is Cdr Marcus Jacques who is known by quite a few of our senior MCDs including Paddy McAlpine, and of course Marcus has commanded a number of SRMHs [Bangor, Grimsby, Walney and Blyth] during his time in UK and out of Bahrain.
Please see attached a couple of photos from my Change Of Command Ceremony on 26th August.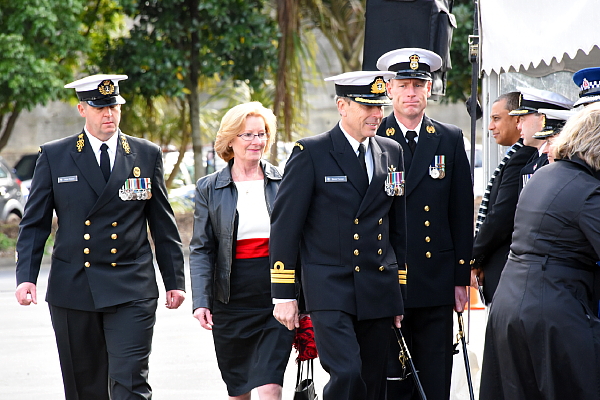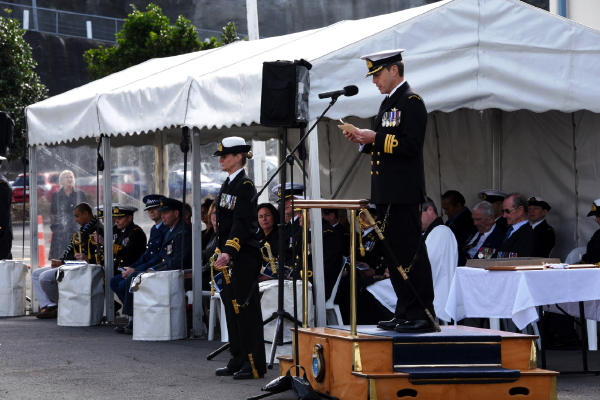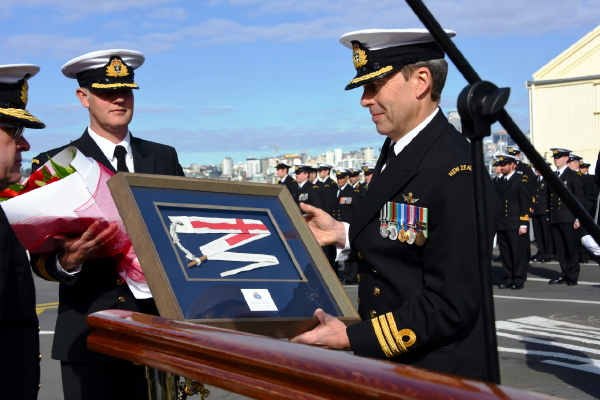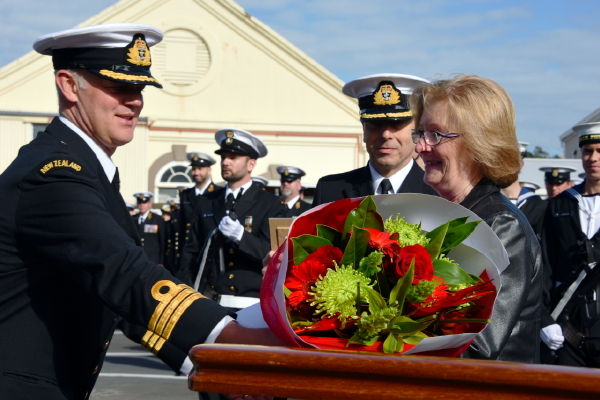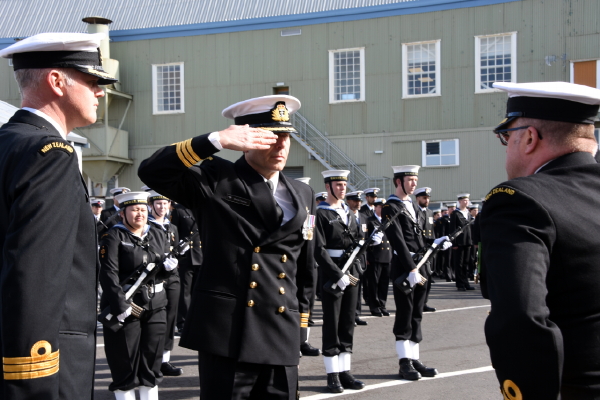 I was taken by surprise when the parade broke ranks and honoured me by conducting the Navy haka as a sign of respect for a departing Commanding Officer. The haka is not an appointed, pre-determined or mandated occurrence; it is performed freely and without order so you can appreciate just how humbled I was. I have to say that it drove this seasoned sailor to shed the odd emotional and salty tear.
Needless to say Rob, just like Spidy Ince, please accept my aplologies for not being able to make it to the dinner this year; I'll either be having surfing or golf lessons by then which is of course a great way of building relationships!!
Topsy"
I am sure that all members of our community will join me in congratulating Topsy on his new appointment and wishing him, Yvonne and their family continued success, health and happiness in Hawaii.
---
16 Sep 16 - HMS Middleton lifts for charity
While alongside in Bahrain on 14 & 15 September, ship's company members of HMS Middleton (MCM2 Crew 6) surpassed their target to deadlift the weight of their ship by more than 128 tonnes in 12 hours.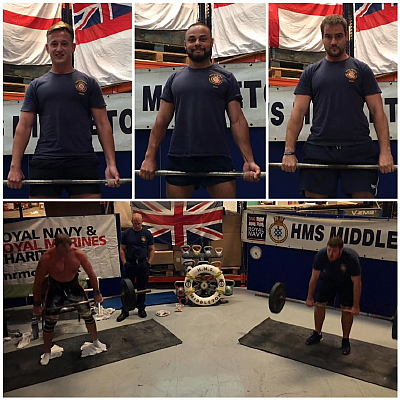 HMS Middleton's deadlifting personnel in the Forward
Support Unit warehouse in Bahrain
(RN photo)
Simultaneously, PO(ET) Rob Knott, the ship's DWEO and instigator of the event, made a valiant attempt to break the world record for the most weight deadlifted in 24 hours. This is currently held by Ian Atkinson of Warrington in the UK. Rob's personal target of 475,100 kg was 63% of HMS Middleton's total weight of 750 tonnes which would involve deadlifting 60kg nearly 8,000 times.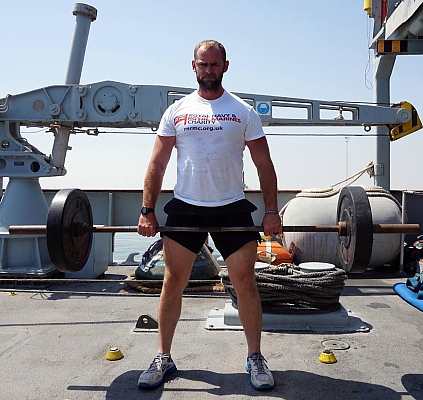 PO(ET) Rob Knott, DWEO of HMS Middleton
(RN photo)
Rob Knott's daughter Isla was born at QA (Queen Alexandra hospital) near Portsmouth and treated for a cystic hygroma, a growth on the lymphatic nodes around the neck, The aim of the ship's efforts was to raise as much money as possible for Portsmouth Hospitals Charity and the Royal Navy and Royal Marines Charity (RNRMC). You can help by donating online via this Virgin Money Giving webpage:
Robert Knott's fundraising page
---
15 Sep 16
HMS Hurworth in Portsmouth
I was showing some visiting friends from the USA around Portsmouth harbour today and captured HMS Hurworth (MCM2 Crew 1) alongside in the naval base. According to the RN website, she is currently undergoing maintenance and conducting sea-trials (see entry for 6 Jul 16 in News Archive 55).
HMS Hurworth alongside in Portsmouth Naval Base
---
HS Europa (formerly HMS Bicester) in Toulon
MCDOA member Dave Stanbury, Principal Staff Officer (old-type SOO) for Standing NATO Mine Countermeasures Group 2 (SNMCMG2), has taken these photos of the former HMS Bicester, now HS Evropi (Europa) in the Greek Navy, arriving in Toulon.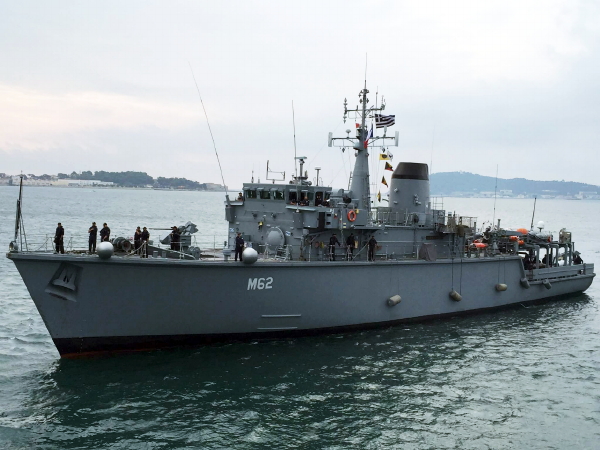 David reports that her sweep gear is still fully operational but the PAPs are long gone.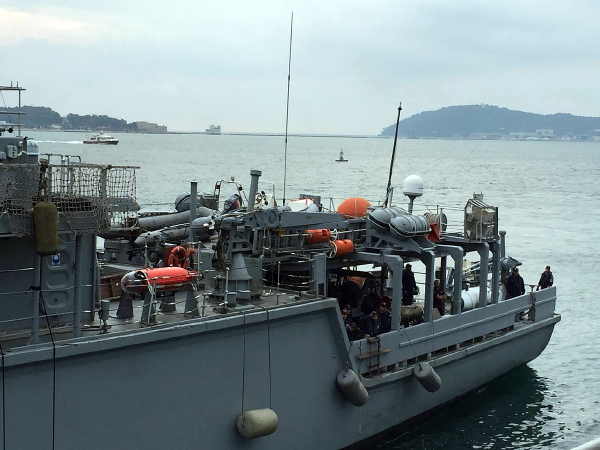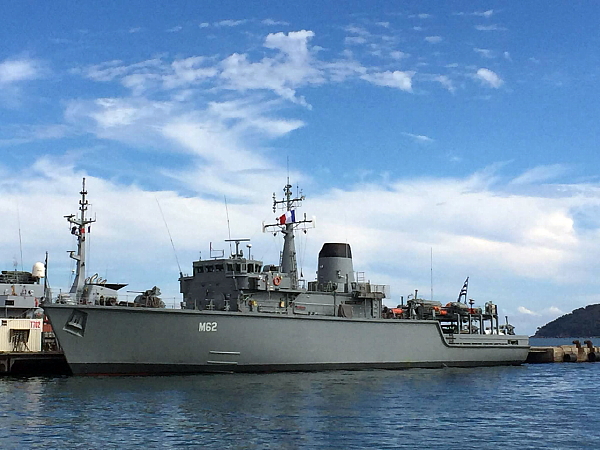 ---
14 Sep 16 - Fish & Clips quiz evening at the Diving Museum
What could be more traditional than a fish & chips supper? Even better with lashings of fun. So come and join us at The Diving Museum in No.2 Battery at Stokes Bay on the evening of Saturday 24 September to join in the Fish & Clips quiz evening. Doors open at 1900 for a 1930 start. We'll show you clips from movies and then ask you cunning questions about them.

Hot and tasty Fish & Chips suppers will arrive half way through at about 2015. There will be a 'help-yourself' soft drinks bar (and you can bring your own choice of drinks if you like).
There will be teams of four but don't worry if you can't make a team... come along and join in and we'll make up teams to suit. The lucky winners will each win a bottle of Prosecco. All this for only £7. You can get tickets from the Gosport Tourist Information Centre or pay on the door on the night. Better than another evening of repeats on the telly!
Hope to see you there!
---
12 Sep 16 - Award for member of Northern Diving Group
The Royal Navy website contains this article reporting the Faslane-based Northern Diving Group (NDG)'s award for 'Sailor of the Year' to LS(D) Scott McAllister. The award, presented by Commander Portsmouth Flotilla (COMPORFLOT) on board HMS Victory, was made in recognition of Scott's involvement in the safe removal of a large quantity of 30-year-old unstable quarry explosives from a locked outhouse near a primary school in a remote Scottish village.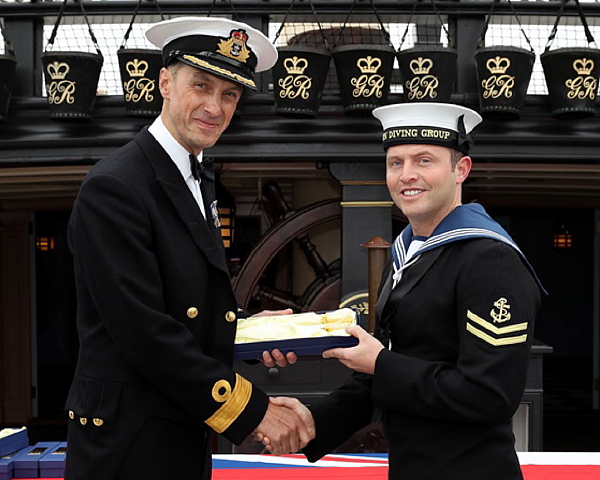 Cdre Peter Sparkes (COMPORFLOT) presenting NDG's Sailor of the Year award
to Ldg Diver McAllister on board HMS Victory in Portsmouth Naval Base
(RN website photo)
---
11 Sep 16 - SDU2 deals with torpedo that closed Portsmouth harbour
The BBC website contained this article, the Portsmouth News this article and there was much other coverage in the national press reporting yesterday's disposal by members of Portsmouth based Southern Diving Unit 2 (SDU2) of an unexploded torpedo. Its discovery resulted in the temporary closure of Portsmouth harbour and cessation of train and ferry services.
---
10 Sep 16 - Royal Engineers diver paralympian
I am grateful to MCDOA member Rory Armstrong for this notification:
"Rob,
Heads-up that former RE diver SSgt Micky Yule is probably competing on Saturday in powerlifting at Rio. Micky lost his legs in an IED event in Afghanistan a few years ago and is an inspirational chap.
Best regards,
Rory Armstrong"
According to the Paralympics website, Micky Yule should be competing in the -65kg Powerlifting event currently rescheduled for 1600 local (2000 BST) today.
---
9 Sep 16 - EOD in Scotland
The Aberdeen Press & Journal website contains this feature about bomb disposal in Scotland including the activities of Faslane-based Northern Diving Group (NDG).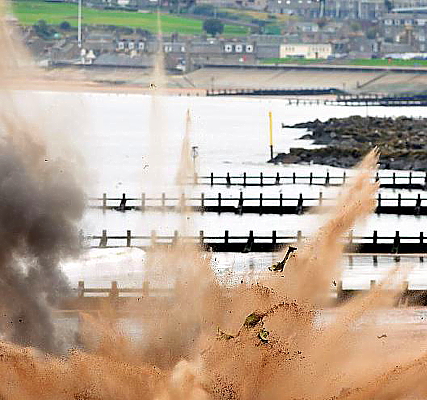 NDG detonates a mine washed up on Aberdeen beach
(Picture: Kami Thomson)
On 5 August 2016, Navy Command provided this MOD response to a Freedom of Information request from the Aberdeen Press & Journal: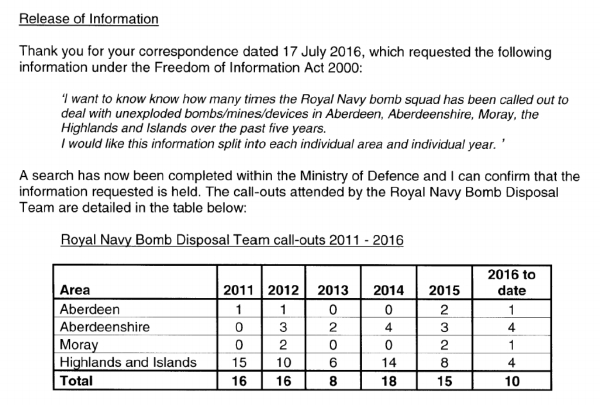 ---
8 Sep 16 - Death of Lt Cdr Arthur John Futcher MBE RN
I have received this sad news from John Futcher's son Michael:
"Dear Sir,
I'm writing to let you know that my father, former Royal Navy clearance diving officer Lt Cdr John Futcher MBE, passed away on 28 August and that some of your members may be grateful to know.
Dad served in Korea as a Royal Navy Marine Commando before serving with the RN as a clearance diver and on several RN ships including HMS Vanguard, HMS Belfast, HMS Tiree, HMS Dingley, HMS Shoulton, HMS Striker and others, before being appointed Bomb and Mine Disposal officer for Scotland, Northern England and Northern Ireland. He led the diving team that searched for Donald Campbell's body in 1967, and was awarded the MBE for his clearance diving service a year later. He retired from the Royal Navy in 1968 and then moved to Australia in 1973 where he lived until his death.
In July this year my Dad published his memoirs "FUTCH" which is now in print and covers his life and career – it's a great read. If anyone is interested in purchasing a copy they can contact me via this email address.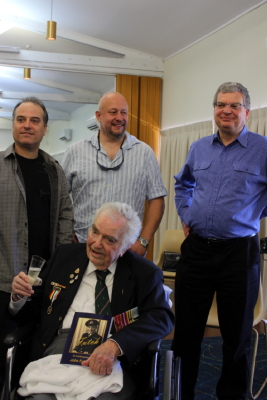 John Futcher at book launch in July 2016
I attach a photo of him with members of his clearance diving team taken in the 1950s.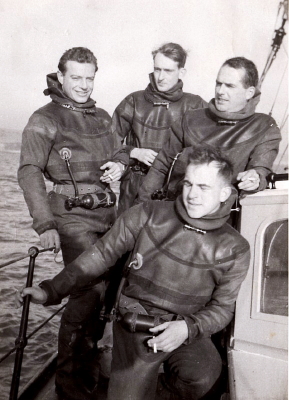 John Futcher with members of his
CD Team during the 1950s
Many thanks.
Michael Futcher"
John Futcher is mentioned several times on this website including the RN Diving magazines in the Branch History section but see particularly the entries for 4 Mar 15 in News Archive 49 and 19 Jun 12 in News Archive 38, the second entry for 12 Jul 09 in News Archive 27 and the entry for 24 Jun 09 in News Archive 26. He was awarded a Mention in Despatches as a Leading Seaman on 18 May 1951 for "gallant and distinguished service with 41 Independent Commando (Royal Marines) in operations in Korea". This was for his part in the late-1950 battle for the Chosin Reservoir. "I'll never forget Chosin," he said. "The temperature ranged from minus 20 to minus 40 degrees Fahrenheit." He also took part in the landing at Inchon in 1951.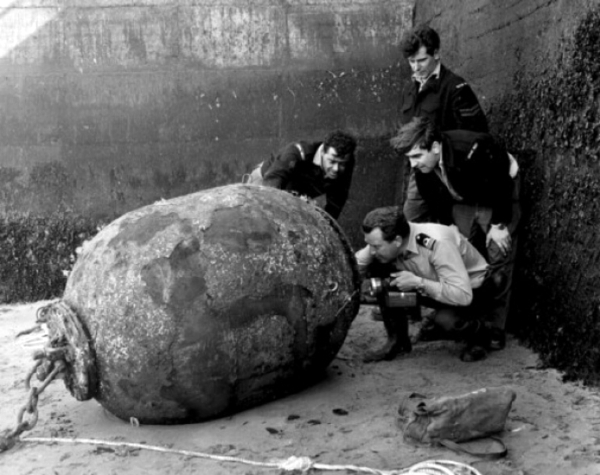 John Futcher examining a beached M Mk1 moored mine with Frank Newman, Bungy Williams and
Scouse Bolton of the Scotland & Northern Ireland Clearance Diving Team (SNICDT) circa 1965
He was appointed an MBE as a Lt Cdr in the Queen's Birthday Honours of 1967 As CO of the diving tender HMS Dingley, he was best man for fellow CDO David Lermitte, CO of Dingley's sister ship HMS Brenchley.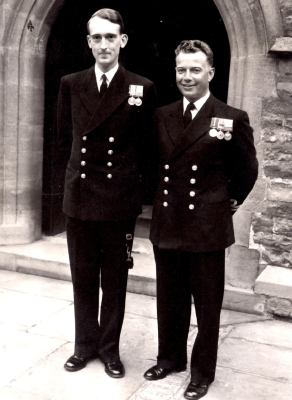 John Futcher (right) as David Lermitte's best
man in the mid-1960s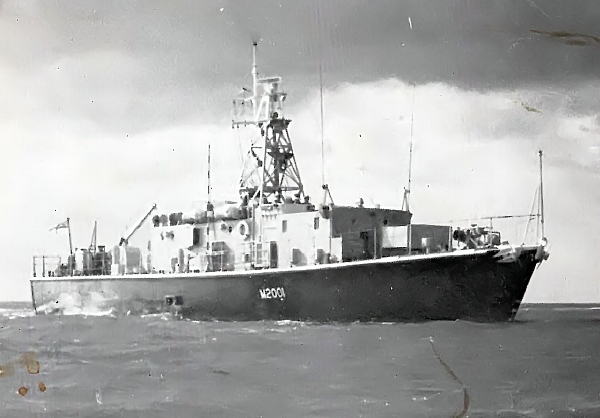 HMS Dingley in the mid-1960s
I am sure that all members of our community will join me in extending our sincere condolences to John's wife Kathleen, his son Mike and other members of his family.
---
By Webmaster:
"The March 1956 issue of the RN Diving Magazine (Vol 4 No.1) contains this passage:
THE ARMCHAIR DIVER
Cold work for you active chaps. Now that the thaw has set in let's see what's happened in the Diving World.
We must of course remember the passing of Lt.-Cdr. MacLean-Foreman and convey our deep sympathies to his family. The funeral, with full Naval Honours, took place from Haslar Hospital on Friday, 10th February. The bearers were diving officers—all personal friends of Mac. The cortege and field guns crews carriage were from the Diving Personnel. Mac's diving career was briefly Lochinvar; M.F.V. 1609; 51st Flotilla; H.M.S. Brenchley; A.S.R.M., Poole…"
Temp Sub Lt I. D. Maclean-Foreman was appointed as a Bomb Safety Officer for duty outside the Admiralty on 20 March 1944. A 1945 issue of the Navy List contains an entry for A/Lt Ian Dennis Maclean-Foreman RNVR, HMS Copra, seniority 5 Dec 1944. HMS Copra was the RNVR base at Largs.
According to the London Gazette of 14 Nov 1947, he was promoted from A/Lt to Lt RN on 5 Dec 1944. He is reported as having died as a Lt Cdr RN on Saturday 4 February 1956 while appointed to HMS Pembroke.
---
From MCDOA member John Grattan OBE:
"Dear Friends,
In the early days, when a diving school was associated with each station, most had a small S/M escape tank run by DSEA (Davis S/M Escape Apparatus) divers. I have a recollection that MacLean-Foreman was in that bracket.
I copied the Table with all your inputs & posted it to David Edwards. He does not "do" e-mails and I cannot think of another way of getting his important input.
When he replies, Marjorie will read and I will insert his As & As, keeping you all informed, of course.
Yours aye,
John"
---
From MCDOA member Mike Gillam:
"Yes Harry,
I remember MacLean-Foreman and hearing of his early death but never really knew him. However I do recall one story I was told about him that, for some unknown reason has come into my mind. Apparently, he was entertaining his wife aboard his team's diving tender (Dipper, Diver, Dingley???) when one of the team thought he'd liven up proceedings by dropping a lighted thunderflash down the funnel into the fireplace in the compartment below decks where they were sitting. The resulting explosion covered him and his wife in soot and made him exceedingly cross – understandably so.
That was the story told to me by someone who thought it exceedingly funny but whether it was true or the result of some CD's vivid imagination, I know not. Perhaps you may remember the occasion. Whatever, it was a sad day when we heard of his death.
Yours,
Mike"
---
From MCDOA member Harry Parker:
"Dear Mike, David. John, Rob,
Thanks for stirring the rusty old memory.
Does anybody know the background of Lt Cdr Maclean-Foreman? I relieved him in charge of CDT(Amphibious) in 1955 at ASRM Poole; I met him only once briefly in RNH Haslar where he was dying of cancer.
Best wishes,
Harry"
---
From MCDOA member John Grattan OBE:
"Dear Friends,
VMT your responses & inputs.
Mike's memory is clearly razor sharp. He is also a prolific scribe, a speedy typist or uses Dragon (Nuance) Naturally Speaking. I regret my eyes prevent me following suit.
Stupidly I forget Morry Drummond, the only old Etonian CD ever.
As your As & As come in, I am trying to alter the treble so as to keep up to date. Please continue.
Re meeting. David & Jane used to visit Bristol a lot and we are less than twoi hours drive from Cheltenham. Would you please consider coming here for lunch? Whilst we "chew the fat" the girls could go to Clarkes Village for superb retail therapy, as an example.
Yours aye,
John"
---
From MCDOA member David Burstall:
"Hello, and Bravo Zulu, you two for your remarkable memories.
I can only comment that to the best of my recollection Peter Roberts joined my CDO class some way into it and was back-classed - presumably to join Harry, Mike & Co as you suggest. We had both fallen foul of the redoubtable Willy Wyvil, our course instructor, who did not like young upstarts like me, nor Peter who had better gongs than he had. He was determined to fail us both and we were equally determined to resist - but therein lies another tale, to be told on another day. Suffice it to say that Willy had a wonderful time together with his killick (Vic Humphrey?), and two AB CD3s chasing me around Horsea Lake and the floating dock, in, on and under the water.
Regards,
David"
---
From MCDOA member Mike Gillam:
"Well done John. You have remembered many more details of the early days than I knew; I will try and add to them.

My acquaintance with Clearance Diving started in 1954 when I was the office boy in the Algerine class minesweeper HMS Recruit, leader of the 2nd MS Squadron, then part of the of the Med Fleet. The Med FCDO Pip Piper and his team led by Sam Stanley, took passage with us for a fleet exercise. I was sufficiently impressed by the team to the respond to the AFO inviting applications to join the branch. I was also the ship's diving officer on the strength of a one week midshipman's diving acquaint course in Malta some four years earlier. My CD suitability was tested on a run ashore in Malta conducted by Pip Piper and Morty Drummond on his way home from the Far East with another MSO Squadron. I must have passed.

The first FCDO Med had been John Dickenson with the fearsome Jock Gribbon as his CD1. The stories about their exploits in the Manoel Island Nissan huts were still being told. The one I recall was of the detonator and short fuse being lit and thrown into the team's mess hut with a shouted warning to jump clear!

I thought that David had been on the course earlier than ours from which Peter Roberts had been back-classed to us. My memory of Peter was on the celebratory run ashore in Southsea on the successful completion of our course when he attempted to climb a lamppost. Certainly Pat Dowland had been on a previous course as I relieved him in February 1956 as Diving Officer of the Isles Class coal burning trawler HMS Flatholm to complete the special survey of the Mersey from the Manchester Ship Canal out to the Formby Light vessel including all the docks. A year later the 'powers that be' decided that this survey was no longer required and we were left alongside in Devonport, our home port to where we had returned for the Easter leave period 1957, with nothing to do. It was here that I was phoned by Jackie Warner and asked if I was prepared to go to Iran to start a Diving School. I remember saying that I was prepared to go anywhere to leave a ship with no purpose.

I flew to Iran in the summer of 1957 and stayed for a year although the original plan was for only a six month tour. So, in mid-July 1958 I was in Teheran for a week staying with the air attaché, Group Captain Pelly-Fry, and writing my final reports prior to my return home by train from Iraq for which I had received prior approval. I had this idea of going into the booking office at Baghdad Railway station and asking for a single to Waterloo.

On the morning of 14th July 1958 the air attaché's driver reported Radio Cairo's story of bloody revolution. "They are always talking about bloody revolution," said the air attaché, "...but I will just check it out with with HE." Sir Roger Stephens said much the same, it was just Radio Cairo talk but he rang back 10 minutes later to say that a revolution had taken place in Iraq and King Faisal had been assassinated as had his Prime Minister Nuri al-Said. I was then co-opted onto the diplomatic staff and sent to the border to assist any Brits escaping the revolution – but there were none. So my plans to return home by train came to nought. I mention this story to confirm my recollections as being in the right year.

You ask when the two 'Mr Macs' became CDOs. The original Mr Mac (McLanachan), must have qualified way before I did because during my time in Willcove running the international course in late 1955, he took over temporarily from Stuart Honour to allow Stuart to have some leave. This led to the occasion when Mr Mac called to me over the adjoining wall between our cabins asking if I was on for a 'run'. I cleaned into my 'dog robbers' and he turned up in shorts and plimsoles (no trainers in those days); he was a hard man. I have heard similar stories about him from others but it certainly happened to me. Don McLaughlan qualified later.

I thought Arthur Checksfield was an Upper Yardman who did a full CDOs course. I'm not sure of Phil White's background; perhaps he came the D/P route in which case he would also have had to do a full course. Certainly Pete Cobby and Nutty Carr Became CDOs through SD Promotion, but I imagine that Peter Messservy, the 'Battling Bosun', would also have had to have done a full CDO's course.

That's all for now – ask me another

Yours aye,

Mike"
---
From MCDOA member David Burstall:
"Hello,
Congratulations, John, on a fantastic memory and the production of a pretty accurate record. I can't fault it except to state that I think Pat Dowland qualified before me and not after. I can't comment on Philip White, whom I relieved in my first job after qualifying, in HMS Annet - surveying Southampton seabed. At the same time Pat Dowland was in another Isles Class trawler surveying the depths of Mersey, I can't recall the name.
Regards,
David"
---
From MCDOA member John Grattan OBE:
"Dear Rob & David.

Rob is very kind and much appreciated for all he does for the Branch. Before I become completely senile, I will try to make a table of CDO Courses, their dates and names as far as I can remember. As I am now nearly blind, please forgive typos, etc. No doubt others will corrct me and add their own knowledge. I hope Rob will then have a better record of the early days of our great Branch and the men who made it.
1951 - Foundation of C.D. Branch by John Crawford, Jackie Warner, Bill Filer and CPO(D) Sam Stanley (bringing in remnants of 'P' Parties (e.g. Gordon Gutridge). Most decisions were made in the bar of the South Queensferry Hotel, e.g. gas mixtures/depth ratios (suspect mathematics!).

1952 - 7 March. Official CD Branch launch by AFO. First CDO Course. John Dickenson (later I Diving), Tony(?) Babcock, 'Pip' Piper, Joe Brookes, Dave Lambert, Al Cuthbert (RAN).

1953 - Eric Gash, Frankie Franklin, Harry Wardle, ?, ?

1954 - Stuart 'Jazz' Honour, Jim Neil and Guy Worseley.

1955 - First Course: Harry Parker, Mike Gillam, Henry Wilson and Peter Roberts (back-classed). Second Course: David Burstall and Peter Robertson (second chance).

1956 - David Edwards, Phil Hawke (RAN), Pat Dowland, ?.

1957 - Johnny Futcher, David Lermitte and Bill Thorniley.

1958 - Len Graham (RAN), Tony Johnson-Newell, Mike Hodgson and John Grattan.
Arthur Checksfield and Phil White [later Philip Balink-White OBE] only did the B&MD part of the CDO Course (D/P Scheme)?

Peter Messervey, Peter Cobby and John 'Nutty' Carr became CDOs through SD promotion?

How and when did Don McLauchlan and 'Mr Mac' McLanachan become CDOs? Can David Edwards, wth his superb memory, help with some answers?

Small stainless steal plaques were mounted on the wooden panelling on the left of the left corridor off the foyer of Vernon's Wardroom. These were engraved with each CDO Course and the names of officers who had qualified in the order of passing. I was top of my course and I seem to remember counting those men ahead of me. There were 18 officers so this table needs considerable correction: but at least it is a start.

Yours aye,

John"
---
From MCDOA member Mike Gillam:
"Many thanks Rob for keeping me in touch and for what you do for us. Johnny Futcher's names rings a number of bells but no precise memories – but I would like to obtain a copy of his book.
Sorry, John, to learn of your health problems but glad that that you are still in good heart. Fortunately, my prostate cancer was treated early some eight years ago and my dodgy heart valve replaced with no further complications. Old age does have its problems but life is still worth living.
Harry – good to hear from you - have many happy memories of our course - remember the Cherbourg Race?
David, we must get together sometime. Harry Parker and I were on the same CD course that started, as I recall, in May 1955 together with, among others, Peter Roberts who had been back classed from your course. Joe Brookes was our course officer, Hoppy Hopewell our Instructor with our good friend Bob Lusty as 'second dickey'. I had to leave the course before our Bomb Disposal time as I was told to run the first, and, to my knowledge only, International CD course at HMS Defiance. The course comprised four Dutchmen, two Portuguese, a Norwegian and a Pakistan Bosun with Bungy Edwards as the Instructor assisted by Taff Davey.
HMS Defiance was the home of TAS and Diving training in the West Country that had taken place in three old hulks sold for scrap just before our arrival. So the school was moved up the hill on the Cornish side of the Tamar into a strange collection of wartime huts with a recompression chamber, a diving tank but no main drainage. The school was not fully recognised by naval stores and so the First Lieutenant, little Alfie Crossley, ran a small market garden, the sale of produce from which supported the purchase of lightbulbs, cleaning gear and the like. Course members were accommodated across the water in the barracks and Stuart (Jazz) Honour, West Country B&MDO, and I were the only members of the Wardroom living in.
The School's Commanding Officer, Sam Seymour, lived alone in a small house nearby and was wont to wander about the camp in the late evening on a sort of unofficial 'Rounds'. On one occasion he came across a couple of the lads.
'What are you doing?' he said.
'Digging,' they replied.
'What for?' he asked.
'Corned beef,' they replied.
Do you remember, in those far off days, divers received an allowance of corned brief and ships biscuits as recompense for their difficult and dangerous duties. These enterprising fellows were storing theirs until they could take them home where they were much appreciated in that post-war period of austerity. Ever after they were known as the Cornish corned beef miners; being Clearance Divers, they were forgiven.
I eventually did my Bomb Disposal course with the Royal Engineers at Broadbridge Heath in January 1956.
Yours,
Mike"
---
From MCDOA member David Burstall:
"Hello All,
Rob - Once again many thanks for keeping us in touch, and I echo Harry's sentiments about your dedication to this website. It keeps on producing gems that I had entirely forgotten about.
Harry - I had not realised that Peter Roberts was on your course. I think he must have joined you after Willy Wyvil had persuaded Eric Gash that he needed more time. He had actually joined my course half way through it so it was not easy for him to catch up. The course before me had Pat (Froggy) Dowland and Philip White on it and possibly Peter Messervy, but I cannot be sure.
Mike - That's an excellent photograph of you and the FEFCDT in 1962.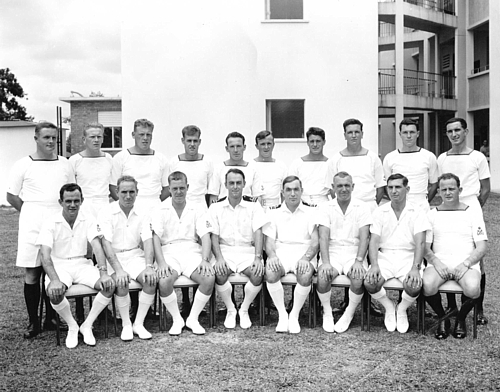 Far East Fleet Clearance Diving Team 1962
Back row: Peter 'Brum' Fowles, Doc Campion, Brian Martin, Simon Russell, Tansy Lee,
Dolly Dolan, Harvey Sumner, Vic Humphrey, Gilbert Bartholmew and Tom Fisher (ME)
Front Row: Mick Roberts, Mike McCall (POME), Bob Atkinson, James Majendie,
Mike Gillam, Brian Fawcett, Tom King and Stan Templeton
I was pleased to identify at least half of the team who carried over after I relieved you. To my regret I never kept any photos at all, as I wasn't into photography in those days. So I rely heavily on this website.
Regards,
David"
---
From MCDOA member Harry Parker:
"Thanks, Rob, and greetings to the rest of you (assuming this daft machine has done what I tell it for a change).
John Futcher and I never served together but our paths crossed several times in cheerful fashion. Sorry he has gone; the stream of us across the bar seems to flow faster.
David - Mike Gillam, Henry Wilson, Peter Roberts, Midshipman Whiston RNVR, P.O. Pat Christmas and I began our CD course early in 1955. I forget whether you were earlier or later.
I am still in Dunfermline, standing by to move to a smaller dwelling (close by). Enjoying being in touch with old friends through Rob`s splendid website. What a grand job you make of it.
Cheerio for now. God bless all of you.
Harry
---
From MCDOA member David Burstall:
"Hello Rob, Michael and John,
Many thanks to you all for keeping me informed about the death of Johnny Futcher. I was well aware of his various exploits over the years but our paths had never crossed, so I cannot really say that I knew him well (my loss). I was sorry to hear of his declining health owing to cancer - it's a really dreadful affliction and seems to take more and more of us. I regret I am unable to help with any memorabilia about him.
Michael Futcher - you have every reason to be proud of your Dad and his achievements - and the important memories are those of the times when he was fit and well and sorting the world out, rather than his poor health in his declining years. He did very well to publish his memoirs before his death - putting pen to paper (or fingers to computer keyboard) takes a great deal of dedication and self discipline.
Rob - What news of Harry Parker? I believe he was on the long CDO course after me but before the one with David Lermitte and Johnny F. Perhaps he qualified at the same time as David (Bush) Edwards? Or does he pre-date me? I was on a course on my own until I was joined by submariner Peter Roberts VC, circa 1955/1956.
Regards,
David"
---
From MCDOA member John Grattan OBE:
"Dear Rob,
I am sorry to hear the sad news about Johnny Futcher. There are few left of his vintage in the Branch, a sad feeling for those of us remaining.
Yours aye,
John"
---
From ex-CD Pate Gallant (see entry for 17 Aug 16 in News Archive 55):
"Hola Rob,
I am sad to hear about the passing of Lt Cdr John Futcher.
I was in his team when we searched and found Donald Campell's Bluebird in Lake Coniston in 1967. I brought up his seat belt harness that was still attached to the bulkhead by one bolt. The rest had been ripped out with the bolts still attached. Also the attachments that went into the quick release were all bent back. He must have been thrown out with quite a force.
I am enclosing a paper cutting of that time. I think it was from the Daily Mirror printed in Manchester.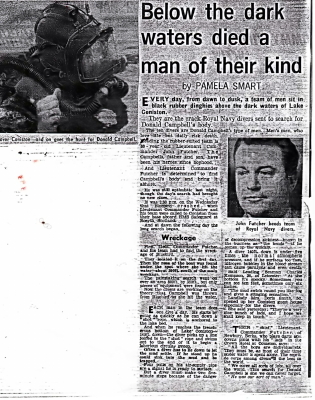 Best Regards,
Pete Gallant"
---
6 Sep 16 - Divers complete 500 kilometre run and swim to help prostate cancer sufferers
The Royal Navy website contains this article reporting the completion of a charity fundraising event by 43 members of the Fleet Diving Squadron (FDS) at Horsea Island (see entry for 18 Aug 16 in News Archive 55). They each completed 25 circuits totalling 100km in the water and 400km on land.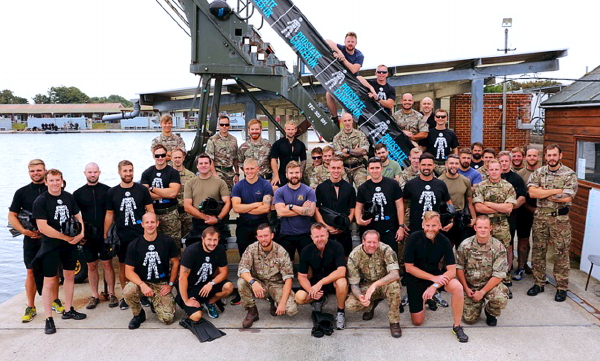 ---
5 Sep 16 - Death of former LS(D) Peter 'Brum' Fowles
I am grateful to ex-CD Jim 'Tommo' Thomson for this sad news:
"Hi Rob,
I have just heard from ex-CD Vic Humphrey that our old pal Peter (Brum) Fowles has passed away. Vic and Brum were in the FECDT in 1963 when I did my Free Divers course. Then Brum and I were in Guz as killick 3's in 1965. Cris Ballinger joined us as a new Ships Diver.
Brum went into the security service on leaving the RN. A good diver and a good bloke. RIP mate.
Regards,
Jim"
This photo of the FECDT (Far East Clearance Diving Team) in 1962 shows Brum Fowles standing far left: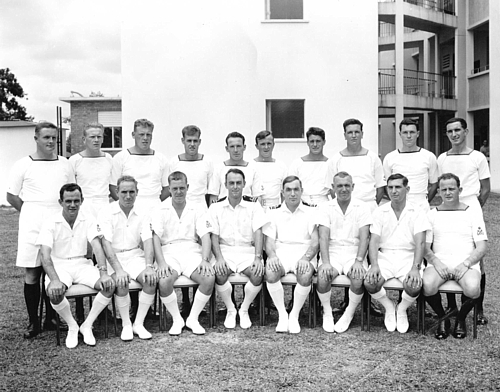 Far East Fleet Clearance Diving Team 1962
Back row: Peter 'Brum' Fowles, Doc Campion, Brian Martin, Simon Russell, Tansy Lee,
Dolly Dolan, Harvey Sumner, Vic Humphrey, Gilbert Bartholmew and Tom Fisher (ME)
Front Row: Mick Roberts, Mike McCall (POME), Bob Atkinson, James Majendie,
Mike Gillam, Brian Fawcett, Tom King and Stan Templeton
Brum had this letter printed in the December 2009 issue of Navy News about his experiences in Northern Ireland in 1958/9: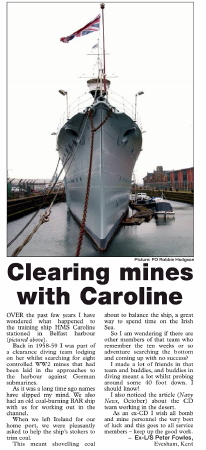 In 1960, Brum was a member of the Home Station Clearance Diving Team led by MCDOA member John Grattan and embarked in HMS Dingley of the 51st Mine Sweeper Squadron based at HMS Lochinvar, Port Edgar on the south shore of the Forth. He was present when the team moved to its new home at HMS Vernon where it eventually became the Fleet Clearance Diving Team.
In 1962, Brum was a member of the surprisingly large ship's diving team, led by MCDOA member Mike Gillam, on board the Antarctic survey ship HMS Protector and enjoyed an eventful deployment.
After HMS Reclaim had completed searching for wartime mines in Seydisfjord in Norway in 1963, Brum was tasked to retrieve a souvenir from an oil tanker sunk in the harbour. The bridge was 20 fathoms from the surface and he returned with a binnacle cover which was promptly "pounced upon by the Boss, wheeled away, and never again seen". During one of the six weekends Reclaim spent alongside in Santa Cruz in Tenerife in 1964 while conducting deep diving trials, members of the ship's company watched the only bull fight of the period. It was reported that they had difficulty though, in distinguishing 'Brum' Fowles from the bulls.
---
2 Sep 16 - An article of possible interest
From the National Interest website:
Sea-Mines: The Most Lethal Naval Weapon on the Planet
Here is an extract:
"Sea mines, one of the oldest weapons in the naval inventory, are often the cheapest and most available form of anti-access/area denial weapons to a vast number of maritime nations," said retired U.S. Navy Capt. Jerry Hendrix, director of the Defense Strategies and Assessments Program at the Center for a New American Security. "Even if their budget will not allow them to purchase high-end missiles or aircraft, most maritime nations can afford to sink any number of mines off their coast in order to dissuade another power from approaching their shores."
To make matters worse, sea-mines are not only cheap and deadly, they are also vexingly difficult to find—even with modern equipment as the Ticonderoga-class guided missile cruiser USS Princeton (CG-59) discovered during the first Gulf War in 1991. The multi-billion dollar Aegis cruiser was severely damaged by a pair of Italian-made MN103 Manta sea-mines that cost only a few thousand dollars. Earlier, a First World War-era mine nearly sank the guided-missile frigate USS Samuel B. Roberts in 1988 during the Iran-Iraq War.
However, technology might be on the verge of making the lives of Western sailors safer. Drones will allow the U.S and allied naval forces to counter the threat without directly putting their lives in jeopardy. Northrop Grumman announced recently that it will be participating in the British Royal Navy's Unmanned Warrior exercise where the American defense giant will demonstrate its unmanned mine hunting capabilities. During the exercise, Northrop will show-off its AQS-24B towed mine hunting sensor, which will be operated from an Atlas Elektronik UK ARCIMS Unmanned boat...
---
1 Sep 16 - Yo, ho, ho and a bottle of rum!
Your humble webmaster was even more grateful than normal this morning when he received a bottle of Pusser's Rum for having written the 'Jackpot' letter in this month's Navy News (see entry for 19 Jul 16 in News Archive 55):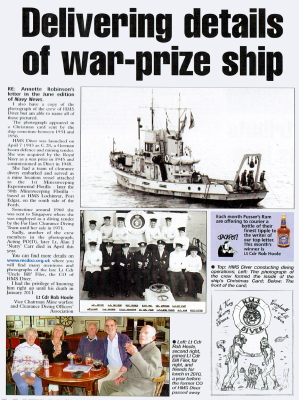 September Navy News 'Jackpot' letter
Just in the nick of time from the look of things: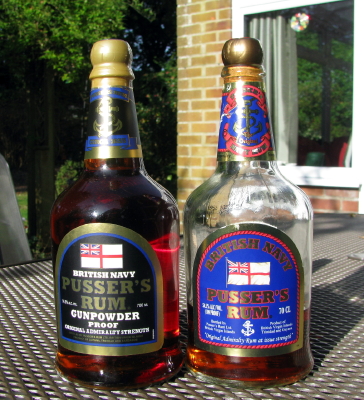 ---