---
| | | |
| --- | --- | --- |
| | Have you ordered your miniature of the Vernon Monument yet? It is being sold in a variety of sizes, finishes and prices to raise funds for the planned sculpture at Gunwharf Quays in Portsmouth to celebrate the Minewarfare & Diving heritage of HMS Vernon which previously stood on the site. 'Project Vernon' is officially supported by Portsmouth City Council, Gunwharf Quays, the MCDOA, AORNFCD, MWA, RNCDA and the TCA. Click here for details. | |
---
24 Jul 16 - An appeal from your Webmaster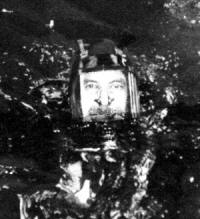 At 1600 on Sunday 28 August, your humble Webmaster plans to abseil down the 170 metre (560 ft) Emirates Spinnaker Tower at Gunwharf Quays in Portsmouth, previously the site of HMS Vernon (the Royal Navy's alma mater of minewarfare, diving and bomb & mine disposal), to raise money for the Vernon Monument and the Royal Navy & Royal Marines Charity (RNRMC).
I entreat all readers of this website to support me in this endeavour by at least looking at my Virgin Money Giving webpage and contributing if you are able. Don't forget to claim the Gift Aid which boosts any donation by 25%.
Rob Hoole's Abseil fundraising page
Owing to the small size of our minewarfare & diving population and the coincidental downturn in the economy, Project Vernon was always going to be more of a marathon than a sprint but I am in it for the duration. It needs people to give, and then keep giving. That said, we are now in the home stretch as shown by the graphic below. To reach our target, we only require about 25 more donors as generous as some of us 'pensioners' although every little helps.

Many an offshore industry 'baron' was given his start thanks to HMS Vernon's Diving School so how about the odd day's pay as a small token of appreciation?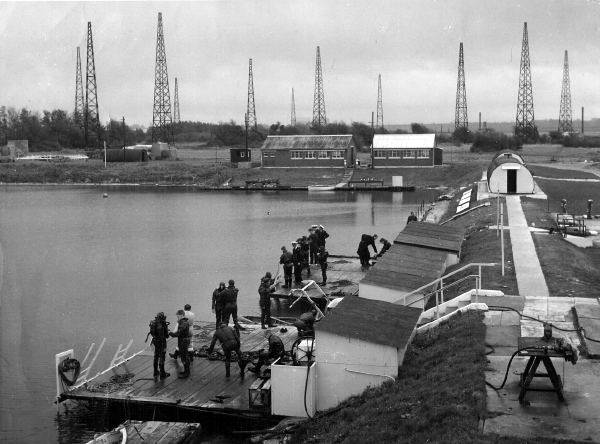 Above and below: HMS Vernon's diving training facility at Horsea Lake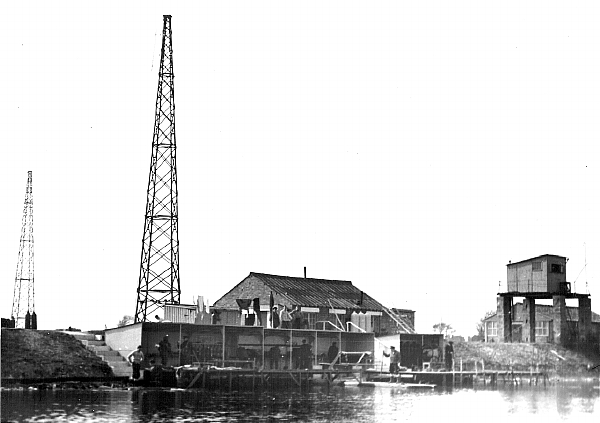 Here is something special for the MCM community from pre-HSE days. How about demonstrating your gratitude for the training that enabled you to survive to tell the tale on such occasions?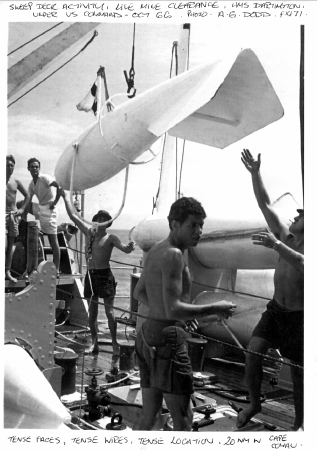 Sweepdeck activity - HMS Dartington October 1966
It is 14 years since I founded this website, principally for MCDOA members but also for the benefit of the wider naval minewarfare, diving and EOD community and anyone else interested. The website is now accessed each month by about 50,000 unique servers worldwide. This means that even more people are looking at sections of it, if not necessarily the 'Latest News' page. Entire sections have even been plagiarised without my consent by unscrupulous authors and other webmasters.
Q. Will I regard your response to my appeal as a measure of your appreciation for this website?
A. You bet.
Q. Will your response to my appeal encourage me to continue expending my enthusiasm, time and effort on it?
A. I sincerely hope so but we shall have to wait and see.

Thank you if you have read this far. Over to you.
Best wishes,
Rob
---
23 Jul 16 - Death of Edward 'John' Towse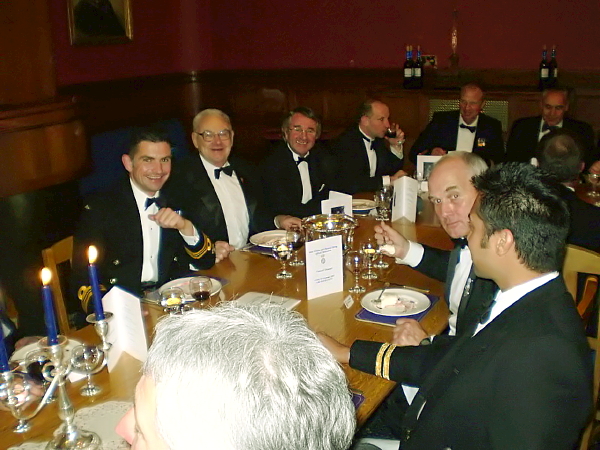 John Towse (second left) at the MCDOA's Annual Dinner in the Wardroom, HMS Excellent
on 16 November 2007
The Portsmouth News website contains this article announcing yesterday's death of John Towse. He was suffering from pneumonia and passed away in Queen Alexandra Hospital in Cosham at the age of 82.
Apart from re-discovering the wreck of the Mary Rose, Henry VIII's flagship which sank off Southsea Castle in 1545, with Alexander McKee in May 1965, John was a founder member of the pioneering Southsea branch of the BSAC (British Sub-Aqua Club) and became its Secretary in April 1954, only two years after the BSAC was established. This article, published in the December issue of Navy News the same year, describes the club's significance during John's early tenure:
Underwater Swimming

MAN IS a curious animal. He is inquisitive and forever delving into the mysteries of the unknown: exploring the Amazon rain forests; conquering Everest; and investigating speeds above that of sound. All evidence of man's enquiring nature.

It is with this same feeling at the back of their minds that a few underwater swimming clubs have been formed in Great Britain in the last couple of years. For a considerable time, underwater investigation has been limited by the equipment required for a suited diver—lines to the surface. a constant air supply, and the limited mobility of the diver himself. The invention of the Aqualung by Commandant Cousteau, of the French Navy, has opened up a vast field for free underwater exploration. The diver is as free as a fish and can penetrate to depths of 150 ft. with ease. Depths of over 400 feet have been achieved in serious scientific investigation.

In the Portsmouth area three clubs are at present functioning. The first of these is a branch of the British Sub-Aqua Club with headquarters in Southsea. The B.S.A.C. was formed in 1952 and now has branches all over the country and connections with several similar organisations overseas. In the Isle of Wight the Three Fathoms Club operates and this also has a branch in Gosport.

In April of this year the first naval club was formed in H.M.S. Coilingwood. The club has some 40 members and has built up a variety of equipment in the short time it has been running. Funds have limited the club to one Aqualung, but ex-Service Salvus equipment and German submarine escape Drager units have been obtained. The use of the latter equipment is strictly limited, since pure oxygen can be dangerous at depths of more than 30 ft. The secretary of the Collingwood Underwater Swimming Club (Instructor Lieut. Berry) would be pleased to provide any information for those interested. T. P. B.
John worked with MCDOA honorary life member Lt Cdr 'Uncle Bill' Filer MBE GM and world deep diving record-breaker and MCDOA associate member Dr John Bevan (who achieved a simulated depth of 1,500 fsw (457 msw) in 1970) at RNPL's DTU (the Royal Navy Physiological Laboratory's Deep Trials Unit) at Alverstoke from September 1966 to April 1989. As the head of the hyperbaric facilities, he was a familiar figure for many of HMS Vernon's divers and was one of the overseers when I was a guinea pig during the 90 metre Trimix trials at DTU in 1979.
John was also prominent in the Historical Diving Society (HDS) and one of the leading lights behind the establishment of its diving museum at Stokes Bay on the Solent. Here are some photos showing his general association with diving history and the development of the HDS Diving Museum at Stokes Bay and its library in Gosport.
John Bevan with John Towse at a presentation about the Deane brothers
in Lee-on-the-Solent on 22 June 2010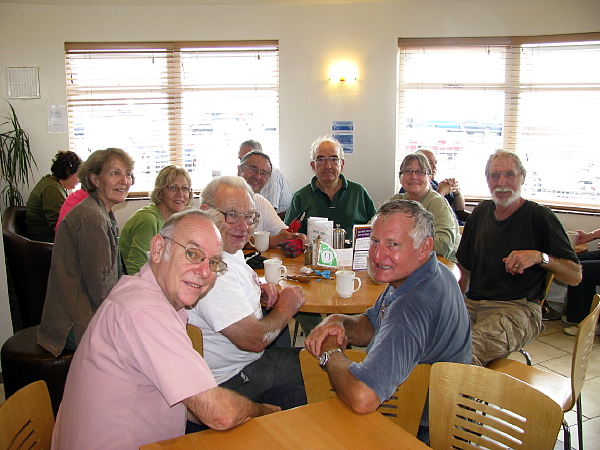 John Towse with HDS Museum volunteers on 22 August 2010
Above and below: John Towse at the arrival of chambers outside the HDS Museum on 2 November 2011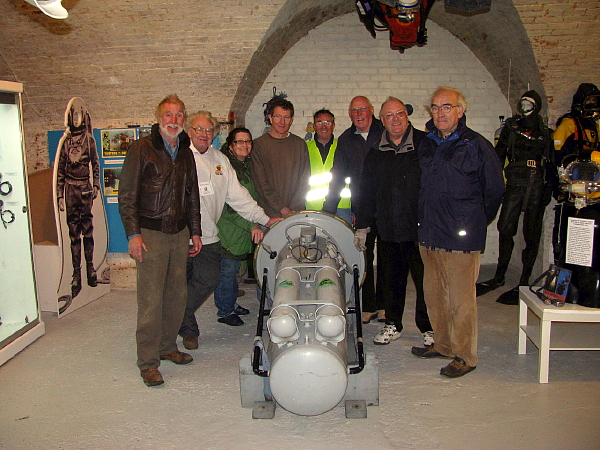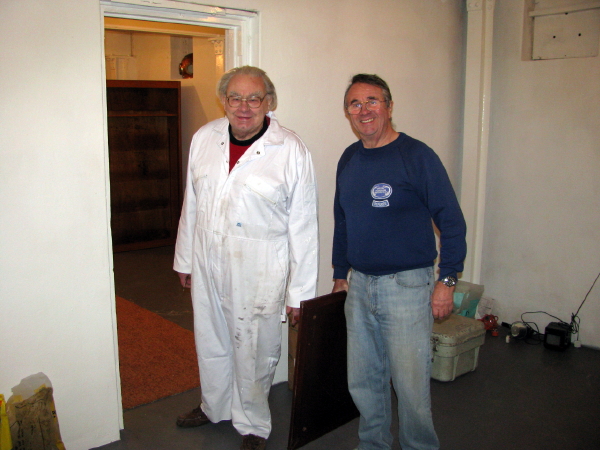 John Towse with John Bevan at the new HDS library in Gosport on 12 December 2012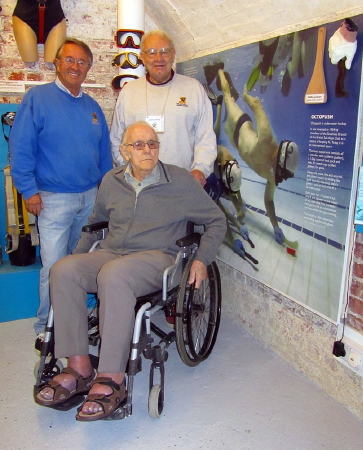 John Towse with his Octopush co-founders
John Bevan and Frank Lilleker in September 2012
For further background, see the second entry for 14 Nov 07 in News Archive 20 although there are more photos of John and his activities dotted all over this website.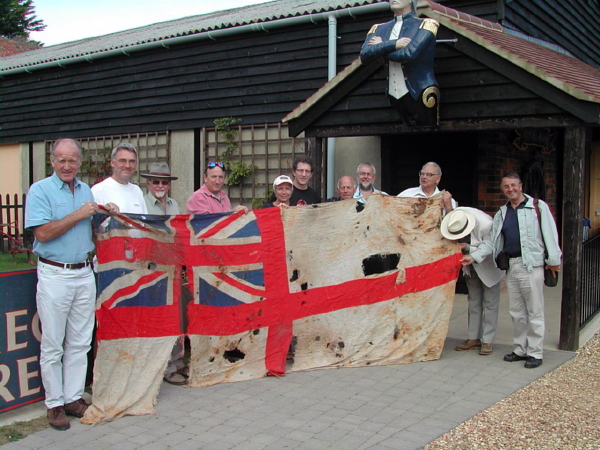 John Towse (third right) at the presentation of HMS Boxer's ensign to
the Isle of Wight's Shipwreck Museum at Arreton on 15 September 2007
John Towse in one of the chambers at the HDS Diving Museum on 2 November 2011
John's funeral will be held at St Mary's Church in Portchester at 1130 on Monday 8 August.
---
19 Jul 16 - The solution to a riddle
This letter appeared in last month's Navy News: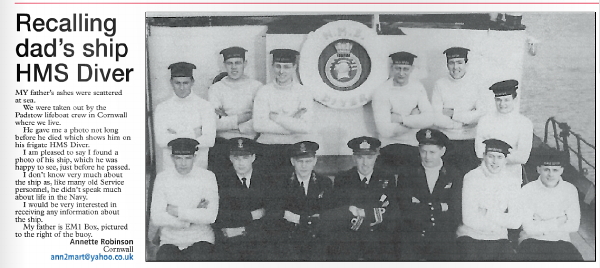 I responded with this email:
"Hello Annette,
I saw your letter enquiring about HMS Diver on page 29 of the June issue of Navy News. I am attaching the same photo published in NN but captioned with the names of the crew members depicted, including your late father. The photo appeared in a Christmas card sent by HMS Diver sometime between 1954 and 1956 and I am attaching an image of the front cover too.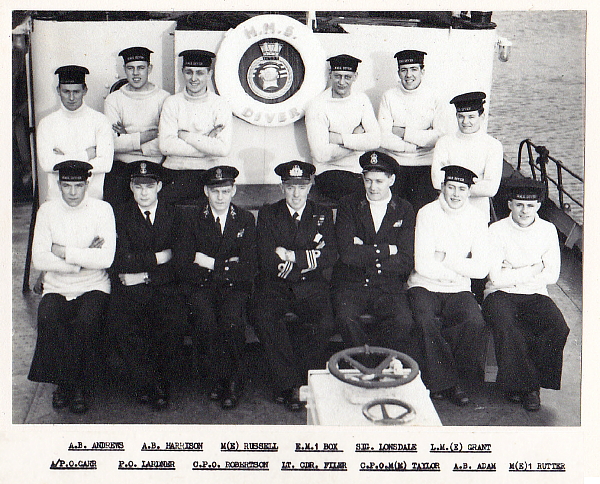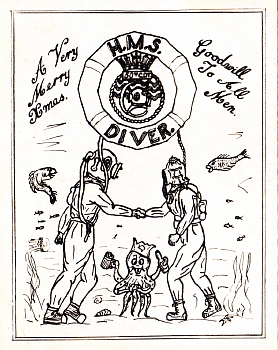 HMS Diver was launched on 7 April 1943 as C.28, a German boom defence and mining tender. She was acquired by the RN as a war prize in 1945 and commissioned as HMS Diver in 1948. She had a team of clearance divers embarked and served as a Mine Location Vessel, attached to the 1st Minesweeping Experimental Flotilla (and later the 50th Minesweeping Flotilla) based at HMS Lochinvar, Port Edgar on the south side of the Forth. Sometime around 1960, she was sent to Singapore where she was employed as a diving tender by the Far East Fleet Clearance Diving Team until her sale in 1971. There is more about her Far East service here. As you can see from one of the attached photos, she certainly was not a frigate.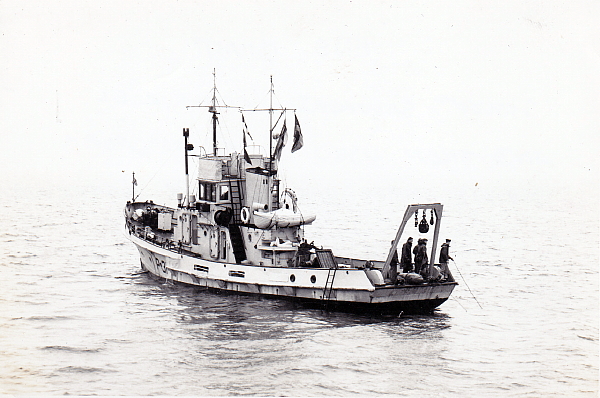 Sadly, another of the crew members in the photo, Acting Petty Officer Diver (later Lieutenant) Alan J 'Nutty' Carr, died in April this year. Ironically, his death notice appears in the same issue of Navy News. Please see the entries for 21 Apr 16 in News Archive 54 and 29 Nov 15 in News Archive 52 of the MCDOA website for greater detail.
You can also find many mentions and photos of the late Lt Cdr 'Uncle Bill' Filer MBE GM RN (the Commanding Officer of HMS Diver in the middle of the front row in your dad's photo) if you type "Filer" into the search box on the website's Home page (or anything else you wish to find for that matter). I had the privilege of knowing him right up to his death in January 2011 and I am enclosing a photo showing us during a lunchtime gathering at Lee-on-the-Solent Sailing Club in April 2010. Bill is sitting far right and I am sitting next to him.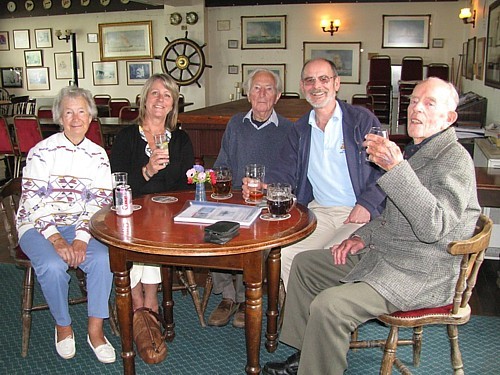 Please don't hesitate to call me if you would like to talk.
Best wishes,
Rob Hoole"
I was delighted to receive this reply:
"Dear Rob,
Thank you so much for your email and wonderful photographs. I am sorry I've taken my time emailing you back but I don't check my emails as often as I should.
I had a few tears reading your email as I didn't know that my dad was part of a mine clearing team. He always told me he was an engineer so if he actually had anything to do with the mines I will never know. He did let slip once that he used to deep sea dive in the helmet and boots as seen in the Christmas card picture but that's the only information I ever managed to squeeze out of him. We know he went to Singapore only because he had some photographs also India.
I have had quite a response to my letter so far. I've had emails from as far as Canada with information about HMS Diver and it seems she played a vital role in mine clearance and was well thought of.
I was born in 1957 and I know Dad left the Navy soon after so he would have been on the ship 1954-56. He joined the Navy on leaving school and didn't want to leave but Mom made him as she didn't want to live in naval quarters.
You will be pleased to hear we had his ashes scattered at sea a few weeks ago. As we are lucky enough to live in Cornwall, the Padstow lifeboat skipper offered to take us all out to the mouth of Padstow Estuary. It was a very emotional day but Dad would have loved it.
I was sorry to hear that Lt Cdr Filer had passed away. It was his grandson's letter to the Navy News that prompted me to write in the first place.
'Nutty Carr' must have been a real character. I loved his nick name.
I will pass all this information on to my family so thank you once again.
Very best wishes,
Annette Robinson"
---
18 Jul 16 - Award of Meritorious Service Medal
Congratulations to WO1(MW) Pete Mills, WO1(MW) Joe Munro and WO1(D) Darren Powell on being gazetted for the award of the Meritorious Service Medal (MSM).
---
17 Jul 16 - Veteran 'P' Party diver Ray 'Brum' Maries seriously ill
I am sad to report that Ray 'Brum' Maries is seriously ill. According to his grandson, Mike, he is in Birmingham Heartlands Hospital after having fallen at home five times during the past three weeks. Each time, he has required paramedic attention. Ray has severe osteo-arthritis in his right hip as well as other medical issues.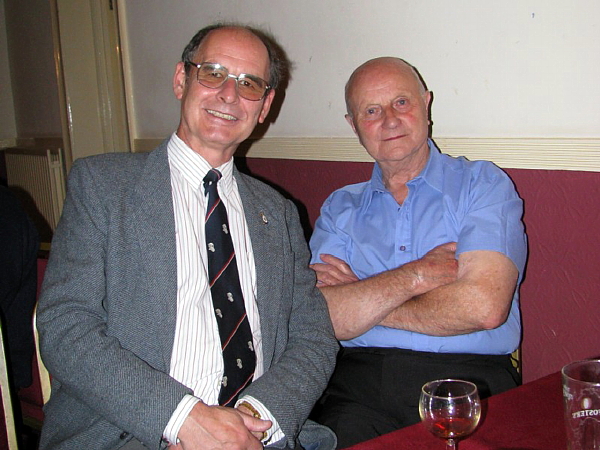 Your humble Webmaster (Rob Hoole) with Ray 'Brum' Maries
in September 2008
Ray was awarded a Mention in Despatches "for good services in mine clearance and mine disposal operations in NW Europe" while serving in 'P' Party 1572 immediately before the close of the war with Germany and in the months that followed. To the best of my knowledge, he is the only surviving 'P' Party member following the demise of David Shane of 'P' Party 1571 (see first entry for 20 Aug 14 in News Archive 47), Mike Connolly of 'P' Party 1572 (see entry for 7 Jun 12 in News Archive 38), John Home-Douglas of 'P' Party 1571 (see entry for 24 Apr 12 in News Archive 38) and Arthur Russell MBE of 'P' Party 1572 (see entry for 22 Dec 09 in News Archive 28).
I am sure all members of our community will join me in extending Ray our best wishes for a speedy recovery.
---
12 Jul 16 - RN Minewarfare Heritage: BYMS 2211
I have received this query:
"Your mine sweeping web site shows a picture of BYMS 2211 in dry dock during World War II. There are two sailors in the picture and I believe one of them was my father.
Is it possible to forward this e-mail to Commander Davies' family to see if they have any more pictures or information?
Many thanks,
David Lee"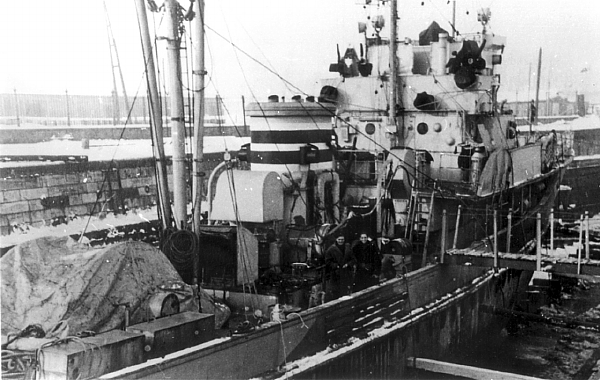 BYMS (British Yard Mine Sweeper) 2211 in dry dock in Holland in 1945
See the second entry for 20 Jun 06 in News Archive 14. I have forwarded David's request to the late Cdr Davies' grandson Martin.
---
11 Jul 16 - Looking for Brian 'Bill' Bailey
I have received the following enquiry:
"Dear MCDOA,
I have for many years been trying to trace Brian `Bill` Bailey and recently received a photograph from 1955 which pinpoints him to a Clearance Bomb Disposal Course in June of that year. Is it possible that HMS Vernon still has additional details about `Bill` which may help me with my search? I appreciate that it is a long time ago but any information would be very gratefully received.
Thank you and kind regards,
Helen Armstrong"
Helen's photograph shows a class of CD Basics, wearing HMS Vernon cap tallies, at the Joint Services Bomb Disposal School at Broadbridge Heath near Horsham in West Sussex in June 1955 with some of the individuals identified.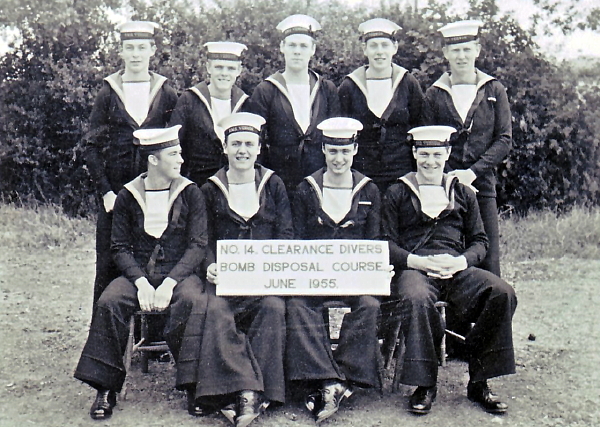 Back row: Les Maynard, Derek 'Del' Rowe, Yorky Wilkinson, Bob 'Jock' Adam, Dinah Shore
Front Row: Bernard Edward 'Donkey' Bray, Bill Bailey, Philip Le Cornu, Dutchy Vanderson
(Edited in light of information received.)
Can anyone help fill in the gaps? The photo shows the late CPO(CD1) Bernard Edward 'Donkey' Bray BEM*, father of more recently retired CD Alan 'Donkey' Bray, who died in March 2008 (see entry for 12 Apr 08 in News Archive 22) rather than Donald 'Donkey' Bray who is still around. Robert Muir Keir 'Jock' Adam passed away in June 2013 (see entry for 28 Jun 13 in News Archive 42).
---
From former CDO Les Maynard:
"G'day Rob,
Ref the CD3s' Course at the Joint Services Bomb Disposal School at Broadbridge Heath: Derek Rowe is second from the left in the top row. Philip Le Cornu is second from the right in the bottom row.
Ref Brian 'Bill' Bailey: Bill left the Service and went to work with a diving firm in Southampton - Strongwork I think! Then he moved up to Scotland to another diving and civil engineering company; I believe it was called Reed & Malec [Diving Division founded by MCDOA member Harry Wardle who died in 2007 - see entry for 17 Sep 07 in News Archive 19]. When I last saw Bill in 1972, he was a senior manager with the company.
Yorky Wilkinson is still above the grass living in Deal in Kent. I had a crimbo card from him last year.
The Donkey Bray in the picture passed away about three years ago as I understand it. He was known as 'Little Donks'.
I hope this helps,
Yours Aye,
Les Maynard
Ashby
Wanneroo
Western Australia"
---
From former FCPO(D) David 'Mona' Lott BEM:
"G'day Rob and hello Helen,
A blast from the long distant past, where do the years go?
This was the class before mine that finished in December 1955 so I knew these CDs quite well. I am sure that Les Maynard will also be able to fill you in as he is the only remaining member that I know from that class who still survives and now resides in Western Australia.
Most of the names you have are correct but the second from left in the back row is Derek (Del) Rowe and the third from the left in the front row is Le Cornu, first name forgotten.
The first bloke on the left in the front row is Donkey Bray (the younger) BEM and bar who worked with me as a CPO CD1 in the Fleet Team and retired to work with Bill Filer in the Deep Trials unit. He died some 8 to 10 years ago.
I have a vague recollection of Bill Bailey starting a small aviation business in Scotland after he left the RN, but I have not heard of him since. Dutchy Vanderson served on Dingley when I was the buffer and was a good friend of ex-CD1 Derek 'Maggie' Lockwood who I believe is still around and may have some more details.
As I said at the start this is all from a considerable time ago. Sorry that I can't be of much more help.
Regards and many thanks for the memory jog.
Dave (Mona) Lott
Eden
NSW
Australia"
Postscript: I have received this message from ex-CD Jim 'Tommo' Thomson:
"G'day Rob,
Hope all good for you.
Thank you for posting the picture for Helen Armstrong during her search for her father Brian 'Bill' Bailey. Other initial contacts were: Len Smith (Chief CD1); Tom Norman(Chief CD1 also my qualifying instructor 1964 - ECD 29) who worked for Strongwork, he put the search on the way to South Queensferry; then Stu Grainger (CD1) who was contacted at Dalmenny. He and I worked offshore together. On answerphone, being asked if he knew Bill (which he did not), his wife Ann then said (you couldn't make this up), "He used to live next to Dalmenny Station." Also for info. Dave (Mona) Lott who replied to your request, was my instructor on ECD 28, which I came off with an injury.
Here is a copy of the letter Helen sent after contacting Bill.
Best regards,
Tommo"
"Dear Tommo,
Thanks to you, I know I have now found Bill. Googling around this week led me to a Bill Bailey in Dalgety Bay (over the Forth Road Bridge). Information showed that he was married to someone called Alison and was born in 1936 - this all sounded about right. One bit of information seemed strange - that he had been in airfield management?
Meanwhile, I also contacted the MCDOA about HMS Vernon and sent the photograph you provided me with. I had wondered if they had any other records which might help me. Rob emailed back some days ago and said, "Sorry, HMS Vernon was wrapped up several years ago and no records remained." Today he emailed me because he had put the picture you provided on their Latest News page and there had been responses. Dave Lott in Australia confirmed that Bill had moved to Scotland and `started an aviation business`. This obviously matches with Bill in Dalgety Bay.
I did write to him on Tuesday - 80% sure it was him. Without the power of the internet and kindness of strangers like you I wouldn`t have got this far. Now I will have to see if he responds to my letter.......
I have just had a long conversation with Brian so we are in touch and I am rather shaken!!
Thank you Tommo and very best wishes,
Helen"
---
10 Jul 16 - News from HMS Chiddingfold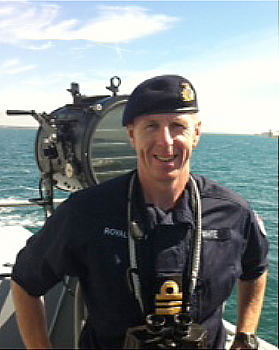 I am grateful to MCDOA member Steve White, Commanding Officer of HMS Chiddingfold (MCM2 Crew 5) currently on Operation KIPION in the Gulf, for this email and his ship's June newsletter, comprising an overview of 2015, which can be downloaded here:
"Sirs, Ma'ms, Ladies and Gentlemen,
This is our final newsletter of the deployment and the last from me in Command as I move onto West Battery in Whale Island when I return.
A huge thank you to you all for making the past 18 months such an adventure and incredibly professionally satisfying. To everyone we met in Ledbury during our triathlon challenge, thank you for your hospitality and I'm glad your recent WW I Centenary commemorations, which we discussed last year, was such a success.
To the members of the RNA Chichester, I look forward to seeing you again in the autumn, and to all the Sunday School children at St Mary's Church, Chiddingfold, thank you very much for your 'good luck' card and I will hopefully meet many of you at your Patronal Festival and BBQ in September.
Kindest Regards,
Steve
Lieutenant Commander S J White Royal Navy
Commanding Officer
HMS CHIDDINGFOLD
MCM2 Crew 5 - Leading the Hunt"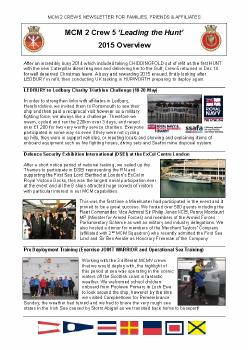 I am sure that all members of our community will join me in thanking Steve for his informative updates and wishing him and his ship's company the best of good fortune in whatever challenges lie ahead.
---
9 Jul 10 - MCDOA members exercise NSRS
I am grateful to MCDOA member Del McKnight for allowing me to publish these photos of the NATO Submarine Rescue System (NSRS), including the Submarine Rescue Vehicle (SRV), during an exercise.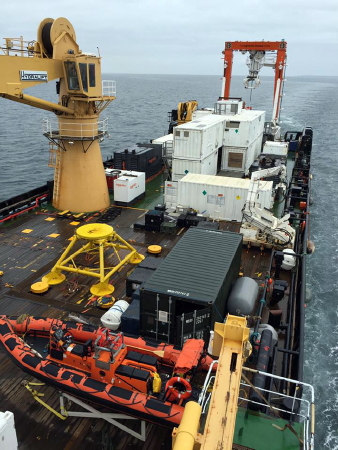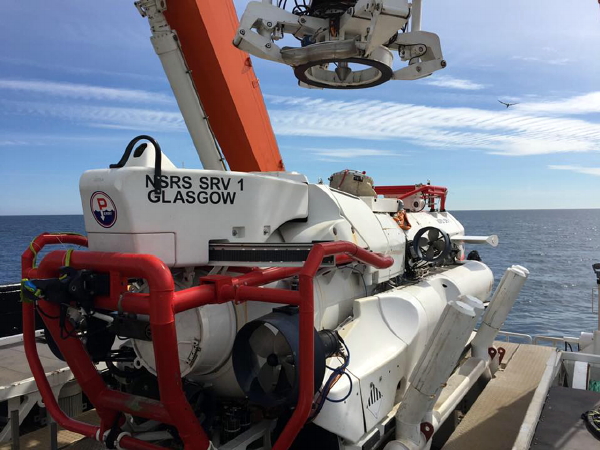 Del has informed me that this was the culmination of several weeks at sea for the NSRS team including a dive in excess of 600 metres to prove the system. The exercise also involved MCDOA members Tony Hampshire, Damian Slattery and Simon Presdee.
MCDOA member Kev Stockton has also contributed this photo of himself in the SRV during a deep dive exercise in 2011 when he reached a depth of 613 metres by gauge.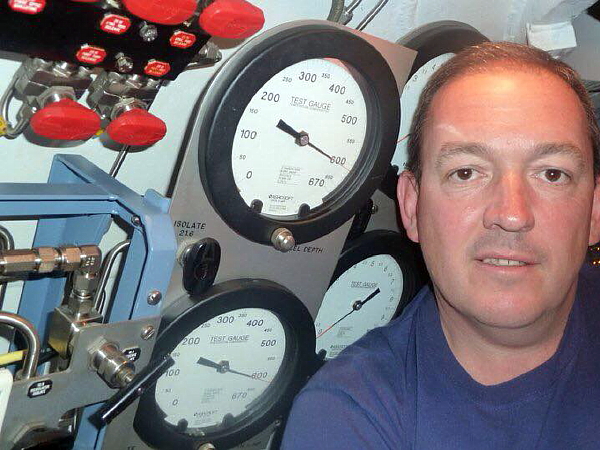 ---
8 Jul 16 - Sign up for the Vernon Heritage Conference at Gunwharf Quays

On the final stretch
A Vernon Heritage Conference is to be held on Friday 23 September in the Aspex Gallery occupying part of Vulcan Building in Gunwharf Quays, the former site of HMS Vernon. Apart from promising to be a thoroughly entertaining event for all interested in our minewarfare & diving heritage, it will also raise funds for the Vernon Monument and the RN & RM Charity (RNRMC). It will be sponsored by Land Securities (who own Gunwharf Quays), the Society of Underwater Technology (SUT) and the RNRMC among other organisations.
Programme:
1500

Delegates arrive at the ASPEX Gallery, Gunwharf Quays; VIP delegates meet our keynote presenters and receive preferential seating.

1520

Commander John G.D. Ouvry DSO RN, by his son David Ouvry

"COMETH THE HOUR, COMETH THE MAN" Sometimes in history, just occasionally, in life and death struggles between nations, the acts of individuals tip the balance, make a critical difference to the outcome. Examples in more recent naval history are Sub Lt Barnes seizing an Enigma machine from a sinking U-boat, or Lt Moffatt crippling the Bismarck with a torpedo from his Swordfish. And then there was the bravery of Lt Cdr John Ouvry in November 1939, when he disarmed a German magnetic mine in the mudflats of the Thames estuary to reveal its secret and enabling us to neutralise this deadly weapon that was threatening to throttle our sea lanes and haemorrhage the very life blood of our nation. From 1939, Ouvry was Head of the Enemy Mining Section at HMS Vernon. By experience, training and temperament, he was perfectly placed to play this key role. For the rest of the war, he was up against it, either at the business end or passing on his expertise to the next generation of sailors. This talk brings to you the character and actions of John Ouvry - quiet, calm, diffident, quite a Foyle character - a man to whom, with his brave colleagues, the nation owes a great debt and whose legacy is with us today.

1600

Dr Albert Beaumont Wood OBE DSc, by Mike Underwood, author of "Gunwharf Quays" and conservation architect during the redevelopment of HMS VERNON site into Gunwharf Quays.

Known as "A B Wood", he was a brilliant British physicist who became Chief Scientist at HMS Vernon. He made significant contributions in underwater acoustics - ASDICS/sonar - through two world wars. He gained his OBE at Vernon for investigating enemy mines.

1640

Interval

1710
Commander Lionel "Buster" Crabb OBE GM RNVR, by MCDOA associate member Dr. John Bevan, author of "What Really Happened" and Chairman of the Historical Diving Society (HDS). As a member of the RN Scientific Service, John also set a new world record in 1970 by diving to a simulated depth of 1,500 ft in the Deep Trials Unit (DTU) at RNPL Alverstoke. Much more recently he was responsible for establishing the HDS Diving Museum at Stokes Bay.

Cdr Crabb was a retired Royal Navy frogman and MI6 diver who vanished during a reconnaissance mission around a Soviet cruiser berthed at Portsmouth Dockyard in 1956. What really happened?

1750

Cheese & Wine reception followed by a raffle & auction of exclusive Project Vernon-related merchandise and collectibles with all proceeds going to the two charities.

1900

Delegates depart.
Long-term followers of this website will be familiar with the significance of each of the subjects in Royal Navy minewarfare & diving history, as well as the speakers who will provide further insight into their character and achievements.
There should also be an opportunity to meet Andrew Bailey, son of the late Elect Lt William 'Bill' Bailey CBE DSC GM* RNVR. Bill Bailey, trained at HMS Vernon like Ouvry and Crabb, was awarded the GM (George Medal) for his underwater work in the Mediterranean where he preceded and overlapped Crabb in countering the Italian Chariot raids on shipping anchored at Gibraltar. He was awarded the DSC (Distinguished Service Cross) for port clearance operations from June to September 1944 and a bar to his GM for "exceptional gallantry, skill and great devotion to duty, often in close proximity to the enemy, during mine-searching and clearance operations in the ports of Normandy and the Low Countries" as OIC of 'P' (Port) Parties 1502 and 1574.
Lt 'Bill' Bailey CBE DSC GM* RNVR and in 'P' Party diving dress
In a sense, 2016 is HMS Vernon's centenary year as a shore establishment because it is 100 years since the first unit, the Mining School, came ashore, into Vulcan as it was then named, from the floating establishment in Portchester Lake.
This conference is an event not be missed and is for two causes dear to our hearts. For further information including ticket sales, visit the Project Vernon website here:
Vernon Heritage Conference: 23 Sep 2016
---
7 Jul 16
HDS Diving Museum Newsletter
This month's Historical Diving Society (HDS) museum newsletter can be downloaded here:
---
Gentlemen Who Lunch
The MCDOA's 'Not Quite the Last of the Summer Wine Trio' of Barlow, Holloway and Hoole was out and about this week on Wednesday owing to Barlow having been fitted with his latest hearing device on our more usual Tuesday. Barlow's new hearing aid, costing the equivalent of a small country's GDP, includes a remote microphone cum transmitter like those worn by TV presenters. The microphone is either worn by an interlocutor or placed strategically (e.g. the middle of the table) from where it wirelessly broadcasts sound direct to Barlow's earpiece.
This week, our trio visited The Victoria Inn in the picturesque South Downs village of West Marden in West Sussex.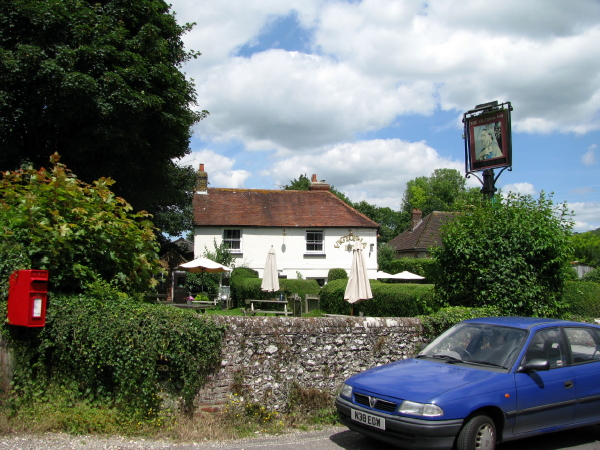 This pretty country pub, set back from the narrow road, has a large beer garden at the front. There was considerable overspill parking on the road outside but we managed to find space in the relatively small car park.
There is also a pleasantly sheltered hardstanding adjacent to the building's main entrance which is where we chose to sit.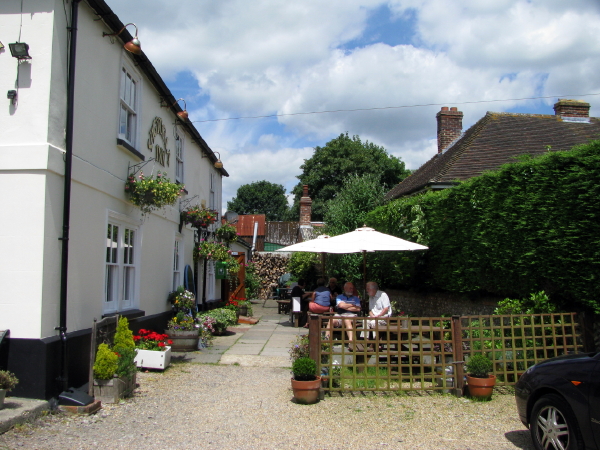 Inside, the bar was the focal point from which several unfussy rooms radiated. All areas seemed fresh, airy and well-appointed.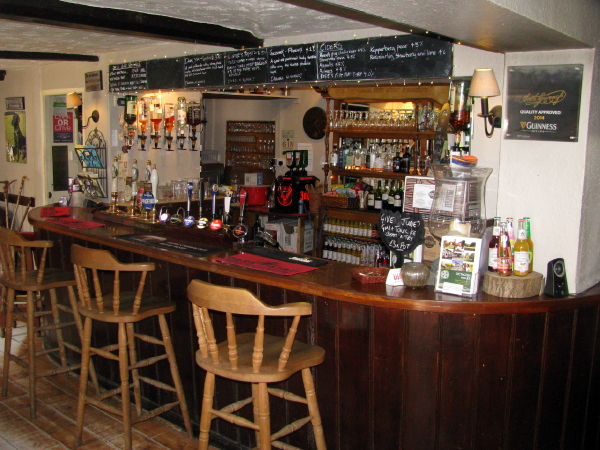 The pub keeps three real ales, all brewed locally. We decided on the Goldmark Phoenix (ABV 4.1%) described as "A fiery amber brown ale with hints of caramel and toffee, finished with a smooth bitter ending." It is brewed at the Goldmark Brewery in Arundel, West Sussex but we could also have chosen Dark Star Hophead (ABV 3.8%) described as "An extremely clean-drinking pale golden ale with a strong floral aroma and elderflower notes from the Cascade hops." which is brewed at the Dark Star Brewery in West Sussex or Listers Best Bitter (ABV 3.9%) described as "Traditional ale but triple hopped. Full flavoured, balanced and moreish with a caramel finish." which is brewed at the Listers Brewery, Ford in West Sussex. We did not regret our decision as our beer tasted delicious. Coincidentally, the drayman arrived to remove the empties and restock the cellar while we were there.
The pub also has an extensive menu of reasonably priced meals and the 'light bites' on the bar menu surprisingly include calamari & chips. Holloway plumped for a hand cut ham & English mustard baguette while I chose a prawn & Marie Rose sauce baguette. To celebrate Barlow buying the first round, Holloway and I clubbed together to buy him a portion of chips.
While we waited for our food, Barlow and Holloway launched into a round of colourful jokes, some of which involved the risqué antics of Australians and kangaroos. I dissolved into a fit of the giggles when it suddenly occurred to me that these might be overheard by any little old lady within range who was wearing a hearing device similar to Barlow's. When they arrived, our baguettes, baked on the premises, were generously filled and accompanied by a salad garnish with French dressing. Barlow's chips, contained in a wire basket, were perfectly cooked; crisp on the outside, soft and fluffy on the inside and tasting wonderful. Our food was served by Rory and Donna who were polite, efficient and friendly.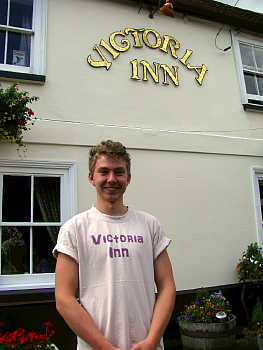 Somehow, this delightful country pub had escaped our attention during the 14 years we have been conducting our relentless research on behalf of the MCDOA. Now that we are aware of its existence, I am sure we will be back. It is awarded a creditable 4.5 diving helmets (or mines) out of 5 and is highly recommended for a visit by anyone in the Portsmouth/Chichester area.
---
6 Jul 16 - HMS Hurworth exercises with Merlin
The Royal Navy website contains this article describing exercises in the English Channel involving HMS Hurworth (MCM2 Crew 1) and a Merlin Mk 2 helicopter from 824 Naval Air Squadron based at RNAS Culdrose.
---
RN MInewarfare & Diving Heritage: Transatlantic deployments
Twenty years ago, the Hunt class MHSCs HMS Berkeley (now HS Kallisto in the Greek Navy) and HMS Chiddingfold plus the Sandown class MHCs HMS Bridport (now EML Ugandi in the Estonian Navy) and HMS Cromer (now the harbour training ship Hindostan at BRNC Dartmouth), supported by Forward Support Unit 01 embarked in MV Italica, crossed the Atlantic to participate in Exercise PURPLE STAR 96 (29 April to 19 May 1996) as described in these articles from the May 1996 and July 1996 issues of Navy News.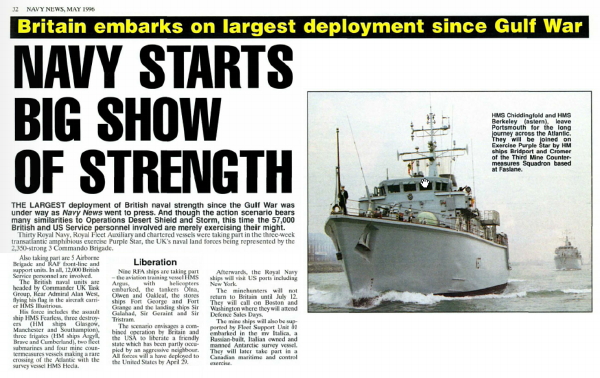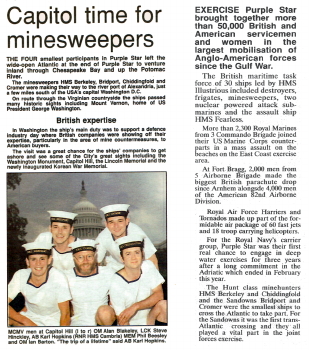 Two articles from the July 1996 issue of Navy News
As one of the articles describes, the ships passed many historic sites including Mount Vernon which had a connection with 'Old Grog' after whom HMS Vernon was named as Wikipedia explains here:
"...when Washington's older half-brother, Lawrence Washington, inherited it, he changed its name to Mount Vernon in honor of Vice Admiral Edward Vernon, famed for the War of Jenkin's Ear and capture of the Portobelo, Colón. Vernon had been Lawrence's commanding officer in the British Royal Navy. When George Washington inherited the property, he retained the name."
Hunts had already crossed the Atlantic in 1985 when HMS Brecon (now a static training ship at HMS Raleigh), HMS Chiddingfold, HMS Cottesmore (now LNS Skalvis in the Lithuanian Navy) and HMS Dulverton (now LNS Kuršis in the Lithuanian Navy) visited the US eastern seaboard as described in this article from the August 1985 issue of Navy News: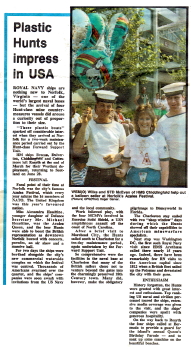 These photos were taken at the time: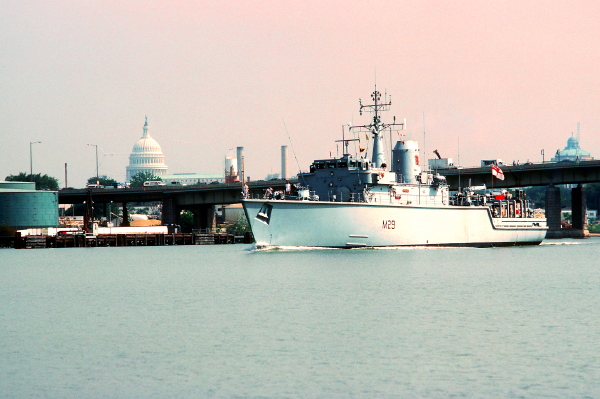 HMS Brecon on the Anacostia River after visiting the Washington Navy Yard in 1985.
The US Capitol building is visible in the background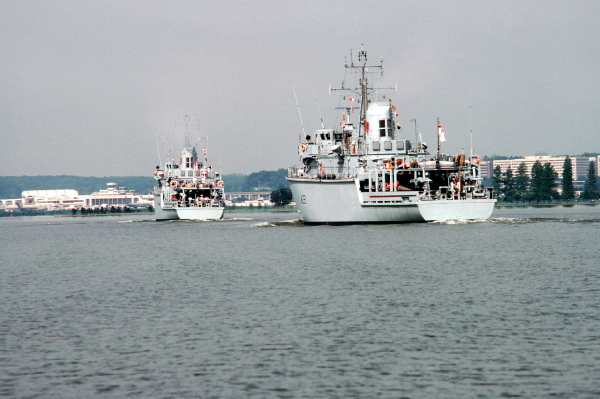 HMS Brecon and HMS Cottesmore (foreground) approaching the confluence of the Potomac
and Anacostia rivers at Hains Point after visiting the Washington Navy Yard in 1985.
The National Airport is visible in the background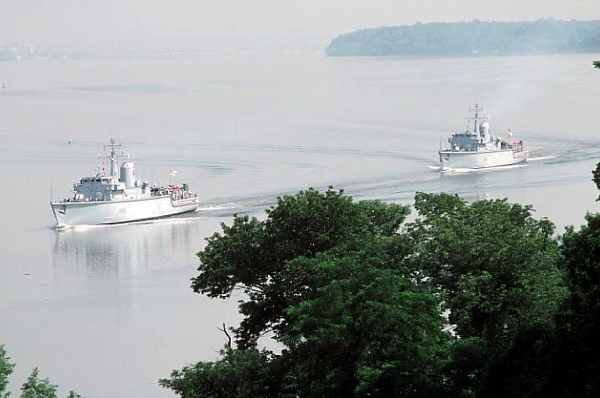 HMS Brecon and HMS Cottesmore approaching Fort Washington on the Potomac River
in 1985 after visiting the Washington Navy Yard
The most recent transatlantic deployment of RN MCMVs was Exercise AURORA in 2004 when the Hunt class MHSC HMS Middleton and the Sandown class MHCs HMS Pembroke, HMS Sandown (now EML Admiral Cowan in the Estonian Navy) and HMS Walney (now decommissioned), supported by RFA Sir Bedivere (now NDCC Almirante Saboia in the Brazilian Navy), participated in Exercise RAPID ALLIANCE. They paid visits to the Azores, Bermuda, Norfolk Virginia, Boston, Halifax Nova Scotia and St John's Newfoundland.
From the Jul/Aug issue of Warship World (see entry for 27 Jun 2004 in News Archive 6).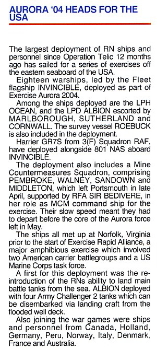 RNR MCMVs have also crossed the Atlantic for MAPLEHAUL deployments to the eastern seaboard of Canada. In 1973, the long gone Ton class MSCs HMS Venturer (HMS Hodgeston) of Severn Division, HMS Curzon (HMS Fittleton) of Sussex Division, HMS Solent (HMS Crofton) of Solent Division and HMS Mersey (HMS Pollington) of Mersey Division, accompanied by the tanker RFA Brown Ranger, visited St John's in Newfoundland, Halifax in Nova Scotia and Charlottetown on Prince Edward Island for the 50th anniversary of the Canadian Reserve Forces.
In 1985, the River class MSFs HMS Carron, HMS Dovey and HMS Waveney visited St John's in Newfoundland, Sydney and Halifax in Nova Scotia, Charlottetown on Prince Edward Island and Shediac in New Brunswick to coincide with 75th anniversary of the Royal Canadian Navy.
From the August 1985 issue of Navy News: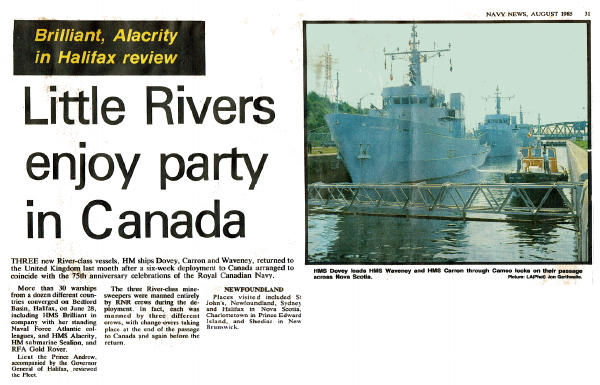 ---
5 Jul 16
SDU2 detonates cannon shell
The BBC News website contains this article and the Dorset Echo website this article (both including video) describing today's disposal, presumably by members of Portsmouth-based Southern Diving Unit 2 (SDU2), of a cannon shell discovered in sand dunes at Knoll Beach in Studland Bay.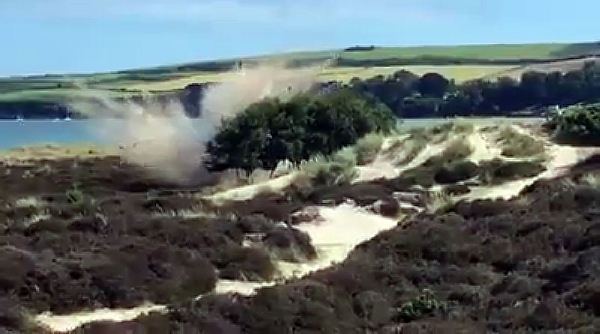 ---
Team Wizard in the Round the Island Race
I am grateful to MCDOA member Geoff Goodwin for this message:
"Dear Friends,
Wizard took part in the Round the Island Race 2016 as planned.
Some 1,500 boats registered to start, of which over 300 retired because of the weather conditions, being on the very edge of what might be considered safe for some smaller craft. We experienced winds up to 30 knots (some others reported gusts of 45!) which resulted in a hard bash down the Western Solent against a choppy sea, with the tide driving us at speeds over the ground of 9 knots, adding to the forecast wind. Our low freeboard ensured that we were kept cool by frequent sea water drenchings. Wind over tide conditions south of the Island became increasingly uncomfortable towards St Catherine's Point, with a heavy stern sea , a few breakers and still plenty of breeze. Despite the usual long leg with wind astern, very few boats hoisted spinnakers because of the difficulty with steering in the 2-3 metre swell (somebody reported 4-5 metres) and high wind. This was followed by the beat against tide along the northern shores of the Island, which at least provided respite from the earlier sea states, and with everyone trying to get the right balance between keeping clear of shallow water (eg Ryde Sands), maintaining a decent boat speed and staying out of the flooding tide.
Wizard finished in 833rd position with a time of 9:34:33. In our Contessa 32 class of 27 boats we came 16th and 9 sister Contessa 32s didn't complete the course.
Before the start of the race my aim was to improve on last year's time but after an hour's sailing I revised that aim to a) complete the course and do it safely and b) have a happy crew at the finish. Both were achieved. At the end of a day during which many MAYDAY and PAN PAN PAN messages were overheard (including: a number of "man overboards", dismastings, a smashed/lost rudder, blown out sails, groundings, various injuries and other damage and one sinking) we were pleased to finish just feeling a tad weary!
We raised £625 for Project Vernon. Many, many thanks for your generous sponsorship!
Best wishes,
Geoff Goodwin"
This makes a total of about £1,800 raised for the Vernon Monument by Geoff and Team Wizard within the past two months. Congratulations and many thanks on behalf of the minewarfare and diving community which will be immortalised in public when the Vernon Monument is erected.
---
Possible work for the brethren
I am grateful to MCDOA member Kim Godfrey for this message:
"Dear Rob,
I appreciate the website is not a job board but the project I am involved in will be an iconic UK one with a specific requirement for the types of people that the MCD cadre produce. We have just been offered full funding and are now starting the design and planning phase before we build the biggest indoor pool (50m long, 40m wide and with a 50m deep section) in the world. Supporting it will be hyperbaric and hypobaric chambers and an R&D section looking at space flight physiology. The plan is to open within the next 18 to 24 months.
As the Diving Director I've started to look at building the diving team and initially looking for ex-CD's (preferably) who also have recreational/AT instructors and supervisors (e.g. SADS) diving qualifications. This would be ideal for someone just leaving, just left or has left but with the rights ongoing qualifications.
More info on the project at: www.blueabyss.uk
3D vision can be seen at: http://www.blueabyss.uk/index.php/dive-into-the-blue-abyss
My contact details are below for those interested.
Best regards,
Kim Godfrey
Director Diving and ROVs
+44 (0) 7721 036 730
Blue Abyss Diving Limited
Constable Building
Wivenhoe Park
Colchester
CO4 3SQ

"
---
4 Jul 16 - Chris 'Paddy' Doonan's abseil down the Spinnaker Tower
It was such a fine day yesterday that Mrs Webmaster and I drove to Gunwharf Quays in Portsmouth, previously the site of the Royal Navy's minewarfare & diving alma mater HMS Vernon, to witness ex-clearance diver Chris Doonan abseil down the 170 metre (560 ft) Spinnaker Tower for The Rowans Hospice (see entry for 3 Jul 16).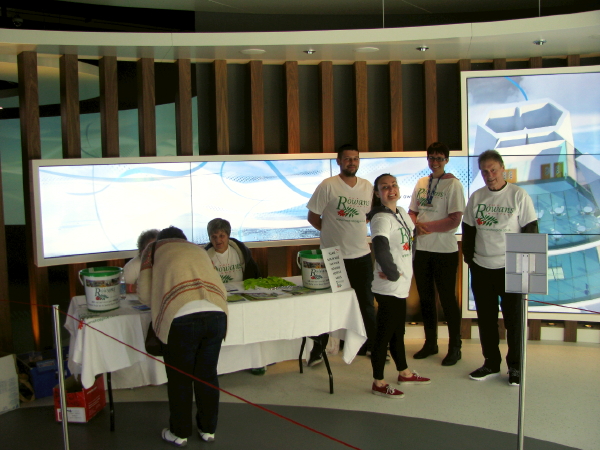 The Rowans fundraising team checking in
Above and below: Chris Doonan abseiling down the Spinnaker Tower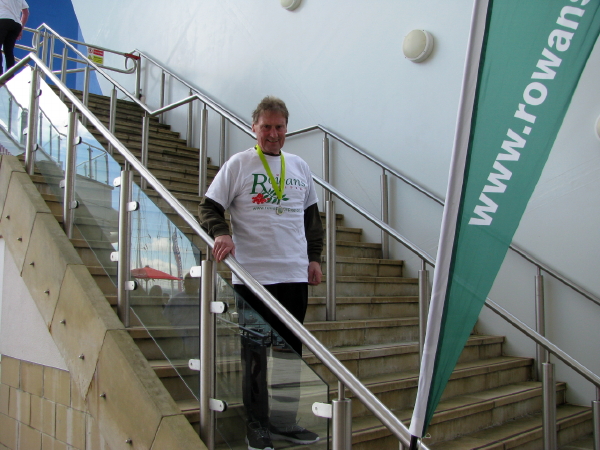 Also present to witness Chris's achievement was MCDOA former Honorary Secretary Mick Beale, no stranger to raising money for good causes himself.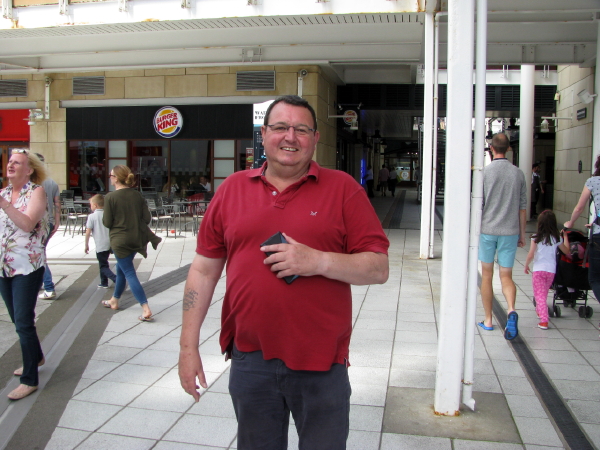 Mick Beale at Gunwharf Quays
It was also good to see MCDOA committee member Graham 'Tug' Wilson MBE and his fellow Pompey FC supporter Tim Sizer at an adjacent table outside the Slug & Lettuce.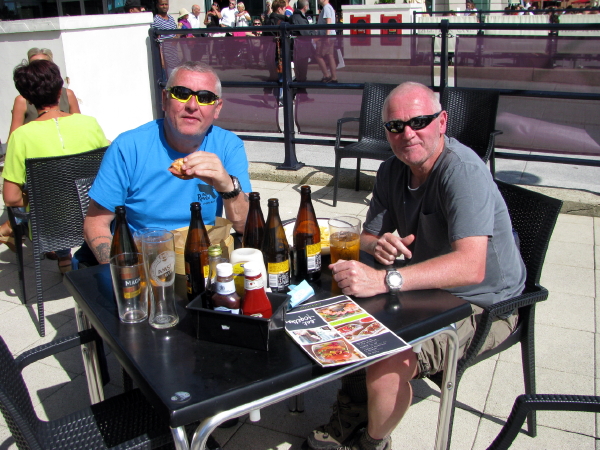 Tug Wilson and Tim Sizer lunching al fresco at Gunwharf Quays
Well done Chris for smashing his £1,000 charity fundraising target by almost £200.
---
3 Jul 16 - It's today! Sponsor Chris 'Paddy' Doonan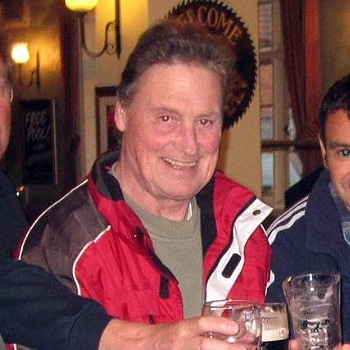 Ex-CD Chris 'Paddy' Doonan
Well-known ex-clearance diver Chris 'Paddy' Doonan is due to abseil down the Spinnaker Tower at Gunwharf Quays, formerly HMS Vernon, at 1500 this afternoon. He is performing this feat to raise money for The Rowans Hospice. Please lend him your support by attending or, more importantly, sponsoring him here:
Chris Doonan's Just Giving page
---
2 Jul 16 - It's today! Sponsor Geoff Goodwin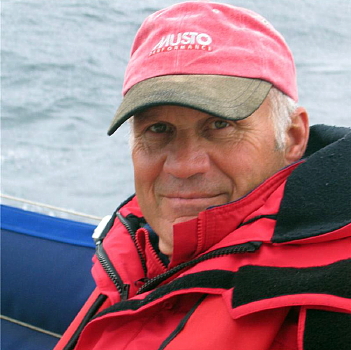 MCDOA member Geoff Goodwin
In May this year, MCDOA member Geoff Goodwin raised £1,260 for the Vernon Monument when he won the Gosport Peninsula Charity Pursuit trophy in his Contessa 32 yacht 'Wizard'. Now he is at it again in today's Round the Island Race:
"Dear Friends,
Following our success in the Gosport Peninsula Charity Pursuit in WIZARD we are planning to take part in the 2016 Round the Island Race. We are seeking sponsorship to raise funds for the same charity, Project Vernon.
PROJECT VERNON
In the hours leading up to the D-Day landings, Royal Navy divers cleared 2,000 bombs, mines and other obstructions from the approaches to the beaches. Without this work there would have been many more casualties and the landings might not have been successful. Following on from this, these diving teams cleared the explosive ordnance from the ports of Europe making them safe for shipping which enabled the resupply of allied invasion forces across the continent.
The Royal Navy has continued this work, clearing the seabed and beaches in every theatre of war since 1945, including: Suez, following the Arab/Israeli wars of the 1960s and 70s; the Falklands in 1982; during and after two Gulf Wars and in Afghanistan. They have carried out many other operations in the UK and worldwide at the same time and since. The discovery of World War II weapons and other explosives off our coasts is still a frequent occurrence.
There is no statue to commemorate this work, nor any memorial to those who lost their lives. The Vernon Project aims to put this right by erecting a statue on the site of the old HMS VERNON (now Gunwharf Quays) where these personnel were trained and based.
Please give generously at:
http://uk.virginmoneygiving.com/GeoffGoodwin
To find out more about Project Vernon visit:
http://www.vernon-monument.org
Many thanks,
Geoff Goodwin"
During the 1970s, Geoff was the First Lieutenant of HMS Laleston (where we briefly served together in 1973) and HMS Bossington, both based at HMS Vernon. In 1982, I relieved him as LMCDO Training Officer in HMS Vernon whereupon he assumed Command of HMS Wolverton in Hong Kong. MCDOA members of a certain age may remember him allowing us to use the wardroom at HMS Dolphin for our annual dinners when he was the establishment's Commander in the mid-1990s, despite the risks to the chandeliers!
Please dig deep and don't forget to add the Gift Aid which boosts your contribution by 25%.
Watch the race live and track the GPS position of Geoff's Contessa 32 'Wizard' via this website. This was his position at 1057: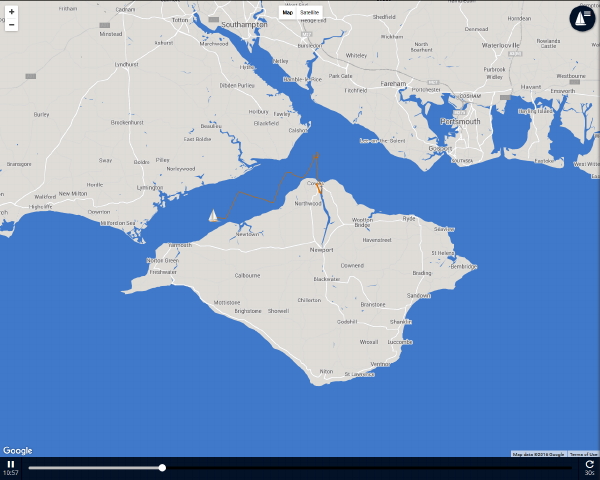 .
---
1 Jul 16 - HMS Pembroke to escort MS Queen Elizabeth into Liverpool
The Royal Navy website contains this article announcing that HMS Pembroke (MCM1 Crew 1) will escort the 90,000 ton Cunard cruise liner MS Queen Elizabeth (not QE2 as the article states) from the Bar Light into Liverpool's Cruise Liner Terminal tomorrow, arriving at 0715. The ships previously encountered each other in the Baltic early last month (see entry for 14 Jun 16).
HMS Pembroke will berth at Canning Half-Tide Dock until Tuesday and will be open to the public from 1100 until 1600 on Sunday. She will host local schools and colleges on Monday as well as Merseyside Fire & Rescue Service.
HMS Pembroke open to visitors while in Liverpool for the 70th anniversary of the
Battle of the Atlantic in May 2013 (See entry for 24 May 13 in News Archive 42)
---
30 Jun 16 - Wartime shell detonated in Dorset
The Dorset Echo website contains this article describing last Sunday's disposal, presumable by members of Portsmouth-based Southern Diving Unit 2 (SDU2) of a Second World War 25 lb shell found by a fisherman at Friar's Head in Kimmeridge.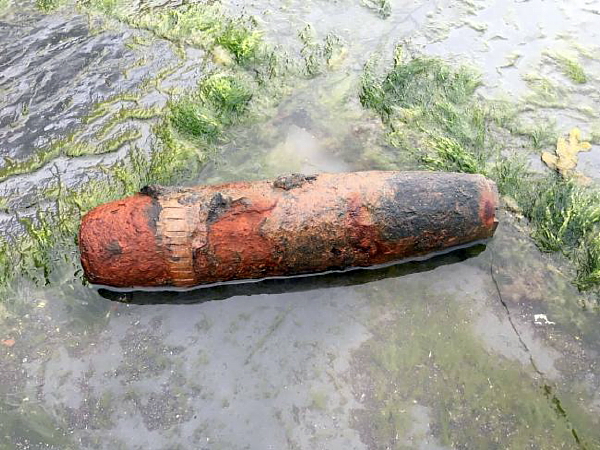 (Photos by Kimmeridge Coastguard)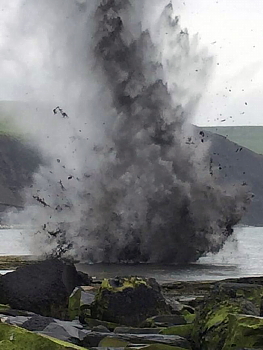 ---
29 Jun 16 - HMS Fittleton Disaster: 40th Anniversary Services of Remembrance and Commemoration
I am grateful to former WO(MW) Dixie Dean MBE and MCDOA member Mick Beale for drawing my attention to this announcement regarding ceremonies in memory of HMS Fittleton. She capsized and sank with the loss of 12 lives in the North Sea on 20 September 1976 after a collision with HMS Mermaid while on passage to Hamburg: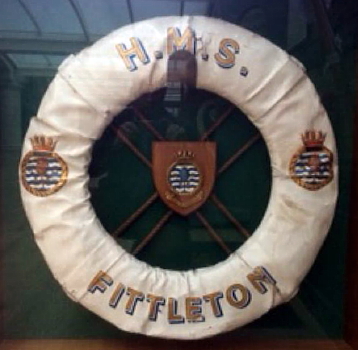 Lifebuoy salvaged from HMS Fittleton at HMS President
(London Division RNR)
"This year marks the 40th Anniversary of the loss of HMS Fittleton and twelve of her ships company.
On Sunday 18 September 2016 at 1500 there will be a service of remembrance at Fittleton parish church in Wiltshire and on Tuesday 20 Sep 16 at 1930 there will be a commemoration at HMS President [Commanded by MCDOA member John Herriman]. The majority of those on board were reservists from London division, although there were others from Sussex division and the regular RN.
For more details contact the Ton Class Association Secretary, Peter Down, on 01449 721 235 or email him at this address."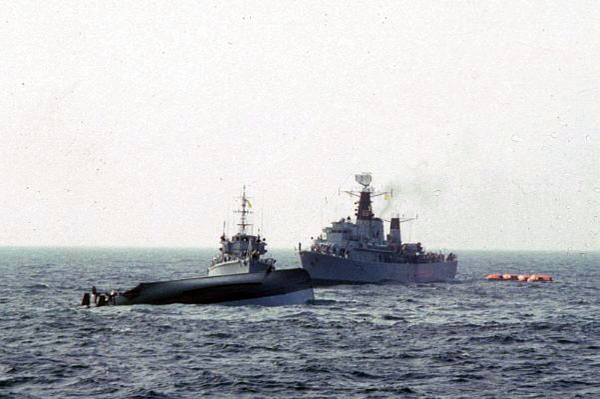 Capsized HMS Fittleton with HMS Hodgeston and HMS Mermaid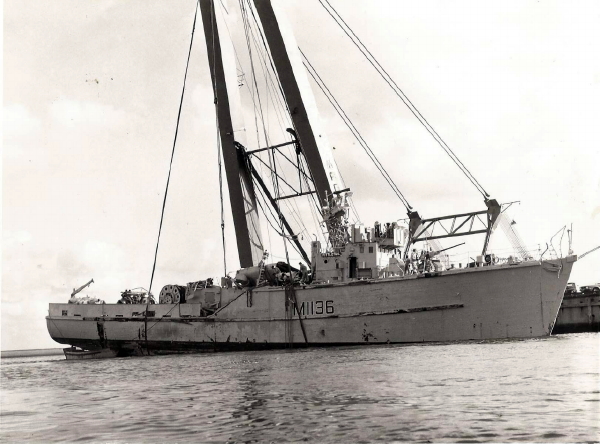 Salvage of HMS Fittleton by the floating crane Magnus II
Left: HMS Fittleton at Den Helder
Right: HMS Fittleton being brought home to Chatham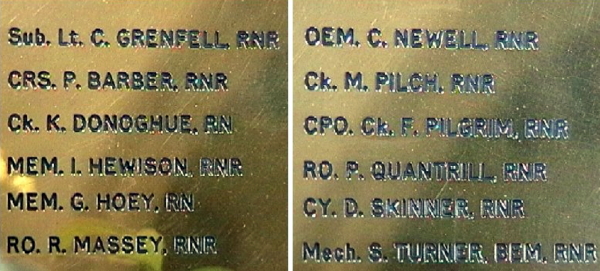 Part of memorial plaque in All Saints Church, Fittleton listing personnel lost in HMS Fittleton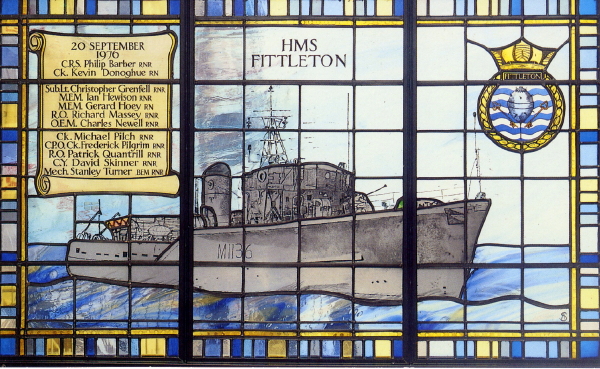 HMS Fittleton memorial window at HMS President (London Division RNR)
---
28 Jun 16
Award of LS&GC clasp and medal
Congratulations to WO1(MW) Craig Campbell MBE on being gazetted for the award of a clasp to his Long Service & Good Conduct medal and to PO(D) Darren Lewis on being gazetted for the award of the Long Service & Good Conduct medal.
---
Gentlemen Who Lunch
Insufficient time to write a full Good Pub Guide review this week although I can recommend the Young's Bitter and the Prawn & Crayfish Salad. The MCDOA's 'Not Quite the Last of the Summer Wine' trio of Barlow, Holloway and Hoole held its regular Tuesday lunchtime gathering today in the pleasant courtyard behind the Sussex Brewery next door to Barlow's cottage in Emsworth. As ever, we were well looked after by the pub's Greek hostess, Katya.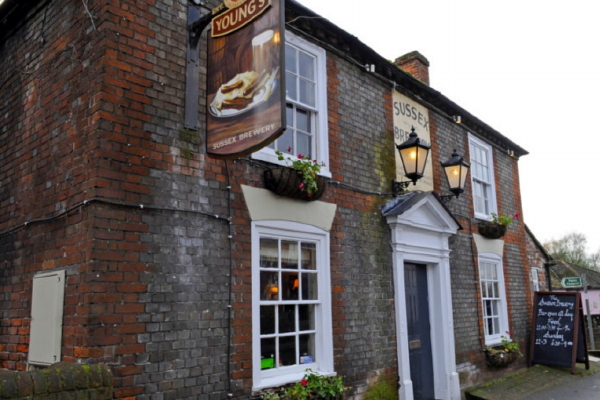 Left: Barlow, Holloway and Hoole
Right: Barlow, Katya and Holloway
---
27 Jun 16 - AORNFCD raises £444 for the Vernon Monument
Congratulations to the committee and members of the Association of RN First Class Divers (AORNFCD) for raising £444 towards the Vernon Monument at their gathering in Portsmouth earlier this month.
The proceeds came from the raffle of a miniature of the monument and a copy of 'United & Undaunted - The First 100 Years', a history of Royal Australian Navy diving signed by co-authors Jake Linton BEM (Patron of the RANCDA) and Hec Donohue. This book was kindly brought from 'Down Under' by Taff Sweeney, a Minewarfare & Clearance Diving Officer who has served a total of 50 years in RN and RAN uniform.
This generous donation is in addition to the thousands of pounds the AORNFCD has already contributed and once again demonstrates its continuing support in the best possible way. We're getting there!
---
26 Jun 16 - HMS Ledbury marks WW1 centenary and Armed Forces Day
Personnel from HMS Ledbury (MCM2 Crew 7) marked yesterday's Armed Forces Day by leading tributes to the fallen of the Battles of Jutland and the Somme when they paraded through their namesake market town in Herefordshire (see first entry for 16 Jun 16). The town has had an affiliation with HMS Ledbury over several years, including the granting of the Freedom of the town in 2007.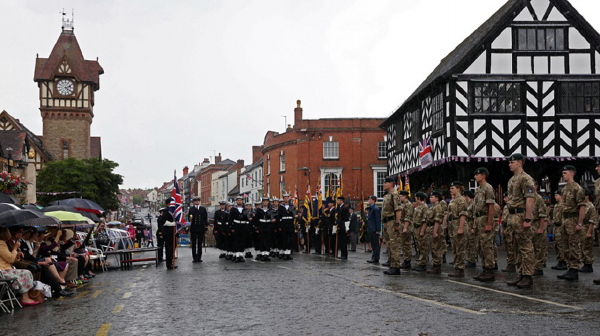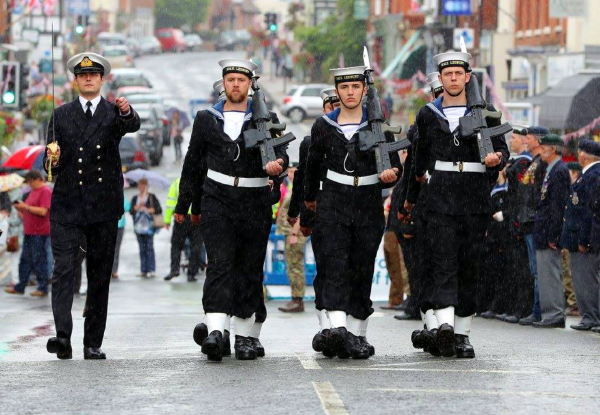 The salute was taken and the Guard was inspected by former First Sea Lord, Admiral Sir Jock Slater GCB LVO DL, who seved as a junior officer in the inshore minesweeper HMS Yaxham and later commanded the TON class minesweeper HMS Soberton. He was a specially invited guest.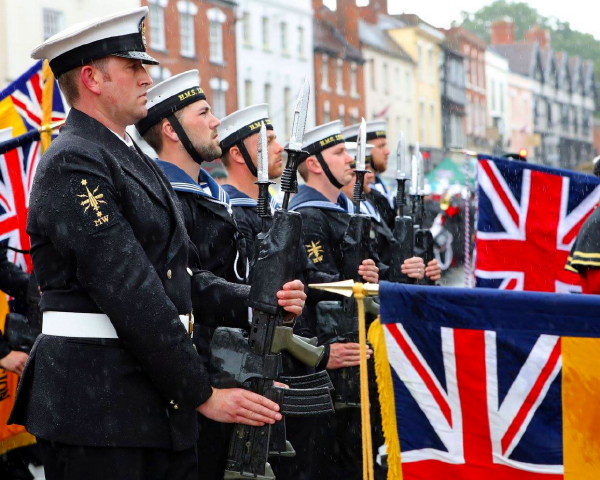 The Royal Naval Reserves Diving Branch had previously marked Armed Forces Day in their own way from the bottom of the 30m Submarine Escape Training Tank (SETT) in Gosport.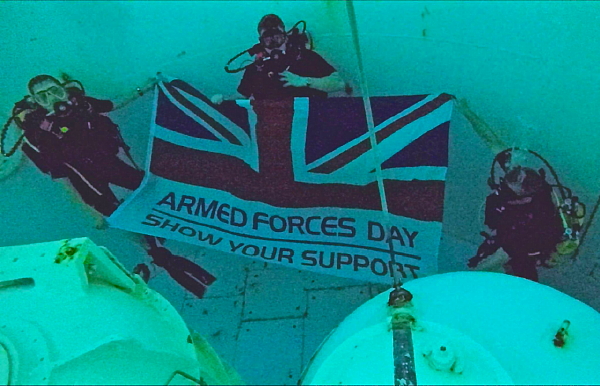 All photos from the Royal Navy.
Postscript: On 27 June, the RN website published this article covering the same story about HMS Ledbury.
---
25 Jun 16 - HMS Blyth in Grimsby for Armed Forces Day
The Forces TV website contains this article, including video, describing the arrival of HMS Blyth (MCM1 Crew 8) in Grimsby as the main attraction for today's Armed Forces Day.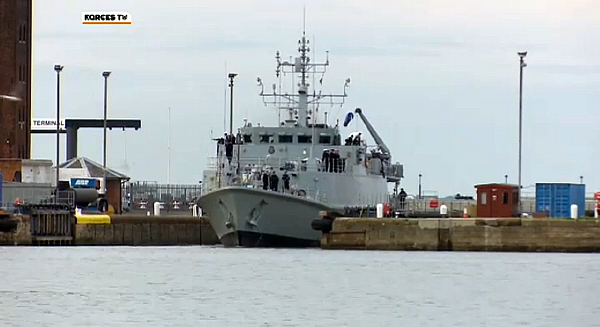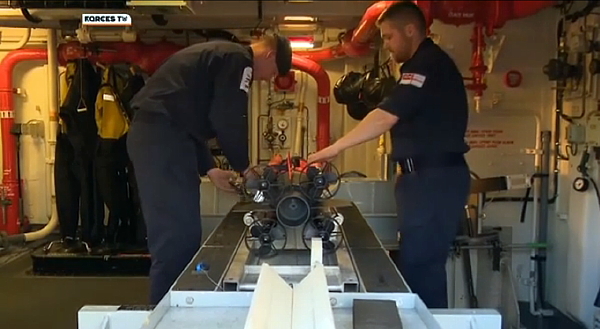 ---
24 Jun 16 - HMS Hurworth tackles Three Peaks Challenge
The Royal Navy website contains this article describing how ten personnel from HMS Hurworth (MCM2 Crew 1) have undertaken the Three Peaks Challenge. This involved climbing Ben Nevis in Scotland (4,414 ft), Scafell Pike in England (3,200 ft) and Mount Snowdon in Wales (3,560 ft), all within 24 hours. The team raised £800 for its chosen charity.
Left: The team at the base of Ben Nevis
Right: AB Sean Candler unfurls the Navy's standard at the summit of Snowdon
(RN website photos)
The article features XO Simon Reeves, LS(D) Luke 'Rocky' Halbauer and AB Sean Candler.
Postscript: On 2 July, the Portsmouth News published this article covering the same story.
---
23 Jun 16 - NDG deals with ordnance on beach at Nairn
The Scotsman website contains this article (featuring PO(D) Adrian Wilcock) and the Aberdeen Press & Journal website this article (including video) describing last Monday's disposal, presumably by members of Faslane-based Northern Diving Group (NDG), of five items of Second World War ordnance. The four solid shot shells and a barrage rocket with its warhead still intact were found on the beach at Duck Island near Culbin Forest to the east of Nairn in the Scottish Highlands.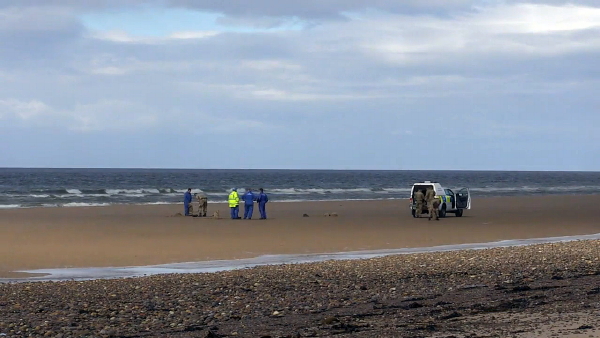 ---
22 Jun 16 - Gentlemen Who Lunch
The MCDOA's 'Not Quite the Last of the Summer Wine ' trio of Barlow, Holloway and Hoole have each been on their holidays recently so yesterday was our first Tuesday get-together for over a month. We called on fellow MCDOA member Jon Riches (Superintendent of Diving 1987 to 1990) in Bishop's Waltham and he introduced us to his local, a fine pub at nearby Dundridge called the Hampshire Bowman.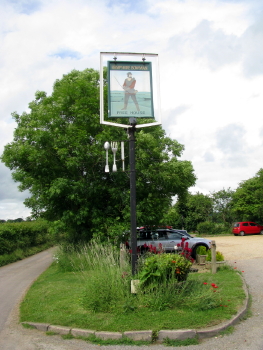 Set in spacious grounds with plenty of outdoor seating, this country pub has a good selection of real ales, reasonably priced food and friendly, efficient service. Riches chose to drink his usual Bowman Ales Swift One ("A pale, golden quaffing ale. Hoppy throughout with a dry finish") while the rest of us opted for pints of Oakleaf Quercus Folium ("Traditional hoppy bitter with a malty aftertaste"). Both of these locally brewed ales were poured from casks behind the bar and tasted delicious.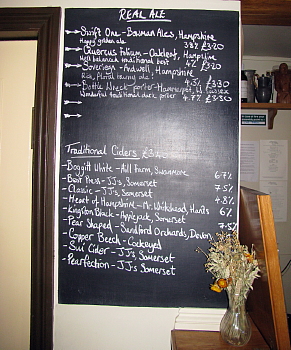 Holloway selected a tuna mayonnaise sandwich on granary bread while Riches and I plumped for jacket potatoes with a generous filling of bacon and melted brie. These came from the basic bar menu but there is also a more adventurous main menu and 'specials' board for those requiring something more substantial (link). Our dishes arrived promptly and were perfect in every way.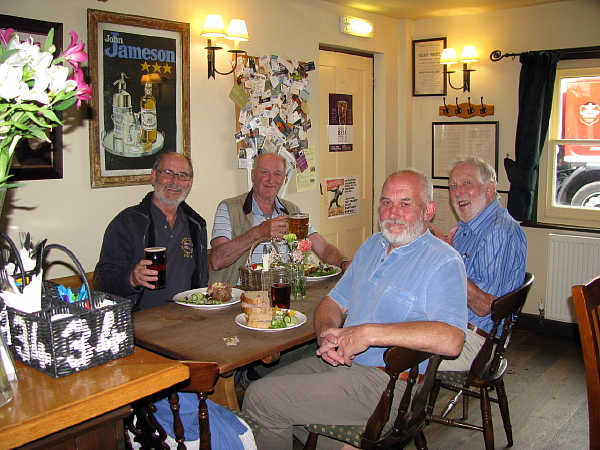 As a bonus, we even encountered some friends of fellow MCDOA member Jules Malec but isn't it strange how we always seem to be the last to leave?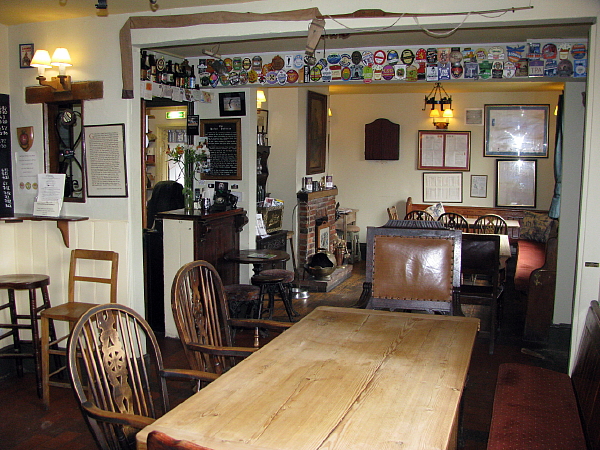 The Hampshire Bowman is clean, airy, well-appointed and in good decorative order. It is highly recommended for a visit and the MCDOA's occasional Good Pub Guide awards it a thoroughly well-deserved five mines (or diving helmets) out of five.
---
21 Jun 16 - Are there any surviving LCOCU divers?
I have received this request:
"Hello,
I work for a TV production company in Bristol called Tigress productions as a researcher making short films for BBC1's 'The One Show'. One of our presenters, Andy Torbet, sent through this article from your website about the frogmen who were first ashore on D-Day:
http://www.mcdoa.org.uk/Operation_Neptune_Frogmen_The_First_Men_Ashore_on_D_Day.htm
We are really interested in looking further into this and I'm wondering if you know who might be the best person for me to speak with? We're hoping to see whether any of the first frogmen are still alive and whether we might be able to interview them, and hope that you might be able to point me in the right direction?
Many thanks for your time,
Ida-May Jones | Researcher,
The One Show"
The only LCOCU (Landing Craft Obstacle Clearance Unit) diver I ever knew was MCDOA Honorary Life Member Lt Cdr 'Robbie' Robinson MBE, a personal friend who passed on in February 2004. If you know of any others still around, or their surviving relatives, please contact me via my Webmaster email address.
---
20 Jun 16 - MCM2 Crew 2 returns from the Gulf
The Royal Navy website contains this article announcing the return of MCM2 Crew 2 after manning HMS Middleton on Operation KIPION in the Gulf for the past seven-and-a-half months. They flew into RAF Brize Norton and will be taking over HMS Brocklesby after a spot of post-deployment leave. HMS Middleton has been taken over by MCM2 Crew 6 (ex-HMS Cattistock). The article features AB(MW) Dylan Bonas.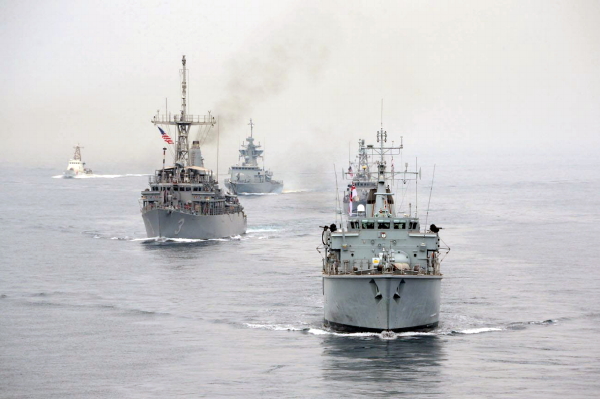 HMS MIddleton in company with allied ships in the Gulf
(RN website photo)
Welcome back, everyone.
---
19 Jun 16 - RN Minewarfare & Diving Heritage: HMS Miner VI
The Daily Telegraph website contains this obituary for Rear Admiral John Bethel Hervey CB OBE. I was struck not only by his remarkable acts of derring-do in submarines but also by the fact that his first command was the minelayer HMS Miner VI.
HMS Miner VI was launched on 7 February 1942 at Philip & Son, Dartmouth. She was employed initially by HMS Vernon for minelaying and minelaying training and from 1950 for the purposes of 'general administration and organisation'. She was also used for seaward defence training and possibly as a diving tender.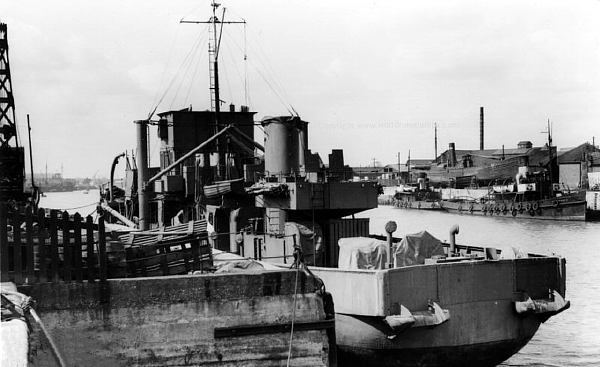 HMS Miner VI in April 1949 with her stern minelaying doors plainly visible
In the mid-1950s, HMS Miner VI deployed to Malta where she was used as a torpedo recovery vessel by the 1st Submarine Squadron. In July 1965, she was fitted with a compression chamber and supported the Mediterranean Fleet Clearance Diving Team during submarine escape trials (Exercise UPSHOT 4) with HMS Orpheus. UPSHOT 4 eventually achieved submarine escapes from a keel depth of 500 ft but UPSHOT 5 with HMS Osirus in July 1970 achieved escapes from a keel depth of 600 ft.
Miner VI was sold privately on 16 August 1968 and converted into a ferry, successively renamed Minor Eagle, Jylland II and Cominoland, still operating in Malta. She was sunk as an artificial diving reef off Gozo in 2006 (see videos here). How many other ships have given better value for money?
HMS Miner VI in Msida Creek, Malta during the 1950s and inset as the ferry MV Cominoland
in Sliema Creek, Malta in 2002
(Navy News photo)
---
18 Jun 16 - RN Minewarfare & Diving Heritage: Operation RHEOSTAT ONE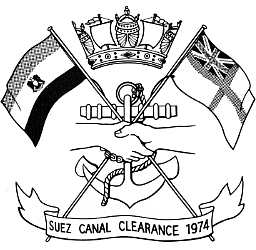 Operation RHEOSTAT ONE, the 1974 clearance of the Suez Canal following the Yom Kippur War of October 1973, was one of the most significant events in Royal Navy post-war minewarfare & diving history. The US Navy's name for the operation was NIMBUS STAR. Rear Admiral James Rapp CB, then serving as a Sub Lieutenant in HMS Abdiel, the Command & Support ship of the Task Group (TG 65.2), edited a limited distribution illustrated account of events in hardback. Apart from HMS Abdiel, TG 65.2 comprised the Ton class minehunters HMS Bossington, HMS Maxton and HMS Wilton plus the FCDT (Fleet Clearance Diving Team).
According to MCDOA member Bob White MBE who led the FCDT at the time:
"...What did we achieve? As well as finding an aircraft, a personnel-carrier and several lorries, we located and destroyed a total of 7,043 explosive items, ranging from .22 bullets to 1,000-lb bombs; we swam 303 kilometres, we saw the Pyramids, and we sincerely hope that war does not break out again so that we shall have to start all over again..."
After twenty-nine weeks operating in the Canal, the overall haul of explosives found by Task Group 65.2 comprised:
Gelignite: 458 sticks
TNT (including ordnance found in barges, lighters and lorries): 209 tons
Missiles: 78
Anti-Personnel Mines: 517
Anti-Tank Mines: 137
Anti-Tank Rockets: 145
Aircraft Drop Tanks: 3
Rockets Various: 14
Shells Various: 328
Cluster Bombs: 9
Bomblets: 508
Bombs: 1000 lb x 5, 750 lb x 3, 500 lb x 11, 250 lb x 8
Mortar Bombs Various: 48
Grenades: 192
Small Arms Ammunition: 6,473 rounds
Miscellaneous Items: 334
Scare Charges: 201
By far the largest quantity of assorted weapons and ammunition was included among the 209 tons of TNT found in lorries and lighters lying on the bottom of the Canal. One such lighter alone contained about 175 tons of ordnance. Their loads probably included thousands of items of all the types of ordnance listed above and contained equipment made in the USSR, USA, Egypt, Czechoslovakia, Israel, Denmark, Britain and Switzerland.
A follow-up operation, RHEOSTAT TWO, was undertaken in 1975 because the Canal Authority was worried that more ordnance might have been exposed as a result of dredging. This operation involved HMS Abdiel with HMS Sheraton and HMS Hubberston. When the Suez Canal clearance operations were completed, the canal and its lakes were considered 99% clear of mines. The canal was then reopened by Egyptian President Anwar Sadat aboard an Egyptian destroyer, which led the first convoy northbound to Port Said in 1975. It had been closed since the Arab/Israeli Six Day War in 1967.
Rear Admiral Rapp retired in 2005 after being Director General Trafalgar 200 for which he was appointed a CB in the 2006 New Year Honours. He had previously served as FOST (Flag Officer Sea Training) but his naval career also included serving in HMS Bronington as Navigating Officer under the Command of HRH the Prince of Wales and later commanding her sister ship HMS Walkerton. He also commanded the Type 22 frigates HMS Brazen, HMS Brilliant and HMS Cornwall. I am most grateful to him for granting me permission to publish a digital PDF version of his work with these words:
"Rob Hoole's request to 'publish' a digital version of my Operation RHEOSTAT book to interested groups made me realise that I'd not taken the book off the shelf for many years! I'm delighted that it will now get a wider airing, 42 years after we spent a hot but rewarding few months in the Suez Canal in 1974 (and for some of us a couple more in 1975).
After ABDIEL I found myself in BRONINGTON before heading for Observer training but I returned once more to the TON world in 1983 to command WALKERTON in the Fish Squadron. I have happy memories from those days many years ago and I hope those who have not seen my 'record' of Operation RHEOSTAT will enjoy reading it."
I trust that those who did not receive a copy at the time will find this of interest. Read and enjoy.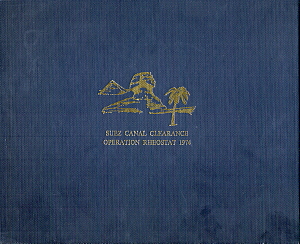 Suez Canal Clearance - Operation RHEOSTAT 1974
---
17 Jun 16
News from SNMCMG2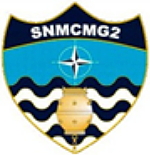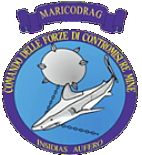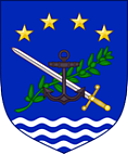 I am grateful to MCDOA member Dave Stanbury, Principal Staff Officer of Standing NATO Mine Countermeasures Group 2 (SNMCMG2) for this update on ITALIAN MINEX 16:
SNMCMG2 AND EUMARFOR COMBINE FORCES TO TAKE PART IN EX ITALIAN-MINEX16
HOSTED BY MARICODRAG, LA SPEZIA, ITALY
SNMCMG2 composed of TCG Cezayiryli Gazai Hasanpasa (Flagship), ESPS Turia, TCG Edincik and ITS Gaeta joined forces with the recently activated EUROMARFOR, composed of NRP Joao Roby (Flagship), FS Capricorn, ITS Milazzo and ESPS Duerro in order to participate in the exercise ITALIAN-MINEX 16.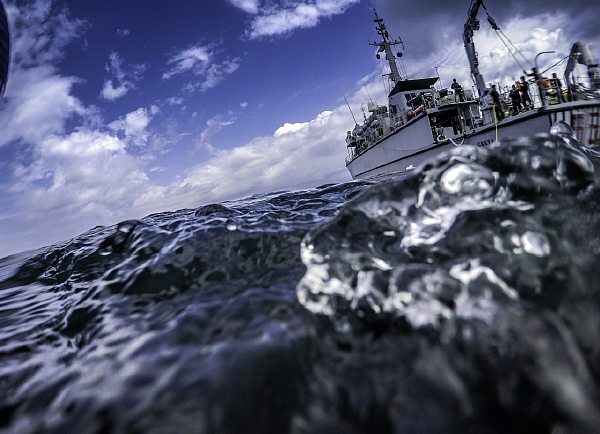 ITS Gaeta
The Italian Minex is an annual exercise, scheduled by the Italian Navy Fleet Commander (CINCNAV) and usually conducted by only the Italian Mine Warfare Forces Command (MARICODRAG).
The exercise, already in full swing, is taking place in the Ligurian Sea, with the main objective being to train naval assets in the conduct of Mine Countermeasures (MCM) Operations and to open and secure the sea lanes of communication in and around the vital Naval Port of La Spezia under a fictional scenario.
The fictional, but realistic scenario has seen all participating units carry out and initial week of Combat Enhancement Training and also Force Integration Training (CET/FIT) under the constant threat of attack from Air, Surface and Sub Surface Combatants. The week has been very demanding for the Crews of each unit and the training activities have been aimed at enhancing common working practices, unit co-operation and interoperability in the framework of MCM Operations.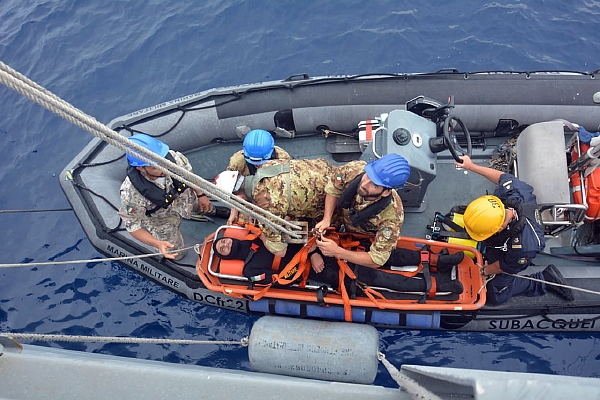 Recovery of diver casualty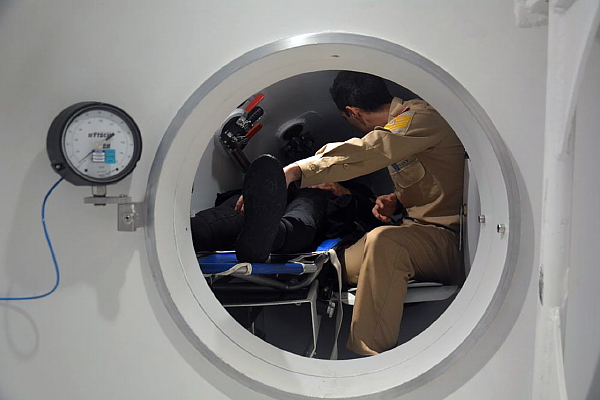 Chamber treatment of diver casualty
For the detection of exercise shapes 'mines' and decoys, the crews from the multinational force, have been using an array (no pun intended) of SONAR types, Autonomous Underwater Vehicles (AUVs), Remote Operated Vehicles and specialist Divers.
During the exercise so far, 11 exercise shapes 'mines' have been hunted and countermined, by recovery, onboard the MCMVs however, as one may expect two historic mines have also been discovered (probably from WWII).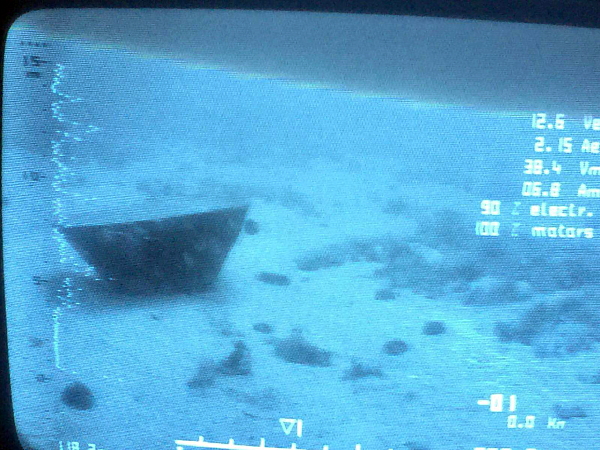 Inverted replica Manta ground mine
Left: Corroded moored mine married unit failure
Right: Chemical horn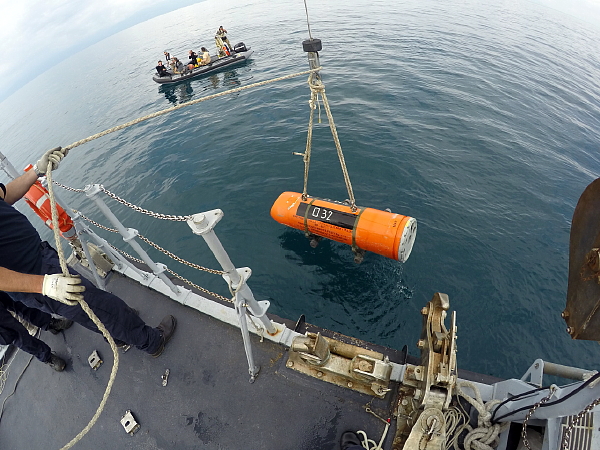 Exercise ground mine recovery
The exercise, so far, has been very beneficial for all crews. All units, on completion of mine offload will enjoy a short Logistic Support Period in La Spezia before completing the final phase of the exercise.
---
Death of The Leopard Man of Skye
Today's Daily Telegraph contains this obituary for Tom Leppard, known as 'The Leopard Man of Skye', who died on 12 June at the age of 80 (see entry for 23 Jun 07 in News Archive 18).
MCDOA member Richard 'Soapy' Watson and LMCDO '07 with 'The Leopard Man of Skye' in
2007, the year before he moved into a care home in Inverness admitting that he was getting
"too old" for the weekly canoe trip to collect his shopping (Tom Leppard, not Soapy

)