---
| | | |
| --- | --- | --- |
| | Have you ordered your miniature of the Vernon Monument yet? It is being sold in a variety of sizes, finishes and prices to raise funds for the planned sculpture at Gunwharf Quays in Portsmouth to celebrate the Minewarfare & Diving heritage of HMS Vernon which previously stood on the site. 'Project Vernon' is officially supported by Portsmouth City Council, Gunwharf Quays, the MCDOA, AORNFCD, MWA, RNCDA and the TCA. Click here for details. | |
---
30 Sep 14
HMS Ramsey to start six-month refit
The UPI website contains this article announcing that HMS Ramsey (MCM1 Crew 2 commanded by MCDOA member Ash Spencer) is about to begin a six-month refit by Babcock at a dockyard in Scotland, presumably Rosyth. Refit work will include 22 upgrades and improvements, including replacement of power generation equipment and installation of new communications capability designed by the Sandown-Class Output Management team. Maintenance work will include new paint coating and deck covering and a complete hull blast and re-coat. Slow speed drive alignment checks will be performed as well as a complete overhaul of the ship's boat crane and the reverse osmosis plant, and planned maintenance and defect rectification.
HMS Ramsey returned to her base port of Faslane on 29 August after a three-year deployment in the Gulf (see entry for 29 Aug 14). As a contrasting 'rave from the grave', here is MCDOA member Martin Mackey, her then Commanding Officer, conducting rafting practice on USS Swift (HSV 2) during Exercise COLD RESPONSE in Norway in early 2006.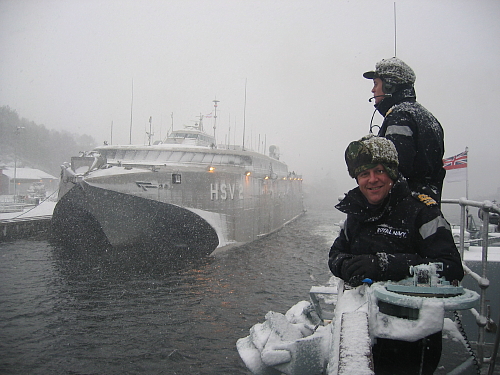 ---
Promotion for Cdr Andrew Cowan LLB (Hons) DipLP RD RNR
I am grateful to MCDOA member Martin Mackey for informing me that RNR MW specialist Andy Cowan, recently covering the West of Scotland for Commander Maritime Reserves (CMR), has been selected for promotion to Capt RNR. Martin believes his promotion was effective from 26 September 2014.
Congratulations on this fine achievement.
---
29 Sep 14
HMS Grimsby completes MCM exercise in Mediterranean
The Royal Navy website contains this article describing the participation of HMS Grimsby (MCM1 Crew 6) and other MCMVs from Belgium, France, Germany, Greece, Spain and Turkey, as well as an Italian frigate, in a minehunting exercise off Cartagena in Spain. She is currently deployed in the Mediterranean with the Standing NATO Mine Countermeasures Group 2 (SNMCMG2). The RN ship and her German counterpart, FGS Homburg, excelled by detecting and recovering six mines each.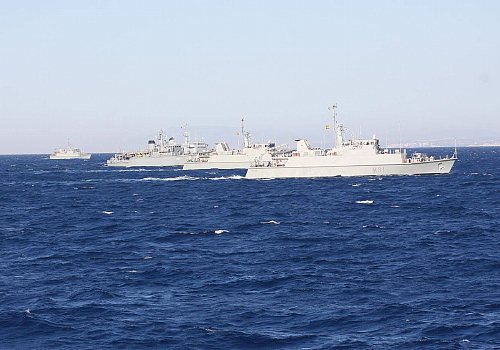 Ships of SNMCMG2 off Cartagena
(RN website photo)
---
HMS Brocklesby among warships participating in this autumn's JOINT WARRIOR
The Royal Navy website contains this article revealing that HMS Brocklesby (MCM2 Crew 1) will be among the warships participating in this autumn's biannual Exercise JOINT WARRIOR 142, due to start off the coast of Scotland on 7 October.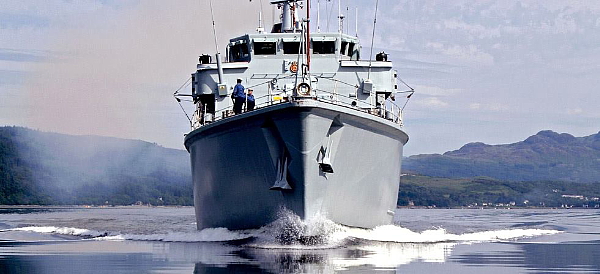 HMS Brocklesby
(RN website photo)
The exercise will involve 22 naval units and around 52 fixed wing aircraft from the UK, the USA, the Netherlands, France, Denmark, Norway, Spain, Germany, Lithuania, Belgium, Poland, Estonia and Latvia, with the US Navy's Commander Destroyer Squadron 26 (COMDESRON TWO SIX) assuming overall command of the task group. French and Danish vessels will berth at Glasgow ahead of the exercise while ships from Spain, the Netherlands, the USA, Latvia, Poland and Latvia will berth at Faslane.
---
28 Sep 14 - RN and RNR Divers around Plymouth
The Plymouth Herald website contains this article announcing the opportunity to meet members of the Royal Navy's bomb disposal team, Southern Diving Unit 1 (SDU1), at the final heritage open day of the year to be held at Plymouth Naval Base on Sunday 26 October.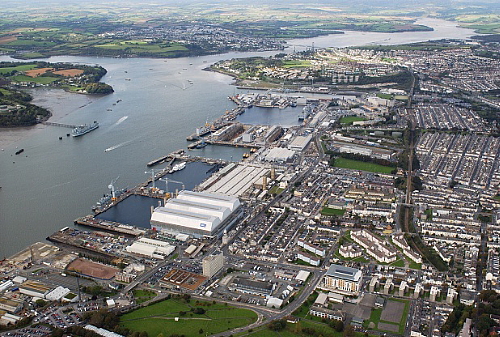 For those local to Plymouth and interested in joining the RNR Diving Branch, HMS Vivid is holding a recruitment presentation at Plymouth University tomorrow (Monday 29 September). This is a fantastic opportunity to discover what's involved in becoming a Royal Naval Reservist, and what both the Diving Branch and wider RNR have to offer. Divers will be in attendance to answer any questions specific to the Branch; while Initial Naval Training (INT) staff from HMS Vivid will tell you all you need to know about the joining process and completing INT, the first step towards becoming an RNR Diver. All are welcome.
Most recently, the RNR divers have been conducting continuation training at Portland.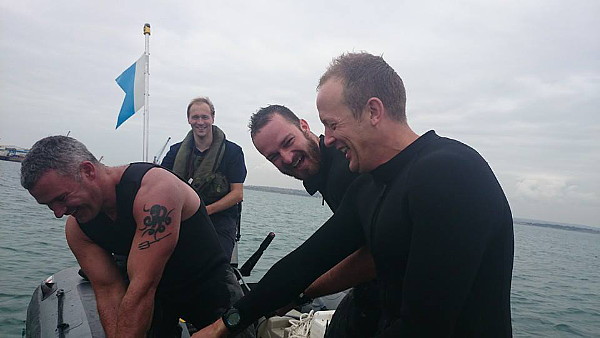 ---
27 Sep 14 - New book from David Bruhn covering US auxiliary minesweepers
I am grateful to my friend and fellow naval historian Cdr David Bruhn USN for this notification:
"Hello Rob,
My latest book, Battle Stars for the "Cactus Navy": America's Fishing Vessels and Yachts in World War II, was published by Heritage Books a month ago. I hope that you will advertise its existence to persons interested in the US Navy's equivalent of the Royal Naval Patrol Service (RNPS) in World War II, and in American minesweepers. Although the bulk of the book is devoted to anti-submarine work off America's coasts and support by former fishing vessels of operations in the South and Southwest Pacific, I have identified in the book the fishing vessels taken by the US Navy for use as coastal minesweepers (AMc) and base minesweepers (AMb). The designation of the latter vessels was short-lived, as relatively early in 1942 the US Navy reclassified these vessels as either YPs (patrol craft) or small boats.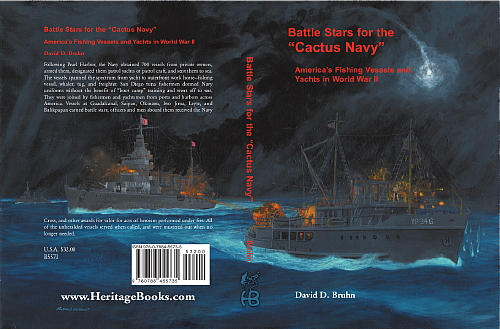 Information about this book and my other works may be found at: www.davidbruhn.com.
Sincerely,
David Bruhn"
As chronicled on this website, David has previously written these books among others:
Wooden Ships and Iron Men, Volume I: The U.S. Navy's Ocean Minesweepers, 1953-1994
Wooden Ships and Iron Men, Volume II: The U.S. Navy's Coastal and Motor Minesweepers, 1941-1953
Wooden Ships and Iron Men, Volume III: The U.S. Navy's Coastal and Inshore Minesweepers, and the Minecraft that Served in Vietnam, 1953–1976
---
26 Sep 14
Promotions to CPO(MW) and CPO(D)
I am grateful to Peter 'Taff' Reader, Vice Chairman of the Minewarfare Association (MWA), for passing on the news that the latest signal lists the following promotions to Chief Petty Officer:
PO to CPO MW (5)
COOKE, S L D257731W NCHQ PORT (MCM2 CREW 7)
DAVIES, P D229590A BRNC DARTMOUTH
FOGGIN, D M D249166N MSATT
SLEE, S D248542S HMS COLLINGWOOD
UNTULIS, L D245411W RNLA
PO to CPO D (5)
CLARK, S W D222617G SDU 2
EDMUNDSON, L D211918N MWS DDS
FENWICK, K E D236529M FDU1
MARSHALL, A C D243818V SDU1
SHEPHERD, I A W D238992H FDU 2
Congratulations to all those listed.
---
RN Diving & EOD Heritage: Portsmouth & Medway Bomb & MIne Disposal Team
In 1959 Britain's biggest cinema company, the Rank Organisation, decided to replace its newsreels with a series of short, quirky, topical documentaries that examined all aspects of life in Britain. For the next ten years, 'Look at Life' chronicled, on high-grade 35mm colour film, the changing face of British society.
More recently, the BBC revamped the footage and produced two series titled 'Britain on Film'. The following scenes appeared in an episode of Series 2 called 'The World of Work', first broadcast on 17 June 2013. They show the Portsmouth & Medway Bomb & Mine Disposal Team (forerunner of Southern Diving Unit 2) based at HMS Vernon in the 1960s. In an obvious set-up for the cameras, they are called out to deal with a beached Exercise Mk 17 moored mine, apparently near the 'Inn on the Beach' on Hayling Island. There is also footage showing the Royal Engineers performing bomb disposal work:
BBC Britain on Film - Series 2 Episode 4: The World of Work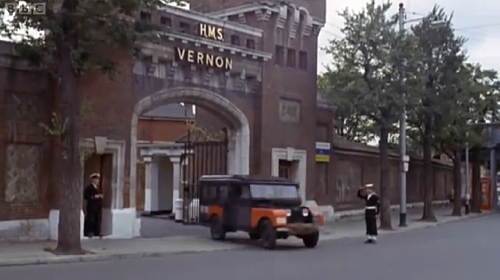 The Officer-in-Charge of the B&MD team was 39-year-old Lt Charles Leslie 'Taff' Lawrence MBE RN from Tenby, South Wales. He had been appointed an MBE in the 1957 New Year Honours for his work as the Mediterranean Fleet Clearance Diving Officer based in Malta. He died on 7 March 2006 and references to him and his career, including tributes from former colleagues, can be seen in various entries in News Archive 13. Can anyone identify the other members?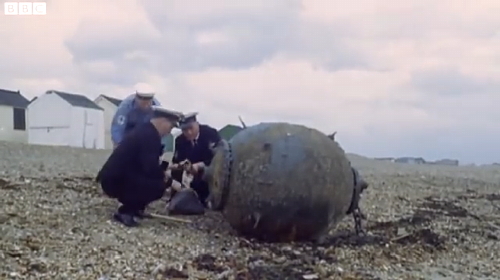 ---
25 Sep 14 - SDU2 removes obstructions in Solent
The Portsmouth News contains this article describing yesterday's explosive removal of two pillars 300 metres off the beach at Stokes Bay in Hampshire by members of Portsmouth-based Southern Diving Unit 2 (SDU2). The article features CPO(D) Simon Crew and LS(D) Luke Halbauer.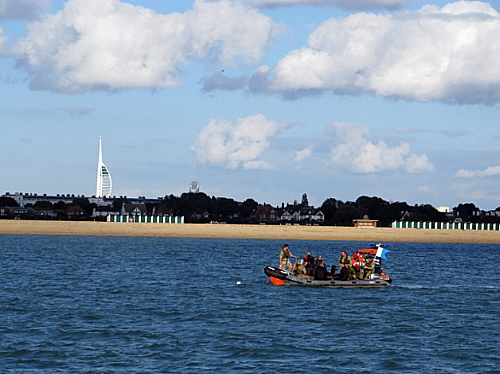 Members of SDU2 off the beach at Stokes Bay yesterday
(Portsmouth News photo)
Were these the final remains of Stokes Bay Pier or possibly the Submarine Mining Establishment pier? Did you ever wonder how the Mining Ground got its name? The following web pages are fascinating reads for Royal Navy and Royal Engineers members of our community:
Stokes Bay Pier and Branch Line
"...During World War Two the pier sustained some damage from an air attack. During the D-Day landings, June 1944 the pier was the mooring point for large L.C.H. (Landing Craft Heavy) and Motor Launches. In 1953 the Admiralty fenced in the pier. The last use of the pier was by the Royal Naval degaussing service until it moved to Fort Rowner.
The buildings on the pier were removed in the 1960s and the pier was demolished in stages between 1972 and 1976. It was not until 1985 that some remains of the supports were finally destroyed by the Royal Engineers Diving Establishment [REDE] at Marchwood, who offered to remove 90 piles and two crane bases free of charge. They agreed to undertake this over a period of two years in seven to ten visits a year, using explosives. The bases of the pier supports are occasionally visible at exceptionally low tides."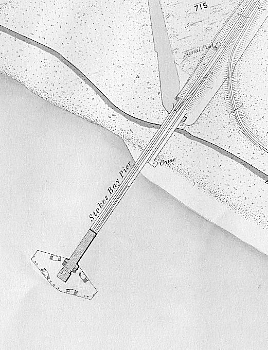 Stokes Bay Pier and Railway 1890
(Note the branch line curving off eastwards
to the old Submarine Mining Establishment)
Fort Monckton and the Submarine Mining Establishment
"Fort Monckton and the Submarine Mining Militia
Submarine mining work began at Gosport in 1873 with a test-room in Fort Gilkicker and an old shed at Stokes Bay, formerly used by the contractor that built the Spithead forts. A submarine mining establishment for the defence mines was built at Blockhouse and this became the centre of the R.E. work. The Submarine Mining Militia was formed in 1878 with the purpose of operating the mine defences of the major ports. The men were mainly experienced boatmen and their annual training was 55 days...
In 1892 two new schools of instruction were formed at Portsmouth and Plymouth, the staff at each being responsible for mining and electric light defence at that port. The one at Portsmouth was at Stokes Bay, Gosport.
The Stokes Bay Submarine Mining Establishment [SME] was the centre of Submarine Mining training. Royal Engineers were trained as electricians and as divers. They learned the safe handling of explosives and the use of defensive mines. Submarine mines were laid and tested off Fort Gilkicker in Stokes Bay. That year it was decided that an additional school was needed and a series of buildings called the Submarine Mining Establishment was built to the west of Fort Gilkicker, east of Stokes Bay pier. This site was chosen because a Mr Leather had a construction yard here in 1863 for the purpose of building the three Spithead Forts of Spitbank, No Man's Land and Horse Sand. He built a pier with a crane on the end to land the Cornish granite and Portland Stone used in the construction. After the Spithead forts were completed the site was still owned by the Crown. The pier and site were ideal for use as a Submarine Mining Establishment. The Militia moved from Monckton to Blockhouse and the Royal Engineers occupied Fort Monckton...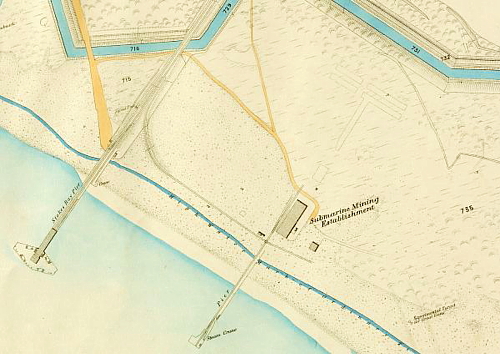 The Submarine Mining Establishment at Stokes Bay
on the site of Mr Leather's yard in 1890
Submarine Mining transferred to the Navy
In 1902, owing to the increased use of defence electric [search] lights, arrangements were made to give every man of the Submarine Mining Service a general training either as attendant on the lights or as assistant to the engine drivers on the engines, which by this time were all driven by oil. In 1905 Parliament decided to abolish submarine mining as a means of defence for rivers and estuaries in the U.K. Submarine Mining Defence was transferred to the Navy and the Submarine Mining Schools had to be reorganized. The use of electric lights had, by that time, extended to various ports, such as Gibraltar, where there was no mine defence. The charge of the lights at these ports thus devolved on the ordinary Fortress Companies and men for this work were being trained in the Electrical School at the S.M.E. Such training was necessarily largely theoretical and the same was the case at the Gillingham School, while both Portsmouth and Plymouth had by now a large electric-light defence which could be used for instruction. It was, therefore, decided to close the school at Gillingham and to concentrate all the instruction in electric lighting at the schools at Portsmouth and Plymouth, which were renamed Schools of Electric Lighting. (Taken from: History of the Corps of Royal Engineers)"
One final piece of trivia: The recently refurbished Nab Tower off Portsmouth was the prototype for a string of similar control centres of anti-submarine controlled minefields, nets and hydrophones stretching across the English Channel during the First World War. It was built at Shoreham in 1918 at the then staggering cost of £1m but the end of the war meant there was no longer any need for a defensive barrier. The Nab Tower was therefore floated out and sunk in its present position to replace a lightship and become a navigational aid (and occasional hazard) and weather station instead.
---
24 Sep 14 - Funeral of ex-CPO(D) Albert Derek 'Ginger' Snell BEM
I am grateful to former CPO(D) Michael 'Shiner' Brassington for this report on yesterday's funeral of Ginger Snell (see entry for 15 Sep 14):
"It was very refreshing to attend a pagan ceremony. No prayers to a man in a white toga and beard sitting on a cloud. No hypocritical vicar spouting about resurrection. Just a lady, a grandaughter and a son spending an hour covering all of Ginger's life and achievements.
Ginger's resurrection was the DNA of a large family in the front rows. And our memories.
Twenty-six family members were there; twenty-seven if you count Ginger.
Nine Ganges members were present: two of us who served in the King's Navy and seven youngsters from the 1960s intake. I later mentioned us serving the King and a wag asked, "Which king?"
I did miss 80+ voices rendering 'Bread of Heaven' and 'Those in Peril on the Sea'. We just had a gentle music background.
Maggie [Lockwood] and Albert [Chapman] were in attendance; I made it 90 mourners. They went off to the booze and bunfight. I, having to drive 70 miles home for me jabs and munchies, requested leave of absence. A dinner and a large tot was waiting at my address instead! Or I would have had to B&B which is not 12 bob any more.
I suppose you are thinking, "Move up one Shiner - I'm right behind you!"
Shiner"
I am also aware that MCDOA members Bill 'Chippy' Norton and Howard Trotter attended the service.
Shiner later sent me this Order of Service:
Albert Derek Snell, Gorleston, Tuesday 23rd September 2014 at 3.20pm
MUSIC
Humming Chorus from Madam Butterfly – Puccini
WELCOME
Welcome, and thank you for coming here today to honour and to remember the life of Albert Derek Snell, known to everyone as Ginger, who died on the 6th of September aged 81.

My name is Mags Allison, I'm a member of the British Humanist Association's nationwide team of celebrants, and I'm here to lead today's ceremony.

Humanists believe in living life fully and well, because it is our only life – and not only for our own sakes but for the benefit of others, because we have only each other to rely on.

In his later years Ginger didn't have any religious belief and he didn't want a lot of fuss, so a simple Humanist ceremony seems the right way to say goodbye to him; that said this ceremony is for all of you, whatever your beliefs. I'm going to talk a little about Ginger's life and the sort of person he was, based on what I learned from Andrew, Duncan and Derek; we'll hear tributes and memories from some of Ginger's family and friends, and there will be poetry and more music. I hope that you will find this a fitting and personal way to say goodbye to the man you knew.

We all know that every life must come to death in the end. We see the cycle of birth and death constantly around us, not only in the lives of our families and friends, but also reflected in the constantly changing seasons, as the turning leaves and hedges full of blackberries tell us that autumn is here again, even as we enjoy the last of summer's warmth. Ginger's life and death are part of that never-ending cycle of the world and of humanity – a tiny life in the history of the planet, but at the same time an important life, significant and unique.

We can't hide from the sadness of losing someone we love but we can face that loss with dignity and courage, be comforted by the memories that we will cherish and keep with us forever, and take strength from the love and support of those around us who share our sadness. For all the sadness at losing Ginger this is a very precious time, an opportunity to remember together and celebrate the things that made Ginger special and to be glad that he was part of your lives.
POEM
We're going to begin our ceremony with a poem read by Ginger's granddaughter Grace – many of you will recognise it as the adopted poem of the HMS Ganges Association.
If – Rudyard Kipling
If you can keep your head when all about you
Are losing theirs and blaming it on you;
If you can trust yourself when all men doubt you,
But make allowance for their doubting too:
If you can wait and not be tired by waiting,
Or, being lied about, don't deal in lies,
Or being hated don't give way to hating,
And yet don't look too good, nor talk too wise;

If you can dream – and not make dreams your master;
If you can think – and not make thoughts your aim,
If you can meet with Triumph and Disaster
And treat those two impostors just the same;
If you can bear to hear the truth you've spoken
Twisted by knaves to make a trap for fools,
Or watch the things you gave your life to, broken,
And stoop to build'em up with worn-out tools;

If you can make one heap of all your winnings
And risk it on one turn of pitch-and-toss,
And lose, and start again at your beginnings,
And never breathe a word about your loss:
If you can force your heart and nerve and sinew
To serve your turn long after they are gone,
And so hold on when there is nothing in you
Except the Will which says to them: 'Hold on!'

If you can talk with crowds and keep your virtue,
Or walk with Kings – nor lose the common touch,
If neither foes nor loving friends can hurt you,
If all men count with you, but none too much:
If you can fill the unforgiving minute
With sixty seconds' worth of distance run,
Yours is the Earth and everything that's in it,
And, which is more – you'll be a Man, my son!
REMEMBERING GINGER
Ginger was born Albert Derek Snell on the 5th of December 1932 in North Creake, Norfolk to mother Milly and father Albert, joining his half brother Harry, who was 15, and half sister Eunice, who was eight – she always called Ginger her 'kid brother'.

It was a farming family, and Ginger worked on the land from about the age of 10 while he was still at school. However, at 14 Ginger decided that farming wasn't for him and he joined the Navy and HMS Ganges as a cadet at 15; the Navy would be his home and career until 1972.

In 1956 Ginger married Jean, who was a Navy WREN, at St Margaret's Church in Lowestoft. They lived first at Chatham Dockyard, but being a Navy family, they would be stationed in several different places over the years, including HMS Ganges in Shotley near Ipswich, Gosport in Hampshire, Tamerton Foliot near Plymouth, and Singapore for two years from 1967.

In the course of these moves the family grew with the arrival of Ginger and Jean's three sons, Derek in January 1960, Duncan in August 1964 and Andrew in January 1967. Jean was definitely the matriarch of the family and with Ginger often away he relied on her keeping everything organised, including the boys.

Ginger didn't set out to be a mine and bomb clearance diver, but that is what he ended up doing, a job for which many applied but few were successful. And as many of you know he was awarded the British Empire Medal for his bomb disposal work in Hong Kong. He was, justifiably, proud of his naval career and wore his medals proudly.

When he left the Navy in 1972 after over 20 years' service it's fair to say that Ginger had some difficulty adjusting to civilian life. However, he found work, settling first on being an instructor at a commercial diving school, which meant living in Peterborough during the week and coming home to the family at weekends. This was followed by a few years in the diving industry at Bix, based in Great Yarmouth and serving the oilrigs. With all this diving Derek commented that he never, ever saw his dad in a swimming pool or just swimming in the sea – Ginger used to say that he'd only go in the water if someone paid him!

Ginger's last jobs were on land, with periods at Cantley sugar beet factory, Gunton Hall and finally Bernard Matthews near Halesworth where he was a store man. It was from here that Ginger retired at the age of 65.

Jean had had a stroke in the late 1970s, which meant a big change in family life, with Ginger taking a caring role. After her death from breast cancer in 1993 Ginger went through some very dark times. During this period his close friend Sandi helped him through and she has continued to be a great friend and support ever since.

In retirement Ginger led an uncomplicated life. He was independent and house proud – anyone coming to visit only had to open the front door to find a spotless and fresh smelling home. He enjoyed pottering in the garden; particularly making up his hanging baskets, and his neighbour Brian said he would miss seeing Ginger out and about in the garage. He also spent time making knot rope boards that he was able to sell, many of which were commissions, and kept his mind sharp by doing word searches and the cryptic crossword in the EDP.

Ginger enjoyed walks with Sandi and her dog, especially around the Beccles common area, and meeting up with his friends from the Suffolk Coastal Branch of the HMS Ganges Association. He was heavily involved in the Association, attending meetings and events and spending some time as Welfare Officer, and was very proud of his involvement with them. Reminiscing and telling stories of his Navy life was something Ginger was always happy to do – though his sons told me that it was often hard to tell fact from fiction!

Phone calls and visitors were always welcome – to a point. Andrew said that after he left home and would phone his mum and dad Ginger would answer, ask 'how are you' and then as soon as Andrew had replied with 'fine' Ginger would say 'here's your mother' – he'd found out all he needed to know. And when Andrew and Ginger's grandson Harry drove up from Stowmarket, quite a long drive, Ginger would open the door with a smile and then after five minutes would say 'lovely to see you; you don't need to go yet but when do you think you'll be leaving?' After about 45 minutes this would become 'right, should you be on your way, you'll lose the light soon', and when they finally did go he'd come out and wave them off to make sure! Ginger was very welcoming but he didn't like people hanging around too long.

In spite of his ready smile and laughter, which many people have commented on, Ginger was a private person, someone who didn't show his emotions. He was quite wise, a good instructor, and as Jean used to say, definitely calm under pressure. As a parent he never gave advice or criticised anyone's choices; he was open minded and never fazed by anything anyone said. Ginger was a traditional man who did his best to look after and provide for his family, and he was especially proud of his grandchildren. He worked hard and played hard – to quote Andrew he was 'a rogue, a rascal, but loveable'.

Following a fall at home in late July, Ginger was admitted to hospital, where he was diagnosed with advanced cancer in his lungs and brain. He was discharged home a few weeks later, eager to get home, and with lots of care and support in place. After suddenly becoming unwell a fortnight ago, he was readmitted into hospital and died two days later. It's a relief to his family that he was only ill for a short time and that he died peacefully – I know he is already dearly missed.
TRIBUTES FROM NAVAL ASSOCIATES
Ginger's family have been quite overwhelmed by the kind messages they've received from Ginger's former naval friends, so I'm going to finish our remembrance with some of their words; then our final tribute will come from Peter Talman.

Bill (Taff) Davies wrote: I was a member of Ginger Snell's class of 1948. I am sad to hear of his passing but ever reminded of his presence…usually in the front rank. We were once required to state our Christian denomination prior to the first of many compulsory church services...I was not sure, but knowing I was always called Taff, Ginger poked me in the ribs and said, 'Tell him, Welsh tobacconist!'

Barney Barnett: You have to mention in as diplomatic a way as possible the social life we led on the Shotley peninsula at HMS Ganges in 1972. Because we were so cut off and the regime was 'work hard play hard' the senior rates messes' hooleys were awesome! Lots of Duck Run Derbies and other inter-mess games I can't even begin to enlighten a civilian audience about! Ginger was an oppo of many great players in the diving community: we had a good conversation last week about lots of them including Spiro Collar and Pablo Welch. RIP Deeps.

Bill Norton: Ginger was a lovely man: always cheerful and full of fun. I worked with him a couple of times and enjoyed his company, particularly in Singapore where he did so much difficult and dangerous work during the IED campaign in Hong Kong. The world will be a poorer place for his passing.

Dave Lott (Mona): The only bright spot that eases my sadness was the recent phone call shared with Ginger when we both expressed memories of our old friendship to each other and had a chuckle. Lest we forget, we will remember him.

Finally, I shall hand over to Peter

Peter (The Boomer) Talman: Our good friend Ginger, a very private but popular man, loved by all those who knew him, who liked to do things his way but in a way that people would benefit by his wisdom. My first experience of Ginger was as a new entrant into HMS Ganges where, as an instructor, boy he gave us new boys the benefit of the knowledge he had gained – typical of Ginger. He went on to serve many years in the Navy and achieved his ambition of becoming a clearance diver, winning a BEM for clearing bombs in Singapore harbour. His marriage was delayed by the Suez crisis but he took that in his stride and went on to produce a family and achieve the rank of chief petty officer. On demob he decided to join the Suffolk coastal division of Ganges Association and so we re-met and myself, Ginger and John Williamson spent many happy hours exploring the countryside, becoming known as the last of the summer wine. What more can I say but that his presence will be sadly missed by all those who crossed the path of this wonderful man.
MUSIC FOR REFLECTION
Let's sit and listen for a few moments to one of Ginger's favourite pieces of music: the Intermezzo from Mascagni's opera Cavalleria Rusticana.

As we listen I'm sure your own memories will come to mind as you think about the Ginger you knew and what he meant to you. If you wish, please use this time for private prayer.

Intermezzo from Cavalleria Rusticana – Mascagni
POEM
In a few moments we are going to stand and say a formal goodbye to Ginger, although his family have chosen to leave the curtains open. Just before that Duncan is going to read the poem he's chosen – the poet is unknown, but it's called 'The Measure of a Man'.
Not how did he die, but how did he live?
Not what did he gain, but what did he give?
These are the units to measure the worth

Of a man as a man regardless of birth.

Not what was his church or what was his creed?
But had he ever befriended those really in need
Was he ever ready with a word of good cheer
To bring back a smile, to banish a tear?

Not what did the sketch in the newspaper say,
But how many were sorry when he passed away.
FAREWELL
If you are able to, please stand.

Be happy that Ginger lived among you
You are richer for having known him
You took delight in his love and friendship
Treasure the memory of his words, his achievements and his character.
Ginger is now beyond harm or pain. With respect we leave him in peace and with love we say farewell. Here, in this last act, in sadness but without fear, we commit Ginger's body to its end and his memory to our hearts.

Please sit down.
PARTING
That brings us almost to the end of our ceremony and I hope you have found some comfort in this time spent together dedicated to Ginger's memory. Each of you has your own memories of him, and I hope that in times to come you will think about him and talk about him often, remembering the person he was and the good times you had together.

You can begin doing just that this afternoon as you are all warmly invited to join Ginger's family at the Lowestoft Railway Bowls and Social Club in Carlton Road, Lowestoft for light refreshments and some more reminiscences.

And if anyone would like to make a donation in Ginger's memory, please give directly to any charity of your choice.

One of the best of all answers to death is for us to have a wholehearted commitment to living – for greater fulfilment and happiness for ourselves as well as for others. From what I've learned about him I think that Ginger would have agreed with that sentiment; he wouldn't have wanted you to be too sad today but to leave here remembering some of his many adventures – real or imagined – with a smile!

As we leave to the sound of Heart of Oak, the Royal Navy March Past, I'll close by wishing you peace and health and happiness – thank you all for being here today.
MUSIC

Heart of Oak – William Boyce (Royal Navy March Past)
---
From MCDOA member Bill 'Chippy' Norton on 27 September:
"Hi Rob,
Ginger had a good send off in Great Yarmouth in a simple but moving Humanist service. Eulogies were given by the officiating lady and the Chairman of the HMS Ganges Association.
Ginger's son Duncan read a poem "The Measure Of a Man", his favourite music was played and his grandaughter, Grace, who has inherited his red hair, bravely gave a rendition of Kipling's poem "IF" which has a special significance for ex-Ganges boys.
At Ginger's own request there was no ceremonial but there was a good delegation from the Suffolk Coastal Branch of the HMS Ganges Association, of which he had been the Welfare Officer. Ginger had risen to the top at Ganges as an Instructor Boy in 1947/48.
Divers were represented by Shiner Brassington, Howard Trotter, Tony 'Basher' Briggs, Maggie Lockwood, Albert Chapman and George Porter. Mrs Jackson, widow of the late Jacko Jackson who had been in the team and were neighbours of Ginger and me in Singapore, came with her son. Albert had driven down from Scotland, picking up George in Newcastle on the way down. Great effort and very much appreciated by the family.
There followed a reception at the Lowestoft Bowls Club where the Ganges Association meets. Memorabilia of Ginger's childhood and service career was displayed and a tot was drunk in his memory.
A sad occasion but a good farewell
Yours Aye,
Bill"
---
From Ginger Snell's son Derek and his wife Alex on 24 September:
"Dear Friends of Ginger,
Thank you all so much for coming to Ginger's funeral service and reception and, if you couldn't be there, thank you all for thinking of him.
If any of you would like a full copy of the service, please let me know and I can send it to you by email.
With our best wishes,
Alex (aka LOFTY (adopted mascot of Ganges Suffolk Coastal Branch)) and Derek Jnr x"
---
23 Sep 14 - Death of Normandy veteran Eric Rackham
My wife and I hosted Normandy veteran Eric Rackham, an ex-RASC DUKW driver, in June this year shortly after he had been presented with the Legion d'Honneur in a ceremony at the British Embassy in Paris (see entry for 30 Jun 14 in News Archive 46).
I am sad to say that his companion at the time, Dutch philanthropist Tenno Dogger, co-founder of the Deep Respect organisation which serves to keep alive the memories of the Normandy veterans, has informed me that Eric died on Sunday evening (21 September) following a two-week sojourn in the hospital at Bayeux. He became very tired and weak but did not suffer. Tenno and Eric's wife Gloria were with him during the day.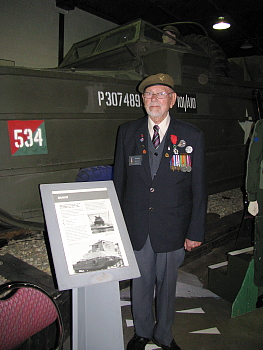 Lest we forget
Eric Rackham at the D-Day Museum
in Southsea on 28 June 2014
---
22 Sep 14 - HDS Diving Museum update
MCDOA associate member Dr John Bevan, Chairman of the Historical Diving Society (HDS), has provided this update about the Diving Museum in No.2 Battery at Stokes Bay and the WWII bunker in Gosport that houses the Society's library and museum reserve collection:
"GOSPORT HERITAGE OPEN DAYS
Another great success this year. We had 40 people come and view our ARP Bunker/library. There was some useful feedback as well.
The Museum was very popular as ever, starting slowly on the Thursday and building up to several hundred on Sunday. The total was somewhere around 450 visitors. We've mislaid the Visitor Book so I don't have precise numbers.
This last weekend was average in numbers, with 18 on Saturday and 28 on Sunday, but high on visitor quality.
PIRATES
The praise for our Pirates weekend organised by Margaret Marks keeps coming in with particularly nice feedback on our Facebook page. Thanks to Hazel Casey also for getting us half a page of publicity in The News.
WELCOME to [MCDOA member] Les Rutherford, ex-Royal Engineers and Royal Marines, who is joining our elite band of Guides.
GUIDES EVENING
Margaret Marks organised a very successful Guides Evening on Sunday when the eats and drinks added a tasteful dimension to our viewing of Jane Russell risking life and limb (and one or two other bits) hunting for sunken treasure. The opportunity was taken to brief all present with the latest developments on our Accreditation, Incorporation, Charity status and future events.
BIG DRAW
The next in Margaret Marks' special events will be the BIG DRAW on 4-5 October. This is part of a national event. So come along and put pencil to paper and express that artist inside you.
HALLOWEEN
Only suitable for the more brave of our Guides. Margaret's séance on 31 Oct - 2 Nov will be a specially spooky event for kids who will also be invited to 'take over' the museum. You have been warned.
BATTERY REFURB
On Wednesday, 24 September, we are being visited at the museum by Beverley Lucas of Portsmouth City Council and Rob Harper of Gosport Borough Council. This is part of the Portsmouth Harbour Project Programme Board that has been set up to help 'at risk' listed buildings. This is a three-year project conceived by the Partnership for Urban South Hampshire's (PUSH) Quality Places Panel and is supported by a number of partners including English Heritage. Fingers crossed, we could get some serious money spent on refurbishing the Battery.
JohnB"
The HDS Museum is open at weekends until the end of the summer season. It relies on a handful of volunteer guides, at least two but ideally three of whom need to be on site when it is open for business at weekends during the summer. If you live locally and can spare the odd few hours, please contact John Bevan via this email address or call him on 078 0278 5050. You will then be given access to the online roster to fill in your own dates as and when you are available. You don't have to be an HDS member to get involved in this or any other way.
---
20 Sep 14 - A message from Jimmy Bond about his swim down the River Dart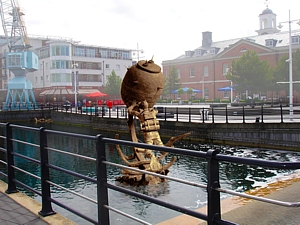 Artist's impression of the Vernon Monument
in situ at Gunwharf Quays
I am grateful to 66-year-old former CPO(D) David 'Jimmy' Bond for this message (see entry for 14 Sep 14):
"Hi Guys,
Just a snapshot of Mick and me to prove we did it. What you can't see is the crap water I came through before Dittisham or the scar on my neck from five hours of turning my head to the left, nor the cauliflower ear from someone's fist who overtook me on the last bit coming up to Dittisham. Anyway it was a great day apart from the dreaded head cold but that's life. I think back to Windermere when Mick [MCDOA member Mick Beale] had flu and did that, in colder water with no tide. You're a legend Mick, and thanks again for coming down yet again to join me for the swim.
A thousand thanks to all those who've sponsored me so kindly and anyone wishing still to do so please see my JustGiving (Frank Water) and VirginMoney (Vernon Monument) pages. As you can see in the newspaper article, with the latest boost of £100,000 we are getting very close to the goalpost of £275k for the Vernon Monument.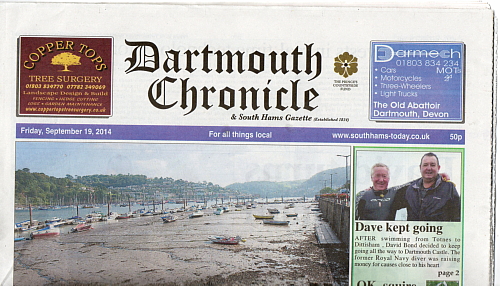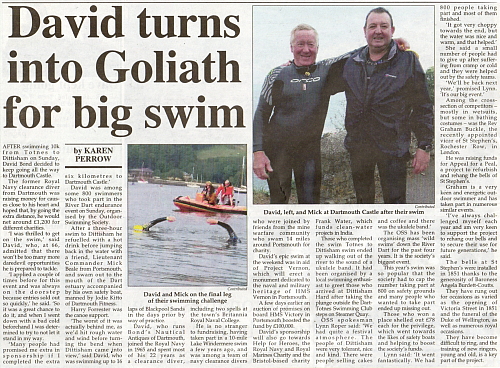 To all the old Vernon guys... Like someone said recently and has been said so many times before, if the word could be spread FAR ENOUGH and every diver and minewarfare person who passed through VERNON put their hand in their pocket for £5 or £10 we would be MADE UP. Tell your mates and let's get it done, We are so very close.
Best Rgds,
David (Jimmy) Bond"
---
17 Sep 14 - Brief encounter in hazy Gulf
The Royal Navy website contains this article describing the recent activities of HMS Shoreham (MCM1 Crew 5) and RFA Cardigan Bay in the Gulf.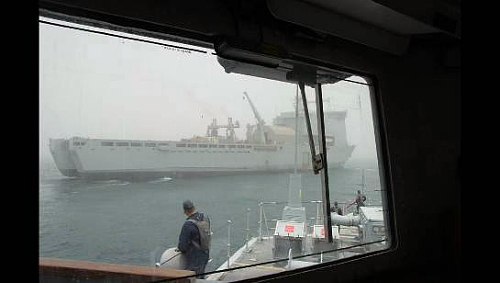 RN website photos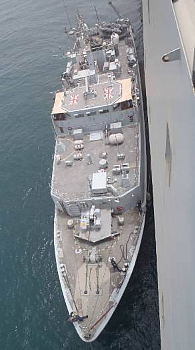 ---
16 Sep 14 - HDS Diving Museum update
MCDOA associate member Dr John Bevan, Chairman of the Historical Diving Society (HDS), has provided this update about the Diving Museum in No.2 Battery at Stokes Bay and the WWII bunker in Gosport that houses the Society's library and museum reserve collection:
"NEW EXHIBIT - SCBA
We have just received a brand-new, unused, Swimmer-Canoeist oxygen set on loan from the Royal Marines Museum in Southsea!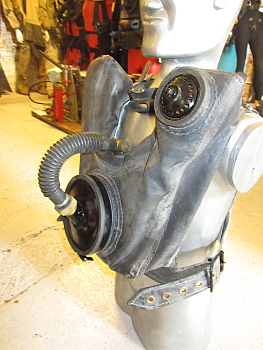 RM Swimmer Canoeist Breathing Apparatus
(SCBA)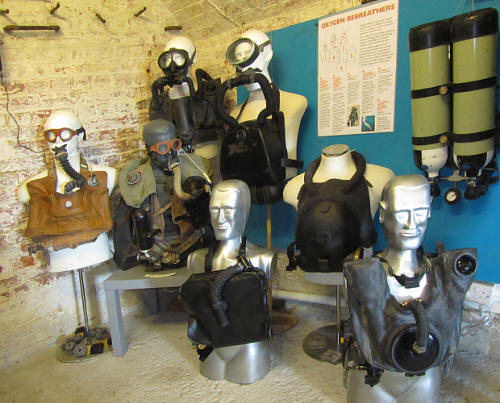 HDS Museum collection of O2 rebreathers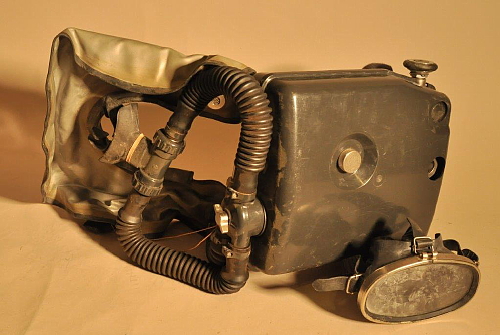 German rebreather
BELGIAN HDS VISITORS
On Thursday 25 September (c7.00 pm), we will be hosting a group of HDS members from Belgium led by the famous salvage diver, Marc Jasinski. Marc will be donating a Draeger rebreather when he comes. JohnB
DIVER MAGAZINE
We have just acquired for safe keeping a stack of archives from DIVER magazine which include:
Peter Small records (to 1963)
Underwater Equipment Research Society (1960-3)
35mm slides and B/W prints including BSAC banquets and Mary Rose
Bound copies of DIVER
JohnB"
The HDS Museum is open at weekends until the end of the summer season. It relies on a handful of volunteer guides, at least two but ideally three of whom need to be on site when it is open for business at weekends during the summer. If you live locally and can spare the odd few hours, please contact John Bevan via this email address or call him on 078 0278 5050. You will then be given access to the online roster to fill in your own dates as and when you are available. You don't have to be an HDS member to get involved in this or any other way.
---
15 Sep 14 - Updated funeral arrangements for ex-CPO(D) Albert Derek 'Ginger' Snell BEM
From Ginger's son Derek and his wife Alex (see entry for 6 Sep 14):
"Just to let you all know that Dad's funeral arrangements are:
Tuesday 23rd September 3.20pm at Great Yarmouth Crematorium, Oriel Avenue, Gorleston, NR31 7JJ.
Followed by a reception at Lowestoft Railway & Bowls Club, 123A Carlton Road, Lowestoft, NR33 0LZ.
If you know of anyone else who may wish to attend, please let them know. They will be very welcome Strictly no flowers please and donations, if you wish, to a charity of your own choice. No collection will be taken at the service.
If you need to contact us: 01263 823914
Alex and Derek Snell"
---
14 Sep 14 - Jimmy Bond and Mick Beale swimming for Project Vernon today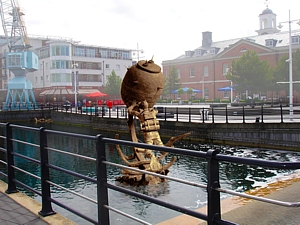 Artist's impression of the Vernon Monument
in situ at Gunwharf Quays
Ex-CPO(D) David 'Jimmy' Bond and former MCDOA Honorary Treasurer Mick Beale are swimming 10 km of the River Dart from Totnes to Dittisham and possibly the extra 6 km to Dartmouth Castle today for Project Vernon, the campaign to erect a monument in Gunwharf Quays to celebrate the minewarfare & diving heritage of HMS Vernon which previously stood on the site (see entry for 23 Aug 14). Some of the money will also go to Frank Water UK, Help for Heroes (H4H) and the Royal Navy & Royal Marines Charity (RNRMC).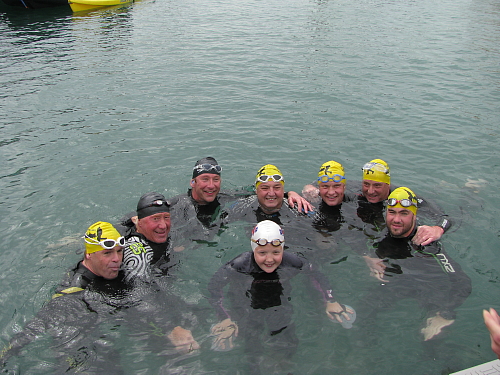 Jimmy Bond (second left) and Mick Beale (centre rear) with fellow Round
Portsea Island swimmers John Beavis, Antony 'Pinta' Beer, Richard
'Soapy' Watson, Steve 'Scouse' Vernon and Dave 'Stretch' Armstrong
at Gunwharf Quays (formerly HMS Vernon) in July 2011
Please give them your generous support and sponsorship by donating via their webpage here:
Virgin Money Giving: David (Jimmy) Bond's fundraising page
Don't forget to register for Gift Aid which adds 25% to your donation.
---
From Jimmy Bond on 17 September 2014:
"Well I did it, with a good dose of a head cold for company too.
I entered the water at 1030 with about 200 other collywobbled swimmers at the Totnes rowing club. The start was a bit of a muddle of bodies colliding with each other and every one trying to acclimatize to the water but after about 15 minutes things settled down and one got into ones pace/stroke. For the first 6 K the river state was good and calm but then it got pretty much progressively sloppier on the surface making the job twice as hard as it need be. The roughest bit was as we turned the bend into Dittisham creek.
Along the way there were the odd collisions with some 800 other swimmers of varying speeds. I came away pretty much unscathed apart from one pretty good thump on my starboard ear. I think the first swimmers were in at 1300 and I arrived in a good gaggle of 30 or so at about 1330, 10K cracked. I then handed in my body number to keep the head count right for the organizers and proceeded to get a drink and decide on whether I was fit enough to do the last 6 K to Dartmouth Castle.
Mick and I entered the water at 1400 with the safety boat and canoe in attendance. 1600 saw us arrive at the Castles and open water having avoided five different ferries and all manner of river craft. 16K or 10 mile swam, swum or swimmed, I did it anyway.
Here is a big thanks to Mick for joining me and the safety team. Thanks to David for doubling his original sponsorship for the extra swim to the sea. Thanks to all who have sponsored and here's hoping that, with the large injection we had last week of £100,000+, we will see our monument in the not too distant future.
Cheers guys and girls. See me on Face Book.
David Bond"
Congratulations to Jimmy and Mick on their gruelling achievement. Now, let's see the colour of your money. Here is a reminder of their sponsorship webpage:
Virgin Money Giving: David (Jimmy) Bond's fundraising page
---
12 Sep 14 - 'Project Buster' team raises over £100k for Project Vernon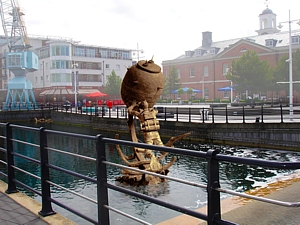 Artist's impression of the Vernon Monument
in situ at Gunwharf Quays
Congratulations and a huge BZ to MCDOA past-Chairman Chris Baldwin, Honorary Secretary Richard 'Soapy' Watson and members David Hunkin OBE, Al Nekrews QGM, Keith Broughton and others for teaming up to initiate, plan and execute 'Project Buster'. This involved the independent organisation of a £400 per plate charity dinner last night on board HMS Victory, the world's oldest commissioned warship, by kind permission of Vice Admiral David Steel CBE, the Second Sea Lord. The object of the exercise was to raise funds for Project Vernon, the campaign to erect a monument in Gunwharf Quays to celebrate the minewarfare & diving heritage of HMS Vernon which previously stood on the site. I'm sure the Vernon Monument trustees are extremely grateful.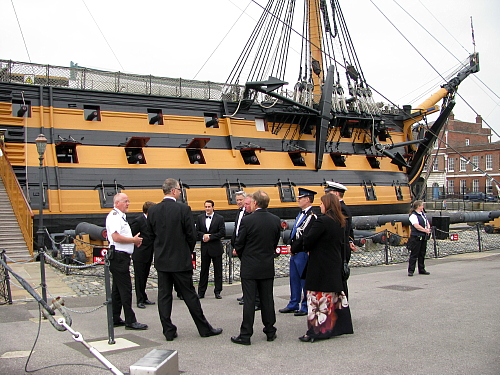 Guests were greeted on their arrival at HMS Victory by members of Portsmouth-based Southern Diving Unit 2 (SDU2) who provided a display of their kit and capabilities beside the ship. Thanks for your time and effort, guys.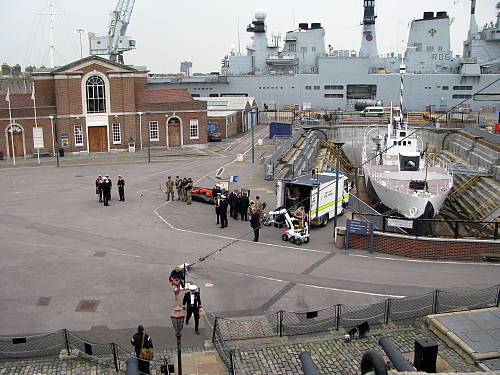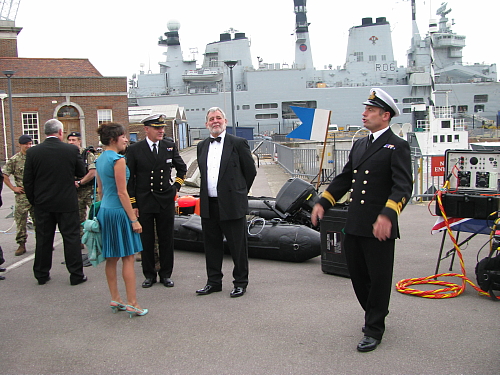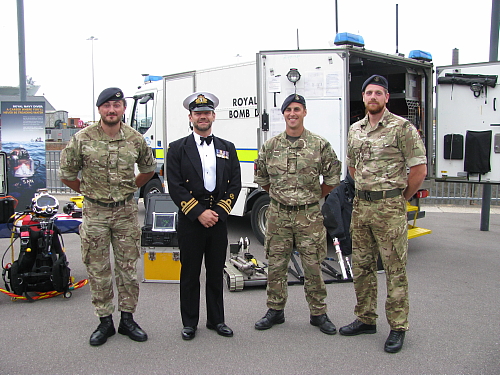 Diners were given the option of a guided tour of the ship before assembling on the upper deck. Here, an exhibition of auction lots enabled them to view the marvellous artefacts, pictures, statues and events they would be bidding for during the evening while enjoying a glass of Champagne and canapés. Lots included the late John Terry's original painting of 'Vernon Creek, silver-plated miniatures of the Vernon monument, the rug used to disguise the IED rendered safe by MCDOA member Al Nekrews in Afghanistan which led to his award of the QGM, a day at sea in HMS Lancaster commanded by MCDOA member Peter Laughton MBE and another day in a different frigate, a VIP day at RNAS Yeovilton, a day with a Clearance Diving unit, a day of driven game shooting with the RN Gun Club, a box at the O2 Arena, a decanter and glasses engraved with HMS Vernon's badge kindly donated by MCDOA member Doug Barlow and much else. Commodore Paddy McAlpine CBE ADC, MCDOA President and Commodore Portsmouth Flotilla (COMPORFLOT), was on hand to give guests a friendly welcome.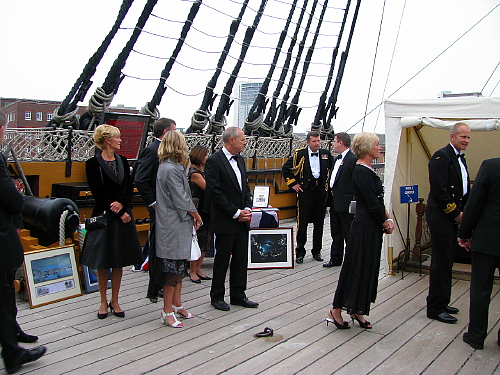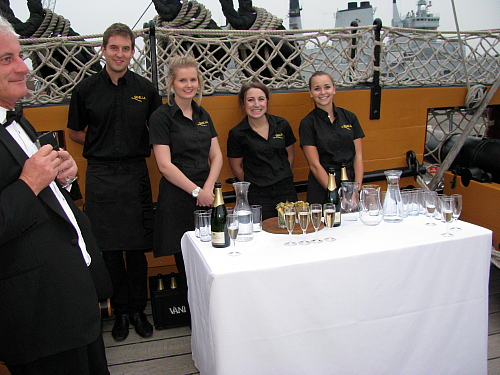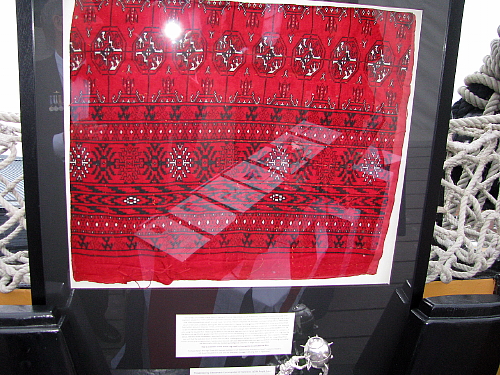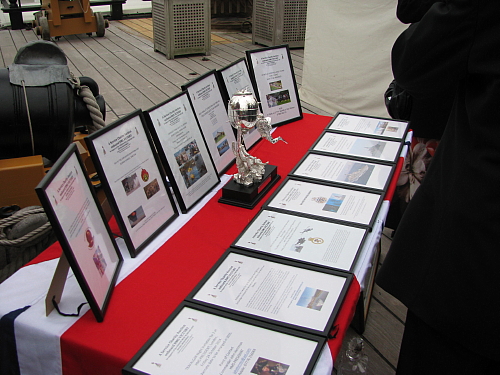 We were then treated to a display by a quartet of Royal Marines drummers after which the Drum Major was offered and drank a silver bowl of rum presented by the Guest of Honour, Admiral of the Fleet Lord Boyce KG GCB OBE DL, former First Sea Lord and Chief of the Defence Staff.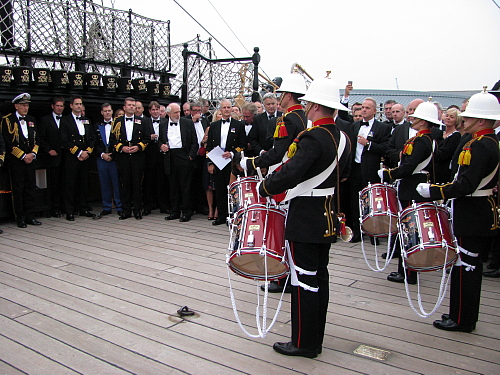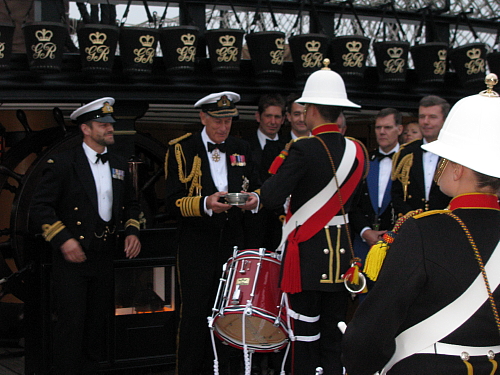 During the ensuing mingling, I was able to introduce David Carey, the Project Manager of Project Vernon, to Admiral of the Fleet Lord Boyce. David, who has suffered a serious illness recently, had flown over from Dubai especially for the occasion and exploited the opportunity to brief Lord Boyce about the project.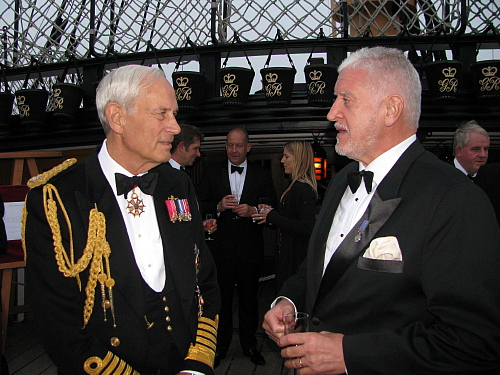 Admiral Sir Jonathon Band GCB DL, former First Sea Lord and our Master of Ceremonies for the night, is seen here chatting with our main after-dinner speaker, Sir John Scarlett KCMG OBE, the former Head of MI6 (Secret Intelligence Service), and MCDOA member Simon Bound: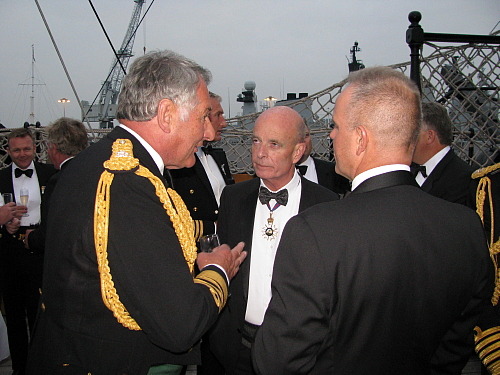 Our final evolution on the upper deck was to assemble for the group photograph.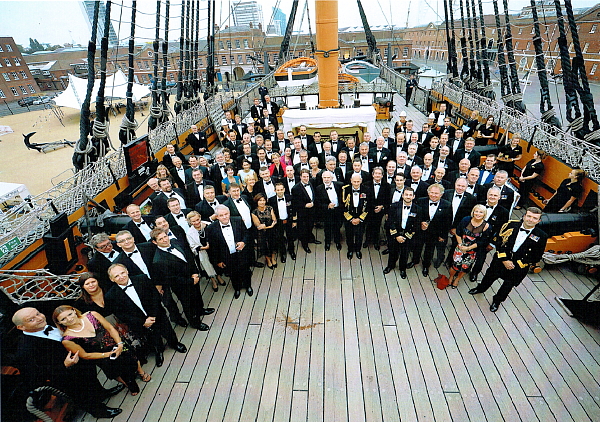 (Photo by LA(Phot) Nicky Wilson)
We then proceeded down to the lower gundeck and took our places at the tables before MCDOA past-Chairman Chris Baldwin, the chief instigator of 'Project Buster', welcomed Admiral Band as Master of Ceremonies for the evening.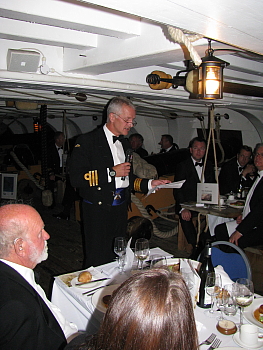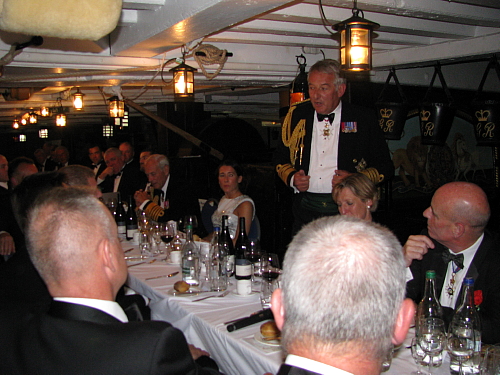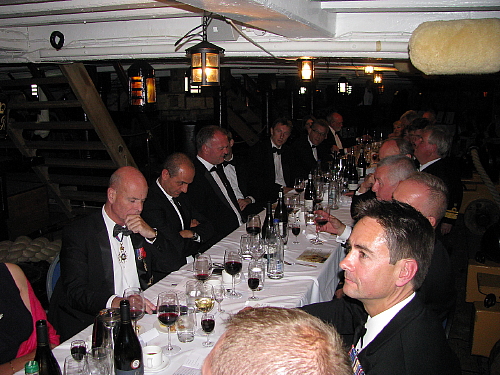 The menu comprised Red Onion Tart Tatin, Beef Wellington and a Desert Island Trio with a selection of wines and port. I found myself sharing a riotous table with MCDOA Honorary Treasurer Soapy Watson, WO1(D) Steve Vernon, WO1(D) Karl Roberts, ex-CD Aubs de Lavenu and Capt Mick Stewart RE. During the course of the meal, MCDOA member David Hunkin gave an accolade to fellow member Al Nekrews and explained the significance of the framed blanket in the auction.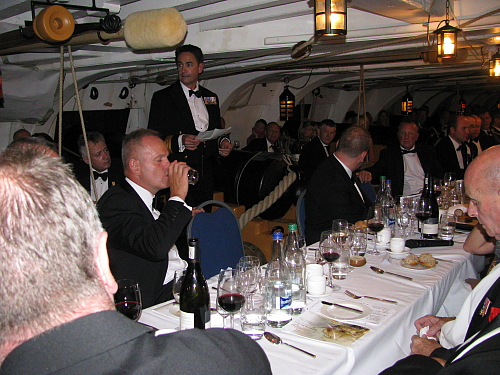 Diners were then given the opportunity to write down their bids for items available in the silent auction to the accompaniment of a musical duo.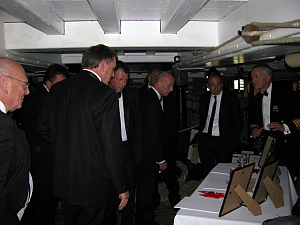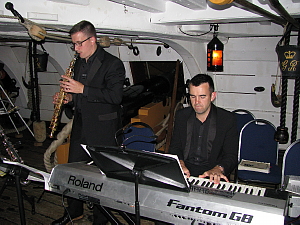 The evening then continued with splendid speeches from Sir John Scarlett (former Head of MI6) and Admiral of the Fleet Lord Boyce (former Chief of the Defence Staff) plus a singalong comprising 'Heart of Oak' and 'Rule Britannia'.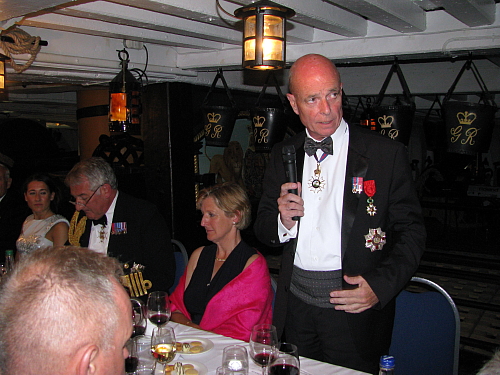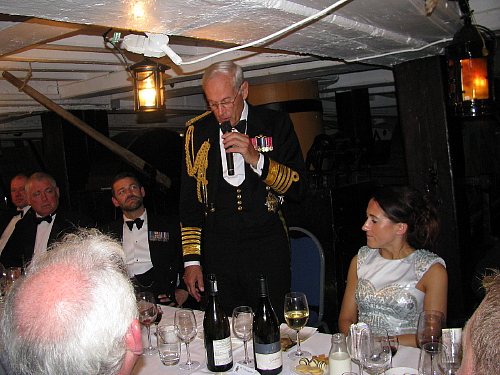 When it came to the live auction, one could only sit in stunned admiration as the flamboyant and ebullient auctioneer Simon Morgan, late of Bonhams, used every trick in the book to wheedle, cajole and otherwise encourage bidders to pledge the maximum amount for the lots on offer. As he plied his trade and the sums rose through the tens of thousands, it soon became apparent that our wildest expectations had been exceeded.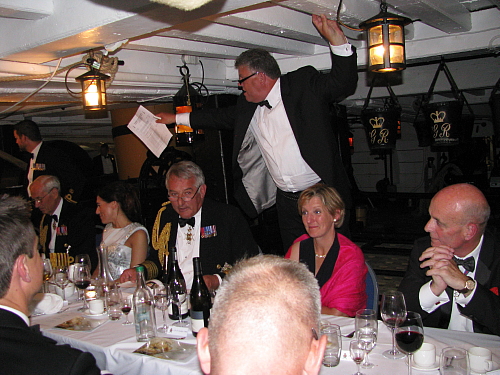 I don't yet know the total sum raised but it certainly topped £100k. Some final words of appreciation came from our Master of Ceremonies, Admiral Sir Jonathon Band, before we dispersed our separate ways.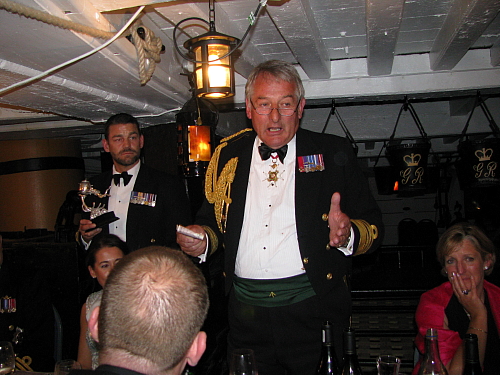 A big 'thank you' to all involved for your generosity. There is still some money to find before Project Vernon hits its overall target but if everyone with HMS Vernon to thank for getting their foot on the first rung of the ladder of their offshore career were to donate a couple of hours' pay plus Gift Aid or purchase a silver-plated miniature, we'd be home and dry.
Post script: On 19 September, the Portsmouth News published this article, including a photo of the attendees. The statue is described solely as a monument to naval divers but it is actually intended to celebrate both the minewarfare & diving heritage of HMS Vernon. Much of the money raised to date has come from members of the minewarfare community, including the MCDOA, MWA and the TCA, and we are extremely grateful.
---
11 Sep 14 - New book about Lionel 'Buster' Crabb from MCDOA member
MCDOA associate member Dr John Bevan, Chairman of the Historical Diving Society (HDS), has sent me this announcement:
"Rob,
In case any members are interested, I will be launching my book on Cdr Crabb in November in Gosport and Portsmouth as follows:
Discovery Centre, Gosport Saturday, 8 November, - 2pm - Book launch and signing
Central Library, Portsmouth Saturday, !5 November - 1.30pm - Illustrated talk and book signing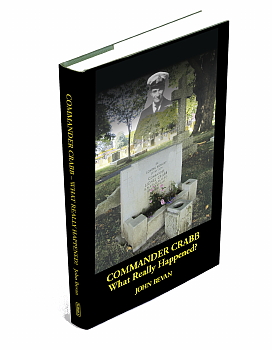 Thanks,
John"
---
10 Sep 14 - Funeral arrangements for ex-CPO(D) Albert Derek 'Ginger' Snell BEM
From Ginger's son Derek and his wife Alex (see entry for 6 Sep 14):
"Just to let you all know that we have started making funeral arrangements for Dad. It will be on Tuesday 23rd September at 3.20pm at Gorleston Crematorium, Great Yarmouth. Please let us know if you would like to come.
There will be a small reception afterwards which is yet to be arranged. By Dad's own request, it will not be a ceremonial funeral. There are to be no flowers at all, but you are welcome to make a donation to a charity of your own choice if you wish.
Ganges: Suffolk Coastal Group, will be wearing their blazers. You may wish to wear yours, that will be fine. As I say email me via this address if you wish to come and I send more details as I get them.
Ginger's youngest son Andrew is busy compiling a eulogy. If you have anything which might lighten the service, please email Andy as soon as possible via this address and we will do our best to include it.
Thank You,
Alex and Derek"
---
9 Sep 14 - HDS Diving Museum update
MCDOA associate member Dr John Bevan, Chairman of the Historical Diving Society (HDS), has provided this update about the Diving Museum in No.2 Battery at Stokes Bay and the WWII bunker in Gosport that houses the Society's library and museum reserve collection:
WHAT A WEEKEND!

Margaret Marks had organised a "Pirates & Sunken Treasure" theme and we had previously rehearsed our Guides on board HMS Warrior 1860 [commanded by MCDOA member Tim Ash].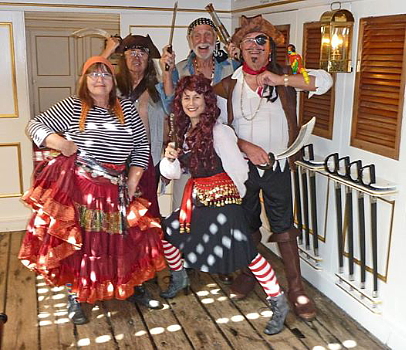 Margaret Marks, John Bevan, Ann Bevan, former FCPO(D)
John Dadd and ex-CD Jim 'Tommo' Thomson
on board HMS Warrior 1860
On the day, we were stampeded by treasure-hunting kids towing parents/grandparents etc.
Margaret included a sing-along sea-shanty pirate ukulele band and a pirate drumming group to add some atmosphere.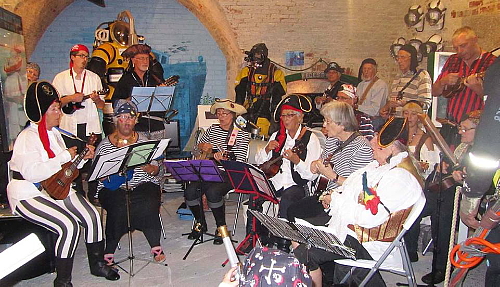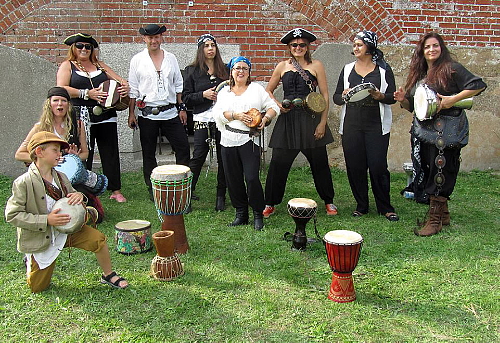 Ann Bevan had arranged a treasure hunt with hidden clues all around the Museum and the Guides were dressed up in awesome pirate gear.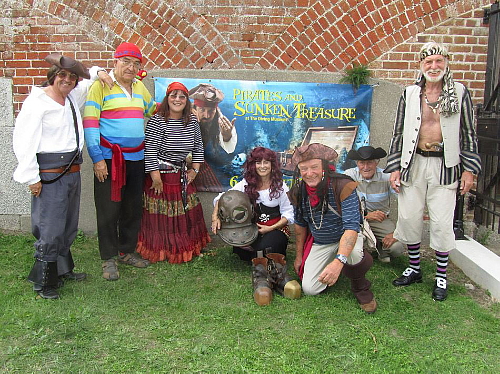 Cut Throat Jack (John Bevan), Rolly Roger (Martin Marks), Merry Meg (Margaret Marks),
Black Bess (Ann Bevan), Jethro Thug (ex-CD Jim 'Tommo' Thomson,
ex-CPO(D) Dusty Miller and Whitebeard (former FCPO(D) John Dadd).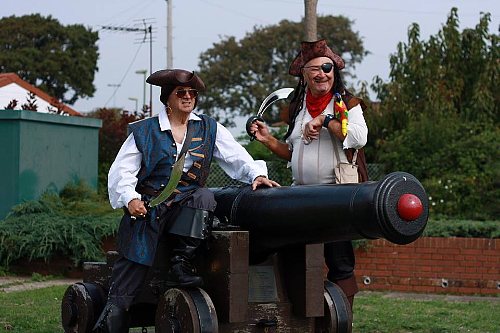 John Bevan and ex-CD Jim 'Tommo' Thomson
Margaret also organised Mike O'Meara to give an illustrated presentation on his HMS Edinburgh gold salvage project [which also involved MCDOA member Mike Stewart and Honorary Member David Keogh] on Saturday evening, complete with the Gosport Mayor and Mayoress in attendance. This went extremely well and we have discovered that we can fit in 60 people seated for such presentations.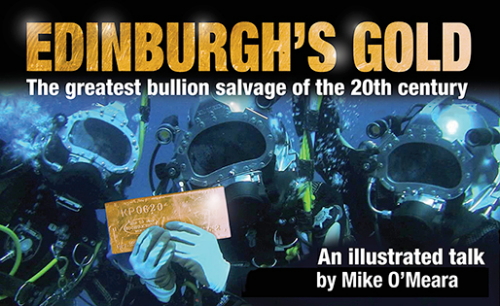 Left: Ex-CD Mike O'Meara with Cllr Keith Gill (Mayor of Gosport) and his Mayoress
Right: Mike O'Meara talks about the salvage of gold from HMS Edinburgh
Margaret joined in with a sizzling, hip wiggling hula dance.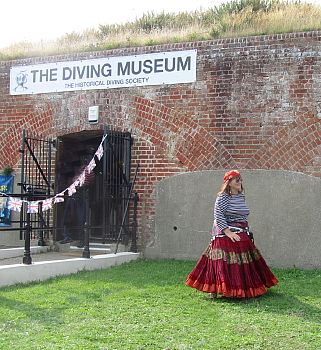 Merry Meg (Margaret Marks)
The result: over 200 visitors!!
A big THANK YOU to the Guides and supporters who made it all possible. Check out the Museum Facebook page for more evidence. Margaret now has her sights on THE BIG DRAW weekend (4 & 5 October) when visitors will be invited to get drawing the exhibits.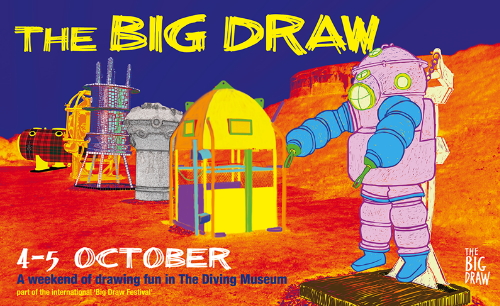 VOLUNTEER EVENING
- 21 September
All Guides are invited to a social evening at the Museum, from 1800 onwards, on Sunday 21 September for some fun and briefing. Jane Russell will be displayed diving to the ocean depths amongst other things.
BUNKER
Nigel and his team, including John Dadd and Jim Thompson, have been busy at the Bunker again. We now have a new concrete apron outside the new front door.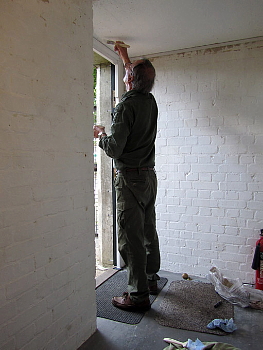 Nigel Phillips (the doorman)
There's also been work on the windows, and sorting of the books, archives, drains and mains water wall penetration.
JohnB"
The HDS Museum is open at weekends until the end of the summer season. It relies on a handful of volunteer guides, at least two but ideally three of whom need to be on site when it is open for business at weekends during the summer. If you live locally and can spare the odd few hours, please contact John Bevan via this email address or call him on 078 0278 5050. You will then be given access to the online roster to fill in your own dates as and when you are available. You don't have to be an HDS member to get involved in this or any other way.
---
8 Sep 14 - MCDOA AGM, Operational Updates & Annual Dinner

From our Honorary Secretary, Richard 'Soapy' Watson:
"This year's Association Dinner will be held in the Wardroom, HMS Excellent on Friday 21 November 2014. There will be a number of leavers (including myself and Bill Kerr). I will be away the first half of November so please get your applications over to me early. The dinner will cost a very reasonable £45 per head for members (£50 for Guests). Before applying, please ensure that your standing order mandate is in effect for the annual membership subscription of £15, as there are still many members who have not changed their mandate.
We will follow the traditional format commencing with pre-dinner drinks in the bar at 1900 followed by good food and refreshments and a hearty sing-song to the musical accompaniment of the HMS Nelson Volunteer Band before retiring for a nightcap or two. This year we are very fortunate to have Rear Admiral Clive Johnstone CBE as our Guest of Honour. He is the Assistant Chief of the Naval Staff and is the First Sea Lord's agent in the MoD. He has been a Navigator, Fighter Controller and Principal Warfare Officer in ships ranging from minesweepers to aircraft carriers. He has been engaged on operations in the North Atlantic, Caribbean, the Balkans, in the Northern Gulf and Lebanon. His biography can be downloaded here.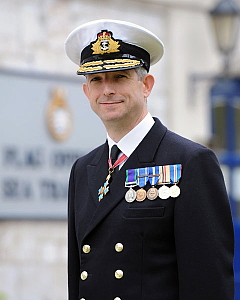 Rear Admiral Clive Johnstone CB
As well as toasting the 25th anniversary of the 1989 Long Courses, this will also be a great opportunity to meet up with many old friends and acquaintances. Any service leavers (who are paid up members) wishing to be dined out are requested to contact the Hon Sec.
As ever, the mess is likely to be fairly full but limited accommodation should be available on board HMS BRISTOL (serving personnel only) courtesy of her Commanding Officer.
To ensure that you do not miss out on this great evening please complete and return the attached application, ensuring that it reaches me before 30 October 2014.
Kindest Regards,
Soapy"
The calling notice and booking form for the AGM and Operational Updates at Fleet Diving Headquarters on Horsea Island are available for download here and those for the Annual Dinner in the Wardroom, HMS Excellent are available for download here. Links are also available on the Forthcoming Events page.
Serving and ex-serving WO(MW)s and WO(D)s are thoroughly welcome to attend the dinner at the 'guest rate' of £50 and members of our affiliated Royal Engineers Bomb Disposal Officers' Club (REBDOC) are also invited at the member rate.
As is our custom, we will be marking the 25th anniversary of the Long MCDO Courses of 1989. LMCDO '89A comprised: Course Officers Jon Chapple and the late Steve Wild; Course Instructors Mo Crang and Chris 'Charlie' Howe; Students Mark Atkinson, Kelvin Barrett RNZN (MW only), Rob Cornick, MCDOA ex-Treasurer Kim Godfrey (Diving only - MW module completed on LMCDO '97A), Bob Gwalchmai RCN (MW only), Nick Quinn RNZN (MW only) and Nick Whitfield (MW only).
LMCDO '89A at the start of its Diving module and Minewarfare module respectively
LMCDO '89B comprised: Course Officers MCDOA past-Chairman Dave Hilton and Paul Raisbeck; Course Instructors Tiny Timms and Dave Smith; Students: Adrian 'Spanner' Dann, Ralf Dreimanis RCN (MW only - later OIC FDU3), MCDOA ex-Treasurer Dave 'Spidy' Ince (later transferred RAN), Mike Parrott (MW only) and Andy Woollven plus an unidentified MWO on the MW module - can anyone help?
LMCDO '89B at the start of its Diving module and Minewarfare module respectively
We will also be dining out any MCDOA members leaving the Service. If you are a leaver and wish to be dined out this year, please inform our Honorary Treasurer Soapy Watson in good time or you won't receive a 'gizzit'. Leavers must have been paid-up members for at least the past three years to dine for free but may pay for the privilege if they have joined the Association in the meantime.
This event is heavily subsidised by the MCDOA so only bona fide members and affiliates are eligible to attend and bring private guests. Check that the Standing Order covering your annual membership subscription is still valid and reflects the increased amount of £15 per year before applying or you will be disappointed. If you are not yet a member of the MCDOA but feel you are entitled to join, the necessary Application Form and Standing Order Authority (effective from next 1 Jan) are available for download via the Membership section but you must also send a cheque for £15, payable to the MCDOA, to cover the current year.
I look forward to seeing as many as possible on the day of the race.
---
From MCDOA member Dave 'Spidey' Ince RAN (LMCDO '89B) on 8 Sep 14: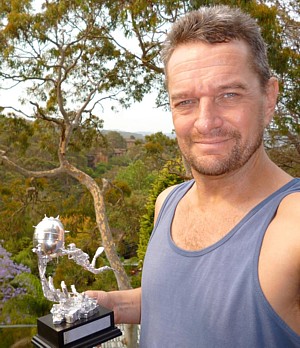 Dave Ince holding the silver-plated miniature of the
Vernon Monument he received last November
"G'day Rob or should I say 'malo a lalei',
The latter salutation because I am sending my regrets and apologies for not being able to attend the next MCDOA Dinner from the Kingdom of Tonga, my latest posting. I am especially regretful because it is the 25th Anniversary of the 1989 Alpha and Bravo courses. I had been promising myself I would get back for this one and have a few / many with my fellow CD Bravo course mates Adrian 'Spanner' Dann and Andy 'Dinosaur Paws' Woollven, the Three Disposaleers. Our course had a particularly high attrition rate; Tiny Timms and Dave Hilton were obviously looking for the best so I'm not sure what happened there (ha ha ha).
Unfortunately my new job and other significant travel plans (off to Antarctica on hols) get in the way. Although still in a RAN uniform, I am now the Maritime Surveillance Advisor to His Majesty's Armed Forces Tonga. The nearest RN analogy is one of those loafing jobs in the Windies. I have left all things MCD behind me for a while perhaps for good; I think I can safely say I have ticked all the boxes there. My time commanding an Armidale Class Patrol Boat has earned me another feather in my cap and broadened the horizons, quite literally. The Tongans have three small patrol boats and the job is what it says on the tin. Anyway, as you can imagine, life in this tropical paradise is not too shabby. The Tongans are great people and punch above their weight. Some of the brethren may even have worked with some of the guys in Afghanistan. I was actually at BRNC with the reigning King of Tonga, so I'm well connected.
The Spidy Inces are all very well. Julie came with me to Tonga, but our sons Luke and Brent have flown and grown. Brent has just commenced an Aussie SF course, and Luke is in the vinegar strokes of joining the Aussie Commandos. There is a real risk they will end up on the same Commando course, heaven help them! I will be posted here until early 2017, so if any of members of the Association are thinking of coming out this way be sure to give me a shout. The diving and whale watching opportunities are superb. You can even swim with the beast here. We have plenty of room, loads of dive kit and a couple of boats.
I have attached my latest requisition, the 'French Fry' taken as a prize from a Frenchman....as if you couldn't tell by the name. Actually the bastard fleeced me! Anyway, we now call it the 'Soggy Chip' and the kayak is called 'Mushy Pea'... you can take the man out of England but you can't take England out of the man.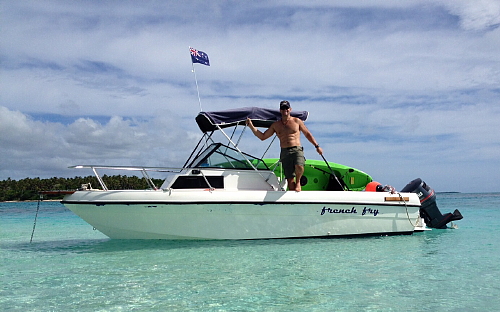 I'll be sitting under a palm tree and raising a rum-filled coconut to you all on 21st November.
Cheers one and all.
Yours Aye,
Dave
D. P. INCE LCDR,
RAN Maritime Surveillance Adviser - Tonga
C/O Aust High Commission - Nuku'alofa
Locked Bag 40
Kingston, ACT 2604"
---
7 Sep 14 - News from HMS Grimsby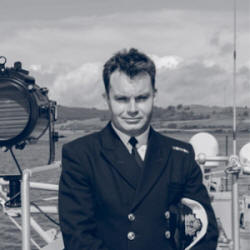 I am grateful to Lt Cdr William King RN, Commanding Officer of HMS Grimsby (MCM1 Crew 6), for this update received via the Ton Class Association (TCA):
"It is my pleasure to write to you as we depart on deployment to the Mediterranean. We will be joining the standing NATO mine countermeasure task group [SNMCMG2] which is a team of eight Mine Countermeasures Ships that remain ready to respond to tasking in the Mediterranean region. This provides a welcome break from the more regular Gulf tasking and the team will return to UK waters just before Christmas.

Over the summer, we have come out of the Coniston Crew, which is the standby crew based at Faslane. Whilst in Coniston, the crew eagerly awaited the reigns of the coveted HMS GRIMSBY. Since taking responsibility for HMS GRIMSBY, Crew 6 entered a busy maintenance period ensuring that the Ship was ready in all aspects for Sea and the upcoming NATO deployment. The Ship was also alongside in Dry Dock at Greenock for 10 days where she was treated to maintenance on her Voith-Schneider propellers and a much needed hull wash. This maintenance has now made HMS GRIMSBY one of the fastest mine hunters in her class. All members of the Ship's Company worked tirelessly during the period to get the Ship ready, with a particular mention and thanks to the Marine Engineering department. It was imperative that the Ship met its deadline before going into sea trials and it is testament to the Crew that this was achieved.

Before going into sea training, we sailed to Kyles through the Western Isles of Scotland, stopping at Tobermory to prepare for the upcoming assessment and shake off any 'tactical cobwebs' that had gathered during our time alongside. The Crew were put through their paces with everything from fires and flood emergencies, to diving operations and mine hunting. Although the Crew had spent several months alongside, they performed extreme!y well, meeting these challenges head on with professionalism and zeal. Indeed, as we head into our deployment I could not ask for a better team.

The Ship was also represented at Armed Forces Day in June in our home town of Grimsby [see second entry for 27 Jun 14 in News Archive 46]. A ten-strong contingent of the Ship's Company proudly marched through Cleethorpes before attending a memorial service at the Remembrance Gate. It was a pleasure to be able to march through our affiliated hometown and the Crew were made to feel most welcome by the people of Grimsby and Cleethorpes. Thank You.

As I write to you, the Crew have come back from their Summer Leave and have entered into the busy and demanding period of sea training. I have no doubt in my mind that the Crew will approach this training with the same vigour and enthusiasm they showed during our own work up. Once this formal period of assessment is complete, HMS GRIMSBY will set sail for the Mediterranean, joining the standing NATO Mine Countermeasures Task Group led by the Italian, Captain Giovanni Piegaja.

As we depart for home shores, I think it is fitting to say a heartfelt thanks to all for your continued support. As Commanding Officer I am incredibly proud of my team and how much they have achieved in such short order, and I look forward to an opportunity in the New Year for you to meet the Crew, but until then I wish you all the very best from 'your Ship'.

William R C King
Commanding Officer
HMS Grimsby - MCM 1 Crew 6"

HMS Grimsby and FGS Wega of SNMCMG2 at Casablanca on 5 September 2014 to support
the NATO counter-terrorism Operation ACTIVE ENDEAVOUR
---
6 Sep 14 - Death of ex-CPO(D) Albert Derek 'Ginger' Snell BEM
I have heard from Ginger's eldest son Derek that his father crossed the bar peacefully at about 2015 tonight (see entry for 25 Aug 14). He had been readmitted into hospital late on Thursday with suspected pnuemonia.
I will publish funeral arrangements as they become available. In the meantime, I know all members of our community will join me in extending our sincere condolences to his family and close friends.
---
From MCDOA member Bill 'Chippy' Norton on 9 Sep 2014:
"Dear Rob,
Sad news about Ginger. I know that it was not unexpected but sad nonetheless. He was good lad.
I hope you received the copy pic of him in better times which I sent you. I have written to Derek who, regrettably, I don't think I ever met (bad reflection on how separate the families were).
Grateful for news of the arrangements.
Yours Aye,
Bill"
---
From ex-CPO(D) MIchael 'Shiner' Brassington on 7 Sep 2014:
"Dear Alex and family,
What sad news you sent. Tomorrow I was looking forward to meeting up with my old 1953 buddy.
It is blessing Ginger did not have to experience a longer drawn out departue. This is one funeral that I can get to in the car. I'm sure you boys did your best for him.
I have two eye ops lined up in Gingers memory and this will help two more sightless folks to see.
Regards,
Shiner"
---
From Ginger's son Andrew on 7 Sep 2014:
"Hello Rob,
Thank you for your kind words.
Please find attached a picture taken in recent happier times, May 22nd 2014 and I am sure before Ginge knew of his impending illness. Please find fit to use as you wish. He is joined in the picture by my son, his 18-year-old grandson Harry on a visit to Sizewell Power station where Harry recently began an apprenticeship. He was immensely proud of Harry's achievement. The picture sums up both a proud grandfather and a grandson who held so much respect and affection for his granddad.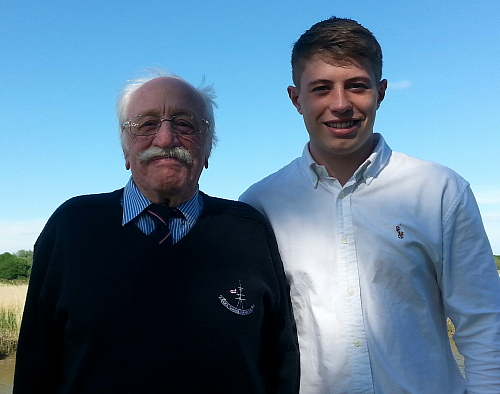 Ginger and his grandson Harry on 22 May 2014

Many thanks,

Andrew Snell"
---
5 Sep 14 - Bob Hawkins comes to town
It was delightful to rendezvous with MCDOA member Bob Hawkins MBE at Gunwharf Quays (formerly HMS Vernon) in Portsmouth last night. I was his LMCDO course officer at HMS Vernon in 1982 and, as happens in our small and exclusive branch, our paths have crossed frequently ever since.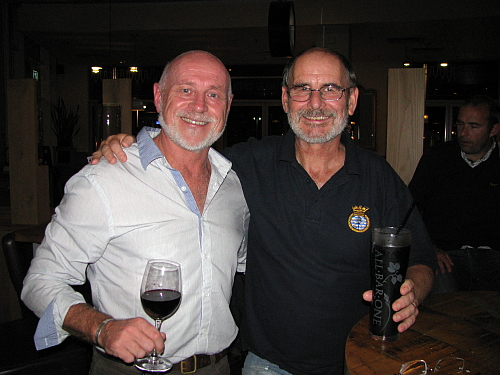 Bob Hawkins and Yours Truly
We were accompanied by Bob's 2* RAAF boss for whom he works as the Lead Maritime Planner at the Headquarters Integrated Area Defence System (HQ IADS) at RMAF Butterworth in Penang, Malaysia which executes the policies of the Five Power Defence Arrangements (FPDA) (see entry for 13 Dec 12 in News Archive 40). We were also joined by Bob's naval, army and air force colleagues from Australia, New Zealand, Malaysia, Singapore and the UK who are all in the UK for meetings at Joint Forces Command (JFC) Headquarters in Northwood. JFC is commanded by Air Chief Marshal Sir Stuart Peach KCB CBE ADC who was our guest of honour at the MCDOA's annual dinner in 2011 (see entry for 24 Nov 11 in News Archive 36).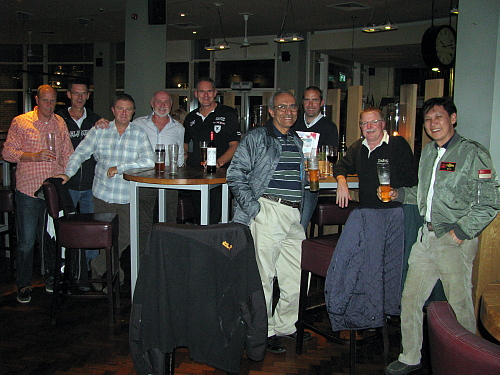 Off-duty IADS military staff
RN warfare officer Glenn Gorman, who is due to relieve Bob next summer, was present at our gathering too.
---
3 Sep 14 - NATO Summit in Wales
The BBC website contains this article announcing the arrival of NATO leaders, including President Barack Obama, at the Celtic Manor in Newport for the two-day summit on Thursday and Friday. The Wales Online website contains this article (including a gallery of wonderful photos) describing the arrival of naval units in nearby Cardiff for the occasion including the Type 45 destroyer HMS Duncan.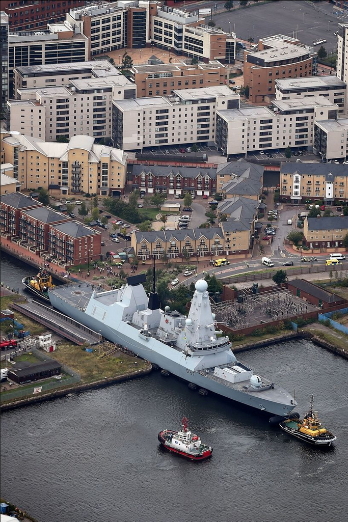 HMS Duncan being towed into Cardiff Docks yesterday
An EOD vehicle from Plymouth-based Southern Diving Unit 1 (SDU1) was parked near HMS Duncan's brow.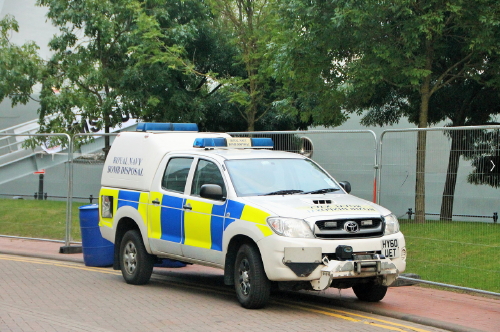 SDU1 bomb disposal vehicle parked in front of HMS Duncan in Cardiff yesterday
Other naval units in Cardiff include the Latvian Tripartite class minehunter LVNS Viesturs (ex-HNLMS Scheveningen) whose arrival is described in this article published in the Penarth Daily News. She is being joined by the Dutch Tripartite minehunter HNLMS Urk, the Hunt class minehunter LNS Kuršis (ex-HMS Dulverton), the French Georges Leygues class anti-submarine frigate FNS La Motte Picquet and the Norwegian Skjold class corvette HNoMS Skudd.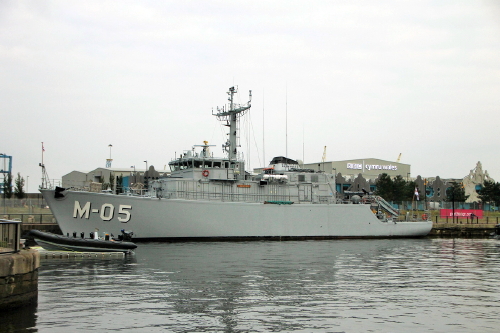 LVNS Viesturs in Cardiff Docks yesterday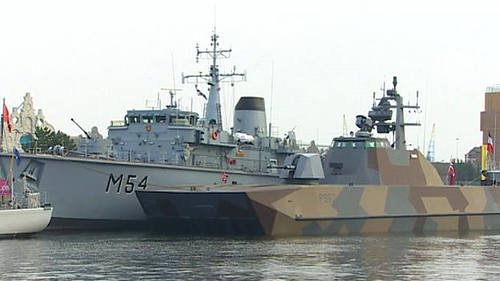 LNS Kuršis and HNoMS Skudd in Cardiff Docks today
Cardiff University's Royal Naval Unit (URNU) Archer class P2000 patrol boat HMS Express is normally based in the city anyway but she has been joined by her sister ship HMS Biter which belongs to Manchester & Salford URNU and is normally based at Liverpool: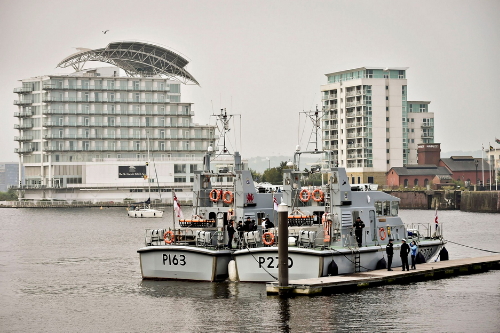 HMS Express and HMS Biter at Cardiff yesterday
---
2 Sep 14 - HMS Quorn's homecoming
I was delighted to join AB(Sea) Martin 'Nev' Longbottom from Huddersfield on the Round Tower in Portsmouth this morning to help welcome back HMS Quorn (MCM2 Crew 3). Nev, short for Neville, had left her in Toulon to return to the UK and pave the way for her return.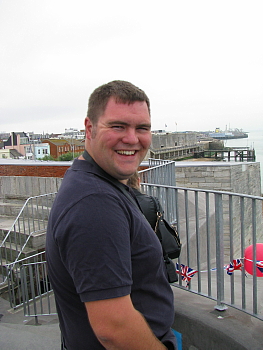 AB(Sea) Martin 'Nev' Longbottom
As chronicled in the MCDOA website's archives, HMS Quorn deployed to the Gulf in May 2011 and her current ship's company has been manning her since January this year.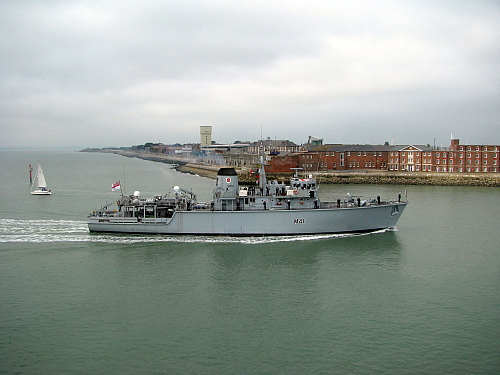 I am sure all members of our community will join me in welcoming home all on board HMS Quorn and wishing them a thoroughly enjoyable time during their well-deserved leave.

Post script:

The Portsmouth News has since published

this article, including a video clip, and the RN website this article describing HMS Quorn's arrival in 2 Basin in Portsmouth Naval Base. Both articles feature AB(MW) Greg 'Leroy' Learoyd.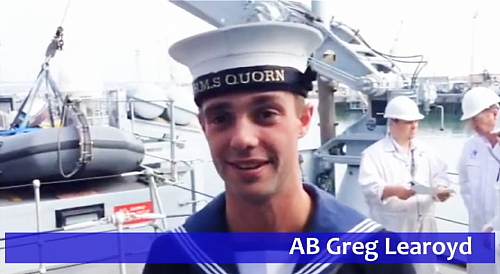 ---
1 Sep 14 - Royal Naval Reserves Diving Branch
The RNR Divers group on Facebook has published a set of photographs of a continuation training session on Horsea Island using half mask variant (HMV). They have kindly allowed me to show these examples: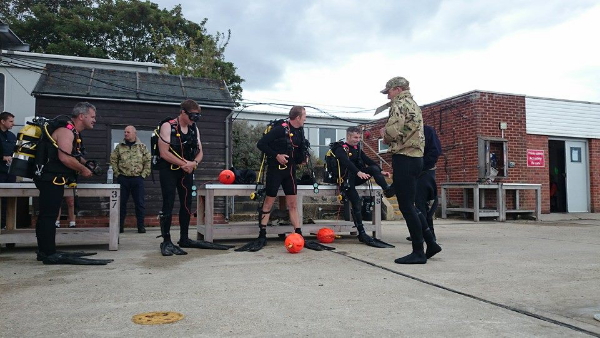 Divers in wetsuits from left to right: AB Standley, AB Barrett, PO Pearce,
PO Morton. LS Boyd in the background and WO Dello supervising
A factsheet about the RNR Diving Branch can be downloaded here:
RNR Diving Branch Factsheet - August 2014
---
31 Aug 14 - HMS Quorn returns to Portsmouth on Tuesday
HMS Quorn (MCM2 Crew 3) is due to arrive at Spithead tomorrow evening and anchor overnight before entering Portsmouth on Tuesday morning (1015 ETA at Outer Spit Buoy). She has spent the past three years based at Bahrain in the Gulf (see second entry for 8 Aug 14). I am grateful to local photographer Daniel Ferro for this image of her at Gibraltar last Wednesday:
HMS Quorn at Gibraltar 27 August 2014
(Courtesy of Daniel Ferro)
---
30 Aug 14 - The late John Peel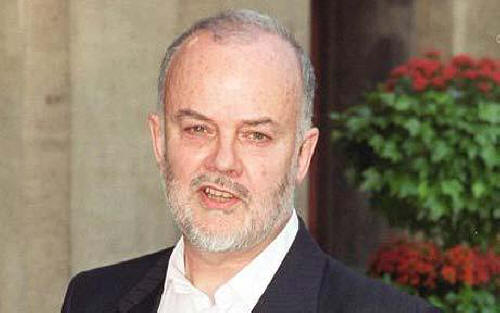 From the BBC website:
This year John Peel would have been 75 years old. To celebrate his birthday and to mark the 10th Anniversary of his passing, 6 Music remembers John with contributions from Steve Lamacq, Lauren Laverne, Annie Nightingale, Don Letts, Mary Anne Hobbs with a mixture of Peel sessions and extracts from his legendary Radio shows.
Members may recall that John Peel, an honorary graduate of Portsmouth University, died on 25 October 2004 (see entry for 27 Oct 2004 in News Archive 8) and your humble webmaster was quoted in this article in the Portsmouth News. The last words John Peel ever spoke on his Radio 4 programme 'Home Truths' mentioned the MCDOA (see entry for 9 Oct 2004 in News Archive 8):
MCDOA 'Tie Clip' (wav file - 608 Kb)
This was the result of us responding to his request for a tie during a reference to the wartime evacuation of part of HMS Vernon to Roedean School in a previous programme (see entry for 5 Oct 2004 in News Archive 8):
Roedean Dit (wav file - 1.2 Mb)
---
29 Aug 14
HMS Ramsey home after three-year deployment
The Royal Navy website contains this article, the Navy News website this article and the Daily Record website this article describing this morning's homecoming to Faslane of HMS Ramsey (MCM1 Crew 2 commanded by MCDOA member Ash Spencer) after three years in the Gulf (see entry for 19 Aug 14 and second entry for 8 Aug 14).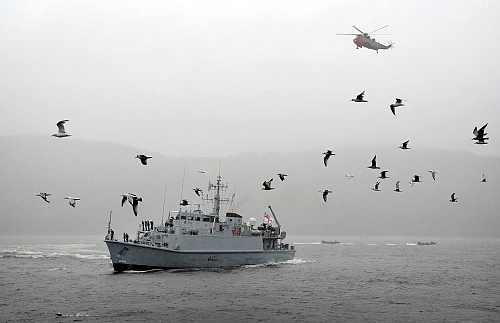 RN photos by CPO(Phot) Tam McDonald (FRPU North)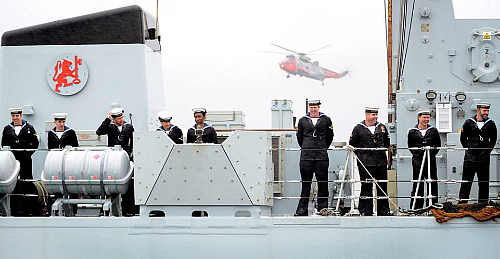 The UK Gulf MCMV Force assigned to Operation KIPION currently comprises HMS Chiddingfold (2/5), HMS Atherstone (2/6), HMS Penzance (1/3) and HMS Shoreham (1/5).
---
SDU2 blasts ordnance found by dog walker on Shellness beach, Sheppey
The Kent Online website contains this article, including a video clip, describing yesterday's disposal of a piece of explosive ordnance on the Isle of Sheppey by members of Portsmouth-based Southern Diving Unit 2 (SDU2).
---
28 Aug 14 - RN Diving & EOD Heritage: DEODS
I am grateful to former CPO(D) Perry Mason for these photos, including one of MCDOA member Tony Lumbard, of the RN training staff at DEODS (Defence Explosive Ordnance Disposal School), Chattenden during, I believe, the mid-1980s:
"I think Tug and John are in the uniforms originally issued to them.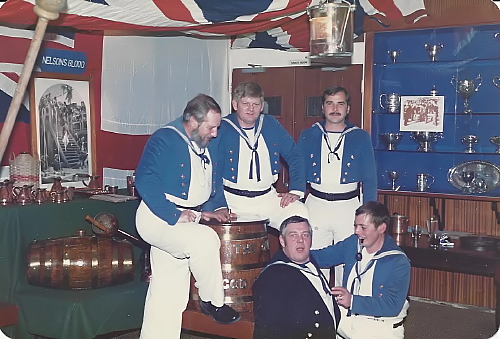 Above and below: Trafalgar Night at DEODS
(Not sure who's wearing the moustache)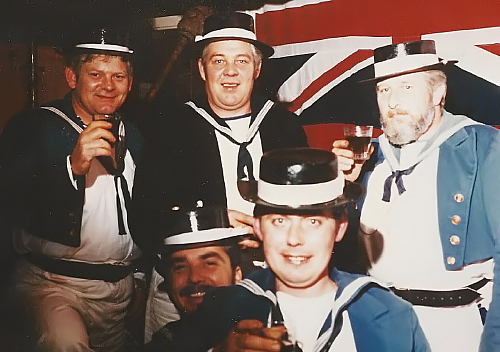 Tony's leaving run at DEODS."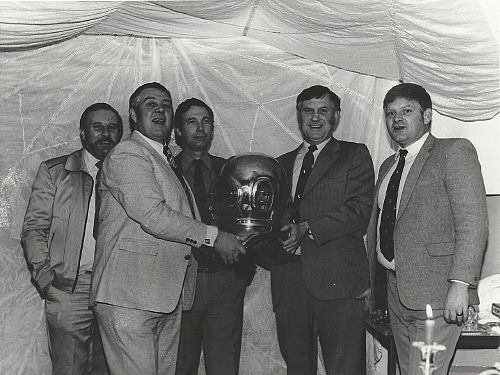 Tony Lumbard (second right) leaving DEODS as OIC
---
27 Aug 14 - Long Service & Good Conduct Medal awards
Congratulations to CPO(D) Alistair Reilly on being gazetted for the award of a clasp to his LS & GC medal and to PO(MW) L Untulus and PO(D) C A Thomas on being gazetted for the award of LS & GC medals. The relevant Supplement to the London Gazette can be viewed here.
---
26 Aug 14 - HMS Bangor hosts Second World War veteran

T

he Royal Navy website contains this article describing a visit to HMS Bangor (MCM1 Crew 8) by David Russell who served in the anti-submarine trawler HMT Istria during the Second World War. The visit took place while the ship was berthed at Pacific Quay in Glasgow during the recent Commonwealth Games (see second entry for 1 Aug 14).
Veteran David Russell with HMS Bangor's CO Lt Cdr Mike Carter Quinn (left)
(RN website photo)
---
25 Aug 14 - Update on ex-CPO(D) Albert Derek 'Ginger' Snell BEM
I have been sent this announcement (see entry for 2 Aug 14):
"Hi,
It was so lovely for all the family to see the posting on the 2nd August 2014.
If anyone who knows Dad (Ginger Snell) wants to be remembered to him, please email your details to this address. He is back home and quite comfortable but poorly with carers, family and friends popping in. He is really not able to answer letters or phone calls so please contact us by email.
Derek Snell
(Eldest son)"
---
From former FCPO(D) Dave 'Mona' Lott BEM on 30 Aug 2014
"G'day each and all,
Just to keep you in the picture...
Prior to starting this e-mail I had not long put the phone down after speaking with my old mate Ginger (2215 Oz time and 1315 London or Norfolk time). We gassed on for a short while before Ginger needed a rest. He did say that he was delighted that someone from his old branch had been in contact and we also had a few laughs.
Ginge stated categorically that his mud running days were definitely over. He also gave me further stick regarding travelling in my draughty sidecar, especially on top of completing 90 minute endurances in a well frozen Horsea Lake. We caught up on the health, or total lack of it, mentioning many old mates that Ginger hasn't heard of in many a year.
I have promised a return call sometime next weekend.
Regards to all,
Dave L (Mona)"
---
From former FCPO(D) Dave 'Mona' Lott BEM on 28 Aug 2014:
"Derek, Alex, Andy, Ginger, Rob and Shiner,
I thank you for keeping me in the loop, and I trust things are remaining stable.
I went back through my photo albums and found this shot of Ginger, Dave Audoire and myself with an unremembered RAF Officer from 1963 when at Horsham Bomb Disposal School as DEODS was then known: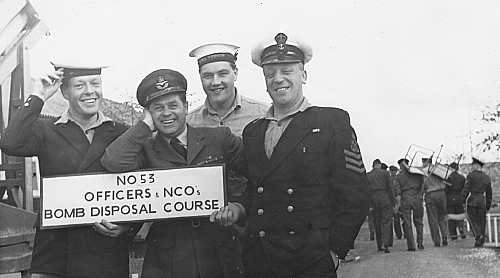 Albert 'Ginger' Snell, unidentified RAF officer, Dave Audoire
and Dave Lott at Horsham Bomb Disposal School in 1963
I thought it might bring back some happier memories from those times. I don't know where our 4th class member Gerry 'Pincher' Martin was... perhaps he was still confined to the bomb hole that we were digging!
Derek and Alex - I used Google Earth to do a flyover of your Dad's pad. Lovely spot, and my Gt Gt Grandfather Samuel Chalker was born not far away in 1847 at Alburgh, in the District of Depwade.
Dave L (Mona)
P.S. I would much prefer the image above to reflect back at me from my mirror these days!"
---
From former FCPO(D) Dave 'Mona' Lott BEM on 28 Aug 2014:
"Firstly many thanks to Rob Hoole, the MCDOA's "Webmaster Extraordinaire" for conveying messages re Ginger and without whose input this unfolding sad event would have remained unknown.
Next to Derek and Alex and many thanks for your update on your dad's current state of health. I did try twice to phone your dad but got the message bank and left quick messages.
Finally to my old mate Ginger last seen in 1976-77 running diving classes in a flooded brick quarry when I was doing the rounds of old ex RN Diving branch mates in the Norfolk area... Mate I can't begin to say how sorry I was to hear of your current health status. When I hear of any of my old mates my mind reflects to a picture of when I was in their company. However when I see the bloke who is reflected back to me via the bathroom mirror (quite ghastly!), I have to tell myself that I can't be the only one who features have changed over the intervening years...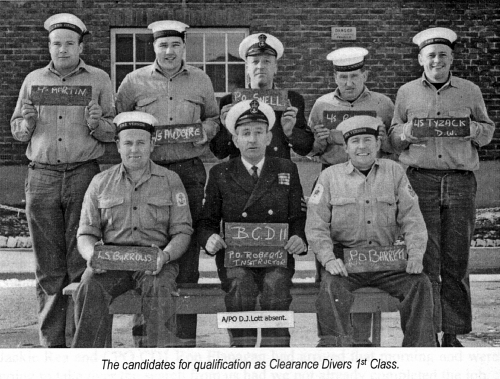 CD1 course photo in 1963 showing Ginger Snell standing centre rear
A lot of water has passed under the bridge since we were on CD1's course together. It was the worst winter (Jan 1963) in the UK for over 100 years and we were using suits and underclothes never designed for such conditions while completing 90 minute endurances in Horsea's thickly frozen Lake. Or carrying out extra long mud runs right around Horsea Island under the 'kindly guidance' of Taff Roberts.
Horsea Lake during the winter of 1963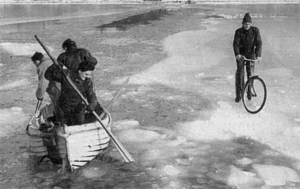 It is nice to relate that we four survivors of that course are still around although none of us are as fit as we were then. Pincher still lives on the outskirts of Portsmouth, Dave Audoire is somewhere in Spain and I came to Eden, NSW Australia in 1991 to escape any more possible bad winters. I doubt if you have forgotten your trips in my dad's decrepit old motorcycle sidecar in our weekly trips travelling to and from the Horsham Defence Explosives Disposal Unit and you nearly leaving via the rusted out sidecar floor when trying to brake before I did? Yes, we had some laughs.
<<snip>>
Ginge, I'd just finally like to say that I do wish you all the best whatever the outcome. I'm sure that your family and friends will stay close and give you their required and much needed support.
All the very best Mate (friend).
Dave L (Mona)"
---
From MCDOA member Bill 'Chippy' Norton on 17 Aug 2014:
Rob,
Further to our telecom and the sad news about Ginger's health, I worked with him in the FEFCDT [Far East Fleet Clearance Diving Team] between 1968 and 1970. He never lost his Norfolk/Suffolk accent and was always smiling. This photo shows him with Charlie Charlwood [author of 'Tread Lightly into Danger - International Experiences of a Bomb Disposal Expert'] and Graham Shaw when he received a CinC's commendation for EOD work during the 1967 Hong Kong leftist riots.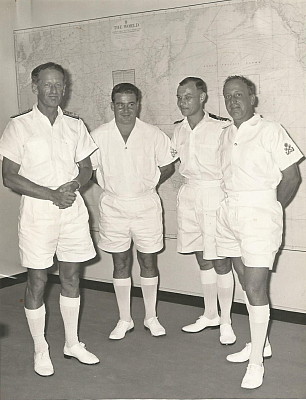 Admiral Sir William Donough O'Brien KCB DSC (CINC Far East Fleet) with

PO(D) Anthony 'Charlie' Charlwood BEM, Lt Cdr David Shaw OBE RN

and PO(D) Albert 'Ginger' Snell BEM
This scan shows images from the same period after which MCDOA member John Coggins was appointed an MBE for rendering safe a device attached to the TV/Radio mast while dangling from a chopper: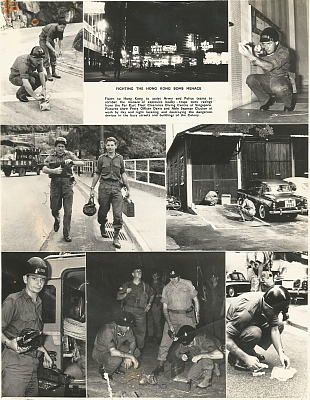 FECDT IED disposal work, featuring PO(D) Davis and
AB(D) Clutton, during Hong Kong leftist riots in 1967
I was in HMS Bulwark getting my watch-keeping ticket at that time and we relieved the 'Siege of Hong Kong' by bringing up 40 Commando from Sembawang. I later relieved John as the EODO in the team, intially with Graham, such a gentleman.
Yours Aye,
Bill"
---
23 Aug 14 - David 'Jimmy' Bond to swim River Dart in aid of Vernon Monument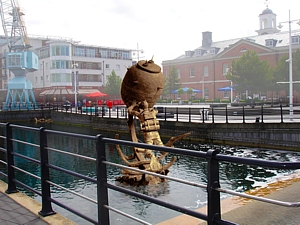 Artist's impression of the Vernon Monument
in situ at Gunwharf Quays
On Sunday 14 September, ex-CD David 'Jimmy' Bond plans to swim the 10 km stretch of the River Dart from Totnes to Dartmouth in aid of Project Vernon, Frank Water and other service charities. If he can find a suitable companion, preferably female, to carry on with him, he will swim the extra 6 km all the way to Dartmouth Castle at the mouth of the river.
As chronicled in the MCDOA website's News Archives, Jimmy has previously swum for Project Vernon and other charities off Blackpool Sands in Devon, around Portsea Island and in Lake Windermere.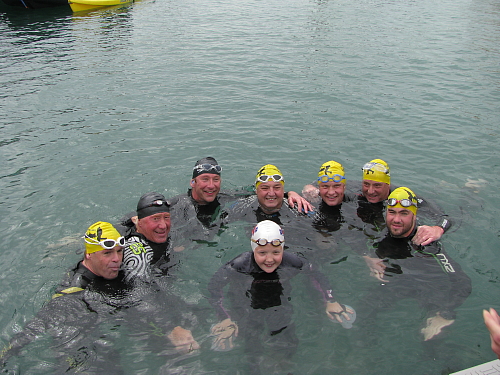 Jimmy Bond (second left) with fellow Round Portsea Island swimmers
at Gunwharf Quays (formerly HMS Vernon) in July 2011
Support his latest aquatic endeavour on his Virgin Money Giving page and don't forget to register for Gift Aid which adds 25% to your donation:
David (Jimmy) Bond's fundraising page
---
22 Aug 14 - Funeral of ex-PO(D) Andy Frowley
I joined several other members of the Diving Branch at Portchester Crematorium on Tuesday for a Thanksgiving Service for the life of Andy Frowley (see entry for 31 Jul 14 in News Archive 47). Other MCDOA members present included Martyn Holloway (Andy's old boss in the Saudi Diving Training Section) and it was good to see Don Crosbie and Mick Beale wearing uniform.
The casket was placed on the catafalque surmounted by an ensign, floral tributes and Andy's cap. Mourners entered the chapel to a recording of 'Free Bird' by Lynyrd Skynyd before Chris Ahern, a lay preacher, welcomed those present. Andy's daughter Sarah then read John 14:1-6 (In my Father's house there are many dwelling places) before a poem was read by his sister Jeanette.
Ex-CD Andy 'AJ' Lasckey was wearing his Fire Service uniform. He was one of Andy's fellow students on CD Basics' course in 1985 and described something of his character including the exploits they later shared in Hong Kong. Andy's nephew Michael then said a short prayer before the congregation paused for reflection to the sound of 'Handbags and Gladrags' by The Stereophonics. After more prayers, the Commendation, Committal and Blessing, some attendees went on to raise a glass in Andy's memory at Portsmouth Rugby Club.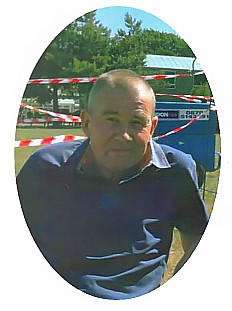 Andrew David Frowley
(11 Mar 1961 - 27 Jul 2014)
---
21 Aug 14
HMS Ramsey at Gibraltar
As ever, I am grateful to local photographer Daniel Ferro for this image of HMS Ramsey (MCM1 Crew 2 commanded by MCDOA member Ash Spencer) at Gibraltar today. She is returning to Faslane after a three-year deployment in the Gulf.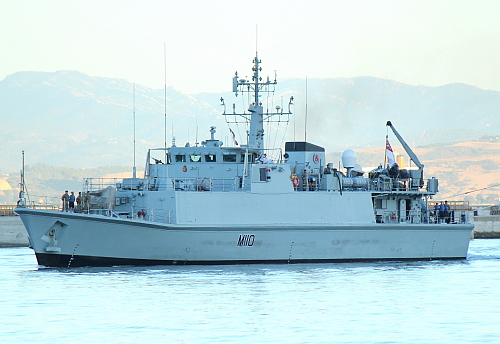 HMS Ramsey at Gibraltar 21 August 2014
(Courtesy of Daniel Ferro)
---
SDU1 called to Hallsands Bay
The Plymouth Herald website contains this article describing a call-out for members of Plymouth-based Southern Diving Unit 1 (SDU1) to Hallsands Bay in South Devon to deal with a suspected explosive device which transpired to be a discarded fridge motor.
---
20 Aug 14 - Clearance Divers perform mobile phone ruggedness trial on BBC's One Show
RN Clearance Divers were shown on The One Show on BBC TV yesterday assisting Dominic 'Dom' Littlewood perform a ruggedness trial of various mobile phones. The first phase of the trial was conducted at the RN Leadership Academy (RNLA) at HMS Collingwood where certain students, including PO(D) Bungy Edwards, had a phone strapped to their arm while tackling the obstacle course.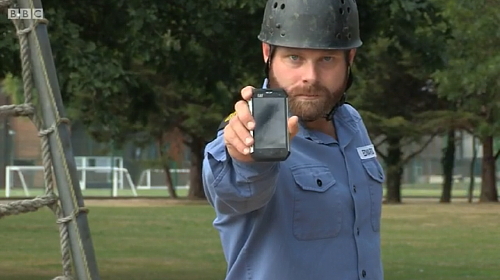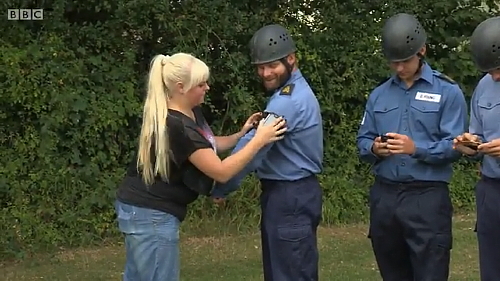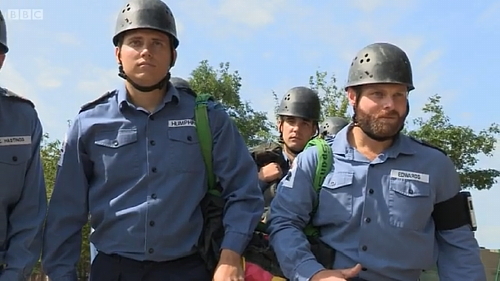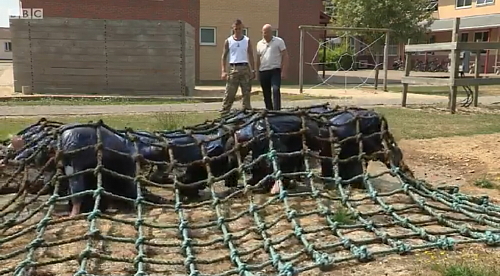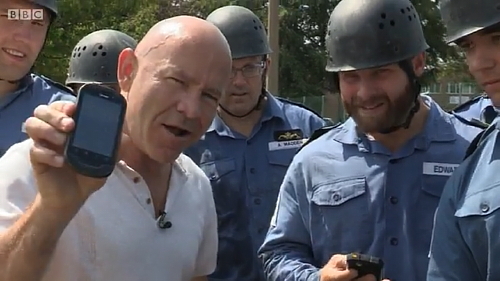 The second phase of the trial was conducted in another venue familiar to CDs, the 100ft deep Submarine Escape Training Tank (SETT) at what was formerly HMS Dolphin.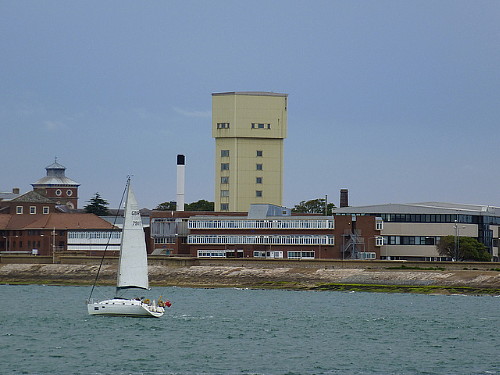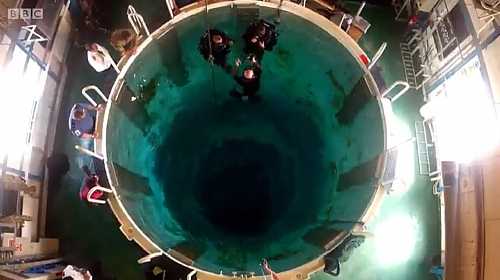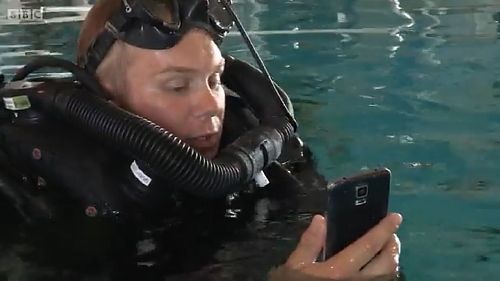 The final phase of the trial was conducted at Fleet diving headquarters on Horsea Island and involved a 7 ton bomb wagon being driven over the phones.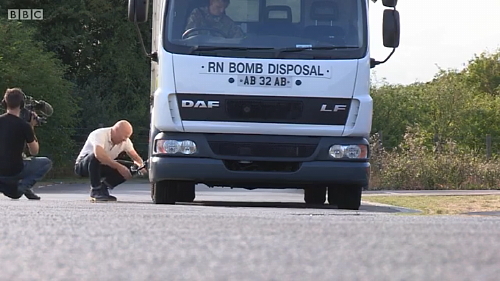 All else having failed to destroy or disrupt the NGM Explorer mobile phone, the show's presenter, Dom Littlewood, decided to take more drastic action in Horsea Lake.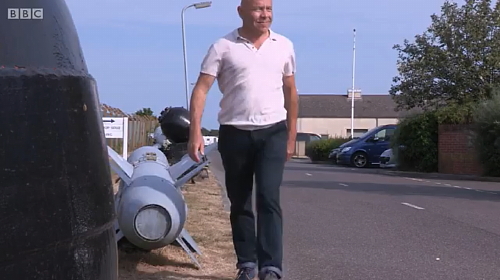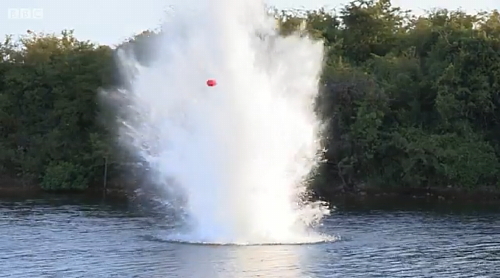 This episode of The One Show can be watched again here on BBC iPlayer until 25 August. The relevant sequence is between minutes 16:43 and 21:43.
---
19 Aug 14 - HMS Ramsey in commemoration of Operation DRAGOON
The Royal Navy website contains this article and the Navy News website this article describing the participation of Faslane-based HMS Ramsey (MCM1 Crew 2 commanded by MCDOA member Ash Spencer) and the survey ship HMS Echo in a sailpast off Toulon to mark the 70th anniversary of Operation DRAGOON, the Allied invasion of southern France. Warships from France, the USA, Algeria, Morocco and Tunisia also took part in this commemorative event in the presence of the President of France and the First Sea Lord. The articles feature AB(D) Scott Hulme.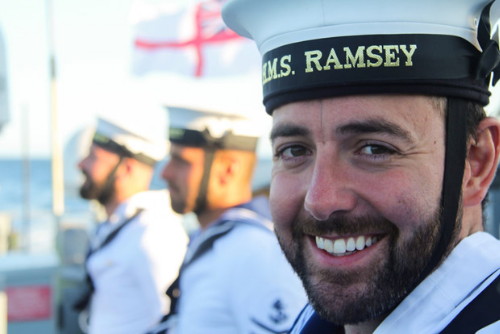 HMS Ramsey is on passage back to the UK after her three-year deployment in the Gulf. She has been manned by MCM1 Crew 2 for the past seven months.
---
18 Aug 14 - Funeral of Lt Cdr David Peter Ronald Lermitte RN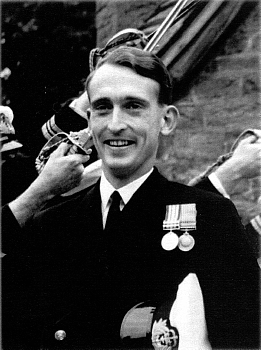 David Lermitte on his wedding day
I represented the MCDOA today at the Service of Thanksgiving for ex-MCDO David Lermitte in the ancient Church of SS Peter & Paul in Godalming, Surrey (see first entry for 27 Jul 14 in News Archive 47) and was pleased to see fellow MCDOA member David Burstall with his wife Jane among the familiar faces. Several other ex-RN and ex-RM personnel were present as well as family members and friends. Sadly, David's widow Sue is seriously ill and was unable to attend but other relatives included his son Robin with grandchildren Mia and Guy and his daughter Julia with grandchildren Alice and James. The casket was borne into the church to the sound of 'Swinging Safari' by Bert Kampfaert. The officiating priest, Canon Mervyn Roberts whose father had served in submarines as a naval officer, opened the service with a brief allusion to Winston Churchill before reciting Psalm 107:23 - 42 (They that go down to the sea in ships).
David's son Robin began his tribute to his father by explaining that the music on entry had been the family's theme song while David was serving in Singapore. It was family lore that David had been born backwards into a bucket with a head shaped like a rugby ball and red hair. He had joined the Royal Navy in 1945 at the age of 13 and served all over the world. He had married Susan in the very same church in Godalming on 1 August 1959 and left the RN in 1971. Adapting to the vagaries of civilian life had not been easy but he applied himself to gardening among other purrsuits and eventually took early retirement to run Westway Care Home in the 1980s and early 1990s. He performed many of the maintenance tasks and could often be seen in filthy cords tied up with string or, in the summer, swimming trunks with wellies. Although he was a practical man, he sometimes needed rescuing like the occasion he was stuck up a tree after sawing away his only escape route. His love of birds encompassed having a jackdaw while in the RN and later possessing a magpie and doves. Labradors also featured highly in family life. He made sure the family was well-travelled with time in France, Africa, India and Sri Lanka. Robin made the telling point that he hadn't appreciated what a fine job David had made of being his father until he became a father himself.
David's daughter Julia and granddaughter Alice then read alternate verses of 'When The Last Hand Comes Aboard' by Richard John Scarr:
No more a Watch to stand, Old Sailor.
For you are drifting on an ebbing tide.
Eight Bells has rung. Dog Watch is done.
A new Berth waits you on the other side.
Your Ship is anchored in God's Harbour.
And though his sailors are of equal rank.
there'll be Shipmates on the deck to greet you.
And Pipe, as you ascend the Plank..
Her boilers with full head of steam.
Cargo stowed and Galley stored.
Just waiting to get underway.
When the last Hand comes aboard.
Look sharp! That Hand is you, Old Sailor.
And you'll be sailing out on Heavenly Seas.
So may the wind be ever at your back.
Fair weather. And God speed!
Revd Roberts then gave the Address and said prayers before the congregation paused for reflection to the accompaniment of Mozart's 'Ave Verum'. We then said 'The Lord's Prayer' before the Commendation and Blessing. The casket was borne from the church for private burial in the presence of the family to the sound of 'Eternal Father' and 'Bread of Heaven'. One or two of us couldn't help but join in.
A reception was held in the adjoining Octagon where photos of David and his family were displayed including some showing him as the CO of HMS Abdiel as his penultimate job in the RN in the late 1960s. He had previously taken over Command of the Far East Fleet Clearance Diving Team, based in Singapore, from David Burstall when he produced these reports about the first surveys of the Second World War wrecks of the battlecruiser HMS Repulse and the battleship HMS Prince of Wales. I took the opportunity to pass on the condolences of the Association and the Branch at large to his family.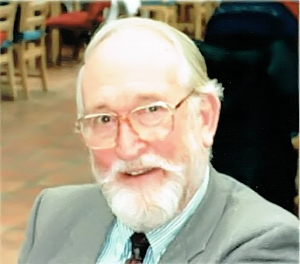 Lt Cdr David Peter Ronald Lermitte RN
(18 May 1932 - 19 July 2014)
---
17 Aug 14 - Update on eligibility of HMS Brecon and HMS Ledbury personnel for South Atlantic Medal
The third entry for 1 Aug 14 reported the decision and reasons behind extending the qualifying period for the award of the South Atlantic Medal without the Rosette from 12 July to 21 October 1982. This will bring into entitlement members of the ships' companies of HMS Brecon, HMS Ledbury and the old RMS St Helena which didn't arrive off the Falklands until early July 1982. The islands had been liberated on 14 June.
The following has now been published on the Veterans UK website:
Changes to Ministry Of Defence Medals and Clasps following Sir John Holmes's Independent Review
Existing Medals/Clasps that are to be awarded under revised qualifying criteria
South Atlantic
The qualifying period for the award of the South Atlantic Medal without the Rosette will be extended from 12 July to 21 October 1982, when the airfield at Mount Pleasant was completed. Applications for the South Atlantic Medal, under the new time extension, will be accepted from 1 October 2014 onwards. The awards will begin to be despatched towards the end of that month. Applications will be dealt with in date order.
---
16 Aug 14 - SDU2 deals with 20mm shell on Isle of Wight
The Island Echo website contains this article describing the removal on Friday, presumably by members of Portsmouth-based Southern Diving Unit 2 (SDU2), of a 20mm shell handed in at West Wight police station near Yarmouth on the Isle of Wight.
---
15 Aug 14 - Project BUSTER: Naval Charity Dinner in aid of Project Vernon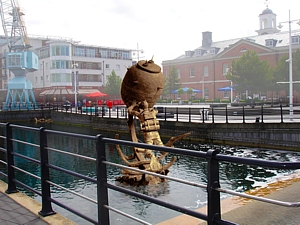 Artist's impression of the Vernon Monument

in situ at Gunwharf Quays

An announcement by MCDOA member David Hunkin OBE:

"In support of Project VERNON, Chris Baldwin, Keith Broughton, Dave Hunkin, Al Nekrews and Soapy Watson have organised an amazing charity dinner in HMS VICTORY.

To be held on Sept 11th, it is being supporting by an incredible guest list including our Guest of Honour, Admiral of the Fleet the Lord Boyce KG GCB OBE DL (former First Sea Lord and later Chief of the Defence Staff), Guest Speaker Sir John Scarlett KCMG OBE (former Head of MI6) and Admiral Sir Jonathon Band GCB DL (former First Sea Lord) as Master of Ceremonies.

Former Bonhams auctioneer Simon Morgan will hold a charity auction with some incredible 'money can't buy' prizes. Add to this a private tour of HMS VICTORY followed by a champagne reception, Royal Marines band and a traditional Naval Mess Dinner on the Gun Deck of HMS VICTORY and one has a very special night ahead indeed.

Availability is very limited but a small number of places are still available should any MCDOA member or their company wish to take them at £400 per head. Please contact any of the organisers above to reserve your spaces. Places are on a strictly first come first served basis.

Help us reach our target to finally get the monument taking pride of place in Gunwharf.

Many thanks,

David

David Hunkin"

Here is the accompanying brochure in PDF format:

Naval Charity Dinner and Auction

I am sure all members of our community will join me in expressing our appreciation to the above-named MCDOA members for their independent fundraising initiative in aid of Project Vernon.

Post script:

As of 22 August, all previously available places have been taken.
---
13 Aug 14 - COMPORFLOT commendation for HMS Hurworth chef
The Portsmouth News website contains this article and the Royal Navy website this article describing the award of a commendation to Ldg Chef Graeme Murdoch of MCM2 Crew 7, currently manning HMS Hurworth, for his commitment and professionalism while the crew was manning HMS Quorn during a six-month deployment in the Gulf last year. He was presented with his award by MCDOA President Cdre Paddy McAlpine CBE ADC in his role as Commodore Portsmouth Flotilla (COMPORFLOT).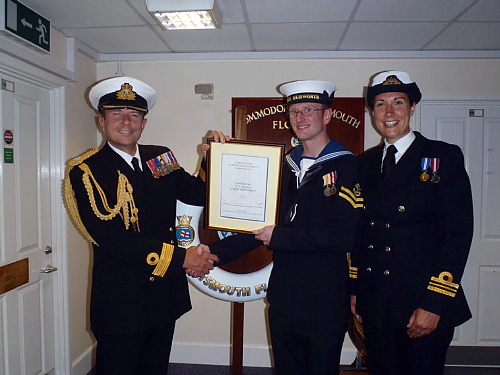 Cdre Paddy McAlpine presenting COMPORFLOT Commendation to Ldg Chef
Graeme Murdoch in the presence of Lt Cdr Ellie Stack, CO of MCM2 Crew 7
(Royal Navy photo)
---
12 Aug 14 - Long Service & Good Conduct Medal awards
Congratulations to WO1(MW) Pete 'Bomber' Mills and WO1(D) Dave Merridue on being gazetted for the award of clasps to their LS & GC medals and to PO(MW) D Brain and LS(MW) P J Mayer on being gazetted for the award of the LS & GC medal. The relevant Supplement to the London Gazette can be viewed here.
---
11 Aug 14 - SDU2 deals with Second World War shell in Old Portsmouth
The Portsmouth News website contains this article describing the removal, presumably by members of Portsmouth-based Southern Diving Unit 2 (SDU2), of a Second World War shell from Old Portsmouth. Roads were closed after the shell was found in the building area where yachstman Sir Ben Ainslie's America's Cup bid headquarters is being constructed.
Post script: On 12 August, the Portsmouth News followed up the story with this article including a video clip.
---
9 Aug 14 - SDU1 deals with mortar bomb at Whitsand Bay
The BBC website contains this article and the Plymouth Herald website this article describing Wednesday's disposal of a mortar bomb* on Tregantle Beach in Whitsand Bay, Cornwall by members of Plymouth-based Southern Diving Unit 1 (SDU1). The articles feature MCDOA Honorary Treasurer Peter Davis, OIC of SDU1.
*Note to journalists:
A 'mortar' is a high angle muzzle-loaded smooth-bore weapon that fires a projectile known as a 'mortar bomb'. It is not the projectile itself.
---
8 Aug 14
HMS Penzance arrives in Bahrain
The Royal Navy website contains this article describing the arrival of HMS Penzance (MCM1 Crew 3) in her new base port of Bahrain after a seven week transit. Her passage covered 6,850 nautical miles during the Monsoon season. After her 47-day journey, she relieved HMS Ramsey (MCM1 Crew 2 commanded by MCDOA member Ash Spencer) and her 40-strong ship's company has now started to carry out the work the UK MCM force is renowned for, working with partners to ensure the security of sea lanes in the Gulf.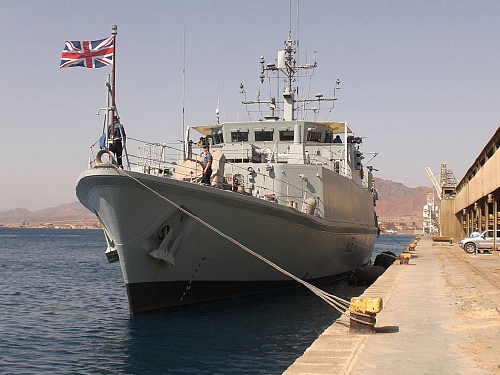 HMS Penzance in Bahrain
(RN photo)
---
HMS Quorn and HMS Ramsey arrive in Malta
HMS Quornn(MCM2 Crew 3) and(MCM2 Crew 3) and HMS Ramsey (MCM1 Crew 2 commanded by MCDOA member Ash Spencer) were captured arriving in Valletta today. Both ships are heading back to the UK after their three-year deployments in the Gulf. They are expected to sail from Malta on Monday 11 August.