---
12 Dec 17 - Lunch on board HMS Cattistock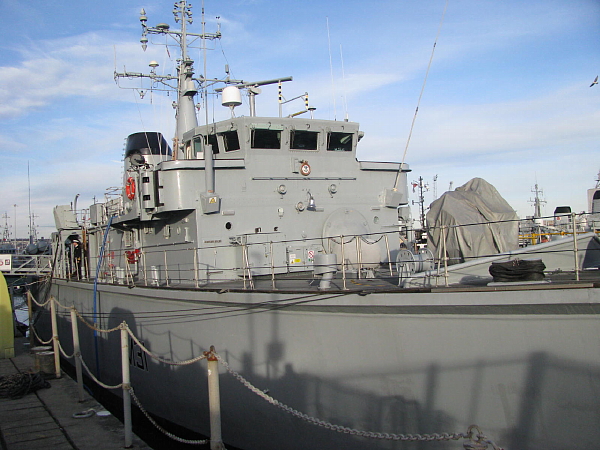 Your humble webmaster enjoyed a splendid lunch on board HMS Cattistock (MCM2 Crew 8) today with fellow MCDOA members Charlie Wheen (her current CO) and Pat Gale (her first CO). The ship was alongside in No.2 Basin in Portsmouth Naval Base and we were escorted from Trfalgar Gate by Sub Lts Oscar Klappholz and Tom Adlam. Thanks, guys.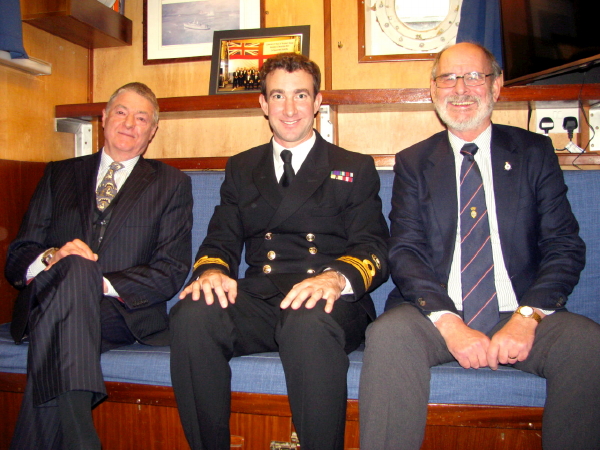 After nattering with Charlie in his cabin for a while, we were given a tour of the ship.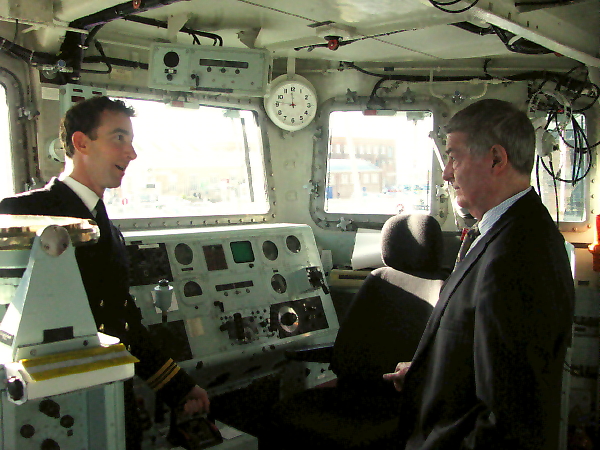 We were particularly impressed by the enthusiasm and friendliness of those we met including PO(MW) Jimmy Green (ORS), seen here: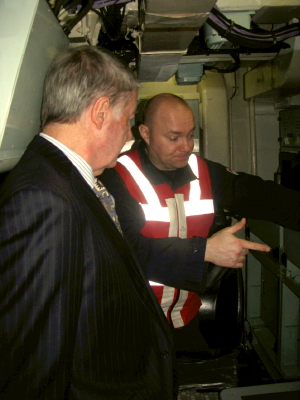 Other key MW & Diving figures on board include PO(D) Jim Craker (Coxswain), PO(MW) Jay Buckley (Boatswain), LS(D) Karl 'Ackers' Atkin (Diving Storekeeper) and LS(MW) 'Pinky' Perkins (CBM). We were then invited to lunch in the wardroom courtesy of Bob Stone-Ward (XO) and enjoyed an excellent three-course meal prepared by Ldg Chef Emmanuel Craig and served by Std 'Charlie' Drake. I was seated next to Lt Justin Magalas (OPS) on exchange from the US Navy and much enjoyed his observations.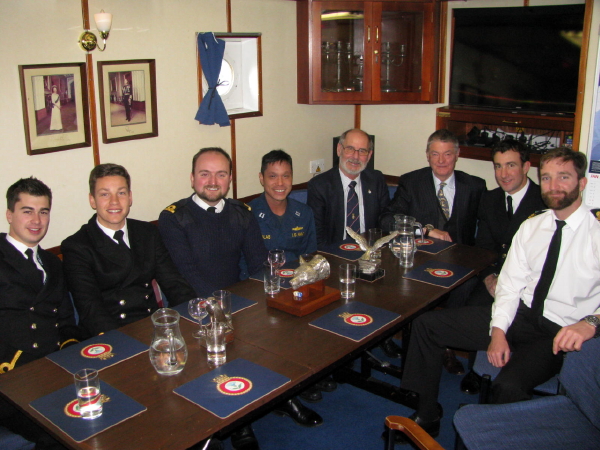 James Silcock, the Navigator, was called away on duty when the above photo was taken but I managed to capture him on his return.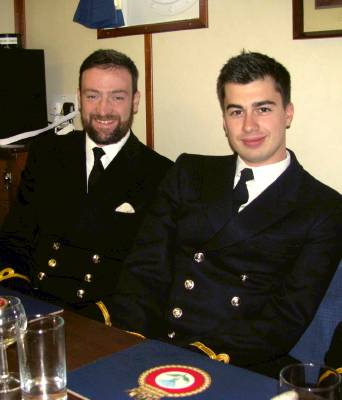 After lunch, we were blessed with the company of newly installed MCDOA President Roger Readwin (Capt MFP) and MCDOA member Del McKnight (CO FDS) who had ceremonially rowed the outgoing Commodore Portsmouth Flotilla (COMPORFLOT) across No.2 Basin in a gig.
At a 'Clear Lower Deck' on the forecastle, Pat was honoured to be invited to present a Herbert Lott award to Ldg Chef Emmanuel Craig for his leadership of a team catering for HMS QUEEN ELIZABETH's inaugural arrival in Portsmouth and I presented the ship with a copy of the TCA's publication 'Last of the Wooden Walls - An Illustrated History of the TON Class Minesweepers & Minehunters'.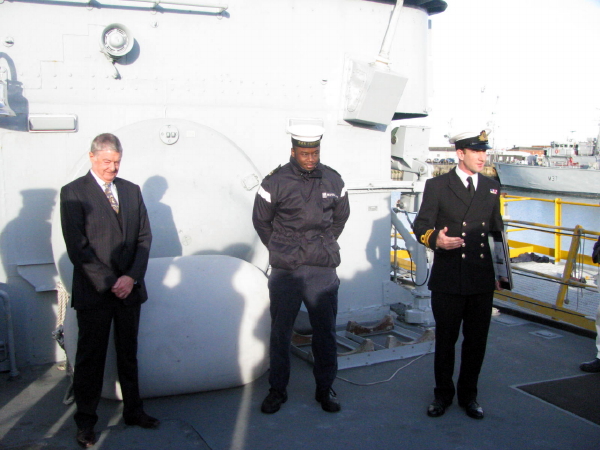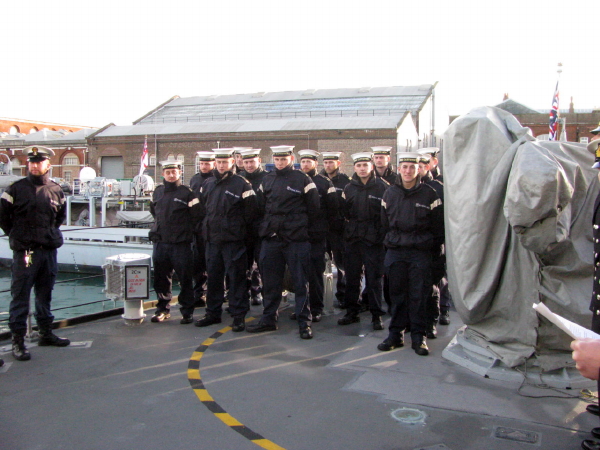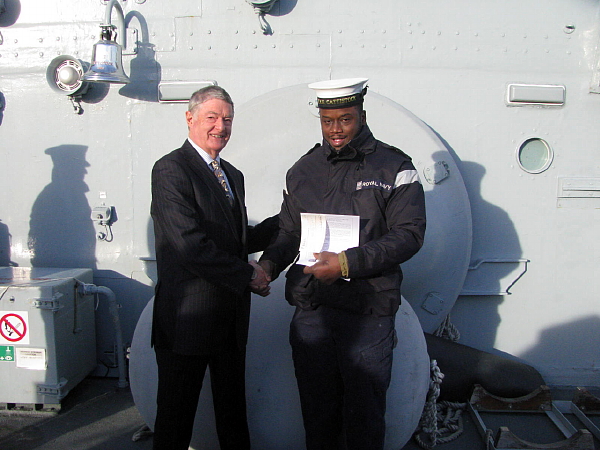 Before we left, we watched HMS Brocklesby arriving to join HMS Cattistock, HMS Hurworth and HMS Chiddingfold alongside in No.2 Basin. HMS Atherstone and HMS Quorn are in the ship hall and will be decommissioned on Thursday ready for disposal.
Pat and I were made to feel truly welcome by Charlie and his entire ship's company. A huge thank you to one and all. You and your ship are a credit to the Service. Merry Christmas!
---
10 Dec 17 - Latest Rope Signal
The latest issue of the Historical Diving Society (HDS) newsletter 'Rope Signal' can be accessed via this link:
Rope Signal issue 18 dated 10 December 2017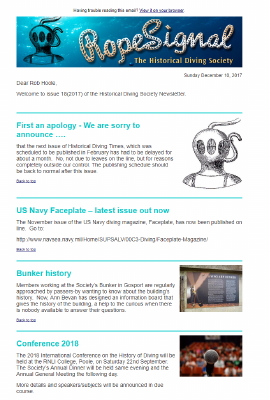 ---
9 Dec 17 - Annual MCM Conference
I have just stumbled upon this photo of MCM Conference delegates tweeted by Capt MFP (MCDOA President Roger Readwin) on 28 November.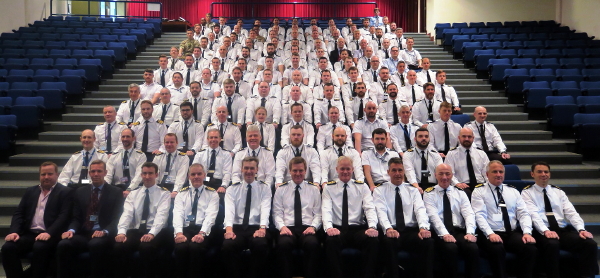 Capt MFP's accompanying caption stated:
"Annual RN MCM Conference - superb to share ideas & explore opportunities to sustain our MCM output into the 21st Century. BZ to all the speakers - much food for thought on current & future MCM issues."
---
8 Dec 17 - RANCDA Magazine
I was privileged to receive my second issue of the Australian Navy Diver magazine yesterday. It is published by the RAN Clearance Divers' Association (RANCDA) and is very impressive in every way. The RNCDA is to be congratulated on its professional quality and the brilliant articles it contains.
---
7 Dec 17 - Former CD1 Roy 'Blondie' Rees
I received this message earllier in the week:
"I have been trying to do a bit of research on my father Roy Evan Rees or "Blondie" as he was known. He retired from the Royal Navy in 1971 but was a CD class 1 and an instructor at HMS Drake. He is on the right of the picture of George Wookey being prepared for his record deep dive [see 'HMS Reclaim - A World Record-Breaker' in the website's Dit Box].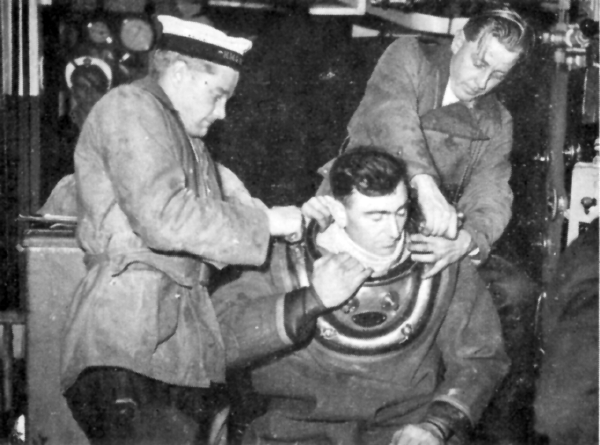 Sadly my father died several years ago. It would be great if you could remind any veterans of my father as he was latterly an instructor at HMS Drake. He loved HMS Reclaim and regaled me with many tales. We were in Singapore for two years 1967-69.
Kind Regards,
Alastair
Alastair R Rees MA (Hons) FSA Scot MCiFA"
I was notified of the death of Roy 'Blondie' Rees by his daughter-in-law's brother Clark Christie in 2008 and publshed an announcement at the time (see entry for 15 Aug 08 in News Archive 23).
---
From former FCPO(D) Dave 'Mona' Lott BEM:
"G'day Rob and Alastair,
Firstly, Alastair, may I express my sincere belated regrets on my previously unknown passing of your father, he was a great character who always wore a warm smile, and was genuinely enthusiastic about life.
I dug around among my old diving memorabilia and found this photo of your father (an ex-Steamer/Copperhead) on course for Clearance Diver 2nd class in the Corkhead's Branch. Sadly there are only a couple from those lined up in the photo that still remain. Fraser, Charlwood, Booth and Bray are also departures and the only two that I know that are still surviving are Gunnell and Norton. In fact there are generally major losses from all of those from around that vintage.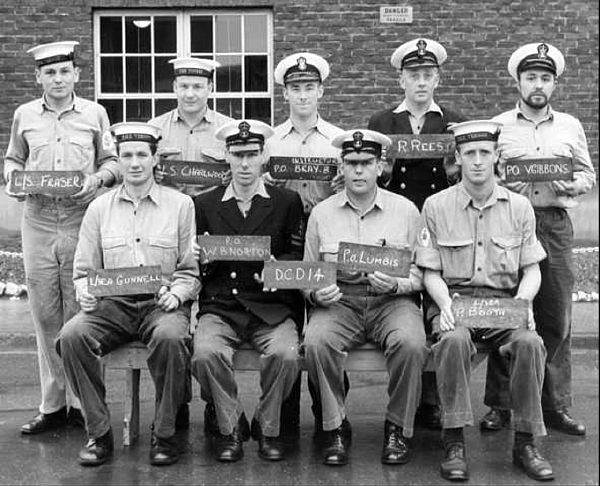 CD2 Course DCD 14
Back row: Bob Fraser, Anthony 'Charlie' Charlwood BEM, Instructor Bernard 'Donkey' Bray BEM*,
Roy 'Blondie' Rees and Vern Gibbons
Front row: Brian 'Ben' Gunnell, Bill 'Chippy' Norton, Pete Lumbis and P 'General' Booth
I can't give you a date for this photo but a date of qualifying on your dad's diving documents for qualifying should give you an indication.
I have a copy of the deep diving record-breaking photo on HMS Reclaim that you mentioned; a great ship, and I spent many Experimental Diving trial periods on board her.
I served in the RN between 1951 and 1976 and am now a resident of Australia. I have also seen a photo of your dad helping George Wookey to get dressed prior for his record dive but I cannot recall where I saw it. The ageing brain is not what it was.
Any questions then please ask further.
Regards to you both,
Dave (Mona) Lott
Eden, NSW
Australia"
---
From former WO(D) Colin 'Scouse' Kidman QGM:
"While serving in the Far East CDT, I lived across the road from Blondie in Johore Bahru. We stayed with him and his family for a couple of days when I was about to fly back to the UK. A real gentleman."
---
From former CD1 Eddie 'Scouse' Kerr:
"He was my Ships' Diver course instructor in 1967. I was his second dickie then straight on to CD2's course. Good man."
---
From ex-CD Jim 'Tommo' Thomson:
"Yes! In the mid-1960s, Blondie was the Cox'n of MFV 1527, the Plymouth CD Team's diving tender. He was a very quiet and popular member of the team.
RIP. I will remind a couple of the team with whom I am still in contact.
All the best,
Tommo"
---
6 Dec 17
HMS Pembroke back home today
From the Twitter feed of HMS Pembroke (MCM1 Crew 5):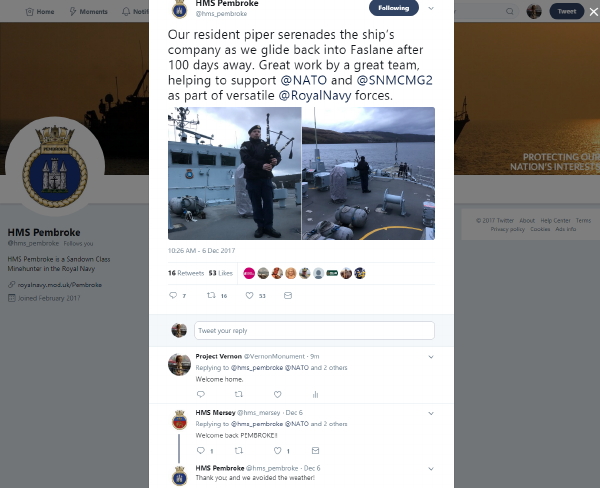 ---
HMS Brocklesby Road Trip
Spotted in Waterlooville today: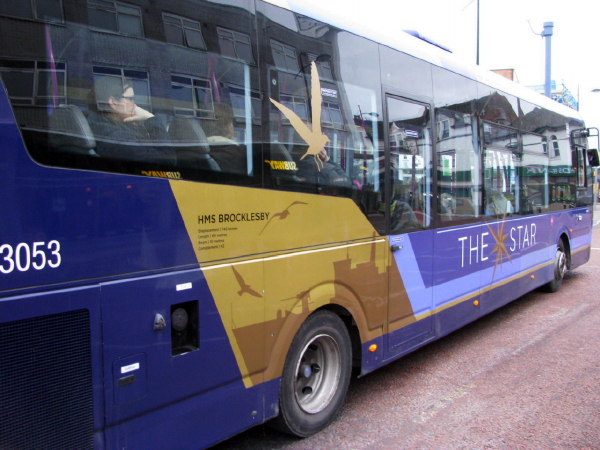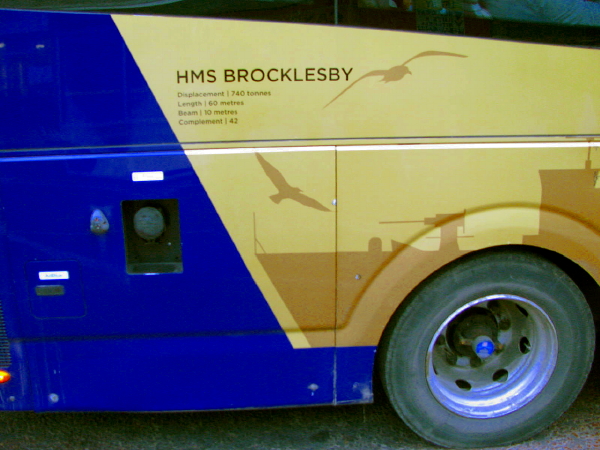 Any other MCMVs 'on the road'?
Postscript: Spotted a few days later in Waterlooville: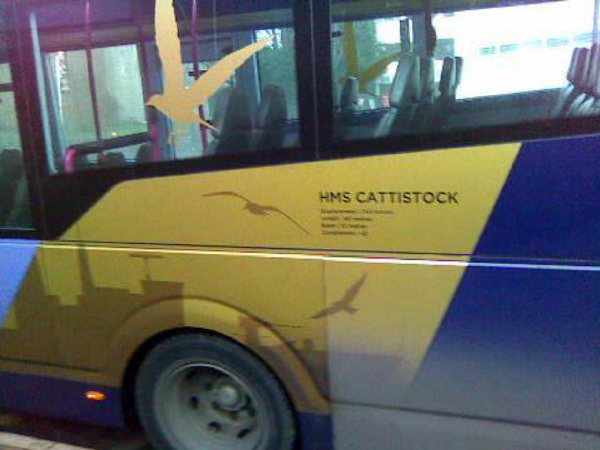 ---
5 Dec 17 - TCA Christmas Lunch
MCDOA members Doug Barlow, Martyn Holloway, Bob Lusty and Yours Truly (Rob Hoole) attended the Portsmouth area Ton Class Association (TCA) Christmas Lunch in the Royal Maritime Club today.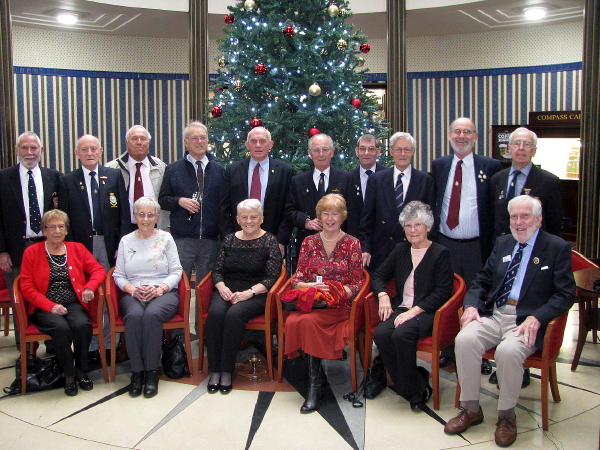 We are hugely grateful to TCA Stores Officer Laurie Johnson for organising such an enjoyable event.
---
4 Dec 17
Peter Davis meets Dan Snow
MCDOA Honorary Treasurer Pete Davis met Dan Snow today when the historian and broadcaster visited our new aircraft carrier QNLZ (Queen Elizabeth) in Portsmouth Naval Base.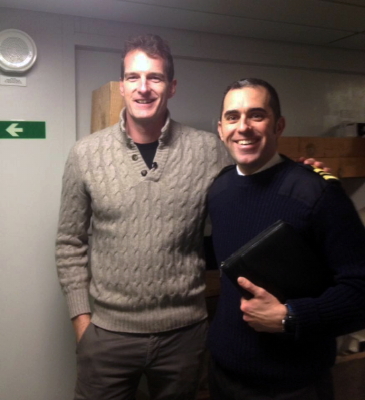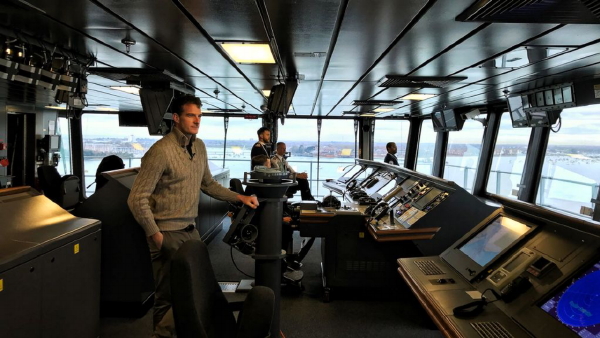 Pete's fellow MCDOA member Bob Hawkins MBE is also serving in QNLZ as her First Lieutenant. The ship is due to be commissioned on Thursday 7 December.
---
News from HMS Cattistock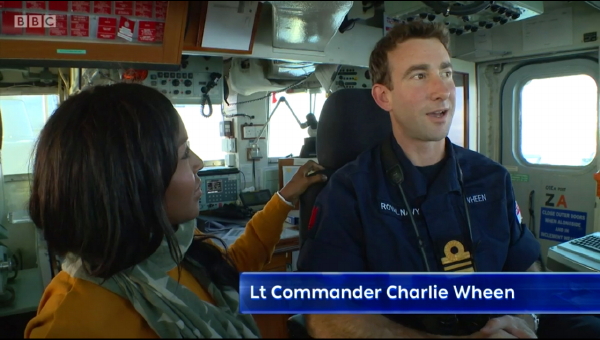 Lt Cdr Charlie Wheen, CO of HMS Cattistock
I am grateful to MCDOA member Charlie Wheen, Commanding Officer of HMS Cattistock (MCM2 Crew 8), for this newsletter which I have received via the Ton Class Association (TCA). I write a column titled 'MCMV News' for the Associaton's bi-monthly newsletter 'Ton Talk'.
"Following seven months (December 2016 - July 2017) deployed on operations in the Middle East, it is with great pleasure that we, Crew 8, return to HMS CATTISTOCK. And after the dizzyingly regular Crew swaps, I am delighted to report that we will be remaining in CATTISTOCK for over a year. The impact of the Crew rotation on our affiliates is not underestimated and I hope that this period of stability will provide the opportunity to reinforce our important relationships. Last week I was very pleased to be able to support Remembrance Day events in Poole and in Cattistock (Maiden Newton) with a good number of the Ship's Company, as well as an evening with the Lilliput Sea Scouts, and I look forward to much more of the same over the coming months.
Crew 8 took over in CATTISTOCK in late September and our efforts since then have been singularly focussed on preparing the ship for a NATO deployment in early 2018. We will be joining the Standing NATO Mine Countermeasures Group One (SNMCMG1) in January and will spend over three months with a number of other NATO mine hunters, conducting exercises and operations around NW Europe. It promises to be an exciting period and represents a welcome change from our regular operations in the Gulf. In the context of a resurgent Russia, and against the backdrop of BREXIT, the UK's relationship with its NATO allies is more important than ever and our deployment to SNMCMGI is a clear demonstration of our commitment here.
Having completed the necessary husbandry and maintenance to prepare CATTISTOCK for the rigours of the North Atlantic, we are now conducting the necessary work up and training for the crew, such that we can most effectively operate and fight the ship. Throughout this work up period we are also contributing to homeland security and, as I write, CATTISTOCK is in the North Sea where we have been tasked to locate a suspected 5001b German bomb in the vicinity of a large gas pipeline. A Dutch trawlerman dragged the device up in his nets before (sensibly) lowering it carefully to the seabed!
I hope that this short summary of our current and future activity gives you a flavour of the contribution that your ship is making in support of UK defence objectives. We are hugely proud of the ship, and our affiliations, and I look forward to strengthening our ties during another exciting year.
Yours sincerely,
Charles"
---
3 Dec 17 - RN Minewarfare Heritage: HMS Vernon's Experimental Mining Department
I am grateful to Richard James for this image from his late Uncle Bernard's collection. It shows the mechanical staff of HMS Vernon's Experimental Mining Department in 1917 and must have been taken on board one of the hulks before HMS Vernon moved ashore in 1923.
This image, courtesy of the Australian War Memorial museum, shows a public display by HMS Vernon's Mining Department in 1911.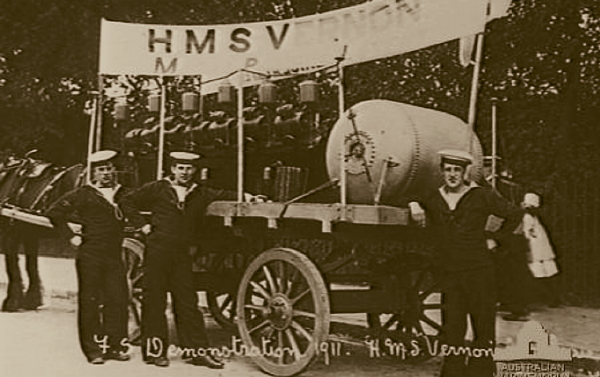 Richard still has copies of his late Uncle Bernard's autobiography, 'On the Road to Normandy and a Little Beyond - A Sailor's Life Story', available for purchase and I thoroughly recommend it. Lt Bernard Upton MBE RNR survived the sinking of the Bangor class minesweeper HMS Cromarty when she was mined in the Straits of Bonifacio in the Mediterranean on 23 October 1943 (see entry for 7 Nov 17).
---
2 Dec 17 - Oh yes it is!
This photo shows former MCDOA Chairman Paul Jones in his traditional role as the pantomime dame near his retirement home in Cyprus.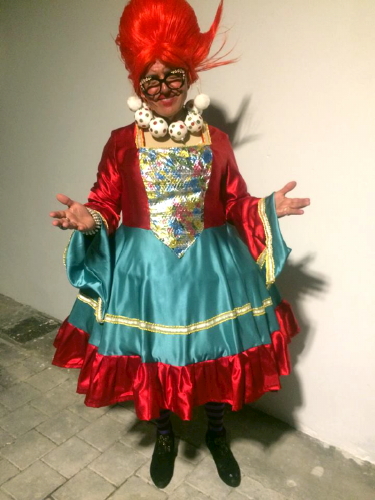 Paul adds:
"Yet again roped in to play the Dame (that's my excuse anyway) for the Royal British Legion Christmas Panto (Robin Hood). Three shows in a packed theatre here in Kyrenia. Lots of fun / friendly banter but all for a good cause and lots of money raised and no... I don't get to keep the frocks!"
---
1 Dec 17 - Mystery object
I have received this intriguing enquiry from the National Secretary of the RNPS Museum at Lowestoft:
"Hello Rob,
At the Royal Naval Patrol Service Museum in Lowestoft, we have been made aware of a couple of items coming up for sale which supposedly originated from HMS Europa, our WW2 base. The first item, the minesweeping torpedo is confusing us as we are not aware of anything like this and the remnants of orange paint and the yellow nose and tail seem to indicate a more modern item.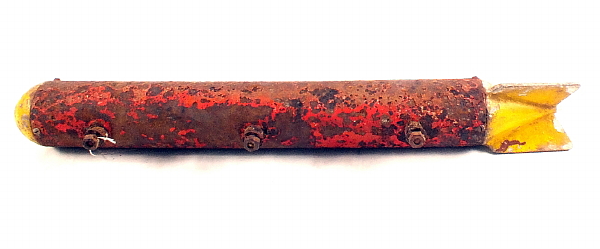 Here is the link to the lot on the auction house website:
A scarce WWII RN mine sweeping torpedo float used for cutting mine cables
Have you any thoughts on this?
Kind regards,
Leo Whisstock"
Can anyone help identify this object?
---
30 Nov 17 - SDU1 deals with ordnance in Cornwall
The Plymouth Herald website contains this article, the Cornwall Live website this article and the Forces Network website this article, including video, reporting yesterday's detonation by members of Plymouth-based Southern Diving Unit 1 (SDU1) of a propellant charge on Fistral Beach at Newquay and today's planned detonation of a German ground mine off Maenporth Beach at Falmouth.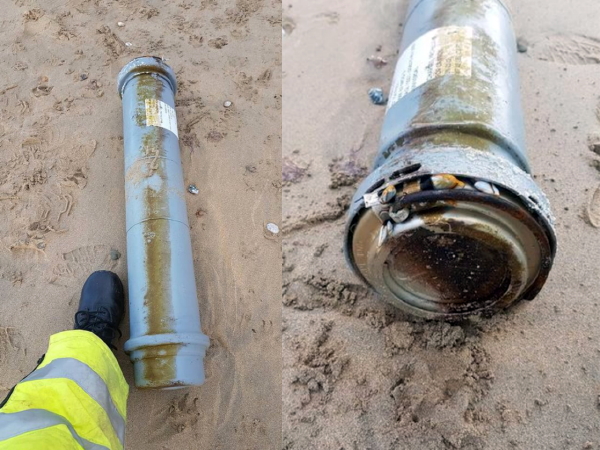 Explosive propellant charge on Fistral Beach before detonation
(Newquay Coastguard)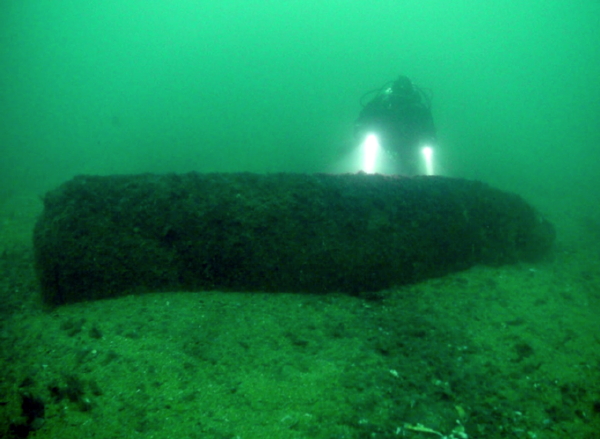 Above and below: German ground mine on seabed off Maenporth Beach, Falmouth
(Mark Milburn/Atlantic Scuba)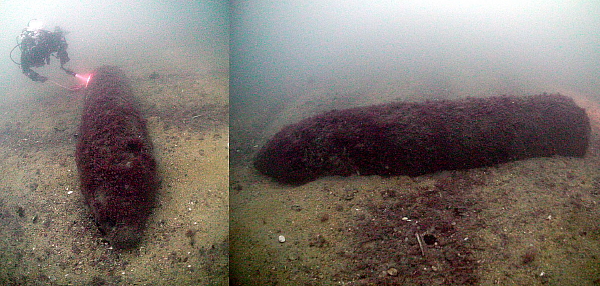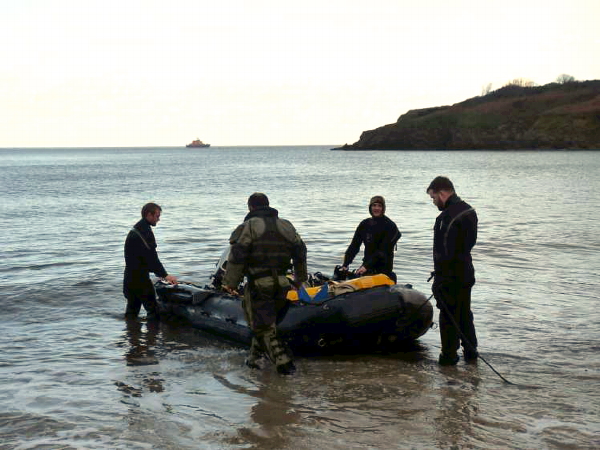 Members of SDU1 at Falmouth yesterday
(Mark Milburn/Atlantic Scuba)
Postscript: The Cornwall Live website contains this article, dated 1 December, reporting the detonation of the mine by members of SDU1.
---
29 Nov 17 - Awards of LS&GC
Congratulations to LS(MW) 'Ben' Cartwright and LS(D) Dan Mallafre on being gazetted for the award of the Long Service & Good Conduct medal.
---
28 Nov 17 - Andy Ward now managing Fellows International
Andy 'Sharkey' Ward
Your humble webmaster dropped in to see MCDOA member Andy 'Sharkey' Ward for a cup of coffee yesterday. Andy is the manager of the commercial EOD company Fellows International which parent company Optima recently bought from its founder, former FCPO(D) Mick Fellows MBE DSC BEM. The company has now re-located from Arundel to new premises in Gosport and Andy says he is happy to see any members for a coffee and a chat.
Andy Ward with his management team at Fellows International in Gosport
It was also good to see ex-PO(D) Jason Webb again. In 2010, he was among a team of four RN divers who deployed to Afghanistan for EOD duties during Operation HERRICK (see entry for 26 Jul 10 in News Archive 31).
Postscript: On 4 December 2017, the West Sussex Country Times website published this article featuring Fellows International:
Bomb found on village building site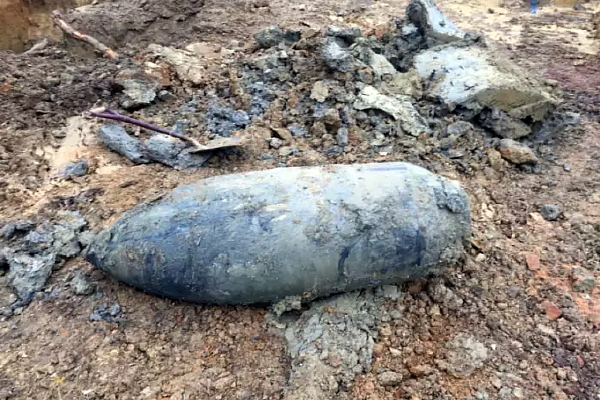 The Joint Service Explosive Ordnance Disposal School mentioned in the article was actually the Joint Services Bomb Disposal School (JSBDS) at Broadbridge Heath near Horsham. It was superseded by the Defence Explosive Ordnance Disposal School (DEODS) at Lodge Hill, Chattenden in Kent in 1966 which in turn was superseded by the Defence Explosive Ordnance Disposal, Munitions and Search Training Regiment (DEMS) at Carver Barracks, Wimbish in Essex, Kineton in Warwickshire and Bicester in Oxfordshire between 2009 and 2013. Carver Barracks is due to close by 2031.
---
27 Nov 17 - MCDOA Operational Updates, AGM & Dinner: After Action Report
This year's MCDOA Operational Updates & AGM were held in Fleet Diving HQ on Horsea Island while the Dinner was held in HMS Excellent's wardroom by kind permission of Cdre Peter Coulson. Many thanks to incoming MCDOA President Roger Readwin for his effusive welcome and to MCDOA Chairman Don Crosbie and MCDOA members Si Pressdee, Del McKnight and Mark Atkinson for their informative briefs.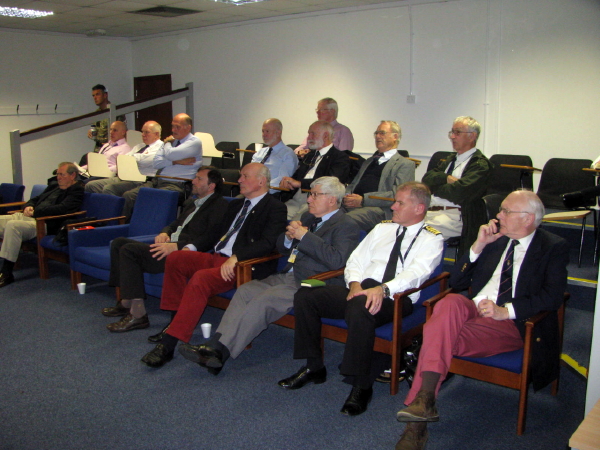 As usual, there was the opportunity to catch up with each other over a beer and scampi in the basket during the free lunch in the mess at Horsea.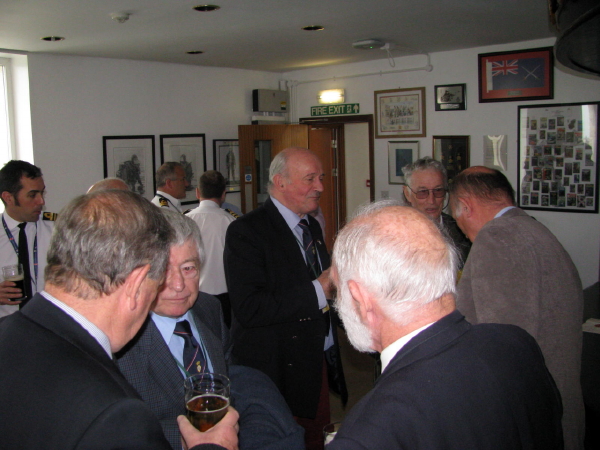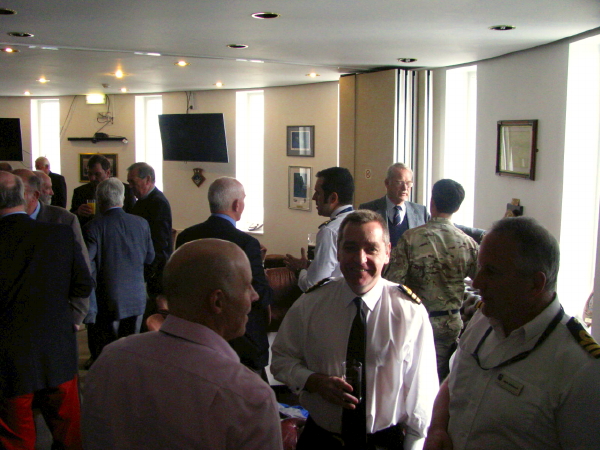 We owe another debt of gratitude to MCDOA Honorary Secretary Robin Walker and everyone else involved in the organisation and execution of our fabulous dinner. Fantastic food, friendly service, wonderful entertainment, lusty singing and superb speeches from our outgoing President Paddy McAlpine and incoming President Roger Readwin but best of all, the greatest company in the world. It was especially good to so many WO(D)s present but we need a few WO(MW)s there next year as well.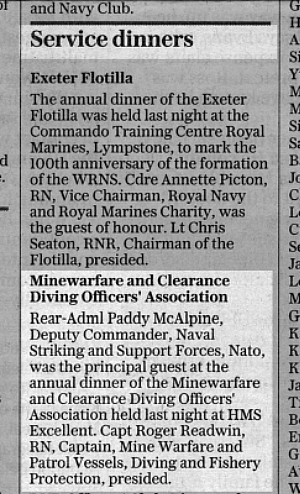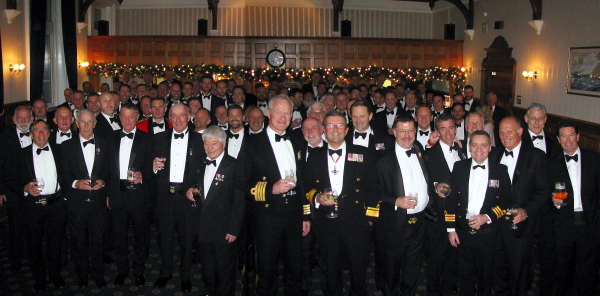 Good luck to all our leavers (both Paddy McAlpine and Al Scott were present) and course reunion celebrants, particularly the members of LMCDO '67 marking their 50th anniversary. Dave Ramsden came all the way from Australia and the course members had a video conference with old course mate Rear Adm Peter Fougstedt SAN in South Africa earlier in the day. Unfortunately, their course mate Mike Harwood couldn't make it to the event.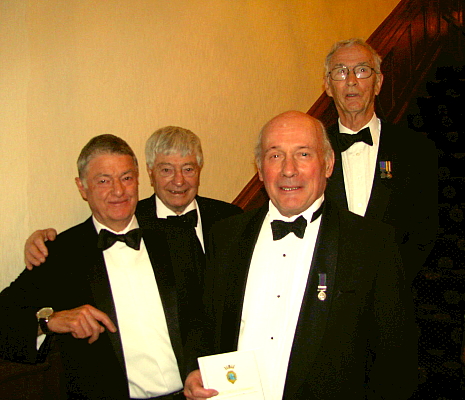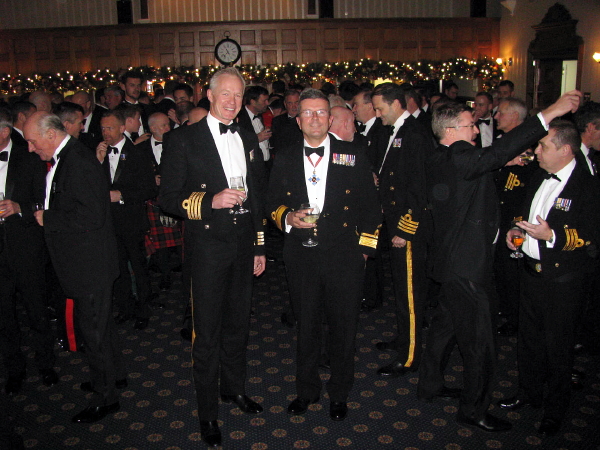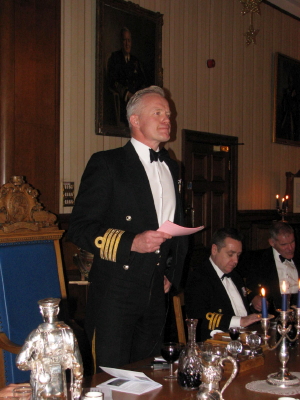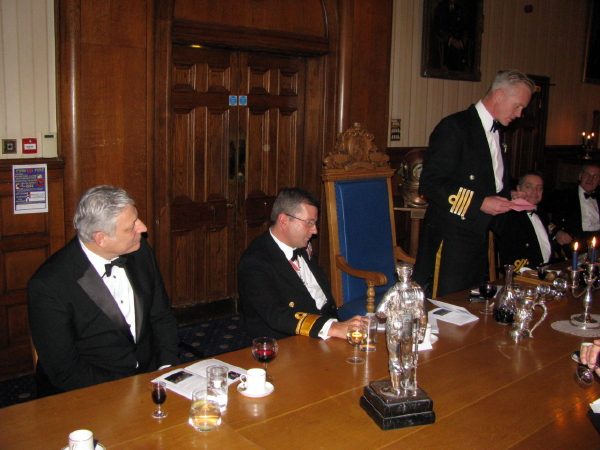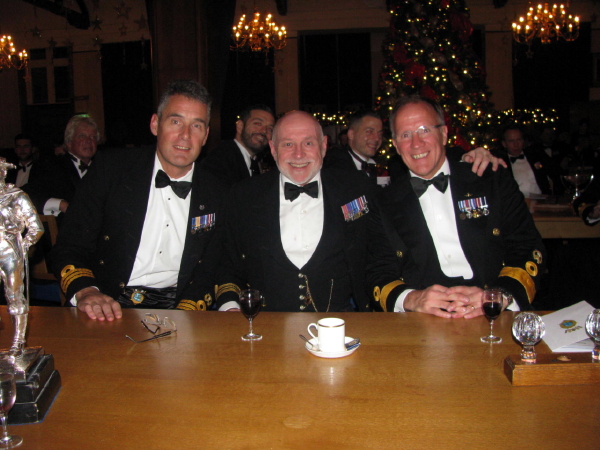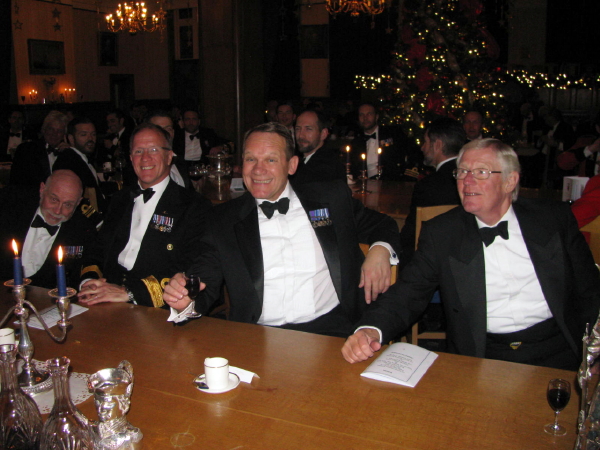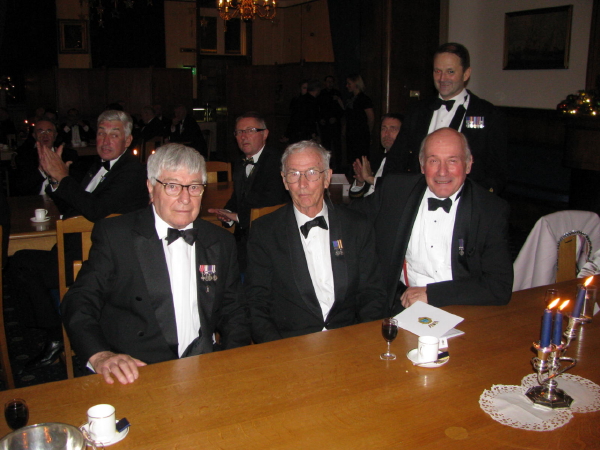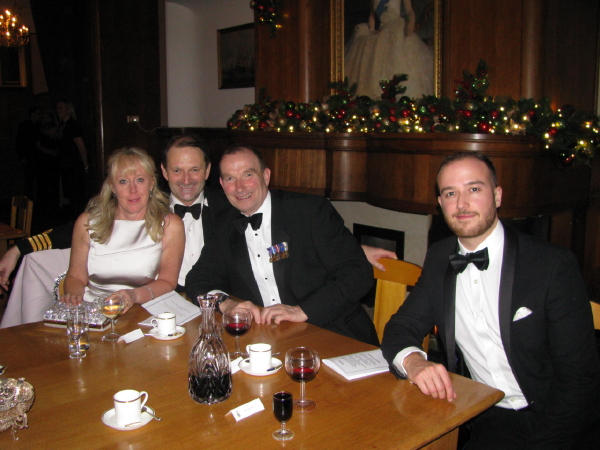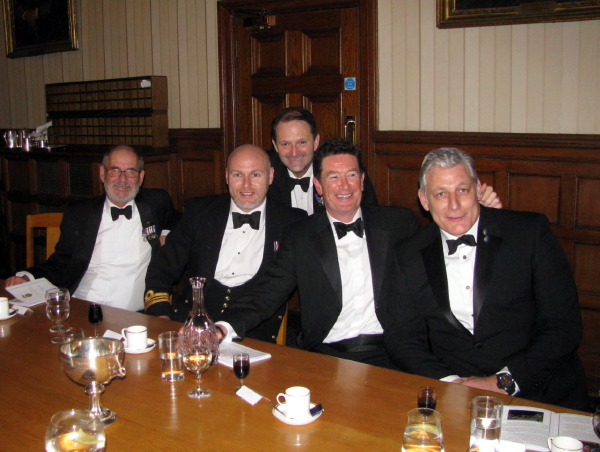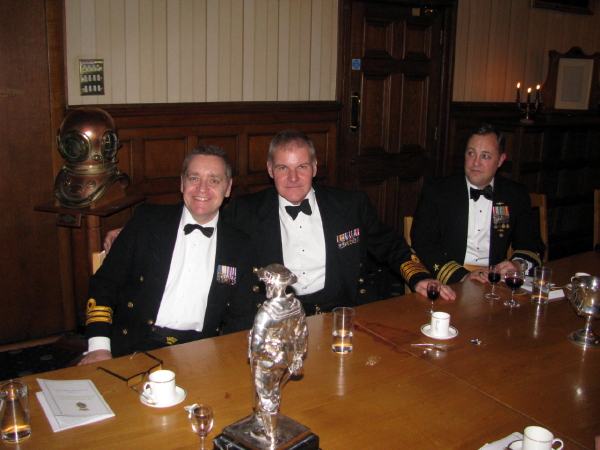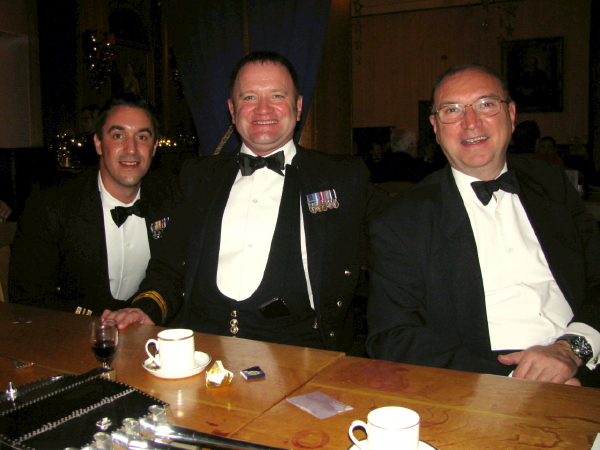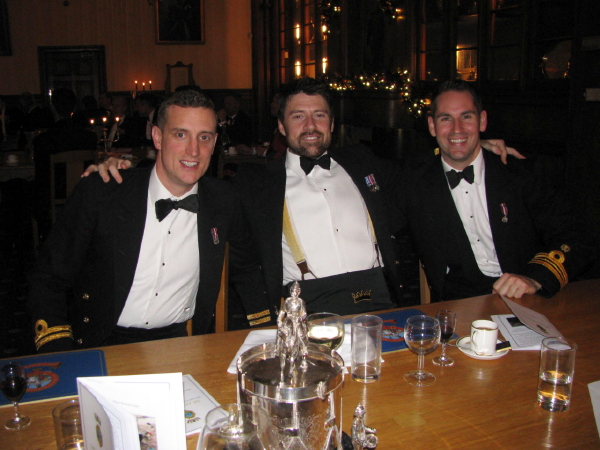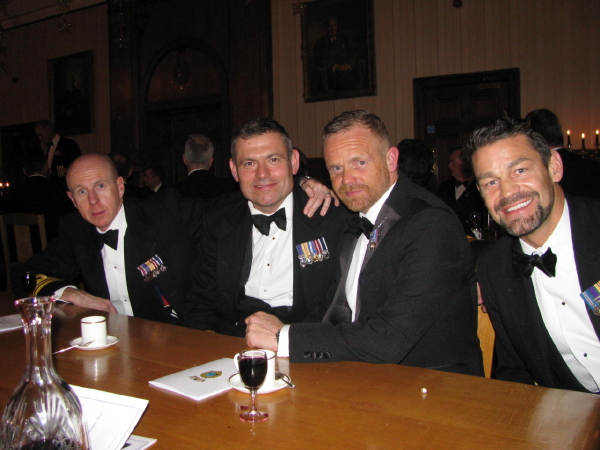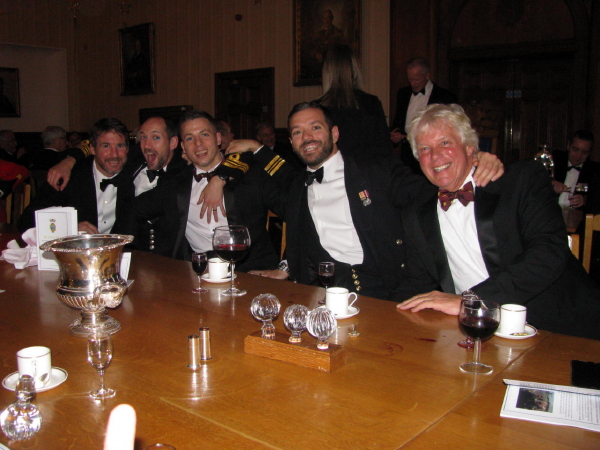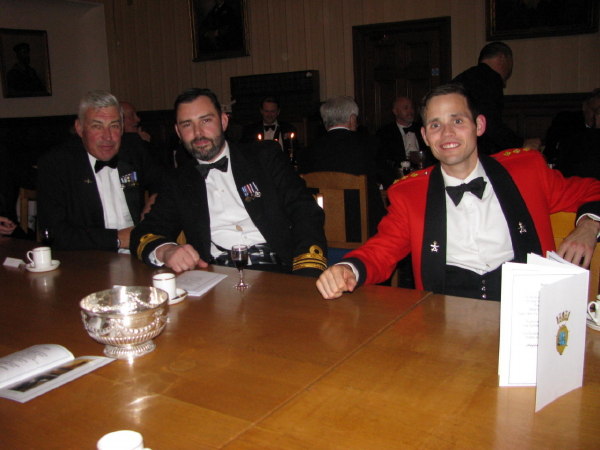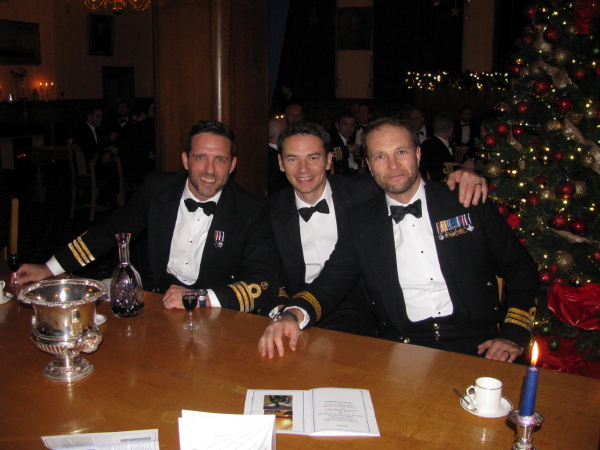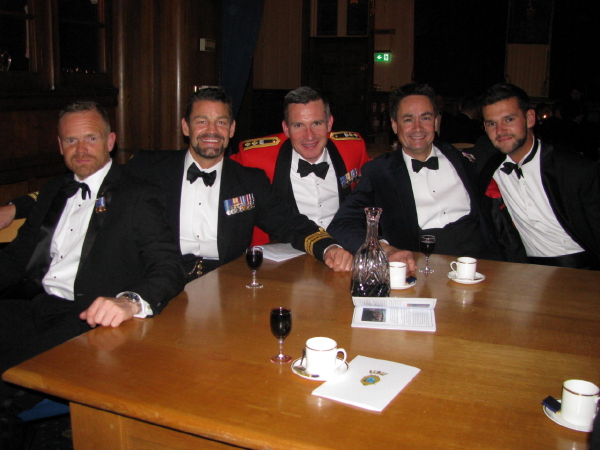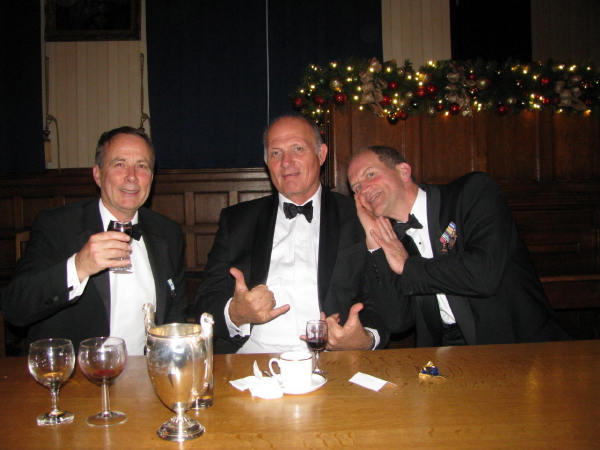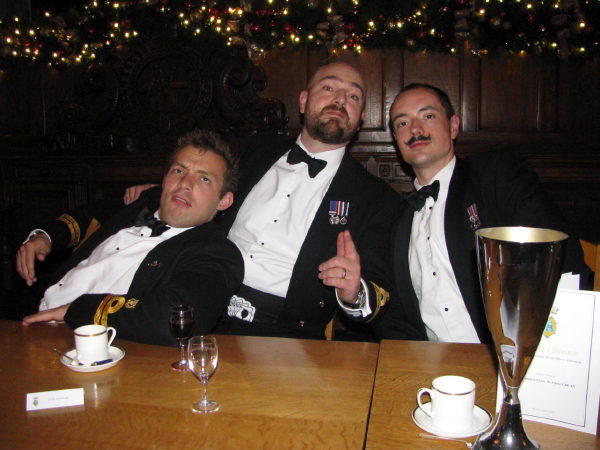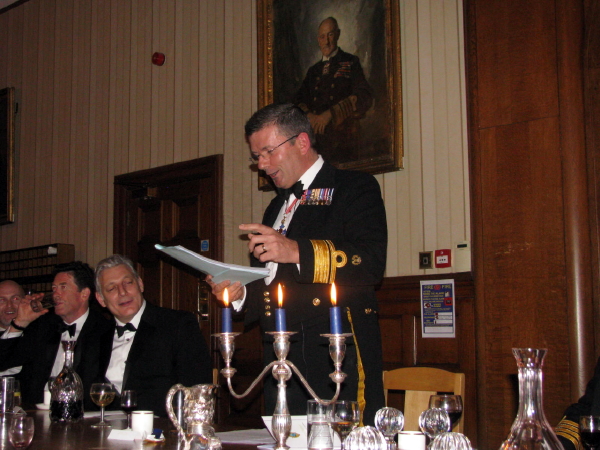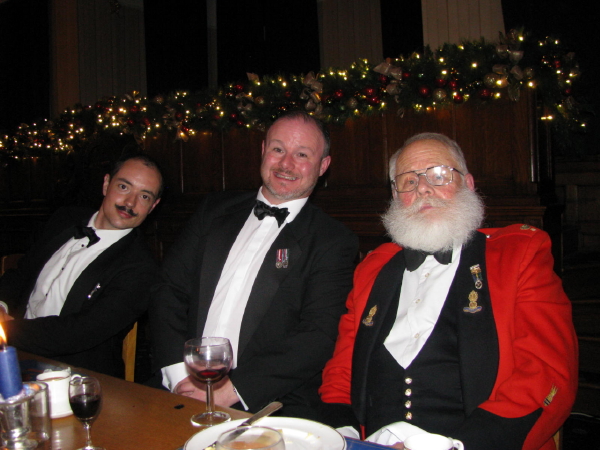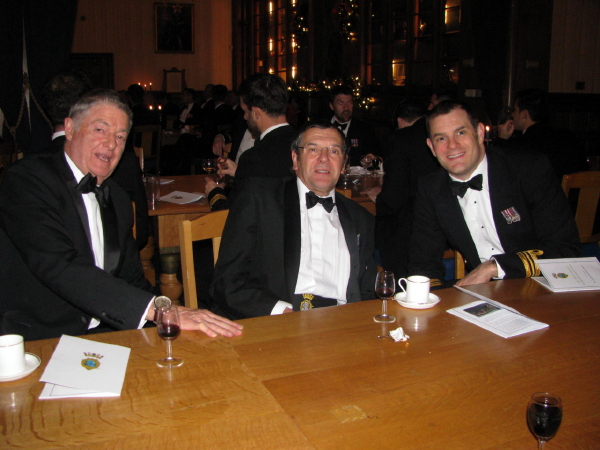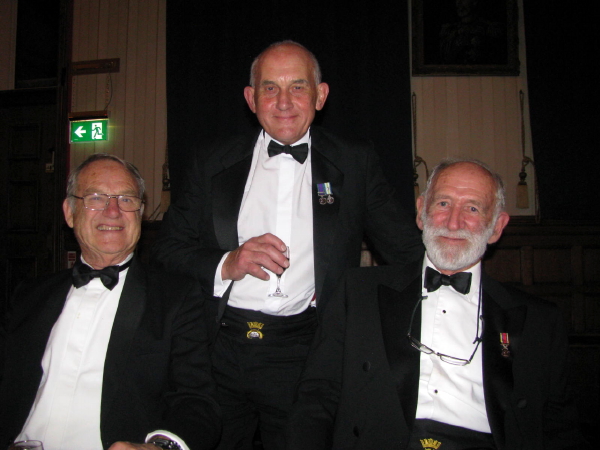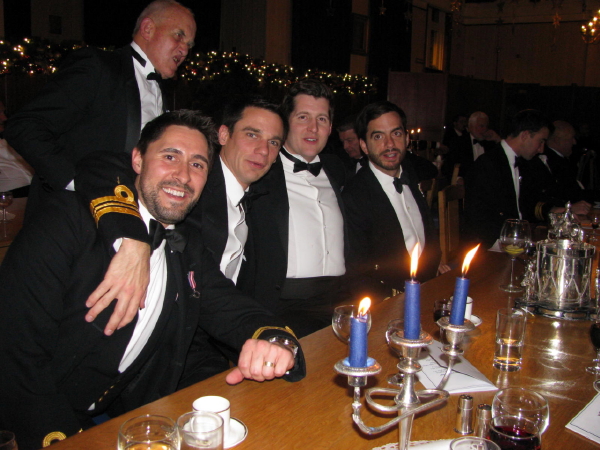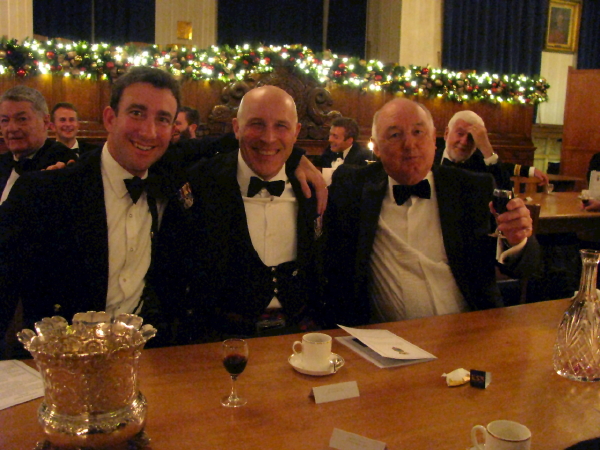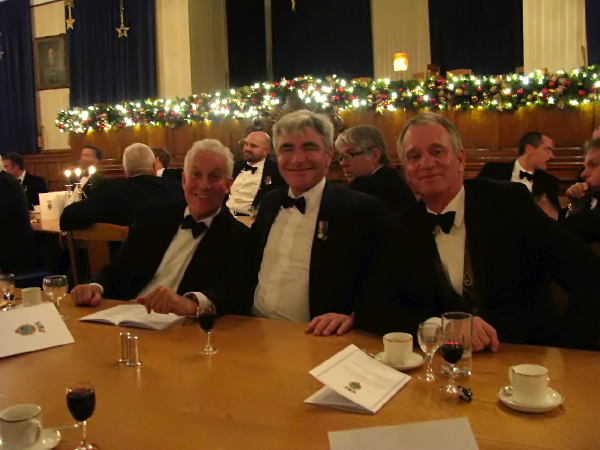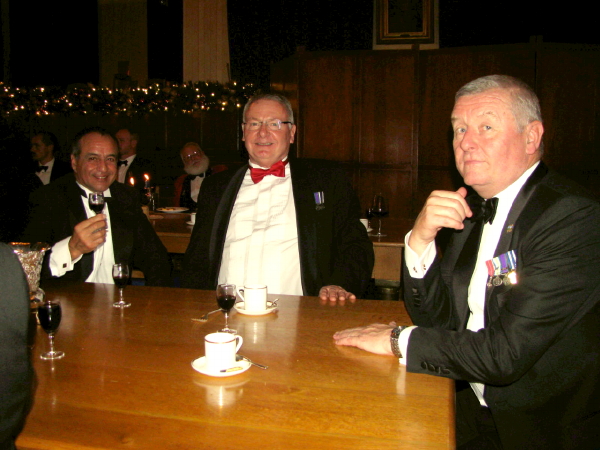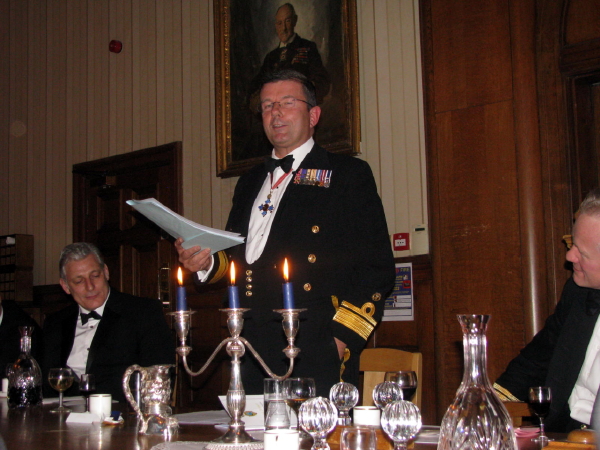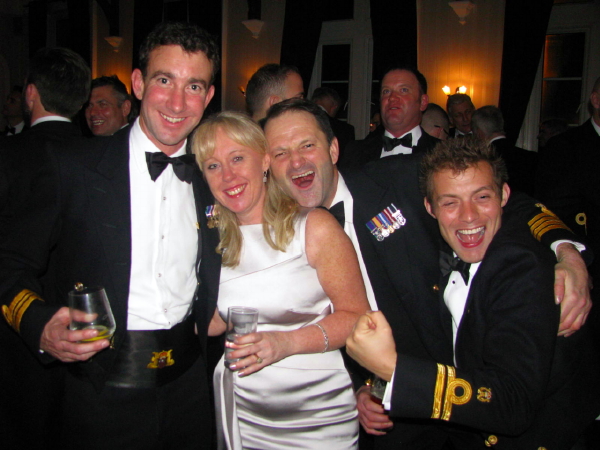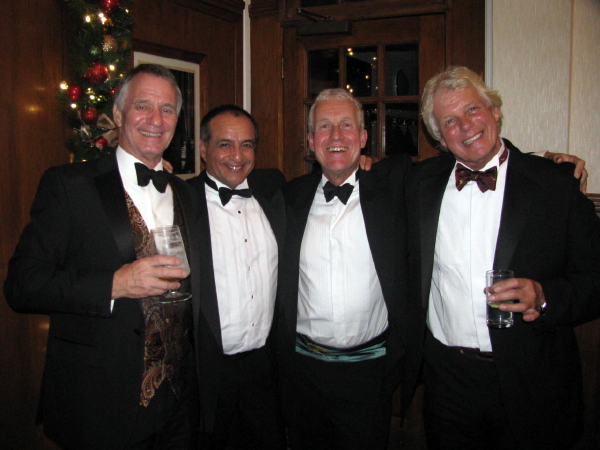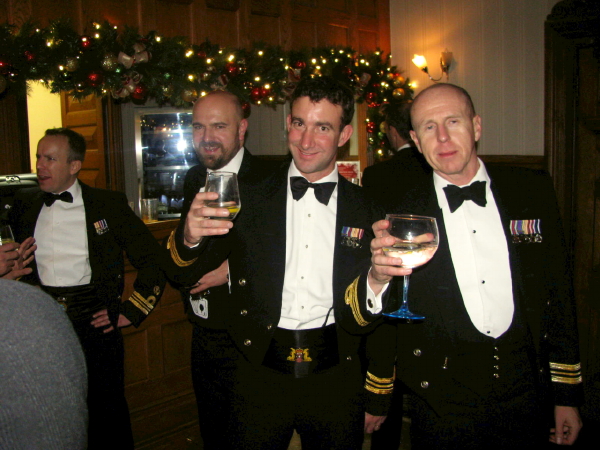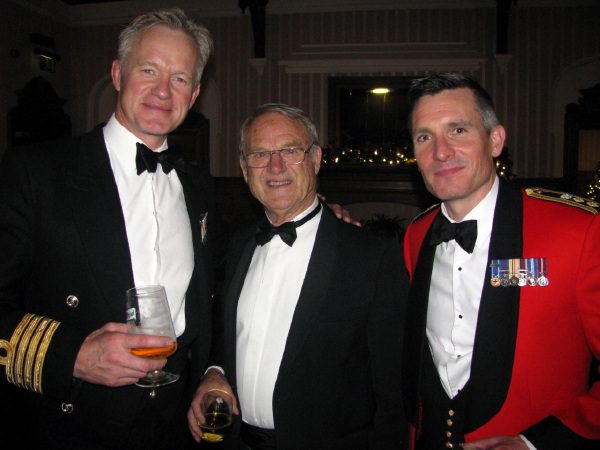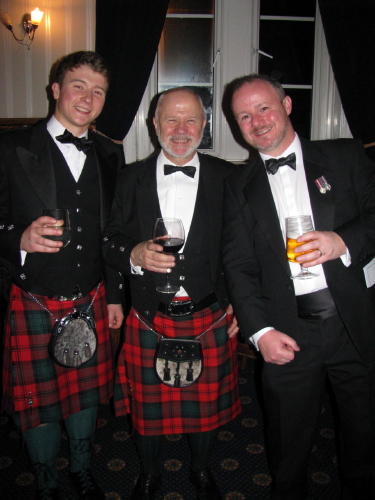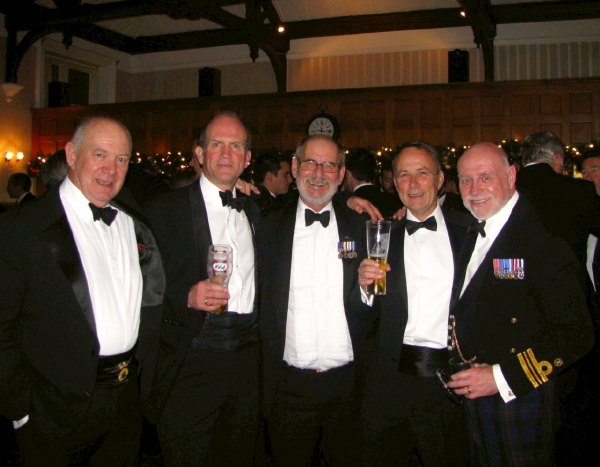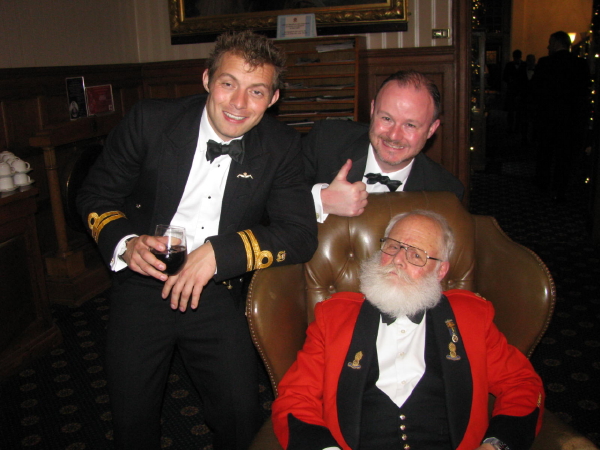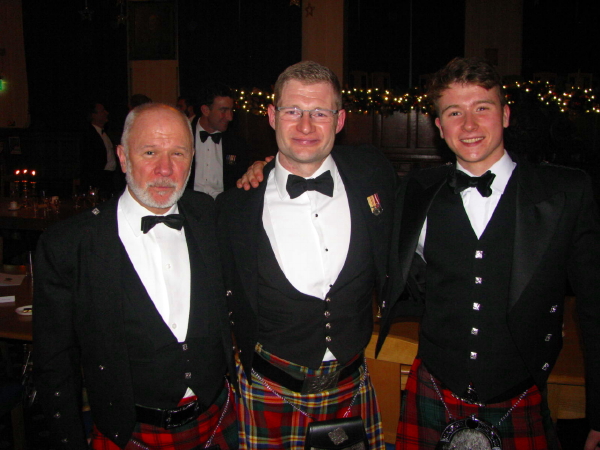 Most photos courtesy of Gareth Hoole. See you again next year.
---
From Capt Ivan Olbrechts RE, newly elected Secretary of the Royal Engineers Bomb Disposal Officers' Club (REBDOC):
"Rob,
Just a quick note to say that it was great to meet you personally and that the dinner night and company last Friday was fantastic. As neither a West Ham fan or diver, I'm struggling to get over humming "I'm Forever Blowing Bubbles" for some strange reason.
Best wishes,
Ivan"
---
From former WO(D) Ray Ramsay:
"Hi Rob,
The whole evening was fantastic and I enjoyed it even more than last year. The atmosphere seemed more relaxed and everyone was certainly having a good time.
Thank you Gareth for the excellent photographs. I think you may have a job for life.
I was totally taken aback by Paddy's speech, particularly when he mentioned me... I was hearing the words but they were not registering, I was that surprised!
Please thank all those involved in organising such a thoroughly enjoyable evening.
Best Regards,
Ray"
---
From MCDOA member David Bartlett MBE:
"Hi Rob,
Many thanks for all your help in locating/finding members of LMCDO '67. It was very much appreciated.
We all enjoyed a great evening and a chance to meet up and discuss the many memories that we have. We thought Hec's message to the Association [see entry for 22 Nov 17] was very well received and, during our time at Horsea, we welcomed the chance to talk to Peter Fougstedt in SA.
Our best wishes to you both.
Yours Aye,
David"
---
26 Nov 17 - SNMCMG2 in Turkey
This tweeted photo shows MCDOA member Justin Hains, Commander Standing NATO MCM Group 2 (SNMCG2), with the COs of his ships beside a replica of the Ottoman minelayer TCG Nusret at Çanakkale in north-west Turkey close to the Dardanelles. Justin is embarked in the survey vessel HMS Enterprise.
Justin Hains (third left) as COMSNMCMG2 with the COs of his ships at Çanakkale in Turkey
On the night of 8 March 1915, just prior to the ill-fated invasion at Gallipoli, Nusret (365 tons) laid a clandestine field of 26 mines in the Dardanelles which sank the British battleships HMS Irresistible and HMS Ocean and the French battleship Bouvet. It also left the British battlecruiser HMS Inflexible and the French battleships Suffren and Gaulois badly damaged.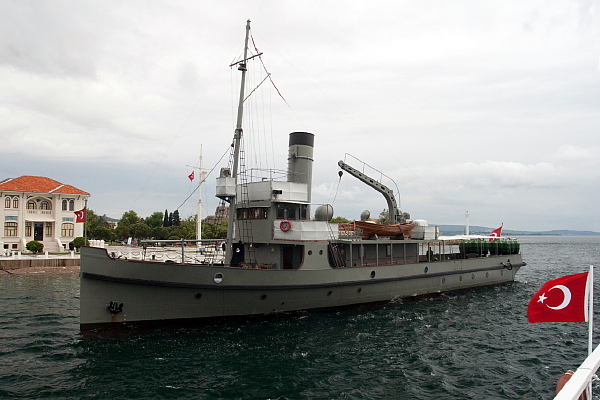 Replica of the Turkish Ottoman minelayer TCG Nusret at Çanakkale
The actual TCG Nusret has been salvaged and restored to her former glory. She is a museum ship at Tarsus in southern Turkey.
---
25 Nov 17 - David Bence awarded US Legion of Merit
Congratulations to MCDOA member Dave Bence on being awarded the US Legion of Merit. This award is a rare honour (especially for a Brit) and reflects Dave's first-class service as Deputy Commander Task Force 52 in Bahrain. It is signed by US Defence Secretary James "Warrior Monk" Mattis. The award was presented by Capt Andy Lamb OBE RN (current Deputy Cdr TF 52, former Commander First MCM Squadron and CO of HMS Pembroke and HMS Shoreham).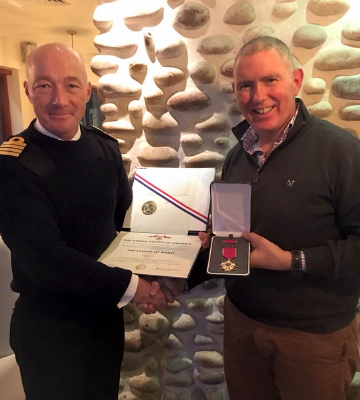 Andy Lamb presenting US Legion of Merit medal and
accompanying certificate to Dave Bence
To read the citation accompanying Dave's award, click on this: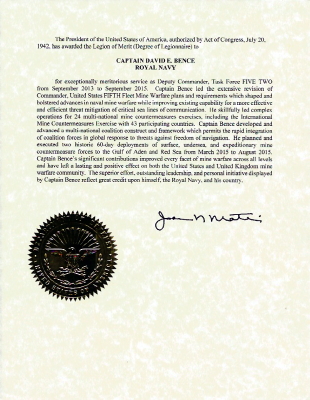 ---
24 Nov 17 - It's tonight!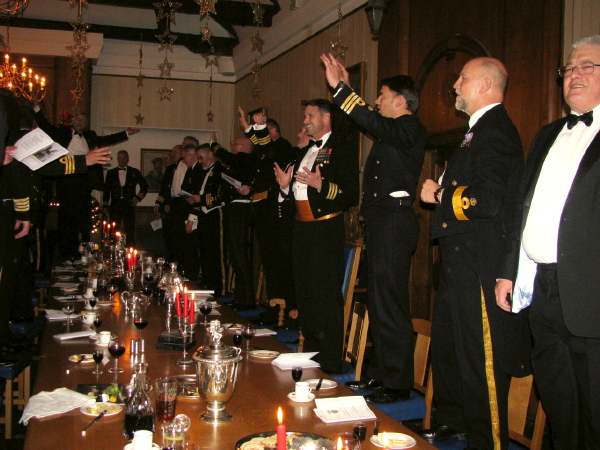 Last year: Tiny bubbles in the air...
---
23 Nov 17 - A message from Richard 'Soapy' Watson
I am grateful to MCDOA member Soapy Watson for this message:
"Have a great time, Rob.
I had my wisdom teeth removed today hence I will not be attending the dinner which is a shame!
Send my regards to all my fellow MCDs.
Soapy"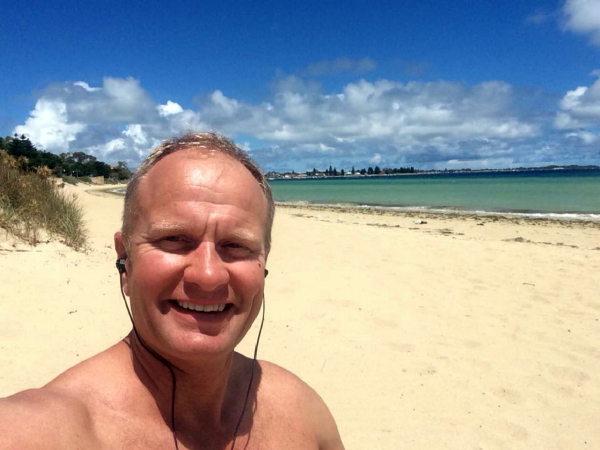 Soapy Watson on the beach at Rockingham, Western Australia on 18 November
---
22 Nov 17
A message from Cdre Hec Donohue AM RAN
I am grateful to Hec Donohue in Australia for this message:
"Rob,
As you are aware I am unable to make it to Whale Island this Friday for the MCDOA dinner which includes the celebration of the 50th anniversary of the 1967 MCDO course.
For me, it was a great privilege to be selected to run that course and I enjoyed the experience and the friendship resulting from the interactions of those involved. I have been in touch with those members who will be attending and have been impressed with their subsequent careers.
Certainly qualifying as a MCDO opened the window on many interesting and varied postings which were also, no doubt, very satisfying for the officers involved.
May I wish you all the best for a successful night, which I am sure it will be, and please pass on my apologies for not being able to attend.
Most Friday evenings I attend the local Golf Club with a group of friends and will certainly raise a glass or two to my retired RN friends and remember the heady days of 1967.
All the best,
Hec"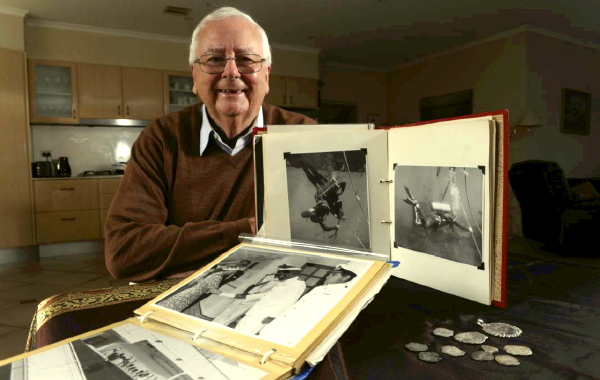 Cdre Hec Donohue AM RAN (Course Officer for LMCDO '67)
Hector (Hec) Donohue joined the RAN College in 1955 from Devonport, Tasmania. He qualified as a Clearance Diver in 1961 and completed the 1964 Long TAS (Torpedo & Anti-Submarine) course at HMS Vernon. During two years exchange service in the RN, he served as Squadron Mine Countermeasures Officer and Executive Officer of the RN's first operational mnehunter, HMS Kirkliston. Subsequently, he was loaned to the RN in 1967 as course officer for the RN's LMCDO (Long Minewarfare & Clearance Diving Officer) course.
On return to Australia he served on the staff of the Director of Underwater Weapons in the Navy Office. He was Officer-in-Charge of the RAN Diving School, HMAS Penguin in 1971. During his career in the RAN, he commanded two major fleet units, the destroyer escort HMAS Yarra and the guided missile frigate HMAS Darwin, and had wide experience in the policy and force development areas within Defence, achieving the rank of Commodore.
After leaving the RAN in 1991, he pursued a successful career in industry before retiring in 2012. He holds a BA from the University of Canberra and a MA (Hons Class 1) from UNSW. He was awarded an AM in 1991 and is the author of three books.
---
A message from Angus Benton
I am grateful to MCDOA member Angus Benton for this message:
"Rob,
Please pass my apologies for missing Friday night's dinner but the UK-US MCM Exercise is about to start here in Bahrain. Between Andy Lamb and me, one of us had to get the short straw.
Regards,
Angus"