---
| | | |
| --- | --- | --- |
| | Have you ordered your miniature of the Vernon Monument yet? It is being sold in a variety of sizes, finishes and prices to raise funds for the planned sculpture at Gunwharf Quays in Portsmouth to celebrate the Minewarfare & Diving heritage of HMS Vernon which previously stood on the site. 'Project Vernon' is officially supported by Portsmouth City Council, Gunwharf Quays, the MCDOA, AORNFCD, MWA, RNCDA and the TCA. Click here for details. | |
---
25 Jul 14 - HMS Bangor in action at Glasgow again
According the Royal Navy's Facebook page:
HMS Bangor (MCM1 Crew 8) came to the rescue of a female bicycle police constable who suffered a rear puncture while on patrol in the Pacific Quay area where the ship is berthed. Quick to react were Able Seamen Shaw and Hulme who leapt into action and repaired the flat tyre.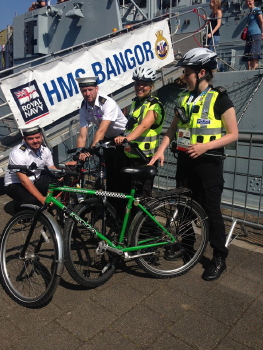 On reflecting on a job well done AB Shaw said: "It's always nice to be able to help out."
The two constables were soon back on the beat and Bangor waits for her next rescue mission.
---
24 Jul 14
HMS Blyth home from NATO assignment
The Royal Navy website contains this article and the Navy News website this article describing today's return to Faslane of HMS Blyth (MCM1 Crew 1) after her three-month deployment in the Mediterranean with Standing NATO MCM Group 2 (SNMCMG2). Welcome home!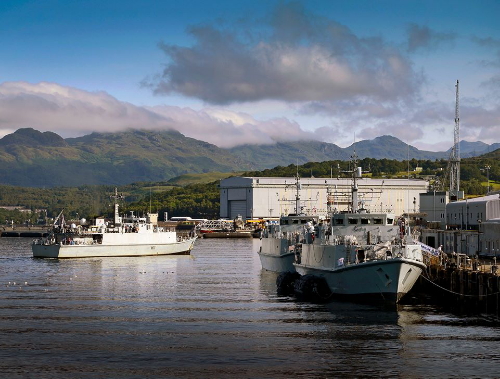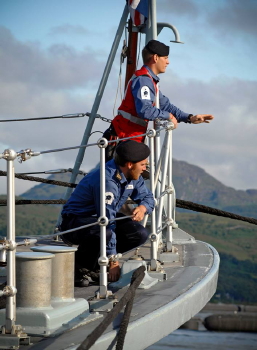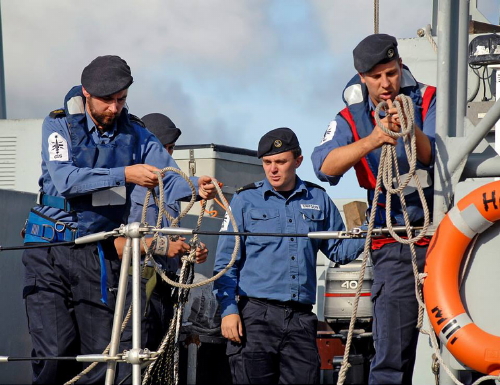 Royal Navy photos by CPO(Phot) Tam Macdonald, FRPU North.
---
HMS Bangor hosts famous BMX rider
The Royal Navy website contains this article describing a visit to HMS Bangor (MCM1 Crew 8) of world famous Scottish Street Trials Professional BMX Stunt Rider Danny MacAskill. The ship is currently berthed at Plantation Quay next to the Science Centre in Glasgow during the Commonwealth Games (see entry for 22 Jul 14). The stunt riding was a feature on the BBC's primetime magazine programme The One Show.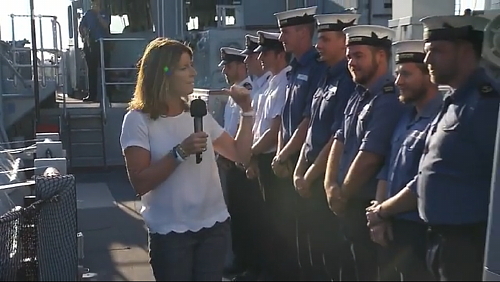 The relevant section, starting at minute 39:20, can be watched again on iPlayer here until 29 July.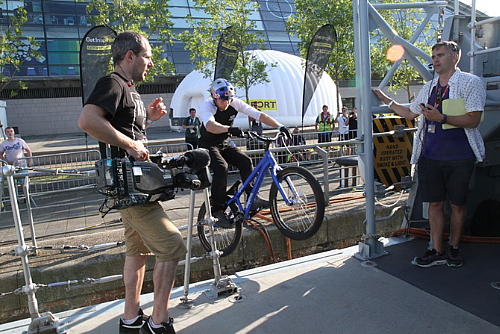 Danny MacAskill arriving on board HMS Bangor
(Navy News photo)
---
23 Jul 14 - FDU2 in RIMPAC
Portsmouth-based Fleet Diving Unit Two (FDU2) is currently participating in Exercise RIMPAC 2014 (26 June to 1 August). This is a joint exercise with the United States on the Pacific coast of the USA where the unit is practicing one of its core specialities, Very Shallow Water (VSW) EOD Operations.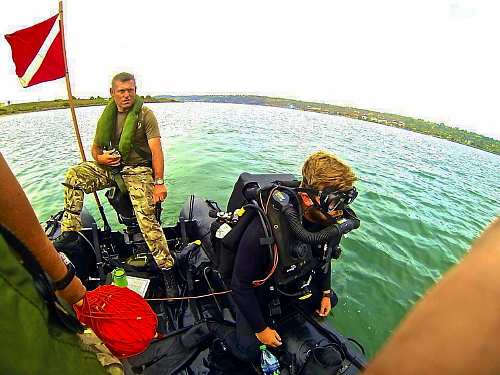 Lt Sean 'Central' Heaton RN and AB(D) Richard Hughes during RIMPAC
(Royal Navy photo)
---
22 Jul 14
HMS Bangor in Glasgow
HMS Bangor (MCM1 Crew 8) is certainly enjoying the limelight while she is visiting Glasgow (see entry for 18 Jul 14). She featured on The One Show on BBC1 last night and hosted Mary Clare Bancewicz, the volunteer runner selected to carry the Commonwealth Games Queen's Baton through the Pacific Quay leg.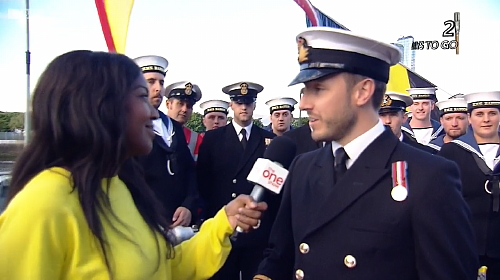 HMS Bangor's Commanding Officer, Lt Cdr Michael Carter Quinn RN,
being interviewed on The One Show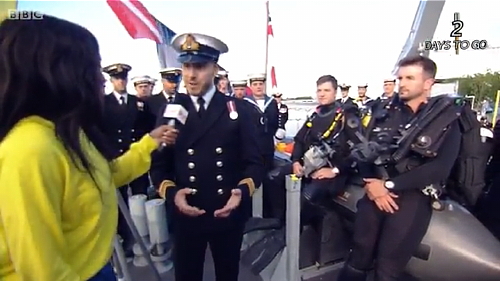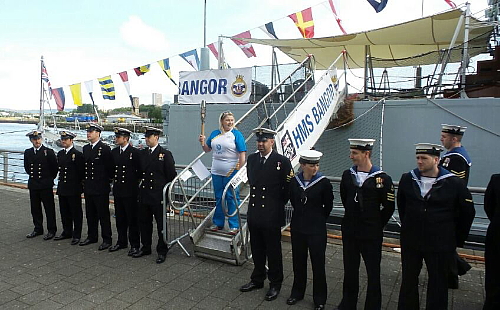 Commonwealth Games Queen's Baton runner, Mary Clare Bancewicz,
standing on the brow of HMS Bangor
(RN photo by Lt Cdr Grassy Meadows RN)
The episode of the One Show featuring HMS Bangor can be watched again here on iPlayer until 27 July (see section starting at minute 20:35).
Post script: The BBC website contains this article describing how a sharp-eyed member of HMS Bangor's ship's company spotted and extinguished a fire this evening at the newly-reopened Glasgow Science Centre tower.
---
News from HMS Shoreham
I am grateful to MCDOA member Si Kelly, the Commanding Officer of HMS Shoreham (MCM1 Crew 5), for this update received via the Ton Class Association (TCA):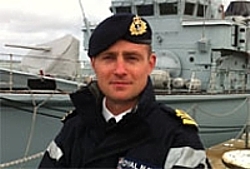 "It is with great pleasure that I am writing to introduce myself as the new Commanding Officer of HMS SHOREHAM. During the handover of the ship, my predecessor Toby spoke warmly of the support that all of the affiliates of HMS SHOREHAM have given his crew over the past few years, for which he was very grateful. I know that having been Captain for the majority of his Command, it was with a heavy heart that he left her for the final time. Although my tenure in Command of the ship will only be until January, I will do all that I can to maintain and strengthen these ties in the coming months.
My Crew (MCM1 Crew 5) are settling rapidly into the ship and life in the Arabian Gulf as we approach the hottest time of the year. A significant number of the Crew have been deployed in this region a number of times (some of us are up to 6 deployments to the Middle East), but for many this is the first time they have operated in this part of the world and there is a great deal to absorb. My priority for the team over the coming weeks is to ensure that we take up where we left off in our last ship, HMS GRIMSBY, with the same determination to prove ourselves, and the ship, fully capable of dealing with any of the broad variety of tasks we may be asked to undertake.
As for HMS SHOREHAM herself, she is in particularly good condition given the amount of time she has spent away from the UK, operating in the harsh environment of the Arabian Gulf. My crew and I intend to work hard to ensure that she continues to perform just as well during our tenure and keep her in the best form possible, ready for her handover in 2015. HMS SHOREHAM is due to sail back to the UK in mid-2015 with the next Crew. I am very hopeful, as I'm sure you are, that a home town visit will follow soon after her safe return.
I look forward to hearing from you and hope we can continue the strong relationship that clearly already exists between you and HMS SHOREHAM. In the mean time, if you wish to contact me and find out how the Ship is faring, I welcome correspondence. Given our dislocation perhaps the easiest method of reaching me is by email.
Yours Aye,
Simon. P. Kelly
Lieutenant Commander Royal Navy"
---
21 Jul 14 - Death of Admiral Khosrow Azadi IIN
MCDOA members Mike Gillam and David Burstall have informed me of the death of Admiral Khosrow Azadi, late of the Imperial Iranian Navy. I know from other sources that he died of natural causes at the age of 84 with his family around him in Los Angeles on 30 May 2014.
These are Mike's personal recollections:
Khosrow Azadi, Clearance Diving Officer, Imperial Iranian Navy
The death was recently announced of Admiral Azadi, former Fleet Commander of the Persian Gulf and Oman Sea, the Imperial Iranian Navy. He had been living in California with his wife and family for the last thirty years having narrowly escaped Iran following the revolution.
What is less well known is that he was a fully qualified Clearance Diving Officer who founded his Navy's Clearance Diving school and branch. This came as a result of a visit to Iraq and Iran sometime in 1956 by the Commander-in-Chief, East Indies Fleet who pointed out the danger to both countries of sea mines being laid in the Gulf and particularly the Shatt-el-Arab. He recommended that, with the assistance of the Royal Navy, both countries should develop a mine countermeasures capability. As a first step, it was decided to establish Clearance Diving schools in Iraq and Iran and, to this end, a small team was sent from Iran for clearance diving training in the UK from which Lieutenant Azadi was the only officer to qualify.
He returned to Iran to found a clearance diving school in Bandar-e-Pahlavi (now Bandar-e-Anzali) the major town at the southern end of the Caspian Sea. It had been decided that the school would be provided with equipment similar to that allocated to a full RNCDT. This equipment arrived in August 1957 and was placed in an Iranian Naval Officers summer married quarter, the school's temporary home until it had proved itself.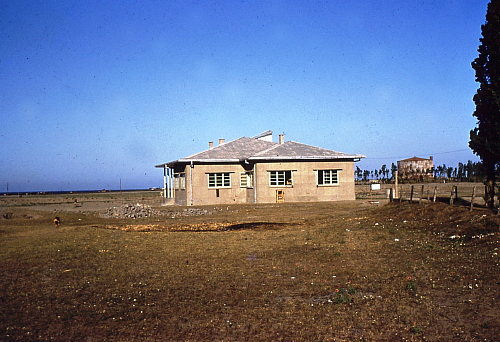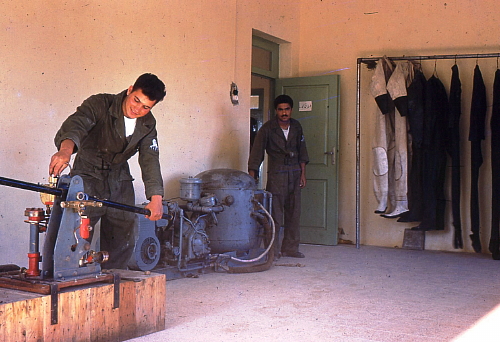 Work benches and storage cupboards were constructed from the boxes in which the diving equipment had been supplied using nails straightened with borrowed tools.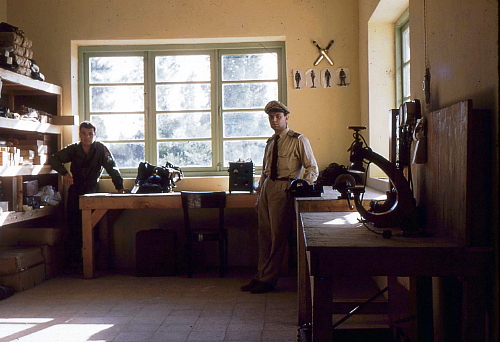 The small and inexperienced school staff were reminded of their basic training with a few re-acquaint dives and the first course started on 14th September. At the same time, the staff also started to work commercially, there being no other divers in Iran apart from those flown in from Europe for major construction work.
It was not long before the activities of the school, both in training new divers and working on the supports of the town's main bridge, became well known. The navy had not previously had a high profile in the area; hardly surprising when there were some locally who held the view 'only fools and foreigners travel by water'. The first course finished after 12 weeks and the qualifiers joined the ranks of those working commercially. Lieutenant Azadi was well known for his concern for all at the school and this extended to allocating half the money earned commercially to those immediately involved and half to a welfare fund providing benefits for the whole school. The 'esprit de corps' engendered by Khosrow Azadi in the divers became a byword within the Iranian Navy, resulting in them being appointed to the most unlikely jobs in the Finance and Stores departments of the Naval Staff – because they were trusted. The second course then completed and the school started providing divers for both operational and service duties throughout Iran. Eventually, they became involved in a number of major construct projects including the building of the Karaj dam and the pipeline to Kharg Island.
This is David Burstall's contribution:
"Dear Rob,
Khosrow Azadi was a young Lieutenant in the Imperial Iranian Navy in the 1950s who came to Vernon for training as a CDO together with candidates from Iraq. However, Khosrow was the only one that qualified and returned to Bandar Pahlavi on the Caspian Sea to set up a Diving School. The Admiralty appointed Michael Gillam to assist with training and he spent 12 months in the post.
Michael will be able to fill you in with how he and Khosrow got it all started. I relieved Michael and was fortunate enough to stay in Iran for two years. The school grew in size and we successfully trained a number of Divers up to the standard of CD3, CD2, CD1 and 2 CDOs. I was relieved in turn by Mike Grubb, who served another period of a year.
In due course Khosrow was promoted and appointed to command one of the IIN's Frigates built by Vosper Thornicroft, though I cannot remember the name of the ship. Here is his published obituary:
Khosro Azadi was born August 11, 1929 in Bandar-e-Pahlavi. His youth was spent in various cities throughout Iran due to his father's position as a government official. He attended the only Military High School in Iran and chose to pursue a career in the Imperial Iranian Navy.
In the 1950s he was sent for formal military education and training in the United Kingdom, Iran, Italy and the United States where he graduated at the top of his class with honors. Khosro received many awards and accolades throughout his distinguished military career including a sword from His Majesty, Mohammad Reza Shah Pahlavi.
Khosro was the first Iranian naval frogman and created the Frogmen School for the Imperial Iranian Navy in Bandar-e-Phlavi which specialized in underwater welding, rescue, repair, surveillance and demolition.
He commanded numerous ships and squadrons, taking on the responsibility of thousands of men while navigating through the rough seas of the Atlantic, Mediterranean and Indian Oceans.
Through his dedication and hard work, he earned one of the highest positions in the Imperial Iranian Navy with the rank of Admiral, Fleet Commander of the Persian Gulf and Oman Sea.
He was a sailor's admiral, down to earth with a 'hands on' management style. One of his greatest achievements was enhancing the fleet through rapid expansion; improving naval bases and the lives of personnel with a great focus on the training and welfare of all. Today, the largest and best equipped naval base in the Persian Gulf is the result of years of his non-stop management and tireless efforts. Admiral Azadi was the last great Fleet Commander of the Pahlavi dynasty.
After serving a harrowing imprisonment during the 1979 Islamic Revolution of Iran, Khosro was forced to flee his beloved country. He and his family settled in Orange County, California where he began a new career in the budding computer industry.
Khosro is surviverd by his loving wife Pari, daughter Shirin, son Farhad, grand-daughter Roudabeh, two grandsons Andrew and Matthew and great-grand-daughter Marni.
Finally I recall a very unfortunate incident in 1968 or 1969 when there were two Iranian divers in Vernon carrying out advanced CD training and one of them was undergoing recompression in a 'one man pot'. The door of the chamber was faulty and it suddenly failed and blew off causing the diver to suffer explosive decompression with fatal consequences. That brought to an end further training for the IIN. Ten years later, Ayatollah Khomeini supplanted the Shah since when all cooperation between Iran and the West has ceased altogether."
---
20 Jul 14 - Horsea Island barbecue
Despite forecasts of thunderstorms and heavy rain, the weather remained glorious for yesterday's MCDOA-sponsored joint-association barbecue at Horsea Island. MCDOA members present, most accompanied by wives, partners and other family members and guests, included Doug Barlow, Jon Cox, Mike Critchley, Pete Davis, Brian Dutton, Martyn Holloway, Ian Morton, David Sandiford and Dave Stanbury as well as Yours Truly (Rob Hoole).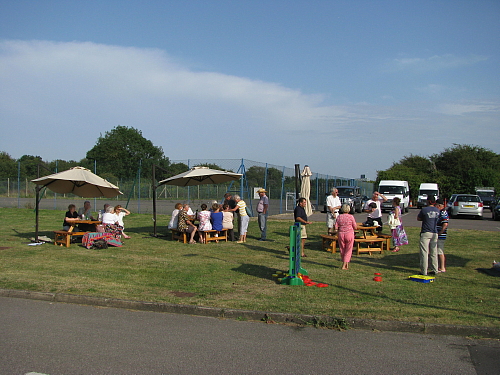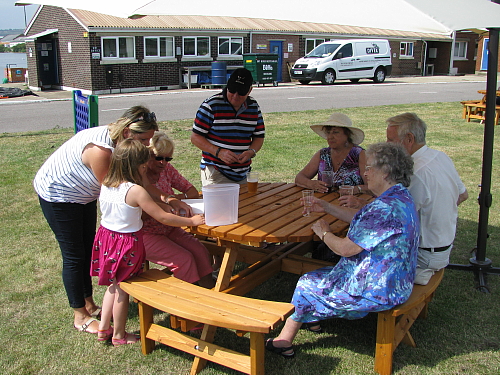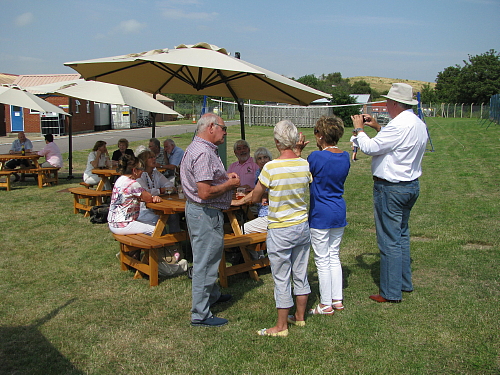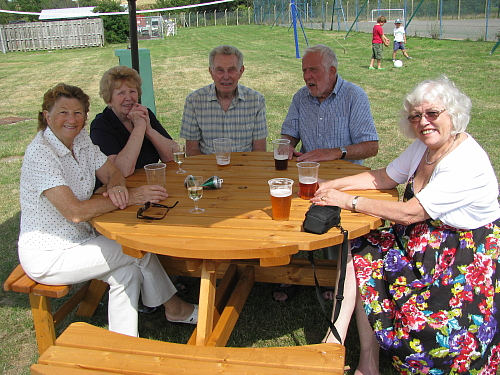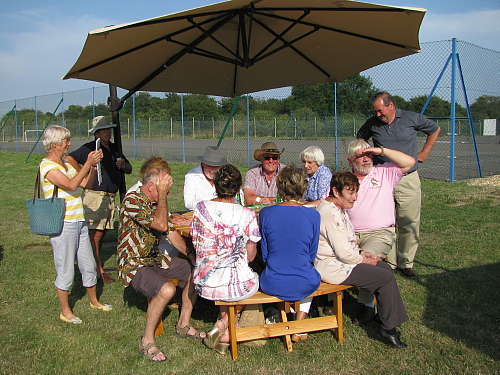 As threatened earlier, some of us even swam in the lake like last year...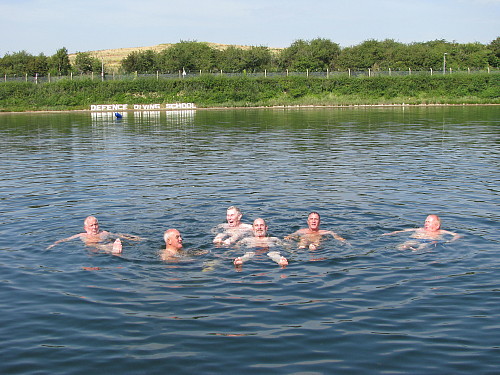 ...and then dried off by playing volleyball (of a kind).
Special thanks are due to our intrepid Honorary Secretary Richard 'Soapy' Watson for organising the event and to Honorary Treasurer Pete Davis and fellow MCDOA member Dave Stanbury as well as Lee the chef for helping to make it such a success.
As ever, the lake stole the show.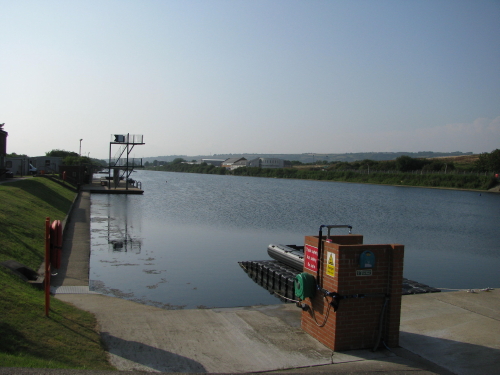 ---
19 Jul 14 - RN Minewarfare & Diving Heritage: Mine Defence SQ badge in the early 1950s
I have been asked to help answer the question below.
"Just thought you might be interested in the enclosed photo of my old chum Henry Watkinson.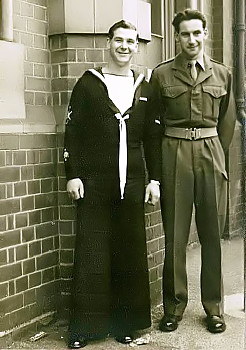 We served together on the Barbastel and then went our different ways. Both of us being divers, that badge was worn on the right cuff which left room on your right forearm for another trade. This was his wedding photo. I'm not sure if you can make out the badge, crossed torpedoes with an M, a mine detector badge. I have never seen another one. He got it on HMS Nepal, an old stripped down destroyer used for experimental mine detecting. As he said, "You just turned a knob and pinged hoping to detect a mine." People were always asking him about it. Can anyone provide more information regarding the badge and its origins please?"
The naval rating in the photo appears to belong to the Torpedo Branch (forerunner of the TAS and eventually the MW Branch) and is sub-qualified in 'Mine Defence' (not 'Mine Detection' as stated in the original question). He also appears to be a Diver 2nd Class; i.e. a 'steamer' standard diver based at HMS Vernon, not a 'corkhead' clearance diver (based on the 'P' Party divers) at HMS Lochinvar or there would be a 'C' under the helmet insignia. He is not a Shallow Water Diver (SWD - fore-runner of the Ships' Diver) or the helmet insignia would have 'SW' underneath and not have any stars. Responsibility for all RN diving was transferred from the Gunnery Branch, based at HMS Excellent, to the Torrpedo Branch, based at HMS Vernon, in 1946. The 'steamers' joined the 'corkheads' at HMS Vernon in 1951 and the Clearance Diver Branch was formally established on 7 March the following year i.a.w. Admiralty Fleet Order (AFO) 857/52.
This was the badge worn by a Mine Defence Rating 3rd Class between 1951 and 1956: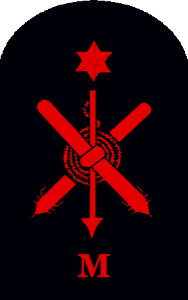 Can anyone supply any more background information, particularly about the role of the Torpedoman 'M' (Mine Detection) sub-specialisation SQ (Specialist Qualification), so I can pass it on?
---
18 Jul 14 - HMS Bangor sails into Glasgow for 18-day public visit
The Royal Navy website contains this article announcing today's arrival of HMS Bangor (MCM1 Crew 8) at Plantation Quay next to the Science Centre in Glasgow, She will be alongside until Monday 4 August as a backdrop to the BBC at The Quay festival village while supporting the Commonwealth Games and playing a starring role in the art spectacular Sound to Sea. The ship will be open to visitors every day from 19 July to 3 August, normally between 1000 and 1700.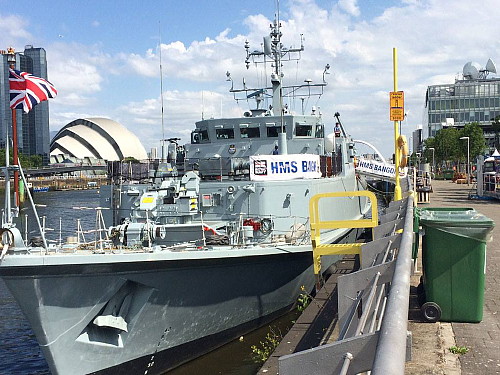 HMS Bangor alongside in Glasgow
(RN website photo)
HMS Bangor will be joined by the Glasgow and Strathclyde Universities' Royal Navy Unit patrol vessel HMS Pursuer on 28 July and by the Type 45 destroyer HMS Duncan on 30 July. Royal Marines from 43 Commando (Fleet Protection Group) will also be present with their RIBs. HMS Pursuer and the Royal Marines will join HMS Bangor as part of 'Sound to Sea' and visitors may see them practising on the river for their roles in the cultural extravaganza.
---
17 Jul 14 - HMS Chiddingfold in Black Sea NATO exercise
The Royal Navy website contains this article describing the participation of HMS Chiddingfold (MCM2 Crew 5) with other ships of Standing NATO Mine Countermeasures Group Two (SNMCMG2) in Exercise BREEZE 2014 off the Bulgarian coast from 4 to 13 July 2014. Ships and aircraft of the Bulgarian Navy as well as air and naval units from Greece, Italy, Romania, Turkey and the USA also took part.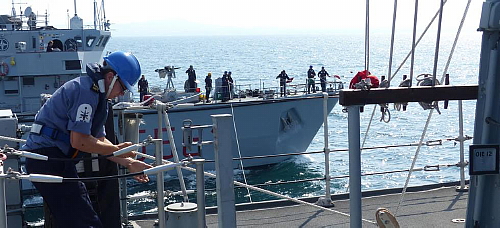 Royal Navy website photos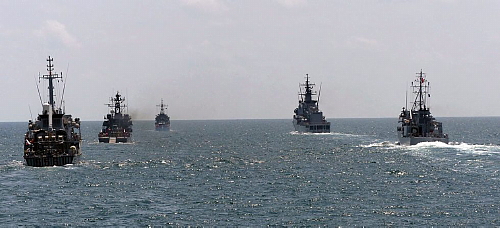 ---
16 Jul 14 - Former Royal Navy minehunters in the Baltic
The photo below shows the Lithuanian minehunter LNS Kuršis (formerly HMS Dulverton) and the Estonian minehunter ENS Admiral Cowan (formerly HMS Sandown) while operating in the Baltic with Standing NATO MCM Group 1 (SNMCMG1).

---
15 Jul 14 - MCDOA members' senior appointments
I am grateful to MCDOA member Tim Davey for informing me that he will be relieving fellow member Jim Byron DSC as MCM1 sometime in early August before conducting the Force Generation with 3 Minewarfare Battlestaff to deploy to Bahrain for Operation KIPION later in the year. Meanwhile, Jim has informed me that he will be undertaking the ACSC (Advanced Command & Staff Course) at Shrivenham after his return to the UK.
I am also grateful to MCDOA member Phil Ireland DSC for informing me that fellow member Si Kelly, currently commanding HMS Shoreham (MCM1 Crew 5) in the Gulf, is due to be appointed in Command of a Type 23 frigate next year on completion of CODC (CO(desig) course).
Tim Davey and Si Kelly were among the 13 warfare officers listed on 6 June as being selected by the SASB (Sea Appointments Selection Board) for destroyer/frigate/MCM squadron command in the rank of Commander (see entry for 7 Jun 14).
---
14 Jul 14 - Branch participation in Commonwealth Games
The Royal Navy website contains this article describing the preparation of MCDOA member Mark Shaw (see entry for 19 Jun 14) and AB(D) Jeremy Osborne for the Glasgow XX Commonwealth Games between 23 July and 3 August. Mark will be representing Wales in Judo (over 100 kg) and Jeremy will be representing Guernsey in the men's swimming.
---
13 Jul 14 - SDG features in Countryfile
Today's episode of the BBC TV series Countryfile, featuring MCDOA member Olly Alexander (CO SDG), MCDOA Honorary Treasurer Pete Davis (OIC SDU1), PO(D) Mark 'Jan' Cocking and other members of Southern Diving Group (SDG) conducting the disposal of historic ordnance at Whiteford Sands on the Gower Peninsula in South Wales (see entry for 10 Jul 14), can be seen again here on iPlayer until 1800 on 20 July. Watch the sections starting at minute 29:46 and minute 53:10.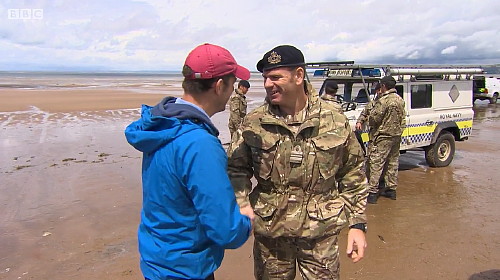 Countryfile presenter Matt Baker being greeted by Olly Alexander
Left: A naval shell after detection, excavation and de-concretion using cordtex
Right: Matt Baker showing fellow presenter Ellie Harrison the exploder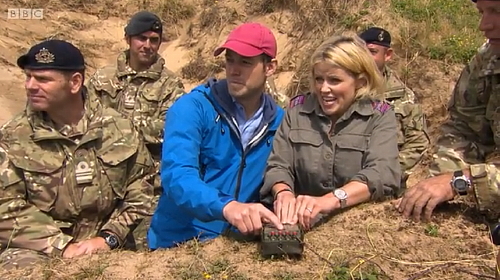 Ellie Harrison pressing the button on the exploder with MCDOA Honorary
Treasurer Pete Davis background left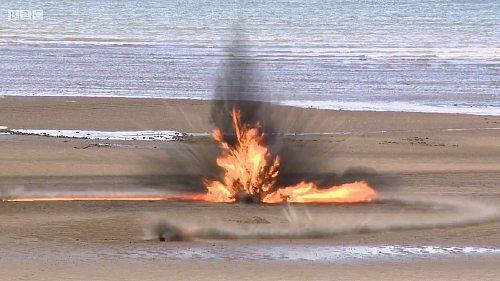 The initial explosion of plastic explosive charge and naval shell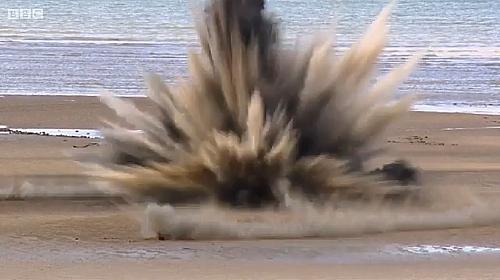 High order!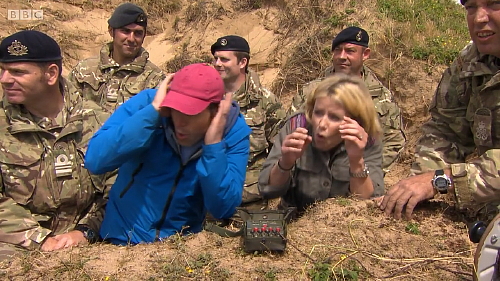 Effect on the presenters of the bang and shockwave
---
12 Jul 14 - HMS Blyth and HMS Enterprise at Gibraltar
As ever, I am grateful to local photographer Daniel Ferro for these images of HMS Blyth (MCM1 Crew 1) and the multi-role survey vessel HMS Enterprise at Gibraltar today. HMS Blyth is en route back to Faslane after her three-month deployment in the Mediterranean with Standing NATO MCM Group 2 (SNMCMG2) while HMS Enterprise has been conducting survey work in the Bay of Biscay and is now bound for 18 months of further survey work in the Mediterranean and Red Sea before heading into the Gulf.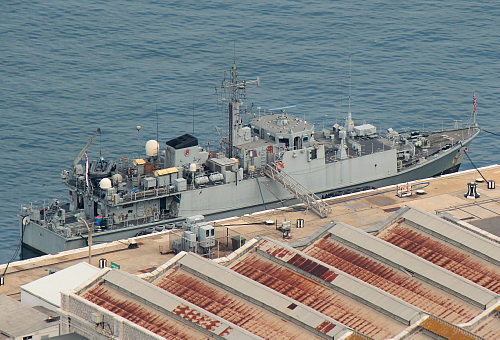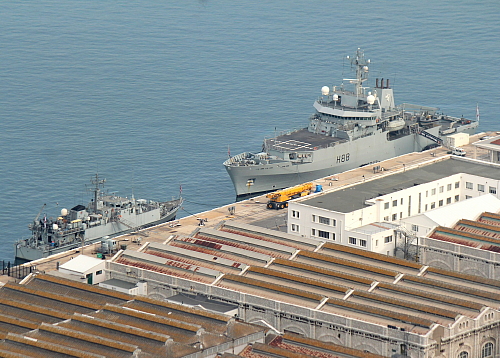 ---
11 Jul 14 - Website still problematical
The website is still reflecting the problems I reported on 27 Jun 14. The 'Latest News' page is sporadically jumping backwards and forwards in time even more often than before despite my repeated uploading of the latest files. The host has escalated this issue for further investigation but do not be surprised if you do not immediately see the latest entries; they seem to disappear and reappear at random.
---
10 Jul 14 - SDG to feature in Countryfile
The gov.uk website contains this blog entry describing the filming of this Sunday's episode of BBC1's Countryfile TV programme on the Gower Peninsula in South Wales. The episode features members of Plymouth-based SDU1 including MCDOA member Olly Alexander, CO of Southern Diving Group (SDG). Countryfile presenters Matt Baker and Ellie Harrison will be shown assisting in the detonation of unexploded ordnance on Whiteford Sands.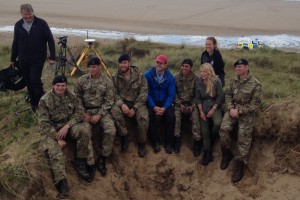 SDU1 members with Countryfile presenters
(Sorry. Nothing larger at the moment.)
---
9 Jul 14
Death of ex-CD Ian 'Ned' Kelly
Troy Tempest, Honorary Secretary of the Association of First Class Divers (AORNFCD), has passed me the sad news of the death of ex-CD Ian 'Ned' Kelly. Troy was informed by Jock Stuart and Michael 'Flo' Florence and I will publish funeral details if they become available.
---
MCM2 Crew 2 returns from the Gulf
The Portsmouth News website contains this article describing the return to Portsmouth of MCM2 Crew 2 which has been manning HMS Atherstone in the Gulf for the past seven months. After their well-deserved leave, the crew will take HMS Cattistock through refit before deploying to the Gulf again in late 2015.
---
8 Jul 14 - Last chance to book for Summer Barbecue at Horsea Island on 19 July 2014
This year's Summer Barbecue will take place on Horsea Island from 1400 to 1800 on Saturday 19 July. At a cost of only £10 per head, there will be good food, drink (first one free), a raffle, live music and games. Some fools might even be swimming: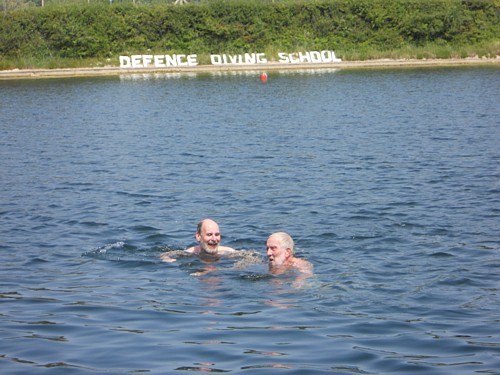 This event is open to all members of the MCDOA, REBDOC, AORNFCD, MWA and RNCDA and their families. Download and complete the application form then send it with a cheque for the correct amount to the MCDOA's intrepid Honorary Secretary, Richard 'Soapy' Watson, at the address provided:
Application for 2014 MCDOA Summer Barbecue (pdf file)
---
6 Jul 14 - SDU2 recovers det cord from garden nursery
The Chichester Observer contains this article, including video, describing the recovery of detonating cord from a garden nursery at Shopwyke, Chichester in West Sussex on Thursday by members of Portsmouth-based Southern Diving Unit 2 (SDU2).
---
4 Jul 14 - Happy Independence Day!
The MCDOA's 'Not Quite the Last of the Summer Wine' trio was joined by recently retired Capt Dean Molyneaux OBE RN last Tuesday at HMS Excellent's marina on Whale Island for this tribute to our US buddies today.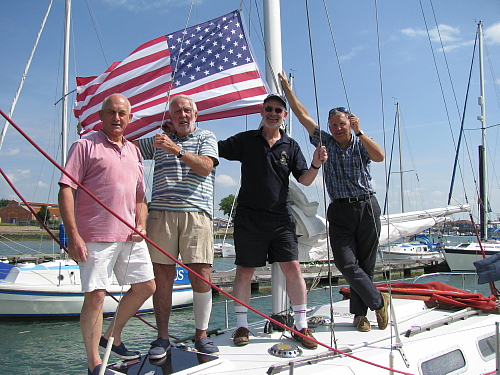 Holloway, Barlow, Hoole and Molyneaux send their greetings
My thanks to former WO(D) Stew 'George' Sissons for taking the photograph.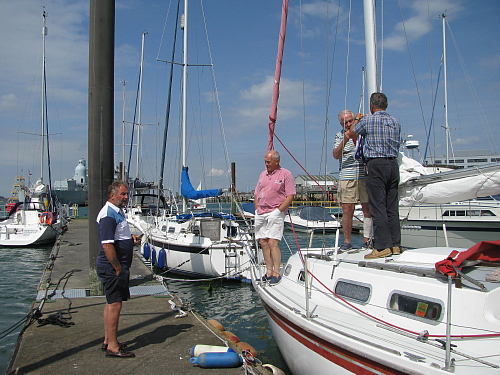 Stew Sissons chatting to Dougout's crew
---
3 Jul 14 - HMS Hurworth 'wins' the Iron Cross
The Navy News website contains this article describing the presentation of a Second World War Iron Cross to HMS Hurworth (MCM2 Crew 7). The medal, recovered from a German bomber shot down by the warship's predecessor off Sicily in 1943, was presented to the minehunter's crew when it visited Teesside for Armed Forces Day events.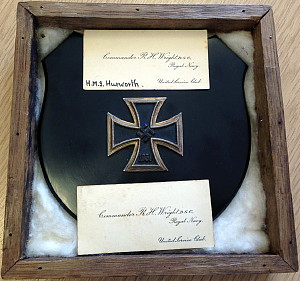 Post script: On 7 July, the Royal Navy website published this article covering the same story.
---
2 Jul 14 - Disposal of live device at Looe
The Western Morning News website contains this article describing the disposal on Saturday of a canister on the beach at Looe in Cornwall, presumably by a member of Plymouth-based Southern Diving Unit 1 (SDU1).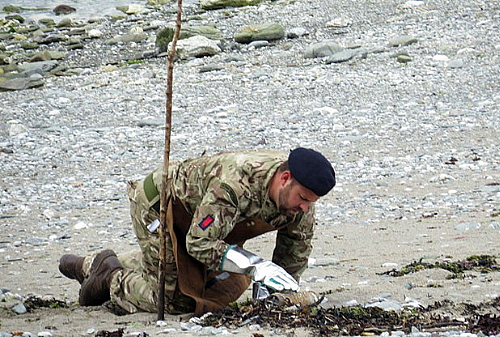 ---
1 Jul 14 - Daily Telegraph obituary for Ginger Coles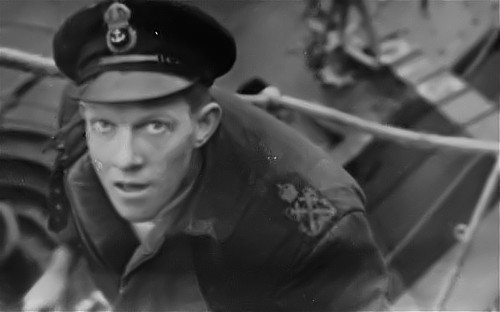 Vernon 'Ginger' Coles
Today's Daily Telegraph contains this obituary, written by our good friend Capt Peter Hore RN, for CERA (Chief Engine Room Artificer) Vernon 'Ginger' Coles DSM, who has died aged 94. Ginger was a crew-member of the midget submarine X-24, now exhibited in the RN Submarine Museum in Gosport, when she sank the German merchant ship Barenfels off Bergen during Operation GUIDANCE in April 1944.
At the time, X-24 was commanded by X-craft diving officer Lt (later Lt Cdr) Max Shean DSO* RANVR and her First Lieutenant was Sub Lt (later Lt Cdr) Joe Brooks DSC RN who later became a colourful Clearance Diving Officer (see entries for 17 Jan 08 in News Archive 21 and 30 Mar 09 in News Archive 25).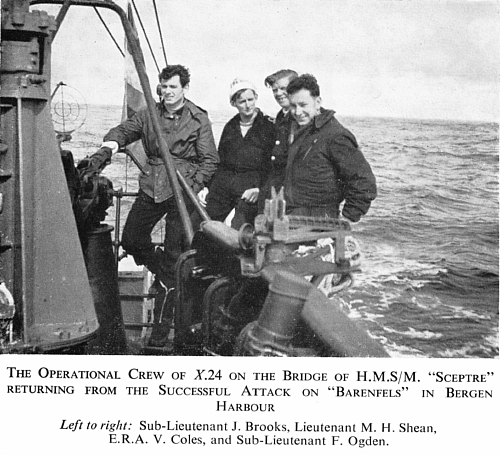 ---
30 Jun 14 - Armed Forces Day chez Hoole
This weekend, Mrs Webmaster and I hosted Tenno Dogger and Eric Rackham as our contribution towards Armed Forces Day. Tenno, a Dutch philanthropist now settled in France, is a co-founder of the Deep Respect organisation which serves to keep alive the memories of the Normandy veterans. He also pursues the award and presentation of the French Legion d'Honneur medal for all entitled Normandy veterans.
89-year-old Eric, originally from London, was in the RASC (Royal Army Service Corps) and drove a DUKW amphibious vehicle to ferry personnel and supplies between the D-Day ships off Arromanches and Gold Beach from 7 June to mid-July 1944 when the Mulberry harbour was completed.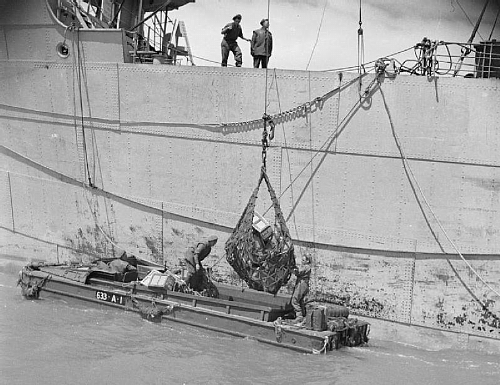 A DUKW like Eric drove loading supplies from a ship at Mulberry B
off Arromanches (Gold Beach) after D-Day
Eric has lived on the Gold Coast in Australia for the past 20 years but is currently visiting his daughter in Normandy. Thanks to Tenno, he was presented with the Legion d'Honneur on 5 June 2014. On Friday afternoon, we visited the Royal Armouries Museum at Fort Nelson before enjoying a home-cooked meal courtesy of Mrs Webmaster.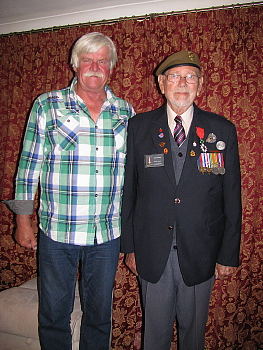 Tenno (left) with Eric chez Hoole
On Saturday morning, we visited the war graves at St Peter & St Paul Cemetery in Wymering where Tenno and Eric placed a rose on each of 11 servicemen's graves.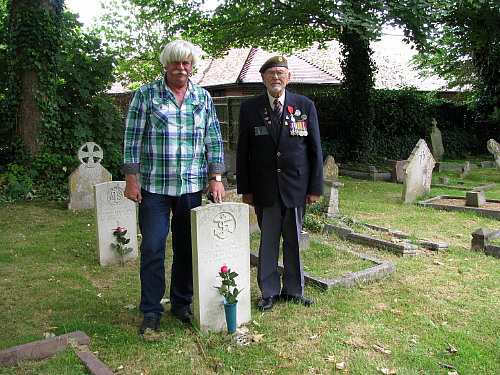 Tenno and Eric beside some of the 11 war graves in Wymering Cemetery
We then attended the Armed Forces Day events at the D-Day Museum in Southsea where, to Eric's delight, we found a DUKW involved in the Normandy landings.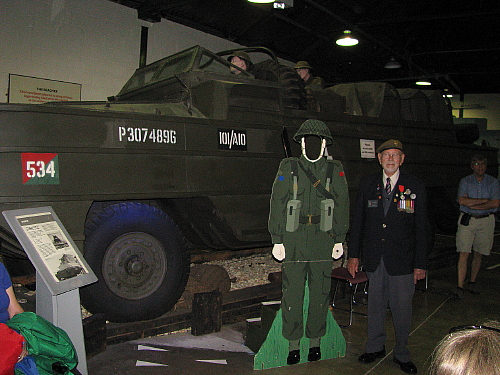 Eric with a DKUW like the one he drove between the ships and
Gold Beach at Arromanches after the D-Day landings
Eric was also able to chat to fellow Normandy veterans and the opportunity was taken to record an interview with him for a special DVD being produced for the Normandy Veterans Association (NVA) which is due to disband in August.
Left: Tenno and Eric chatting with a Normandy veteran from the Honourable Artillery Company
Right: Eric being interviewed for a Normandy Veterans Association DVD
On the way back for another home-cooked meal, we stopped for a pint at the Golden Lion in the village of Southwick. This was used by Eisenhower and Montgomery while esconced at Souhwick House before the Normandy landings. Coincidentally, the barmaid happened to hail from the Sunshine Coast in Australia, relatively near where Eric now lives.
On Sunday morning, we attended a service at Christ Church on Portsdown Hill where many of the SHAEF staff based at Southwick House (the former wardroom of HMS Dryad) attended a pre-D-Day service and stained glass windows testify to the event. Tenno and Eric then went on to the Armed Forces Day Veterans Tea Party at the RN Museum in Portsmouth Historic Dockyard. Before catching the ferry back to France, they watched the Netherlands beat Mexico in the World Cup on TV in a local pub.
I am particularly grateful to Mrs Webmaster for helping to accommodate, feed and entertain Tenno and Eric at such short notice.
---
29 Jun 14 - MCDOA member makes history
I have received this welcome notification from MCDOA member David 'Topsy' Turner, Commanding Officer of HMNZS Canterbury:
"Rob,
Perhaps this article, including a video, from the TVNZ One websiite might be of interest to our readers.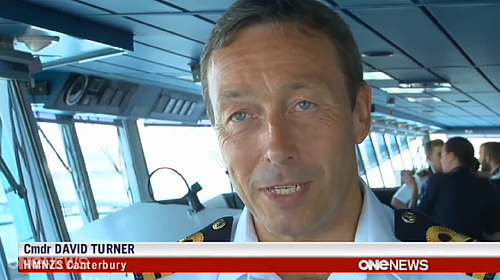 What's an MCDO doing making history in Pearl Harbour?? Now that's gotta be a first. We're here for RIMPAC and CANTERBURY is the first NZ ship to be allowed into Pearl Harbour for RIMPAC in 30 years! Right up there!!
Topsy"
---
Recent RN EOD incidents
The following recent incidents have involved Faslane-based Northern Diving Group (NDG) and Portsmouth-based Southern Diving Unit 2 (SDU2) respectively:
Aberdeen Press & Journal 26 June 2014: Bomb squad called over submarine device on beach
"A Royal Navy bomb disposal team were called in tonight after a walker spotted a submarine smoke marker – complete with warnings how to disarm it – on a Western Isles beach..."
Portsmouth News 26 June 2014: Live grenade discovered in Havant council depot
"The Royal Navy bomb disposal team were called to Havant Borough Councils Penner Road depot.."
IOW County Press 24 June 2014: Bomb disposal operation in Cowes
"ROYAL Navy bomb disposal experts were called to the Isle of Wight last night (Monday) after a shell and rounds from the Second World War were found..."
---
28 Jun 14
Jim Nisbet selected for promotion to Captain
Martin Mackey has advised me that fellow MCDOA member Jim Nisbet has been selected for promotion to Captain RN. I am sure everyone in our community will join me in offering him our hearty congratulations.
---
HMS Brocklesby in Douglas IOM for five days
The Royal Navy website contains this article announcing the arrival of HMS Brocklesby (MCM2 Crew 1) in Douglas, Isle of Man on Tuesday 1 July for a five-day visit. She will berth on Victoria Pier and be open to the public from 1000 to 1300 on 2, 3 and 4 July.
---
27 Jun 14
Website problem
For reasons beyond my control, the website is sometime taking more than 24 hours to reflect updated material and is intermittently jumping back a couple of days so that the latest entries disappear from view. I am chasing this up with the website host and normal service will be resumed as soon as possible.
---
HMS Grimsby personnel to march in Armed Forces Day parade in Grimsby
The Royal Navy website contains this article announcing that a 10-strong contingent from HMS Grimsby (MCM1 Crew 6) will march through the streets of Grimsby with other service colleagues, veterans and cadets for Armed Forces Day celebrations at 1400 tomorrow. They will be led by the ship's XO, Greg Richards.
---
26 Jun 14 - Long Service & Good Conduct Medal awards
Congratulations to WO1(D) Steve Strange QGM, WO1(D) Martin Slade and PO(D) N. R. Patterson on being gazetted for the award of the Clasp to the LS & GC and to LS(D) John Anderson on being gazetted for the award of the LS & GC. The relevant Supplement to the London Gazette can be viewed here.
---
25 Jun 14 - News from HMS Cattistock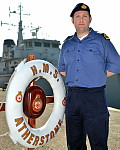 I am grateful to Andy Smith, the Commanding Officer of HMS Cattistock (MCM2 Crew 2), for this update received via the Ton Class Association (TCA) (see entry for 29 Aug 13 in News Archive 43):
"I am writing as the Commanding Officer of HMS ATHERSTONE, although I hope you remember me as the Commanding Officer of HMS CATTISTOCK from June - December 3013. You may recall myself and Crew 2 of the Second Mine Countermeasure Squadron (MCM2 Crew 2) were to deploy to the Persian Gulf on board HMS ATHERSTONE for seven months from December 3013 to July 2013. Our time on board HMS ATHERSTONE is now drawing to a close and I am pleased to report that it has been very successful.
The reason that I write to you now is that (after a well-earned period of post-deployment leave) MCM2 Crew 2 will be returning to HMS CATTISTOCK and I am keen to renew our affiliation. We will find ourselves in an unusual position in the UK as HMS CATTISTOCK herself will be in dry dock receiving an extensive refit. You may have heard about this refit before, but it is designed to improve her efficiency and capabilities and to extend her life by at least another decade.
This refit means that unfortunately we will not be in a position to bring HMS CATTISTOCK herself to visit ports until mid-2015 at the earliest. However despite a lack of a sea-going ship, MCM2 Crew 2 will not be idle. The time spent in Portsmouth Naval Base represents a rare period of shore time which will be filled with professional courses, exams and training. It will also involve supporting the other Crews of the Second Mine Countermeasure Squadron in their duties.
If there are any events coming up in the South Coast area from mid-August onwards (the end of our post-deployment leave) that you would like us to try and support or attend then please write to us to let us know. Letters addressed to myself at HMS CATTISTOCK, BFPO 251 should always find their way to me. Affiliations are extremely important to the Royal Navy and I hope this period of time alongside gives us the opportunity to renew ours. I look forward to hearing from you and I will write again when MCM2 Crew 2 are re-established in Portsmouth.
I hope to be able to invite you and some of your members onboard HMS CATTISTOCK when we move on board her.
Yours aye,
Andy Smith
Lt Cdr RN"
---
24 Jun 14 - Three Men in a Boat (To Say Nothing of the ex-Greenie)
The MCDOA's 'Not Quite the Last of the Summer Wine' trio of Barlow, Holloway and Hoole enjoyed a fabulous sail on the Solent today and even deployed the seldom-seen cruising chute for a brief period.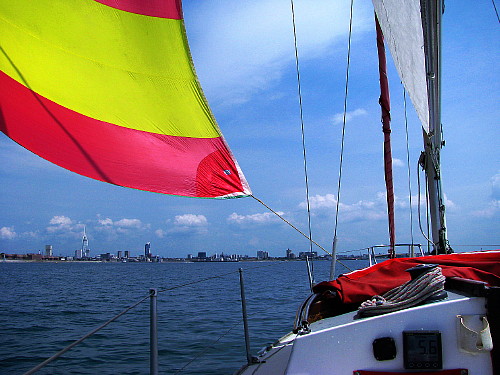 We were accompanied by Capt Dean Molyneaux OBE RN, a recently retired greenie who is currently undertaking resettlement training as a bartender under Holloway's watchful eye.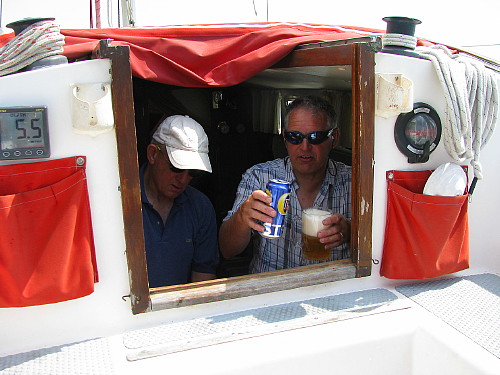 Having anchored for lunch off Stokes Bay, populated with a goodly number of bikini-clad young lovelies, Holloway braved the water for a swim. Sadly, he failed to convince anyone else that the temperature had yet reached tropical levels.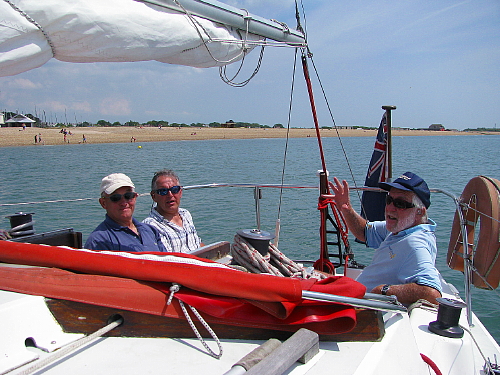 As ever, many thanks to MCDOA associate member Doug Barlow, the erstwhile 'Beau (spelled Bo) of Vernon', for allowing us the pleasure of sharing his yacht 'Dougout' for the day.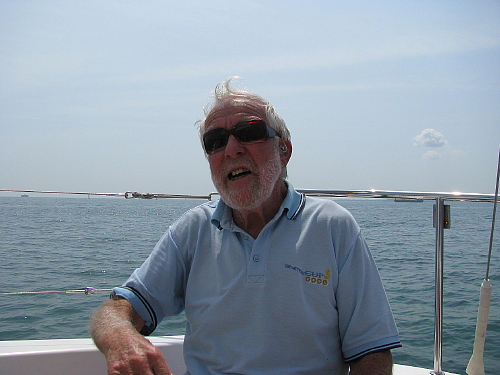 ---
23 Jun 14 - HMS Ledbury open to visitors in Hull
The Royal Navy website contains this article announcing tomorrow's arrival in Hull of HMS Ledbury (MCM2 Crew 4) for a two-day visit in support of Seafarers Awareness Week. She will be open to the public on Wednesday from 1000 to 1600.
---
22 Jun 14 - HMS Chiddingfold and HMS Penzance in Gibraltar
I am grateful to local photographer Daniel Ferro for this image of Faslane-based HMS Penzance (MCM1 Crew 3) berthing on Portsmouth-based HMS Chiddingfold (MCM2 Crew 5) in Gibraltar on 13 June during their passage to the Gulf to relieve HMS Ramsey (MCM1 Crew 2) and HMS Quorn (MCM2 Crew 3) respectively (see entry for 10 Jun 14).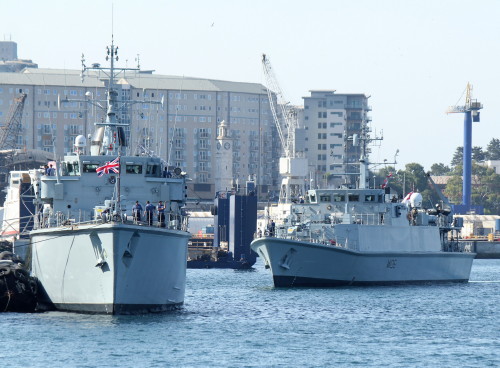 HMS Chiddingfold and HMS Penzance in Gibraltar
---
20 Jun 14 - HMS Ledbury on ceremonial and training duites
The Royal Navy website contains this article describing a heavy programme of duties for HMS Ledbury (MCM2 Crew 4) during the past fortnight including high profile events at Ouistreham and Caen in France to commemorate the 70th anniversary of D-Day closely followed by a capability demonstration at BRNC Dartmouth in Devon.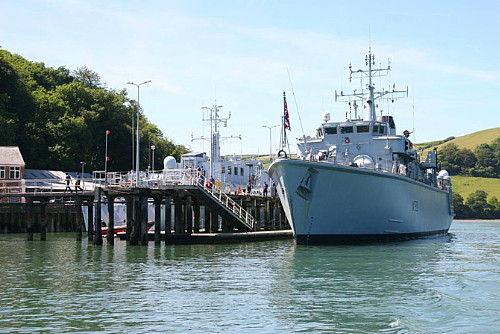 HMS Ledbury alongside Sandquay Jetty at Britannia Royal Naval College
(RN website photo)
---
19 Jun 14 - Wales select MCDOA member for Commonwealth Games
MCDOA member Mark Shaw, former OIC of Fleet Diving Unit 2 (FDU2) and Southern Diving Unit 2 (SDU2), has been selected to represent Wales in Judo at the Commonwealth Games in Glasgow this summer. Mark has been training full time since January (see first entry for 15 Apr 14 in News Archive 46) and now with only five weeks to go, he is entering the final preparation phase. He will compete in the +100kg category on Saturday 26 July.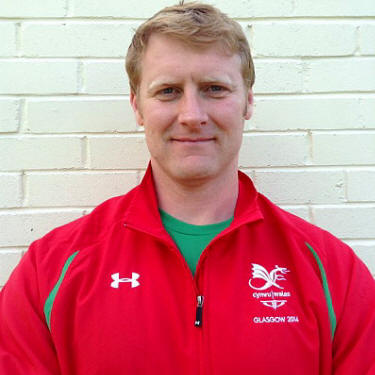 Lt Cdr Mark Shaw RN
Congratulations to Mark on his selection. I am sure that everyone in our community will join me in wishing him every success in his forthcoming bouts.
---
16 Jun 14 - SDU1 deals with 'smoke bomb' at Perranporth
The West Briton website contains this article, including a video clip, describing last weekend's detonation of a Second World War 'smoke bomb' at Perranporth in Cornwall by Royal Navy bomb disposal experts, presumably members of Plymouth-based Southern Diving Unit 1 (SDU1).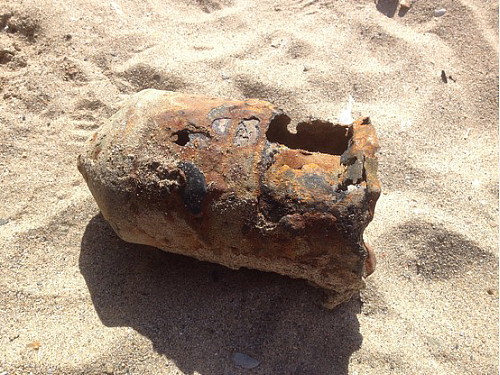 ---
14 Jun 14 - Today's Queen's Birthday Honours
Congratulations to MCDOA President Paddy McAlpine on his promotion from Officer (OBE) to Commander (CBE) in the Military Division of the Most Excellent Order of the British Empire in the Queen's Birthday Honours published today. Paddy took over as Commmodore Portsmouth Flotilla (COMPORFLOT) in March this year but was previously Commander UK Task Group (COMUKTG) and led the Response Force Task Group (RFTG) during last year's COUGAR 13 deployment in the Mediterranean and east of Suez (see entry for 28 Sep 13 in News Archive 43).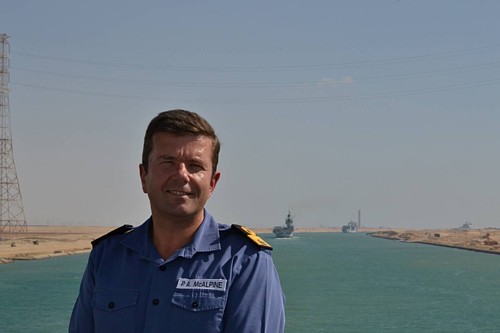 Commodore Paul Anthony 'Paddy' McAlpine CBE ADC in the Suez Canal
while flying his broad pendant in HMS Bulwark last year
Also, congratulations to PO(D) Andrew 'Tex' Marshall on his appointment as a Member (MBE) in the Military Division of the Most Excellent Order of the British Empire to add to his previous accolades. Last summer, Tex was awarded the Armourers' and Brasiers' Annual Award for Excellence 2013 for his "simply exceptional" work in the role of Coxswain of MCM1 Crew 6 while serving in HMS Ramsey in the Gulf (see first entry for 11 Jun 13 in News Archive 42).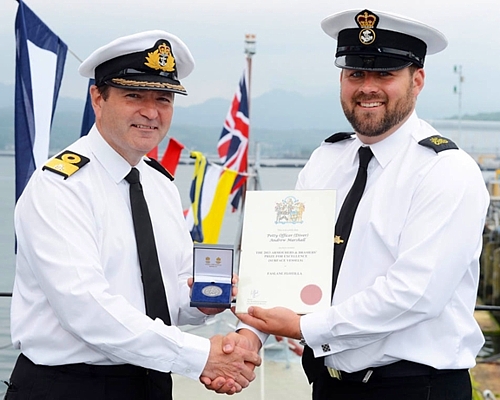 Cdre Steve Garrett (COMFASFLOT) presenting award to PO(D) Andrew Charles
'Tex' Marshall MBE of MCM1 Crew 6 in June last year
Last but not least, congratulations to MCDOA past-Chairman and ex-Superintendent of Diving David Hilton on being appointed a Member (MBE) in the Civil Division of the Most Excellent Order of the British Empire for services to the Royal Navy. Since finishing active service in 2001, David has been the Base Services Manager at Portsmouth Naval Base. When afloat, the MCDOA's 'Not Quite the Last of the Summer Wine Trio' of Barlow, Holloway and Hoole often wave at him in his office in Semaphore Tower and exchange a few words via mobile phone.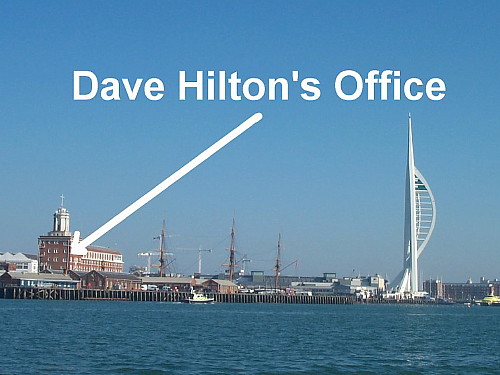 David Hilton's lofty office
In 2012, David was heavily involved in organising the homecoming ceremony for HMS Middleton after her three-year deployment in the Gulf (see first entry for 31 Aug 12 in News Archive 39).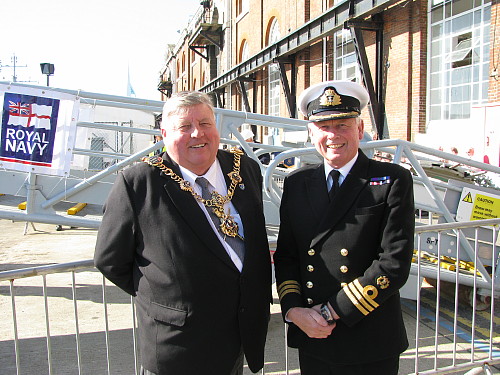 Cllr Frank Jonas, the Lord Mayor of Portsmouth, with Cdr David Hilton MBE
beside No.2 Basin in HM Naval Base Portsmouth in August 2012
The complete list of Defence honours and awards can be seen at:
2014 Birthday Honours for Service personnel and Defence civilians
Post script: On 23 June 2014, the Plymouth Herald published this article about PO(D) Andrew 'Tex' Marshall's appointment as an MBE.
---
13 Jun 14 - Invitation to visit DEMSS on 12 July
An invitation has been received from the Commanding Officer of the Defence Explosives Ordnance Disposal Munitions and Search Training Regiment (DEMS Trg Regt) to visit his facilties for a familiarisation and lunch (at cost) in the mess at St George's Barracks, Arncott OX25 1AB near Bicester in Oxfordshire on Saturday 12 July. Exact timings have yet to be confirmed.
The DEMS Trg Regt has replaced the Defence Explosive Ordnance Disposal School (DEODS); the National Search Centre (NSC); the Felix Centre (Kineton); etc., and is now at full operational capacity "...delivering well-trained and highly motivated bomb disposal and search operatives and ammunition technicians".
The invitation applies to MCDOA members and RN EOD operators from other associations (e.g. AORNFCD). An invitation has also been extended to members of the MCDOA's affiliated Royal Engineers Bomb Disposal Officers' Club (REBDOC) plus members of the Royal Engineers' Association Bomb Disposal Branch (REA BD Branch) and 101 (City of London) Engr Regt (EOD).
The organisers are keen to obtain an initial idea of numbers. If you would like to attend, please email me via my Webmaster address by Friday 20 June.
---
12 Jun 14 - Royal Canadian Navy divers take part in Exercise TRADEWINDS 2014
The Ottawa Citizen website contains this article describing last week's involvement of Royal Canadian Navy divers in a six-day maritime exercise called TRADEWINDS 2014 in Antigua in the West Indies. They were among 100 personnel from the RCN, US military and military units from 11 Caribbean nations. The Canadians comprised members of Fleet Diving Unit Atlantic based in Halifax, Nova Scotia and participating Caribbean nations comprised Antigua & Barbuda, the Bahamas, Belize, Dominica, Grenada, Guyana, Jamaica, St. Kitts & Nevis, St. Vincent & the Grenadines, Suriname and Trinidad & Tobago.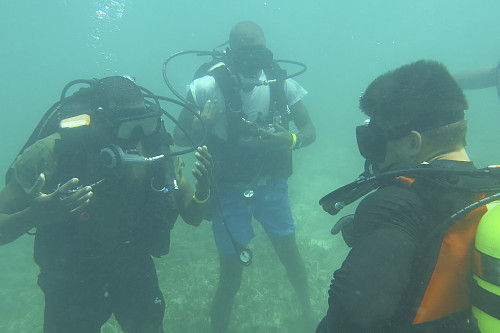 Ldg Sea Zach Verdun RCN (right) of the Fleet Diving Unit Atlantic instructing Jamaican
Defence Force Ldg Sea Richard Nicholson (left) and St. Kitts Coast Guard WO Mervin
Lewis during diving training at Camp Blizzard in Antigua on 2 June
(US Coast Guard photo by Petty Officer 2nd Class Rob Simpson)
This set me off on a trip down Memory Lane. In 1975, your humble Vice Chairman & Webmaster was lucky enough to experience a nine-month deployment in the West Indies (much of it with fellow MCDOA member Tim Curd) as HMS Minerva's Diving Officer. During this period, I dived and sailed off Antigua among many other islands and was seconded to the Jamaica Defence Force Coast Guard which gave me the opportunity to visit Jacques-Yves Cousteau's famous underwater research vessel RV Calypso, formerly the wartime Royal Navy minesweeper BYMS 2026.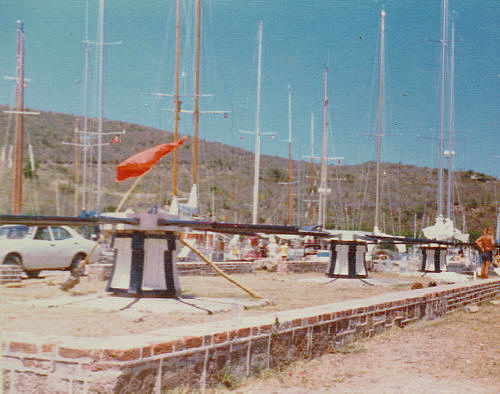 Replicas, constructed by HMS Vernon's PCG (Portsmouth Craft Group), of capstans
used for careening warships in Nelson's Dockyard, English Harbour, Antigua

Raft Race during Sailing Week in English Harbour, Antigua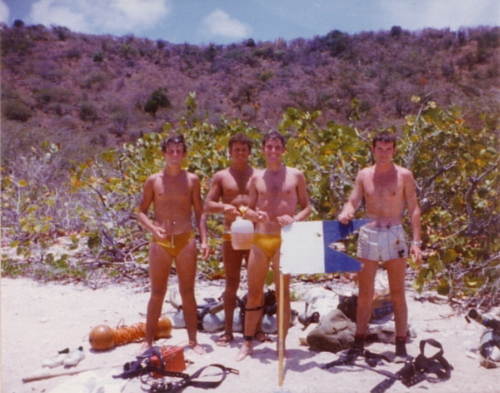 Hoole (third from left) with members of HMS Minerva's Diving Team
enjoying a banyan and exped dive from a beach in Antigua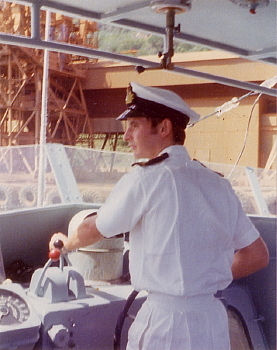 Hoole driving the Jamaica Defence Force Coast
Guard cutter HMJS Discovery Bay alongside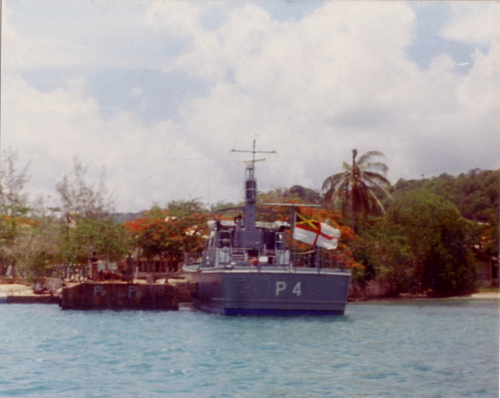 Our daytime berth at Ocho Rios when deployed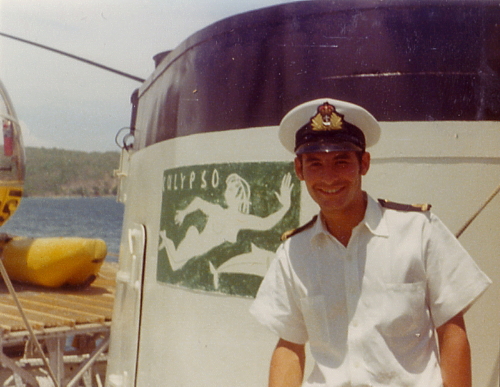 Hoole on board Cousteau's RV Calypso off Jamaica
---
11 Jun 14 - Paul Henke's final Tears book now in paperback
MCDOA member Paul Henke's wife Dorothy has sent this announcement:
We are delighted to let you know that we have taken delivery of Shadow of a Tear... just in time for Father's Day! The fifth and final book about the Griffiths family will be officially launched at this weekend's Stirling Agricultural Show.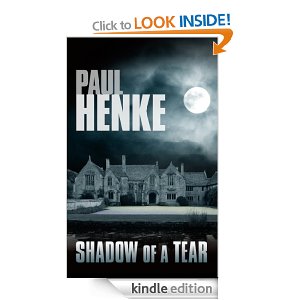 If you wish to order a copy you can:
a) go to www.henke.co.uk and order by Paypal
OR
b) Print off the order form on the website and send with a cheque payable to Readers Direct
OR
c) Phone us on 01360 440013 any day between 10:00am and 7:00pm and we will take the order details.
Whichever way you decide to order, be sure and let us know how you want Paul to sign the book - to yourself or someone else. Paul will be putting out a new BLOG tomorrow detailing offers for this weekend. We are also asking his readers for a bit of help in spreading word of his books to friends and family in Australia and New Zealand. To subscribe to his blog just click here.
Have a wonderful summer and thanks again for your support.
Regards,
Dorothy
P.S. To see Paul's summer book signing schedule, go to www.henke.co.uk
---
10 Jun 14
HMS Penzance and HMS Chiddingfold deploy to the Gulf
The Navy News website contains this article, the Royal Navy website this article and the Portsmouth News website this article describing yesterday's departure of Faslane-based HMS Penzance (MCM1 Crew 3) and Portsmouth-based HMS Chiddingfold (MCM2 Crew 5) for a three-year deployment in the Gulf. On completion of their 7,500 mile passage, they will relieve HMS Ramsey (MCM1 Crew 2) and HMS Quorn (MCM2 Crew 3) respectively. Contrary to the Navy News article, MCDOA member Jim Byron DSC has confirmed that HMS Penzance is relieving HMS Ramsey not HMS Shoreham.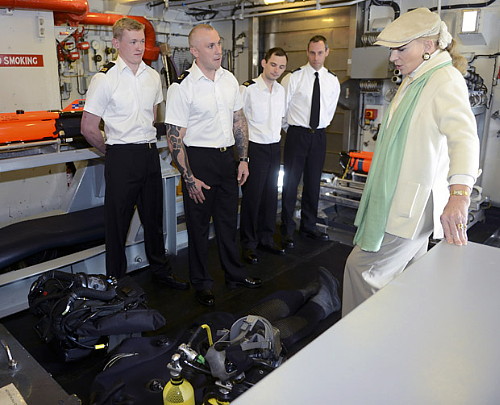 HMS Penzance's diving team with Princess Michael of Kent, the ship's sponsor
(Navy News photo by LA(Phot) J J Massey)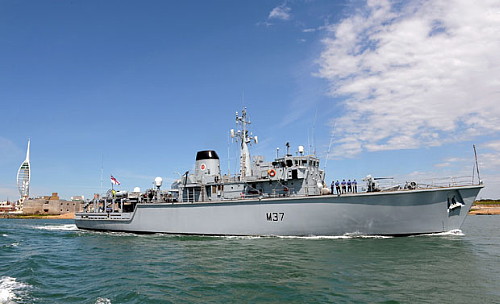 HMS Chiddingfold departing Portsmouth yesterday
(Navy News photo by LA(Phot) Gaz Weatherston)
[By Webmaster: ]
---
Sandown class minehunters busy around Falmouth
The West Briton website contains this article and the Falmouth Packet website this article describing yesterday's disposal of a Second World War mine off Falmouth in Cornwall by Faslane-based HMS Pembroke (MCM1 Crew 7). The mine, dredged up by a fisherman, was destroyed with a SeaFox mine mine disposal vehicle.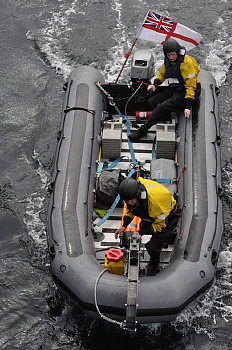 HMS Pembroke's Gemini dinghy
(RN website photo)
As this article on the BBC website explains, HMS Pembroke's sister ship HMS Penzance (MCM1 Crew 3) was due to visit Penzance last week but bad weather forced her to berth in Falmouth instead. As the article above describes, she is currently bound for the Gulf.
See 'When things Go With a Bang - A cautionary tale about unexploded underwater ordnance' in the website's Dit Box for a pertinent article.
Post script: On 13 June, the Royal Navy website published this article covering HMS Pembroke's disposal of a Second World War mine off Falmouth.
---
9 Jun 14
Civilian divers given permission to investigate cause of loss of WW1 submarine
The Navy News website contains this article announcing that divers associated with the international maritime charity Promare and the University of Birmingham have been given special permission to inspect the 100-year-old Royal Navy submarine HMS A7, lost in Whitsand Bay in south-east Cornwall on the eve of the Great War.
A-class submarines in port 100 years ago with HMS A7
(pennant number 17) in the rear of the photograph
(Navy News photo)
Post script: On 12 June, the Royal Navy website published this article covering the same story.
---
HMS Blyth with NATO in the Mediterranean
The Royal Navy website contains this article describing last month's participation of HMS Blyth (MCM1 Crew 1) in ITA-MINEX 14, a two-week-long Italian-hosted MCM exercise off La Spezia. Faslane-based HMS Blyth has been deployed with Standing NATO MCM Group 2 (SNMCMG2) in the Mediterranean since April.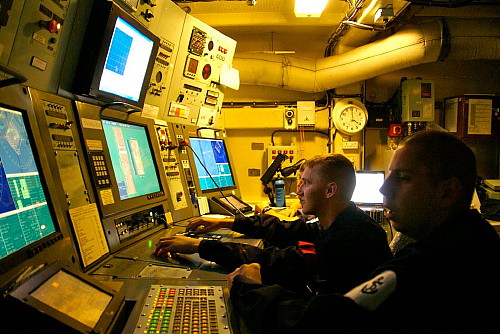 HMS Blyth's Operations Room
(RN website photo)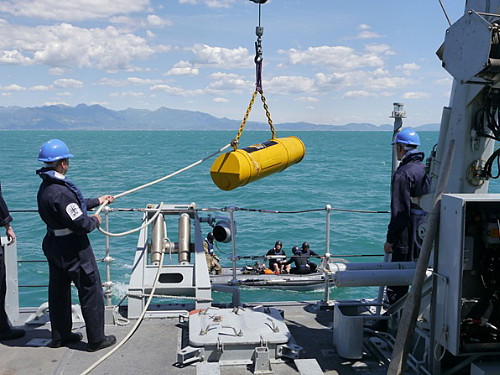 HMS Blyth recovering an exercise ground mine
(RN website photo)
---
8 Jun 14 - Navy List showing HMS Vernon officers in mid-1944
Members might be interested in these pages from the Navy List of July 1944 listing the officers and principal civilian staff borne on the books of HMS Vernon at the time of the D-Day landings. They illustrate the diversity of locations and activities for which the establishment was responsible. Click on each page to enlarge it.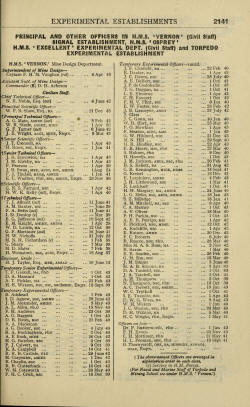 Note the inclusion of such luminaries in the pantheon of wartime naval bomb & mine disposal operators as:
Lt (T) Peter Scawen Watkinson ROBERTS VC RN (Page 2840)
Cdr (T) John Garnault Delahaize OUVRY DSO RN (Page 2841)
Temp Lt Cdr Maurice GRIFFITHS GM RNVR (Page 2841) (Author of The Hidden Menace)
Temp Lt Cdr George Herbert GOODMAN GC MBE RNVR (Page 2841)
Temp Lt Geoffrey Ambrose HODGES GM RNVR (Page 2841) (Also awarded two Mentions in Despatches)
Temp Lt Herbert Edgar WADSLEY DSC GM* RNVR (Page 2841)
Temp Lt Leon Verdi GOLDSWORTHY GC DSC GM RANVR (Page 2841) (Also awarded a Mention in Despatches)
Temp Lt Ernest Edward RUTTLE MBE RANVR (Page 2841)
Temp Boatswain (C/M) Charles Reginald LE BARGY DSM GM RN (Page 2842)
Temp Elect Lt Ronald Andrew DUNCAN GM RNVR (Page 2842) (Also awarded a Mention in Despatches)
See 'WW II Awards for RN Diving and Bomb & Mine Disposal' in the website's Branch History section for further information about these and similarly decorated individuals.
---
7 Jun 14 - Selections for Sea Command
I am grateful to MCDOA member John Craig for informing me that fellow members Lt Cdr Tim Davey and Lt Cdr Simon 'Si' Kelly were among the 13 warfare officers on yesterday's signal who have been selected by the SASB (Sea Appointments Selection Board) for destroyer/frigate/MCM squadron command in the rank of Commander.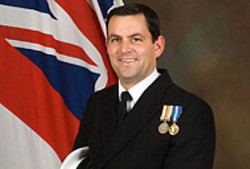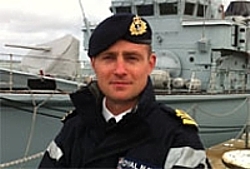 Tim Davey and Si Kelly
Others selected include former Hunt class CO Eleanor 'Ellie' Stack and former Sandown class Navigator Patricia 'Trish' Kohn.
Hearty congratulations to all of you and I hope your eventual appointments are everything you desire.
---
6 Jun 14 - 70th Anniversary of D-Day
Observing that today is the 70th Anniversary of D-Day, all members of our community are encouraged to read the following articles in the website's Dit Box and spare some thought to what must have been running through the minds of those involved precisely 70 years ago:
Operation Neptune: The Minesweeping Operation 5-6 June 1944
Operation Neptune: Frogmen - The First Men Ashore on D-Day
Incidentally, I have just ordered a copy of Porky's War: The Story of a Real-Life Freddie the Frogman on D-Day in which Terry Henson tells the often humorous story of how his father found himself in the Royal Navy as a member of the Landing Craft Obstruction Clearance Units (LCOCUs) charged with clearing the way for the troops to land on the Normandy beaches on D-Day.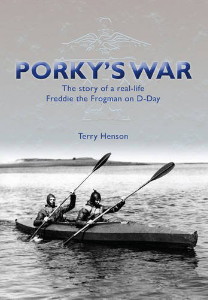 Post script: My attention has since been drawn to this document on the official Naval History & Heritage Command website about the US equivalents of the British LCOCUs:
D-Day, the Normandy Invasion: Combat Demolition Units
---
5 Jun 14
News from HMS Shoreham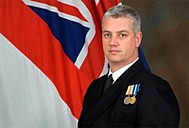 I am grateful to Lt Cdr Toby Shaughnessy, the Commanding Officer of HMS Shoreham (MCM1 Crew 4), for this update received via the Ton Class Association (TCA):
"As HMS SHOREHAM comes to the end of her second year away from the UK, and MCM1 Crew 4 near the end of our second tour onboard her; I can reflect on another busy period and update you on the valuable contribution SHOREHAM continues to make within the Arabian Gulf.
As you would expect SHOREHAM has spent the majority of her time on operations conducting a number of multinational exercises, mine warfare training, and wider regional engagement with our international partners in the region. Most recently we undertook an exercise in Omani waters, led by the Royal Navy of Oman, which if you subscribe, you will see extensively reported in the Navy News next month. This large exercise saw UK, US, French and Omani navies coming together to exercise in a wide ranging spectrum of air, surface and sub-surface warfare, giving us in particular a welcome opportunity to flex our muscles and hone our skills in these other critical spheres of our business.
Away from the exercises and training, we have enjoyed port visits to Muscat, Abu Dhabi and Dubai in the last few months, the latter two providing the opportunity for some of us to fly families out and spend a few days together, which as you might imagine is always welcome. Like any complex machine, we have not been immune from engineering challenges in the past months, and my team have been kept very busy ensuring SHOREHAM has always been ready for her tasking. I enclose some images of our activity over the past months which I hope may be of interest:
MCM1 Crew 4 is now approaching the final few weeks of our time on board and we fly home at the end of June. We know SHOREHAM well. We have spent 14 of the last 24 months deployed in her out here on operations since delivering her to theatre from the UK. We have a special affinity with her as a consequence and she has been very much our home from home in that time. It will be for others to complete her duty out here and sail her back to the UK next summer, where I hope you will be provided with an opportunity to visit your ship again.
For us, it has been another very successful operational deployment during which we have striven to maintain the good name of HMS SHOREHAM whilst delivering the operational and strategic effects required by the UK, for which the Royal Navy is so well suited. I will hand the ship over to [MCDOA member] Lt Cdr Simon Kelly and his Crew 5 next month as they take up the reins to continue this work. I have no doubt Simon will introduce himself shortly thereafter.
I have been very privileged to Command HMS SHOREHAM for some 18 months in total, and whilst it has proven impossible for me to meet you in person, I would like to thank you for your ongoing support whilst HMS SHOREHAM is absent from the UK. She remains very much your Ship and you should feel proud of the work she is doing, and the contribution she is making to operations in the Arabian Gulf.
Yours sincerely,
T F Shaughnessy
Lieutenant Commander Royal Navy"
I am sure we all wish Toby and his ship's company a safe return and a hugely enjoyable post-deployment leave.
---
French wartime agent and combat diver appointed an honorary MBE
The Daily Express website contains this article announcing that the Queen was due to invest French wartime Strategic Operations Executive (SOE) agent Cdr Robert 'Bob' Maloubier DSO of the French Navy as an Honorary Member of the Most Excellent Order of the British Empire (MBE), in recognition of his services to Britain, at a special ceremony in the British Embassy Paris. Tomorrow, the Queen will attend the D-Day 70th Anniversary commemorations in Normandy.
I had the privilege of meeting Bob Maloubier and hearing him speak about his incredible wartime exploits and post-war underwater achievements at the annual gathering of the Historical Diving Society (HDS ) in the Queen's Hotel, Southsea in 2010 (see entry for 17 Nov 10 in New Archive 32).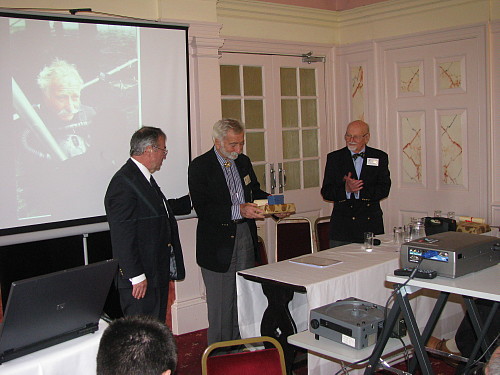 Bob Maloubier flanked by MCDOA associate member and HDS Chairman Dr John
Bevan and HDS Secretary Reg Vallintine at the annual HDS gathering in 2010
Bob, now aged 91, said he was hoping for an opportunity to exchange a few words with the Queen and remind her of a previous meeting when she was wearing her girl guide uniform in the ruins of London in 1943. An SBS-trained diver and recipient of Britain's Distinguished Service Order (DSO), he was twice parachuted into occupied France, once the day after D-Day, and had a string of narrow escapes from Nazi clutches. He left the British Army at the end of the war with the rank of Captain but his action-packed career continued long afterwards, both in the French Navy and elsewhere. He later wrote the first of six books, Agent Secret de Churchill, about his experiences with the SOE, created by Churchill to carry out spying and sabotage missions behind German lines.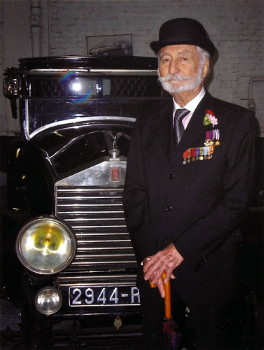 Commandant Bob Maloubier MBE French Navy
This article about Maloubier on the WatchTime.com website is well worth looking at for the photos alone:
The Birth of the Modern Dive Watch: A Conversation with Cpt. Robert Maloubier
"...In 1952, Maloubier was stationed at Oran on Algeria's Mediterranean coast. There, he established the Ecole des Nageurs de Combat, literally the Combat Swimmers School. The school would produce Les Nageurs de Combat – the Combat Swimmers – the French equivalent of the U.S. Navy Seals. Maloubier pioneered the group and served as its first commanding officer. The unit's missions included intelligence gathering and planting explosives on enemy ships, usually at night.
The lives of the men and their success as a unit depended on their equipment. In 1952, underwater diving was still in its infancy and the gear was primitive. It fell to Maloubier and his officers to design new and better equipment for the unit. "We had to start from scratch" as Maloubier put it.
Thus began a two year stint during which Maloubier researched, designed and tested new diving equipment. The goal was silent movement underwater and perfectly coordinated maneuvers among the divers in the sea at night. There could be no bubbles, no sound, and coordinated action – timing – among the divers had to be perfect. Nothing could betray the divers' presence or endanger the mission.
"We designed diving suits, and fins that were much larger than those in use at the time. We designed diving goggles, and of course watches, because we were not satisfied with the watches that existed at that time…. With my second in command (Lieutenant Claude Riffaud) and another officer, we sat down at a table and said 'OK, we have to devise a watch that can properly be used by us.' So, one of us took a compass and a ruler and a pen and a piece of paper and we said 'OK, what do we want?'"
The list they drew up and the drawings they made formed the basis for mechanical divers' watches as we know them today. The list included:
a. An oversize, waterproof case.
b. A self-winding movement: "It should be automatic, otherwise when you wind the watch, even if you have a gasket, the watch leaks after a while."
c. Large, clear, luminous numerals, marks, and hands for easy reading underwater at night.
d. A unidirectional rotating bezel displaying minute markers to let divers calculate the diving time.
Within a few hours over the course of an afternoon, the modern mechanical diver's watch was born, at least on paper. It was not simply a waterproof watch, but one designed by combat divers for combat divers.
The next step was taking the watch from paper to production. "We looked all over the world for someone to manufacture this watch… There was no French watchmaker that would agree to do so…. We found Blancpain, a small Swiss watchmaker… Blancpain agreed to manufacture the watch. That's how it all happened."
The rest, as they say, is history. In the following years, several armed forces and elite units adopted the Fifty Fathoms as their official watch, including the German Bundesmarine, U.S. Navy Seals, and the Spanish and Israeli navies..."
YouTube contains this part of a Paris Match video interview in which Bob speaks in French about the exploits leading to his appointment as an MBE:
Bob Maloubier, espion de Churchill
I am sure all members of our community would wish to congratulate Bob on his well-deserved appointment.
---
4 Jun 14 - Falklands Memorial Service in Portsmouth on 22 June
From honorary MWA member John 'Hydra Joe' Erskine:
"The Annual RBL Portsmouth South, Falklands Memorial service will be held at the Falklands Memorial at the Square Tower, Old Portsmouth on Sunday 22nd June. Short 100 yards march with service and short march back with salute. Muster at 1030 at the Square Tower. All Standards welcome.
All invited back to the RBL Club at Fratton Bridge afterwards."
See The Forgotten Few of the Falklands in the website's Dit Box for details of the contribution made by members of the RN minewarfare and diving community.
---
3 Jun 14
EOD operations
The following articles about EOD operations involving units from Southern Diving Group (SDG) have been published on the BBC website during the past few hours:
Shoebury East Beach to be surveyed by Royal Navy bomb team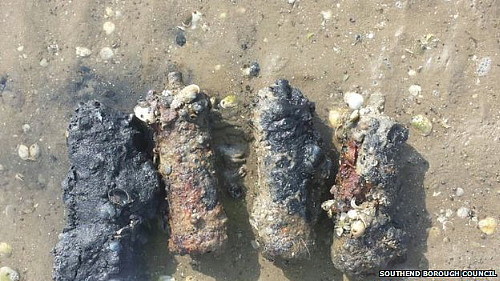 Suspected WW2 device found in Axminster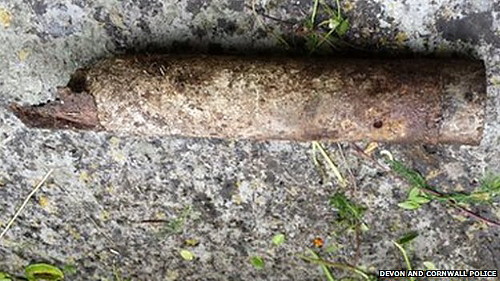 ---
HDS Diving Museum update
MCDOA associate member Dr John Bevan, Chairman of the Historical Diving Society (HDS), has provided this update about the Diving Museum in No.2 Battery at Stokes Bay and the WWII bunker in Gosport that houses the Society's library and museum reserve collection:
"VISITORS
We had a good weekend with great weather. Saturday 24 and Sunday 46.
NEW GUIDE
Keith Balston, a retired life support engineer came on Sunday and said he would be interested in helping out. So we look forward to seeing more of him in the future.
BUILDING ENGINEER
We were also visited by Colin Ford. a building engineer who has considerable experience in the maintenance of Victorian forts. He has taken a close look at No. 2 Battery and will return to do a further survey for us.
BUNKER
The Bunker was burgled a week or so ago. The door frame was destroyed. Fortunately they only seem to have taken some tools and left everything else untouched. Nigel has arranged temporary security of the door. Needless to say we have to improve the door strength. I am also making arrangements for a Burglar Alarm to be fitted.
CONGRATULATIONS
Congratulations go to our Vice Chairman Mike O'Meara who has worked hard to successfully enter the Diving Museum into the Accreditation Scheme. We are now officially recognised as "working towards Accreditation" by the Arts Council. This is a major step forward for us and will eventually place us on a par with national museums. There is now much more to be done over the next year or so to upgrade the management and operation of the Museum to allow us to become fully Accredited. Well done Mike!
JohnB"
The HDS Museum is open at weekends until the end of the summer season. It relies on a handful of volunteer guides, at least two but ideally three of whom need to be on site when it is open for business at weekends during the summer. If you live locally and can spare the odd few hours, please contact John Bevan via this email address or call him on 078 0278 5050. You will then be given access to the online roster to fill in your own dates as and when you are available. You don't have to be an HDS member to get involved in this or any other way.
---
2 Jun 14
HMS Bangor out of refit
The Royal Navy website contains this article describing May's emergence of Faslane-based HMS Bangor (MCM1 Crew 8) from her five-month refit at Rosyth. The ship has now been granted an official motto (Tenax Propositi - Tenacious of Purpose) to go with her badge.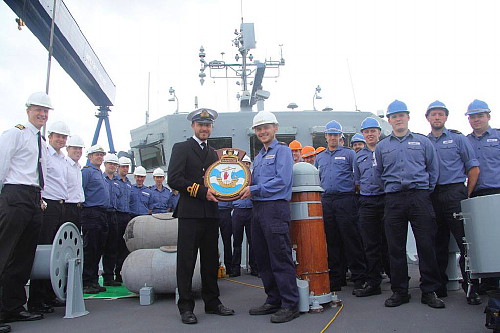 HMS Bangor's Commanding Officer, Lt Cdr Mike Carter Quinn RN, with
the ship's badge
(RN website photo)
---
TV programme for our friends Down Under
I have been sent this notification of a forthcoming Special Broadcasting Service (SBS) TV series which I had a small hand in researching:
Australia's Secret Heroes
A powerful first-hand account of the Z Special Unit
Sunday 15 June 2014 at 8.30pm
Australia's Secret Heroes tells the extraordinary story of Z Special Unit, a remarkable group of men who were plucked from the Australian military in World War II, trained in explosives, camouflage, silent killing and how to resist torture and then sent on incredibly perilous undercover operations in Asia.
At the time of the White Australia policy, the unit actively recruited soldiers of Asian heritage, so they could blend in and help train native guerrilla resistance movements. For years, the Z Special operatives were sworn to secrecy. But now the veterans, some speaking publicly for the first time, relive their incredible wartime exploits.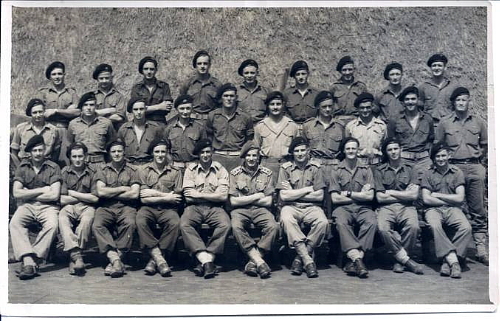 In a unique "living history" approach, Australia's Secret Heroes takes six descendants of the Z Special operatives and places them on training missions to give them a taste of what their forefathers went through.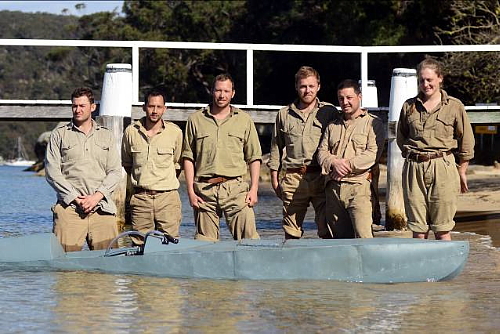 Over the course of the series, the modern-day "recruits" undergo various training exercises, witness water-boarding, torture techniques and hear first-hand about some of the most ingenious and dangerous covert operations ever undertaken in international war history. In a gripping and emotional journey, a Z Special veteran tells his own harrowing story of how under torture he gave up information leading to the capture of one of the descendant's forefathers.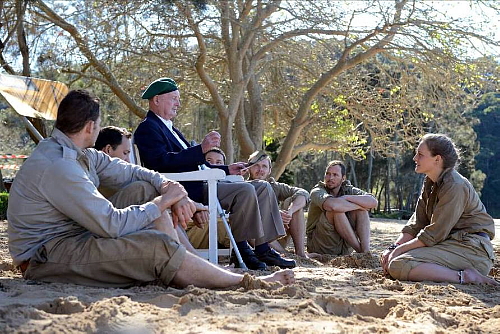 The series also details accounts of what happened in the men's last days before being executed and illustrates the use of bespoke equipment used by Z Special, including the specially recreated Sleeping Beauty which was a James Bond like one-man motorised submersible canoe.
Perhaps one of the most terrifying tales of the series is revealed when descendants travel to Borneo to hear first-hand accounts about the involvement of one of their forefathers in head hunting.
In a landmark series for SBS, Australia's Secret Heroes features an impressive reflection from the veterans and the modern-day recruits, with the veteran's own opinions on war and its effect on them, and the recruit's sentiments on their insightful experiences during the series that provided them with a stronger attachment to their relatives.
The original press release is available here in PDF format: Australia's Secret Heroes. This video promo is available to watch until 1200 on 16 June: Australia's Secret Heroes — promo
For more about the 'Sleeping Beauty' Motor Submersible Canoe (MSC) developed by the British Special Operations Executive (SOE) (including the post-war involvement of RN CDs), see the entry for 30 Mar 09 in News Archive 25.
---
MCMV News
I am grateful to MCDOA member Simon Pressdee, the incoming Commanding Officer of HMS Atherstone (MCM2 Crew 6), for this update received via the Ton Class Association (TCA):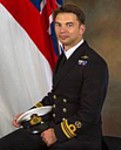 "I would like to introduce myself as the incoming Commanding Officer of HMS Atherstone. My Crew and I will take over from Crew 2 in late June this year and remain in the Arabian Gulf until January 2015. During this time I hope to get to know you and maintain the links between the Ship and the town. Whilst it is unlikely that you will be able to visit the Ship during my time onboard, I will keep you informed of our activities here in preparation for HMS Atherstone's return to the UK next year.
My Crew has spent the last 15 months in HMS Atherstone's sister ship, HMS Ledbury which is also based in Portsmouth. During this time, we deployed to the Mediterranean, Red Sea and Baltic Sea with other NATO ships as well as a short visit to Swansea, all interspersed with training in UK waters near Portsmouth and the Western Isles of Scotland.
I look forward to learning more about the links between HMS Atherstone and her namesake town. We are always keen to hear from our affiliates so please feel free to contact me or my Affiliations Officer, Lt Matt Irwin, with any questions you may have or news from the local area.
Yours Sincerely,
Simon Pressdee"
---
I am grateful to William King, the incoming Commanding Officer of HMS Grimsby (MCM1 Crew 6), for this update received via the Ton Class Association (TCA):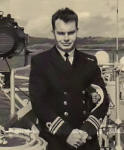 "It is with great pleasure that I write to introduce myself as the Commanding Officer of HMS GRIMSBY and First Mine Counter Measures Squadron Crew 6, having taken over from [MCDOA member] Simon Kelly who I understand wrote to you on his departure. I am incredibly proud and honoured to take Command of HMS GRIMSBY and I am please to say that Crew 6 will have the ship for the next 12 months which will give me and the team chance to host you onboard over the tenure of my Command.
HMS GRIMSBY has a busy year ahead as she will conduct a short maintenance period alongside in Faslane, before returning to sea in July to conduct further training on the west coast of Scotland. Our main operational task starts in September when we deploy to the Mediterranean for four months as part of a Standing NATO Mine Counter Measures Task Group.
As is the form these days on minor war vessels, the regular changes of crews can make it challenging to maintain that 'special' relationship with our affiliates; however my predecessor has told me of the very strong links that have been built with yourselves and of the support you have shown, hence I am very keen to build on this in the year ahead. I am hopeful that in the New Year after we return from our NATO Deployment, you will have the opportunity to come on board 'Your Ship' and to meet some of our exceptional young sailors. In the meantime, I look forward to meeting you in due course, and please drop me a line if I or any of my team can be of any support over the summer whilst we are still in home waters.
Yours Aye,
William King"
---
1 Jun 14 - Project Vernon at HMS Collingwood's Open Day
For the second year running, a team of volunteers manned a Project Vernon stand at HMS Collingwood's Open Day yesterday. The team included MCDOA members David Sandiford, Martyn Holloway and Yours Truly (Rob Hoole) with MWA President Dixie Dean MBE and AORNFCD member Tony Devitt. Apart from the big draw of the Brickwood's Field Gun Competition, attractions included many naval units, service charities and commercial organisations. The Defence Diving School (DDS) and the Fleet Diving Squadron (FDS) were there in strength as was the Historical Diving Society (HDS). This all provided a measure of synergy for our campaign.
The team arrived before 0800 to set up shop and was soon visited by Dave Stanbury, the MCDOA's newly installed Membership Secretary. As DO2 at DDS, Dave was in charge of the RN CD presence.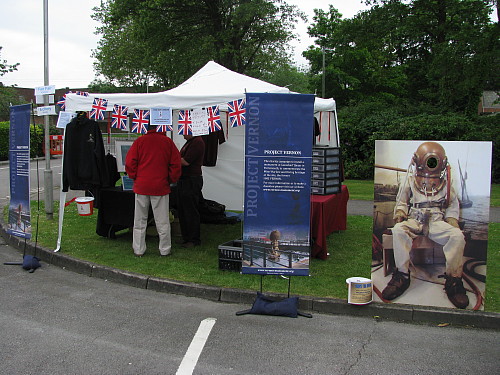 The Project Vernon Stand being set up
Left: Dave Stanbury with Tony Devitt and Dave Sandiford
Right: Prospective donors being canvassed
Historic Wasp and Gazelle helicopters, a new Merlin and the cockpit of a Sea Harrier featured in the static display opposite our stand.
Westland Wasp and Aérospatiale Gazelle
AgustaWestland Merlin and British Aerospace Sea Harrier cockpit
Although the day started gloomy, it soon brightened up. The combined FDS/DDS and HDS display proved popular with plenty of people getting their head wet in modern BA and not getting their head wet in standard gear.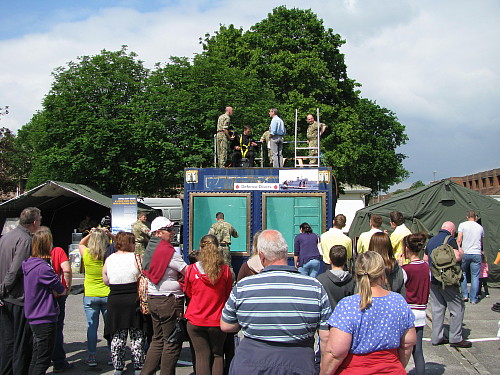 Above and below: The diving tank shared by RN CDs and the HDS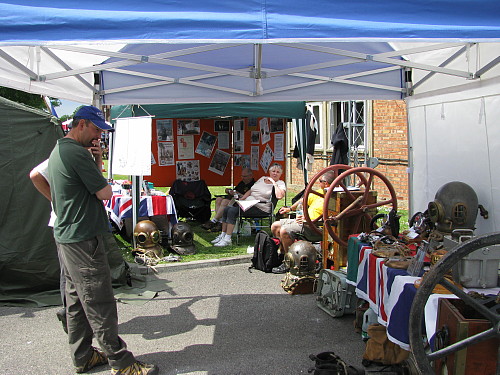 Part of the HDS display
BFBS was also on the scene with a live broadcast and Gary Wallace-Potter of the HDS was keen to show the presenters around.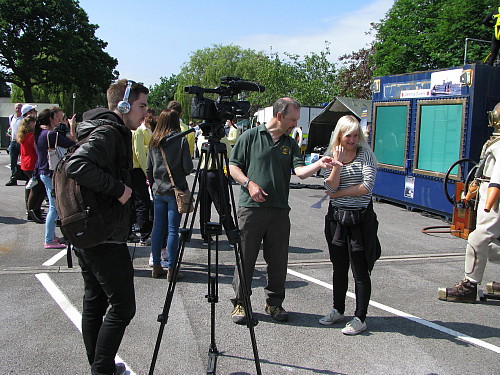 Gary Wallace-Potter with BFBS team
A Miltary Wives Choir put in several appearances, as did HMS Collingwood's Volunteer Band, Samba bands and even characters from Star Wars.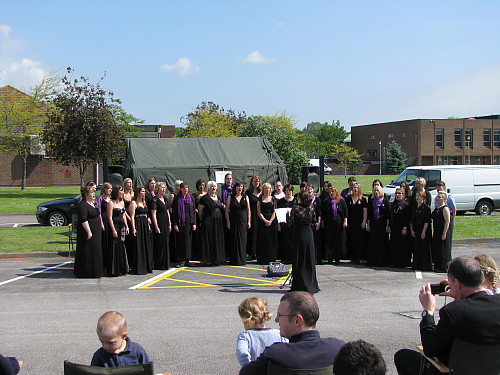 Miltary Wives Choir
Star Wars characters
The Project Vernon stand sold a good quantity of merchandise and many took the opportunity to photograph their children as 'Deeps' the Diver with the resulting benefits to our coffers.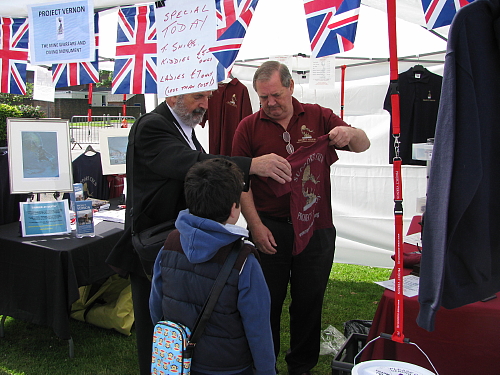 Dave Sandiford clinching the sale of a Project Vernon tee-shirt
Left: Chatting up the punters
Right: A cheque gratefully received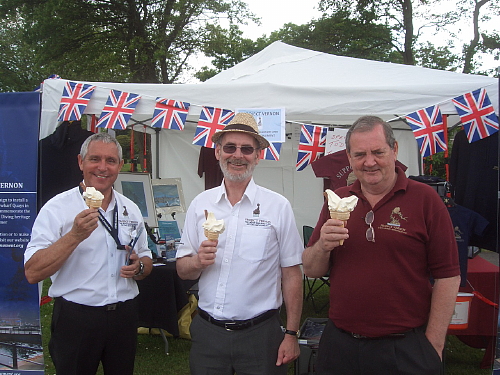 Hot work for some!
A huge vote of thanks to David Sandiford and Dixie Dean for organising such a profitable (and enjoyable) day.
---