---
| | | |
| --- | --- | --- |
| | Have you ordered your miniature of the Vernon Monument yet? It is being sold in a variety of sizes, finishes and prices to raise funds for the planned sculpture at Gunwharf Quays in Portsmouth to celebrate the Minewarfare & Diving heritage of HMS Vernon which previously stood on the site. Be part of the solution. 'Project Vernon' is officially supported by Portsmouth City Council, Gunwharf Quays, the MCDOA, AORNFCD, MWA, RNCDA and the TCA. Click here for details. | |
---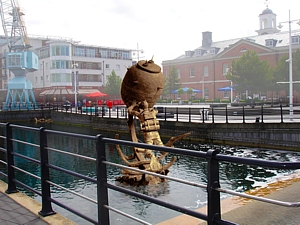 STOP PRESS: Vernon Monument Gala Dinner at Trinity House on Wednesday 19 July 2017. VVIP to be announced. We are grateful to VA Sir Donald Gosling KCVO for his kind donation of £30,000 towards the cost of the event and to Trinity House for providing the venue and donating £500 towards the cause.
Auction items will include:
* A unique 400 mm high bronze miniature of the Vernon Monument
* A unique 280 mm high bronze miniature of the Vernon Monument
* A VIP Day at Sea in a Frigate
* A VIP Day with Fleet Diving Unit One
* A VIP Day with Southern Diving Unit Two
* A VIP Day of Shooting
£295 per plate or £2,700 per table of ten. Watch this space for booking details.
---
25 May 17 - MCD officer to be Commander Australian Fleet (COMAUSFLT)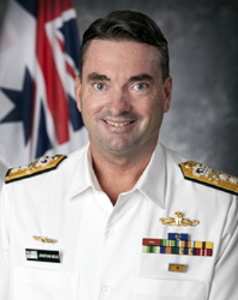 Warm congratulations to Australian MCD officer Rear Admiral Jonathan Mead AM RAN on his appointment as Fleet Commander of the Royal Australian Navy from January 2018.
Another Australian MCD officer, Vice Admiral Russ Crane AO CSM RAN who served on exchange with the RN at HMS Vernon in the 1980s, was Deputy Chief of the Royal Australian Navy from 2006 to 2008 and Chief of Navy from 2008 to 2011 (see entry for 19 Mar 08 in News Archive 21).
---
22 May 17 - MCDOA members rendezvous off Turkey
This was the moment today when MCDOA members Chris Tarmey and David Carey laid eyes on each other at sea off the Turkish coast.
Left: Chris Tarmey on board Christiana, his 42 ft Nord West flybridge motor yacht
Right: David Carey on board SY Talia, a chartered Discovery 55 cruising yacht
I had spotted that Chris and David were both in the vicinity of Marmaris and put them in touch with each other via Facebook Messenger.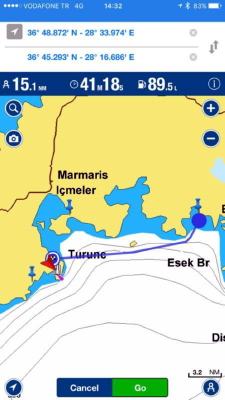 Track of Christiana to R/V with Talia
I was able to track Chris's movements on AIS (Automatic Identification System) as they subsequently rendezvoused where Talia was anchored off My Marina at Ekincik. They enjoyed what Chris described as "a salty dit evening" after Chris had berthed at the marina.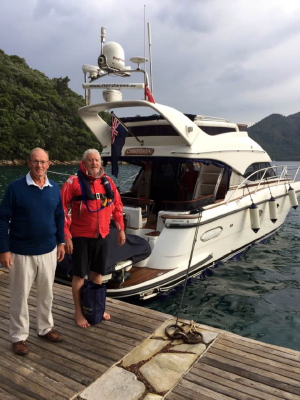 Chris and David with Christiana at My Marina
Last year, I arranged a rendezvous between the waterborne Chris and MCDOA past-Chairman Paul Jones in Cyprus (see entry for 7 Jun 16 in News Archive 54).
---
21 May 17 - Tim Sizer reaches Land's End
This is the latest photo of Tim, as relayed by MCDOA member Graham 'Tug' Wilson MBE.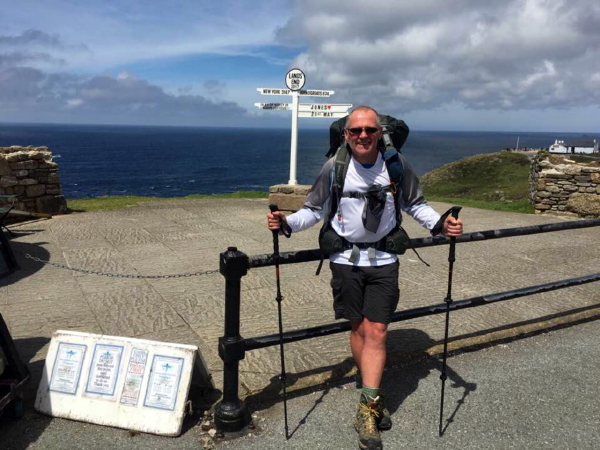 Tim Sizer at Land's End today
Tim is on Day 18 of his South West Coast Path walk in aid of Cancer Research UK (see entry for 17 May 17). He was diagnosed with Follicular Lymphoma (cancer of the lymphatic system) in January last year. If you have not yet sponsored him for his endeavour, please do so via his Just Giving page (where he is maintaining a photographic blog) at:
www.justgiving.com/fundraising/Timsizer
For every £10 Tim raises for Cancer Research UK, he is personally donating £1 to the Vernon Monument appeal up to a ceiling of £1,000.
---
20 May 17 - Death and funeral of ex-PO(D) Anthony Peter 'Foz' Foster
I am grateful to MCDOA past-Chairman David Hilton for informing me of the death of Tony 'Foz' Foster on 5 May at the age of 69. His funeral service will take place at 1415 on Thursday 25 May at the Isle of Wight Crematorium, Whippingham, East Cowes PO32 6NJ.
Foz's wife Carole would like to see as many of his old colleagues as possible at the service which will be conducted by the Rev'd Tony Richards, Priest and Local Minister at St. Blasius Old Parish Church, Shanklin. Tony has asked that prospective attendees inform him via this email address, or call him on 01983 863607 (Home) or 07751706103 (Mobile), so that he can provide sufficient Orders of Service.
Donations in lieu of flowers to the Earl Mountbatten Hospice, Newport, IOW.
I am sure all members of our community will join me in extending our sincere condolences to Foz's wife Carole and his other family and friends.
---
18 May 17 - Oldest Sandown class minehunter meets youngest in the Baltic
The Royal Navy website contains this article reporting that HMS Shoreham (MCM1 Crew 2) has met up with her Estonian sister ship ENS Admiral Cowan (ex-HMS Sandown) during minewarfare exercises in the Gulf of Finland. HMS Shoreham is currently assigned to Standing NATO MCM Group 1 (SNMCMG1) which has been operating with the larger ships of Standing NATO Maritime Group 1 (SNMG1) before both groups visited Tallin, the capital of Estonia. See entry for 4 May 17.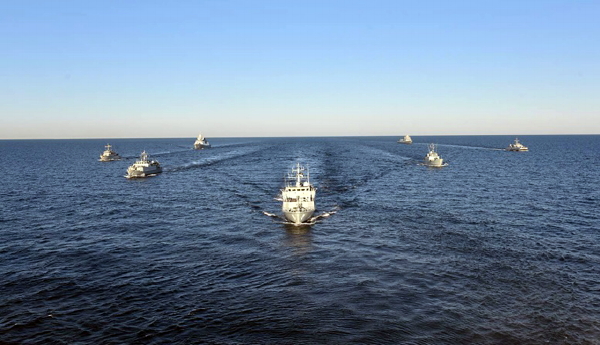 Left to right: BNS Primula, HMS Shoreham, HNoMS Roald Amundsen, ENS Admiral Cowan,
HNLMS Evertsen, ENS Wambola, HNoMS Hinnoey
(RN website photos)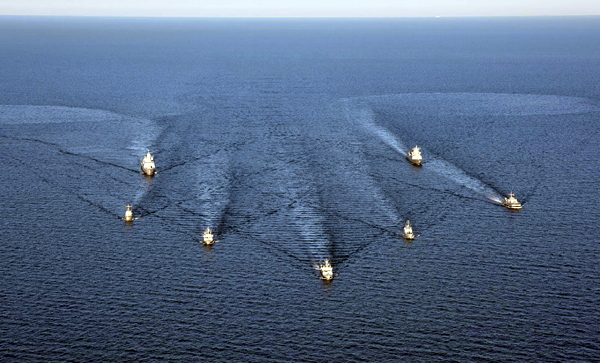 ---
17 May 16 - Tim Sizer reaches Newquay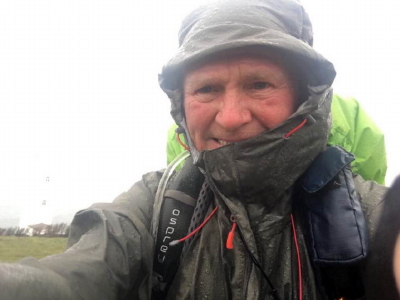 Tim approaching Newquay yesterday
Ex-CD1 Tim Sizer, supported at 'base camp' by MCDOA Committee member Graham 'Tug' Wilson MBE acting as his Facebook mouthpiece, has reached Newquay in Cornwall on Day 14 of his South West Coast Path walk in aid of Cancer Research UK (see entry for 3 May 17). He is trekking from Minehead in Somerset to Poole in Dorset, a total of 630 miles. Tim had already completed the leg from Weymouth to Poole during Easter leave when the Lulworth ranges were dormant. He provisionally plans to arrive in Weymouth on Friday 23 June although he is currently a couple of days ahead of schedule.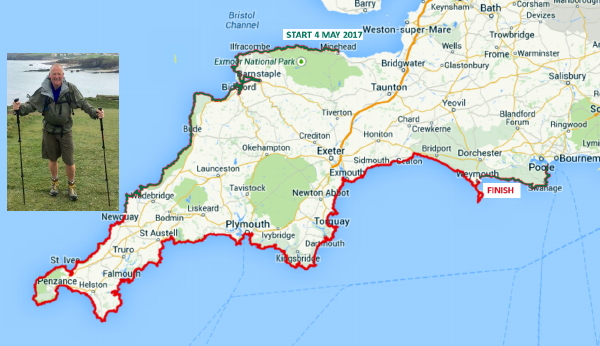 Tim's progress to date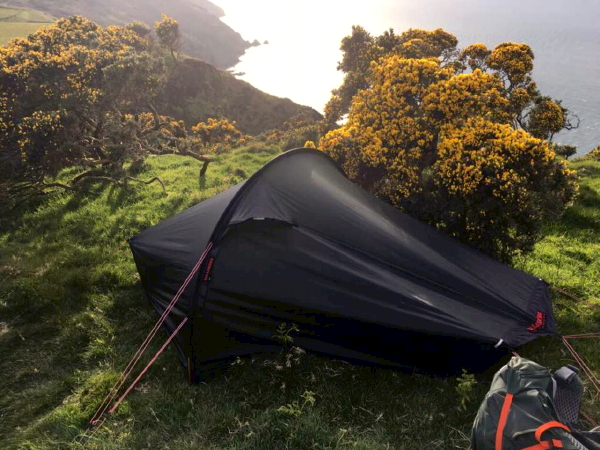 Tim's luxury accommodation with a view
Tim was joined by MCDOA member Martin Jenrick for part of the route on Sunday and hopes to be joined by ex-CD1 Cris Ballinger BEM today.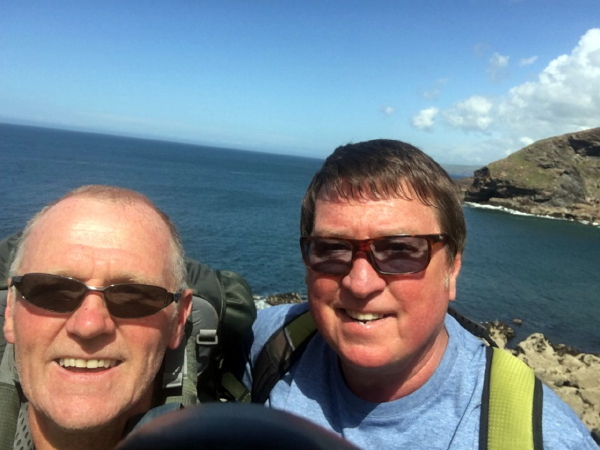 Tim Sizer and Martin Jenrick
Tim was diagnosed with Follicular Lymphoma (cancer of the lymphatic system) in January last year. If you have not yet sponsored him for his endeavour, please do so via his Just Giving page (where he is maintaining a photographic blog) at:
www.justgiving.com/fundraising/Timsizer
N.B. For every £10 Tim raises for Cancer Research UK, he is personally donating £1 to the Vernon Monument appeal up to a ceiling of £1,000. What a player!
Postscript: Tim and Cris Ballinger were reunited in Perranporth tonight.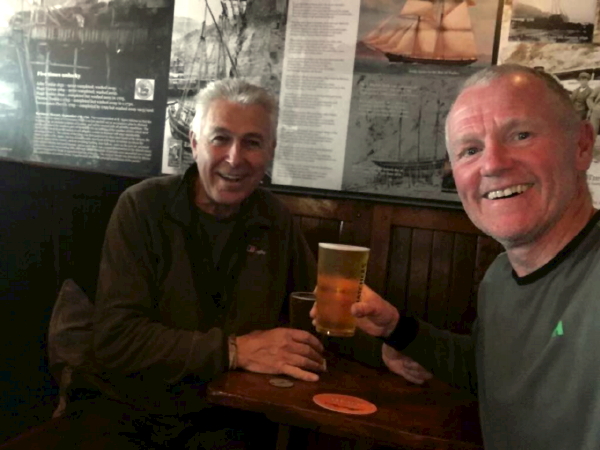 ---
16 May 17 - HMS Hurworth in Poole this weekend
From the Navy News Facebook page:
IF YOU are in Dorset this weekend and want to see some RN action – or admire the magnificent musicianship of the RM Band – then Poole is the place to be.
The Senior Service is attending the town's Harbour Boat Show in force providing minehunter HMS Hurworth [MCM2 Crew 5 - see entry for 10 May 17], P2000 patrol boat HMS Puncher, the Royal Marines Display Team with their climbing wall, and, on Saturday night, the Band of HM Royal Marines Portsmouth performing Beat Retreat.
Both ships and the Royal Marines display will be in the new Ballast Quay exhibition area, accessed from Town Quay via a free passenger boat service. They'll be open between 10am and 6pm.
Beat Retreat will be performed at Town Quay at 6.15pm on Saturday.
HMS Hurworth
(Navy News image)
---
14 May 17 - Informative article about modern MCM
The highly regarded 'Think Defence' website has published this article describing modern developments in MCM. It contains a warm tribute to the MCDOA website:
From Umm Qasr to Unmanned Warrior – Royal Navy Mine Countermeasures
---
12 May 17 - MCM2 Crew 4 ready for Gulf deployment
The Royal Navy website contains this article announcing that MCM2 Crew 4, currently manning HMS Cattistock, has completed pre-deployment training and will shortly be flying to the Gulf to relieve MCM2 Crew 8 on board HMS Middleton. It is believed that Crew 8 will take over HMS Atherstone at Portsmouth on completion of some well-deserved post-deplyment leave.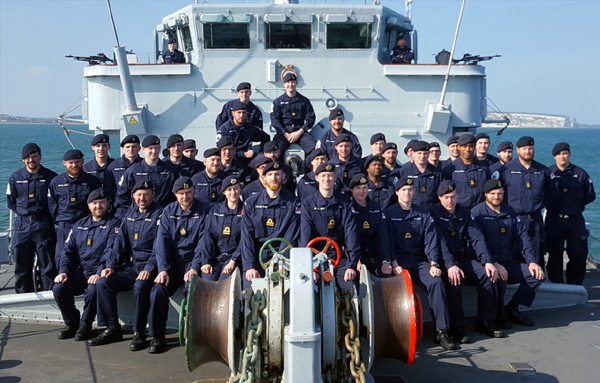 MCM2 Crew 4 on board HMS Cattistock
(RN website photo)
---
11 May 17 - RNCDA Annual Dinner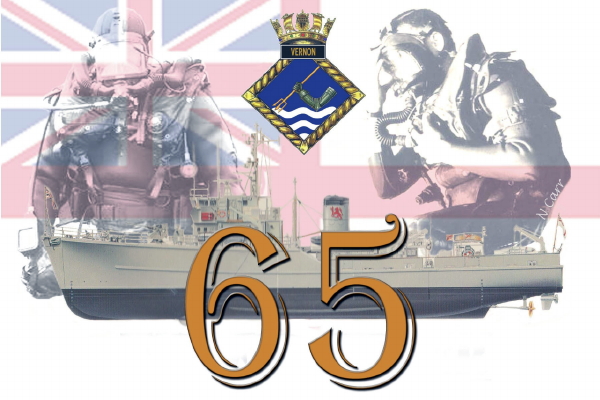 Anniversary
Royal Navy Clearance Divers Association Dinner
The Dinner is Open to all Serving and Retired Royal Naval Divers, Partners and Guests
Who will be celebrating the 65th Anniversary of the Royal Navy diving Branch.
Doors Open At 1900 where you will be greeted by the official photographer
And a welcome Drink followed by pre-dinner drinks in the bar,
You will be asked to take your seats for dinner at 2000
On completion of which there will be a Auction and Raffle
The night will continue through until 0200 With entertainment from
local DJ and a NONE cash mobile casino.
Date: Saturday 14th Oct 2017 Time: 1900 until 0200
Venue: Plaza Suite the Pyramids Center Clarence Esplanade Southsea Portsmouth PO5 3ST
Dress: Formal /Association Tie
Cost: £37.50 for RNCDA members and One Guest,
Cost: £42.50 for Non-RNCDA Members and their Guests.
Menu is a 3 course meal, ½ bottle of wine and glass of port.
Starter:
Cream of Wild Mushroom Soup (V)
With Tarragon cream
Ham Hock Terrine
With a mild mustard pickle, pea puree and a toasted brioche
Main:
Roast Rump of Lamb
With dauphinoise potatoes, buttered cabbage, green beans and a redcurrant reduction
Pan Roasted Corn Fed Chicken
With dauphinoise potatoes, roasted root vegetables and a port reduction
Artichoke and Wild Mushroom Ravioli (V)
With mushrooms, sun blush tomatoes, grilled artichoke, seared pearl onion and celery cream sauce
Dessert:
Profiteroles
With warm chocolate sauce
Raspberry and Lavender Crème Brûlée
With raspberries and clotted cream
Event Applications Are Available for Download Here
PLACES OR MEALS WILL NOT BE BOOKED UNTIL PAYMENT IS RECEIVED
N.B. I have also listed this on the website's Forthcoming Events page.
---
10 May 17 - Photos from HMS Hurworth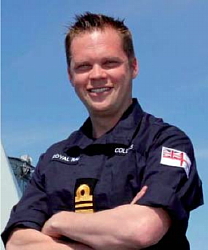 Yet again I am grateful to Lt Cdr Charlie Collins, Commanding Officer of HMS Hurworth (MCM2 Crew 5), for sending me these stunning photos captured during the past week in Scotland.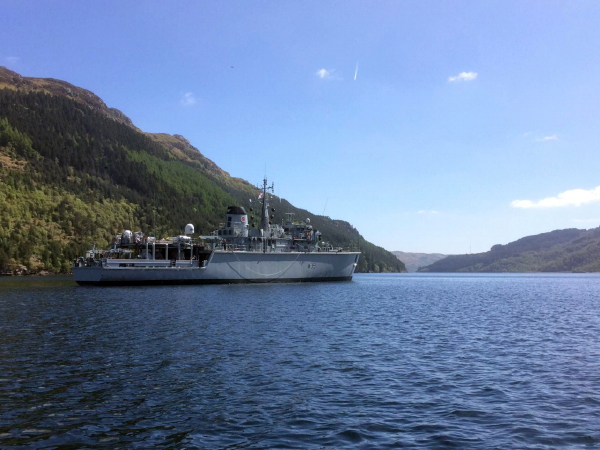 ---
9 May 17 - LS&GC Awards
Congratulations to WO1(MW) Stephen 'Bunny' Warren, CPO(D) R. A. 'Buster' Brown, CPO(D) Lee Edmunson and LS(D) D. N. 'Cags' Lacy on being gazetted for the award of the clasp to the Long Service & Good Conduct medal and to PO(D) P. J. Hill on being gazetted for the award of the LS&GC medal.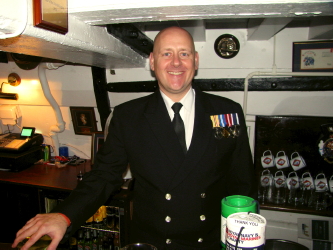 Bunny Warren on board HMS Victory last November
---
8 May 17 - Funeral of ex-CD1 Barry 'Baz' Clyde Davis
As ever, I am indebted to former CPO(D) Cris Ballinger BEM for sending me this Order of Service for the funeral of Baz Davis which took place at Weston Mill Crematorium in Plymouth on 25 April (see entry for 18 Apr 17). Click on the image to see the full document.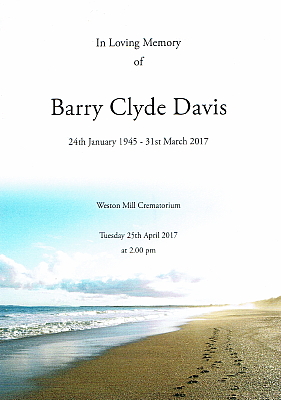 Cris was also kind enough to send me the Order of Service for the funeral of former FCPO(D) Peter 'George' Hann Alderton BEM which took place at Weston Mill Crematorium on 12 April. I have appended it to the entry for 12 Apr 17.
---
4 May 17 - HMS Shoreham joins SNMCMG1 in the Baltic
The NATO website contains this article announcing yesterday's arrival of Standing NATO MCM Group 1 (SNMCMG1) in Liepāja, Latvia prior to participating in Historical Ordnance Disposal Operations (HODOPS) off the coast of Latvia until 11 May. The group was joined by HMS Shoreham (MCM1 Crew 2) in time to help celebrate today's 27th anniversary of Latvia's Restoration of Independence.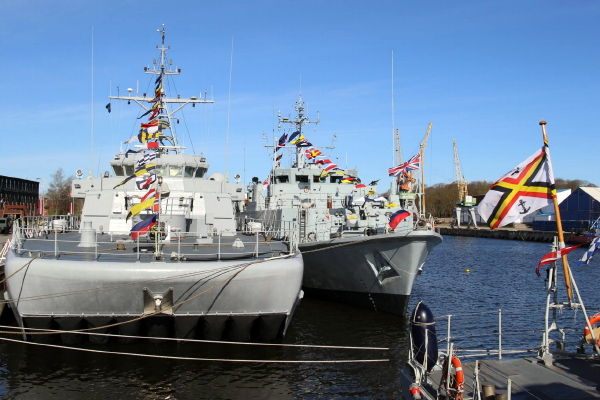 HMS Shoreham outboard of HNoMS Hinnøy with the stern of BNS Primula in the foreground
---
3 May 17 - Charity Walk for Cancer Research UK
I have received this thoroughly worthy appeal from ex-CD1 Tim Sizer: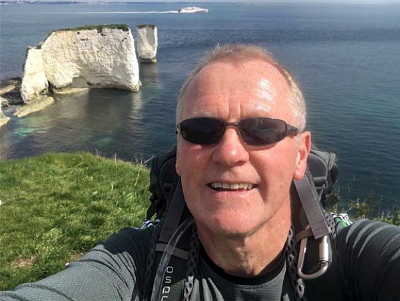 "Hi Rob,
I realise that you are currently taking a well-deserved break from your excellent website but just wondered if you could do me a massive favour and help me drum up some support for my charity walk when you get back. Details as follows:
In January last year I was diagnosed with Follicular Lymphoma (cancer of the lymphatic system). Having been a Navy Clearance Diver since the age of 17, I have always prided myself as being fit and healthy, I never thought for one moment that something like this would hit me so suddenly and at what I term an early age 54.
Unfortunately, this indiscriminate disease is likely to affect every single one of us either directly or indirectly at some point in our lives. Despite losing my dad to the disease in Feb 2010, I'll be totally honest, I knew very little about cancer and even less about the options of treatment until that day I got told by the consultant that I had it. Having completed an intense stint of chemotherapy over a six month period, what I can now say, is that if it wasn't for Cancer Research and the amazing work they do, or indeed the people that donate to it, I wouldn't be here now and be in the privileged position to help people like you and me, in the future who unfortunately may require the benefit of their services.
My intention is to walk the South West Coast Path in aid of Cancer Research UK, from Minehead in Somerset to Poole in Dorset, a total of 630 miles, climbing a total height of 114,931ft, almost four times the height of Everest. My aim is to set off on the 4th May 2017 and continue until I finish. I am not setting any target time as I'm unsure how my fitness will hold out, but aim to complete it in around 50-55 days! I will be wild camping for the majority of it, but may take in the odd B&B en-route for a dhobi and to literally recharge the mobile battery. I have already completed the final leg from Weymouth to Poole, 55 miles during Easter Leave due to the accessibility of the Lulworth Ranges.
If anyone out there would like to join me on any leg of the route then please let me know. It would be good to have some friendly company.
To give my challenge a military diver / mine warfare slant, for every £10 I raise for Cancer Research UK I shall personally donate £1 to the Vernon Monument appeal up to a ceiling of £1,000. This would mean I would raise £10,000 for Cancer Research UK which would be absolutely fantastic and a target I would love to reach, so please dig deep and support me in my trek by visiting my Just Giving page at:
www.justgiving.com/fundraising/Timsizer
This quest obviously means a great deal to me personally and I would like to thank all of you in advance who pledge to support me during my walk and ultimately Cancer Research UK.
Many thanks again,
Tim Sizer"
We have lost so many of our minewarfare & clearance diving community to this evil disease over the years, as well as other close friends and relations. Please give Tim all the support he deserves.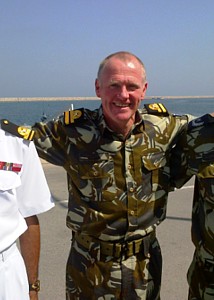 Tim Sizer in Oman in February 2013
---
28 Apr 17 - News from HMS Shoreham
I am grateful to Lt Cdr Ben Evans, Commanding Officer of HMS Shoreham (MCM1 Crew 2) for this newsletter which I have received via the Ton Class Association (TCA). I write a column titled 'MCMV News' for the Associaton's bi-monthly newsletter 'Ton Talk'.
"I trust this letter finds you well, and I would like to take this opportunity to introduce myself having recently assumed Command of Mine Counter Measures Squadron 1 (MCM1) Crew 2 in HMS SHOREHAM. In this letter I will endeavour to update you on the progress of the Ship and the programme for the future.
I joined the Royal Navy in 2002 and have served in a wide variety of ships, from Sandown Class Minehunters in the early stages of my career, to Type 42 Destroyers and Type 23 Frigates. Recently I worked at the Fleet Operations Headquarters as the Major Warship Scheduler then as the Deputy Fleet Operations Officer. Selected for Sea Command last year, I took Command of MCM1 Crew 2 and HMS SHOREHAM at the end of March 2017.
In May 2016, HMS SHOREHAM began a period of deep maintenance in a dry-dock at Rosyth Dockyard, Fife, alongside the new aircraft carrier HMS QUEEN ELIZABETH. This was her most extensive period of maintenance prior to ultimately returning to Bahrain for another three years. Sailing from Rosyth at the end of 2016, HMS SHOREHAM successfully completed her Sea Acceptance Trials and returned to HMNB Clyde, Faslane. Since our arrival back in our base port, the Crew have been working very hard to bring the Ship to the required standard to be ready to join NATO. Our generation for NATO tasking culminated with Directed Continuation Training and now we are making final preparations for our deployment. By the time you read this letter we will most probably be with our NATO partners improving interoperability in the Baltic Sea.
In early July this year, towards the end of our deployment, the Ship will be making a return to her home town of Shoreham. This will be a fantastic opportunity to host our affiliates on board, to engage with the Crew and to see how HMS SHOREHAM may have changed since you were last with us. I will be sure to distribute further information towards the time once a date has been finalised and make arrangements for all our affiliates to come aboard.
On behalf of HMS Shoreham and the 1st MCM Squadron I would also like to invite you to the up coming Faslane Flotilla Affiliates day on Wednesday 3rd May. Unfortunately due to our upcoming NATO commitment, HMS SHOREHAM will not be present at the event; however there will be three other units in our class alongside putting on a series of capability demonstrations. These will include ship's tours, Mine Countermeasure demonstrations, weapon demonstrations and diving capabilities display. As our Affiliate you are also invited to attend the Faslane Flotilla Dinner in the evening hosted in the Wardroom of HMS Neptune at HMNB Clyde. Should you wish to attend, please do not hesitate to contact me and I shall make arrangements to accommodate you on the day.
It is a pleasure and an honour to take Command of HMS Shoreham and I will be doing my upmost to build on the relationship between the Ship and affiliates generated by the previous Crews.
Finally, your Ship values highly the rich dialogue which has been shared between us in the past. I hope this letter to be a continuation of this valuable tradition. Our ties ashore are important to us as a Crew, and whilst it is not possible to engage with our affiliates everyday, your continued support is of the greatest importance to us.
I look forward to hearing from you in the future, and if you would like to follow our deployment then please follow this link to our RN Web page.
Yours sincerely,
Ben Evans
Commanding Officer"
---
25 Apr 17 - NDG called to deal with hand grenade near Lerwick
The Scotsman website contains this article and the STV website this article reporting that "Royal Navy bomb disposal experts", presumably members of Faslane-based Northern Diving Group (NDG), have been called to deal with a hand grenade found at Seafield Beach near Lerwick in Shetland.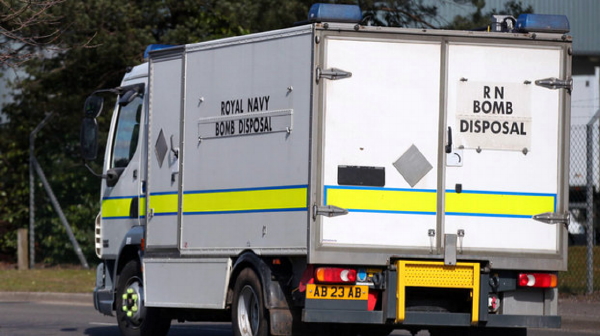 ---
20 Apr 17 - Lewis Hamilton visites HMS Middleton
The Sun newspaper website contains this article and the Forces TV website this article (including videos) describing a visit by British F1 racing car driver Lewis Hamilton to HMS Middleton (MCM 2 Crew 4) while the ship was alongside in Bahrain.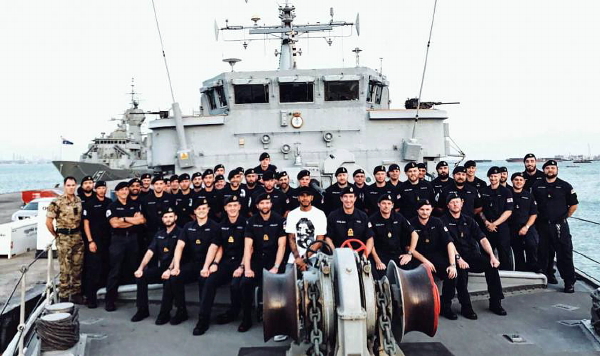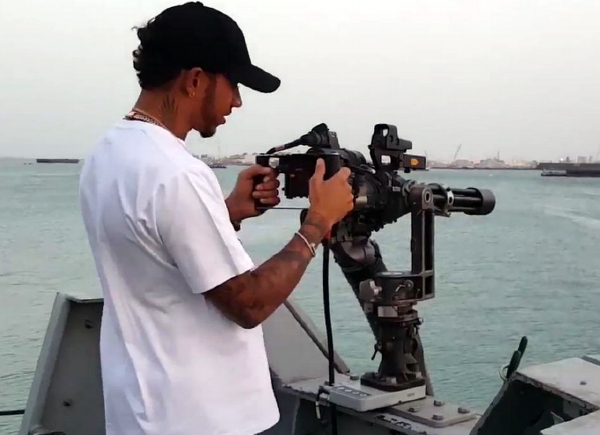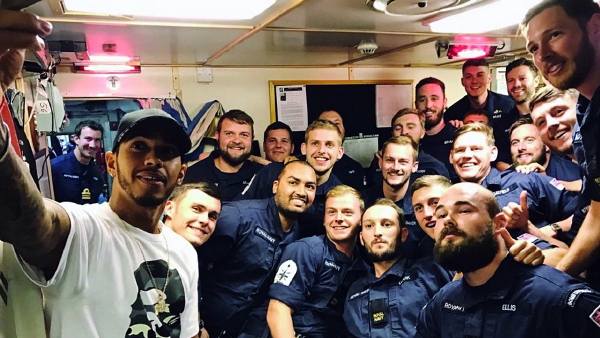 ---
19 Apr 17 - Interruption of website service
The MCDOA website is taking an indefinite break. Normal service will be resumed in due course whereupon the 'Latest News' page will be updated retrospectively.
---
18 Apr 17
Arrangements for the funeral of ex-CD1 Barry 'Baz' Davis
The Plymouth Herald contains this death notice:
DAVIS
Davis Barry. Passed away 31st March 2017. Husband of Jeanette, stepdad to Shaun & Cally. Dad to Paul, Shaun, Glen & Amanda.
So you want to be a diver? Wish number 1 to be. Your love of the deep blue sea. So you took a chance, joined the branch, got the pass and made CD1 First Class.
Wish number 2 was to run 1963 Guz Field Gun.
Now we'll grant your last wish to spread your ashes and swim with the fish. XX
Funeral service 25th of April 2017 at 2pm Weston Mill Crematorium, Plymouth. Family flowers only. Donations for HCTP507 can be made by retiring collection or sent to WYATT BROTHERS, 5-7 Durnford Street, Plymouth PL1 3QJ. Tel: 01752 600437.
Jeanette
Eventually, Baz's ashes will be scattered near the Mewstone off Wembury.
---
Arrangements for the funeral of ex-LS(D) Kev Winwood
Kev Winwood's funeral will take place at 1430 on Friday 28 April at Stranton Crematorium, Hartlepool with a gathering afterwards at a place to be determined.
---
14 Apr 17 - Objects found in pond at ARL Teddington
The following query has been received from former DRA/DERA/Dstl scientist Nigel Godsell:
"Hi Rob,
Once again I'm craving your indulgence.
Until the mid-1950s, the Admiralty Research Laboratory (ARL) at Teddington was still actively involved in minewarfare research, and mine countermeasures for that matter. Small-scale experiments were carried out in what was one of the ornamental ponds within Bushy Park, Teddington.
In recent times the ornamental ponds have been restored and, in the process, these objects were recovered from the mud.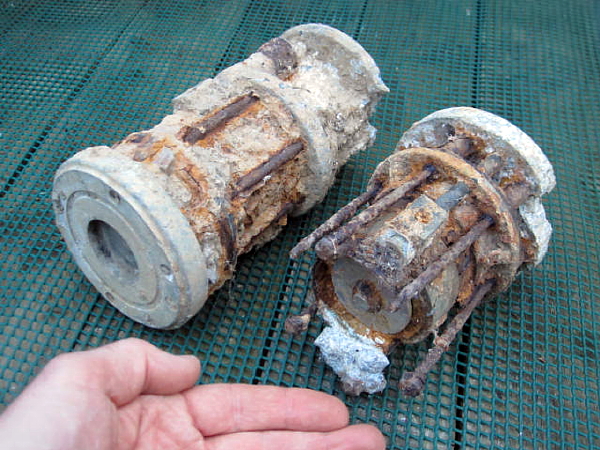 So the question is: any idea what they may be?
Cheers,
Nigel
P.S. I've also had contact with a guy who has been researching WWII (and just after) aerial minesweeping, because of the ARL involvement."
Over to you.
---
13 Apr 17 - Diving museum reopens for the summer season
The Historical Diving Society (HDS) museum in No.2 Battery at Stokes Bay reopens tomorrow after its winter closure. Click on the newsletter below to see what is in store for the new season: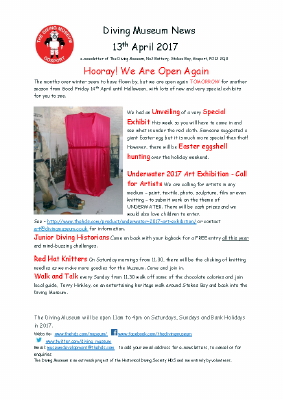 ---
12 Apr 17 - Funeral of former FCPO(D) Peter 'George' Hann Alderton BEM
I am grateful to ex-CD Alan 'Charlie' Chapman for this message (see first entry for 31 Mar 17):
"Rob,
Just to let you know that Peter (George) Alderton's funeral went off well in Plymouth today. It was attended by Colin 'Scouse' Kidman, Rocky Stone, David 'Jimmy' Bond, Mick Kester, Cris and Nigel Ballinger, Clive Egginton and me. There were only a few of us but we tried to do him PROUD as he deserved.
George was the first WO(D) I knew when I did my ships' divers course in 1972 and later in late 1973/74 when I joined the diving school in Guzz so I learnt quite a lot from him and the staff at the time. The guys who were there also had the greatest respect for George.
Yours aye,
Charlie"
---
From former CPO(D) Cris Ballinger BEM:
"Hi Rob,
I know I have asked before, but I have George Alderton's funeral Order of Service and I know you like to keep them, so once again if you give me an address I will post it on. As Charlie reported, Scouse Kidman was there and he may have passed it on already. Just let me know.
Although the service was was held just 500 yards from SDU1, it wasn't a particularly full church but I think the family were impressed nonetheless, I was certainly impressed with Mick Kester's eulogy. He struck just the right note.
We all retired to the St Elizabeth's House, Plympton for refreshments and story-telling on completion of the service.
Cheers,
Cris"
This is the Order of Service that Cris has been kind enough to send me. Click on the image to see the full document.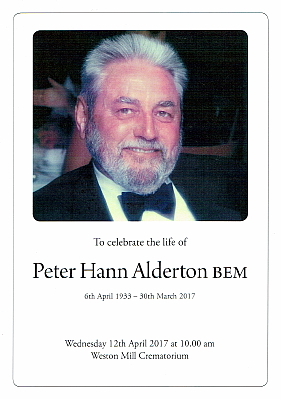 ---
From George Alderton's daughter Sue:
"Dear Rob,
I am writing to behalf of my mother Elsie Alderton.
Mum would like to say a big "Thank you" for all those who took time to write messages of condolence and tributes to my father. In addition, thank you to all those who attended his funeral and the many kind donations in respect to the chosen charity Marie Curie, who looked after Dad so very well during his last few weeks.
Kind Regards,
Susan O'Connell
(No 3 Daughter)"
---
11 Apr 17 - An appeal
It appears that ex-LS(D) Kev Winwood died in particularly tragic circumstances (see entry for 8 Apr 17) leaving a 13-year-old daughter who discovered his body.
The RNCDA has started a crowdfunding appeal which is available here:
JustGiving: We're raising £3,000 to give a Divers' Send off for Ex LS(D) Kevin Winwood
Please access the linked page and act accordingly.
---
10 Apr 17 - SNMCMG1 participates in Exercise ARIADNE
The NATO website contains this article describing the participation of Standing NATO Mine Countermeasures Group 2 (SNMCMG2) in Exercise ARIADNE 17 off Greece. The participants included 14 ships of different classes from Egypt, France, Germany, Greece, Italy, Poland, Romania, Spain and Turkey as well as several explosive ordnance disposal (EOD) teams, a ship-based helicopter and Mirage 2000 fighter jets.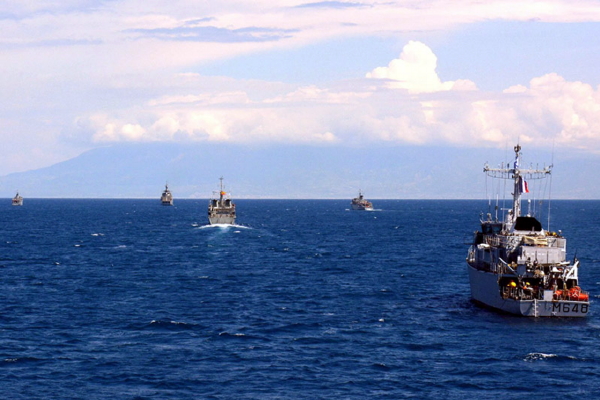 SNMCMG2 with other units during Exercise ARIADNE 17
(NATO website photo)
SNMCMG2 was represented by the Polish flagship ORP Kontradmiral Xawery Czernicki, the Spanish minehunter ESPS Tajo, the Turkish minehunter TCG Alanya and the German minesweeper FGS Rottweil. The Group was augmented by the Spanish minehunter ESPS Duero and the Romanian minesweeper ROS Axente.
Reportedly, SNMCMG2 is about to be commanded by the RN for the next 12 months.
---
8 Apr 17 - Another untimely death
It seems to be another sickly season. I have heard on the grapevine that ex-LS(D) Kev Winwood has passed away. He served in the Portsmouth B&MD Team, SNICDT and HMS Challenger among other ships and units.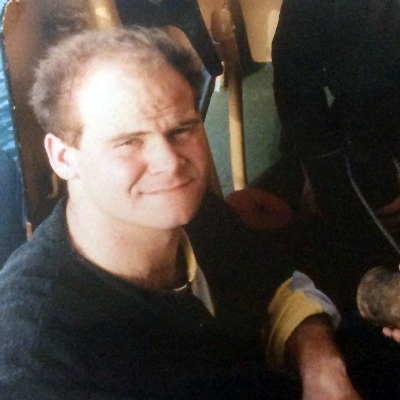 Kev Winwood
(Photo courtesy of MCDOA member Richard 'Soapy' Watson)
---
7 Apr 17
SDU1 deals with unexploded anti-tank mine
The Plymouth Herald website contains this article describing this morning's call-out for members of Plymouth-based Southern Diving Unit 1 (SDU1) to deal with an unexploded anti-tank mine uncovered during the renovation of a hotel at Woolacombe on the north Devon coast.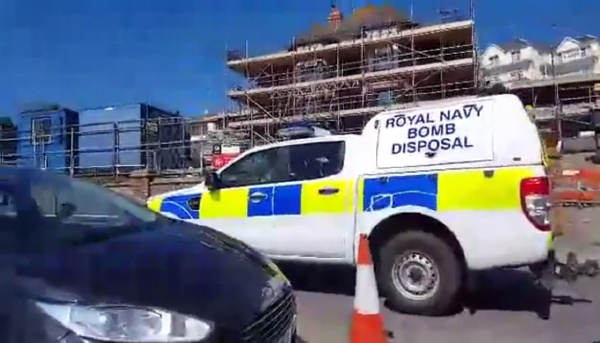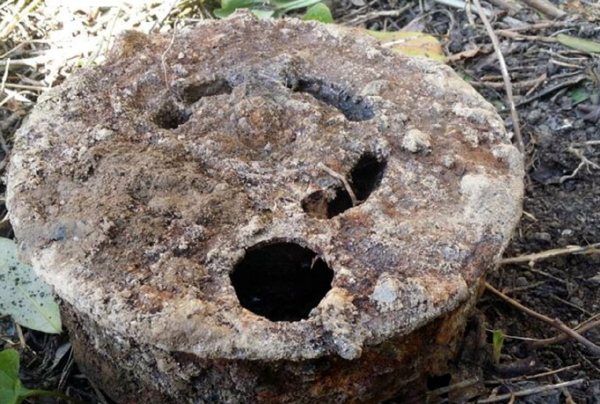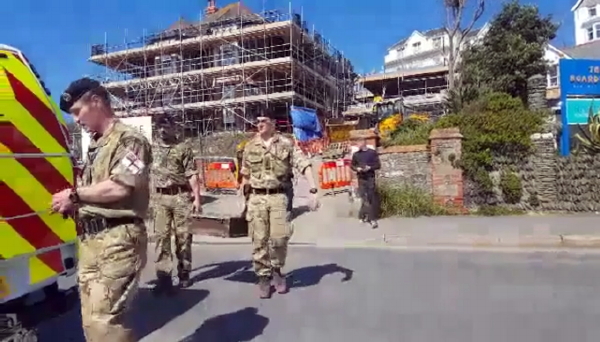 ---
Unveiling of the world's first successful diving helmet
People gathered in gorgeous weather today at the Historical Diving Society's museum at No. 2 Battery in Stokes Bay for the unveiling of the world's first successful diving helmet (circa 1823). Cllr Lynn Hook (the Mayor of Gosport) performed the honours accompanied by Kevin Casey (the Museum Officer). The helmet is on a three-year loan from the Science Museum and it has cost the Diving Museum £21,000, through a grant from the South East Museum Development Programme, to help buy items such as a cabinet in which to display the mask together with an alarm system.
Discerning readers may recognise MCDOA associate members Dr John Bevan (world record-breaking deep diver, HDS Chairman and Project Vernon trustee) and Gavin Anthony (formerly of the Royal Naval Physiological Laboratory (RNPL) at Alverstoke) plus former Clearance Diving Branch members John Dadd BEM, Jim 'Tommo' Thomson, Mike O'Meara and Dusty Miller who are volunteer guides at the museum. Former WO(D) Andy Brunton MBE, representing JFD, and former SBS diving officer Don Shiers, founder of Consortium Underwater Engineers Ltd, were also present.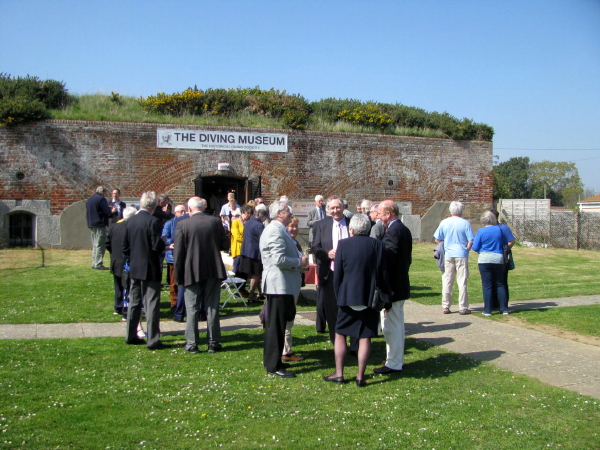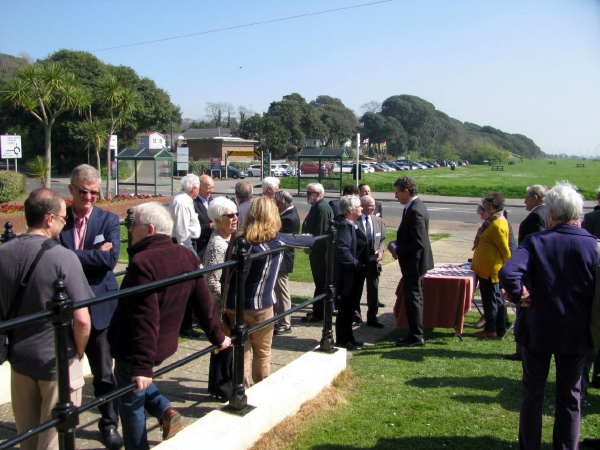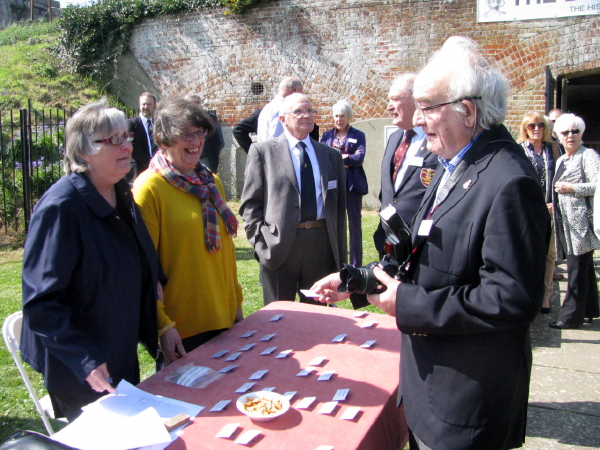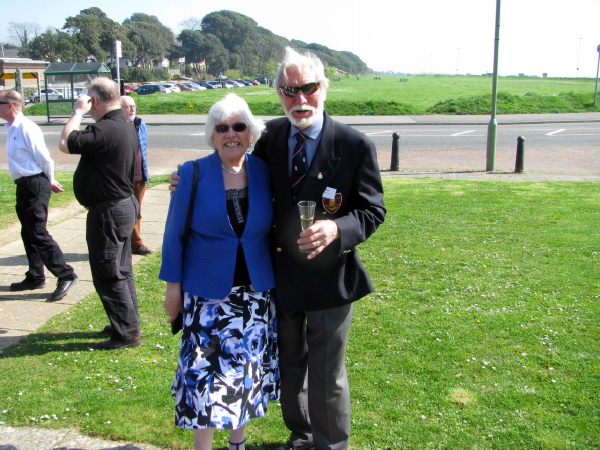 Former FCPO(D) John Dadd BEM with Mrs Webmaster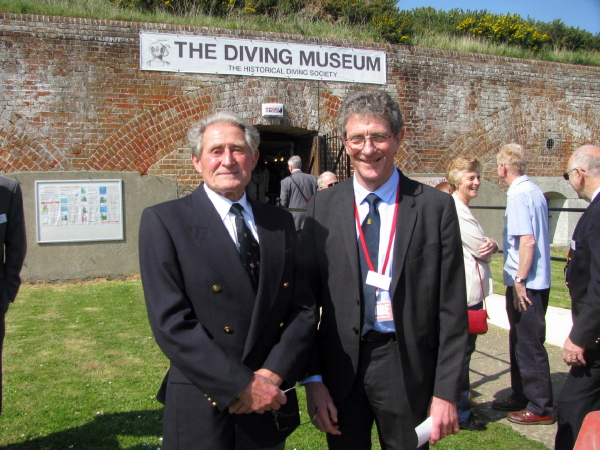 Ex-CPO(D) Dusty Miller with Kevin Casey, the Museum Offiicer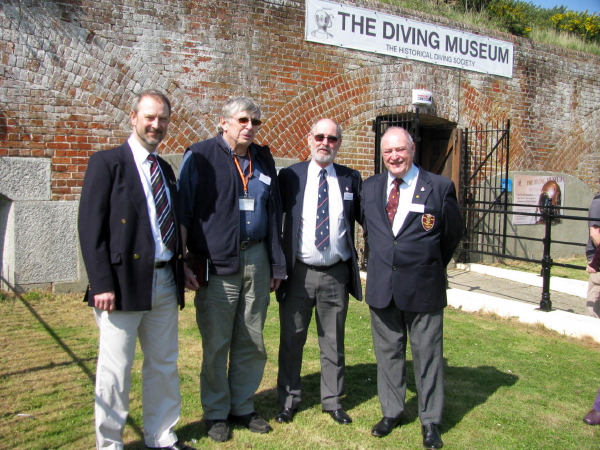 Garry Wallace-Potter, Peter Dick (Editor of the HDS Times), Yours Truly (Rob Hoole)
and ex-CD Jim 'Tommo' Thomson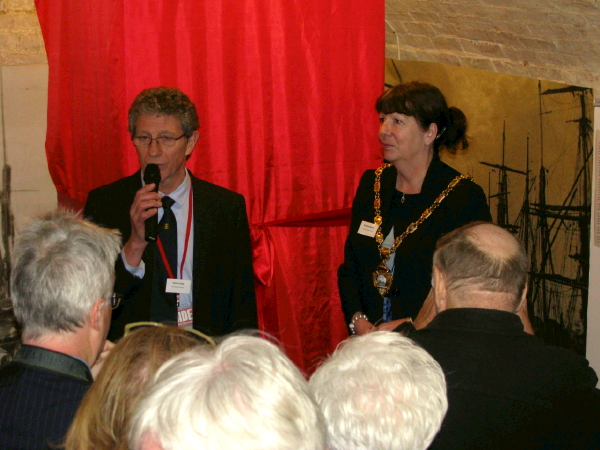 Kevin Casey the Museum Officer and Cllr Lynn Hook, Mayor of Gosport, starting the proceedings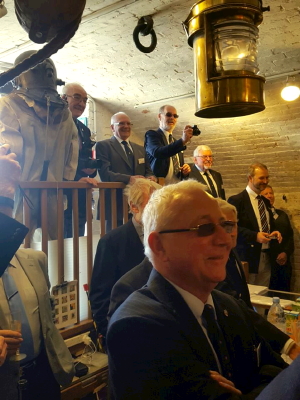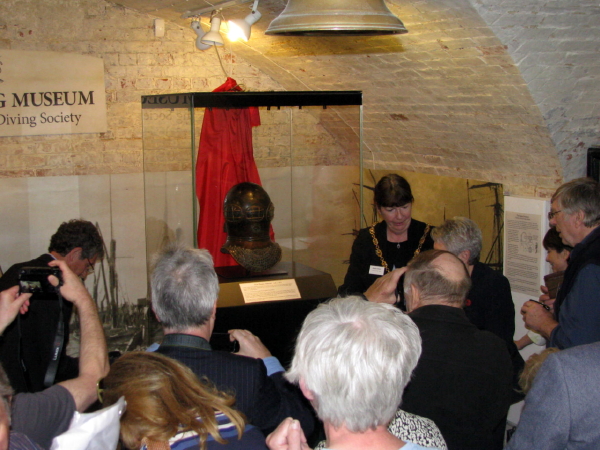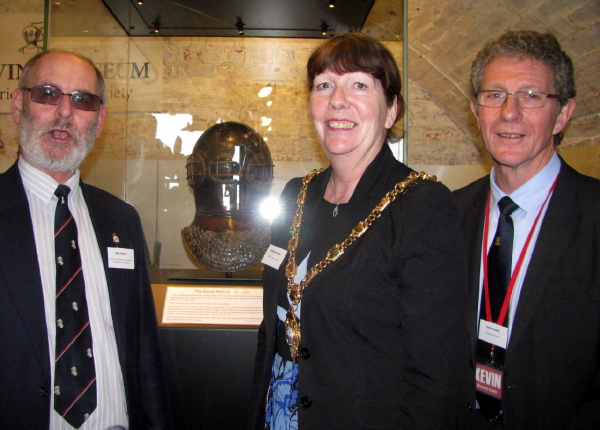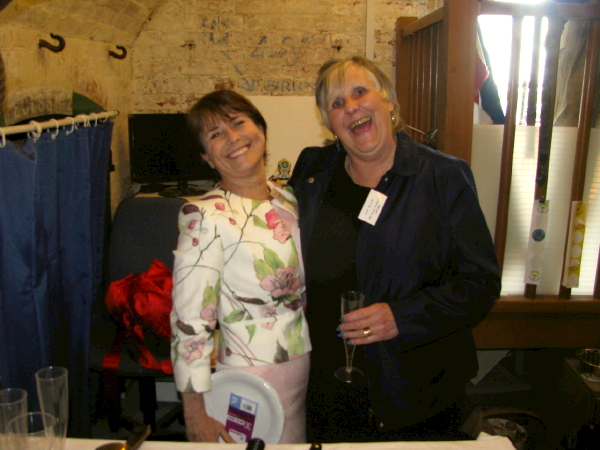 Ann Bevan and Una Smillie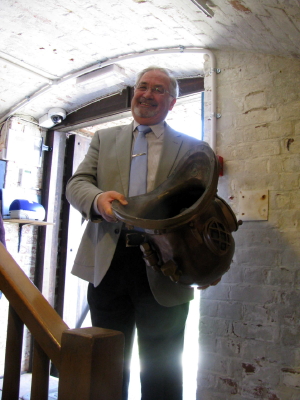 Give us yer money!
Charles and John Deane (1800-1884; known as The Infernal Diver) were the inventors of the diving helmet and have associations with Gosport. The helmet was used by Augustus Siebe as the basis for his first 'closed' 12-bolt diving helmet with which we are familiar today. In 1823 Charles Deane patented a "Smoke Helmet" to be used by firemen in smoke-filled areas. The apparatus comprised a copper helmet with an attached flexible collar and garment. A long leather hose attached to the rear of the helmet was to be used to supply air, the original concept being that it would be pumped using a double bellows. A short pipe allowed breathed air to escape. The garment was to be constructed from leather or airtight cloth, secured by straps. This was later developed into a diving apparatus when Deane altered the design with his brother, John. The helmet was used to dive on shipwrecks such as the Royal George in 1834 and the Mary Rose in 1836.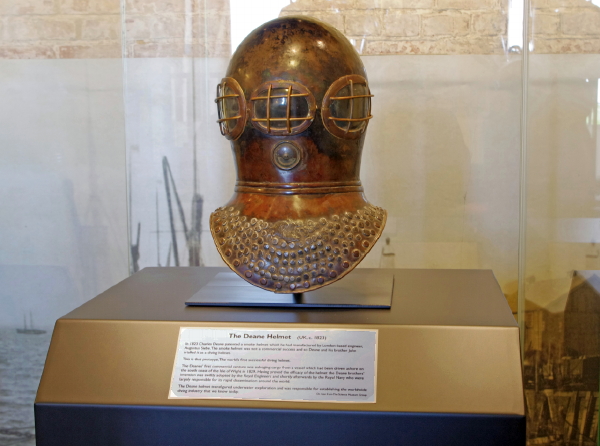 The centre of attention
Read more about the helmet's background here on Wikipedia:
The diving museum has certainly come a long way since our small band of volunteers first started work on the derelict structure which now houses it. Next objective, the Vernon Monument. Please provide all the support you can, and then some.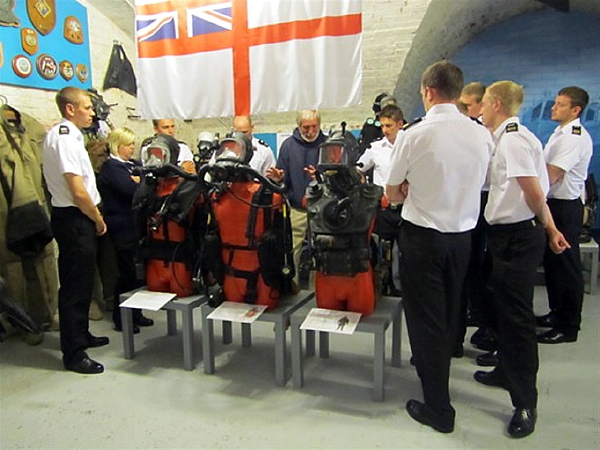 ---
6 Apr 17 - Death and funeral arrangements for ex-LS(CD2) David William 'Tilly' Tyzack MSM
I was saddened this morning to receive this email announcing Tilly's death:
"Good morning Sir,
By way of introduction, I am WO2 Colin Shearsby RM and have the dubious honour of being the Vice Chairman of the North Devon Royal Marines Association.
It is with regret that I inform you of the passing of one of your members - Dave "Tilly" Tyzack, Service number P/JW898422. Dave was also one of our stalwart members, attending functions and often out collecting with us...and normally having a laugh with the general public where he blamed "the booties" for making him stand in the cold, wet areas, especially as he was Senior Service.
He also assisted me by marshalling the Chivenor airfield leg of the Barnstaple Marathon where he took great delight in telling the runners (who had completed about 18 miles) that the end was just around his corner. In fact, just around Dave's corner was about a mile and a half of flat land where you could see other runners disappearing into the distance..!!
Dave's funeral will be held at 1430 on Monday 10 April 17 at the Methodist Church, Sticklepath, Barnstaple EX31 2DH followed by a family-only service at the crematorium. There will be an honour guard of serving Royal Marines and retired ranks from all Services and the coffin will be draped with the White Ensign, whilst also bearing his beret and medals.
On the subject of medals, we have noted he had a Mention in Despatches with a clasp for Near East - could you shed any light? The picture also shows his MSM."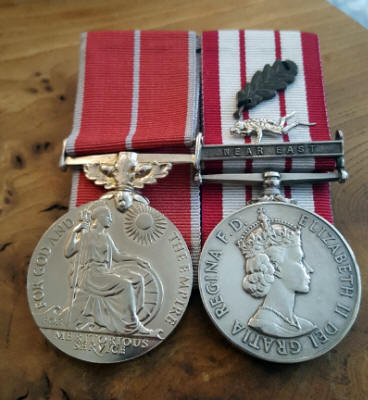 I am too young to have served with Tilly but I met him at various reunions and funerals.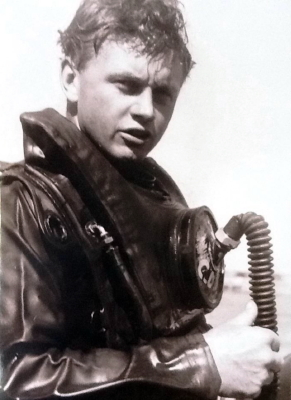 Pages 49 & 50 of the RN Diving Magazine Vol 5 No 1 (April 1957) contain an article titled CLEARANCE DIVING TEAM (AMPHIBIOUS) which covers the disbandment of what constituted the last remnant of the LCOCUs (Landing Craft Obstacle Clearance Units - informally called 'LOCKUs' - the RN & RM teams first ashore on D-Day) and its subsuming by the RM SBU (fore-runner of the SBS or was it a sub-unit?). The article mentions Dave 'Tilly' Tyzack as a member of the team.
MCDOA member Harry Parker, OIC of the CDT (Amphib) and author of the article in the Diving Magazine, is still very active and lives near Edinburgh. I have just told him on the phone about Tilly's death and he can provide no information about the Mention in Despatches oak leaf on the ribbon of his Naval General Service Medal (1915) with Near East clasp (Suez Canal 1956). He is not listed here whereas Harry is:
Naval-History.net: SUEZ CAMPAIGN, OPERATION MUSKETEER, November to December 1956
I have been unable to find any reference in the London Gazette website's archives to either the Mention in Despatches or the British Empire Medal (not an MSM) in the photo above but I will keep looking.
Page 5 of the RN Diving Magazine Vol 8 No 2 (June 1961) contains a Special Order of the Day announcing the award of a Commander-in-Chief's Commendation to Tilly for rendering first aid to a ship's diver from HMS Londonderry.
Page 13 of the RN Diving Magazine Vol 9 No 1 (April 1962) contains an article titled S.E.A.T.O Exercise by CPO(CD1) 'Mac' McKinley and Tilly describing the participation of the Hong Kong Fleet Clearance Diving Team in an exercise in Thailand.
Tilly started on the CD1 course in 1963 but did not complete it. According to his old course mate Gerry 'Pincher' Martin with whom I have just spoken, he left the Royal Navy shortly afterwards and joined the police force in Bournemouth.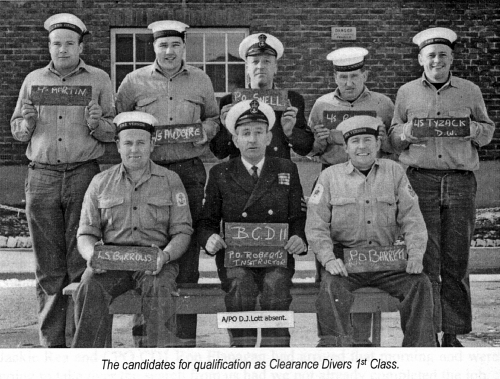 Dave 'Tilly' Tyzack (standing far right) on CD1 course at HMS Vernon in 1963
(Photo courtesy of former FCPO(D) Dave 'Mona' Lott BEM)
I hope Plymouth-based Southern Diving Unit 1 (SDU1) can spare a uniformed representative to attend Tilly's funeral. In the meantime, I am sure that all in our community will join me in extending our condolences to Tilly's family, close friends and former colleagues.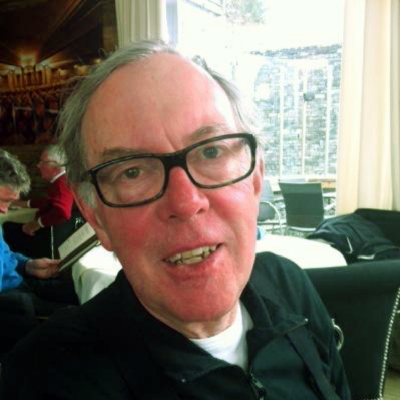 ---
From ex-CD Jim Tommo' Thomson:
"HI Rob,
Thank you for passing the sad news! Tilly was a killick twosie, when I was in Vernon in 1963. A few months ago he contacted me for some information on UBA, as he wanted to give a talk about CDs to a Ladies association in October. I asked him to send me the story of when he met 'Buster Crabb', I can't remember if I previously sent it to you so here it is:
"Hi Tommo,
Here is what I recall about Buster Crabb's visit to HMS Vernon in 1955.
My CD3 Course was nearing its end. I'm not sure of the exact date but the five of us remaining qualified in December 1955. There was myself Dave (Tilly) Tyzack, Ginger Bichard, Dave 'Mona' Lott, Frank (Darkie) Newman, Horrie Horrocks and our Instructor Taff Roberts. We had completed our morning dive in Pompey harbour and laid our topped-up sets on the deck of HMS Deepwater ready for the afternoon's dive. We were having our lunch in the dining mess in Vernon when the Alarm for "Exercise Awkward" sounded. We, being senior class, had to get to Deepwater as quick as possible to repel enemy frogmen.
We swiftly dressed up and onto O2. As we were about to jump into the harbour, Taff Roberts called "Stop. Off O2". He then introduced us to a short tubby man with reddish greying hair and long side burns. This was Commander Buster Crabb (retired). We had a vague idea who he was.
Taff then got myself and my dive partner Ginge Bichard to get him dressed up for a dive. When ready, we jumped into the harbour and Buster climbed down into the water. It took us several attempts to get him down, he got a nose bleed and had difficulty clearing his ears. Eventually we got him down to about 25ft. Our detail was to swim him up the harbour towards the reserve fleet and Portchester Castle. Keeping close to the jetty we swam under a couple of British warships, the next one we knew to be an American plus we knew that they have armed deck patrols even in the UK.
Buster swam up towards the sonar dome and produced a length of knotted cord and was about to start taking measurements. We got hold of him and indicated "No" and pulled him down to about 30 ft. We knew that the Americans would have dropped explosive charges if they suspected frogmen were nosing about under their ship. We swam him away towards the centre of Pompey Harbour where we knew Taff and our standby divers would be, ready to pick us up. We surfaced and got him in the safety boat. We informed Taff why we had surfaced so early. He turned to Commander Crabb and told him that it has cost thousands to train us young divers and to endanger us in such a way. The language then turned to Taff's native tongue that made us blush (Ha Ha).
We returned to Vernon where we made written statements in case anything came of our venture. That was the last we saw of Buster.
Shortly after this we qualified and in January I got my posting to join the Diving Attack Team based in Royal Marine Camp (Swimmer Canoist) now know as SBS Poole, Dorset. It was later in 1956 that we heard stories of Crabb's venture to explore a Russian battleship visiting the UK.
Hope this is okay.
Tilly"
RIP Tilly. Unfortunately I can't get to the funeral.
Same subject I'm afraid. Ex-CD1 Les 'Slinger' Wood EX CD1 told me this morning from Brisbane on Skype that Barry 'Baz' Davis, ex-CD1, offshore Diver and Life Support Tech, passed away suddenly on the 31st. of March, in Plymouth. The three of us worked together sometimes, RN and Offshore.
RIP Baz.
Best regards,
Tommo"
---
5 Apr 17 - A chat with former CPO(D) Alan Broadhurst
Alan and I sat and chatted in the sun this afternoon at St James Hospital in Milton where he is convalescing (see second entry for 22 Mar 17).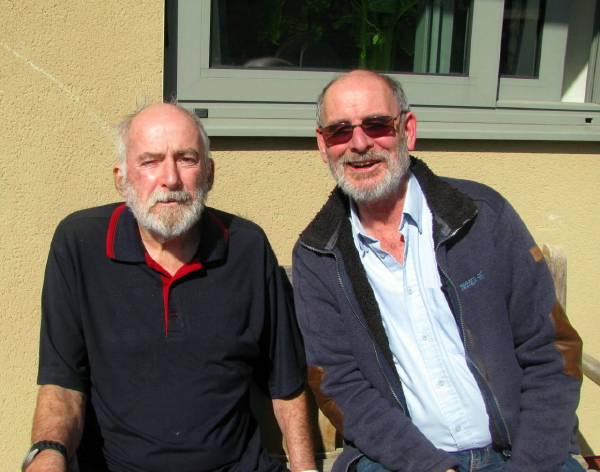 He sends everyone his regards.
---
4 Apr 17 - Arrangements for the funeral of former FCPO(D) Peter 'George' Hann Alderton BEM
George Alderton's funeral will take place at Weston Mill Crematorium, Plymouth PL2 2HA at 1000 on Wednesday 12 April (see entry for 31 May 17).
---
2 Apr 17 - Minehunter crews to man Offshore Patrol Vessels
The Royal Navy website contains this article announcing that MCM2 Crew 6, which recently returned from manning HMS Middleton on Operation KIPION in the Gulf, has taken over HMS Tyne in the Fishery Protection Squadron. The temporary ship-swap project called JICARA allows HMS Tyne's previous ship's company to bring into service her new sister ship HMS Forth, the first of five Batch 2 River class OPVs being built in Scotland. Later in the year, MCM2 Crew 7 (currently manning HMS Ledbury) will take over HMS Mersey allowing her crew to move on board HMS Trent.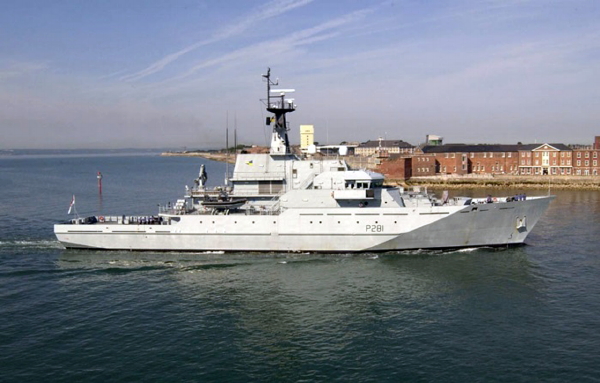 HMS Tyne entering Portsmouth hrbour
(RN website photo)
The article features MCD officer Alex Coleman, PO(D) 'Toby' Jones and LS(MW) 'Eddie' Edmonson.
---
1 Apr 17
Tower beside Horsea Lake to be replaced
On Thursday afternoon I found myself at Horsea Island where I renewed contact with Ldg Divers Kev McBride and Dave 'Mac' McNamara. Kev is married to an old family friend (see entry for 15 Mar 17) and I first met Dave when he was among the members of the Fleet Diving Squadron (FDS) attending the Ouvry 70th Anniversary Commemorative Event on board HMS Belfast in 2009 (see entry for 27 Nov 09 in News Archive 28).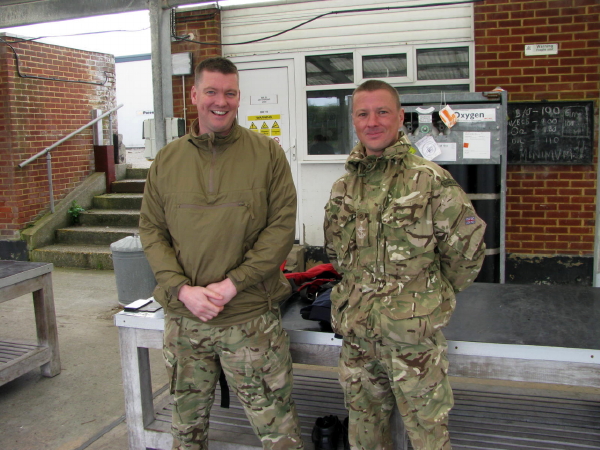 Ldg Divers Kev McBride and Dave 'Mac' McNamara
Kev and Dave were overseeing circuits being performed by members of HMS Dragon's ship's company. I chatted with Ldg Chef Richard 'Richie' Burden and Chef Lana Marshall who were watching their shipmates with some glee.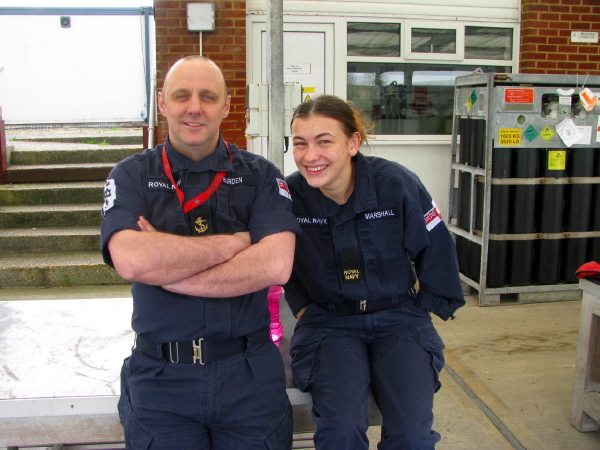 Ldg Chef Richie Burden and Chef Lana Marshall of HMS Dragon
The old tower, familiar to generations of trainee divers performing circuits at Horsea, is now in a sad state and has been condemned as structurally unsafe. It was reduced to two boards several years ago but is now cordoned off completely.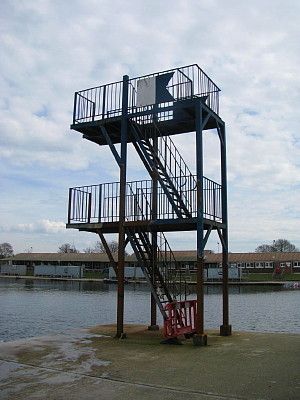 The remains of the condemned tower
Trainee divers are currently climbing and jumping from a mobile aircraft boarding ladder pending the construction of a new purpose-built tower.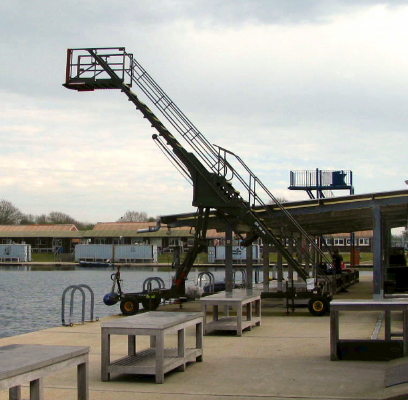 The mobile aircraft boarding ladder currently used at Horsea
Who else remembers the wonderful Horsea Island barbecues organised on summery evenings by the late Jimmy James? Jimmy, a long-retired Supply officer, was the Wardroom Mess Manager at HMS Vernon for decades and was elected an associate member of the MCDOA for services above and beyond the call of duty. He was a keen supporter of our social events and we were all smitten by his death in 2004 (see entry for 25 Apr 2004 in News Archive 6).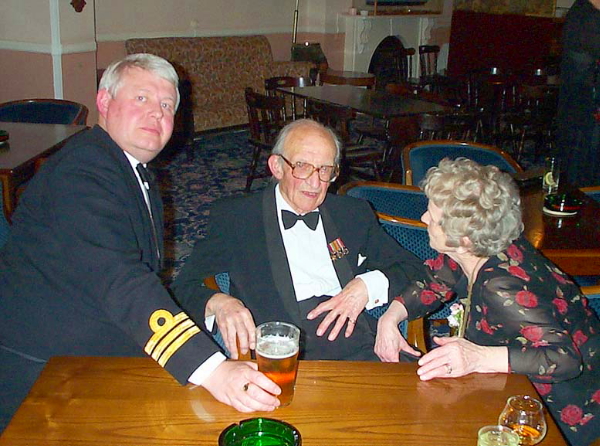 The late MCDOA member Frank Ward with Jimmy and Mary James
at an MCDOA Ladies Night in 2002
One of the highlights of the wardroom barbecues Jimmy organised on Horsea Island (where he had been born and lived as a child) was to strip off and leap into the water from the top board of the tower. We then swam out to place candle-powered 'port' and 'starboard' lanterns on the pontoon moored in the middle of the lake. In those days the tower had four boards, having been designed to be the same height as the flight deck of the Majestic class aircraft carrier HMS Massive.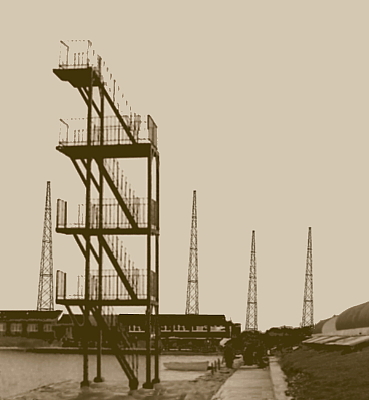 The original tower at Horsea Island prior to the removal
of the upper two platforms
---
A diving watch with a difference
An essential acquisition for all the bling collectors obsessed with paying thousands of pounds for the latest 'limited edition' diving watch that goes up to 13:
Bremont website: Diving watch with unique shark recognition technology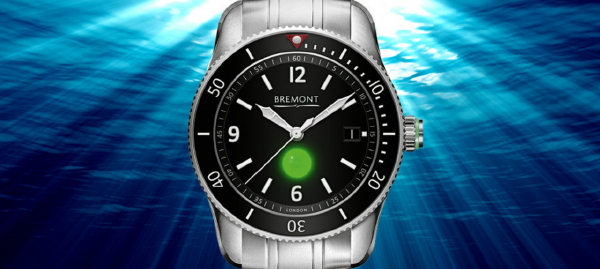 ---
31 Mar 17
Death of former FCPO(D) Peter 'George' Hann Alderton BEM
I was saddened to receive these tidings from ex-CPO(D) Mick Kester this morning:
"Hi Rob,
Sad news. I have just heard from ex-CD 'Rocky' Stone here in Plymouth that former FCPO(CD1) Peter 'George' Alderton passed away at home last night after a long battle with illness.
I will keep you up to date.
Best regards,
Mick"
I knew from George's wife Elsie that he had been dignosed with bowel cancer early last year. Despite six months of chemo, the tumour spread to his liver and lungs.
George Alderton served in the Royal Navy between 1953 and 1976. His eventful naval diving career including time in the Plymouth Command Deep Diving Team, Flag Officer Scotland & Northern Ireland's CD Team, the Mediterranean Fleet CD Team, the Far East Fleet CD Team and the Joint Services Bomb Disposal School at Horsham. After leaving the RN, he became a civilian commercial diver with Sub Sea Offshore. See second entry for 5 Sep 13 in News Archive 43 although the website contains many other references to George.
Here is a selection of photos George sent me a while back with the captions he provided: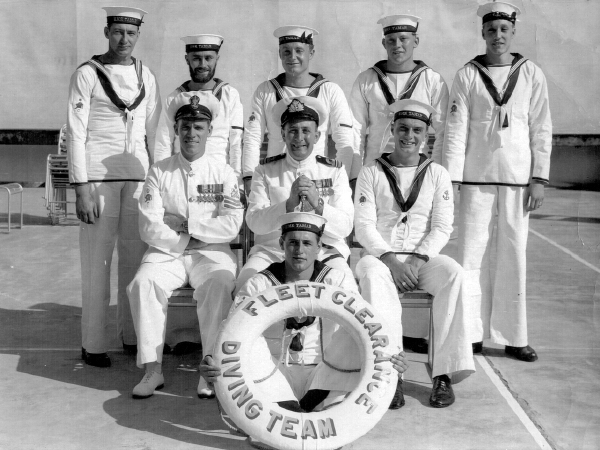 Far East Fleet Clearance Diving Team at HMS Tamar in Hong Kong in 1954
Back row: ABs Hough, Nield, Sherris, S(D) Drewitt and Chaplin
Middle row: PO Butler, Harry Wardle, L/S Sayer
Front: L/S Alderton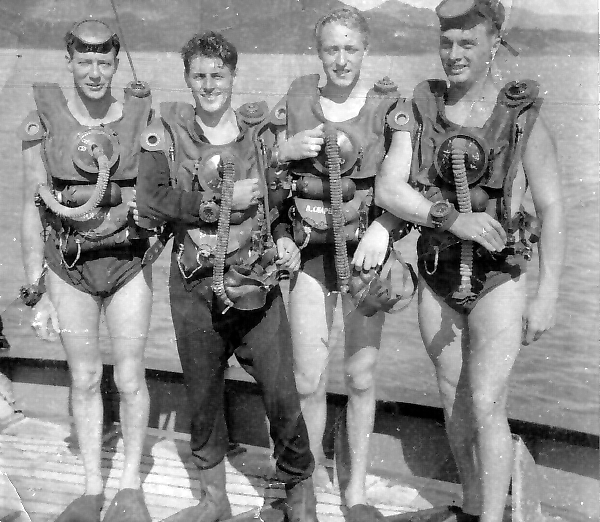 AB Hough, L/S Alderton, AB Chaplin and L/S Sayer dressed in UBA on O2 self-demand
for Tolo Harbour Day attack swim in Hong Kong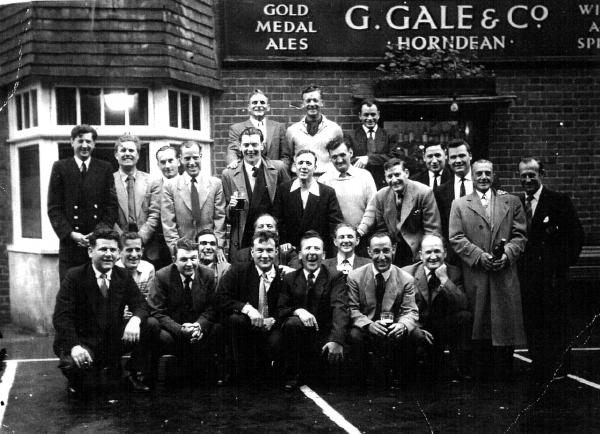 Divers' Thrash (plus some TAS Apes) in 1956
Back row: Johnny Peach, Ginger Bryant BEM, Steve Hargreaves (TAS)
Middle row: 'Bootlace' Webster, Ron Flanagan, 'Brookie' Brooke-Foster, Nick Carter,
Dutchy Holland, Duplock (TAS), Bill Lapner, Jan Gripp, ? (TAS), Albert Strange
Front row: Ted Rose, Spike Wheeler, Scants Scantlebury, Taff Coleman, Robbie Robinson (behind Dave),
Dave Lardner, Dave Black, Geordie Witherall BEM, Spero Collar, Badger Otley, ?, ?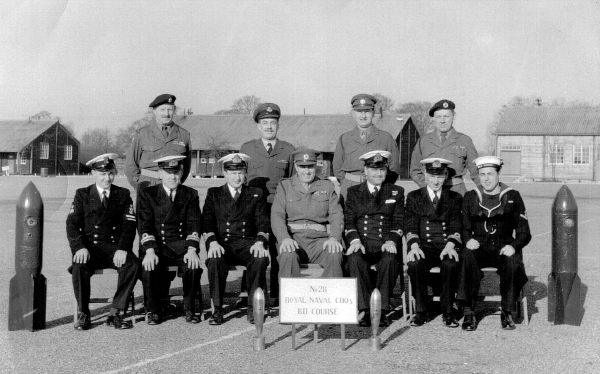 CDOs' Bomb & MIne Disposal Course at JSBDS Horsham in 1958
Sitting: PO(D1) Geordie Witherall, Lt Mike Hodgeson, Lt John Grattan OBE, Maj Arthur Hartley
MBE GM RE (Course Officer and author of 'Unexploded Bomb – A History of Bomb Disposal'),
S/Lt Ewan Graham RAN, Lt Tony Johnson-Newall, L/S Alderton BEM
(George Alderton reached L/S(CD1) from AB(CD3) in six years.)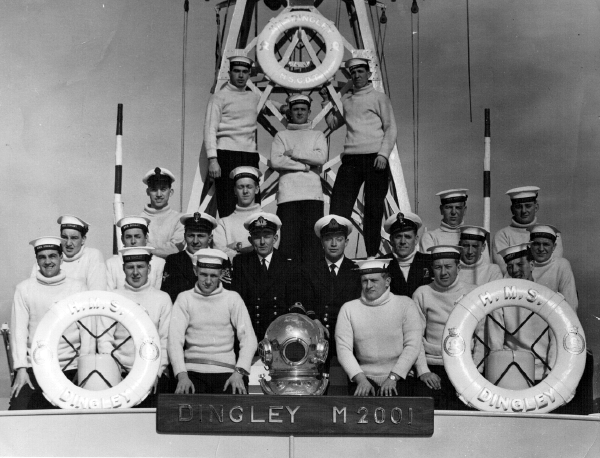 HMS Dingley, diving tender of the 51st Mine Sweeper Squadron based at HMS Lochinvar at
Port Edgar, in March 1959 with John Futcher MBE as CO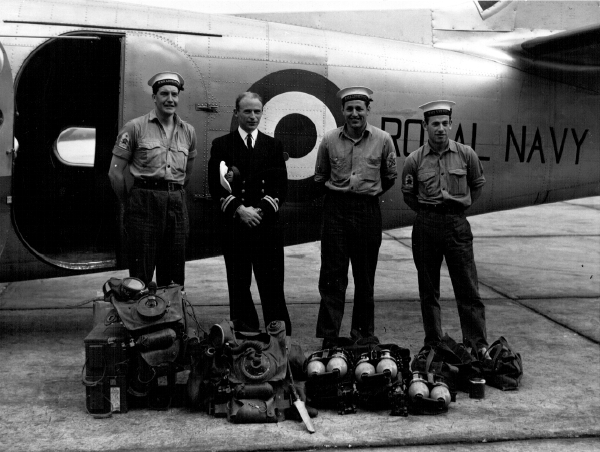 Pat Dowland and George Alderton centre with an AB Scott each end. En route to Scapa Flow
to demolish iron railway lines acting as anti-submarine obstacles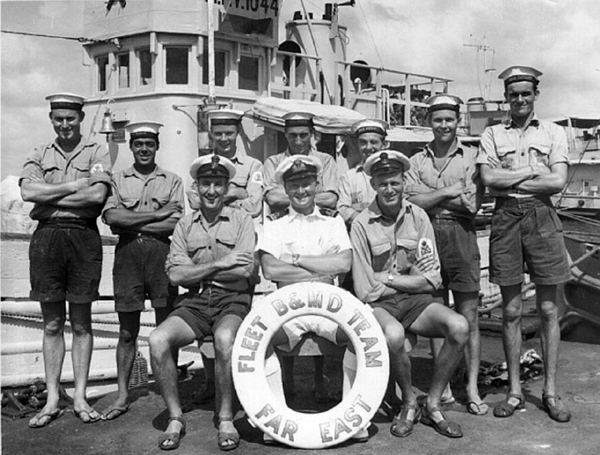 Far East Fleet B&MD Team in Singapore late 1950s with Peter Messervy MBE GM as OIC
plus Ginge Andrews, Frank Newman, Charlie Kempson, Tug Wilson and Jock Graham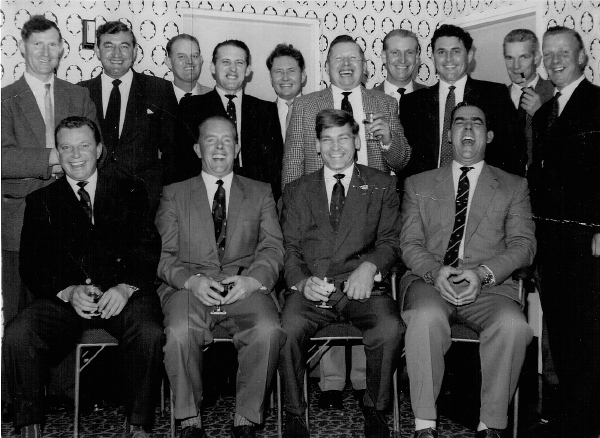 Possibly Plymouth in the early 1960s
Back row: Jerry Lock, Derby Allen, Ginge Howe, Scouse Davis, Knocker White, Geoff Burgess,
Jim Cook, Nutty Carr, Nobby Clark
Front row: John Futcher MBE, Bill Filer MBE GM, Peter Roberts VC DSC, Alan 'Shiner' Wright MBE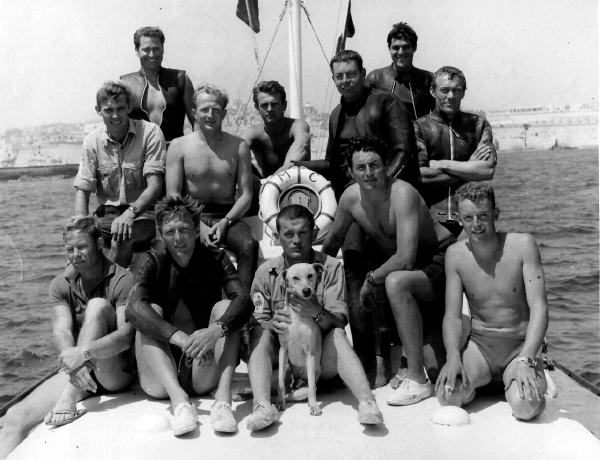 Mediterranean Fleet Clearance Diving Team on Manoel Island, Malta in 1966
Neil Primrose BEM
Dudley North
Harry Neave
John Grattan OBE
Mike Stewart
Alf Slingsby BEM
Tug Wilson
Gabby Haines
Wiggy Bennett
Nick Curtin
George Alderton
Ian Duxbury
'Deeps' the Dog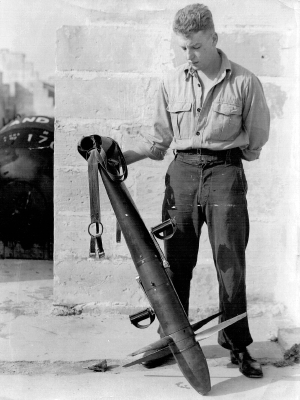 AB Jeff Robinson giving Dimitri Rebikoff's 'Pegasus'
underwater scooter a dubious look in Malta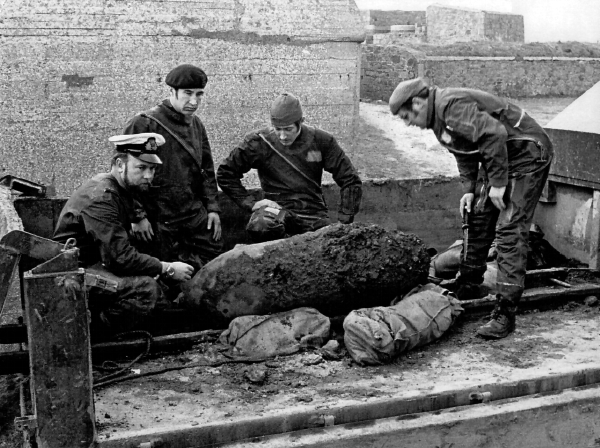 Lt Bob Pilling, ABs Williams and West and CPO George Alderton BEM with unexploded
British 1,000 lb bomb dropped by a Mosquito during a low level attack on a German U-Boat
alongside in Jersey. The bomb was dropped from insufficient height to be armed and
was recovered when inner harbour was dredged to deepen water for boat moorings
One of several depth charge-sized mines in Jersey. Shore-controlled electrically induced
detonation. They covered a wide area of approach and were laid in fairly shallow water.
Note the anti-roll bars.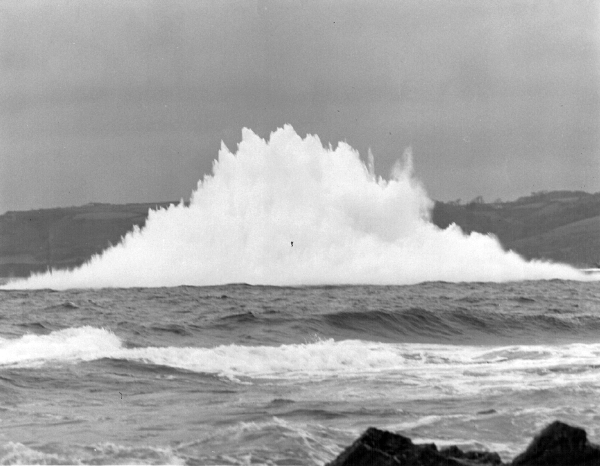 A German GC ground mine banged by George. It was dropped by a trawler just outside
Plymouth breakwater. Note the Double LL float in the centre of the white water.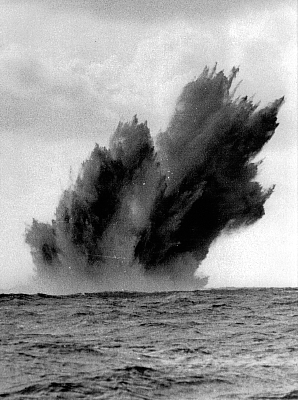 A German GC ground mine banged by George
off Plymouth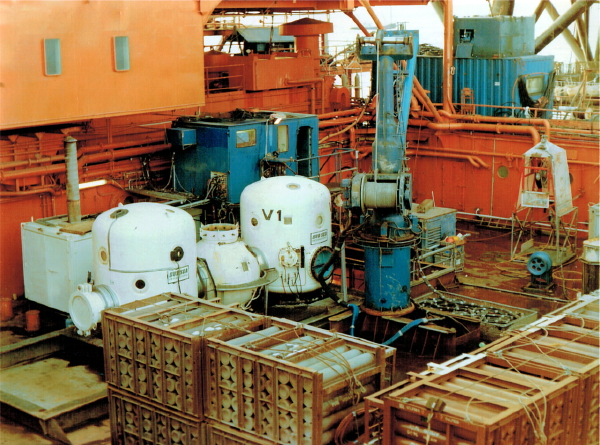 Subsea Offshore saturation diving system crammed on to a drilling rig
On 31 August 1956, George was awarded this commendation by the Commander-in-Chief (see entry for 17 Jan 08 in News Archive 21):
COMMANDER-IN-CHIEF'S COMMENDATION
P. H. ALDERTON,
Official Number P/SSx 865649, Leading Seaman, H.M.S. Vernon
On 25th July, 1956, H.M.S. Burley and H.M.M.F.V. 766 were engaged in special trials off Falmouth, involving the use of clearance divers. At about 1230, for the second day in succession, a shark was seen circling the M.F.V. and it was decided by the Diving Trials Officer to kill it before diving was resumed.
A motor dinghy put off from the M.F.V. with the Diving Trials Officer and three occupants. When the dinghy was near the shark, two 14 oz charges, joined by a length of cod-line, were successfully thrown across its back. The dinghy promptly turned away but the shark swam underneath it and the charges then exploded. The boat virtually disintegrated and the occupants were hurled into the water. Leading Seaman Alderton was on the forecastle of the M.F.V. at the time of the explosion. He immediately took charge of the M.F.V., ordering it to proceed towards the wreckage. Shortly afterwards he was relieved in the wheelhouse by the Coxswain who had been below, and he then arranged for the medical chest to be in readiness. When the M.F.V. was among the wreckage, four men dived into the water to bring in the survivors.
Leading Seaman Alderton appreciated that two were dead and two conscious but seriously injured. He therefore brought the injured men inboard first, where he applied first aid to the Diving Trials Officer and checked that the other casualty's injuries were being treated.
I have commended Leading Seaman Alderton for his initiative and prompt action which undoubtedly saved the injured men from drowning and ensured that they were given first aid at the earliest possible moment.
GEORGE CREASY,
Admiral of the Fleet, Commander-in-Chief.
31st August, 1956
On 28 May 1957, George was gazetted for the award of the British Empire Medal (BEM) as a LS(D) for gallantry and skill in rendering safe a German mine underwater and in darkness in the West India Dock, London on 26th January 1957 (see entry for 28 Mar 2011 in News Archive 33).
I am sure that all members of our community will join me in extending our sincere condolences to Elsie and her family on their loss.
---
From ex-CD Jim 'Tommo' Thomson:
"He was really funny at times, Rob. We were once out in the sound with a class of SDs with me as second dickie. George said get the class in the bows for a question and answer session, which I did. He then held up a nose clip and said, "Does anyone know what this is called in German?"
No response from the class.
He then said, "Nosenclippen Earencleeren." It brought the house down."
---
From ex-CD John Curran:
"I served with George in HMS Drake. We used to call him 'Gorgeous George'. He was a good man. Sorry to see him go."
---
From ex-CD Alan 'Charlie' Chapman:
"George was the WO(D) in charge of the school in Guzz in the early 1970s when I did my ships' divers course. When I joined in 1973 as staff he was still there. He was always a big man but one of the fairest and honest people I've had the pleasure to work for. He always had time to lend an ear and listen if you had a problem.
I hope that the details of his funeral will be posted as i still live in Guzz and would love to go and pay my final respects to one of the best.
---
From former FCPO(D) Dave 'Mona' Lott BEM:
"Not such a G'day,
Many thanks for your notification of the sad loss of yet another good bloke as anyone that knew George would most certainly agree.
Whenever I receive these very sad final tidings my mind reflects back to those days when we were all untouchable and the "Grim Reaper" was given little to no consideration. However, many years have now passed and I am quite saddened when viewing old photographs of teams that I served with to note how many good blokes have departed into the care of "The Great Keeper." I can only say that it was a pleasure have been allowed to serve with them or even to have known them, and George certainly came from that group.
Rest in peace George, and thank you for your able assistance in making Clearance Diving the best branch in the RN.
Dave (Mona) Lott
Eden, NSW, Australia
---
From MCDOA member John Grattan OBE:
"Dear Rob,
George and I were on CD Course together in 1958. He was the first (if not only) killick CD1. He was the epitome of a "Tiddly Sailor", always charming, clever and full of knowledge which he was willing to pass on to the officers on course. I certainly learned a great deal from him as well as Mac McCrea-Clifton and Geordie Witherall
He was then with me in HMS Dingley, releasing Ginger Bryant BEM as the Team CD1 so I gave him the Acting Local Rate which he wore with distinction as well as running a happy and successful team. I think Alf Slingsby, then a very wild young AB, is now the only other survivor of that team!
We were next together in the Med Team and he had not changed at all; still highly professional, enthusiastic and ready to lead from the front. He was ably supported by Elsie and they were the ideal couple. Sadly he was hit by an air-trapping embolism and spent over nine hours in a one-man chamber which affected him badly for a long time.
We were in Strongwork together for two years and have kept in touch.
All who knew George have lost a great friend but we are richer for having known him. RIP my old friend of so many happy memories.
Yours aye,
John"
---
EOD callout for SDU2 at Folkestone
The following articles published on the Kent Live website describe the progress of yesterday's EOD incident at Folkestone harbour, presumably attended by members of Portsmouth-based Southern Diving Unit 2 (SDU2):
A bomb has been found in Folkestone Harbour
Bomb experts confirm when Folkestone Harbour device will be removed
Bomb disposal experts reveal what they found at Folkestone Harbour
The suspicious object transpired to be either a pressure vessel or a canister.
---
30 Mar 17 - Awards of LS&GC and promotions to WO
Congratulations to CPO(MW) Garry Burridge, PO(MW) 'Sticky' Green and PO(D) Joe Gow on being gazetted for the award of the clasp to the Long Service & Good Conduct medal and to CPO(MW) Chris 'Chip' Miles on being gazetted for the award of the LS&GC medal.
Postscript: Former WO(MW) Dixie Dean MBE, Chairman of the Minewarfare Association (MWA), has kindly informed me that CPO(MW) Chris 'Chip' Miles has also been selected for promotion to WO1(MW) along with CPO(D) Nick 'Jack' Frost (DEMS TRG REGT CMD WING) and CPO(D) Keith 'Satch' Satchwell (FDU3) who were selected for promotion to WO(D).
---
29 Mar 17 - Rankins visited by the Welborns in Australia
Having hosted MCDOA member Dan Nicholson and his wife Christine at their newly-built house at Mooloolaba on the Sunshine Coast of Queensland earlier this month (see entry for 2 Mar 17), Allan and Marie-Louise Rankin have just said goodbye to MCDOA past-President Colin Welborn and his wife Jo.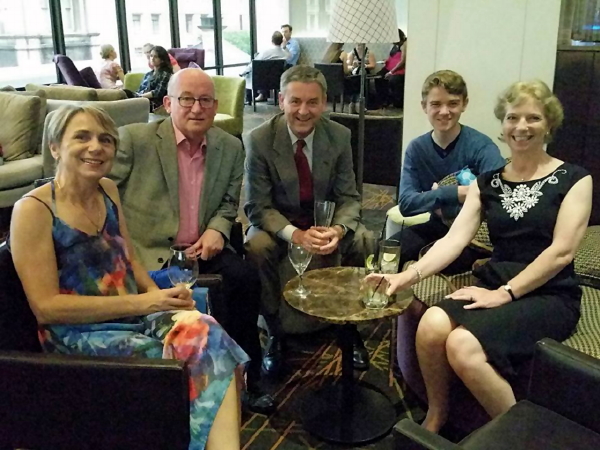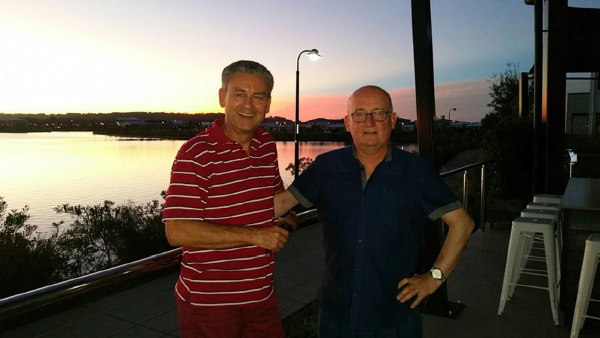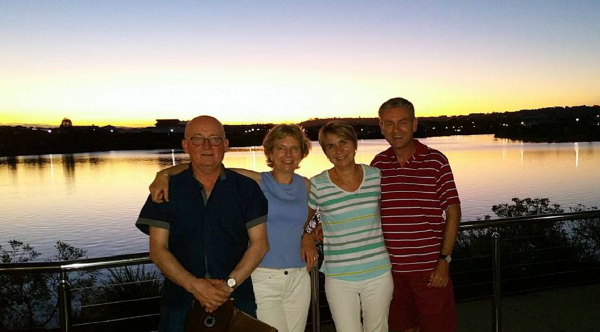 Allan and Colin were fellow members of LMCDO '79 with Tony Rose as their Course Officer and Len Hewitt as their Chief Instructor.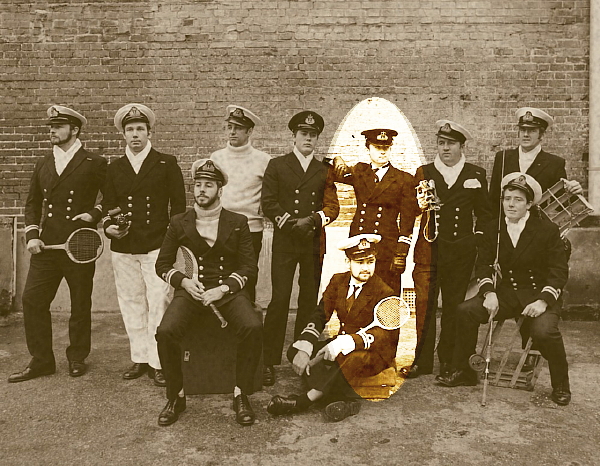 Postscript: Colin and Jo Welborn headed on from Australia to New Zealand and Colin has sent me this message concerning former MCDOA Hon Sec David 'Topsy' Turner who transferred from the RN to the RNZN in 2004 (see entry for 17 Sep 16 in News Archive 55):
"Dear Rob,
You are aware that Topsy left NZ when he knew Jo and I were inbound? Well, I found him.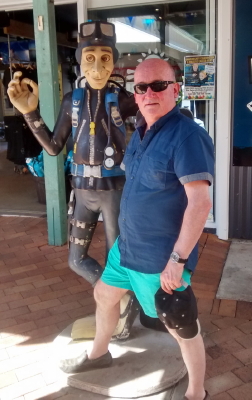 Regards,
Colin"
---
28 May 17 - Vernon Monument collection box
Mrs Webmaster and I were blessed with a visit by my younger Seattle-based sister and one of her daughters at the weekend. Our own '30-somethings' from Wales, Southsea and the Isle of Wight joined them at Gunwharf Quays on Saturday afternoon and my sister took the opportunity to make a donation towards the Vernon Monument via the collection box kindly provided by the management.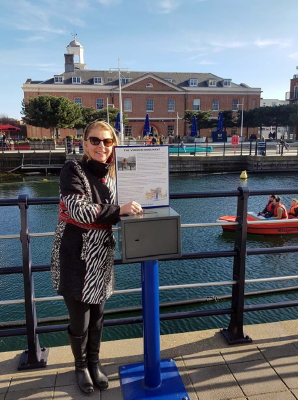 Congratulations to members of the Minewarfare Association (MWA) for raising £420 towards the cost of the monument at their reunion on Saturday. This is on top of the thousands they have already contributed and reflects their continued support for the project. Our glass (mine) is over two-thirds full and a significant fundraising event is being planned for July. Watch this space.

When it is erected, the striking monument will be a tangible tribute to past, present and future members of our minewarfare, diving and EOD community and be seen by the 8 million annual visitors to Gunwharf Quays on the previous site of HMS Vernon. The sooner we raise the balance of funds required, the sooner our monument will reach fruition. Are you doing your best to help?
Here is one way that can cost as little as £1 per week with the chance of winning prizes. Every 10 tickets bought brings in at least £260 for our cause each year:
Portsmouth Lottery: The Vernon Monument
---
27 Mar 17 - HMS Chiddingfold leads the way
The Royal Navy website contains this article reporting the recent participation of HMS Chiddingfold (MCM2 Crew 1), along with various other coalition warships, recently took part in 'MCMEX 17-2' in the international waters off Bahrain. Other participants included HMS Bangor (MCM1 Crew 7), HMS Penzance (MCM1 Crew 1) and the US Navy's Avenger-class MCMVs USS Devastator, USS Gladiator and USS Dextrous.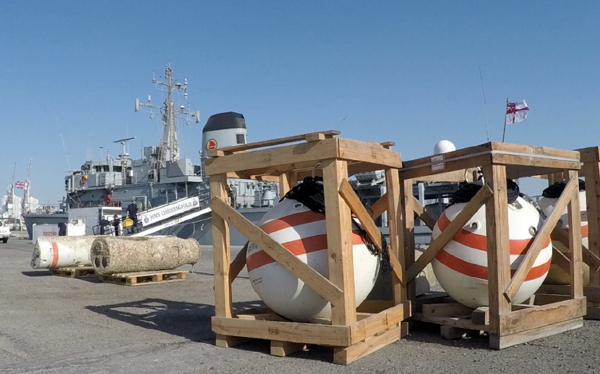 (RN website photos)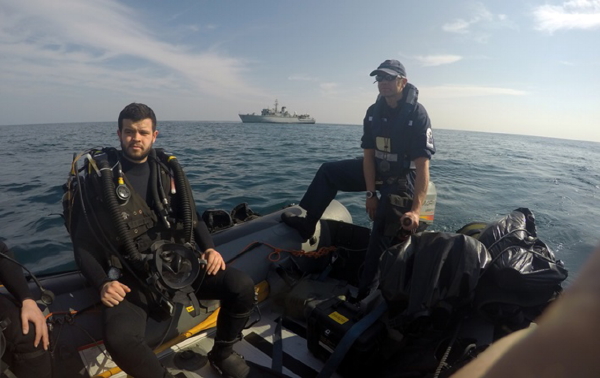 ---
26 Mar 17 - SNMCMG1 to participate in JOINT WARRIOR 17-1
After heavy seas and seamenship exercises, Standing NATO Mine Countermeasures Group 1 (SNMCMG1), including HMS Ramsey (MCM1 Crew 4), has arrived in Glasgow ready to participate in Exercise JOINT WARRIOR 17-1 with an overall total of 28 ships.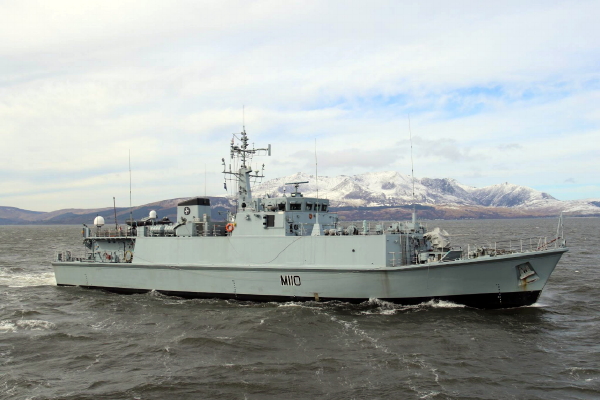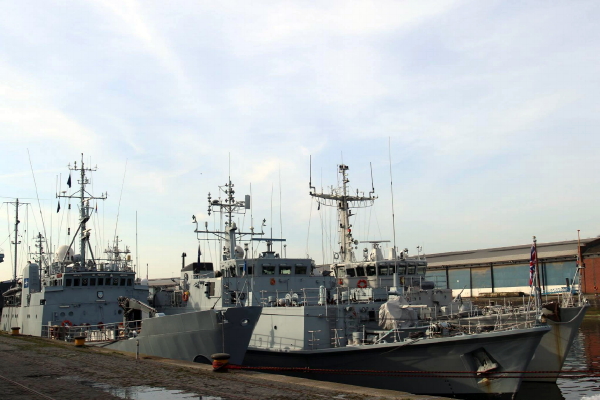 ---
25 Mar 17 - Gentlemen Who Lunch
Last Tuesday found the MCDOA's 'Not Quite the Last of the Summer Wine' trio of Barlow, Holloway and Hoole visiting The Royal Oak at East Lavant in West Sussex for its weekly gathering. It was a lovely spring day to visit this country pub in a pretty village although it wasn't quite warm enough to sit outside for any length of time.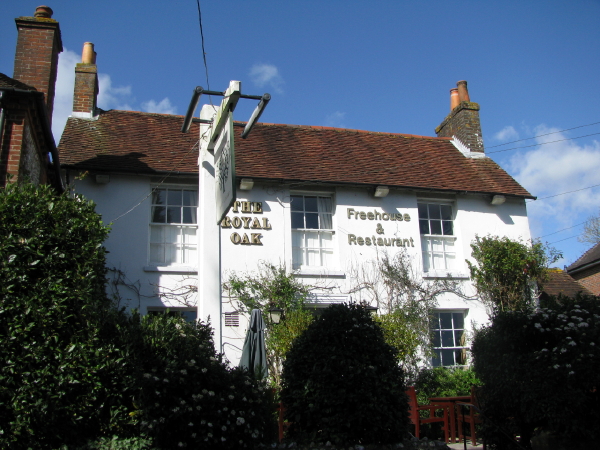 The road outside is quite narrow but there is a sizeable car park opposite the pub.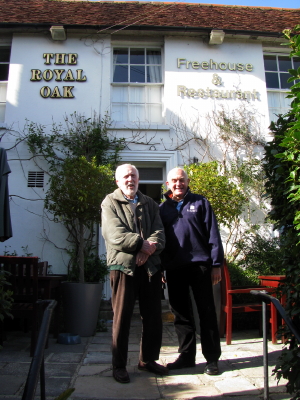 We enjoyed Young's ale from the cask and some simple but good food.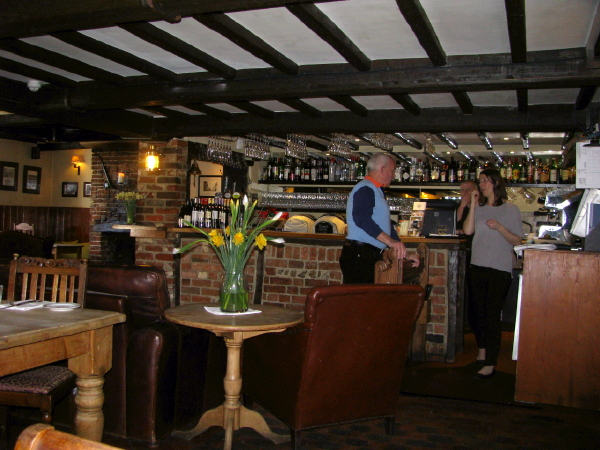 On Saturday night, Barlow and his wife Jill had attended the variety show at the London Palladium performed as a tribute to Dame Vera Lynn on her 100th birthday. Dame Vera was too frail to attend herself but the Queen stood in for her and Doug regaled us about having been invited backstage for drinks afterwards by two former First Sea Lords (Lord (Alan) West of Spithead and Sir Jonathon Band) as well as the Honorary Vice Admiral of the United Kingdom (Sir Donald Gosling) with whom Doug was evacuated to my boyhood town of Salcombe as an 'Arethusa Boy' in 1944.
---
24 Mar 17 - Daily Telegraph obituary for Sub Lt Adam Bergius DSC RNVR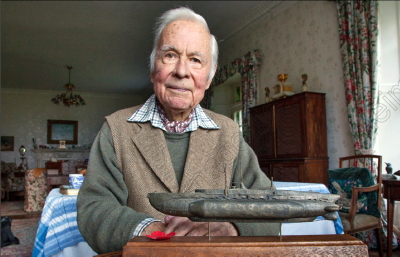 The Daily Telegraph has published this obituary for Second World War X-Craft diver Adam Bergius. Here is the complete text:
Adam Bergius, daring diver in midget submarines – obituary
Adam Bergius, who has died aged 91, was one of the exceptionally daring men who manned midget submarines known as X-craft during the Second World War.
At 21.20 on the night of July 30 1945, in the Mekong Delta, the submarine Spearhead slipped the tow on the midget submarine XE-4. The Australian Lieutenant Max Shean DSO, commanding XE-4, had orders to trawl for and cut the underwater telephone cables from Saigon to Singapore and Hong Kong to Saigon, thus forcing the Japanese to use wireless communications, which could be intercepted and deciphered.
For this difficult task, hampered by the tide and in rough weather, Shean's crew consisted of his first lieutenant, Sub-Lieutenant Ben Kelly from Edinburgh, Chief Engine Room Artificer "Ginger" Coles from Newbury, diver Sub-Lieutenant Ken Briggs and the 20-year-old Scot, Sub-Lieutenant Adam Bergius. The 30 ton, 52 ft midget submarine, powered by a Gardner diesel, completed the 40-mile underwater journey towards Saigon, at which point Shean began to drag a steel grapnel and chain weighing about 80 lb along the sea bed. He made a number of runs through waters crowded by fishing junks, before being brought up suddenly as the grapnel caught the Singapore cable. Briggs, wearing a heavy diving suit, was the first to leave the submarine. He returned soon with a short length of cable as evidence of a job well done.
About an hour later, the Hong Kong cable was found, by further trawling, at a much greater depth and Bergius emerged from the X-craft. He recalled: "The cable lay about 40 ft from where our submarine had come to rest. The water was a bit muddier than Loch Striven where we had done our training, but I didn't have much difficulty in finding the cable." Bergius's air-powered cutter failed, however, and, exhausted by the effort, he was obliged to return to XE-4 to rest. Entering the wet-and-dry chamber Bergius was offered the chance to abort his solo mission on the seabed, but, after a spell of breathing mind-clearing air rather than pure oxygen, he resolved to leave the midget submarine, taking with him a replacement cutter. In that period underwater breathing apparatus was in its infancy, the water was deeper than expected and only a short time before two highly trained divers had been lost attempting to cut cables at similar depths. However, Bergius was successful at the second attempt, and returned with a length of cable as proof that it had been cut. He proudly kept it as a souvenir.
For gallantry, perseverance and outstanding skill he was awarded the DSC.
Adam Kennedy Bergius – "Jock", as he was known in submarines – was born in Glasgow into the Teacher's whisky family and educated at Kelvinside Academy and Glenalmond College. His love of the sea began during summer holidays at Kirn, Argyll, in his rowing boat Puddock. Later he sailed in the motor-ketch Dodo IV, designed for his father by William Fife III. The Navy would turn him into a consummate navigator, and postwar he crewed in Latifa (Fife's most famous yacht) in the New York to Bermuda race, and sailing became a lifelong affair.
Bergius joined the Royal Navy in 1942 and, after seamen training at HMS Ganges near Ipswich, he was drafted to the auxiliary minelayer Armageddon, based in the Kyle of Lochalsh, and employed laying the Northern Barrage, a minefield in the Iceland-Greenland gap. He underwent officer training at HMS King Alfred, where in 1944 the 19-year old newly promoted midshipman saw a notice about special and hazardous service, and volunteered without knowing what the service was. Soon he found himself on a train to Ardtaraig House on Loch Striven, then known as HMS Varbel II, which was the home of the 12th Submarine Flotilla. Bergius trained as a diver there and at the Kyles Hydropathic Hotel, practising exiting and entering X-craft using a small floodable chamber aptly called the wet-and-dry chamber, and learning to cut underwater nets and place explosives.
In November 1944 he travelled from Barrow-in-Furness to Faslane by a special train pulling XE-4, which was heavily disguised as a food container, while he and the rest of the crew sat in a first-class carriage. Six XEs were readied for service in the Far East and redesignated as the 14th Submarine Flotilla under the command of Captain WR "Tiny" Fell. They embarked in the New Year of 1945 at Port Bannatyne in the former SS Clan Davison known in wartime as the depot ship HMS Bonaventure. Bonaventure steamed via the West Indies and the Panama Canal to Pearl Harbor, where it soon became apparent that senior officers of the US Navy did not want the X-craft, considering them to be suicide weapons and resenting the fact that they did not have a version. However, at lower levels of command Captain Fell, their cheerful and determined commander, was received with enthusiasm and respect and obtained permission to proceed to Australia.
Bonaventure anchored for a warm-water work-up at Whitsunday Island in the Barrier Reef, which Bergius found to be a wonderland of colour and light, teeming with corals, sea plants and fish of every shape and colour. He could swim as freely as a fish and, breathing pure oxygen, made no noisy bubbles to destroy the peaceful underwater world. On one exercise, however, he stood on a stingray and the barbed sting lodged in his calf. His friend, "Ginger" Coles, sat with him through the subsequent convalescence. On another dive, he found an anchor cable going down outside a reef and pulled himself down until he was amazed to discover what appeared to be an old sailing ship. There were two men on the foredeck and he was just about to strike up a conversation – hallucination is an early sign of oxygen poisoning – when he heard the words of his fellow diver ring out: "You're all right, carry on normal breathing, Sir." It was a command which he was happy to follow for some 70 years.
After his time in X-craft, Bergius piloted the steam tug Empire Sam and a convoy of barges and small craft to Hong Kong on what he called a pleasure cruise through the Philippines. Next he was navigator of Spearhead in which he spent a week at sea searching for Japanese on the surrounding islands and monitoring the blossoming smuggling trade.
Postwar Bergius joined Teacher's. His natural role was in sales and marketing and he enjoyed promoting the brand worldwide. Though he rose to be chairman, he was not happy when the firm was taken over by Allied Brewers in the 1980s, and his carefree style was cramped by what he described as the "fun-less grim world of over-educated sales advisers". In 1995 he published a light-hearted book, Make Your Own Scotch Whisky, including a spoof recipe.
From 1963 he lived at Glencreggan on the west coast of Kintyre, with views to the islands of Gigha, Islay and Jura, and half a mile of foreshore, rough shooting, farmland and fishing in a small loch. The house's drawing room was fitted with a wooden sprung floor where he hosted ceilidhs. In the late 1970s he added 1,300 acres of Oronsay to the Glencreggan estate.
Another love of his life was a 1926 British racing green Bentley which he bought for a song in 1949 and nicknamed "the Hippo". Bergius thought nothing of plunging into its innards or scouring Glasgow's scrap merchants for spares. The Hippo was sold in the 1980s but, thanks to Bergius's maintenance, is still regularly exhibited.
In an after-dinner speech in 2013, Bergius reflected that to serve in submarines was to become a member of the strongest, most loyal union of men, and that the greatest joy of all is that companionship and feeling part of a team. He married Fiona Sillars in 1951, who predeceased him in 2011, and he is survived by their four sons and a daughter. His brother, William Bergius, was drowned when the destroyer Gould was torpedoed in March 1944.
Adam Bergius, born 26 March 1925, died 3 March 2017.
---
23 Mar 17
Ledbury gears up for the Gulf
The Royal Navy website contains this article describing the preparation of HMS Ledbury (MCM2 Crew 7) for deployment to the Gulf later this year to take over from HMS Chiddingfold (MCM2 Crew 1) on Operation KIPION. The article also features HMS Blyth (MCM1 Crew 8) which has been undergoing OST (Operational Sea Training) at the same time as Ledbury.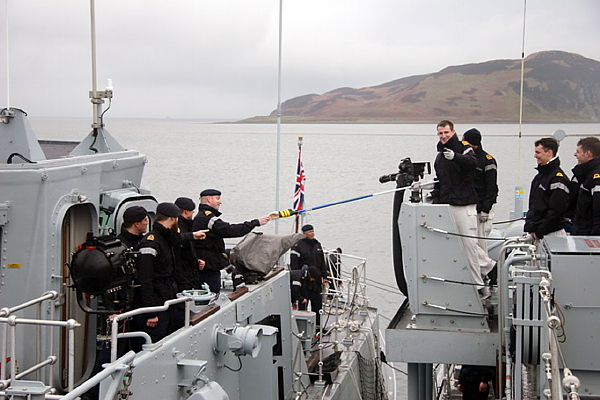 HMS Ledbury's CO (Lt Cdr Jim Harkin) on right 'shakes hand' with HMS Blyth's CO
(Lt Cdr Peter Ware) while their ships are undertaking OST
(RN website photo)
LS(MW) Jordan Sullivan preparing SeaFox mine disposal vehicle for deployment
(RN Website photo)
---