---
18 Jun 18 - Daily Telegraph obituary for Lt Cdr Brian Dutton DSO QGM RN
As ever, I am indebted to Capt Peter Hore RN for producing this obituary for MCDOA member Brian Dutton which is due to appear in tomorrow's Daily Telegraph (see entry for 25 May 18).
Lieutenant Commander Brian Dutton, mine clearance expert – obituary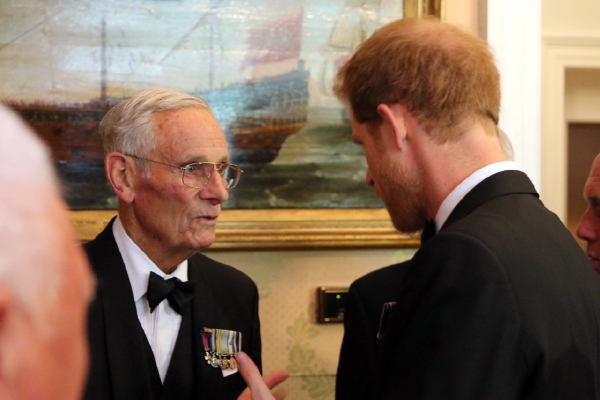 Brian Dutton with Prince Harry at Trinity House in 2017
Lieutenant Commander Brian Dutton, who has died aged 86, was twice honoured for his bravery in mine clearance operations.
In the Falklands War, on May 21 1982 the frigate Argonaut was struck during an air raid by a 1000-lb bomb which lodged in a magazine causing extensive damage, wedged between broken ordnance but without exploding.
Summoned to remove the bomb, Dutton, as officer in charge of Fleet Clearance Diving Team No 1, decided it was too dangerous to defuse in situ. Instead he opted for a marginally less hazardous but extremely complex operation to lift the bomb from the magazine.
Over the next seven days, while Argonaut came under further air attacks, Dutton and his team cleared the magazine and cut through sections of the ship's side. The slightest jar might have resulted in an explosion which would have killed all around and almost certainly have caused the loss of the ship.
Due to Dutton's skill and ingenuity the bomb was removed, and he was awarded the DSO for courage of the highest order.
Dutton's achievement was all the more remarkable since when the war started he had been declared redundant and was on terminal leave. Recalled to service, he flew to Ascension Island to join a ship. Postwar, Dutton resumed his terminal leave.
Brian Frank Dutton was born in Southend-on-Sea on November 11 1931, and brought up in a Shaftesbury Home and the boys' training ship Arethusa.
Dutton joined the Royal Navy in 1946 as a boy seaman and served in the cruiser Belfast during the Korean War.
He specialised as a physical training instructor, and, when he had attained the requisite qualifications, was commissioned in 1964. Thwarted by the slow promotion, however, Dutton re-qualified as a mine-clearance diving officer.
By 1974 he was officer in charge of the Portsmouth and Medway clearance diving team, when with Leading Seaman Brian Brett, he boarded the suction dredger Solent moored off Felixstowe at 2100 on August 3 1974 to investigate a mine jammed in the vessel's scoop. It was one of the most difficult and dangerous German wartime mines to render safe, and its location and condition made the normal procedure for neutralising it impossible.
Dutton ordered all non-essential personnel to leave while he and Brett commenced the difficult task of removing the mine.
Dredging operations had damaged the fuse and although aware of its highly unstable state, Dutton and Brett worked through the night to free it and lower it to the seabed where it was eventually safely detonated. Both men were awarded the Queen's Gallantry Medal.
After the Falklands War, Dutton worked briefly as a postmaster in Chatham, before becoming beadle for the Carpenters' Company (1987-97), an appropriate appointment for a man who made wooden toys for his children and embellished Carpenters' Hall with some of his handiwork.
Dedication and loyalty were paramount values for Dutton and in public life he was a clear, upright man of strong beliefs.
He served as a Conservative district councillor in East Hampshire (1999-2007), mayor of Petersfield in 2004, and chairman of the district council in 2005. His charity work included fundraising for the Vernon Monument Project, a memorial in Portsmouth to divers.
Dutton married first, in 1952, Valerie Ramsey. The marriage was dissolved, and in 1970 he married Dorothy Durrant, who died in 1999. In 2000 he married, thirdly, Audrey Whitehead, who survives him with three sons, all of whom served in the Royal Navy.
Lt Cdr Brian Dutton, born November 11 1931, died April 23 2018
Over the past few years, Peter has been extremely cooperative in writing tributes to members of our small community for publication in the Daily Telegraph. Other examples have included (in alphabetical order):
Cdr Philip Arthur Balink-White MBE RN
Lt Cdr 'Uncle Bill' Filer MBE GM RN
Lt Cdr Ian Fraser VC DSC RD* RNR
Surgeon Vice Admiral Sir John 'Jab' Harrison
Surgeon Vice Admiral Sir John 'Doc' Rawlins KBE, FRCP, FRAeS
Lt Cdr 'Robbie' Robinson MBE RN
Lt Arthur 'Bubs' Russell MBE RNVR
---
16 Jun 18 - Recent tweets
Click on the linked dates to see the many excellent photos and videos associated with the tweets:
Captain MFP
7 Jun 2018 - Superb to witness Commander Sea Training, Cdr Simon Rogers RN, informing Crew 6 in HMS HURWORTH of their Operational Sea Training result. Congratulations Crew 6 for a job well done & good luck on Operations.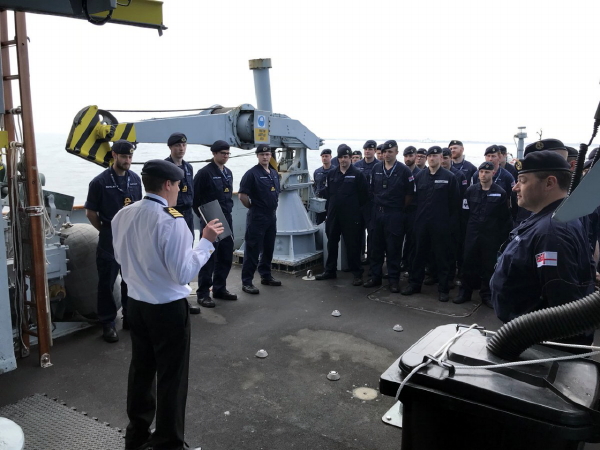 Commander UKMCMFOR
4 Jun 2018 - This week, WO1 Colin 'Cat' Stevens celebrated his 35th Naval Birthday. He joined HMS Raleigh on 30 May 1983 and is currently deployed on operations in the Gulf working as part of the Battle Staff. Congratulations Cat!
2 Jun 2018 - Commander Andrew Smith hands over Command of the United Kingdom Mine Counter Measures Force to [MCDOA member] Commander Ashley Spencer after nearly 7 months in post. Best of luck.
Commander SNMCMG2
30 May 2018 - The ships companies and staff of SNMCMG2 stand with the scientists of CMRE.
HMS Bangor (MCM1 Crew 2)
15 Jun 2018 - Welcome to [MCDOA member] Captain John Craig RN, Deputy Commander of the UKMCC, on board to meet the HMS Bangor crew and congratulate them for 6 month's hard work. He presented CPO Slack with his long service and good conduct medal and CPO Summers with the Sailor of the Month award.
13 Jun 2018 - Divers from HMS BANGOR working with Fleet Diving Unit 3 and US Navy divers during the Harbour phase of the bi-annual US/UK MCM Exercise. Royal Navy and US Navy have a longstanding tradition of integration within the MCM community.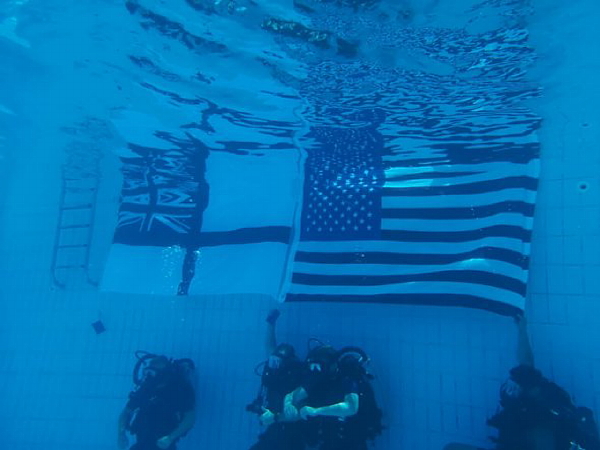 11 Jun 2018 - Today the Crew of HMS Bangor seized the chance to meet their affiliated U.S. MCM HM15 Squadron. These ships and aircraft share a common objective - maintaining freedom of navigation in the Gulf.
7 Jun 2018 - Our CO briefing Imam Asim Hafiz, Islamic Religious Adviser to the UK Chief of the Defence Staff and the UKMCC Command ahead of the Iftar event held at the new Naval Support Facility.
7 Jun 2018 - HMS Bangor dressed ship overall in preparation for the ceremonial sunset at the Iftar event and hosting our Bahrain friends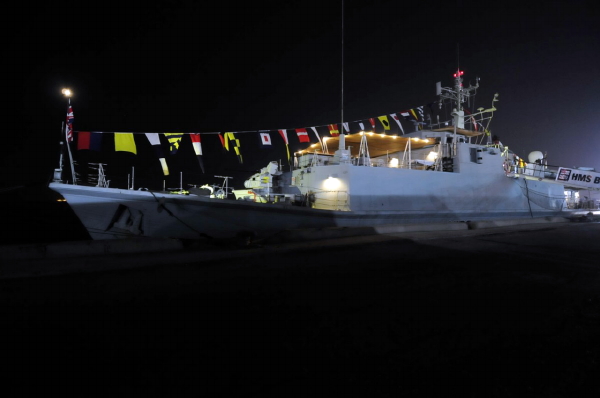 .
HMS Chiddingfold (MCM2 Crew 4)
16 Jun 2018 - HMS Chiddingfold is enjoying a well earned visit to Caen after Ex CATAMARAN 18, providing a great opportunity to visit the very humbling historical locations in Normandy.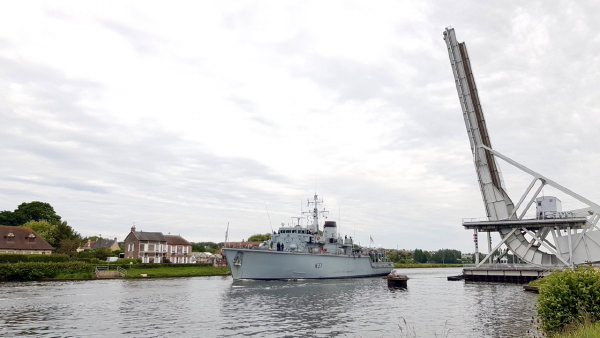 7 Jun 2018 - HMS Chiddingfold enjoyed being part of the 'show of force' during Ex CATAMARAN 18.
6 Jun 2018 - UK Mine Counter Measures Ship HMS Chiddingfold operating at its best alongside defence partners France as part of the Combined Joint Expeditionary Force during Ex CATAMARAN 18.
5 Jun 2018 - HMS Chiddingfold dive team preparing to support tactical mine hunting operations with the Marine Nationale during Ex CATAMARAN 18.
4 Jun 2018 - HMS Chiddingfold is now successfully integrated into Ex CATAMARAN 18 with some of our French partners from FS Aquitaine, FS Andromède and FS Pégase.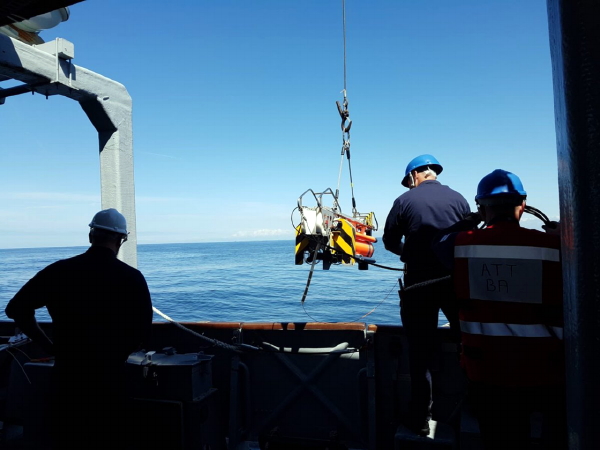 3 Jun 18 - HMS Chiddingfold enjoys conducting sea replenishment approaches with FN Andromede - one of her Marine Nationale partners for UK/French Exercise CATAMARAN 18.
31 May 2018 - The Ship's company of HMS Chiddingfold have had a great time in Brest working alongside the Marine Nationale, including FS Pégase and FS Andromède, ahead of Exercise CATAMARAN 18.
HMS Ledbury (MCM2 Crew 5)
11 Jun 2018 - Dressed overall and looking smart for the Iftar event with many VIPs attending.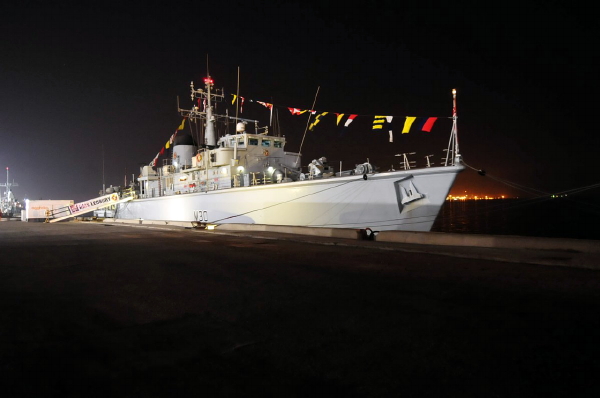 11 Jun 2018 - Great day at sea having a multitude of coalition nationalities and our own Gibraltar Regiment onboard to see what HMS LEDBURY can do.
HMS Middleton (MCM2 Crew 2)
31 May 2018 - During a busy maintenance period alongside in Bahrain, HMS Middleton ensured time was allocated to engaging with the local community, cementing relationships in the country and rewarding crew members.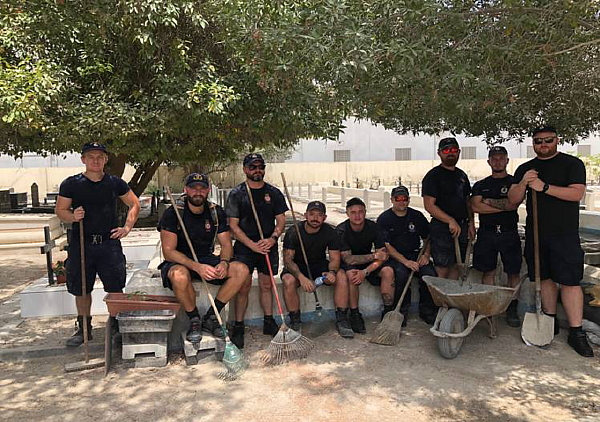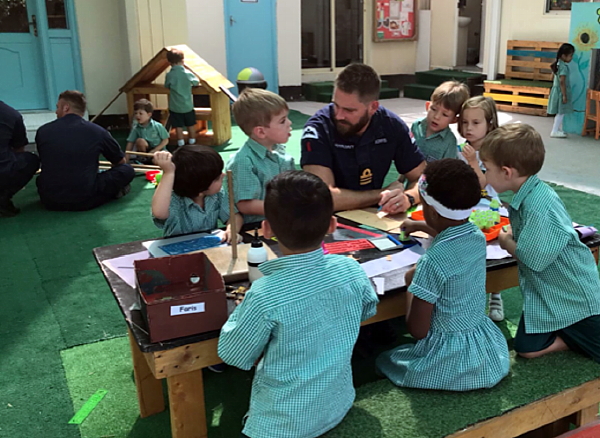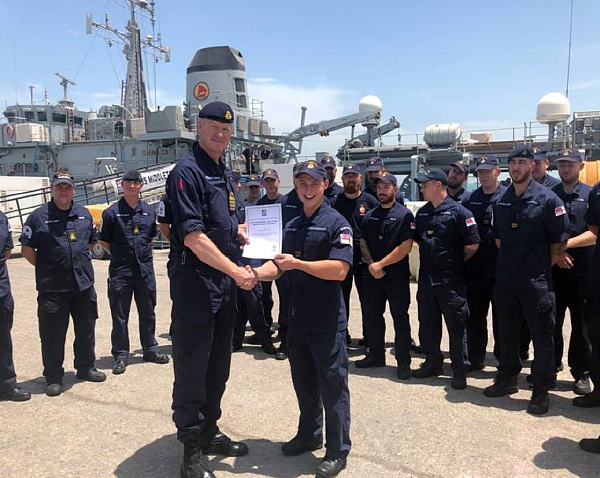 HMS Pembroke (MCM1 Crew 5)
15 Jun 2018 - Well, it's an end to MCM1 Crew 5 tenure! We've had a blast in PEMBROKE, sailed several thousand miles, supported SNMCMG2, completed FOST training and are now ready to join COMUKMCMFOR and HMS Blyth. We hand over to the awesome Crew 6, who'll look after her!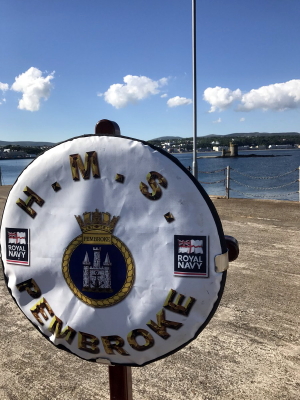 Captain MFP
16 Jun 2018 - Well done Crew 5 on your successful Generation. Looking forward to following your progress on Ops.
HMS Pursuer
11 Jun 2018 - HMS Ramsey suffers a twin-axis attack from her fellow Scottish unit HMS Pursuer and HMS Trumpeter as part of NATO's BALTOPS 18 exercise.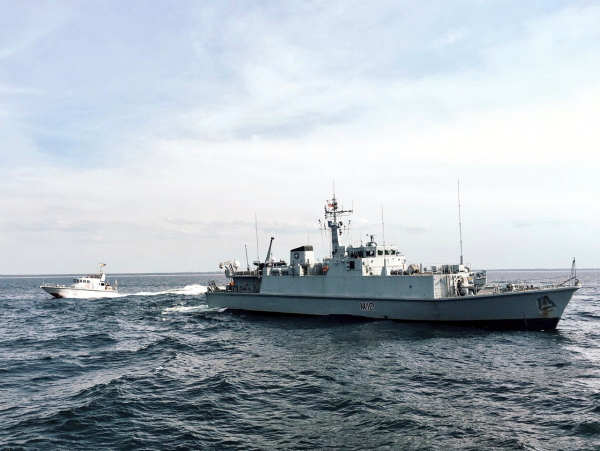 MASTT
15 Jun 2018 - The atrocious weather from Storm Hector has now abated however, grey skies remain over Scotland while the RN Sweep Team continue Influence Sweep Launch and Recovery Drills.
11 Jun 2018 - RN SWEEP Portable Command Centre (PCC) from where the Supervisor and Operator control the USV (RNMB Hussar) on her Sweeping missions. The erected mast carries antenna for audio and visual communications between the PCC and Hussar.
11 Jun 2018 - Reflecting on the last set of RN SWEEP Trials as MASTT prepare for the next 2 weeks of Trials, in Scotland.
5 Jun 2018 - Celebrating the promotion of two of our AB(MW)s to LS(MW) today. If you want to be at the forefront of RN UUV/USV Autonomous Technology and support 1SL's vision for RN Autonomy, a post at MASTT will broaden your MCDO, MW, L/POET(WE), L/POET(ME) and LWTR careers! Speak to your CM!
RN in Scotland
10 Jun 2018 - This morning the Commanding Officer HMS Grimsby laid a wreath at the Iolaire Memorial at the Beasts of Holm in Stornoway in memory of the 201 Royal Navy and Royal Naval Reserves lost so close to home nearly a century ago.
9 Jun 2018 - This evening HMS Grimsby celebrated the Queen's Birthday & World Gin Day with a Reception in Stornoway. Guests included Lord Lieutenant of Western Isles, local SAR, and Stornoway Harbour Youth & Cadet leaders, Veterans & Armed Forces Covenant Employers.
9 Jun 2018 - Western Isles Scouts, WI Explorers, 1st Battalion Highlanders Army Cadet Force (Isle of Lewis), Air Cadets on board HMS Grimsby in Stornoway today finding out what life is like on a Royal Navy Mine Hunter.
1st Battalion The Highlanders Army Cadet Force
12 Jun 2018 - Our Western Isles Company cadets had an excellent afternoon on board HMS Grimsby on Saturday to learn more about the RN in Scotland and the role of the Mine Hunter vessels.
8 Jun 2018 - Fàilte gu na H-Eileanan an iar HMS Grimsby alongside in Stornoway harbour this weekend.
Captain MFP
8 Jun 2018 - Great work HMS Grimsby - Royal Navy in the public eye.
2 Jun 2018 - Another glorious day on the West Coast. HMS Grimsby alongside railway jetty in Kyle of Lochalsh with Skye in the background.
Proud of Portsmouth
15 Jun 2018 - As the fishermen fish, we welcome our Belgian friends aboard BNS Narcis. Enjoy your weekend in Portsmouth.
---
15 Jun 18 - MCMV changeovers in the Gulf
MCM1 Crew 5 has handed over HMS Pembroke to MCM1 Crew 6 in the UK and will shortly relieve MCM1 Crew 4 on board HMS Blyth with UKMCMFOR on Operation KIPION in the Gulf. Another crew is expected to relieve MCM2 Crew 5 in HMS Ledbury.
HMS Bangor (1/2) is being relieved by HMS Shoreham (1/3) and HMS Middleton (2/2) by HMS Brocklesby (2/3).
---
14 Jun 18 - Award of LS&GC, etc.
Congratulations to WO1(MW) Chris Applegarth, WO1(MW) Steve Harvey, WO1(MW) Steve Moss, CPO(D) Simon Crew, CPO(D) Rich Edwards, CPO(D) Darren Powell, CPO(D) I A W Shepherd, PO(MW) I D Barton, PO(D) N W McPherson, PO(D) Jonathon Stewart, LS(D) Mike Evered and LS(D) Sean Mobley on being gazetted for the award of the first clasp to their LS&GC (Long Service & Good Conduct) medals.
Congratulations to PO(D) Toby Jones, PO(MW) Mark Titman and LS(D) Matthew Ashbridge on being gazetted for the award of the LS&GC.
Congratulations to PO(MW) B Lawrence RNR on being gazetted for the award of the VRSM (Volunteer Reserve Service medal).
---
13 Jun 18 - RN Diving Heritage: Another pioneer clearance diver's biography
Earlier this year, Clearance Diving branch legend Eamon 'Ginge' Fullen helped compile an autobiography of Jim 'Guns' Cannon titled 'Chronicles of a Clearance Diver - The First of the Few' (see entry for 25 Feb 18 in News Archive 61).
Ginge has now captured the extraordinary life and career of Alan 'Yorky' Wilkinson and kindly sent me a copy of this book titled 'Chronicles of a Clearance Diver - Yorky Wilkinson'. It contains more familiar names than you can shake a stick at and provides detailed accounts and photos. many from this website, of those who built the branch into what it is today.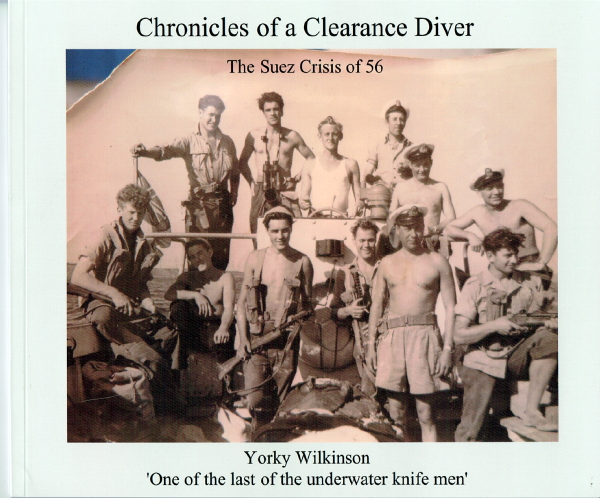 Yorky was born in York in 1935 and joined the Royal Navy at Victoria Barracks in Portsmouth at the age of 15. He qualified as a Shallow Water Diver at HMS Defiance in Devonport and subsequently as a Clearance Diver on board HMS Deepwater at HMS Vernon in 1955. His time in the diving branch included drafts to the Malta-based Mediterranean Fleet CD Team, the Home Fleet CD Team embarked in HMS Dingley, Captaiin Weapons Trials & Acceptance (CWTA) CD Team and the Admiralty Experimental Diving Unit (AEDU), the latter two based at HMS Vernon. In 1960, after nine years in the RN, he joined the police force before going to dive offshore.
While with the Med Fleet CD Team, he was actively involved in the filming of 'The Silent Enemy', the glamorised and generally spurious account of Cdr Lionel 'Buster' Crabb OBE GM RNVR countering raids by Italian charioteers on shipping anchored off Gibraltar during the Second World War. It was mostly Lt 'Bill' Bailey CBE DSC GM* RNVR who led the Underwater Working Party and performed the deeds attributed to Crabb (see entry for 17 Sep 17 in News Archive 59).
Ginge's book should soon be available to buy via the RN Clearance Divers' Association (RNCDA).
---
12 Jun 18 - Gentlemen Who Lunch
The gorgeous weather meant that the regular gathering of the MCDOA's 'Not Quite the Last of the Summer Wine' trio of Barlow, Holloway and Hoole involved the consumption of spicy fish soup with breadsticks and chilli dip al fresco at The Sussex Brewery in Emsworth today.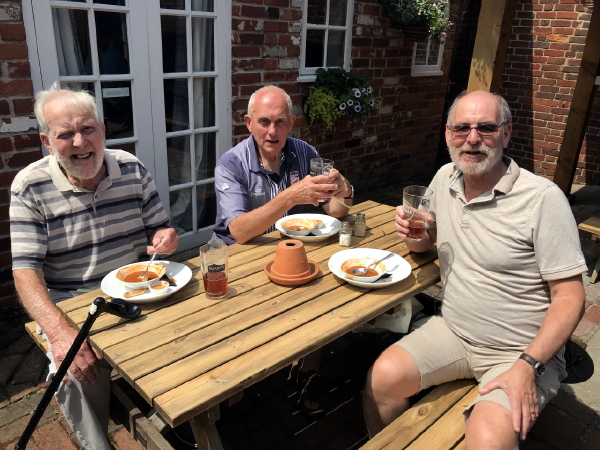 Our informal 'good pub guide' rating for this traditional hostelry is 4 mines (or diving helmets) out of 5.
---
11 Jun 18 - 'Home Waters' signed by Paddy MacAlpine now available
Having exhausted previous stocks, I have now taken delivery of a second consignment from the USA of 'Home Waters - RN, RCN and USN Mine Forces Battling U-Boats in World War I' containing forewords by highest ever ranking RN MCD officer Rear Admiral Paddy McAlpine CBE and former COMINEWARCOM Rear Admiral Paul Ryan USN. I have co-authored the book with Cdr David Bruhn USN, a fellow past-CO of MCMVs in the Gulf.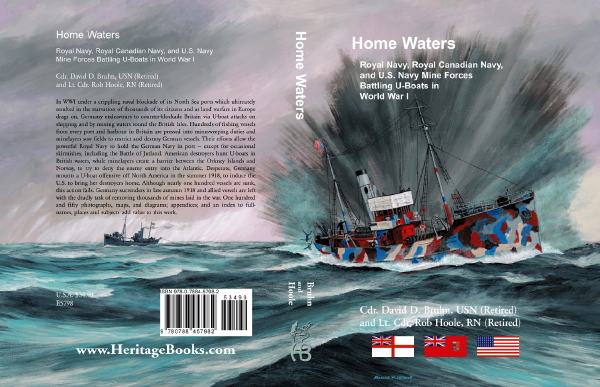 Today, MCDOA past-President Paddy MacAlpine was kind enough to personalise my remaining stock of copies with his signature.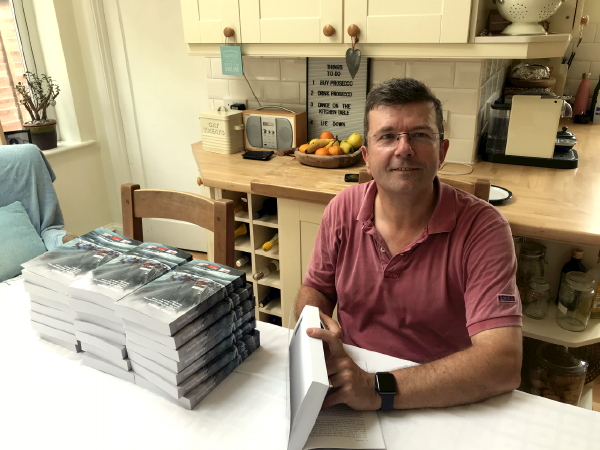 Read Paddy's foreword, among others, via my co-author's webpage here:
Unsigned copies of the book are available from Heritage Books in the USA at a cost of $74.99 (currently £52.69) including overseas P&P vis this link:
'Home Waters' at Heritage Books
Alternatively, email me via my Webmaster address and I will send you a copy signed by Paddy, inscribed by me if desired, on receipt of £30, including UK P&P. I will donate £10 towards the Vernon Minewarfare & Diving Monument for each copy purchased. So far, I have been able to add £500 to the fund with more in the pipeline.
A second book titled 'Night Raiders: US Navy, Royal Navy, Royal Australian Navy, and Royal Netherlands Navy Mine Forces Battling the Japanese in World War II' is due out in the autumn and a third book, titled 'Enemy Waters - Allied Minelaying against German and Italian forces in World War II', is planned for release next year.
---
10 Jun 18 - MCDOA members having fun in the sun
MCDOA member Grenville Johnson MBE, one of my course mates on LMCDO '76, has lived and worked in the Middle East for several years. During the past few days, he and his wife Sandra have been staying with fellow MCDOA member Dougie MacDonald at their home near Chichester. This afternoon, Mrs Webmaster and I were privileged to attend a barbecue at Dougie & Pat's house with Grenville & Sandra, MCDOA past-Chairman Dave Sandiford & his wife Pauline, MCDOA member Martyn Holloway & his wife Ann (plus their son William visiting from San Francisco) and MWA Chairman Dixie Dean MBE and his wife Paula. As can be imagined, the beer, wine and dits flowed fast and furious.
Holloway, MacDonald, Johnson, Sandiford, Dean, Holloway Jr and Hoole
chez MacDonald today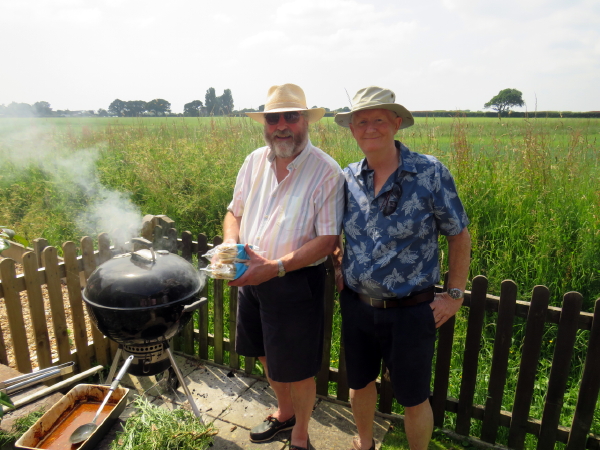 ---
9 Jun 18 - AORNFCD Reunion
I dropped into the annual reunion of the Association of RN First Class Divers (AORNFCD) at the Royal Maritime Club in Portsmouth last night. Some members had melted away earlier but these stalwarts were among the survivors: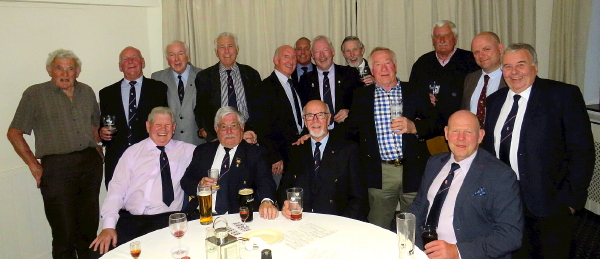 AORNFCD members at the RMC last night
---
8 Jun 18 - D-Day minesweeper veteran follow-up
In June 2013, your humble Webmaster and his wife hosted D-Day veteran Cyril Banks when he arrived at Portsmouth on the afternoon ferry after attending the D-Day anniversary ceremonies in Normandy (see entry for 16 Jun 13 in News Archive 42). He stayed with us overnight before completing his journey to his home in Hertfordshire.
Cyril Banks chez Hoole with his Légion d'Honneur
Cyril served as a Seaman Gunner on board the Algerine class minesweeper HMS Ready which was among the earliest ships off the heavily-defended Normandy invasion beaches (specifically Gold Beach). She swept her first mine at 2300 on the night before D-Day.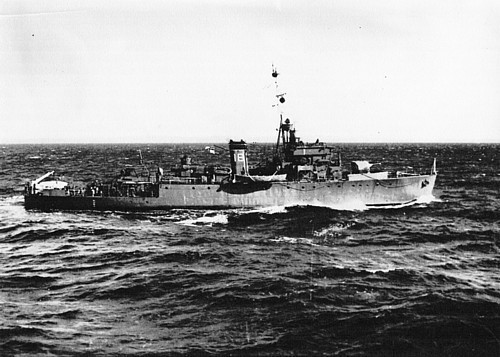 HMS Ready while assigned to the 18th MSF in 1943
While catching up with Cyril, I stumbled upon this bittersweet article on the BBC News website:
Cyril Banks: Scammed WWII veteran donates £9k to charity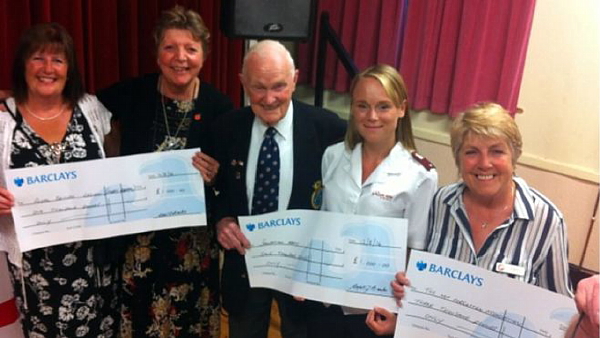 It seems that all's well that ends well and it looks as though this incident has not put Cyril off his charity fundraising activities judging from this article on the Chelmsford & Mid Essex Times website:
Officers meet Second World War veteran at Stansted Airport
---
7 Jun 18 - Post D-Day mining casualties
On the morning of the D-Day assault, channels and boat lanes were swept into the beaches. These operations were broken down into 100 different serials, complicated by bad weather and severe cross-tides. The original intention had been for the fleet sweepers to wire-sweep and the coastal sweepers to influence-sweep but soon the fleet sweepers were also influence-sweeping and the BYMS, US YMS and some of the MMS were wire-sweeping on a wide scale too. Despite coming under coastal battery fire and attack by E-boats, minesweeping casualties were relatively light at the beginning but the fleet sweeper USS Tide was mined on 7 June.
Among other ships, mines claimed the destroyer USS Corry off Utah Beach three minutes before the assault hit the beaches and the American PC 1261 and 16 landing craft were lost later that day. On 7 June, the fleet destroyer HMS Swift was mined together with three more landing craft. On 8 June, the destroyers USS Glennon and USS Meredith, the destroyer escort USS Rich, the British netlayer Minster, the US LST 499 and several landing craft were all sunk in the same minefield while the destroyer USS Harding was heavily damaged.
Perhaps the greatest blow to British minesweeping forces occurred when three Catherine Class BAMS were lost off Normandy over a three day period a month after D-Day. On 6 July HMS Cato and HMS Magic were sunk by Marder or Neger human torpedoes. On 8 July HMS Pylades was sunk by a Marder or Neger. Some sources state Biber midget submarines were among the perpetrators but according to Enrico Doering (one of the Biber operators based at Fecamp), Bibers did not start operations off Normandy until August 1944.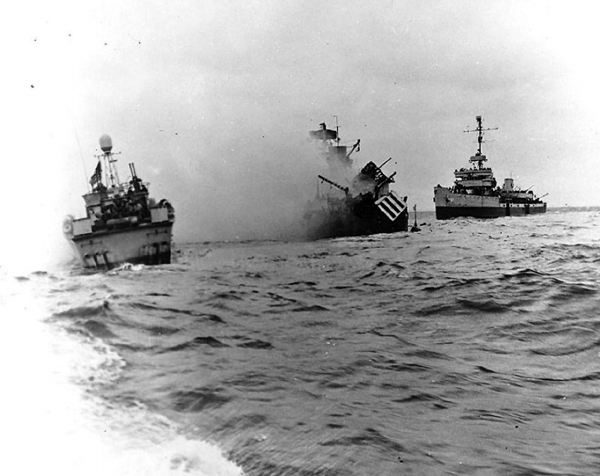 USS Tide after being mined on 7 June 1944
---
Operation NEPTUNE. Minesweepers and divers made D-Day possible.
---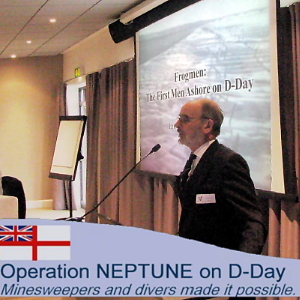 See 'Operation Neptune: The Minesweeping Operation 5-6 June 1944' and 'Operation Neptune: Frogmen - The First Men Ashore on D-Day' in the website's Dit Box.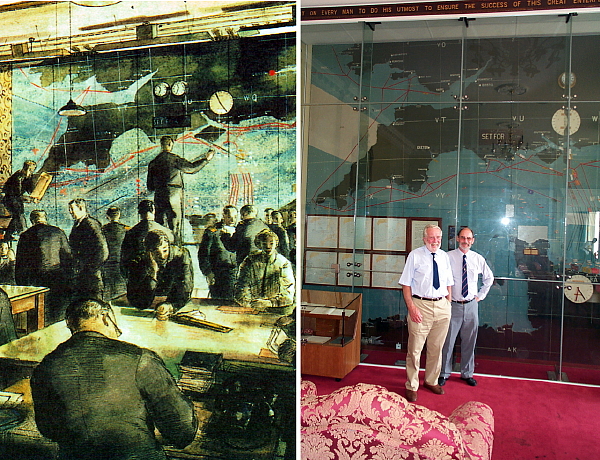 MCDOA members Doug Barlow and Rob Hoole in the Map Room at Southwick House near
Portsmouth in 2004 when it was still the wardroom of HMS DRYAD. General Eisenhower
had used it as his HQ for Operation OVERLORD, the Allied invasion of Normandy
---
6 Jun 18 - HMS Vernon's mining contribution to D-Day
From 'The Torpedomen - HMS Vernon's story 1872 - 1986' by Rear Admiral Nicho Poland CB CBE:
"...The major mining operation to cover the Normandy landings involved almost all existing means of mine laying; 1,3,4,5 and 6 Groups Bomber Command, the minelayers Apollo and Plover, five MTB flotillas and four motor launch flotillas...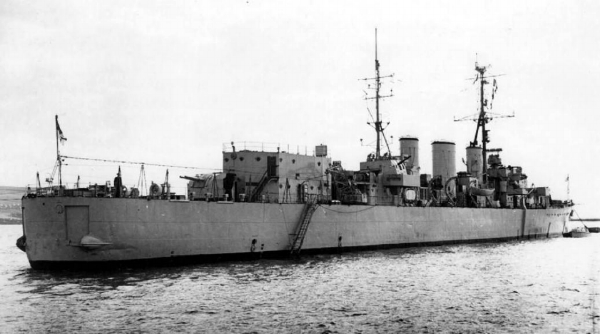 HMS Apollo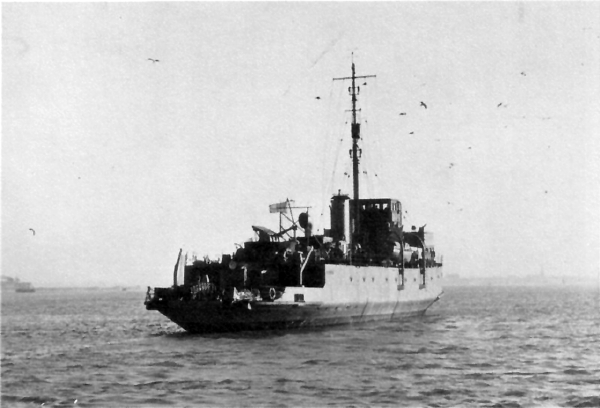 HMS Plover
Fairmile 'B' MLs (Motor Launches) with mines embarked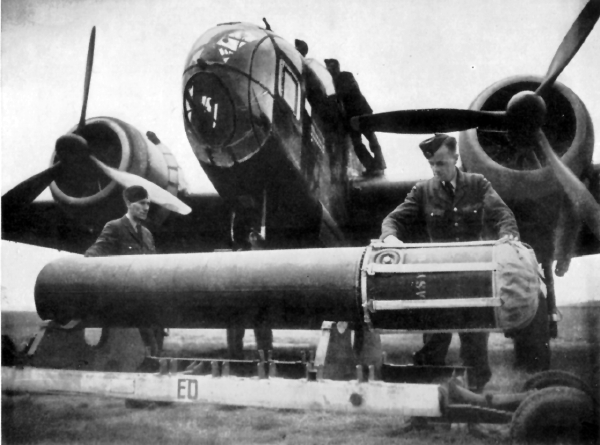 Magnetic ground mine (possibly A Mk V) being loaded aboard RAF Hampden bomber
before this type of aircraft was removed from service in 1943
The mining contribution to 'Overlord', Operation 'Maple', was designed to protect the invasion forces and landings themselves without compromising their security or endangering Allied shipping. This required delayed arming and accurate sterilising of mines at the right time. New variations introduced specially for 'Maple' were dual magnetic/low frequency acoustic actuators that were virtually impossible to sweep without specialised and clumsy equipment; MK XVII acoustic moored mines designed to deal with enemy coastal forces and the 2,000 lb A Mk VI dual magnetic and acoustic mines dropped from aircraft.
The operation began on 17 April and 7,000 mines were laid, 4,000 of them by Bomber Command. About 100 enemy vessels were sunk or damaged. An officer from VERNON(M) was attached to the Staff of C-in-C Portsmouth to coordinate 'Maple' with Overlord'. It had been planned well in advance but nevertheless there were problems in getting all the equipment prepared, especially the new devices. As the history of the Mining Department put it:
As the target date approached VERNON heard of one trouble and another which might postpone the date on which mines would be ready for her to carry out production trials. Each rumour had to be investigated and unfortunately some proved to be correct and VERNON had, eventually, to declare that no further postponement of her trials would be possible if the mines were to be used in the operation and to advise that unless an unqualified acceptance of the date was given the use of other mines would be recommended. The assembly of mines for trial was interrupted by the absence of various components. VERNON'S motor transport and officers' private cars were used to collect them.
When, after all this effort, the new mines were finally dispatched to the bomber groups an officer from VERNON went to check that all was satisfactory. It was not. There was a shortage of lugs and appropriate securing screws for the new Mk VIs and it needed considerable efforts on the part of the Vernon(M) officer to obtain them in time. The good relations previously established between VERNON, the Naval personnel serving at the bomber bases and the RAF was fully exploited in this rush to prepare the new weapons for use.
Other VERNON contributions to 'Overlord' were the testing of an underwater beacon, the PM 830 Buoy, and the training of coastal forces personnel in the laying and use of this important aid to navigation. This work was carried out in great secrecy and the buoys played an important part on 'D' Day..."
---
5 Jun 18 - First casualties of the D-Day landings
At about 1700 on 5 June 1944, the Raven class BAM minesweeper USS Osprey struck a mine in a moored minefield south of the Isle of Wight. The resulting explosion blew a large hole in the forward engine room. Fires broke out and the ship had to be abandoned at 1815. Osprey sank soon after with the loss of six men. These were the first casualties of the D-Day invasion.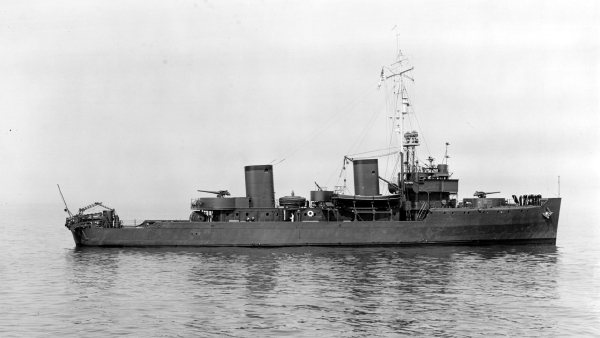 USS Osprey (AM-56) off the Norfolk Navy Yard, 19 April 1941
---
4 Jun 18 - SNMCMG1 engaged in BALTOPS
Standing NATO Mine Countermeasures Group 1 (SNMCMG1) is participating in Exercise BALTOPS in the Baltic Sea together with more than 4,700 sailors, airmen and marines from 22 Allied and Partner nations. This exercise is designed to improve flexibility and interoperability as well as exercise multiple warfare specialty areas including air defence, maritime interdiction, anti-submarine warfare and amphibious operations in a joint environment.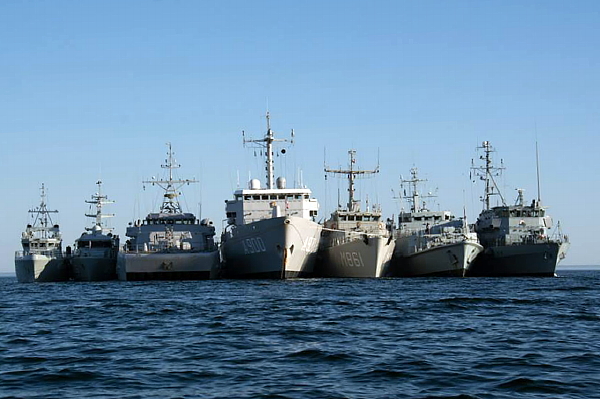 Ships of SNMCMG1 rafted up on the flagship HNLMS Mercuur in the Baltic during BALTOPS
SNMCMG1 currently includes HMS Ramsey (MCM1 Crew 8) seen second right in the above image (see entry for 31 May18).
---
3 Jun 18 - John Craig becomes Deputy UKMCC
Congraulations to MCDOA member John Craig on his appointment as Deputy UK Maritime Component Commander (UKMCC) Bahrain, Chief of Staff of the UKMCC Headquarters and Commanding Officer of the UK Naval Support Facility (UKNSF) Bahrain. For the past seven months, John has been Chief of Staff to the Royal Navy's Commodore in charge of deployed maritime operations and Commanding Officer of the Maritime Battle Staff. He had previously served as Deputy Commander CTF150.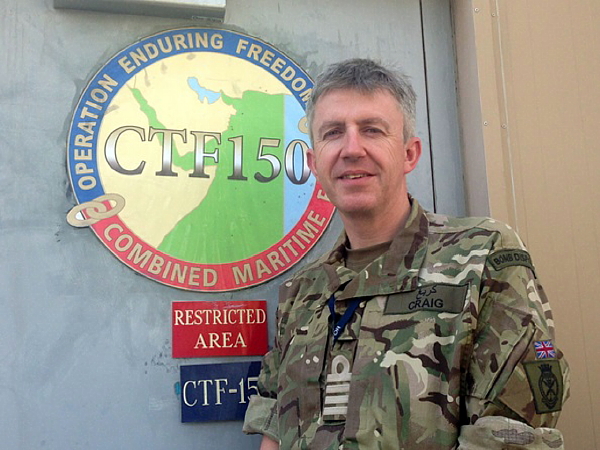 Capt John Craig RN when Deputy Commander CTF 150 in 2016
This Forces TV video about the UKMCC in Bahrain is over two years old but is informative. It features MCDOA member Steve White when he was commanding HMS Chiddingfold. Steve is currently preparing to generate as the next Commander UK MCM Force (COMUKMCMFOR) based in Bahrain.
---
2 Jun 18 - Ash Spencer takes over as COMUKMCMFOR
Congratulations to MCDOA member Ash Spencer on relieving Cdr Andy Smith as Commander UK MCM Force (UKMCMFOR) based at the UK Naval Support Facility (UNSF) in Bahrain.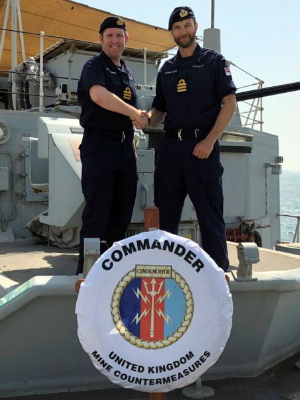 Cdr Andrew Smith handing over Command of
UKMCMFOR to Cdr Ashley Spencer
(RN photo)
---
1 Jun 18 - RN Diving Heritage: AB George Dougall 'Jock' Campbell
In the entry for 22 May 18, I announced the death in France of MCDOA member Norman Douglas 'Pip' Piper and included this photo of the Mediterranean Fleet Clearance Diving Team on Manoel Island in Malta in 1954: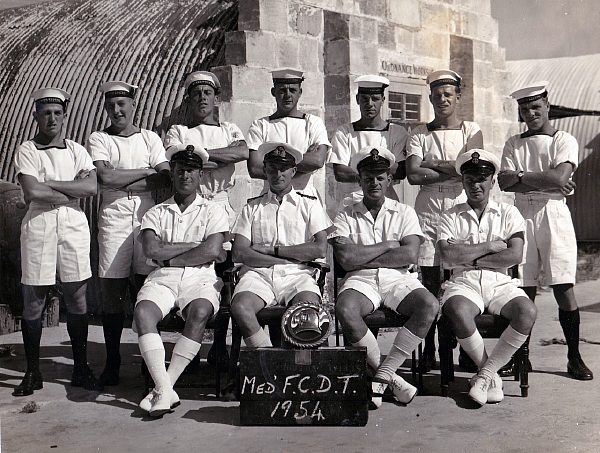 Back row: Scouse Davies (or Davis?), Robbie Robinson, John Dowds, Pricky Price, Nutty Carr, ?,
George 'Jock' Campbell
Front row: Sam Stanley, Norman 'Pip' Piper, Ginger Howe, Pete Cobby
Pip's daughter Michelle in New Zealand was under the impression that her father was the last surviving member of the team portrayed in the photograph. However, as a result of the website article, Lt Andreas (Andy) Wittmann RAN has since advised me that his father-in-law, George 'Jock' Campbell who served on the Med Fleet CD Team from 29 June 1952 to 2 July 1954, is alive, well and living in Brisbane. He is 88 years-old. Andy has supplied various photos and service documents and I have put him in touch with the RAN Clearance Divers' Association (RANCDA) which hopes to make a follow-up visit to Jock.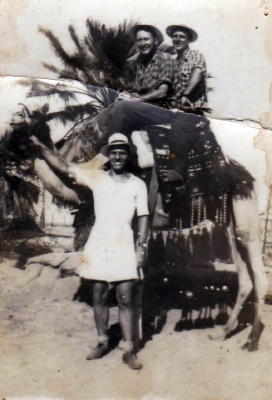 George 'Jock' Campbell was born in Glasgow on 24 Aug 1929. He served in the Royal Navy between 28 May 1947 and 23 Sep 1954. His ships and units included HMS Raleigh, HMS Howe, HMS Defiance/HMS Safeguard (where he qualified as an AB Torpedoman Diver 3 on 3 Nov 1948), HMS Drake, HMS Jamaica, HMS Tamar, HMS Defiance (where he qualified as an AB Torpedoman Diver 2 on 14 Sep 1951), HMS Lochinvar (where he qualified as an AB CD3 on 7 Apr 1952) and HMS Drake, HMS Fierce (Minesweeping HQ ship)/HMS Phoenicia and HMS St Angelo, the latter three all while serving on the Med Fleet CD Team.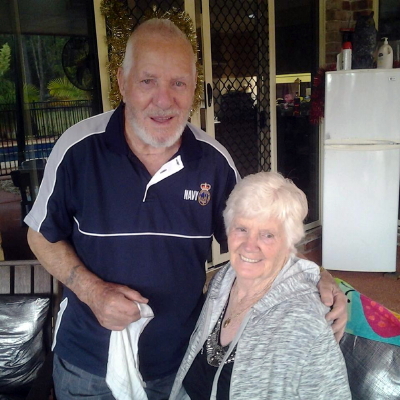 Jock and Margaret Campbell in Brisbane
I am delighted to set the record straight.
---
31 May 18 - HMS Ramsey sails to join SNMCMG1
The Royal Navy website contains this article announcing that HMS Ramsey (MCM1 Crew 8) sailed from Faslane last week to join Standing NATO Mine Countermeasures Group 1 (SNMCMG1).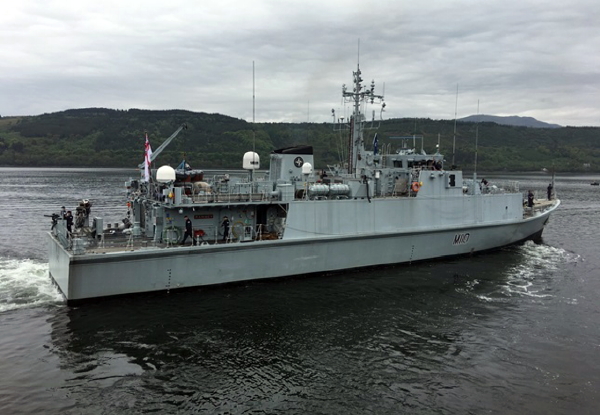 HMS Ramsey departing the Clyde Naval Base at Faslane
(RN website photo)
---
30 May 18 - Recent tweets
Click on the linked dates to see the many excellent photos and videos associated with the tweets:
Ministry of Defence
20 May 2018 - Sailors from Royal Navy Small Ships and Diving proudly lined the streets of the Castle at the Royal Wedding yesterday. Prince Harry is Commodore-in-Chief, Small Ships and Diving.
Royal Navy
30 May 2018 - Faslane-based minehunter HMS Ramsey sailed to join the Standing NATO Mine Countermeasures Group 1 (SNMCMG1) last week.
10 May 2018 - The 40 men and women of HMS Shoreham are ready to go from Gareloch to the Gulf after seven weeks' intensive training in Scotland.
10 May 2018 - Sailors on HMNB Portsmouth-based minehunter HMS Brocklesby are ready to track down and destroy underwater explosives in the Gulf after seven weeks' intensive training in Scotland.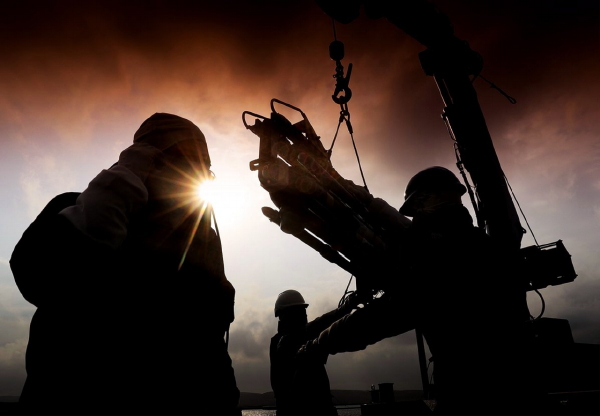 8 May 2018 - The lights of Royal Navy minehunters HMS Blyth, HMS Ledbury and mother ship RFA Cardigan Bay shine brightly on a fine night in Doha harbour as the bulk of the UK's Gulf mine warfare force (COMUKMCMFOR) visit Qatar.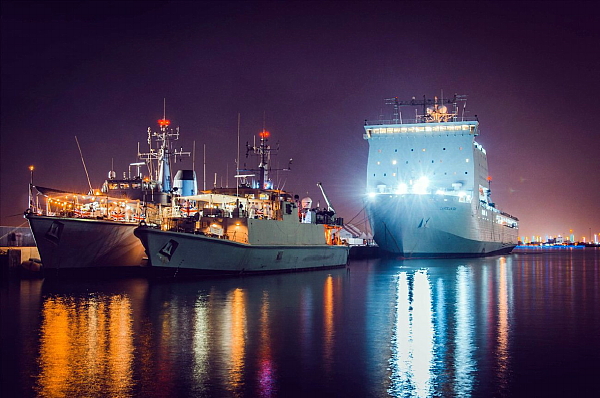 HMNB Portsmouth
9 May 2018 - HMS Brocklesby met up with HMS Shoreham this week for their Operational Sea Training, which saw them tackling fires, floods, combat, salvage operations, medical exercises and damage control that have all been simulated by FOST. Great photos from LPhot Will Haigh!
Captain MFP
20 May 2018 - Incredibly proud of the good work delivered by the Royal Navy's Southern Diving Unit 2 over the last 24 hrs, dealing with a 2nd World War German mine found near Bognor Regis. Throughout they ensured the British public were safe. Well done team.
20 May 2018 - Mission complete.
11 May 2018 - Very proud of our Forward Mine Countermeasures presence and the exceptional people of the MCM Community delivering success on Operations. Thank you to all the Naval Service families and friends for your unstinting support.
NATO Maritime Command
26 May 2018 - Rear Admiral Davide Berna, Commander of the Italian Mine and Hydrographic Countermeasure Forces, visited Standing NATO Mine Countermeasures Group 2 flagship HMS Enterprise while the group was participating in Italian MINEX last week.
Commander SNMCMG2
28 May 2018 - BLACKCAT leaves for another mission hunting mines with SNMCMG2 at Italian MINEX. Another day pushing technology forward in Defence.
27 May 2018 - On this day in 1999, NATO stood up a standing mine countermeasures group in the Mediterranean. First as MCMFORMED then MCMFORSOUTH and now SNMCMG2, we've delivered maritime security for 19 yrs! Thank you to all the sailors and families who have made it possible. Together we are NATO.
25 May 2018 - Filmed onboard HMS Enterprise the flagship of SNMCMG2.
25 May 2018 - Busy day at Italian MINEX. CMRE autonomous minehunting vehicles MUSCLE and BLACKCAT alongside minehunters. Gotta love the team t-shirts!
14 May 2018 - We're on our way to Italian MINEX off Sicily! Loved Palma and Spanish MINEX. Loads of dummy mines hunted, TCG ANAMUR found two historic live shells, lunch with local mariners and proved we can operate anywhere with NATO and EUROMARFOR colleagues.
HMS Bangor (MCM1 Crew 2)
29 May 2018 - Lt Guy Wadge RN from the UKMCC Media Team and Chris Keen from Forces Radio BFBS visited HMS Bangor to film Fathers' Day messages from our Ship's Company. There was just time for them both to pose for a photo in front of the camera rather than behind it!
27 May 2018 - HMS Bangor sailed with two members of her affiliated crew from USS Dextrous for a period of high intensity training exercises in the Arabian Gulf. The RN and US Navy regularly conduct exercises together, but rarely see exactly how the other does their business.
15 May 2018 - Delighted to have Ensign Carlos DeCordoba USN on board from USS DEXTROUS, one of our affiliated US minehunters. HMS BANGOR is conducting trials and training to ensure she is in the best material state for MCM operations.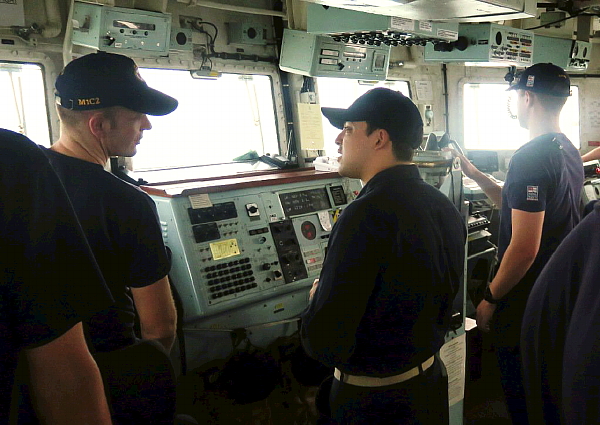 HMS Blyth (MCM1 Crew 4)
8 May 2018 - Divers from HMS Blyth conduct a live explosive disposal exercise on a drill mine, providing essential training for both the divers and the ship ensuring they are ready for Defence Ops.
8 May 2018 - On board HMS Blyth and HMS Ledbury, distinguished guests were hosted by respective ships' companies for a night of entertainment and ceremonial sunset.
8 May 2018 - RN Warships HMS Blyth and HMS Ledbury conduct OOW manoeuvres with QEN warship Al Ghariyah (Q02).
HMS Brocklesby (MCM2 Crew 3)
18 May 2018 - Great to welcome the Second Sea Lord on board BROC yesterday alongside at HMNB Portsmouth for his first visit to a MCMV in his new role.
11 May 2018 - Thanks for hosting us RN in Scotland. The scenery was epic! Great to work with HMS Pembroke, HMS Shoreham and the Marine Nationale on JOINT WARRIOR. Next stop HMNB Portsmouth with Pompey Revs.
11 May 2018 - Great to finish OST with HMS Shoreham and be back in HMNB Portsmouth.
HMS Chiddingfold (MCM2 Crew 4)
17 May 2018 - HMS Chiddingfold enjoyed a successful week at sea proving her diving and mine warfare capabilities in preparation for her upcoming exercises.
10 May 2018 - Glad HMS Chiddingfold could help provide a platform to help the training of Hampshire Police Dog Unit.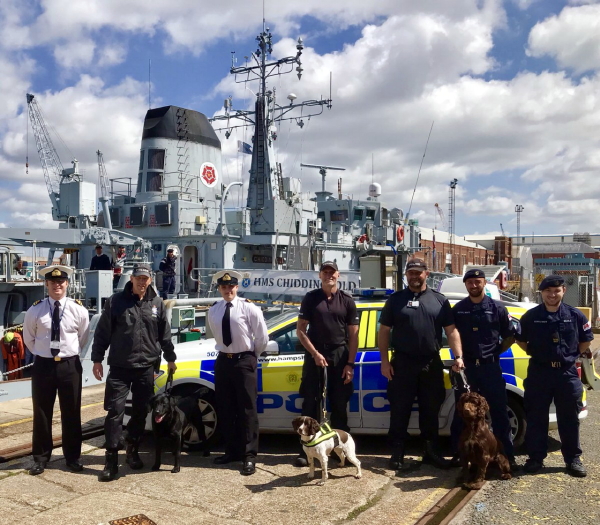 HMS Ledbury (MCM2 Crew 5)
22 May 2018 - Royal Navy minehunter HMS LEDBURY operating with USS SENTRY in the Arabian Gulf.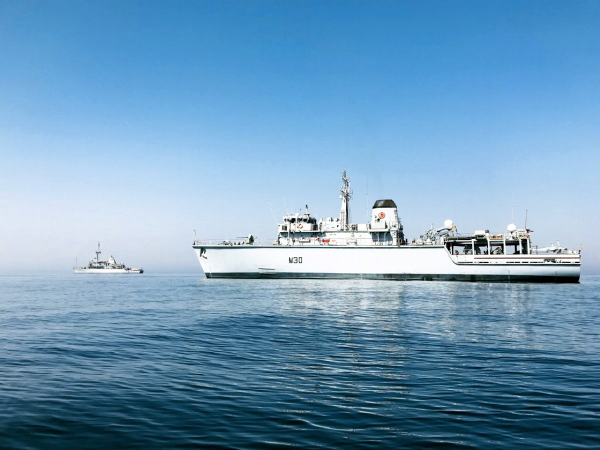 HMS Middleton (MCM2 Crew 2)
17 May 2018 - The Crew of HMS Middleton present the Head Boy and Head Girl of the Nadeen School in Bahrain with a plaque to record their names and the names of their successors.
7 May 2018 - Commanding Officer and sailors of HMS Middleton visiting Nadeen School in Bahrain further building relationships with the local community.
HMS Pembroke (MCM1 Crew 5)
28 May 2018 - Great day for some more training! Getting ready to join COMUKMCMFOR. Here we have mounted our 0.50 calibre machine guns to practice with this impressive weapon system. We're ready for anything, enjoying the bank holiday sunshine.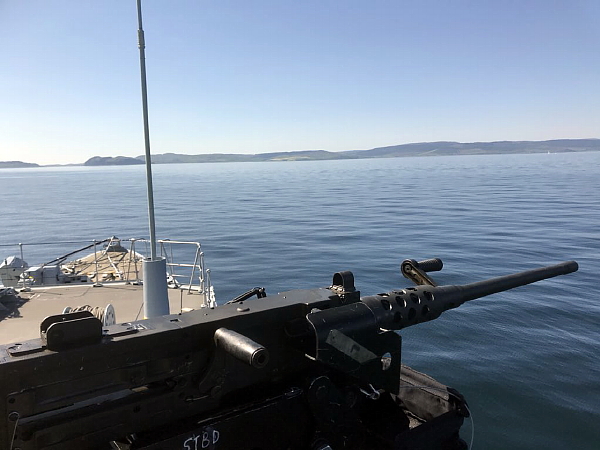 HMS Shoreham (MCM1 Crew 3)
21 May 2018 - Monday is always a good day for ship handling and seamanship! SHOREHAM out of dry dock and ready to deploy.
21 May 2018 - What a great way to start the week - with a promotion to AB1! Congratulations to AB Divers Pendrous and Turner, ET(CIS) Ballingall and AB Mine Warfare Specialists Brindley and Dodds.
18 May 2018 - HMS Shoreham in dock for a quick bit of maintenance and a bottom polish to make us that bit quicker during our deployment.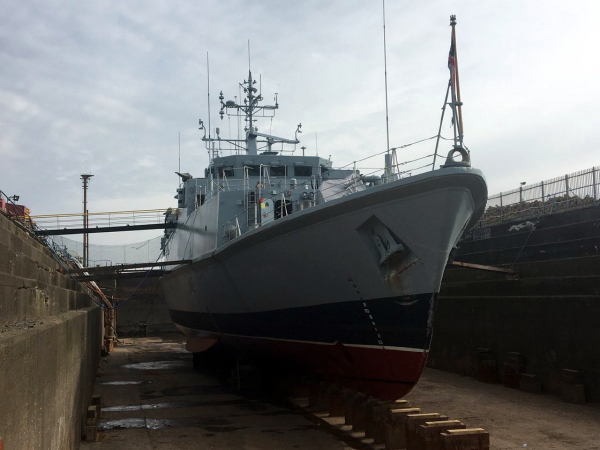 HMS Enterprise (COMSNMCMG1)
27 May 2018 - Sunday at sea. Our Italian allies recovered a dummy mine, and found an eight-legged friend - "Polpo" the octopus! This one was lucky to go back in the sea, not in the pot...
MASTT
22 May 2018 - Integrated into MASTT are personnel that make up the Royal Navy Mining Unit (RNMU). The Team lay and recover various Exercise Mine Shapes in support of tier 1 and 2 Training evolutions, in UK waters. The photo is of a range of mine shapes recovered after a recent exercise.
16 May 2018 - Discovered at the old site of HMS Dryad, largely buried and covered in bushes, a team from MASTT dug out this old Mk17 Exercise Shape. The shape will most probably be returned to DM Crombie, where it will be refurbished and reused (if considered a cost effective option).
15 May 2018 - It's amazing how quickly the weather can change in Loch Alsh approaches! That said Hussar was out again on Navigation Trials, towing her Sweep equipment behind her.
14 May 2018 - Returning to Kyle.
14 May 2018 - RNMB Hussar on her first trip out of Kyle of Lochalsh, enjoying a time trial.
RN in Scotland
29 May 2018 - A grey day in Balamory. Royal Navy minehunter HMS Grimsby alongside in Tobermory, Mull over the Bank Holiday Weekend. Superb local hospitality.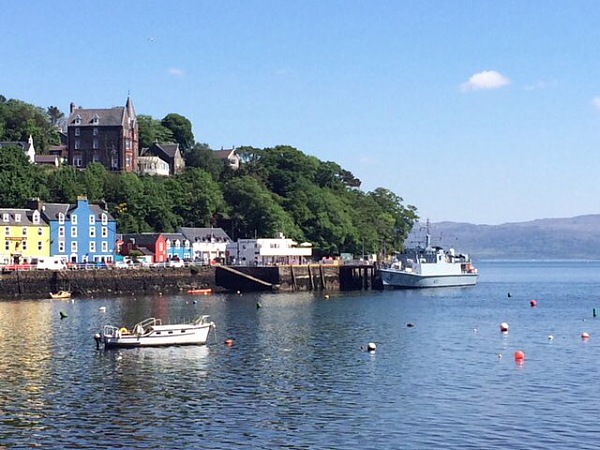 Tobermory Lifeboat
29 May 2018 - Thanks again for the tour. Here's a couple of pics for you, one from our station and the other as you departed Tobermory.
Tobermory Distillery
30 May 2018 - This weekend we welcomed the crew of HMS Grimsby, along with the cruise ship 'Boudicca' and her 1800 passengers, but don't worry, our shelves are now fully replenished!
NavyLookout
10 May 2018 - HMS Brocklesby conducts Operational Sea Training in company with HMS Shoreham.
Belgian Navy
16 May 2018 - Today, BNS Narcis countermined the first mine of operation OPEN SPIRIT 18. The starter's gunshot has been given. The Belgian Navy confirms the strong international cooperation with their NATO partners.
---
29 May 18 - Colin Welborn's message about a 'forgotten' cancer
Today's Portsmouth News contains this article reporting how an "amazing machine" called the Da Vinci Robotic System saved MCDOA past-President Colin Welborn from the grip of bladder cancer. It provides significant food for thought.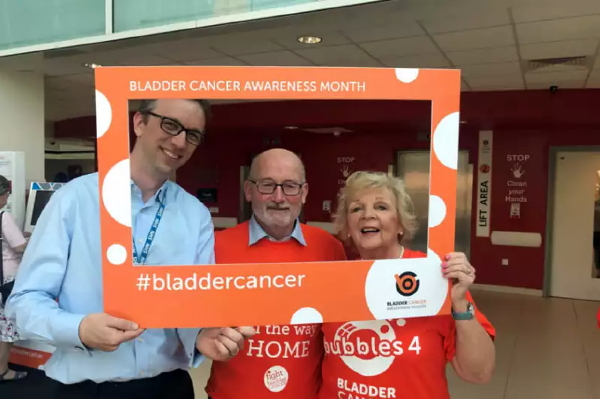 Colin Weborn, centre, with urologist Daniel Wilby and Fight Bladder Cancer volunteer,
Linda Rush at Queen Alexandra Hospital, Cosham
(Portsmouth News photo)
---
28 May 18 - Art exhibition at Diving Museum
The Diving Museum run by the Historical Diving Society (HDS) in No.2 Battery at Stokes Bay hosted an underwater art exhibition over the bank holiday weekend and I dropped in this afternoon for a look and a chinwag with old friend and colleague Dusty Miller. It was also good to see Dusty's fellow volunteer guides Martin Bellamy, Rob Watkins and Sam Pulman.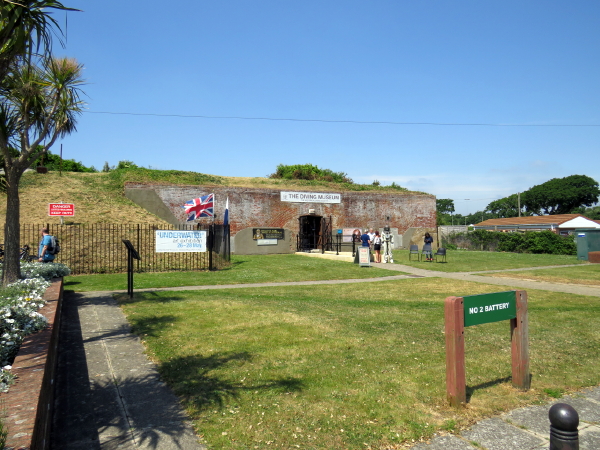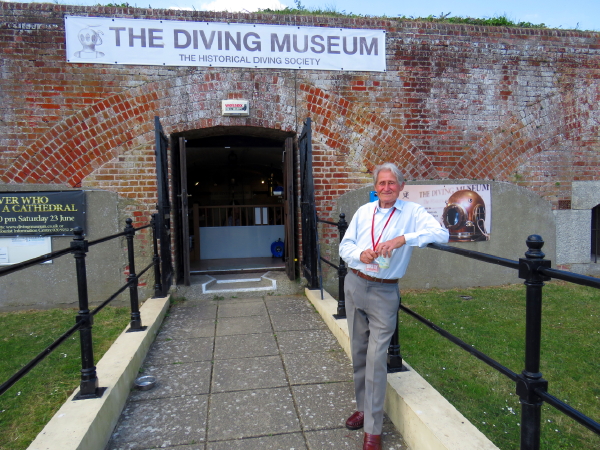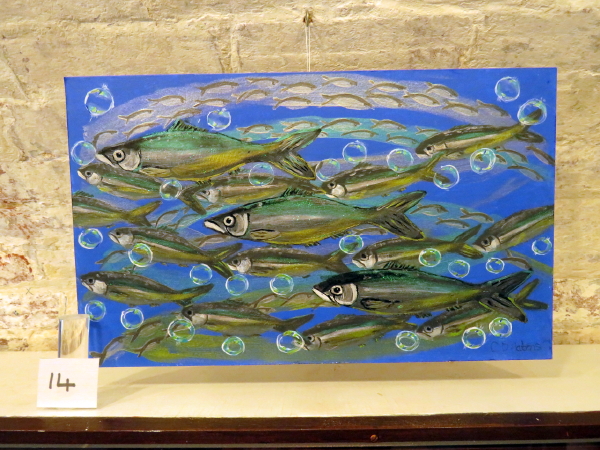 The exhibition included a superb portrait of museum volunteer guide former FCPO(D) John Dadd BEM in standard dress.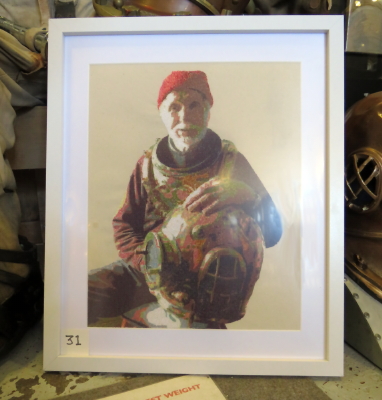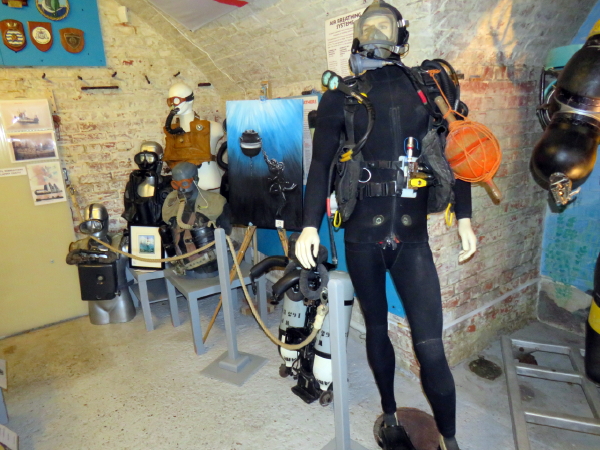 LOOP Magazine Director Blake Hopley informs me that he was inspired to create the painting on the left by Project Vernon, the campaign to erect a monument at Gunwharf Quays celebrating the minewarfare & diving heritage of HMS Vernon which previously occupied the site. This and his other painting on the right were voted among the top five exhibits by visitors to the museum over the weekend.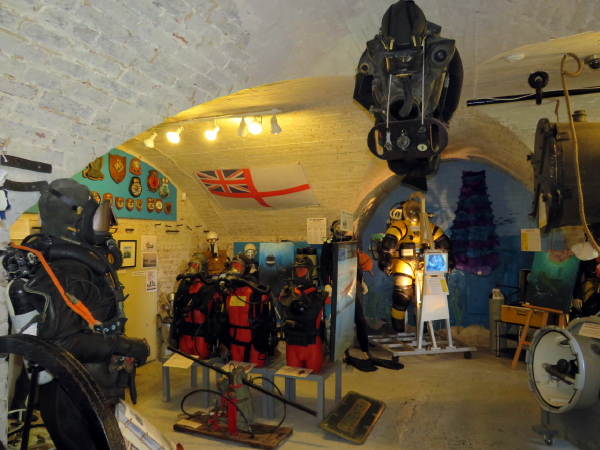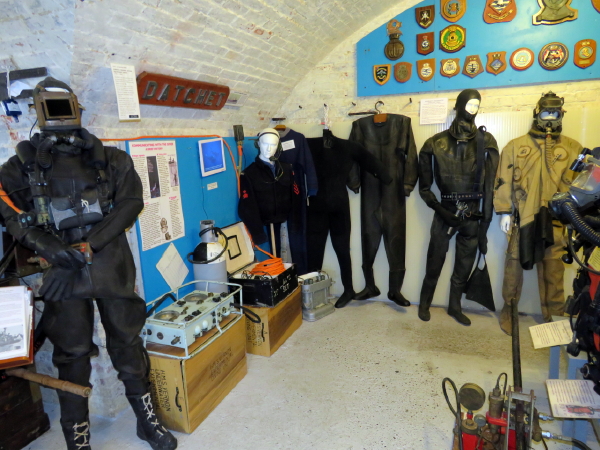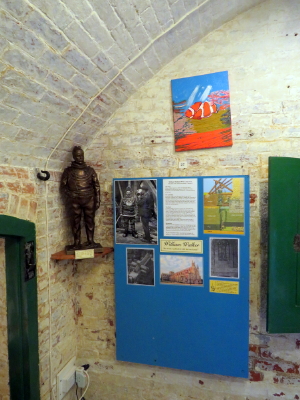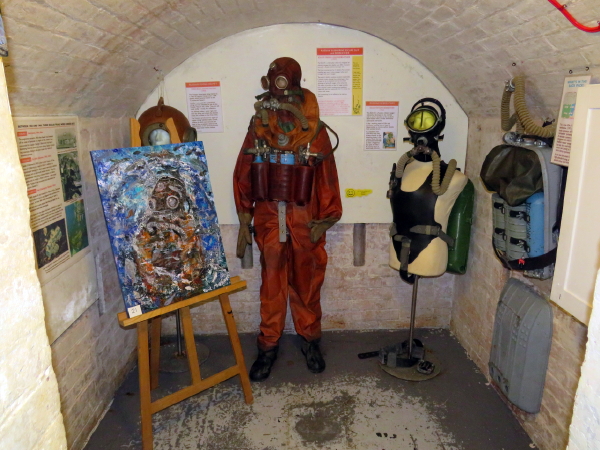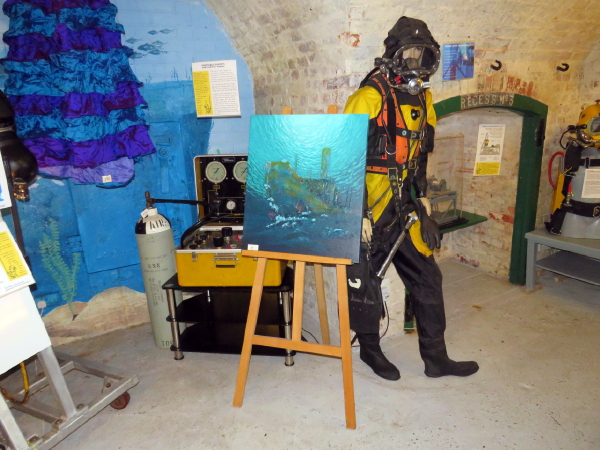 Just as I was leaving, ex-clearance diver Paul 'Yorky' Tudor turned up with his friend Emma.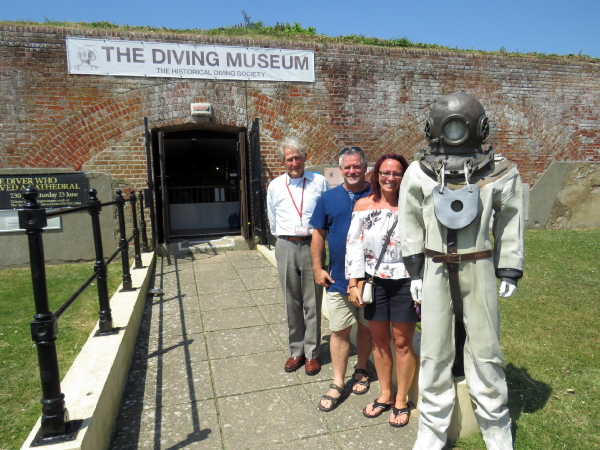 Postscript: It is incredible to think how far the museum has come since we first started work on it. Its prime mover, MCDOA member Dr John Bevan (seen in the first photo below), is not only founding Chairman of the HDS but is also a Trustee of Project Vernon.
---
25 May 18 - Funeral of Lt Cdr Brian Frank Dutton DSO QGM RN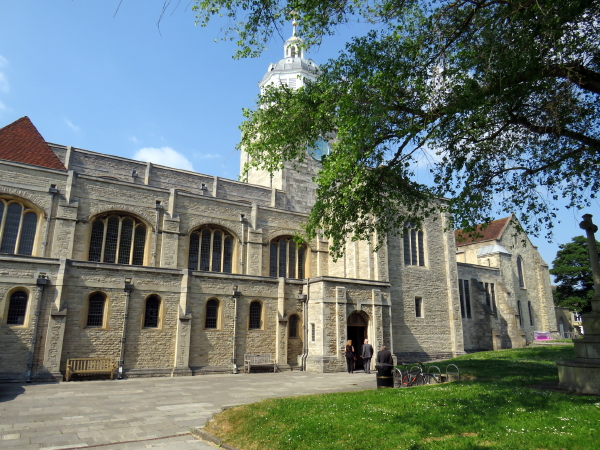 The quire of Portsmouth Cathedral was packed for Wednesday's Service of Thanksgiving for the life of MCDOA member Brian Dutton (see entry for 23 Apr 18 in News Archive 62). Attendees included many members of Brian's family plus friends, former colleagues and members of the MCDOA, the Portsmouth Retired Naval Officers' Association (PRNOA), the PTIs' Association and the Carpenters Company of which Brian had been the Beadle at Carpenters' Hall in the City of London and was subsequently made a Liveryman.
MCDOA members present included Norman Brookhouse (Brian's MW module course officer for LMCDO '69), Julian Malec OBE and Richard Lowther (course mates of Brian on LMCDO '69) plus Doug Barlow, Don Crosbie (Chairman), Bob Hawkins MBE, Martyn Holloway (Committee member), Rob Hoole (founding Vice Chairman), Geoff Goodwin, Bob Lusty, Ralph Mavin, Del McKnight, Chris Meatyard, Dan Nicholson, Roger Readwin (President), David Sandiford (founding past-Chairman) and Colin Welborn (past-President). I also spotted former FCPO(D) John Dadd BEM and Willy Owen. Rear Admiral Paul Bennett CB OBE (COMUKMARFOR) was also present in uniform
The service opened with Nigel Atkinson (HM's Lord Lieutenant of Hampshire) being escorted to his seat while the organist played 'Sheep May Safely Graze' by Bach. We were then welcomed to Portsmouth's 'Cathedral of the Sea' by the Rev Canon Dr Jo Spreadbury. The Rev Colin Noyce OCM RN of St Ann's church in Portsmouth Naval Base then provided a Welcome and Introduction. Colin is also the Chaplain for the Ton Class Association, among other naval organisations, and officiated at the funerals of MCDOA members Tag Caisley MBE, Tim Hildesley OBE, Ian Morton and John Hendrick, all chronicled on the MCDOA website.
The first hymn sung was 'Great is Thy Faithfulness' by Thomas Chisholm. This was followed by a period of Reflection and the Collect before Captain Roger Readwin RN (Captain Mine Warfare & Patrol Vessels, Diving & Fishery Protection) delivered this service tribute.
Lieutenant Commander Brian Dutton DSO QGM Royal Navy – Eulogy
Audrey, Bernard, Lee, Gary and all the family, as Captain Mine Warfare and Diving, thank you for inviting me to reflect on Brian's remarkable career in the Royal Navy, and please accept, on behalf of the Naval Service, our most profound and sincere condolences.
Having met Brian at last year's MCDOA annual dinner and enjoyed his company, it is a real privilege and honour to recount with you all now, how Brian was recognised for his service endeavours, through the national recognition of a Distinguished Service Order, DSO, and Queens Gallantry Medal, QGM. In doing so, I hope to underline the clear legacy which Brian leaves for today's Mine Warfare and Clearance Diving branch.
Lieutenant Commander Brian Dutton DSO QGM Royal Navy, joined the Naval Service in 1946 as a boy seaman. At just 16 years old, he was serving in HMS Belfast's 'A' gun turret during the Korean War in the early 50s.
A strong, fit and energetic sailor, he transferred to the Physical Training Branch on return to the UK, taking up the infamous role of a 'Club Swinger' back in the Fleet. As a member of the Physical Training Branch, he was 'Speedy Wheel' on several occasions for the Chatham Field Gun Team in the 1950s, the speedy wheel position carried at 150 lb wheel, competing at the infamous Royal Tournament at Olympia – I note that in 1951, Brian was part of the Chatham Field Gun Team with the fastest time. He rose to Petty Officer PT Instructor before being accepted as a Special Duties List Officer, Commissioning as a Sub Lieutenant in 1964. After service in Her Majesty's Ships Bulwark and Albion, the commando carriers, in 1969 he applied and was selected for training as a Minewarfare and Clearance Diving Officer.
Having served in minehunters, cutting his teeth as an MCDO, Lieutenant Dutton's first job in Bomb Disposal was as Officer-in-Charge of the Portsmouth and Medway Clearance Diving Team. This heralded the first recognition of Brian's gallantry when, with the support of his No.2, Leading Seaman Brett, they boarded the Suction Dredger THE SOLENT moored off Felixstowe on the evening of 3rd August 1974, to investigate a mine which was jammed solid in the vessel's drag head. The mine, a German Ground Type GD, is the most difficult and dangerous ordnance to render safe, of all the types used by the Germans in World War II.
After organising the evacuation of non-essential personnel from the dredger, Brian and Leading Seaman Brett commenced the difficult task of removing the mine from the vessel's drag head. Because of the location and condition in which the mine was discovered, the normal procedure for rendering the mine safe was not possible. The damage to the fuse in the dredging operation prevented identification and normal defusing procedure, requiring Brian to adapt the render safe procedure. Although aware that the fuse might be in a highly dangerous state, Brian and his No2, Leading Seaman Brett continued with the task until the mine was eventually freed, lowered to the sea-bed and detonated very early the following morning.
He was subsequently gazetted for the Queen's Gallantry Medal, a synopsis of the citation read; "Lieutenant Dutton's skill and calm efficiency and Leading Seaman Brett's courage and devotion to duty, during the prolonged operation were in the highest tradition of the Service."
Some 8 years later and now promoted to Lieutenant Commander, Brian was coming to the end of his commissioned service in the Royal Navy. In April 1982, whilst he was on terminal leave and looking forward to tending his roses, Argentina invaded the Falkland Islands. His terminal leave was subsequently cancelled, where upon he was appointed immediately as Officer in Charge of the hastily formed Fleet Clearance Diving Team 1, and dispatched to the South Atlantic as the Senior MCDO in Admiral Sandy Woodward's Task Group.
The Falklands Conflict, known officially as Operation CORPORATE, provided the most challenging Explosive Ordnance Disposal environment that the Clearance Diving branch had engaged in since World War II, and although our subsequent EOD exploits in two Gulf Wars, and in the High Improvised Explosive Device Threat in Iraq and Afghanistan, or at home in the disposal of historic ordnance, all continued to test our mettle – Operation CORPORATE was a defining epoch in the Mine Warfare and Diving branch's history. The assembled Fleet Clearance Diving Teams would be responsible for the disposal of bombs that had been dropped onto our ships without exploding, and repeating the gallantry of 8 years earlier, Lt Cdr Dutton was involved intimately with perhaps the worst case of several such operations.
During Argentine air attacks on 21 May 1982, HMS ARGONAUT was struck by a 1000 Ib bomb which did not explode. The bomb caused extensive damage and lodged between two missiles in the forward magazine, where it was also surrounded by damaged and extremely dangerous ordnance. Brian, as Officer in Charge of Fleet Clearance Diving Team 1, was tasked to remove the bomb in order to get ARGONAUT back into the fight. On arrival at the scene, his judgment was that the 1000 lb bomb was too dangerous to defuse in situ. Instead, he took the decision to lift the bomb from the magazine and hoist it overboard. The task proved extremely complex and hazardous requiring clearance of ammunition from the magazine and cutting through sections of the ship's structure. The operation took the team seven days, during which HMS ARGONAUT sustained further air attacks. The slightest jar or disturbance to the precise lifting angle would have resulted in an explosion which would almost certainly have caused the loss of the ship.
After his return from the South Atlantic, in October 1982, again, Brian was gazetted for gallantry, this time with the Distinguished Service Order, a synopsis of his citation read: "In spite of these difficulties, the bomb was successfully removed, largely due to the skill and ingenuity of Lieutenant Commander Dutton. He displayed staunch determination, steadfastness and courage of the highest order."
What is also remarkable about the award of the DSO, rather than the Distinguished Service Cross, is the rarity of its award to a relatively junior officer. The DSO is normally the preserve of more Senior Officers taking Operational Command of larger Squadrons and Task Groups, but such was his sustained operational leadership of all EOD forces in theatre, in difficult and sustained combat conditions, that the nation chose to go beyond the individual gallantry shown in HMS ARGONAUT, to recognise Brain's outstanding leadership overall during Operation CORPORATE.
The Falklands Conflict is now 36 years behind us, and although individual acts of gallantry by Clearance Divers have been regularly recognised, right up to a very recent award of the Queen's Gallantry Medal to one of our PO(D)s, there has not been another DSO awarded to a Clearance Diver since Brian was awarded his in 1982.
On his return from 'Down South' and having written up the Report of Proceedings and been thoroughly debriefed, Brian returned to his terminal leave and was finally allowed to retire with the nation's thanks. After leaving the Senior Service, Brian became a Post Office Master in Chartham in Kent, followed by taking up the role as the Beadle for the Carpenters Company, in which he also become a Liveryman, and then becoming Mayor of the town of Petersfield and Chairman of the East Hampshire District Council, whilst performing much charity work, including donating and fund raising for the Vernon Monument Project – a remarkable career and service to his country.
I'd like to now touch upon the legacy that Brian leaves for us in the Clearance Diving Branch.
His exploits have been highlighted amongst many outstanding acts of gallantry during the Falklands Conflict. One of Brian's citations mentioned, "the highest traditions of the Service", and along with Brain's colleagues who have now gone before us, it is their legacies which live on today in the DNA of our Branch.
But it is not just the selfless courage recognised by awards at a national level that defines us - it is the belief in something bigger than just ourselves - a genuine commitment to excellence and duty, which has become synonymous with our Clearance Diving branch and our core values, which was epitomised by Brian's service to his country. In the congregation today are many of Brian's Clearance Diver friends and colleagues. There is Commander David Sandiford, who latterly enjoyed Brian's support to Project VERNON, and who was Diving Training Officer (Navy) at HMS VERNON in 1982; in recent times David and Pauline have given much help to Brian and Audrey, being close neighbours. David was also the DTO when the then Sub Lieutenant Bob Hawkins was on LMCDO Course, and Bob has regaled me with stories of the awe and respect all those on course in VERNON had for our returning Falklands vets, and by osmosis their exploits influenced the way they approached their own careers, which has been carried on to the current generation, which in turn perpetuates in the young Clearance Divers that have turned out today to honour the passing of Lt Cdr Brian Dutton DSO QGM Royal Navy.
Rest in Peace now Brian; we have the watch.
Brian's sons Bernard, Lee (aka Frank) and Gary then delivered this family tribute:
Family Eulogy
Thank you for joining us in this celebration of our father's life.
To Bernard, Gary and me he was Dad, to you Audrey he was Husband, to others Step-Dad, Grandad and recently Gt Grandad; he was Brother, Uncle, and Great Uncle, shipmate, oppo, colleague and friend. We are here because he touched all of our lives.
Possibly some of you who were at sea or served with him knew him better than we did; that is often the way of RN service life. He worked hard to be what he was, dedication, hard work and loyalty were paramount and at times he might seem remote; however these are a few of our many fond memories of him.
When we three were very young we lived in Arbroath. Dad was a P.O. PTI then and we lived on a Caravan site outside Arbroath close to HMS Condor. Those three years were probably the longest consecutive period we ever spent with Dad. Bernard remembers there where trips to the cinema; he believes the first one, or one that he could remember was to see 'Treasure Island' with Robert Newton. There were many more cinema trips that followed.
He also taught Bernard and me to swim in the old swimming baths in Arbroath where he coached backward swimmers, which was often followed by a bridy and chips. There was also us being taken to play in the gym at HMS Condor and having a shower afterwards. Dad took Bernard to buy his first uniform when he joined the cubs.
Dad had to have an ingrowing toenail removed at HMS Condor. I can still see him coming along the road in working rig, one plimsoll with the toe cut off, the other complete and whole. Gary was a toddler in his high chair which he managed to push over directly onto the open toed plimsoll. Bernie and I learnt some new terms of English that day not in our primary school dictionaries…
From the mid-1960s we lived in Norwich. Often when he was at home, weather permitting, we would be at Holkam Beach in North Norfolk. On one of those Sundays, by which time he was an MCDO, Bernard, Gary and I went off and came across a set of small metal fins sticking out of the sand. As youngsters we were not fully aware of the dangers of what we had discovered. I saw £ signs as I knew the History Master at my school would often buy any bits and pieces we found. So we dug them up and took them back to the sand dunes. Luckily Dad's eyesight was especially eagle-eyed that day. He came charging down the beach shouting at us to drop the bombs which he promptly buried. He then had the task of reporting to the Duty MCDO that his sons had found some bombs, he was also muttering various things, more terms that were not in the school dictionaries… Later that day he had to do a virtual 180 degree handbrake turn, as on the way home from the beach, when having told him off, Gary said "There's plenty more where those came from".
Bernie, Gary and I all remember those early days in Norwich when, let's face it, Naval pay was hard to manage on and Dad had a frugal budget to keep us housed and fed. But we didn't go without as children. Dad was adept at carpentry and wooden forts appeared one Christmas, much to our delight, and carefully made with love and detail. Gary remembers loop the loops being made for a hotwheels track. They were too expensive to buy, but he made them along with the flattest subuteo football pitch stretched over a frame you've ever seen.
This was something dad was good at throughout his life. He was able to improvise and overcome, which having read the dispatches seemed to be the way he worked, being it clearing a sea mine stuck in a dredger, or removing a bomb from a ship's magazine; this approach being in the best traditions of the service.
By the mid 1970's we three sons were all serving in the RN at the same time as Dad. I think his secret dread was that somehow the Navy News would get hold of the story and expose that he had a home division and a gushy story and photos would appear. Luckily social media did not exist and his secret was kept. Unlike his secret plastic surgery: For some reason Dad had always been embarrassed about his nose. Somehow He had successfully applied and got the go ahead to have a nose job courtesy of the RN. This was to be done at and pre-op' photos were required RNH Haslar. Sadly for dad the person doing the pics was my very soon to be brother in law…..but of course we kept silent. When Dad did have his secret nose job we could not see any difference!
We did not always see eye to eye, what son-father does? Mine was over study, homework and exams. But if it had not been for him I would not do what I do today or have passed the Navy Nuclear Short and Long Courses which were intense. He had the last laugh as only he could only sign my papers, me being under 18, to join the RN only if I agreed to do the apprenticeship. Again no social media to Google and check out what exactly I would be doing, so rather than heading off to sea I was committed to two years of intense schooling before I ever crossed a ships brow.
I can say this on behalf of Gary: he freely admitts that when he moved to Portsmouth to live with dad, he was a bit of a feral child and was failing at school. Education became the byword, alongside many painful arguments over study. Dad told him that one day he would thank him for it. Well 42 years on, Gary continued to study throughout, passed his policing exams and with the encouragement of his wife Sheryl (a teacher), obtained a degree in law, whilst also doing his sergeant's exams and then rising to the rank of Inspector, which made dad proud.
The need for education remains strong within his family with his granddaughter Sian obtaining her Degree and Masters in History, his legacy through Gary and, of course, it has continued.with Sheryl I know Gary has mentioned to Dad that he was grateful for those painful early days, and once more he thanks you.
Sometimes our Naval paths would cross. On one occasion Dad turned up in Rosyth. Bernard was on HMS Bacchante and Dad was staying in the wardroom at Cochran Naval Barracks; he was up in Scotland for diving exercises. He and Bernard went to the 'famous' St Margaret's Hotel in Dunfermline. Some of Bernie's oppo's were going to be there too. They had a few drinks and Dad was congratulated by the lads on being awarded the QGM and Bernard on being rated A/LOEM, so they had a few more. It was a good run ashore and Dad accepted the congratulations with his usual humility. He joined in with laughs and jokes and told a story or two of his own, and had a few more drinks.
Dad had to be booted and spurred early in the morning so they caught a taxi back to Cochrane and were dropped off at the main gate to be confronted by a Master At Arms. "OK, you two, over here. Who are you?"
'This is my Dad, Lt Dutton. I'm just seeing him back," Bernard replied.
The MAA shouts to the Duty Leading Hand, "Get the duty steward down here - officer in high spirits. You (pointing at Bernard) Foxtrot Oscar" (or words to that effect….no school dictionary needed).
After the Falklands was over the list of those receiving medals was published and some of my shipmates on Conqueror alerted me that Dad was up for a DSO for his work on the bomb on HMS Argonaut. I could not let such an opportunity pass. No mobiles in those days, just a shore telephone in the control room. I can't remember what name I gave but I managed to get through to his office in Vernon and, posing as a Sun reporter, I asked him if he ever read it… There was a sort of hesitation as he said it was not his usual daily. With a group of the guys listening in, I said that the Sun was going to do a special report on heroes of the Falklands and that several of those awarded medals had already agreed to come to London and be interviewed and have photos taken. I then suggested that if we could get a mock up of a 500Lb bomb he could sit astride it with some lovely Page Three girls around him… There was a splutter and I could not hold it any longer and confessed. I think I heard a couple of expletives fired in my direction. They were in the Naval dictionary.
Post Falklands he had come up to Faslane on official business. Even though he was still being made redundant, the Navy in all its wisdom had decided he needed to learn how to render Polaris missiles safe should there ever be the need. Conqueror was alongside and we were about to go back on patrol. I was able to give him the full tour of the boat including the after ends not normally shown to visitors. I had made the OOD aware that he was coming on board and this must have been passed to the skipper, Commander Chris Wreford-Brown. Chris asked to be introduced and these two DSO winners met. One expressed a horror of going to sea in a submarine, the other about going under water in a rubber suit.
One last word. Many of you will have been recipients of the legendary November Christmas card. Dad's early cards were a sign that Christmas was probably only 5-8 weeks away; it was like seeing the geese fly south. Sadly this year we will miss those cards, but I am sure he will be getting his list together up there to make sure everyone gets one.. well ahead of the event.
Lee then read this contribution from his father's cousin Robin who had been unable to attend the service:
To my dear cousin Lt. Cdr. Brian F. Dutton, QGM, DSO.
Dearest Brian,
Regrettably, due to my inability to travel far at this time, Mary and I cannot be with you to honour and celebrate your remarkable life. But our thoughts will be with you and your family as they have been all my life and ever since Mary first met you over 54 years ago.
You were more like an older brother to me, just as your sister Marguerita was more like my sister. To my mother, Auntie Babs and my father Uncle Leslie, you and Marguerita were always part of our family and shared all our love and great admiration for you as a person.
I remember your early pre-teen years in MacDonald Avenue, being sent off to boarding school by your Mum when still very young. You were packed off at 8 years of age, I believe, to Fortescue House in Twickenham. This was followed by your apprenticeship into the Royal Navy on TS Arethusa on the Medway, and your memorable tales of scaling the rigging early each morning and moving out along the great spars of that permanently moored sail training ship: all this was the start of the making of a remarkable man who would later shine in an outstanding career in Her Majesties Service and continue to shine after you were retired from the Navy.
I remember your return into Chatham dockyard from the Korean War. As HMS Belfast sailed into the dockyard your family and mine were there to welcome you home. We, like countless families and sweethearts, were so excited to see you again after a long time spent at sea. You took me all over the ship: from deep down amongst the hundreds of hammocks where you slept and relaxed to the highest lookout point way above the bridge where we could see our home, Southend-on-Sea across the mouth of the Thames. You were a part of a 6-inch gun crew during the relentless bombardments. I was fascinated by how you described in great detail how each member worked together to load the big guns and the speed with which you managed this.
After all this, you remembered the presents for your Mum and my Mum. Beautiful tea sets, bought far away in Hong Kong. You said most had been shattered to pieces during the bombardments but amazingly yours had survived. They had that mark about them that you carried with you all your life, frequently exposed to danger after danger – survival! And it wasn't just luck that made this possible. In spite of the many early challenges and obstacles you experienced in your early life you were a very smart and aware young man, determined and destined to be a natural leader and a gentleman.
I was able to follow your life's travels around the world as each week my mother wrote to you, just as she wrote to Marguerita in Hong Kong and then Australia, and you wrote back to her with many fascinating tales of your travels and exploits. From the Belfast to HMS Bulwark carrying commandos around the World. You told us that you were looking after their physical well-being at the time as a PE instructor.
During my teens Brian was a key member of the Chatham Field Gun Team's annual involvement in the Royal Tournament. I visited them with my camera one cold winter morning, having crossed on the old oil-lamp lit Tilbury ferry. A gun crew member lost a finger that morning: you said it was not unusual. Back at the barracks the crew made me drink a full glass of good old thick navy rum which was followed by a very wobbly walk from one end of the barracks to the other, with the whole team's eyes upon me, shouting encouragement. It was like walking a never ending gang plank. But like you I was also determined, then to reach the other end of the barracks, at least partially upright and still standing.
I remember that time you asked your captain's permission to go ashore in Aden. "Why on earth do you want to go there" he retorted. "Well, I am meeting with the Mayor of Aden Sir," Brian replied. The Captain was taken aback. John Gapell was a long time Heath family friend. And welcomed Brian with all the honours his station could bestow. The Captain was apparently highly envious.
The climbing of Mount Kilimanjaro in Africa was another Royal Navy occasion when Brian scaled it in then rapid time with three ship board colleagues. Being given the sheep's eyes to eat in a tent in Arabia, although he told us he found it revolting, was another honour he received on an official naval visit.
Gradually Brian worked his way up through the ranks. It was a great celebration when he became a Petty Officer. Then there was the great occasion when Brian was made an officer and was stationed at the Royal Naval College in Greenwich as part of his preparation for this new responsibilities. He invited Mary and me, recently married, to join him for dinner in the Great Hall at Greenwich. It was a very special evening for us. In line with Royal Naval officer etiquette, he was accompanied by a Wren, who happened to be very pretty. He explained that one of his tasks was to learn how to receive and look after guests and learning table etiquette was part of all his training. He already knew most of this I am sure since our family were always sticklers for manners. But then he spent so little time at home when young and in wartime when all our families' lives were in upheaval.
You all know what a key role he played in the Falklands War. He was called upon to fly to Ascension Island to join a submarine so he could rejoin his team of mine and bomb disposal experts: Portsmouth and Medway Clearance Diving Team + Fleet Clearance Diving Team 1, Royal Navy. I remembered it because his happened just before his son Frank was about to be married. I was asked if I could take Brian's place, which was a great honour for me. I flew over from Canada and stayed the night before with Dorothy in Portsmouth. We talked for the first time together about her special man and all that he had achieved and the three outstanding sons he had had with Valerie.
Brian is one of this country's many often unsung heroes. How his sister Marguerite loved being with him whenever he was invited to Buckingham Palace to receive one of his outstanding awards for bravery. His naval tradition of leadership, considerable organisational skills and his personal humility carried over into civvy street. He became a councillor then Mayor of Petersfield and then served as a County Councillor for East Hampshire. He was also made an Honorary Fellow of the Worshipful Company of Carpenters, a rare honour for the Company and for all his years of service as the Company's Beadle.
When his "other Mum", my mother, was about to celebrate her 90th birthday, Brian and Audrey flew into Montreal, together with Marguerita, to join in the celebrations. Although suddenly taken ill and in intensive care, my Mum saw her beloved Brian and Marguerita again for the last time before she died. Her "other" children meant so much to her throughout their lives..
Brian and his life was an inspiration for us all. So much so for me that I wanted to join the Royal Navy and had set my early sights on a scholarship to Dartmouth Naval College. But my eyesight suddendly failed and I eventually pursued my other love, nature, and spent my career on land in a laboratory helping develop ways of treating cancer and then arthritis patients. But I always lived close to and on water. It was in our blood.
God's speed my dear cousin and special brother on your next life. I will never how much you meant to us and all the love you gave my mother and she you.
Although we cannot be there with you, Mary and I will be there in spirit at the remembrance service.
Our love and thoughts are with you Audrey at this very sad time. Take great care of yourself,
Much love,
Robin and Mary
Colin Noyce then read Psalm 107:23-32 (They That Go Down to the Sea in Ships) before delivering some words of comfort. This was followed by prayers before the congregation gave a lusty rendition of the Naval Hymn (Eternal Father). The Commendation and Commital were followed by a Royal Marines bugler sounding 'The Last Post' and, after a two minute silence, 'Reveille'. Then followed the Naval Prayer and Final Blessing. Mourners departed as the organist played Elgar's 'Enigma Variations'.
Most members of the congregation then proceeded to the Royal Naval Club and Royal Albert Yacht Club for a reception at which we raised a glass or two in Brian's memory.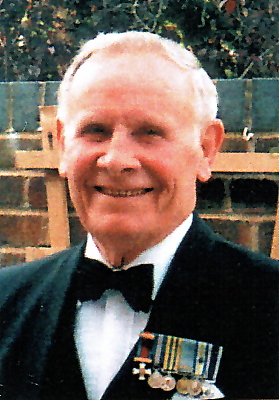 Lt Cdr Brian Frank Dutton DSO QGM RN
(15 Nov 1931 - 23 Apr 2018)
In lieu of floral tributes, donations in Brian's memory are requested to Carpenters' Company College or the Falklands Islands Memorial Chapel at Pangbourne College. Contributions may be sent direct to the funeral director care of Solent Funeral Services, 82-84 High Street, Lee-on-the-Solent, Hampshire PO13 9DA.
Postscript: The night before the funeral, MCDOA past-Chairman and co-founder David Sandiford, MCDOA member Bob Hawkins MBE and I met with two of Brian's sons, Lee (aka Frank) and Gary (both ex-RN), at the Royal Maritime Club (old Home Club) in Portsmouth. Brian's third son Bernie (also ex-RN) was unable to attend but we were joined by their Uncle Conrad who had just flown in from Sydney, Australia.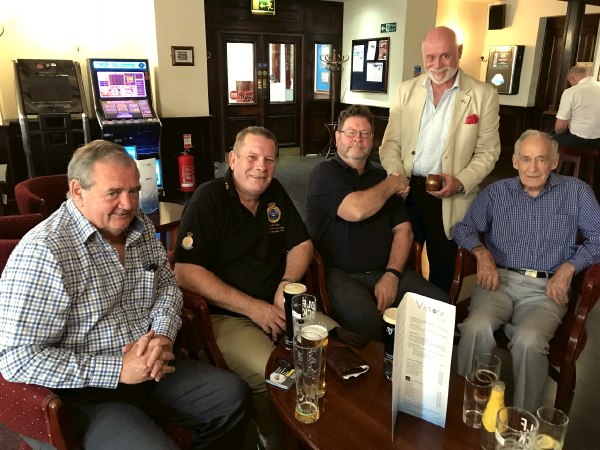 David Sandiford, Gary Dutton, Lee Dutton, Bob Hawkins and Uncle Conrad
in the Royal Maritime Club on 22 May 2018
The photo shows the Dutton brothers presenting Bob Hawkins (First Lt of the current HMS Queen Elizabeth) with a miniature replica tun made of teak from the deck of the 1913 battleship HMS Queen Elizabeth in appreciation for his help in arranging the naval element of their father's funeral.
---
24 May 18 - Arrangements for the funeral of Lt Cdr Norman Douglas 'Pip' Piper
The funeral of MCDOA member Pip Piper will take place at St Bartholomew's Anglican Church, Dinard near St Malo in France on Friday 8 June at 1400 (see entry for 22 May 18).
---
23 May 18 - Funeral of former CPO(MW) Jim Devlyn
It was a full house for Jim's funeral in Portchester Crematorium's larger chapel yesterday (see entry for 15 May 18). Attendees included many members of the Royal Navy's minewarfare & diving community, several in uniform.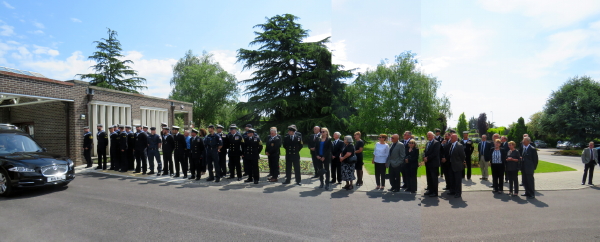 The casket was borne on to the catafalque by six pallbearers from Portsmouth-based Southern Diving Unit 2 (SDU2), for which Jim had been the civilian boatman for the past 18 years.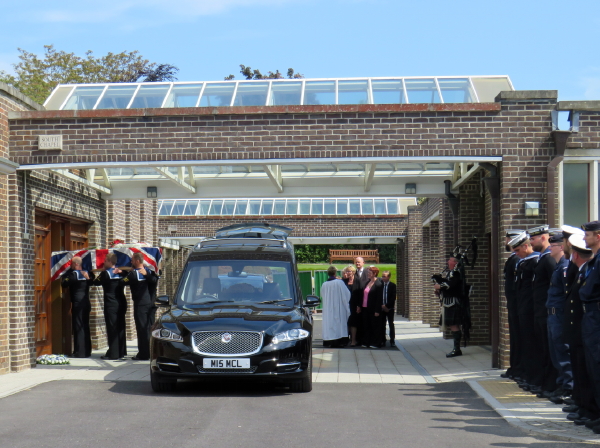 Mourners entered the chapel to the strains of 'Flower of Scotland' played on the pipes.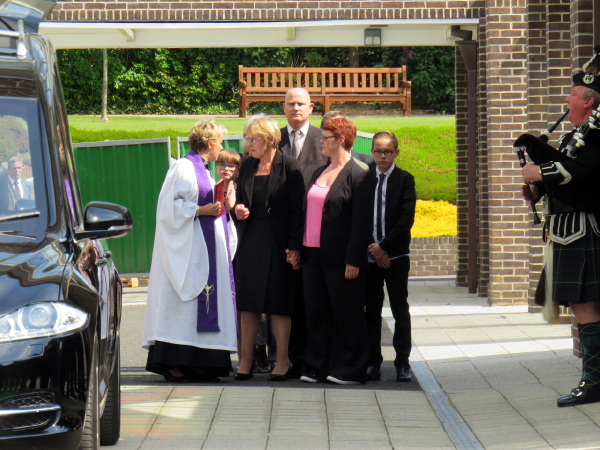 After a welcome by the Rev Sally Davenport, the officiating priest and Rector of Holy Trinity with St Columba in Fareham, the congregation sang the Naval Hymn (Eternal Father) after which John Hunt read the poem 'Do not Stand at My Grave and Weep' by Mary Frye. Sally then read Ecclesiastes 3:1-12 (To Everything There is a Time) before delivering this eulogy:
Thanksgiving for Jim's life
Jim's life, his time, began in Kirkcaldy, Fife, a mediaeval town on the east coast of Scotland. His father was a miner and so too was Jim, briefly. The mine closed and the company moved everyone to Coventry. Jim was intending to join the Army, the Argylls infantry, but he was judged to be too slight of stature so the Army's loss was the Navy's gain.
Jim trained at HMS Ganges and HMS Vincent in Gosport, specialising in mine warfare. His first commission was in HMS Argonaut sailing round the world. He then moved to a small Ton class mine sweeper. His was the ship that went ahead to open up and clear the Suez canal in 1957. That must have been quite something! Later Jim served at HMS Caroline in Belfast, Northern Ireland. Most of Jim's career with the Navy involved patrolling the coast in fishery protection – protecting the assets and well-being of our country and her waters.
Not long after joining the Navy, Jim began a pen pals friendship with a young lady called Sue. Sue had answered an advert appealing for people to write to servicemen. His handwriting was terrible, but Sue persisted! Visits followed many letters and eventually they were married and Sue joined Jim in Rowner, settling in to family life, joined by the birth of their daughter Lyn.
After 28 years, Jim left the Navy and became a hospital porter at Haslar. When the hospital closed he became a boatman based at HMS Excellent. Jim was proud of his boat, the Burwood; the job fitted him like a glove. Pride and passion were key characteristics of Jim with which he approached life. Jim was a great colleague and was well liked in the Royal Navy Mine Warfare and Diving Community – a fact that is borne out by the presence of so many of his colleagues here today. Among the many tributes Sue received after Jim's death was from Captain Roger Readwin who expressed appreciation for Jim's 28 years of Naval Service to his country in which he served everyday with utter pride and passion as a Mine Warfare specialist.
Retirement did not diminish Jim's commitment which was exceptional as a key member of Southern Diving Unit 2. Captain Roger writes – and I quote his words, with permission from Sue: "I remember him most fondly from my own diving course and more recently, supporting Southern Diving Unit 2 with their work in preparing Portsmouth Harbour for the arrival of HMS Queen Elizabeth".
Not a man who often showed his feelings, Jim was very proud of his family – Sue, their daughter Lyn and son in law Paul, and the grandchildren Jack, Nieve and Heath – he delighted in them all as anyone at work could see because he surrounded himself with photos of them.
Jim relished his life. He'd finished another day at work, returned home, enjoyed a roast dinner and, as he so often did, went out to meet Sue on her way home from work. And he was called to his eternal home.
There's a time to be born and a time to die. Jim's life was brought to an end suddenly; a terrible shock to Sue, and their family, and all who knew Jim. Such a sudden ending leaves us reeling, regretful, haunted maybe, by questions – why, what could we have done differently?
But life is not defined by death. There's so much more in between. Jim had a full life, blessed with a family, 46 years married to Sue, work he loved. There's much to be thankful for.
We do the best we can with the choices and opportunities life brings, but there are some things which we can't control – such as the time and manner of our death.
It took a royal wedding at the weekend to remind us of the power of love to bring together, to change and to save. Recent celebrations of Easter hope remind us that death is not the end, but a new beginning.
Christians believe in a God who waits with us, suffers with us, cries and laughs with us and takes us on our journey to greater life. Nothing in all creation, neither death nor life, nor anything else can separate us from God's love as revealed to us in Jesus Christ.
So what's important for us is how we live. Death causes us to evaluate our relationships, our priorities, the people and things that matter. We thank God for the joy of sharing our lives with Jim; it's time we let him go – we shall miss him. But we let him go to a greater light and life, until we shall, once more, in God's love, be reconciled.
We then sang the hymn 'Guide me, O Thou Great Redeemer', after which came the prayers, commendation and committal. Royal Marines bugler Gareth Evans sounded the Last Post and, after a two minute silence, Reveille. Mourners then left the chapel to the sound of a recording of 'Stairway to Heaven' by Led Zeppelin.
Several attendees went on to the Cams Hill Pub in Fareham to raise a glass in Jim's memory and enjoy a buffet lunch. Unfortunately, some of Jim's former MW colleagues including Dixie Dean MBE, George Turnbull and Taff Reader had to return to work instead, as did MCDOA member Graham 'Tug' Wilson MBE, but Jasper & George Stride and Pete Mills, among others, were able to make it.
Jim's wife Sue told me she deeply appreciated the support shown by the RN contingent. I took these photos of some of those present including MCDOA member Del McKnight (CO Fleet Diving Squadron).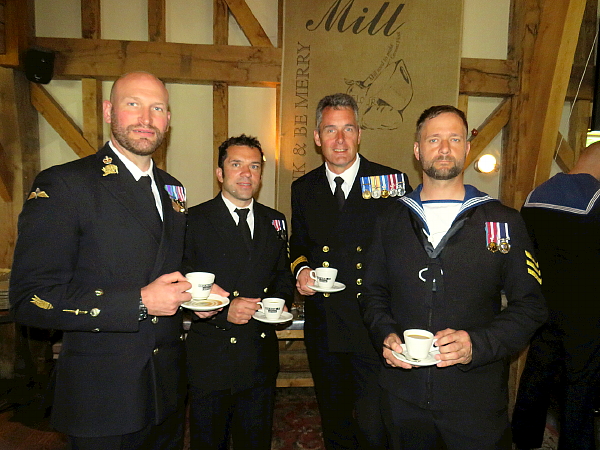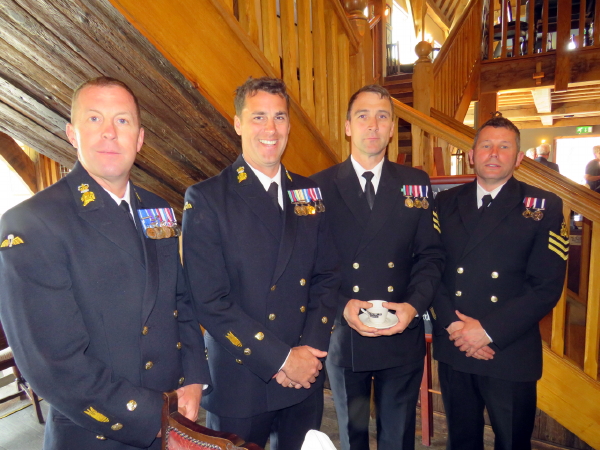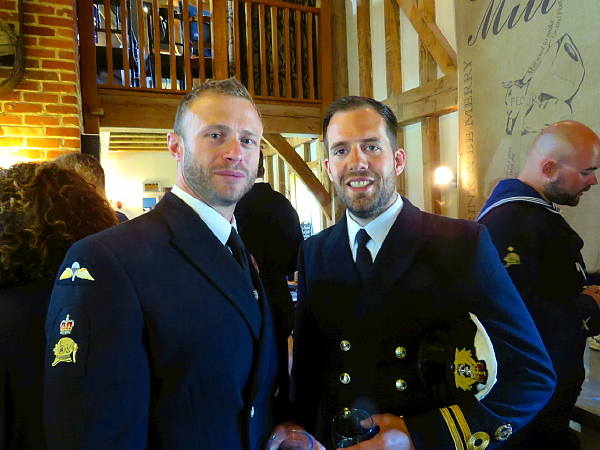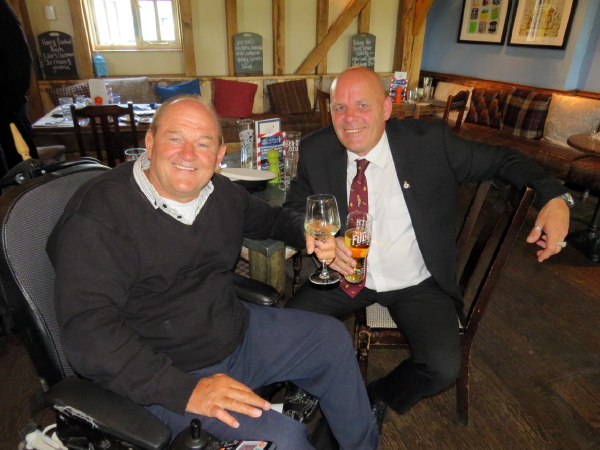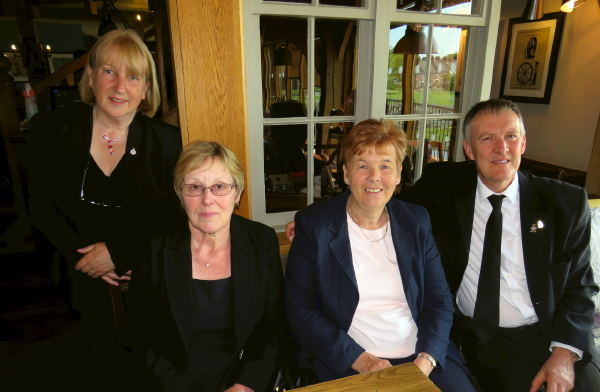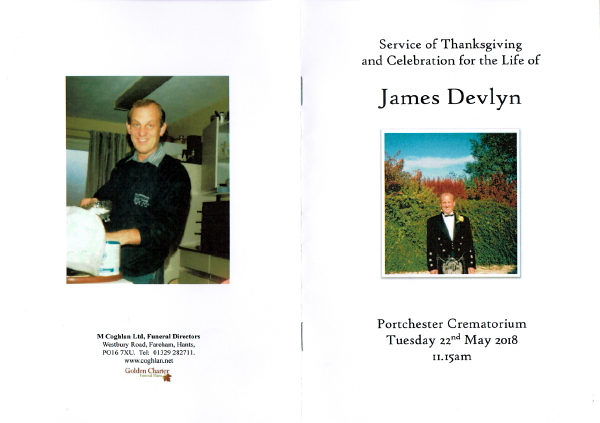 In lieu of floral tributes, donations are requested in Jim's memory to the Hampshire & Isle of Wight Air Ambulance. Contributions may be sent direct to the funeral director C/O M Coughlin Ltd, Westbury Road, Fareham, Hants PO16 7XU.
---
22 May 18 - Death of Norman 'Pip' Piper
I am grateful to Mark Whelan for this notification of the death of MCDOA member Pip Piper:
"Dear Rob,
Sad news, but you may have already received it. I have been informed by the Chairman of the Royal Naval Association's France Nord Branch that Norman (Pip) Piper died a few days ago.
Although his death occurred in Bordeaux, it is understood that the funeral is to be held in St Malo, where he lived for many years.
Kind regards,
Mark Whelan
Late President RNA (France Nord)"
Lt Cdr Norman Douglas 'Pip' Piper qualified as a Deep Diver in May 1951 with the late Lt Cdr Sydney Alfred 'Jackie' Warner MBE DSC who passed away in October 2002. They automatically became Clearance Diving officers when the branch was formed in March 1952. Pip was our oldest surviving member and I am sure all members of our community will join me in expressing our deepest condolences to his family.
Pip's daughter Michelle, who lives in New Zealand, provided me with this biography last year:
"When he left the Navy in 1956 he was Lieutenant Commander N D Piper. I would like to ask if you can you make him a member of your organisation so that someone from your organisation can attend his funeral when the time arrives. I am so very proud of his understated heroism and all that he did throughout WWII and after, to protect the world from the horrors of Nazism. I can provide you with information should you need it.
I do not have the full details of all the ships he was on but here is some of Lieutenant Commander N. D. Piper's naval history that my mother (his wife of 63 years) put together before her recent death:
1941 or 1942 - Joined as Ordinary Seaman Piper
1942 - Commissioned as Temp. Sub-Lieutenant RNVR and opted for the Submarine Service. First Patrol in HMS Tuna in the North Sea. He did several Arctic Patrols in HMS Ursula and HMS Tuna. Stood by the commissioning of HMS Unswerving in which he remained with until the end of the war, first on Arctic Patrol, then from 1943 he was based in Malta and did several patrols in the Med where they were depth charged and completed about seven month-long patrols in the Aegean. He remained with HMS Unswerving until 1945.
In May 1945 he was promoted to Lieutenant in Command. He was then put in command, because the Captain was on leave, and Piper then brought back the submarine (leaking like a sieve and leaving a trail of oil behind them all the way) from the eastern end of the Med (he had been at the liberation of Khios) to Gibraltar, and continued on into the Atlantic then took the sub up to Newcastle and into the Tyne. He was instructed through a loud hailer to find the gate to get the sub into the correct dock.
Appointed to HMS Ferret in Lisahally then First Lieutenant U-3514.
November 1945 set of to deliver U-boat to Libau in Latvia. Finally took U-3515 to Libau but because of bad weather and the tow to the HMS Icarus breaking didn't arrive till Feb 1946.
1946 - HMS Cynthia, Minesweeper – released from RNVR and re-appointed Lieutenant RN on 9th December 1946. Also served in HMS Zodiac, Seabear and Bramble
1948 – HMS Mermaid
November 1948 – Aircraft carrier HMS Triumph
January 1950 - Cruiser HMS Jamaica
April 1951 - Officers' Clearance Diving Team training
1953 – Malta - In command of the Fleet Clearance Diving Team Mediterranean – Reported to Mountbatten of Burma."
This photo shows Pip as the Boss of the Mediterranean Fleet Clearance Diving Team on Manoel Island in Malta in 1954.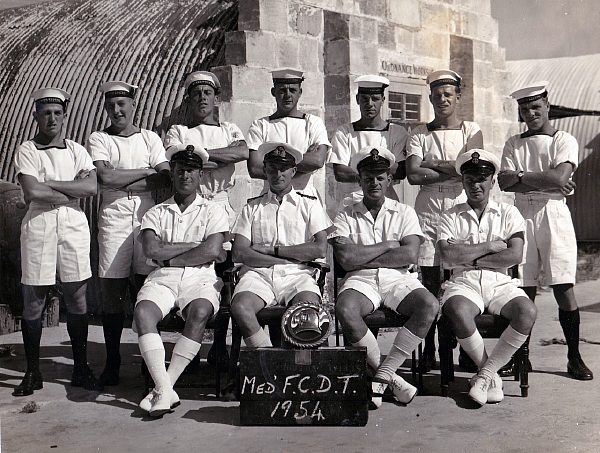 Back row: Scouse Davies (or Davis?), Robbie Robinson, John Dowds, Pricky Price, Nutty Carr, ?,
George 'Jock' Campbell
Front row: Sam Stanley, Pip Piper, Ginger Howe, Pete Cobby
This photo shows Pip enjoying a beer near his home in France last year (see entry for 18 Jul 17 in News Archive 59).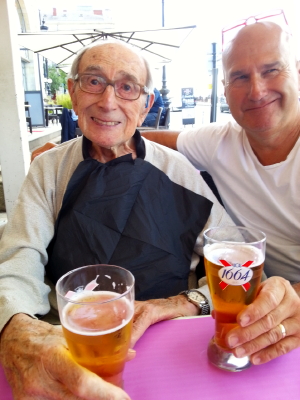 96-year-old Pip Piper enjoying a beer
in France in June 2017
---
From MCDOA member John Grattan OBE:
"Dear Rob,
The passing on of Pip Piper is very sad indeed. We met in 1954 when he was in command of the Med CD Team which also included the SWD School and the S/M escape tank.
After a very distinguished war record, qualifying as a CDO in 1951, he was the second CO of the Med Team. He was also a senior two-and-a-half whilst I was a very badly injured, mere Midshipman serving at the Tactical School further along the jetty. Midshipmen were usually treated like dirt: but he was such a great gentleman that he treated me as a human being then and many times later at the City Gem, Sliema's favourite watering hole. He certainly inspired me to be a CDO & many others.
His team admired him so much that there ii no doubt they also recruited many of their mates. By any standard he was a great man and anyone who knew him was richer for that whilst the world is now poorer for his passing on.
Yours aye,
John"
---
From MCDOA member Ralph Mavin:
"Rob,
Sorry to hear of the death of Pip. We worked together for many years in the then Department of Energy's Diving Inspectorate under the "command" of Jackie Warner MBE DSC. Though Pip was based in Glasgow he, like I, spent a lot of time in Aberdeen where he was invariably on the telephone - so much so that Vic Humphrey and I modified a very large cardboard box into a telephone booth for his personal use.
Once when Pip had come in late from offshore and was travelling south to a private engagement in London, he persuaded the Station Master at Montrose to stop the limited-stop express to London to pick him up for an important meeting in the City. Somehow the name of the Department's Secretary of State came into the conversation. When Jackie heard the story the next day he told Pip he was on his own if the true story came out. Suffice it to say, Pip got away with it.
He was a lovely man and I personally have many happy memories of him.
Ralph"
---
20 May 18 - SDU2 detonates wartime mine off Bognor Regis
The Daily Mail website contains this article (including video) of today's disposal by members of Portsmouth-based Souther Diving Unit 2 (SDU2) of a Second World War German ground mine washed ashore at Elmer near Bognor Regis in West Sussex. PO(D) Craig Tower was interviewed on BBC TV's South Today and MCDOA member Del McKnight (CO Fleet Diving Squadron) was seen in the same news item.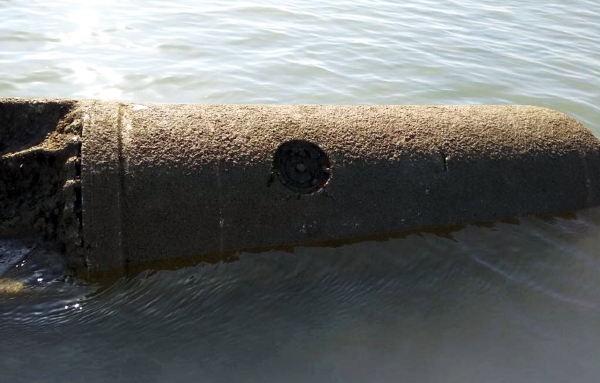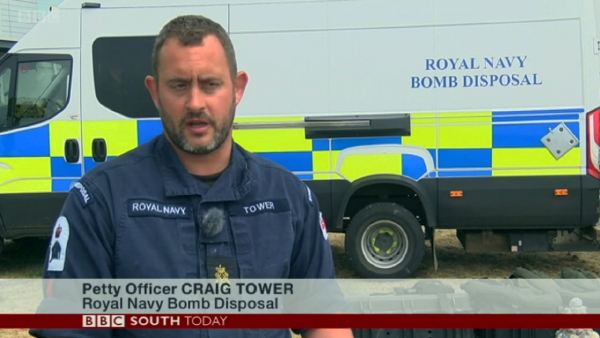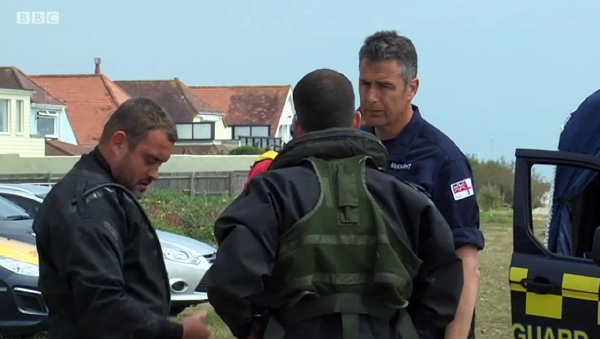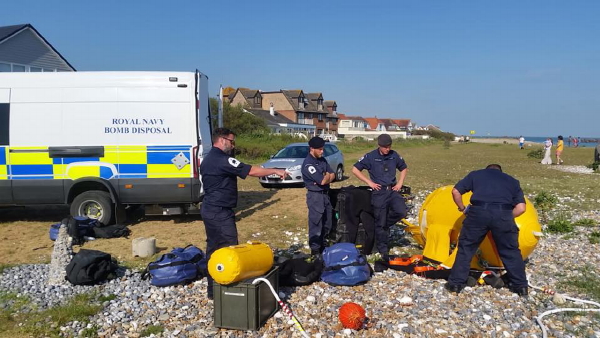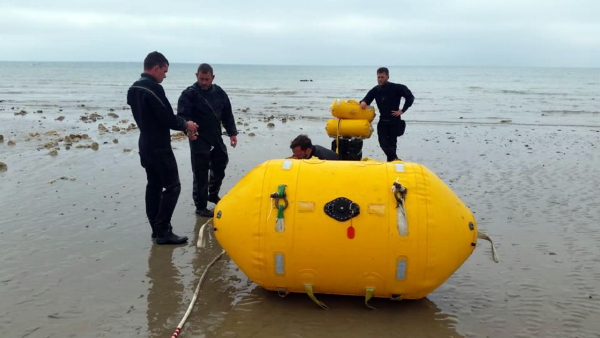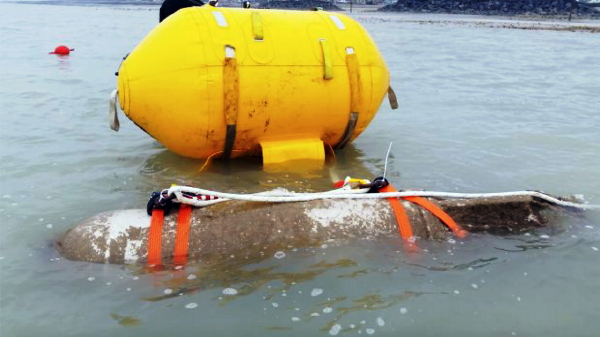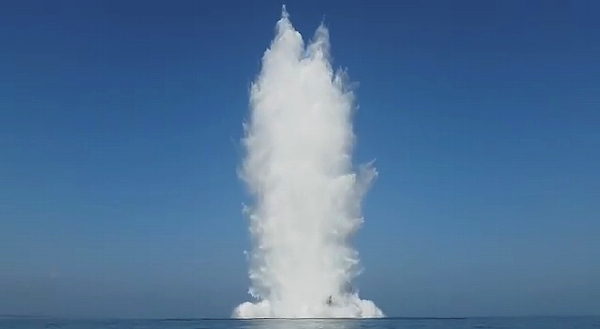 ---
19 May 18 - A chance meeting in Turkey
I am grateful to MCDOA member Chris Tarmey, currently enjoying his annual cruise in Turkish waters on board his motor yacht Christiana, for this update:
"Rob,
One for your website.
Having dinner at the Yacht Classic Hotel and Marina in Fethiye, Turkey this evening we got talking to fellow RNSA members whose boat is also here. Jess James and I also share common background as RN Clearance Divers, and enjoyed swapping names of shared friends and acquaintances. Small world.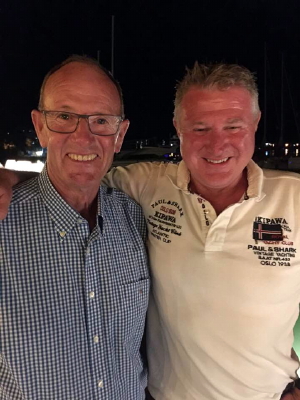 MCDOA member Chris Tarmey with Jess James
in Turkey earlier today
Kind regards,
Chris"
Chris has a habit of bumping into old colleagues while cruising off the Turkish coast. See the entries for 22 May 17 in News Archive 58 and 7 Jun 16 in News Archive 54.
Chris Tarmey on board Christiana, his 42 ft Nord West flybridge motor yacht, rendezvousing with fellow
MCDOA member David Carey on board SY Talia, a chartered Discovery 55 cruising yacht, in May 2017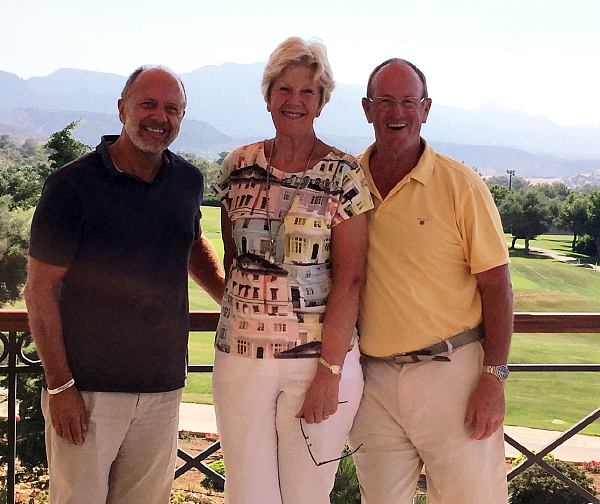 MCDOA past-Chairman Paul Jones with Judy & Chris Tarmey at the Korineum Golf Resort
near Kyrenia in Northern Cyprus in June 2016
---
17 May 18 - Members of the Minewarfare & Diving community to represent RN at Prince Harry's wedding
The Portsmouth News website contains this article and the Royal Navy website this article reporting that personnel from the Royal Navy's small ships and diving units will provide half of the 50-strong Naval Service part of the Guard at Prince Harry's wedding this weekend with the other half provided by the Royal Marines. The ceremonial guard will be 250-strong altogether.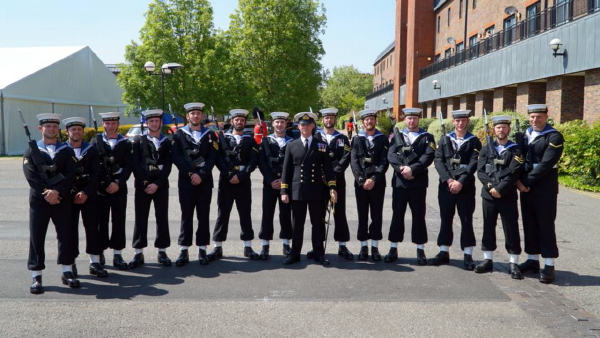 Above and below: MCDOA member Tony Hampshire (CO of Faslane-based Northern Diving Group)
leading the RN contingent of the Guard during this week's rehearsals at HMS Collingwood
(Royal Navy photos)
The articles feature AB(D)s Andy Waller and Richard Chumbley.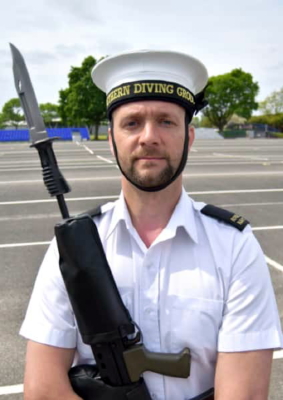 AB(D) Andy Waller of Portsmouth-based SDU2
(Portsmouth News photo)
Prince Harry is Commodore-in-Chief Small Ships & Diving and Captain General Royal Marines.
Postscript: MCDOA member Dave Stanbury, OIC of the Maritime Autonomous Systems Trials Team (MASTT), has pointed out that AB(MW) Fish of MASTT is among the RN contingent of the Guard.
---
16 May 18 - International diving exercise in Australia
I am grateful to Australian Army Col John Turner, a former Royal Navy Surg Cdr and Fleet Air Arm helicopter pilot, for drawing my attention to this article on the ABC News website reporting that the Western Pacific Naval Symposium (WPNS) Mine Countermeasures and Diving Exercise (MCM DIVEX) is being hosted in Australia for the first time by the Royal Australian Navy.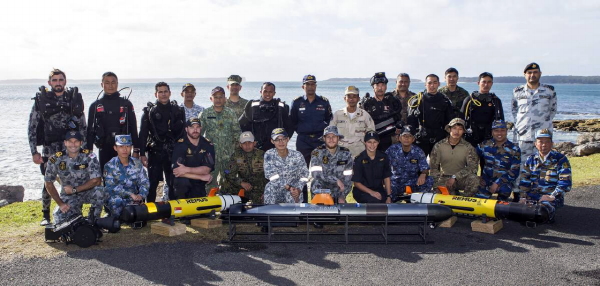 Above and below: Participants in WPNS and MCM DIVEX
(RAN images)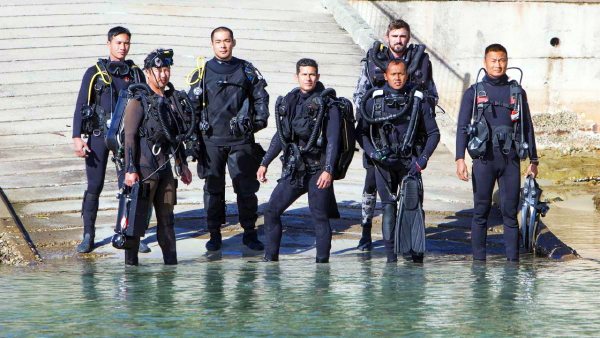 DIVEX 18, based at HMAS Creswell, runs from 7 to 18 May. More than 160 personnel from Australia, Canada, China, Indonesia, Japan, Korea, New Zealand, Singapore, Vietnam and the US are taking active part in the exercise while personnel from Bangladesh, Brunei, Cambodia, Malaysia, Mexico, Pakistan, Thailand and Tonga are acting as observers.
The South Coast Register website contains this article covering the same event.
---
15 May 18 - Death and funeral of former CPO(MW) Jim Devlyn
Jim Devlyn passed away after a heart attack on the evening of 1 May. For the past 20 years, he had been the civilian boatman for Portsmouth-based Southern Diving Unit 2 (SDU2). While in uniform, he is believed to have served in the MCMVs Nurton, Hubberston, Kedleston and Berkeley.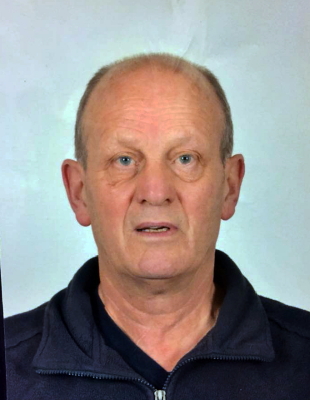 Former CPO(MW) Jim Devlyn
Jim's funeral will take place at 1115 on Tuesday 22 May at Portchester Crematorium with a reception afterwards at the Cams Mill pub in Fareham. If you intend going along, please inform me via my Webmaster address so that I can advise the family of numbers.
---
From former WO(D) Graham 'Tiny' Petrie
"Hi Rob,
Very sad to hear of Jim's passing. I served alongside Jim as Cox'n on HMS Kedleston, back in 1988 when Jim was the Bosun. Over the years since Jim left the RN, I have bumped into him every now and again whilst visiting SDU2, the last time being just before last Christmas, and every time there was always a welcome cup of tea on offer along with a catch-up chat. A really genuine nice guy and very sad loss.
Unfortunately I'm unable to attend Jim's funeral, but please pass on my sincere condolences to his family.
Regards,
Graham"
---
From MCDOA member Jason White QGM:
"Dear Rob,
I can't make Jim's funeral due to a promotion board but please pass my condolences if you can. I was his boss 2005 / 07.
Many thanks,
Jase"
---
14 May 18 - Forthcoming RNCDA events
MCDOA Social Secretary Chris Baldwin would like to draw attention to the following social events planned by the all-ranks RN Clearance Divers' Association (RNCDA):
Friday 27 July - Golf Championship
The RNCDA Golf Championship will be held at Petersfield Golf Club Tankerdale Lane Liss GU33 7QY at 0800 on Friday 27 July 2018. The event is open to all serving and ex-serving members of the diving branch, and guests. The competition will be played over 27 holes and will culminate in a buffet and prize giving.
1. The format of the day will be full handicap with a maximum of 21. The RNCDA golf Champion will be decided on the LOWEST Gross score over 27 holes. There will also be prizes for division 1 (below 18) & division 2 (18 and above) which will be decided on the HIGHEST Stapleford score over 27 holes.
2. There is a strict limit of 40 players therefore entry will be on a first pay first place basis. Should the competition be oversubscribed, individuals will be informed and placed on a reserve list.
3. Cost of the entry is £55.00 which includes: Coffee and bacon rolls on arrival. Green fees, lunch and evening Buffet. Price for none golfing guest evening buffet is £10 per person.
4. Individual tee times will be promulgated prior to the start of the event. The AM tee times will be between 0900 and 1030. PM tee time will be 1300. Please be ready to tee off 10 minutes prior to your allocated time.
ALL APPLICATIONS TO BE IN AND ENTRANCE FEE PAID BY 6 JULY 2018.
Download and email completed applications to Glyn Holgate
Saturday 28 July - Summer Barbecue & Fun Day
The RNCDA Summer Barbecue will be held at Horsea Island at 1200 on Saturday 28 July 2018. A Divers Barbecue at Horsea Island will not only have the memories flooding back but the Historical Diving Society (HDS) has kindly agreed to attend so don't forget your camera (or Go Pro if you fancy a dip). A fun-filled day at our ancestral home.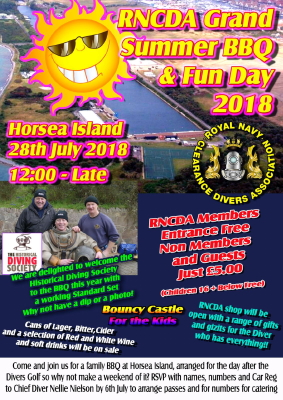 All welcome. RNCDA members attend free of charge. Non-members and guests will be charged £5 each. Email CPO(D) Nellie Nielson with names, numbers and car registrations so that he can arrange passes and predict numbers for catering.
Friday 12 October - Annual Dinner
The RNCDA Dinner is Open to all Serving and Retired Royal Naval Divers, Partners and Guests. Doors Open At 1830 where you will be greeted with a welcome Drink followed by pre-dinner drinks in the bar, You will be asked to take your seats for dinner at 2000 on completion of which there will be an Auction and Raffle. The night will continue through until 0200 with entertainment from local DJ, a non-cash mobile Casino and Photo Booth
Date: Friday 12th Oct 2018
Time: 1830 until 0200
Venue: The Gaiety Bar South Parade Pier, South Parade, Southsea, PO4 OSP
Dress: Formal / Association Tie
Cost: £45.00 per person for RNCDA Members. Members are permitted to bring a spouse or one guest at the members rate of £45.00.
Cost: £50.00 per person for Non-RNCDA Members.
Menu will include Welcome Drink, a 3 course meal, ½ bottle of wine and glass of port.
ALL APPLICATIONS FOR MENU CHOICE TO BE FILLED IN AND RETURNED TO THIS EMAIL ADDRESS
---
12 May 18 - Selections for promotion to Commander
I am grateful to MCDOA past-Chairman Chris Baldwin for advising me that Lt Cdrs Richard Talbot (MCDO - PWO HMS Monmouth), Charlie Wheen (MCDO - lately CO MCM2 Crew 8 manning HMS Cattistock) and Neil Griffiths (MWO/PWO - FOST MPV) were on this week's signal announcing selections for promotion to Commander.
Also selected were Lt Cdrs Charles Collins (CO MCM 2 Crew 5 currently manning HMS Ledbury) and Paul Irving (CO MCM 2 Crew 3 currently manning HMS Brocklesby).
Congratulations to all concerned.
---
11 May 18 - Operational Honours and Awards
Congratulations to PO(D) Toby Stuart Jones on being gazetted for the award of the Queen's Commendation for Bravery (QCB) in today's Operational Honours & Awards list.

The citation states:
"For displaying true bravery in re-entering a store room to rescue a fellow crew member and providing him with his own air supply in a selfless act which undoubtedly saved his life and for saving the lives of several others, on board HMS CLYDE on 17th May 2017."
Last December, Toby was nominated for a 'Millie' for his actions while serving in HMS Tyne as described in this article (including video) on The Sun website (see entry for 14 Dec 17 in News Archive 60).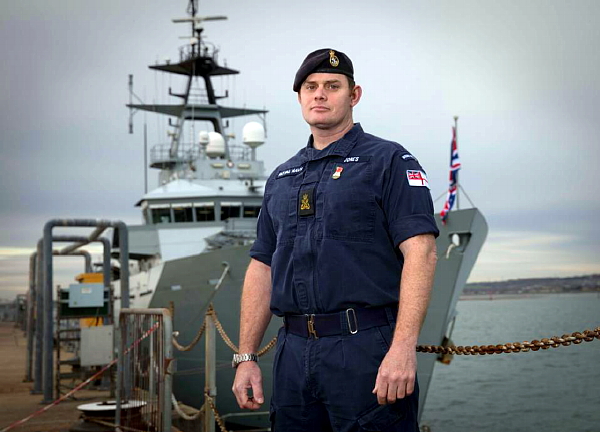 PO(D) Toby Jones with HMS Tyne
(Royal Navy photo)
The full list of today's Operational Honours & Awards is available here.
Postscript: The Portsmouth News published this article on 29 May 2018 covering the same story.
---
10 May 18 - HMS Shoreham ready for the Gulf
The Royal Navy website contains this article announcing that HMS Shoreham (MCM1 Crew 3) has just completed seven weeks of intensive training and is ready to deploy to the Gulf for three years on Operation KIPION. She and HMS Brocklesby (MCM2 Crew 3) will replace two of the RN's four minehunters currently based at the UK Naval Support Facility in Bahrain.
---
8 May 18 - HMS Ledbury lights up
HMS Ledbury (MCM2 Crew 5) has tweeted this striking image of the ship prepared to host distinguished guests for a night of entertainment, including ceremonial sunset, in the Gulf.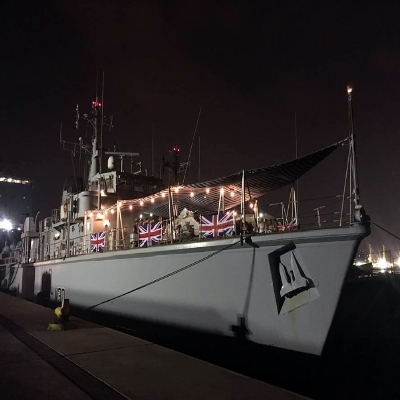 ---
7 May 18 - HMS Shoreham joins the Twittersphere
HMS Shoreham (MCM1 Crew 3) has joined Twitter and published an impressive introductory video:
6 May 18 - HMS Shoreham's first tweet! Ready and Trained for Ops.
---
6 May 18 - Recent tweets
Click on the linked dates to see the many excellent photos and videos associated with the tweets:
Capt MFP
4 May 18 - Sir Tom Scholar HMT Perm Sec talks with members of Fleet Diving Unit 2 on the capabilities that Royal Navy Clearance Divers deliver to Defence.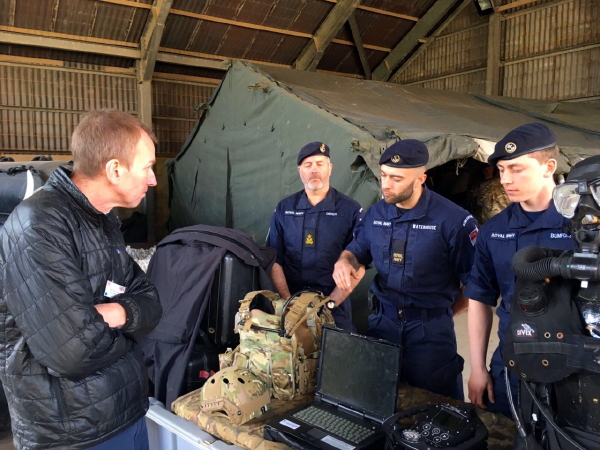 27 Apr 18 - A key element of our Deployed MCM Force is the Forward Support Unit. Royal Navy engineers deliver high equipment availability which underpins operational capability. Team seen repairing a davit. Keep up the good work team.
27 Apr 18 - Transfers between ships relies on the skills of our seaboat Coxswains. Able Seaman Mine Warfare Dore in action delivering Mr Sharland and I to our next engagement. Great work AB Dore. BZ.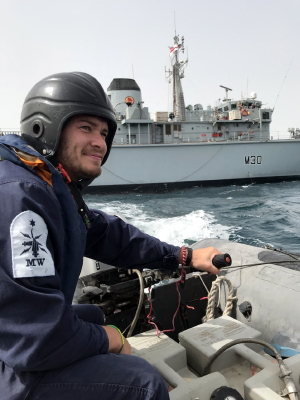 27 Apr 18 - Strong relationships, partnerships and friendships underscores success. Superb to meet up with my friend & colleague Cdre Mike Egan USN, Commander Task Force 52, this week.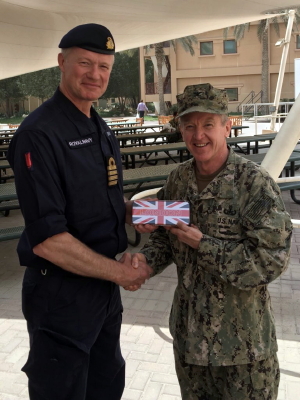 COMUKMCMFOR
29 Apr 18 - Many congratulations to all those Lieutenant Commanders selected for Sea Command and especially to our very own Chief of Staff, [MCDOA member] Lt Cdr David Armstrong. Hard work and dedication has paid off and we hope to see you out here soon in command of an MCMV.
HMS Brocklesby (MCM2 Crew 3)
30 Apr 18 - Three drill mines found on a beautiful morning in sunny Scotland. Perfect conditions for a complex mine warfare and seamanship task.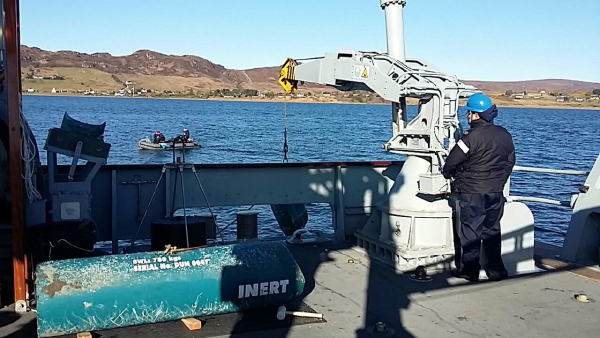 29 Apr 18 - A great exercise on JOINT WARRIOR controlling an RNAS Culdrose Hawk fast jet as friendly air support, working with HMS Shoreham, HMS Pembroke and HMS Hurworth. Ready to join COMUKMCMFOR soon!
HMS Pembroke (MCM1 Crew 5)
30 Apr 18 - We found one! Great combination of mine warfare, diving and seamanship to recover an exercise mine. The Scottish scenery just makes it all more pleasant!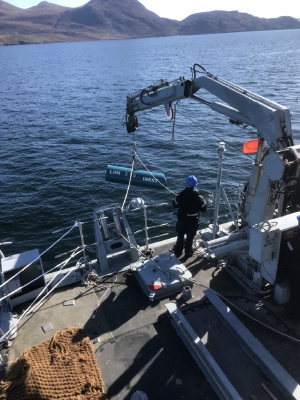 29 Apr 18 - Ex JOINT WARRIOR is ongoing, with ships of the next COMUKMCMFOR honing their skills. From diving to force protection, we're being tested!
Great to be with HMS Brocklesby and HMS Shoreham.
HMS Enterprise (COMSNMCMG2)
28 Apr 18 - Allied navies gather to exercise together.
Spanish MINEX pits the minehunters of 6 NATO nations against the threat of sea mines. We've brought a secret weapon - the autonomous underwater vehicles of CMRE, NATO's world-leading maritime scientific experts.
27 Apr 18 - SNMCMG2 entering the beautiful and historic port of Mahon in Menorca, Spain. Looking forward to Spanish Minex with NATO allies from across the Mediterranean.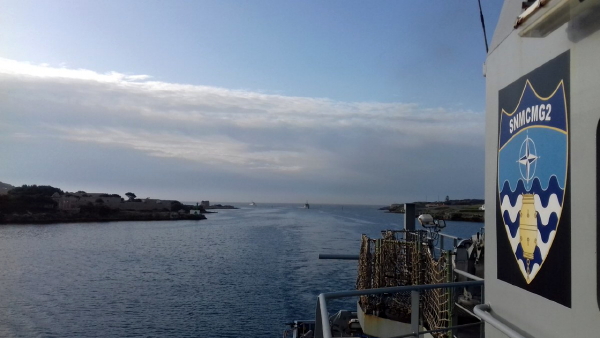 NATO Maritime Command
26 Apr 18 - Standing NATO Mine Countermeasures Group 1 sailing together during Ex JOINT WARRIOR earlier this week.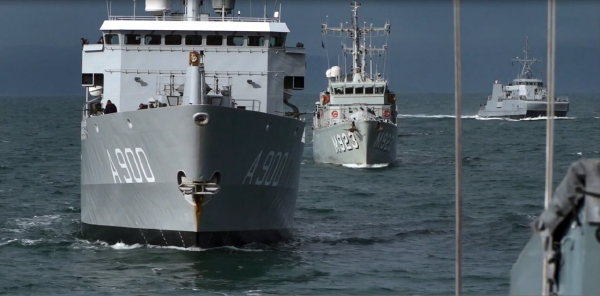 ---
5 May 18 - RN receives first unmanned minesweeping system
The UK Government website contains this article reporting an announcement by Defence Minister Gutto Bebb that the Royal Navy has taken delivery of an autonomous minesweeping system (see entry for 15 Sep 17 in News Archive 59). The system has been designed and manufactured by Atlas Elektronik UK in Dorset and has been put through its paces by Atlas and the RN's Maritime Autonomous Systems Trials Team (MASTT) over the past four months.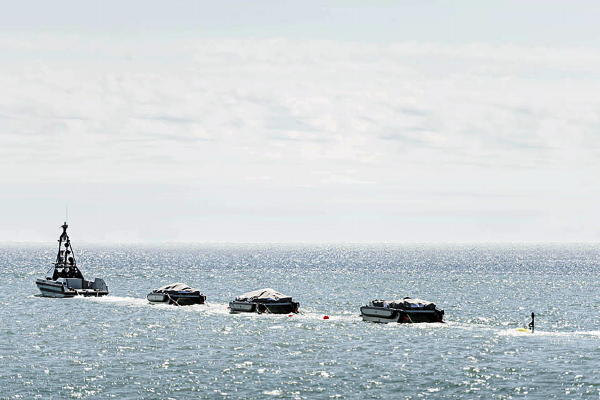 (Crown copyright images)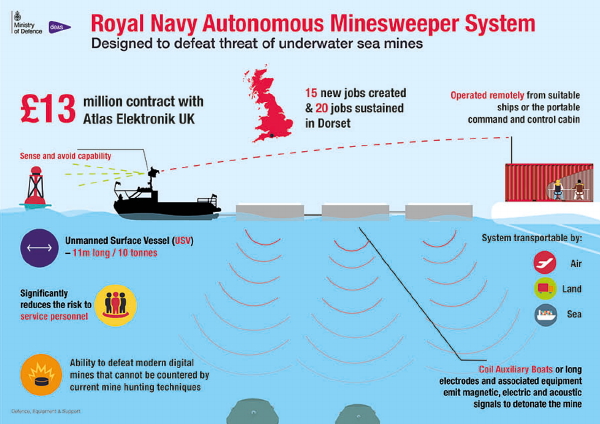 The handover of the system is a significant milestone for the Mine Countermeasures and Hydrographic Capability (MHC) programme, which aims to de-risk maritime autonomous systems and introduce these new technologies into the RN. The system will now undergo a series of more detailed trials.
Postscript: The Save the Royal Navy website has since published this article (including two minutes of video) covering the same story. Towards the end of the video, MCDOA member Dave Stanbury is seen operating the system inside the portable command & control cabin.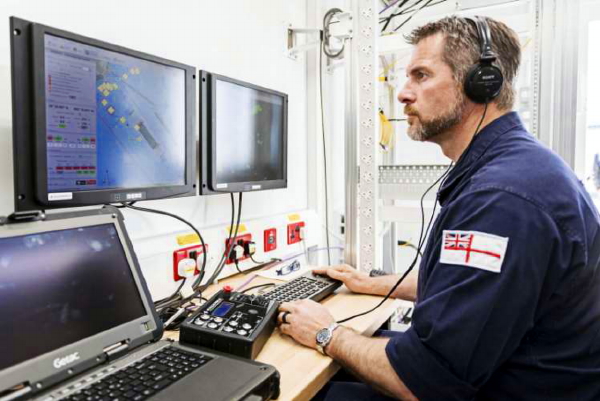 (MoD image)
---
4 May 15 - SDU2 called to the Isle of Wight
The Isle of Wight County Press website contains this article and the Island Echo website this article (including video) reporting last Monday's seizure of homemade fireworks by the IOW police and a subsequent detonation performed at Appley Beach by members of Portsmouth-based Southern Diving Unit 2 (SDU2).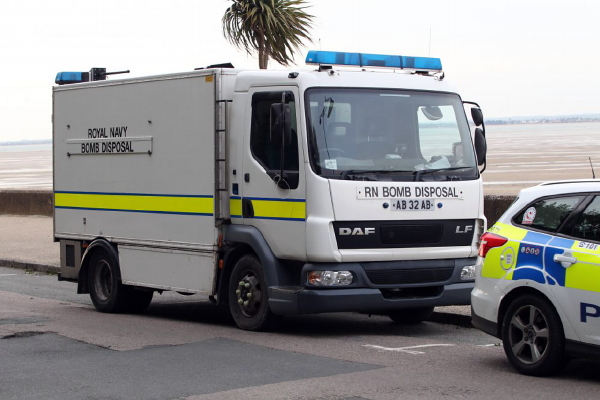 ---
3 May 18 - 11th MCM Squadron reunion
Last weekend, a reunion was held in Hull for personnel who served in the five converted trawlers taken up from trade which comprised the 11th MCM Squadron during the Falklands conflict in 1982. The squadron was commanded by MCDOA member Martyn Holloway and manned mostly by members of Rosyth-based TON class MCMVs: CORDELLA (HMS UPTON); FARNELLA (HMS WOTTON); JUNELLA (HMS BICKINGTON); NORTHELLA (HMS SOBERTON); and PICT (HMS BILDESTON). The reunion was also attended by Capt Mike Clapp CB RN who commanded the landings and inshore operations as COMAW (Commodore Amphibious Warfare) during the conflict. See 'The Forgotten Few of the Falklands' in the website's Dit Box for more background.
Marine artist Adrian Thompson has painted a stunning picture of two of the trawlers passing sweeps and has kindly signed prints that will be sold in aid of Project Vernon, the campaign to erect a minewarfare & diving monument at Gunwharf Quays previously occupied by HMS Vernon. He is seen here presenting one of the prints to Martyn.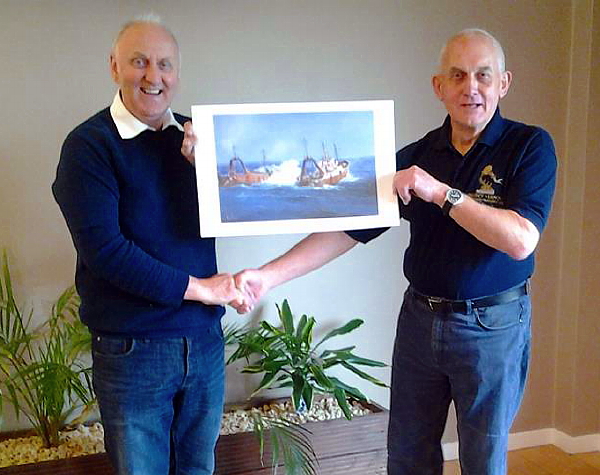 ---