---
30 Jun 15 - Fleet Diving Squadron at Guildford for Armed Forces Day
I am grateful to MCDOA member Ben Stait, CO Fleet Diving Group (FDG), for this report:
"Rob,
Fleet Diving Squadron set up their stall at Armed Forces day, Stokes Park, Guildford last Saturday (27 Jun). Tucked away amongst the Fleet Air Arm and the Royal Marines, CPO(D) Frank Spencer 2IC FDU2, PO(D) Ian Shepherd and his gallant team put on a display of in-service diving, detection and EOD equipment. A modest stance that managed to attract their fair share of the 35,000 or so people who attended.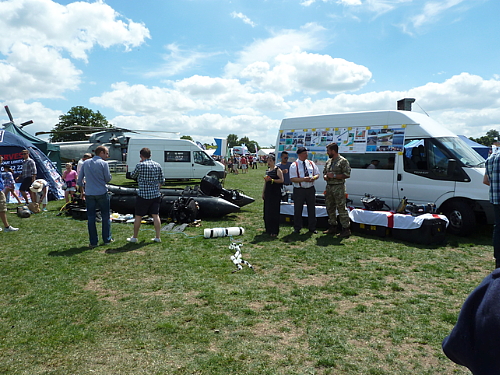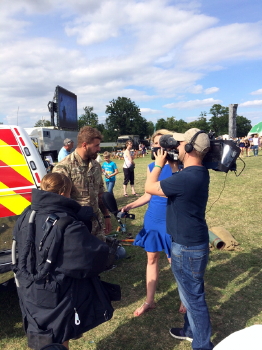 Merit goes to AB(D) Jamie Neeson who managed to grippo the PM and spin him some bomb disposal dits!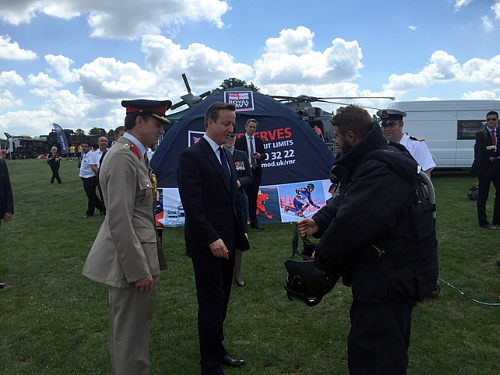 Ben Stait
CO FDG"
---
29 Jun 15 - SDU1 called to two suspected IEDs in Exeter
The BBC News website contains this article and the Mail Online this article reporting two suspected IEDs in Exeter, one near a school and the other near a mosque, currently being dealt with by members of Plymouth-based Southern Diving Unit 1 (SDU1).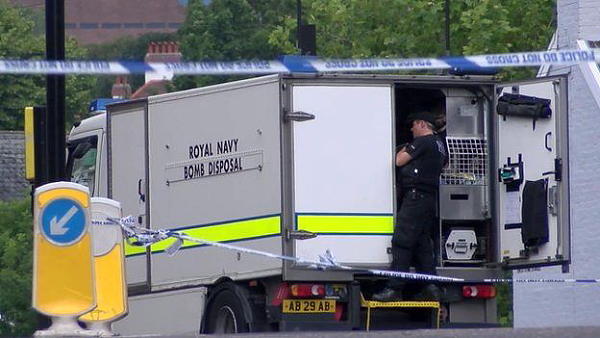 Post script: The ITV News website subsequently published this article reporting that the suspicious packages, comprising two suitcases full of electical components and wiring, had been left in situ by an innocent 'local hoarder'.
---
28 Jun 15 - Opportunity to witness casting of RNCDA memorial bell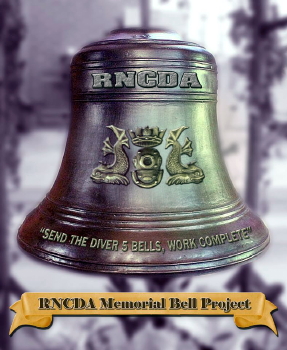 I am grateful to former CD Tony Sexton for this invitation (see entry for 28 May 15 in News Archive 50):
"Hi Rob,
I wonder if you would kindly share with your members a date for the diary.
We will be casting the RNCDA Memorial Bell at the John Taylor Bell Foundry in Loughborough, Leicestershire on Thursday 9 July commencing at 1300 (approx). If anyone would like to join me to watch this, please email me at this address or call me on 01469 571612.
Kind Regards,
Tony Sexton
Director
TradeMark First Ltd"
---
27 Jun 15 - Funeral of former PO(CD1) Len Fisher
Former WO(D) John Dadd has kindly sent me this message and photo after attending the funeral of Len Fisher in Eastbourne on Wednesday (see entry for 22 Jun 15):
"Hi Rob,
Branch members joined family and friends at Eastbourne Crematorium on Wednesday June 24th 2015 to pay their last respects to Len. Len had lived in France for a number of years and passed away there after a long and hard fought battle with cancer. He was one of life's genuinely nice guys and, at his wake, many a dit and stories were related of his past glories in the branch.
RIP Shipmate.
John D"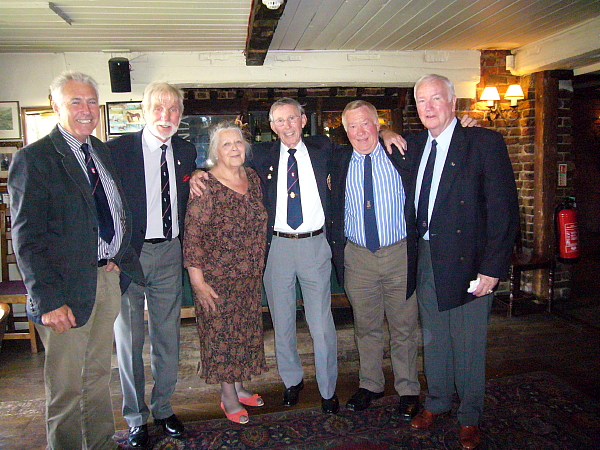 Cris Ballinger BEM, John Dadd BEM, Eileen Fisher (Len's widow), Les Sharpe,
David 'Jim' Bond and Vic Humphrey BEM
---
26 Jun 15 - HMS Penzance destroys historical bomb in Gulf
The Royal Navy website contains this article describing the location and destruction by HMS Penzance (MCM1 Crew 7) of a 1,000 lb bomb in the Gulf. The disposal took place following a five-day exercise with French and US counterparts designed to improve cooperation between the three nations. HMS Penzance then worked with the French units to find and blow up four pieces of historical ordnance scattered on the seabed. The article features the ship's Ops Officer Lt Matt Bryers and AB(D) Jake Connell.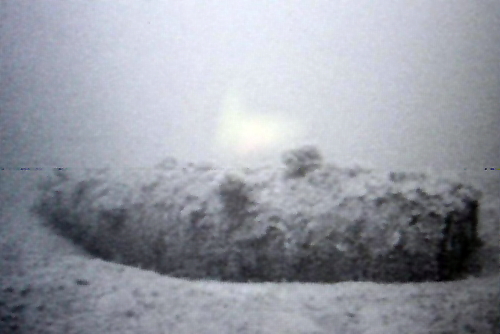 The historical 1,000 lb bomb viewed through HMS Penzance's Sea Fox camera
(RN website photo)
---
25 Jun 15 - SNMCMG1 disperses
Standing NATO MCM Group 1 (SNMCMG1) has dispersed for its summer break after which it will re-form with different ships. The photo shows some of the fun and games involved including a traditional waterfight between the Swedish HSwMS Goteborg and the Polish ORP Mewa with HMS Quorn (MCM2 Crew 3) following astern. In my day, the air was also filled with 2" signal pistol flares, other pyrotechnic whizz-bangs and potatoes and cabbages stuffed with thunderflashes although the personnel manning our MCR didn't appreciate the German CS gas that inflitrated the ship's ventilation system (see 'STAN's Navy - A Tale of STANAVFORCHAN' in the website's Dit Box).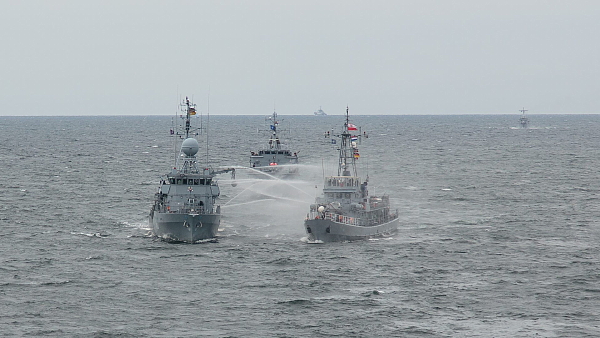 ---
24 Jun 15 - Latest RN EOD News
The following articles concerning Royal Naval Explosive Ordnance Disposal have been published during the past 48 hours:
The Guardian: Royal Navy bomb explosions caused mass whale deaths, report concludes
Torquay Herald Express: Royal Navy air station 'suspicious package' alert
Western Morning News: RNAS Culdrose reopens after suspicious package alert
Grimsby Telegraph: Navy team blows up mortar shell in resort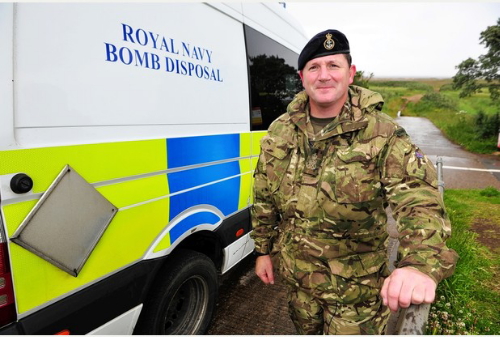 PO(D) Ross Halliday of Southern Diving Unit 2 at Cleethorpes beach
(Grimsby Telegraph photo by Rick Byrne)
---
23 Jun 15 - Wanted: Back issues of 'Buddyline', 'RN Diving Magazine' and 'Minewarfare & Diving Magazine'
'Buddyline' was the RN divers' newsletter published in HMS Vernon between 1983 and 1987. It was initiated and overseen by MCDOA founding Chairman David Sandiford (Diving Training Officer at the time) and edited by WO(D) John Dadd BEM (DIVO1 at the time). I hold the final issue published in January 1987. It has been scanned, converted into PDF format and can be read here:
Buddyline newsletter edition 7 dated Jan 1987
If anyone would be kind enough to lend me other issues of 'Buddyline', or missing issues of the 'RN Diving Magazine' or the 'Minewarfare and Diving Magazine' (see Branch History page), I will scan them so that they, too, can be enjoyed by others.
---
22 Jun 15 - Funeral arrangements for former PO(CD1) Len Fisher
Former PO(CD1) Len 'Nautilus' Fisher passed away on 30 May. A keen sportsman and swimmer in his day, he served in the Deep Trials Team during the 1960s. He was a contributor to this website and his name appears in several areas.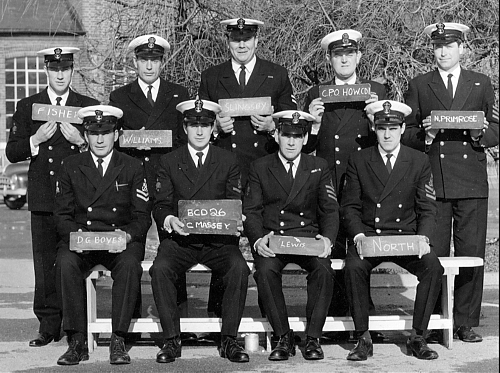 Len Fisher (standing far left) on BCD 26 CD1s' Course with other notables such as
Carl Massey, Ray 'Dudley' North and the late Norman Slingsby and Neil Primrose
in December 1968
A funeral service will take place on Wednesday 24 June 2015 at 1345 in Eastbourne Crematorium's main chapel. Family flowers only please, but donations if desired to St Wilfrid's Hospice c/o Payne and Sons, 143 Seaside, Eastbourne, BN22 7NN. John Dadd has informed me that he will be attending with Les Sharpe and Jim 'Tommo' Thomson.
---
From former CPO(CD1) Ray 'Dudley' North:
"Hi Rob,
I was sad to hear of the passing of Len Fisher as I would have liked to have been at his funeral; we were friends in the RN. However, being in Cyprus I didn't hear about it.
The last time I met Len, I was a patient in Eastbourne hospital 1998/9. Len worked there and surprised me with visits.
The answer to the BCD 26 CD1 class photo was December 1968.
Cheers,
Ray (Dudley) North
P.S. Last month I was still getting the rubber on."
---
From former FCPO(D) Dave 'Mona' Lott BEM in Australia:
"The passing of Len Fisher was brought to my attention by an email received from Shiner Brassington a couple of days ago. I was rather devastated to hear of yet another old mate having crossed the bar, but unfortunately most of my good old CD Branch mates have managed to age at the same rate as myself and we have now moved into that precarious position.
I last saw Len and his wife Eileen way back in the year 2000 when I last visited the UK for a Divers' Reunion held at Whale Island. As one of my best buddies, Jim Quinn, had not been in attendance, I visited his house one evening a bit later in the week. While waiting for Jim to open his front door I was joined in the dark by two further visitors who turned out, much to my really pleasant surprise, to be Len and his wife who were over on a visit from their home in France. So, of course, a second Divers' Reunion suddenly got off the ground and we had a great time as I am sure you can imagine.
Very sadly I lost touch with Len by email and it was only after the death of Robert Adam just over two years ago that I sent a general broadcast to all ex-divers in my email address book informing them. Among the replies received was one from Len outlining the serious illness that he was undergoing with cancer and that the UK Health Service turned him down for treatment on account of his age. Len's application for treatment to the French Health Service was met with deep surprise at the UK attitude and they then undertook surgery that gave Len at least two further years of life. Unfortunately, the attitude of the UK providers caused Len to shift back to reside in France and he and his wife had to run two homes, one in the UK and the other of course in France.
After Len left the RN he became engrossed in constructing and inventing prosthetic devices for invalids, and as far as I was aware he carried this out until he retired and moved to the French countryside, but was often popping back to keep in touch with where he came from.
As a final note I much regret "Len's passing" and found him to be a great bloke with a superb sense of humour and a great and intelligent talker. I have given much thought and deep regrets to lost mates over the past few days and Len certainly came from among that group.
Rest well old chum you will remain long in my memory, and to Eileen I guess that I have some small idea of the pain that this has brought to you I will be with you at Eastbourne in memory.
Regards,
Dave Lott
(aka Mona)"
---
21 Jun 15 - News from Steve Gobey in Australia
I am grateful to MCDOA member Steve Gobey for this update:
"Hi Rob,
VMT for giving the pics of my visit to Topsy Turner an airing on the MCDOA Website [See second entry for 13 Jun 15]. Sally and I were royally looked after by Topsy and Yvonne.
Now on a brief visit to Sydney. No time to visit the RAN Diving School but luckily a nearby pub helped me get my minutes in!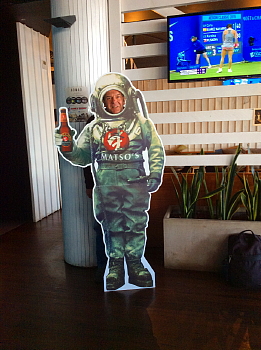 Cheers,
Steve"
Steve led the Royal Australian Navy's Clearance Diving Team 1 (AUSCDT1) while on exchange service in the mid-1970s. This photo shows him with the team at Cairns in North Queensland in 1975 during the filming of Mine on Channel Reef.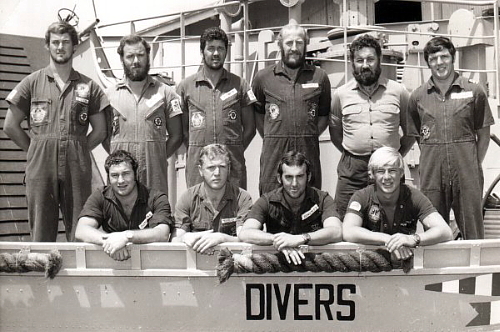 Steve Gobey (standing extreme right) with AUSCDT1 at Cairns in 1975
(RANCDA website photo)
---
20 Jun 15 - RN Diving Heritage - Sladen 'Clammy Death'
This website, as well as many books and other sources about Royal Naval diving in the Second World War, contains several mentions of the infamous Sladen 'Clammy Death' suit, more correctly called the Admiralty Shallow Water Diving Dress. The most recent reference on this page was in connection with British Chariot human torpedoes (see entry for 14 Jun 15).
Here is an excerpt from the fifth edition of the hugely authoritative Deep Diving & Submarine Operations - A Manual for Deep Sea Divers and Compressed Air Workers (Catherine Press, London: 1951) by Sir Robert H Davis, the erstwhile Managing Director of Siebe, Gorman & Co Ltd:
EXPERIMENTAL DIVING DURING THE SECOND WORLD WAR
"Early in 1942 the Admiralty decided to develop in great secrecy and at very high priority, both the human torpedo and midget submarine (or X-craft). Both schemes were under the control of Admiral Sir Max K. Horton, K.C.B., D.S.O., then Admiral Commanding Submarines. To Siebe, Gorman & Co. Ltd. in conjunction wiih Lieutenant-Commander (now Captain) W. O. Shelford, R.N., Davis Submerged Escape Apparatus Instructional Officer H.M.S. Dolphin, and, later, Superintendent of Diving, H.M.S. Vernon, fell the task of developing and producing the special diving equipment required for these ambitious schemes. Such diving operations had never before been attempted on such a scale in this country.
Commander (now Captain) G. M. Sladen, D.S.O., D.S.C., R.N., fresh from his exploits in command of H.M. submarine Trident, was appointed in general charge of the "Human Torpedo" or "Chariot" (as it was known in the Royal Navy) scheme and Siebe, Gorman & Co. had the pleasure of many visits from this distinguished officer.
Early experiments soon showed that there were a number of unexpected problems with which to contend. The Admiralty Diving Committee, which had been formed under the chairmanship of Rear-Admiral R. B. Darke, C.B., D.S.O, Captain of the Fifth Submarine Flotilla, H.M.S. Dolphin, decided to establish the Admiralty Experimental Diving Unit with its headquarters at Siebe, Gorman & Co.'s works at Tolworth.
This Unit consisted of a team of experimental divers, with diving officers and instructors to supervise the diving, medical officers and laboratory assistants and secretarial staff. The Medical Officer was Surgeon Lieutenant-Commander K. W. Donald, D.S.C., M.D., R.N., who was later joined by Surgeon Lieutenant-Commander (now Commander) W. M. Davidson, M.B., B.CH., R.N. The whole was under the command of the Superintendent of Diving.
Professor J. B. S. Haldane acted as adviser on certain physiological matters, and carried out a number of experiments on himself and his colleagues.
The whole of Siebe, Gorman & Co.'s experimental plant and equipment, and the facilities of their factory were placed voluntarily and unreservedly by Sir Robert Davis at the A.E.D.U.'s disposal. Thus, in a very short time after its inception, the Unit was able to start a most comprehensive experimental programme.
The first need was the development of a lightweight suit for the "Chariots", with a breathing apparatus of no less than six hours endurance under water; this is described in detail later. The depth required was comparatively shallow, so it was possible to use oxygen apparatus on the regenerative principle..."
It was during this period that Cdr Geoffrey Sladen developed his diving dress. Designed for cold water operations, it was manufactured from lightweight rubberised twill laminate similar to that used for the Standard Diving Dress. It was insufficiently flexible to allow neck entry so the design incorporated a modified midriff consisting of a tubular skirt at the front to afford entry and exit. The skirt was made watertight by folding it concertina fashion and then clamping the folds between two tinned brass rectangular plates bolted tight at each end using wing nuts. The neck was tailored to incorporate a moulded rubber/twill hood with a manually operated exhaust valve fixed at the crown and, finally, a full facemask from the Salvus set was affixed to the front of the hood to make it watertight. Web adjustment straps were retained to permit individual fit. Later modifications to the dress included a rectangular perspex visor hinged at the top to enable the use of binoculars for beach reconnaissance operations. The ordeal of dressing and the discomfort of wearing it in the hot confines of a submarine where sweat completely drenched the wearer prior to a cold exit later earned it the nickname 'Clammy Death'.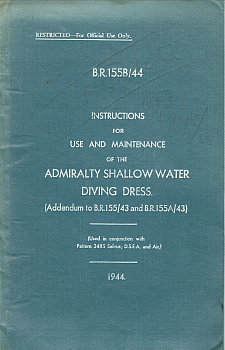 I have scanned BR155B/44 - Instructions for Use and Maintenance of the Admiralty Shallow Water Diving Dress (Addendum to BR155/43 and BR 155A/43) and it can be read here. It will also be available via the Branch History section of the website. For those in the Portsmouth area, an example of the Sladen suit is held by the Historical Diving Society's museum at Stokes Bay and former WO(D) John Dadd BEM, one of the volunteer guides, is usually more than happy to provide a demonstration.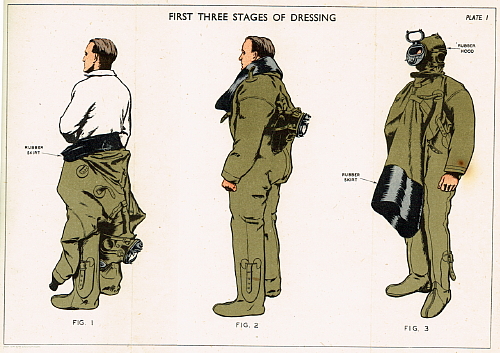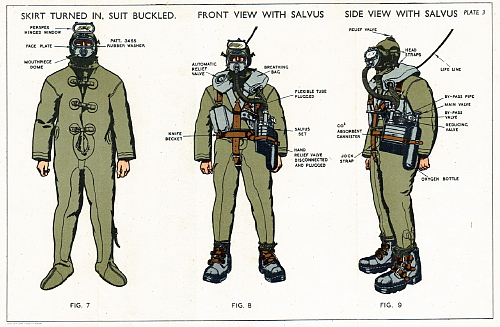 Cdr Sladen and AEDU achieved much success innovating new diving systems and hyperbaric practices while co-located with Siebe, Gorman at Tolworth in Surrey during the Second World War but this situation changed soon afterwards. This is another excerpt from Deep Diving & Submarine Operations by Sir Robert H Davis:
"...In 1946 the need for regrouping into a peace-time organization led to the transfer of the A.E.D.U. from Siebe, Gorman & Co.'s Tolworth Works to Portsmouth to join the Experimental Diving Establishment of H.M.S. Vernon. Thus ended, with regret on both sides, a partnership between the Royal Navy and a private firm, whose contribution to the successful conclusion of the Second World War was invaluable, and whose influence was felt in many theatres of war. It established, too, a basis for permanent experimental work to maintain the theory and practice of diving at a modern level, both in war and peace, since, although separated geographically, the two sides with their experimental organizations will, of course, continue to work together in the common interest of the diver and the nation."
---
19 Jun 15 - HMS Quorn brings down the curtain on BALTOPS 2015
Further to the previous entry, the Navy News website has published this article describing how HMS Quorn (MCM2 Crew 3) brought down the curtain on this year's BALTOPS with a mine detonation demonstration. The featured sonar operators are AB(MW) Luke 'Strawb' Fields and AB(MW) Daniel Gardner and the ship supplying HMS Quorn in the bottom image is SNMCMG1's flagship FGS Donau.
All images courtesy of the Royal Navy.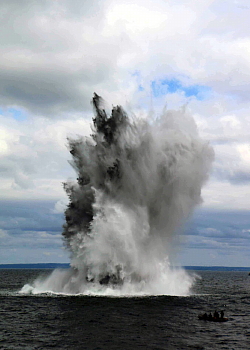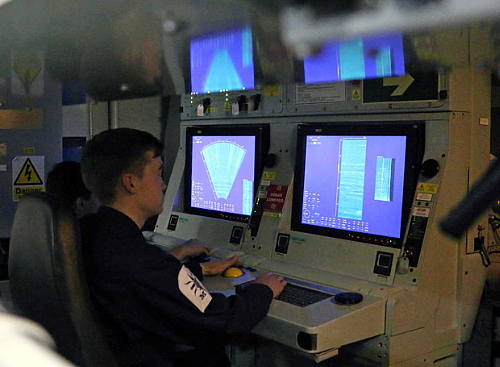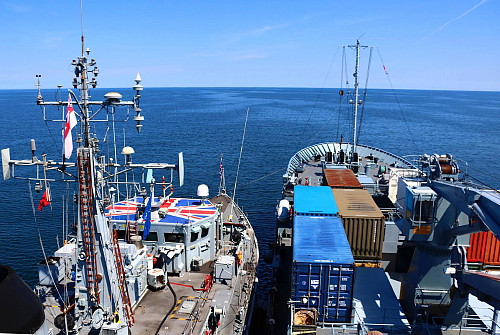 Post script: On 19 June, the Royal Navy website published this article announcing that, immediately after BALTOPS, HMS Quorn will participate in Kieler Woche (Kiel Week) with HMS Ocean, HMS Iron Duke, HMS Charger, HMS Example and HMS Ranger.
---
18 Jun 15 - FTRS vacancies of possible interest
The notification of vacancies for FTRS (Full Time Reserve Service) positions was updated on 15 Jun 15 and contains these minewarfare-related jobs:
VACANCY FOR AN OF3 OF ANY SPECIALISATION SERVING AS STAFF OFFICER OPERATIONS ON THE MINE WARFARE BATTLE STAFF IN UKMCC BAHRAIN – REF No 1822265
A vacancy has arisen for an OF3 (Lt Cdr or equivalent) of any Specialisation to serve as Staff Officer Operations (SOO) on the Mine Warfare Battle Staff on a rotational cycle in Bahrain and the UK on FTRS(FC) Terms and Conditions of Service (TCOS).
SOO is the senior N3 - 5 Staff Officer who is responsible for coordinating all current and future plans for MCM Operations for 24 hours and beyond for all aspects of the employment of the MW Force, including branches and sequels and all other contingency planning. This role will normally be filled by COS prior to deployment and thereafter or the SO3 HM when not on MCM Operations. SOO is also responsible for the cohesion of staff effort within the division particularly between the current Operations Cell and the Plans Cell within the N3 Division and between the N3 and N5 Divisions.
Accountable to the Chief of Staff his/her primary purposes are:
a. Primary Purpose.
(1) Organise and supervise N2 and the N3 watch keepers.
(2) To plan operations in accordance with the MW Commanders guidance.
b. Secondary Purposes.
(1) Manage the maintenance of the current MCM, OPFOR and neutral operational picture.
(2) Monitor the progress of assigned MCM Units in their tasks.
(3) Draft MCM Tasking for period 24 - 72 hrs.
(4) Chair the Current Plans WG.
(5) To provide mid and long term planning advice and direction to the MW Commander.
(6) To assess adequacy of current plans and modify or develop new plans as required.
His/her primary responsibilities are to:
a. Organise N3 augmentees into a watch bill that satisfies the demands of the exercise or operation.
b. Ensure that an accurate and up - to - date current operations picture is maintained by the watch keepers.
c. Ensure that the Operations Room state boards give an accurate and up - to - date summary of tasking of MCM Units and progress of tasks.
d. Ensure that the required records and reports are maintained to a high standard.
e. Draft, for COS's approval, follow - on and foul - weather tasking for MCM Units up to 72 hours.
f. Plan (not task) MW Activities for the period 72 hours and beyond.
g. Ensure that the reports and records required from MCM Units are submitted in time and to a high standard.
h. Organise the Main Brief and Update Briefs as required by the Battle Rhythm.
i. Draft the MW Commanders Daily Direction and Guidance (D&G) signal.
j. Advise the Command of any events that impact on the assumptions or COAs within the Command Estimate.
k. To act as the Group Practice Programme (GPP) man ager.
l. Maintain close liaison with the planning staffs of superior commands.
m. Maintain the MW Commanders plan, adapting the plan to changing circumstances and ensuring that it continues to best support the MCC's plan.
n. Plan for the possible redeploym ent of the MWBS including the exit strategy and liaise with SO3 N4 ENG for planning the execution of the move.
o. Act as lead Staff Officer for Force Protection.
p. Review progress towards completion of plans and advise COS of predicted shortfalls.
q. To support the COS and act as the MWBS non - MW lead programmer (when outside of exercises or operations) liaising with outside agencies as necessary.
r. To coordinate and supervise the compilation of non - MW planning and programme signal and MWBS Lessons Learnt as directed by COS.
s. To review progress of plans and advise COS of any shortfalls.
t. To act as the Divisional Officer to all SR N3 Watch keepers when deployed.
Employment Schedule:
FGen process, PDT and validation based in UK: 3 - 4 months prior to deployment.
Deployment based in Bahrain: 6 months.
Leave: 2 months on recovery from theatre.
Applicants should meet the following criteria:
Essential
Must either have been, or currently be, a OF3 of any specialisation
Desirable
Either have been, or currently be, a OF3 of the Mine Warfare specialisation
Period of Service. The appointment is on FTRS( FC) TCoS for an initial period up to 2 years. Previous applicants need not apply.
Annual Salary and Leave. Pay will be between £48,449.76 and £58,025.04 per annum depending on increment level. FTRS personnel are eligible for annual leave and public holidays in accordance with JSP 760.
Allowances. FTRS(FC) provides a full package of allowances with the exception of removals allowance, CEA, LSAP, and HTD unless in Public Accommodation. Full details are available in the relevant JSPs which you should check before accepting a commitment.
---
A VACANCY FOR AN OR 7 OF THE WEAPONS ENGINEERING SPECIALISATION SERVING AS WEAPONS TRIALS MINOR WAR VESSELS 3 (MPH3) IN VICTORY BUILDING, HMNB PORTSMOUTH – REF No 1750718
A vacancy has arisen for OR7 of the Weapons Engineering specialisation to serve as the MPH3 in Victory Building, HM Naval Base Portsmouth on FTRS( L C) Terms and Conditions of Service (TCOS).
MCTA is the Royal Navy's equipment capability assurance organisation. Led by a Captain RN, supported by 2 department commanders and a Band B2 civil servant, MCTA provides a range of maritime trials, assessment and assurance services in order to deliver independent capability assurance to the maritime domain of the MoD.
The Weapon Trials teams support the 'Introduction into Service' and 'System Acceptance' processes laid down in the Acquisition Management System (AMS) documentation and SSP53, and as expanded in BR 9463. They also make objective appraisals of the installation, capability and performance standards of weapons systems and equipment during and after combat system updates and platform upkeep periods. Maritime Force Capability Assurance is also supported by MCTA to provide the Commanding Officer and his team with a clearer understanding of the real time capabilities of their platform and also provide Navy Command further insight as to how each platform contributes to the overall effectiveness of a Task Group.
Accountable to the MPH SO3 the MPH 3's purpose is to conduct maritime force capabilities assurance, inspections and trials in Minewarfare, patrol and Hydrographic (MPH) Vessels.
Essential.
Must either have been, or currently be, a OR& of the Weapons Engineering specialisation
The following core competencies are essential:
a. Working Together (II)
b. Leadership and Development (II)
c. Communicating and Influencing (II)
d. Analysing and Use of Evidence (II)
e. Managing Customers and Suppliers (II)
f. Improvement and Change (II)
g. Planning and Managing Resources to Deliver Business Results (II)
Desirable
The following are competencies are desirable:
a. Good communication skills and a working knowledge of IT systems
Period of Service. The appointment is on FTRS( L C) TCoS for an initial period up to 2 years.
Annual Salary and Leave. Pay will be between £34,720.32 and £40,638.00 per annum depending on increment level. FTRS personnel are eligible for annual leave and public holidays in accordance with JSP 760
Allowances. Under the FTRS(LC) TCoS there is no allowance package, however if Single living accommodation is required and is available this is generally at the non - entitled rate but can exceptionally be at the entitled rate. Full details are available in the relevant JSPs.
The closing date for applications is 26 June 2015. Further information about these and other FTRS vacancies of possible interest can be found at:
Vacancies for Full Time Reserve Service positions updated 15 June 2015
---
17 Jun 15 - HMS Quorn conducts mine detonation demo in Baltic
The US Mission to NATO has tweeted this image of HMS Quorn (MCM2 Crew 3) conducting a mine detonation demonstration during BALTOPS in the Baltic (see entry for 9 Jun 15). She is currently assigned to Standing NATO Mine Countermeasures Group 1 (SNMCMG1)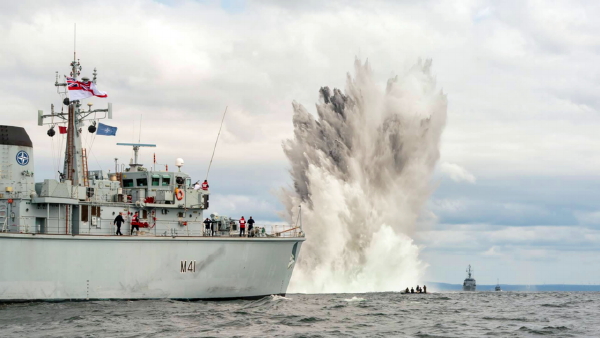 ---
16 Jun 15 - HMS Bangor passing through Gibraltar
I am grateful to local photographer Daniel Ferro for these images of HMS Bangor (MCM1 Crew 8) arriving at Gibraltar on 10 June and departing on 12 June. This may be the first time I have seen bridge wing awnings rigged on a Sandown while underway.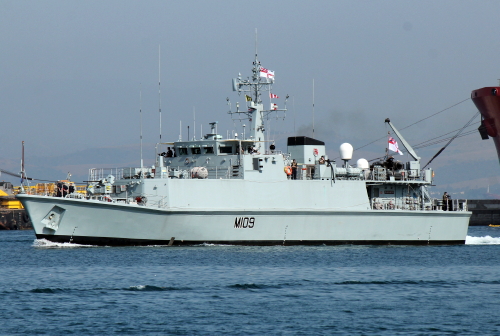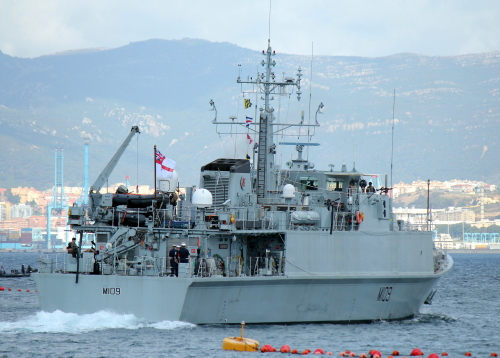 HMS Bangor is bound for the Gulf and MCM1 Crew 2, currently manning HMS Ramsey, is due to take her over in December. The Your Gibraltar TV website contains this article describing her short visit.
---
15 Jun 15 - 11th MCM Squadron reunion in Hull
By all accounts, last weekend's reunion, including a service in Holy Trinity Church, of personnel of the 11th Mine Countermeasures Squadron (11th MCM Sqn) held in Kingston-upon-Hull, home of the trawlers taken up from trade from which it was hastily constituted for the Falklands conflict in 1982, was a great success (see entry for 7 May 15 in News Archive 50). The trawlers were manned mostly by crews from Rosyth-based Ton class MCMVs.
I am expecting a report from MCDOA member Martyn Holloway, the squadron's Senior Officer, but here are a few images in the meantime courtesy of reunion organiser Jon Major. They include Martyn (extreme right in the first two photos and behind the lectern in another) and the MCDOA's own wandering minstrel, Bernie Bruen MBE DSC, playing 'The White Flag over Stanley' on his fiddle.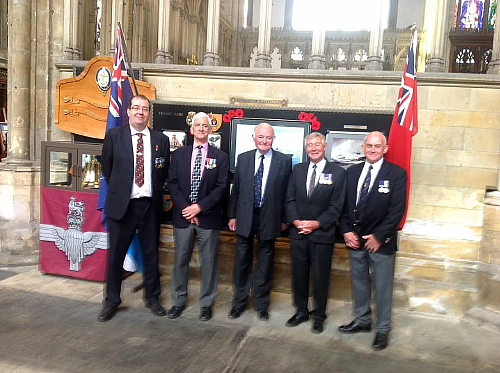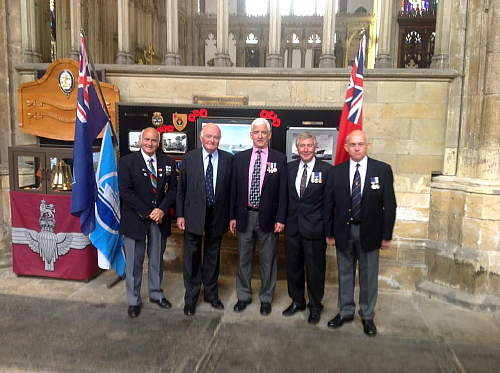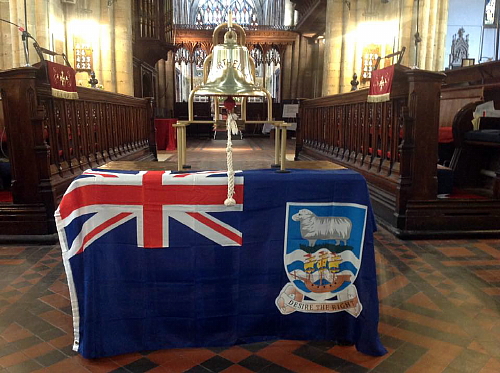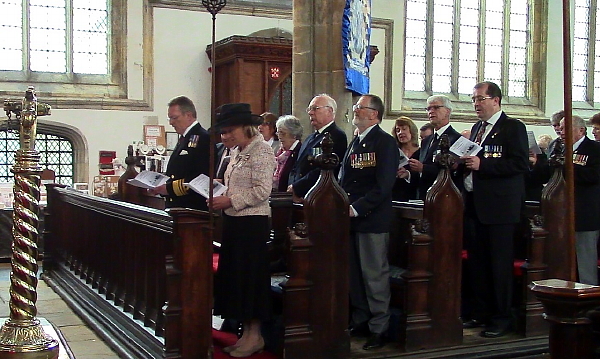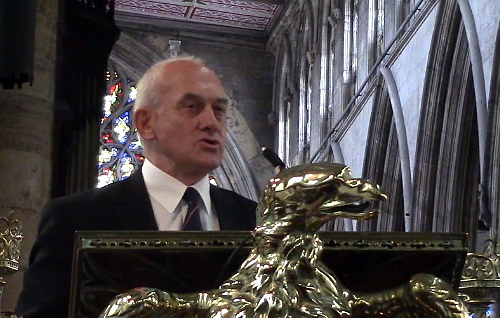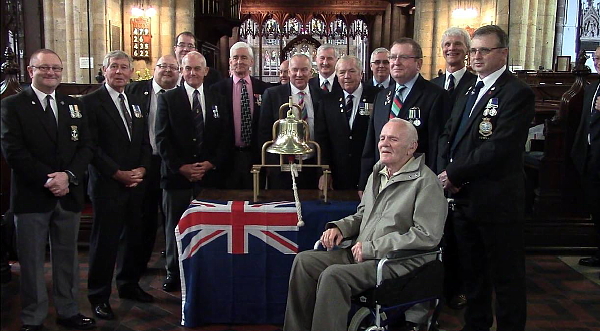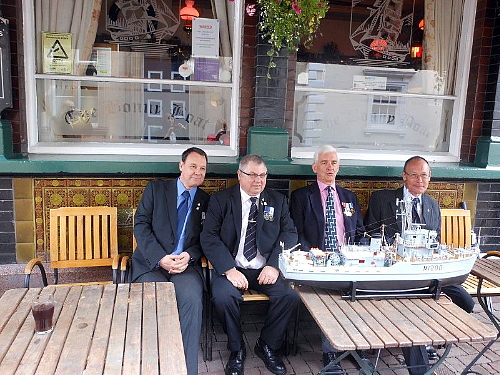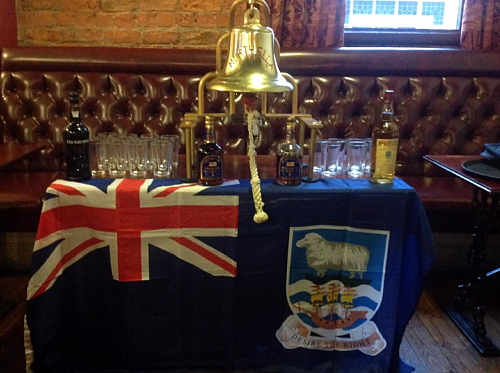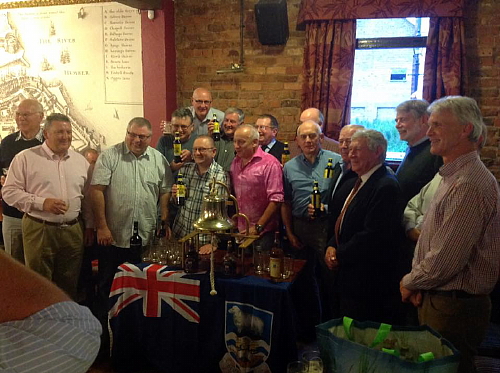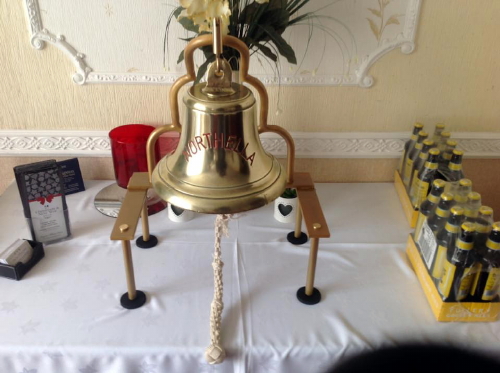 Attendees are believed to have included Mick Atkinson, Rob Bishop, Bernie Bruen, Peter Eastman, Eric Fraser, Simon Gaskin, Bob Geddes, Fergus Gillanders, Richard Goldstone, Jeremy Greenop, Alf Harding, Andy Hargreaves, Austin Hendren, Colin Lindsay, Martyn Holloway, Martin (Dai) Kent, Jon Major, Alex Manning, Jim McIntosh, Pony Moore, Jan Pearcey, Andy Smith and Charlie Watts.
---
14 Jun 15 - RN Diving Heritage: Chariot human torpedo off HMS Vernon
The entry for 8 May 15 in News Archive 50 included an image, kindly provided by former CPO(D) Michael 'Shiner' Brassington, showing post-war Chariot human torpedoes in a shed at Horsea Island. I am now grateful to ex-CD Peter Gallant for sending me this rare image captioned "Two-man Frogman Chariot minus the warhead, carrying out trials in harbour off HMS Vernon - 1951." The masks were deliberately prominent to cope with the increased pressure of water when facing forward with the submerged chariot moving ahead at speed.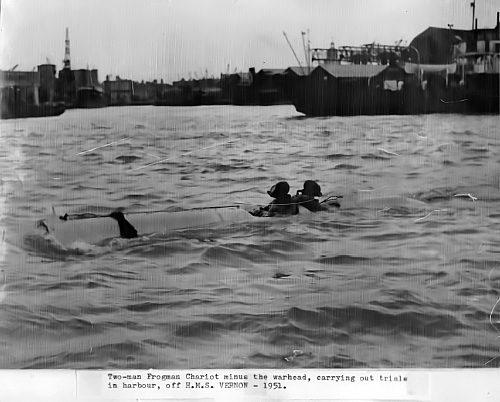 Most photos show the iconic British Chariot Mk I but this appears to be the uprated Chariot Mk II in which the divers sat back to back inside a cockpit with a detachable sliding perspex canopy. It was designed by Cdr S M Terry RN in October 1942 and manufactured by Stothert & Pitt, crane makers at Bath in Somerset. This photo was possibly taken during the same trial: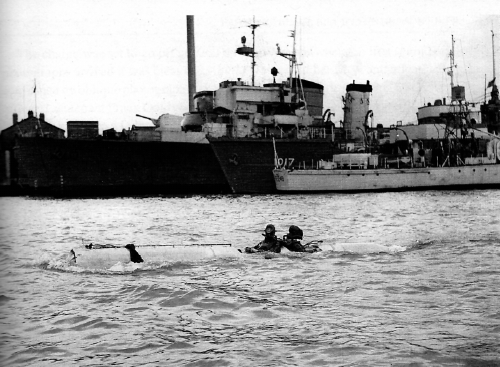 From the website of the incomparable Underwater Heritage Trust based at Eden Camp at Malton in North Yorkshire: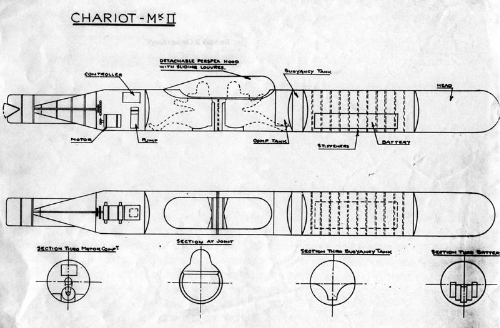 Streamlined for more speed and economical propulsion.

Crew sit inside back to back.

A larger warhead.

Better controls all contained in the driver's cockpit.

Depth gauge, air gauge, clock and compass.

Guard wire over the cockpit protecting occupant's head.
Length: 30 ft 6 in (9.3 m)
Diameter: 2 ft 6 in (0.8 m)
Max height: 3ft 3 in (1 m)
Weight: 5,200 lb (2,359 kg) with warhead
Armament: 1,000 lb explosive charge (weight 1,500 lb – 680 kg)
Max speed: 4.5 kt (8 km/h) @ 655 rpm
Range: 5-6 hours at full speed
Depth: 600 ft (183 m)
Operational depth: Limited to 30 ft (9 m)
Number built: 30
Built by Stothert and Pitt (Crane Makers) at Bath. Painted with a metal primer then covered with olive green Bitumastic manufactured by Wailes Dove Bitumastic Ltd.
The charioteers tended to wear the Mark II Sladen 'Clammy Death' suit incorporating an attached rubber helmet with a hinged oval visor that could be opened to enable the use of binoculars. In the Chariot Mk II, this was worn in conjunction with the Mk IV (Detached Cylinder) closed circuit rebreather, an adaptation of the Davis Submerged Escape Apparatus (DSEA). This provided the diver with an auxiliary oxygen supply from cylinders mounted between the seats inside the cockpit thus obviating the need to wear bulky cylinders on his back which could have impeded his egress. A quick release connection on the chariot's 'dashboard' enabled him to switch to breathing from his own single oxygen bottle mounted beneath his breathing bag.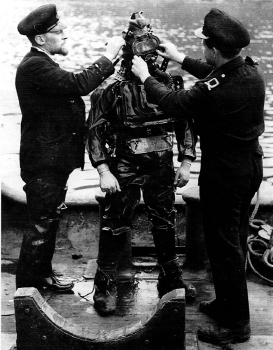 ---
13 Jun 15
Queen's Birthday Honours
Congratulations to CPO(MW) Thomas 'Tam' Mitchell Dewar RNR (Assistant Route Survey Officer 2001 to 2007) on being awarded the Queen's Volunteer Reserves Medal (QVRM) in the Queen's Birthday Honours published today. The London Gazette entry can be found here.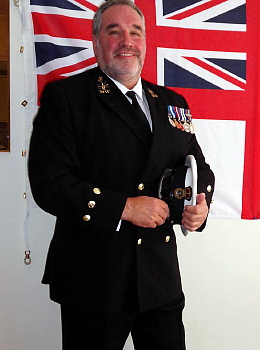 RN website photo
This appears on the SAM FM website (link):
...As well as the Regular personnel, Royal Naval Reservist Chief Petty Officer Tom Dewar will receive the Queen's Voluntary Reserve Medal for his dedication to the Service in a career spanning four decades. Of those, nine were in Regular service while he has spent 34 years with the RNR.
CPO Dewar is the Divisional Officer at HMS Dalriada - the Royal Naval Reserves base in Greenock - and was singled out for his reliability, high professional standards, leadership and professionalism. His citation said CPO Dewar has 'provided invaluable expertise in mine warfare while deployed on exercises with the RN and NATO and ensured a recent move for the Dalriada headquarters was completed successfully, galvanising the unit and acting as a tower of strength'.
CPO Dewar, 60, whose day job is working for Transline driving Royal Mail trucks, said: "I am of course delighted with this award, but feel very humbled because other people have taken time out from their busy lives to say nice things about me by putting me forward for this award - it is somewhat overwhelming.
"The RNR has always felt like an extended family to me, whereby you know everything about your shipmates and help is only 'an ask' away. When things are tough they gather round and help you through the dark days and when the good times arrive they party with you. Friendship is continuous, I remain in regular contact with a shipmate I met on my second ship in 1974 which is great."
The full list of military honours and awards can be read here.
---
MCDOA members abroad
From MCDOA member Steve Gobey in New Zealand:
"Hi Rob,
Topsy and Yvonne [Turner] are kindly hosting Sally and me during our current visit to the Antipodes!
Hope all well with you and yours Up Top.
Cheers,
Steve"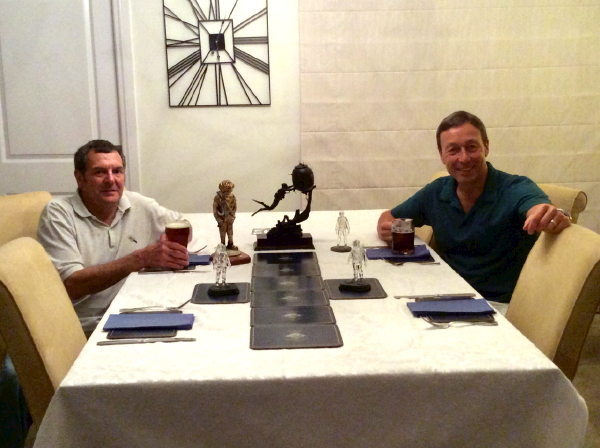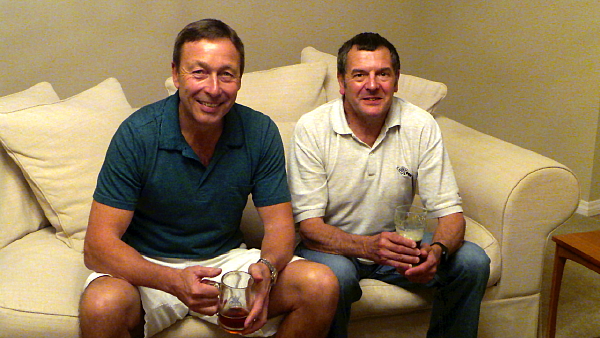 In the meantime, MCDOA founding chairman David Sandiford and his wife Pauline appear to be enjoying themselves in Barbados.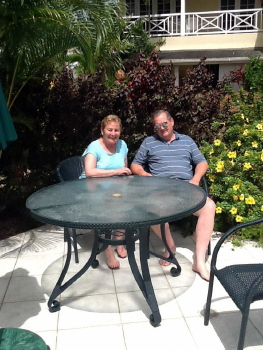 ---
12 Jun 15 - Lunch with some MCDOA Falklands veterans
I thoroughly enjoyed lunch today with fellow MCDOA members Bernie Bruen MBE DSC (my old buddy and LMCDO '76 coursemate) and Martyn Holloway (one of my fellow members of the MCDOA's 'Not Quite the Last of the Summer Wine' trio) in the Blue Bell at Emsworth.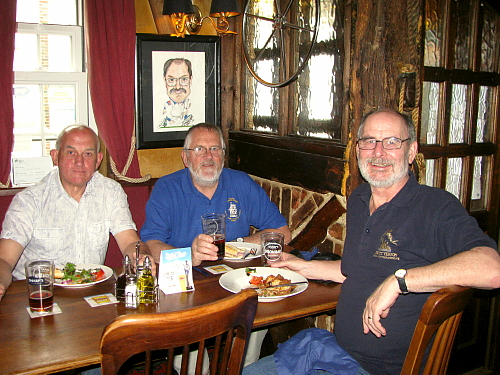 We then visited MCDOA member Doug Barlow (the third member of our NQTLOTSW trio) and his wife Jill at their cottage up the road. Unfortunately, a spot of rain forced us to retire from the garden to resume drinking our tea indoors.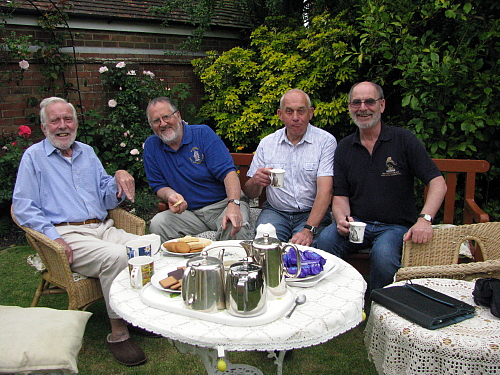 Bernie has come over from France and will be accompanying Martyn to Kingston-upon-Hull tomorrow (Saturday) to attend a weekend reunion of the 11th Mine Counter Measures Squadron (see entry for 7 May 15 in News Archive 50). This squadron comprised five Hull trawlers hastily converted for minesweeping and manned by TON class MCMV crew members in 1982. They sailed 8,000 miles to South Georgia and the Falklands in the South Atlantic where they performed many acts of derring-do in atrocious conditions, including clearing the Argentinean mines in the approaches to Port Stanley, before coming home safe and sound. Martyn was the squadron's senior officer and Bernie leapt into the water to capture one of the swept mines for subsequent exploitation (see 'The Forgotten Few of the Falklands' in the website's Dit Box).

Doug didn't join us at the pub because he is still recovering from an illness he picked up during his cruise around the British Isles last week.
---
From ex-CD Rick McCabe:
"Rob,
Please pass on my regards if possible. Not sure if it was at the same time or not but I had the pleasure of working with you, Martyn and Bernie on the Guz team [Plymouth Clearance Diving Team]. Some great memories."
[By Webmaster: Bernie relieved me on the Plymouth CD Team in April 1982, just in time to head south for the Falklands conflict as OIC FCDT3. Martyn ran the Plymouth CD Team in 1984/5.]
---
From former WO(D) Chris 'Spike' Hughes in Qatar:
"Ditto for me Rob. Indeed Rick, I think we were there (during two different drafts), at the same time.
I take it that you were all given leave for the day from your respective retirement homes, Rob.

"
---
11 Jun 15 - SDU1 deals with German 1kg incendiary used as doorstop
The Exeter Express & Echo website contains this article describing yesterday's removal, presumably by members of Plymouth-based Southern Diving Unit 1 (SDU1), of a Second World War incendiary used as a doorstop.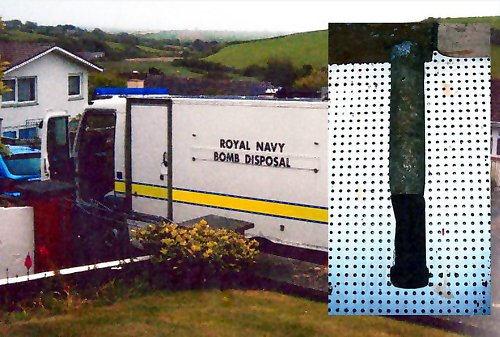 ---
10 Jun 15 - 'Last of the Wooden Walls' back in print
I was delighted to discover that Last of the Wooden Walls - An Illustrated History of the TON Class Minesweepers and Minehunters is now back in print. The first run, published in 2012, sold out within months and it has only been available since then as a Kindle e-book. I know this left many people disappointed because they told me at the time.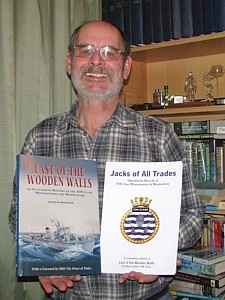 This A4 format 160-page hardback, containing a foreword by HRH The Prince of Wales, was produced to celebrate the 25th anniversary of the Ton Class Association (TCA). It costs £24.99 and can be purchased online from Halsgrove the publisher here.
---
9 Jun 15 - HMS Quorn leaves Gdynia for BALTOPS
The Royal Navy website contains this article and the Navy News website this article announcing that HMS Quorn (MCM2 Crew 3), in company with the helicopter landing platform HMS Ocean and the Type 23 frigate HMS Iron Duke, has left Gdynia in Poland to start this year's Baltic Operations (BALTOPS) (see entry for 29 May 15 in News Archive 50). This is the largest NATO maritime exercise of the year and the RN ships will be operating with other NATO land, sea and air units from Canada, Belgium, Denmark, Estonia, France, Germany, Latvia, Lithuania, Netherlands, Norway, Turkey, the USA and NATO partner nations Finland, Georgia and Sweden.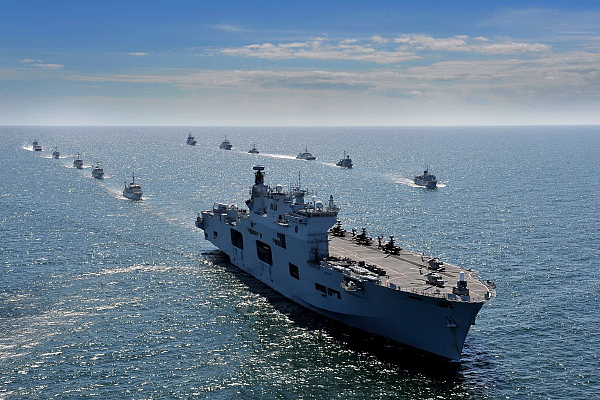 HMS Ocean with half of the MCMVs involved in BALTOPS 2015
(RN website photo)
---
8 Jun 15 - New Royal Navy complex in Bahrain to open on 15 June
The Albawaba website contains this article announcing that the expansion of the UK Maritime Component Command (UKMCC) complex in the Juffair district of Bahrain has been completed a month early and will open on 15 June (see second entry for 28 Apr 14 in News Archive 46). The complex cost £5.8 million and comprises a new headquarters and an engineering and logistics facility for the in-theatre Forward Support Unit.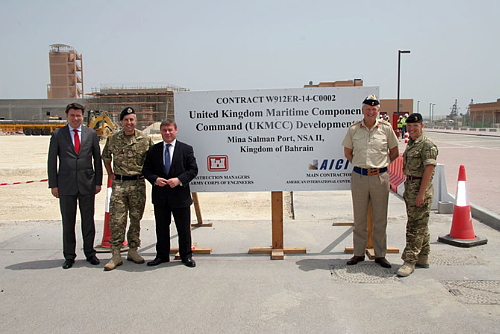 VIPs, including Commodore Keith Blount (COMUKMCC) and Armed Forces
Minister Mark Francois MP at the site in April last year
Also see entry for 4 Sep 13 and linked entries in News Archive 43. I would appreciate any photos of the new complex likely to be of interest to our readership.
---
7 Jun 15
Minewarfare & Diving well represented at HMS Collingwood's Open Day
I spent a thoroughly enjoyable afternoon with my three-year old grandson yesterday at HMS Collingwood's Open Day. The weather was glorious and it was as busy as I've ever seen with an unprecedented range of attractions for the entire family. As has become routine, the Defence Diving School (DDS) stand was co-located with that of the Historical Diving Society (HDS) and members of both organisations worked together to operate the hand pump and dive in the display tank wearing vintage standard dress and the state-of-the-art Clearance Diver's Life Support Equipment (CDLSE). I had the pleasure of chatting with MCDOA Membership Secretary Dave Stanbury of DDS and MCDOA associate member Dr John Bevan (Chairman of the HDS) among other familiar figures in our community.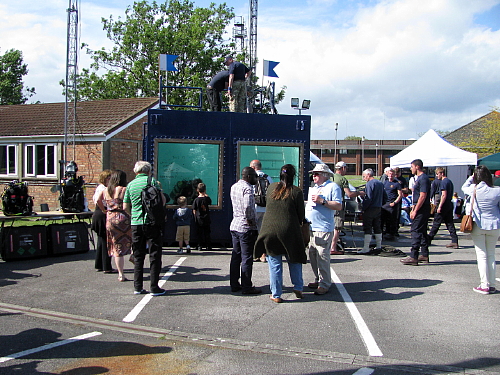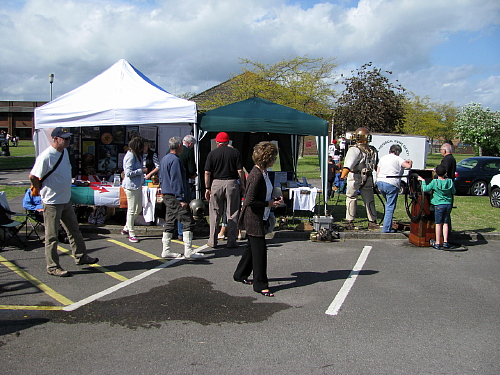 The stand occupied by the Royal Navy's Maritime Autonomous System Trials Team (MASTT) also had some impressive hardware on show including different versions of REMUS and other UUVs.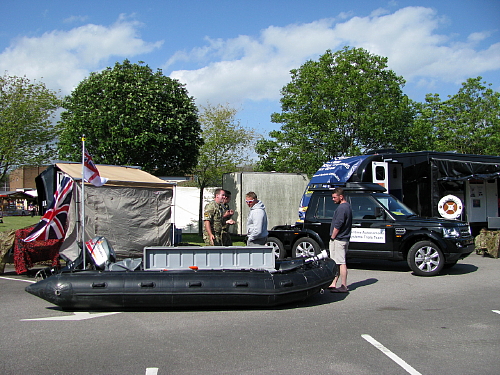 My photos were taken towards the end of the afternoon as people were leaving and fail to reflect the intense public interest shown earlier in the day when it would have been impossible to get a clear shot of the stands. Well done to all those who made the event such a success.
---
They're still out there, you know
This time, they are ours.
BBC News: Unexploded WW2 mines disrupt Dover to Calais ferries
---
6 Jun 15 - Vernon Monument fundraising dinner at RNC-RAYC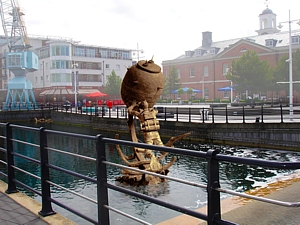 Artist's impression of the near twice-lifesize 14-ton
Vernon Monument in situ at Gunwharf Quays
Kudos to MCDOA member Mike Critchley, ably supported by David Sandiford (MCDOA Founding Chairman), Dixie Dean MBE (Mine Warfare Association Chairman) and Dennis 'Taff' Brady (Association of RN First Class Divers) for organising and running such an excellent dinner last night at the Royal Naval Club & Royal Albert Yacht Club (RNC-RAYC) in Portsmouth. The event raised several thousand pounds towards the Vernon Monument.
It was particularly good to see Sean Sweeney MBE (Centre Manager of Gunwharf Quays) along with Mike Handford and Troy Tempest (Vice Chairman and Honorary Secretary respectively of the AORNFCD, David 'Jimmy' Bond (AORNFCD), Jon Cox, Brian Dutton and Chris Tarmey (all MCDOA), Sue Anderson (widow of ex-CD Peter Anderson - founder of Southern Sports, later Peter Anderson Sports, in Southsea), and many other staunch supporters of Project Vernon plus their respective wives, husbands and partners. Shep Woolley was as entertaining as ever and there were some great sing-alongs. It all made for a thoroughly enjoyable, if somewhat raucous, evening.
Here are some images that, I hope, capture the spirit of the occasion: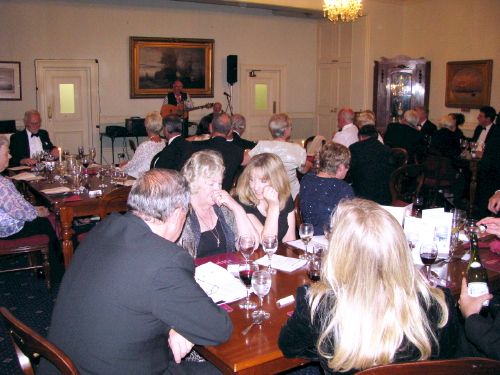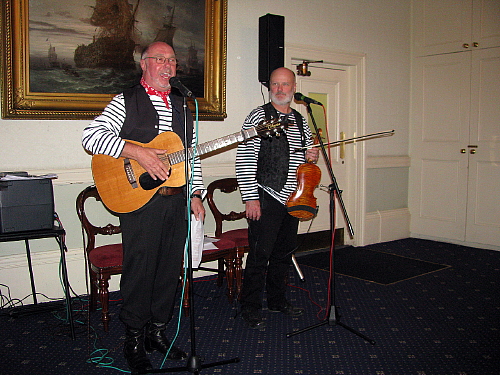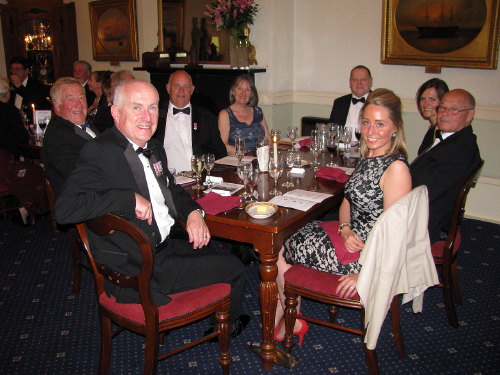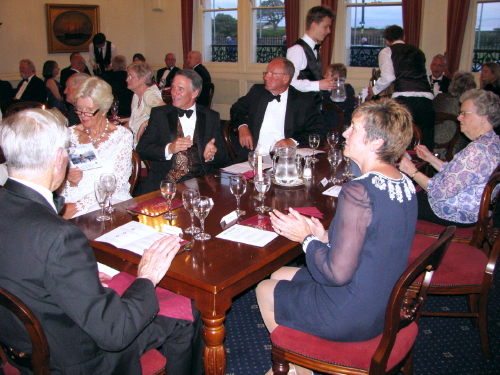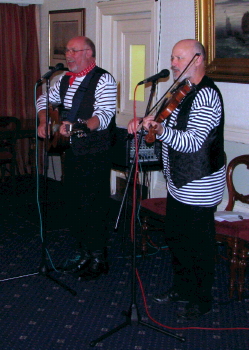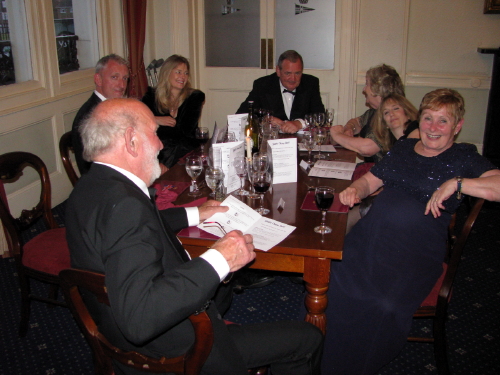 The raffle run by Dixie and Taff raised £300. In the more lucrative auction, I narrowly outbid Jimmy Bond to secure this stylised enamel representation of the Vernon Monument, the first in a new line of merchandise soon to be marketed on the Project Vernon website.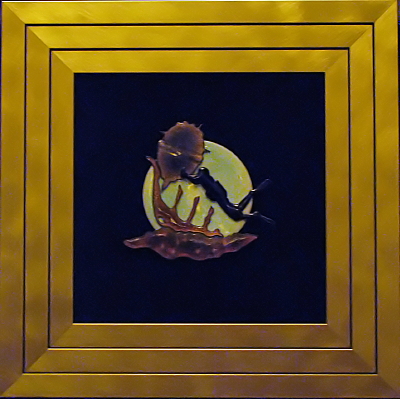 A big thank you to all the donors (and bidders) for their generosity.
---
5 Jun 15 - More HDS museum news
Thanks to all its supporters and the families who have voted for it, the Historical Diving Society's museum at Stokes Bay has been shortlisted among the top 20 of the most family-friendly museums in the UK out of more than 800 museums nominated. It was also the only museum in Hampshire to make the list.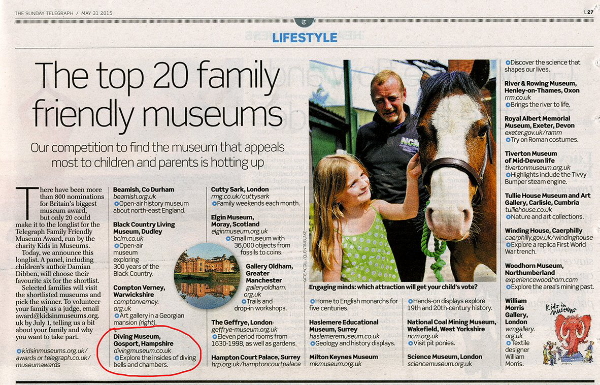 The Telegraph Family Friendly Award is still on and the list of 20 is to be whittled down to six as judged by the families and children who visit the museum. To find out more about the 'Kids in Museums' programme, visit kidsinmuseums.org.uk. To find out more about The Telegraph's Family Friendly Museums Award, visit telegraph.co.uk/museumawards.
Following the success of the HDS museum's last Walk & Talk (see entry for 21 May 15 in News Archive 50), it is now going to be a regular Sunday fixture. Costing £4 for adults and £3 for seniors and children (under 5s are free), it includes an entertaining and informative tour of the museum followed by a stroll around Stokes Bay to soak up some local history with Terry Hinckley.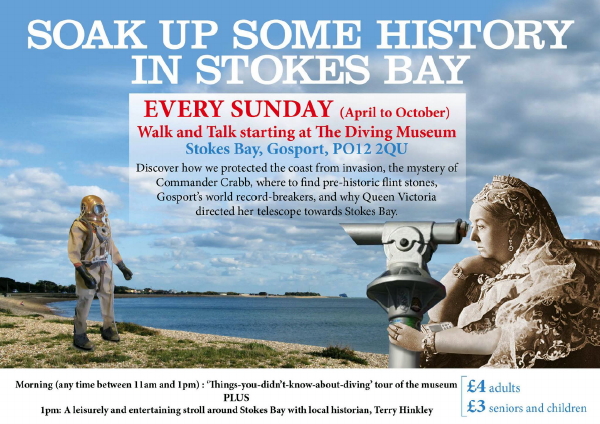 ---
4 Jun 15
HMS Ramsey to visit Liverpool this weekend
The Royal Navy website contains this article announcing that HMS Ramsey (MCM1 Crew 2) is due to arrive in Liverpool this Friday (5 June) for a four-day visit coinciding with the International Mersey River Festival. She will berth at Canning Half-Tide Dock and be open to the public on Saturday and Sunday between 1030 and 1630 with last entry at 1615.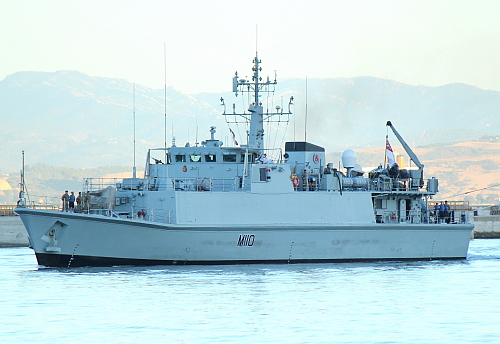 HMS Ramsey in Gibraltar 21 August 2014 while en route from the Gulf
(Photo courtesy of Daniel Ferro)
MCM1 Crew 2 is currently manning HMS Ramsey having sailed her back from the Gulf in August 2014. The ship has recently emerged from refit in Rosyth where a number of her systems have been upgraded. Following trials to prove all of the weapon systems and machinery, Crew 2 will prepare for operations between now and December before flying out to man HMS Bangor in the Gulf for another six-month deployment.
MCDOA member Steve Brown, Commanding Officer of the Faslane-based Northern Diving Group (NDG), has also advised me that some members of his team will man a static display near HMS Ramsey's berth. He cannot spare many from their normal standing duties as others are deploying to St Helena to survey the wreck of RFA Darkdale, sunk by a U-boat during the Second World War, deal with her unexploded ordnance and polluting materials and assist in other ways to facilitate the safe completion of the island's first airport and all this will entail for activities such as eco-tourism.
---
A day with a D-Day veteran
Your humble Vice Chairman & Webmaster had a splendid time yesterday in the company of D-Day veteran Ted Bullock and his ex-RN pal Dave Wilson from Berwick-on-Tweed. After rendezvousing at our house for morning coffee, I drove them to the Still & West in Old Portsmouth where we enjoyed a lunchtime pint together.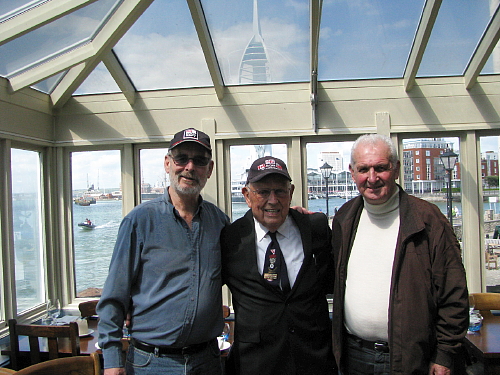 We then visited the D-Day Museum in Southsea, the first time either of my guests had experienced it. Both of them were mightily impressed.
After a refreshing cup of tea in the new restaurant in Southsea Castle, it was back to our house for a superb dinner cooked by Mrs Webmaster. I then delivered them to the Continental Ferry Port to catch the 2200 ferry to Caen. They will be participating in the D-Day commemorations in Normandy during the forthcoming week under the watchful eye of my good friend Tenno Dogger, founder of the Deep Respect Association (see entry for 30 Jun 14 in News Archive 46).
Gentlemen, it was a distinct pleasure to be in your company.
Post script: For accounts of RN minewarfare and diving activity during the Normandy landings, look in the website's Dit Box for 'Operation Neptune: The Minesweeping Operation 5-6 June 1944' and 'Operation Neptune: Frogmen - The First Men Ashore on D-Day'.
---
3 Jun 15 - HMS Quorn clears historical minefields
The Royal Navy website contains this article describing how HMS Quorn (MCM2 Crew 3) has spent the past fortnight clearing historical minefields off the coast of Estonia during Operation OPEN SPIRIT 2015. She is currently attached to Standing NATO MCM Group 1 (SNMCMG1) and the article features James Oxley (her XO & Minewarfare Officer - MCDOA membership status unknown) and AB(D) Adam Whittingham. The group has identified almost 200 mines during the ten day period, successfully destroying 38, three of which were claimed by HMS Quorn. The remainder posed no danger to shipping.
All images are from the RN website.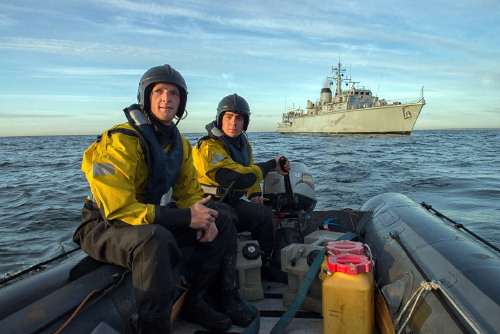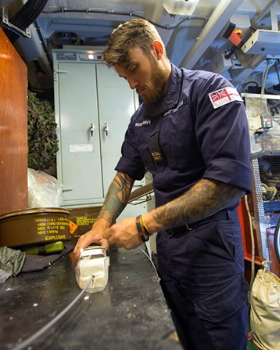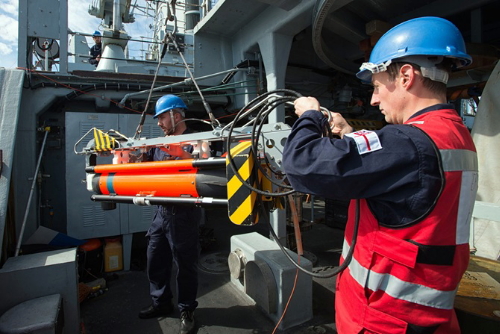 ---
2 Jun 15 - Minewarfare & Diving magazines now online
I was actioned at the MCDOA's last committee meeting to scan my collection of Minewarfare & Diving (MAD) magazines and make them available via the website as I recently achieved with the RN Diving magazines. This task is almost complete and the MAD magazines may now be accessed in pdf format via the appropriate archive in the website's Branch History section.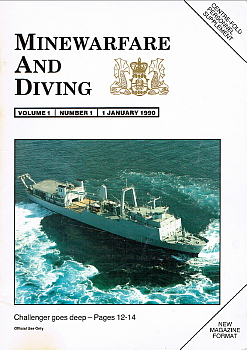 If anyone can supply missing issues or lend me a complete or near-complete collection of 'MINE' and/or 'BUDDYLINE' magazine, I would be delighted to add them to the website as well.
---
1 Jun 15 - Paddy McAlpine leaves post in style
Commodore Paddy McAlpine CBE ADC, the MCDOA's President, completed his term as Commodore Portsmouth Flotilla (COMPORFLOT) today and was given a fine send-off. Personnel manned ship before he took the helm of the patrol boat HMS Trumpeter from No. 2 Basin in Portsmouth Naval Base to Chichester where he was collected and driven home in a Southern Diving Unit 2 (SDU2) EOD vehicle.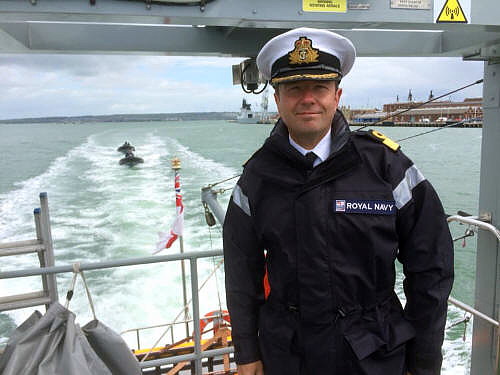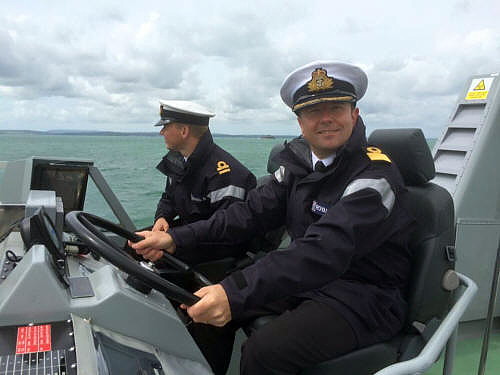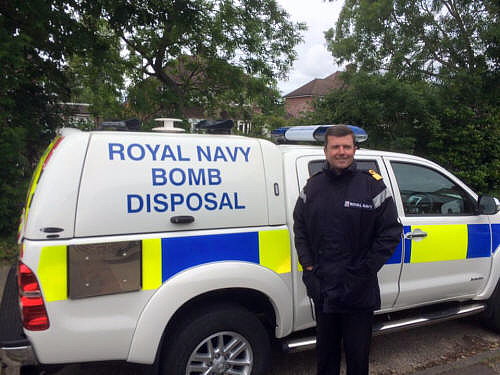 Paddy will probably need to undertake the odd course, acquaint and briefing before shipping his second star as a Rear Admiral and assuming his NATO role in Portugal in July (see entry for 18 Mar 15 in News Archive 49).
---