---
7 Aug 14 - New lease of life for HMS Middleton
The Royal Navy website contains this article announcing the emergence of HMS Middleton (MCM2 Crew 8) from refit as the second Hunt class minehunter (after HMS Chiddingfold (MCM2 Crew 5)) to have her Deltic diesel propulsion system replaced with Caterpillar C32 ACERT diesels. The article also features MCDOA President Cdre Paddy McAlpine CBE ADC, Commodore Portsmouth Flotilla (COMPORFLOT).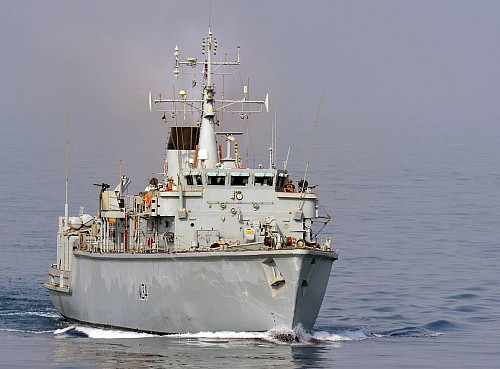 HMS MIddleton
(RN website photo)
---
6 Aug 14 - HMS Atherstone welcomes a new ship's company
The Royal Navy website contains this article describing MCM2 Crew 2's handover of HMS Atherstone to MCM2 Crew 6 (commanded by MCDOA member Simon Pressdee) in Bahrain last month. The new crew will spend seven months in the Gulf region on Operation KIPION.
Simon Pressdee (left) accepting Command
of HMS Atherstone from Andy Smith
(RN website photo)
---
5 Aug 14
HMS Chiddingfold remembers in Crete
The Commanding Officer and members of the ship's company of HMS Chiddingfold (MCM2 Crew 5) have laid a wreath at the war memorial in the Commonwealth Graves Cemetery in Souda Bay, Crete while on passage to the Gulf.
Lt Cdr Richard Rees RN, CO of HMS Chiddingfold, with members of the ship's company
at the CWG Cemetery in Souda Bay, Crete
(Photos courtesy of the Commanding Officer)
---
SDU1 deals with Second World War 'bomb' at St Erth
The Cornishman website contains this article describing the disposal last Sunday, presumably by members of Plymouth-based Southern Diving Unit 1 (SDU1), of the head of a Second World War device handed in at the recycling centre in St Erth, Cornwall. Hayle police are looking for "...a white male approximately 60 years old with a bald head and grey beard" so I suppose I'd better turn myself in.
---
4 Aug 14 - RN Minewarfare Heritage: 100th Anniversary of the start of the First World War
Today is the 100th anniversary of the start of the First World War. The first British (and Allied) naval loss occurred in the early hours of the third day of the war (6 August 1914) when the new 3,500 ton light cruiser HMS Amphion was sunk by a mine laid off the Suffolk coast by the German auxiliary minelayer Königin Luise. Königin Luise had been pursued by Amphion and destroyers of the 3rd Flotilla and sunk by HMS Lance the previous day (5 August 1914), thus becoming the first German naval loss of the war.

HMS Amphion sinking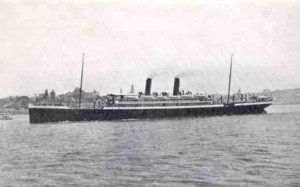 German Auxiliary Minelayer Königin Luise
Given the date, I thought it appropriate to repeat this excerpt from the entry for the RN Minewarfare Branch in the Branch History section of the website:
INTRODUCTION
Responsibility for Royal Navy minewarfare was first vested in the Gunnery Branch but this was divested to the Torpedo Branch on its formation in 1876. Henceforth, Torpedo officers and seaman (later to became members of the Torpedo & Anti-Submarine (TAS) Branch) conducted minesweeping and mine-laying operations in regular RN vessels until 1975. Their training was undertaken at the Mining and Anti-Mining Department of the Torpedo School at HMS Vernon in Portsmouth where mines and mine countermeasures were developed throughout both world wars. Paradoxically, the Gunnery Branch retained responsibility for naval diving until this, too, was divested to the Torpedo Branch on 1 October 1944.
FIRST STIRRINGS
In 1907 Admiral Lord Charles Beresford was Commander-in-Chief of the Home Fleet. After a visit to ports on the east coast of England, he was the first to recommend the use of Grimsby trawlers for minesweeping duties. He wrote:
"Our fishing fleets, in war, will be rendered inactive and will, in consequence be available for war service. Fishermen, by virtue of their calling, are adept in the handling and towing of wires and trawls, more so than are naval ratings. Small naval vessels, if used in minesweeping, will be used at the expense of other urgent war requirements."
WORLD WAR I
Admiral Lord Beresford's prescience eventually led to the formation of the Royal Naval Reserve (Trawler Section) - the RNR(T). The Trawler Reserve was instituted with approval for 100 trawlers to be mobilised during any period of strained relations and for the immediate enrolment of 1,000 officers and ratings to man these vessels. This brought a new rank, that of 'Skipper' RNR, into the Navy List and the first officer (Peter Yorston) enrolled at Aberdeen on 3 February 1911. By the end of 1911, 53 skippers had joined. In 1912 a further 25 enrolled and the Trawler Section of the Royal Naval Reserve consisted of 142 trawlers manned by 1,279 personnel. Thirty-one more skippers joined before the war started in August 1914 making a total of 109. Three hundred and fifteen more volunteered by the end of the first week in October. By the end of 1915, the Minesweeping Service employed 7,888 officers and men.
Within the first week of war, 94 trawlers were allocated for minesweeping duties and dispersed to priority areas including Cromarty, the Firth of Forth, the Tyne. the Humber, Harwich, Sheerness, Dover, Portsmouth, Portland and Plymouth. The groups were commanded by naval officers, some from the retired list, who had received a brief training in minesweeping. Apart from the skippers, officers were also required to supplement the handful of naval officers of the existing minesweeping service. Most of the trained pre-war RNR and RNVR officers had already been called up for service in the Fleet. For the new minesweeping and auxiliary patrol flotillas, officers and civilians were obtained from the Merchant Navy and given temporary commissions in the RNR and RNVR. To bolster naval discipline, various Royal Fleet Reserve and pensioner petty officers were distributed among the vessels.
When the Armistice was signed at the end of the war, the Trawler Reserve comprised 39,000 officers and men of whom 10,000 were employed in minesweepers and the rest in the auxiliary patrol. The 10 ex-torpedo gunboats available as minesweepers at the outbreak of the war had been replaced by purpose-built ships including 72 Flower Class single-screw fleet minesweeping sloops of the Acacia, Arabis and Azalea types, 107 Hunt Class and Improved Hunt (Aberdare) Class twin-screwed minesweepers, 24 'Class of 24' fleet sweeping sloops, 32 Ascot Class and Improved Ascot Class minesweeping paddle-steamers, 13 Grimsby Class general purpose sloops and 10 Dance Class 'Tunnel Tug' inshore minesweepers. Total RN minesweeping forces included 762 ships stationed at 26 home ports and 35 foreign bases. Two hundred and fourteen minesweepers had been lost during the four years and three months of the war.
Post script: It is good to see these follow-ups among many others:
Daily Telegraph 7 Aug 2014: The army prepares for war, but the Royal Navy loses its first ship
BBC News 6 Aug 2014: HMS Amphion was first British warship sunk in World War One
Royal Navy 6 Aug 2014: Centenary of the first Royal Navy casualties in World War 1
Navy News 6 Aug 2014: Centenary of the first Royal Navy casualties in World War 1 remembered
ITV News 5 Aug 2014: Cannon fire marks 100th anniversary of 1st WW1 shot
---
3 Aug 14 - Mystery EOD team deals with suspected Second World War bomb in Wales
The Wales Online website contains this article and the South Wales Evening Post this article, including some interesting comments, describing last week's removal of a shell fragment from the beach at Rhossili on the Gower Penninsula, allegedly by an RN EOD team.
---
By MCDOA Honorary Treasurer Peter Davis, OIC of Plymouth-based Southern Diving Unit 1 (SDU1):
"Rob,
I have contacted HMCG Swansea and checked with JSEOD Ops Centre after reading the articles published in the South Wales Press. My Unit was not involved in any such task and certainly does not go around cultivating such a worryingly nonchalant impression on the general public.
At present HMCG are unable to confirm who the spokesperson might be or provide me with an incident record for the report, but I can assure you that this has nothing to do with the professional standards maintained by Southern Diving Unit 1 (Plymouth).
Yours aye,
Peter"
---
2 Aug 14 - Ex-CPO(D) Albert Derek 'Ginger' Snell BEM seriously ill
I have been advised that Ginger Snell has been admitted to hospital in Gorleston, Norfolk, originally with a suspected mini-stroke. It has since been confirmed that he has lung cancer and a tumour on the brain. Neither are treatable so he will be sent home as soon as care is arranged. He is fully aware of his condition and has asked for old friends to visit so he can say his goodbyes while he is still able.
Ex-CPO(CD1) Michael 'Shiner' Brassington recalls being Ginger's pump 'number two' as a Boy Seaman in the cruiser HMS Swiftsure in 1952 when Ginger was a 'steamer' (hard hat diver). He hopes to visit him at his home in Lowestoft soon.
Former FCPO(D) David 'Mona' Lott BEM in Australia remembers qualifying CD1 with Ginger, Dave Audoire, Peter Barrett, Curly Burrows, Gerry 'Pincher' Martin, George Robbie and Dave 'Tilly' Tyzack in 1963 under the guidance of the late Taff Roberts. Page 128 of Mona's book, A Corkhead's Chronicle - Experiences of a Royal Navy Clearance Diver 1955-76, contains this photo of the course at HMS Vernon: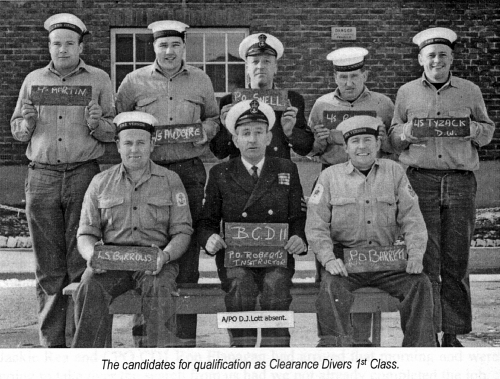 CD1 course photo in 1963 showing Ginger Snell standing centre rear
Ginger was awarded the BEM in the 1972 New Year Honours. Mona last saw him while touring the UK visiting old diving mates in 1976 after leaving the RN. He was teaching civilian divers in an old flooded brick quarry.
Ginger has asked for cards from anyone who cares to send one and I can supply his address on request. I will be sending one in the spirit of branch solidarity.
---
1 Aug 14
FDU2 Divers in RIMPAC 2014
The Royal Navy website contains this article describing the participation of divers from Portsmouth-based Fleet Diving Unit 2 (FDU2) in the biennial Rim of the Pacific (RIMPAC) Exercise 2014 off San Diego with other divers from the US, Royal Australian, Royal Canadian, Chilean, Japanese, Royal Netherlands and Royal New Zealand Navies (see entry for 23 Jul 14). They have been taking part in night dives to find and remove mines.
More RIMPAC 2014 photos here.
---
HMS Bangor to the rescue again
The BBC website contains this article including a video showing HMS Bangor coming to the aid of BBC Breakfast weather presenter Carol Kirkwood when she experienced technical problems with her weather forecast graphics.
HMS Bangor (MCM1 Crew 8) is currently berthed at Plantation Quay next to the Science Centre in Glasgow (see entry for 29 Jul 14).
---
Eligibility of HMS Brecon and HMS Ledbury personnel for South Atlantic Medal
From a written Ministerial Statement to the House of Lords on 29 July 2014:
Military Medals
Statement
The Lord Privy Seal (Baroness Stowell of Beeston) (Con): The Prime Minister appointed Sir John Holmes in April 2012 to conduct an independent review of the policy governing the award of military medals. He issued his report in July 2012, which concluded that the existing guiding principles were reasonably based but that there should be greater readiness to review past decisions. Sir John was therefore commissioned to review independently a number of cases which had been brought to his attention as possible candidates for changed medallic recognition. The aim was to draw a definitive line under issues which in some cases had been controversial for many years, ensuring that consistency and fairness were respected as far as possible, in a context where the judgments are often difficult, but need to be clear and defensible.
This substantial and complex piece of work is now complete. Each of the reviews has been subject to detailed discussion by the Committee on the Grant of Honours, Decorations and Medals and its conclusions submitted for Royal approval. All will be placed in the Libraries of both Houses.
The outcomes where detailed reviews were carried out are listed in the Annexe to this statement. Where medallic recognition has been agreed, the Ministry of Defence will issue guidance on how individual claims may be submitted...
The relevant Annex to the Ministerial Statement contains this passage:
South Atlantic The qualifying period for the award of the South Atlantic Medal without the Rosette will be extended from 12 July to 21 October 1982. The original decision to end the qualifying period on 12 July 1982 was taken too hastily: those who served beyond that date experienced both risk and rigour until the airfield at Mount Pleasant was completed on 21 October.
The following website provides the background to a campaign, first reported in the entry for 26 Jan 07 in News Archive 17, for the ships' companies of HMS Brecon, HMS Ledbury and the old RMS St Helena in 1982 to be awarded the South Atlantic Medal negative Rosette:
FORGOTTEN SHIPS OF THE FALKLANDS CAMPAIGN: The case for the award of the South Atlantic Medal (Without Rosette) to HMS Ledbury, HMS Brecon & The RMS St Helena
Unrelated to the South Atlantic, the Ministerial Statement also included this passage about a possible National Defence Medal and the future award of the LS&GC Medal to officers:
...Sir John also reviewed the case for a National Defence Medal. An options paper produced by the Cabinet Office will also be placed in the Libraries of both Houses. The Committee on the Grant of Honours, Decorations and Medals is not persuaded that a strong enough case can be made at this time, but has advised that this issue might usefully be reconsidered in the future. In such circumstances, the criteria for the award of a medal would need careful consideration, including length of service, good conduct and the possibility of retrospection. In the meantime, Ministers have agreed that the eligibility requirements for the Long Service and Good Conduct Medal, which is currently awarded only to other ranks and not to officers, should be harmonised for the future.
Watch this space for further developments.
---
31 Jul 14 - Death of former PO(D) Andy Frowley
MCDOA Committee member Graham 'Tug' Wilson MBE has sent me this sad news:
"Hi Rob,
You may or may not be aware that former PO(D) Andy Frowley passed away last Sunday. I'm sure many of our members will have worked with Andy and join me in passing our condolences to his family. Andy's daughter is looking to have his ashes committed at sea, preferably from an MCMV. We are investigating the possibility through Navy Command.
Thanks Rob,
Tug"
Post script: Tug has followed up his previous message with this:
"Hi Rob,
I've been informed by Andy's daughter Sarah that Andy's funeral will take place at Portchester Crematorium at 1030 on Tuesday 19 August.
Tug"
---
30 Jul 14 - Who remembers Lt Cdr Subhash Taskar of the Indian Navy?
I received this email yesterday:
"Dear Lt Cdr Hoole,
Allow me to start by complimenting the MCDOA on putting together a very informative website. I found your organization online when I was looking for information on the erstwhile HMS Vernon establishment, and was very impressed with the level of detail on your website.
The reason for my interest in HMS Vernon, also the reason I am reaching out to you, has to do with my father - Lt Cdr Subhash Taskar. He is a retired clearance diver from the Indian Navy and trained with the Royal Navy at HMS Vernon in the second half of 1971. My father lives in India and is currently visiting me in London. He has fond memories of the time he spent in Portsmouth in 1971 and I was hoping I could connect him with other officers who may have been based there around that time. I was also hoping I could connect with MCDOA members or ex-RN officers who are based in and around Portsmouth, who could help my father plan a visit to the diving school there.
Much appreciate any help from you on this. I look forward to hearing from you.
Regards,
Muneer"
Here is the course photo of OLMCDO '71 with Subhash Taskar sitting third from the right in the front row: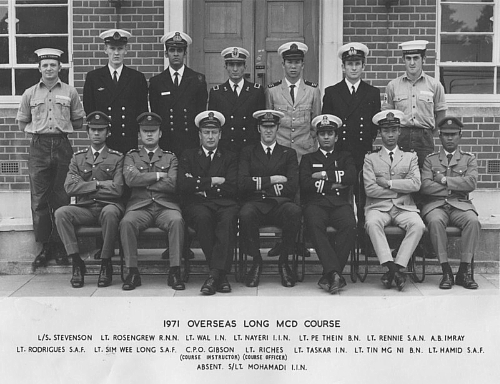 If anyone can help Muneer with either of his requests, please email me via my Webmaster address.
---
From MCDOA member Jon Riches:
"Rob,
How interesting and a voice from the past. I was Course Officer to the Overseas LMCDO Course September - December 1971. If I recall, Lt (then!) Taskar was one of the two Indian Navy officers on the Course. The rest of the Course were officers from Norway, South Africa, Burma, Singapore and Iran. Quite a mix! The Course Instructor was CPO Trevor Gibson. As much of the diving was in the Autumn I think some of the Course found it a bit cold!
Maybe Soapy Watson could arrange a visit to the Diving School after leave if Lt Cdr Taskar is still in the country? If so I would be happy to join in and meet Subhash again. Sadly I have no photos of the Course; the only record is my Diving Log recording dives I did with them.
Jon"
---
From Subhash Taskar:
"Dear Jon,
Bingo! Really impressed you remember our Course in such detail; specially liked you recollecting my first name. I served in the Indian Navy up to 1983 and quit. Thereafter I sailed as a Master Mariner on Bulk Carriers and Container Vessel for almost 30 years. I just hung up my life jacket in 2012.
It's great to reconnect after 42 years. My son is an IT person working in London. He stays at Earl's Court; I tasked him to locate Vernon and, thanks to the MCDOA, we were able to connect.
I fly back home on the 5th of August. I was wondering if we could meet somewhere and have a drink. Rob could join us as well. Remember CPO Gibson and the PO John. The other Indian Officer with me Lt (then) B.S. Wall retired as a Commodore and presently settled in New Delhi.
Regards,
Subhash"
---
29 Jul 14
Commonwealth Games medal-winning MCDOA member visits HMS Bangor
This article has been published on the Royal Navy's Facebook page (see entry for 26 Jul 14):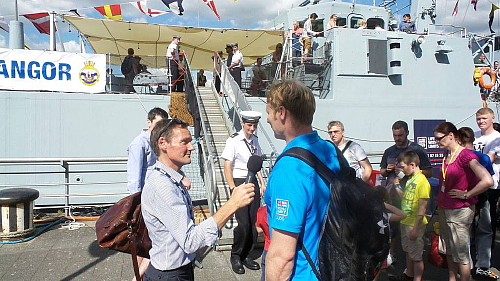 After his magnificent result winning a bronze medal in the Commonwealth Games +100kg judo competition, Lt Cdr Mark Shaw was welcomed back to the RN by members of the Ship's Company of HMS Bangor.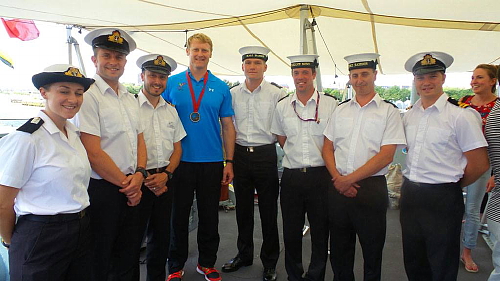 Mark, a RN Diving Officer was happy to meet and discuss his exploits with sailors and members of the public visiting the ship during Ship Open to Visitors.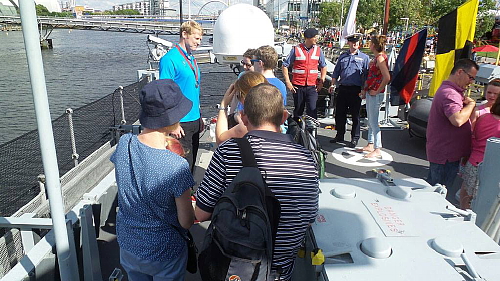 Mark said: "This whole Commonwealth Games venture has been a fantastic experience. I was very proud to be on the ship today and meet so many people who congratulated me on my achievement, very humbling but most gratifying."
HMS Bangor (MCM1 Crew 8) is currently berthed at Plantation Quay next to the Science Centre in Glasgow (see entry for 25 Jul 14).
---
Commonwealth Games swimming results for AB(D) Jeremy Osborne
The Commonwealth Games swimming results for AB(D) Jeremy Osborne, one of 39 athletes representing Guernsey, can be seen here. Although his team failed to qualify for any of the finals, it ranked 6th in Heat 1 of the Men's 4 x 100m Freestyle Relay, 5th in Heat 2 of the Men's 4 x 200m Freestyle Relay and 10th in the Heats of the Men's 4 x 100m Medley Relay. Congratulations on a fine effort.
---
27 Jul 14
Death of Lt Cdr David Peter Ronald Lermitte RN
I was saddened to receive this notification from MCDOA member David Burstall:
"Hi Rob,
Some weeks ago I was asked to try and locate David Lermitte who had disappeared off the radar screen. I was unsuccessful. However I have now learnt that he died on 19th July and that there will be a funeral service in St Peter & St Paul church in Godalming on Monday 18th August at 1130. I last saw David when he relieved me as FEFCDO [Far East Fleet Clearance Diving Officer] in December 1964. I will be attending his funeral service.
I don't have the address of his wife Susan - merely the request that donations can be sent to the Alzheimer's Society c/o J. Gorringe and Sons, (Funeral Directors), 55 Hare Lane, Godalming, GU7 3EF (Tel: 01483 416403). A notice appeared in Friday's Daily Telegraph.
Regards,
David"
David Lermitte in foreground on board MFV 164 during
FEFCDT survey of wreck of HMS Repulse in 1965
---
SDU1 blows up suspicious package in Exmouth
The Plymouth Herald website contains this article describing the disposal, presumably by members of Plymouth-based Southern Diving Unit 1 (SDU1), of a suspicious package found under a car in Exmouth on Friday night.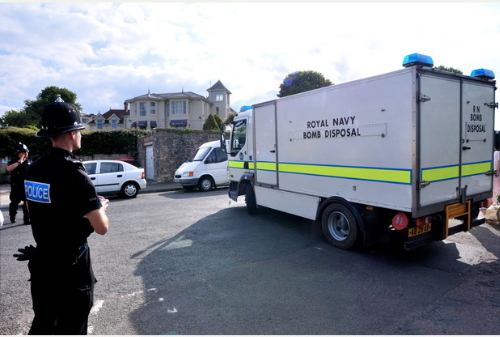 ---
26 Jul 14 - MCDOA member wins bronze in Commonwealth Games
Congratulations to MCDOA member Mark Shaw, representing Wales, for winning a bronze medal in the Men's +100 kg Judo at the Commonwealth Games in Glasgow today (see entry for 19 Jun 14 in News Archive 46). The gold medal was won by Royal Marine Chris Sherrington representing Scotland.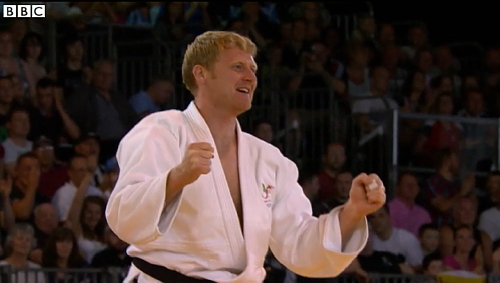 Mark Shaw in his moment of victory against New Zealand's Sam Rosser
Mark's bronze medal winning performance can be watched again on iPlayer here.
Post script: On 28 July, the RN website published this article covering the same story.
---
25 Jul 14 - HMS Bangor in action at Glasgow again
According the Royal Navy's Facebook page:
HMS Bangor came to the rescue of a female bicycle police constable who suffered a rear puncture while on patrol in the Pacific Quay area where the ship is berthed. Quick to react were Able Seamen Shaw and Hulme who leapt into action and repaired the flat tyre.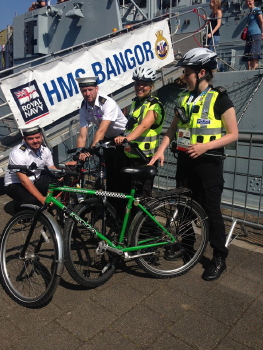 On reflecting on a job well done AB Shaw said: "It's always nice to be able to help out."
The two constables were soon back on the beat and Bangor waits for her next rescue mission.
HMS Bangor (MCM1 Crew 8) is currently berthed at Plantation Quay next to the Science Centre in Glasgow (see second entry for 24 Jul 14).
---
24 Jul 14
HMS Blyth home from NATO assignment
The Royal Navy website contains this article and the Navy News website this article describing today's return to Faslane of HMS Blyth (MCM1 Crew 1) after her three-month deployment in the Mediterranean with Standing NATO MCM Group 2 (SNMCMG2). Welcome home!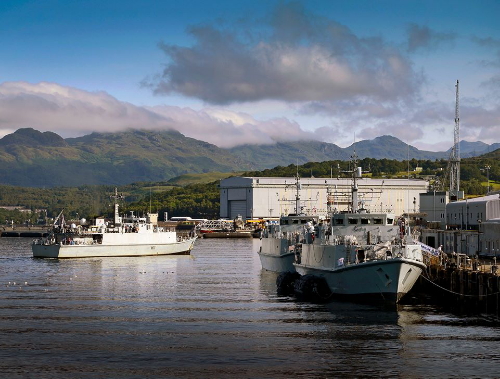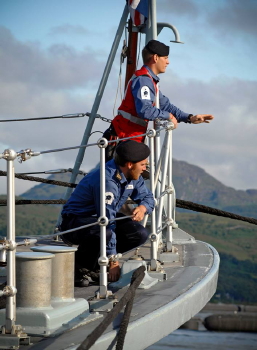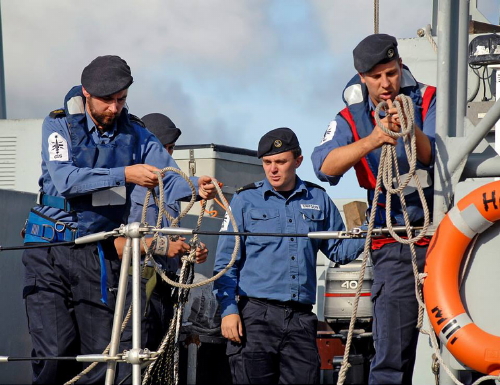 Royal Navy photos by CPO(Phot) Tam Macdonald, FRPU North.
---
HMS Bangor hosts famous BMX rider
The Royal Navy website contains this article describing a visit to HMS Bangor (MCM1 Crew 8) of world famous Scottish Street Trials Professional BMX Stunt Rider Danny MacAskill. The ship is currently berthed at Plantation Quay next to the Science Centre in Glasgow during the Commonwealth Games (see entry for 22 Jul 14). The stunt riding was a feature on the BBC's primetime magazine programme The One Show.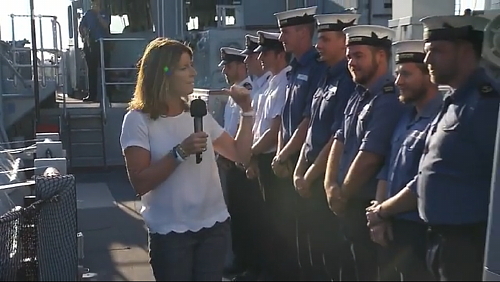 The relevant section, starting at minute 39:20, can be watched again on iPlayer here until 29 July.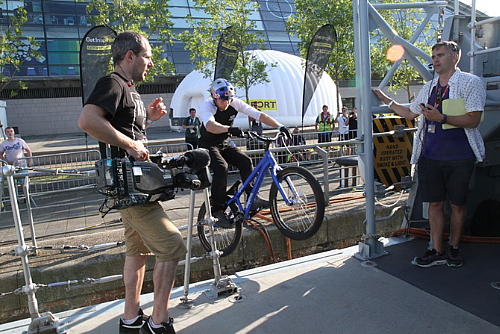 Danny MacAskill arriving on board HMS Bangor
(Navy News photo)
---
23 Jul 14 - FDU2 in RIMPAC
Portsmouth-based Fleet Diving Unit Two (FDU2) is currently participating in Exercise RIMPAC 2014 (26 June to 1 August). This is a joint exercise with the United States on the Pacific coast of the USA where the unit is practicing one of its core specialities, Very Shallow Water (VSW) EOD Operations.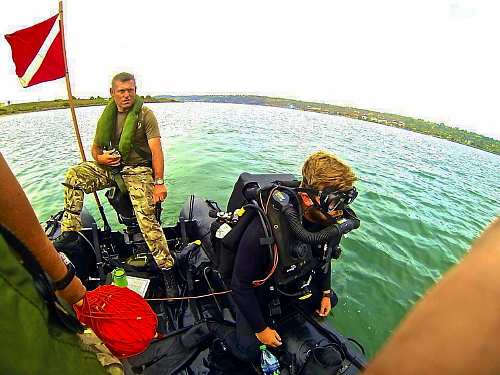 Lt Sean 'Central' Heaton RN and AB(D) Richard Hughes during RIMPAC
(Royal Navy photo)
---
22 Jul 14
HMS Bangor in Glasgow
HMS Bangor (MCM1 Crew 8) is certainly enjoying the limelight while she is visiting Glasgow (see entry for 18 Jul 14). She featured on The One Show on BBC1 last night and hosted Mary Clare Bancewicz, the volunteer runner selected to carry the Commonwealth Games Queen's Baton through the Pacific Quay leg.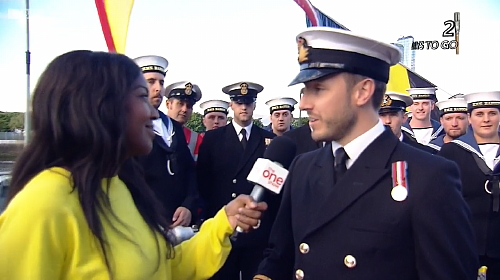 HMS Bangor's Commanding Officer, Lt Cdr Michael Carter Quinn RN,
being interviewed on The One Show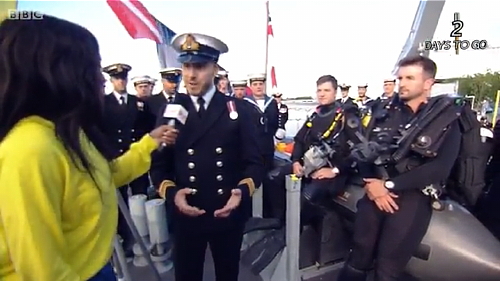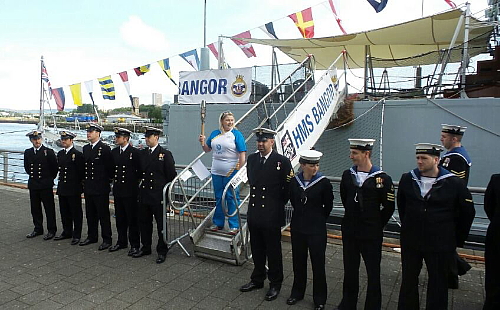 Commonwealth Games Queen's Baton runner, Mary Clare Bancewicz,
standing on the brow of HMS Bangor
(RN photo by Lt Cdr Grassy Meadows RN)
The episode of the One Show featuring HMS Bangor can be watched again here on iPlayer until 27 July (see section starting at minute 20:35).
Post script: The BBC website contains this article describing how a sharp-eyed member of HMS Bangor's ship's company spotted and extinguished a fire this evening at the newly-reopened Glasgow Science Centre tower.
---
News from HMS Shoreham
I am grateful to MCDOA member Si Kelly, the Commanding Officer of HMS Shoreham (MCM1 Crew 5), for this update received via the Ton Class Association (TCA):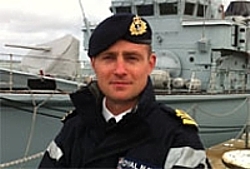 "It is with great pleasure that I am writing to introduce myself as the new Commanding Officer of HMS SHOREHAM. During the handover of the ship, my predecessor Toby spoke warmly of the support that all of the affiliates of HMS SHOREHAM have given his crew over the past few years, for which he was very grateful. I know that having been Captain for the majority of his Command, it was with a heavy heart that he left her for the final time. Although my tenure in Command of the ship will only be until January, I will do all that I can to maintain and strengthen these ties in the coming months.
My Crew (MCM1 Crew 5) are settling rapidly into the ship and life in the Arabian Gulf as we approach the hottest time of the year. A significant number of the Crew have been deployed in this region a number of times (some of us are up to 6 deployments to the Middle East), but for many this is the first time they have operated in this part of the world and there is a great deal to absorb. My priority for the team over the coming weeks is to ensure that we take up where we left off in our last ship, HMS GRIMSBY, with the same determination to prove ourselves, and the ship, fully capable of dealing with any of the broad variety of tasks we may be asked to undertake.
As for HMS SHOREHAM herself, she is in particularly good condition given the amount of time she has spent away from the UK, operating in the harsh environment of the Arabian Gulf. My crew and I intend to work hard to ensure that she continues to perform just as well during our tenure and keep her in the best form possible, ready for her handover in 2015. HMS SHOREHAM is due to sail back to the UK in mid-2015 with the next Crew. I am very hopeful, as I'm sure you are, that a home town visit will follow soon after her safe return.
I look forward to hearing from you and hope we can continue the strong relationship that clearly already exists between you and HMS SHOREHAM. In the mean time, if you wish to contact me and find out how the Ship is faring, I welcome correspondence. Given our dislocation perhaps the easiest method of reaching me is by email.
Yours Aye,
Simon. P. Kelly
Lieutenant Commander Royal Navy"
---
21 Jul 14 - Death of Admiral Khosrow Azadi IIN
MCDOA members Mike Gillam and David Burstall have informed me of the death of Admiral Khosrow Azadi, late of the Imperial Iranian Navy. I know from other sources that he died of natural causes at the age of 84 with his family around him in Los Angeles on 30 May 2014.
These are Mike's personal recollections:
Khosrow Azadi, Clearance Diving Officer, Imperial Iranian Navy
The death was recently announced of Admiral Azadi, former Fleet Commander of the Persian Gulf and Oman Sea, the Imperial Iranian Navy. He had been living in California with his wife and family for the last thirty years having narrowly escaped Iran following the revolution.
What is less well known is that he was a fully qualified Clearance Diving Officer who founded his Navy's Clearance Diving school and branch. This came as a result of a visit to Iraq and Iran sometime in 1956 by the Commander-in-Chief, East Indies Fleet who pointed out the danger to both countries of sea mines being laid in the Gulf and particularly the Shatt-el-Arab. He recommended that, with the assistance of the Royal Navy, both countries should develop a mine countermeasures capability. As a first step, it was decided to establish Clearance Diving schools in Iraq and Iran and, to this end, a small team was sent from Iran for clearance diving training in the UK from which Lieutenant Azadi was the only officer to qualify.
He returned to Iran to found a clearance diving school in Bandar-e-Pahlavi (now Bandar-e-Anzali) the major town at the southern end of the Caspian Sea. It had been decided that the school would be provided with equipment similar to that allocated to a full RNCDT. This equipment arrived in August 1957 and was placed in an Iranian Naval Officers summer married quarter, the school's temporary home until it had proved itself.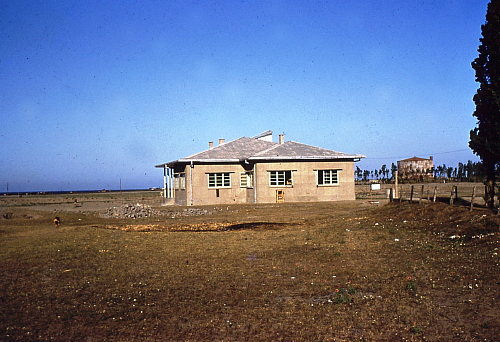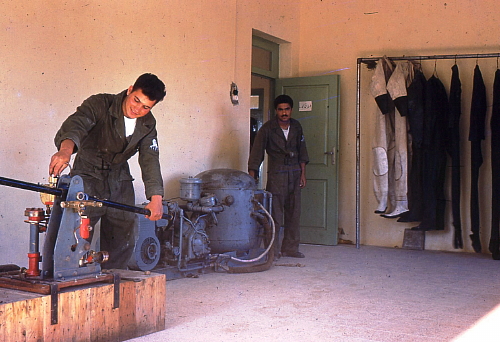 Work benches and storage cupboards were constructed from the boxes in which the diving equipment had been supplied using nails straightened with borrowed tools.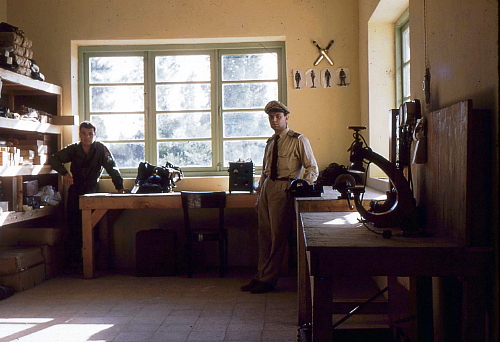 The small and inexperienced school staff were reminded of their basic training with a few re-acquaint dives and the first course started on 14th September. At the same time, the staff also started to work commercially, there being no other divers in Iran apart from those flown in from Europe for major construction work.
It was not long before the activities of the school, both in training new divers and working on the supports of the town's main bridge, became well known. The navy had not previously had a high profile in the area; hardly surprising when there were some locally who held the view 'only fools and foreigners travel by water'. The first course finished after 12 weeks and the qualifiers joined the ranks of those working commercially. Lieutenant Azadi was well known for his concern for all at the school and this extended to allocating half the money earned commercially to those immediately involved and half to a welfare fund providing benefits for the whole school. The 'esprit de corps' engendered by Khosrow Azadi in the divers became a byword within the Iranian Navy, resulting in them being appointed to the most unlikely jobs in the Finance and Stores departments of the Naval Staff – because they were trusted. The second course then completed and the school started providing divers for both operational and service duties throughout Iran. Eventually, they became involved in a number of major construct projects including the building of the Karaj dam and the pipeline to Kharg Island.
This is David Burstall's contribution:
"Dear Rob,
Khosrow Azadi was a young Lieutenant in the Imperial Iranian Navy in the 1950s who came to Vernon for training as a CDO together with candidates from Iraq. However, Khosrow was the only one that qualified and returned to Bandar Pahlavi on the Caspian Sea to set up a Diving School. The Admiralty appointed Michael Gillam to assist with training and he spent 12 months in the post.
Michael will be able to fill you in with how he and Khosrow got it all started. I relieved Michael and was fortunate enough to stay in Iran for two years. The school grew in size and we successfully trained a number of Divers up to the standard of CD3, CD2, CD1 and 2 CDOs. I was relieved in turn by Mike Grubb, who served another period of a year.
In due course Khosrow was promoted and appointed to command one of the IIN's Frigates built by Vosper Thornicroft, though I cannot remember the name of the ship. Here is his published obituary:
Khosro Azadi was born August 11, 1929 in Bandar-e-Pahlavi. His youth was spent in various cities throughout Iran due to his father's position as a government official. He attended the only Military High School in Iran and chose to pursue a career in the Imperial Iranian Navy.
In the 1950s he was sent for formal military education and training in the United Kingdom, Iran, Italy and the United States where he graduated at the top of his class with honors. Khosro received many awards and accolades throughout his distinguished military career including a sword from His Majesty, Mohammad Reza Shah Pahlavi.
Khosro was the first Iranian naval frogman and created the Frogmen School for the Imperial Iranian Navy in Bandar-e-Phlavi which specialized in underwater welding, rescue, repair, surveillance and demolition.
He commanded numerous ships and squadrons, taking on the responsibility of thousands of men while navigating through the rough seas of the Atlantic, Mediterranean and Indian Oceans.
Through his dedication and hard work, he earned one of the highest positions in the Imperial Iranian Navy with the rank of Admiral, Fleet Commander of the Persian Gulf and Oman Sea.
He was a sailor's admiral, down to earth with a 'hands on' management style. One of his greatest achievements was enhancing the fleet through rapid expansion; improving naval bases and the lives of personnel with a great focus on the training and welfare of all. Today, the largest and best equipped naval base in the Persian Gulf is the result of years of his non-stop management and tireless efforts. Admiral Azadi was the last great Fleet Commander of the Pahlavi dynasty.
After serving a harrowing imprisonment during the 1979 Islamic Revolution of Iran, Khosro was forced to flee his beloved country. He and his family settled in Orange County, California where he began a new career in the budding computer industry.
Khosro is surviverd by his loving wife Pari, daughter Shirin, son Farhad, grand-daughter Roudabeh, two grandsons Andrew and Matthew and great-grand-daughter Marni.
Finally I recall a very unfortunate incident in 1968 or 1969 when there were two Iranian divers in Vernon carrying out advanced CD training and one of them was undergoing recompression in a 'one man pot'. The door of the chamber was faulty and it suddenly failed and blew off causing the diver to suffer explosive decompression with fatal consequences. That brought to an end further training for the IIN. Ten years later, Ayatollah Khomeini supplanted the Shah since when all cooperation between Iran and the West has ceased altogether."
---
20 Jul 14 - Horsea Island barbecue
Despite forecasts of thunderstorms and heavy rain, the weather remained glorious for yesterday's MCDOA-sponsored joint-association barbecue at Horsea Island. MCDOA members present, most accompanied by wives, partners and other family members and guests, included Doug Barlow, Jon Cox, Mike Critchley, Pete Davis, Brian Dutton, Martyn Holloway, Ian Morton, David Sandiford and Dave Stanbury as well as Yours Truly (Rob Hoole).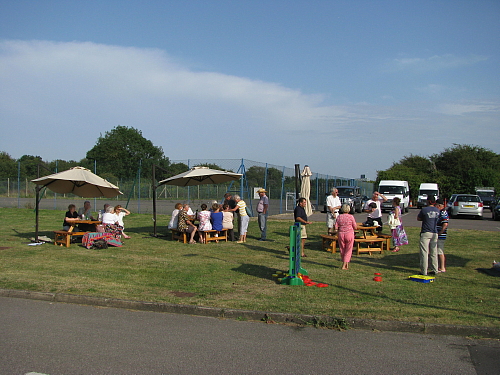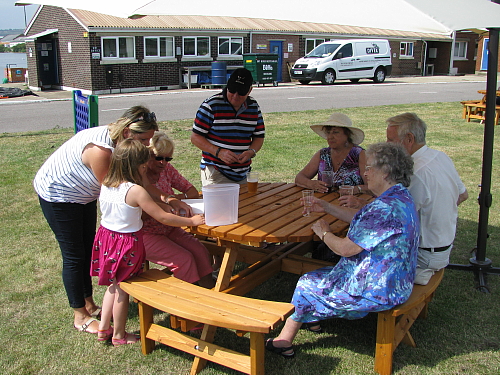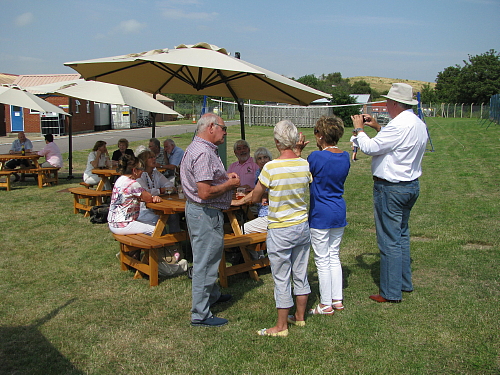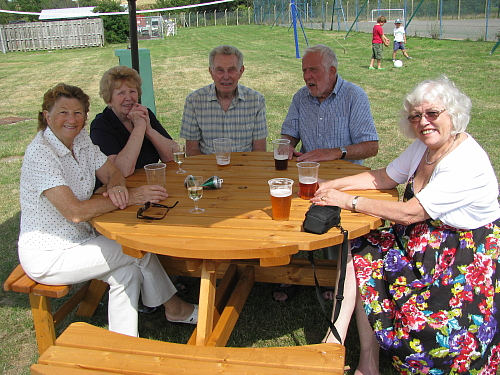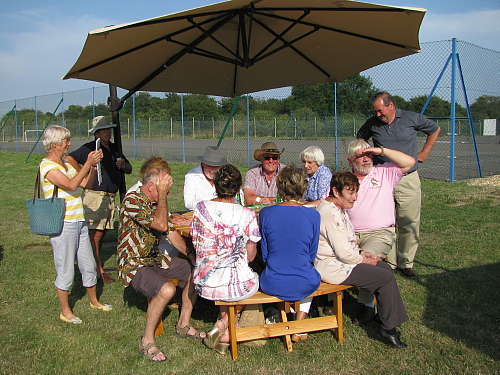 As threatened earlier, some of us even swam in the lake like last year...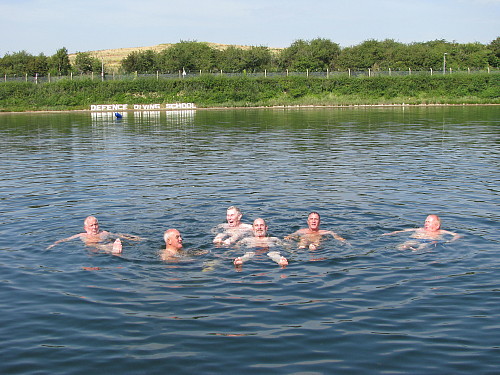 ...and then dried off by playing volleyball (of a kind).
Special thanks are due to our intrepid Honorary Secretary Richard 'Soapy' Watson for organising the event and to Honorary Treasurer Pete Davis and fellow MCDOA member Dave Stanbury as well as Lee the chef for helping to make it such a success.
As ever, the lake stole the show.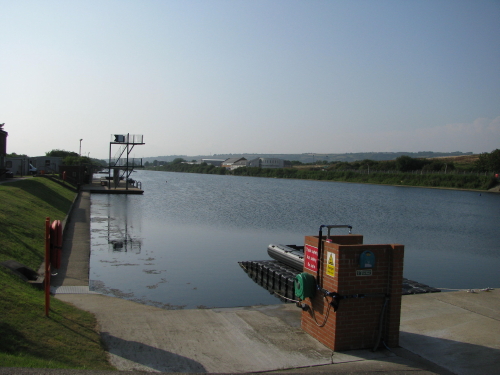 ---
19 Jul 14 - RN Minewarfare & Diving Heritage: Mine Defence SQ badge in the early 1950s
I have been asked to help answer the question below.
"Just thought you might be interested in the enclosed photo of my old chum Henry Watkinson.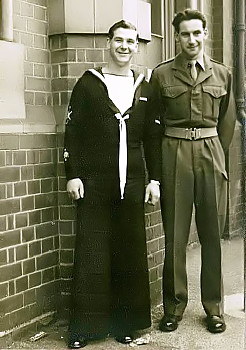 We served together on the Barbastel and then went our different ways. Both of us being divers, that badge was worn on the right cuff which left room on your right forearm for another trade. This was his wedding photo. I'm not sure if you can make out the badge, crossed torpedoes with an M, a mine detector badge. I have never seen another one. He got it on HMS Nepal, an old stripped down destroyer used for experimental mine detecting. As he said, "You just turned a knob and pinged hoping to detect a mine." People were always asking him about it. Can anyone provide more information regarding the badge and its origins please?"
The naval rating in the photo appears to belong to the Torpedo Branch (forerunner of the TAS and eventually the MW Branch) and is sub-qualified in 'Mine Defence' (not 'Mine Detection' as stated in the original question). He also appears to be a Diver 2nd Class; i.e. a 'steamer' standard diver based at HMS Vernon, not a 'corkhead' clearance diver (based on the 'P' Party divers) at HMS Lochinvar or there would be a 'C' under the helmet insignia. He is not a Shallow Water Diver (SWD - fore-runner of the Ships' Diver) or the helmet insignia would have 'SW' underneath and not have any stars. Responsibility for all RN diving was transferred from the Gunnery Branch, based at HMS Excellent, to the Torrpedo Branch, based at HMS Vernon, in 1946. The 'steamers' joined the 'corkheads' at HMS Vernon in 1951 and the Clearance Diver Branch was formally established on 7 March the following year i.a.w. Admiralty Fleet Order (AFO) 857/52.
This was the badge worn by a Mine Defence Rating 3rd Class between 1951 and 1956: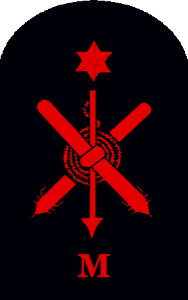 Can anyone supply any more background information, particularly about the role of the Torpedoman 'M' (Mine Detection) sub-specialisation SQ (Specialist Qualification), so I can pass it on?
---
18 Jul 14 - HMS Bangor sails into Glasgow for 18-day public visit
The Royal Navy website contains this article announcing today's arrival of HMS Bangor (MCM1 Crew 8) at Plantation Quay next to the Science Centre in Glasgow, She will be alongside until Monday 4 August as a backdrop to the BBC at The Quay festival village while supporting the Commonwealth Games and playing a starring role in the art spectacular Sound to Sea. The ship will be open to visitors every day from 19 July to 3 August, normally between 1000 and 1700.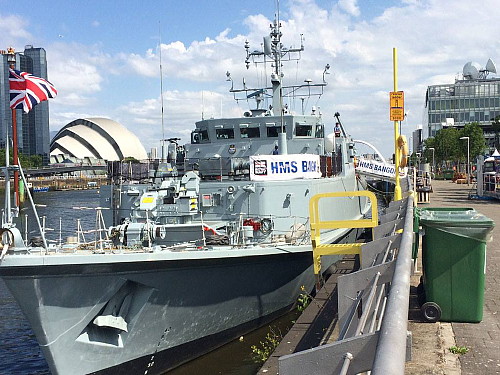 HMS Bangor alongside in Glasgow
(RN website photo)
HMS Bangor will be joined by the Glasgow and Strathclyde Universities' Royal Navy Unit patrol vessel HMS Pursuer on 28 July and by the Type 45 destroyer HMS Duncan on 30 July. Royal Marines from 43 Commando (Fleet Protection Group) will also be present with their RIBs. HMS Pursuer and the Royal Marines will join HMS Bangor as part of 'Sound to Sea' and visitors may see them practising on the river for their roles in the cultural extravaganza.
---
17 Jul 14 - HMS Chiddingfold in Black Sea NATO exercise
The Royal Navy website contains this article describing the participation of HMS Chiddingfold (MCM2 Crew 5) with other ships of Standing NATO Mine Countermeasures Group Two (SNMCMG2) in Exercise BREEZE 2014 off the Bulgarian coast from 4 to 13 July 2014. Ships and aircraft from Bulgaria, Greece, Italy, Romania, Turkey and the USA also took part.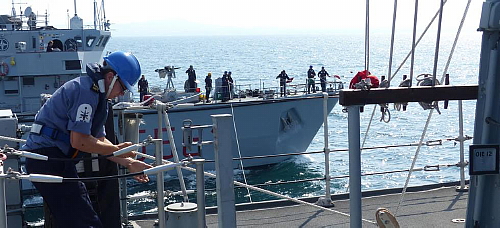 Royal Navy website photos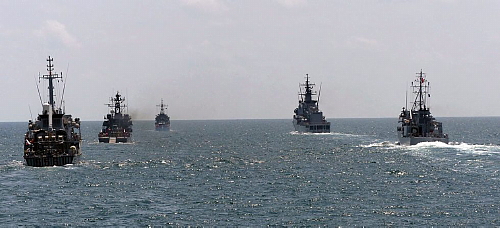 ---
16 Jul 14 - Former Royal Navy minehunters in the Baltic
The photo below shows the Lithuanian minehunter LNS Kuršis (ex-HMS Dulverton) and the Estonian minehunter ENS Admiral Cowan (ex-HMS Sandown) operating in the Baltic with Standing NATO MCM Group 1 (SNMCMG1).

---
15 Jul 14 - MCDOA members' senior appointments
I am grateful to MCDOA member Tim Davey for informing me that he will be relieving fellow member Jim Byron DSC as MCM1 sometime in early August before conducting the Force Generation with 3 Minewarfare Battlestaff to deploy to Bahrain for Operation KIPION later in the year. Meanwhile, Jim has informed me that he will be undertaking the ACSC (Advanced Command & Staff Course) at Shrivenham after his return to the UK.
I am also grateful to MCDOA member Phil Ireland DSC for informing me that fellow member Si Kelly, currently commanding HMS Shoreham (MCM1 Crew 5) in the Gulf, is due to be appointed in Command of a Type 23 frigate next year on completion of CODC (CO(desig) course).
Tim Davey and Si Kelly were among the 13 warfare officers listed on 6 June as being selected by the SASB (Sea Appointments Selection Board) for destroyer/frigate/MCM squadron command in the rank of Commander (see entry for 7 Jun 14 in News Archive 46).
---
14 Jul 14 - Branch participation in Commonwealth Games
The Royal Navy website contains this article describing the preparation of MCDOA member Mark Shaw (see entry for 19 Jun 14 in News Archive 46) and AB(D) Jeremy Osborne for the Glasgow XX Commonwealth Games between 23 July and 3 August. Mark will be representing Wales in Judo (over 100 kg) and Jeremy will be representing Guernsey in the men's swimming.
---
13 Jul 14 - SDG features in Countryfile
Today's episode of the BBC TV series Countryfile, featuring MCDOA member Olly Alexander (CO SDG), MCDOA Honorary Treasurer Pete Davis (OIC SDU1), PO(D) Mark 'Jan' Cocking and other members of Southern Diving Group (SDG) conducting the disposal of historic ordnance at Whiteford Sands on the Gower Peninsula in South Wales (see entry for 10 Jul 14), can be seen again here on iPlayer until 1800 on 20 July. Watch the sections starting at minute 29:46 and minute 53:10.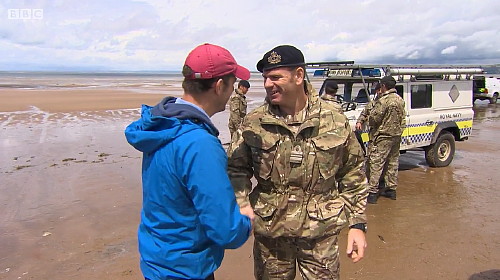 Countryfile presenter Matt Baker being greeted by Olly Alexander
Left: A naval shell after detection, excavation and de-concretion using cordtex
Right: Matt Baker showing fellow presenter Ellie Harrison the exploder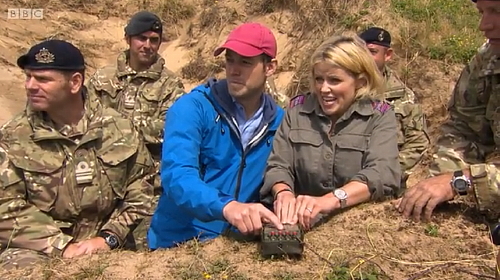 Ellie Harrison pressing the button on the exploder with MCDOA Honorary
Treasurer Pete Davis (OIC SDU1) background left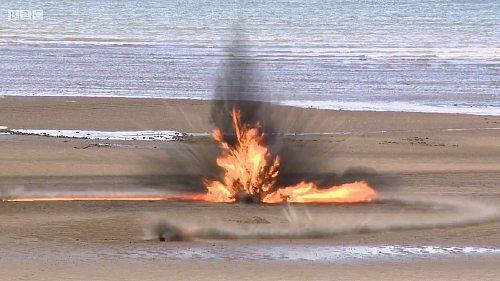 The initial explosion of plastic explosive charge and naval shell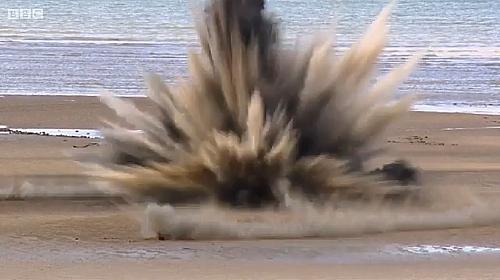 High order!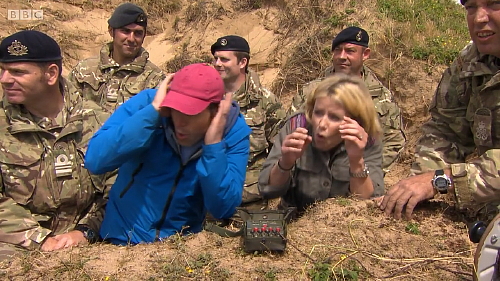 Effect on the presenters of the bang and shockwave
---
12 Jul 14 - HMS Blyth and HMS Enterprise at Gibraltar
As ever, I am grateful to local photographer Daniel Ferro for these images of HMS Blyth (MCM1 Crew 1) and the multi-role survey vessel HMS Enterprise at Gibraltar today. HMS Blyth is en route back to Faslane after her three-month deployment in the Mediterranean with Standing NATO MCM Group 2 (SNMCMG2) while HMS Enterprise has been conducting survey work in the Bay of Biscay and is now bound for 18 months of further survey work in the Mediterranean and Red Sea before heading into the Gulf.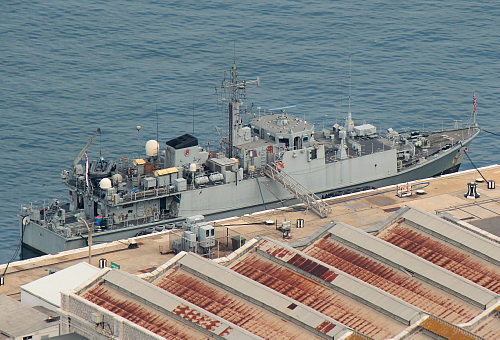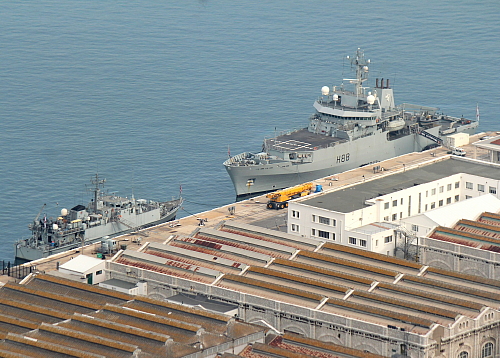 ---
11 Jul 14 - Website still problematical
The website is still reflecting the problems I reported on 27 Jun 14. The 'Latest News' page is sporadically jumping backwards and forwards in time even more often than before despite my repeated uploading of the latest files. The host has escalated this issue for further investigation but do not be surprised if you do not immediately see the latest entries; they seem to disappear and reappear at random.
---
10 Jul 14 - SDG to feature in Countryfile
The gov.uk website contains this blog entry describing the filming of this Sunday's episode of BBC1's Countryfile TV programme on the Gower Peninsula in South Wales. The episode features members of Plymouth-based SDU1 including MCDOA member Olly Alexander, CO of Southern Diving Group (SDG). Countryfile presenters Matt Baker and Ellie Harrison will be shown assisting in the detonation of unexploded ordnance on Whiteford Sands.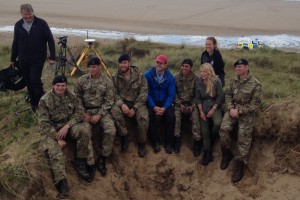 SDU1 members with Countryfile presenters
(Sorry. Nothing larger at the moment.)
---
9 Jul 14
Death of ex-CD Ian 'Ned' Kelly
Troy Tempest, Honorary Secretary of the Association of First Class Divers (AORNFCD), has passed me the sad news of the death of ex-CD Ian 'Ned' Kelly. Troy was informed by Jock Stuart and Michael 'Flo' Florence and I will publish funeral details if they become available.
---
MCM2 Crew 2 returns from the Gulf
The Portsmouth News website contains this article and the Royal Navy website this article describing the return to Portsmouth of MCM2 Crew 2 which has been manning HMS Atherstone in the Gulf for the past seven months. After their well-deserved leave, the crew will take HMS Cattistock through refit before deploying to the Gulf again in late 2015.
---
8 Jul 14 - Last chance to book for Summer Barbecue at Horsea Island on 19 July 2014
This year's Summer Barbecue will take place on Horsea Island from 1400 to 1800 on Saturday 19 July. At a cost of only £10 per head, there will be good food, drink (first one free), a raffle, live music and games. Some fools might even be swimming: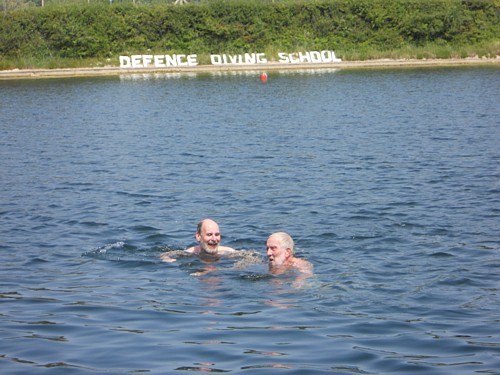 This event is open to all members of the MCDOA, REBDOC, AORNFCD, MWA and RNCDA and their families. Download and complete the application form then send it with a cheque for the correct amount to the MCDOA's intrepid Honorary Secretary, Richard 'Soapy' Watson, at the address provided:
Application for 2014 MCDOA Summer Barbecue (pdf file)
---
6 Jul 14 - SDU2 recovers det cord from garden nursery
The Chichester Observer contains this article, including video, describing the recovery of detonating cord from a garden nursery at Shopwyke, Chichester in West Sussex on Thursday by members of Portsmouth-based Southern Diving Unit 2 (SDU2).
---
4 Jul 14 - Happy Independence Day!
The MCDOA's 'Not Quite the Last of the Summer Wine' trio was joined by recently retired Capt Dean Molyneaux OBE RN last Tuesday at HMS Excellent's marina on Whale Island for this tribute to our US buddies today.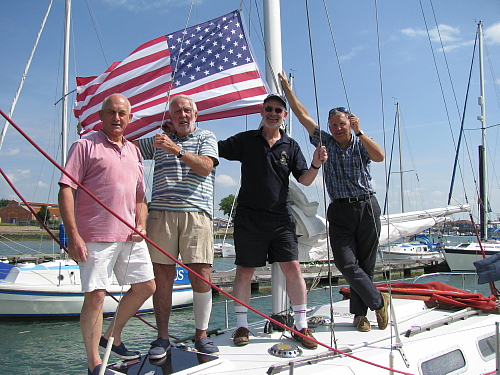 Holloway, Barlow, Hoole and Molyneaux send their greetings
My thanks to former WO(D) Stew 'George' Sissons for taking the photograph.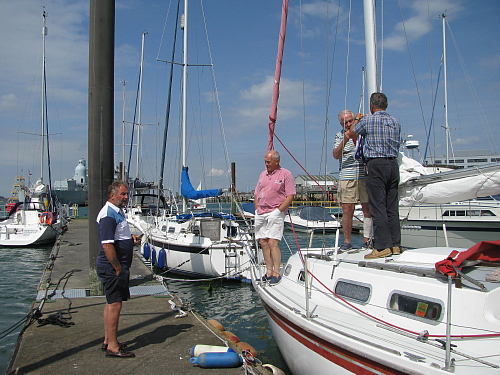 Stew Sissons chatting to Dougout's crew
---
3 Jul 14 - HMS Hurworth 'wins' the Iron Cross
The Navy News website contains this article describing the presentation of a Second World War Iron Cross to HMS Hurworth (MCM2 Crew 7). The medal, recovered from a German bomber shot down by the warship's predecessor off Sicily in 1943, was presented to the minehunter's crew when it visited Teesside for Armed Forces Day events.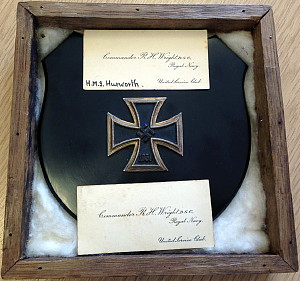 Post script: On 7 July, the Royal Navy website published this article covering the same story.
---
2 Jul 14 - Disposal of live device at Looe
The Western Morning News website contains this article describing the disposal on Saturday of a canister on the beach at Looe in Cornwall, presumably by a member of Plymouth-based Southern Diving Unit 1 (SDU1).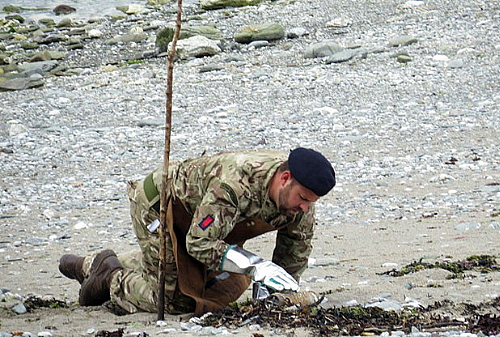 ---
1 Jul 14 - Daily Telegraph obituary for Ginger Coles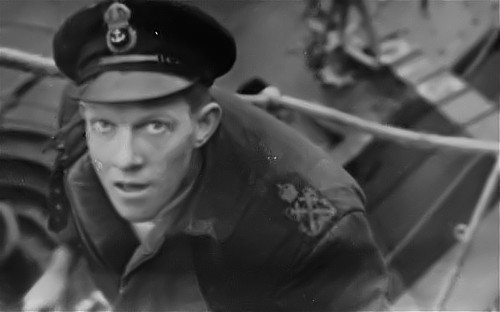 Vernon 'Ginger' Coles
Today's Daily Telegraph contains this obituary, written by our good friend Capt Peter Hore RN, for CERA (Chief Engine Room Artificer) Vernon 'Ginger' Coles DSM, who has died aged 94. Ginger was a crew-member of the midget submarine X-24, now exhibited in the RN Submarine Museum in Gosport, when she sank the German merchant ship Barenfels off Bergen during Operation GUIDANCE in April 1944.
At the time, X-24 was commanded by X-craft diving officer Lt (later Lt Cdr) Max Shean DSO* RANVR and her First Lieutenant was Sub Lt (later Lt Cdr) Joe Brooks DSC RN who later became a colourful Clearance Diving Officer (see entries for 17 Jan 08 in News Archive 21 and 30 Mar 09 in News Archive 25).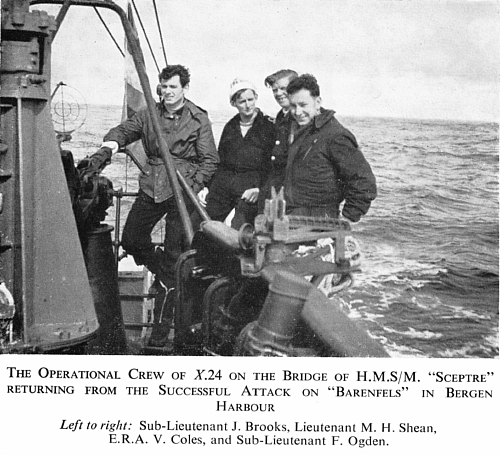 ---