---
| | | |
| --- | --- | --- |
| | Have you ordered your miniature of the Vernon Monument yet? It is being sold in a variety of sizes, finishes and prices to raise funds for the planned sculpture at Gunwharf Quays in Portsmouth to celebrate the Minewarfare & Diving heritage of HMS Vernon which previously stood on the site. 'Project Vernon' is officially supported by Portsmouth City Council, Gunwharf Quays, the MCDOA, AORNFCD, MWA, RNCDA and the TCA. Click here for details. | |
---
27 Nov 15 - SDU2 detonates wartime mine off the Isle of Wight
The Portsmouth News website contains this article, the Royal Navy website this article and the Navy News website this article describing this morning's detonation of a 1,500 lb wartime German GD (sic) ground mine by members of Portsmouth-based Southern Diving Unit 2 (SDU2). The mine was found by a crane barge 1.5 km off Southsea while removing debris from a site being dredged next month in preparation for the arrival of the Royal Navy's new aircraft carriers. SDU2's six-man team, which moved the mine to a safe location off Bembridge before detonating it, was led by PO(D) Richard Ellis.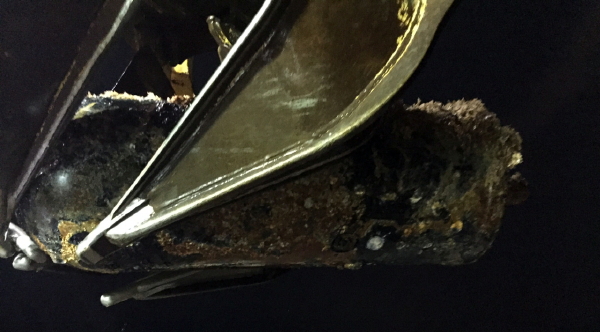 The mine fouling the grab of the crane barge
(Navy News website photo)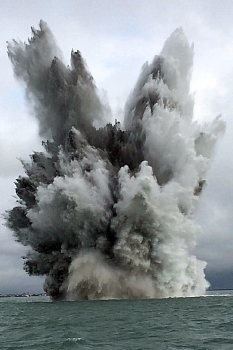 The 300m high plume off Bembridge
(Navy News website photo
Does anyone else think the mine above looks more like a GC than a GD? These images are from BR1748(3) originally CB3115(3), 'Instructions for Rendering Safe Underwater Weapons - German Ground Mines' produced at HMS Vernon and published by the Admiralty Torpedo & Mining Department in 1944. The lightweight parachute housing doesn't normally remain attached for very long after impact with the water: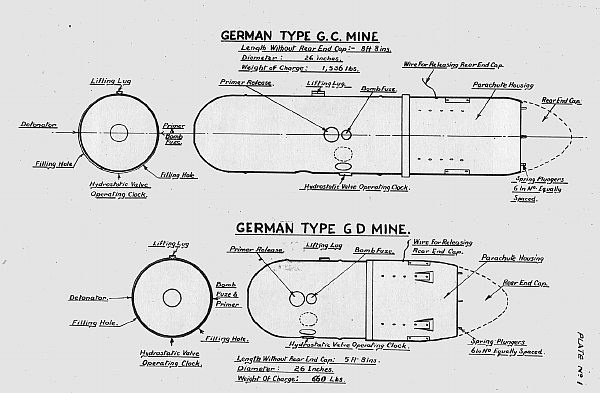 ---
25 Nov 15 - Unveiling date set for Vernon Monument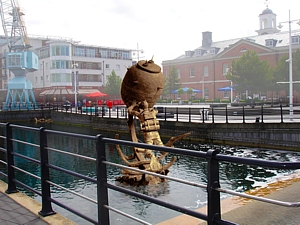 Artist's impression of the Vernon Monument
in situ at Gunwharf Quays
I am grateful to the trustees of the Vernon Monument charity for this announcement:
Project Vernon raises funds to commit to September 2017 for unveiling bronze statue at Gunwharf Quays, Portsmouth
The Trustees of the Vernon Mine Warfare & Diving Monument Fund have announced that "Project Vernon'' has now raised in excess of £220,000 towards the declared target of £320,000: this sum represents 70% of the funds needed to complete this project.
This is tremendous news and reflects the hard work, tenacity and generosity of all those who have contributed thus far: at social reunion dinners organised over last weekend, Project Vernon's management team thanked all friends, colleagues, supporters and contributors. Several major fundraising events are planned for 2016, both in London and Portsmouth, to raise the remaining balance of the stated goal... and, thereby, to see this specialist heritage monument unveiled in Vernon Creek, Gunwharf Quays, in September 2017.
Recent negotiations and discussions have sourced various means by which the materials used, procurement costs and total construction outlay can each be reduced by a significant combined amount. Further, as funds have now passed the important 70% threshold, the Trustees are now in a position, for the first time, to commit to commercial contracts for the production of the core component parts of the monument. Starting with the plinth in the water of Vernon Creek next summer, this will be followed by the off-site assembly of the base structure later in the year, and the bronze casting process of the statue itself soon after.
This remains a very worthy and strategic goal for the brethren Mine Warfare and Diving Associations who sponsor the project and, more especially, the heritage of the wider community, both operational and retired, in the UK and abroad, especially those who served and trained in their alma mater of HMS Vernon, prior to its conversion into the successful Gunwharf Quays retail and residential site.
The momentum and commitment from the stalwart band of organising volunteers is there. All those who have not yet contributed to the monument are encouraged to do so, by time, by cash donations or through purchases of the merchandise on sale, via the project's website www.vernon-monument.org. Indeed, as the Festive Season approaches, what finer way to support a registered charity, the Project Vernon team and the overall project goal: the installation of The Vernon Mine Warfare and Diving Monument!!
I am also pleased to announce that MCDOA member Dr John Bevan, founding Chairman of the Historical Diving Society (HDS) and instigator of its Diving Museum at Stokes Bay, has kindly consented to join the other trustees of the Vernon Monument charity.
N.B. The Vernon Minewarfare & Diving Monument Fund is a registered charity, licensed number 1128677. Project Vernon is the campaign to design, construct and install a statue in Gunwharf Quays, Portsmouth, Hampshire. Internationally-famous artist Les Johnson, Fellow of the Royal Association of British Sculptors, has produced the chosen design for the monument.
Post script: The Navy News website published this article covering the same story on 26 November.
---
23 Nov 15 - Operational updates, AGM and annual dinner
Last Friday's operational updates, presentations, lunch and AGM at Fleet Diving HQ on Horsea Island followed by the annual dinner in the Wardroom at HMS Excellent were among the most successful I can remember. Mark Shaw, our newly installed Honorary Secretary, deserves our utmost admiration and thanks for his brilliant organisation.
Events began in the Reclaim Room of Bridge Building at Fleet Diving Headquarters with members gathering for coffee and biscuits before starting the day's business.
Left: Martin Mackey, Don Crosbie and Stu McAlear
Right: Geoff Goodwin, Martyn Holloway and David Edwards
Left: Bob Lusty, Peter Waddington and Brian Dutton
Right: Peter Robinson, Steve Gobey and Howard Trotter
Left: David Sandiford and Ralph Mavin
Right: Mark Savage and Rob Hoole
We were then treated to a comprehensive set of presentations about recent, current and future minewarfare, diving & EOD operations, equipment and capability by our Chairman Mark Atkinson and MCDOA members Roger Readwin, Don Crosbie and Mark Savage, all of whom are principal players in their fields.
We then enjoyed lunch in the new all-ranks mess where we were well looked after by WO(D) John 'YoYo' Ravenhall, the mess president. Other members joined us including Bill 'Chippy' Norton with his wife Gunhild. They has escorted Kate, the widow of former Superintendent of Diving Guy Worsley OBE, plus his son Mark and daughter Claire, on to the island for a presentation of memorabilia which took place in the Reclaim Room after lunch (see second entry for 10 Nov 15).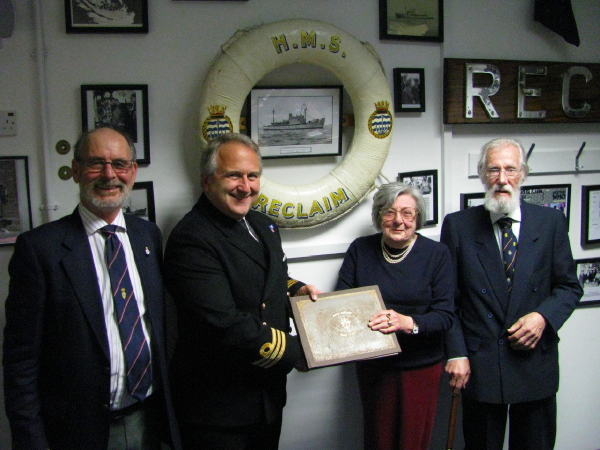 Mark Atkinson (MCDOA Chairman & current SofD) receiving an album of lists, hand-written
in copper plate, of deep divers who qualified on board HMS Reclaim from Kate, the widow
of Guy Worsley OBE (SofD 1971-82) while Rob Hoole and Bill 'Chppy' Norton look on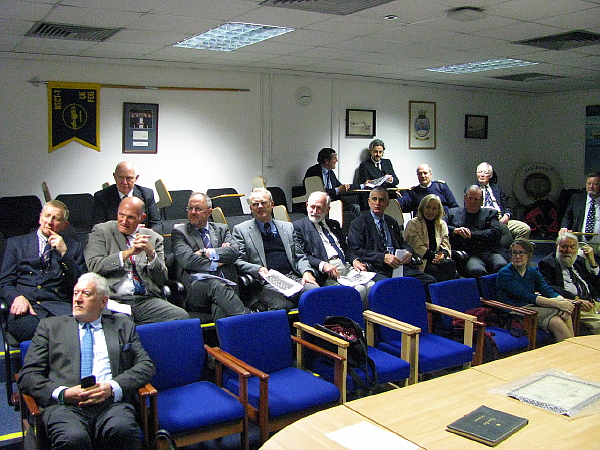 We then conducted the AGM which was fairly uneventful and I hope to publish the minutes when our Hon Sec has passed them to me. Rear Admiral Paddy McAlpine OBE was re-endorsed as our President and all officers were re-elected except David Stanbury, our Membership Secretary, who is busily deployed with SNMCMG2 in the Mediterranean. We are grateful to David Miln for stepping into his shoes. Watch out for a full programme of events next year which will mark the MCD Branch's 50th Anniversary.
The day's events culminated in our annual dinner in HMS Excellent, by kind permission of the Mess President, Brig Richard Spencer OBE RM. This was attended by 110 MCDOA members and guests and was its usual success thanks to Mark Shaw's meticulous preparations, the friendly and efficient wardroom staff and the wonderfully talented HMS Nelson Volunteer Band.
In the absence of MCDOA President Paddy McAlpine who is playing golf for NATO in Portugal, the chair was taken by our Chairman, Mark Atkinson, with 'Yours Truly' back in his traditional role as 'Mr Vice'. We celebrated the 25th anniversary of LMCDO 90A & 90B, of which David Bence, John Law and Phil Ireland were present, and we even had one member, John O'Driscoll, of LMCDO '65 celebrating its 50th anniversary. Tony Watt, David Bence and Steve Brown, our service leavers, were all presented with gifts and David Bence gave a witty speech on their behalf.
Left: Mark Atkinson presenting David Bence with his leaving 'gizzit'
Right: Mark Atkinsonson presenting Steve Brown with his leaving 'gizzit'
(Sorry, Tony. I wasn't quick enough to capture your presentation.)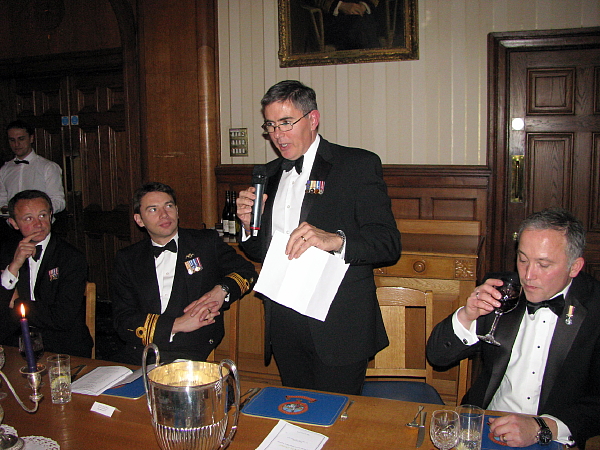 David Bence responding on behalf of the service leavers
Apparently, there was fierce competition among the members of HMS Nelson's Volunteer Band to play at our function but only 18 could be accommodated on the night. They brought their usual sense of fun to our traditional rendition of 'I'm Forever Blowing Bubbles'.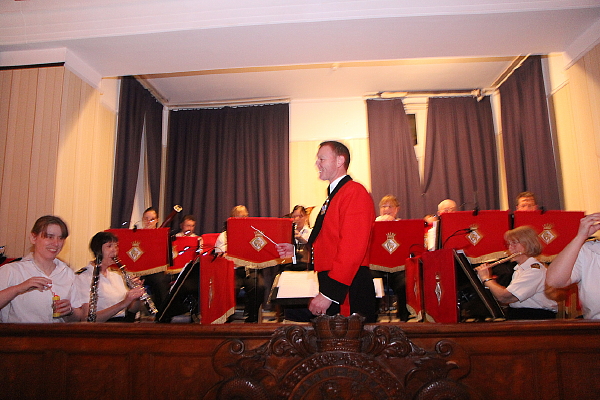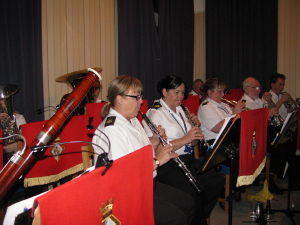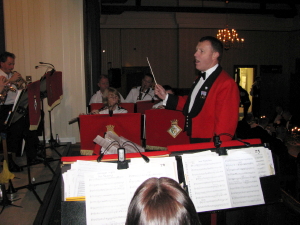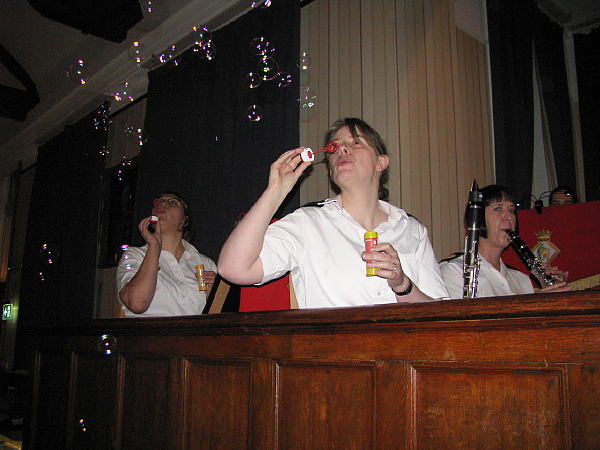 The usual enthusiasm was evident during the 'Bubbles' part of the singalong.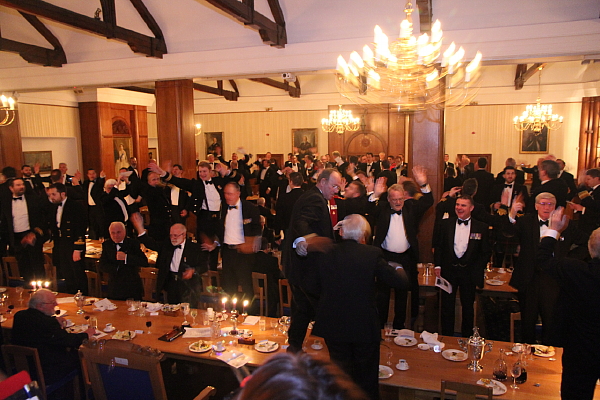 The wardroom staff entered the spirit of the occasion too: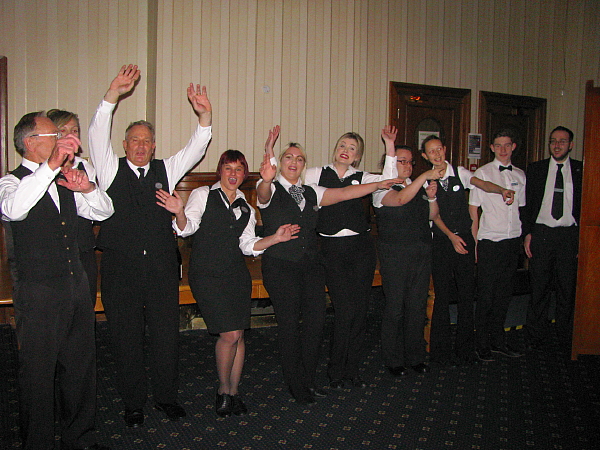 Our Chairman introduced Vice Admiral Sir Alan Massey, our principal speaker, with a quirky speech that no doubt owed something to MCDOA member Dougie MacDonald who works for Sir Alan in the MCA (Maritime & Coastguard Agency).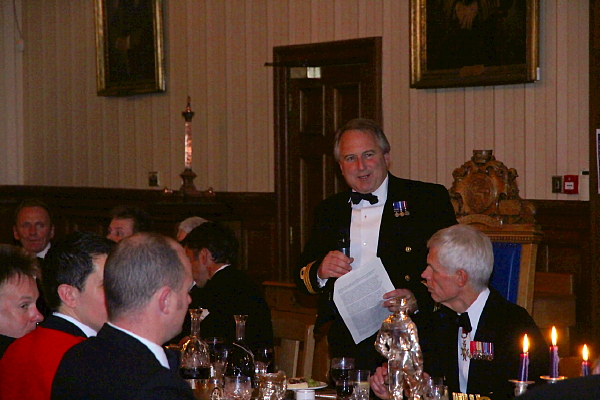 Sir Alan Massey then delivered a self-deprecating joke-filled speech that had something for everyone and captivated his audience.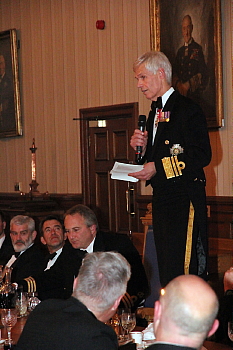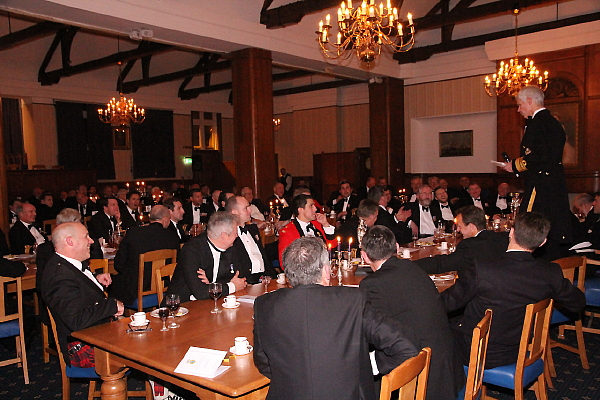 Here is a selection of photos taken during the evening. I have my son Gareth to thank for many of them.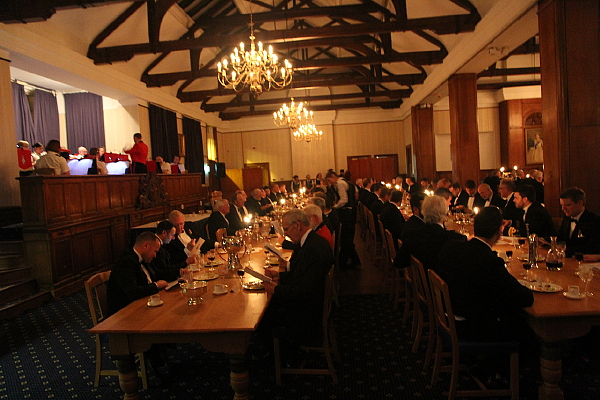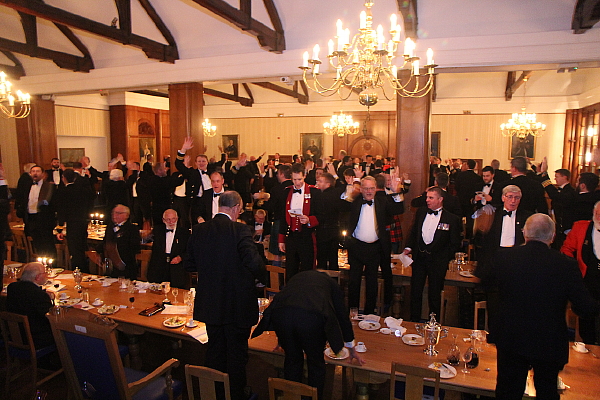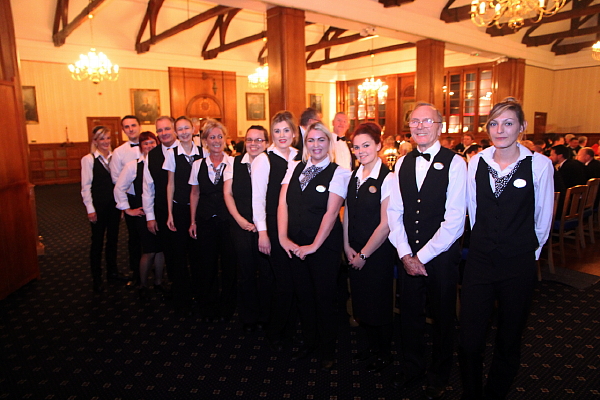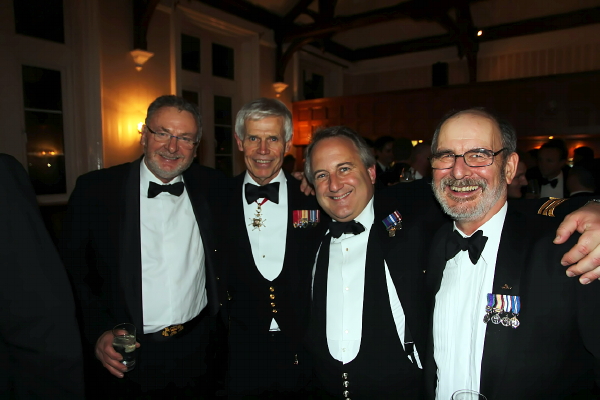 I can supply higher resolution versions of specific photos on request.
---
From Claire Worsley, daughter of Cdr Guy Worsley OBE (Superintendent of Diving 1971-1982):
"Dear Rob,
I just wanted to write and say a huge thank you for all you did to make Friday possible. My mother enjoyed herself immensely and it meant a great deal to her to see old friends and be able to talk about my father with them. Both Mark and I really appreciate it.
If one of the photographs you took comes out OK perhaps you might be able to email to me I would like to put it in a frame for her. [By Webmaster: Done!]
Many, many thanks and please let us know about the unveiling of the statute at Gunwharf in 2017. We would love to be there.
Kind regards,
Claire Worsley"
N.B. MCDOA member Bill 'Chippy' Norton has also asked me to thank everyone concerned with the presentation.
Post script: This is the first time in circa 25 years I can remember another Royal Navy association pipping us to the top of the Daily Telegraph's Service Dinner announcements. Who are these people?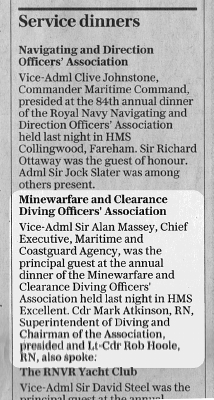 ---
21 Nov 15 - Stew 'George' Sissons seriously ill
Retired MCDO Gerry 'Pincher' Martin informs me that former WO(D) Stew 'George' Sissons has been diagnosed with an inoperable brain tumour and is currently in the Wisteria Lodge Care Home in Horndean. He will be attending his daughter's wedding on 28 November before starting a regime of cancer treatment on 30 November.
The MCDOA's 'Three Men in a Boat', comprising Doug Barlow, Martyn Holloway and Yours Truly (Rob Hoole), are accustomed to seeing Stew in the marina at HMS Excellent where he keeps his yacht 'Springtied' and we have often collaborated to lift her in and out of the water or shift her berth. He has also been responsible for four of the cadet sail training dinghies attached to the sailing centre.
This was Stew in typical cold-weather pose with his pride and joy at Whale Island in April 2008 (see entry for 6 Apr 08 in News Archive 22):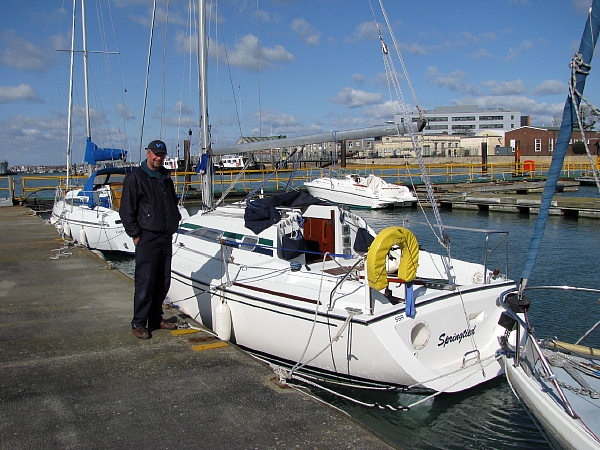 This was Stew in typical warm-weather pose chatting to Martyn Holloway in July last year while Doug Barlow and Dean Molyneux were preparing 'Dougout' for sea (see entry for 4 Jul 14 in News Archive 47):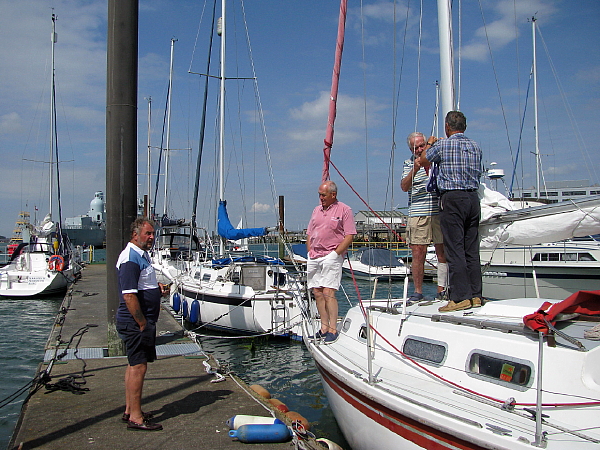 I have known Stew for well over 40 years and am sure that he would appreciate a card sent to him via Wisteria Lodge, 82 London Rd, Horndean, Waterlooville, Hampshire PO8 0BU. Alternatively, I can supply his email address and mobile number on request. In the meantime, I entreat all members of our community to join me in offering Stew and his family our sincere best wishes and support in their horrible predicament.
---
20 Nov 15
Falklands minewarfare mini-reunion
MCDOA member Kev Giles wanted some help putting together a presentation about minewarfare aspects of Operation CORPORATE (Falklands 1982) for the Advanced Amphibious Course.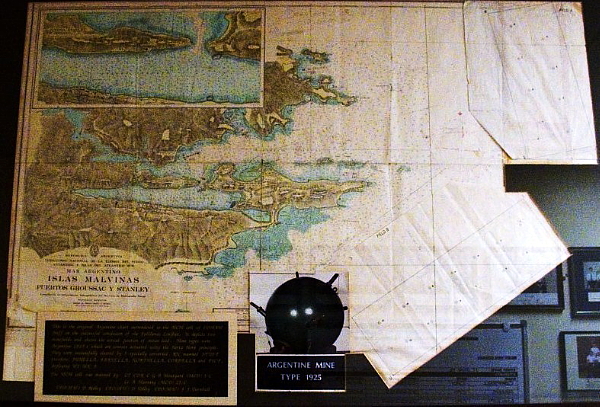 What better reason for a lunchtime reunion with MCDOA members Martin Holloway (CO 11th MCM Squadron) and Alex Manning (COMAW Staff) at the Blue Bell in Emsworth yesterday with 'Yours Truly' on hand to record the occasion?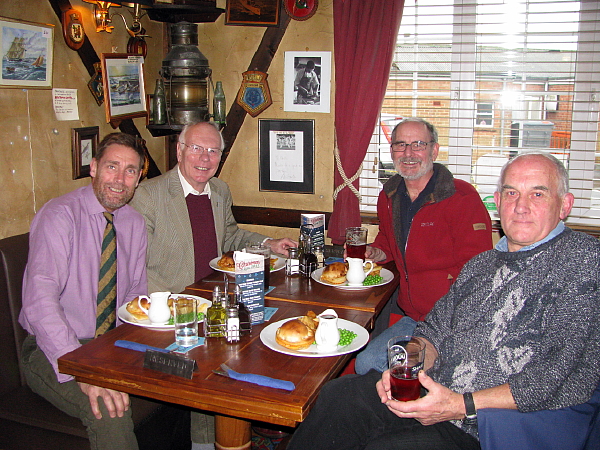 L to R: Kev Giles, Alex Manning, Yours Truly (Rob Hoole) and Martyn Holloway
---
Talks about the history of Gunwharf Quays including HMS Vernon
I am grateful to Mike Underwood, author of Gunwharf Quays, Portsmouth, for this announcement (see entry for 22 Apr 15 in News Archive 50):
"Hi Rob,
I hope you are well.
The sales of Gunwharf Quays, Portsmouth are going well. I am giving two talks to the Newcomen Society about Gunwharf and HMS Vernon at the University of Portsmouth on 8 December and 19 January 2016, both in Room PO1.11 at the Portland Building, St James Street (off Queens St) at 6.30 p.m. You and your members very welcome.
I would also like to meet up in the New Year to discuss the idea of a Vernon Conference.
Best wishes,
Mike Underwood
(see www.gunwharfquaysbook.co.uk)"
---
19 Nov 15 - 11th MCM Squadron presentation in London
HMS Northella was one of the five Hull trawlers taken up from trade to form the 11th MCM Squadron commanded by MCDOA member Martyn Holloway. These vessels were converted into minesweepers and manned by personnel from refitting Ton class MCMVs before being sent to the South Atlantic for the Falklands conflict in 1982. They performed various hazardous tasks besides sweeping 10 of the 21 mines laid off Port Stanley by the Argentineans, the others having broken adrift and floated away or failed to deploy from their sinkers properly (see 'The Forgotten Few of the Falklands' in the website's Dit Box).
HMS Northella's bell currently hangs in The Admiralty, a Fullers pub in London's Trafalgar Square. At 1500 on Saturday 5 December, veterans of the 11th MCM Squadron plan to present the pub with a framed painting of HMS Northella, created by marine artist Adrian Thompson, with a descriptive brass plaque. Please fell free to attend if you can.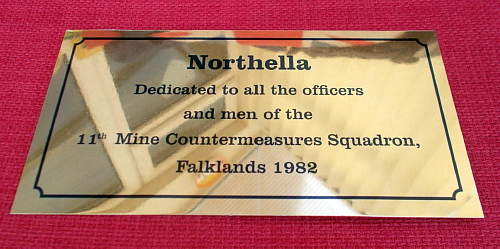 ---
18 Nov 15
SDU2 deals with pyrotechnic at Birling Gap
The Eastbourne Herald website contains this article and The Argus website this article describing this morning's disposal, presumably by members of Portsmouth-based Southerrn Diving Unit 2 (SDU2), of a phosphorous-filled marine marker flare at Birling Gap near Beachy Head in East Sussex.
Infamously, Birling Gap is where a wayward mine cover-plate severed the arm of ex-PO(CD1) 'Sarge' Sarginson following a detonation in 1959.
---
HMS Middleton arrives in Gibraltar
I am grateful to local photographer Daniel Ferro for these images of HMS Middleton (MCM2 Crew 2) arriving in Gibraltar last Saturday (14 November) while en route from Portsmouth to the Gulf (see entry for 9 Nov 15).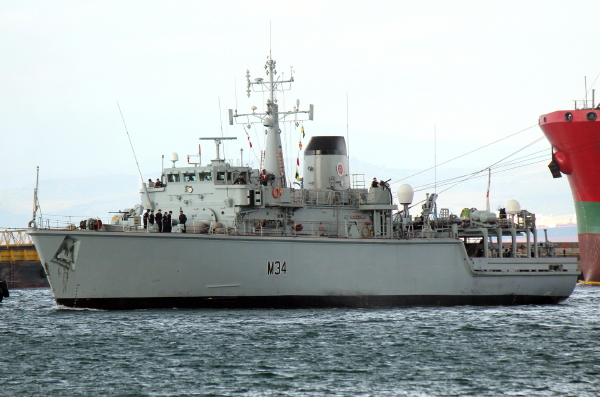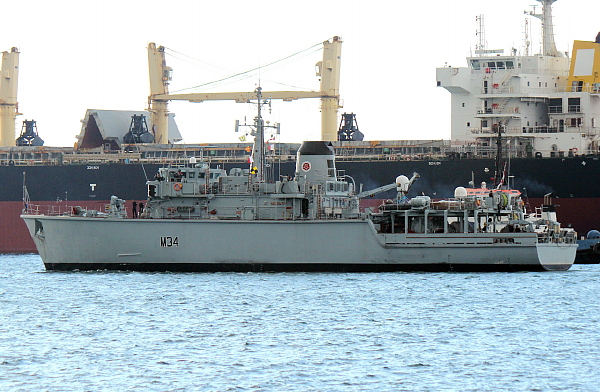 ---
17 Nov 15
John Herriman plays key role in 800th Lord Mayor's Show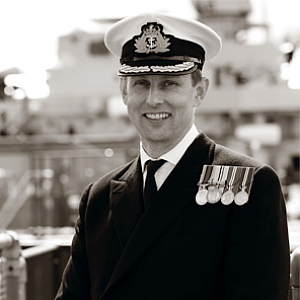 The Royal Navy website contains this article describing the key role played by HMS President, London RNR Division commanded by MCDOA member John Herriman, in this year's Lord Mayor's Show.
---
SDU1 deals with ammunition discovered in River Severn
The Gloucester Citizen website contains this article, including video, describing today's disposal by members of Plymouth-based Southern Diving Unit 1 (SDU1) of ammunition found in the River Severn at Lyde Rock, near Beachley on Sunday.
---
16 Nov 15 - Mine Warfare Battle Staff lift a minehunter for charity
The Royal Navy website contains this article reporting how staff of the Royal Navy's Commander UK Mine Countermeasures Force (COMUKMCMFOR) based in Bahrain have lifted the equivalent weight of a Hunt Class Mine Countermeasures Vessel (MCMV) and raised almost £1,500 for charity in the process.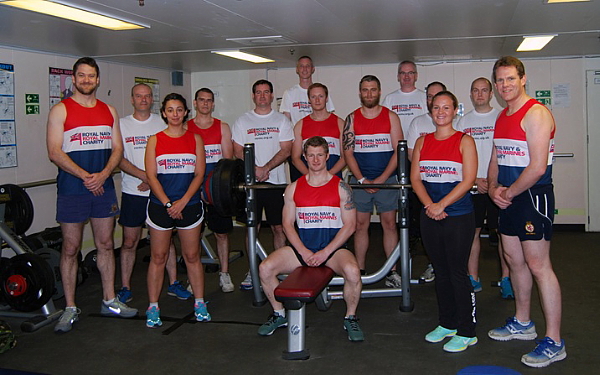 MCDOA member Jason White (far left) with the team
(RN website photo)
---
15 Nov 15 - Award of LS&GC medals
Congratulations to CPO(D) Simon 'Ruby' Murray on being gazetted for the award of the clasp to the Long Service & Good Conduct Medal and to LS(MW) Matt Fay and AB(D)1 J T Finlay on being gazetted for the award of the Long Service & Good Conduct medal.
---
14 Nov 15 - 1st MCM Squadron staff visit Inverness
The Royal Navy website contains this article describing last weekend's visit to Inverness by Faslane-based 1st MCM Squadron staff, led by MCDOA member Tim Davey (the Squadron Commander), to participate in the city's Remembrance ceremonies.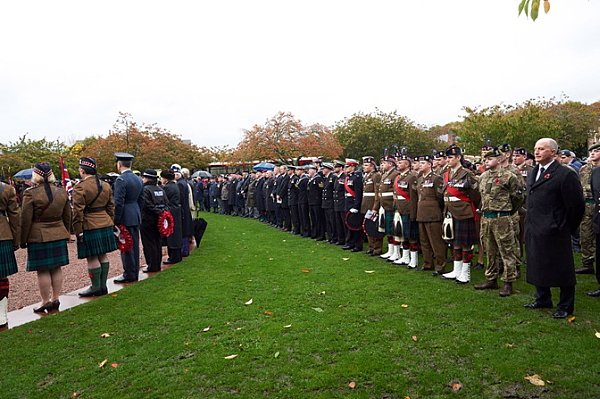 1st MCM Squadron staff paying their respects with armed forces and civilian personnel
in the Cavell Gardens at Inverness
(RN website photo)
---
13 Nov 15 - Chance encounter between two MCDOA members
I am grateful to MCDOA past-Chairman Chris Baldwin for this contribution:
"Rob,
This may be of interest.
Chris Lade and I met up through business last week. I work for the International Marine Contractors Association (IMCA) based in London and SAAB Seaeye, where Chris works, is one of our members. I paid a visit to SAAB Seaeye with an IMCA colleague to update our understanding of the business and, lo and behold, bumped into Chris!"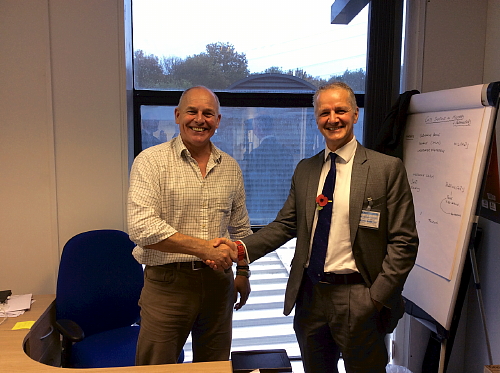 MCDOA member Chris Lade congratulating fellow member Chris Baldwin after
his close-run victory in the annual marine contractors' Hangman knock-out
---
12 Nov 15
MCDOA Annual Dinner attendees

Mark Shaw, our Honorary Secretary, has sent me this list of dinner attendees to date. Please excuse the absence of service, rank, title, honours or decorations:
Dave Armstrong
Chris Ashcroft
Mark Atkinson
Chris Bamber
David Bence
Robin Bennett
Angus Benton
John Bevan
Gary Biddle
Chris Blackford
Sandy Blackwood
Roly Brading
Hugh 'Mac' Brodie
Keith Broughton
Ben Brown
Steve Brown
Andy Brunton
Alex Bush
Alex Cameron
David Carey
Ryan Carey
Colin Churcher
Hayton Cramphorn
Mo Crang
Don Crosbie
Nick Davis
Peter Davis
Nick Deppe
Brian Dutton
Simon Edwards
Peter Emery
Bob Evans
John 'JJ' Forbes
Mike Forbes
Glyn Gilbert
Steve Gobey
Geoff Goodwin
David Graham
Alan Hares
Stuart Harper
James Harrison
Bob Hawkins
Jamie Hawkins
Martyn Holloway
Gareth Hoole
Rob Hoole
David Hough
David Hunkin
John Hurst
Phil Ireland
Simon 'Si' Kelly
Bill Kerr
Rory Kerr
Mike Kooner
Chris Lade
John Law
Jonathan Lee
Bob Lusty
Dougie MacDonald
Martin Mackey
Brian Mansbridge
David Marshall
James Marshall
Mike Marshall
Steve Marshall
Alan Massey
Ralph Mavin
Stuart McAlear
Dave Milne
Ian Morton
James Morton
Mike Morton
Al Nekrews
John Newnham
John O'Driscoll
James Oxley
Brit Pearce
Nigel Pinhorne
Ben Piper
Eric Piper
Cozy Powell
Simon Pressdee
John 'YoYo' Ravenhall
Roger Readwin
Keith Riches
Tony Riches
Peter Robinson
Nick Rogers
David Sandiford
Mark Savage
Jason Scott
Ben Sharples
Mark Shaw
Tim Sizer
John Staveley
Steve Strange
Rich Talbot
Chris Tarmey
Nick Tarmey
Howard Trotter
Peter Trotter
Peter Waddington
Richard 'Soapy' Watson
Tony Watt
Steve White
Sam Wicks
Graham 'Tug' Wilson
Ken Wollaston
Craig Wood
Steve Woodhead
Interestingly, the MCDOA's intrepid 'songmeister & raconteur extraordinaire' Bob Hawkins MBE was undertaking liferaft drills at the Sea Survival Training Centre at Horses Island today in preparation for his role as First Lieutenant of HMS Queen Elizabeth.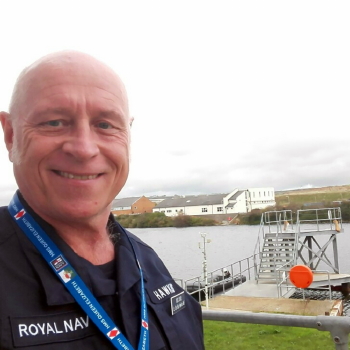 ---
Departure of HMS Atherstone from the Gulf
The Royal Navy website contains this article announcing the departure of HMS Atherstone (MCM2 Crew 4) from Bahrain to return to the UK after her three-and-a-half years in the Gulf on Operation KIPION (see first entry for 10 Nov 15). She was waved off by Capt Nick Washer RN (Deputy Commander United Kingdom Maritime Component Command (UKMCC), her Commanding Officer between 2002 and 2004.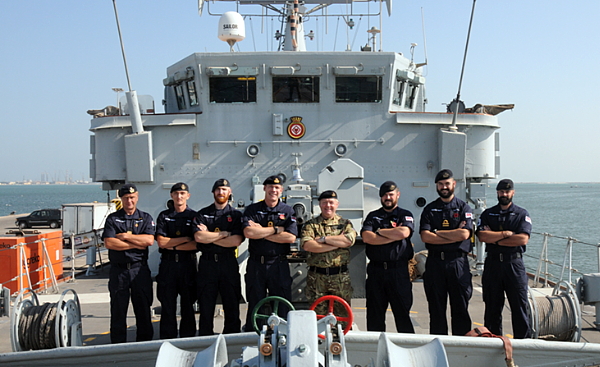 Capt Nick Washer RN on board HMS Atherstone in Bahrain
(RN website photo)
During her time in the Gulf, Atherstone has covered some 44,520 nautical miles and conducted over 8,630 hours of operational tasking. The ship has also taken part in 14 UK/US training exercises and conducted extensive survey tasking to support the UK/US MCMV effort to maintain the sea lines of communication.
---
Death and funeral of ex-CPO(D) Andrew 'Harry' Harrison
Ex-CPO(D) Andrew 'Harry' Harrison passed away on Tuesday 3 November from complications relating to pneumonia. He lived at Appledore in North Devon and I am grateful to MCDOA member Mick Beale for this report of his funeral which was held yesterday at Banstable Crematorium:
"Rob,
I have just got back from ex-CPO Andrew 'Harry' Harrison's funeral in Barnstable.
Harry was ex-Sat Team and the Cox'n of HMS Bronington in the 1980s. He was also Chief of the Hong Kong team in the early 1990s.
It was a sad affair but very well attended by locals and family. I attended from DDS along with CPOs Bob Hope, Nellie Nilsson and ex-PO Mick Openshaw. Other ex-CDs present were Steve Bielby, Dave Bond, Jim Lynch and Cris Ballinger.
Regards,
Mick Beale"
On 22 May 1992, Harry was awarded the Queen's Commendation for Bravery for his Meritorious Service on 15 August 1991 in a Search and Rescue operation involving the oil rig support barge DB29 during typhoon 'Fred'. He was a CPO(D) based at HMS Tamar in Hong Kong at the time,
---
11 Nov 15 - Lest we forget

They shall grow not old, as we that are left grow old;

Age shall not weary them, nor the years condemn.

At the going down of the sun and in the morning,

We will remember them.

Robert Laurence Binyon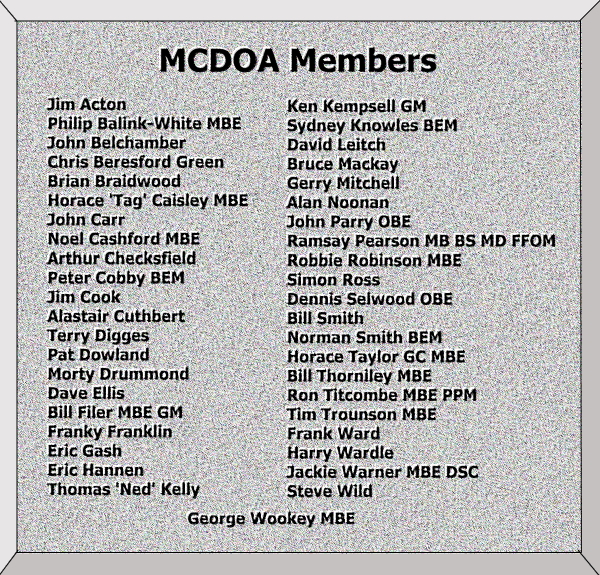 Also, please spare a moment for those listed among the RN Bomb & Mine Disposal Casualties in the 'Branch History' section of the website.
---
10 Nov 15
HMS Atherstone departs Gulf for return to UK
Personnel from HMS Atherstone (MCM2 Crew 4), HMS Chiddingfold (MCM2 Crew 7), HMS Bangor (MCM1 Crew 8) and HMS Penzance (MCM1 Crew 6), as well as maritime battlestaff based in Bahrain, mustered for this rare photograph with Commander UK Mine Countermeasures Force (COMUKMCMFOR) in the Gulf. Shortly after this photo was taken, HMS Atherstone departed for the UK where she is due to arrive in Portsmouth in December. She will be relieved in theatre by HMS Middleton (MCM2 Crew 2).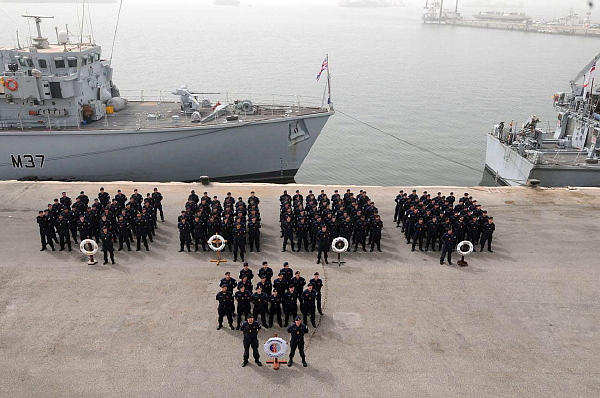 UK MCMFOR personnel mustered on the jetty in Bahrain
(RN website photo)
---
Donation of HMS Reclaim albums and other memorabilia to Fleet Diving Headquarters
The late Cdr Guy Worsley OBE was Superintendent of Diving from 1972 to 1983 in the days when SofD was responsible for all areas of service diving including CD team operations. This was an exciting period for the Clearance Diving branch, particularly with regard to deep diving. According to MCDOA member Bill 'Chippy' Norton:
"...All the connections he established and maintained with the US Navy through the MOU [Memorandum of Understanding] and personnel exchange programmes, his efforts to replace HMS Reclaim, initially with HMS Clansman and later the Seabed Ops Vessel (which regrettably was mushroomed into the monstrous HMS Challenger by DG Ships and AUWE despite Guy's efforts), were instrumental in the RN being able to carry out the recovery operation on HMS Coventry and retaining a deep diving capability. In addition, the organisation and back-up which he arranged and managed for Operation Corporate and the Falklands, in coordination with CinC Fleet, was great staff work from which the later operational role of SofD was constructed..."
Bill has proposed that Guy Worsley's widow Kate presents his albums and other memorabilia for display in the Reclaim Room of Bridge Building (Fleet Diving Headquarters) on Horsea Island at the start of the MCDOA's AGM at 1330 on Friday 20 November. Arrangements are being made accordingly. If you wish to be present for this event, ensure that you have completed and submitted the booking form for the AGM and Operational Updates in accordance with the instructions in the entry for 22 Oct 15. I am sure that any other serving personnel would be welcome at the brief ceremony too.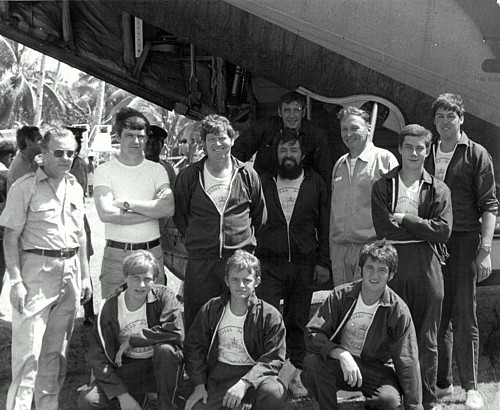 Guy Worsley (standing third right) with members of the Fleet Clearance Diving Team
at Funafuti in 1977 during Operation HEMICARP during which RN CDs co-operated
with their US counterparts to clear Second World War US and Japanese ordnance
from the waters of Tarawa and Tuvalu in the Gilbert and Ellis Islands
---
From former FCPO(D) Mick Fellows MBE DSC BEM*:
"Rob,
Hope you are well and enjoying life to the full.
I read the article about the late Commander Guy Worsley OBE on the MCDOA web site. I first met him whilst he was driving HMS Acute, an Algerine Class Fleet Minesweeper in the Dartmouth Squadron, in the early '60s. I was one of the ship's shallow water divers and he nudged me towards joining the CD branch.
I spent a couple of months with him and took that photograph of the team clearing the mine fields and Japanese bomb stores in Funafuti in the '70s and can personally appreciate the tremendous contribution he made towards the success of diving and EOD operations during the Falklands Campaign. On returning from Stanley he personally drove me in his Volvo from Lyneham airfield to HMS Vernon and I remember being more frightened of his driving than the Argie bombs being targeted at me on the Antrim!
Finally, with your good self, Captain Ramsay Pearson, Mike Harwood and Colin Kidman, I attended and had the honour (after polishing them) of carrying his cap, medals and sword at his funeral.
His collection of photographs will be a valuable historical addition and an inspiration to many displayed in the Reclaim room at Horsea.
Best Regards,
Mick"
---
9 Nov 15 - Departure of HMS Middleton from Portsmouth
The Navy News website contains this article describing today's departure of HMS Middleton (MCM2 Crew 2) from Portsmouth to begin her three-year deployment to the Gulf on Operation KIPION (see entry for 6 Nov 15).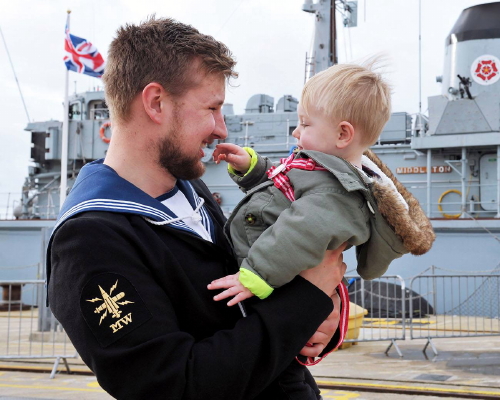 AB(MW) Tom Rouse with his son
(RN website photo)
While I was waiting on the Round Tower on a particularly blustery afternoon to wave the ship farewell, I spoke to some of the large gathering including AB(D) Simon Rees's parents Geoff and Debbie Rees who had travelled from Bristol with his partner Penny.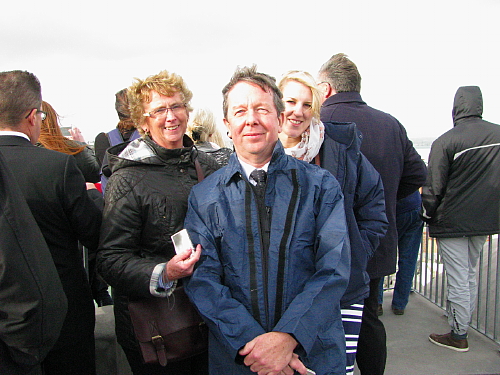 I also met AB(D) Bradley Chapman's mum Pauline from Cleethorpes, his future father-in-law Ivor Welch from Hampshire and his fiancée Claire from Cambridgeshire with their daughters Iyla and Mia. They had earlier witnessed Brad, known as the 'Universal Sailor', being presented with an award for his all-round achievements on board and for representing the Royal Navy as a boxer.
HMS Middleton then hove into view and the crowd cheered wildly.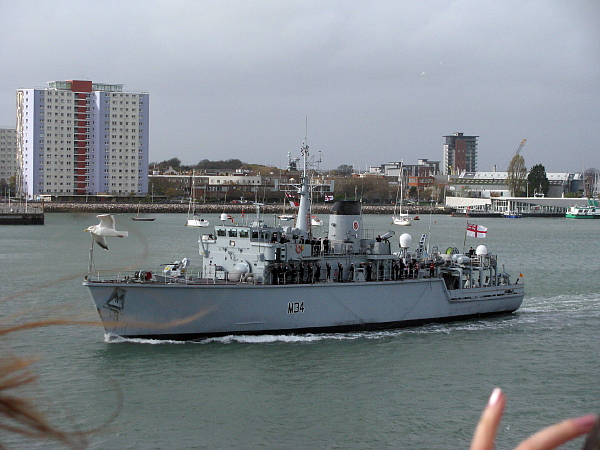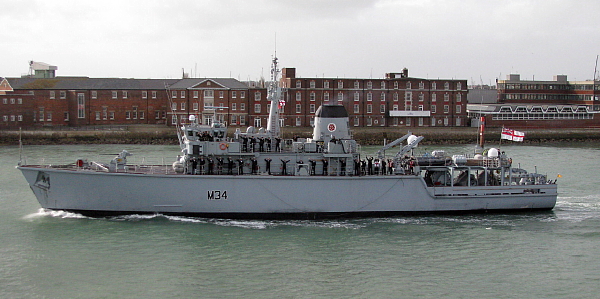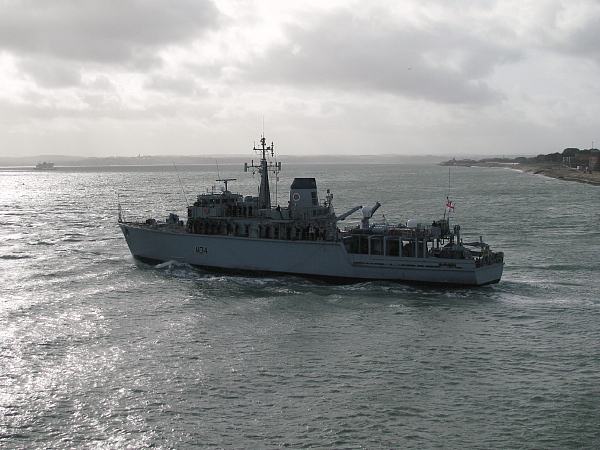 Before leaving, I had a quick chat with PO(D) Lee O'Sullivan's wife Janis who was present with their children James, Spencer and Georgia. Lee is the ship's Coxswain.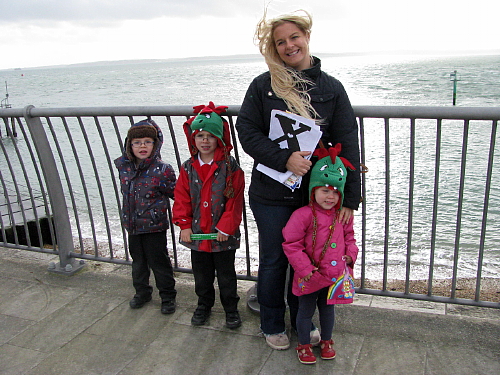 I am sure that all members of our community will join me in wishing HMS Middleton and her ship's company a safe, productive and enjoyable deployment.
Post script: The Royal Navy website published this article on 10 November covering the same story. The article includes images of PO(MW) Lewis 'Flash' Gordon, LS Leigh Burge, AB(MW) Tom Rouse and AB(D) Nicholas Kavanagh.
---
8 Nov 15 - RN Diving Heritage: HM Naval Base Clyde (Faslane)
I am grateful to MCDOA member Phil Ireland DSC for drawing my attention to this article on The Scotsman website which includes these images of diving-related activities at Faslane during the mid-1970s: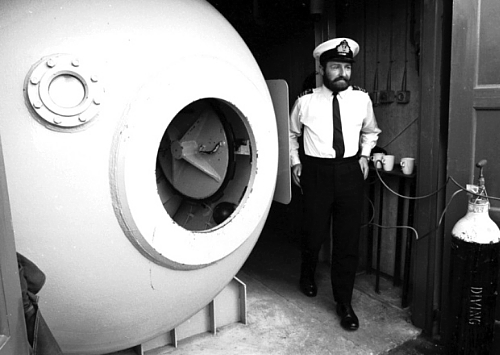 MCDOA member Hamish Loudon MBE outside the compression chamber
at Faslane in May 1976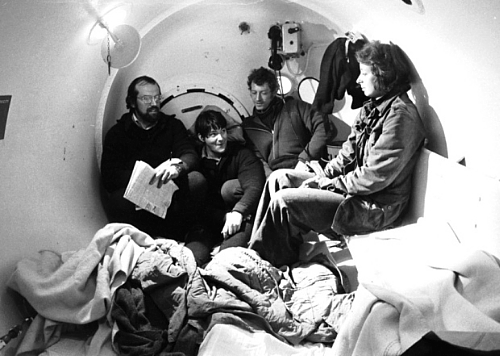 Civilians being treated in the compression chamber at Faslane in May 1976
---
7 Nov 15 - Launch of a new book about the RAN Clearance Diving Branch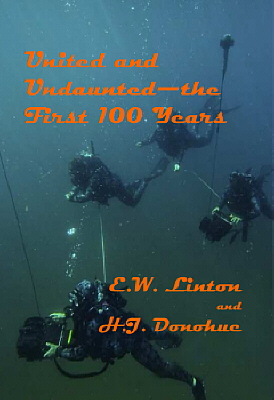 I am grateful to Larry Digney, National President of the Royal Australian Navy Clearance Divers' Association (RANCDA) for this announcement (see entry for 13 Apr 15 in News Archive 50 for further background):
"One of the greatest endeavours of RAN Clearance Divers ever has been completed by two loyal and dedicated perfectionists who spent years putting together our story, "United and Undaunted - The First 100 Years." It is the story of our history, the history of our forefathers, of us, our legacy and our achievements.
The work involved is immeasurable and the efforts of, initially, our second RANCDA Patron, first course member and branch stalwart, Commander Jake Linton BEM, RAN Retd. and then the very able assistance provided by Commodore Hec Donohue AM RAN Retd. are to be commended and I, personally, admire them both for completing what I believe to be the RAN CD Branch crowning glory. Never in our history has so much endeavour been put into any project, operation or undertaking.
I believe every RAN Clearance Diver should purchase at least one copy of what is ostensively, our story, and treasure it for what it is... a priceless history of our roots, of who and what we really are and what we represent.
I implore everyone to purchase a copy and in doing so, pay tribute to the authors, to those that went before, those that paved the way and set in concrete the foundations that have provided us with what we have and what we enjoy today and to those that pave today's road with their world leading capabilities, adventures and achievements.
The proceeds of this not-for-profit book, after all costs are accounted for, go to the RANCDA to assist us all into the future.
The books cost A$100.00 for hardback and A$70.00 for soft cover.
Please deposit the purchase price into the following account (in the name of Jake Linton) and put your name and initials in the description section. BSB: 034204 Acct: 257639. Then email Jake, (linton@bigpond.net.au) and advise him of your address for delivery (included in the purchase price except for bulk and overseas purchases, the costs of which are yet to be determined) and advise him what you have purchased. The books will be dispatched as soon as possible after they leave the printers. Jake can also be contacted on 0438544970, if you need to discuss anything regarding the purchase with him.
Please join me in demonstrating our collective support for our motto "United and Undaunted" and the book by purchasing your copies now.
Thank you Jake and Hec... You make us proud."
United and Undaunted
Larry"
---
From MCDOA member Edward 'Jake' Linton BEM, Patron of the RANCDA and co-author of 'United and Undaunted':
"Hi Rob,
After checking with the Post Office, the best I can do for the books to the UK by air mail is:
Hard Back A$130 and Soft Cover A$100.
I am a much more educated person in relation to publishing and printing costs. The next foray, if there is one, will be self-publishing.
Cheers,
Jake"
---
6 Nov 15 HMS Middleton departs for Gulf
Portsmouth-based HMS Middleton (MCM2 Crew 2) is due to deploy to the Gulf on Monday (9 November). She will probably relieve HMS Atherstone (MCM2 Crew 4) in Bahrain (see second entry for 4 Nov 15) and is expected to be away for the next three years.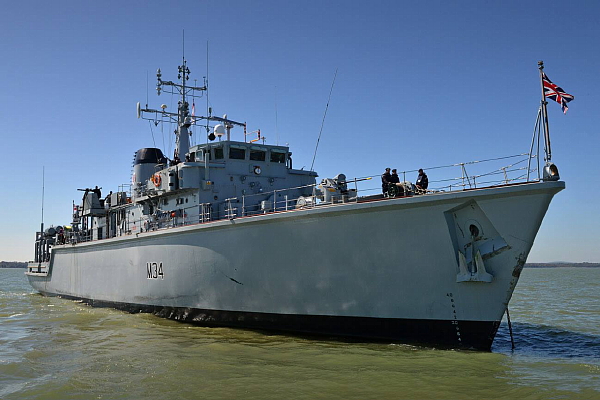 HMS Middleton at anchor
(RN library photo)
According to QHM's Shipping Movements, HMS Middleton will depart Victory Jetty in Portsmouth Naval Base on Monday at 1300.
---
5 Nov 15
Papal Ambassador spends day at sea in HMS Cattistock
The Navy News website contains this article and the Portsmouth News website this article describing a day spent at sea by Archbishop Antonio Mennini, the Pope's Apostolic Nuncio to the UK, on board the newly upgraded HMS Cattistock (MCM2 Crew 6). Royal Navy photos by L(Phot) Ken Gaunt.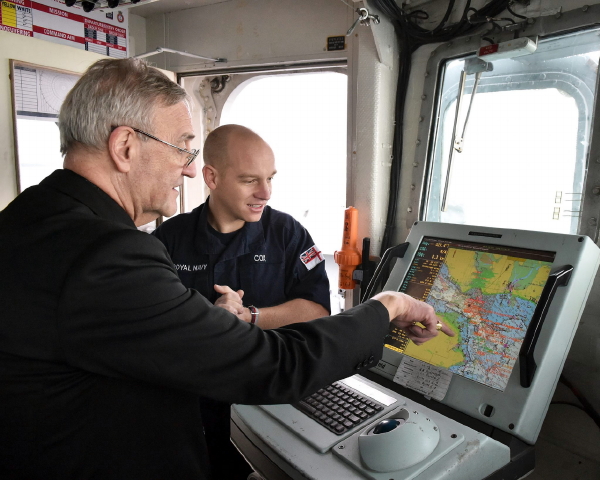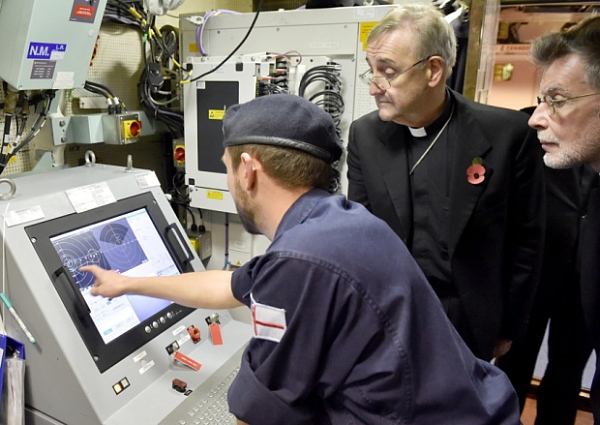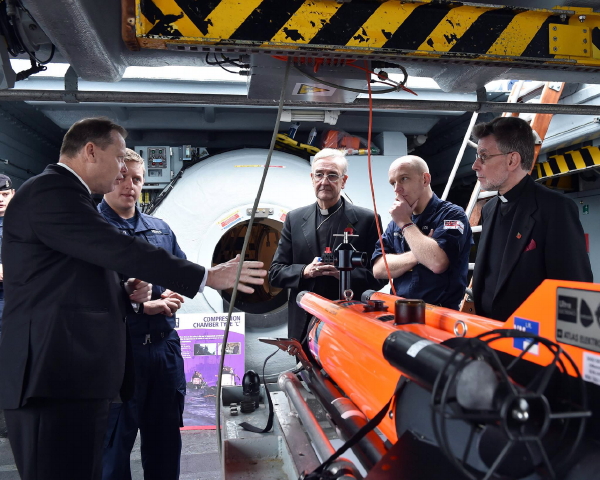 Post script: The Royal Navy website published this article on 10 November covering the same story.
---
SDU2 deals with projectile on Isle of Wight
The Island Echo website contains this article describing today's call-out for members of Portsmouth-based Southern Diving Unit 2 (SDU2) to deal with a projectile found at St Helen's on the Isle of Wight.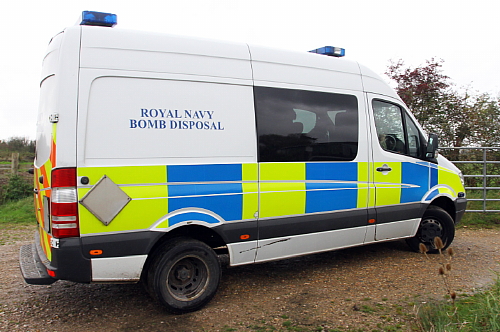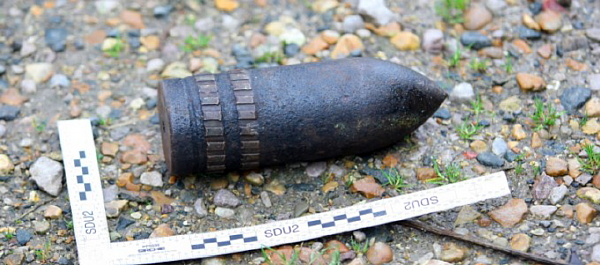 ---
4 Nov 15
News from HMS Hurworth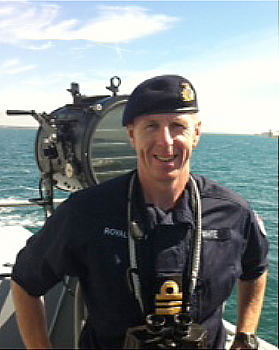 I am grateful to MCDOA member Steve White, Commanding Officer of HMS Hurworth (MCM2 Crew 5), for his October newsletter which is available for download here: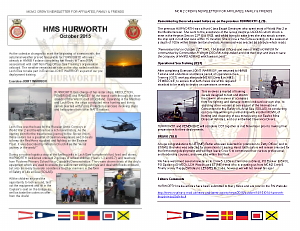 ---
HMS Atherstone given Leicester City football strip
The Royal Navy website contains this article describing Leicester City FC's donation of replica football kit to HMS Atherstone (MCM2 Crew 4).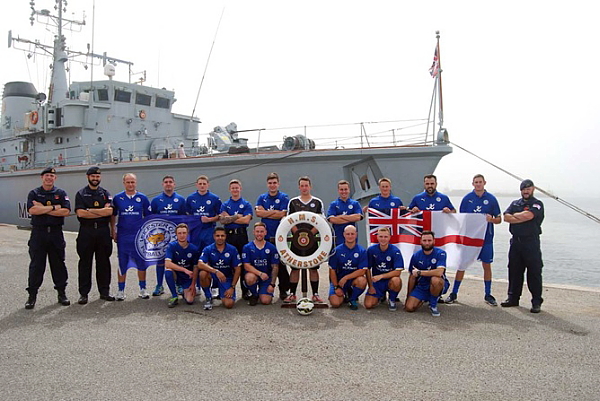 HMS Atherstone's football team, The Flying Foxes, with their ship in the Gulf
(RN website photo)
Leicester City FC, known as 'The Foxes', is the closest Premier League team to the ship's affiliated town of Atherstone in Warwickshire. HMS Atherstone's football team is called 'The Flying Foxes' after their ship's badge.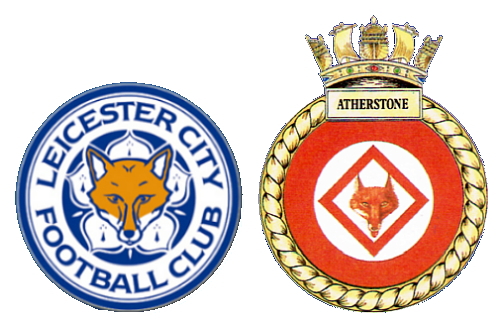 HMS Atherstone has been deployed on Operation KIPION in the Gulf region for the past three-and-a-half years and is due to return to the UK soon.
---
3 Nov 15 - 1SL presents decommissioned artillery shell to Ben Ainslie
Admiral Sir George Zambellas (the First Sea Lord) has presented a decommissioned 6" artillery shell to Sir Ben Ainslie (the most successful sailor in Olympic history) who has formed Land Rover Ben Ainslie Racing (LR BAR) to compete for the Americas Cup. The ceremony took place in the presence of members of Portsmouth-based Southern Diving Group (SDG) at Ben Ainslie Racing Headquarters at the Camber in Old Portsmouth where the shell was discoverd during building work.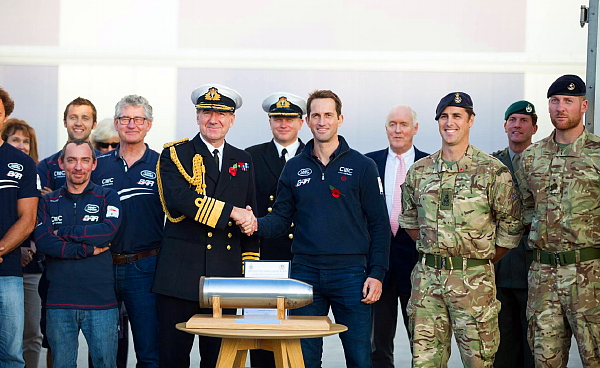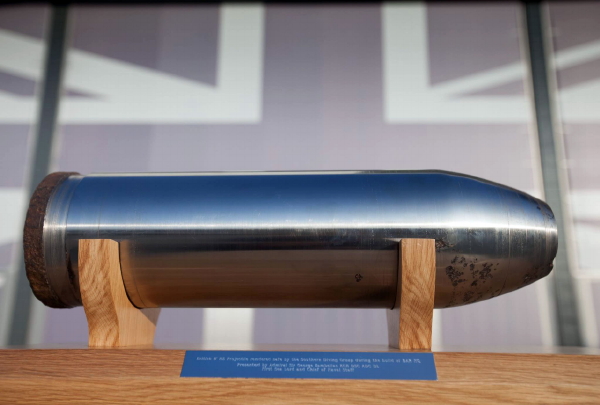 The inscription states:
British 6" HE Projectile rendered safe by the Southern Diving Group during the build of BAR HQ
Presented by Admiral Sir George Zambellas KCB DSC ADC DL
First Sea Lord and Chief of Naval Staff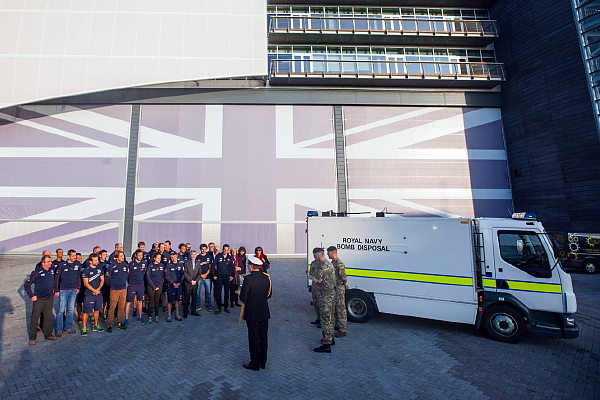 ---
2 Nov 15 - 1SL attends HMS Cattistock ceremony
The Royal Navy website contains this article and the Portsmouth News website this article (including video) describing today's rededication ceremony to mark the emergence of HMS Cattistock (MCM2 Crew 6) from major refit. The ceremony was attended by Admiral Sir George Zambellas (the First Sea Lord) and his wife Lady Amanda Zambellas. Admiral Zambellas was among almost half of the ship's 35 other previous Commanding Officers present. All photos courtesy of the RN website.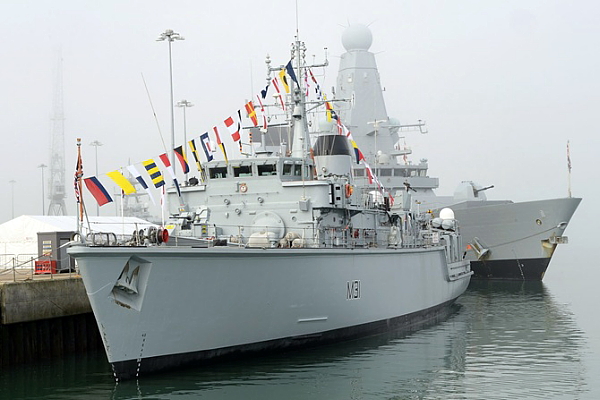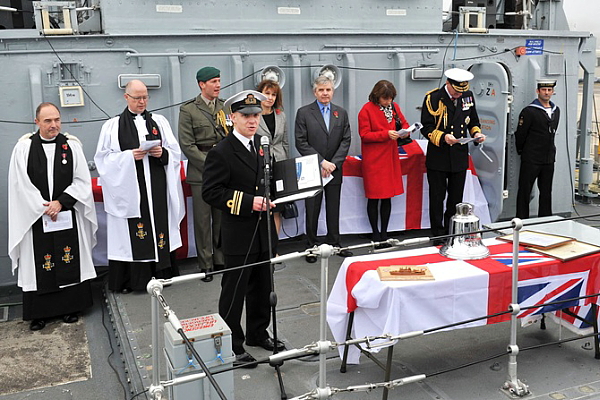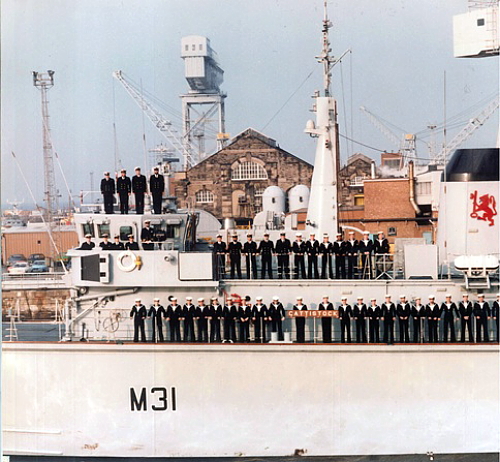 Reportedly, the upgrade, carried out by BAE Systems in Portsmouth, includes new engines and means that the minehunter can sail faster, stay at sea longer, and will extend the ship's life to 2030 and beyond.
Post script: On 13 November, the Portsmouth News website published this article updating its previous story.
---
1 Nov 15 - Royal Naval Reserve Recruitment Drive
I am grateful to Richard 'Soapy' Watson, the MCDOA's previous Hon Sec, for this contribution:
"Hi Rob,
Hello and I hope all is well!
I'm very much looking forward to the dinner, my first as a civvie, although I'm still in uniform as I am SO2 RNR Diving which does pose challenges while having a full time job.
As you know, the RNR Diving Branch has recently had a clear policy review and so we have clear direction on what our capabilities are which are basically:
a. To support the Fleet Diving Squadron in Search for Maritime Force Protection.
b. To support the NATO Submarine Rescue System and have reservists at high readiness standby.
c. To support the Fleet Diving Squadron with personnel for training and RNR personnel development.
I just wanted to let people know about our latest recruitment drive. As you may know, we have currently around 43 people in the RNR Diving Branch and have direction from Navy Pers to increase this number to 98. To help promote the RNR Diving Branch, we decided to attend the International Dive Show at the Birmingham NEC last weekend (something I did back in 2007 to help promote RN CD numbers, which was successful). The event was a a resounding success with the RNR stand being really popular with the public. There was a lot of interest on the RNR Diving Branch, but also interest in the general RNR.
The exposure the RNR received from this event was huge. The event accrued over 100 expressions of interest to join the RNR Diving branch so even if we get a 10% uptake, it's still a good piece of recruitment work. I would like to thank the team who made the event such a success including WO2 Bland from HMS Forward for his recruitment skills.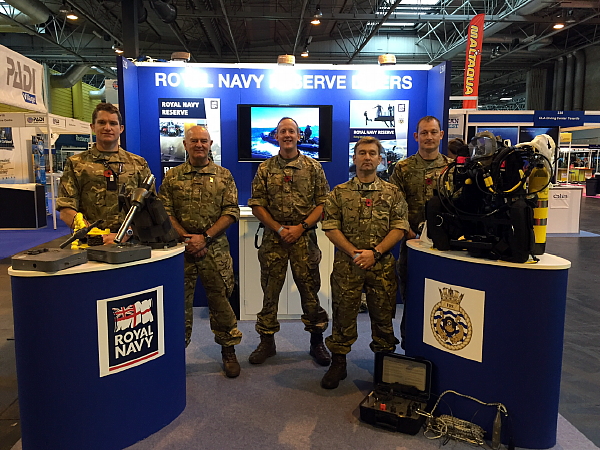 Left to right: Mid Rob Powell, Ldg Diver Steve Boyd, PO Tim Pearce, PO Jacko Jackson and
Ldg Diver Aaron Barrett at Dive 2015 at the NEC in Birmingham 24/25 October 2015
We intend to repeat the event next year to continue to boost numbers.
Kindest Regards,
Soapy"
---
31 Oct 15
Re-establishment of HMS Juffair (Jufair?) in Bahrain
The BBC News website contains this article, including video, describing today's ground-breaking ceremony at Mina Salman in Bahrain, involving UK Foreign Secretary Philip Hammond and Bahrain Foreign Secretary Sheikh Khalid bin Ahmed Al Khalifa, to lay the cornerstone of a new HMS Juffair (sic). In fact, the expanded UK Maritime Component Command (UKMCC) complex in the Juffair district of Bahrain, comprising a new headquarters and an engineering and logistics facility for the in-theatre Forward Support Unit, was opened on 15 June this year (see entry for 8 Jun 15 in News Archive 50). One assumes the previous spelling of HMS Jufair will be utilised in accordance with Royal Navy custom and practice.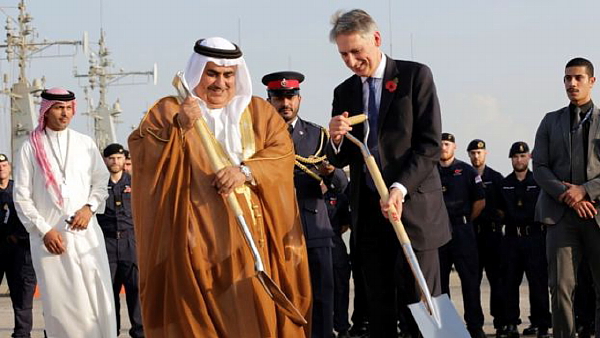 The article describes the establishment at Juffair as Britain's first new permanent military base in the Middle East since 1971 although the UK has maintained a continuous MCM presence in the Gulf since the arrival of HMS Ramsey and HMS Blyth in Bahrain in 2006. The previous HMS Jufair, commissioned in November 1955, was home to the 9th Minesweeper Squadron (9th MSS) of TON class minesweepers from January 1963. In 1966, the Squadron was renamed the 9th Mine Countemeasures Squadron (9th MCMS) to reflect the inclusion of TON class minehunters and it was finally disbanded in August 1971. Following a UN referendum and Bahrain's declaration of independence from the UK, HMS Jufair was decommissioned in December 1971 and was adopted by the US Navy, first as the Administrative Support Unit Bahrain and then as Naval Support Activity Bahrain.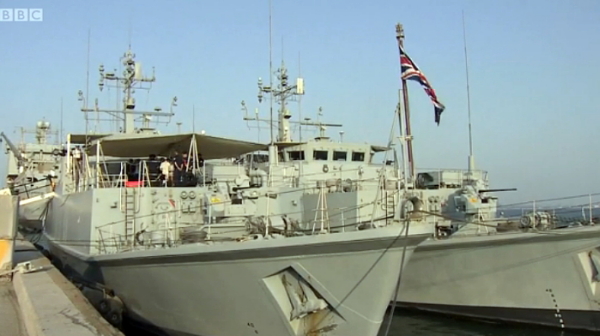 Above and below: HMS Bangor (MCM1 Crew 8) and HMS Penzance (MCM1 Crew 6)
alongside at Mina Salman in Bahrain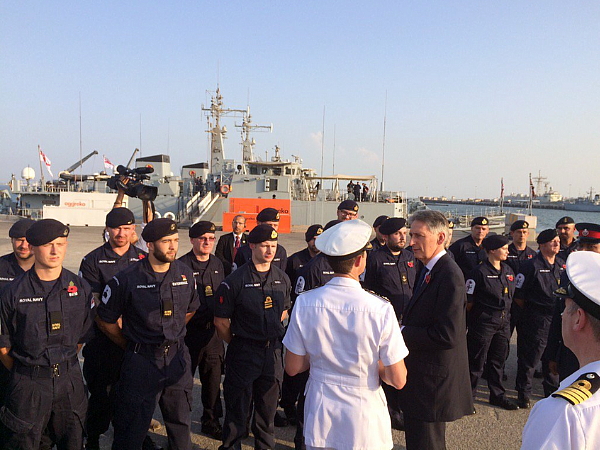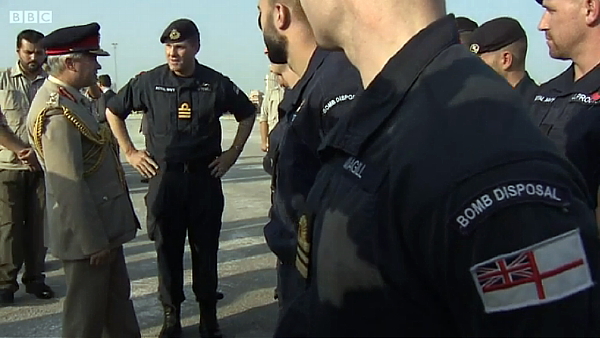 General Sir Nick Houghton (Chief of the Defence Staff) being briefed by Cdr Paul Ottewell RN
(Cdr UK MCM Force) with a faceless Alasdair Magill (Ops Officer UKMCM Force) near right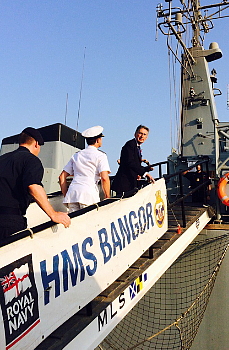 The Royal Navy has ties with the small kingdom of Bahrain going back 200 years and has maintained a permanent presence in the Gulf for the past 30 years. However, its role in the region has mushroomed since 2001 when it established its first headquarters in Bahrain since the previous HMS Jufair (7 Nov 1955 to 15 Dec 1971 - see entry for 25 Aug 13 in News Archive 43). In 2001 the effort was supported by a staff of eight. Now UKMCC numbers more than 80 men and women and they have outgrown their former building.
---
Three Men in a Boat
Barlow and Hoole were present and correct today but Holloway's place in the MCDOA's 'Not Quite the Last of the Summer Wine Trio' was taken by Hoole's neighbour Lez again as we took 'My Way Too' the short distance from her summer berth at Whale Island to Fareham for our last sail of the season. The sky was overcast to begin with but the autumn sun gradually burned through the mist and cloud.
A light following breeze and the flood tide carried us to our destination fairly rapidly with just the main sail set. On arrival at Fareham Marina, 'My Way Too' was craned from the water and we removed her sails and pressure-washed her hull.
It was then time to relax on the Sailing Club's balcony, take in the view and enjoy some club sandwiches washed down with a few pints of Doom Bar. In no time at all, we were surrounded by a rapidly growing number of club members, all intent on listening to Barlow's dits and jokes. As Barlow is getting quite 'Mutt & Jeff' these days, he much prefers broadcasting to receiving so this situation suited him down to the ground. Suffice it to say that this turned into one of our longer lunchtime sessions.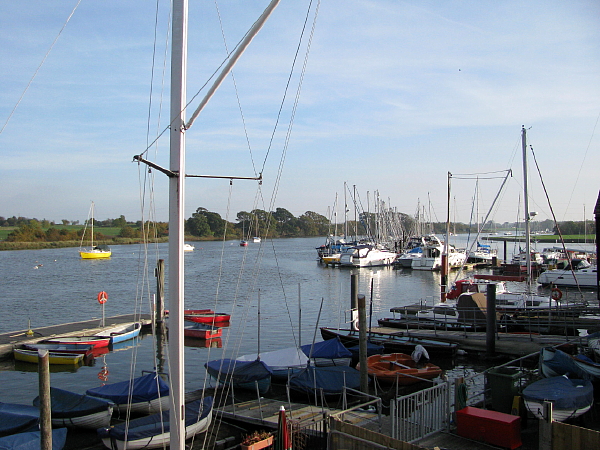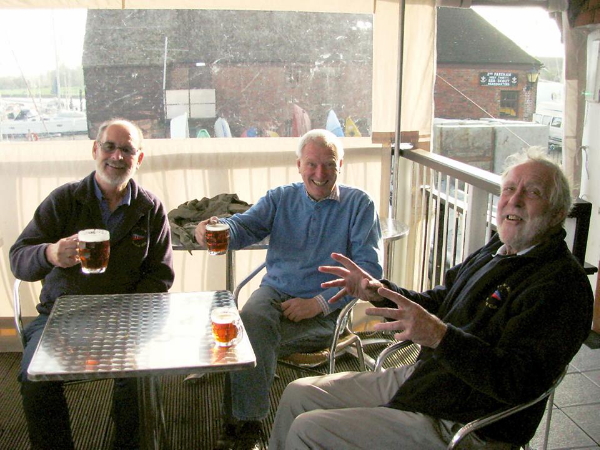 ---
30 Oct 15
News from HMS Shoreham
I am grateful to Lt Cdr Jim Lovell, Commanding Officer of HMS Shoreham (MCM1 Crew 1), for this update received via the Ton Class Association (TCA). I write a column titled 'MCMV News' for the Associaton's bi-monthly newsletter 'Ton Talk'.
"I have the privilege of having taken Command of HMS SHOREHAM, from Lieutenant Commander Mark Redmayne Royal Navy, as the Commanding Officer of the First Mine Countermeasures Squadron's Crew 1. Having had the August copy of 'Ton Talk' land on my desk, I thought I'd take the time to introduce myself and update you as to the activities of SHOREHAM and Crew 1.
HMS SHOREHAM has recently returned form a three year period on Operation Kipion, based out of Bahrain. The Ship has been an integral part of the UK MCM effort in the Middle East region and has now returned home to Faslane, for much needed maintenance.
MCM1 Crew 1 joined SHOREHAM in Bahrain for their period of duty on Operation Kipion and spent seven months in the Gulf region, prior to returning the Ship seven thousand miles to the UK. Over the last two months, the Ship's Company have enjoyed some well earned leave. We are now preparing to leave SHOREHAM and due to the unique way these Ships are managed, Crew 1 will be moving on to HMS PEMBROKE at the end of November, in which we will deploy for NATO Operations in the Baltic region in April 2016.
I very much look forward to updating you as to Crew l's activities during my period in Command and please accept the best wishes from HMS SHOREHAM and MCM1 Crew 1.
Yours aye,
Jim"
---
SDU1 called to 'petrol bomb factory' in Redruth
The Plymouth Herald website contains this article describing a call-out for members of Plymouth-based Southern Diving Unit 1 (SDU1) to a 'petrol bomb facory' found at the home of a 22-year-old man suffering Asperger Syndrome in Redruth, Cornwall.
---
29 Oct 15 - Funeral of former CPO(D) Dougie 'Basher' Briggs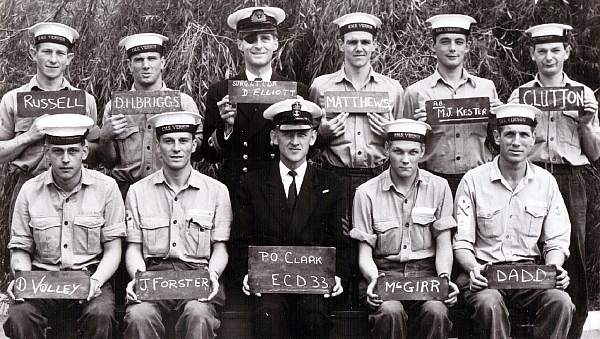 Basher (standing second left) starting CD Basic's course at HMS Vernon in 1964
Basher's funeral, held today at The Oaks Crematorium near Havant, was well attended by family, friends and former colleagues (see entry for 17 Oct 15). MCDOA members included founding Chairman David Sandiford, founding Vice Chairman Rob Hoole and David Bartlett MBE. Other members of the RN diving community included Cris Ballinger BEM, David 'Jim' Bond, Alan 'Donkey' Bray, Mo Crang, John Dadd BEM, Chris 'Paddy' Doonan, Mick Fellows MBE DSC BEM*, Vern Gibbons, Mike Handford, Glyn Holgate, Chris Jones, Colin 'Scouse' Kidman QGM, Jim Lynch, Gerry 'Pincher' Martin, Ray Ramsay, Terry Settle MBE QGM BEM, Jack Smith, Clive 'Taff' Thomas and Paul 'Yorky' Tudor. The family much appreciated the presence of serving personnel in uniform including MCDOA former Hon Sec Mick Beale and fellow MCDOA member Bob Hawkins MBE, WO(D) Steve Fitzjohn, WO(D) Jim Slade and CPO(D) 'Nelly' Nilsson (current 'Chief of the Island' at Horsea). We were also blessed with the presence of ex-CPO(D) Jasper Peters' widow Margaret and ex-CPO(MEM) Brian Wise who worked with the Portland CD Team and served in seven MCMVs.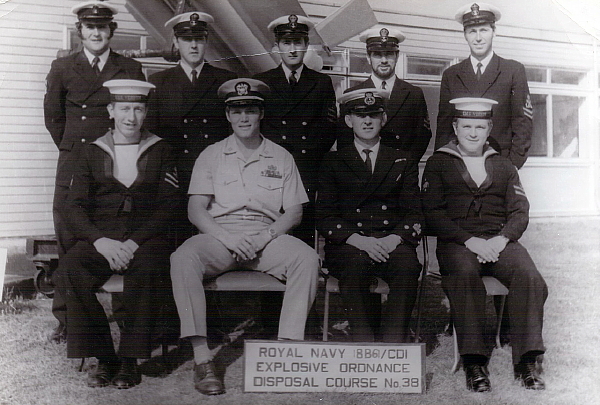 Basher (standing second right) starting the EOD module of his CD1's course at DEODS
in the mid-1970s when the course officer was Lt Steve Epperson USN
The casket, draped in a white ensign, was borne into the chapel to the sound of 'Whatever You Want' by Status Quo. The Revd Paul Hickman then paid credit to the Rosemary Foundation District Nurses for the 'fabulous' way they looked after Dougie. He continued with this welcome:
"Let's just pause and take a time of Quiet to take a breath, to hold a memory of Douglas, Dougie, Basher as you remember him as a man who once met, would never be forgotten. He had a 'wicked' sense of humour with strong opinions, and it could be argued he was not the most politically correct man in the world. Basher enjoyed LBC Radio (Let Britain Chat). As one of the presenters once said, "It's more fun when people disagree with me." This was endorsed whole-heartedly by Dougie.
Dougie was so very proud of his service in the Royal Navy which was his main career as a Bomb Disposal Diver which defined his personality. He retired as a Chief Petty Officer. He had a lifetime passion for rugby and, despite his long battle with illness, he was able to see England's last game in this year's World Cup. Sadly, England did not deliver on this occasion.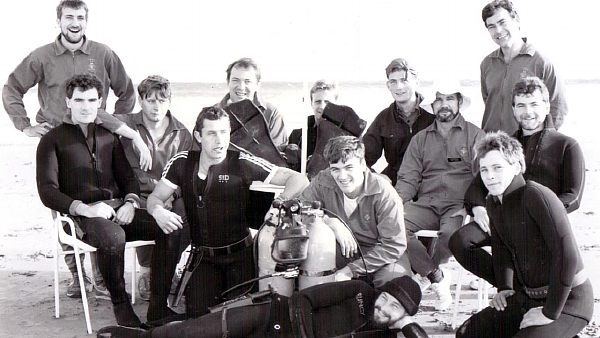 Basher (wearing white sunhat) with the FOST Clearance Diving Team including
MCDOA member Stu McAlear fifth from the left
He loved motorbikes including a Triumph 900 Triple which he shared with Mark. It was laid-back and loud which suited him.
First and foremost in his life were his family, comrades in the Navy, workmates and a wide circle of friends. A dad and father-in-law to Mark & Sarah, Karen & Kevin, his much-loved grandchildren Tom and Hannah, Toby, Elliott, Megan and Emily, a brother to Morris and Susan, special to Pat and Simone, his sister-in-law Ma and Dave, his mates Jack [Smith], Clive (Taff) [Thomas], Pete Still, Ray [Ramsay] and a friend to many his life has touched over the years through work and play, and I'm sure made richer.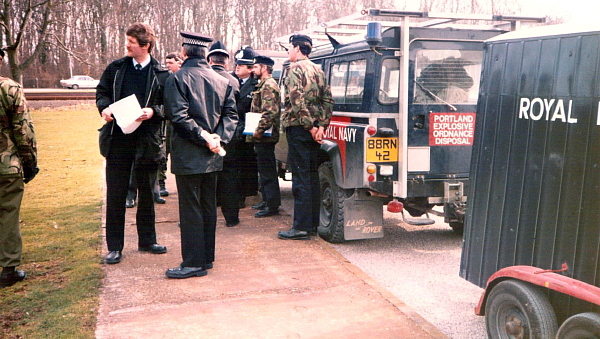 Basher (centre holding a file) on an EOD call-out with the Portland CD Team
All your own personal memories, sad and happy ones, it could be a memory that will bring back happy times in your lives together, all personal memories of a special man in your lives, at this time of loss, grief and sadness, in this place at this time.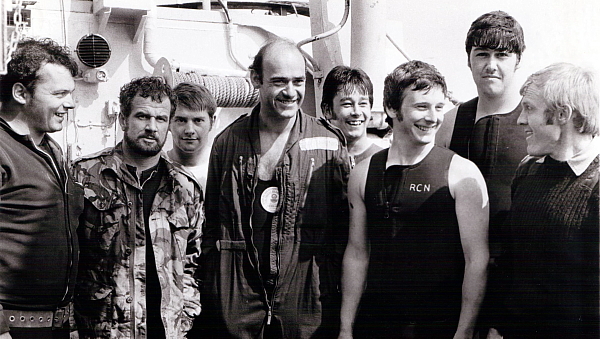 L to R: Tangy Lee, Basher Briggs, Jeff Bradley, Jumbo Jervis, ? Richardson, Jimmy Norman,
Darby Allan,and OEA1 Rowles of the Portsmouth & Medway Clearance Diving Team
on board HMS Plymouth in May 1978
(See appended messages from Brian 'Jumbo' Jervis and John Pennington below)
However, today we can also try and remember to celebrate those good times in Douglas's life, as those memories are like treasure. A family member and such an important man in your lives should always be mourned of course, but also those memories should be polished, admired and celebrated. Especially memories of a man, who leaves behind him for those who loved, knew, respected and appreciated him, for simply being Douglas, Dougie, Basher, Dad, Granddad, your brother comrade and friend."
Paul then read this poem:
Memories Build a Special Bridge
by Emily Mathews
Our memories build a special bridge
When loved ones have to part
To help us feel were with them still
And soothe a grieving heart
They span the years and warm our lives
Preserving ties that bind
Our memories build a special bridge
And bring us peace of mind.
After the opening prayer, we sang the Naval Hymn, 'Eternal Father'. Paul then read this poem
Our Dad
He never looked for praises. He was never one to boast
He just went on quietly working for those he loved the most.
His dreams were seldom spoken his wants were very few
And most of the time his worries went unspoken too.
He was always there, a firm foundation through all our storms of life
A sturdy hand to hold to in times of stress and strife
A true friend we could turn to when times were good or bad
One of our greatest blessings. The man that we called our Dad.
He then read these family tributes:
"So as we arrive at today at this place at this time, to say our goodbyes, a service and celebration for a loved one can perhaps also focus our minds on our own life's and the way we live them. What we have heard today and your own personal memories, I would argue is the meaning of true wealth, a bank of memories and a deposit in life that will gain interest over the years.
When the coins (or days) of your life are spent, they are spent - and there are no refunds. This is a truly sobering thought, which should motivate each of us to live with cause and passion for those we hold dear, especially our families and despite their faults as, guess what, we all have them. What is important is not to fear the days being spent, because they will, but rather make sure we are investing each one of them wisely. When they are spent, it is what was purchased or accomplished with them that determine their true worth or success.
Let these thoughts motivate us all to spend them well, to spend each and every day wisely, just as I'm sure Douglas, Dougie, Basher would want you to do."
We then listened to Joe Cocker's 'With a Little Help from my Friends' while watching a sequence of photos spanning Basher's life and naval career. This was followed by prayers, including the Lord's Prayer, and the Commendaton and Farewell. After the blessing, mourners exited to the sound of Rod Stewart's 'Going Out Dancing'. Apparently, this song was relevant to Basher because he attended a weekend dinner dance at Burleigh Manor. When the DJ was packing up to go home, Basher switched everything back on as he insisted that the tickets did not define a finishing time so everyone kept on dancing.
These words by Theodore Roosevelt were printed on the back of the Order of Service and read out by the officiator before we departed. Sadly, they seem particularly apt for a minor element of our community on occasion:
"It is not the critic who counts; not the man who points out how the strong man stumbles, or where the doer of deeds could have done them better. The credit belongs to the man who is actually in the arena, whose face is marred by dust and sweat and blood; who strives valiantly; who errs, who comes short again and again, because there is no effort without error and shortcoming; but who does actually strive to do the deeds; who knows great enthusiasms, the great devotions; who spends himself in a worthy cause; who at the best knows in the end the triumph of high achievement, and who at the worst, if he fails, at least fails while daring greatly, so that his place shall never be with those cold and timid souls who neither know victory nor defeat."
After the service, most of us went on to Cowplain Social Club for light refreshments and to raise a glass in Basher's memory.