We ended up being shown the SeaFox remote-controlled mine identification and disposal vehicle by AB(MW) Phil Perkins.
We were then transported to the Wardroom at HMS Nelson for a splendid reserved table lunch before being given a tour of HMS Victory. Our guide was particularly entertaining and informative and, despite having seen the ship many times before, I learned several new facts.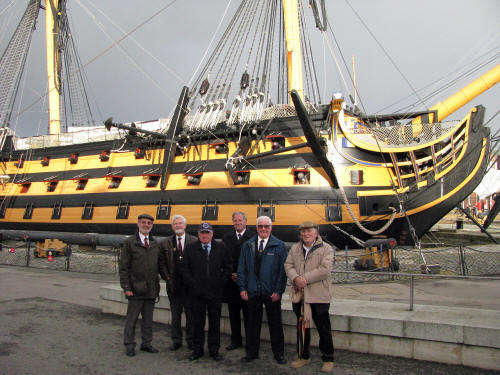 'Wooden Ships and Iron Men'
The TCA Group comprising Rob Hoole, Tony O'Brien, Malcolm Kemp,
Neville Dutton, Norman Ellis and Spike Wheeler
HMS Middleton is newly emerged from refit with Caterpillar ACERT diesels replacing her old Deltic propulsion system and HMS Ledbury will shortly be entering refit for the same installation. I am particularly grateful to Commanding Officer Mark Headley and to MCDOA member Steve White for making this visit possible and to the various other members of the ship's company, including ship's navigator Glyn Duffell in his role as liaison officer, who were responsible for its smooth execution.
---
10 Dec 14 - HMS Grimsby coming home
The Royal Navy Facebook page contains this article announcing that HMS Grimsby (MCM1 Crew 6) has detached from Standing NATO MCM Group 2 (SNMCMG2) in the Mediterranean and is on passage back to her base at Faslane for Christmas leave.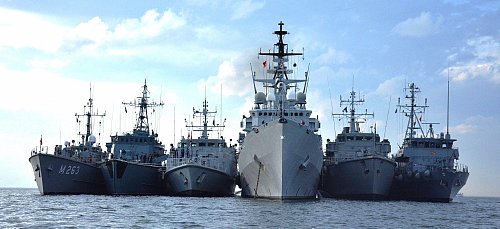 HMS Grimsby (third from left) rafted up with other units of SNMCMG2
(RN Facebook image)
---
5 Dec 14 - MCMV teams to compete in Half-Ironman relay challenge in Bahrain
The Royal Navy website contains this article announcing the participation of teams from HMS Atherstone (MCM2 Crew 6 commanded by MCDOA member Simon Pressdee), HMS Shoreham (MCM1 Crew 5 commanded by MCDOA member Si Kelly) and the US Navy's Task Group 52 in the USD 500,000 Bahrain Challenge half-ironman triathlon tomorrow. The article also features AB(D) Ryan Snell.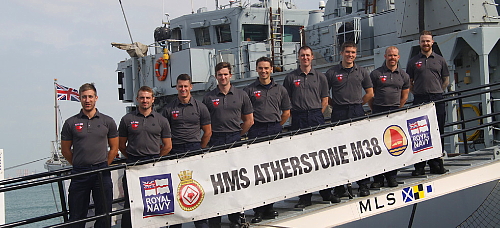 HMS Atherstone's Bahrain Challenge team with MCDOA member
Simon Pressdee standing centre
(RN website photo)
Post script: The results of the triathlon are listed here. Out of 48 teams in their category, HMS Atherstone 1 ranked 8th, HMS Shoreham 2 ranked 19th, HMS Shoreham ranked 21st, HMS Atherstone 2 ranked 27th and HMS Atherstone 3 ranked 29th. Congratulations to all participants.
---
2 Dec 14 - SDU1 called out to Dawlish Warren
The BBC News website contains this article describing an EOD call-out to the beach at Dawlish Warren this morning for members of Plymouth-based Southern Diving Unit 1 (SDU1). The article features PO(D) Mark Cocking and the suspect item turned out to be an old car tyre.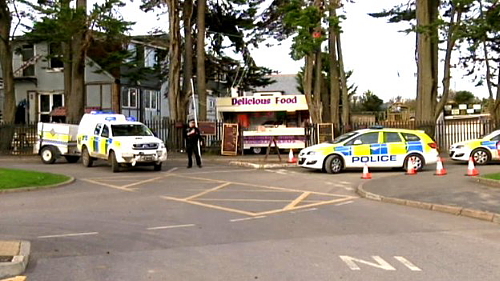 ---
27 Nov 14 - HMS Quorn visiting Ipswich this weekend
According to the Royal Navy's Facebook page, HMS Quorn (MCM2 Crew 3), which returned to Portsmouth this autumn after three years in the Gulf (see entry for 2 Sep 14 in News Archive 47), sailed into her affiliated town of Ipswich today for a five-day visit. She will be open to the public on Saturday 29 November (ticket only basis) and the ship's company will exercise their Freedom of Entry to the Borough by marching through the town centre on Sunday.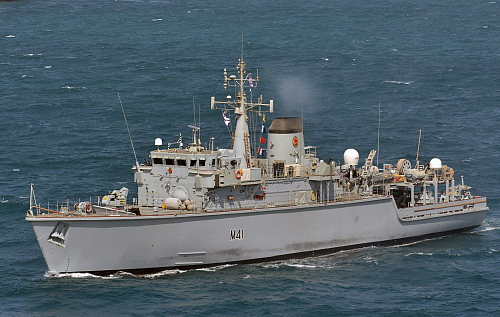 HMS Quorn wearing Gulf dhow funnel badge
(Royal Navy library photo)
Post script: ABP's Shipping TV website contains this video showing HMS Quorn's arrival in Ipswich Docks.
---
26 Nov 14 - UK and Japanese MCMVs working together in the Gulf
The Royal Navy website contains this article describing how HMS Atherstone (MCM2 Crew 6 commanded by MCDOA member Simon Pressdee) has spent the last two weeks in the Gulf working with two Japan Maritime Self-Defence Force ships: the MCM tender JS Bungo and the MCMV JS Yaeyama (photos here). The article also mentions that Lt Alex Coleman (Ops Officer of HMS Atherstone) and an MWO from HMS Shoreham (MCM1 Crew 5 commanded by MCDOA member Si Kelly) were embedded in the Japanese 51st Mine Division battle staff on board JS Bungo for IMCMEX 2014.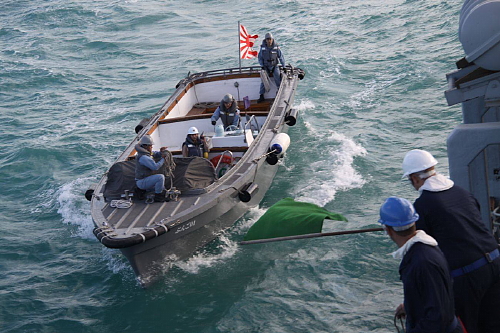 Japanese launch approaching HMS Atherstone in the Gulf
(RN website photo)
---
25 Nov 14 - Were RN divers involved in the Berlin Airlift?
I have received a query from a lady called Sue Campbell who is researching the eligibility of additional personnel for the newly approved Berlin Airlift Clasp:
Berlin Airlift The General Service Medal 1918-62 with clasp 'BERLIN AIRLIFT' will be awarded for at least one day's service to all aircrew, RAF and civilians who took part in the Berlin Airlift operation from 25 June 1948 to 6 October 1949 inclusive. Applications for the new clasp will be accepted from 1 March 2015 onwards. The first of the awards will be made towards the end of that month (however these timings remain under review). Applications will be dealt with in date order.
Sue is convinced that Royal Navy divers were involved in clearing the River Elbe at Finkenwerder near Hamburg to allow RAF Sunderland flying boats to take off with relief supplies and/or Lake Havel where they landed in Berlin (see this video for further background). If true, a case could be made for these personnel or their surviving relatives to receive the Berlin Airlift clasp.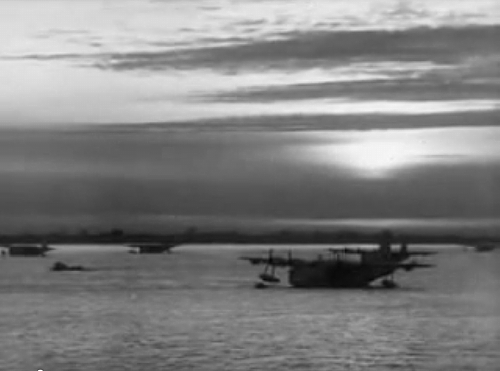 RAF Sunderland flying boats on the River Elbe at Finkenwerder
Sue is also interested in finding out anything about Royal Navy personnel serving at Lancaster House, the British Headquarters in Charlottenburg, Berlin from 1945 to 1953. Completed in 1943 and used as the Wehrmacht Administrative Office of the Army High Command, the building is now the Rathaus (City Hall) for Berlin-Wilmersdorf.
Rathaus Wilmersdorf (formerly Lancaster House) in Fehrbelliner Platz, Berlin
If anyone is able to help, please contact me via my Webmaster email address.
---
From MCDOA member Bryan Barrett in the USA:
"Hi Rob,
I can throw some light on the Royal Navy involvement in the Berlin Airlift. My father (Lt.Cdr. Denis Barrett DSC, RN (retd) now deceased) a submariner, was stationed in Berlin from 1947 until the early '50's working at the British HQ in Charlottenburg. We lived in Berlin (I say 'we' because my mother and I joined my father there) in 1947 and I lived there for three years, returning to England late in 1950.)
We were there throughout the Berlin airlift, when conditions in Berlin were pretty bad, and everything in very short supply. We lived in the Naval Officers' mess in Konigsallee, in Grunewald along with several other naval officers and their families. I can remember some of their details, if Sue is interested. Please pass on my email address to her and ask her to get in touch with me if she would like me to give her what details I can remember from some 60+ years ago!!
Yours aye,
Bryan"
---
24 Nov 14 - SDU2 features in TV programme
Episode 1 of the BBC One TV series Channel Patrol, broadcast today, contains excellent footage of the operation by members of Portsmouth-based Southern Diving Unit 2 (SDU2) to remove explosively two underwater pillars causing a navigational hazard in Stokes Bay earlier this year (see entry for 25 Sep 14 in News Archive 47). The programme features CPO(D) Simon Crew as supervisor with Jeremy Osborne and Joshua Spivey diving and Marcus Dickson manning the safety boat.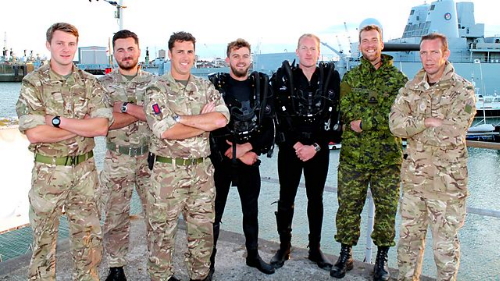 The SDU2 team that performed the operation
Demolition of underwater obstructions in Stokes Bay
The programme may be watched again on BBC iPlayer here for the next 30 days. The relevant sections are from minute 12:32 to 21:15 and from minute 36:30 to the closing credits. For those unable to watch the programme, there was a 40 - 50 minute window (although the tide was never slack owing to the double cycle in the Solent) for the divers, working as a pair, to place four PE charges (total 45 kg) on the concrete pillars. They were clinging on for dear life in poor viz to secure the charges, one low and one high, on opposite sides of each pillar to create a 'moment.of force'. The range was fouled by a couple of dinghies before the charges were fired safely and successfully.
---
23 Nov 14 - Does anyone remember Peter Minten (Buster) Brown?
I have received this request from Don 'Scotty' Allan, Historian of the Royal Australian Navy Clearance Divers' Association (RANCDA):
"G'day Rob,
We are trying to establish the origin / qualification of a former RN rating by the name of Peter Minten (Buster) Brown. We understand he may have transferred to the RAN or RANR some many years ago. He was awarded an OAM for his services to the RANR Diving Team 6 (Victoria) when he held the rank of PO but I unsure if this was as a Diver. Capt Ian Pfennigwerth RAN (Rtd), a naval historian, is attempting to obtain data on his history and what he actually did to receive his OAM. Ian is finalising a history on all RAN RANR sailors who have received awards during service or post service if the award was relative to navy matters. Unfortunately, we are having difficulty tracking someone who could enlighten us. He passed away in 2010? By all accounts, he was a larakin and spinned many tall tales. As the historian of RANCDA we have no record that places him as a qualified CD.
I have copied and pasted Ian's comments - if you can provide any history it would be appreciated:
It's rubber on the road time for Buster. As you will see from the attached draft entry for the BZ manuscript, I have a miniscule amount of information to work on. I would be extremely grateful if any of you could provide more detail on the following:
1. His service career both in the RN, PNF and RANR. Was he a PNF CD? If so, where did he serve and in what capacity? He appears to have been a PO so at least: somebody at the Diving School must remember him. Was he a member of DT6 or did he just 'help out', whatever that may mean?
2. The duties and responsibilities of DT6.
3. His relatives, particularly his son who delivered the eulogy at his funeral. The eulogy itself would provide more info than I currently have. OAMs are not handed out to 'good blokes who tell lots of war stories'. Somebody wrote a recommendation in 1983 that convinced the sceptics sitting around the Board table in Navy Office that his name should go forward to the G-G as one of a handful of H&A for the Australia Day 1984 list. I'm trying to tell people what was in that recommendation, or at least to infer it.
I do need you to put your thinking caps on and get busy on your keyboards if this aim is to be achieved. Your help is not only appreciated but is essential."
Larry Digney, National President of the RANCDA has also copied me on this email:
"Don,
I think that may be Buster Brown, ex CPODVR, DT 6. When I was the Victoria Command Diving Supervisor in 1976-78 he was the Chief of the team. He was never an RAN CD and I can't remember if he was an RN CD. Capt Paul Willee QC RANR, our legal advisor, was his boss in the early '70s and he may be able to assist with more detail.
UAU,
Larry"
Peter 'Buster' Brown was awarded the Medal of the Order of Australia (OAM) in recognition of his service to the Royal Australian Naval Reserve, particularly to Diving Team 6, part of the Melbourne Port Division of the Reserve. The National Archives of Australia holds no service record for him but it has been established that he transferred to the Reserves after a 20-year career in the permanent forces of both the RN and RAN in 1966 and was promoted Chief Petty Officer Diver in 1970. It is believed that he was born in the UK and served as a Clearance Diver with the RAN during the 1960s. There is some doubt that his award was actually for service with the Diving Team, some suggesting it was really for involvement with the community. A colourful character, by all accounts, none of his former colleagues could provide reasons behind his award. He died circa 2010 but no contact could be established with his relatives.
If anyone can provide information about Peter Minten 'Buster' Brown, please contact me via my Webmaster email address and I will put you in touch with relevant correspondents.
---
22 Nov 14 - Colin Churcher presented with Ushakov Medal
Colin with his Ushakov Medal
Congratulations to MCDOA member Colin Churcher MBE on being presented with the Ushakov Medal by the Russian Ambassador at the Russian Embassy on 23 October. He was awarded the medal as a token of gratitude for his service as a Radar Control rating in the destroyer HMS Myngs on the Arctic convoys during the Second World War. More details and photos here.
Ushakov Medal recipients with the Russian Ambassador in London
on 23 October with Colin Churcher seated fourth from left
(Russian Embassy photo)
After an eventful career on the lower deck, Colin was commissioned and qualified as a CDO, Among his many exploits thereafter, he disposed of 'The Blackfriars Bomb' under Blackfriars Bridge and was appointed an MBE for rendering safe a German GC parachute mine in the West Warwick Reservoir at Walthamstow in 1970 while OIC of the Portsmouth Bomb & Mine Disposal Team, His life story can be read in his autobiography, To Render Safe, which he relates in the third person about a character called 'Dave'.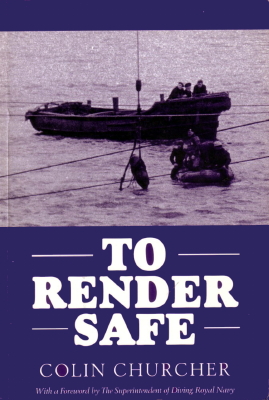 Colin had hoped to attend our annual dinner last night (illustrated article to follow in due course) but poor health forced him to cancel at the last moment. I am sure all members of our community will join me in wishing him a speedy recovery and extending our best wishes to his wife Hilda.
---
21 Nov 14 - Topsy Turner superseded as CO of HMNZS Canterbury
Former MCDOA Honoray Secretary David 'Topsy' Turner transferred from the RN to the RNZN in 2004. He has just sent this message:
"Hi Rob,
After two great years in command of HMNZS CANTERBURY, I was relieved by CDR Simon Rooke, RNZN on Thursday 20 Nov. I'm now the Executive Officer of HMNZS PHILOMEL and looking forward to a completely different set of challenges.
Aye,
Topsy"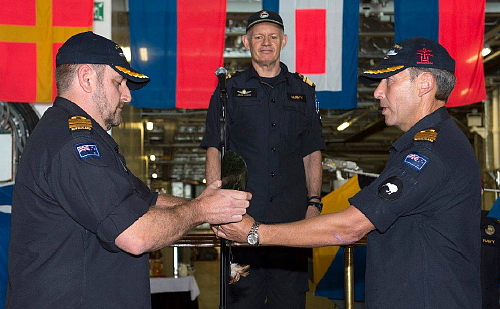 Cdr Simon Rooke RNZN (left) receiving a Maori greenstone mere, the symbol of Command,
from Topsy Turner while the Chief of the Royal New Zealand Navy looks on
(Photos by DNB photographers Dyanne Armstrong and CPL Paul Firth)
It seems like only yesterday that Topsy was assuming Command of HMNZS Canterbury (see entry for 15 Nov 12 in News Archive 40). HMNZS Philomel is the supporting naval establishment at Devonport Naval Base in North Shore City, Auckland responsible for the logistics and organisation of Naval personnel, and for any visits to the base by foreign ships. I am sure that all members of our community wish Topsy every good fortune in his new appointment and extend our warmest greetings to his wife Yvonne, son Harry and daughter Jenni.
---
20 Nov 14 - LCOCU article in Diver magazine
The December issue of Diver magazine, out today, contains a three-page illustrated article written by Yours Truly about the frogmen belonging to the Landing Craft Obstacle Clearance Units (LCOCUs), the first men ashore on D-Day (see entry for 6 Jun 14 in News Archive 46 and Operation Neptune: Frogmen - The First Men Ashore on D-Day in the website's Dit Box).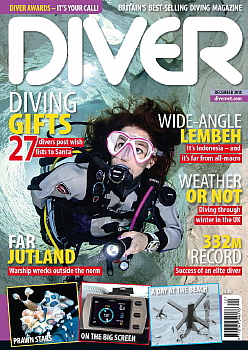 See inside for "A Day at the Beach"
Steve Weinman, the magazine's editor, approached me to write the article in September after receiving this letter from an Australian reader:
"I have been trawling the many recent publications re D-Day with the anticipation of articles re obstacle clearance etc., by 'P' parties, 'LOCKUs', etc., but to no avail. Has the contribution of "frogmen" been forgotten? Their exploits did inspire many."
Steve advises me that "...The piece seems to have gone down well!" and he has already received this feedback:
"Steve,
Interested to read the article 'Frogmen - First Ashore on D-Day' as this reminded me of a story that my late father told me.
Whilst serving on a Royal Navy minesweeper in 1944, he was detailed to accompany a Navy Survey Officer to land on a French Normandy beach and take depth measurements and sand samples. No submarine insertion here as they were rowed to as close inshore at night as they could get in the ship's whaler and waded ashore to take their water depth measurements/sand samples at different depths. As it was now getting light they had to crawl up the beach and hide in sand dunes to wait for darkness to come again so they could be picked up by their ship's whaler. They only had canned water and chocolate and could hear the German sentries on the beach talking who luckily did not venture into the sand dunes.
When night fell they waded out as far as they could and waited for the whaler which duly appeared out of the darkness and returned them to the minesweeper waiting further out to sea. My father did not know which beach he landed on but has said there were lots of various steel fabrications in the water and on the beach.
He heard nothing more about it and when D-Day itself started he was up in the North Sea on minesweeping duties. Only then did he put two and two together.
Regards,
Brian Hunt"
I will be donating my author's fee to Project Vernon, the campaign to erect a monument at Gunwharf Quays to celebrate the minewarfare and diving heritage of HMS Vernon which previously stood on the site. I'm sure my late friend and fellow MCDOA member Lt Cdr Robbie Robinson MBE, the 'Bard of Vernon' who was injured at Normandy on D-Day as a LCOCU diver, would have appreciated the gesture.
---
From MCDOA Membership Secretary Dave Stanbury:
"Good in-flight reading! Well done Rob."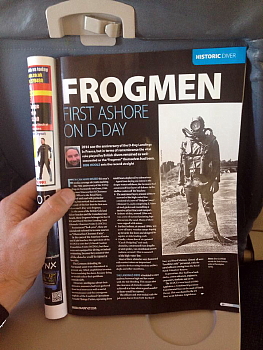 ---
19 Nov 14
Award of LS & GC medals
Congratulations to WO(D) Steve Vernon, WO(D) Kev Wilkins and CPO(D) Kev Amaira on being gazetted for the award of the Clasp to the Long Service & Good Conduct (LS & GC) medal (link).
---
Do you remember Donald Hills or Degaussing at HMS Vernon?
I have received these requests for information:
Ex-CD Donald Hills
"Hello,
I wonder if there may be any way to get information about my great uncle Donald Roy Hills (born 4th July 1926 in Brighton) who was a member of the Scotland Command Bomb and Mine Disposal Clearance Diving Team from the end of the Second World War until about the early 1960s? He is on the front left of the photo below.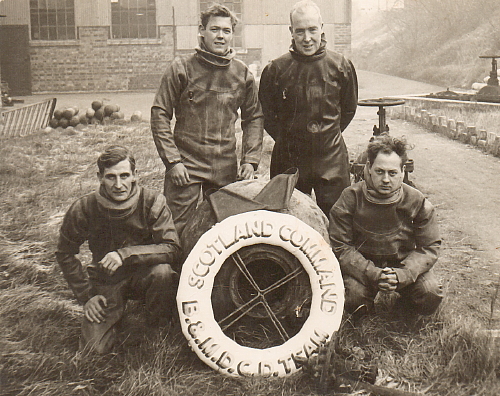 I've no idea where the photo was taken or any of the names of the others in the photo.
Glen Robins"
---
From former FCPO(D) Mick Fellows:
"Rob,
Hope all is well with you and yours.
I remember "Pusser" Hill, from Brighton, very well from his time in the Scottish bomb disposal team in Lochinvar at Port Edgar, before they moved to Rosyth, and as Coxswain of HMS Brenchley in the 51st Mine Hunting Squadron in 1960.
Regards,
Mick
Michael G Fellows MBE DSC BEM* MSM FIExpE MWEODF MSUT
Managing Director
Fellows International Limited"
I have put Mick in touch with Glen Robins.
---
Degaussing at HMS Vernon
"A very long shot, but I am trying to find out information about the degaussing trials, etc., that went on at HMS Vernon in the latter stages of the Second World War. In particular, a project XX 855. Are you able to advise where the best place to start is?
Yours in hope,
Kevin Parsons"
If you can help with either query, please contact me via my Webmaster email address and I will put you in touch with the relevant correspondent.
---
18 Nov 14 - Ben Ainslie's Americas Cup yacht with HMS Cattistock
This photo was published on the Royal Navy's Facebook page today: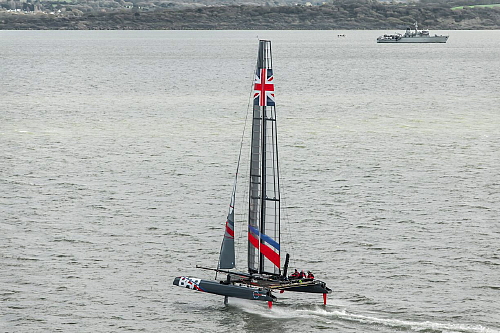 The BAR (Ben Ainslie Racing) AC45 British challenge for the next Americas Cup
in the Solent last week with HMS Cattistock in the backgound
(Image courtesy of Lt Cdr Roster)
---
17 Nov 14 - NDG called to deal with torpedo at Lossiemouth
The STV website contains this article describing yesterday's discovery of an "unexploded torpedo" on West Beach at Lossiemouth. Unfortunately, the torpedo had disappeared by the time members of Faslane-based Northern Diving Group (NDG) arrived on the scene.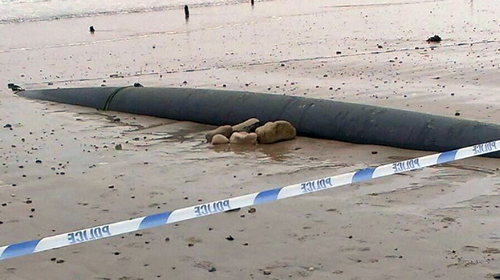 ---
14 Nov 14 - Medical aspects of IMCMEX 2014
The Navy News website contains this article describing medical aspects of this year's International MCM Exercise (IMCMEX 2014) in the Middle East (see entry for 9 Nov 14) and features divers from HMS Penzance (MCM1 Crew 3).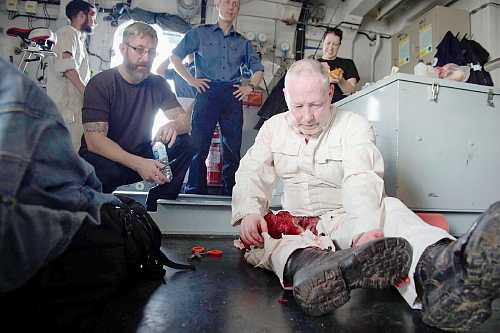 A casualty is treated on board HMS Penzance
(Navy News website photo)
---
12 Nov 14 - 11th MCM Squadron commemoration in Hull
The Ton class crews from Rosyth who manned the five Hull trawlers (FARNELLA, CORDELLA, JUNELLA, NORTHELLA and PICT) taken up from trade to form the 11th Mine Countermeasures Squadron, led by MCDOA member Martyn Holloway, performed incredible acts of bravery in the Falklands during the conflict in 1982 (see The Forgotten Few of the Falklands in the website's 'Dit Box').
Several of the personnel involved, together with others deeply interested, have set up this group on Facebook and intend organising a commemorative service at Holy Trinity Church in Hull at 1400 on Sunday 14 June 2015 attended by Andrew Marr, of Andrew Marr International, who owned four of the five trawlers. The ceremony will be followed by the usual reunion in a convenient hostelry.
The instigator of this event is Hull resident Jon Major who was serving in the Type 21 frigate HMS Ardent when she was bombed and sunk during the Falklands conflict. Her Commanding Officer at the time was Cdr Alan West RN, later Admiral Lord West of Spithead, former First Sea Lord and guest of honour at the MCDOA Annual Dinner in 1995 when he was Naval Secretary.
Jon Major and (inset) the minesweeping trawler HMS Junella
See this article on the Hull Daily Mail website for further background.
---
11 Nov 14 - Lest we forget

They shall grow not old, as we that are left grow old;

Age shall not weary them, nor the years condemn.

At the going down of the sun and in the morning,

We will remember them.

Robert Laurence Binyon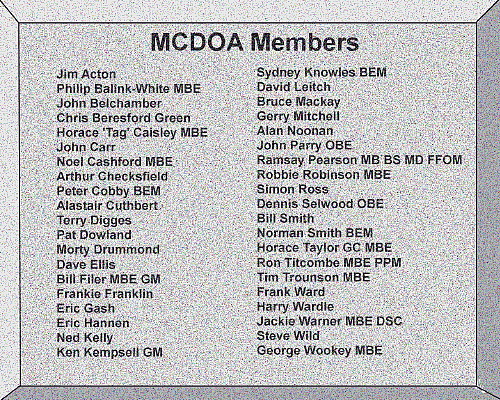 Also, please spare a moment for those listed among the RN Bomb & Mine Disposal Casualties in the 'Branch History' section of the website.
---
10 Nov 14
The Return of the Webmaster
Your humble Vice Chairman & Webmaster has just returned from a month-long vacation visiting his 'folks' in the Seattle area of the USA with Mrs Webmaster. The trip included excursions to Las Vegas in Nevada and San Francisco in California plus a leisurely drive up the US west coast. This took in the little-known and utterly brillient Evergreen Space & Aviation Museum at McMinnville in Oregon where Howard Hughes' 'Spruce Goose' had pride of place among the other 150+ aircraft on show - photos on request.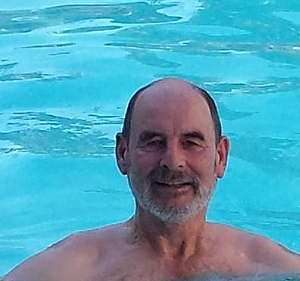 Hoole getting in his minutes at
The Mirage in Las Vegas
One of the highlights of our tour was being shown the sights of San Francisco by fellow naval minewarfare historian and author Cdr David Bruhn USN and his wife Nancy (see entry for 27 Sep 14 in News Archive 47). Something else we have in common is that he commanded the US Navy MCMVs USS Gladiator and USS Dextrous in the Persian Gulf during the late 1990s and I commanded the Hunt class MCMV HMS Berkeley (now the Greek HNS Kallisto) in the Gulf during the late 1980s.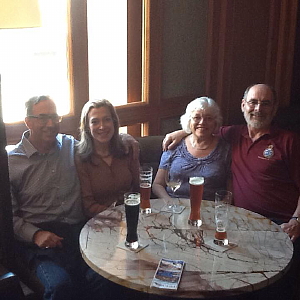 David & Nancy Bruhn with Linda & Rob Hoole
in San Francisco
We also cruised the islands of Washington State's Puget Sound with my ex-US Navy (now USAF Reserve) brother Jim and his lovely partner Diane on board one of his three boats.
Ex-US Navy and ex-Royal Navy 'brothers-in-arms' plus the girls
at Poulsbo in Washington State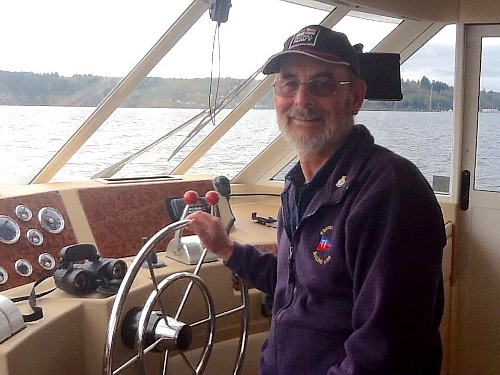 Ex-Royal Navy Hoole at the helm approaching Port Orchard
(opposite Bremerton) in Washington State
As time permits, I will update this page of the website retrospectively.
---
Man jailed after planting fake pipe bomb in Southampton
The Southern Daily Echo website contains this article describing the 30-month jail sentence awarded to a man who planted a hoax Improvised Explosive Device (IED) in the garden of a house in Bitterne Park, Southampton in a "malicious and vindictive act". The incident occurred in May this year and was dealt with by members of Portsmouth-based Southern Diving Unit 2 (SDU2) (see entry for 14 May 14 in News Archive 46).
---
Death of Lt Robert Aitken DSO RN
The Daily Telegraph contains this obituary and the Independent this obituary for wartime Charioteer and X-Craft miniature submarine diver Lt Robert Aitken DSO RN who died on 22 October. He was X-7's diver and navigator in a crew of four commanded by Lt (later Rear Admiral) Godfrey Place VC CB CVO DSC RN. He escaped his sunken submarine and was taken prisoner of war after severely damaging the German battleship Tirpitz in Altenfjord in Northern Norway in September 1943.
---
9 Nov 14 - No accommodation available in HMS Excellent for civilians attending MCDOA Dinner
From MCDOA Honorary Secretary Soapy Watson:
"After the calling notice for the MCDOA Dinner had been issued, I was unfortunately informed that there is no accommodation for civilians at HMS EXCELLENT as the Insurance on HMS BRISTOL only covers service and cadets. There are no spare cabins either. Members seeking accommodation are to make their own arrangements.
I am really sorry if this has inconvenienced anyone, however this is out of my control.
Kindest Regards,
Soapy"
---
6 Nov 14 - RN MCMVs and FDT3 participate in Gulf MCM Exercise
The Royal Navy website contains this article and the Navy News website this article describing the participation of the RN MCMVs HMS Atherstone (MCM2 Crew 6 commanded by MCDOA member Simon Pressdee who features in the article), HMS Chiddingfold (2/5), HMS Penzance (1/3) and HMS Shoreham (1/5 commanded by MCDOA member Si Kelly) plus their 'mother ship' RFA Cardigan Bay, the frigate HMS Northumberland, the support ship RFA Fort Austin, the nation's flagship HMS Bulwark and the amphibious support vessel RFA Lyme Bay in this year's International MCM Exercise (IMCMEX 2014).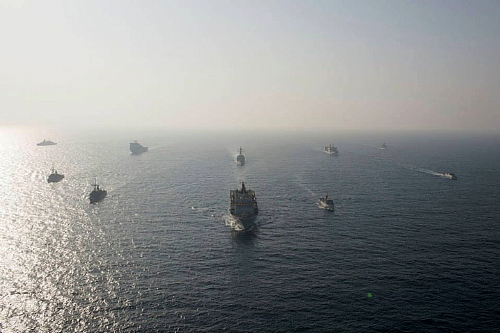 Above and below: Royal Navy ships in the Gulf during IMCMEX 2014
(RN website photos)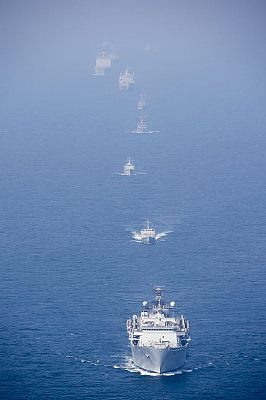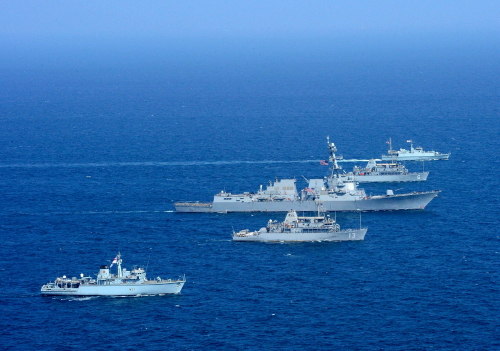 HMS Chiddingfold, USS Dextrous, the Arleigh Burke guided-missile destroyer
USS Sterett, USS Devastator and HMS Penzance in the Gulf during IMCMEX 14
The exercise area ranged from the Gulf to the Arabian Sea and the shores of the northern Red Sea. Members of Portsmouth-based Fleet Clearance Diving Unit 3 (FCDU3) were also among the more than 5,000 military personnel from more than 40 nations in the exercise.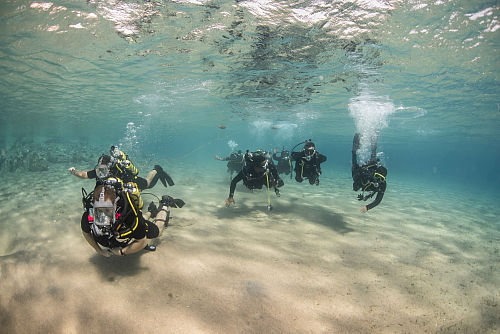 Divers from FCDU3 and the Royal Naval Force of Jordan in the Red Sea
during IMCMEX 2014
(US Navy photo by Mass Communication Specialist 3rd Class Daniel Rolston/Released)
Also see this article on the US Navy website and this article on the RAN website.
Post script: The Portsmouth News published this article on 11 November.
---